The Best Apple Pie Recipe is a classic recipe for tart apples with just enough sugar and spice. The perfect all-American dessert recipe.
It's a bold statement to say you have THE BEST apple pie recipe, but I'm pretty confident that THIS recipe is one of the best, if not #1. The BEST Apple Pie was part of my "friendsgiving" event about a month ago. I asked my closest friends to bring me their star dish from the holidays. My neighbor Giovanna, who is also a foodie and works for a major spice company, brought over her classic Apple Pie, which I can attest is pretty amazing and darn pretty!
What are the keys to a magnificent apple pie? Well, first of all, let's clarify this one is traditional, not Amish or sour cream or any of the other varieties and perfection comes in the form of simplicity.  Tart apples tossed in a light apple pie spice and just enough sugar set inside flaky pie crust. Have I ever told you about my take on pie crust? It is one of the few things I feel is better bought than made from scratch. Although easy enough, it can be very challenging to get the right pliability and consistency to create a beautiful crust.
Presentation is the last element to the BEST Apple Pie. Use a small leaf cookie cutter and layer over the top. A light egg wash will create dimension and color to really make your pie pop. Pair with a Salted Caramel Sauce or Classic Vanilla Bean Ice Cream. Looking for more pie? Try my Pumpkin Apple Pie with Pecan Crust.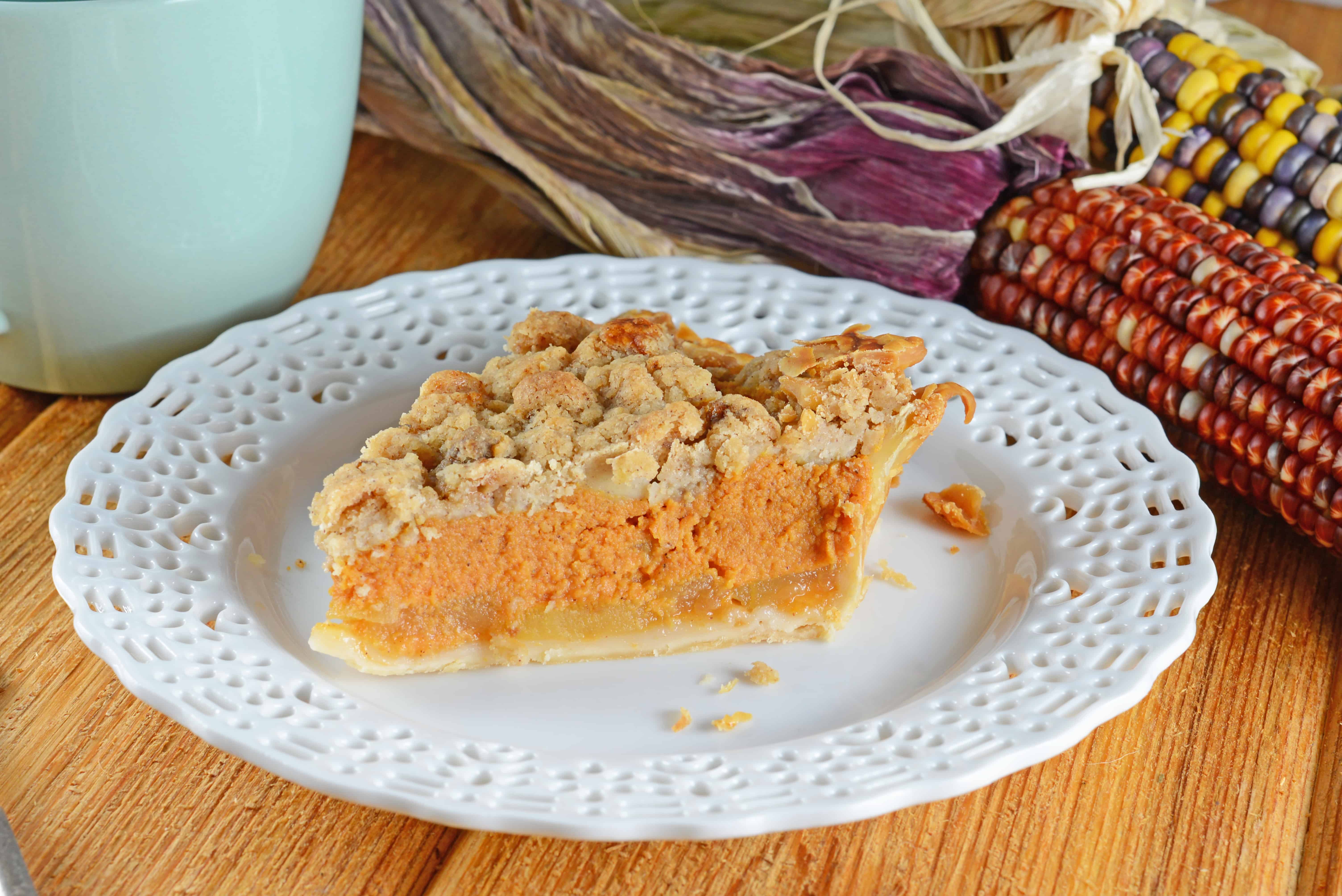 Don't forget to PIN Apple Pie!
The Best Apple Pie
The best apple pie recipe: classic and delicious!
Ingredients
1

package refrigerated pie crusts

(2 crusts)

1

cup

sugar

1/4

cup

flour

1 1/2

teaspoons

Apple Pie Spice

3

lbs

Granny Smith Apples

cored, peeled and thinly sliced

1

tablespoon

butter

1

egg

beaten

Fall leaf pie crust cutters

Vanilla Bean Ice Cream

for serving
Instructions
Preheat oven to 400°F. Line a 9-inch pie plate with one of the prepared pie crusts. Press on the bottom and sides of crust with a fork to remove any air bubbles.

Add apples to a large bowl. Mix sugar, flour and apple pie spice in small bowl, then sprinkle over apples and toss to coat well. Pour mixture into the prepared pie plate, then dot with butter.

Using pie crust cutters, cut a variety of different size leaves out of the remaining pie crust. I took my leaves and lined them around the top in a circle, spiraling in towards the center, but feel free to be creative and place them as you like! The most important thing is to cover the entire top of the apples with pie crust leaves. Once the leaves are in place, brush with a beaten egg and sprinkle with additional sugar, if desired.

Bake 45 minutes or until crust leaves are golden brown and the filling is bubbling. Cool before serving as is or with

vanilla ice cream

.