Homemade gravy has never been easier! Learn How to Make Gravy from Drippings, whether you're cooking chicken, turkey, pork or beef.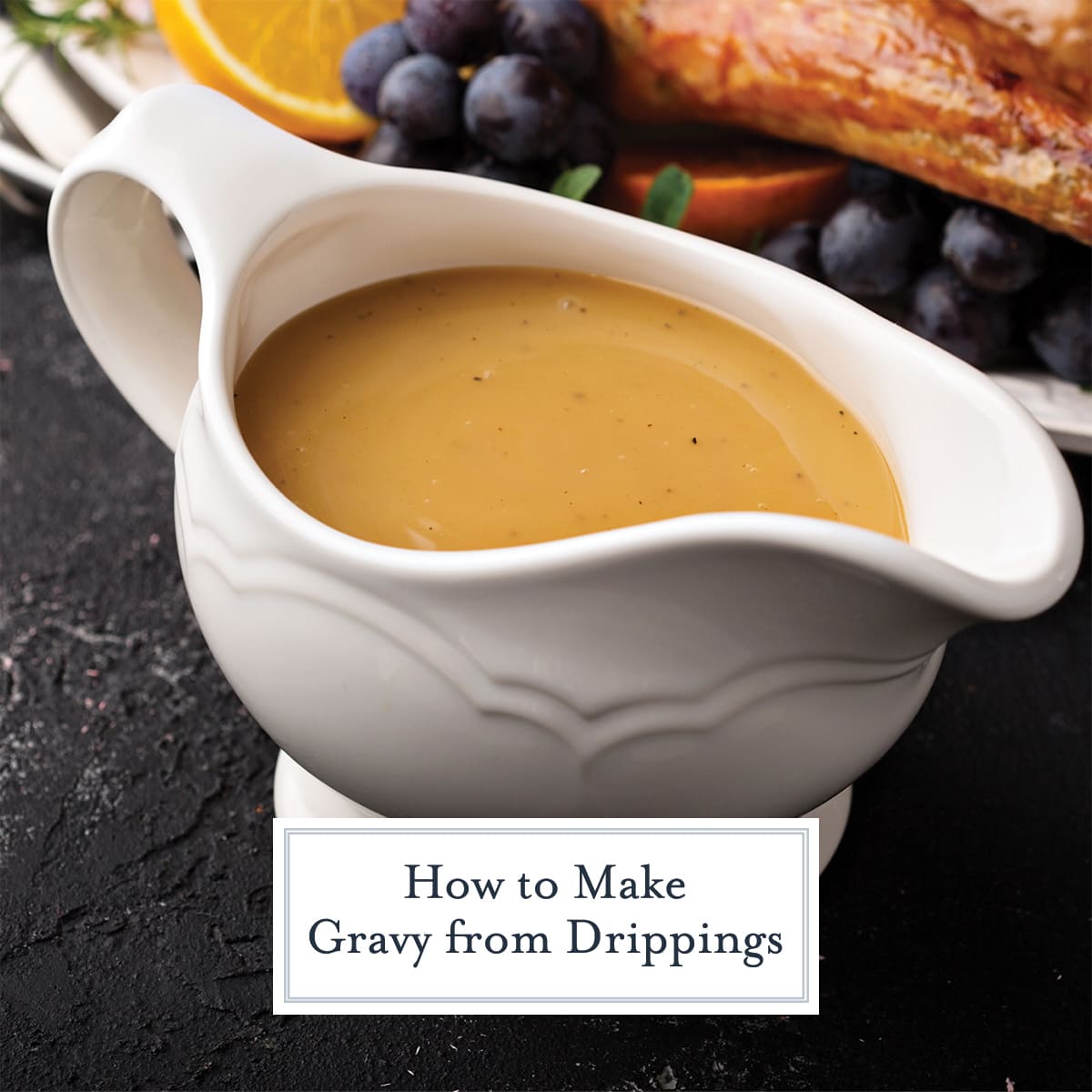 Homemade Gravy is easy and delicious!
Forgot to pick up a jar of gravy from the grocery store? That is about to be the best mistake of your life. Making gravy from drippings is not only easy, but it's so much more delicious than the jarred stuff. And the same recipe works for chicken gravy, turkey gravy, beef gravy or even roasted veggies for a vegetarian gravy.
Making good gravy sounds overwhelming, but no worries. I am going to walk you through it step by step, and also teach you how to fix some common mistakes.
What is gravy?
Gravy is defined as a sauce made from meat juices (pan drippings), thickened with cornstarch or flour and then seasoned using spices, herbs, wine and other aromatics.
But you might also find that other cultures refer to sauces as "gravy", like Italians to a traditional red sauce.
What you'll need for this Gravy Recipe
The list is simple and very forgiving so don't worry if you don't have the exact volumes. Also, have fun with it and customize it to make your own perfect gravy.
Unsalted Butter– Pan juices (drippings) generally have a lot of salt from the seasoning or bark on the meat, so I opt for using everything low sodium or sodium free. Adding salt is easy, removing it is tricky (but can be done!)
All-Purpose Flour– I use general AP flour to keep it cloud-free and from getting stringy. Please be mindful that the size of grain can impact the texture, for instance a coarser texture. Almond flour, oat flour and potato starch can all thicken, but risk a weird color. Corn starch is the best alternative for both texture and taste for a gluten-free gravy, but then you won't be making a roux. Instead, you'll mix together everything else and make a cornstarch slurry in a separate small bowl.
Broth or Stock– Homemade or store bought is fine, but the lower the sodium or sodium-free is best so you can control the final salt levels. Using water with a bouillon cube is fine too. Vegetable stock is also useful regardless of the type of drippings you are using because it is fairly neutral.
Drippings– also known as pan juices. A lot goes a long way, see below on how to collect these if you are unsure. Chicken, vegetable, beef or turkey drippings can be used.
Kosher salt & freshly ground black pepper– Kosher salt salt dissolves well and has the least saltiness. Black pepper is the standard, but for a less peppery flavor, opt for white pepper.
Other flavor add-ins- Variation is the spice of life! Make this gravy your own and tailor the flavor profile to the recipe you plan to pair it with. See our list of variations below.
How to Make Gravy From Drippings
Use this easy recipe to make a gravy to accompany any type of meat or meal. The only difference might be in the way you season the gravy.
Be mindful that depending on the hue of drippings and also broth, gravies will be vastly different colors of brown gravy. Chicken stock (chicken broth) is clearly lighter than beef broth and within those, homemade and store bought will also have a lot of variety. The best gravy is really what is YOUR best version.
Over medium heat, melt the butter, whisk with all-purpose flour until a paste forms, called the roux. Continue to whisk until roux starts to brown and become fragrant. This is key to developing a deep, rich flavor.
Slowly add broth and pan juices while whisking vigorously. Mixture will be a little lumpy just based on drippings having some texture, this is normal. Stir constantly until gravy has thickened. This prevents the pan gravy from burning to the bottom of the pan.
Continue to whisk while bringing to a boil. Taste test for seasoning. Add coarse salt sparingly until desired taste is achieved.
Add other seasonings, if desired and continue to heat for 5-15 minutes for flavors to marry. And making gravy with drippings is as easy as that!
Serve over roast meat, mashed potatoes, biscuits or anything else your heart desires.
How to Get Drippings
So you made the meat, now how do you even get the drippings? Drippings are little flavor bombs, but the liquids in the roasting pan will also have some fat and while flavorful, you'll want to avoid that. While you can make a good gravy without drippings, best best versions contain them.
The drippings are just the liquids that pools in the bottom of the pan. To collect the drippings, ladle or pour liquid into a fat skimmer cup (fat separator) or regular large measuring cup. I also like to scrape up any of the browned bits on the bottom of the pan. Wait for the fats to float.
Skim this off the top and then use the liquid that remains. If you have time, you can wait for them to solidify and then just peel off the top with a spoon.
If you used seasoning, try to capture some of those in the amount that you use. You can also use more drippings than this recipe calls for, just reduce the amount of broth you add to supplement. Making gravy is very forgiving on exact measurements.
Easy Gravy Recipe variations
The world is literally open to anything you want to make this easy gravy recipe your own. Here are a few of my favorites.
Aromatics- Let fresh herbs like thyme, sage, flat parsley or rosemary simmer in the gravy and then fish it out before serving. A dried bay leaf also works.
Spices– Whole cinnamon, clove or allspice berry can add an unexpected pairing to flavors.
Worcestershire Sauce– This heady ingredient only needs a few drops to add huge amounts of umami flavor and complexity.
Root Vegetables– If you have time, allow cut carrots and celery to simmer, and fish out large pieces before serving.
Garlic and Onion– Whether adding freshly grated garlic or minced onions or garlic powder or onion powder, all of these can amp up the flavor profile.
Bacon Grease or Duck Fat- Also known as rendered bacon fat or rendered duck fat, swap this out for the butter for extra flavor.
Cream– Adding just a touch of heavy cream or whole milk with lighten the color and add decadence.
Wine– Both white wine and red wine can be used for part of the stock volume. I wouldn't use it for the whole thing, it can be rather overwhelming.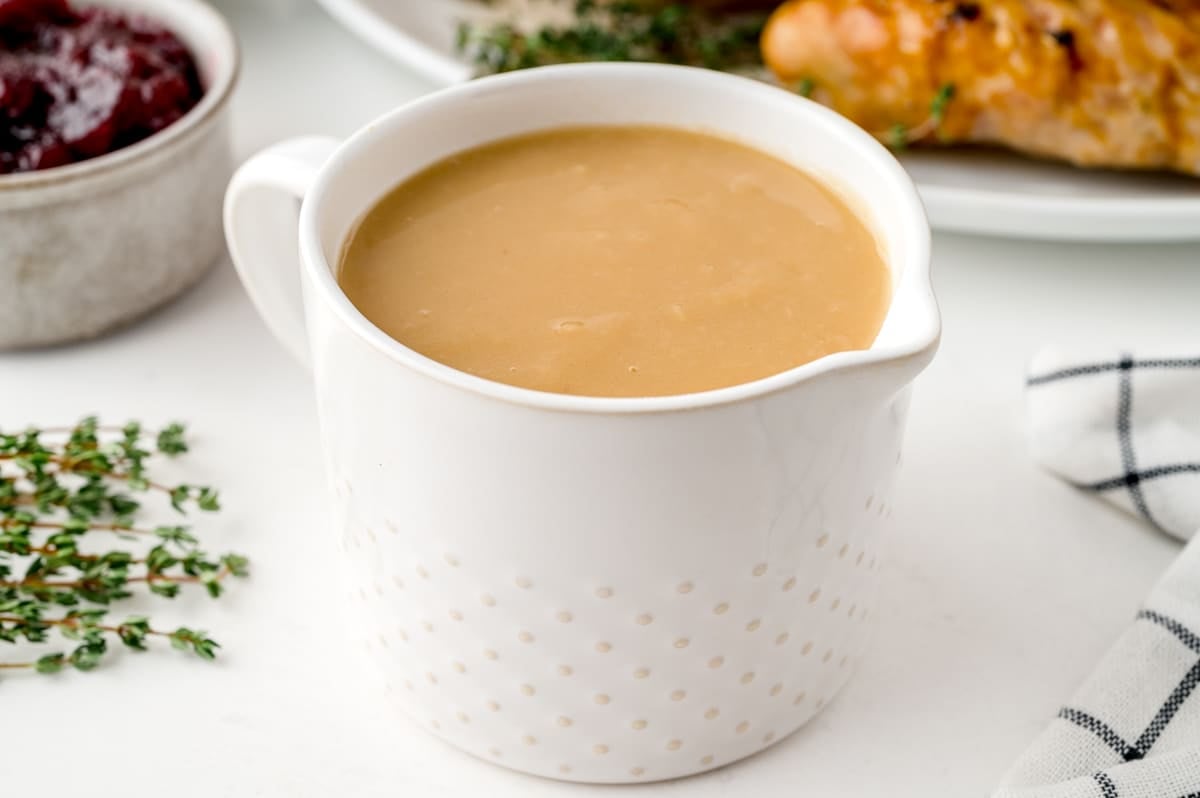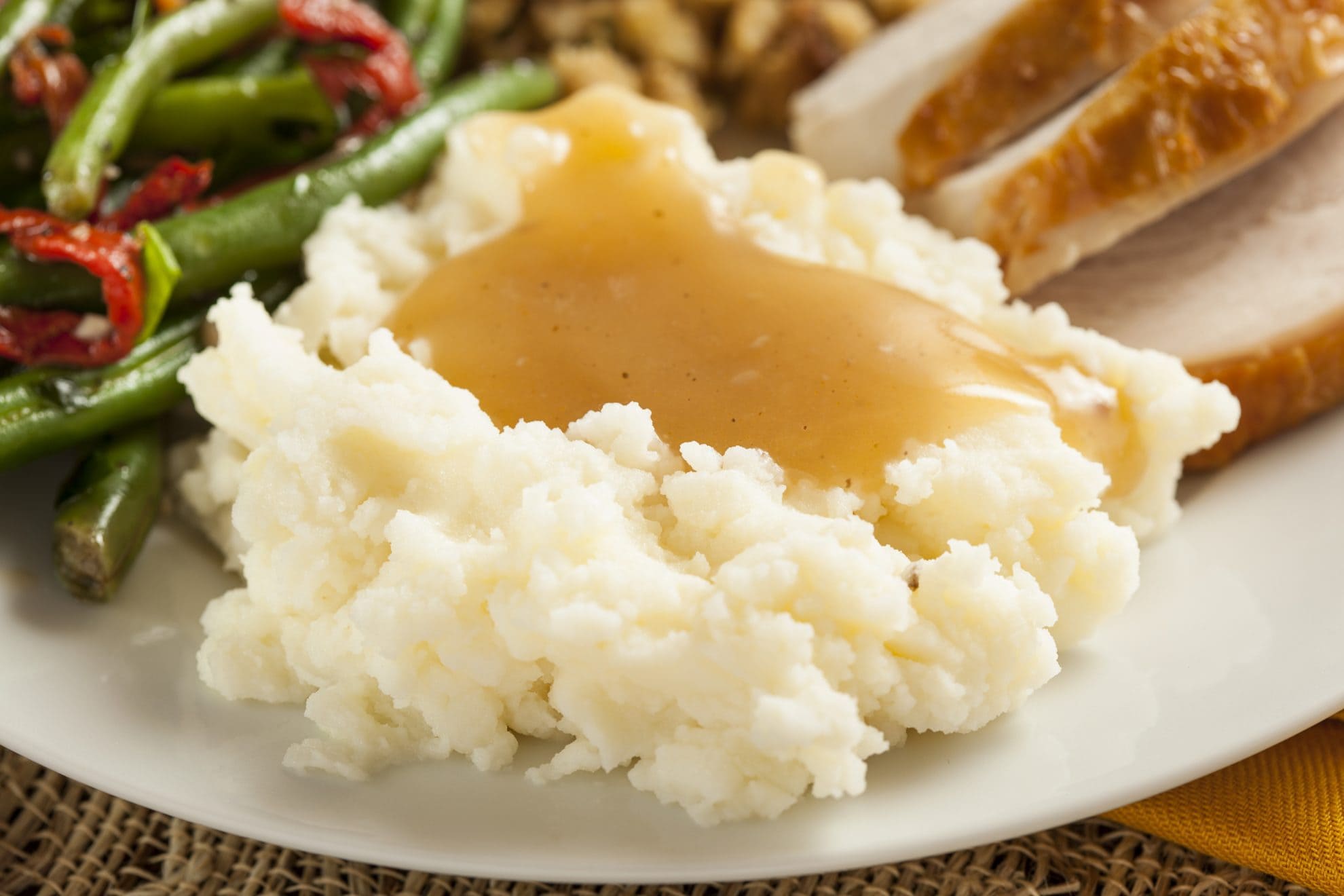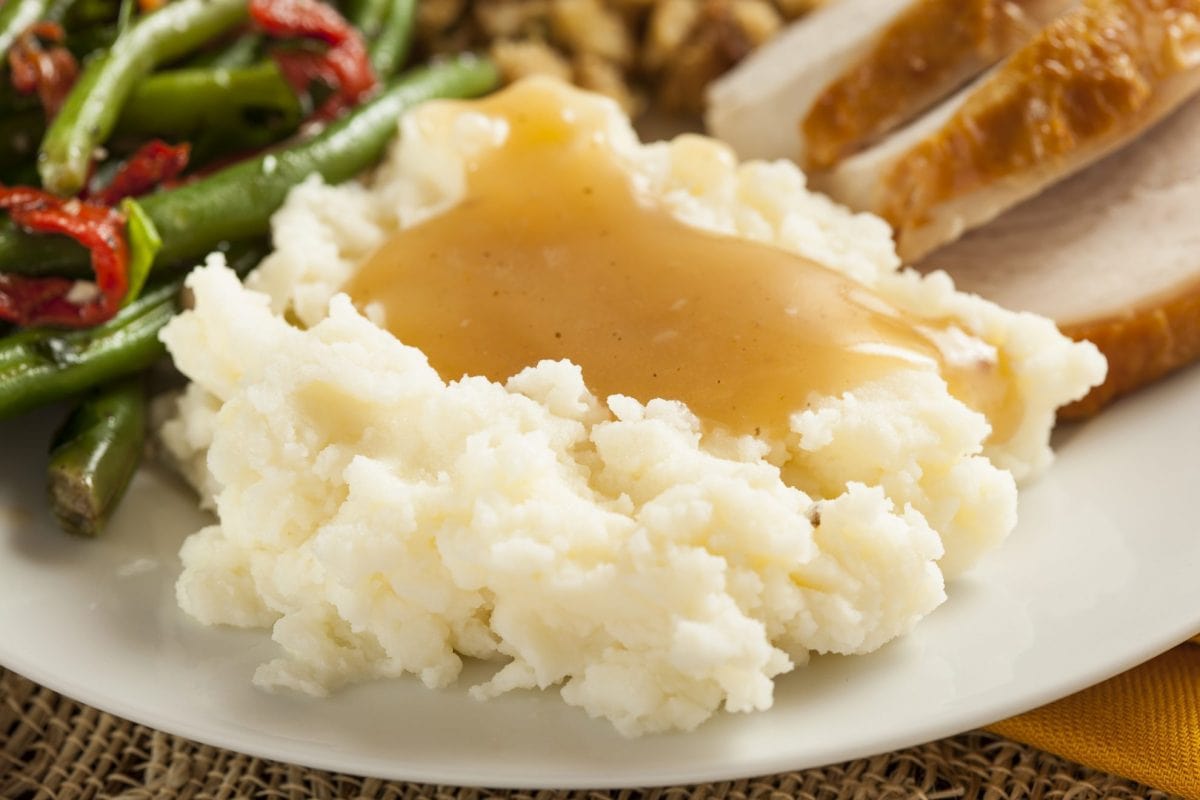 Homemade Gravy Recipe tips
Fixing Lumpy Gravy
There are a couple of aspects and questions that come up when making any type of gravy at home, but especially gravy with drippings. Let's address those first.
The first, is undoubtedly, the issue of lumpy gravy. Lumpy gravy is usually the result of trying to thicken the sauce and not doing it properly.
The unfortunate issue is that after you lump it it, no amount of whisking is going to make it a smooth gravy. Those lumps are there to stay. There are only two ways to fix the problem.
The first is to remove the lumps by pouring the gravy through a fine mesh sieve or small holed colander.

If you only have a large holed colander, line it with cheesecloth. You will lose a little gravy and the pan drippings absorbing into the cheesecloth though.

The second is to use an immersion blender or transfer the whole mixture to a stand blender (not a stand mixer, an actual BLENDER) and give a nice whirl.

But you can prevent lumps when making gravy from drippings pretty easily. The basic elements to thicken gravy are flour, cornstarch or arrowroot. Any of these three needs to be mixed with a small amount of water before being added to the larger batch of gravy. Flour is usually added before in the form of a roux.

Other lumps sometimes come from pieces of food or seasoning, but those are the good kind of lumps. You can smooth those with an immersion blender, if desired.
How to Fix Salty Gravy
The next issue is that gravy is too salty. Generally this happens because the cook has seasoned the gravy too early in the cooking process and the other ingredients already carried a lot of salty flavor.
Drippings and broth, stock or bullion are all going to carry a certain amount of their own saltiness. Until it is all combined, you won't know how much, if any, salt is needed.
It is potatoes! Chop up a potato and add it to your gravy. It will absorb the salt in about 15 minutes. Fish out the potato chunks using a slotted spoon or run it through a colander. Although I haven't tried this technique, it is touted by Better Homes & Gardens, so I am guessing it works!
The second is to counterbalance salt with sugar and pepper. Both will help balance the flavor profile of your gravy with drippings. Start with just a teaspoon of sugar and quick pinch of pepper, stir well and taste. Add more as needed.
The last way to reduce salt in gravy is all about ratios. You can dilute the gravy by adding more liquid and a tablespoon of butter. You might also end up with WAY more gravy than you need, but I supposed that is better than not having gravy at all.

Add 1 cup of broth (or just plain water if the stock is what was contributing to the saltiness to begin with) and 1 tablespoon UNSALTED butter. Salted butter will just add to the saltiness, as will non-low sodium stock.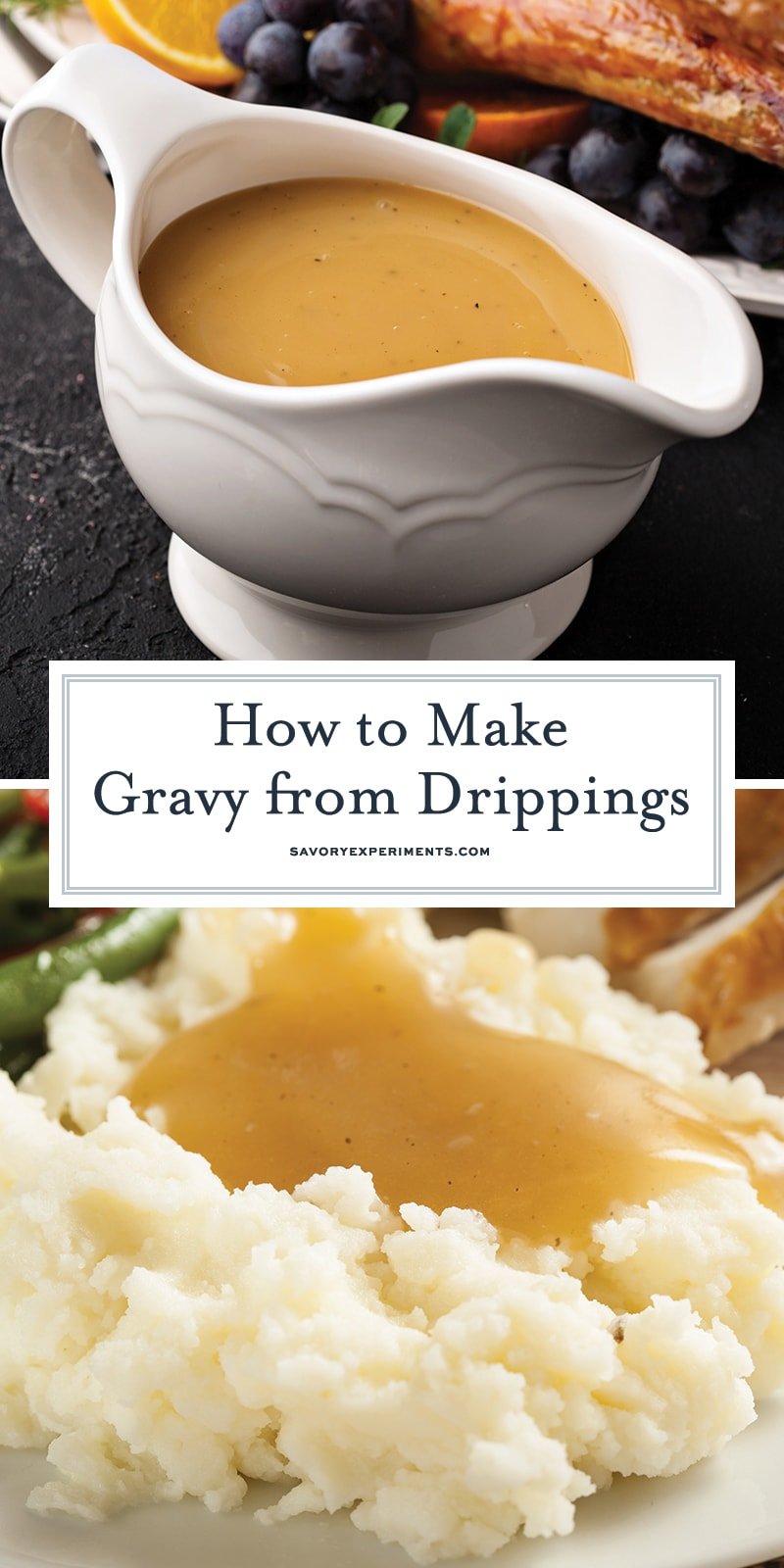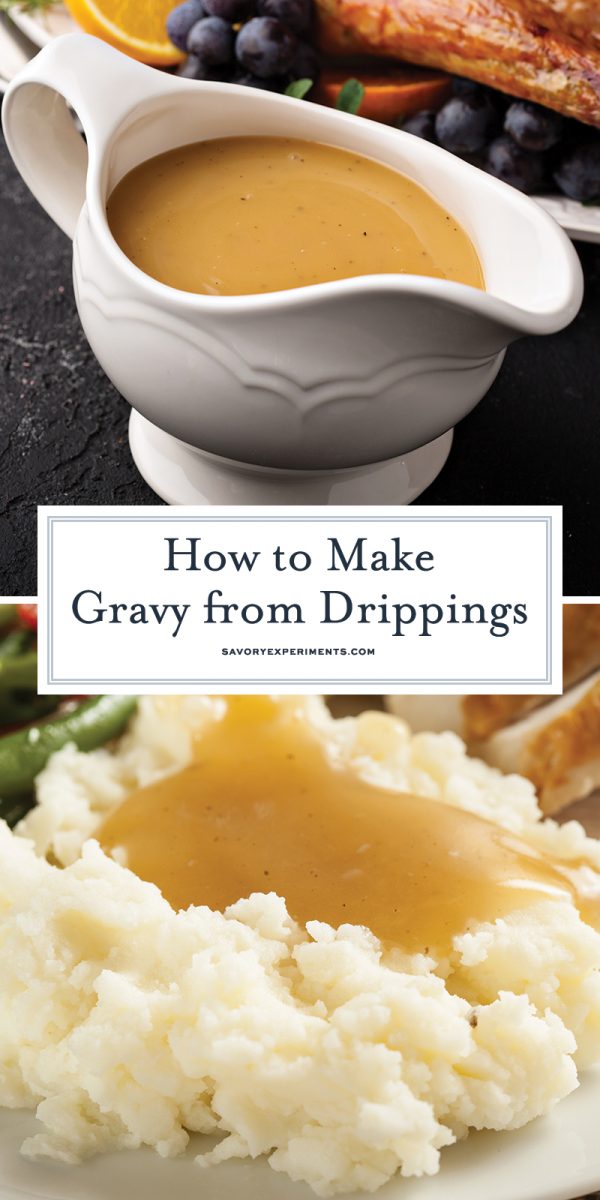 How to store this Easy Gravy Recipe
Depending on the recipe, you might be left with cups of leftover gravy. The good news is that it freezes well and can be used on nearly anything. In fact, some recipes might not have enough drippings to even make gravy!
Leftovers: To store leftovers, simply place in an airtight container and store for up to 5 days. Reheat in the microwave or on the stovetop. It will be slightly gelatinous, but will melt. Resist the urge to add more liquid until fully heated and then make that decision.
Freezing: Freeze in airtight containers or plastic freezer bags for up to 6 months. Gravy can also be frozen into little bits using a plastic ice cube tray. Freeze, pop them out into a freezer bag and you've got little single servings. Thaw in the refrigerator overnight.
Chilled and frozen liquids tend to be a little muted in flavor, so you might need to add more salt or black pepper. Taste test it first.
How to serve Homemade Gravy
The obvious answer is anything you want, but there are a few traditional recipes that pair well.
How to Make Gravy FAQs
What is the formula for gravy?
The classic ratio for gravy is 3:2:1: 3 tablespoons of flour, 2 tablespoons of fat, and 1 cup of hot broth. However, you'll find gravy is very forgiving and these can be altered slightly. The flour can be swapped out for cornstarch, arrowroot or other gluten free alternatives. The fats can be pan drippings or rendered fats, butter or even lard. The liquids can be meat juices, broth or stock or even wine, milk or cream.
What is the secret to good gravy?
The secret to good gravy is using something similar to the classic ratio and seasonings without too much salt. The number one complaint of gravy is that it is too salty.
This happens because the pan drippings typically contain salt form the meat seasonings, the broth or stock contains salt and then home cooks add additional salt thinking it needs to be seasoned. This is truly a situation when you need to taste before seasoning every single time because no pan drippings will ever be exactly the same.
Is homemade gravy better with flour or cornstarch?
Either can be used and neither is better than the other. If you have the opportunity to make a roux (fat plus flour) paste before adding the liquid, then use flour, but if adding at the end, cornstarch blended with a small amount of hot liquid, then tempered in, works better. Arrowroot and other gluten-free thickening agents can also be used.
What is difference between gravy and sauce?
Gravy is a type of sauce, but not all sauces are gravy.
Some global cuisines might refer to their customary sauces as "gravy" even if they aren't the traditional formula. For example, the tomato based sauce in Italy is sometimes called gravy.
More Gravy Recipes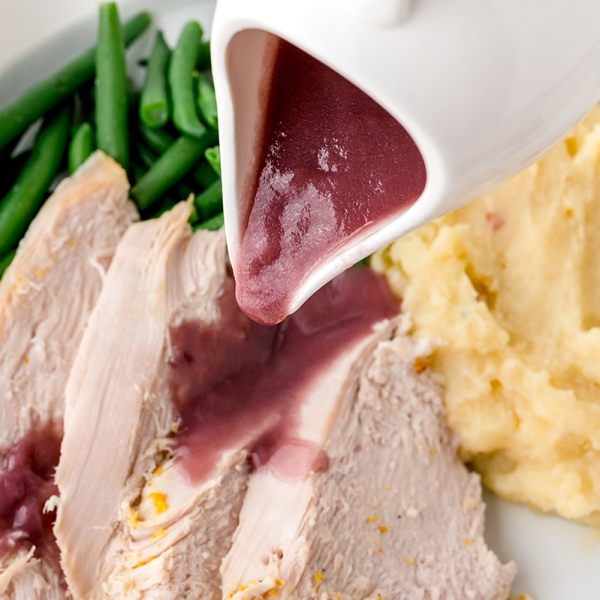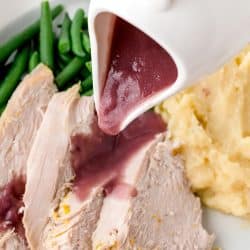 Red Wine Gravy Recipe
Homemade Red Wine Gravy Recipe is a make-ahead, rich and velvety gravy recipe without pan drippings. Perfect over turkey, chicken, mashed potatoes, or beef!
See The Recipe!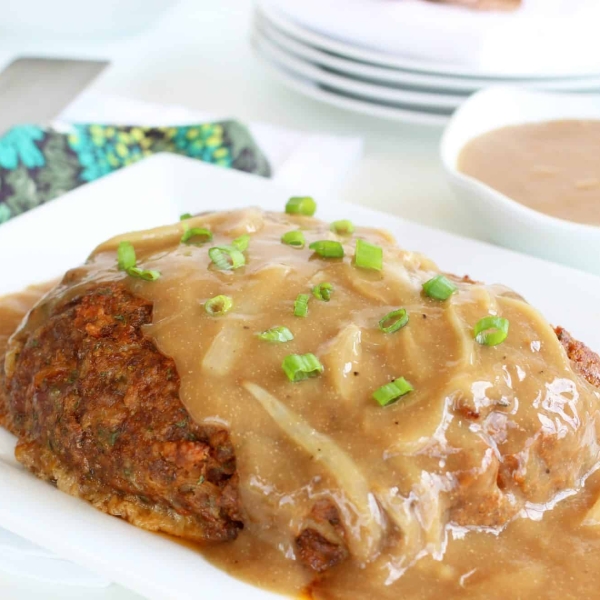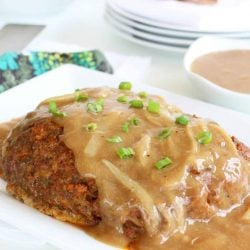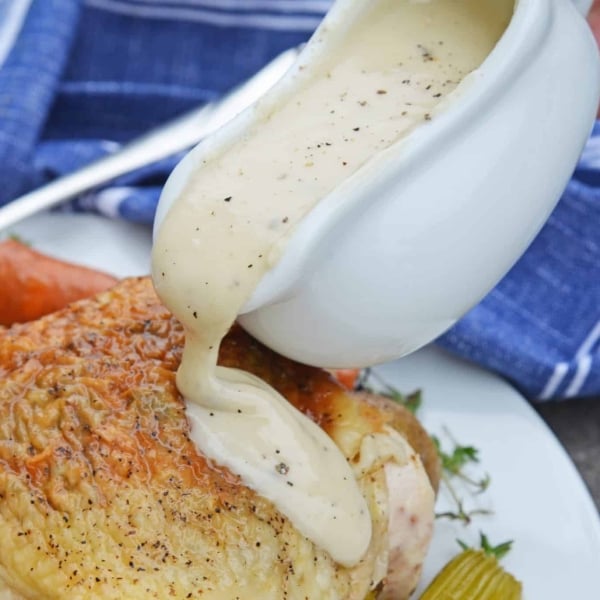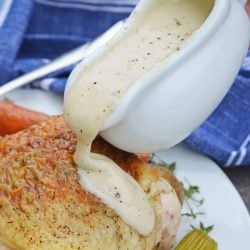 Easy Chicken Gravy
Easy Chicken Gravy made with chicken drippings is the best homemade chicken gravy recipe! It takes 10 minutes and ingredients you already have in your pantry.
See The Recipe!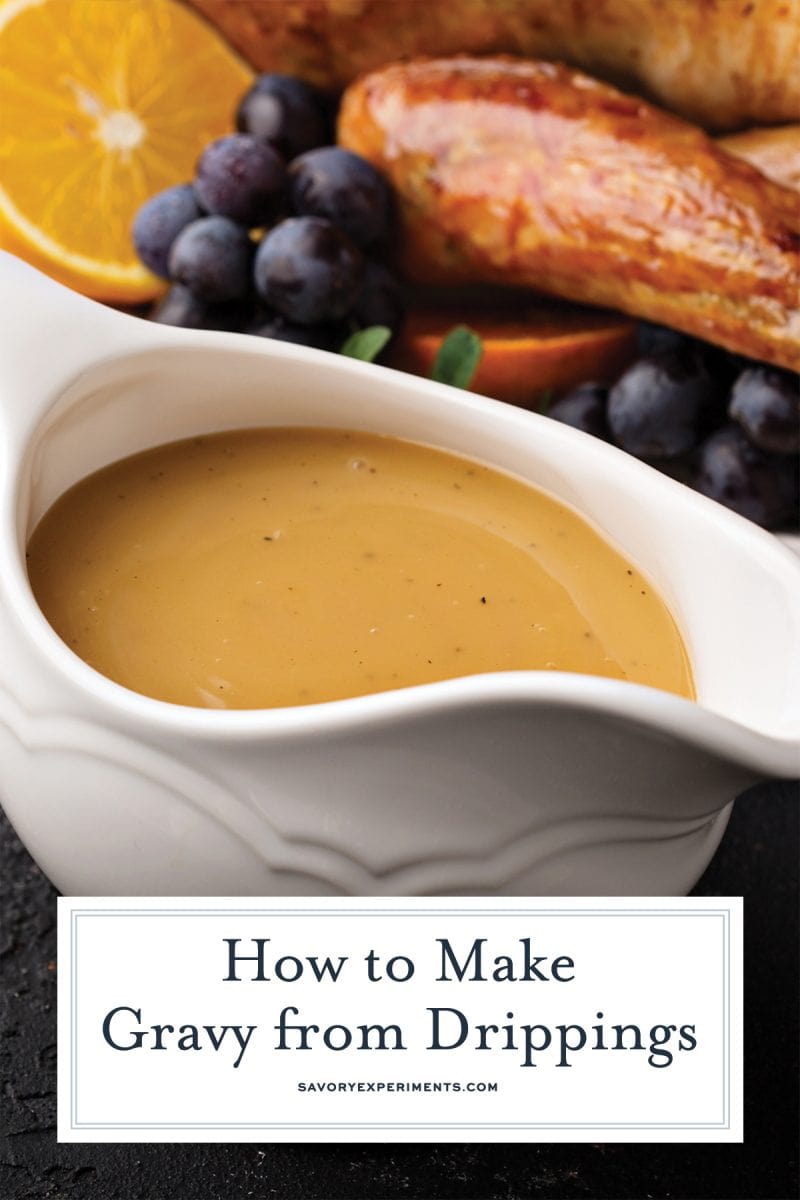 More Favorites from Savory Experiments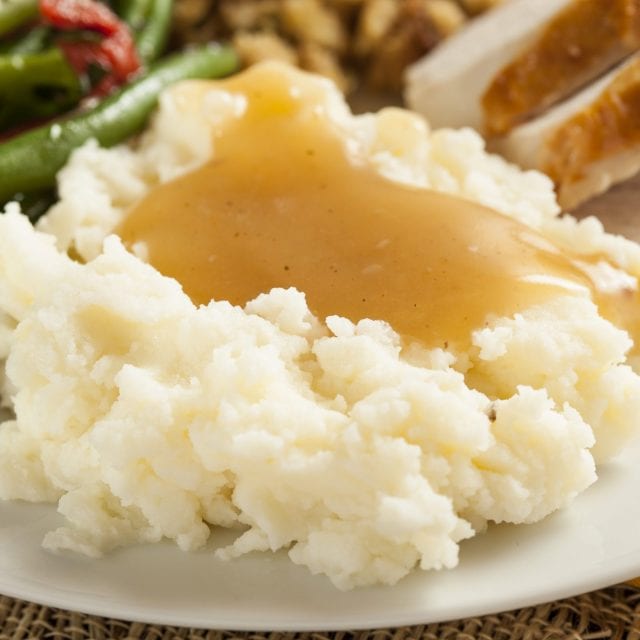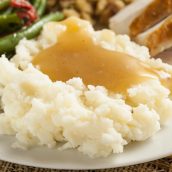 Homemade Gravy
Homemade gravy has never been easier! Learn How to Make Gravy from Drippings, whether you're cooking chicken, turkey, pork or beef!
Ingredients
1/4

cup

unsalted butter

1/4

cup

flour

2

cups

broth

2

tablespoons

drippings

Kosher salt & freshly ground black pepper

, to taste

Other flavor add-ins
Instructions
Melt the butter over medium heat in a saucepan.

When melted, whisk with the flour until a paste forms. Continue to whisk until roux starts to brown and become fragrant.

Slowly add the broth and drippings while whisking vigorously. Continue to whisk until fully heated.

Taste test for seasoning. Add the salt and freshly ground black pepper sparingly until desired taste is achieved.

Add other seasonings, if desired and continue to heat for 5-15 minutes.

If you run into problems, such as your gravy being too thin, too thick, too salty or having other issues, check this post for common gravy problems and how to solve them!

If you've tried this recipe, come back and let us know how it was in the comments or ratings.
Notes
For other seasonings, try these options:
3-4 leaves sage
2-3 sprigs fresh thyme
2-3 sprigs fresh rosemary
2-3 whole anise pods
3-4 grates of fresh nutmeg
2-3 whole cardamom pods
1 teaspoon whole allspice berries
1 tablespoon sherry
1 tablespoon white wine
1 tablespoon red wine
2-3 tablespoons finely chopped giblets
2-3 tablespoons minced or grated onion
2-3 cloves finely minced or grated garlic
2-3 tablespoons grated apple
1/3 cup apple juice
1 tablespoons orange juice
1/4 cup cream or half and half
Nutrition
Calories:
318
kcal
,
Carbohydrates:
12
g
,
Protein:
1
g
,
Fat:
30
g
,
Saturated Fat:
16
g
,
Trans Fat:
1
g
,
Cholesterol:
59
mg
,
Sodium:
772
mg
,
Potassium:
19
mg
,
Fiber:
1
g
,
Sugar:
2
g
,
Vitamin A:
968
IU
,
Calcium:
7
mg
,
Iron:
1
mg