Are you a taco lover? Cause I sure am. Any time of the day, I'm down for hand held deliciousness. I don't know why it never occured to me to put breakfast foods in a tortilla until I visited Austin, Texas.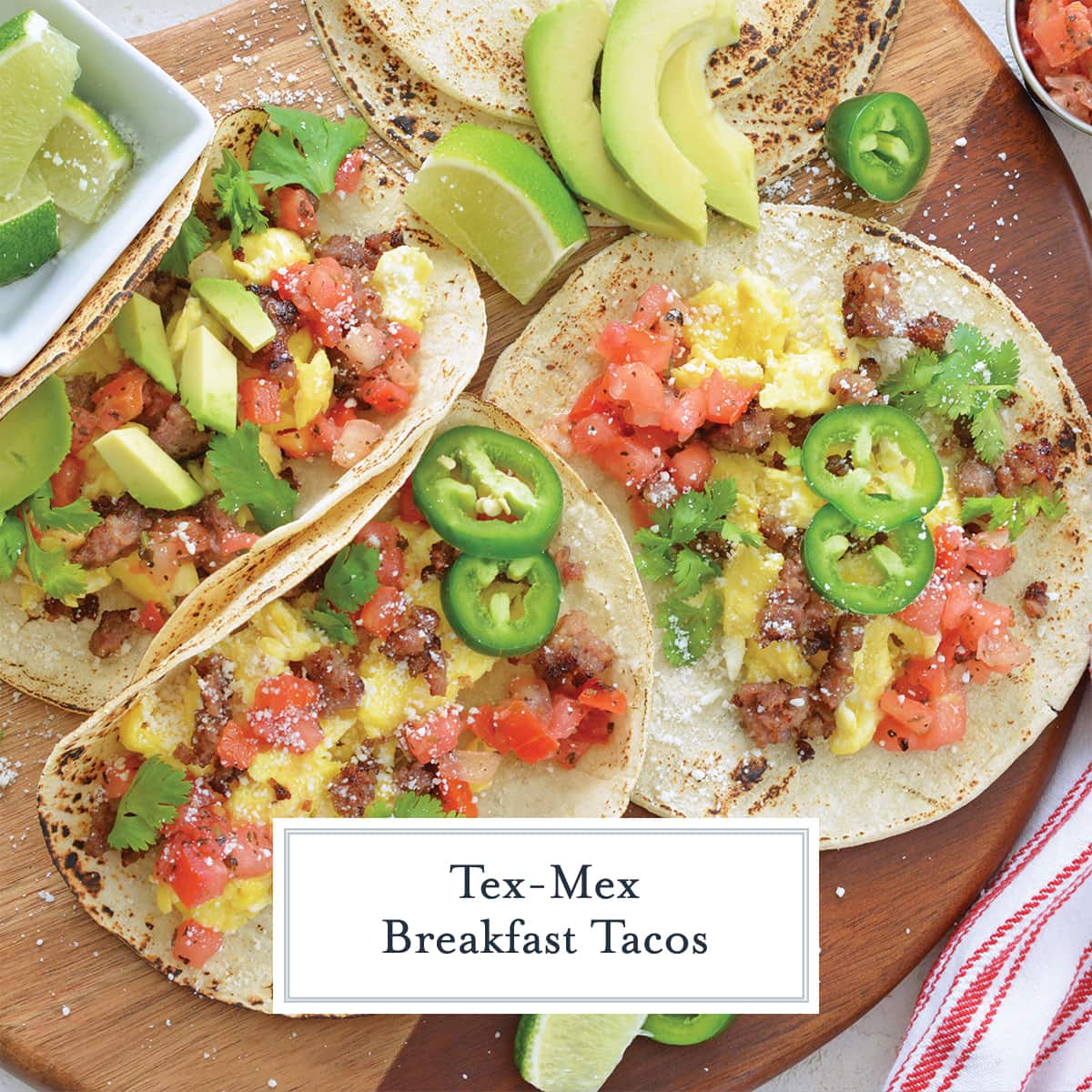 The art of the breakfast taco is practically an institution with Veracruz All Natural leading the way with several food trucks serving up their unique flavor variations throughout the city. They are way more than just warmed tortillas with eggs and cheese.
We woke up early after a night of two-stepping to check it out and even right at opening time, there was a line. And not just visiting foodies, locals. Which to this girl, means these were going to be darn good breakfast tacos.
Breakfast Tacos Recipe
I set out to make my own breakfast taco recipe on Cinco de Mayo, because what better day to have tacos in the morning? I really don't need an excuse.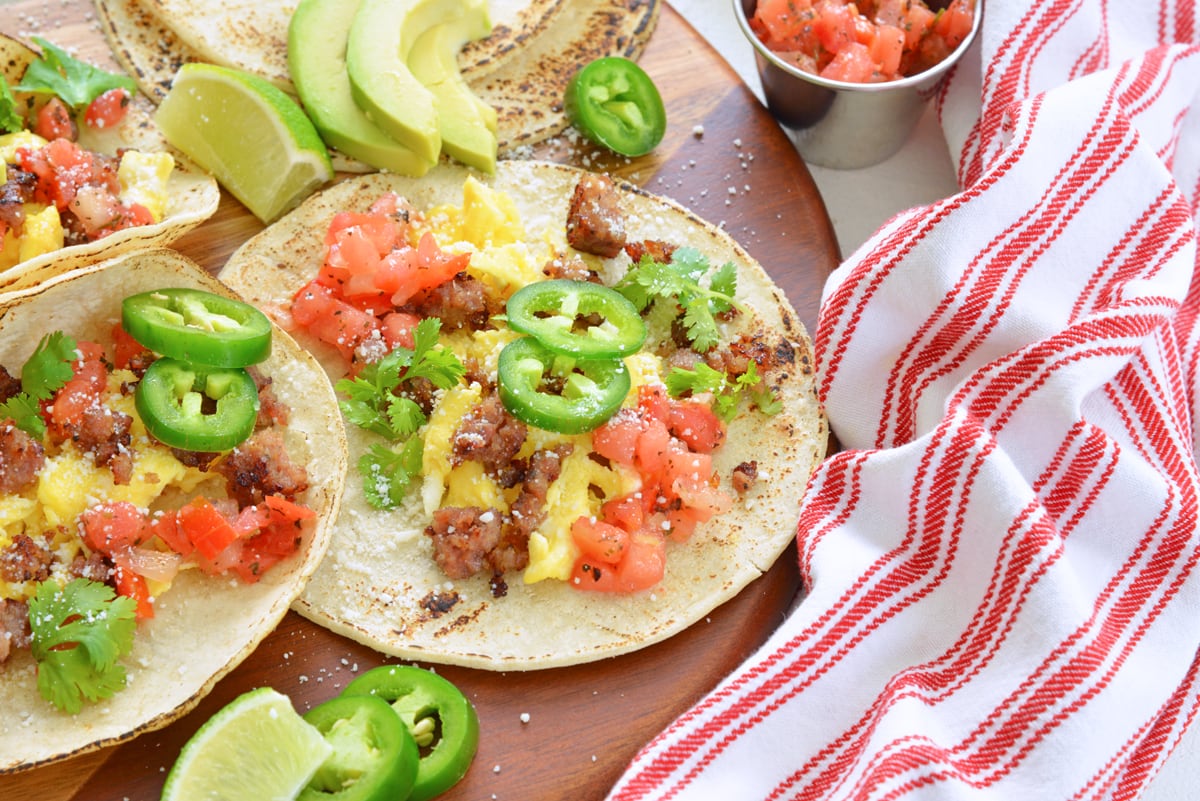 Building a taco, breakfast or regular, is really simple. I like to make sure I have a cheese, protein, veggies and sauce. From there, I love giving it some color. Eat the rainbow!
This recipe uses two types of protein, my super special scrambled eggs (I have a secret technique for the fluffiest eggs ever, watch below) and browned breakfast sausage. Making sure it gets a good sear is key for optimal flavor.
Our cheese is crumbled cotija and sauce is a classic pico de gallo. You know I like a little glisten on my nose, so fresh jalapeno slices were a must. Simple to start, but the possibilities are endless!
Breakfast Taco Toppings
There are no rules when it comes to building your breakfast taco although the majority are egg or potato based. Here are our favorite toppings:
Chives or green onions (scallions)
Sour cream or crema Mexicana
Crumbled cotija, queso fresco or shredded cheese like cheddar cheese, monterey jack
Mole sauce
Veggies: mushrooms, spinach, corn, cabbage, radish, lettuce,
Salt and pepper
Tortillas
Corn tortillas are by far the most authentic when it comes to Tex-Mex breakfast tacos. Yellow or white corn are acceptable, try to find thinner ones and always heat them by charring slightly or steaming to soften them up. If they are thin, layer two together to prevent breakage.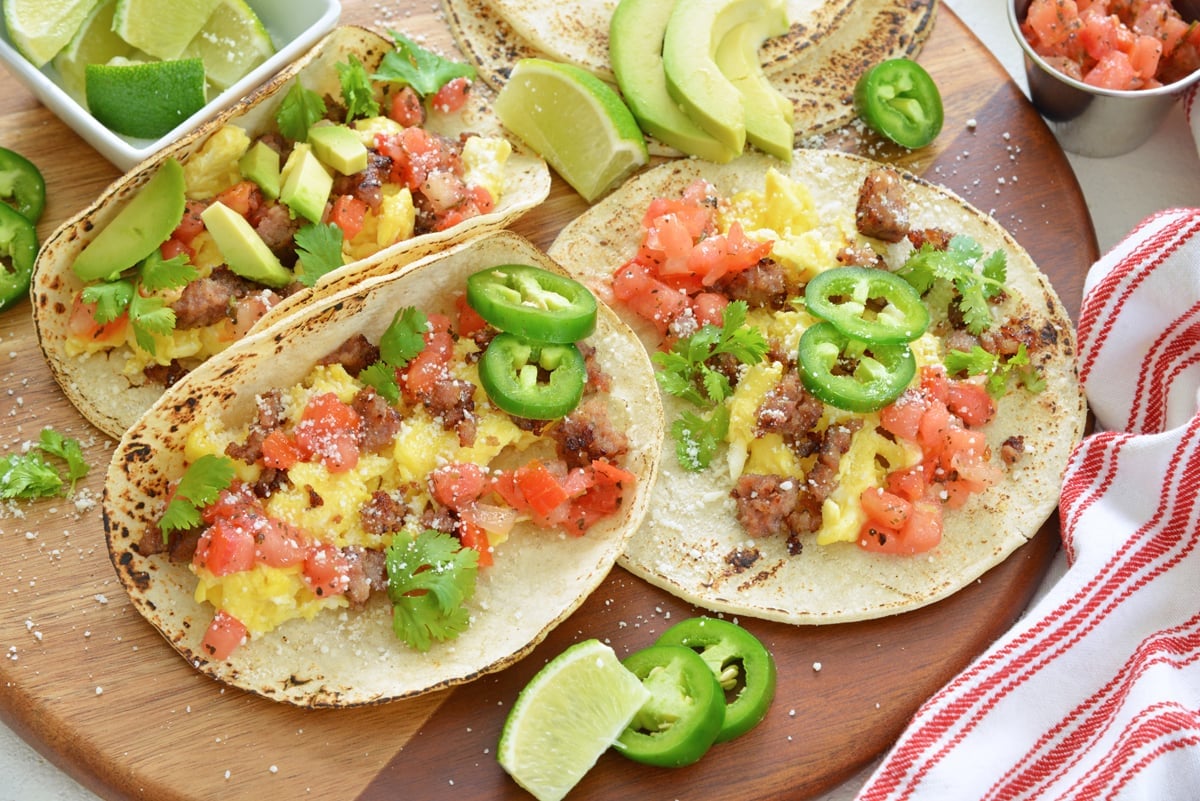 Some people find corn tortillas a little gummy- rest assured that a fresh corn tortilla will not be gummy, but many of the store bought ones are thick and mass produced. Small flour tortillas, sometimes sold as street tacos, are a good swap.
Make it Low Carb!
Another winning point for breakfast tacos- they are friendly to a variety of special lifestyles and diets.
Gluten Free– Use corn tortillas
Low carb or Keto– Swap out the tortilla for a hefty piece of Bibb or butter lettuce or make it into a burrito bowl and pile on the protein!
Whole30- Use a nitrate free or unprocessed meat like chopped turkey or chicken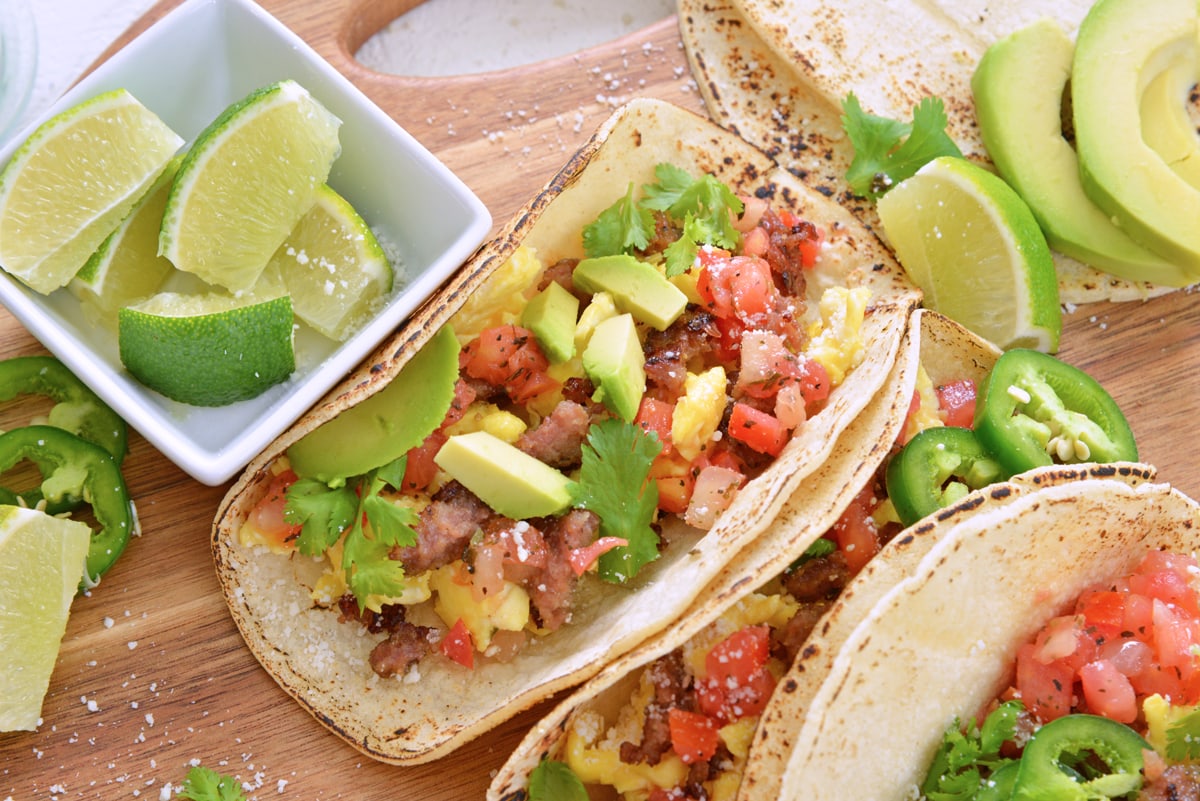 Build a Breakfast Taco Bar
Breakfast tacos are a wonderful thing and perfect for the "build your own" or "taco bar" experience. Each diner can customize their taco accordingly. Tacos are a family friendly meal, and you can even get the kids involved and have them help with the prep work.
Don't limit yourself to tacos for breakfast, feel free to make them into brinner– breakfast for dinner!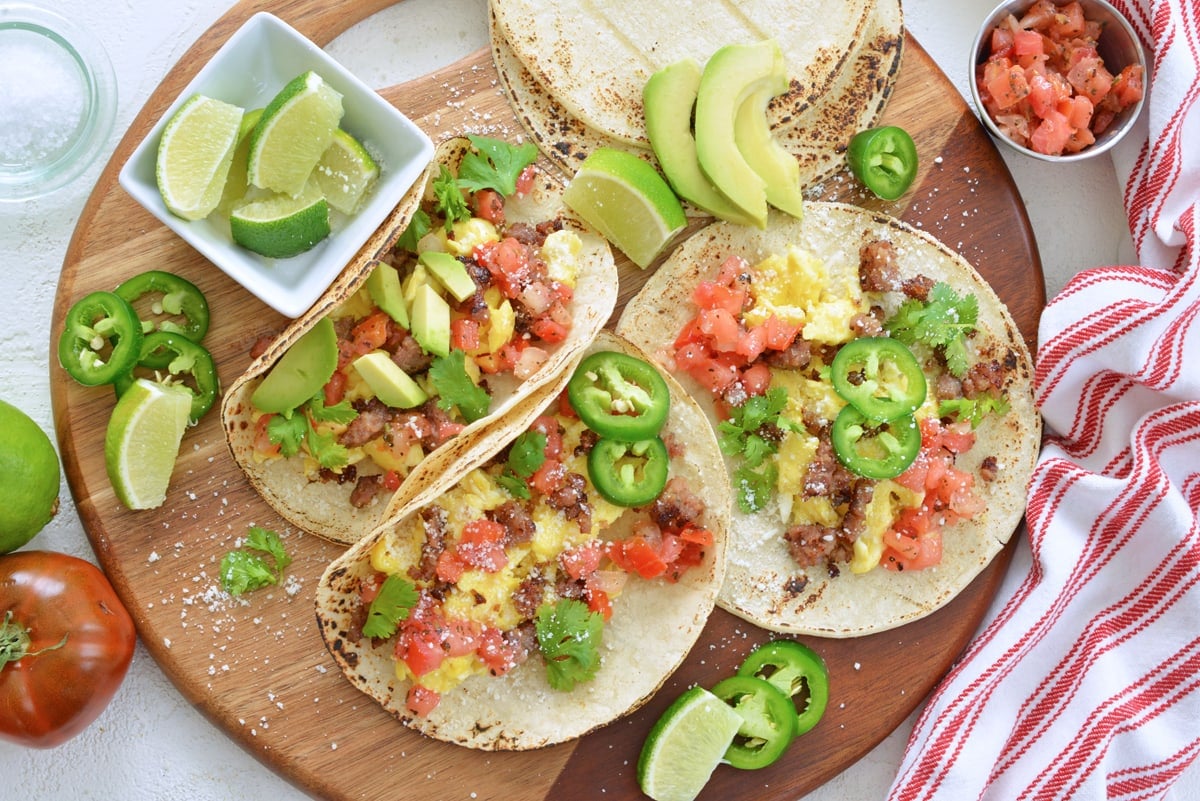 What to Serve with Breakfast Tacos
Anything you want, really. A nice sweet fruit salad certainly pairs well with the otherwise zesty flavors, but if you want to stick with the Tex-Mex theme, here are some other ideas.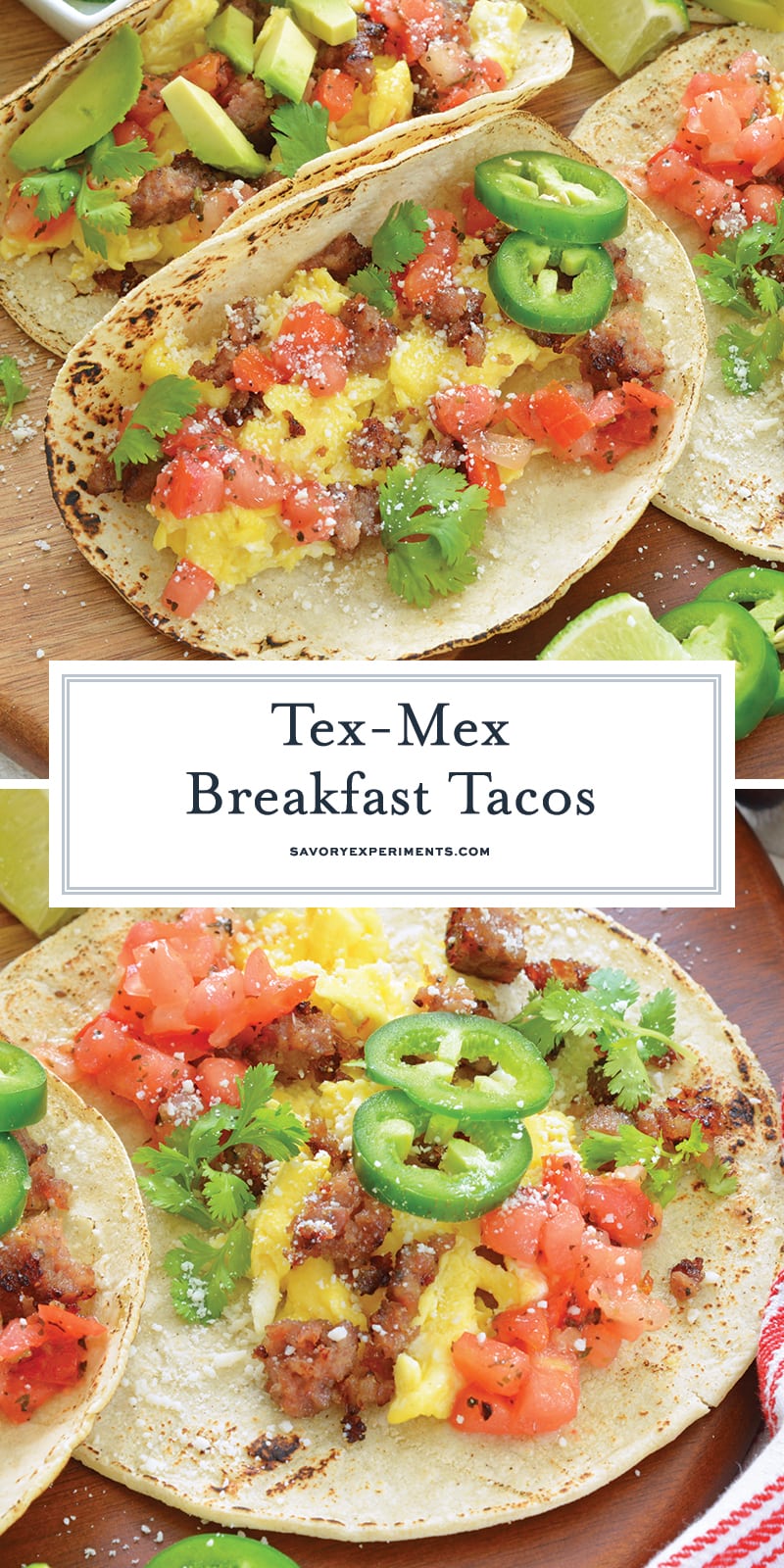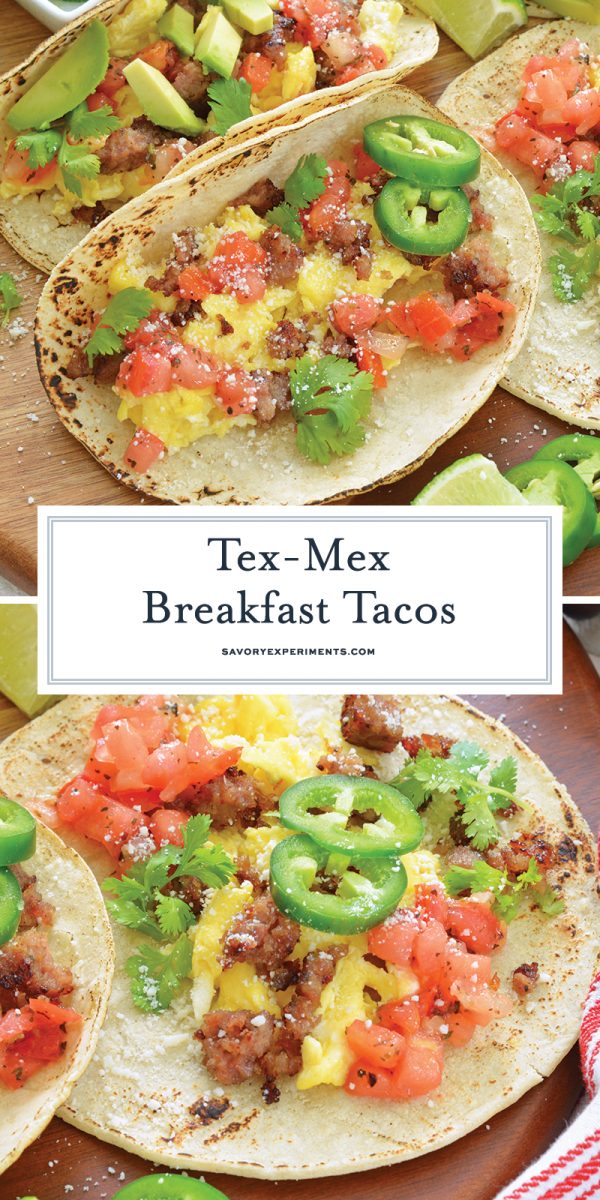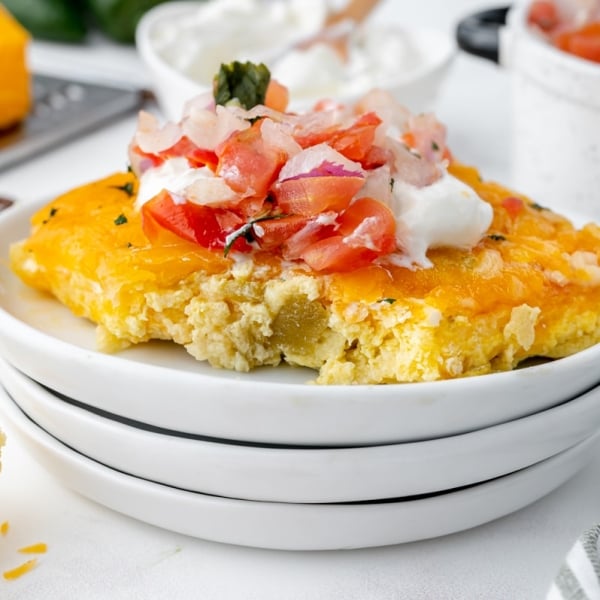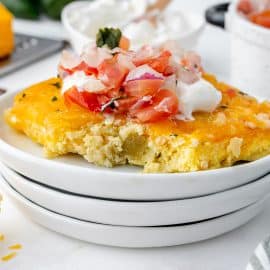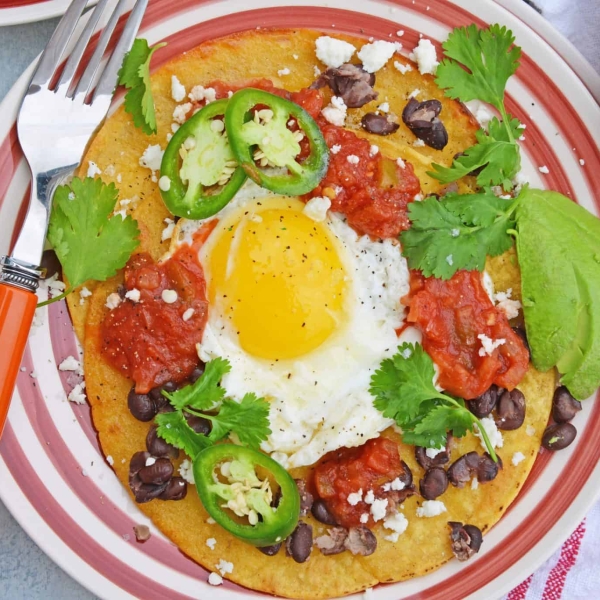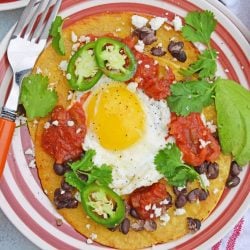 Ultimate Huevos Ranchoes
Huevos Rancheros are a great way to spice up your breakfast. Lacey eggs with a runny yolk over warm corn tortillas, chunky salsa, black beans, cilantro and queso fresco.
See The Recipe!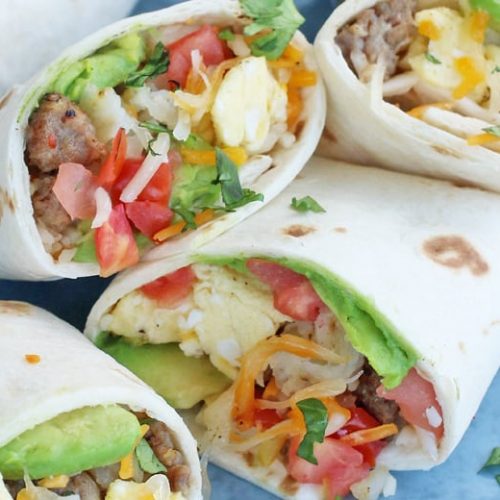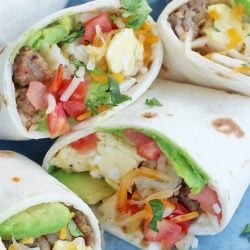 Easy Breakfast Burritos
If you're looking for the best breakfast burrito, you've found it with this easy, delicious breakfast burrito recipe! Easy to make and delicious to eat!
See The Recipe!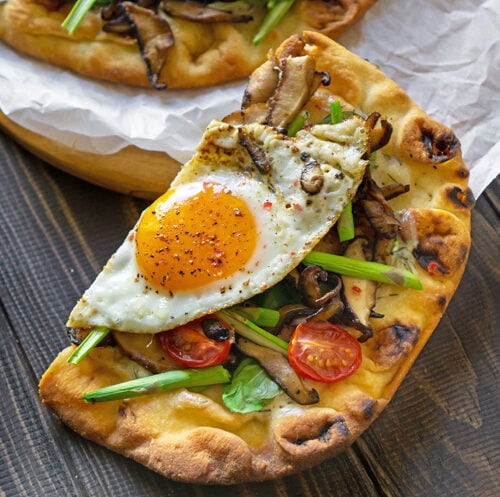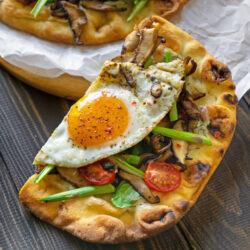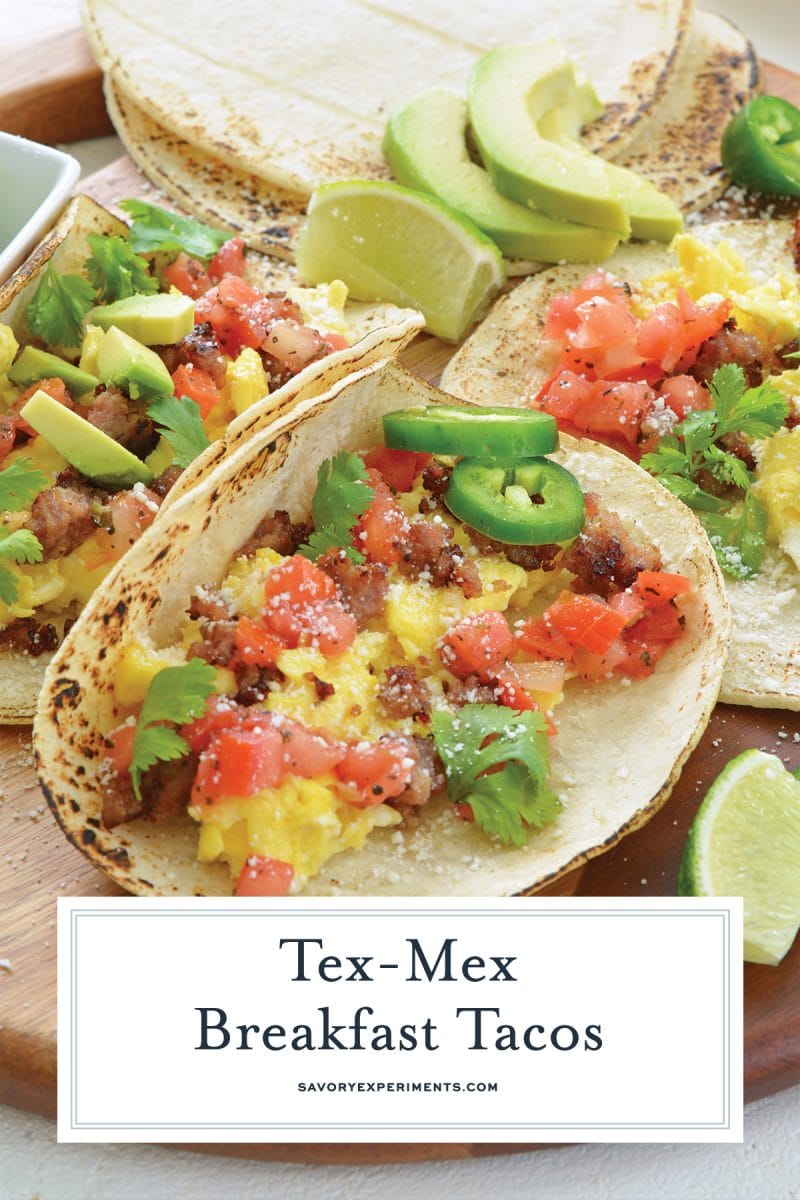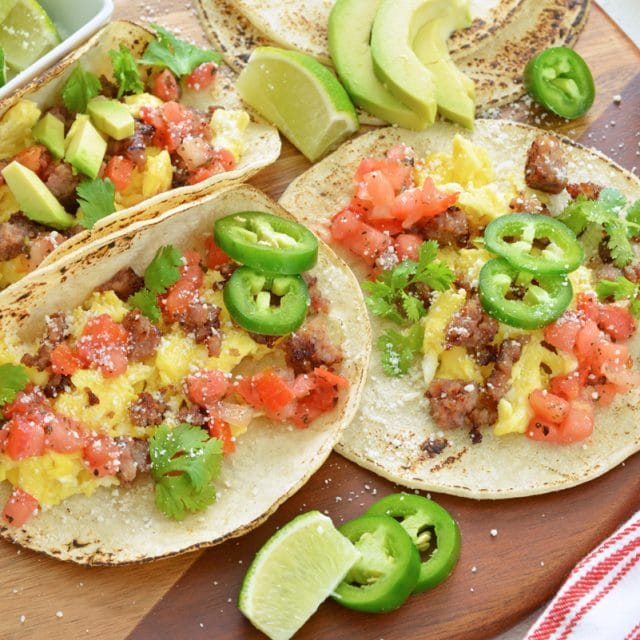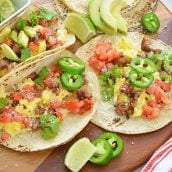 Best Breakfast Tacos
Make your own breakfast tacos at home! Perfect for a fun brunch gathering or even serve breakfast for dinner.
Ingredients
1

tablespoon

milk

1

tablespoon

butter

½

cup

bulk breakfast sausage

, cooked and crumbled

¼

cup

queso fresco or cotija cheese

, crumbled

1/4

cup

pico de gallo

1

fresh jalapeno

, seeded and sliced

1

avocado

, thinly slices

Chives or scallions

, for garnish

Maldon sea salt and freshly ground black pepper

, for garnish

8

tortillas
Instructions
In a mixing bowl, whisk eggs and milk well. The more air you can introduce into the mix, the fluffier your scrambled eggs! You can even give them a quick spin with an immersion blender.

In a large skillet, heat butter over medium heat.

When melted, add eggs and fold towards the center (see video). Remove from heat while eggs still look wet to ensure they do not overcook.

Build your breakfast tacos by evenly dividing scrambled eggs amount tortillas. Top with crumbled sausage, cheese, pico de gallo, avocado and jalapeno slices. Add other additional toppings you enjoy.

Garnish with chives, green onions, large flaky salt and freshly ground pepper.

If you've tried this recipe, come back and let us know how it was in the comments or ratings.
Notes
Alternately, you can make these as a breakfast bowl with no tortillas or lettuce.
The best lettuce for low carb breakfast tacos is Bibb lettuce, sometimes also labeled at Butter lettuce. Romaine hearts are also a good substitution.
Nutrition
Calories:
430
kcal
,
Carbohydrates:
38
g
,
Protein:
15
g
,
Fat:
25
g
,
Saturated Fat:
8
g
,
Polyunsaturated Fat:
3
g
,
Monounsaturated Fat:
12
g
,
Trans Fat:
1
g
,
Cholesterol:
188
mg
,
Sodium:
763
mg
,
Potassium:
460
mg
,
Fiber:
5
g
,
Sugar:
5
g
,
Vitamin A:
582
IU
,
Vitamin C:
10
mg
,
Calcium:
144
mg
,
Iron:
3
mg