Mix up your usual breakfast routine by making these easy breakfast burritos. Filled with hash browns, eggs, cheese and sausage, you can't go wrong!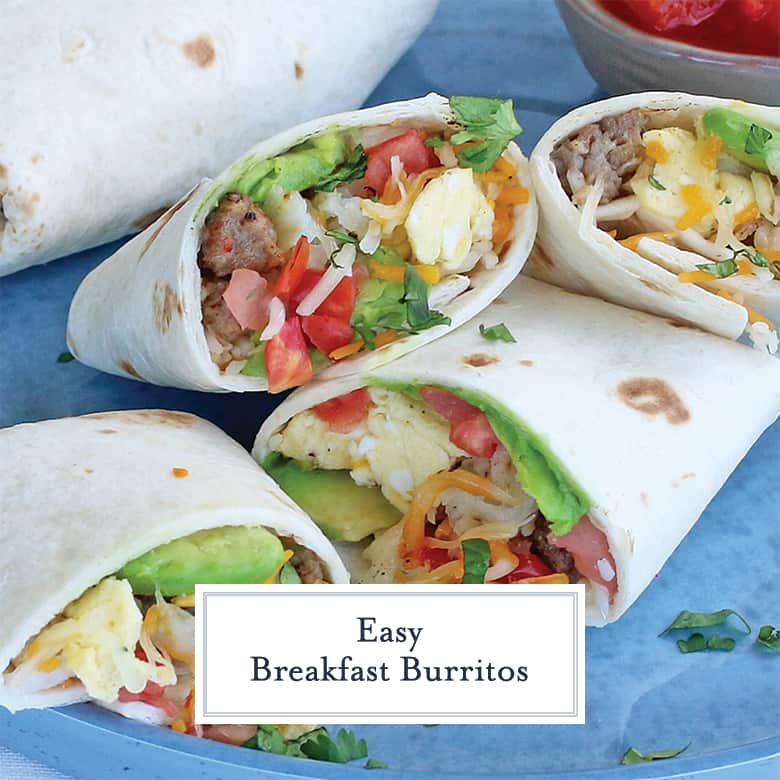 If you're looking for the best breakfast burrito, you've found it with this easy, delicious breakfast burrito recipe! Easy to make and delicious to eat!
Are you looking for a savory breakfast option that the whole family will enjoy? You're going to enjoy these Breakfast Burritos.
They are savory and filled with so much goodness. If you've never bitten into a breakfast burrito, you haven't lived. OK… maybe that is a bit of an overreaction.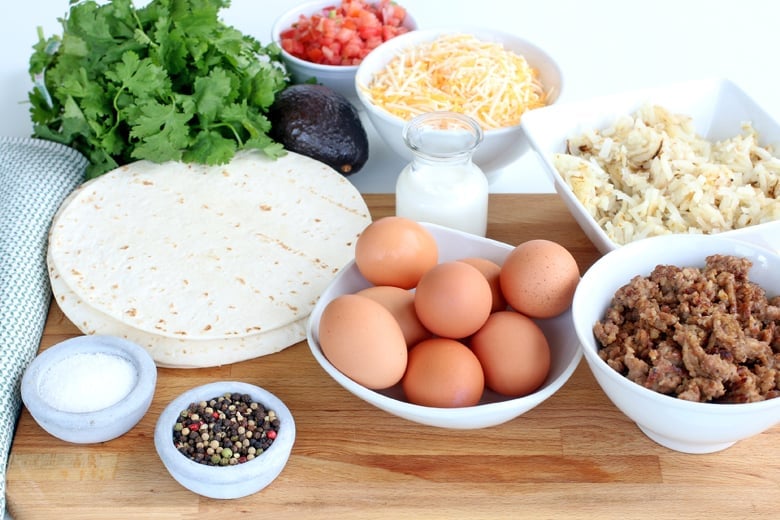 Deliciousness lives inside these breakfast burritos. We're talking loads of protein, hash browns, cheese, pico de gallo, avocado, and soft tortillas, plus many other ingredients. Keeps you satisfied all day long.
As you take a bite into the burrito, your taste buds are going to have a party in your mouth. I like to make these for the busy mornings of the school year, they are perfect for freezing and eating on the run.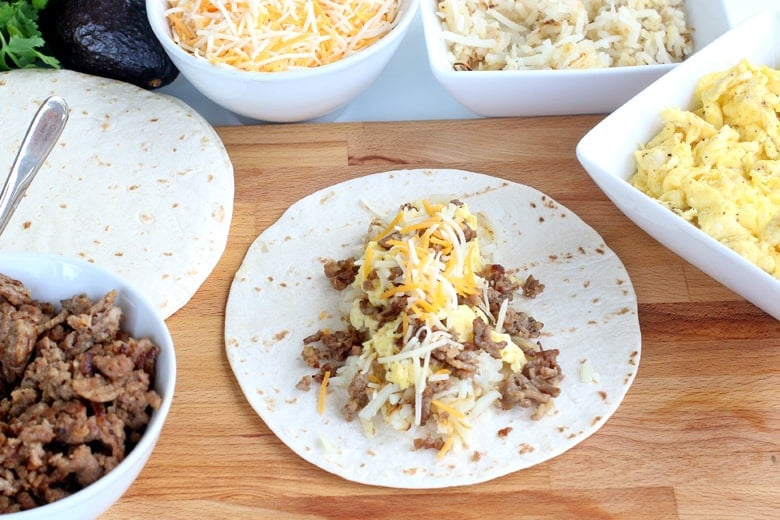 I have to say that kids seem to really love them and those little suckers can be the pickiest of eaters. If my 2-year-old loves it, then so will you!
I think that's why I love this recipe. If you want to use the sausage that I've chosen to put in the recipe, great. However, you can also switch it up and use other types of meat.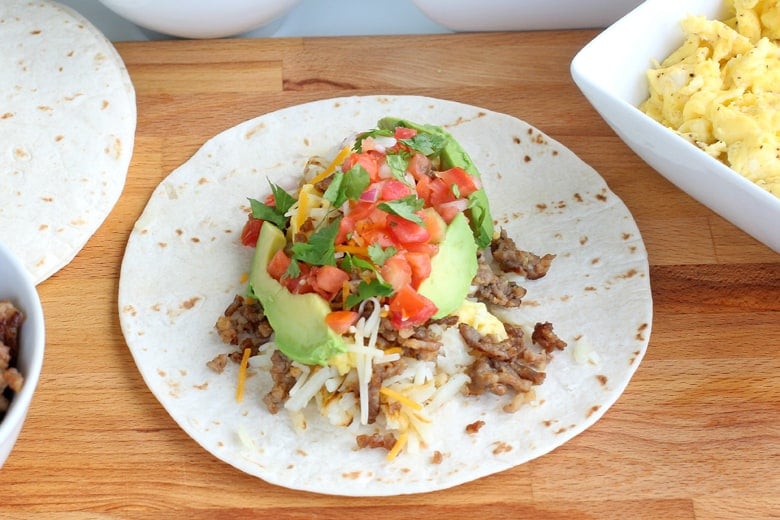 I've used bacon, steak, ground chicken and even ground turkey in other breakfast burritos. You can even make them into vegetarian breakfast burritos. I promise that no matter what kind of meat you use, you're going to love this recipe!
To start, you will heat vegetable oil in a skillet over medium high heat. Cook the hash browns in the pan according to the package instructions.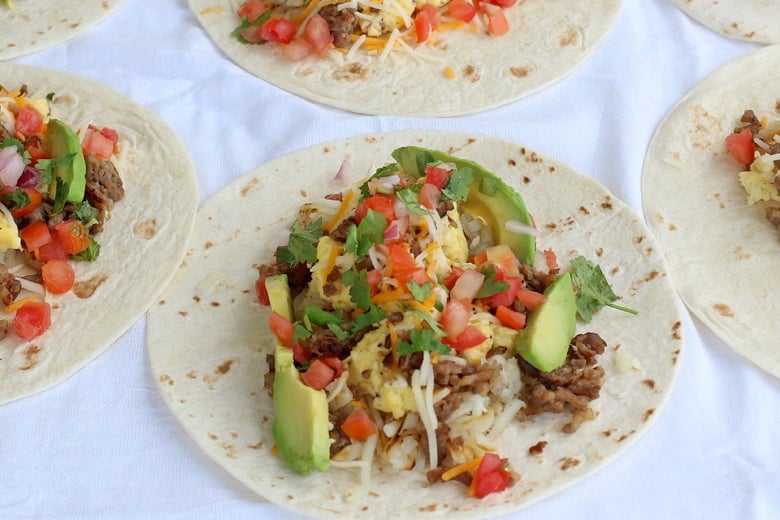 Next, crumble the sausage and add it into the hash browns. Cook all the way through, and then set aside on a paper towel lined plate to remove excess oil and moisture.
Then you will want to whisk the eggs and milk in a bowl, then cook them in the same skillet you had cooked the hash browns and sausage in. Cook them, stirring occasionally, until they resemble scrambled eggs.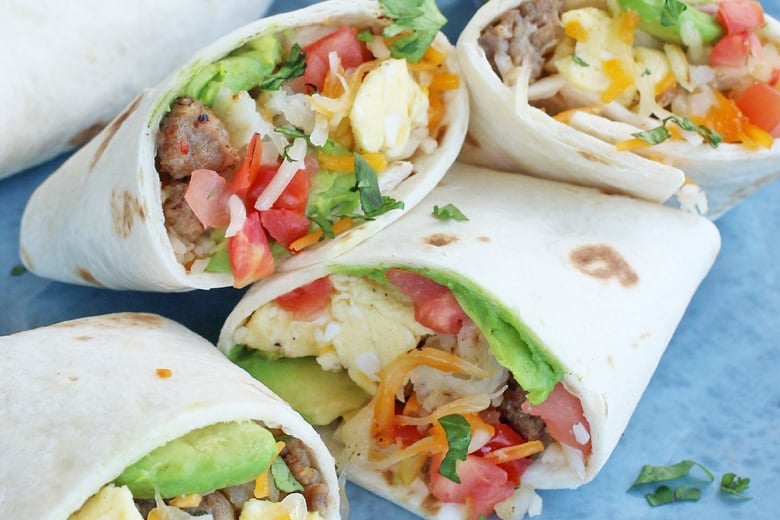 The next part is the fun part: assembling the burritos! You will want to put layers of both the egg mixture and the hash browns on a flour tortilla, but the rest is up to you.
Throw on some cheese (I prefer monterey jack or cheddar,) or even veggies like bell peppers or tomatoes. I like to top mine with sour cream, salsa or ranchero sauce, but you could certainly add a dash of hot sauce to kick it up a notch!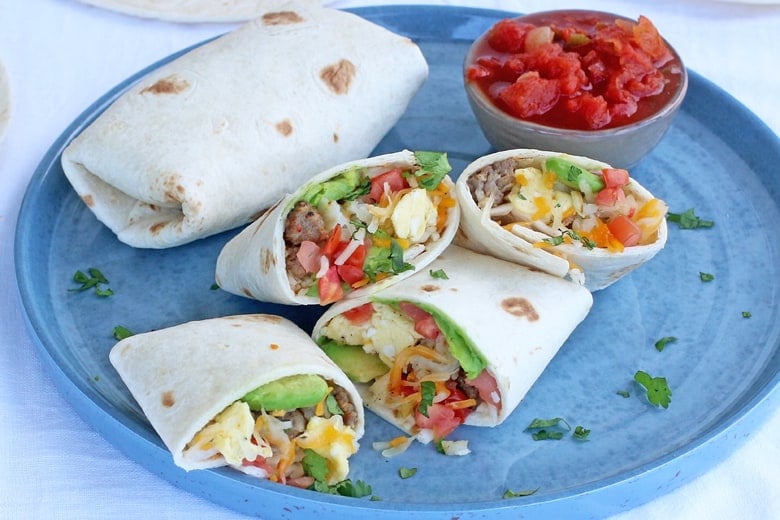 Are you ready to make these Breakfast Burritos? I'd love to hear what you thought about them! These burritos are perfect for busy school or work mornings.
I like making them on Sunday night and then we have them for the week; they're always a big hit! What's your favorite part of these burritos?
Questions you might have about how to make breakfast burritos:
What occasion are these breakfast burritos good for? You're going to be excited about this answer because these Breakfast Burritos are good anytime of the week.
You can make them for breakfast, lunch, or dinner. I like to make a bunch at the start of the week.
When someone gets hungry, they can easily just run to the fridge and heat it up in the microwave. Yup, easy and delicious!
How do I freeze breakfast burritos? Since these burritos are so easy to make, you may find yourself wanting to freeze them! Like I mentioned before, I like to make a lot of these burritos at one time.
If you're wanting to freeze them, it's very simple. Just make sure you're freezing only the ingredients that are truly freezable.
In my experience, it's harder for items like tomatoes and avocado to be frozen. You can always add these in when it's time for them to be warmed up!
Also, make sure they're in proper freezer containers, proper to freezing. Burritos can easily become freezer burnt if they aren't stored properly. No one likes to crave a delicious breakfast burrito, only to find out that they are freezer burnt.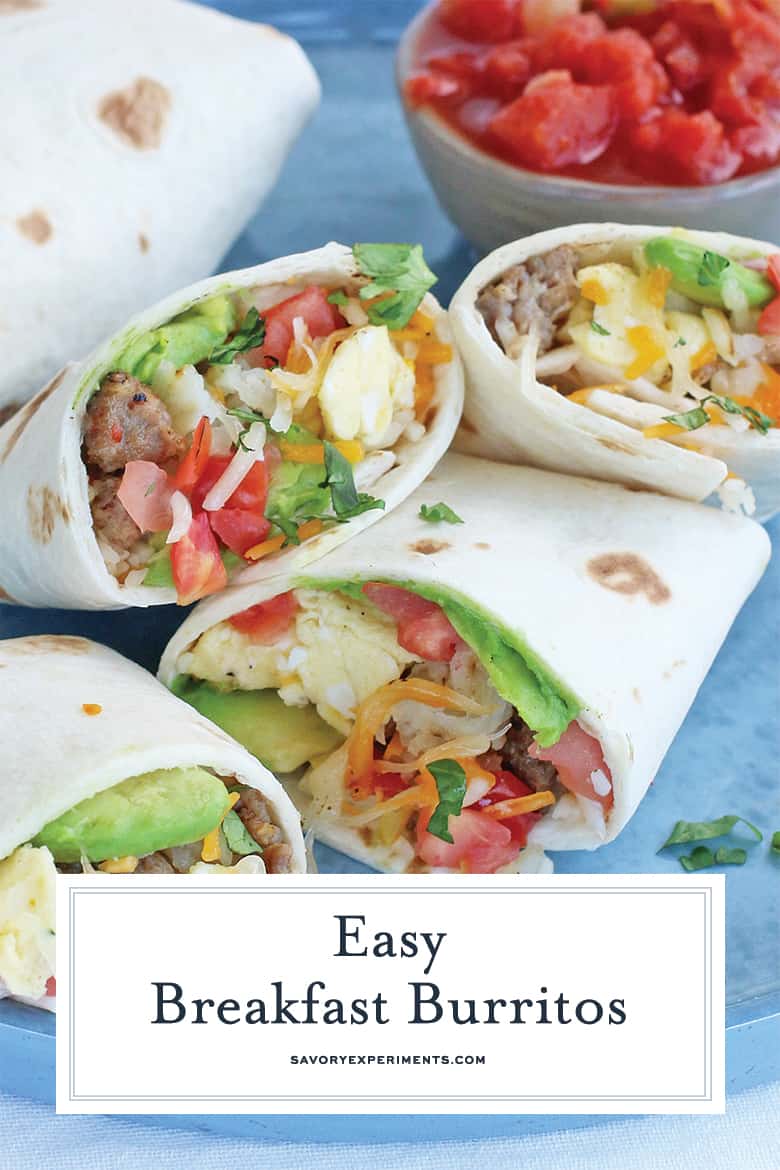 How can I warm up breakfast burritos? I mean I don't have patience when I'm hungry, so I end up putting my breakfast burritos in the microwave. However, you can warm them up on the stove top in a pan or you can put them in the oven. A toaster oven would probably do well, too!
There really is no right or wrong way to heat these up. Just make sure they are warm in the middle. You do not want to take a big frozen bite of burrito, that would not be fun.
How long do burritos last in the fridge? These burritos will last in the fridge for about 3 days. If you're a small family and won't eat a lot, I would make a ½ dozen at a time. If you're a large family, you can double or triple this recipe.
If you liked learning how to make a breakfast burrito, check out these other breakfast recipes: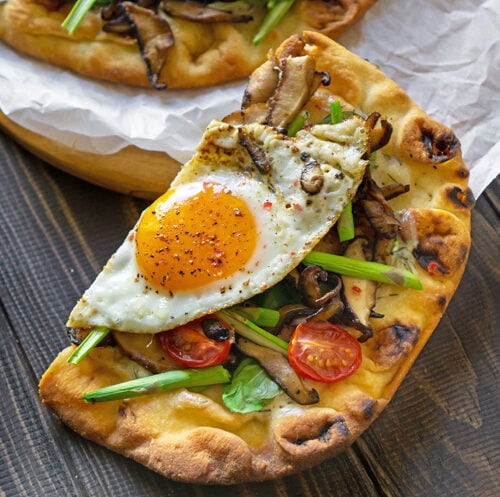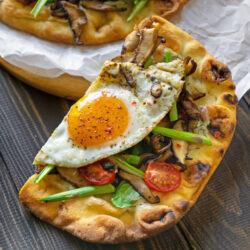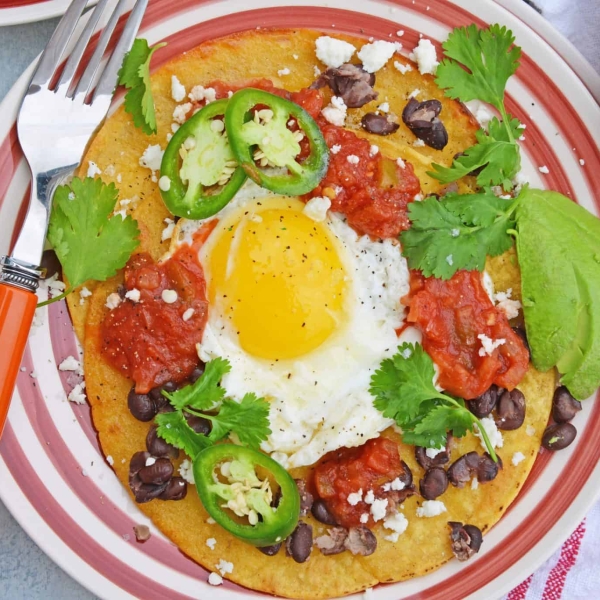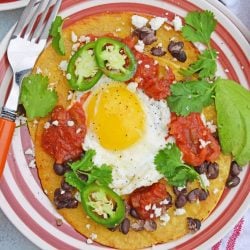 Ultimate Huevos Ranchoes
Huevos Rancheros are a great way to spice up your breakfast. Lacey eggs with a runny yolk over warm corn tortillas, chunky salsa, black beans, cilantro and queso fresco.
See The Recipe!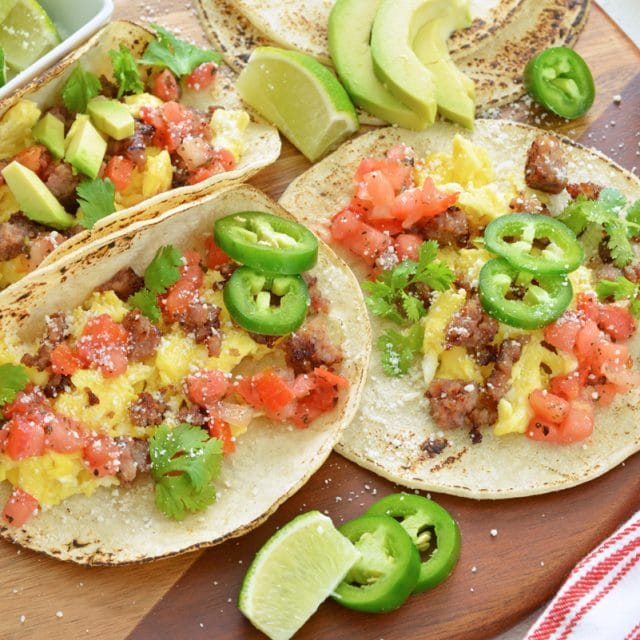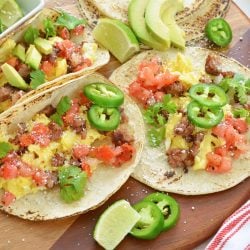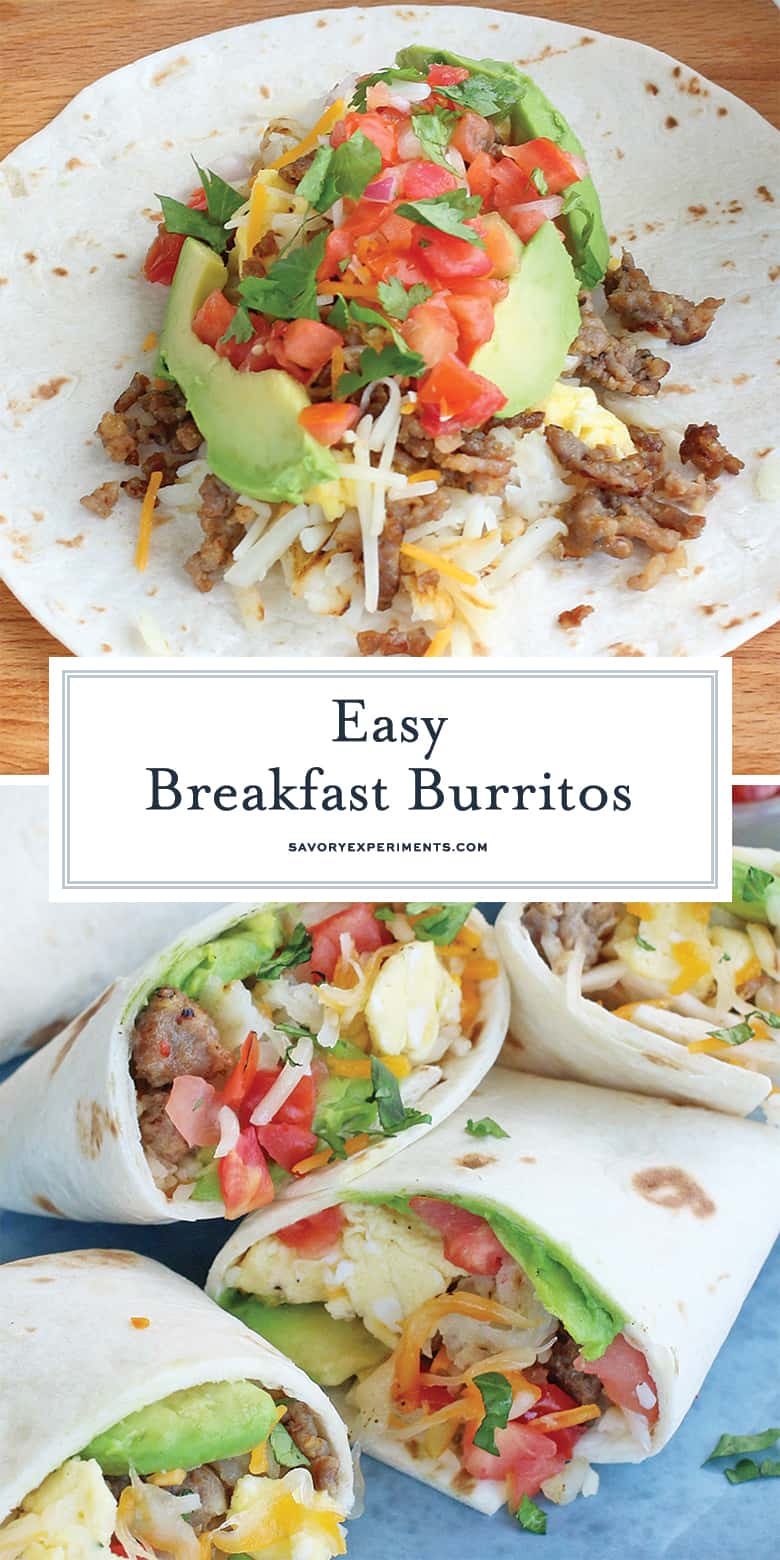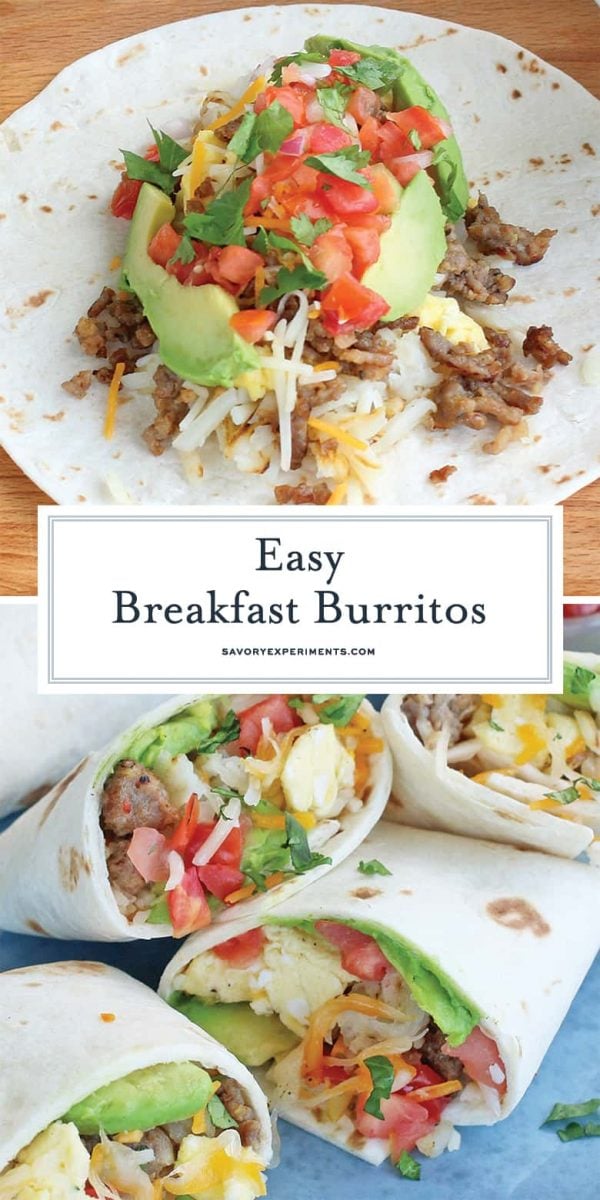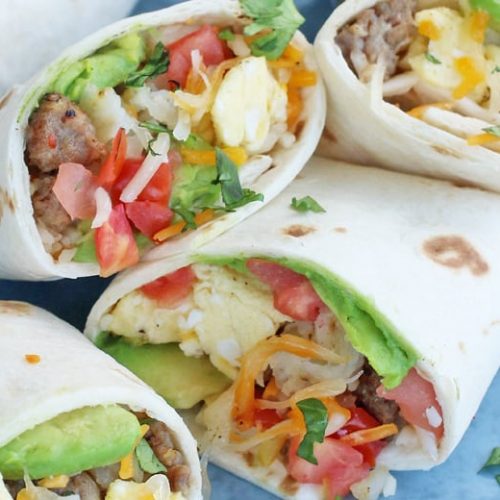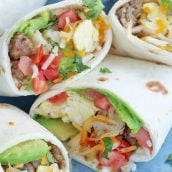 Easy Breakfast Burritos
If you're looking for the best breakfast burrito, you've found it with this easy, delicious breakfast burrito recipe! Easy to make and delicious to eat!
Ingredients
2

tablespoons

vegetable oil

16

ounces

Hash Browns

, shredded

8

ounces

bulk sausage

, crumbled

8

eggs

, lightly beaten

⅓

cup

whole milk

8

medium flour tortillas

1

cup

cheddar cheese

, shredded

1

cup

pico de gallo
avocado

, sliced, optional

Salt to taste

Pepper to taste

cilantro

, fresh, optional

salsa

, for serving, optional
Instructions
Heat oil in a large skillet over medium high heat.

Cook hash browns according to package directions or until lightly golden, remove from skillet.

Crumble sausage in skillet and cook until cooked through. Remove and set aside. Keep skillet hot to cook eggs. You can wipe it out if there is too much sausage residue.

Whisk together eggs and milk.

Pour eggs into skillet and cook through, seasoning with salt and pepper to taste.

Assemble burritos by layering hash browns, egg mixture, topping with cheese, pico de gallo and avocado if desired

Roll up tightly and serve immediately.
Notes
To freeze – wrap burritos tightly in foil, place burritos on cookie sheet in single and freeze.
After completely frozen, store in resealable bag or container. Can be frozen up to 3 months.
To heat – unwrap burrito and microwave on high for 1-2 minutes or until warm
Make ahead – hash browns, sausage and eggs can all be cooked ahead, and then assemble burritos when ready to serve.
Nutrition
Calories:
392
kcal
,
Carbohydrates:
30
g
,
Protein:
17
g
,
Fat:
23
g
,
Saturated Fat:
10
g
,
Cholesterol:
200
mg
,
Sodium:
752
mg
,
Potassium:
366
mg
,
Fiber:
1
g
,
Sugar:
5
g
,
Vitamin A:
550
IU
,
Vitamin C:
6
mg
,
Calcium:
178
mg
,
Iron:
3
mg