Homemade pancake mix is used for so many things other than actual pancakes. You can easily find a pancake recipe, but what if your coffee cake recipe calls for actual mix and you don't have boxed pancake mix in the pantry?
Well, here ya go! DIY pancake mix using simple ingredients and pantry staples.
The best part about Saturday mornings is that no one needs to be up for school or work, and I can make breakfast for the whole family. And there is nothing more satisfying than a stack of fluffy homemade pancakes topped with real maple syrup.
Pancake Mix Uses
Homemade pancake mix is very similar to bisquick mix or even boxed cake mix, just with a different ratio of the same ingredients.
While it is great for making fluffy pancakes, it can also be easily transformed into other recipes like cream cheese sausage balls, pimento balls, cinnamon rolls or even to give structure and density to egg based casseroles and omelettes.
A tablespoon of pancake mix happens to be the secret ingredient to many chef's fluffy egg creations. Shhh… I didn't tell you that.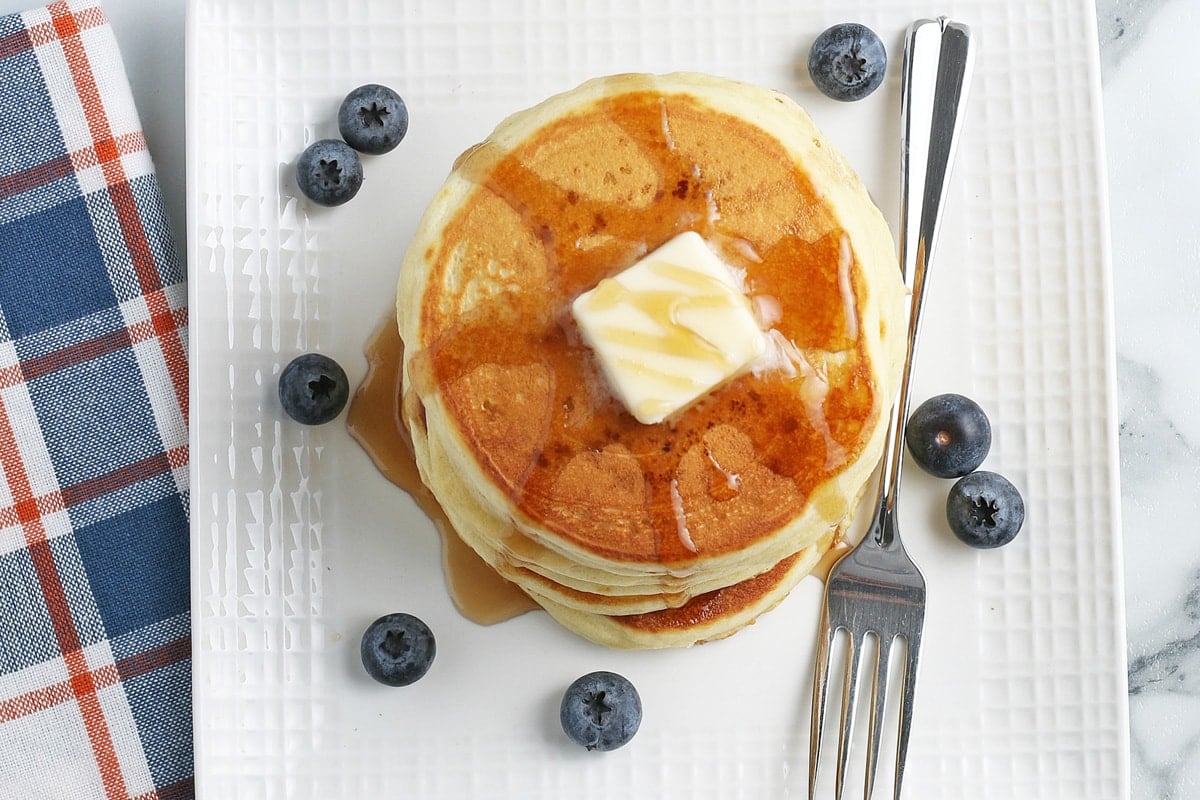 Ingredients for Pancake Mix
I'm guessing you'll have all of these in your pantry.
all purpose flour
sugar
baking powder
fine sea salt
Whisk them together and there you go- pancake dry mix. But how do you transform them into actual pancakes?
You'll need these items for the wet ingredients.
1 egg
milk or buttermilk
vegetable oil
Cooking spray
Full fat milk or buttermilk works best. You can also use add 1 tablespoon white vinegar or lemon juice to regular milk to create a makeshift buttermilk.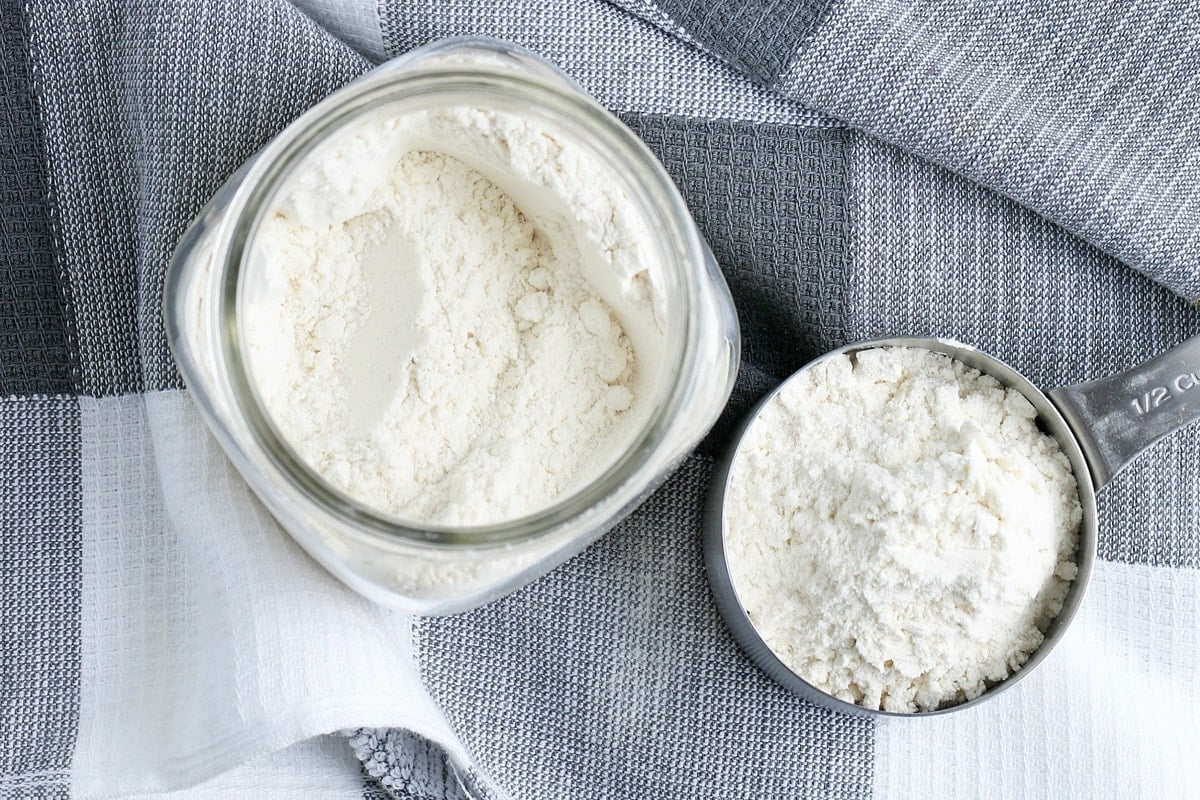 How to Make Best Pancake Recipe
Mix all the wet and dry ingredients together until just mixed, try to not overwork the batter or you'll get tough and dry pancakes.
PRO TIP: Make your pancake batter in a large 8 cup measuring cup or mixing bowl with a spout to easily pour out batter in a continuous stream instead of having to spoon it out.
Heat a griddle to 300 degrees or a skillet over medium heat and pour out 4 inch pancakes. Smaller pancakes are easier to work with, but you can make them larger if you'd like. This recipes makes about 8-10 smallish pancakes.
Cook for about 3-4 minutes, flip and cook for 2-3 minutes longer.
Remove and serve!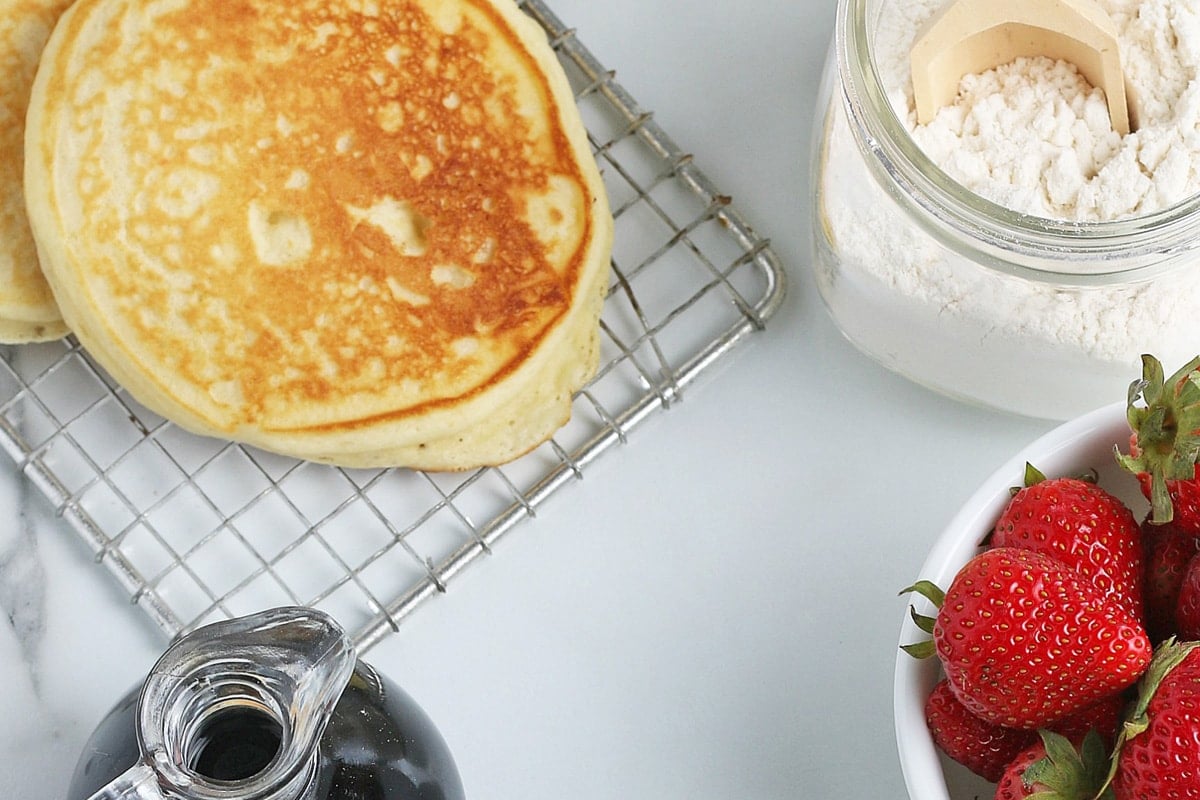 Best Pancake Toppings
Now you have pancakes… what should you put on them?
Honey
Maple Syrup
Butter
Fresh Fruit
Chopped Candy Bits
Chocolate chips, butterscotch or peanut butter chips
Peanut Butter
Chopped Nuts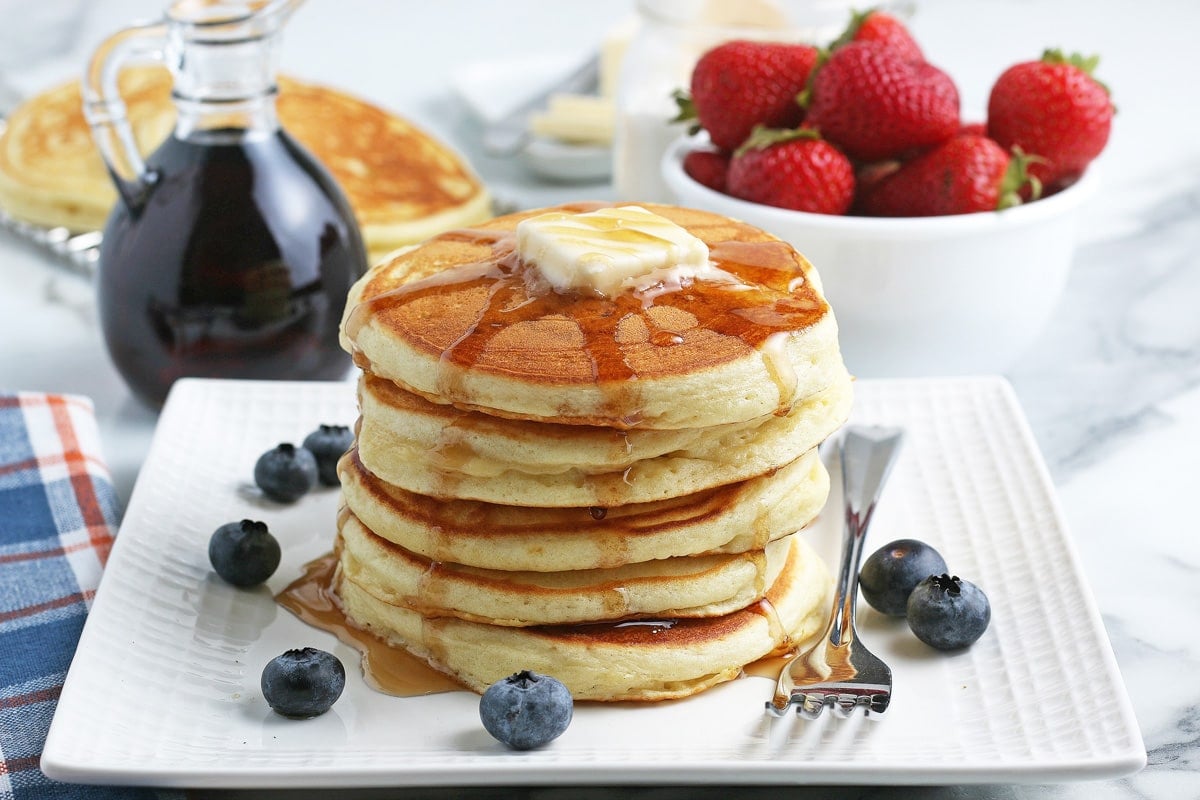 Tips for Perfect Pancakes
While pancakes are a a somewhat easy recipe to prepare, they can also be a little finicky. Check out our tips and tricks for the best pancakes before you get started.
ONE. Sprinkle favorite toppings while the pancake is on the griddle, not into the batter. This ensures that the heavier stuff doesn't just fall to the bottom and is easily distributed throughout your pancakes. Reserve some to use as a topping.
TWO. Don't overmix the batter. This activates more gluten and can make your pancakes feel tough or chewy. Small lumps in the thick batter are ok.
THREE. Butter has a relatively low smoke point, so using it for your non-stick agent on a griddle or skillet can result in burning easily. For this, oil or spray is actually better. Slather them in butter after they are done cooking.
FOUR. Using a pourable bowl or measuring cup ensures easy and consistent sizes without weird rings.
FIVE. Smaller pancakes are easier to work with and flip.
SIX. Rest the batter. I know this sounds weird, but even letting it sit for 15 minutes makes all the difference. It allows the flour to absorb better and if there are any lumps, lets them dissolve without additional stirring.
SEVEN. Wipe out the pan between pancakes to get out any burned bits or extra oil or grease.
EIGHT. I used to think I was fine with a skillet, but a hot griddle works SO much better.
NINE. Unless you have a giant diner sized griddle, you'll be work in batches. Keep the cooked pancakes warm in the oven while you finish the rest.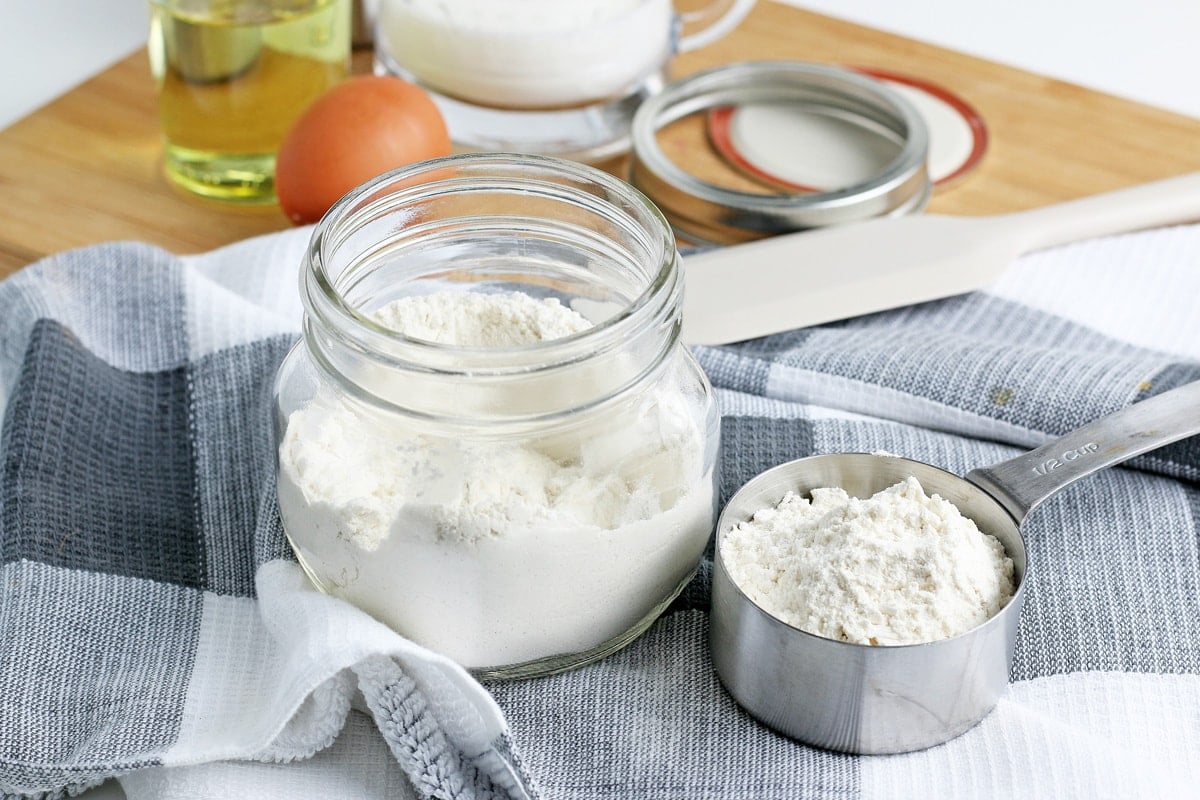 Storage & Freezing
Leftover pancakes can be stored in the fridge for up to 3 days. You can heat in a warm skillet or oven or wrapped in a paper towel in the microwave.
Homemade pancakes can also be frozen for up to 3 months in an airtight container or freezer bags.
Store your own homemade pancake mix in something air tight like a mason jar or ziploc storage bag.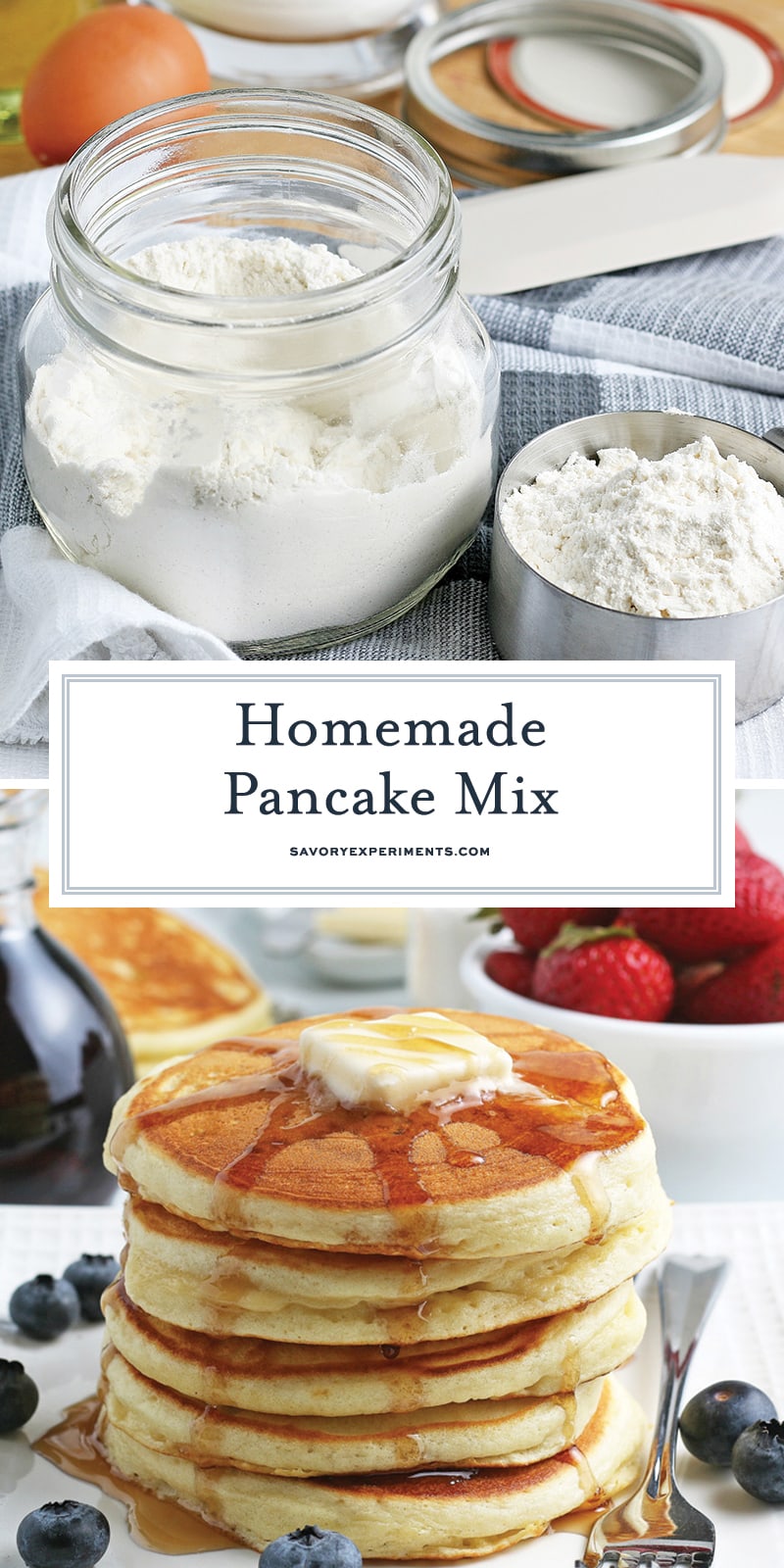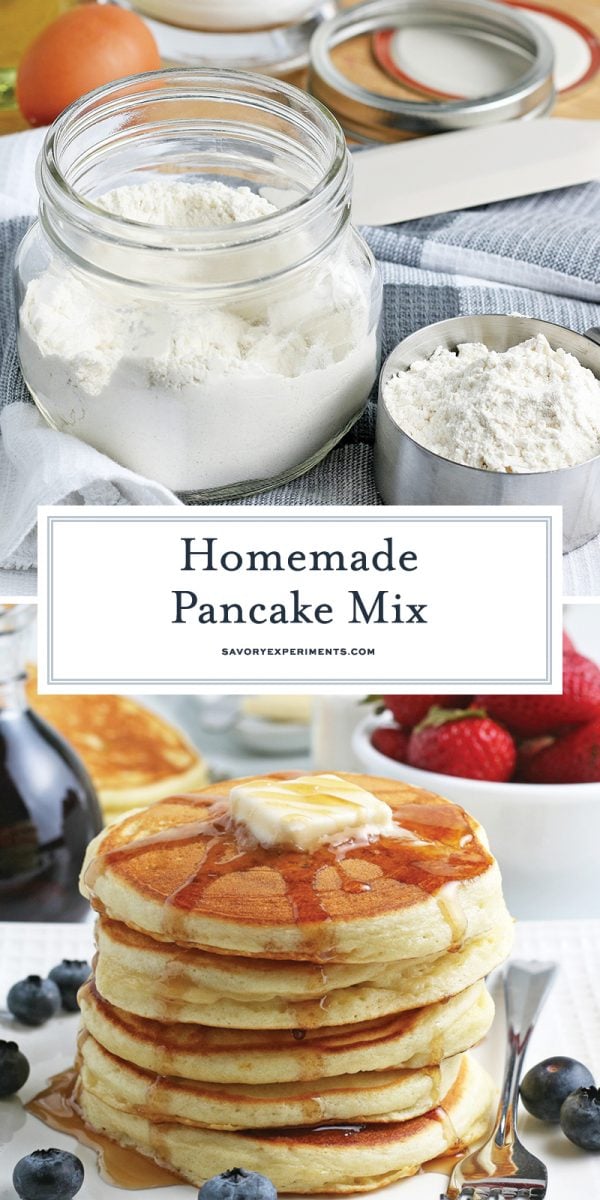 More Homemade Mixes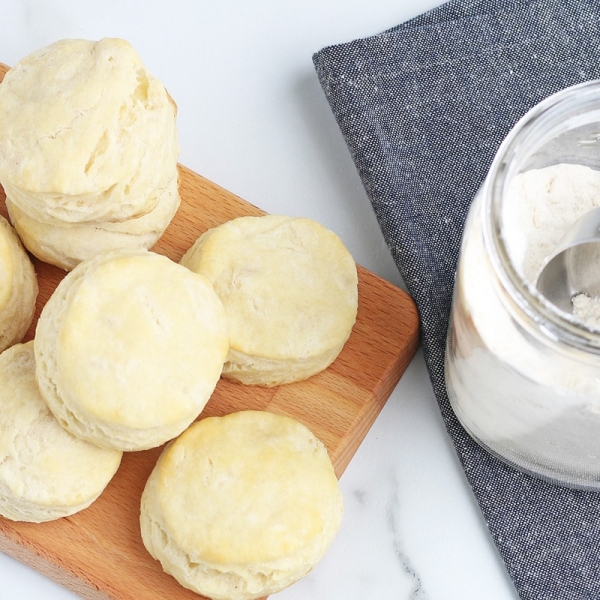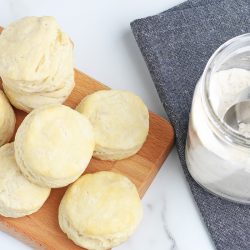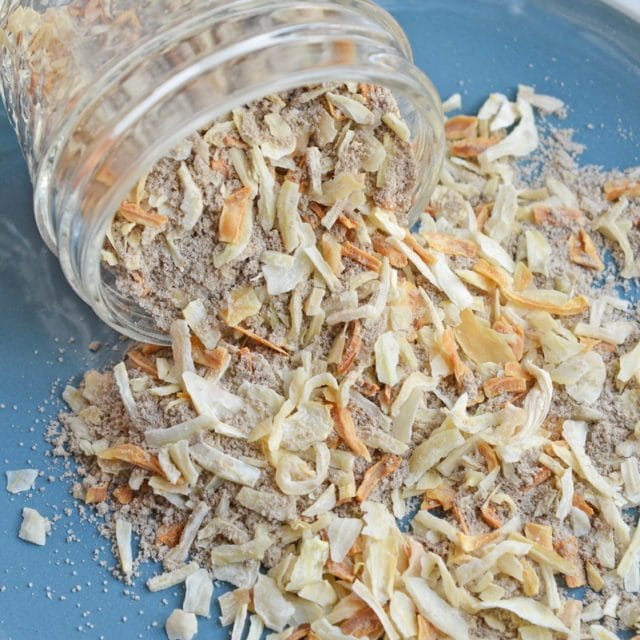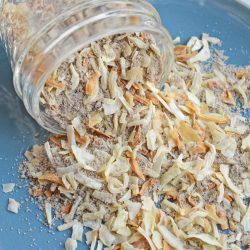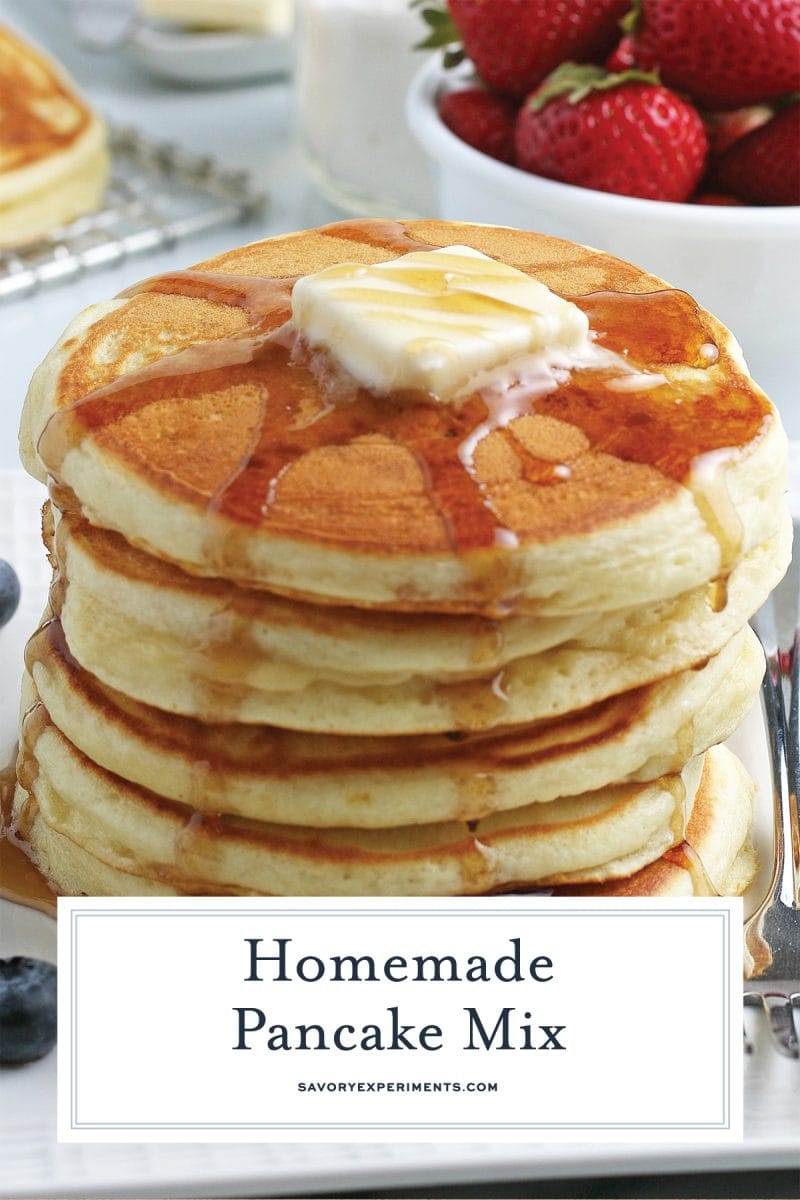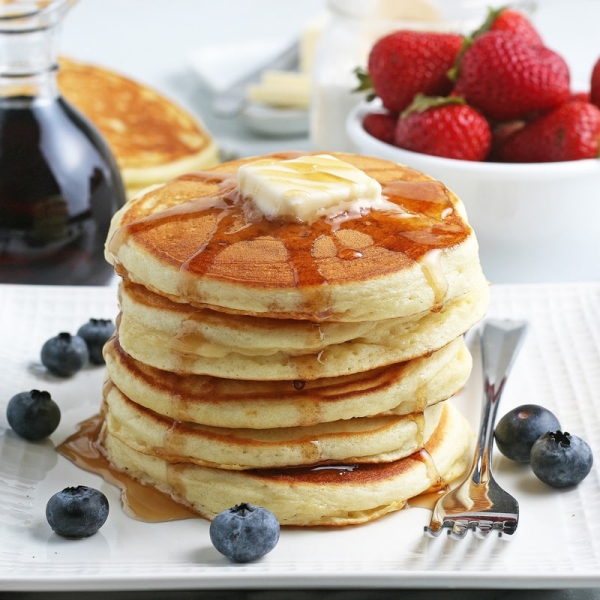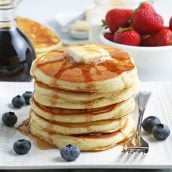 Homemade Pancake Mix
DIY Pancake Mix has never been easier with these pantry staples. Add a few more fridge ingredients for light and fluffy pancakes in a jiffy!
Instructions
Whisk together all dry ingredients in a bowl.

Store in airtight container or glass jar with lid in a cool, dry place for up to 3 months.

If you've tried this recipe, come back and let us know how it was in the comments or ratings.
Notes
To make pancakes:
1 egg
3⁄4 cup milk or buttermilk
1 teaspoon vanilla
2 tablespoon vegetable oil
Cooking spray
Add all of dry mix (about 1 1/4 cups) to a large mixing bowl or 8 cup measuring cup with spout.
Add wet ingredients and whisk until well combined, do not overmix.
Let your batter rest for 10-15 minutes, stir briefly to mix.
Heat griddle or large skillet. Coat with cooking spray.
Scoop pancake batter in about 4 inch pancakes. Cook 4-5 minutes or until golden brown.
Flip and cook on other side 2-3 minutes or until golden brown
Serve immediately with butter, syrup or fruit.
Nutrition
Calories:
513
kcal
,
Carbohydrates:
113
g
,
Protein:
13
g
,
Fat:
1
g
,
Saturated Fat:
1
g
,
Sodium:
2339
mg
,
Potassium:
1346
mg
,
Fiber:
4
g
,
Sugar:
12
g
,
Calcium:
539
mg
,
Iron:
7
mg