Easy Chipotle Aioli, also known as Chipotle Mayo, is a verstile condiment.
Use this chipotle mayo recipe on deli sandwiches, burgers, grilled cheese, fries, onion rings, fish tacos and more! Add a little spice to your life with aioli sauce.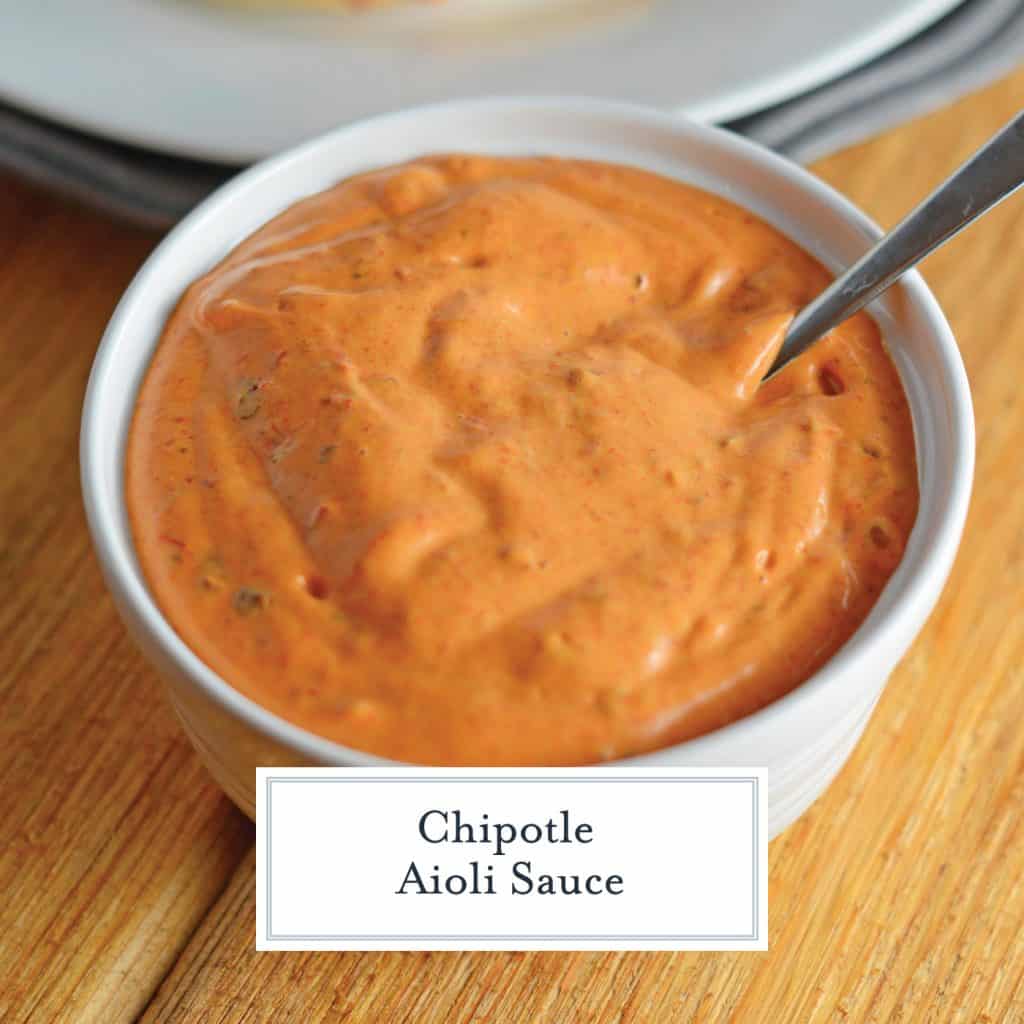 Chipotle Aioli Recipe
Easy, creamy chipotle aioli is a quick and zesty sauce perfect for dipping or spreading on sandwiches. Chipotle peppers in adobo sauce add heat while the mayonnaise is slightly sweet.
This perfect combination is also known as chipotle mayo. Mayo is just a less fancy word for aioli.
Condiments can easily make or break a meal. Sauces should complement, not take over the flavor profile. Otherwise you'd just need a bowl of sauce. Gross.
Aioli Sauce (Fancy Mayo)
Aioli sauces are the perfect way to do this. If you make the quick version using premade mayonnaise, they take only minutes and amplify the whole dish.
T says: "I toasted some whole garlic cloves and added it to the mayo. Delicious."
If you don't want super intense garlic flavor like T, you can also mute it a little by using bottled minced garlic or roast garlic.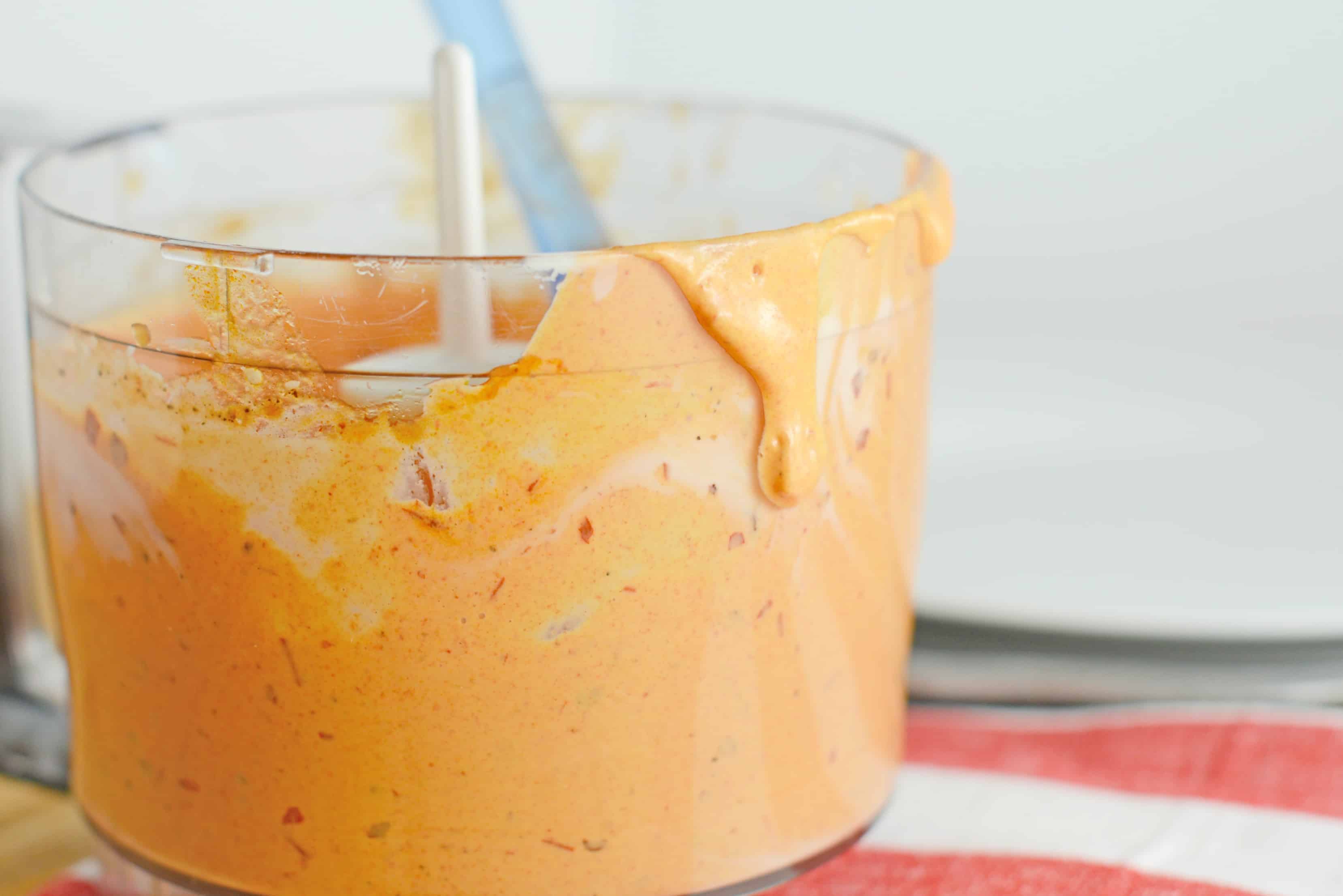 What is aioli?
Aioli translates to "garlic and oil" and is usually emulsified with egg. Is this starting to sound familiar? Emulsified oil and egg is… drumroll please… MAYONNAISE.
You can make mayo from scratch or you can combine your desired ingredients and flavors with premade mayonnaise. So easy! Although making mayonnaise is also pretty simple. Aioli recipes differ from person to person.
There is no "right" way.
Jenn says: "Basically my favorite condiment ever! I cannot wait to try it with the spicy chicken sandwich next – holy cow that looks good together!!!"
So simple that I've taught my niece how to make her own in a blender. I love making my own, it has so much more flavor, especially when you use a good quality olive oil.
Chipotle Peppers in Adobo Sauce
For this recipe, my flavor of choice is chipotle. Chipotles in adobo are smoky and sweet, providing the best of both worlds for the ultimate gluten free chipotle sauce.
Chipotle peppers are pretty spicy! Therefore, depending on how many peppers you throw into the blend, you can also adjust the heat of your sauce.
Some dishes, like my Spicy Chicken Sandwich, are defined by the chipotle aioli and certain level of heat.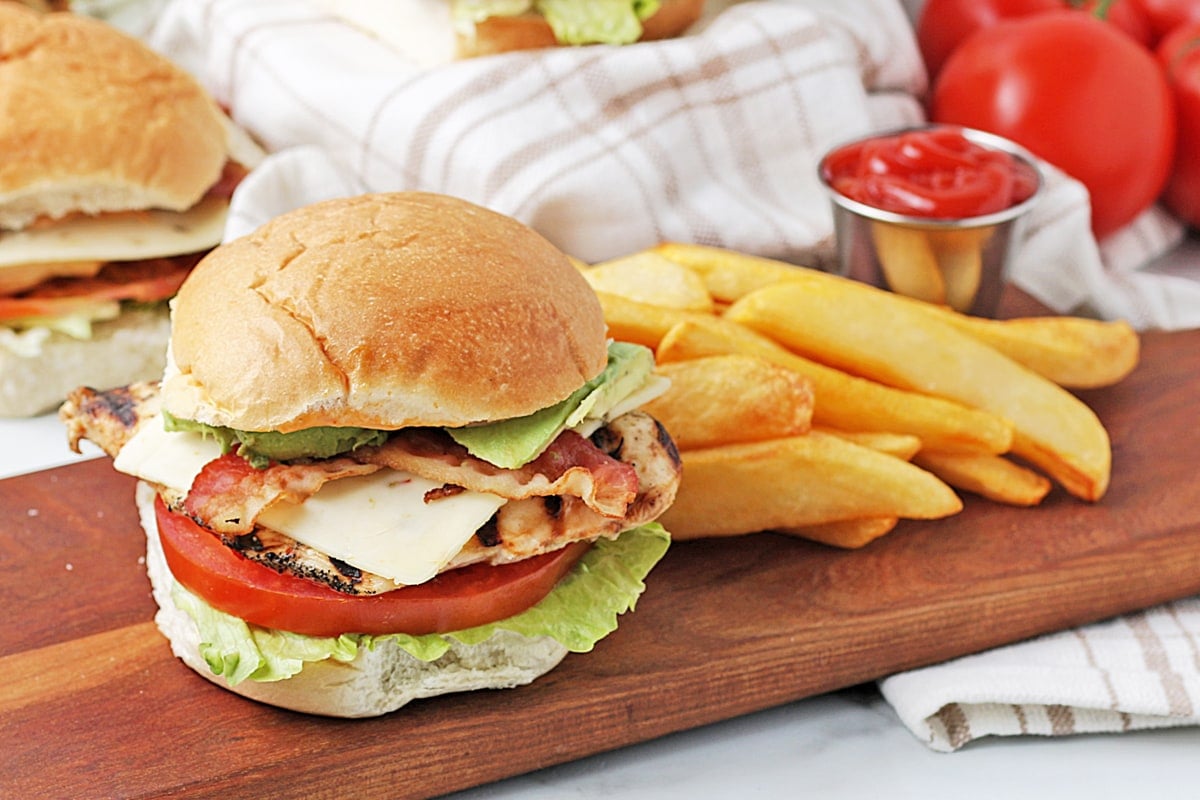 The adobo sauce that chipotle peppers are typically canned in also adds a layer of smoky flavor sophistication.
Even if you don't use it in the aioli, store it in an airtight container for later and use it in Mexican dishes or salad dressing. It is so tasty!
Jodi says: "Yum! I was looking for a Chipotle ranch for a grilled chicken gyro. So glad I found your recipe. We added a little ranch seasoning and probably used half the pepper.

Everyone loves it and now we are trying to figure out what else we can make to use the rest of sauce. The possibilities are endless!"
Storage & Freezing
Make easy chipotle aioli sauce and store it an airtight container for up to a week in the refrigerator.
I don't suggest freezing mayo based sauces.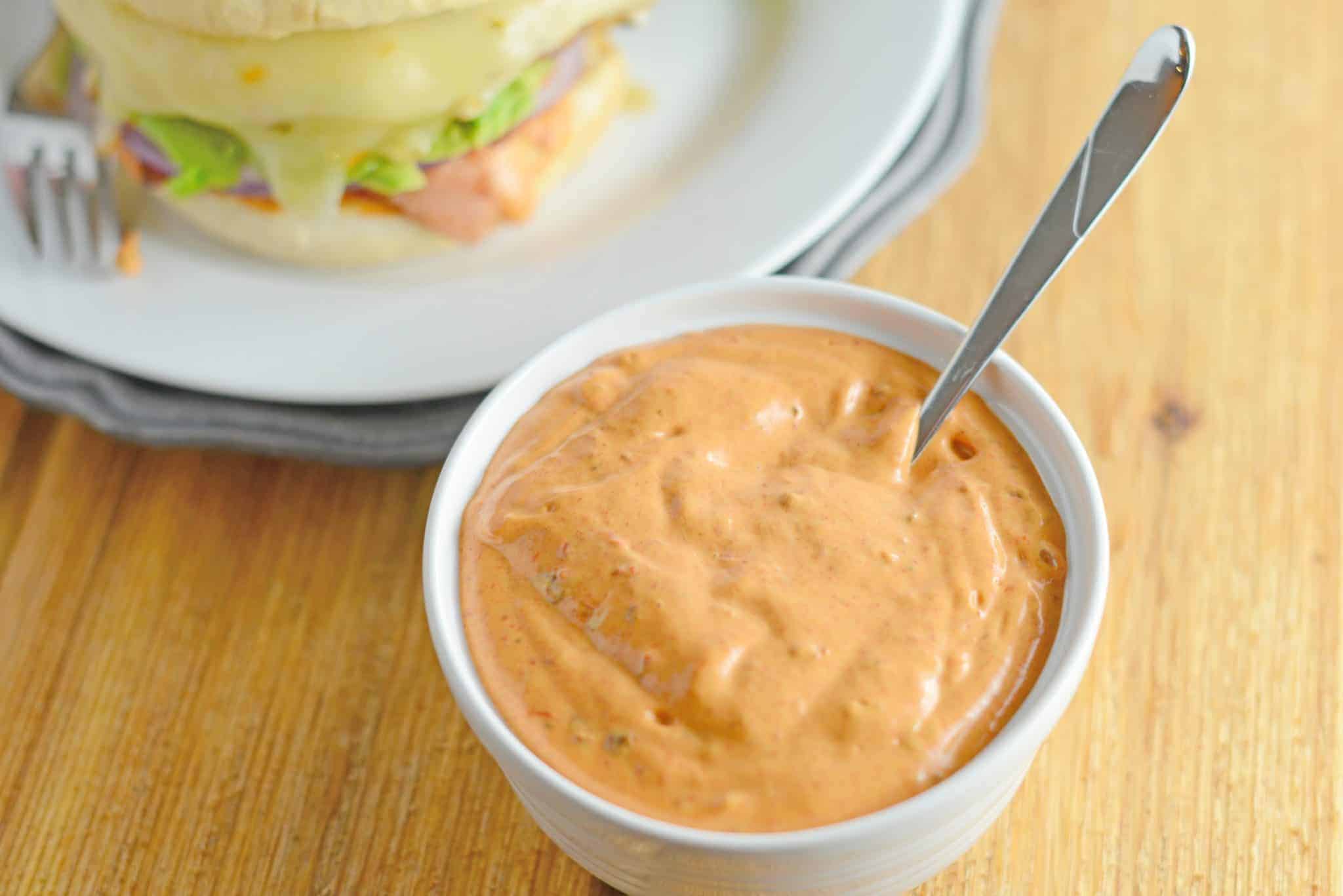 Questions you might have about chipotle aioli recipes:
Is chipotle mayo spicy? It is as spicy as you want it to be. Make is less spicy by adding less chipotle peppers and/or adobo sauce. Want to sweat a little? Add more!
You can also alter the the flavor profile to make your own unique recipe by adding a dish of smoked paprika, chili powder, basic salt and pepper or even just lemon juice.
Can I use chipotle powder instead of canned chiles? You can! You'll miss the smoky factor of adobo sauce, but about 1 teaspoon of chipotle chili powder will do the trick in a pinch.
Is chipotle aioli vegan? When made with eggs, no. But you can use a vegan mayonnaise and it will be!
What is chipotle aioli? It isn't just chipotle peppers blended with mayo. Mine, at least, adds a little acid with lime juice (you can also use lemon), cilantro (that can be omitted for cilantro haters), and seasoning.
Is chipotle aioli keto friendly? If it just a mayo base, then yes! Check to make sure your brand of chipotle peppers is also low sugar.
Adobo sauce can have added sugar, so use minimal amounts of adobo sauce.
Does chipotle aioli have dairy? Well, no, at least my version of chipotle mayo doesn't. Eggs aren't dairy.
What does chipotle aioli taste like? It is a little sweet, a little spicy and a little smoky. All of these flavors can be adjusted when you are making chipotle aioli from scratch.
Tool for making easy chipotle aioli:
Mini Food Processor– I use this thing daily! It is by far my most used kitchen appliance, it is small and I throw all the parts into the dishwasher, well except the base and cord, of course!
Mixing Bowls– make sure to check out my article on Using the Right Mixing Bowl, you'd be surprised how many people aren't!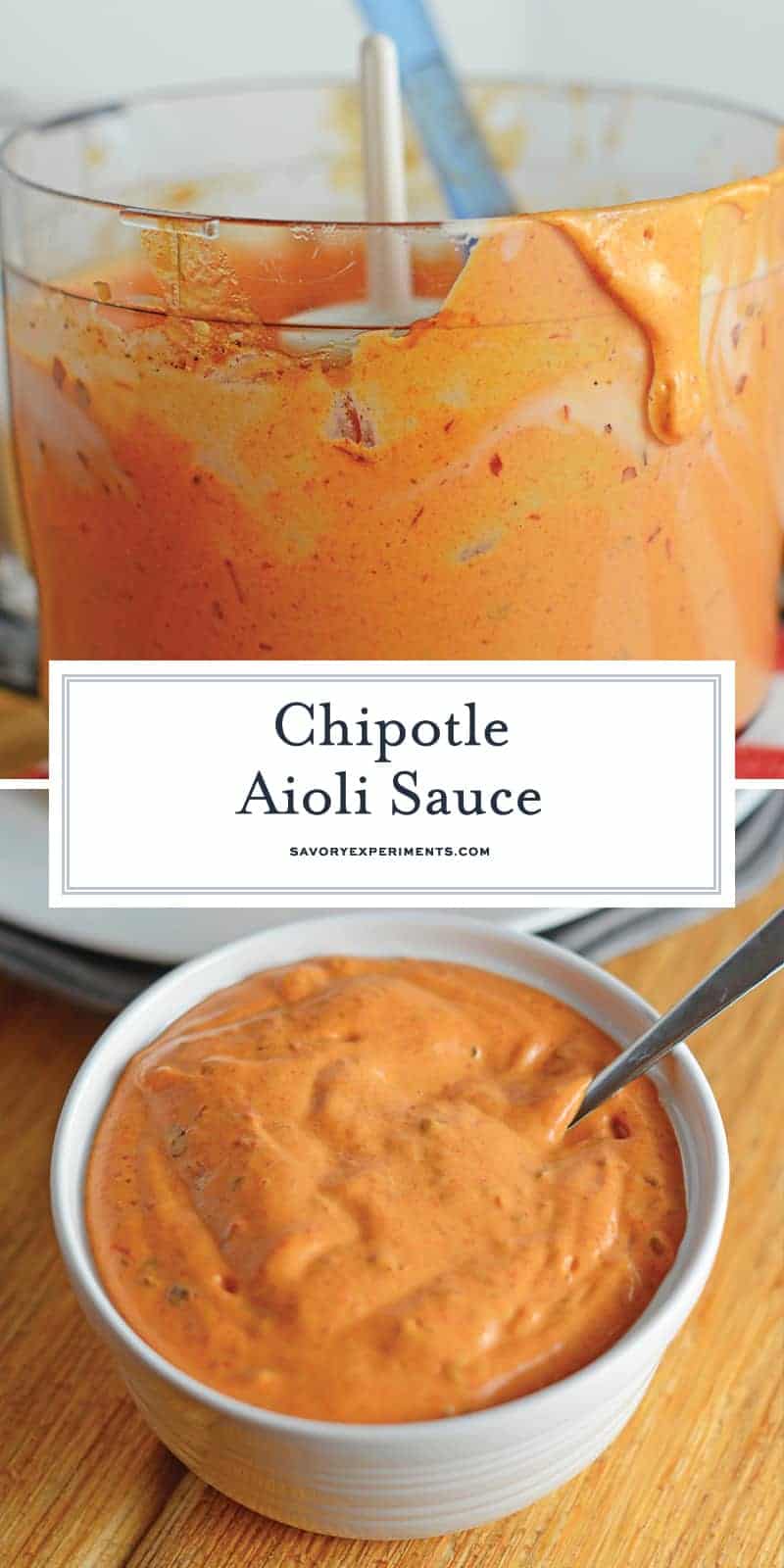 Things to Dip in Chipotle Sauce: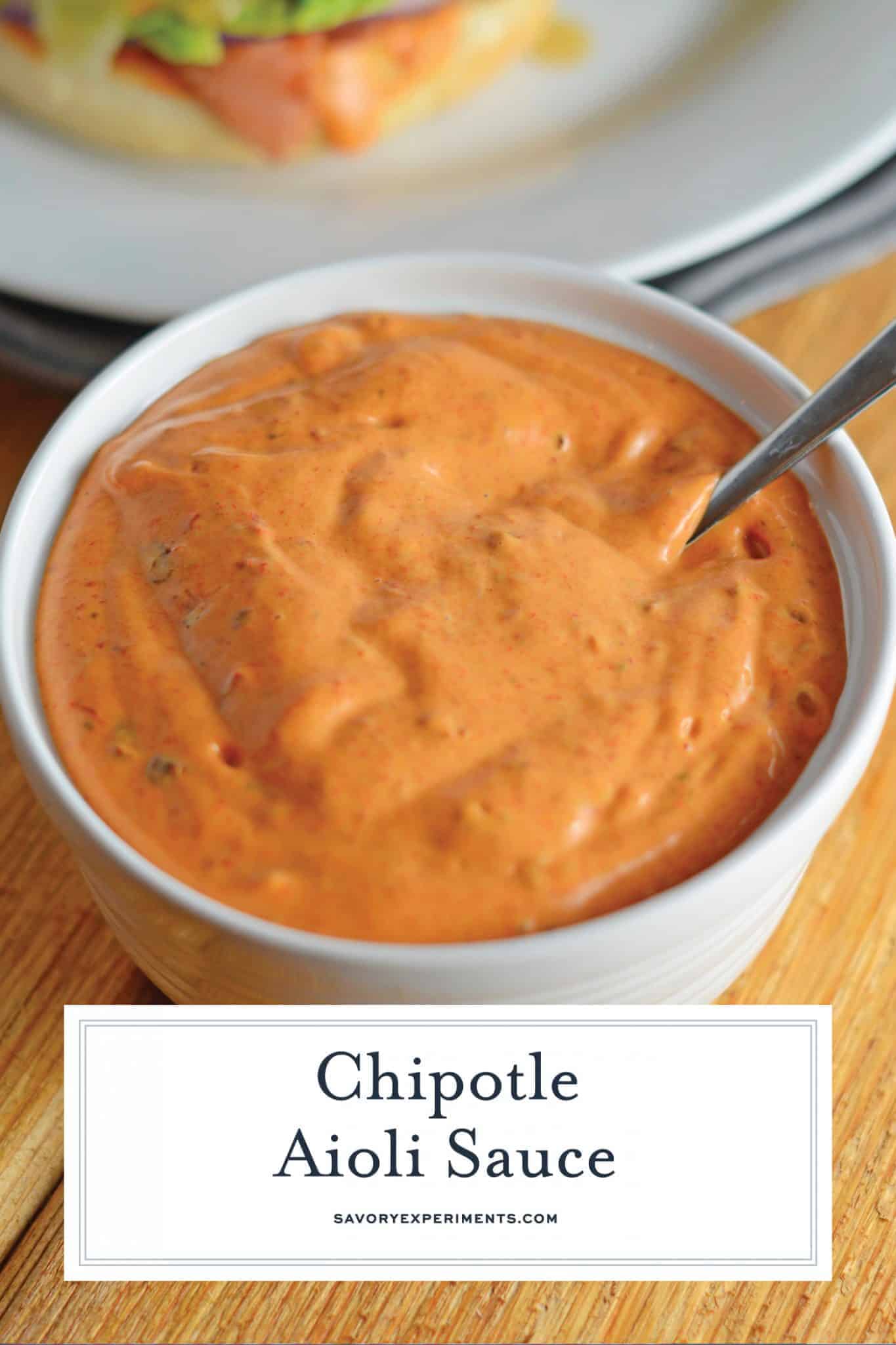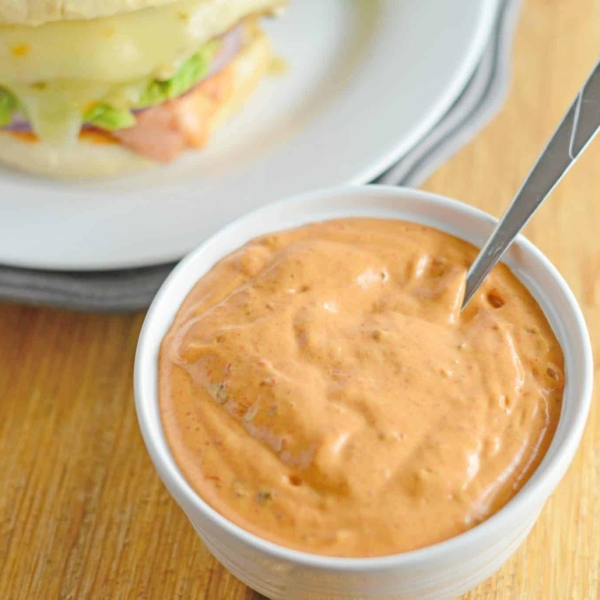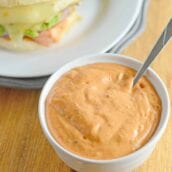 Chipotle Aioli Recipe
Creamy Chipotle Aioli is a quick and zesty sauce perfect for dipping or spreading on sandwiches.
Instructions
In a small food processor (or blender), puree chipotle peppers and adobo sauce for 30 seconds. It should be thick and paste like, it will not be smooth. Transfer to a seperate bowl.

Without cleaning the food processor, add remaining ingredients including lime juice, mayonnaise, cilantro (optional) fine sea salt and ground black pepper.

Add 1 tablespoon of chipotle peppers at a time until the desired taste is achieved. I use the whole can, however I like things spicy. You are much better off adding in small amounts and taste testing along the way.

Refrigerate for a minimum of 30 minutes or until served. You can refrigerate for up to a week in an airtight container.

If you've tried this recipe, please come back and leave us a rating and comment. We like to hear how we did!
Nutrition
Calories:
190
kcal
,
Fat:
20
g
,
Saturated Fat:
3
g
,
Cholesterol:
11
mg
,
Sodium:
252
mg
,
Potassium:
5
mg
,
Vitamin A:
20
IU
,
Vitamin C:
0.4
mg
,
Calcium:
2
mg
,
Iron:
0.1
mg