Easy Chipotle Aioli is a verstile condiment. Use it on deli sandwiches, burgers, grilled cheese, fries, onion rings and more! Add a little spice to your life!
  Creamy Chipotle Aioli is a quick and zesty sauce perfect for dipping or spreading on sandwiches.
Easy, creamy chipotle aioli is a quick and zesty sauce perfect for dipping or spreading on sandwiches. Chipotle peppers in adobo sauce add heat while the mayonnaise is slightly sweet. The perfect combination.
Condiments can easily make or break a meal. Sauces should complement, not take over the flavor profile. Otherwise you'd just need a bowl of sauce. Gross.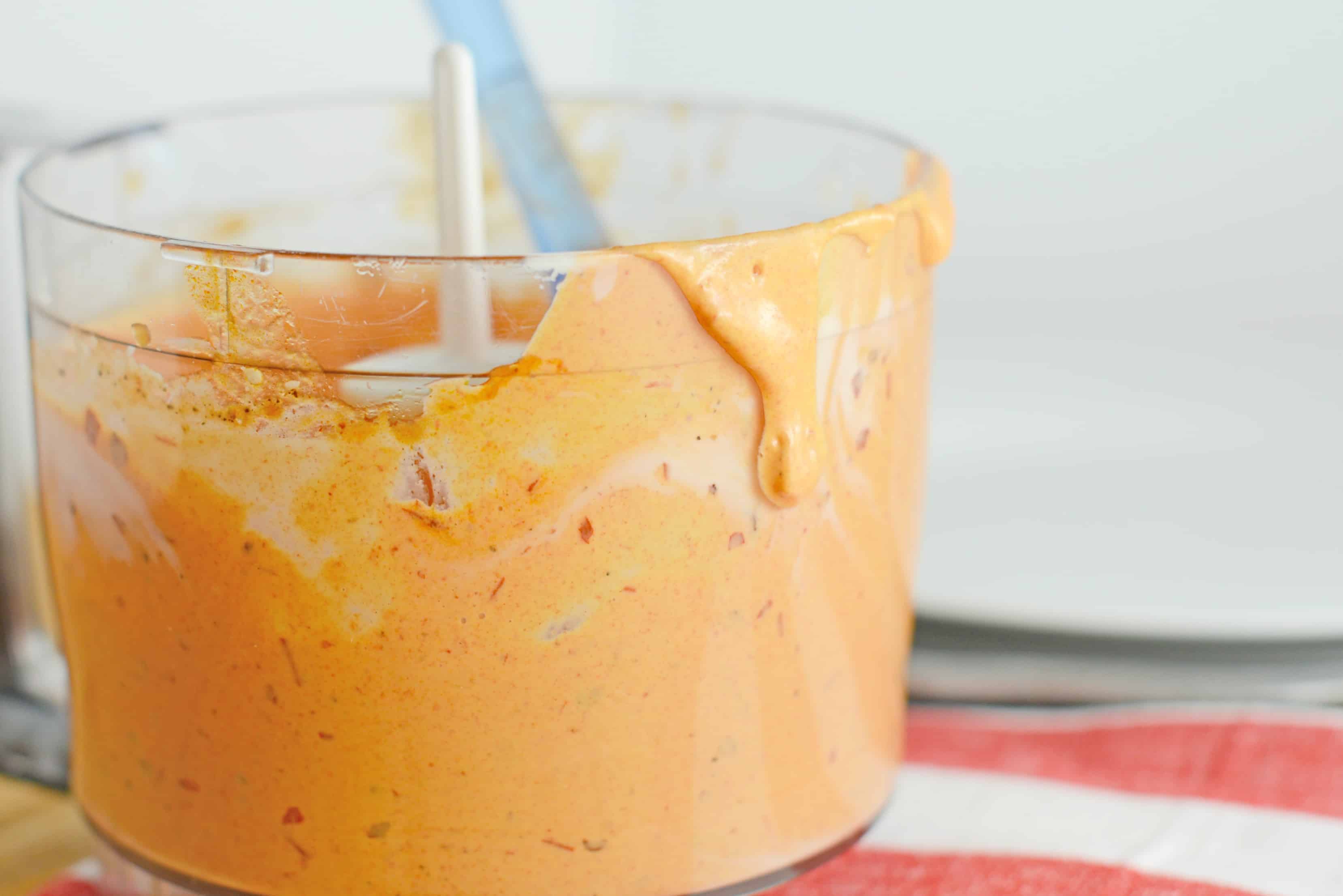 What is aioli? Aioli translates to "garlic and oil" and is usually emulsified with egg. Is this starting to sound familiar? Emulsified oil and egg is… drumroll please… MAYONNAISE.
You can make aioli from scratch or you can combine your desired ingredients and flavors with premade mayonnaise. So easy! Although making mayonnaise is also pretty simple. So simple that I've taught my niece how to make her own in a blender. For this recipe, my flavor of choice is chipotle.
Chipotle peppers are pretty spicy! Therefore, depending on how many peppers you throw into the blend, you can also adjust the heat of your sauce. Some dishes, like my Spicy Chicken Sandwich, are defined by the chipotle aioli and certain level of heat.
The adobo sauce that chipotle peppers are typically canned in also adds a layer of smoky flavor sophistication. Even if you don't use it in the aioli, store it in an airtight container for later and use it in Mexican dishes or salad dressing. It is so tasty!
Make easy chipotle aioli sauce and store it an airtight container for up to a week.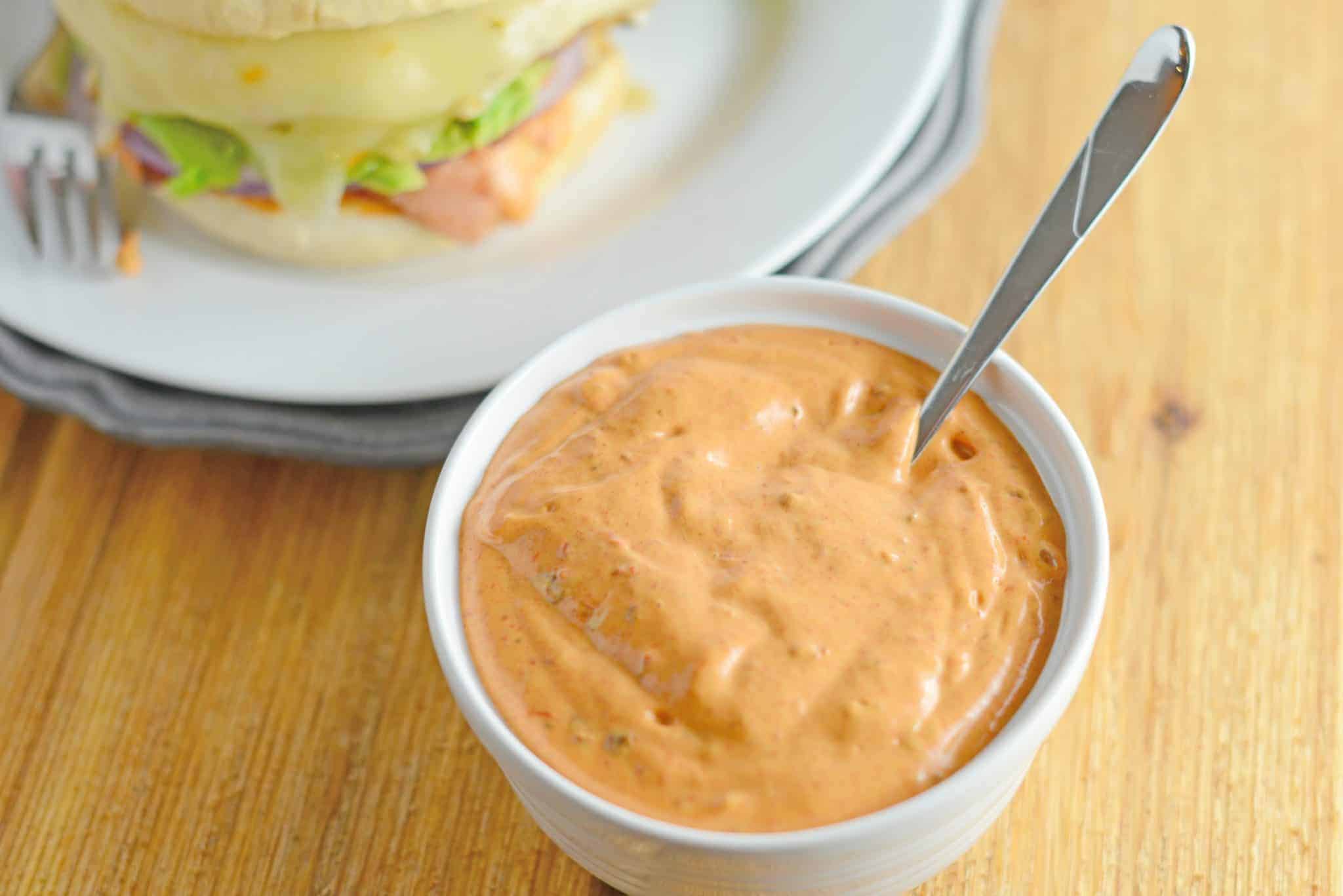 Tool for making easy chipotle aioli:
Mini Food Processor– I use this thing daily! It is by far my most used kitchen appliance, it is small and I throw all the parts into the dishwasher, well except the base and cord, of course!
You might also like these other classic sauce recipes: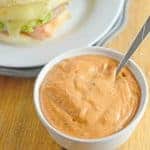 Chipotle Aioli
Creamy Chipotle Aioli is a quick and zesty sauce perfect for dipping or spreading on sandwiches.
Ingredients
1

7 ounce can

chipotle chiles in adobo sauce

2

teaspoons

lime juice

1

cup

mayonnaise

1

tablespoons

cilantro

, chopped and optional

1/4

teaspoon

fine sea salt

1/4

teaspoon

ground black pepper
Instructions
In a small food processor (or blender), puree chipotle peppers and adobo sauce for 30 seconds. It should be thick and paste like, it will not be smooth. Transfer to a seperate bowl.

Without cleaning the food processor, add remaining ingredients including lime juice, mayonnaise, cilantro (optional) fine sea salt and ground black pepper.

Add 1 tablespoon of chipotle peppers at a time until the desired taste is achieved. I use the whole can, however I like things spicy. You are much better off adding in small amounts and taste testing along the way.

Refrigerate for a minimum of 30 minutes or until served. You can refrigerate for up to a week in an airtight container.
Nutrition Facts
Chipotle Aioli
Amount Per Serving
Calories 190
Calories from Fat 180
% Daily Value*
Total Fat 20g 31%
Cholesterol 11mg 4%
Sodium 252mg 11%
Potassium 5mg 0%
* Percent Daily Values are based on a 2000 calorie diet.