If you're looking for a refreshing dish to serve for your summer picnics, look no further than this easy fruit salad recipe. The mint and agave dressing really sends it over the top, plus it is pretty, quick and easy.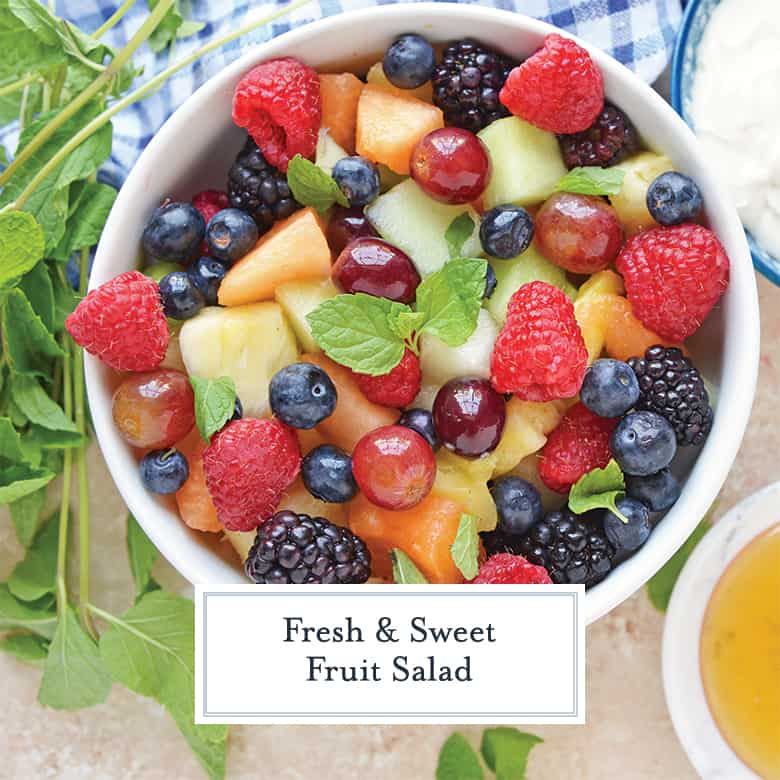 Fresh Fruit Salad Recipe
With the arrival of summer and everything that comes with it (picnics, warm weather, pool days,) one thing I always crave is fresh fruit. It's such a refreshing snack for any time of the day and the kids love it.
I do have to specify that this particular salad is made with fresh fruit opposed to frozen or canned like ambrosia or a fluff fruit salad.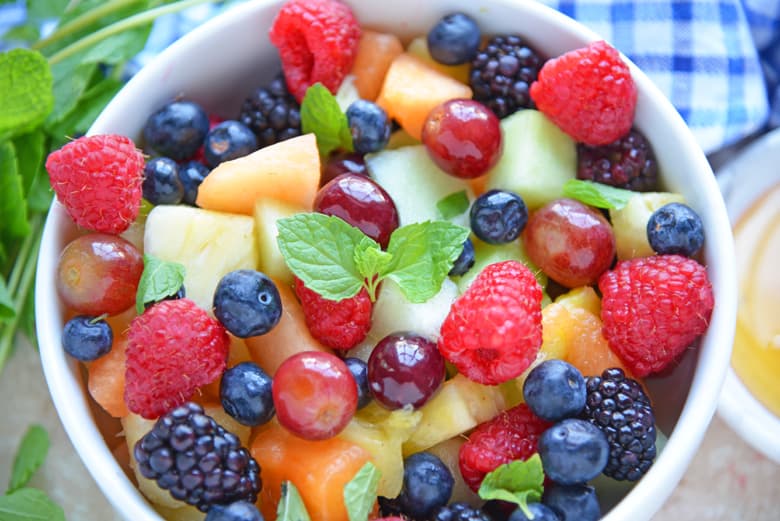 And while that seems simple enough: buy fruit, chop it and throw it in a bowl, there is a little more finesse to it to get a really good one going.
Fruit salad Dressing
Wait- you need dressing? Well, yes, for a good one! Many have a cream or other dairy base like pudding or custard or use citrus like lime, lemon or orange juice. I wanted to keep mine bright like a rainbow and do more of a fresh glaze than a tart citrus vibe.
Our fruit salad dressing is made up of only two ingredients: agave nectar and minced fresh mint.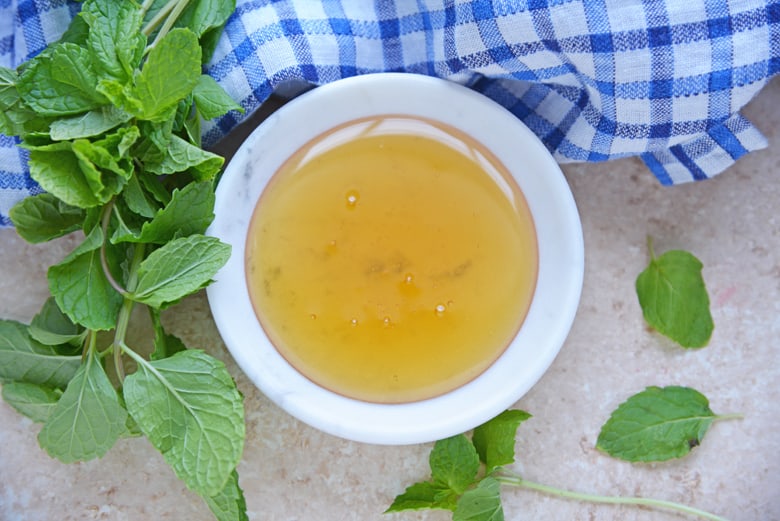 What is agave nectar? Agave nectar is a blend of several species of agave, including Agave tequilana and Agave salmiana. Blue agave syrup contains 56% fructose as a sugar providing sweetening properties. Yes, it is also seen in some tequilas.

Some store carry it in the baking aisle nearly other natural sweeteners and some near the honey.
If you want to use honey, be my guest. You can also opt to swap out the fresh mint leaves for lavender, if you can find it.
You can also add the caviar from a vanilla bean for more spunk. Simply cut a fresh vanilla bean lengthwise and using a paring knife, scrape out the pod and whisk into the agave mixture.
Serve your fancy fruit salad with this delicious Cream Cheese Fruit Dip!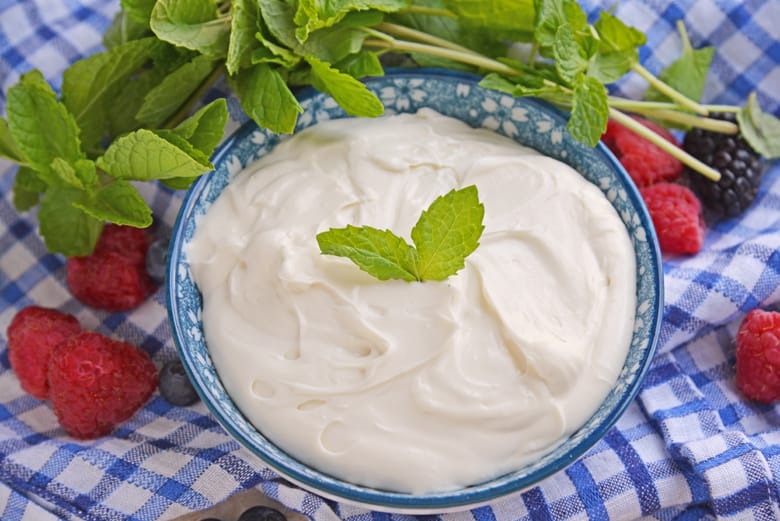 Best Fruit
There are some fruits that work better in fruit salads than others just based on water content, ease of chopping and of course, color. You want a bright and colorful salad!
Regardless of the mix you put into the bowl, try to make sure all of the pieces are relatively the same size. It's no fun getting a giant chunk of melon that needs two bites and then having single bite berries. This would be classified as a summer fruit salad, you can choose other more wintry versions, but the same dressing will still pair perfectly.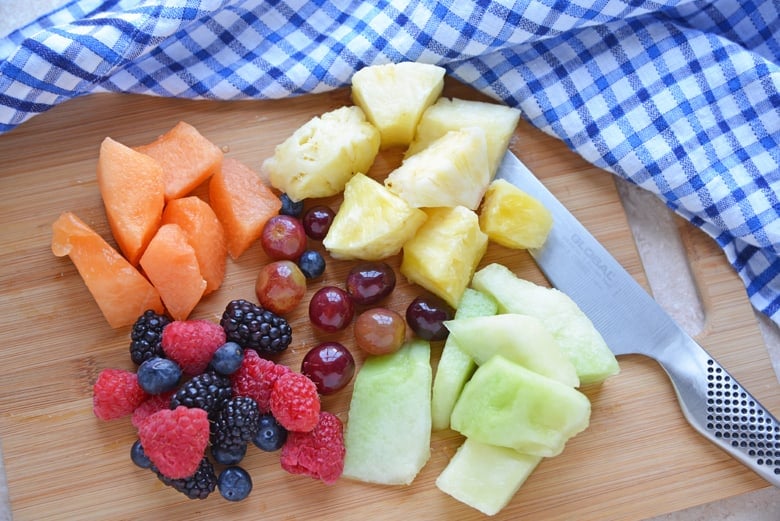 Best fruits for fruit salad:
Berries of any type (blueberries, strawberries, blackberries, raspberries etc.)

Grapes

Melon of any kind (watermelon, honeydew, cantaloupe)

Pineapple

Bananas

Mandarin orange slices
What fruits should you NOT include in a fruit salad? I hesitate to put apples in my fruit salad because while I love them, they turn brown so fast that they become unappealing quickly.
The same thing applies to pears. Also, I try to stay away from soft berries like raspberries, as they are delicate and can break apart easily when mixed and stirred.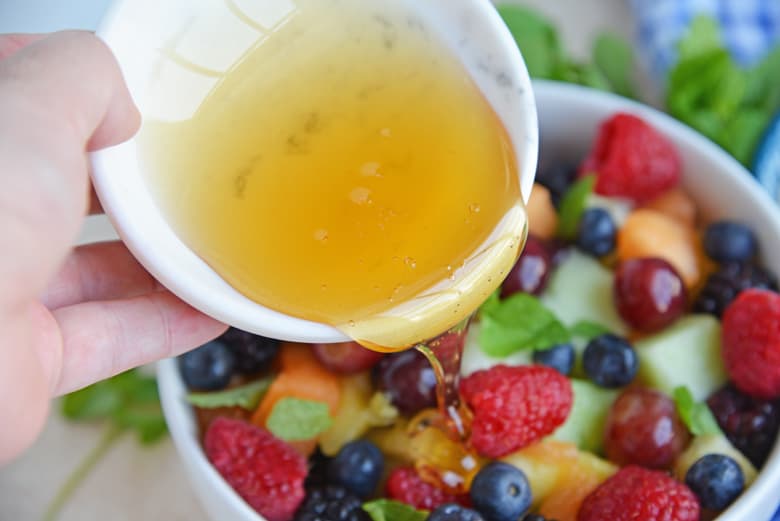 Tips for Making Fruit Salad
ONE. A trick for making the best fruit salad is to dry off your fruit first. Making sure it is as dry as possible will prevent the salad from getting mushy, but also aid in the agave mixture sticking to the fruit pieces.
I like to line the mixing bowl of my fruit salad with paper towels and also roll each piece around on a paper towel before adding to the bowl. I keep it like this until I am ready to serve.
TWO. We've already covered this, but make sure to cut fruit in similar sizing for ease of eating.
THREE. Add fruit salad dressing last. Even if you make yours ahead of time, wait to add the dressing until right before serving. It will seep to the bottom of the bowl and require a good amount of tossing to incorporate. I also don't toss the salad- it will mix in as much as needed while scooping to serve.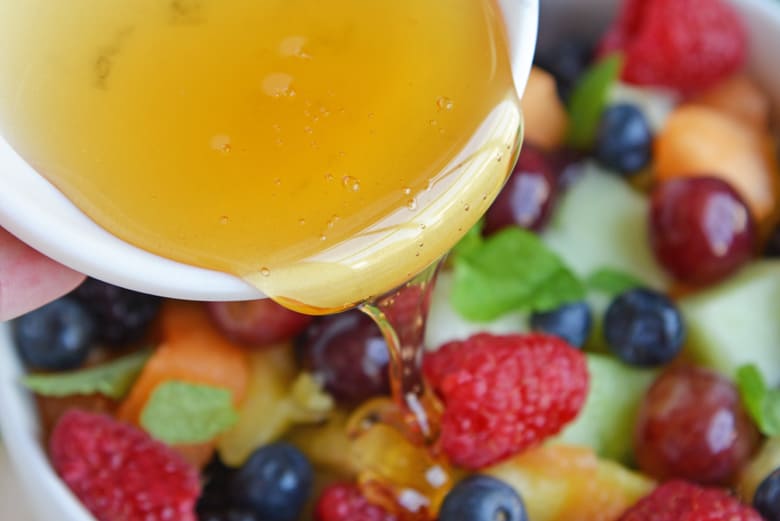 FOUR. Don't overmix. This is merely so the fruit stays whole. The more mixing that happens, the more juices you'll produce and risk losing those beautiful shapes.
FIVE. Take the chill off. Even though fruit is amazing cold, fruit salad is best served closer to room temperature. I highly recommend removing it from the refrigerator 30 minutes before serving to take the chill off.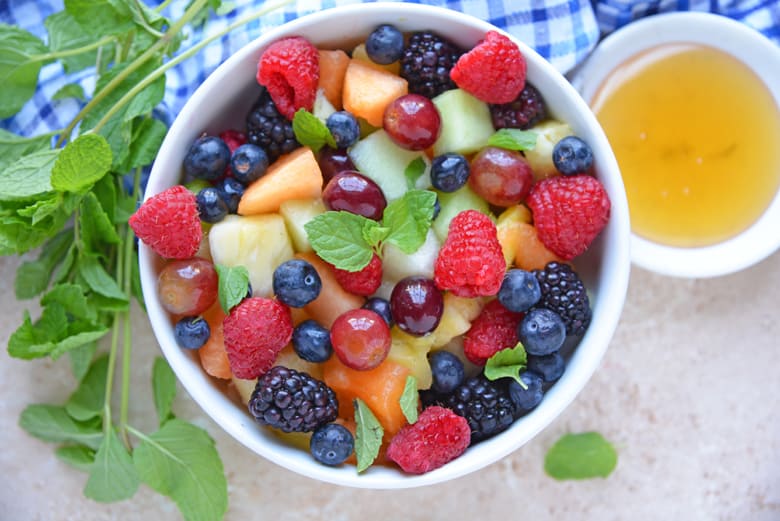 Make Ahead & Storage
Will fruit salad keep overnight? The longer fruit salad sits, the juicer it gets. When cut fruit sits for awhile, the juices tend to make the fruit slightly soggy.
When I prepare fruit salad, I like to keep it as fresh as possible (cut it the day of.) If you absolutely have to make it ahead of time, I would make it no sooner than one day before.
How long does fruit salad last? Once fruit is cut, the juices start flowing, which in turn starts making the fruit soggy. It will hold up well for most of the day, but beyond that, it becomes to soggy and mushy for my liking.
Can fruit salad be frozen? When frozen fruit is thawed, it tends to become soggy. I would not recommend freezing most fruit, however, frozen grapes are always a nice treat!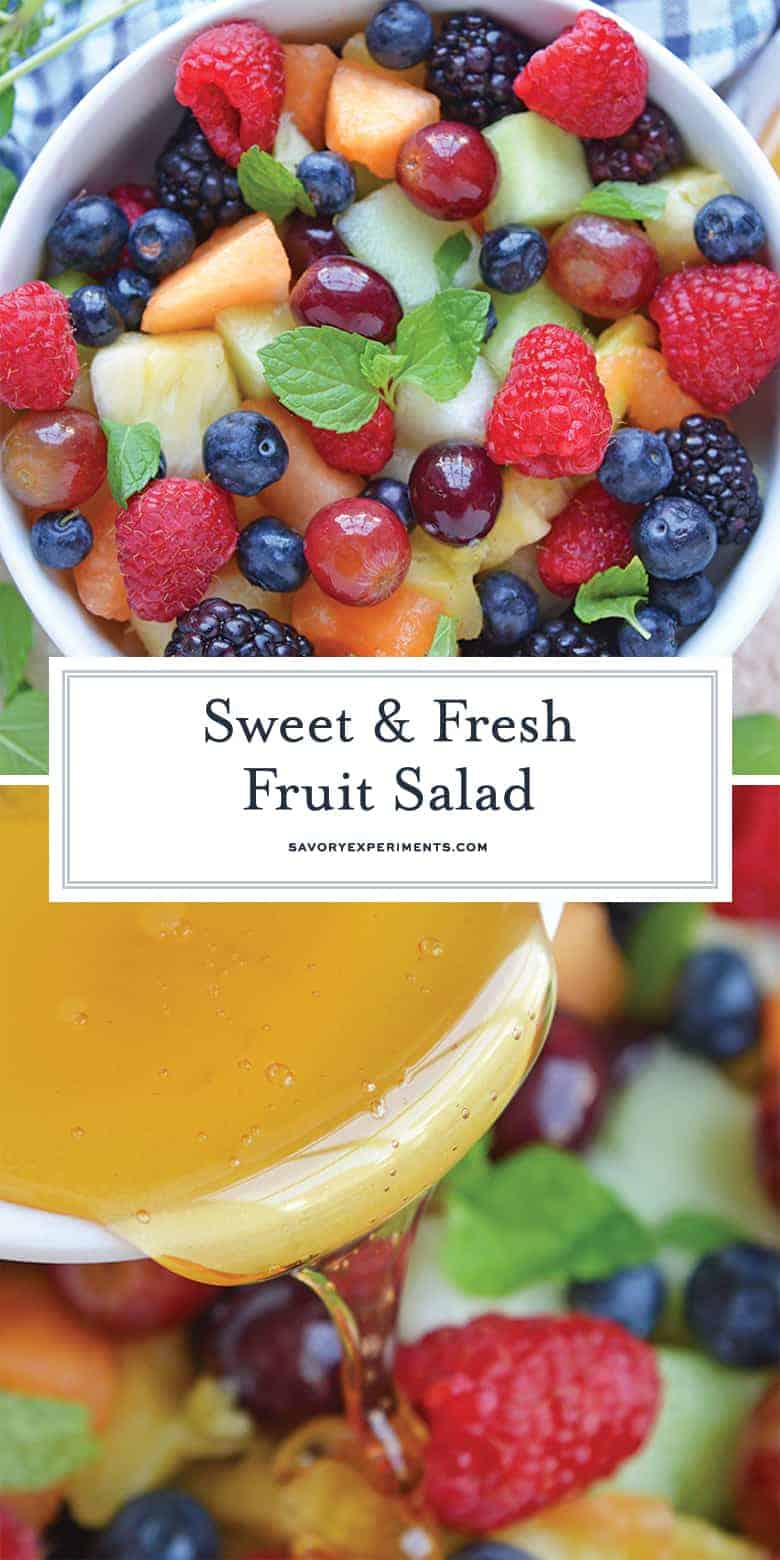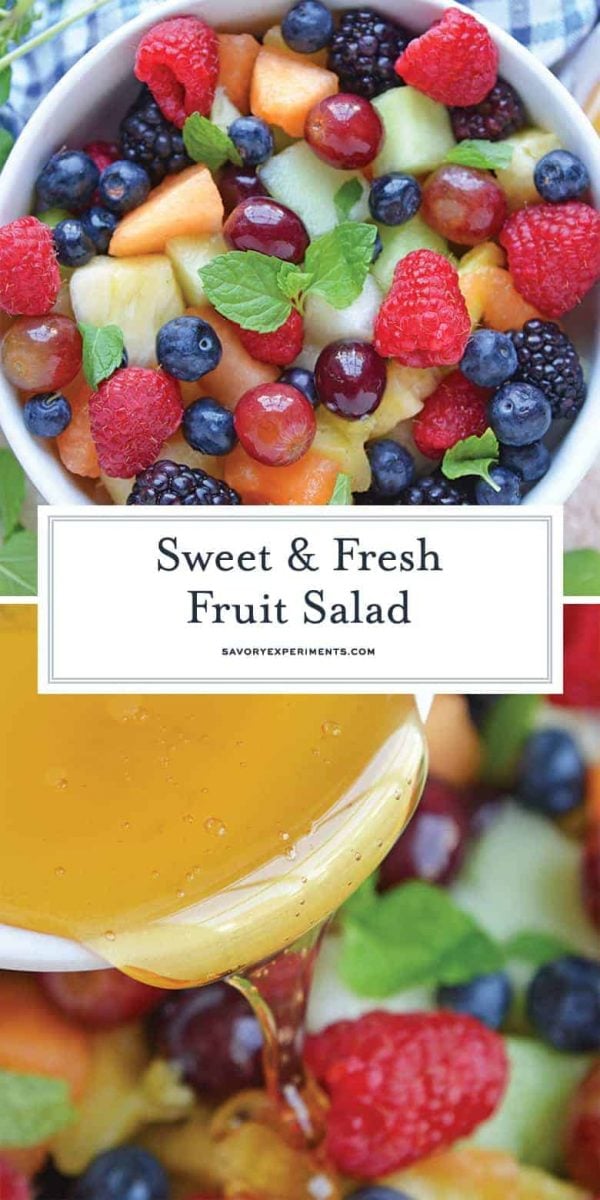 Check out these other fun summer salads: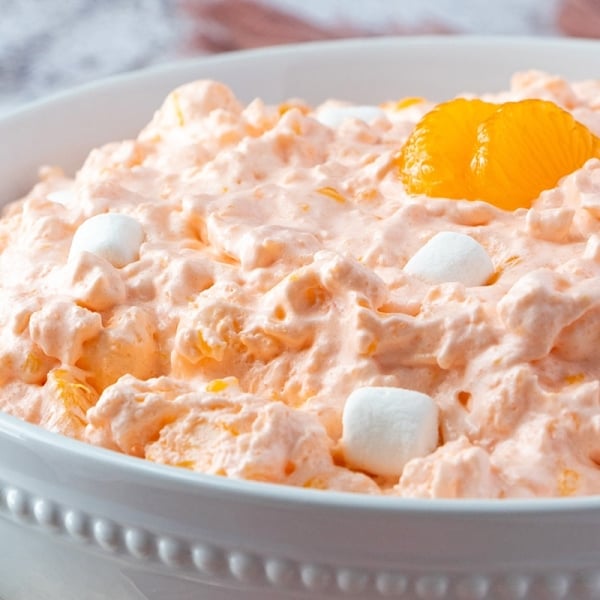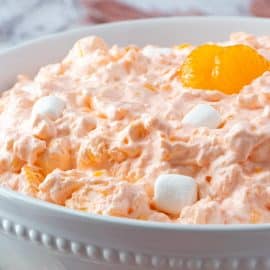 Cobb Salad
With egg, bacon, tomato, onion, avocado and blue cheese, a Classic Cobb Salad recipe can't be beat! This recipe also has the BEST homemade dressing!
See The Recipe!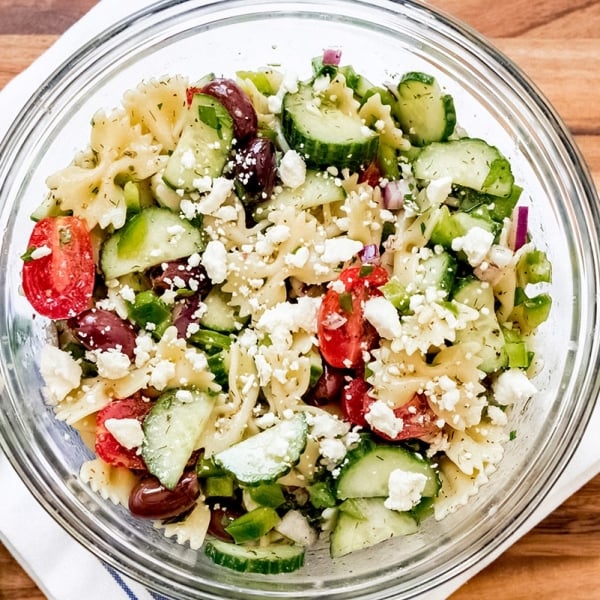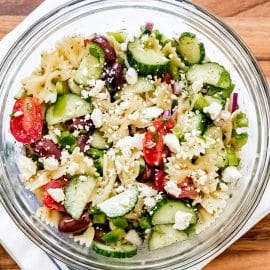 Greek Pasta Salad Recipe
This simple Greek Pasta Salad is just the thing for potlucks and summer cookouts! The textures of crunchy veggies, al dente pasta, and flavors of a savory Greek dressing and feta cheese make this one of the best summer salads around!
See The Recipe!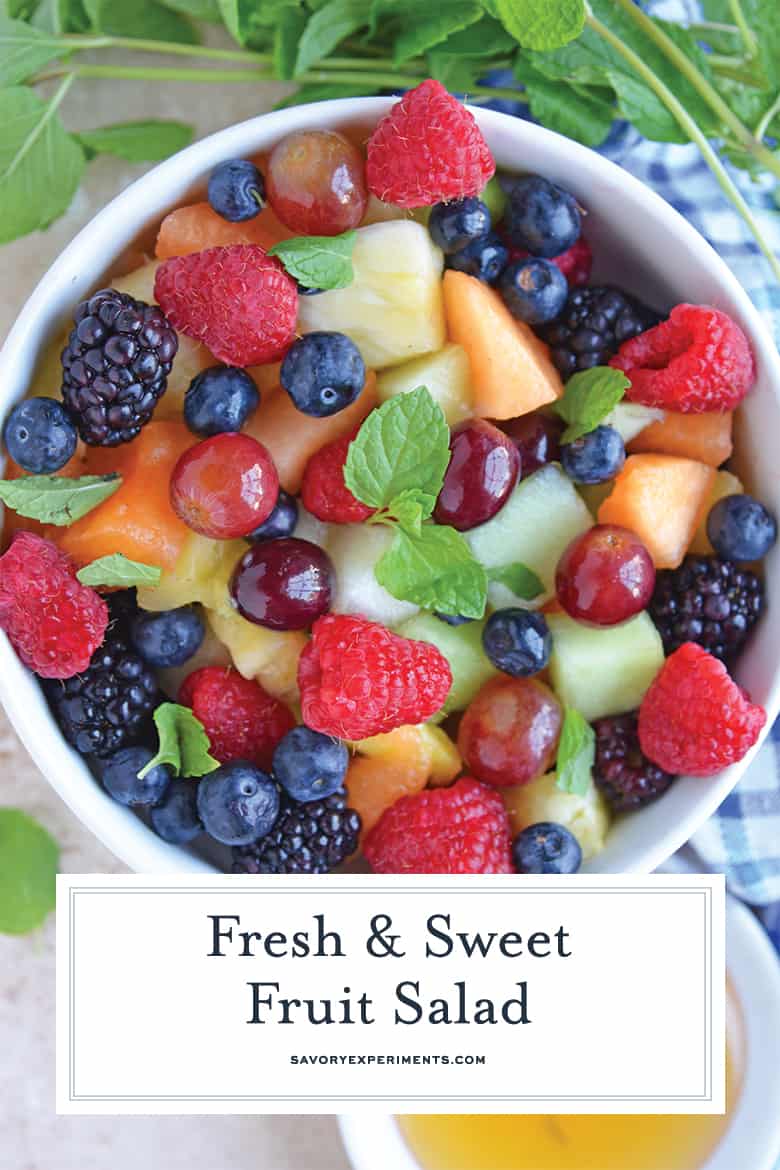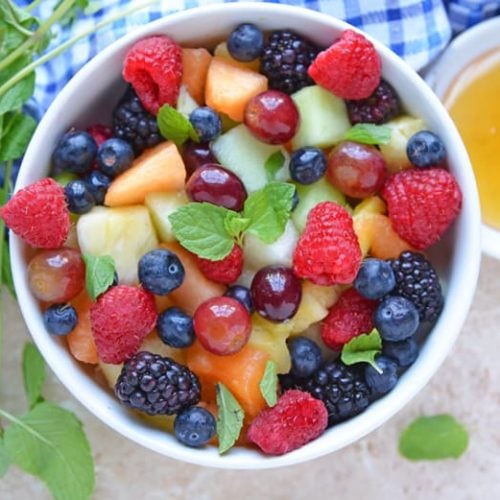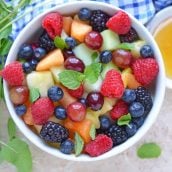 Fresh Fruit Salad Recipe
This is the best fruit salad recipe! With an easy fruit salad dressing of agave and fresh mint, it's the perfect refreshing salad recipe for summer!
Ingredients
4-6

cups

fresh fruit

, cut into bite size pieces

2

tablespoons

light agave nectar

1

tablespoon

fresh mint

, small leaves or minced
Instructions
In a small bowl, combine light agave nectar with mint.

Drizzle fruit salad with agave nectar mixture.

If you've tried this recipe, come back to let us know how it was in the comments or ratings.
Notes
Substitute light agave nectar for dark agave nectar or honey.
Add caviar from 1 vanilla bean for even more intense flavor.
Nutrition
Calories:
169
kcal
,
Carbohydrates:
43
g
,
Protein:
1
g
,
Fat:
1
g
,
Saturated Fat:
1
g
,
Sodium:
13
mg
,
Potassium:
211
mg
,
Fiber:
4
g
,
Sugar:
34
g
,
Vitamin A:
770
IU
,
Vitamin C:
5.6
mg
,
Calcium:
15
mg
,
Iron:
0.8
mg