Talk about a dish that is ubiquitous with breakfast. And while a plate of eggs they seem ho-hum, I would beg strongly to differ.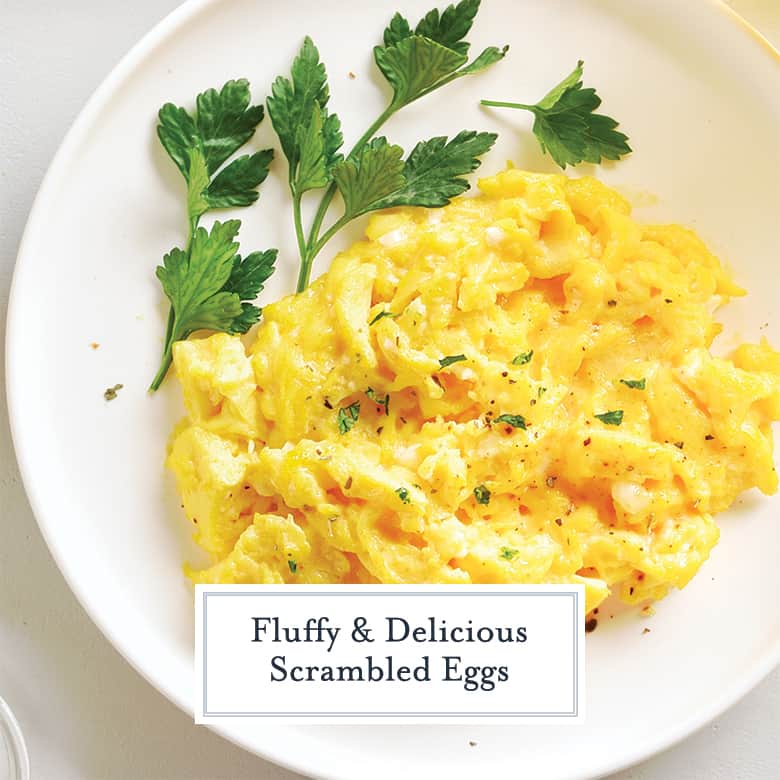 Looking for the Best Scrambled Eggs? These are light, fluffy, moist and delicious!
Scrambled Eggs are the perfect way to start the day or for a fast dinner. Simple, easy, divine, and nutritious, it's no wonder they are such a staple!
Growing up, I thought the way to make great scrambled eggs was to let them cook in the pan until they were close to being done and then cut them to bits with a spatula. Needless to say, the results were less than appetizing. I can assure you, no one wants abstract art for breakfast.
As I got older, I was on a mission to crack the code of this fan favorite. It took a lot of tasting, a lot of testing, and some trial and error, but the scramble is no longer a mystery. And I have to tell you, it couldn't be easier.
Nowadays, I have a few general rules for my scrambled eggs:
The pan. No ifs, ands, or butts here – you have to use a non-stick skillet. They are super inexpensive online and last a good amount of time. An 8" or a 12" pan will do you just fine. It will give you silky eggs every time.
Preheat. You need to preheat your pan. If you don't, your eggs will start to stick and scorch.
Heat. You don't need your flame hotter than medium low. If you go higher, those eggs are going to cook faster, but you will lose out on fluffy, soft texture.
Fats. You can use canola oil, but if you really want an over the top scrambled egg, grab the unsalted butter.
Not additions directly to the egg mixture. People talk about fluff and texture. I have seen people add everything from milk to club soda to a touch of white wine. Truth be told you just need to whisk and whisk them good.
The fold. I prefer to use a well worn wooden spoon, but if you must use a heat proof spatula. The key is to keep slowly moving the eggs around so nothing is sitting still for too long. I go around pulling from the edges to the center and then redistributing.
I love to eat scrambled eggs with a sprinkle of flaky sea salt and nothing else, but they are also amazing on toast, with a bit of cheese, or even sandwiched in a bagel with some bacon. Really and truly, the sky's the limit.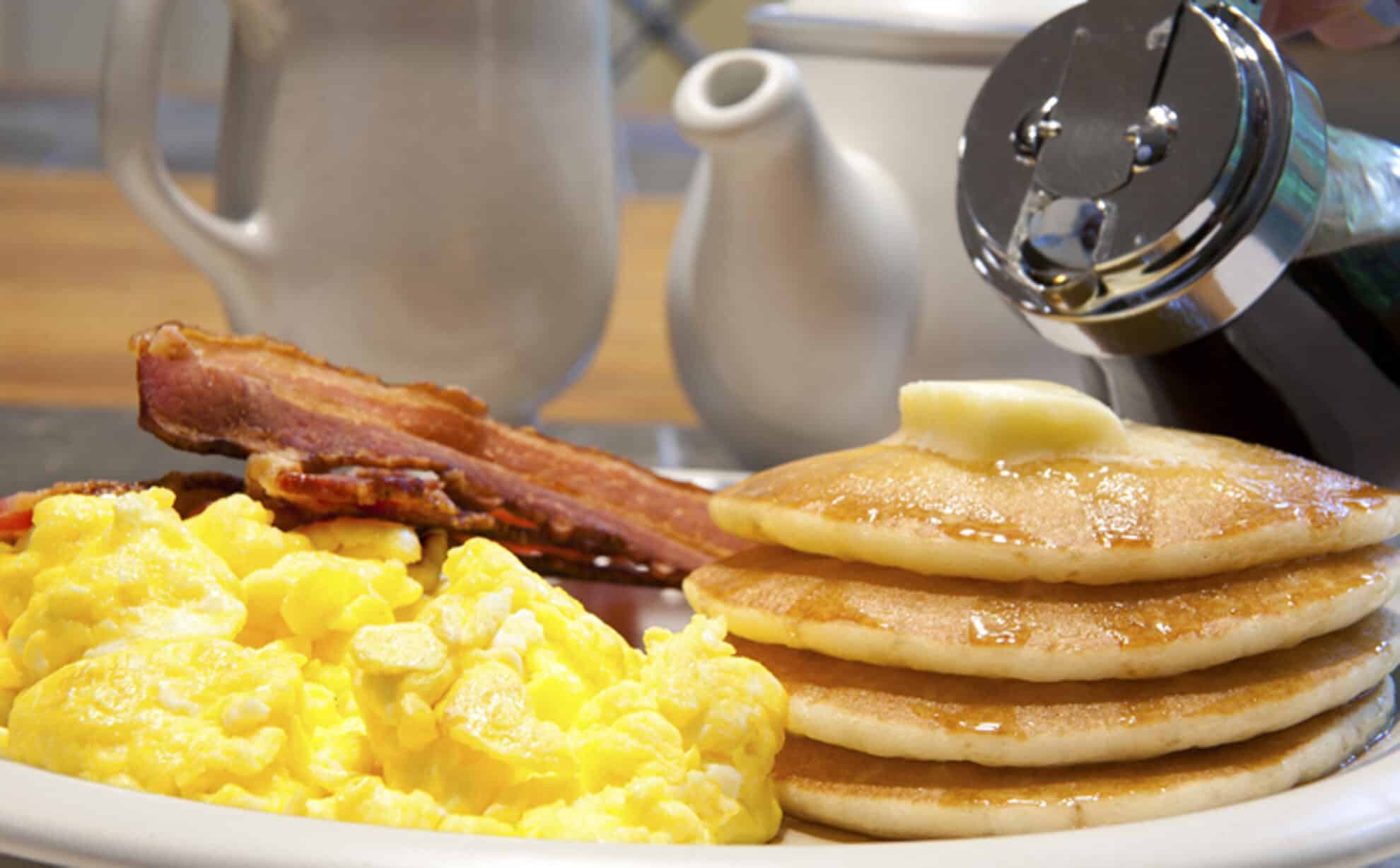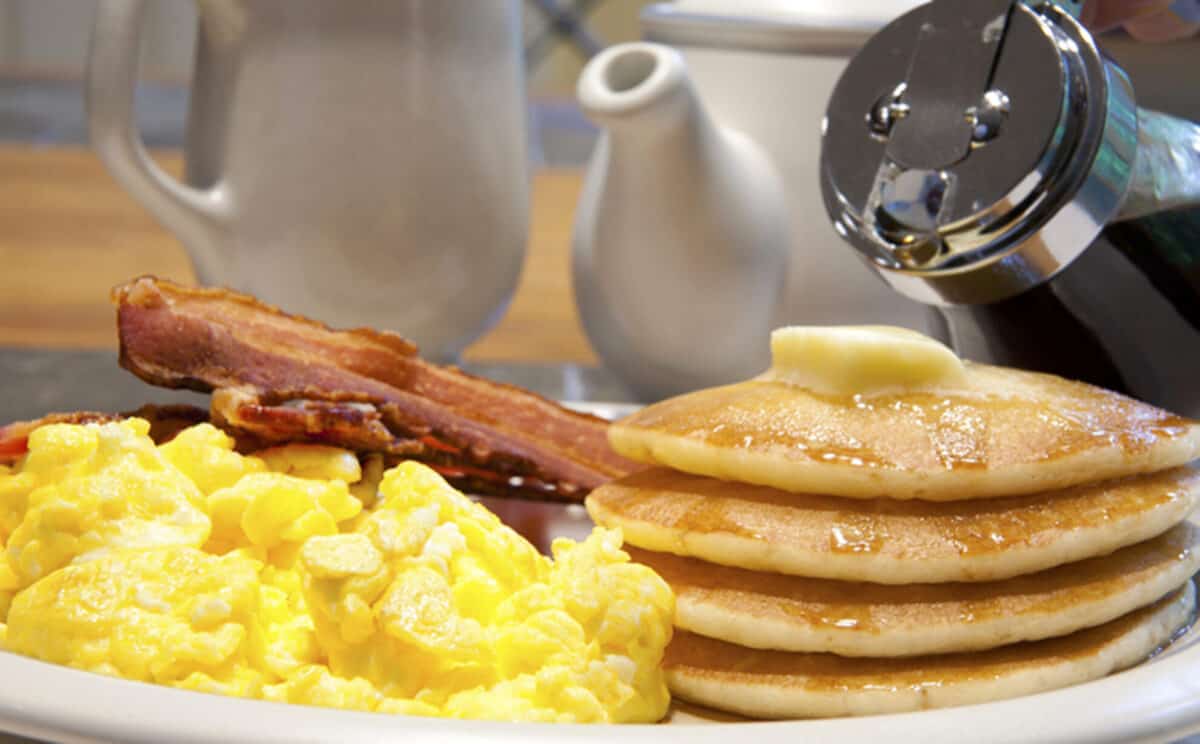 Here are some delicious scrambled egg toppings:
Microwave Scrambled Eggs
Before we start, I am going to tell you that I don't recommend this. Microwaving eggs makes them rubbery whether it is the first time they are cooked or you are reheating them.
But some people need to learn for themselves or don't mind the texture difference, so here you go.
Beat eggs well with 1 tablespoon melted unsalted butter.
Microwave on high 45 seconds. Remove and stir. Microwave for another 30 seconds, or until set at 10 seconds intervals.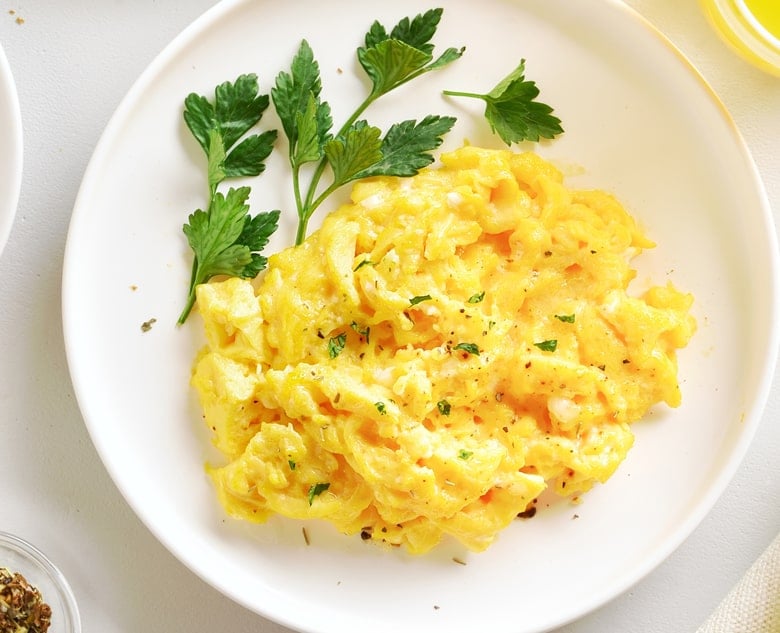 How do I make scrambled egg whites?
Follow the same instructions for regular scrambled eggs only using egg whites instead of the whole egg.
Working over your mixing bowl, break the shell into halves. Transfer the yolk from one shell to the other, allowing the whites to fall into the mixing bowl while keeping the yolk intact and seperate. When the majority of the whites are in the mixing bowl, discard the shell an yolk.
Or keep the yolks set aside for making hollandaise sauce, mayonnaise or carbonara.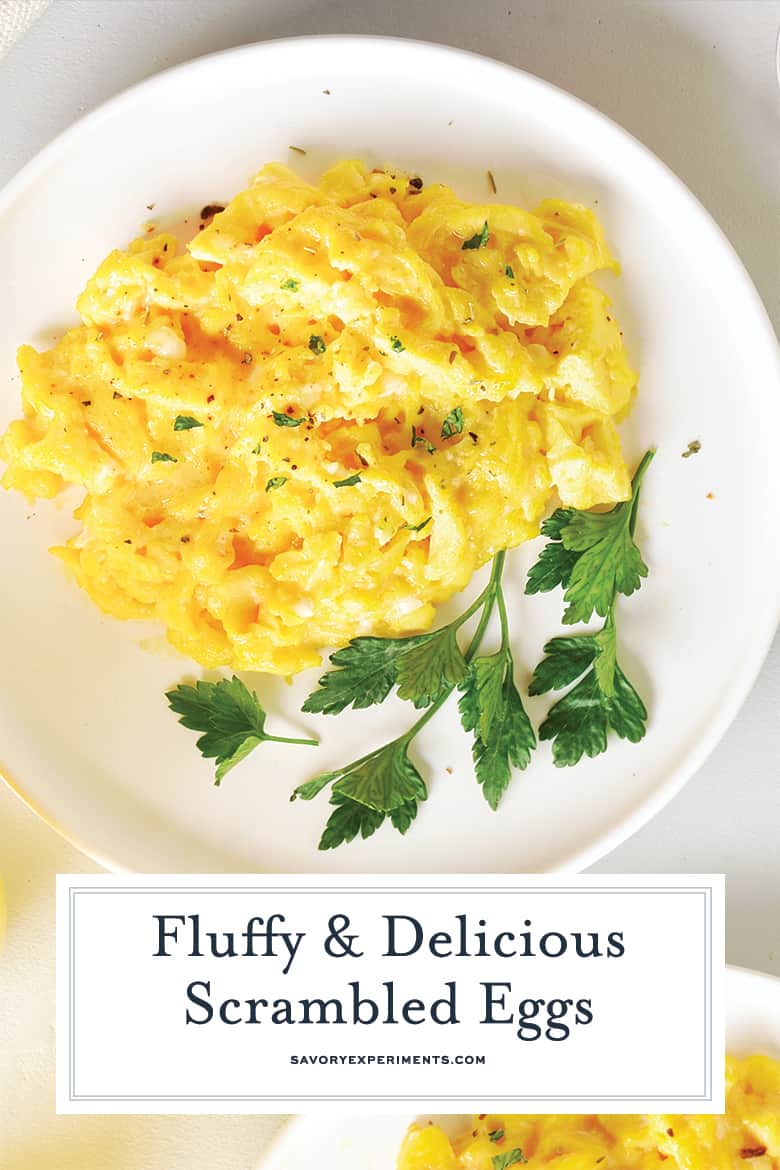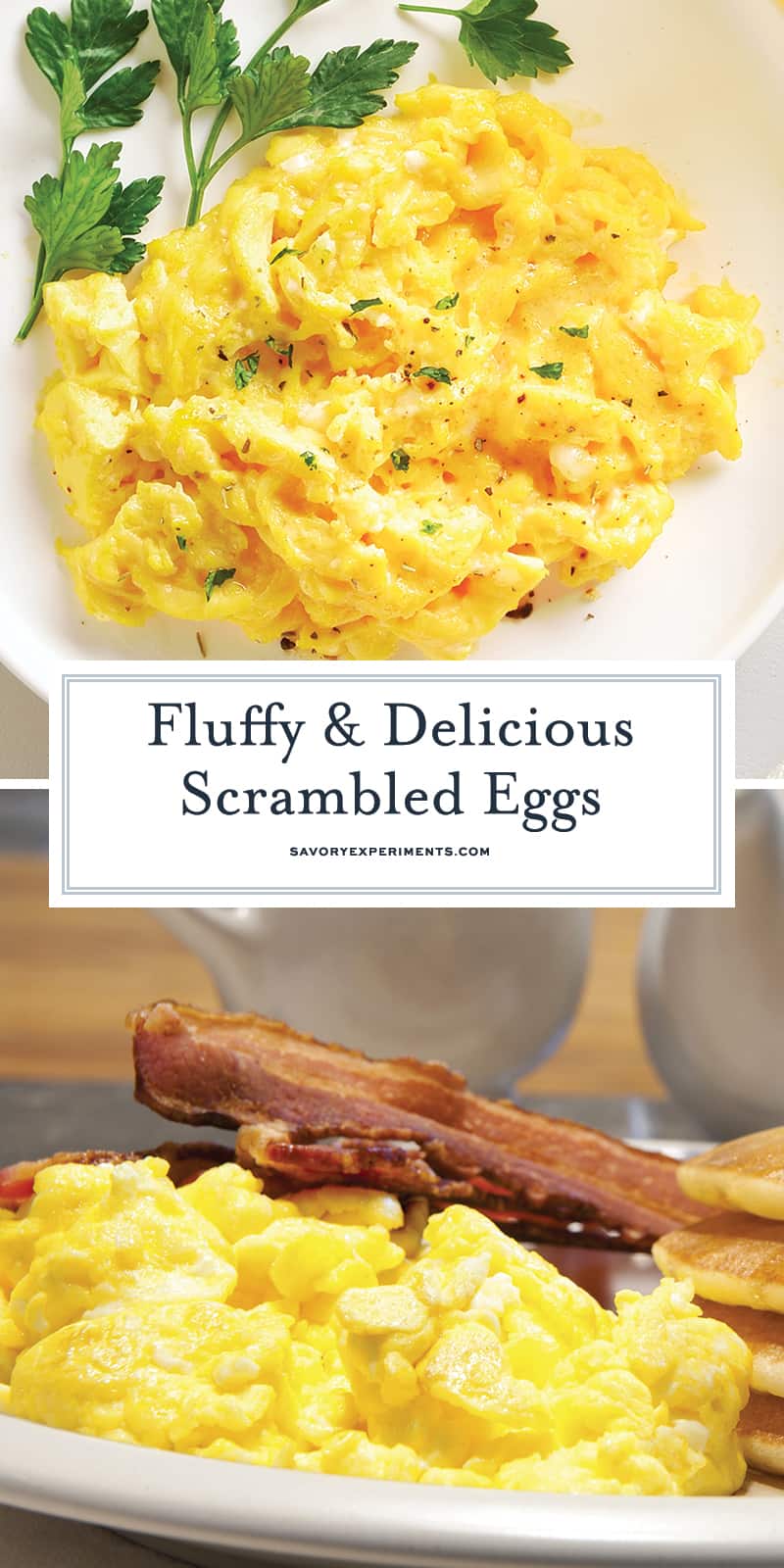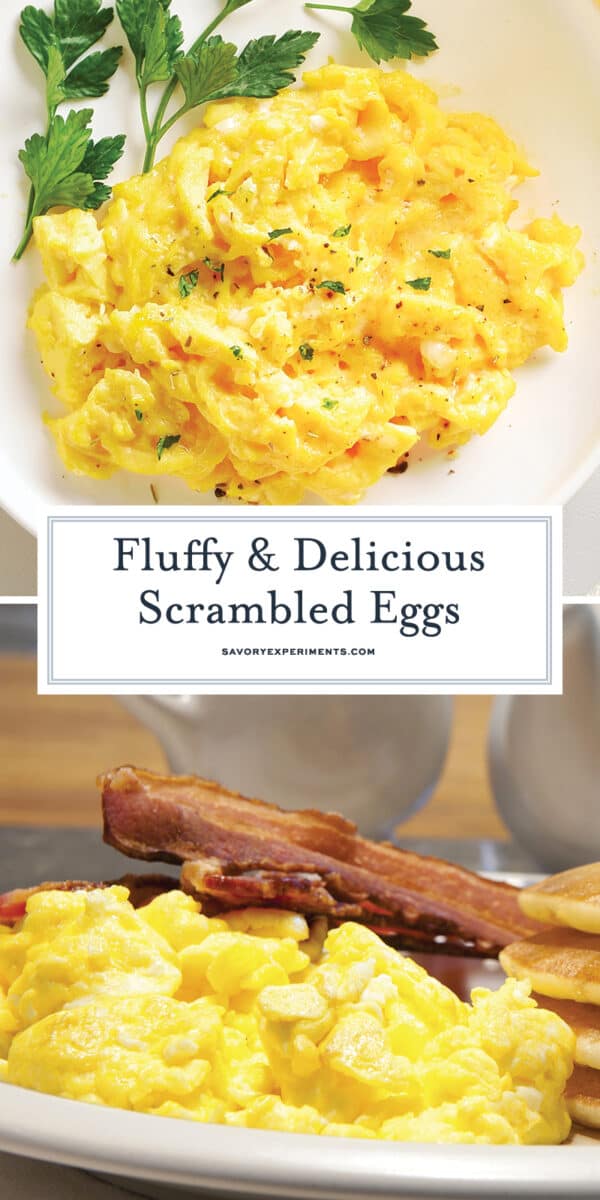 Enjoy your scrambled eggs and let me know if you have any questions or tips and tricks for the best scrambled eggs!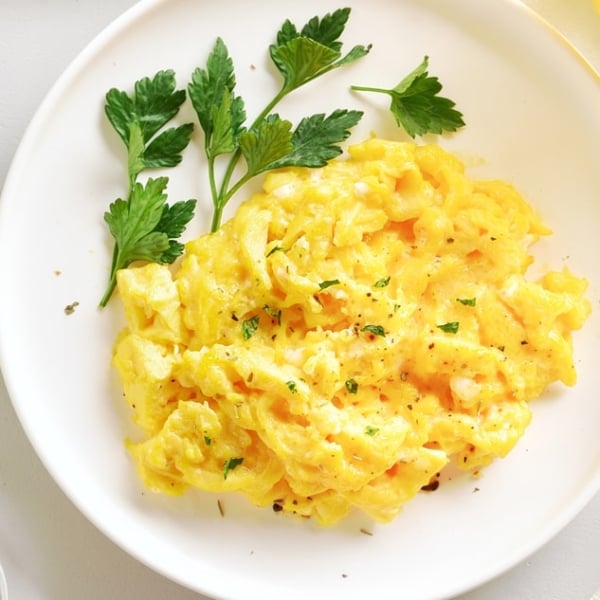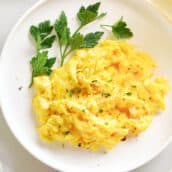 How to Make Scrambled Eggs
Looking for the Best Scrambled Eggs? These are light, fluffy, moist and delicious!
Equipment
Heat Resistant Rubber Spatula
Ingredients
2

tablespoons

unsalted butter or extra virgin olive oil

Flaky sea salt

, to taste
Instructions
Melt the unsalted butter in a non-stick pan or heat the oil in a non-stick pan over medium low heat. Start your pan before you crack your eggs and it will be perfectly heated by the time the eggs are ready.

Crack the eggs into a bowl that gives them a bit of room. Using a fork or a small whisk give them a good what for. You want to not only break the yolk but incorporate a good amount of air into them in the process. I even like to give mine a whirl with an immersion blend or small mixer.

When the butter is just beginning to bubble or the pan warm if you put your hand near it, you are ready to add the eggs. Gently pour them into the pan.

Once the edges have barely set and become opaque, use a wooden spoon or a spatula to start pulling the curds toward the center. Don't flip anything over, just keep pulling toward the center until no more liquid egg remains. If you have some liquid egg trapped, gently lift the pan to allow it to flow to an empty space.

Immediately transfer your eggs to a plate. Season with a sprinkle of salt and enjoy

If you've tried this recipe, come back and let us know how it was in the ratings or comments.
Nutrition
Calories:
226
kcal
,
Carbohydrates:
1
g
,
Protein:
11
g
,
Fat:
20
g
,
Saturated Fat:
10
g
,
Cholesterol:
357
mg
,
Sodium:
127
mg
,
Potassium:
121
mg
,
Sugar:
1
g
,
Vitamin A:
825
IU
,
Calcium:
49
mg
,
Iron:
2
mg