This homemade breakfast sausage recipe is so appetizing once it's finished. It is a mouthwatering concoction that everyone will love! Pair it with some eggs and toast for a complete and tasty breakfast!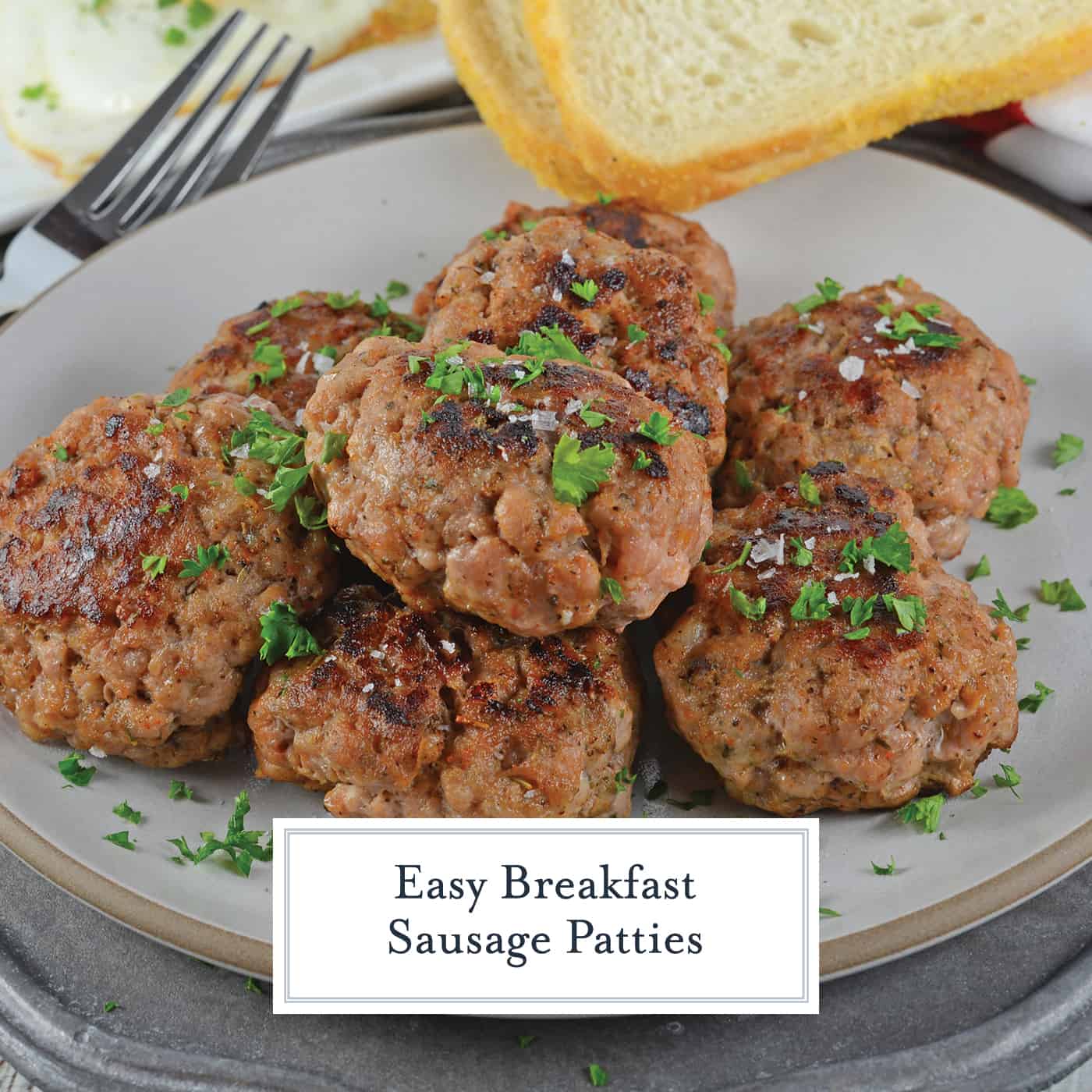 Homemade Breakfast Sausage is super easy using my proprietary blend of Breakfast Sausage seasoning. This is a tasty Breakfast Sausage recipe that will have you making them again and again!
And my quest to learn about sausage making continues with breakfast sausage, a recipe adapted from Alton Brown. When learning a new technique, you have to start someplace!
I have to say that the second time around (after Italian Sausages) was much easier! I took my own advice and only ground them once on a coarse grind.
Two grinds, while you are tempted to think will result in a fine and tender mix actually starts to be a little mealy and grainy. Stick with the one and thank me later!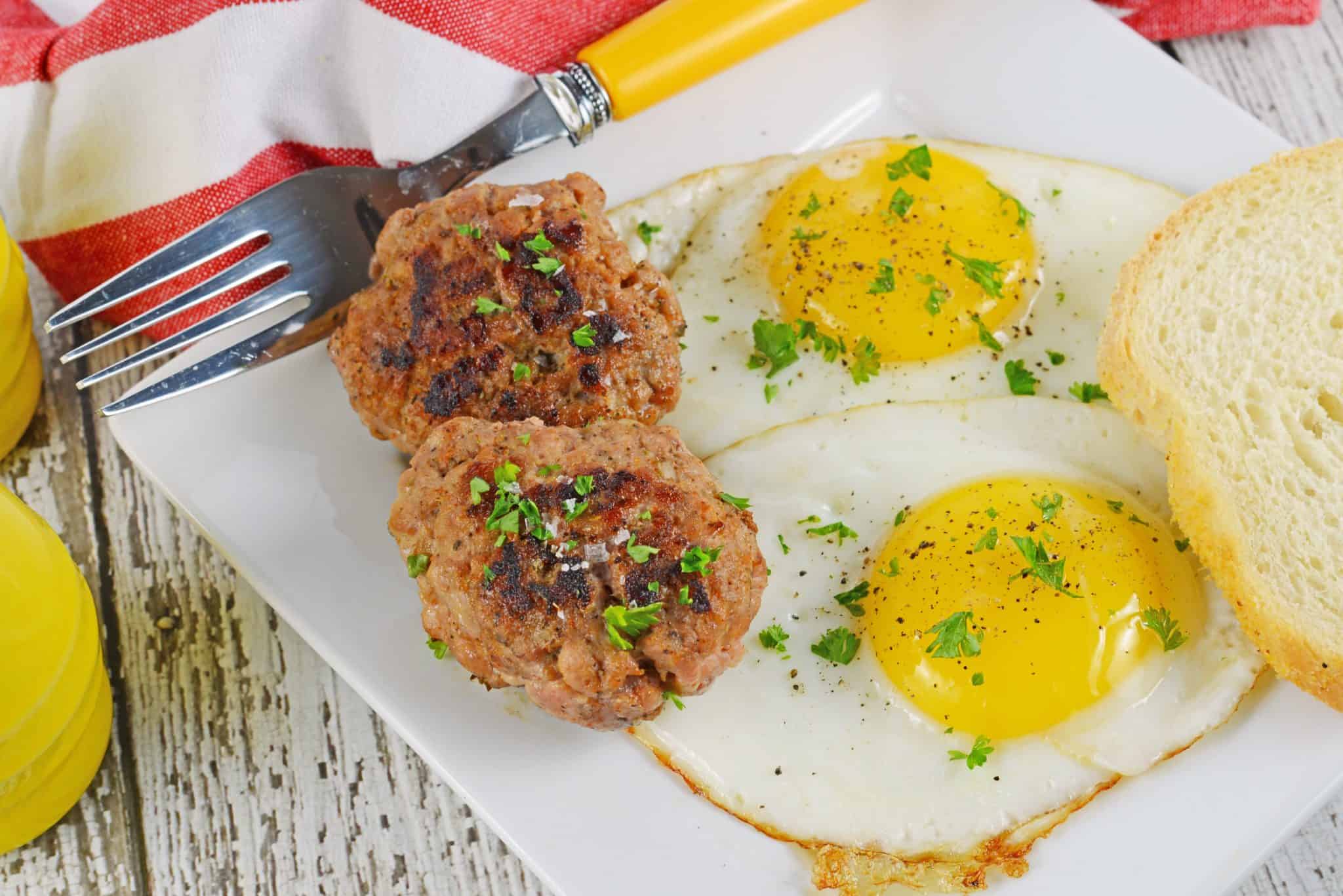 For this breakfast sausage recipe, I used a homemade sausage seasoning made of dried herbs and sweet brown sugar. The cayenne adds quit the kick and can be omitted altogether if you want a sweet breakfast sausage.
The spices are so intense that your sausage won't require any gravy or syrup, although I wouldn't be opposed to either. The aroma reminds me of a cozy fall morning, dressed in flannel pajamas, prepared to do nothing but snuggle and watch movies all day.
Nutmeg, thyme, rosemary and sweet brown sugar.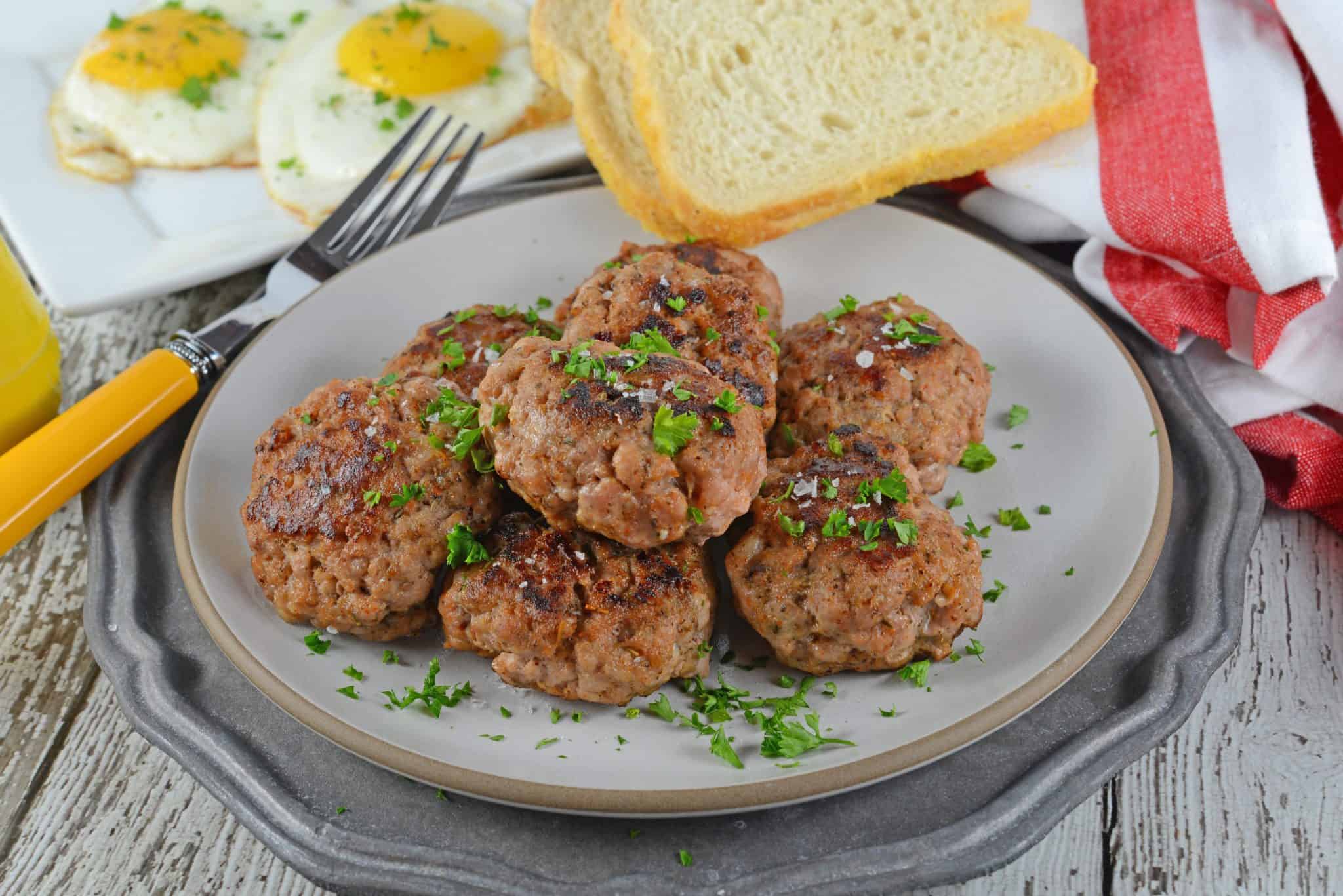 I'm in love with my KitchenAid meat grinder attachment. At first I wasn't sure if it would be an attachment I would use much, but to be honest, I use it more than any of the others.
Whether I'm grinding pork mixes or making hamburgers, I am in control of the grain and what goes into the ground meat mix. I can season it the way I want and then either stuff it or form it into other shapes like sausage patties or sausage balls.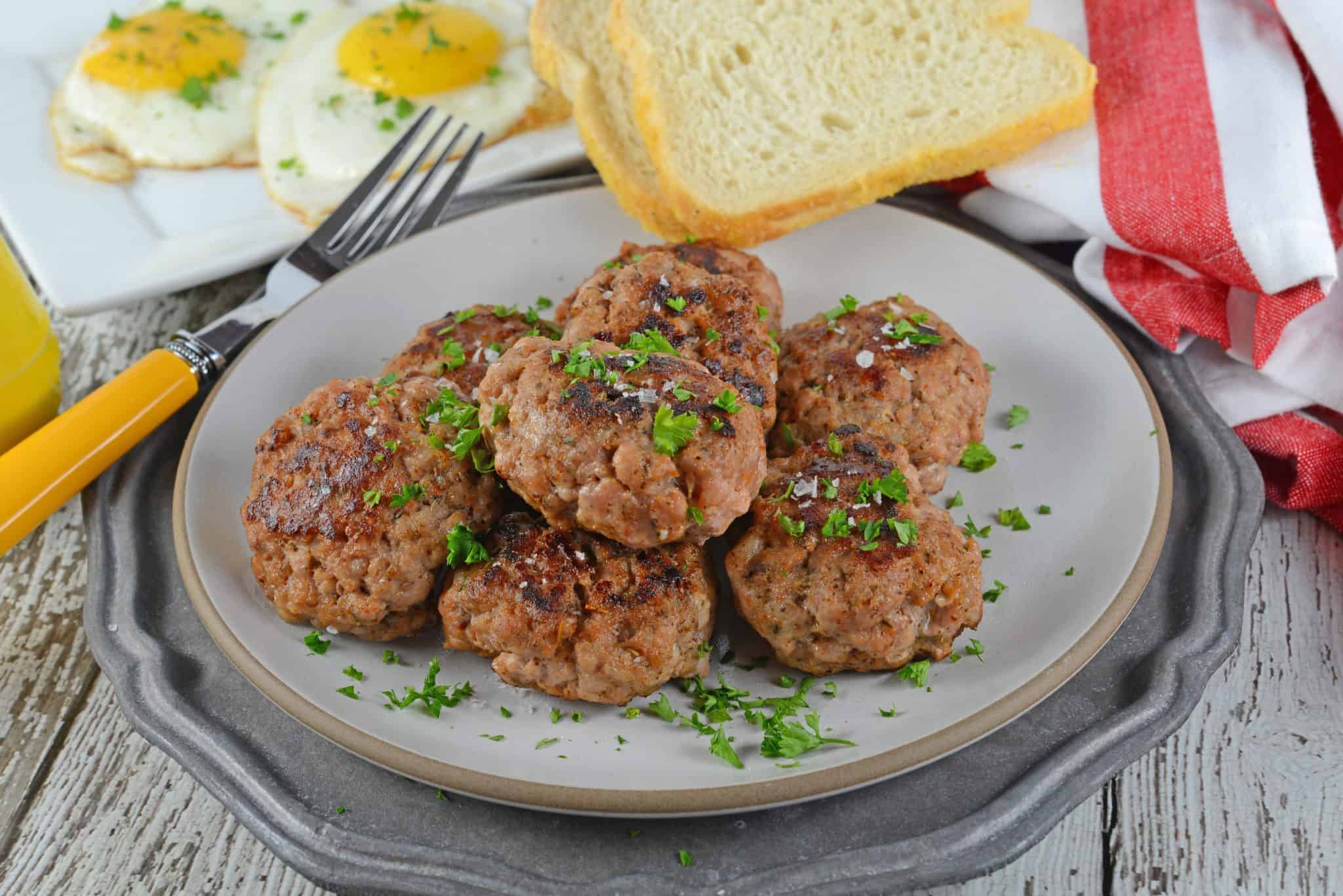 If you do not have a meat grinder, electric or hand powered, you can look for ground pork in your grocery store meat department or ask the butcher to grind it for you. Some will, some won't.
The optimal fat to meat ratio is 25-30% . You can judge your piece of meat visually and gauge whether you will need additional pork fat to add to the mixture. Alton's recipe calls for additional fat, but if you get an extra fatty piece, this isn't necessary.
I look for the fattiest piece of pork butt, also known as Boston Butt. This cut does have a small, easy to remove, bone. You can make a leaner sausage, however especially when making patties, you want the fat to bind all of the ingredients together.
It also adds flavor. So don't go too lean… it is still sausage for goodness sake!
Be sure to check out these other easy breakfast recipes: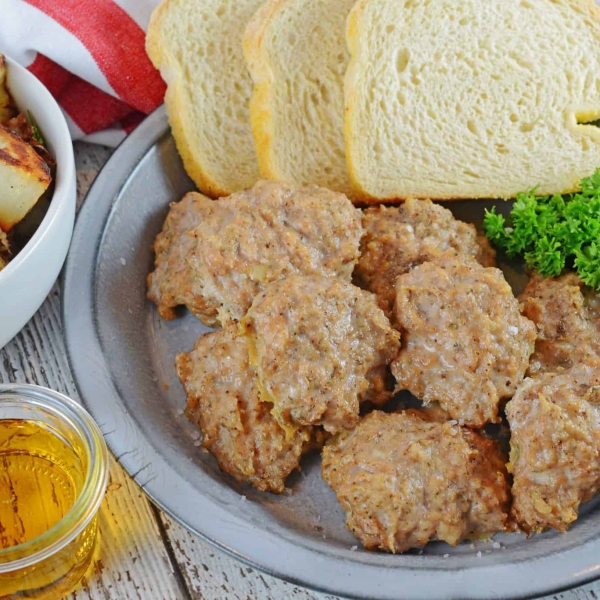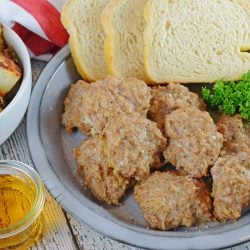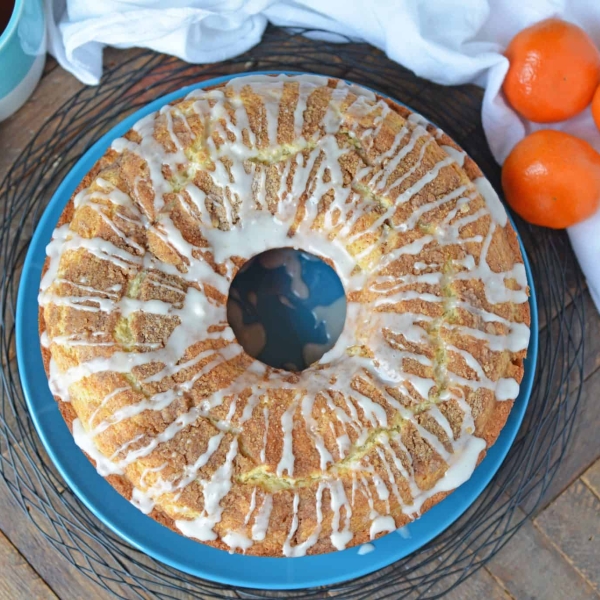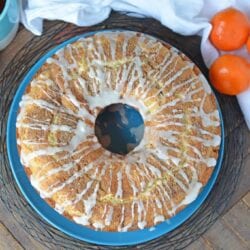 Sour Cream Coffee Cake
Sour Cream Coffee Cake is an easy coffee cake recipe with a streusel ribbon and crumb topping. Super moist without being overly sweet. Perfect for brunch or dessert.
See The Recipe!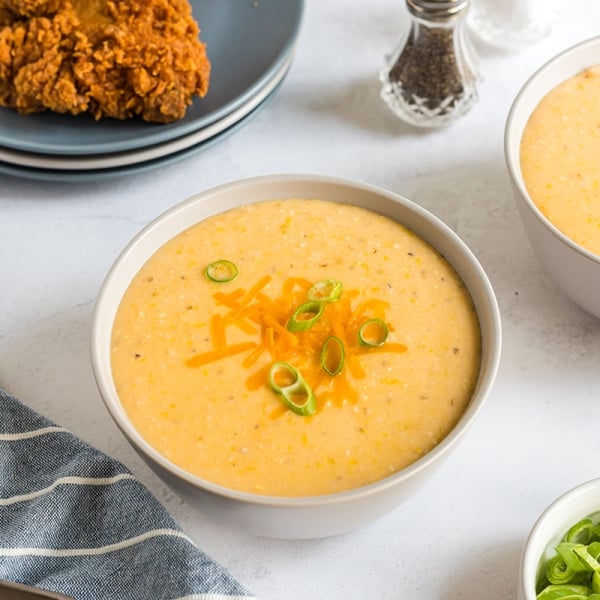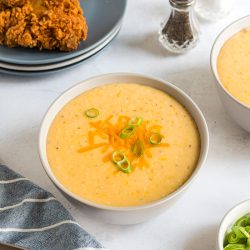 Cheddar Grits
Creamy Cheese Grits are the perfect addition to any breakfast, lunch or dinner. Make the perfect consistency and taste every time!
See The Recipe!
Tools for making Breakfast Sausage:
Meat Grinder – After you grind your own meat, you'll never go back! You can certianly buy pre-ground meat to make your life easier.
Heavy Bottom Frying Pan– this will be one of your most used kitchen tools. Having something that is heavy bottom will distribute heat better and prevent burning whether you are using an electric or gas range.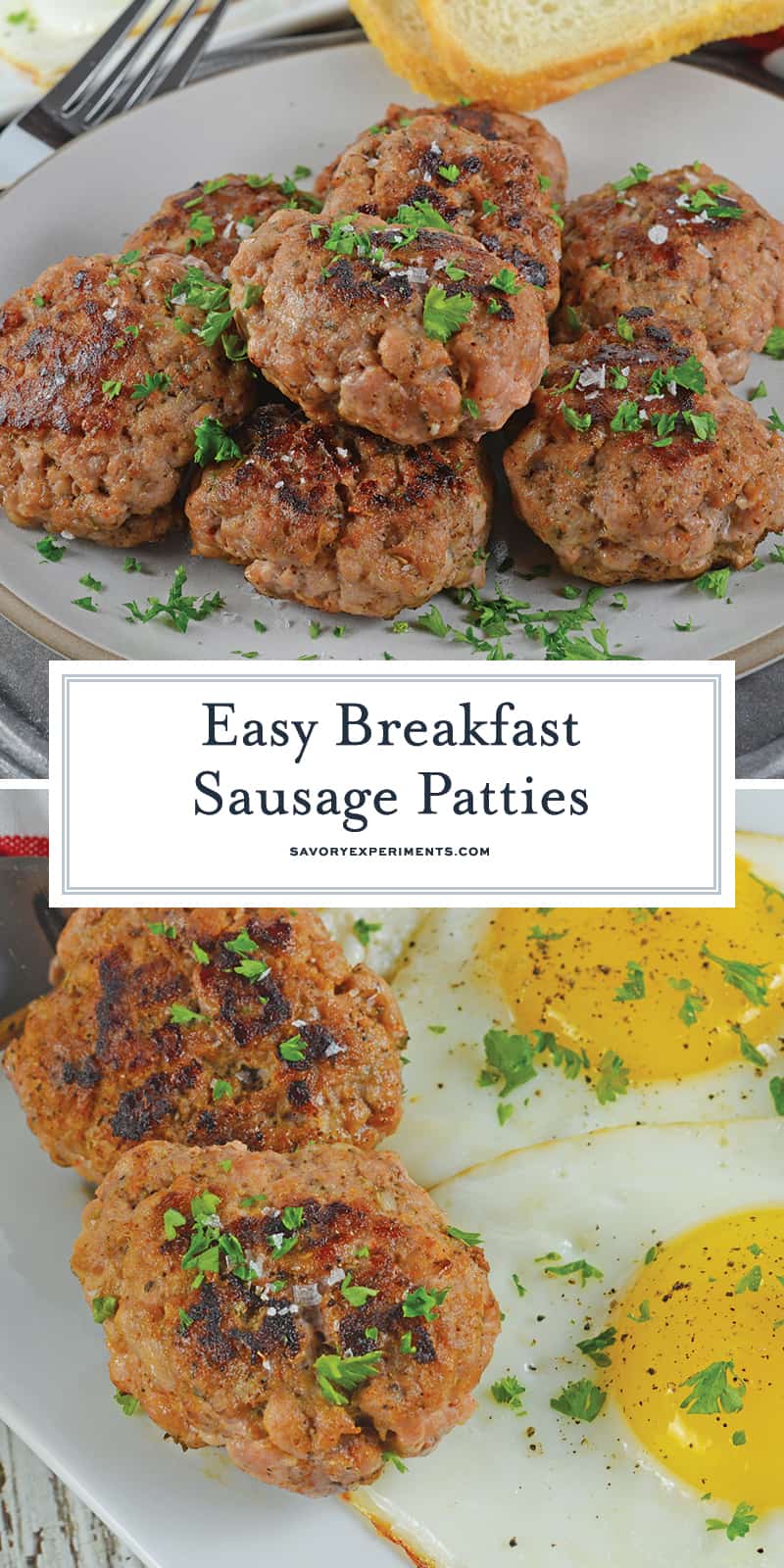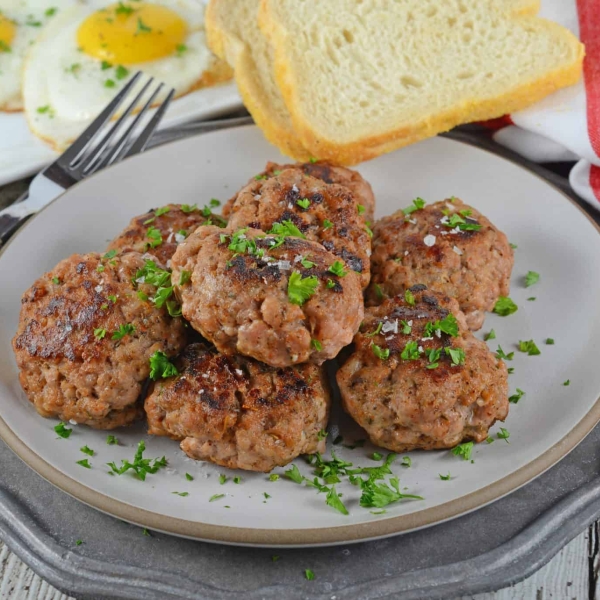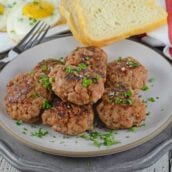 Breakfast Sausage Patty Recipe
Homemade Breakfast Sausage is easier than you think using my proprietary blend of sausage seasoning and then forming them into sausage patties or sausage balls.
Instructions
Place pork butt and meat grinder in the freezer for 1-2 two hours prior to beginning This process is necessary to allow the sausage to grind smoothly.

In a small bowl mix salt through cayenne pepper.

Remove pork butt from the freezer and carve into 1-2 inch cubes. Cut pieces with excess fat slightly smaller than less fatty pieces. Toss well with spices to coat. Place back into freezer for 20 minutes.

While you wait for the meat to re-chill, assemble your meat grinder and bowl to catch pieces. Use the coarse grind attachment. Cut pieces of wax or parchment paper to stack between patties when formed.

Remove meat from freezer and grind. If you are using a Kitchen Aid, a speed of 4 is optimal.

After you have ground all of the meat and spices, you can start to form patties with well washed hands. Make patties 2 inches wide and about 1/2 inch thick.

Place all patties in an airtight container separated by the cut wax paper. Refrigerate for at least 12 hours, but optimally 24 hours.

Because your patties have a significant amount of fat you will not need to use additional oil to cook. Place patties in a large skillet and fry over medium heat for approximately 5 minutes on each side. These are pork, so the patties need to be cooked all of the way through with no pink. Cooking temperatures and patties sizes will vary, so I highly suggest that you cut open one patty to check for completion before serving.
Nutrition
Calories:
104
kcal
,
Carbohydrates:
1
g
,
Protein:
14
g
,
Fat:
4
g
,
Saturated Fat:
1
g
,
Cholesterol:
45
mg
,
Sodium:
437
mg
,
Potassium:
259
mg
,
Sugar:
1
g
,
Vitamin A:
35
IU
,
Calcium:
12
mg
,
Iron:
0.9
mg