Homemade dinner rolls don't get any better than these Mexican Cheesy Rolls! Perfectly spicy and a great addition to any meal.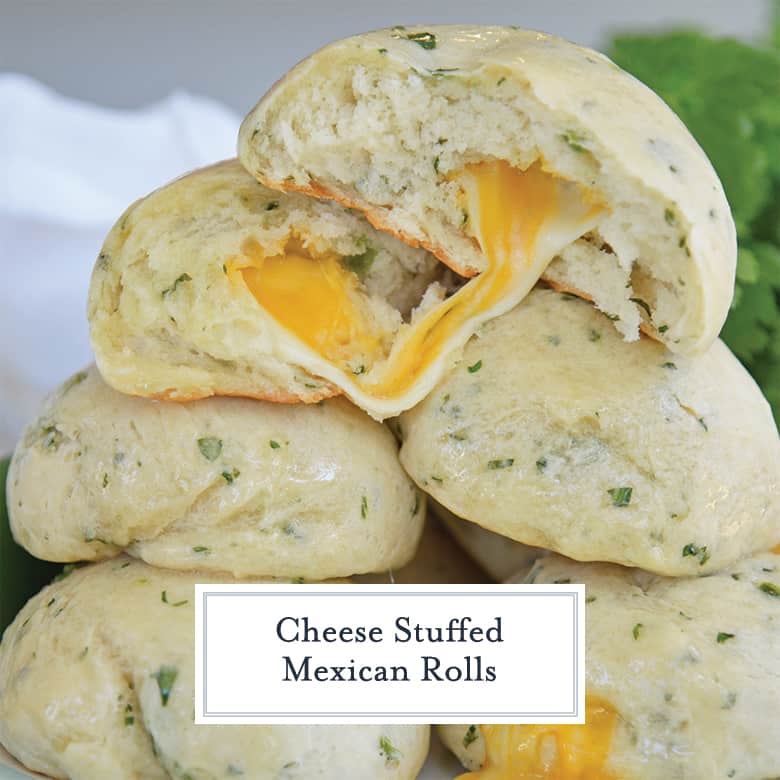 Upgrade your usual dinner rolls and try these Mexican Cheesy Rolls! It's a great way to add a little spice to your dinner roll recipe.
If there is one thing I can't go without when having dinner, it's bread. Whether it's garlic bread with a good pasta, homemade rolls with a steak dinner, or cheese stuffed bread, I love it all.
I have a recipe for Cheese Garlic Rolls which are delicious. But sometimes I like to try to spice things up. And what better way to spice up a traditional cheese stuffed roll than to fuse it with jalapeno poppers?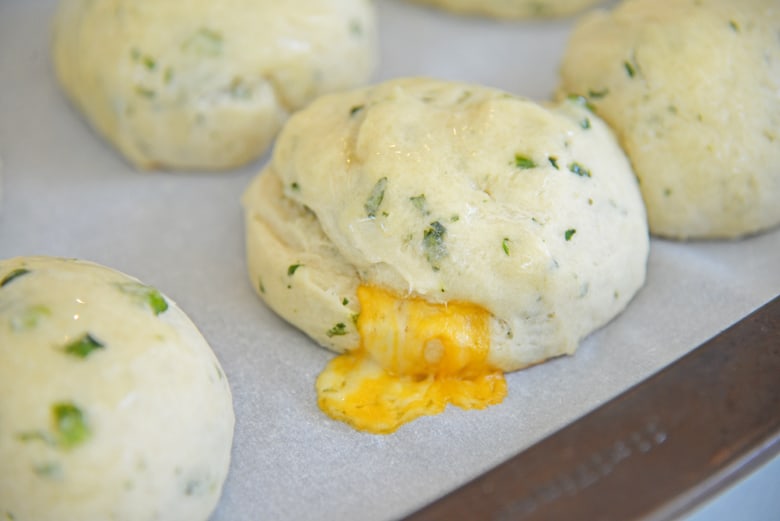 These Mexican Cheesy Rolls are perfect with any meal, and can be modified to meet your "heat" needs. If you like them spicier, add more peppers. If you don't like as much spice, tone the peppers down.
While these rolls are relatively easy to make, they are homemade and require yeast. If you've never baked with yeast before, don't worry! I have lots of tips and tricks for you.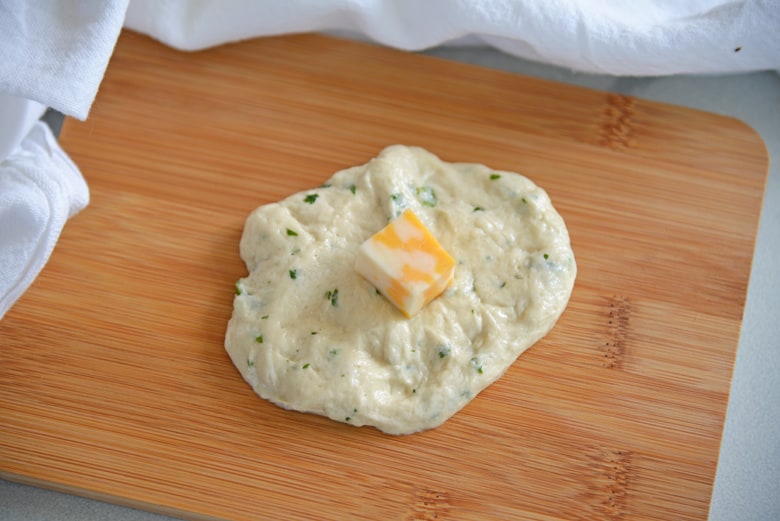 For yeast to bloom, it needs warm water. Not HOT water, warm water. Ideally this would be about 95 degrees.
PRO TIP: Yeast does expire. Expired yeast is the number one cause of bread not rising at all or rising poorly. The second reason is the water was too hot and killed the yeast.
No need to get out the thermometer, just know that it should be hot to the touch, but not so hot that you can't put your finger in. If the water is too hot, it kills the yeast.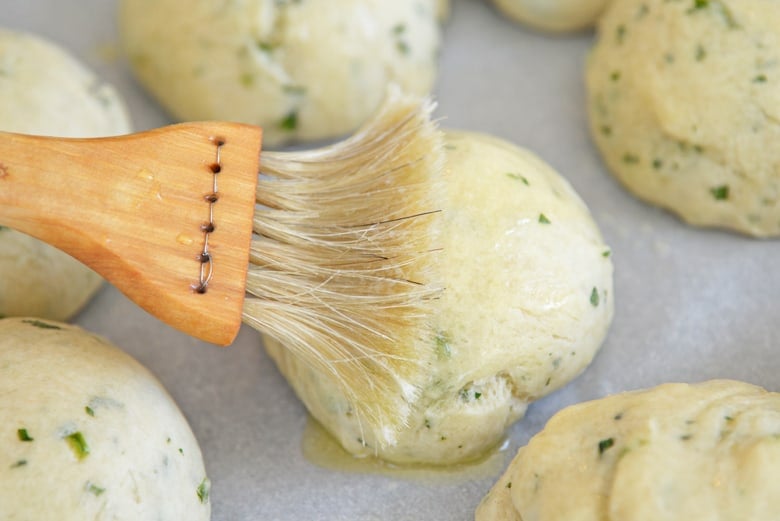 So the first thing you'll need to do is to put the yeast and sugar in a bowl of a stand mixer fitted with the dough hook. Mix together and then pour in the water. Sugar is like food for yeast, so adding the sugar with the yeast aids in its ability to bloom.
Allow the yeast to bloom for about 10 minutes. You will know when it's ready when the mixture is bubbly and fragrant.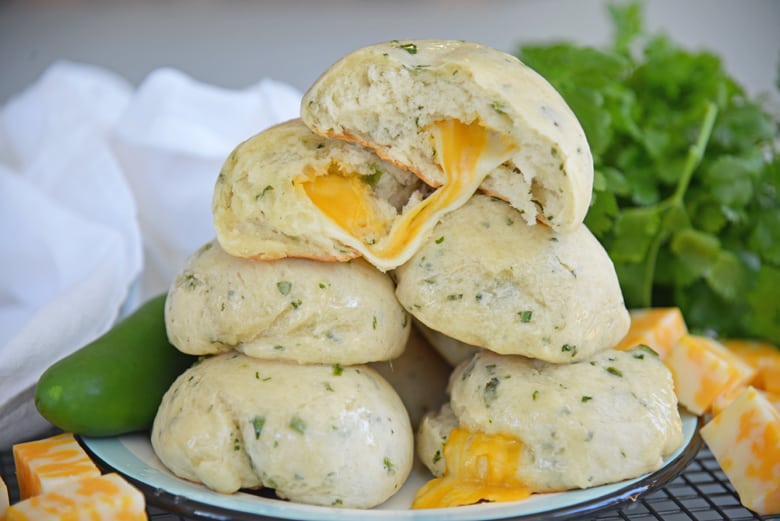 Next, add in the jalapenos, melted butter, vegetable oil, 3 cups of flour, salt and cilantro. Blend all of that together with the dough hook for about 10 minutes. The dough should be slightly sticky.
Then you want to sprat a large bowl with cooking spray (this keeps the dough from sticking to the bowl.) Cover the bowl with a damp kitchen towel, and keep in a warm place. Let the dough rise for about 30 minutes.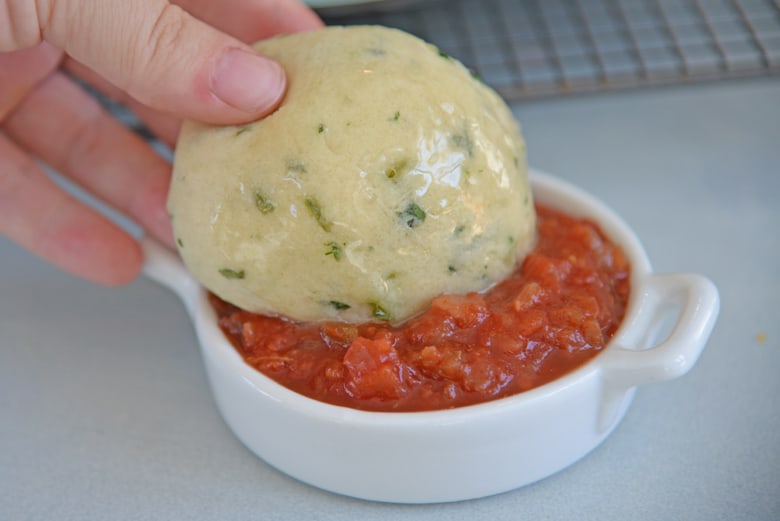 When the dough roughly doubles in size, cut the dough in half, and then each half into 7 equal pieces. Flatten each piece in your palm, and put a cheese chunk in the center.
Cover the cheese, pinch the sides and roll into a ball. Make sure that there are no open seams, so that the cheese doesn't melt out.
For this recipe, I chose to use colby jack cheese, however you can use any type you'd like. Cheddar cheese or even pepper jack would also work really well.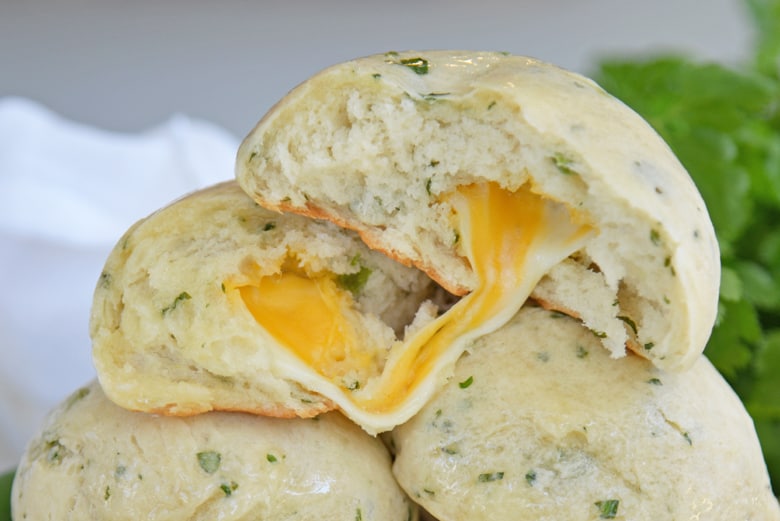 After all of the rolls have cheese, place them on a baking pan that has been coated with cooking spray. Cover with a damp kitchen towel again, and allow to rise again for 15 – 20 minutes.
After they have risen, bake them in a 375 degree oven for about 11-13 minutes. Once the rolls come out of the oven, brush with a mixture of melted butter and garlic powder, and serve!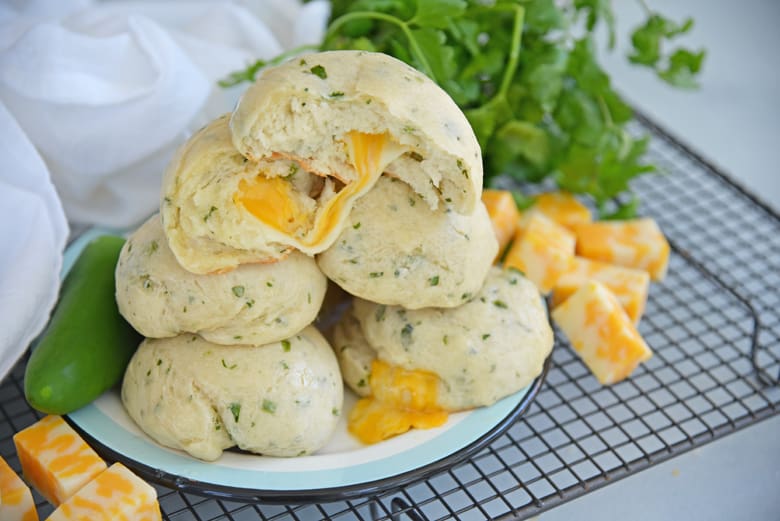 Questions you might have about how to make Cheesy Mexican Bread:
How can I make my rolls spicer? There are a couple of ways:
Use a pepper that is hotter on the X scale or double the jalapeno
Use pepper jack or habanero laced cheese
Add 1 teaspoon crushed red pepper to the dough
Add 1 teaspoon chile powder to the dough
How can I make my rolls less spicy? Omit the jalapeno and you'll have a Mexican flare without the heat.
Can I use bread flour instead of all-purpose flour? Difference between the two comes down to protein and gluten, but this directly impacts the amount of liquid needed, so they two can be used interchangeably, but might need a little tweaking in the liquid department.
The amount of protein found in bread flour is higher, in order to contain and produce more gluten and achieve a larger rise in bread. It will need more liquid.
All purpose has less protein, but can be used in nearly any recipe calling for flour.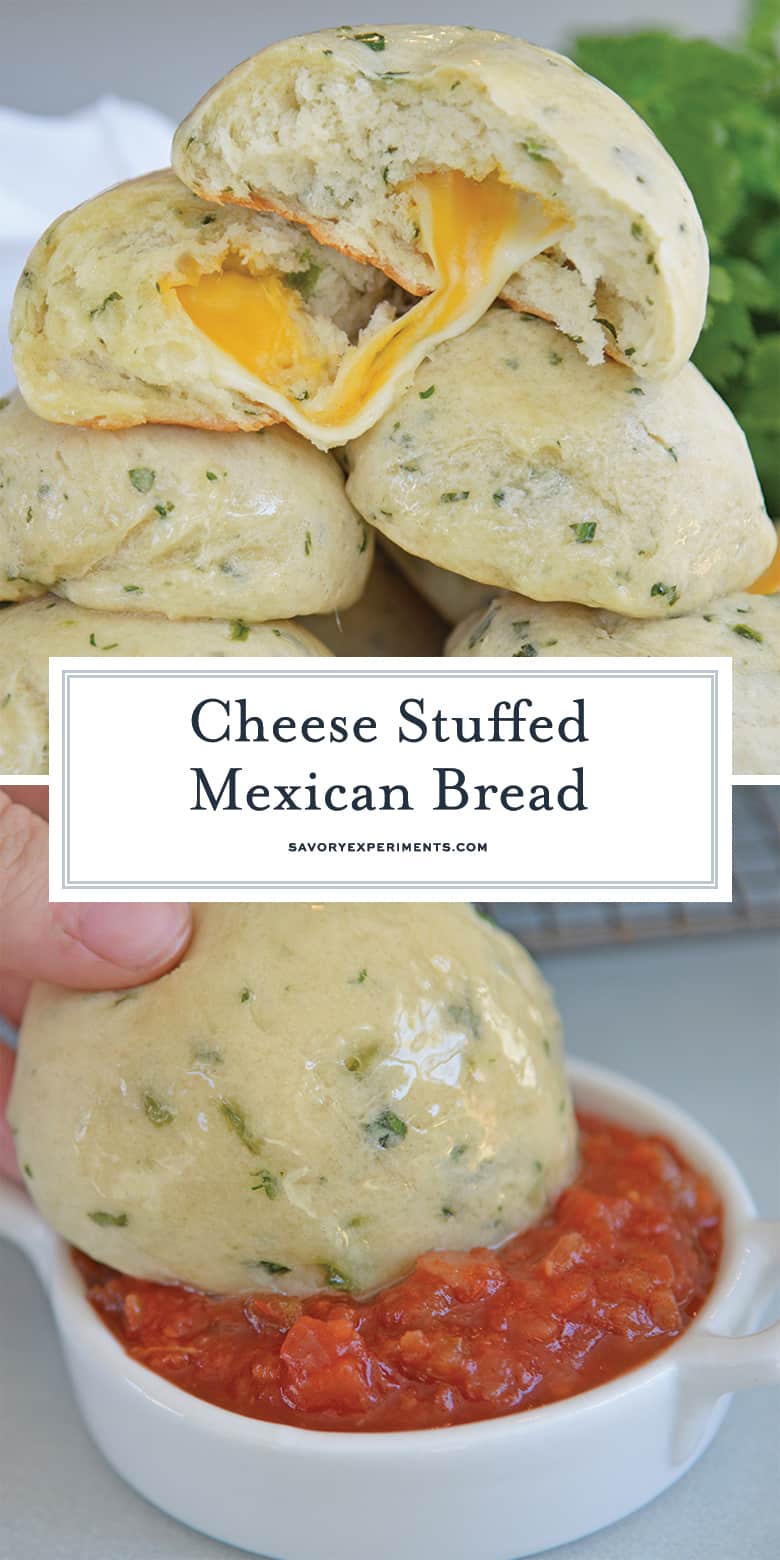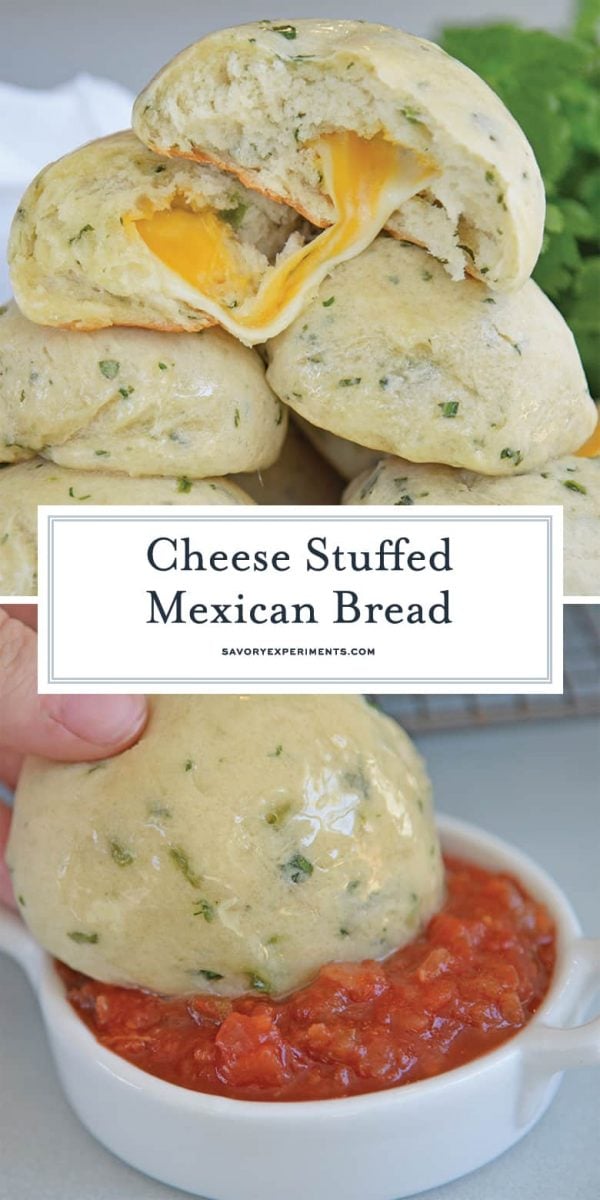 Check out these other homemade bread ideas: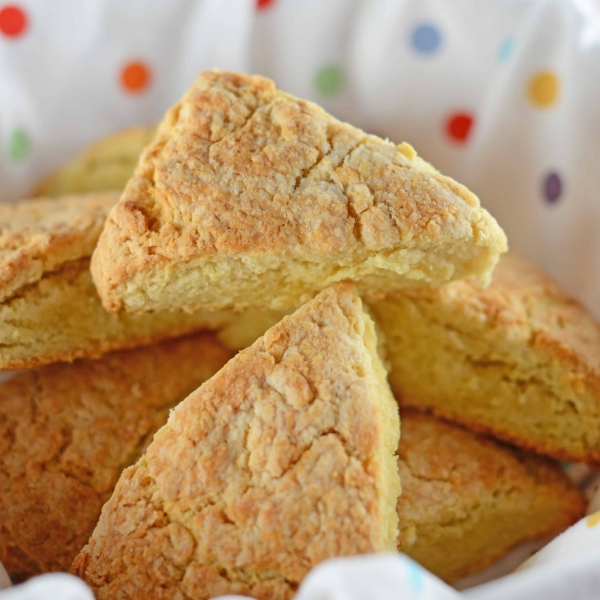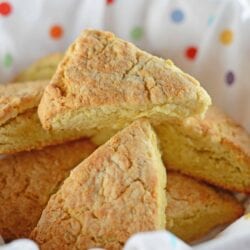 English Scones
English Scones can be the perfect addition to any brunch or afternoon tea. They are simple to make and even tastier to eat!
View this recipe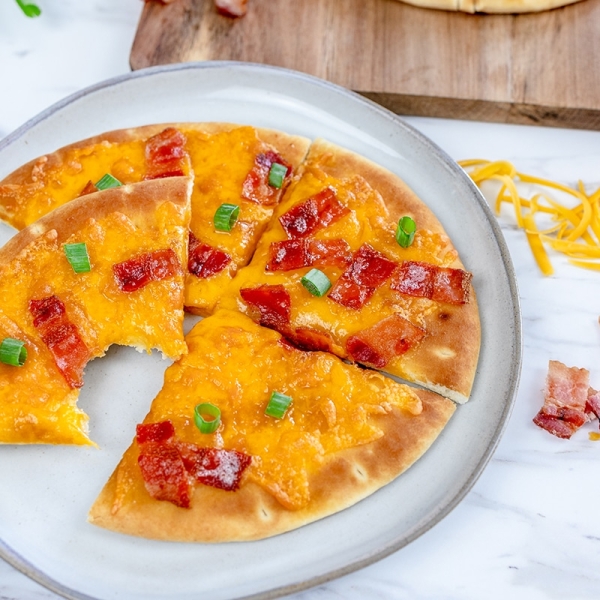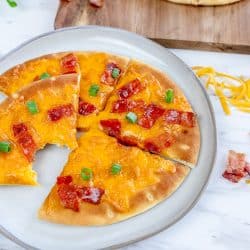 Bacon Cheddar Flatbread Pizza
Flatbread recipes don't get much better than this Bacon Cheddar Flatbread Pizza. With just the right amount of bacon, cheese and garlic, this is a weeknight dinner that will be requested again and again!
View this recipe
Tools for making cheese stuffed Mexican bread:
Non Powdered Latex Gloves – Say what? Non powdered latex gloves are another one of my kitchen essentials. Anytime I chop a hot pepper (jalapeno, serrano, habanero), you risk the oils permeating your skin and it BURNS!
Touch anything else, God forbid your eyes, and you will be in some real pain! Avoid all of this by throwing on some latex gloves without powder. Unless you are allergic to latex, of course.
And if you don't follow my advice and do end up with the burning skin, soak them in milk, the higher fat content the better!
Stand Mixer– I lived for a long time without one. My life was changed when I finally bit the bullet and bought one. Just do it and thank yourself later, especially for kneading bread. Just set it and walk away!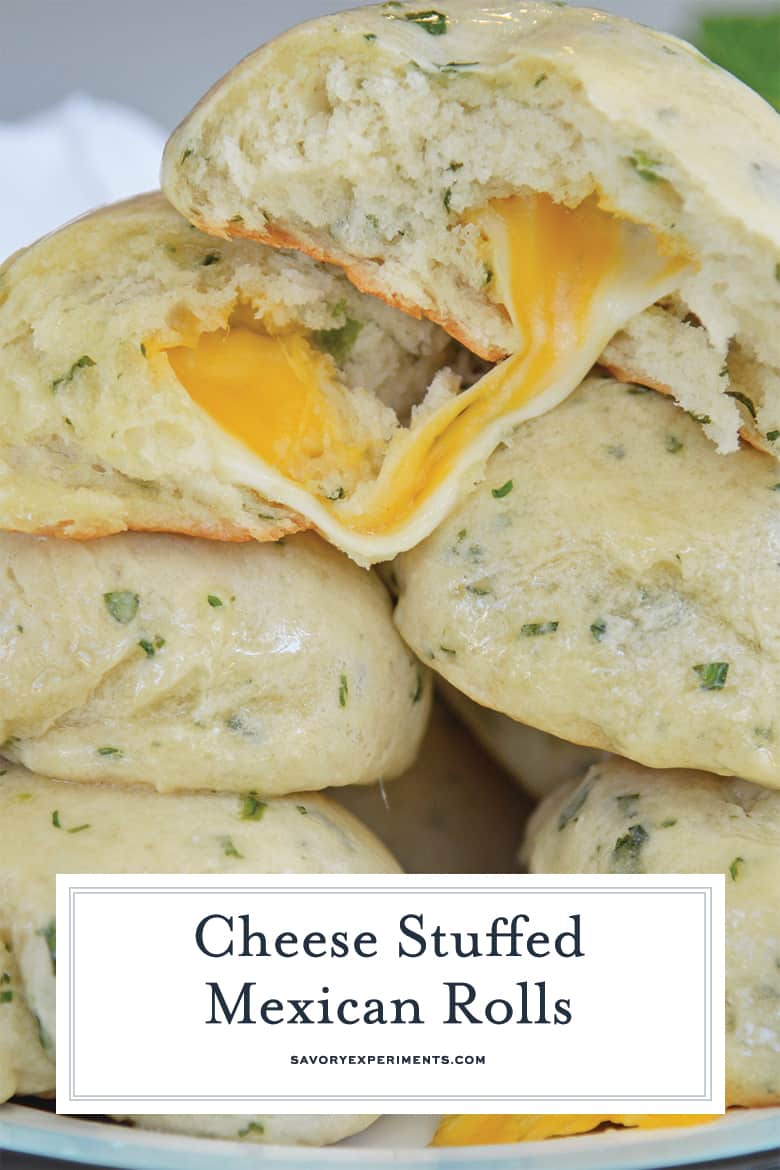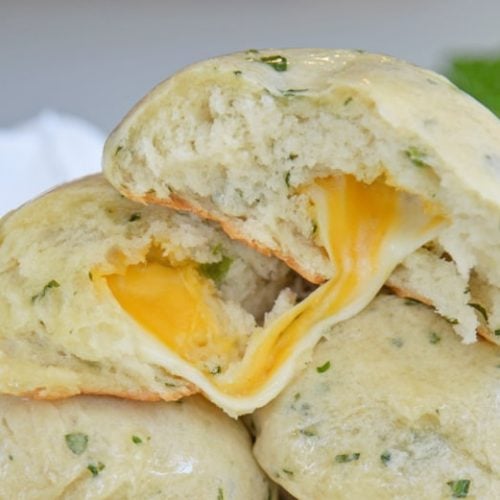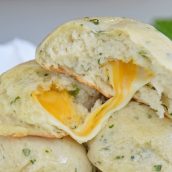 Mexican Cheesy Bread
Upgrade your usual dinner rolls and try these Mexican Cheesy Rolls! It's a great way to add a little spice to your dinner roll recipe.
Instructions
Place yeast and sugar in the bowl of a stand mixer fitted with a bread hook. Mix and then pour in warm water. Allow to bloom for about 10 minutes, or until mixture becomes bubbly, swells, and is fragrant.

Blend in minced jalapeno, 1/4 cup melted butter (reserving the other 1/4 cup for basting the rolls at the very end), vegetable oil, flour, salt, and cilantro. Blend with bread hook for 7-10 minutes, or until dough is elastic and pulls away from the side of the bowl.

Lightly coat a large mixing bowl with cooking spray. Turn dough into the bowl and flip one time to coat. This will prevent the dough from sticking to your bowl. Cover with a damp kitchen towel and place in a warm, draft-free place to rise for approximately 30 minutes.

When bread has risen, cut into half and then divide each half into 7 equal pieces. Flatten each piece with your palm, place a cheese chuck in the center and then cover, pinch and roll. Make sure there are no seams for the cheese to escape while baking. Repeat with for a total of 14 rolls.

Place onto a baking sheet lightly coated with cooking spray or lined with parchment paper.

Cover rolls with a damp kitchen towel and allow to rise again for 15-20 minutes. Preheat oven to 375 while you are waiting.

Bake for 11-13 minutes. Tap the top with the end of a wooden spoon, it should be hard and sounds hollow. They are a little difficult to judge and will be overcooked if you wait until they brown. By overcooked, I mean the cheese will escape and you don't want that!

While bread is baking, melt remaining 1/4 cup butter and mix with garlic powder. As soon as you remove your cheese rolls from the oven, baste with butter and allow to sit for 2 minutes before serving. Please be careful, they will be piping hot with melty cheese centers

If you've tried this recipe, come back and let us know how it was!
Nutrition
Calories:
221
kcal
,
Carbohydrates:
20
g
,
Protein:
5
g
,
Fat:
13
g
,
Saturated Fat:
9
g
,
Cholesterol:
27
mg
,
Sodium:
418
mg
,
Potassium:
43
mg
,
Fiber:
1
g
,
Sugar:
2
g
,
Vitamin A:
327
IU
,
Vitamin C:
1
mg
,
Calcium:
90
mg
,
Iron:
1
mg