Use this simple recipe to make the BEST homemade Banana Pancakes with basic ingredients. Follow the tips and tricks below to make extra fluffy cakes!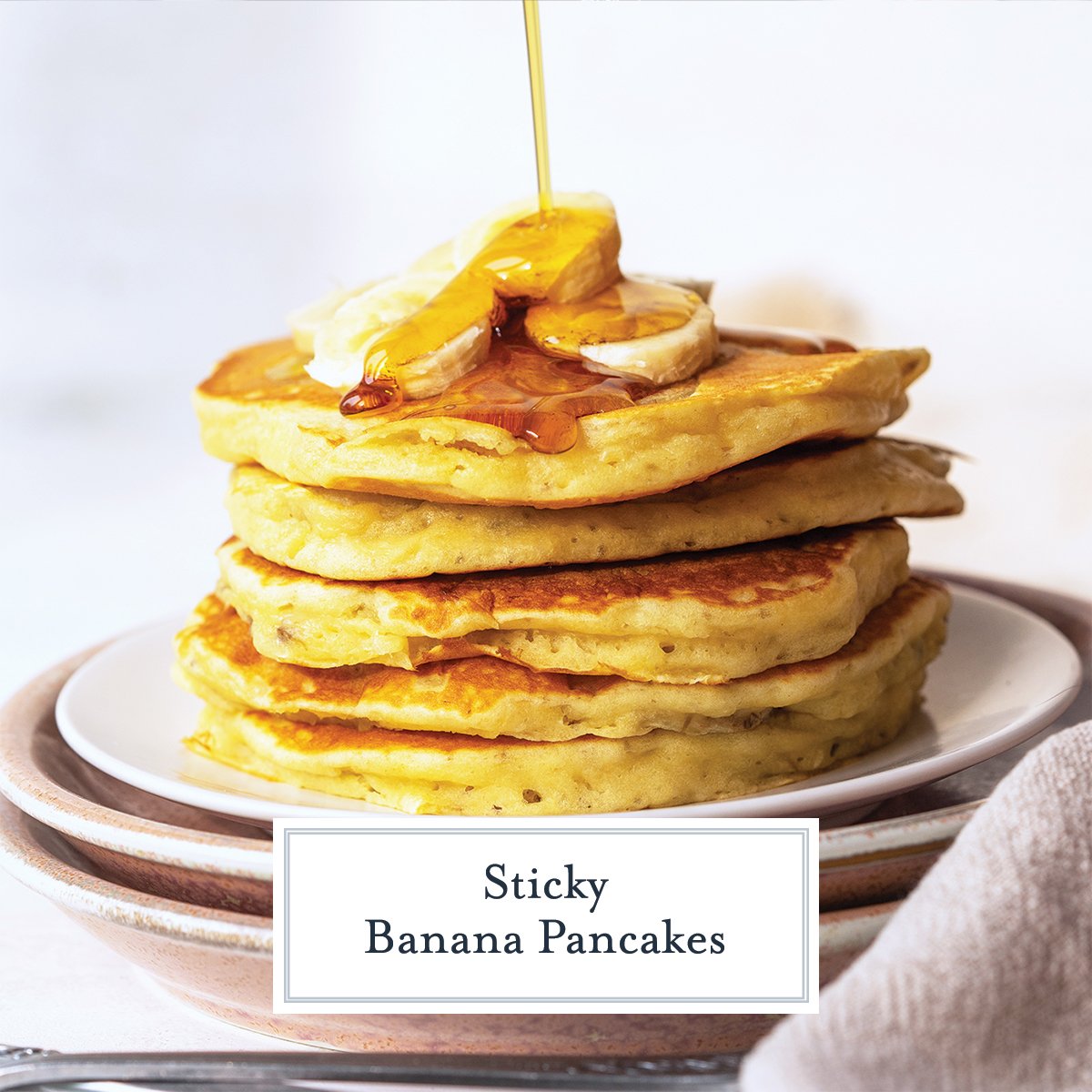 Every time my dad made homemade pancakes when I was growing up he would look at us and say, "Bananas or blueberries?" I was always team banana pancake. Nothing against blueberries.
Usually my dad sliced bananas into the pancakes just before he flipped them. I love the way the bananas caramelize in the pan as they cook, but to add extra banana flavor I also mashed a banana right into the pancake batter.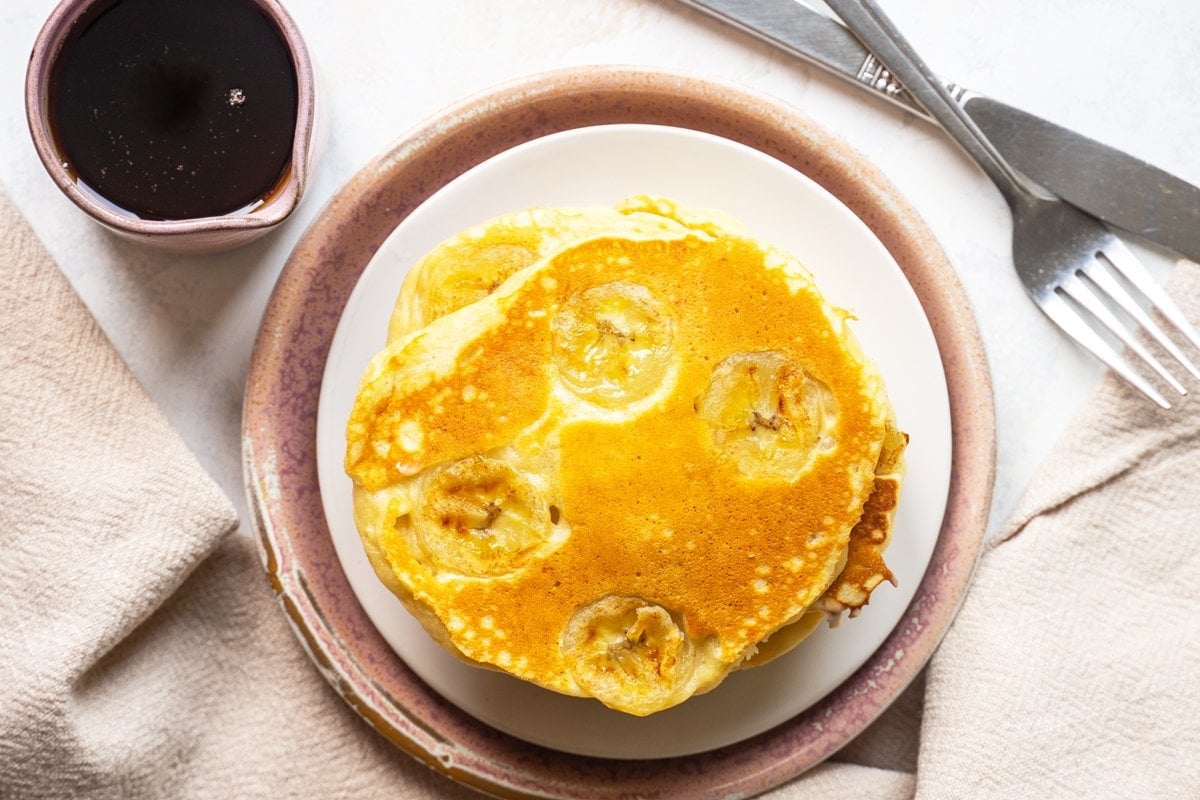 Now you can make more than just banana bread, banana cookies, banana cake with those nearing-too-old bananas.
Tips for Making Fluffy Pancakes
First thing is first, select ripe bananas. Riper bananas are sweeter than unripe and will add natural sweetness to the pancake batter. The bananas will caramelize and get sticky and delicious.
Make sure you don't mix the batter fully. It is okay to leave some lumps in your homemade pancake batter. The lumps allow more bubbles and air pockets to form. The more your stir, the more gluten gets activated and then it gets dense. Less is more with pancake batter, so skip the stand mixer and go straight for the arm workout.
Let the prepared pancake batter sit for at least 10 minutes before cooking. This allows the gluten in the flour time to rest and will result in fluffier pancakes.
And last but not least, only flip each pancake once! Each time a pancake is flipped the bubbles are burst and it becomes less fluffy. You know it is time to flip when you see those air bubbles rising to the top.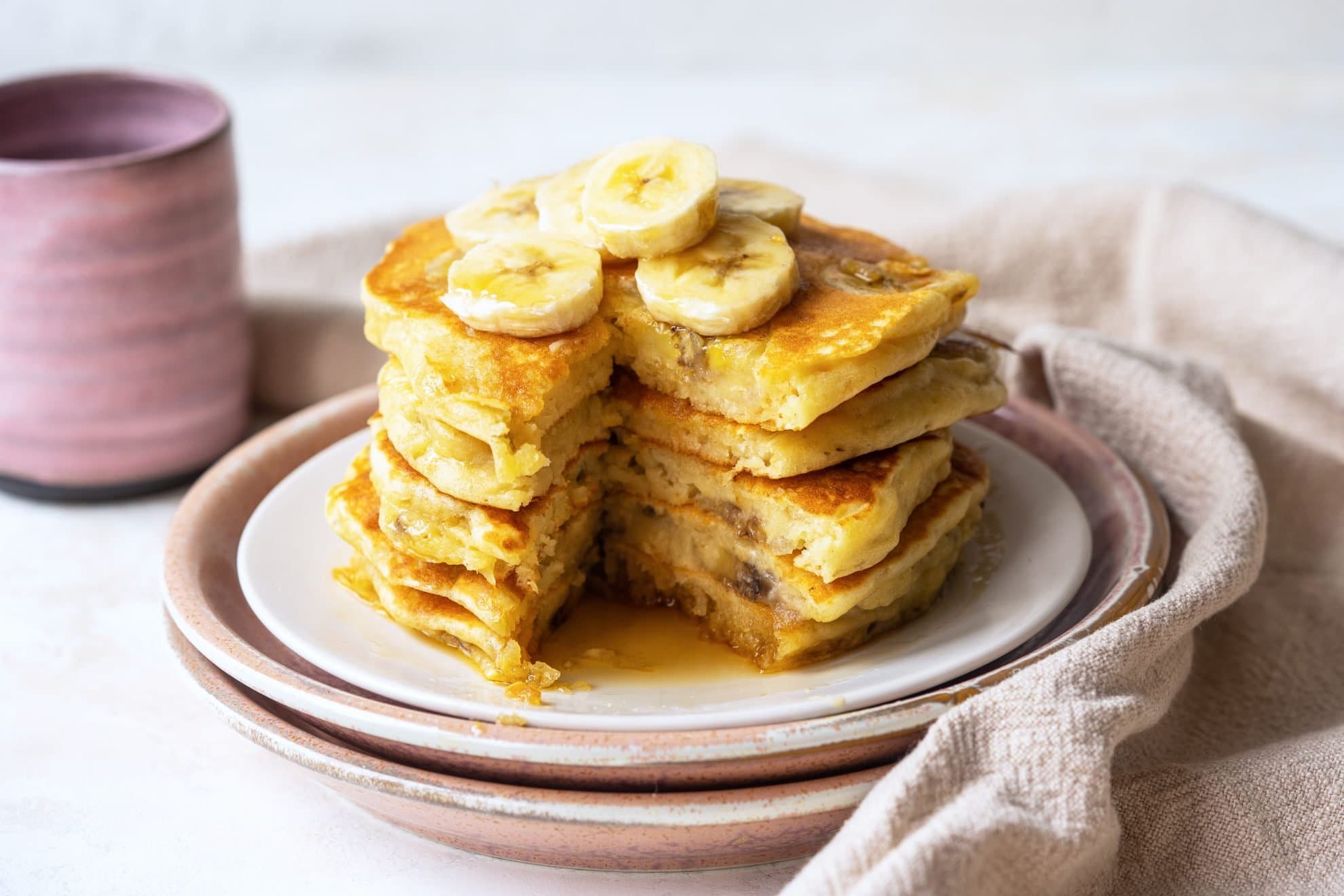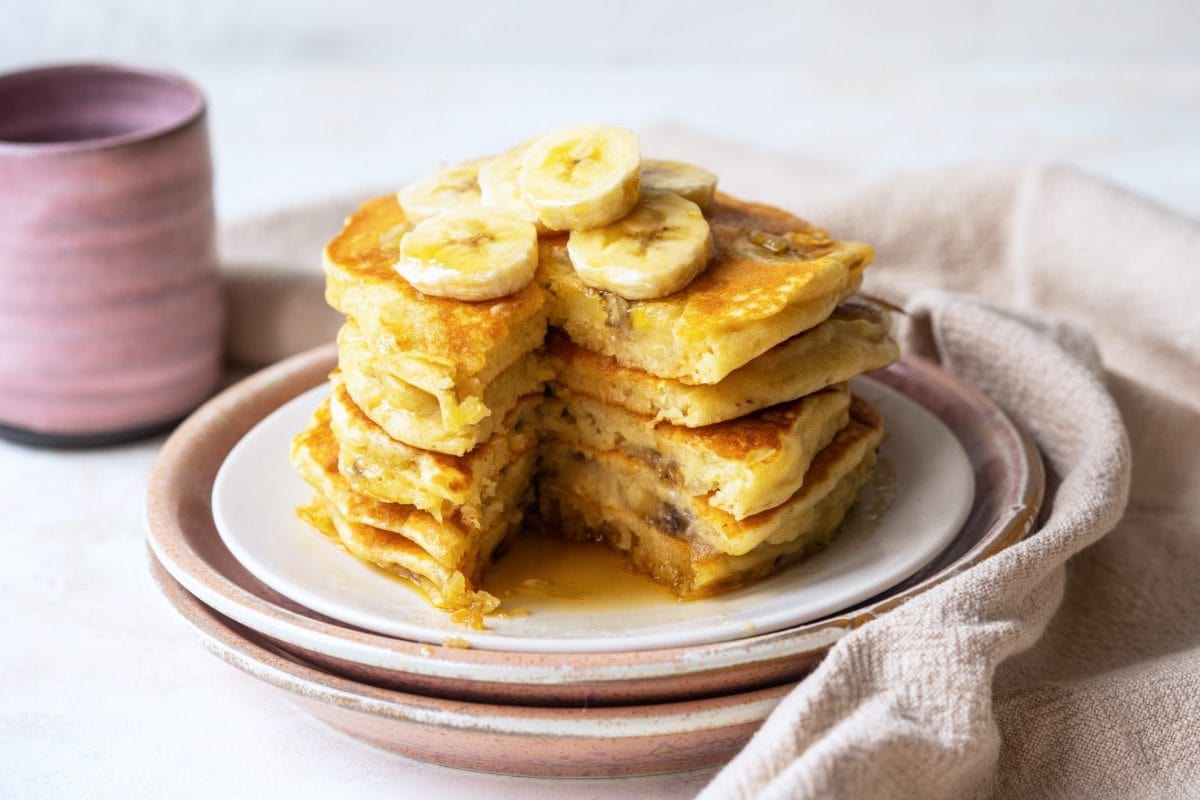 Homemade Banana Pancakes Ingredients
The ingredients for a pancake recipe are pantry staples with the exception of my maybe Greek yogurt and the ripe bananas.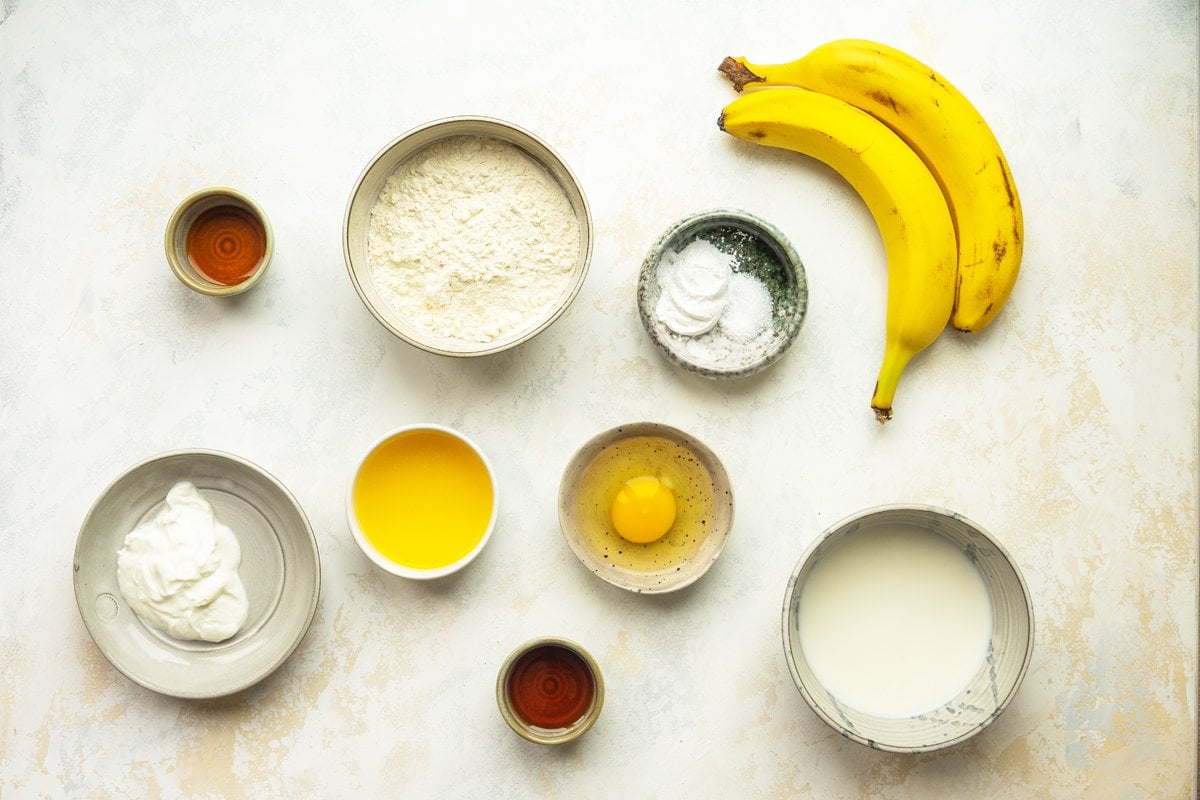 All purpose flour, baking powder and salt – You can also add some cinnamon or nutmeg to your dry mixture for seasoning.
Ripe bananas – One for mashing into the batter and one for slicing into each pancake as you cook them. Double banana goodness!
Egg, Greek yogurt and milk – I like to add a little bit of plain Greek yogurt for a slightly richer pancake, sour cream also does the trick.
Melted butter – This gives the pancakes that classic buttery taste. If you choose to use salted butter, omit salt from the dry ingredients.
Maple syrup and vanilla extract – For flavor and light sweetness.
Spray oil – For greasing the pan- put butter in the actual pancakes and use a neutral oil for cooking since butter has a lower smoke point.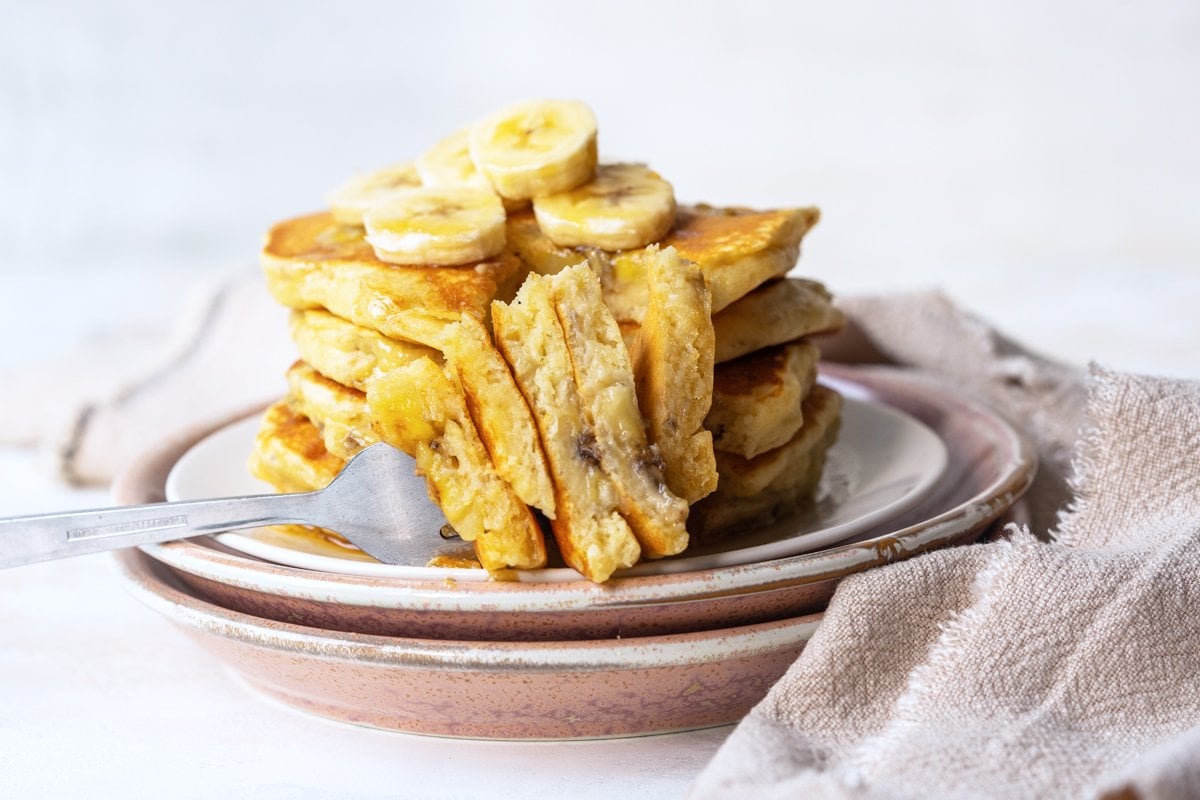 How to Make Banana Pancakes
Prepare the dry ingredients. Start by combining the dry ingredients in a small bowl. Evenly distributing the leaveners ahead of time reduces the amount of stirring you'll need when you add the wet ingredients.
Make the wet ingredients. Then you will need to mash one banana and add the egg, greek yogurt, milk, melted butter, vanilla extract and maple syrup to it.
Combine the two. Pour the dry ingredients into the bowl with the wet ingredients and mix together. Remember, it's perfectly okay to have lumps as long as the batter is light and fluffy.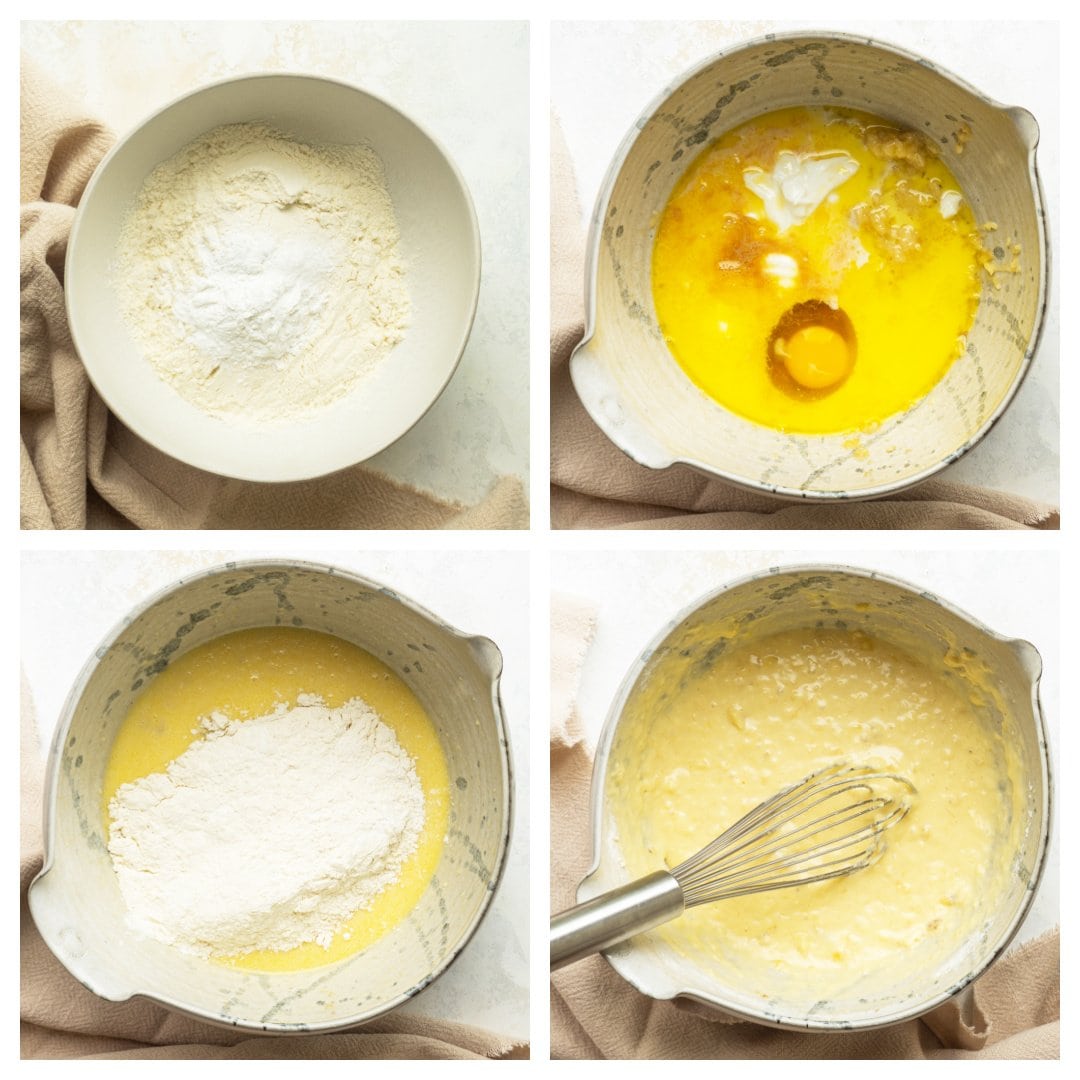 Cook The Pancakes. Next heat your skillet or griddle to a medium high heat (350°F) and grease it with a neutral oil, like vegetable oil. Drop the batter (about 1/4 cup per pancake) onto the skillet and place 3-4 slices of banana on each.
Once you see that the pancake is covered with bubbles, flip it over and cook on the other side for another minute or so or until golden brown. Continue making pancakes until all of the batter has been used.
Pancake Toppings
With caramelized bananas, these bad boys can be eaten by hand with nothing else and be perfectly amazing, but I am a sauce person so I like having something to top them. Here are my favorites:
Fresh fruit- of course more sliced bananas is natural, but blueberries and strawberry slices are also nice. Banana also pairs perfectly with tropical fruits like longan, pomelo and kiwi.
Syrup– A match made in heaven! Of course there is classic maple syrup, but give our Dutch Honey, Apple Cider Syrup and Blueberry Syrup a try!
Peanut Butter– Yep, Elvis Style! Just like the king, eat your banana pancakes with a dollop of creamy peanut butter slathered on top.
Ice Cream Sauces– Anything that would pair with ice cream usually pairs with pancakes too. Fresh raspberry sauce, praline, fudge sauce and caramel are my favorites.
Chocolate Chips– Whether they are in the batter or sprinkled on top, who can resist chocolate and banana?

Storage and Freezing
You can store these banana pancakes in the fridge for up to 5 days. To reheat, place them in a warm pan or in a toaster oven. Microwaving will result in rubbery pancakes, but wrapping them in a damp paper towel and then cooking them at 50% power will reduce the probability of this happening.
To keep the pancakes for longer you can freeze them for up to 3 months in an airtight container. Allow the pancakes to thaw on the counter and then reheat the same way.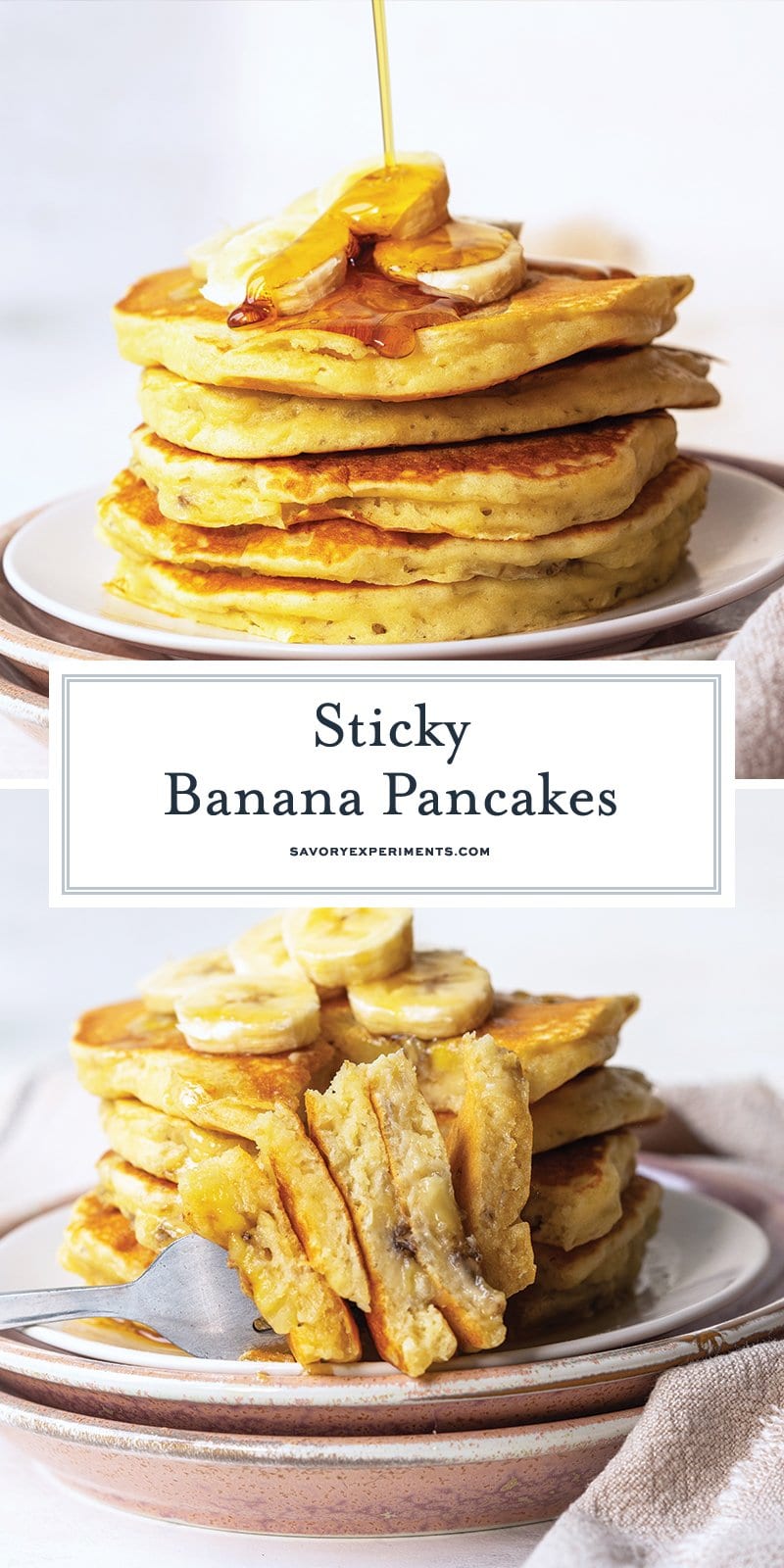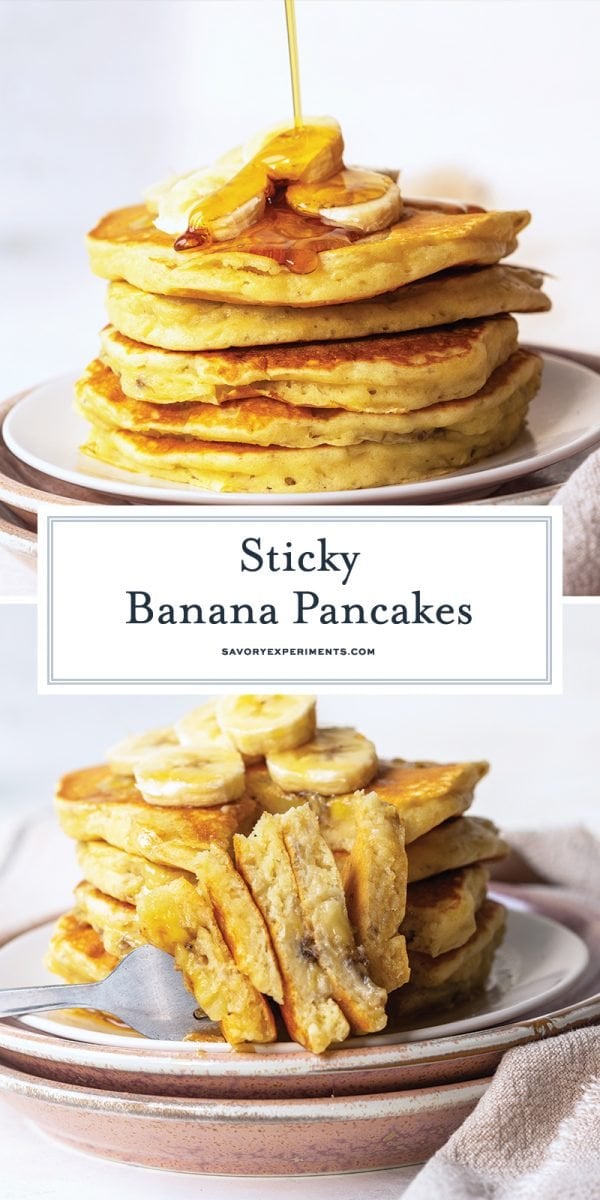 More homemade pancake recipes: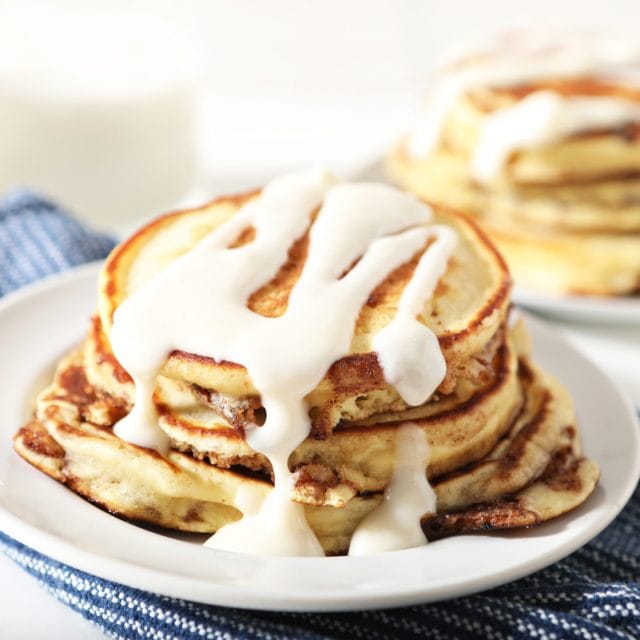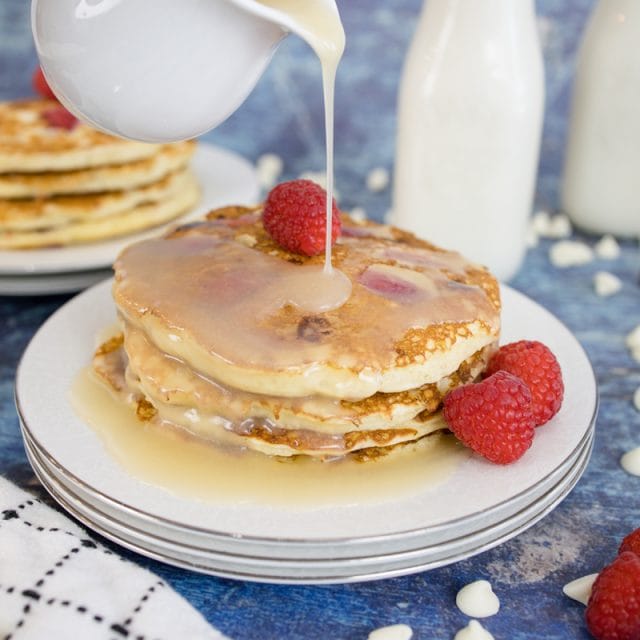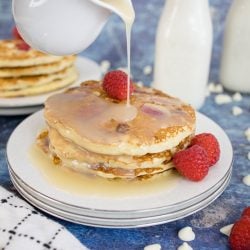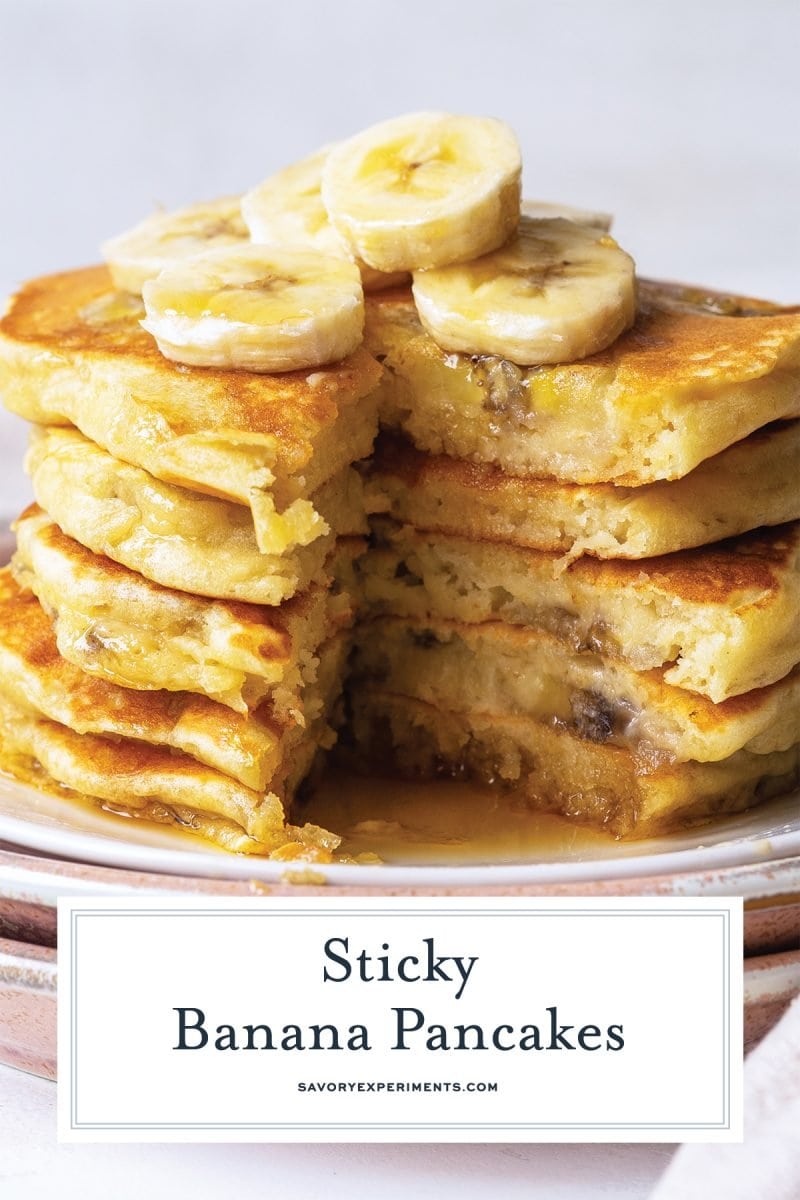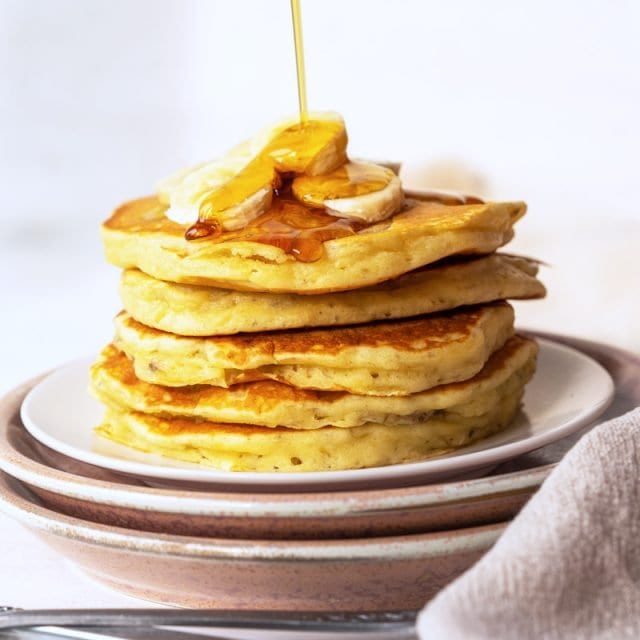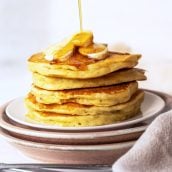 Sticky Banana Pancakes
This simple recipe makes the BEST homemade Banana Pancakes with basic ingredients. Tips and tricks to make extra fluffy homemade pancakes!
Instructions
Whisk together flour, baking powder, and salt in a small bowl. In a separate bowl mash one banana with the back of a fork or a potato masher. Add the egg, greek yogurt, milk, melted butter, vanilla extract and maple syrup to the bowl with the mashed banana and whisk to combine.

Pour the dry ingredients into the bowl with the wet ingredients and whisk together until the dry ingredients are just mixed in – it is good to leave some lumps. Allow the batter to sit for at least 10 minutes. Slice the second banana and set to the side.

Grease a nonstick skillet with oil and heat over medium heat. When warm, pour a ¼ cup of the batter into the pan and place 3-4 slices of banana in each pancake.

When the surface of the pancake is covered with bubbles, flip the pancake and cook on the other side for another minute or so. Repeat this process until all of the batter is used.

Serve immediately with your choice of fresh fruit topping, syrup, sauce or plain.

If you've tried this recipe, come back and let us know how it was in the comments or ratings!
Nutrition
Calories:
145
kcal
,
Carbohydrates:
24
g
,
Protein:
4
g
,
Fat:
4
g
,
Saturated Fat:
2
g
,
Trans Fat:
1
g
,
Cholesterol:
30
mg
,
Sodium:
164
mg
,
Potassium:
273
mg
,
Fiber:
1
g
,
Sugar:
8
g
,
Vitamin A:
161
IU
,
Vitamin C:
3
mg
,
Calcium:
81
mg
,
Iron:
1
mg