My favorite part of Mexican restaurants has got to be the Queso Dip (well, besides the margaritas, of course!) With this easy white queso recipe, now you can make it for yourself at home!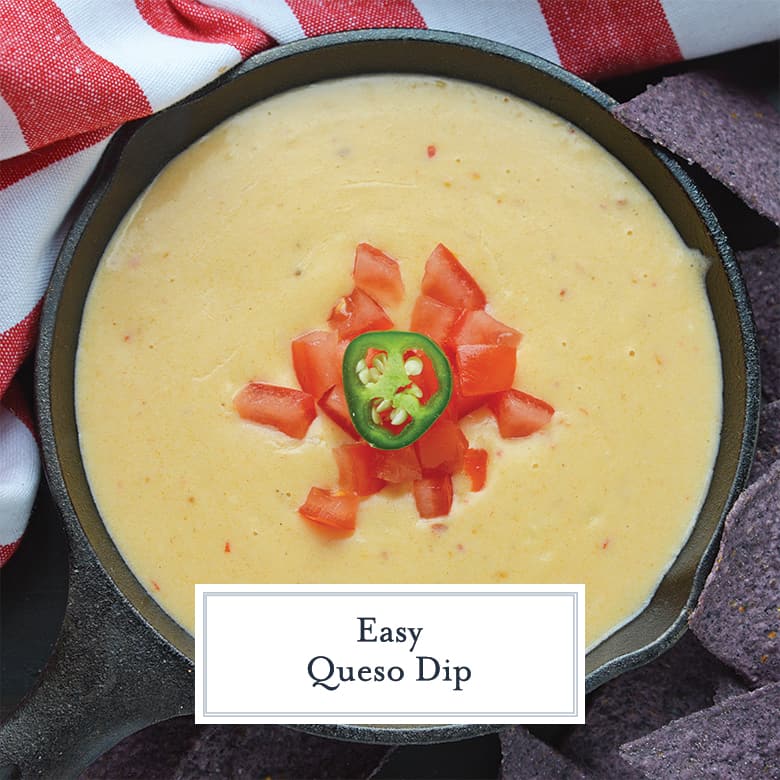 Best Queso Recipe
If you've ever wondered how to make queso dip, you're in luck. This queso recipe is super easy and only requires five ingredients!
From salsa to guacamole and especially queso (Rotel Dip included!), Mexican dips are absolutely my favorite! I'm fairly certain I could make an entire meal out of chips and dips. There is no shame in my dipping game!
There are a million recipes for queso dip out there, but I promise you this one is one of the best. It has simple ingredients and only takes about ten minutes from start to finish. What could be easier than that?
What is Queso?
The perfect Mexican cheese dip, sometimes called a queso blanco dip, starts with a roux. Most people think cheese sauce is nothing but melted cheese, but they'd be wrong. It is actually mostly roux with cheese to flavor.
What is roux?
Roux is a blend of butter and flour. I like to use clarified butter, but no need to take the extra step if you don't want to. The depth of flavor for your roux depends greatly on how long you brown it for.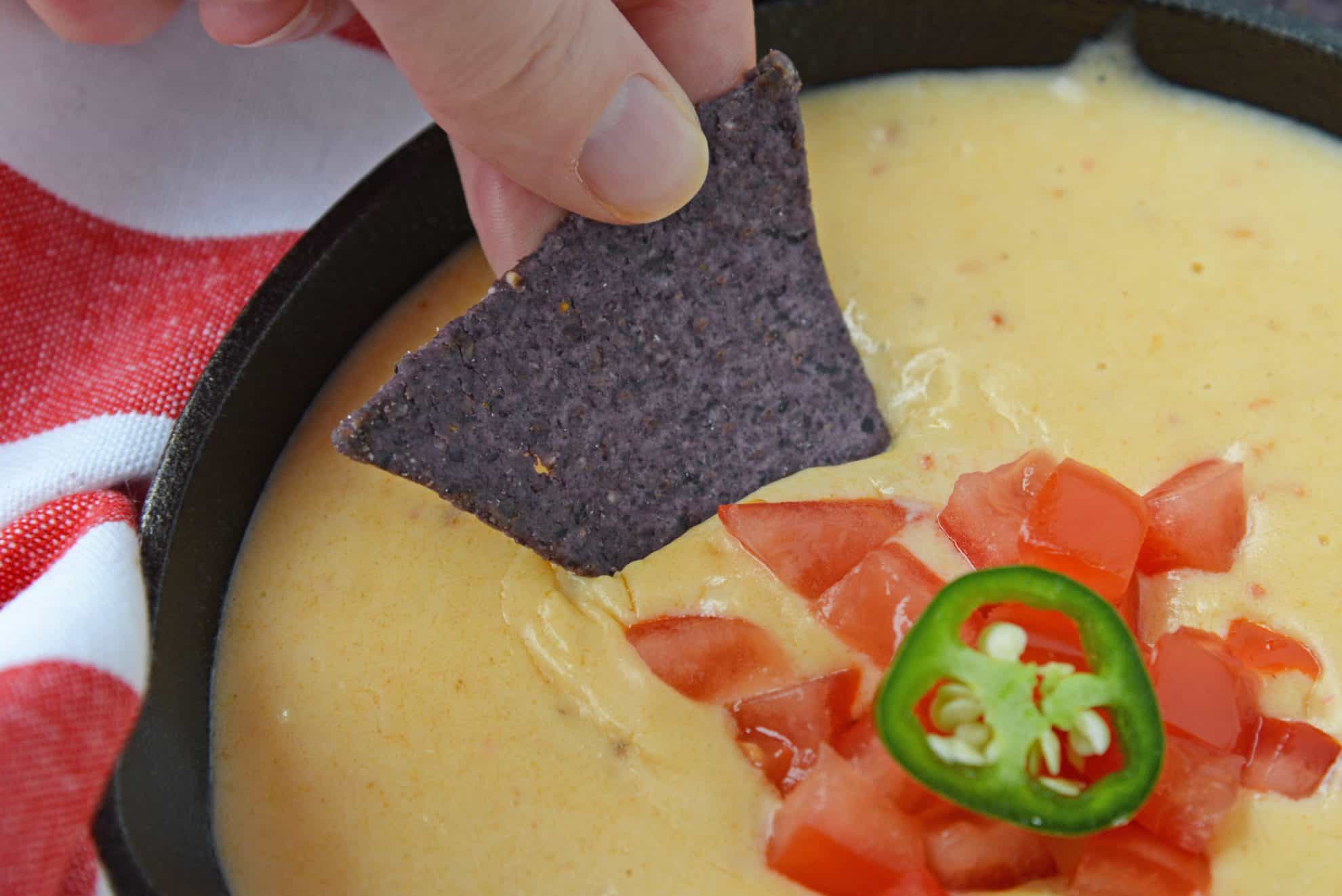 A light roux, sometimes called a blond, only takes a minute or two. While a darker roux or brown roux can take up to 15 minutes and achieves a nutty or popcorn scent. For a real cheese dip, you want the flavors of your cheese to shine through, so a basic blond roux is all you need.
If you use a flavor forward cheese, you don't need to add any other seasonings.
Easy Queso Dip ingredients
Butter- I suggest using unsalted butter so you can control the saltiness. Depending on the type of cheese, additional salt may or may not be needed. If you use salted butter, then none may be needed at all.
Flour- Flour creates a roux, which is how queso is thickened.
Whole milk- Providing the most structure, fat and flavor, it is the best base for a queso dip.
Shredded Cheese- Queso Fresco, Oaxaca, Cotija, Manchego and Panela are the most authentic, but white American and cheddars are commonly used because they melt well and carry lots of flavor. Use shredded cheese so it melts evenly.
Salt- Salt is only needed if the sauce isn't already well-seasoned from the cheese blend used. Also account for salt on the chips dipping in.
What is the best cheese for this Simple Queso Recipe?
Some of my favorites for a Mexican queso dip are:
Pepper jack cheese
Habanero cheese
Cheddar cheese
Queso fresco
White American Cheese
Cotija cheese
For my queso cheese dip, I used a harissa cheese. Harissa is a middle eastern spice, but is has a smokey, spicy taste, making it the perfect complement to any Mexican dish.
Tools for making this Mexican Cheese Dip Recipe
Heavy Bottom Sauce Pan– this will be one of your most used kitchen tools. Having something that is heavy bottom will distribute heat better and prevent burning whether you are using an electric or gas range.
Measuring Utensils
– I like to eyeball things, but some people like to measure.
How to make Easy Queso Dip
To make it, you start by melting butter in a heavy bottom saucepan over medium heat.
Then you will whisk in the flour until fully combined. You will know when it's ready when it becomes a "paste" consistency (the roux.)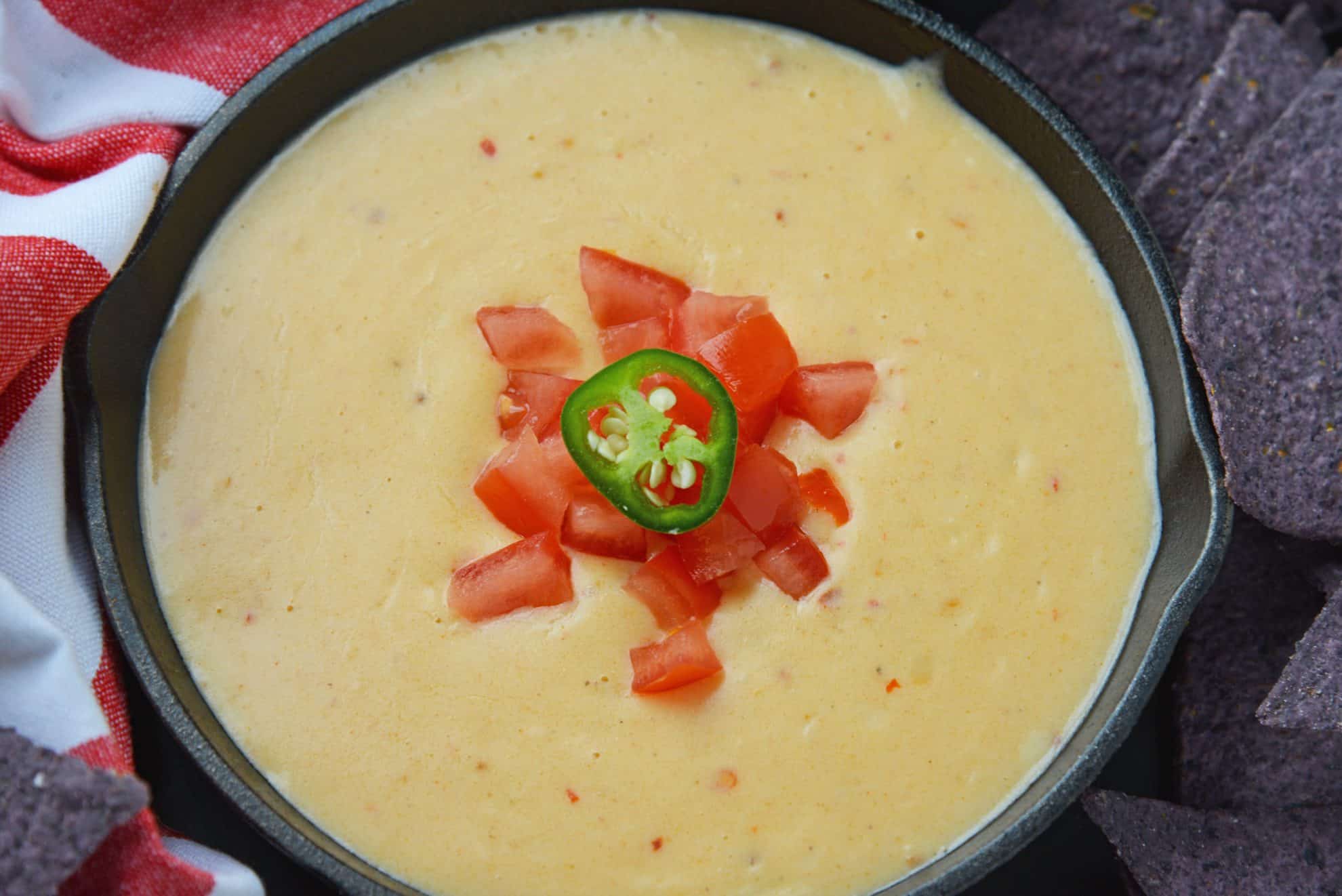 Next you will add in the milk and whisk until smooth.
Add cheeses (or one type of cheese) and salt.
When the cheese is melted, you can add additional milk until your queso dip reaches the consistency that you like.
If you'd like to add a little heat or texture, you could even dice up some jalapenos or tomatoes and stir them in. It can totally be customized to your liking.
This white cheese dip recipe is perfect for dipping with tortilla chips or smothering on enchiladas or burritos, like my Baked Smothered Chicken Burritos.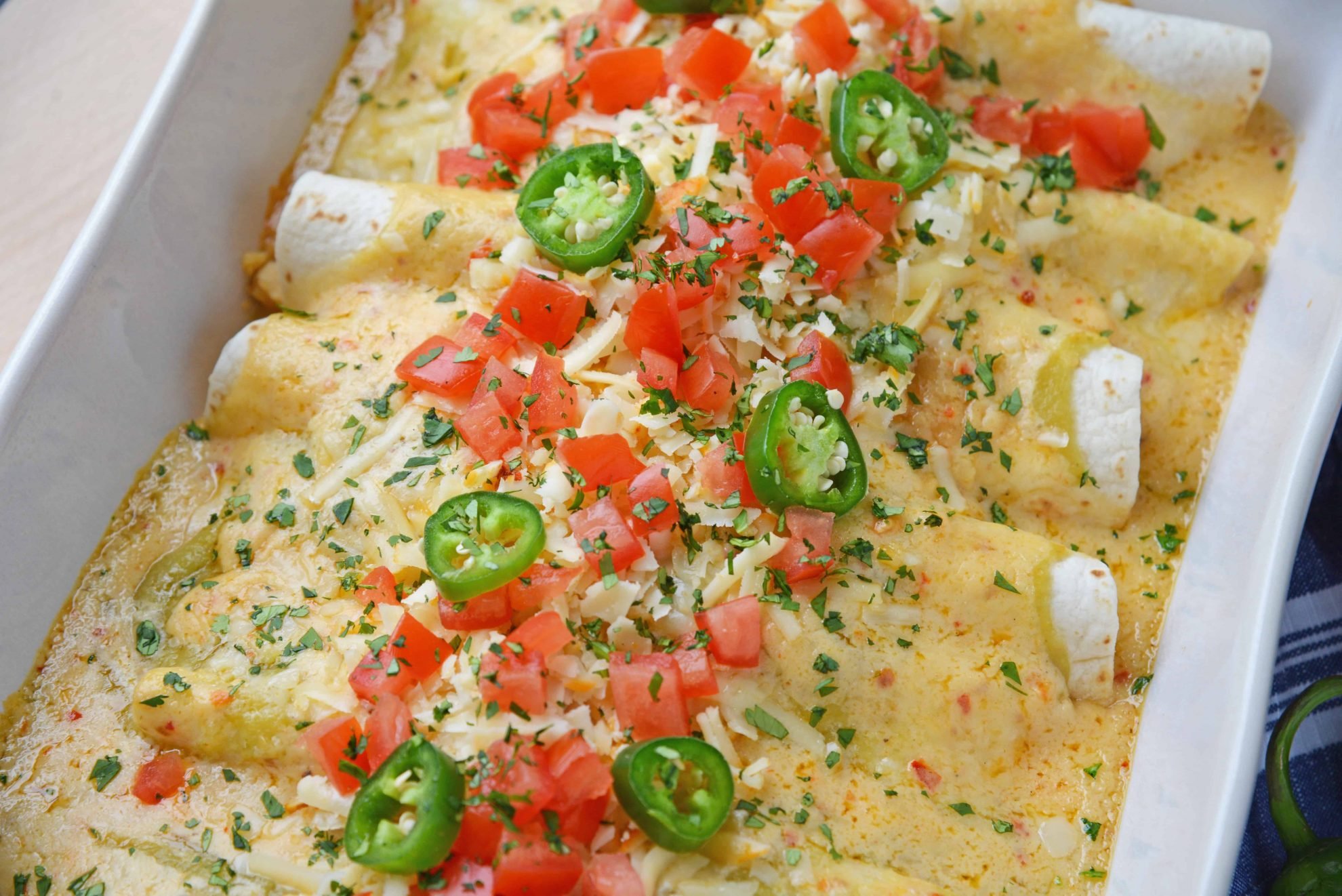 How to serve this Mexican Cheese Dip
While I make my cheese sauce in a small, heavy bottom saucepan, I prefer to serve to serve in a small slow cooker or cast iron skillet. It really depends on the occasion.
Slow cookers, even on the "keep warm" setting can often get too hot and result in scaled cheese on the bottom, but it does keep your queso dip hot, smooth and creamy. If it is a long party or occasion, then a slow cooker might be the way to go.
If it is a smaller gathering or just a family meal or snack, cast iron is the way to go. Cast iron holds heat well and for a long time, making it perfect for a queso blanco recipe. While it holds heat for longer than traditional serving vessels, it won't stay hot, hot like a slow cooker.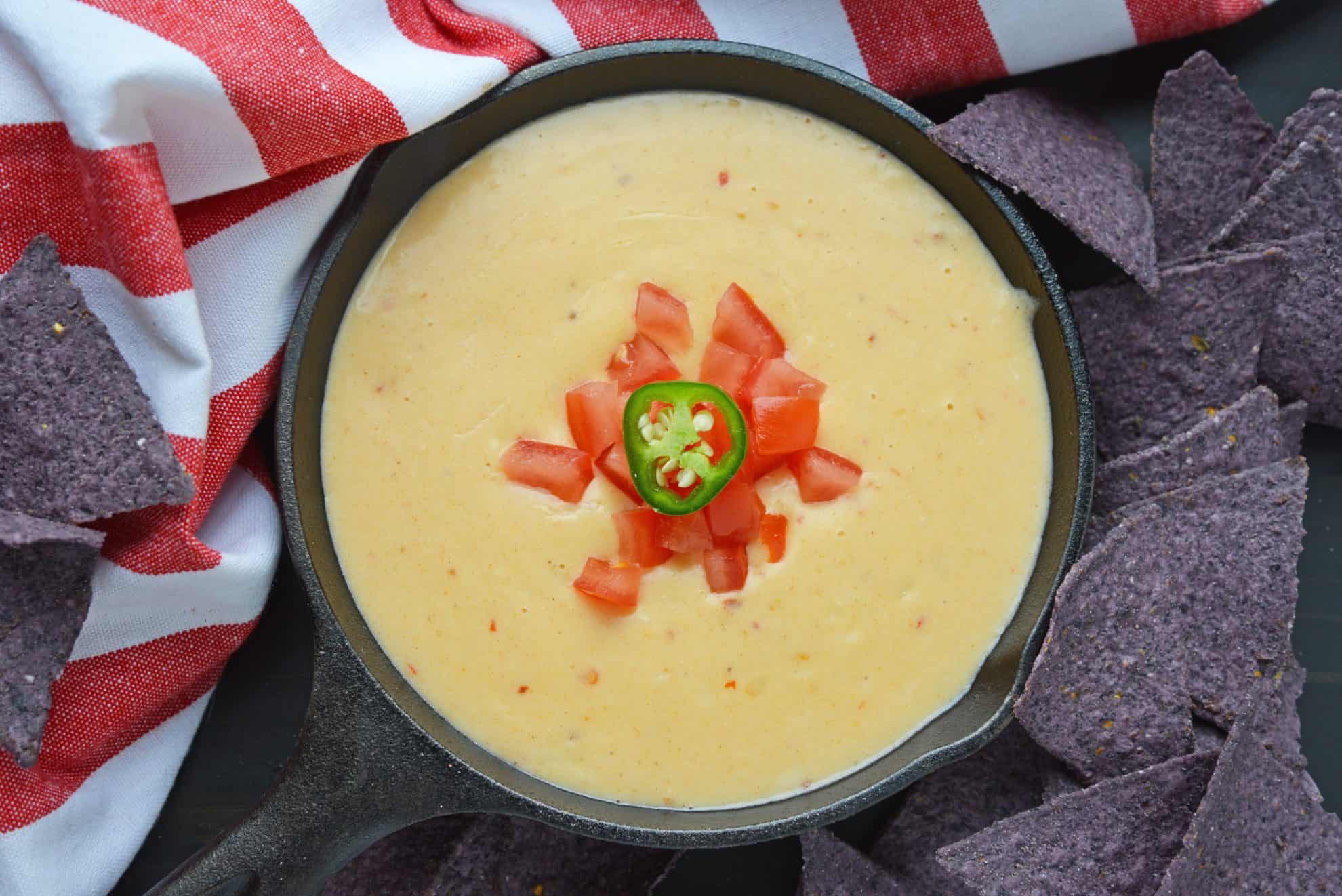 Easy Queso Recipe FAQs
What can I add to queso to make it taste better? Queso should get its flavor from the cheese used, but you can also customize or amp it up with a few easy additions.
Can I make a flourless roux? The definition of roux is flour and butter, so unfortunately not. See below for GF substitutes.
Can I use a gluten free thickener? You can make a gluten free roux using two gluten free flour substitutes, however I have not experimented with them. They work in theory, please come back and let us know if you tried them out.
Cassava flour – Cassava flour is a grain free flour created from the cassava root plant. It can be used as a 1:1 ratio flour substitute, but can also be tempermental. Read up about it before using.
Gluten free 1:1 flour – Gluten free flour is generally made with a blend of sweet rice and brown rice flour, potato starch, sorghum flour, tapioca flour and xanthan gum, which are all GF thickening agents.
Can I freeze queso sauce? White queso dip can be frozen. Follow my easy tips and tricks on how to freeze foods for the longest freezer life.
Can I use skim milk, 2% or 1% milk? Queso sauce really works best with the full fat stuff. You can use one of the lower fat content milks, but the texture will be thinner.
My cheese sauce is too thick, what do I do? Add more milk! Add milk slowly until it reaches the desired consistency.
What's the difference between regular queso and Queso Blanco? Blanco means "white" so only white cheeses are used. Something like a yellow cheddar will tint the color.
What makes queso taste like queso? The cheeses will flavor the dipping sauce. Using authentic Mexican cheeses will provide the most flavor.
Why is my queso rubbery? Overworked cheese or too much cheese to milk ratio contribute to rubbery queso dip.
What is the best way to thicken up queso? Queso can be thickened with more butter and flour. Make small balls, about the size of a pea, of butter with flour and add them one at a time until sauce it the right consistency. Be careful to not overwork the queso dip or it can become rubbery.

More Mexican dip recipes: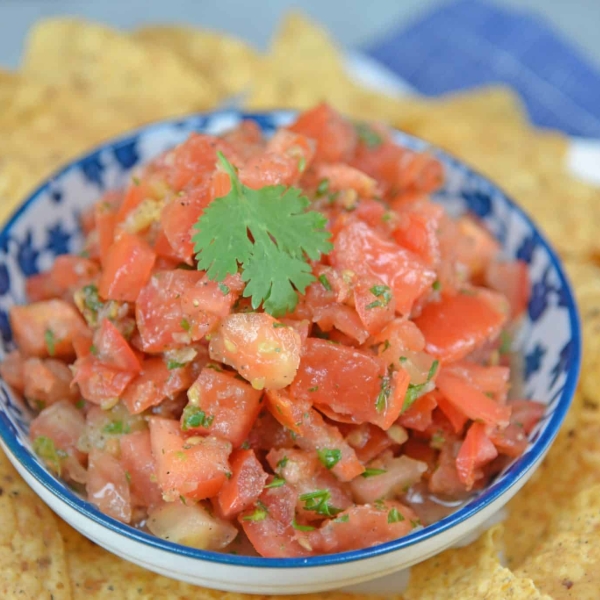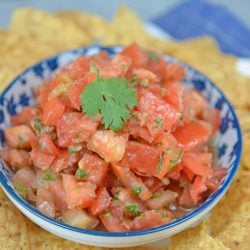 Pico de Gallo
Pico de Gallo, also known as salsa fresca, is made from fresh tomato, onion, cilantro, hot pepper and lime juice. Perfect with tortilla chips!
See The Recipe!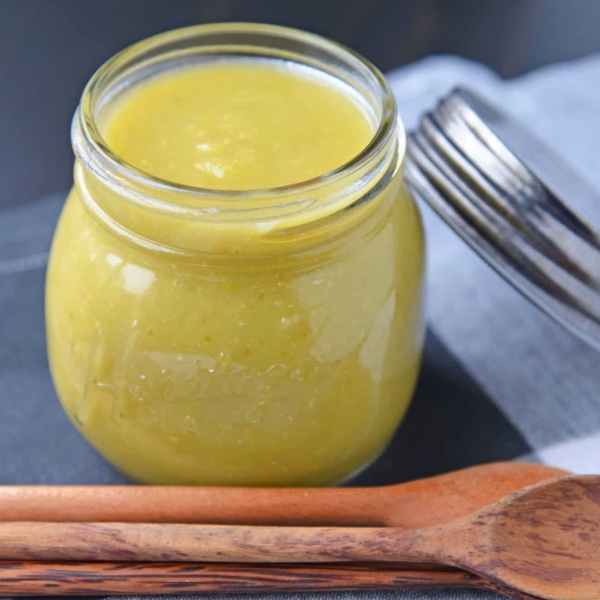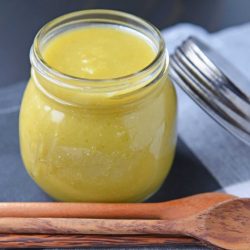 Green Enchilada Sauce
Homemade enchilada sauce doesn't get any better than this Green Enchilada Sauce recipe. Fresh and delicious, it's perfect for topping any Mexican dish!
See The Recipe!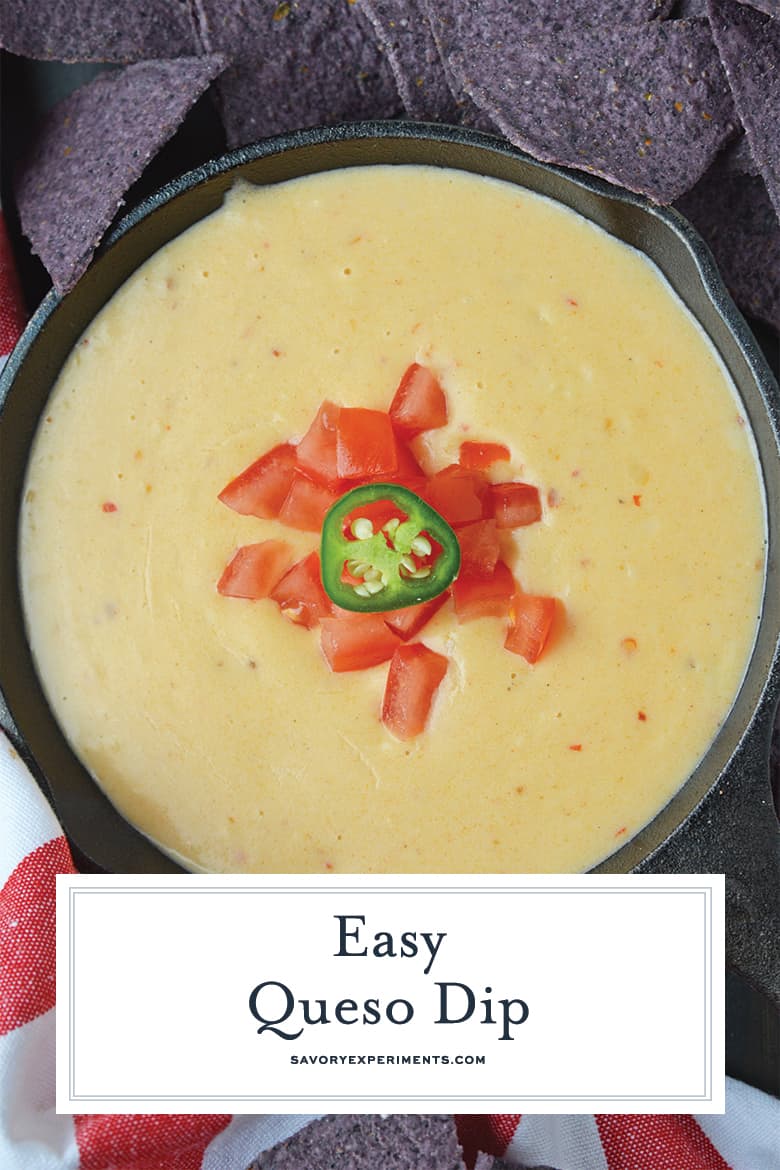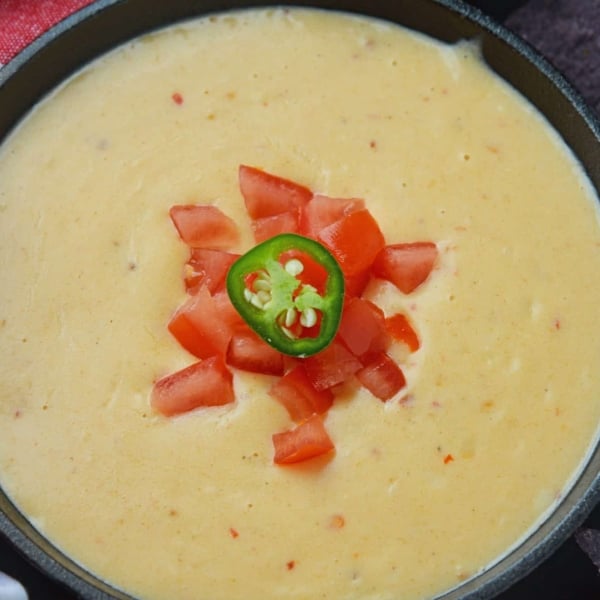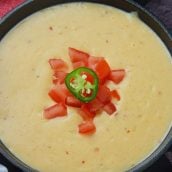 Mexican Cheese Dip Recipe
If you've ever wondered how to make queso dip, you're in luck. This queso recipe is super easy and only requires five ingredients!
Instructions
Melt butter in a heavy bottom saucepan.

Whisk in flour until fully combined and it makes a paste.

Whisk in whole milk until smooth.

Add shredded cheese and salt.

Add additional milk until your queso dip reaches the desired consistency.

If you've tried this recipe, come back and let us know how it was!
Nutrition
Calories:
107
kcal
,
Carbohydrates:
3
g
,
Protein:
5
g
,
Fat:
9
g
,
Saturated Fat:
5
g
,
Cholesterol:
25
mg
,
Sodium:
271
mg
,
Potassium:
54
mg
,
Fiber:
1
g
,
Sugar:
2
g
,
Vitamin A:
280
IU
,
Calcium:
136
mg
,
Iron:
0.2
mg