This Homemade Guacamole is packed with nutrients, keeps you feeling full and can stay fresh in the refrigerator for up to a week. So the only real question is, why haven't you got up to make your own yet!?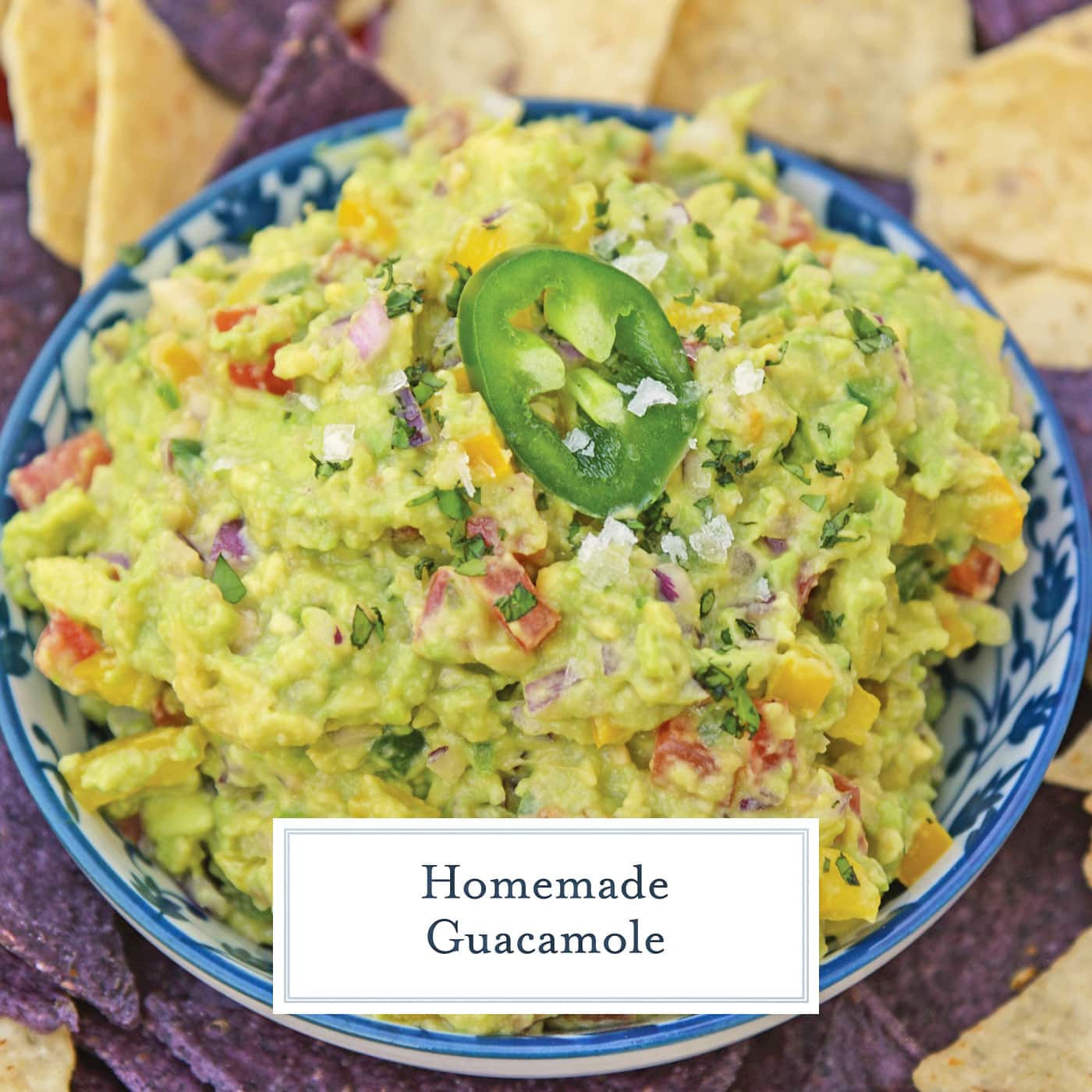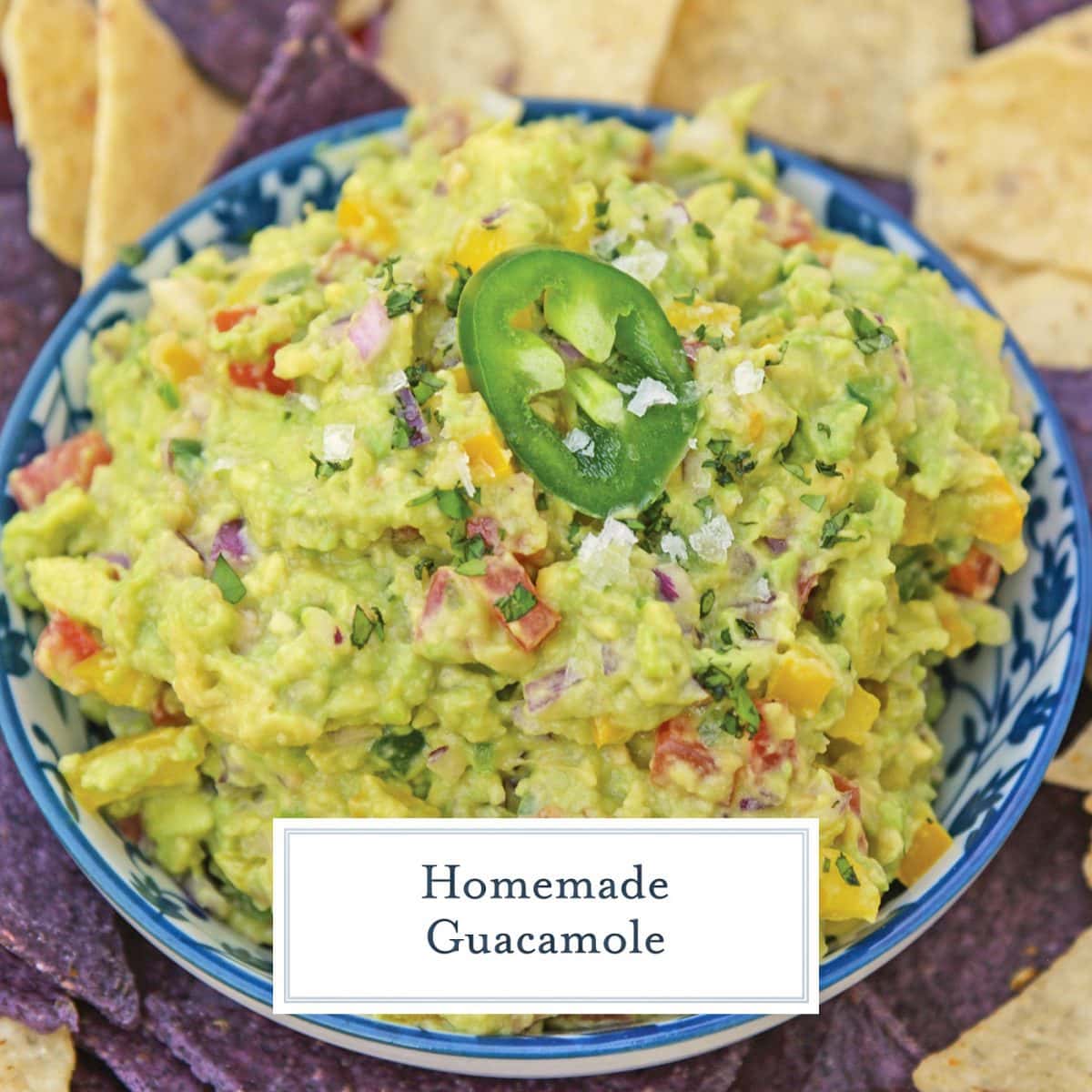 Avocado Season
When avocados are in season I try to incorporate this superfood into everything. OK, who am I kidding, I try to use them year round!
But did you know that actual peak avocado season for flavor is January through March. Which is odd since most people associate the fruit with summer months.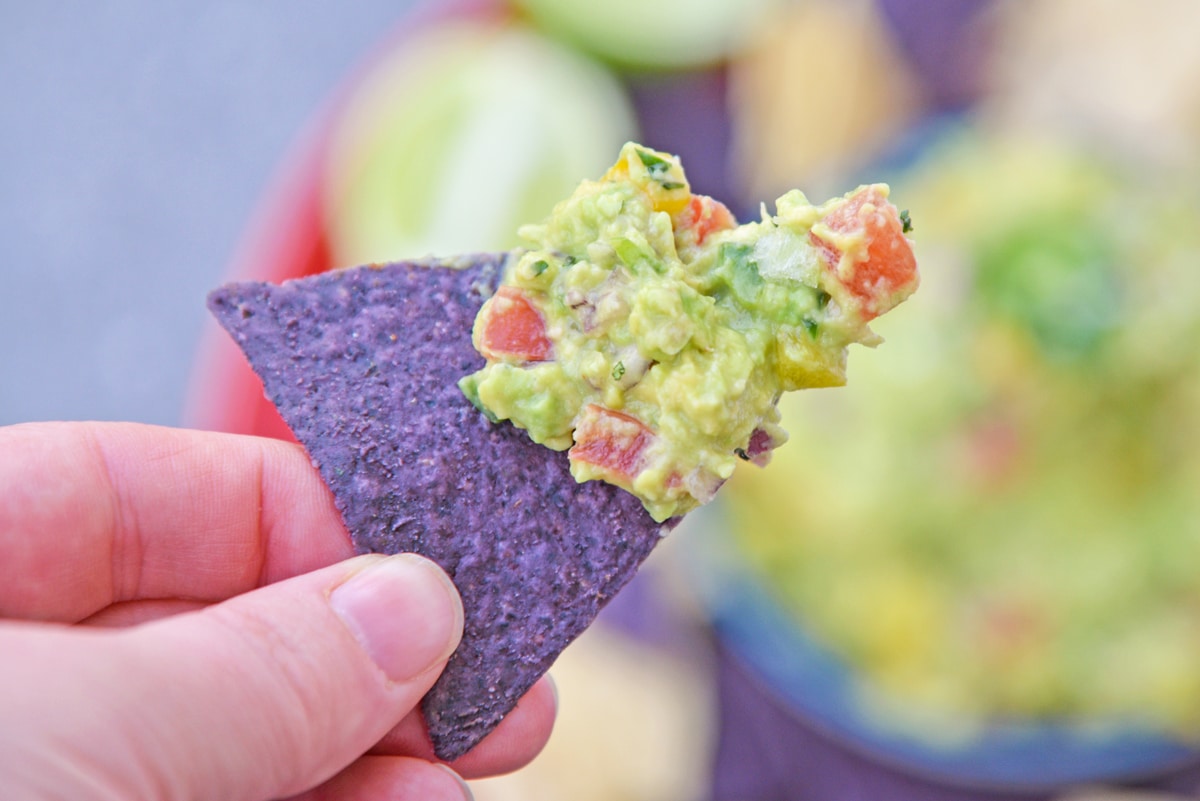 Thanks to technically and indoor agriculture, they are available year round.
Guacamole is for More Than Chips!
Homemade Guacamole Dip is a recipe I literally make weekly and put on top of nearly everything: chicken, grilled cheese, tuna steaks, avocado toast, salad, tortilla chips…. you name it.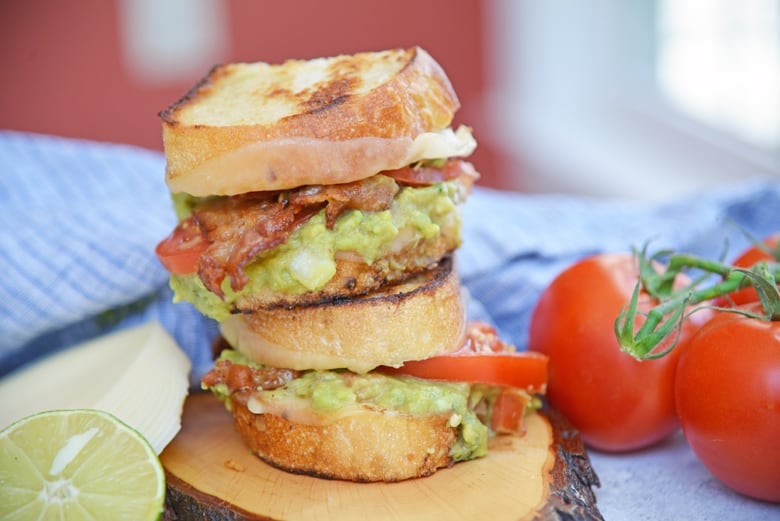 Use it on nachos, burritos, veggies or just carrot sticks. Fresh ingredients that are dairy free and totally delicious.
Why Do Avocados Turn Brown?
Avocados turning brown doesn't necessarily mean they are bad. Of course sometimes it does, but in most cases it just means they have been exposed to oxygen (air).
The easiest way to prevent strong browning is to add acid to your mix. Since this guacamole uses lime juice and that is an acid, it will aid in browning. If you don't have lime juice on hand, lemon juice also works.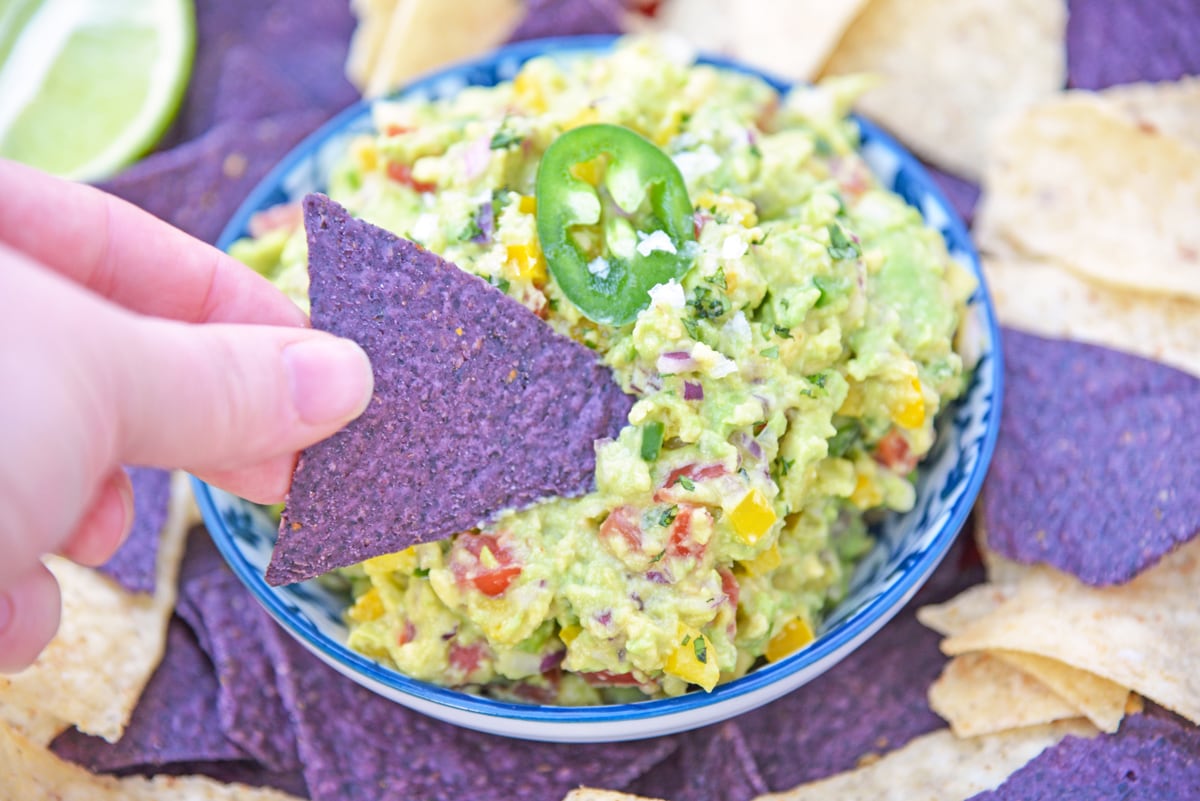 In terms of citrus juice, fresh is always better and has more flavor. It starts to lose flavor potency the moment it is squeezed so the bottle stuff is muted compared to a fresh spritz.
However, some is unpreventable unless you are using heavy, commercial grade chemicals. Just give it a quick stir and it will be fine.
How to Ripen Avocados
Avocados are tricky to time. Try to estimate when you'll need them when purchasing at the store. Making your guacamole in 3 days? Find one that is super firm and more light green.
Making it this afternoon? You'll need one that is a a deep, dark green and a gives a little when pressed, but isn't super mushy.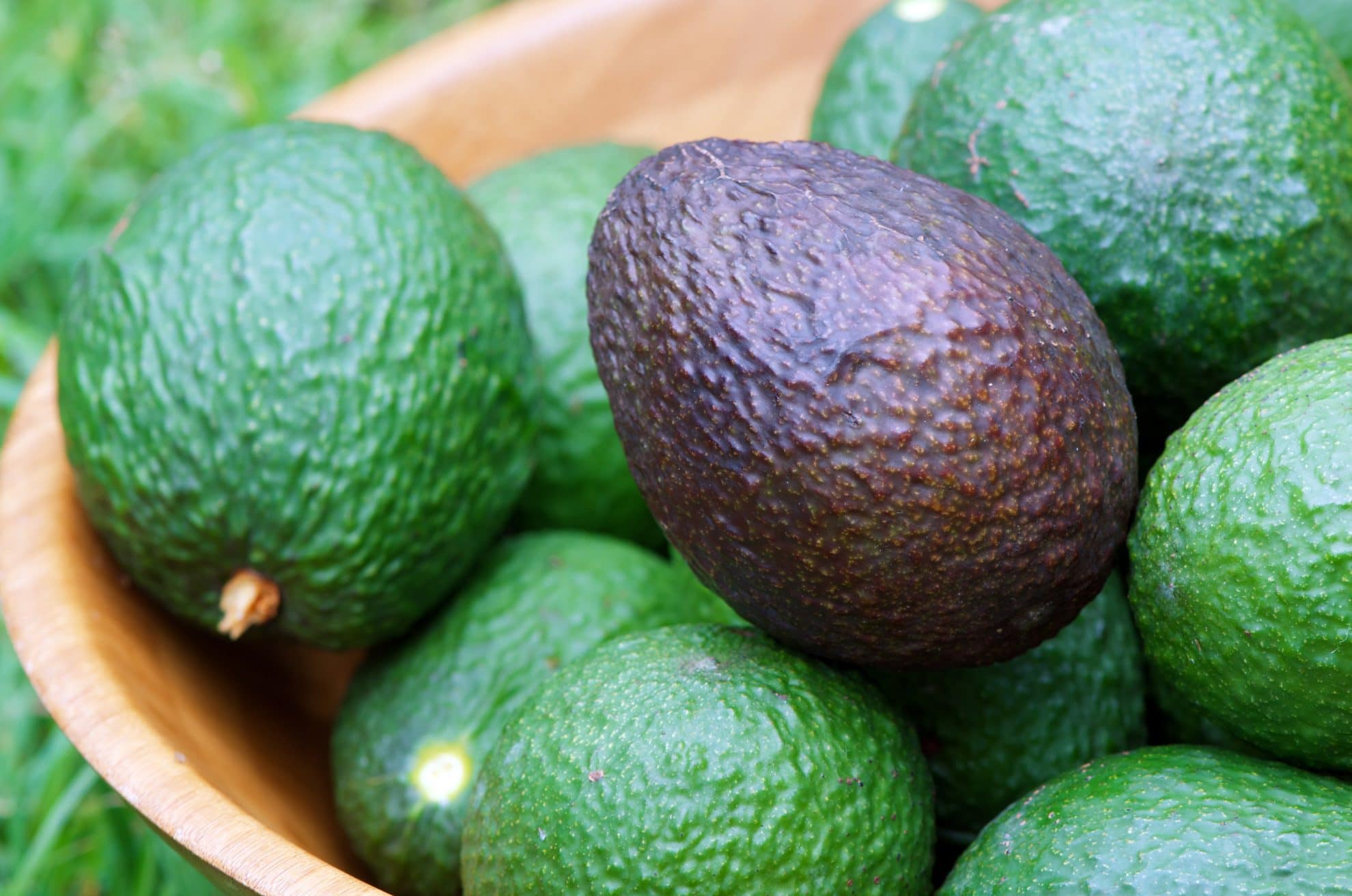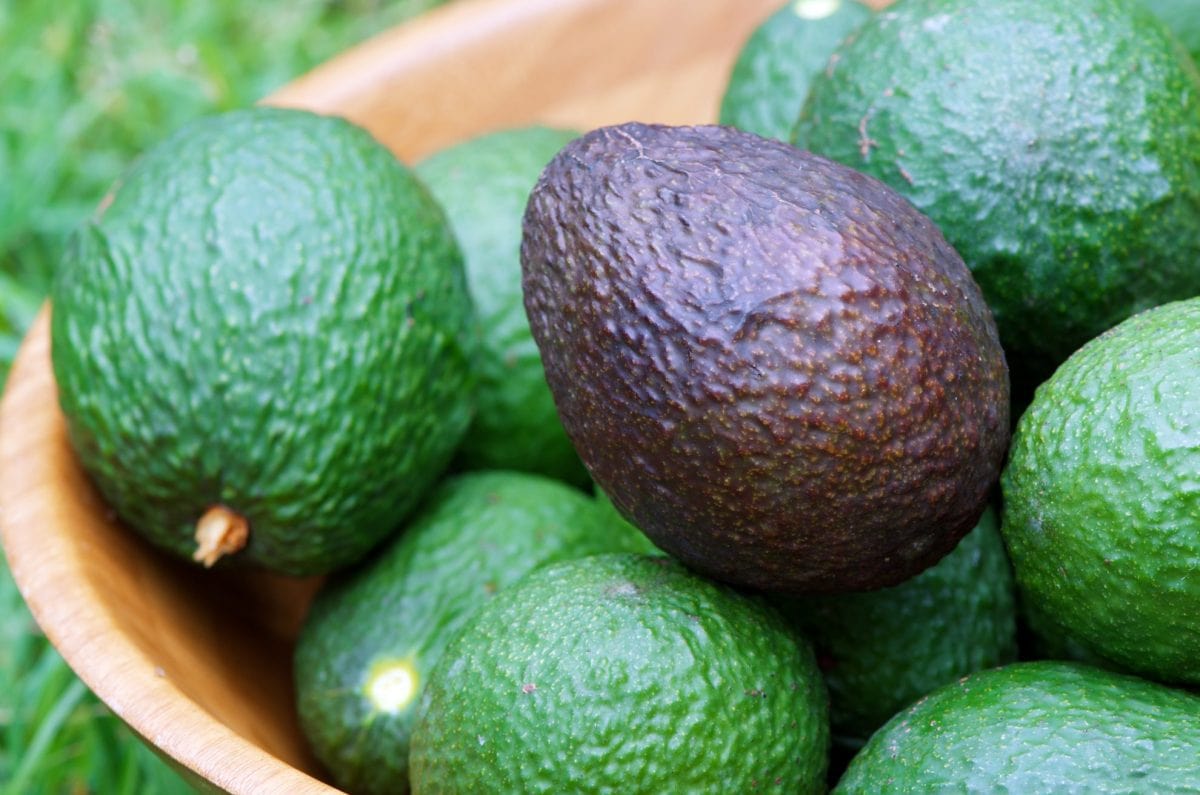 If you need to ripen them faster, place them in a plastic or paper bag for several hours. The gases they emit will help ripen faster. Heat also speeds up the ripening process.
How Do You Make Guacamole From Scratch?
In 15 short minutes you can have the perfect mixture of avocados, red onions, bell peppers, jalapeños, tomatoes, garlic, cilantro, a squeeze of lime juice, a little sugar, and my special ingredient- a dash of hot sauce for that extra kick.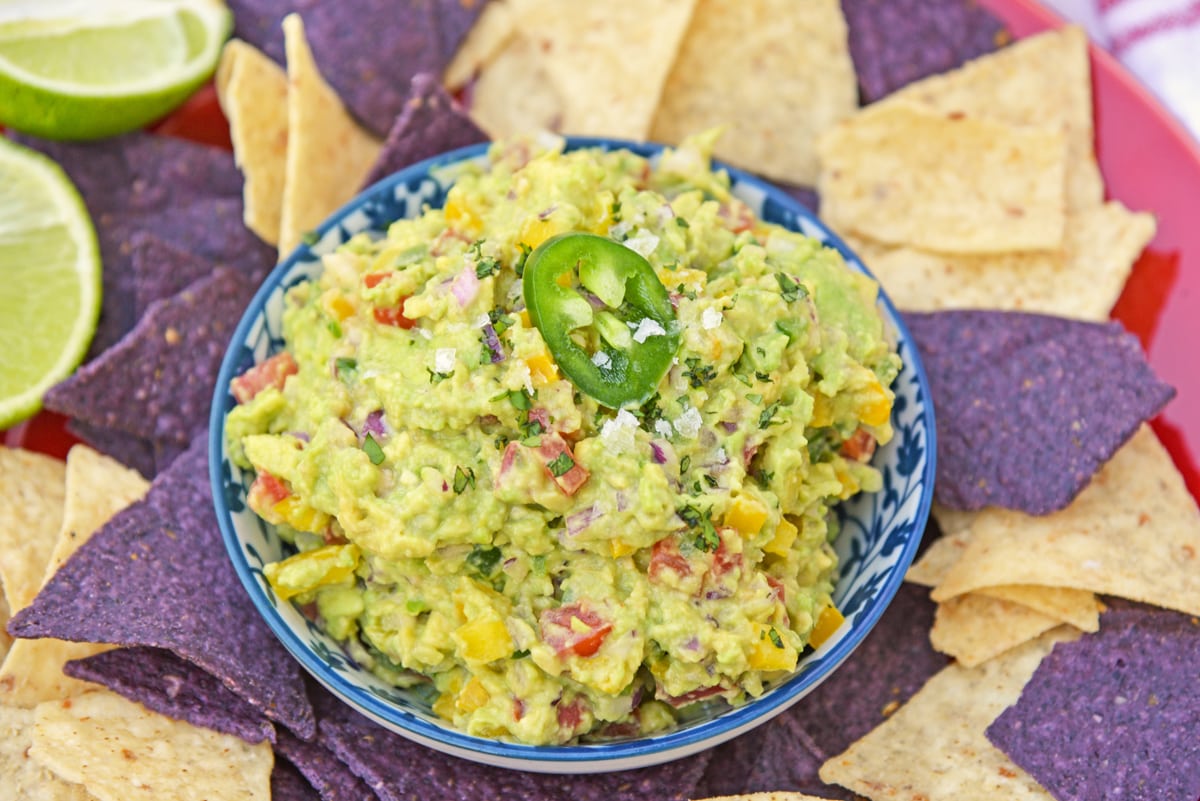 Start by chopping up all of your ingredients. Use a fine chop or mince for a smoother guac or a coarse chop for chunkier.
Choose how you want your ripe avocado. If you prefer a smooth and creamy texture, use a fork and mash avocados well or place it into a food processor and blend.
Of course, remove the pit and be super careful to not hurt yourself. "Avocado hand" is a real injury suffered by about 50,000+ injuries per year. That is crazy!!!!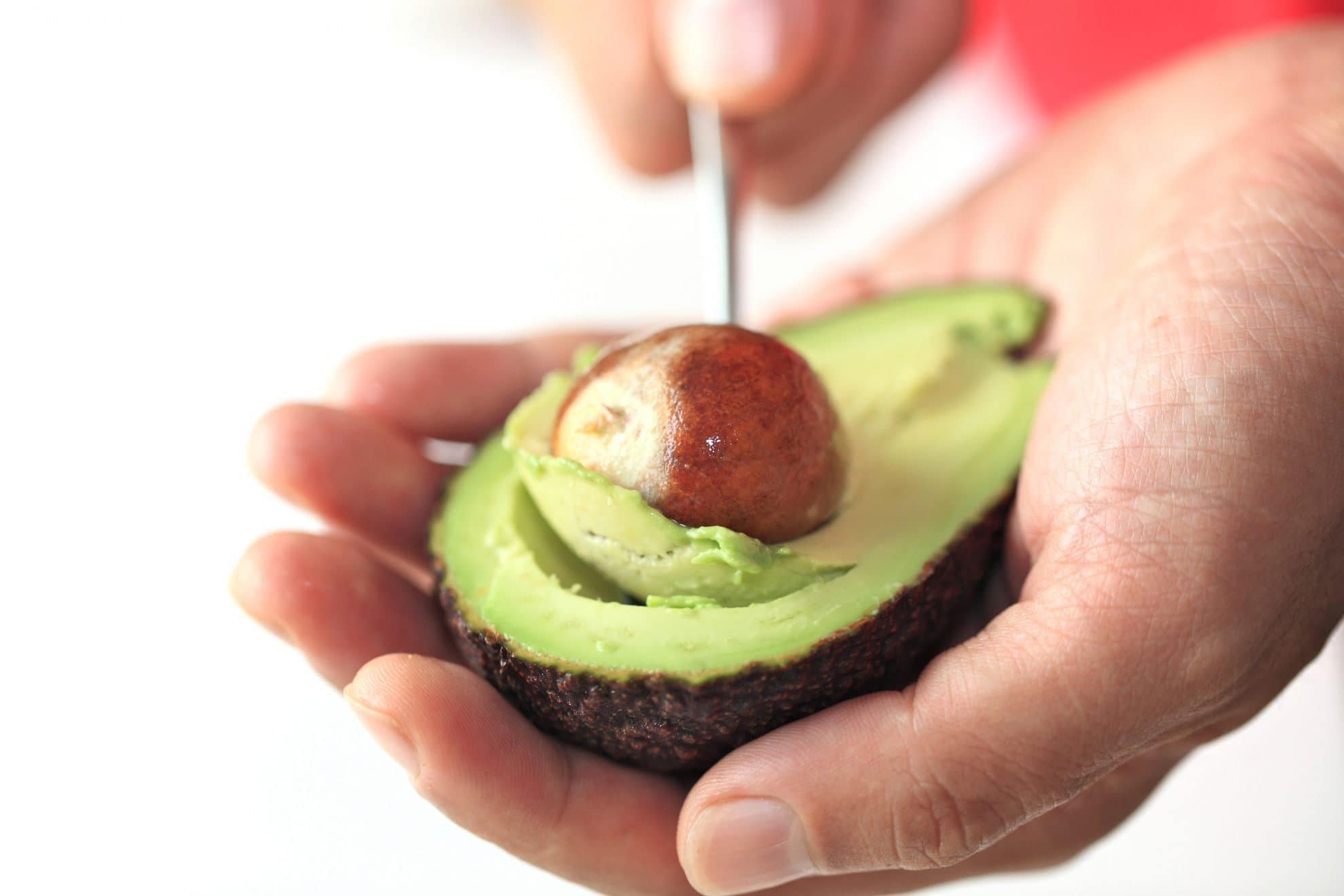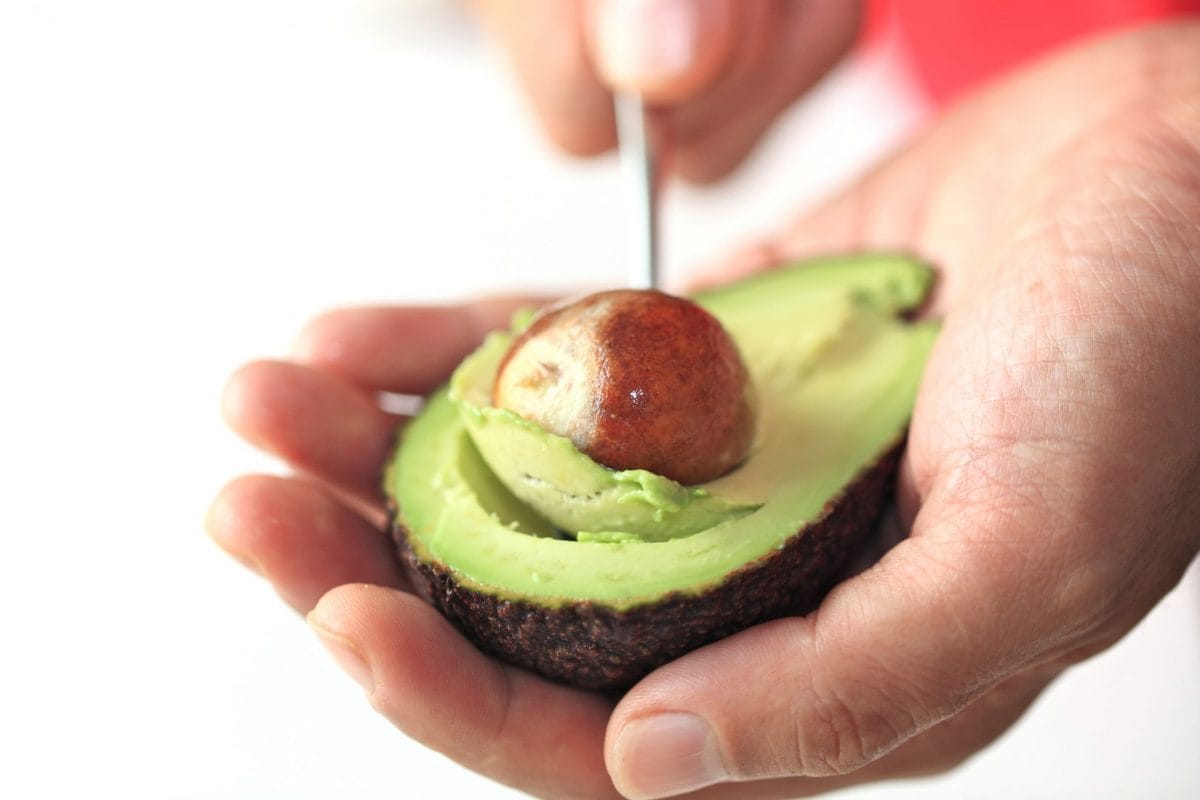 Then fold in the other ingredients until well combined. And you are done! Easy guacamole in just minutes.
Storage & Freezing
If you're wondering, can you freeze guacamole? The short answer is YES! This recipe freezes fairly well because it doesn't have a lot of watery ingredients, like onions or tomatoes.
The lime juice will prevent your fresh guacamole from turning totally brown. Place it in an airtight plastic bag, try to get out as much air as possible and freeze.
When you're ready to use your simple guacamole, take it out of the freezer and let it defrost enough to where you can feel it has softened. It might be a little watery, just give it a good stir.
Store in the fridge for up to 5 days. The best way to do this is to use plastic wrap on a bowl, pressing the plastic wrap right up against the top so little to no air is trapped. Stir well before serving.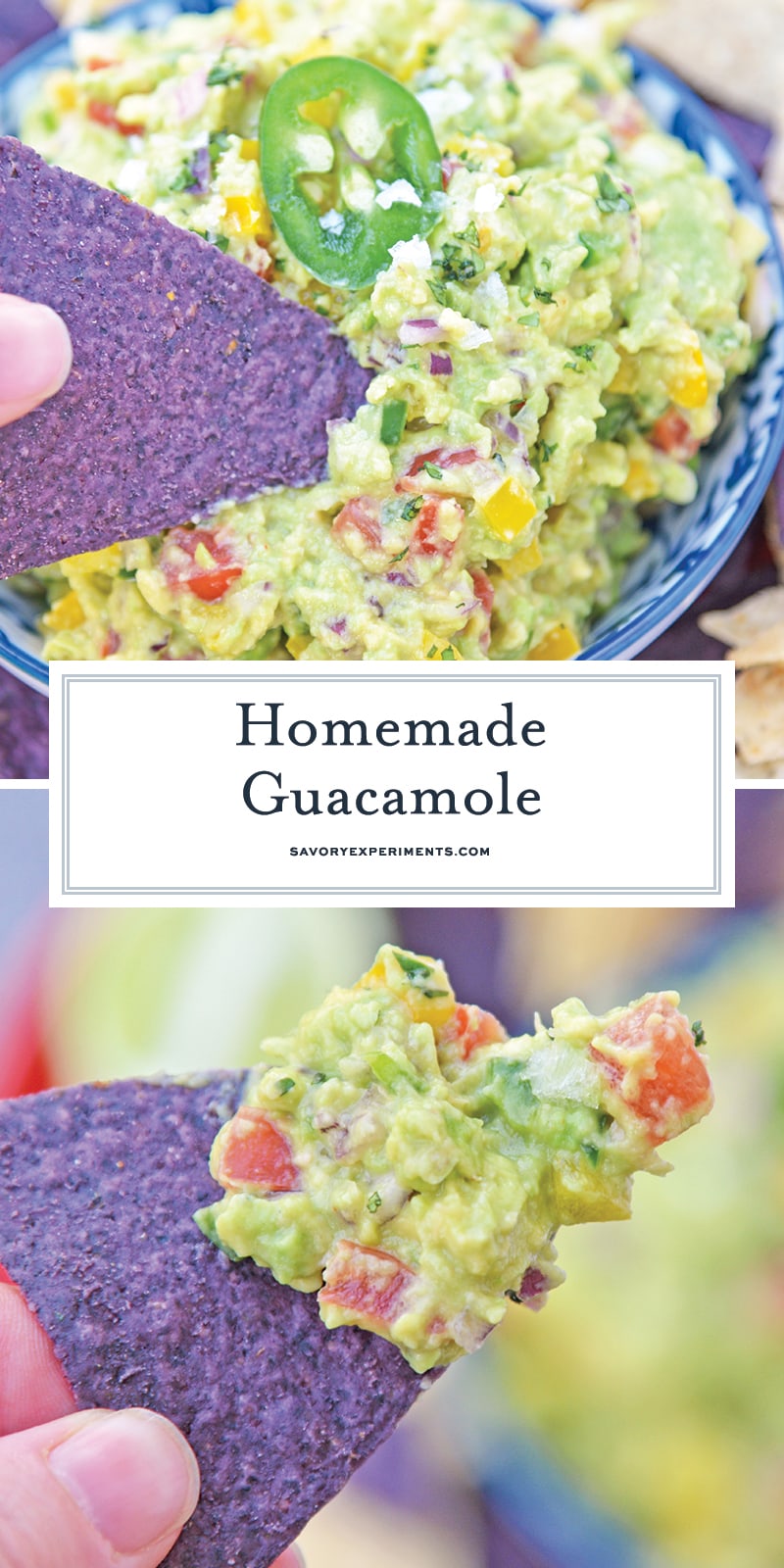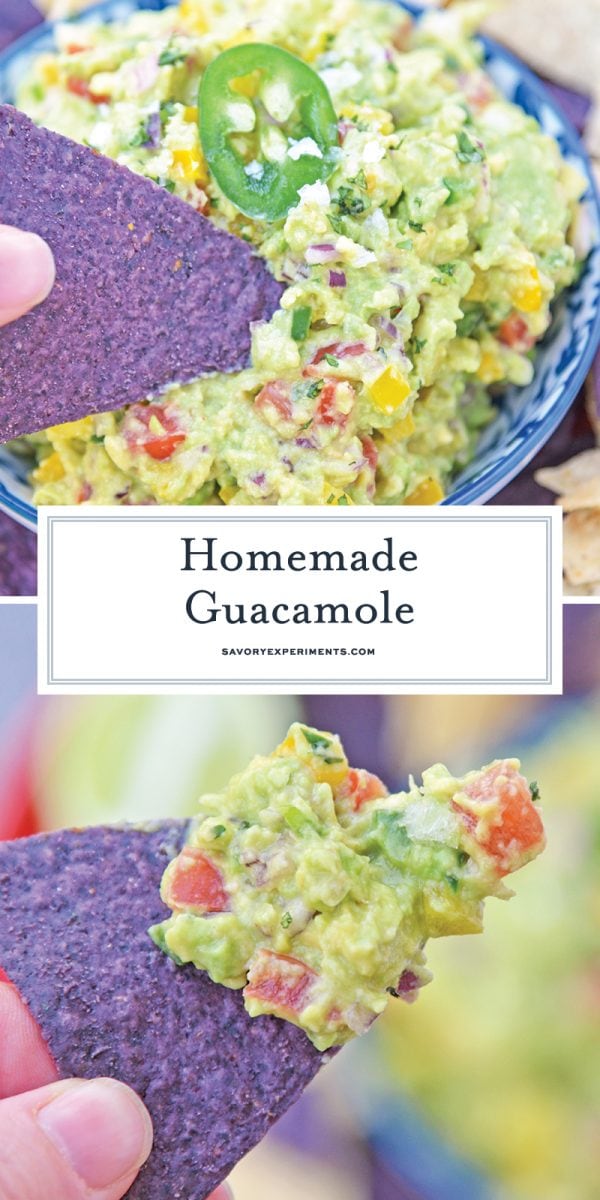 More easy dip recipes:
Chili Cheese Dip
If you are a fan of dips you need to make this 3 ingredient Chili Cheese Dip, whips up in under 10 minutes and is fool-proof!
See The Recipe!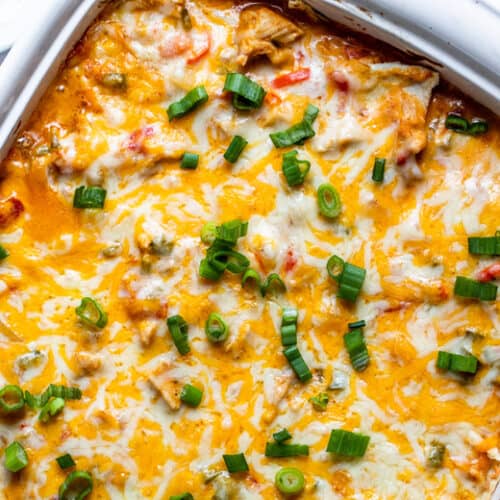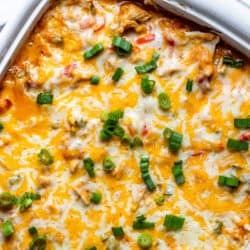 Easy King Ranch Recipe
This King Ranch Chicken Casserole is packed with incredible Tex-Mex flavors and of course loads of cheesy goodness. This simple recipe is perfect for a family dinner and can be made ahead of time.
See The Recipe!
Tools for making Homemade Guacamole Recipe:
Zester and Juicer– Another kitchen necessity! Whether it be a savory or sweet recipe, every house needs a way to zest and juice citrus. Also great for making cocktails!
Wood cutting board – wood won't dull your knives like plastic and if treated properly, has natural antimicrobial properties.
Good knife – Global is my favorite! They are worth the price, I promise. I am kind of obsessed with them and store them tucked away so no one else can use them. Including hubby. Hands off my good stuff!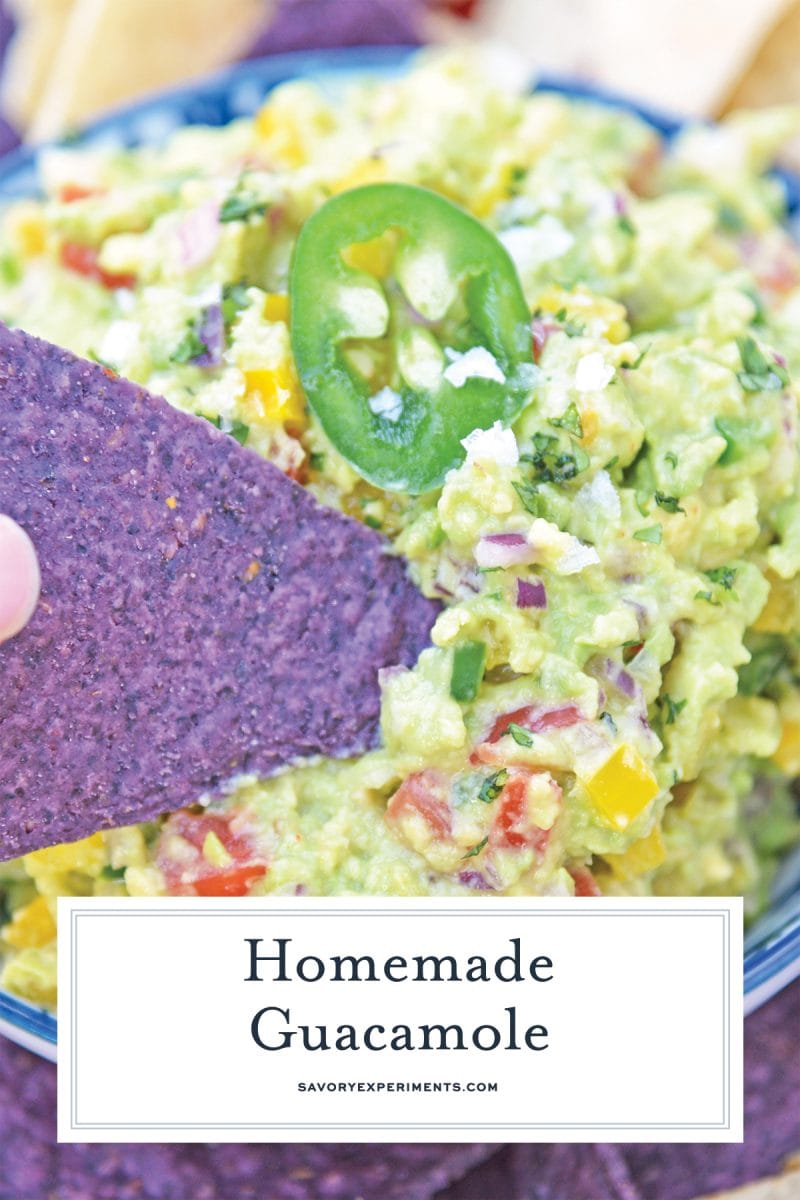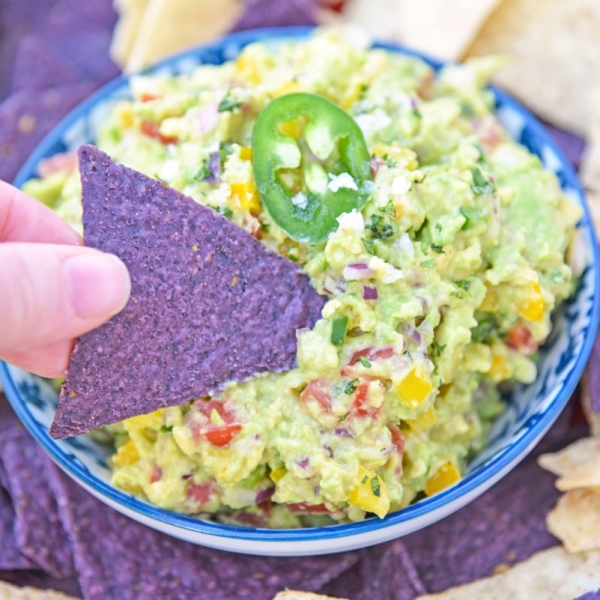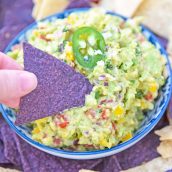 Homemade Guacamole
This is our favorite homemade guacamole recipe. Basic and verstile, it goes with nearly any meal, chips and more!
Instructions
Mash avocados to your desired texture sing the back of a fork or spoon or even blending in a food processor until smooth.

Fold in chopped vegetables and lime juice, sugar and hot sauce.

This will keep for 2-3 days in the refrigerator. The lime juice will prevent the avocado from browning.

If you've tried this recipe, come back and let us know how it was in the comments or ratings!
Notes
You can also use jarred, pickled jalapenos. These may be less spicy than fresh jalapenos.
Nutrition
Calories:
95
kcal
,
Carbohydrates:
7
g
,
Protein:
1
g
,
Fat:
7
g
,
Saturated Fat:
1
g
,
Sodium:
75
mg
,
Potassium:
307
mg
,
Fiber:
3
g
,
Sugar:
2
g
,
Vitamin A:
525
IU
,
Vitamin C:
29.5
mg
,
Calcium:
12
mg
,
Iron:
0.5
mg