When avocados are in season I try to incorporate this superfood into everything. OK, who am I kidding, I try to use them year round! Avocado Chutney is a recipe I literally make weekly and put on top of nearly everything: chicken, tuna steaks, salad,
tortilla chips
…. you name it, I top it with avocado chutney! I just can't get enough of this stuff!
It is packed with nutrients, keeps you feeling full and can stay fresh in the refrigerator for up to a week.  So the only real question is, why haven't you got up to make your own Avocado Chutney yet?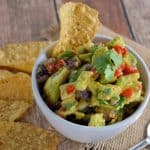 Avocado Chutney
A perfect pairing for chips, fish, chicken, beef, salad or anything food that needs a little pick-me-up!
Ingredients
1

avocado

pitted and diced into 1 inch cubes

1/3

cup

red onion

minced

1/3

cup

bell peppers

1

fresh jalapeno

seeded and minced ** see note

1/3

cup

chopped tomato

seeded

1

teaspoon

minced bottled garlic

1

tablespoon

cilantro

minced

1

tablespoon

lime juice

1

teaspoon

sugar

1/2

tablespoon

of hot sauce

such as Texas Pete
Instructions
Chop all ingredients and combine in a bowl. You are ready to serve Chunky Avocado Cilantro Chutney on anything!

This will keep for 2-3 days in the refrigerator. The lime juice will prevent the avocado from browning.
Recipe Notes
Chicken- Chunky Avocado Cilantro Chutney has so much flavor you don't have to do much to the meat or fish you serve it on. Here I marinated chicken breast over night in store bought Italian dressing and cooked it on the grill. Rice- Super easy weeknight side. Buy a package of Ready Rice, Santa Fe flavored (such as Uncle Ben's). Cook according to the package (90 seconds in the microwave). Meanwhile, defrost 1/4 cup of frozen whole kernel corn and strain a can of plain diced stewed tomatoes. Add 1/2 cup of the stewed tomatoes (save the rest in an airtight container in the fridge for another recipe) and 1/4 cup corn to a larger serving bowl. Add rice, mix and heat in the microwave for an additional 45 seconds. Serve.
Love this recipe? Try it on homemade tortilla chips (click for recipe)! Use leftovers on a Bacon and Guacamole Grilled Cheese Sandwich!
If you like this recipe, make sure to follow me on Pinterest for even more!