Pico de gallo holds a special place in my heart. It is simple to make and I can devour it in a matter of minutes. Nothing says "summer" more than a fresh pico recipe, a staple of Mexican food.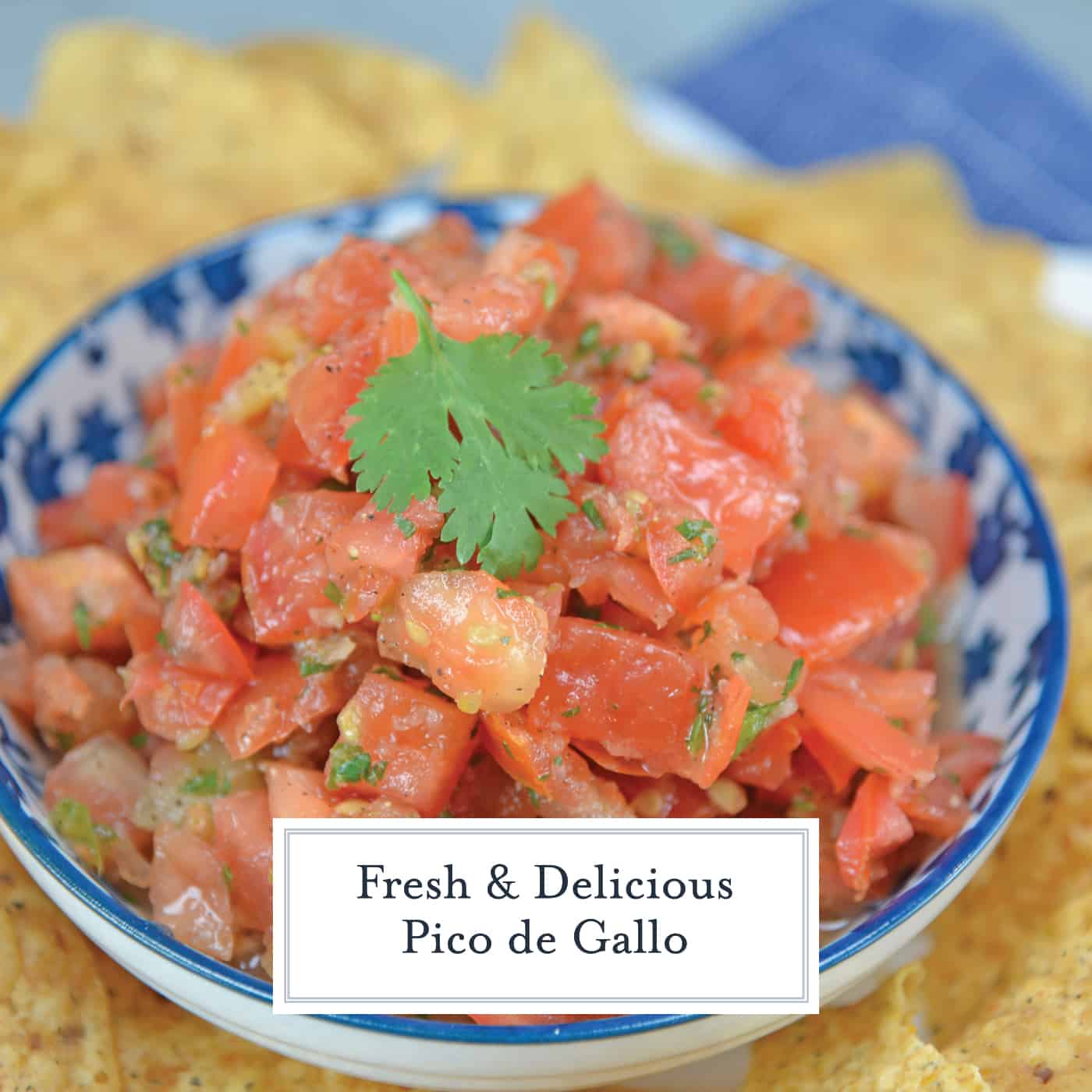 Pico de Gallo, also known as salsa fresca, is made from fresh tomato, onion, cilantro, hot pepper and lime juice. Perfect with tortilla chips!
Many folks beleive that pico de gallo is a homemade salsa and while that is technically true and they share the same ingredient base, pico is slightly slightly different.
Pico de gallo is a type of fresh salsa and generally coarsely chopped and chunky, while salsa is more watery and pulverized, a finer mince or thin sauce, if you will. It is not the typical restaurant style salsa, if that is what you are after.
The fresh ingredients for pico de gallo include diced tomatoes, red or white onion, cilantro, hot pepper, such as serrano, jalapeno or habanero, and lime juice. Most traditional salsa recipes don't include citrus juice or cilantro, so this makes another difference between pico and salsa.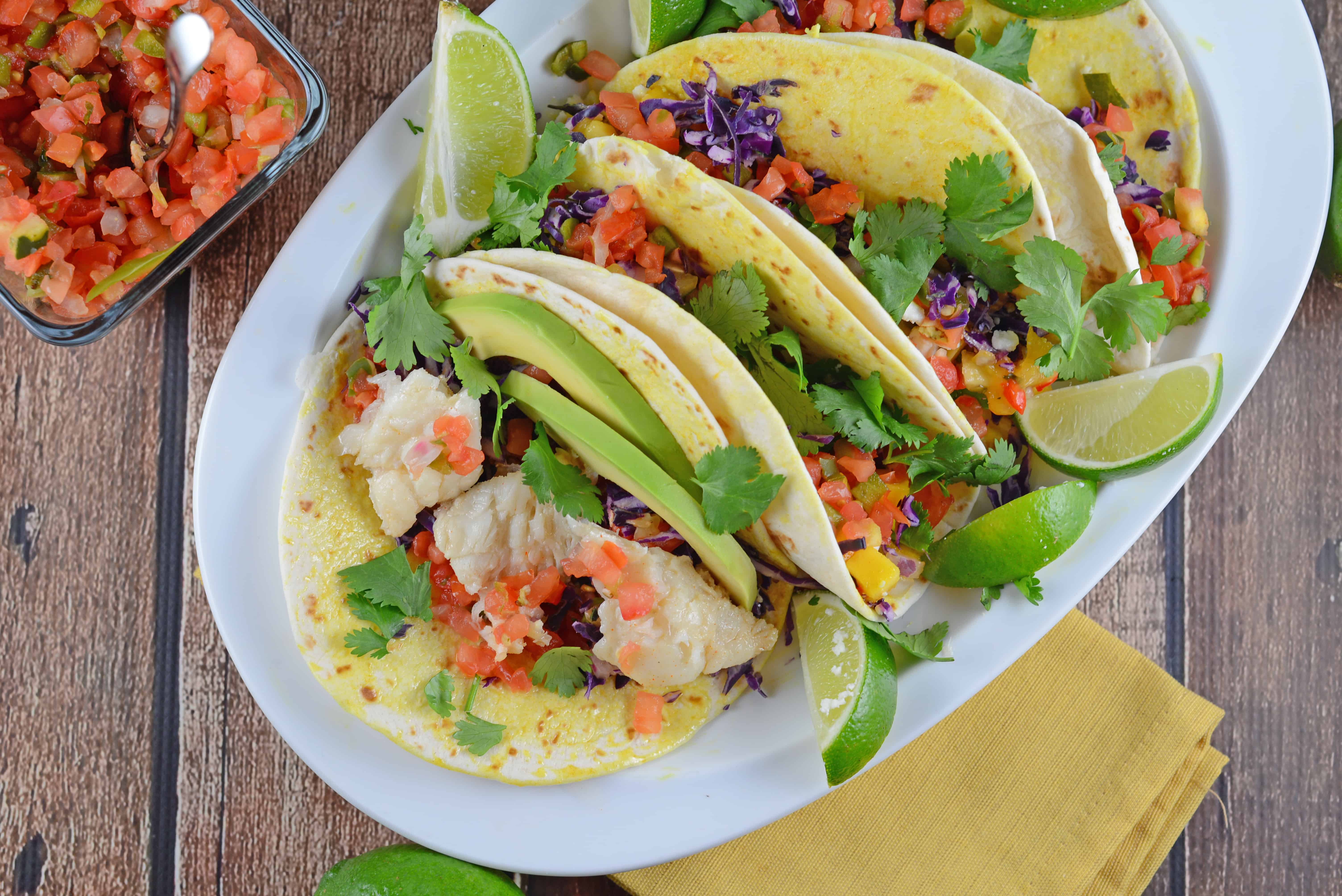 Pico de Gallo on Fish Tacos! Click for link!
Another fun fact about pico de gallo, it translates literally to "beak of rooster". I'm not going into the specifics of why because they kind of freak me out and I don't want to turn you off to this delicious condiment, but you can surely Google it on your own!
What is pico de gallo? The official definition is "a salsa fresca or salsa cruda, is made from chopped tomato, onion, cilantro, serrano peppers, salt, and lime juice. Other ingredients, such as shrimp, or avocado, are also sometimes added.
Pico de Gallo tastes great on a variety of foods, but none more than warm and salty homemade tortilla chips. Also try in a salad, on top of grilled chicken, fish steak or even pork chops. Check out one of my absolute favorites, the Taco Burger with fries and Spicy Ketchup. Yum!
Tools for Pico de Gallo:
Wood cutting board
– wood won't dull your knives like plastic and if treated properly, has natural antimicrobial properties.
Good knife
– Global is my favorite! They are worth the price, I promise. I am kind of obsessed with them and store them tucked away so no one else can use them. Including hubby. Hands off my good stuff!
Plastic Storage Containers
– you can never have too many!
If you like Pico de Gallo, you'll also love these other Mexican recipes!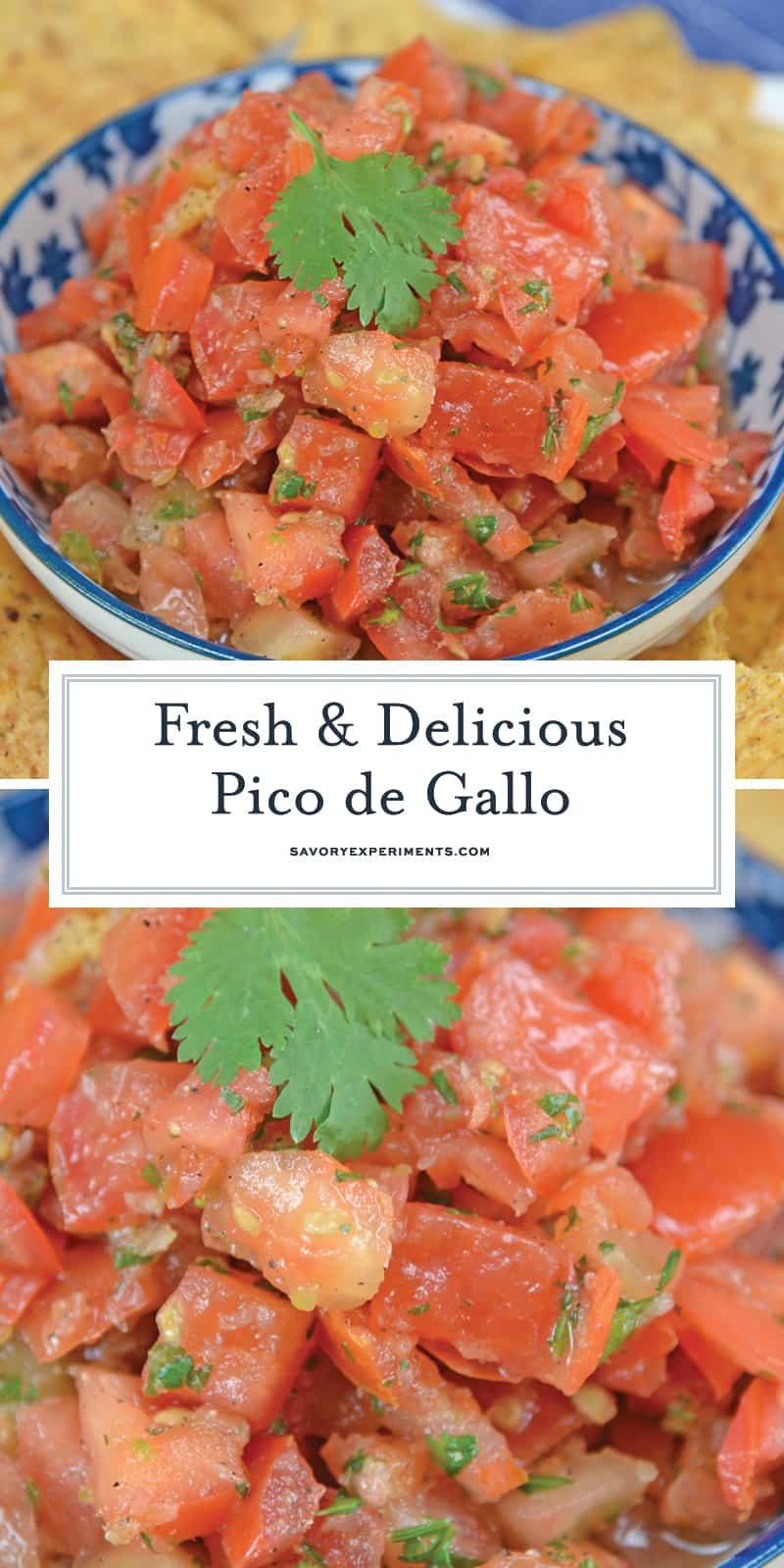 Questions you might have about how to make pico de gallo:
Can I make pico ahead of time? Most salsas and sauces taste better when they have time to sit and marry, however with fresh pico, you don't want to make it too far in advance because the liquid from the vegetables will start to drain and make it liquidy.
It is also a sauce where you almost want to taste each individual ingredient instead of having them blend. A carnival of flavor and color.
How long can pico de gallo sit out for? I don't like to let anything sit out for more than 2 hours, especially if it is hot and outside. With that said, there is nothing in this pico recipe that would go bad or rancid if it sits out for longer.
How long is homemade pico de gallo good for? I doubt it will last this long, but if properly stored (covered with plastic wrap in an airtight container) and refrigerated, it should last up to 5 days. Like mentioned above, the liquids will start to drain out, so it gets a little more liquidy and mushy.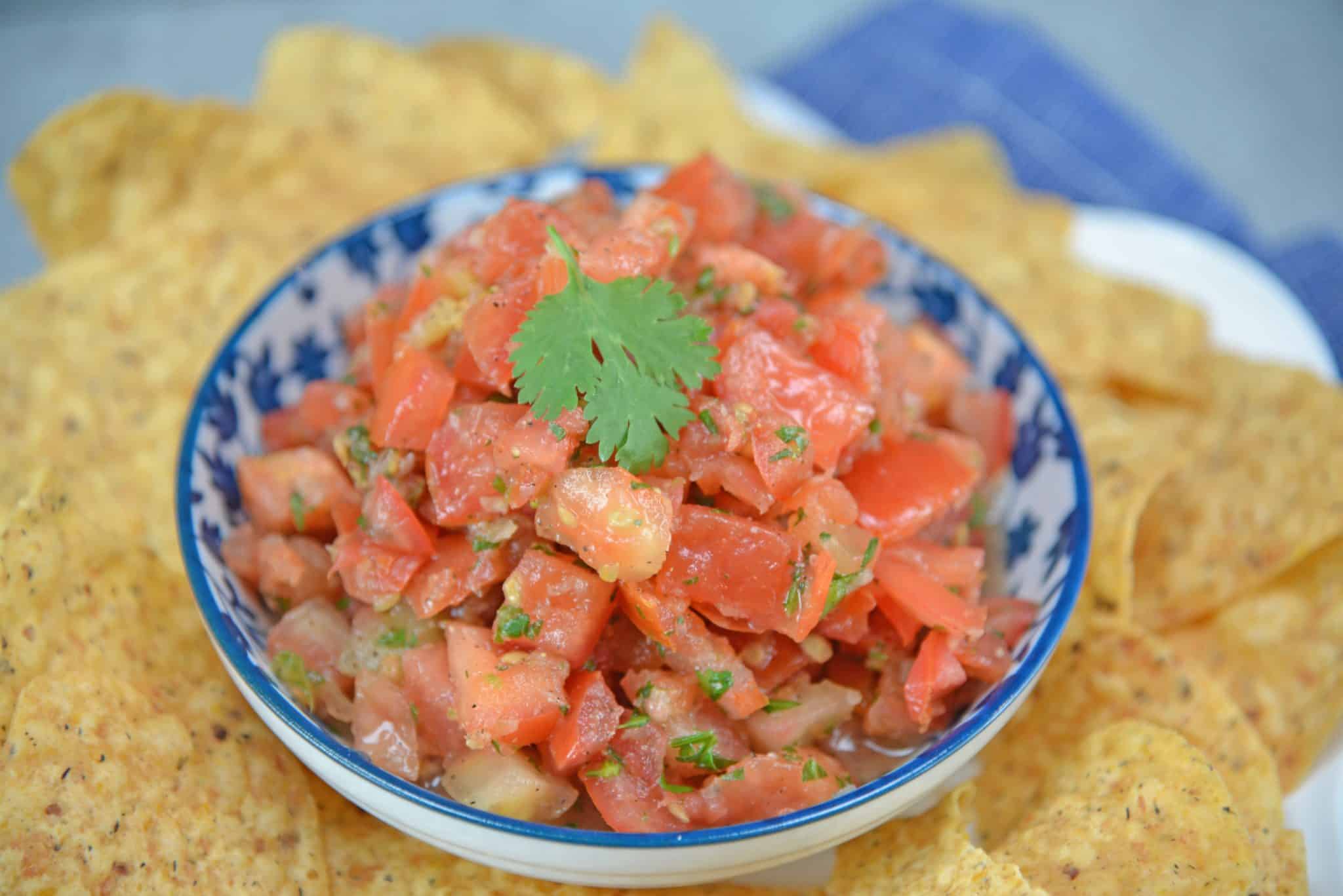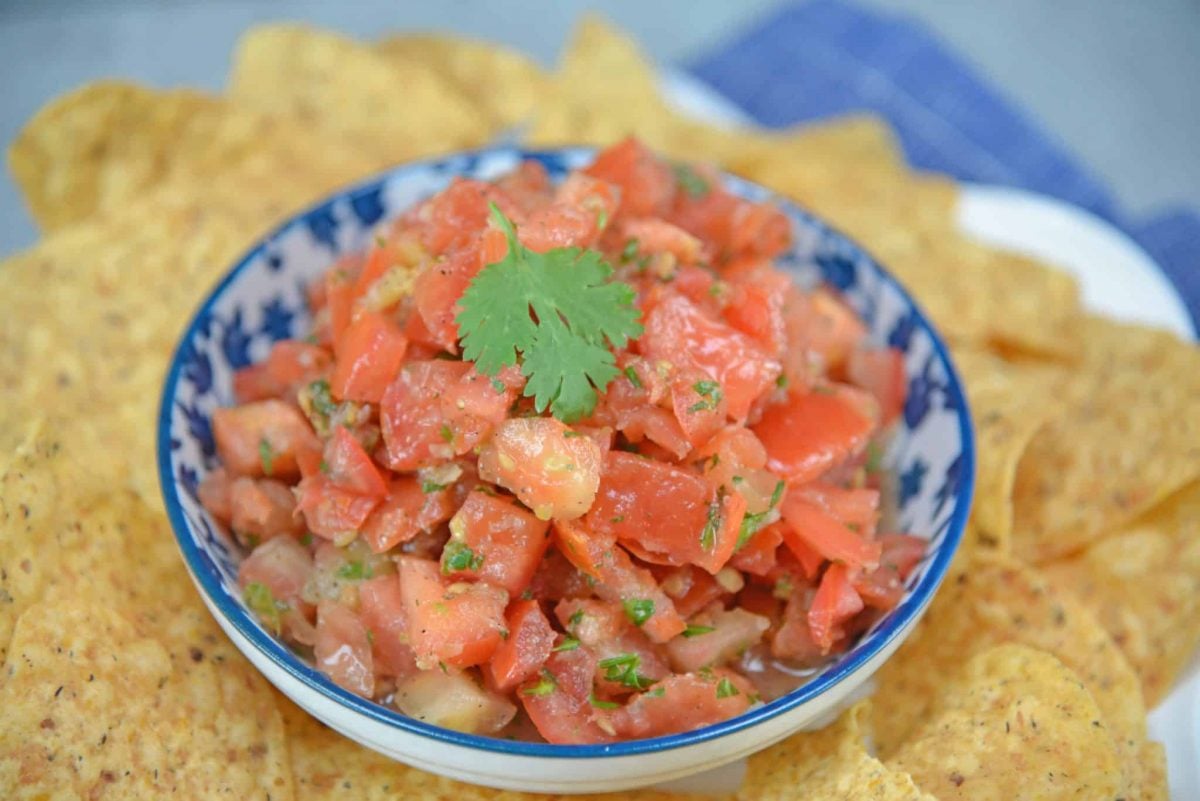 Is pico de gallo healthy? I loathe this question and kind of beat around the bush to answer it. The term healthy seems to mean something different to everyone these days. So while pico is a low calorie and low fat food, some might still not like the amount of sugar or some other odd ball ingredient.
You can scroll down and check out the nutritional information and make the decision whether it is "healthy" or not on your own.
Is pico de gallo vegetarian? This recipe for pico is vegetarian and vegan as it contains no animal products.
What are the best fresh tomatoes for pico? I like to use roma tomatoes, sometimes known as plum tomatoes. You can also use canned, if you prefer. If if you go this route, I like to use fire roasted tomatoes and green chiles for a little more umph.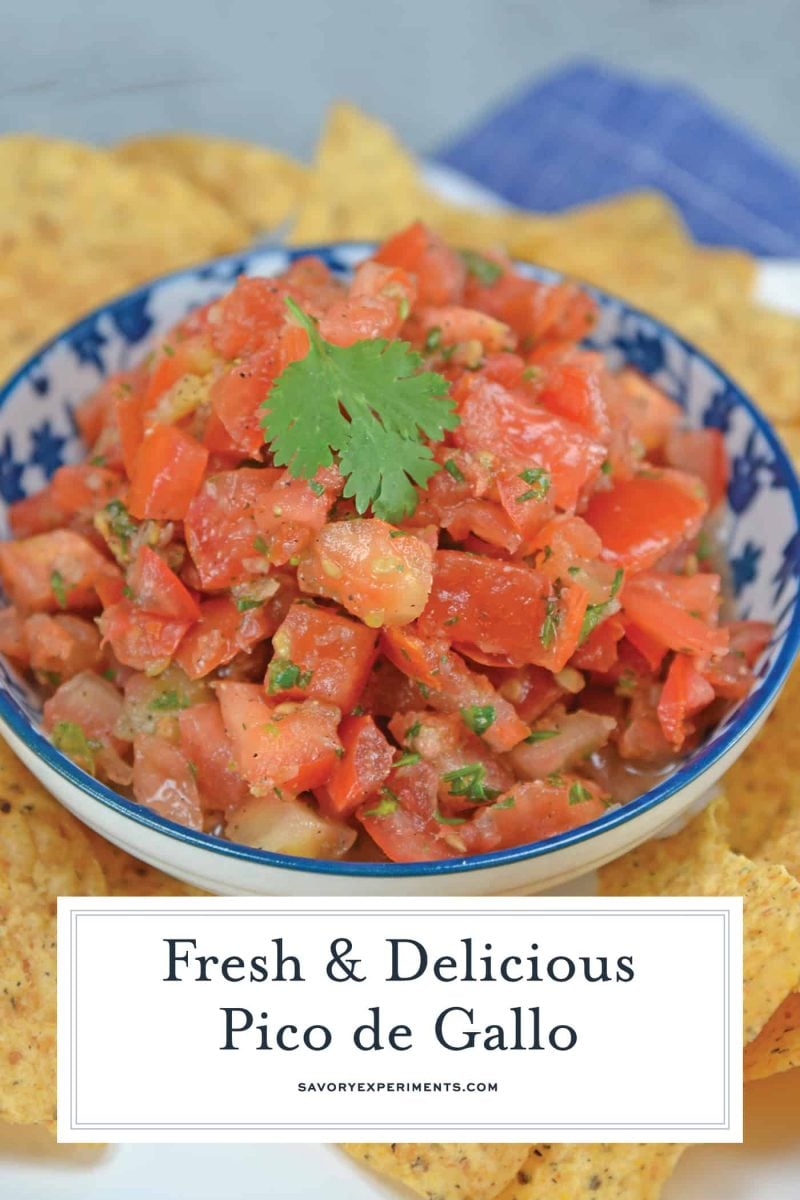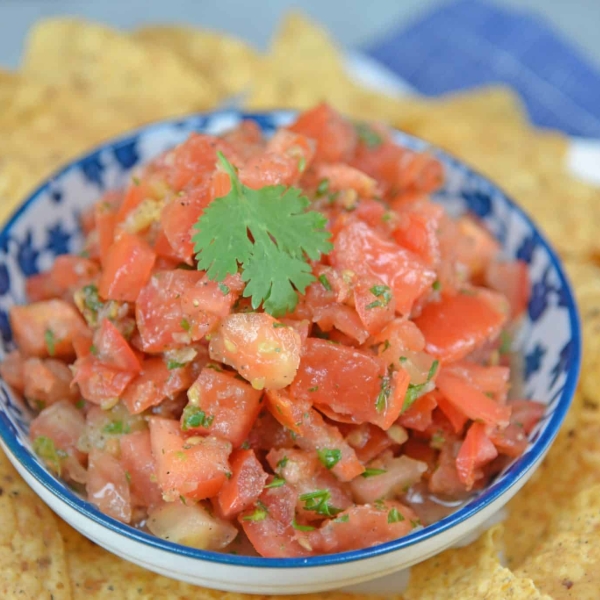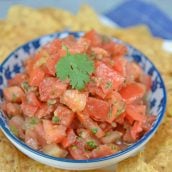 Pico de Gallo
Pico de Gallo, also known as salsa fresca, is made from fresh tomato, onion, cilantro, hot pepper and lime juice. Perfect with tortilla chips!
Instructions
Combine all ingredients in a bowl and toss. Refrigerate until ready to use.

If you've tried this recipe come back and let us know how it was!
Nutrition
Calories:
37
kcal
,
Carbohydrates:
8
g
,
Protein:
1
g
,
Sodium:
7
mg
,
Potassium:
331
mg
,
Fiber:
2
g
,
Sugar:
4
g
,
Vitamin A:
1100
IU
,
Vitamin C:
29.5
mg
,
Calcium:
19
mg
,
Iron:
0.3
mg