Have you ever been to Carrabba's Italian Restaurant? I just love their wood fire pizzas and bread dipping oil so much so I made my own Copycat Carrabba's Olive Oil Bread Dip!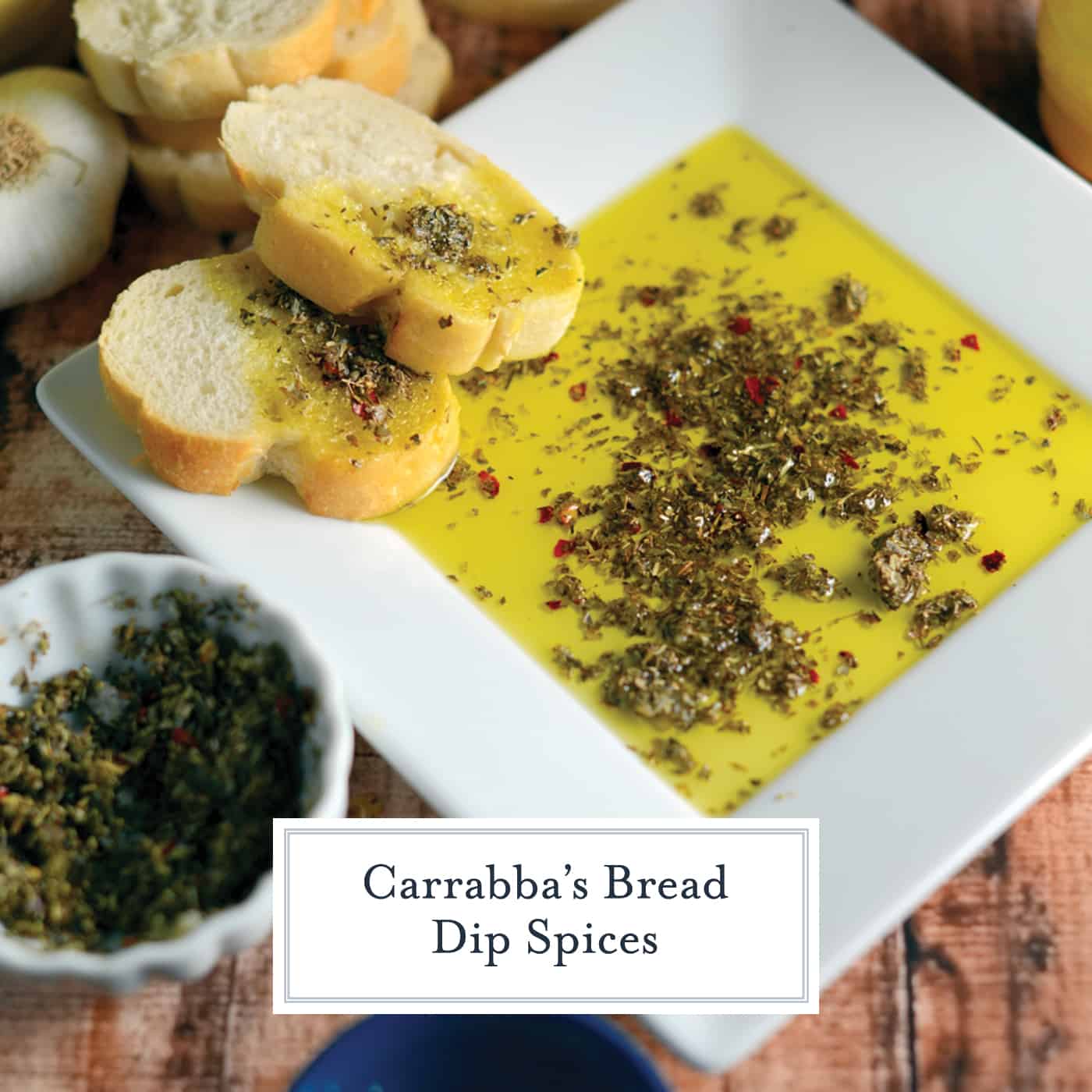 Get the special blend of spices to make Carrabba's Olive Oil Bread Dip at home! I bet you already have everything you need in the pantry for this Italian bread dipping sauce.
Just a basic mix of spices this classic bread dipping oil. Olive oil bread dip wows every time even though it is literally one of the easiest recipes I make.
When entertaining, I like to serve my dipping sauce with a variety of breads and crackers on an Ultimate Cheese Board, however I personally prefer either Italian or rosemary focaccia.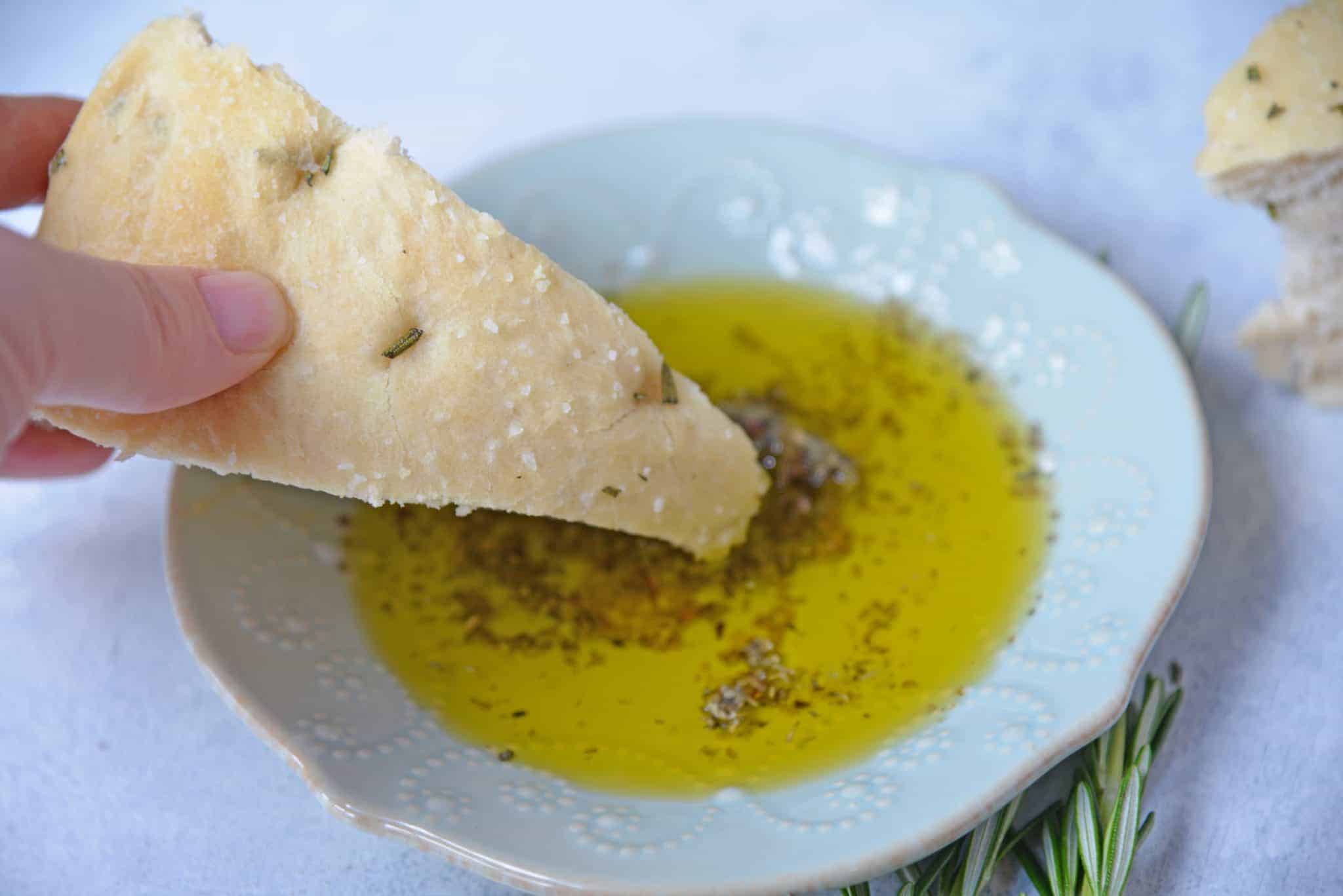 This olive oil bread dip isn't just for breads either. The spice blend will brighten up any pasta dish, especially plain white or Alfredo sauce.
It can be sprinkled on a salad coupled with a few dashes of red wine vinegar or used to season chicken, beef or pork.
You can even use it as a marinade or baste is on grilled vegetables. Clearly, these aren't just bread dipping spices, they are really an all-purpose Italian blend of deliciousness. Homemade Italian seasoning!
Olive oil bread dip is also one of my favorite DIY gift ideas. Dry mix can be made ahead and stored at room temperature in an airtight container
for several weeks. The salt is a natural preservative.
If you know it won't be used for a long time, omit the fresh garlic and add a teaspoon of garlic powder instead. Or you can include a cute note asking to "just add fresh garlic to serve".
I like to use festive twine
to attach a gourmet bottle of olive oil
and voila, you have the perfect hostess gift straight from your kitchen!
You really don't even need to mention that it is a Carrabba's recipe. Heck, the restaurant isn't even popular in much of the country. Just label it as Bread Dipping Oil or Olive Oil Bread Dip and everyone will know what you mean.
Carrabba's clearly uses dried spices, but you can also use a variety of finely minced fresh herbs and spices. You can even mix and match fresh with dried and add a few of your own, like thyme or a dash of dried minced onion or garlic for more texture and crunch.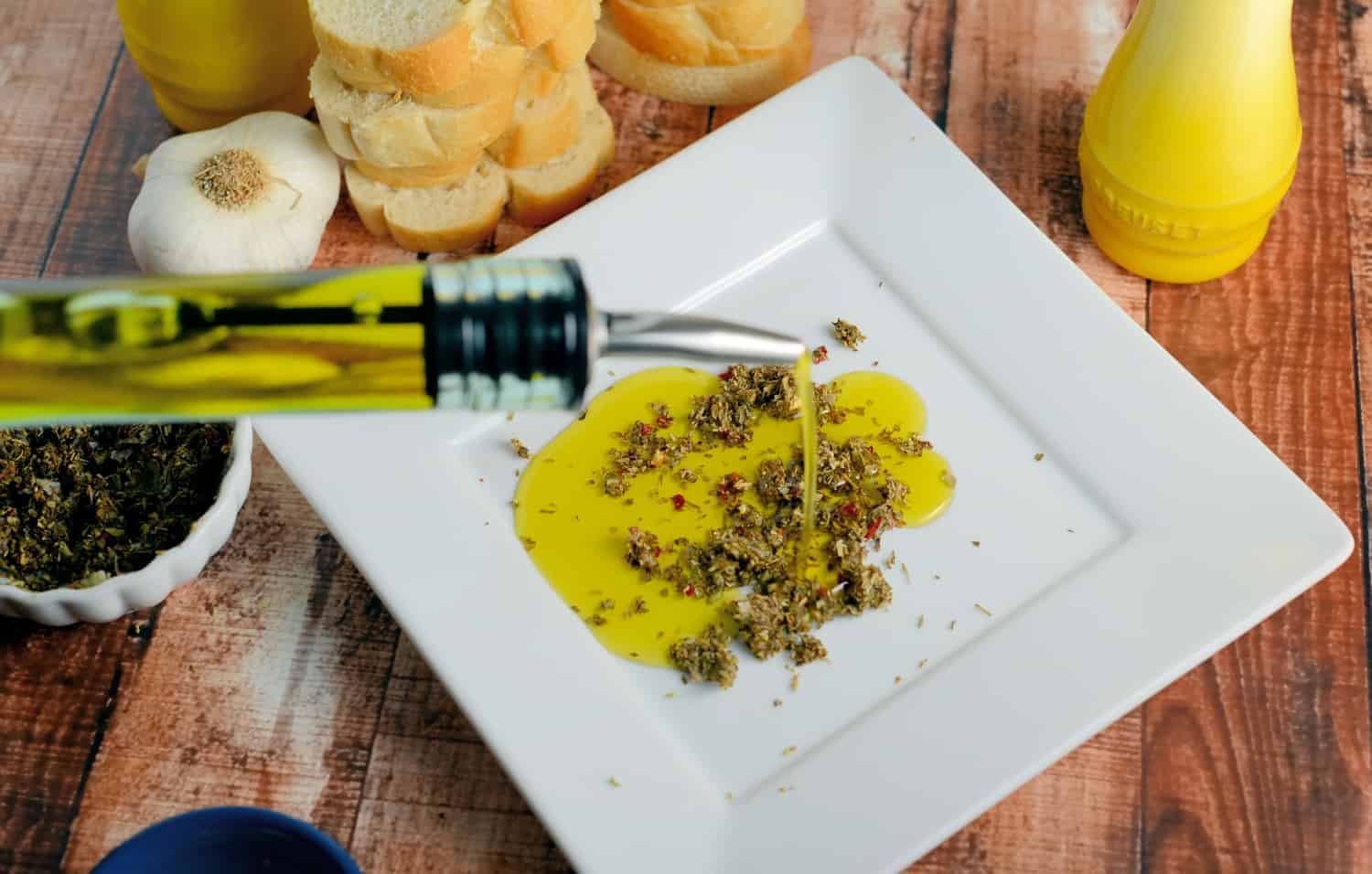 In fact, so many people have contacted me to tell this isn't the right recipe, but they all claim to work there and have differing stories on how the real olive oil bread dip.
Some people also say it is similar to the Macaroni Grill bread dipping oil, but I've never had that one, so I can attest.
I do get asked quite frequently about the best olive oil to use for bread dip and I have a very passionate answer… are you ready?
You might be surprised to know that many imported olive oil touted to be "authentic" are a blend of olive oil and either vegetable oil or canola oil. It is tough for the US to verify the validity of "pure olive oil" when it is already imported. 
For this reason, I generally buy my "good" olive oil domestically, from California, in fact. This one
is my favorite. Good, first press olive oil is what you want for drizzling and bread dips. It will be dark in color and a little tangy when you taste it.
Light virgin olive oil will be a little less pungent because it comes from the second or third press. This makes it better for using in recipes where the flavor of the oil isn't the main focus or for frying. In fact, olive oil has a fairly high smoke point, so while it is more expensive, it is perfect for pan frying.
Make sure to get yourself an olive oil bread dipping dish
to serve it in!
Pair this delicious bread dipping oil with one of our favorite Italian recipes:
  
Copycat Carrabba's Olive Oil Bread Dip
Get the special blend of spices to make Carrabba's Olive Oil Bread Dip at home! I bet you already have everything you need in the pantry for this Italian bread dipping oil.
Keyword:
carrabbas bread dip spices, italian bread dip
Ingredients
1

tablespoon

crushed red pepper

1

tablespoon

freshly cracked black pepper

1

tablespoon

dried oregano

1

tablespoon

dried basil

1

tablespoon

dried parsley

1 1/2

teaspoon

garlic powder

1 1/2

teaspoon

onion powder

1/2

teaspoon

dried rosemary

1 1/2

teaspoon

coarse sea salt

3

cloves

fresh crushed garlic
Instructions
Combine crushed red pepper, black pepper, oregano, basil, parsley, garlic powder, onion powder, rosemary, sea salt and crush garlic. Mix well.

If serving immediately, place dry spice mixture in a shallow plate. Drizzle desired amount of extra virgin olive oil over, serve. Wait to combine extra virgin olive oil and dry spices until right before serving.

If you've made this recipe at home, come back and let us know how it was!
Recipe Video
Recipe Notes
All elements are optional. I've been informed that the actual recipe doesn't have rosemary, however I happen to like it, so I include it. 
Nutrition Facts
Copycat Carrabba's Olive Oil Bread Dip
Amount Per Serving
Calories 58
Calories from Fat 18
% Daily Value*
Total Fat 2g 3%
Sodium 454mg 19%
Potassium 50mg 1%
Total Carbohydrates 1g 0%
* Percent Daily Values are based on a 2000 calorie diet.