Roasted garlic is a staple in my house. The smell is intoxicating and the taste even better.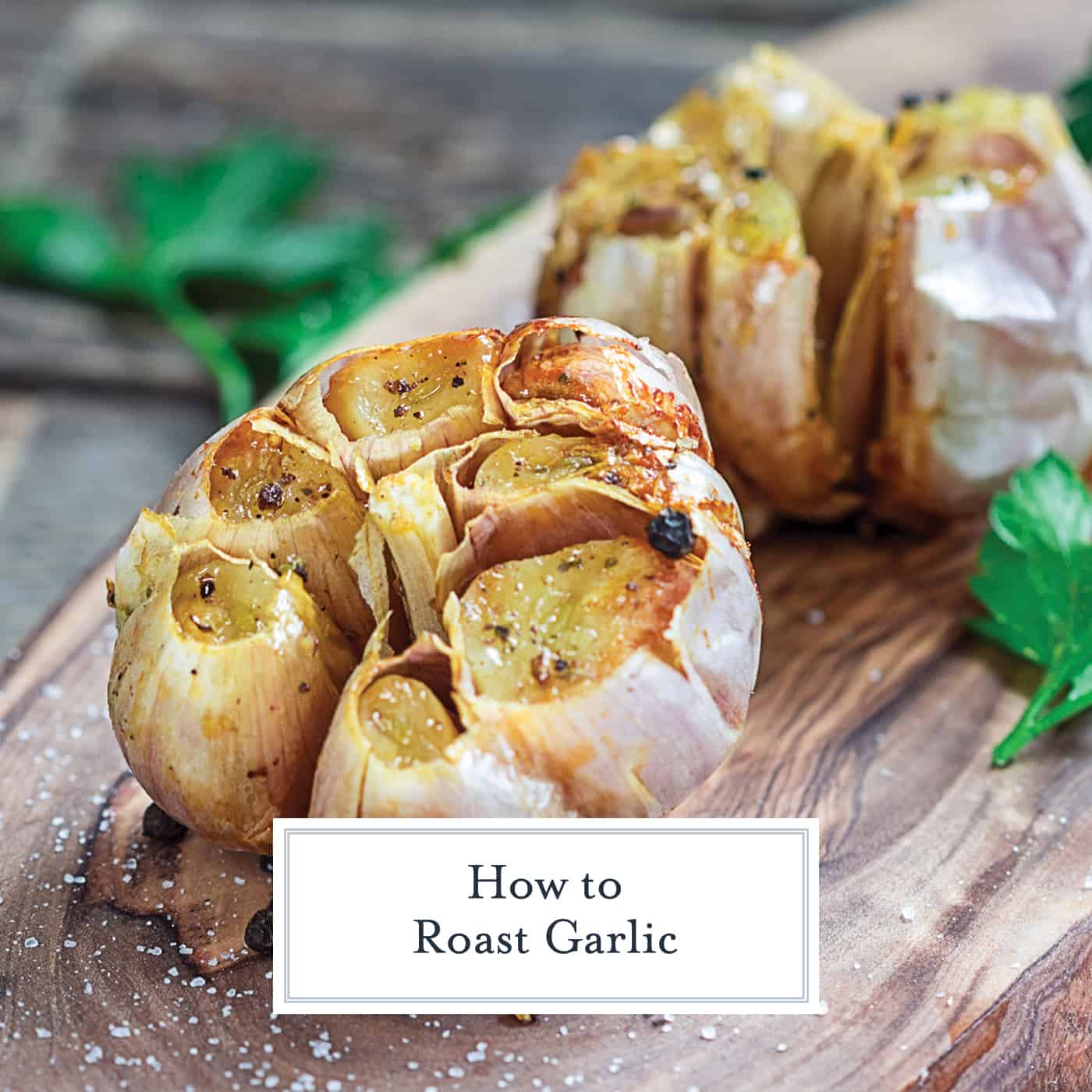 Simple, easy-to-follow steps on how to roast garlic. Roasted Garlic adds a muted, buttery, browned garlicky flavor to any dish that calls for garlic. If can also be served alone on bread or a charcuterie platter.
Yankee Candle should start making a "Roasted Garlic" scent, I'm certain it would be popular! Smooth and creamy, roast garlic can be spread onto a piece of bread, eaten alone or added to any number of recipes.
"And, most dear actors, eat no onions nor garlic, for we are to utter sweet breath."
William Shakespeare (1564 – 1616)
'A Midsummer Night's Dream'
Garlic is also historic. Dating back to ancient Egypt, garlic was left in tombs to symbolize a protector of the soul and guardian of the deceased riches in the afterlife.
It was used in food preparation as one of few ways to add robust seasoning. It uses spanned cultures, as it is growable in nearly any climate except extreme cold.
Garlic can be farmed in containers or outside in the dirt and also has a fast production cycle. It is one of few foods seen throughout every culture of food even today, although it is most notably associated with Italian dishes.
It is also deemed to be one of the healthiest foods. The taste and flavor profile is uniquely changed based on the cut or crush, ranges from spicy to sweet. The more cuts, the more garlicky flavor.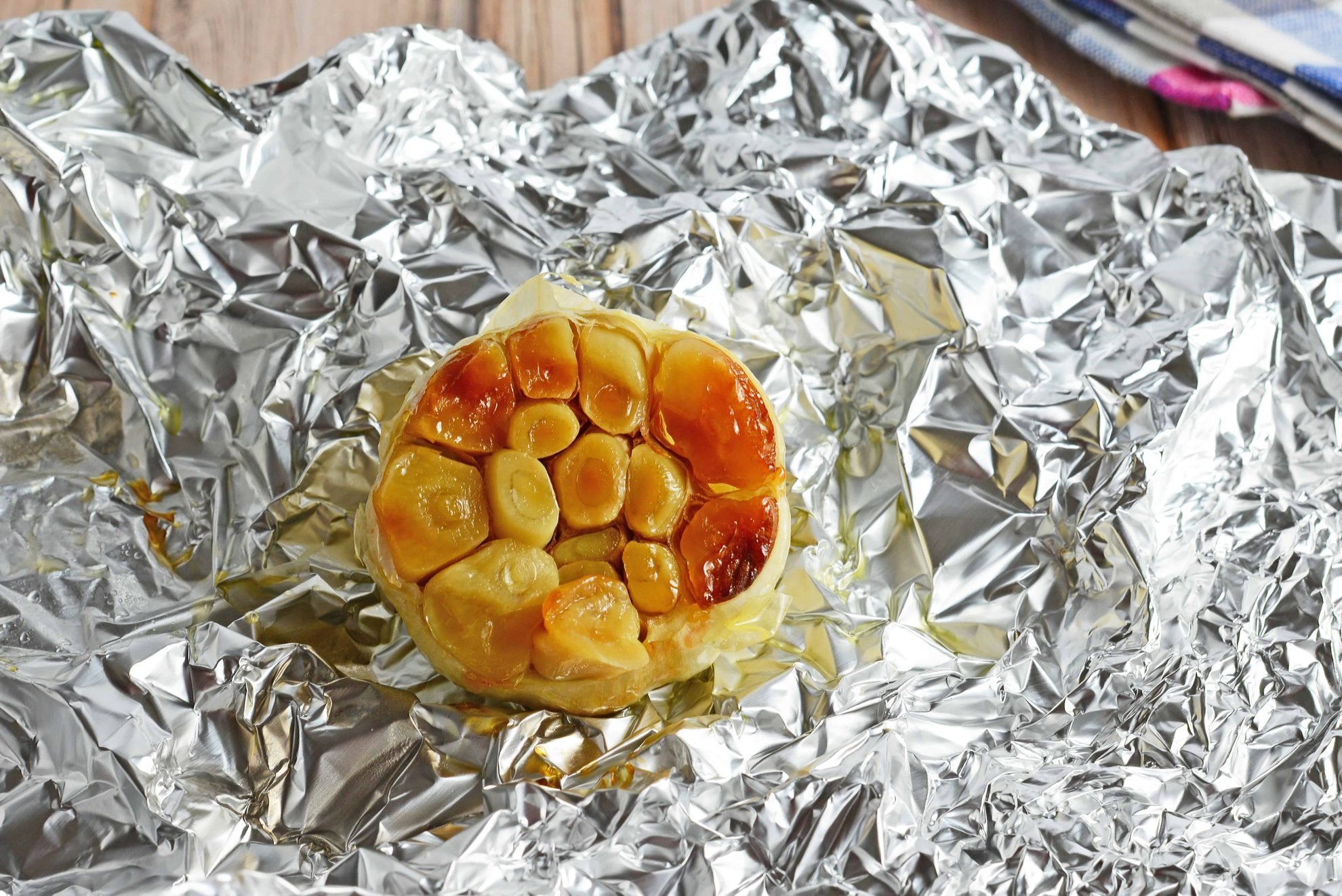 Crushed garlic will have the most extreme taste, while a simply sliced garlic will have the least. Whole cloves actually have the least because no cells have been severed. Forty clove chicken sounds like it would be overpowering, but actually has has rich, buttery flavor since the garlic is roasted.
Roasting garlic is one of our favorite ways to enjoy the bulb. It tames down the heat, caramelizes and becomes a glorious ingredient or snack. Similar to garlic confit, it is an utterly amazing condiment.
So now you want to know how to roast garlic, do you? Simply cut off the woody stem on the whole bulb, drizzle lightly with olive oil, wrap in aluminum foil and roast.
In about 25 minutes you should have a golden brown, caramelized garlic bulb. You'll be tempted to eat the whole thing immediately, so I suggest you make two. Or three.
Here are a few more fun facts about garlic:
Garlic is garlic. WRONG! There are 300+ different types of garlic. The most common types are hardneck garlic (most likely what you get at the store) and more recently, black garlic which makes for one show stopping and dramatic Cesar salad dressing!
The bulb isn't the only thing edible. The stems, known as garlic scapes, are also edible tasing a lot like scallions (green onions) and are perfect for pesto, salads and garnish due to their fun shapes.
Most people associate garlic with Italian cuisine, however it is indigenous to central Asia and Africa. Currently, China is the largest producer of garlic. In the United States, California is the largest producer, but it is also one of the most commonly homegrown plants.
On average, each human will eat about 300 garlic cloves per year. This is an average. I probably consume about 1,000!
Garlic is linked to reducing inflammation, cholesterol and also being antifungal and antibacterial. In fact, the health benefits of garlic are so vast that some people consume garlic capsules as part of their nutritional supplements. I prefer to eat my health benefits, so I include garlic in at least one recipe per day.
Leeches are attracted to garlic. Yuck, I know.
Garlic can be used as glue! The sticky juice can be used as an adhesive for fragile items like glass. Get that job done, MacGyver!
Since garlic is antibacterial, it can also be used like Neosporin. Simply slice open a clove and apply directly to irritated skin for as long as you can stand it. I've never tried this and I am NOT a physician, this is just legend and I image it will STING!
Garlic is a member of the Lily family, which also includes onions, leeks and shallots.
There is a serious phobia of garlic known as Alliumphobia.
Recipe that use Roasted Garlic: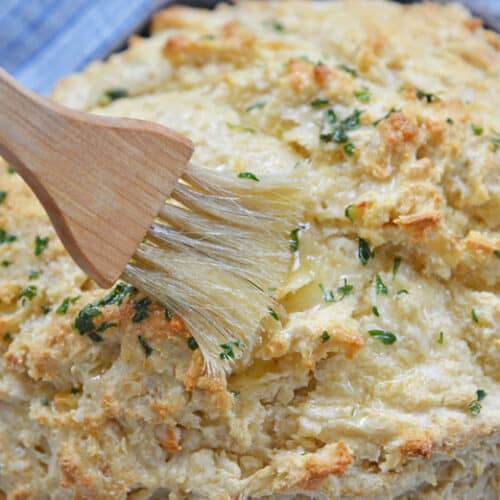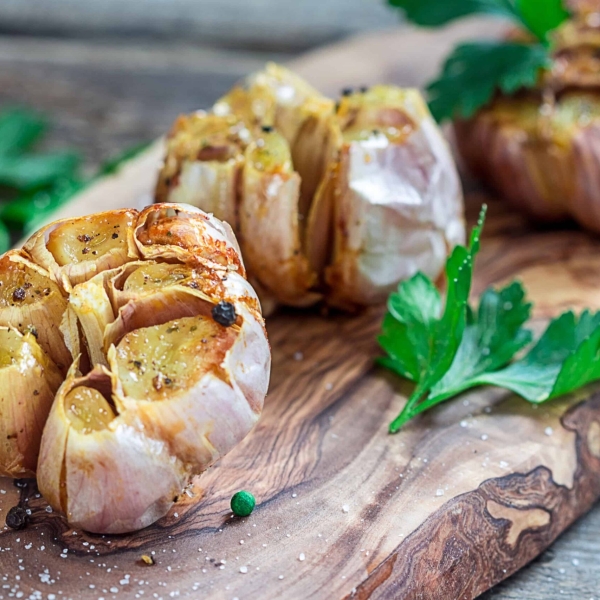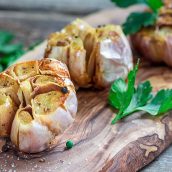 How to Roast Garlic
Simple, easy-to-follow steps on how to roast garlic. Roasted Garlic adds a muted, buttery, browned garlicky flavor to any dish that calls for garlic. If can also be served alone on bread or a charcuterie platter.
Instructions
Preheat oven to 350 degrees.

Cut off the top of an entire head of garlic.

Stand up on a large sheet of aluminum foil. Drizzle with extra virgin olive oil. Wrap with aluminum foil.

Bake for 20-25 minutes. Remove and allow to cool before using in recipes.

If you've tried this recipe, please come back and let us know how it went!
Nutrition
Calories:
128
kcal
,
Fat:
14
g
,
Saturated Fat:
1
g
,
Vitamin C:
0.9
mg