Honeycomb pasta recipe cracks me up. You know how they say trends come back around? Welp, the same is true with food as it is with fashion. I've been making this recipe for a long time, as in the first time was 15 years ago!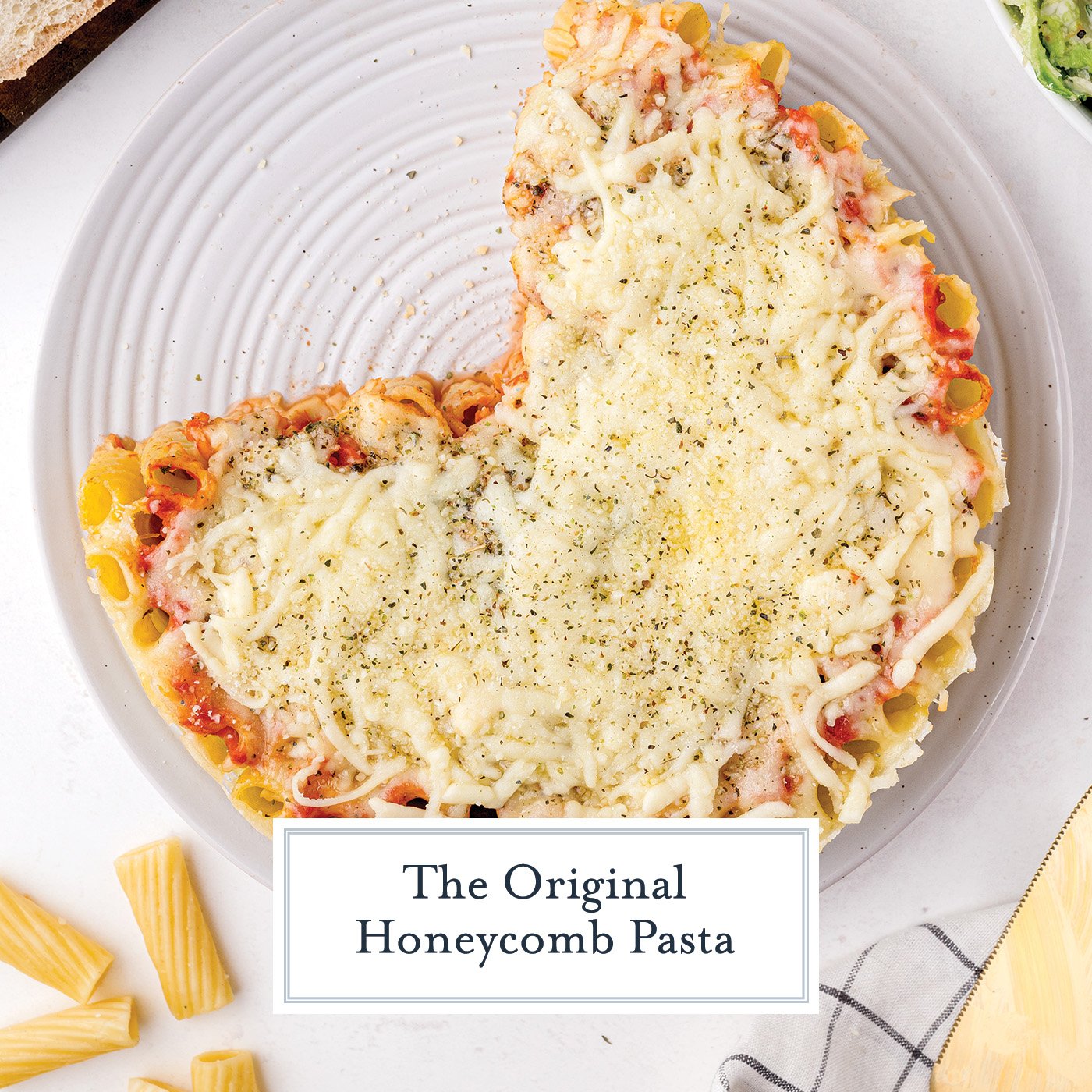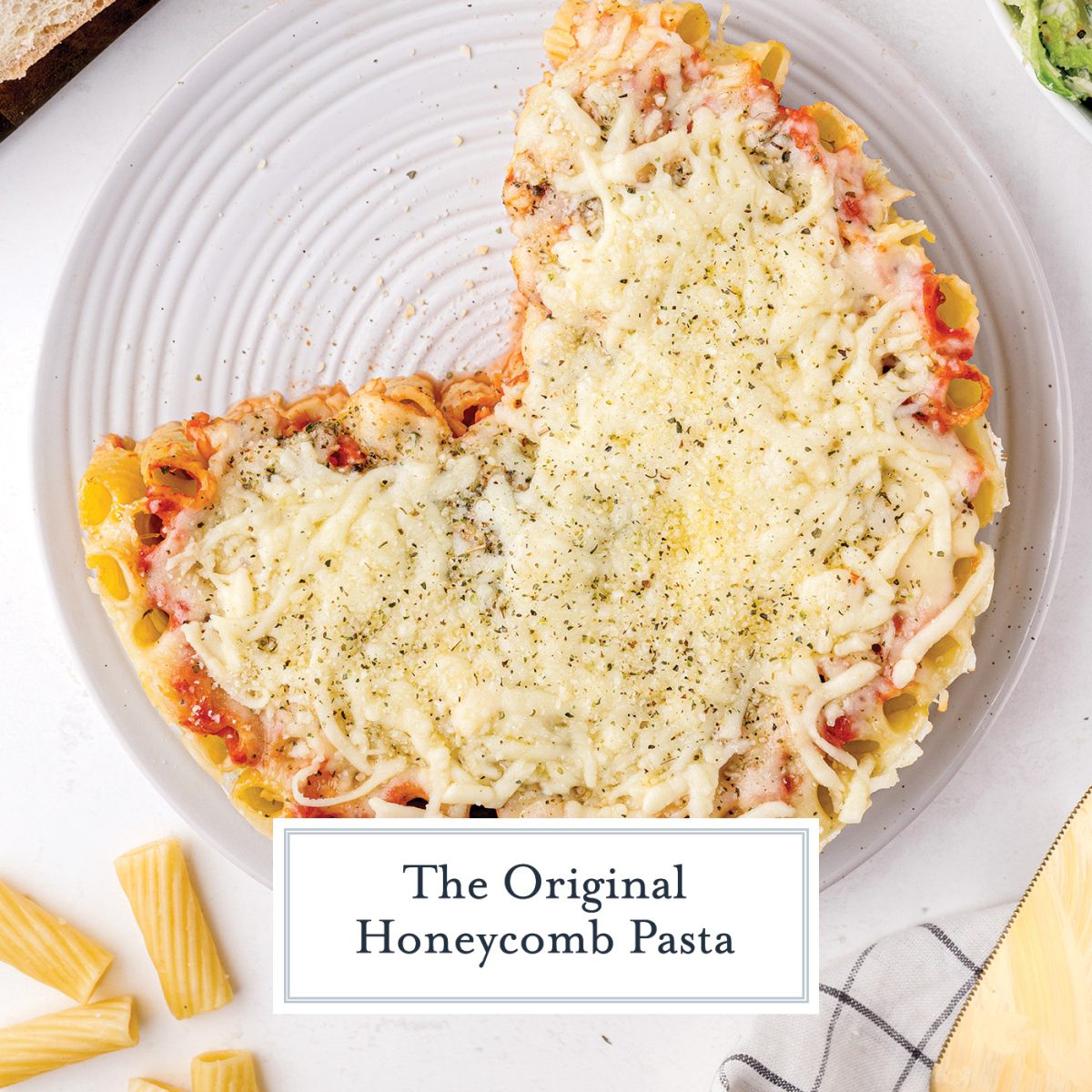 This recipe was originally called Baked Ziti Pie and it was one of the first recipes I posted when I started food blogging 10 years ago. This was before TikTok or even Instagram. Photos (And no good ones) on Facebook were all we had to share fun recipes.
Then I saw TikTok users going bonkers with everyone in shock and awe of the honeycomb pasta food trend. It's not new!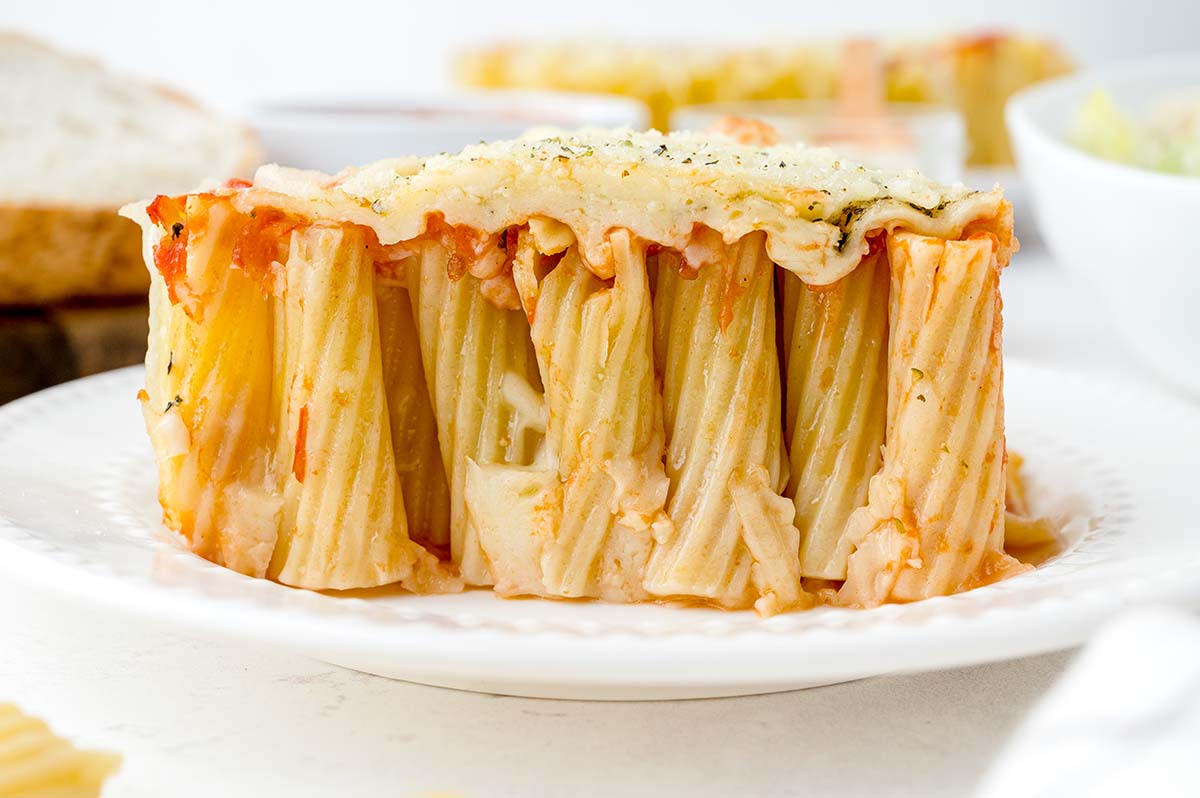 What is Honeycomb Pasta?
Honeycomb Pasta, aka Honeycomb Pasta Cake or Rigatoni Pie, used to be called Baked Ziti Pie, but it does resemble the formation of a honeycomb. It is certainly a recipe for a type "A" or slightly OCD personality. Not saying that is me or anything, ahem, ahem.
This pasta recipe takes a little bit more time to patiently stack individual ropes of pasta, but man it looks so darn cool and a fun way to serve dinner! Cheese, along with tension, are the glue that holds it all together and a basic tomato sauce keeps it moist.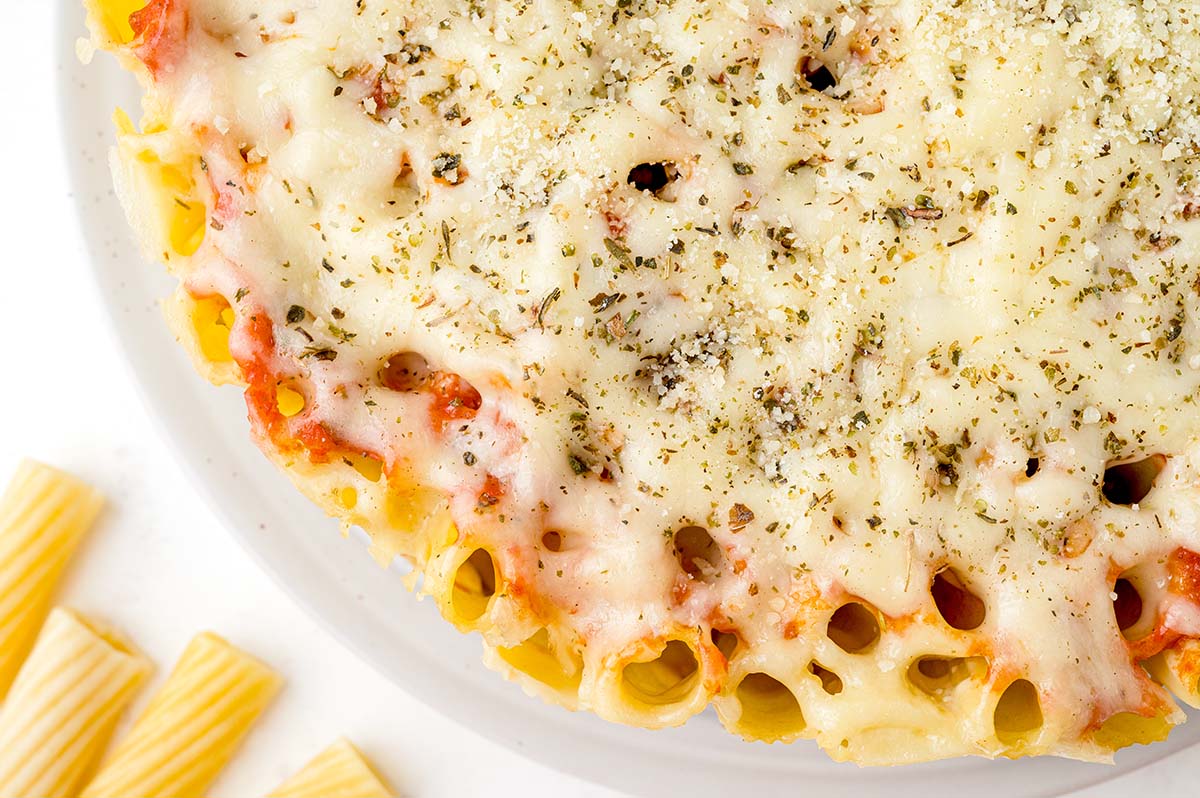 What Type of Pasta to Use
Tubular pasta shapes are what you need making ziti or rigatoni the best bets. Ziti pasta is long and straight with a smooth exterior. Rigatoni pasta is similar, but has ridges on the outside and is wider in diameter. The ridges are actually great for clinging to the cheese.
Some folks have used penne, which has the benefit of a smaller diameter and ridges on the outside, but the issue of diagonally cut edges. This makes it harder to place, unless you have the time and focus to cut all the edges after boiling. If you do, be my guest!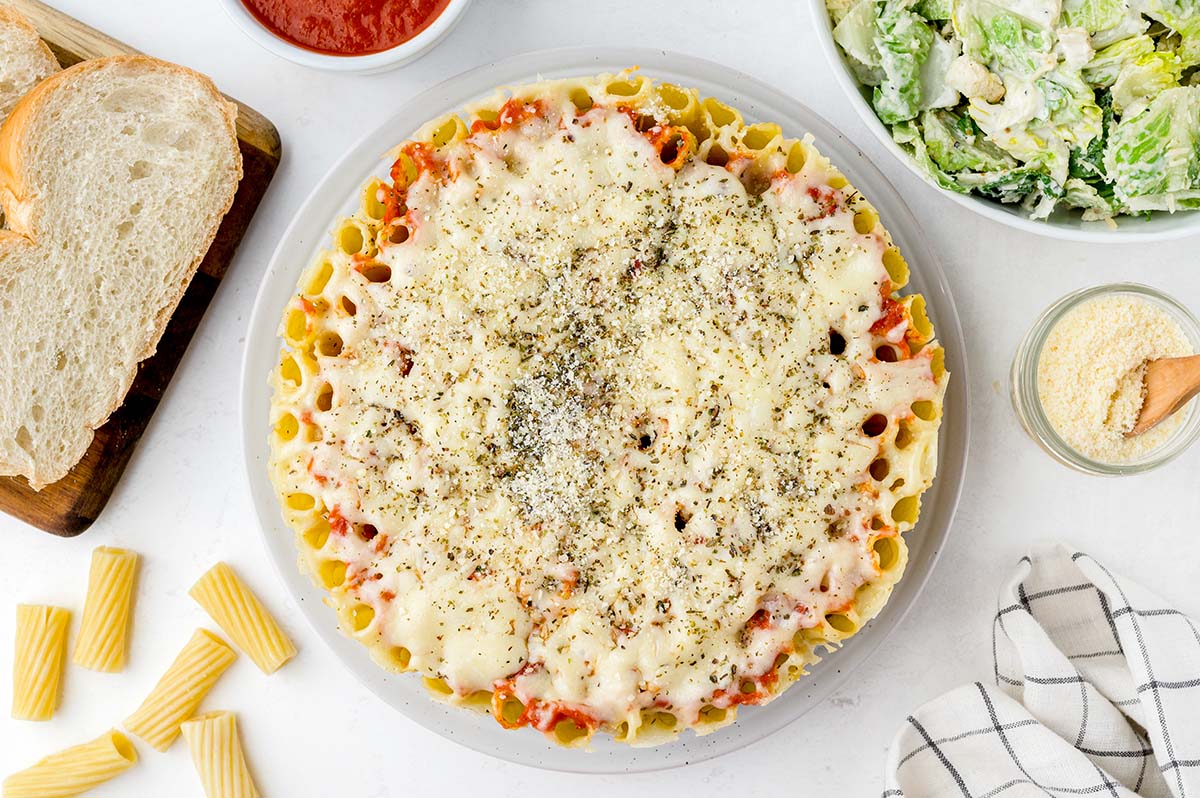 Ingredients
The ingredient list is short and sweet- it is really the look of it all that is the showstopper.
Ziti– Or rigatoni, as noted above, cooked al dente, drained and cooled. Mostly just cooled so you don't burn your fingers.
Coarse Kosher Salt- For the pasta water. If you are cutting back on sodium, omit this, but it does enhance the flavor of the pasta.
Marinara Sauce– Make your own or buy a jar of marinara. I personally like something with a little texture or even large pieces of tomato. You won't use too much on the actual pasta, but I serve it a little bowl on the side. You can also use a vodka sauce or pink sauce for pasta.
Fresh Mozzarella Cheese– Use a low moisture, whole milk mozzarella. Low moisture means when it melts, it won't get all soupy. The pasta will absorb some of the residual moisture. For best results and cheesiness, freshly shred the cheese instead of buying a bag of pre-shredded cheese that is tossed in starch and often gets a little gummy or dry. If you've wanted to try making your own, we have fantastic instructions for homemade mozzarella cheese– it's easier than you think!
Italian seasoning– For more flavor! We love our homemade Italian seasoning.
Black Pepper– To balance the flavors.
Parmesan cheese– Or pecorino- something a little harder and saltier. Who says no to more cheese?
Cooking spray and parchment paper – To prevent sticking. No one wants to go to all of this work for it to fall apart when you attempt to take it out of the pan, right?
Springform Pan Cake Pan- I've seen folks try to use a regular circular cake pan, but have issues when they tip it out. Even though the pasta should be similarly sized, it isn't perfect and the new "bottom" will be slightly uneven.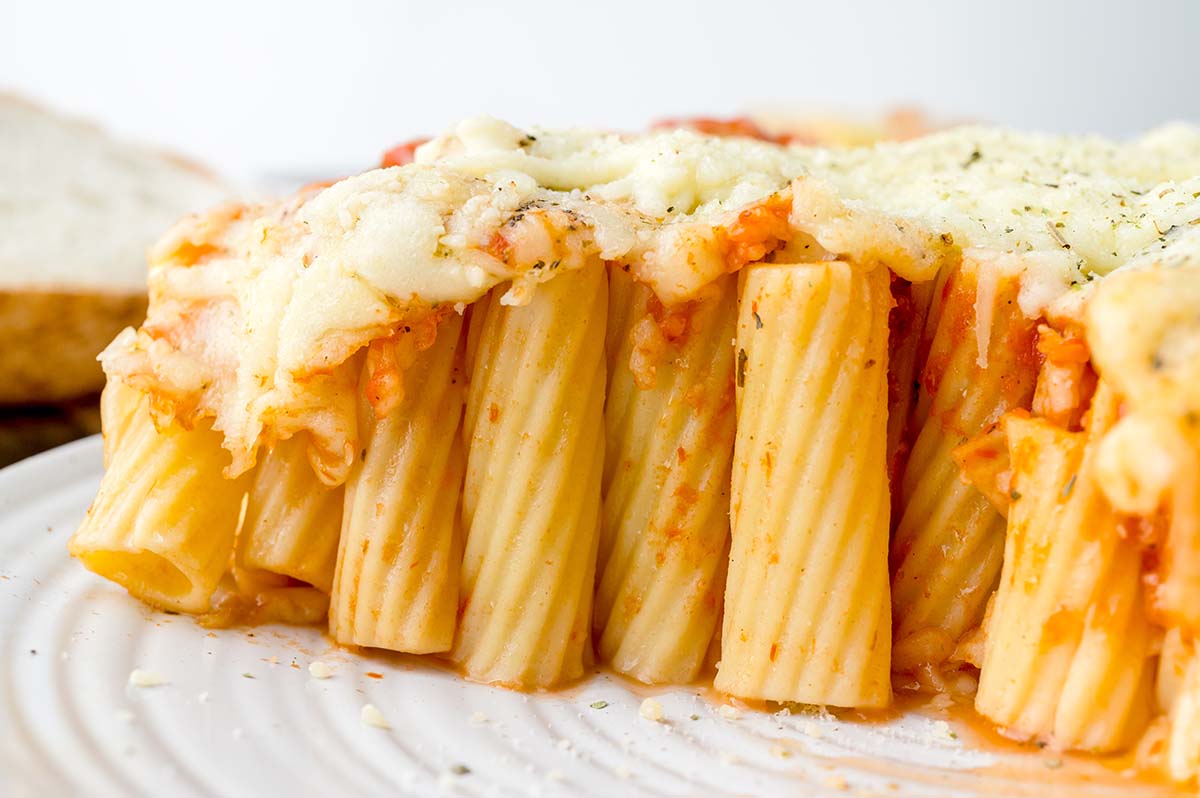 How to Make Honeycomb Pasta
This recipe does take a little time and patience, but is not technically difficult if you understand why you are doing what you are doing.
Cook pasta with salt according to package directions for al dente. Drain well and place in the refrigerator for 1 hour. This gets out all of the moisture and makes it easier to work with. Wet pasta won't absorb the moisture from the cheese or marinara sauce and has the tendency to fall apart.
Line a 9-inch springform pan with parchment paper, one long, narrow piece along the sides and a circular piece on the bottom. Making sure the cheese doesn't stick is the key to making it all stay together. Spray all sides generously with cooking spray.
Preheat the oven and start to build the pasta cake.
This is easiest way to do this is to prop the springform pan on its side. Either balance between the springs or secure it with bowls on either side.
Start with a few shreds of cheese and then start lining the pan with ziti pieces. After every other layer, sprinkle just a few shreds of cheese to help bind them together. Remember, the cheese is the glue, so don't be stingy about making sure it comes in contact with the pasta. Continue this process until the pan is all the way filled. If you have any pasta remaining, find spaces where they aren't fitting so snug to make the honeycomb pattern. Tension will help the pie stick together in the pan and when you pop it out. One pound of dry pasta should be just enough to fit into the 9-inch pan.

Fill any other holes with cheese, including the insides of the pasta and then top with some marinara sauce, tapping to get it down in there good. Sprinkle with the remaining mozzarella cheese, Italian seasoning and black pepper.

Bake until the cheese is bubbling and browned. remove it and let it rest for at least 10 minutes before trying to remove from the pan. After removing the metal sides and strip of parchment, you should be able to carefully slide the bottom piece of parchment, with the pasta, to a plate or serving platter.
Garnish with the grated Parmesan cheese and serve with the remaining sauce for dipping. Slice it into a slice of pie!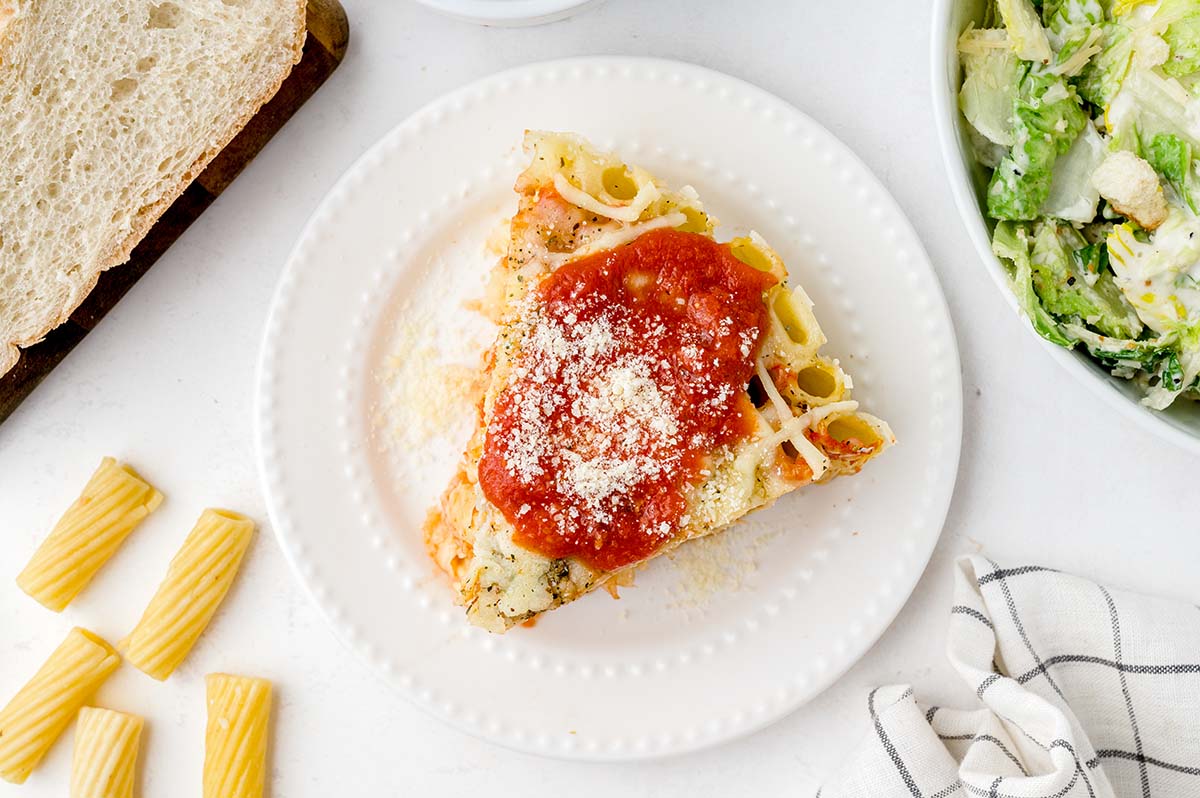 Tricks for Honeycomb Pasta
Do not over sauce. Instead, serve sauce on the side. Sauce will weigh down the cheese (glue).
Use plenty of the glue (cheese).
Don't eat the pasta tubes while you place it in the cake pan. My husband came along and swiped a fist full. He later had to make an extra trip to the grocery store because you will need every little piece in that one pound box.
VERY carefully remove the pasta from the springform pan and use pot holders. It can get slippery and it is very hot!
The first time you do this, it is a little tedious, but you'll be hooked. It does get easier!
Variations
We always encourage you to put your own spin on our recipes. Have fun in the kitchen!
Swap the sauce- We used a traditional marinara sauce, but anything from fra diavolo, vodka sauce, bolognese sauce (with small bits of ground beef or sausage) or even alfredo sauce will work.
Swap the cheese- Anything melt and gooey. Provolone and fontina, or any blend of the three is delicious.
Spice it up! – You know I like anything that makes my nose sweat. Add crushed red pepper or aleppo pepper flakes or use a spicy sauce.
Ricotta Topping– I love the texture and cool complexity of ricotta cheese, but it is too heavy to go in the actual pie. Serve it few dollops on top.
Fresh from the Garden– You can also top it with fresh cherry tomatoes cut in half or shredded basil leaves.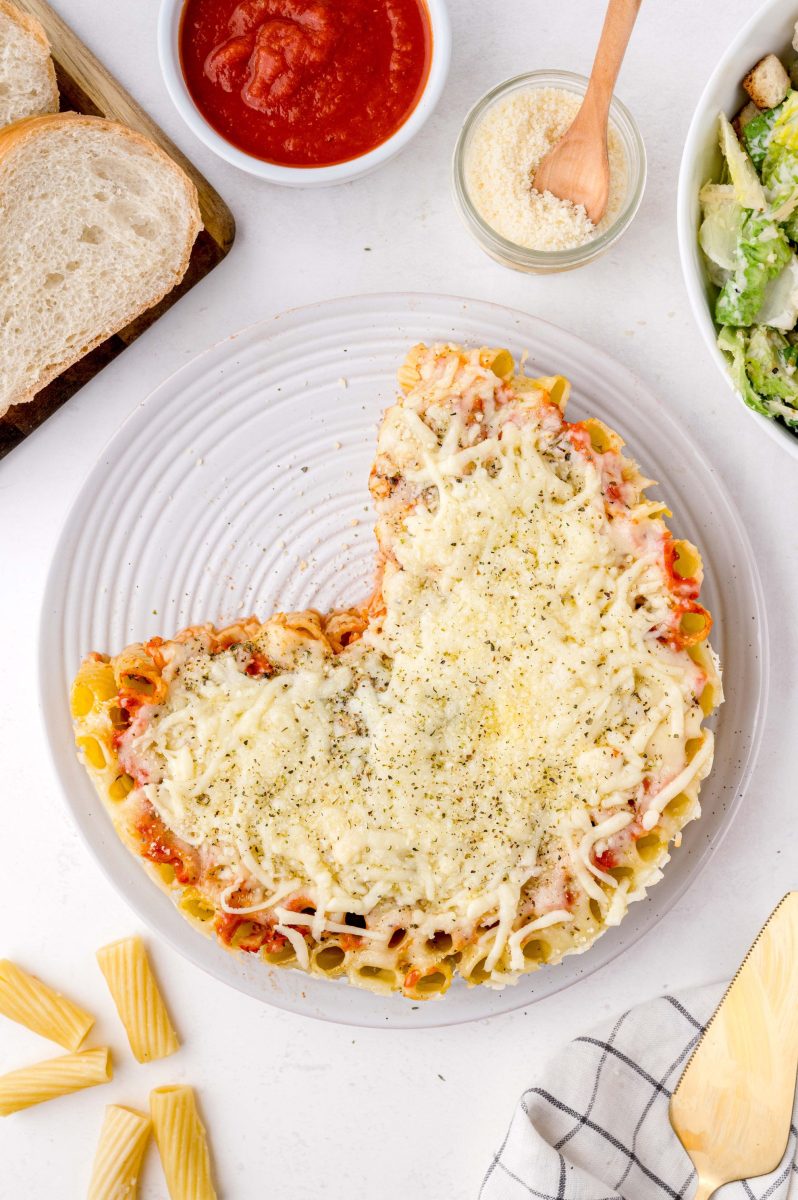 Storage & Reheating
Storage & Leftovers: Honeycomb pasta needs to be stored in an airtight container for up to 5 days. Reheat in the oven or the microwave.
Freezing: I do not recommend freezing this recipe, it doesn't hold it's shape well.
What to Serve with Honeycomb Pasta
Although it looks small, it is a full pound of pasta and will feed 4-6 people as a side dish. Make meatballs or Italian sausage on the side and serve as the main meal.
Serve with a starter of olive oil bread dip, chewy Focaccia Bread, garlic bread spread or a nice green salad for a full meal for the whole family.
Don't forget dessert, like Tiramisu cups, cannoli dip or cannoli cupcakes.