This is my favorite way to use our classic garlic Alfredo sauce. I pair it with rosy shrimp, plump peas and roasted red peppers for a vibrant, juicy and creamy pasta dish that is easy enough for a weeknight, but tasty enough for a dinner party.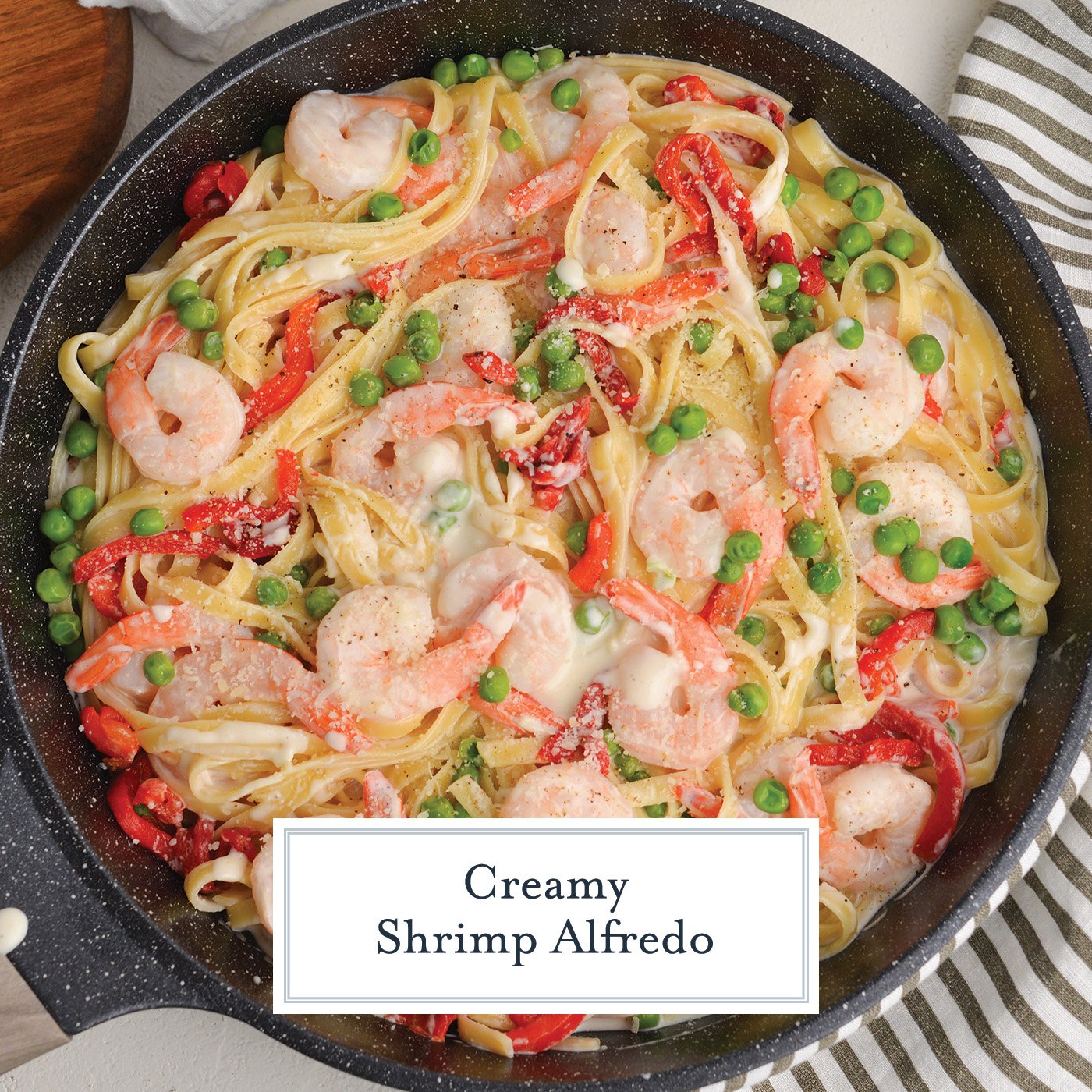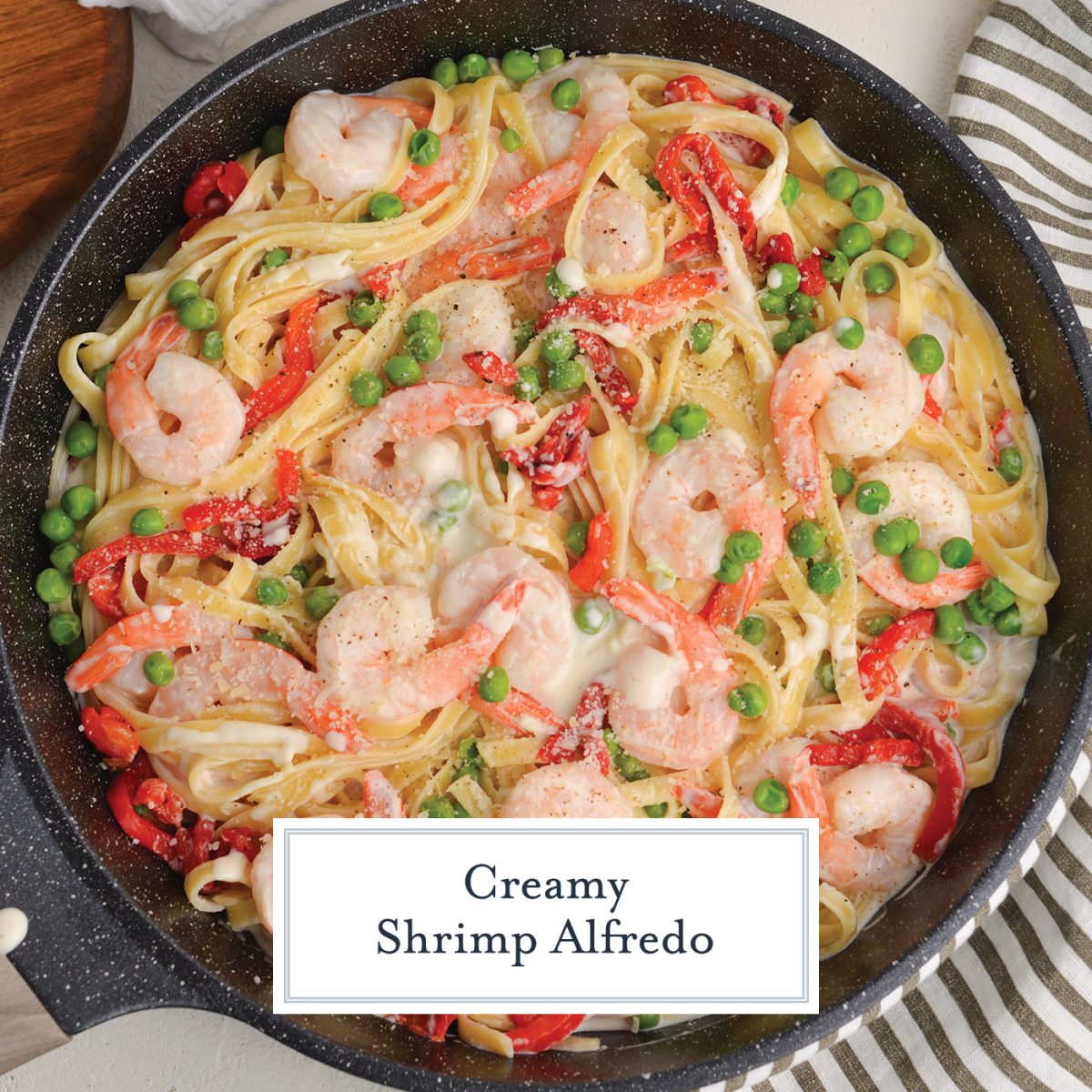 What is Alfredo Sauce?
Fettuccini alfredo is a classic Italian recipe used in many different dishes throughout the United States, most commonly fettuccine Alfredo. However, the name is virtually unknown in Italy.
Instead, this creamy sauce is simply referred to as "bianco" or "white" sauce. It is a quick cooking sauce, making dinner fast and easy, which is another added bonus. It is made from cream and cheese (not cream cheese).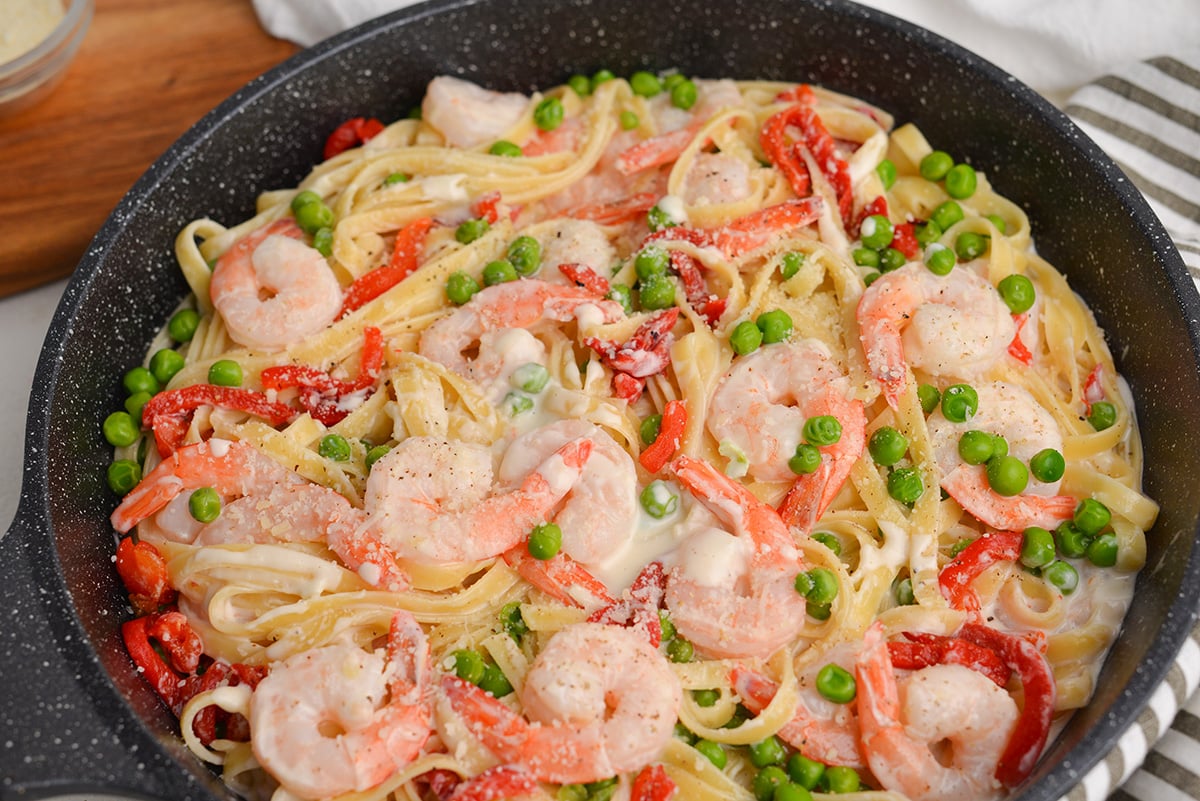 It is most commonly served with fettuccine, however alfredo sauce is actually better paired with some sort of shell or elbow because there are lots of nooks and crannies for the sauce to hide in. I also enjoy it over tortellini or linguine, another long strand, wide pasta. But really, just use what you like.
Ingredients for Shrimp Alfredo
This simple ingredient list is fairly short for this recipe. Feel free to use any other add-ins you desire, or need to use up in vegetable crisper. We have a whole list of ideas below!
Unsalted Butter– Unsalted allows you to control the salt levels. If using salted butter, omit the additional salt.
Fresh Garlic Cloves- This is not the time to use bottled minced garlic, which may taste sweet instead of garlicky. I am also a huge fan of garlic, so reduce to just 2 cloves cloves if you your palette is not the same.
Heavy Cream– Or heavy whipping cream (the difference is minor with fat percentages). If you are trying to cut a few calories, you can do 1 cup of cream and 1 cup of milk, but the sauce might be a little thinner than traditionally made. Half & half will have the same effect.
Parmesan cheese– Grab freshly shredded cheese or shred your own, do not use the shaker cheese! Parmesan reggiano or romano can be substituted or supplemented. A finer shred will help the cheese seamlessly melt into the sauce.
Coarse kosher salt & freshly cracked black pepper– If using fine sea salt, just add a pinch. Freshly cracked black pepper gives the best flavor, but if you desire a stark white sauce, omit this or use white pepper.
Roasted red peppers– Use the jarred kind so you don't have to mess around with charring, steaming and peeling. But make sure you drain them well and then even go a step further by dabbing them dry with a paper towel.
Frozen peas– You can use fresh peas, but add them a few minute earlier to make sure they soften. Do not use canned peas, which are already mushed and will give a pea mash for pasta sauce.
Cooked Shrimp– I grab a bag of precooked, large shrimp to save time, but feel free to steam your own. Other types of seafood like seared scallops, crab meat or langostinos are also great additions. As is chopped grilled chicken, salmon or even pan seared steak. Learn about ways to cook the shrimp below and also types of shrimp and sizes in our guide to shrimp.
Pasta- The most traditional is fettuccine pasta, but use whatever pasta makes your heart happy. No one will judge you. Cook it according to package directions for al dente. Flat long pasta and tubular pastas do best with this type of sauce.
Toppings– We like a sprinkle of flaky sea salt, crushed red pepper flakes or aleppo pepper, fresh parsley or more parmesan cheese or pecorino romano.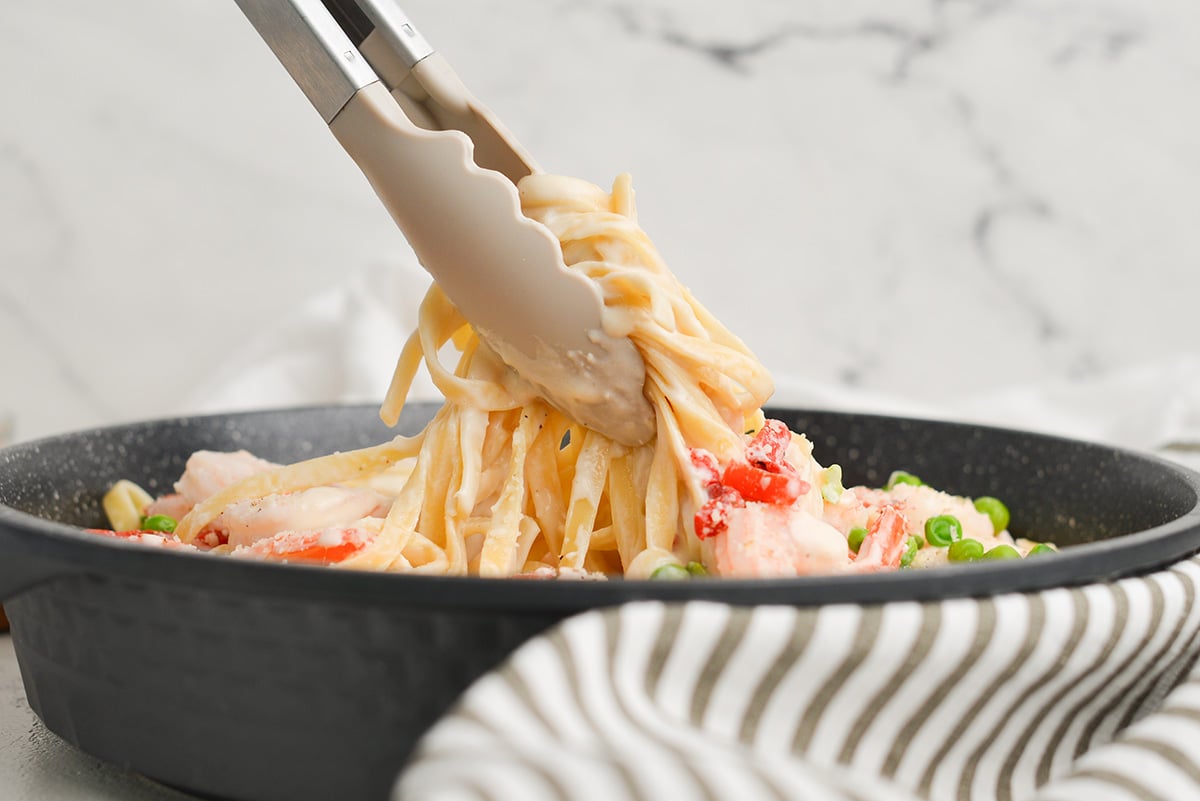 How to Make Shrimp Alfredo
Making this sauce is super easy and quick, but please do not crank the heat past medium. This sauce will separate and won't come back together if it gets too hot. The trick is infusing the liquids with garlic, then making them hot enough to melt the cheese, making it smooth, without overheating.
Cook your pasta of choice to al dente according to package instructions and ladle out 1 cup of the cooking water towards the end of boiling. Drain and set aside to make the sauce.
Melt the butter over medium heat and then saute the garlic until fragrant.
Add the cream and let it warm so it will be hot enough to melt the cheese. Whisk while adding the parmesan cheese so it smooths. A finer shred will result in the best meltability. If you just throw it in without stirring, it has the tendency to sink and scald to the bottom of the pan. If desired, season it with salt and pepper.
Make sure the roasted red peppers are drained and even patted so they are super dry. Too much liquid will shift the texture of the sauce. Also add the cooked shrimp and peas, stirring until all of these elements are heated. The sauce will lightly coat the back of a spoon, but not be globby or heavy. If it is, add a splash of milk or reserved pasta water to thin it out.
Toss the alfredo sauce with your cooked pasta and serve with desired toppings. If you cook your pasta ahead of time or it sits for more than 10 minutes in the colander, consider tossing it with a little bit of olive oil to prevent sticking and clumping.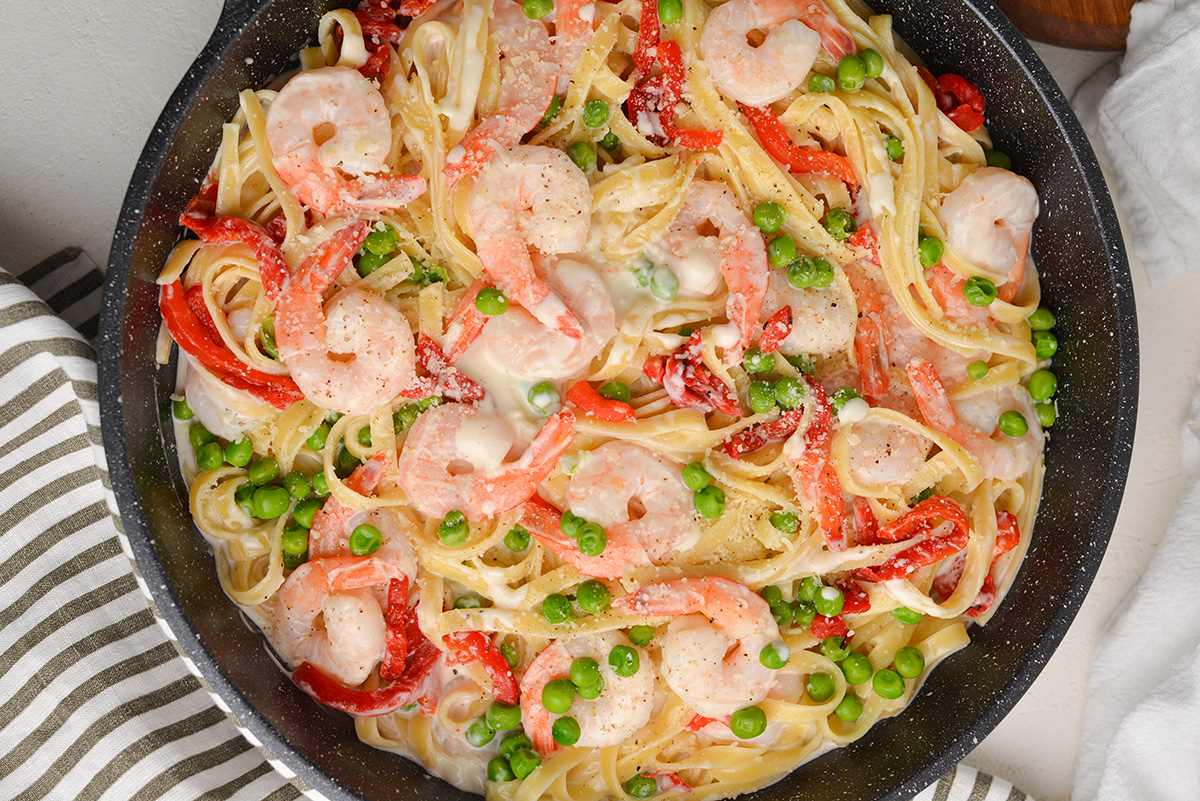 How to Cook the Shrimp
If you opted to not take the easy route and grab cooked shrimp, you have two easy ways to make them.
Heat a large skillet over medium-high heat with a teaspoon of vegetable oil or quick hit of cooking spray. Cook peeled raw shrimp in a single layer for 2-3 minutes on each side. Exact cooking time will vary based on the size of the shrimp. Do not overcook. Remove from the hot pan to prevent them from continuing to cook. For tender shrimp, cook hot and fast with a nice sear.
Steam the shrimp in a large pot using a steamer basket. Cook for 4-5 minutes, or until shrimp are pink. Drain and rinse with cold water to stop the cooking process.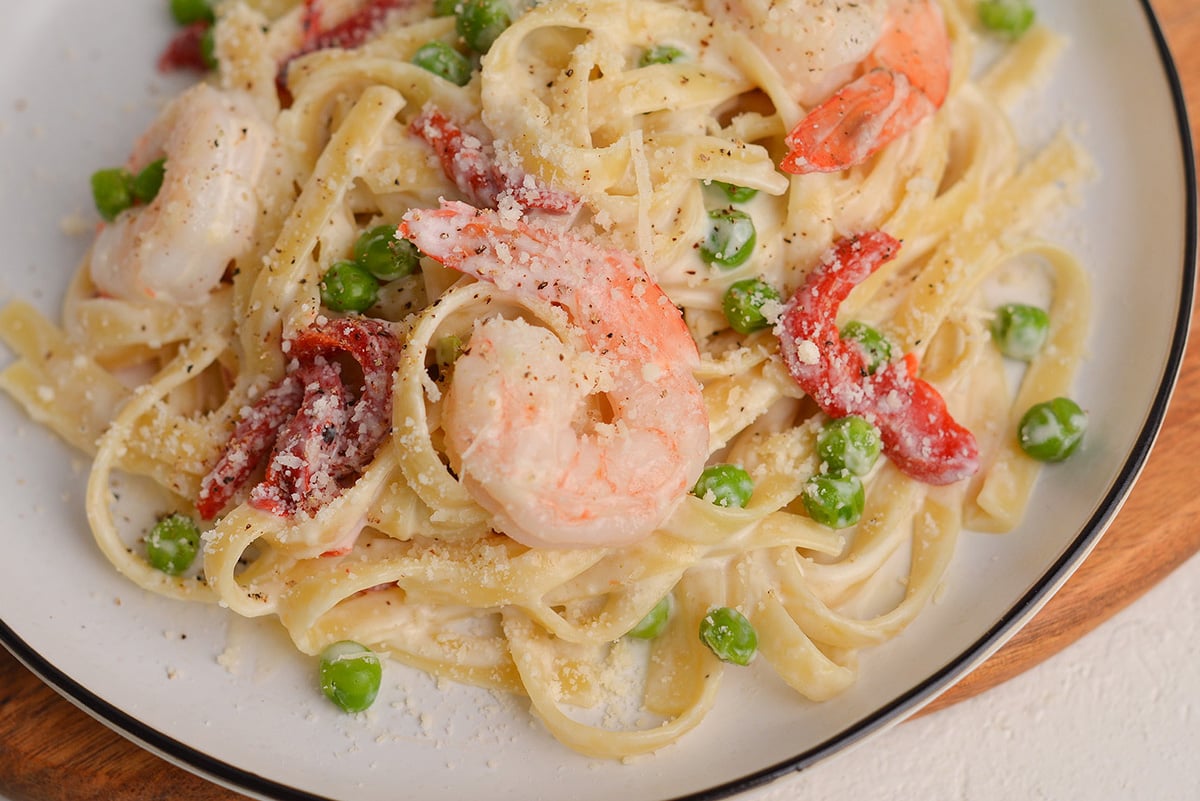 Variations
The options for what to add to your creamy homemade alfredo sauce are virtually endless. I like mine with seafood, mostly shrimp, scallops, calamari and salmon are also good choices. Many prefer chicken, but you can even use beef or sausage. Add as many vegetables as you want.
Even add a little salty bacon, pancetta or prosciutto, making it more similar to a carbonara (minus the egg). These are our other favorite additions.
Halved grape tomatoes
Sun dried tomatoes
Sliced mushrooms
Sliced olives
Cajun seasoning
Bell pepper strips
Sliced onion
Spinach
Kale
Why Add Pasta Water to Sauces?
This is a great question that I get all the time. I always encourage home cooks to reserve a little water when making pasta. Pasta water serves several purposes when making Italian dishes.
The first is that it is a slightly starchy liquid which can help to bind or thicken, without being too thick like a slurry. The second is that is has just a tiny bit of flavor. The third, and perhaps most important, is that the Italians beleive that adding pasta water to the sauce will bond the two elements together. Yes, it sounds hokey, but it's tradition!
At the end of cooking when the water is the most starched and flavored, simply ladle out 1-2 cups into a glass or heat proof measuring cup and set it aside. Many times, you won't even need it, but you'll be glad you saved it when you do.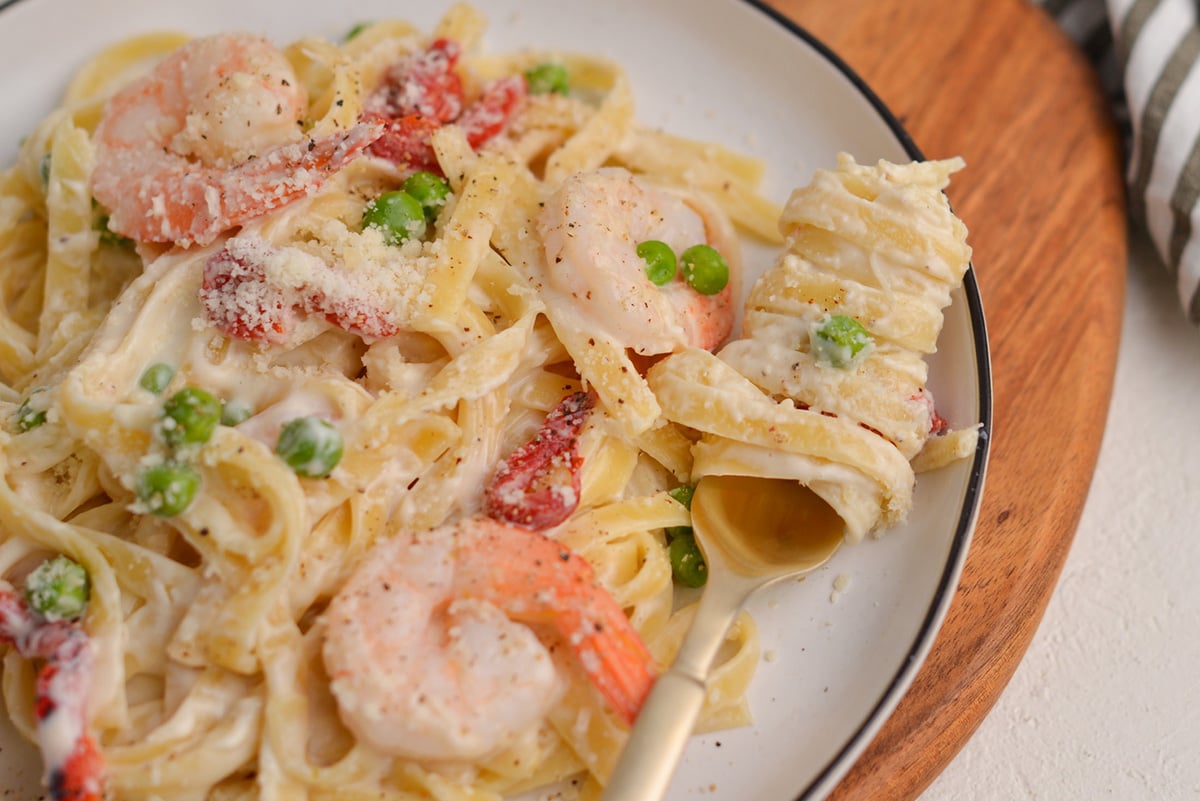 Pasta Water Substitutes
You aren't the first or last person to forget to reserve pasta water. I can't tell you how many times I've cursed at myself while draining the pasta making carbonara. The good news is that there are other options.
Hot water with a pinch of cornstarch or arrowroot. Use 1/4 teaspoon of starch for every 1 cup of hot water.
Splash of cooking liquid in the sauce– use whatever the sauce calls for which could be wine, cream, milk or broth.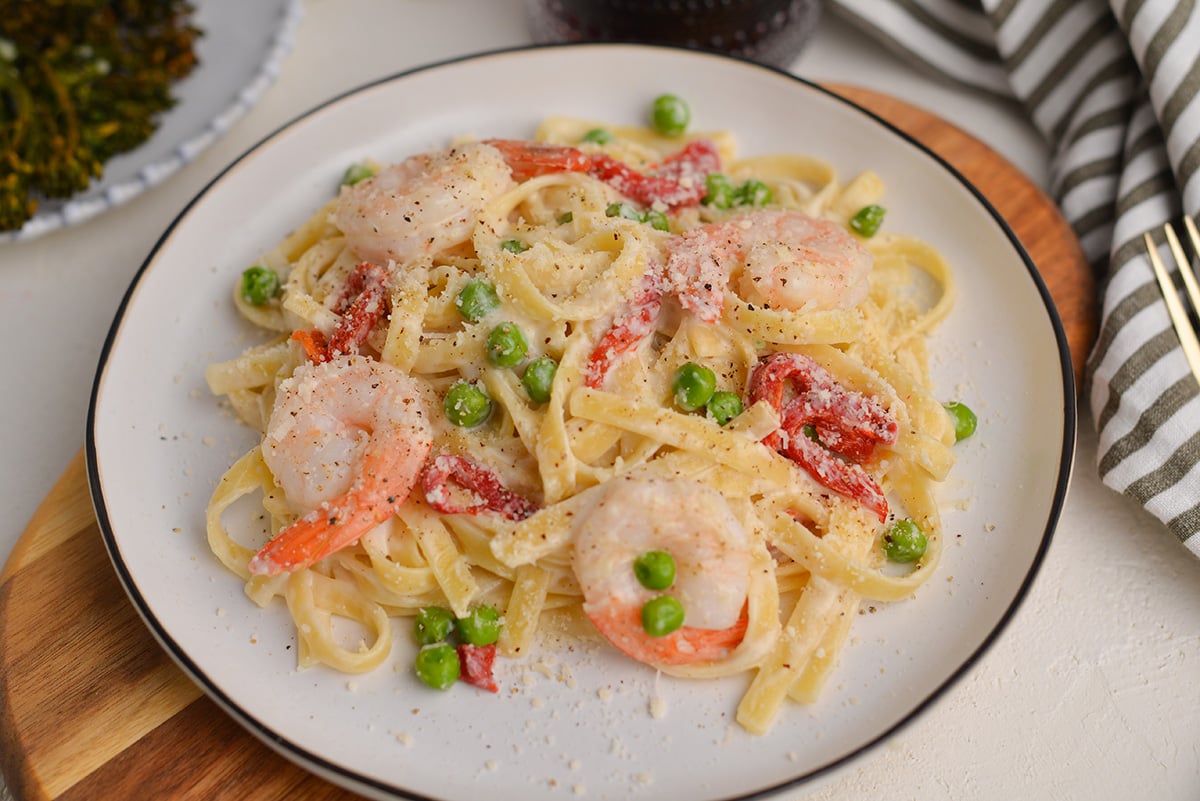 What to Serve with Alfredo
The best answer is a simple side salad and crusty bread with garlic bread spread or buttery garlic knots. But you can also use a rosemary focaccia or other type of bread. Broccolini and parmesan artichoke hearts are great on the side as well.
And don't forget dessert! We love tiramisu cups and cannoli dip or cannoli cupcakes.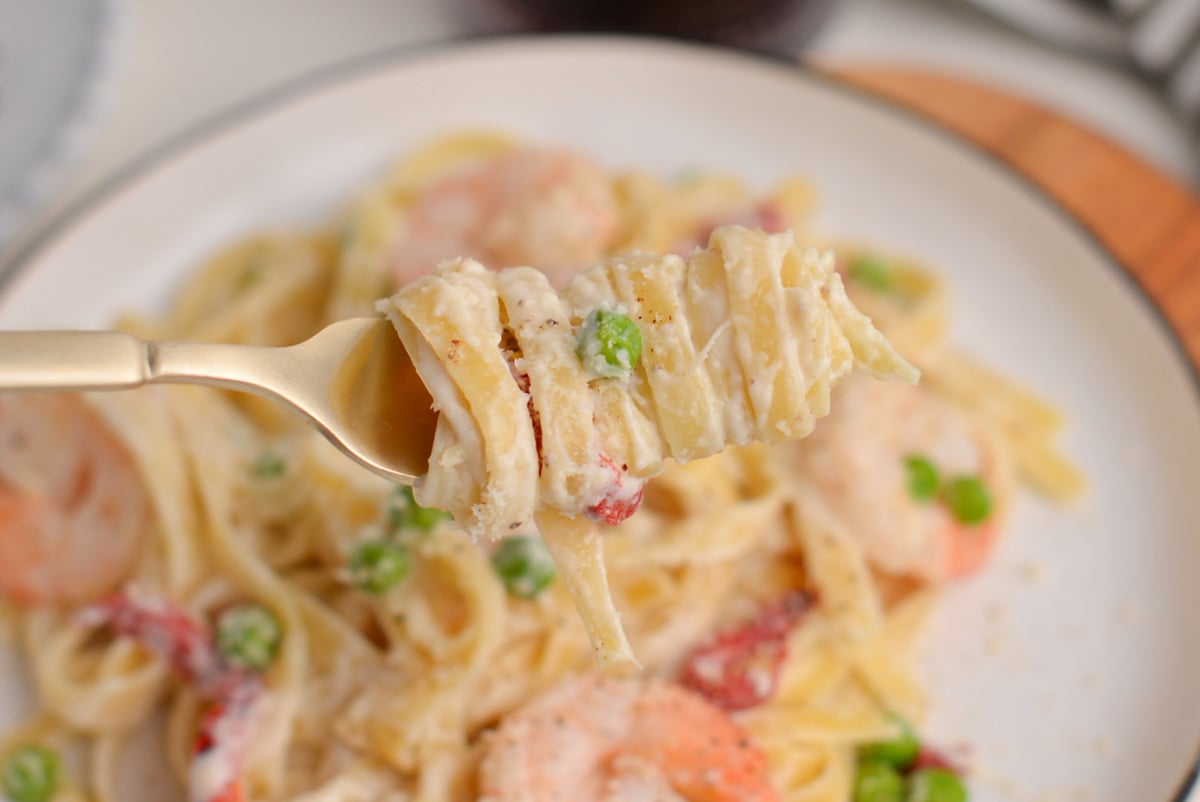 Leftovers, Reheating & Freezing
Storage: Store leftover shrimp alfredo in an airtight container in the refrigerator for up to 5 days. Reheat in the microwave or on the stovetop on medium heat until fully heated. The sauce will separate if it gets too hot, which commonly happens in the microwave.
The cold pasta will also suck up the sauce, making it seems dry. The best way to reheat alfredo sauce is to add a splash of milk or cream, toss, heat for 30 seconds, toss again, and continue until the desired hotness.
Freezing: I do not suggest freezing any type of alfredo sauce.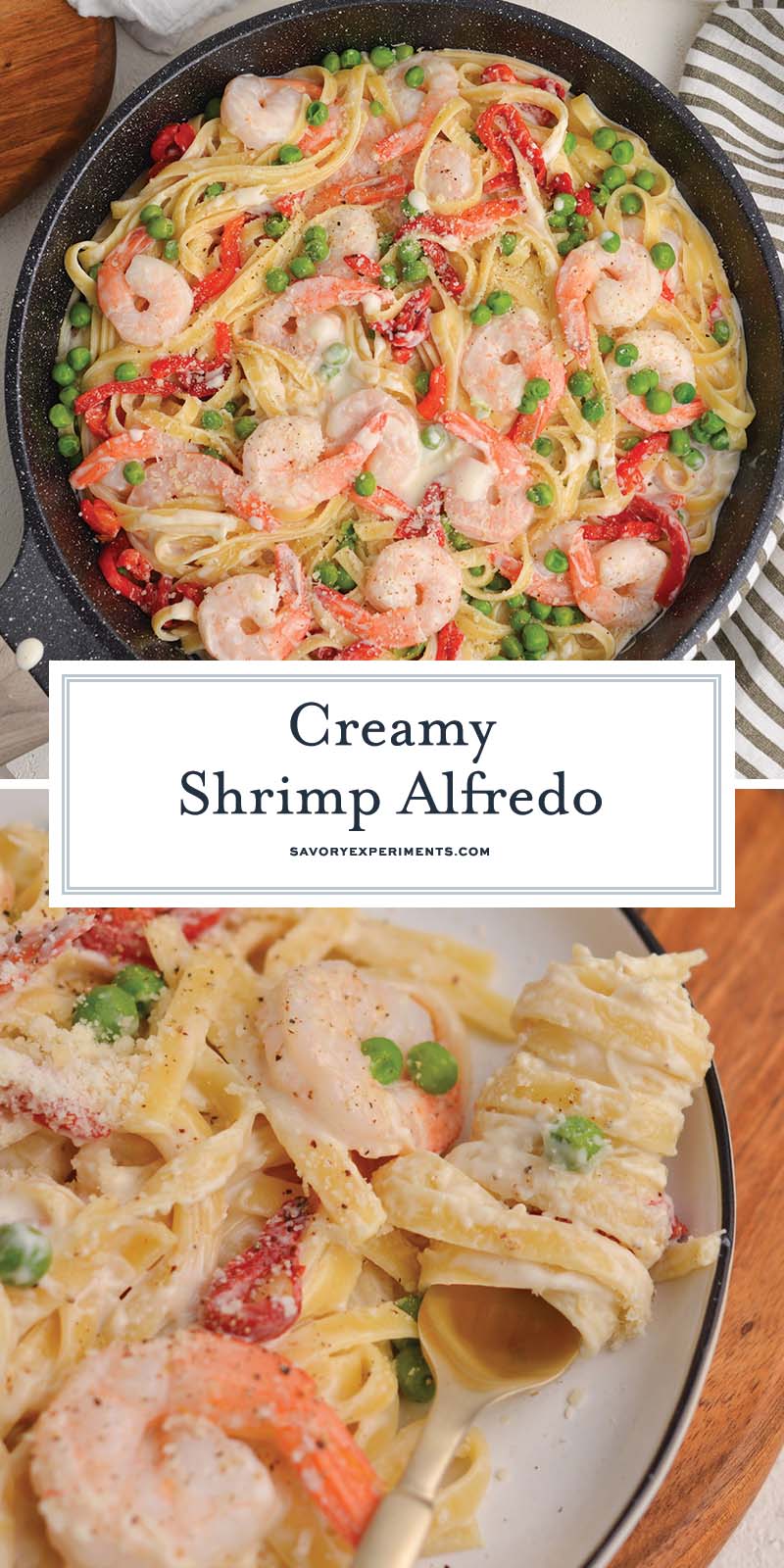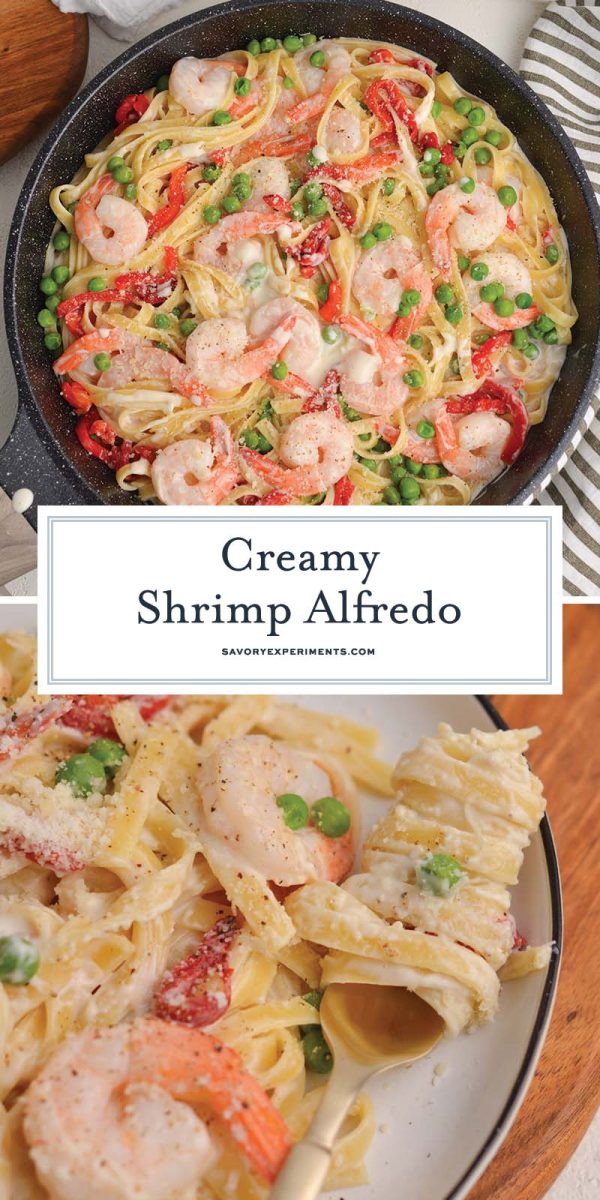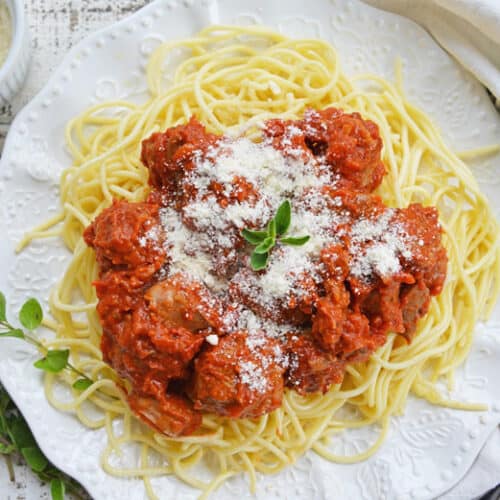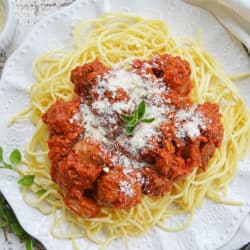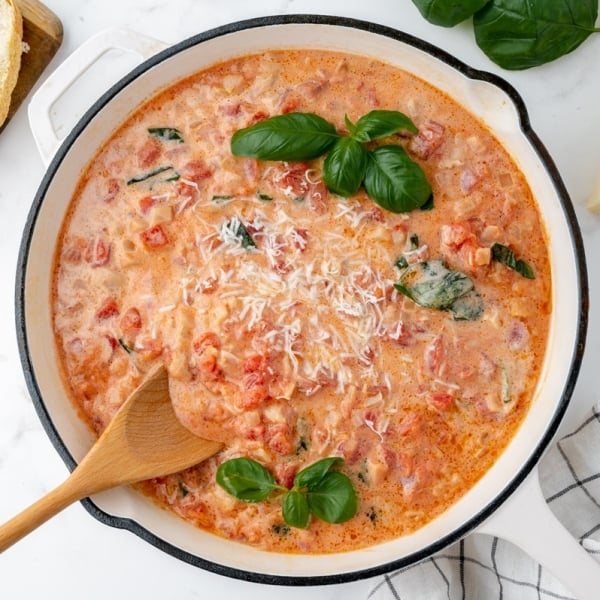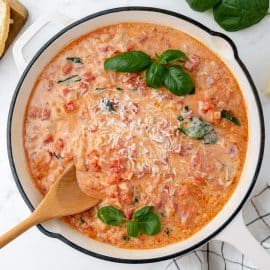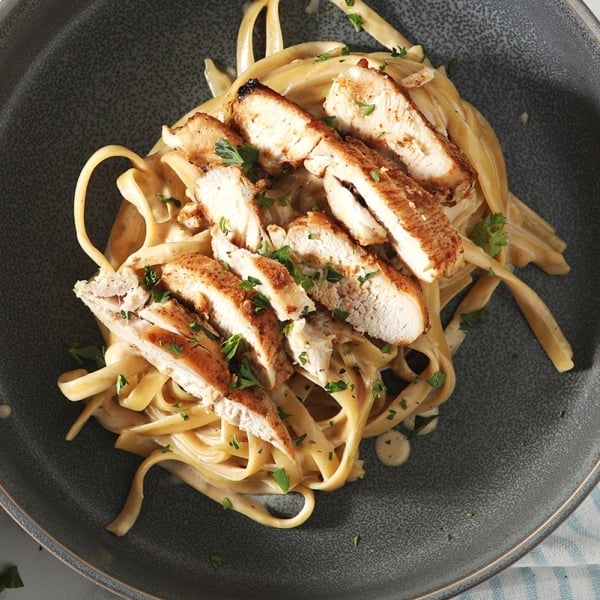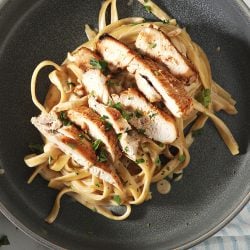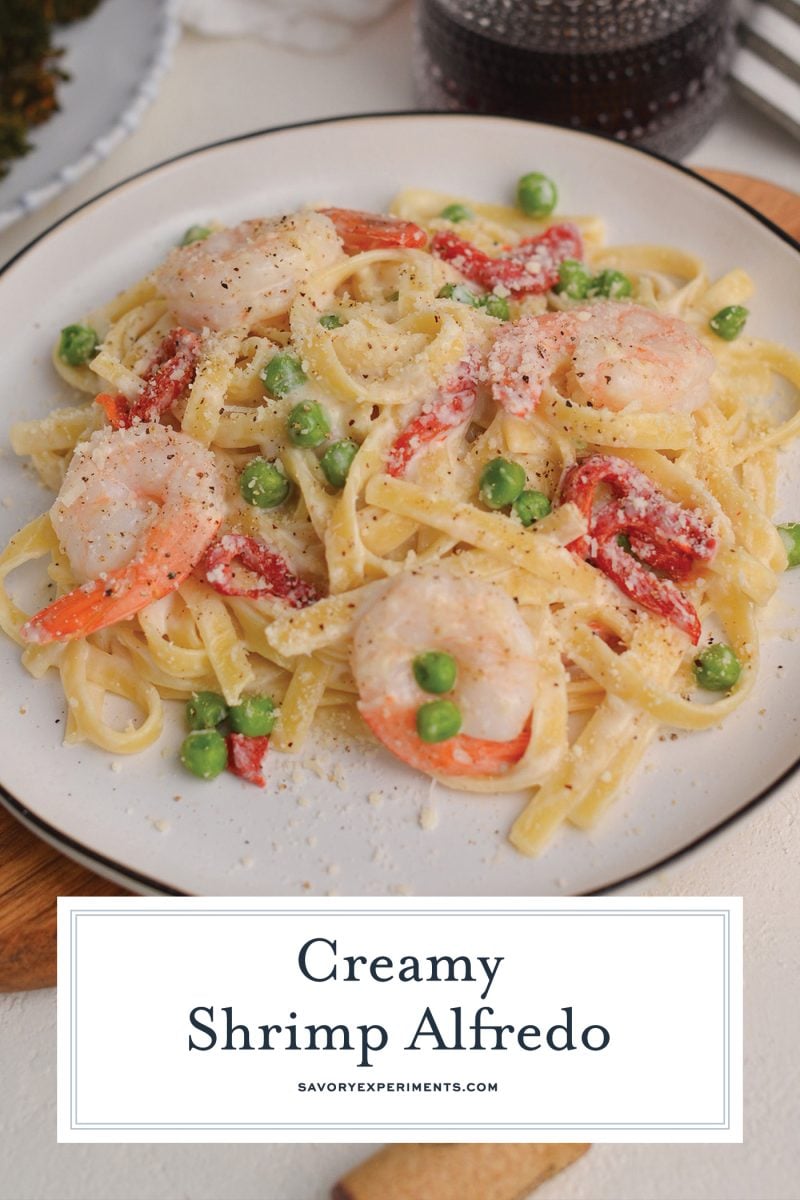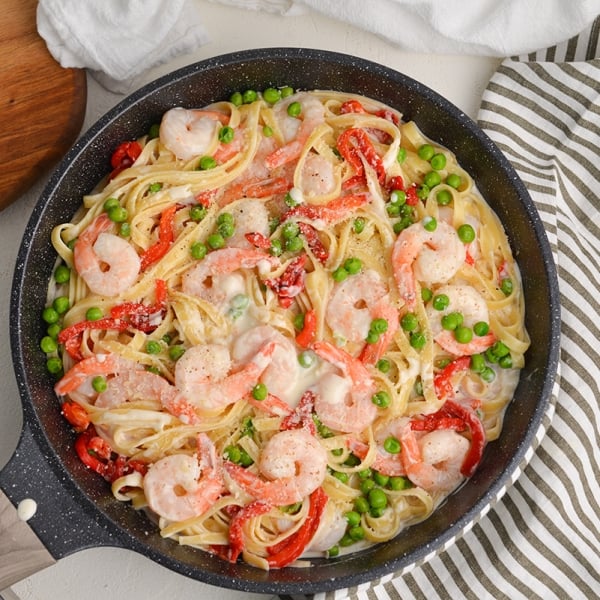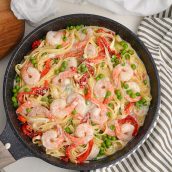 Creamy Shrimp Alfredo Recipe
Garlicky alfredo sauce paired with pasta, shrimp, plump peas, juicy roasted red pepper stripes and nutty parmesan cheese.
Instructions
Melt the butter in a heavy saucepan over medium heat. Add the garlic, saute for 2-3 minutes, until it becomes fragrant.

Pour in the cream and heat for 2-3 minutes until it is lightly simmer. Add the shredded Parmesan cheese. Whisk until blended and smooth, approximately 4 minutes.

Add the salt and pepper to taste, continue to whisk.

Add the roasted red pepper, peas and shrimp. Heat for 2 minutes. Sauce will lightly coat the back of a spoon, but not be globby or heavy. The sauce will separate if overheated, so do not raise heat above medium.

Toss with cooked pasta and serve, topping with additional crushed red pepper flakes or parmesan cheese, if desired.

If you've tried this recipe, come back and let us know how it was in the comments or star ratings.
Nutrition
Calories:
714
kcal
,
Carbohydrates:
11
g
,
Protein:
15
g
,
Fat:
55
g
,
Saturated Fat:
35
g
,
Polyunsaturated Fat:
2
g
,
Monounsaturated Fat:
14
g
,
Trans Fat:
0.2
g
,
Cholesterol:
167
mg
,
Sodium:
846
mg
,
Potassium:
253
mg
,
Fiber:
2
g
,
Sugar:
6
g
,
Vitamin A:
2443
IU
,
Vitamin C:
20
mg
,
Calcium:
395
mg
,
Iron:
1
mg