This Thick and Chewy Focaccia Bread is well worth the time and effort it takes to make it. The aroma of fresh bread baking in your home will be enough to satisfy you, but just wait until you taste how delicious this focaccia bread is!
Thick and Chewy Focaccia Bread is a delicious focaccia bread recipe topped with sea salt and fresh herbs, paired with Italian bread dip, it is sure to please!
I'm always on the lookout for a fabulous focaccia bread recipe. My usual go-to is  free-form Rosemary Focaccia Rounds; they are good, but it doesn't mean I can't try something new that might blow my mind! This focaccia bread is a little more traditional.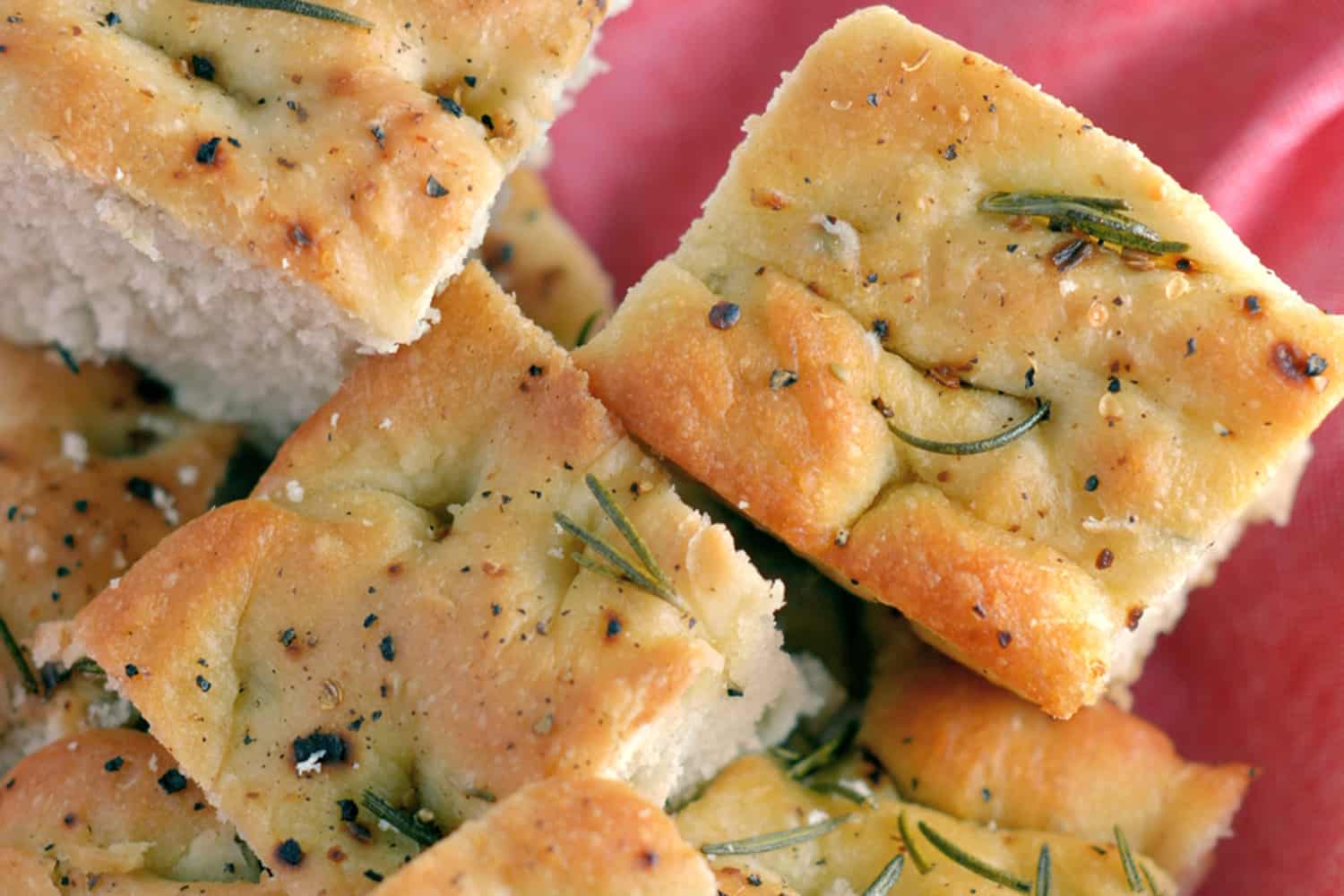 I prefer my focaccia to be thick and chewy, so right away this recipe found on Pinterest by Juanita's Cocina grabbed my attention and my heart.
What is focaccia? Focaccia is an Italian flat bread that is made from yeast and olive oil. It's oven baked and topped with fresh herbs and garlic. Focaccia is one of the most popular flat breads from Italy and is usually eaten on its own or with a dip.
This recipe for focaccia is actually much thicker than the traditional Italian version (only 2 centimeters thick). It also also a lot faster. Let me tell you about the right way to make focaccia before you explore these focaccia making hacks.
The first thing to note about making focaccia is the olive oil. It is really all about the quality of olive oil. Don't skimp and use the crappy stuff, use the good stuff you reserve for dressing salads and bread dips. You want to use a first press olive oil that has fruity and slightly spicy notes.
Focaccia bread was eaten throughout the day, but was most notably part of breakfast for the fisherman of the sea towns around Italy. It was served with white wine. Yes, wine for breakfast. Breakfast of champions!
It was full of carbs and good fats to provide hours of energy while working the fishing boats. Much like American farming families serving biscuits and gravy. You can afford to eat a calorie filled breakfast when you know you'll burn it all off!
In Italy, the flavor of the bread took on the region and the regional olive oil, so focaccia in one area could vary greatly to the next, but one thing always stayed the same. The salt water.
All those little holes we poke into our focaccia were filled with a salty brine before being put into the oven. Saltwater baked into the bread giving it the spongy and unique texture of focaccia.
Bread making can often be laborious and time consuming, so I found it just perfect to try this recipe out on a night when I was making a slow cooker meal, so I had plenty of time to give my bread and little tender, loving care. And even though this easy focaccia recipe still takes a little bit of time, it is way faster than the overnight version of the Italians!
Adapted only slightly, this was a good quality bread recipe that feed nearly 9 adults. I served it with my Traditional Italian Bread Dip.
If you enjoyed this focaccia bread recipe, check out these other easy bread recipes: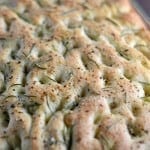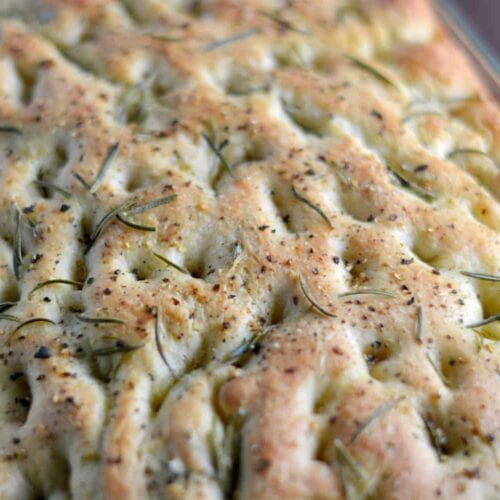 Print Recipe
Thick and Chewy Focaccia Bread
Thick and Chewy Focaccia Bread is a delicious focaccia bread recipe topped with sea salt and fresh herbs, paired with Italian bread dip, it is sure to please!
Ingredients
2

cups

warm water

1

tablespoon

dry active yeast

1

tablespoon

granulated sugar

5 1/2

cups

all purpose flour

2

teaspoons

table salt

1/4

cup

plus 3 tablespoons extra virgin olive oil

, divided

1

teaspoon

oregano

1

teaspoon

dried minced onion

2

teaspoons

minced garlic

1

teaspoon

fine sea salt

1

tablespoon

fresh rosemary

, chopped

Cooking spray/extra virgin olive oil for greasing the pan
Instructions
Add water, yeast and sugar to the bowl of a stand mixer fitted with the bread attachment, or a large mixing bowl. Allow mixture to sit until it has bloomed and become fragrant, approximately 10 minutes.

Add flour and table salt, mix on low speed or knead with your hands. Mix until the dough just starts to form, then add 1/4 cup extra virgin olive oil. Continue to mix on low or knead until the dough starts to pull away from the sides of the bowl (not sticking any longer).

Coat a 9x13 baking dish with cooking spray or apply a thin film of extra virgin olive oil. Turn dough out into the dish and using your hands, stretch and pinch into the pan, filling the entire space. Cover with a loose cloth and set in a dry, non-drafty place to rise for 40 minutes.

Preheat the oven to 375 degrees. Using the end of a wooden spoon, poke holes at approximately 1/2 inch apart throughout the bread. Baste with remaining 3 tablespoons extra virgin olive oil, getting into all the nooks and crannies.

From a high distance over ahead (about eye level), sprinkle oregano, minced dried onion, minced garlic, fresh rosemary and fine sea salt onto the bread. The higher up your hand is, the more evenly it will distribute. It should stick to the extra virgin olive oil well. Allow to rise for an additional 10 minutes.

Place into the oven for 30 minutes or until top starts to turn golden brown. Do not wait until it is uniformly browned, they bread might over cook. In all honesty, mine was slightly more golden than intended or desired.

Allow to cool slightly before slicing and serving. Enjoy your Thick and Chewy Focaccia Bread and thanks Juanita's Cocina!

If you've tried this recipe, come back and let us know how it was!
Nutrition
Calories:
507
kcal
|
Carbohydrates:
90
g
|
Protein:
12
g
|
Fat:
10
g
|
Saturated Fat:
1
g
|
Sodium:
1165
mg
|
Potassium:
128
mg
|
Fiber:
3
g
|
Sugar:
2
g
|
Vitamin A:
10
IU
|
Calcium:
23
mg
|
Iron:
5.5
mg