Calling all garlic lovers! Whether you spread it on a sandwich, dip warm bread into it or use it to top a steak, this Garlic Relish is full of garlicky flavor.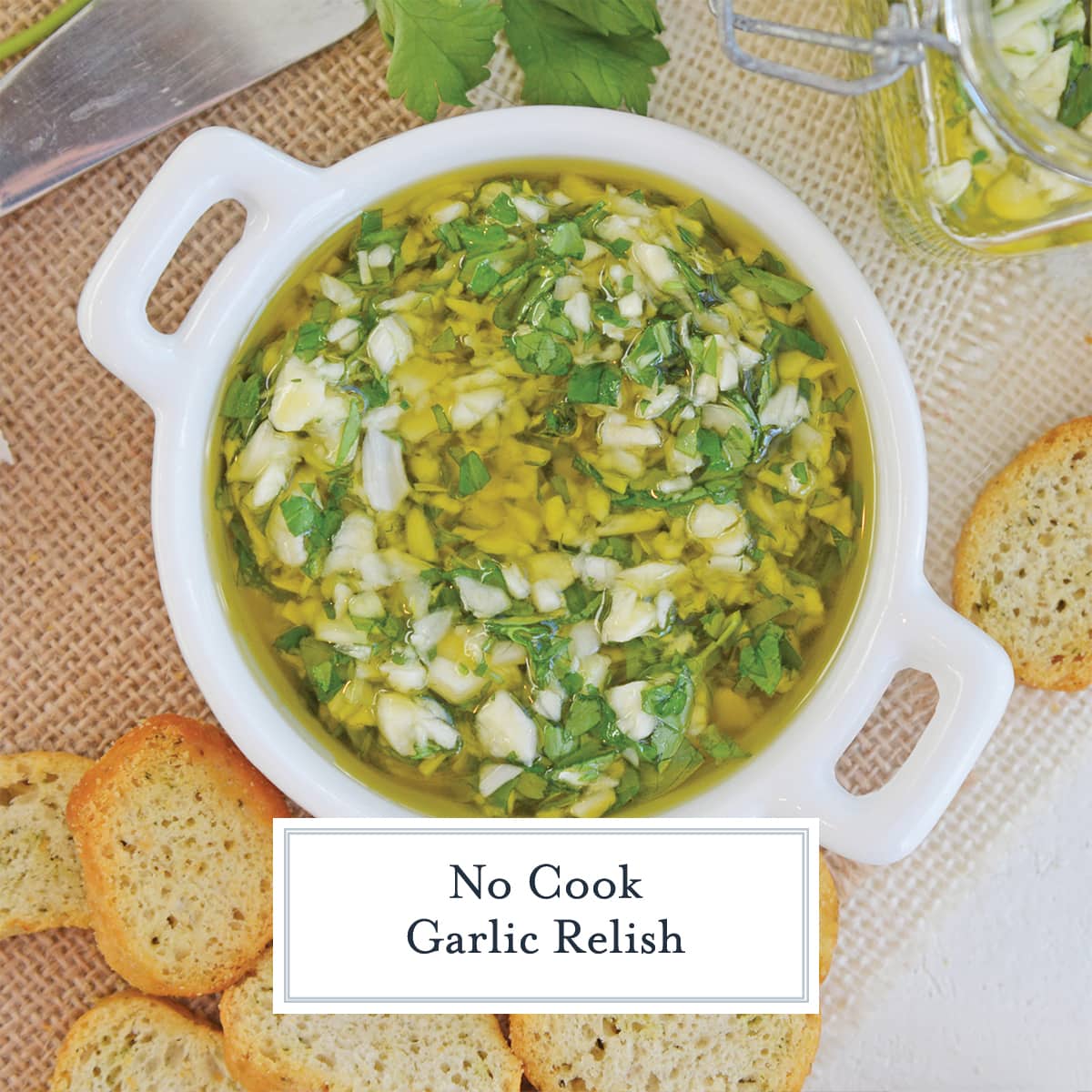 Several years ago, before we even had kids, we took a trip to San Francisco. One of our stops was of course the Stinking Rose- an icon in both San Fran and LA where everything is, you guessed it, laced with garlic.
Stinking Rose Garlic Relish
Lucky me, they have the recipe published right on their website so I decided to make it. It is so silly easy, but I must warn you that you have to like garlic. Like really like garlic.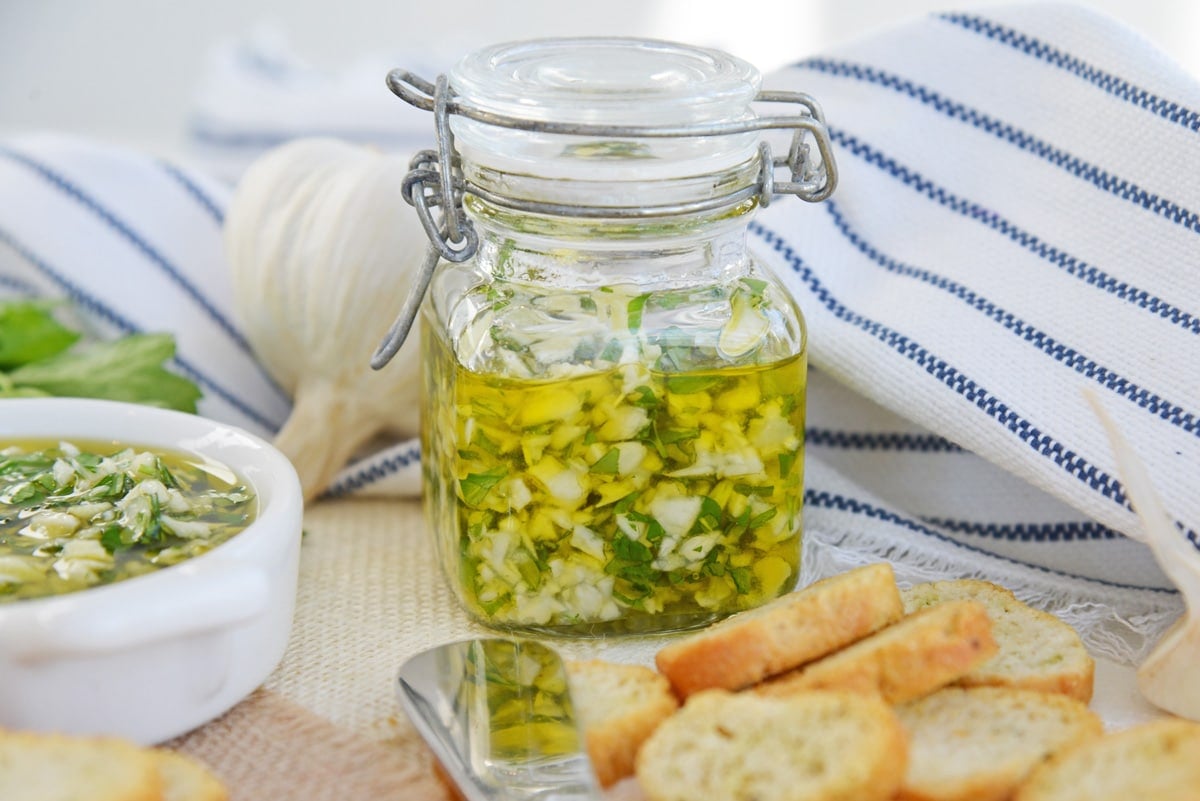 And then be prepared to repel vampires for at least 30 days and maybe have your neighbors complain of the stink, because this garlic relish uses a whole head of basically raw garlic.
Raw Garlic?
Kinda… this relish recipe is a fusion of pickled foods with garlic confit and chopped like a relish. The vinegar takes some bite out of the garlic, but certainly leaves the majority behind for your enjoyment.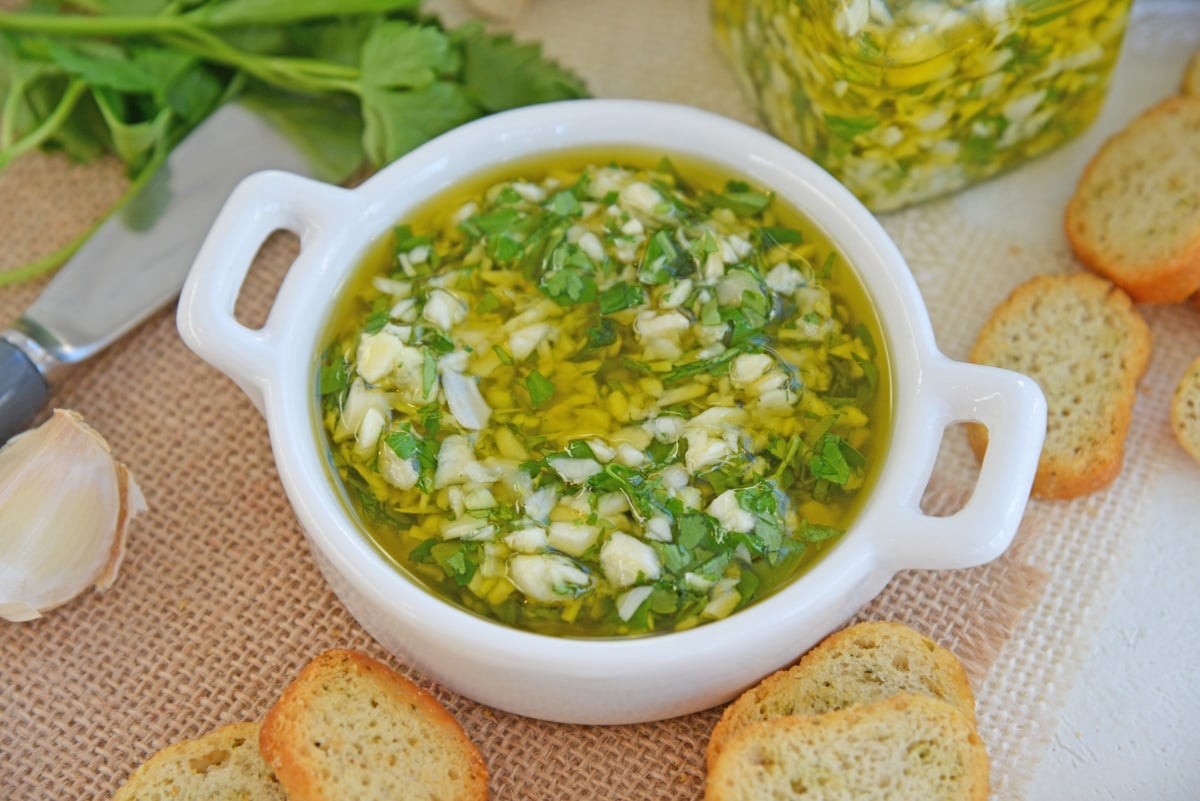 But garlic has a ton of health benefits, so carry on and keep eating! It's linked to lowered blood pressure, cholesterol, improved skin tone and even stronger bones.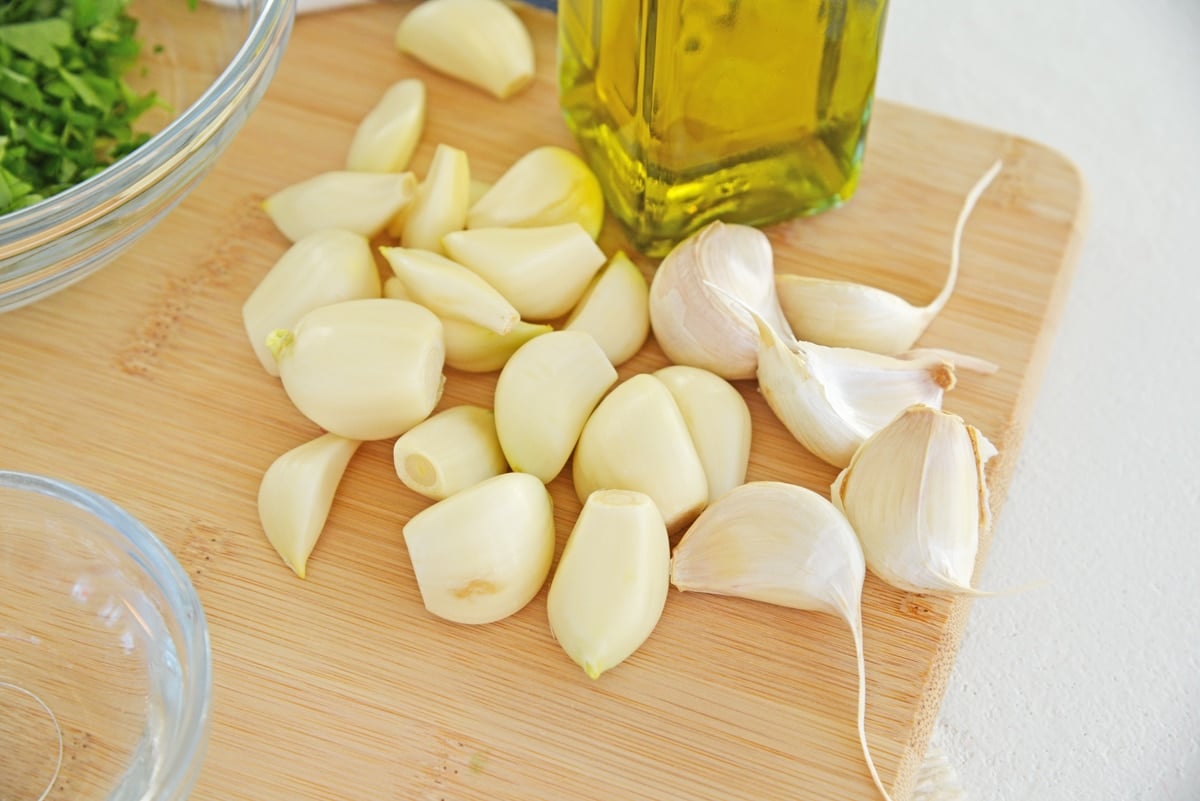 If you want to save a little time, you can usually find a bag of peeled garlic cloves in the produce section at the store, but do not use pre-chopped, jarred garlic for this one.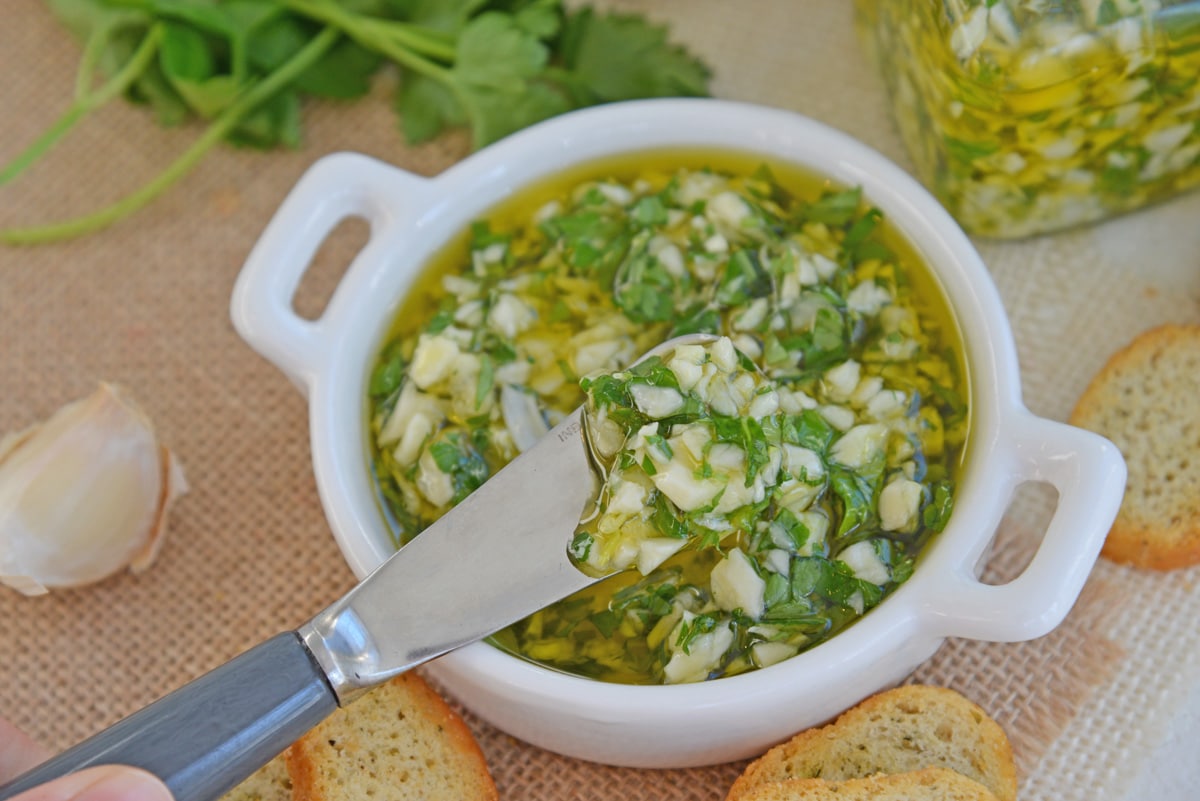 How to Make Garlic Relish
The process is simple and doesn't require any cooking. Here is what you'll need:
Fresh Garlic– Do not, and I repeat, do not use jarred garlic. It is muted in flavor and hardly tastes like garlic.
Flat leaf parsley- also known as Italian Parsley.
Coarse Sea Salt
White Vinegar– acidity helps to tone down the garlicky flavor just a bit and adds acid.
Extra-Virgin Olive Oil– we are drowning the other ingredients and eating this, so use a good, quality brand when making your garlic relish.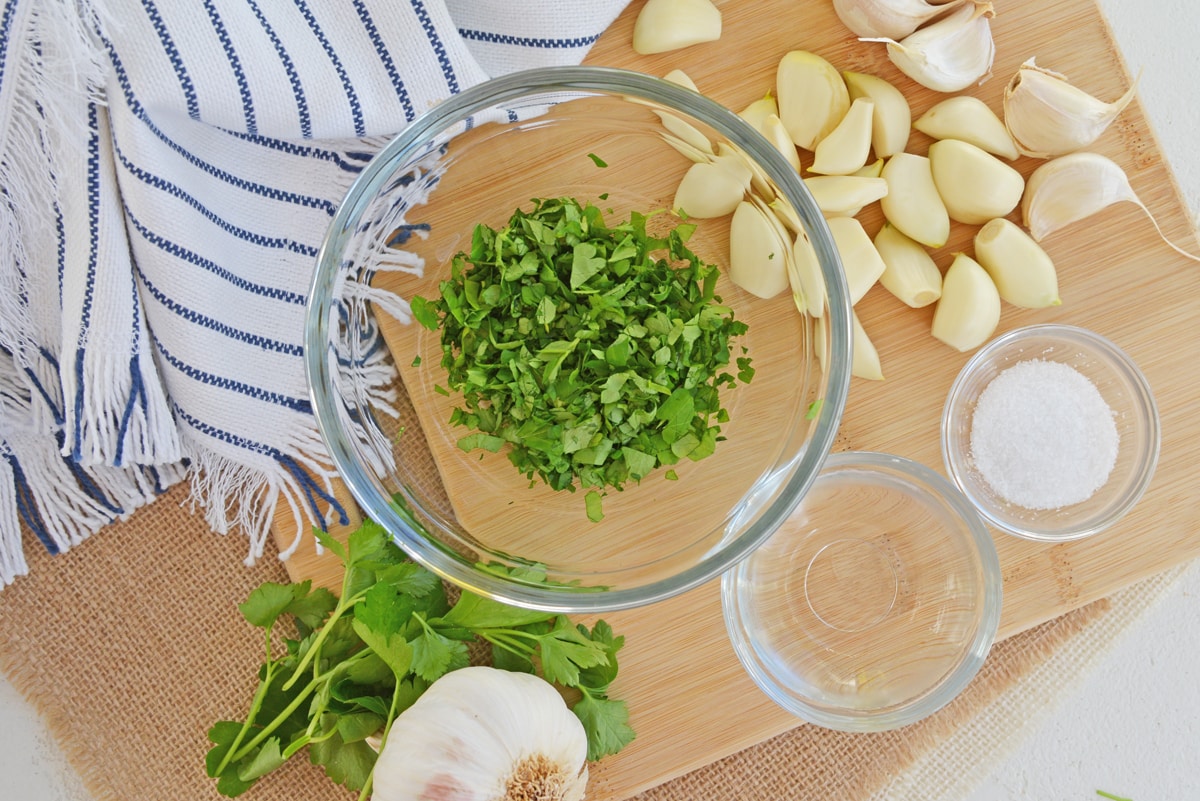 Chop the garlic. I find it much easier to throw it all in a small food processor and pulse it until coarsely chopped. Don't just turn it on and walk around or you'll have garlic pulp.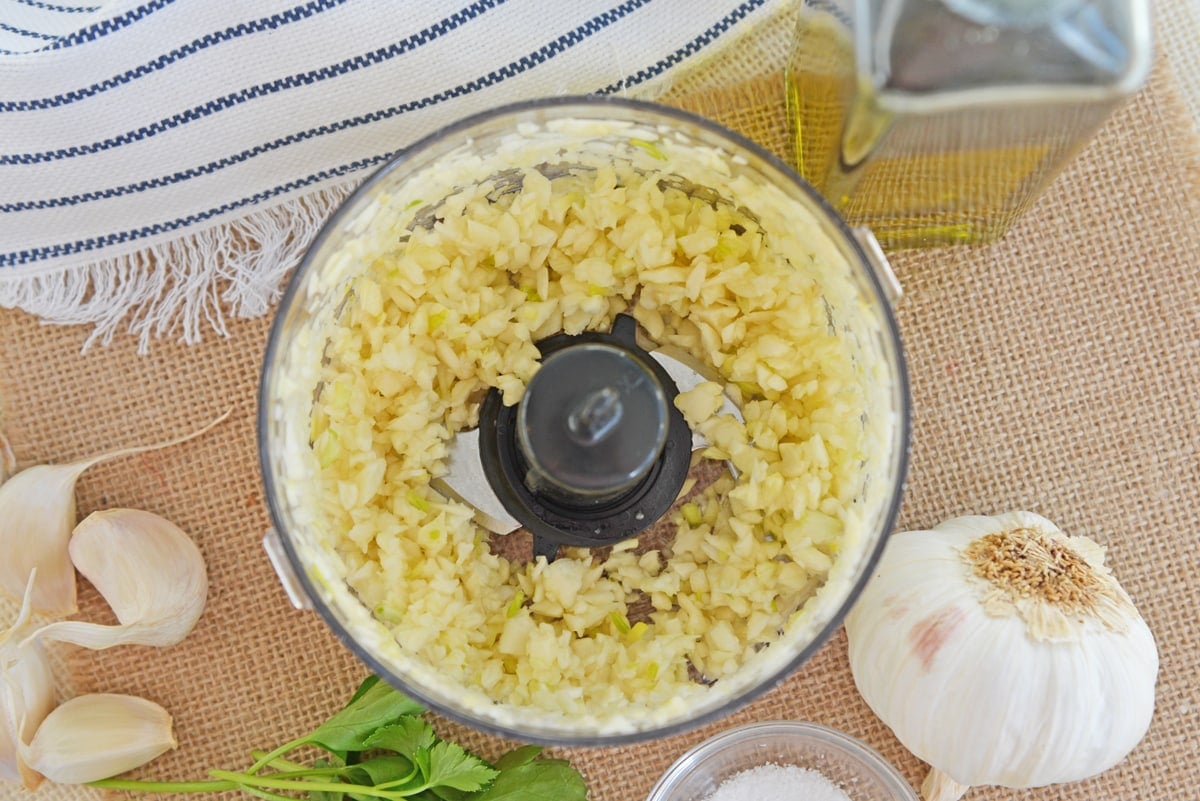 Stir together garlic, parsley, salt and vinegar. Then pour olive oil over until it is sufficiently covered. Cover and allow to sit for at least 3-4 hours. If you want to reduce the potency of garlic flavors, allow the chopped garlic to steep in a small bowl of lemon juice for 15-30 minutes before proceeding with the recipe.
Stinking Rose suggests storing it in the fridge, but honestly, the vinegar and salt are enough to perserve the garlic and olive oil will harden, so it is best to leave it out covered at room temperature.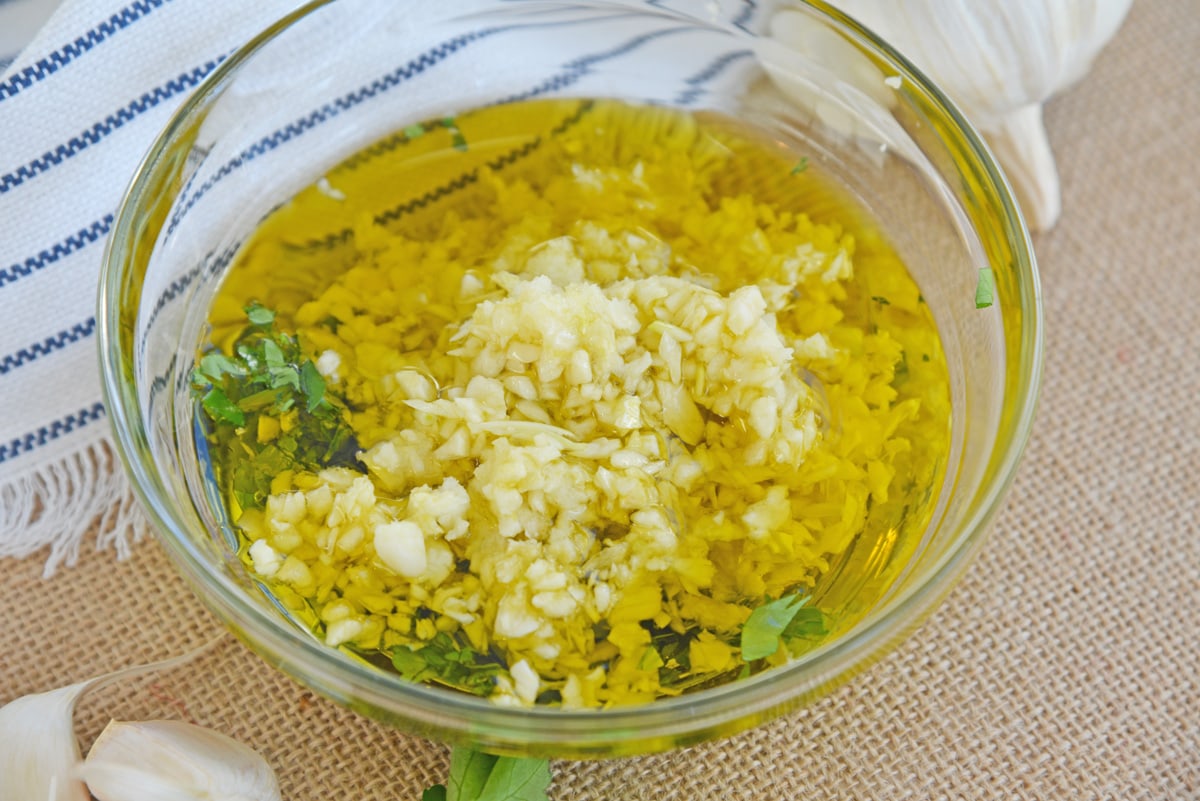 Use your garlic relish within 5 days of making… if it lasts that long.
What To Use It On
This is a super verstile relish so this is just a short list of ideas.
Spread on a sandwich or burger
Salad dressing
Part of a charcuterie platter
On crostinis
Top of a pan fried steak
With pita bread
On top of hummus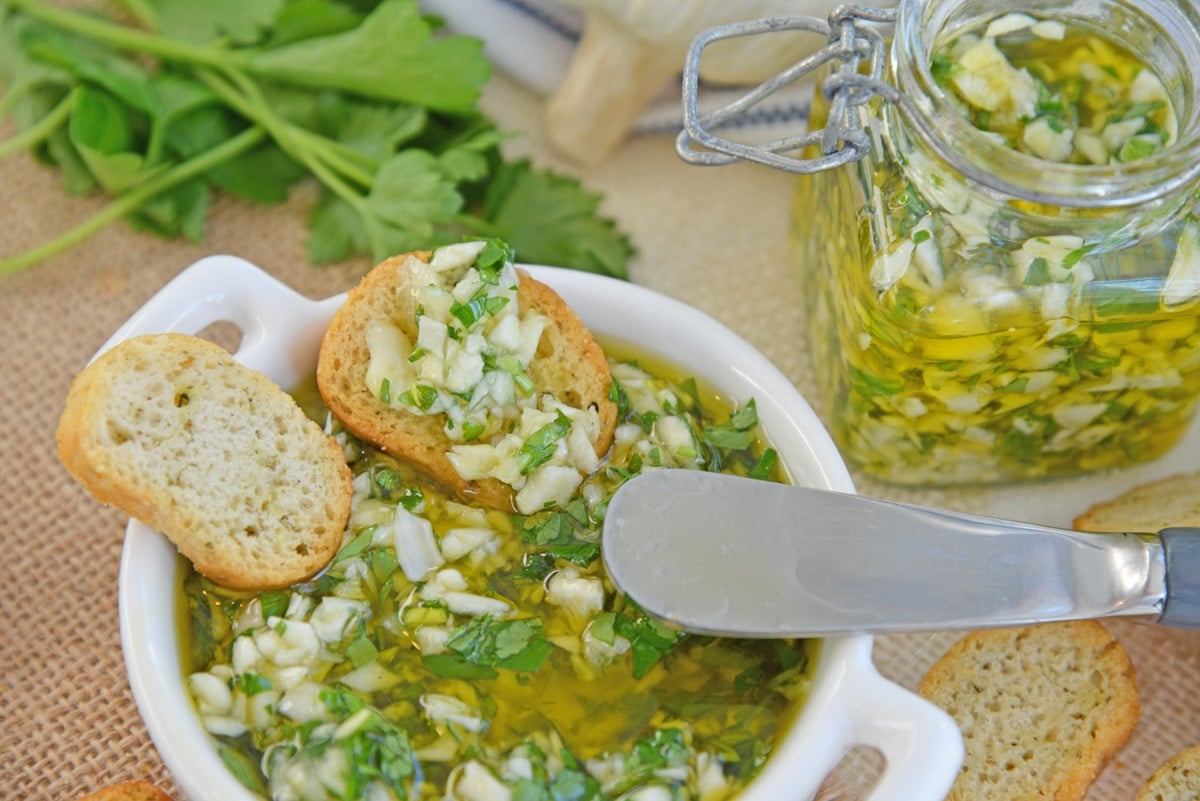 Let us know your creative ways to use garlic relish in the comments!
Storage & Make Ahead
The pungency of garlic will reduce a little as it sits, so if you prefer a slightly muted garlic taste, don't eat it right away. I suggest letting the flavors marry for at least a few hours, so in that aspect, it is make ahead.
Store at room temperature in an airtight container. If you put it in the fridge or get it cold, the olive oil will solidify. It isn't bad, but it will be pretty solid.
I do not recommend freezing this garlic relish recipe.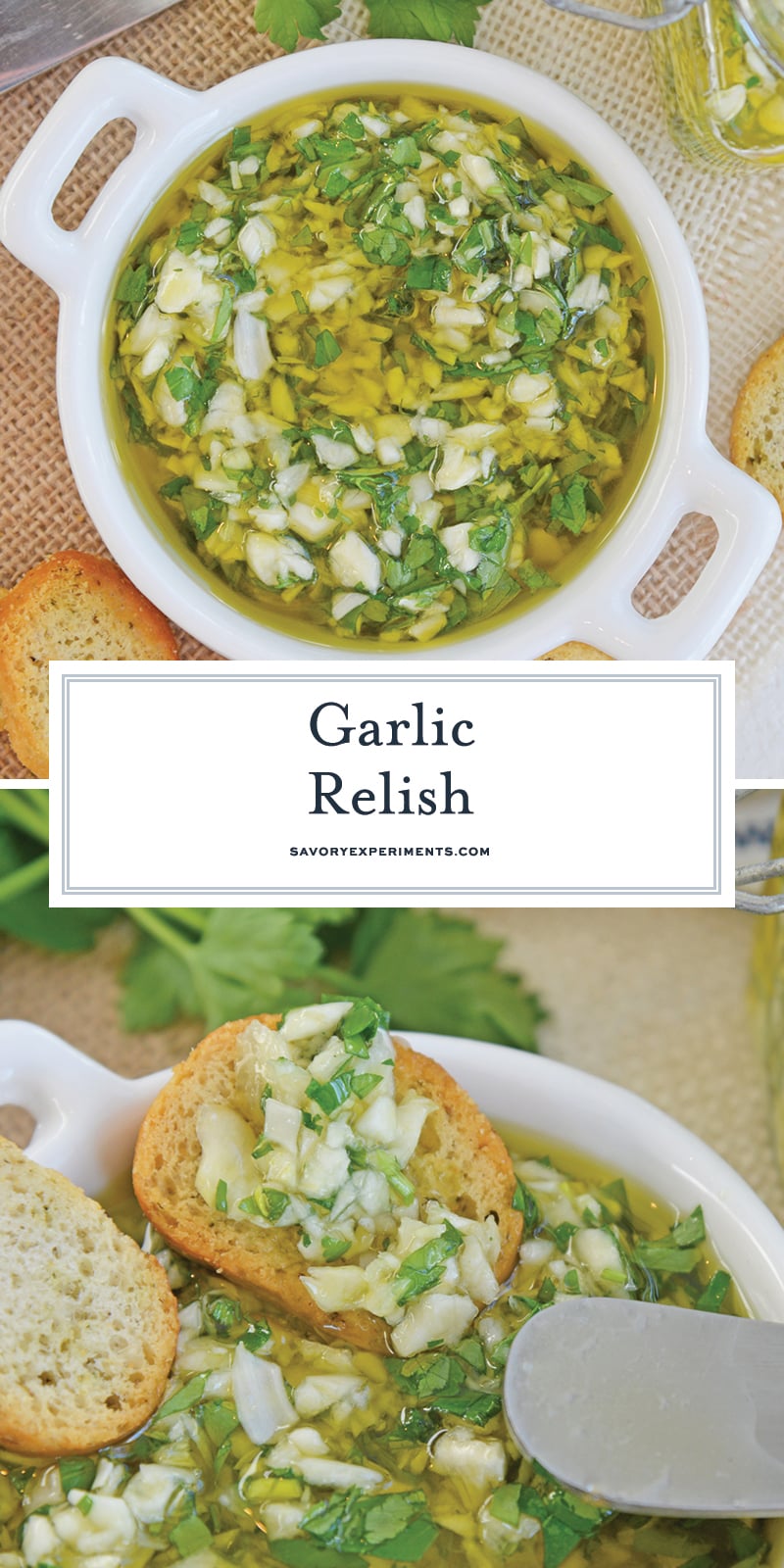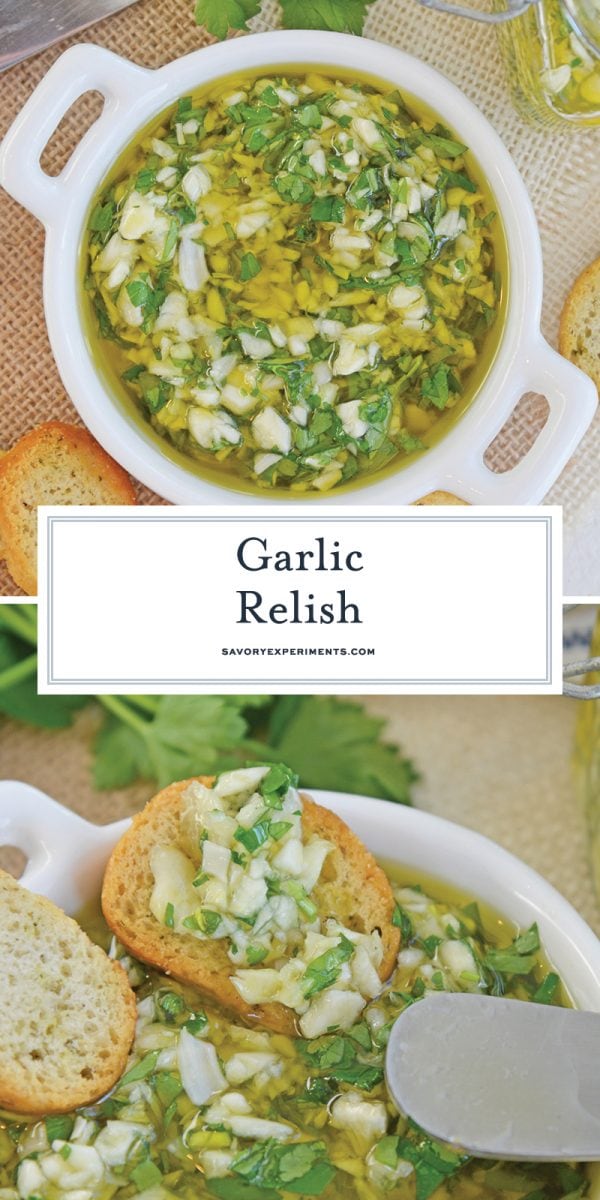 More Garlic Lovers Recipes: