This post is sponsored by Jarlsberg Cheese, but the content and opinions expressed here are my own.
Cheese is delicious, but marinated cheese is the bomb! Do people still say that? Well, I do!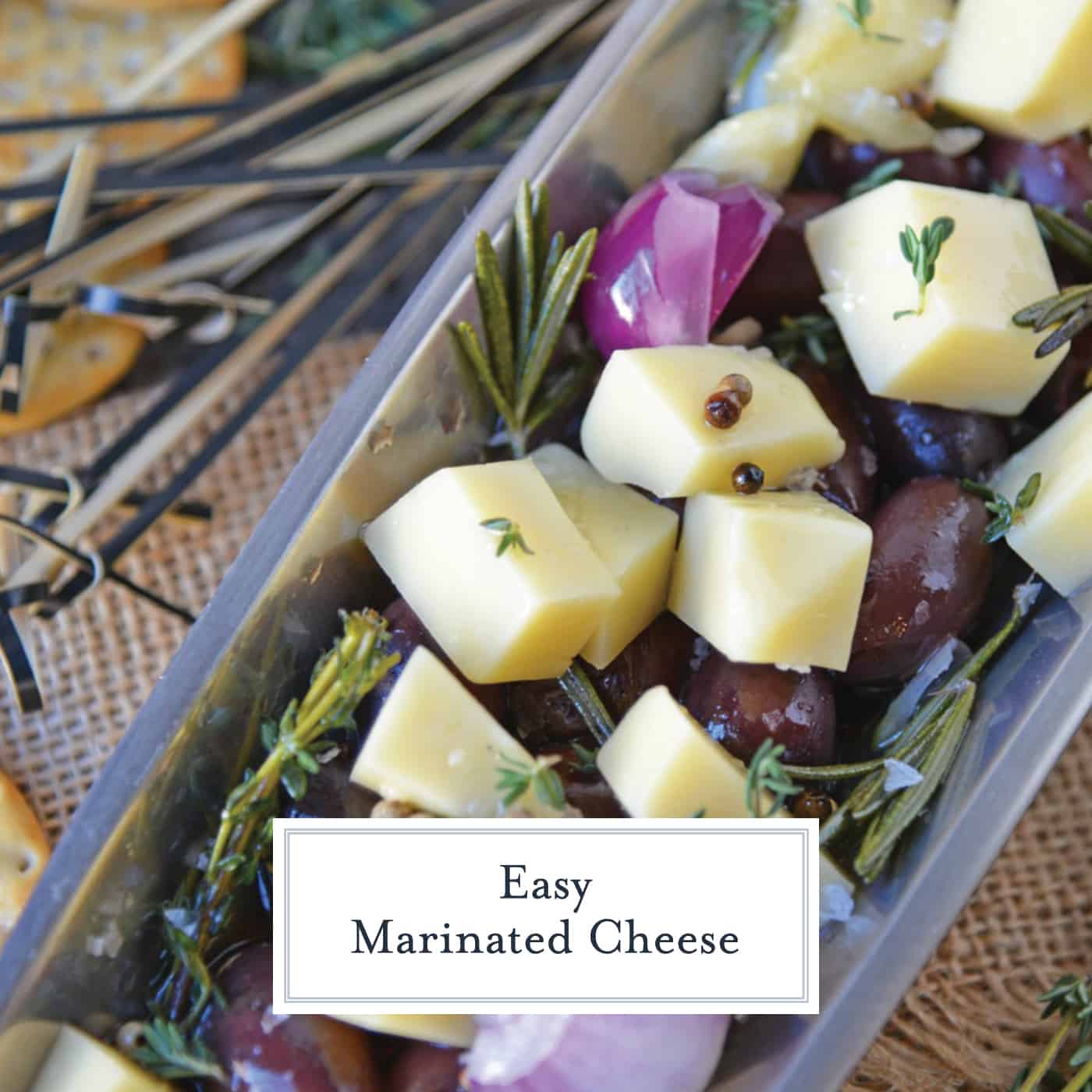 Marinated Cheese is the perfect hostess or homemade holiday gift. Simple and tasty, it also makes an easy party appetizer!
Marinated cheese is one of those recipes that is perfect in its simplicity. Literally anyone can make it. Marinated cheese is the perfect party appetizer, addition to salads, accompanied to a cheese board or homemade gift. Jarlsberg Cheese is just right for marinating!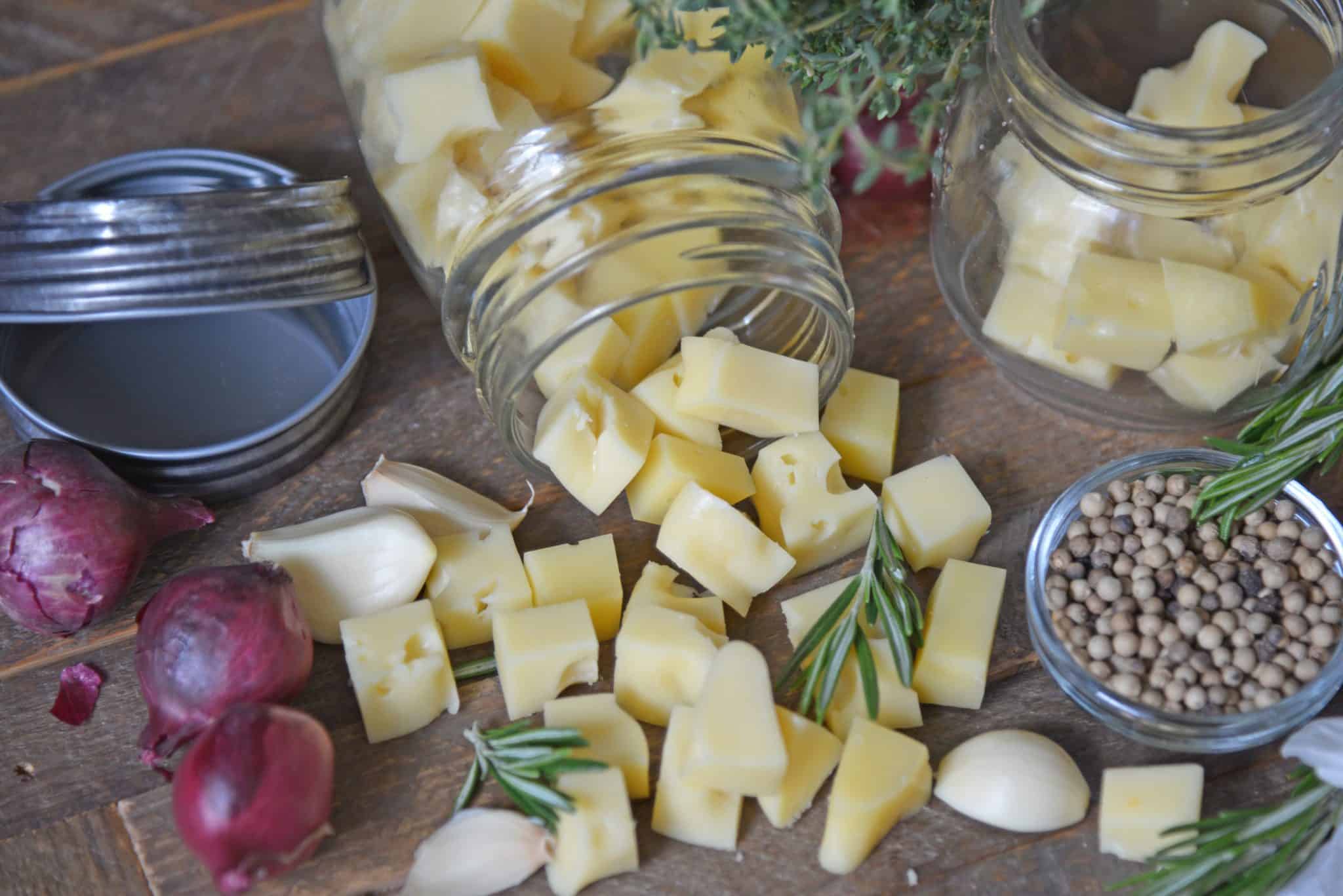 We have all seen the usual marinated cheese recipe floating around. You know the one with roasted red pepper, garlic, olive oil and parsley? It is festive and pretty, but so overdone. It is time for a new, fresh marinated cheese.
My take is a Mediterranean take on the classic version. Fresh herbs, whole white peppercorns, garlic and red pearl onions complement Jarlsberg cheese without overwhelming it.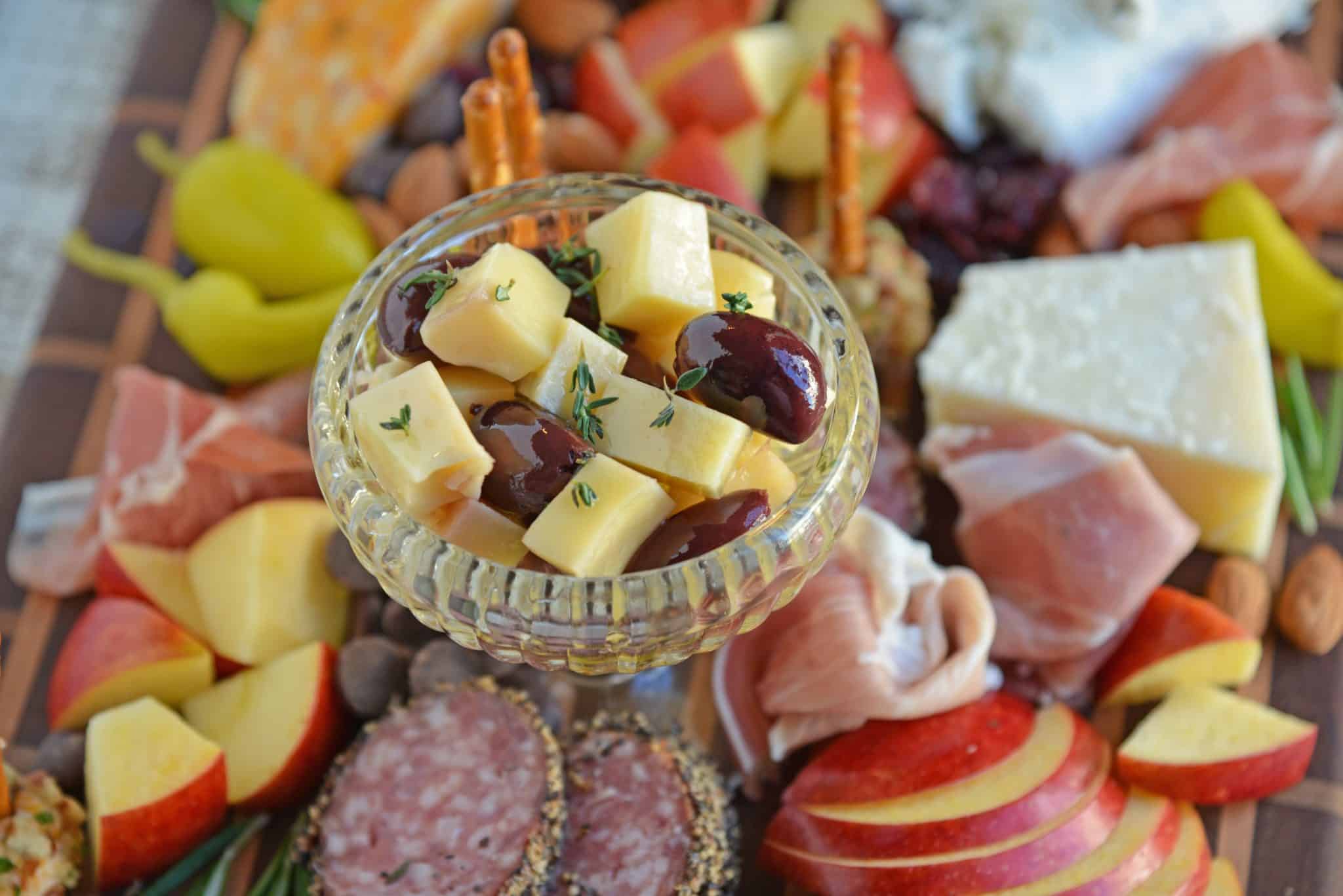 It can be served by itself or paired with olives. Either way, it is sure to be enjoyed!
On many occassions I stress the importance of a good olive oil, however for marinated cheese, this isn't as important. Instead of aiming for a quality olive oil taste, we want the oil to take on the taste of the aromatics.
The oil can be used in salad dressing or toss on vegetables after you have eaten the marinated cheese.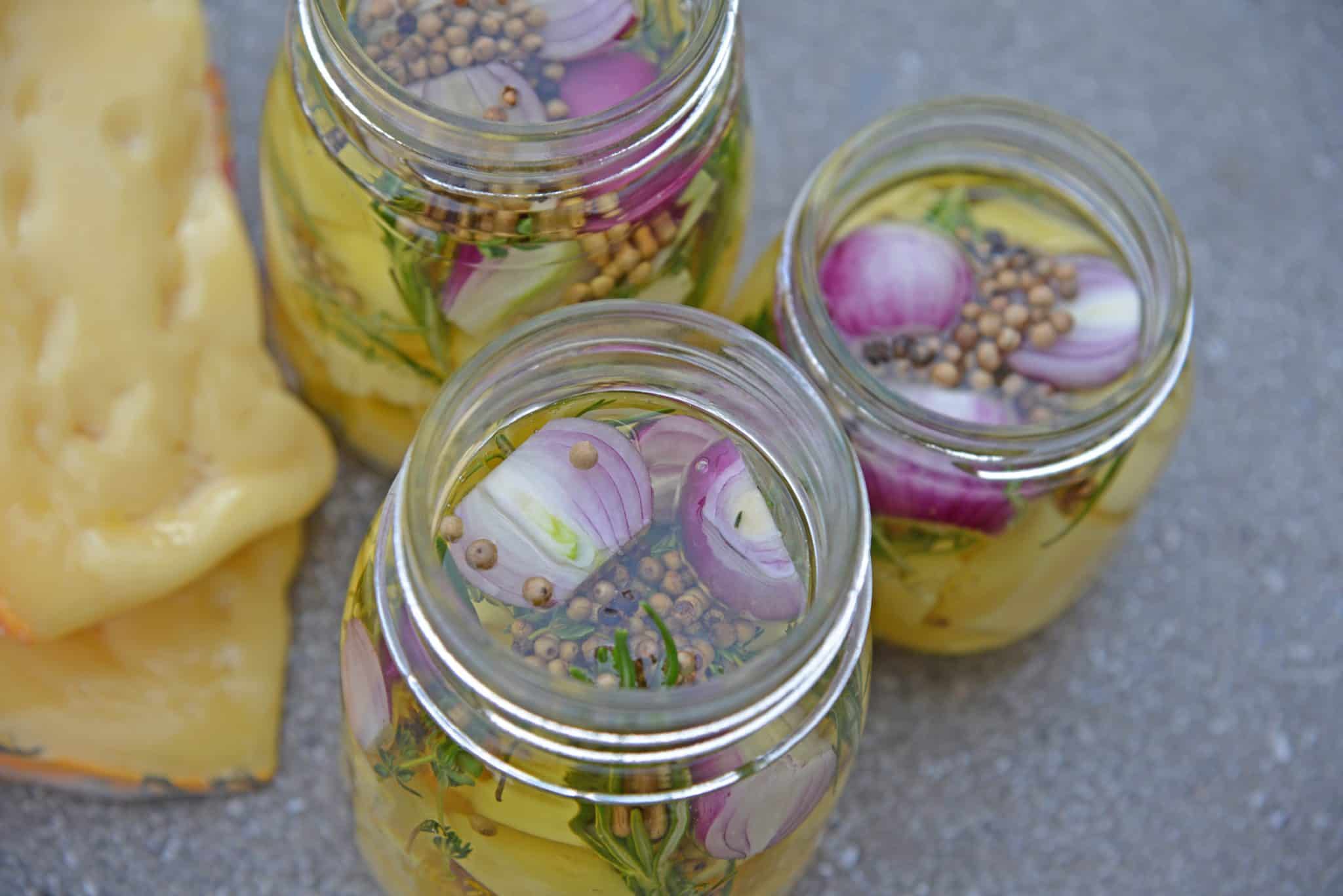 I'm sure you are all familiar with Jarlsberg cheese, but just in case you need a reminder, here it goes! It is a mild, buttery cheese with a medium texture, making it perfect for soaking up additional flavors.
Jarlsberg is my go-to cheese for many items that need the perfect melty cheese, like pizza for a grilled cheese sandwich. It's versatility is unmatched.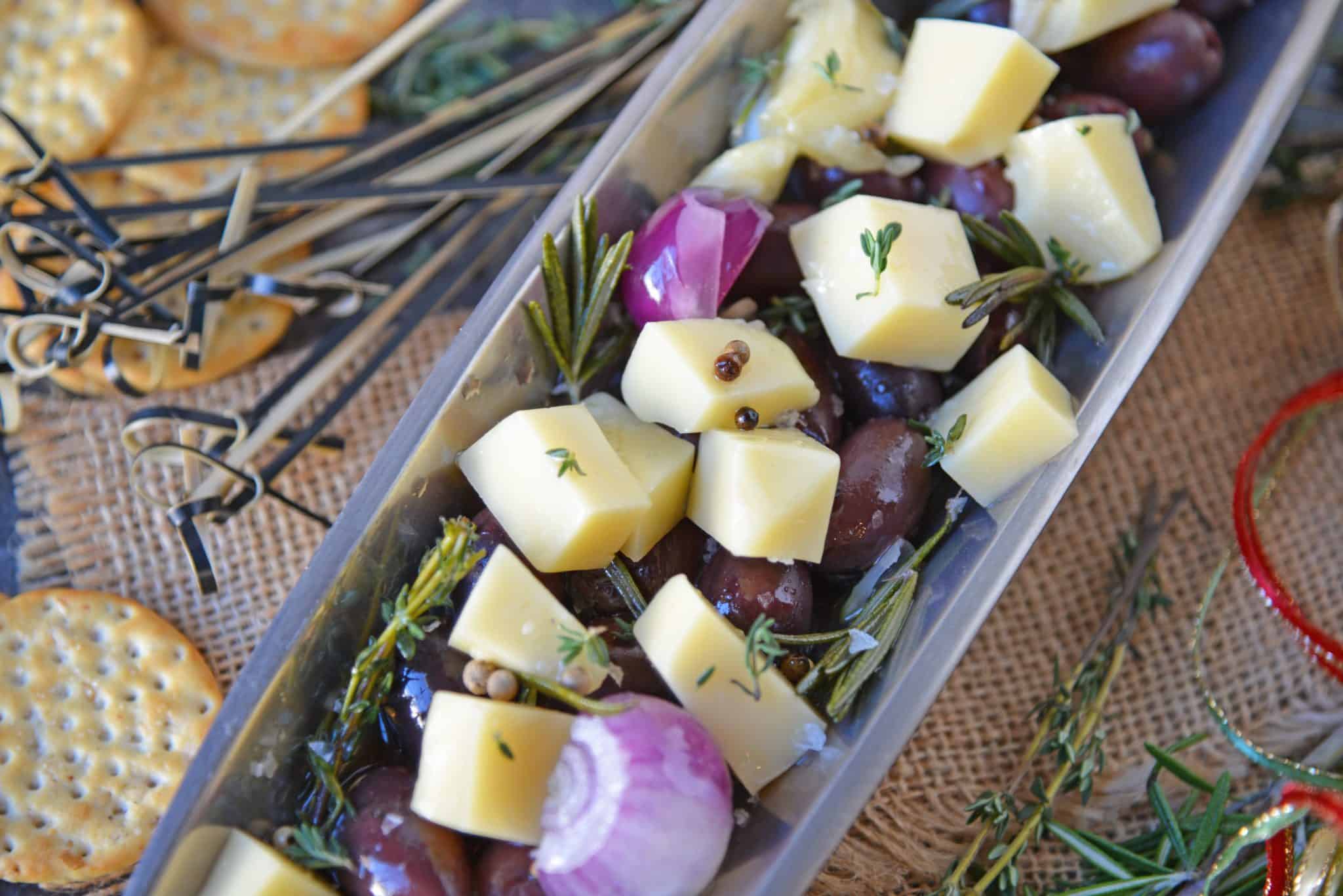 Tools for making Marinated Cheese:
Wood cutting board – wood won't dull your knives like plastic and if treated properly, has natural antimicrobial properties.
Good knife – Global is my favorite! They are worth the price, I promise. I am kind of obsessed with them and store them tucked away so no one else can use them. Including hubby. Hands off my good stuff!
Mason Jars
– Not only used to store jams, jellies and anything that needs to be canned, they make the perfect vessel for marinated cheese and a blank canvas to be decorated with simple ribbon.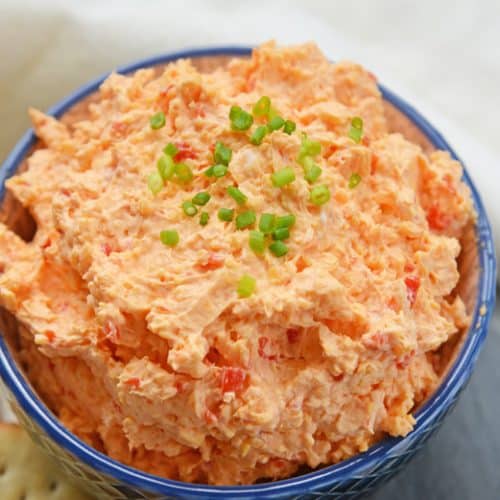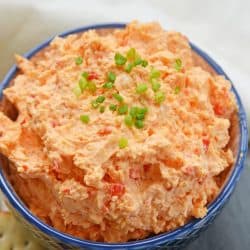 Pimento Cheese Spread
A popular southern dish, this EASY Pimento Cheese recipe is made with only 6 ingredients and tastes great spread onto crackers or in a grilled cheese!
See The Recipe!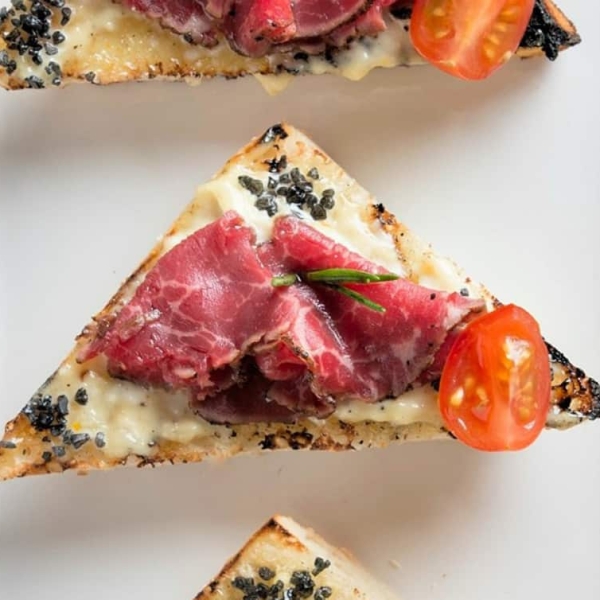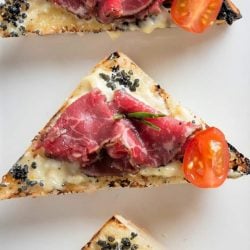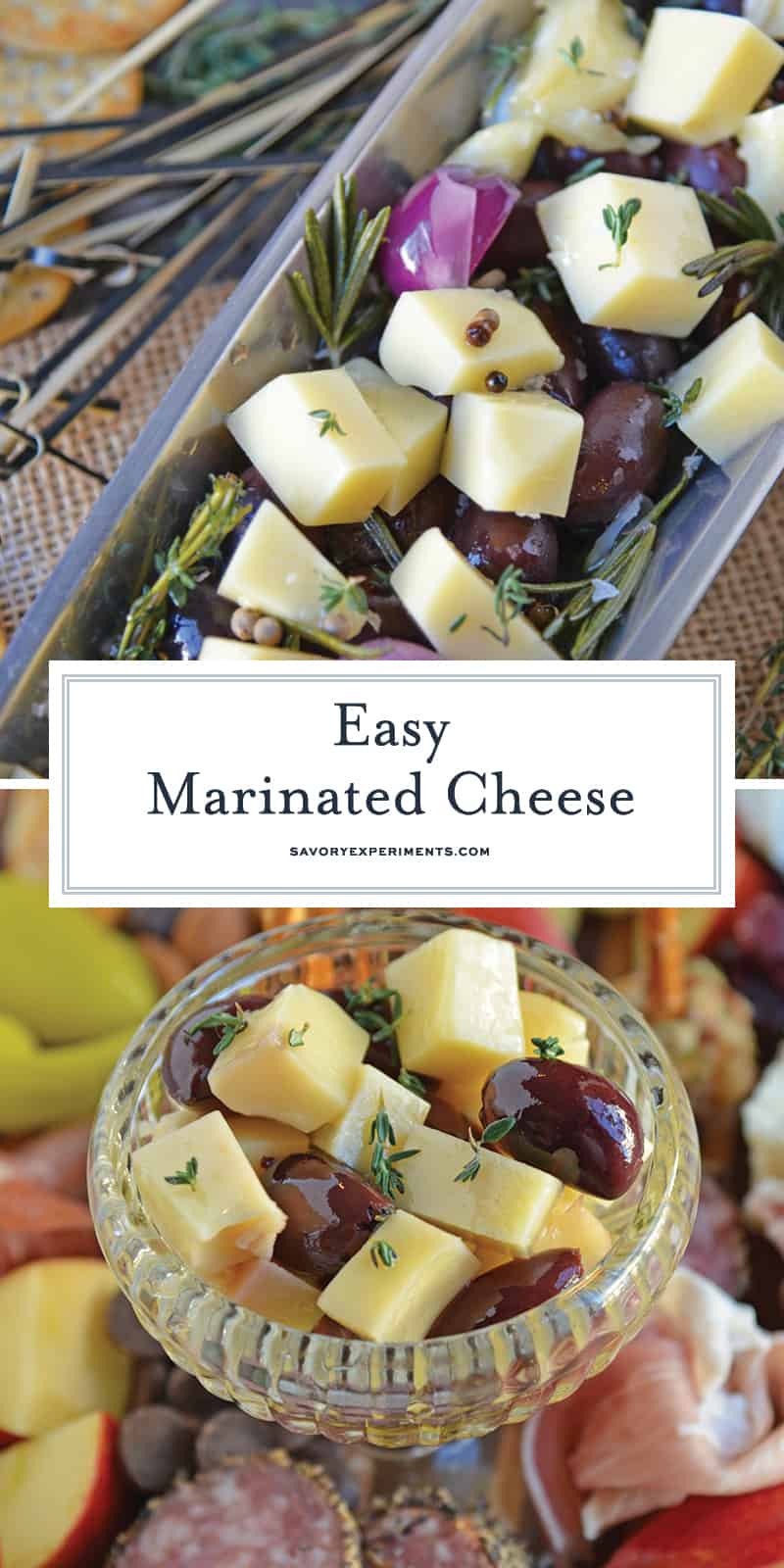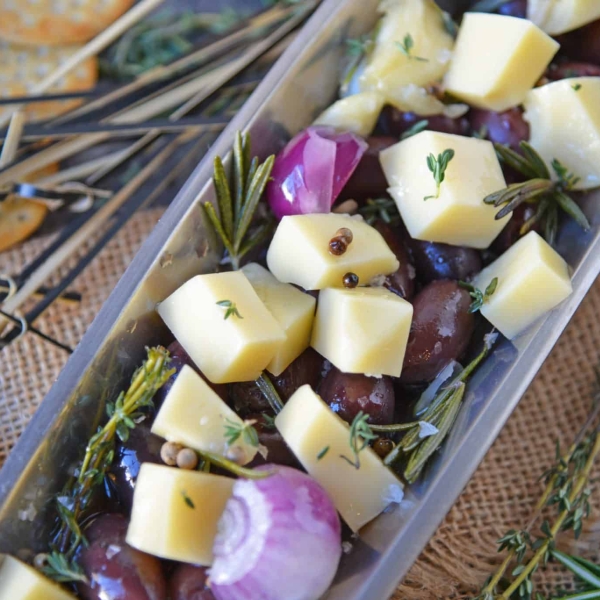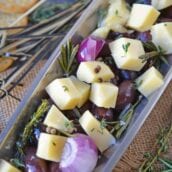 Marinated Cheese
Marinated Cheese is the perfect hostess or homemade holiday gift. Simple and tasty, it also makes an easy party appetizer!

Instructions
Clean and dry a 12-16 ounce Mason jar.

Using the side of a knife, smash each garlic clove.

Place Jarlsberg cheese, rosemary, thyme, red pearl onions, garlic and white peppercorns into the mason jar.

Fill to top with olive oil, leaving a little room at the top, but making sure all cheese is covered by oil to prevent spoiling.

Marinate for a minimum of 24 hours, but up to 2 weeks. Do not refrigerate, keep at room temperture.

If you've tried this recipe, come back and let us know how it was!
Nutrition
Calories:
157
kcal
,
Carbohydrates:
1
g
,
Protein:
9
g
,
Fat:
12
g
,
Saturated Fat:
6
g
,
Cholesterol:
27
mg
,
Sodium:
418
mg
,
Potassium:
20
mg
,
Vitamin A:
315
IU
,
Vitamin C:
1.5
mg
,
Calcium:
281
mg
,
Iron:
0.1
mg
Savory Experiments is excited to be partnering with Jarlsberg Cheese, Envy Apples, NatureSweet Tomatoes, Rainier Fruit, and other fabulous bloggers.