The perfect after-dinner drink, this Espresso Martini, sometimes called an Vodka Espresso, is the ultimate cocktail for coffee lovers. So whip out that espresso machine and get to shaking!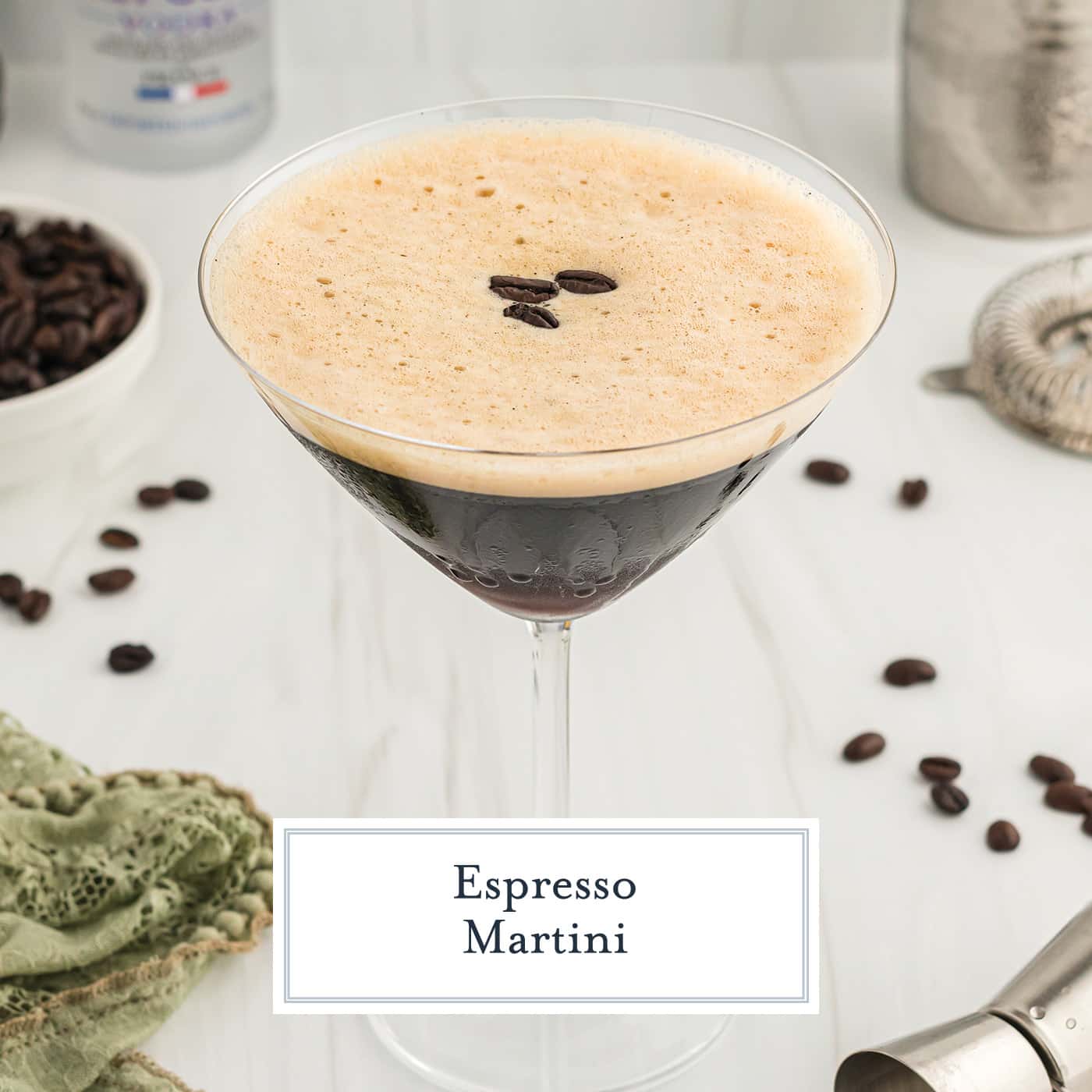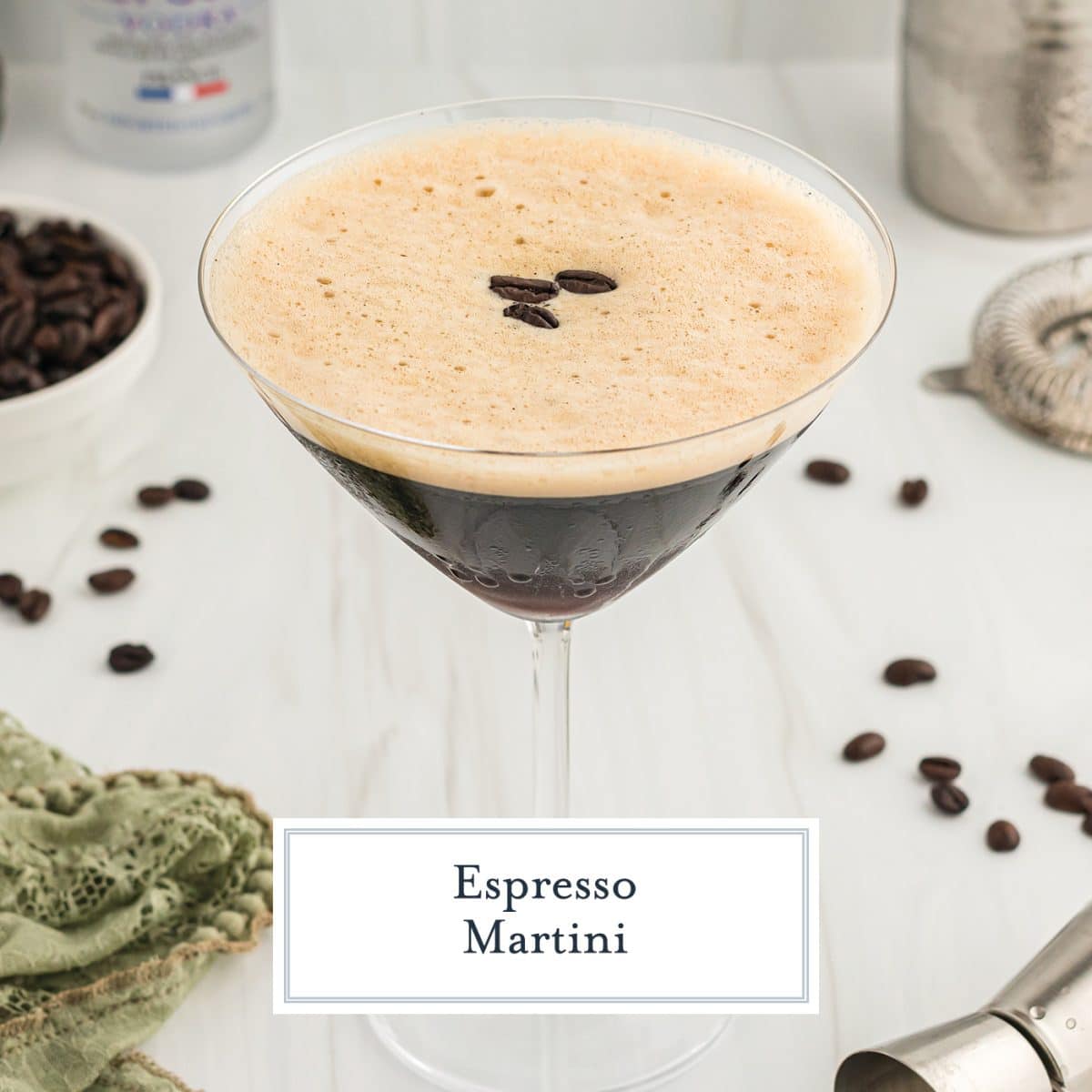 This strongly flavored cocktail can be enjoyed any time during the day (I won't judge if you swap out your orange crush cocktail for a coffee infused drink) or night for a pick-me-up.
History of the Espresso Martini
While there are probably a million recipes for this coffee cocktail out there, it is said that a man named Dick Bradsell is the original creator. He is a British bartender that is known for his innovative and fun cocktails like this classic espresso martini.
In the grand scheme of things, the espresso martini hasn't been around that long, only since the 1980's. It was created to be a boozy way to give you the after-meal pick up that an espresso would, but still keep that buzz.
I am so thankful for that man, because a nice cold espresso martini poured into a chilled martini glass is my absolute favorite dessert cocktail. It gives me a boost of energy after a heavy dinner so that I'm ready for any after-dinner festivities.
Some might say it isn't a true martini because it doesn't have any gin or vermouth, but now days there are plenty of martini cocktails that don't have either and still fall in to the category.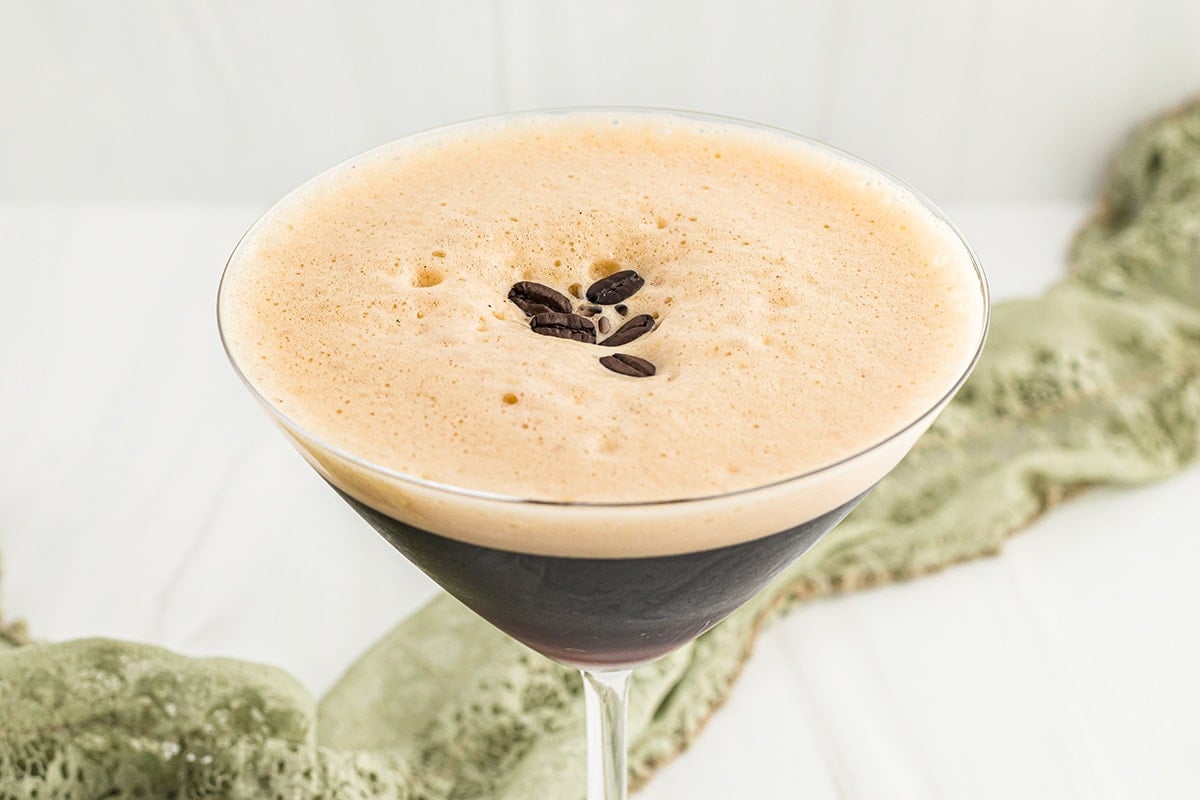 Are Coffee Beans Edible?
Sure, you grind beans to make coffee grounds and then use that to brew coffee; but are the beans themselves edible?
They sure are! In fact, you can actually buy them covered in chocolate. Coffee beans present come benefits like boosting energy with the caffeine and lowering your risk for certain diseases with antioxidants.
However, just like with anything, eat them in moderation. Like the three that you use to garnish your drink is a good amount. If you have too many, you'll experience the unpleasant side effects of too much caffeine.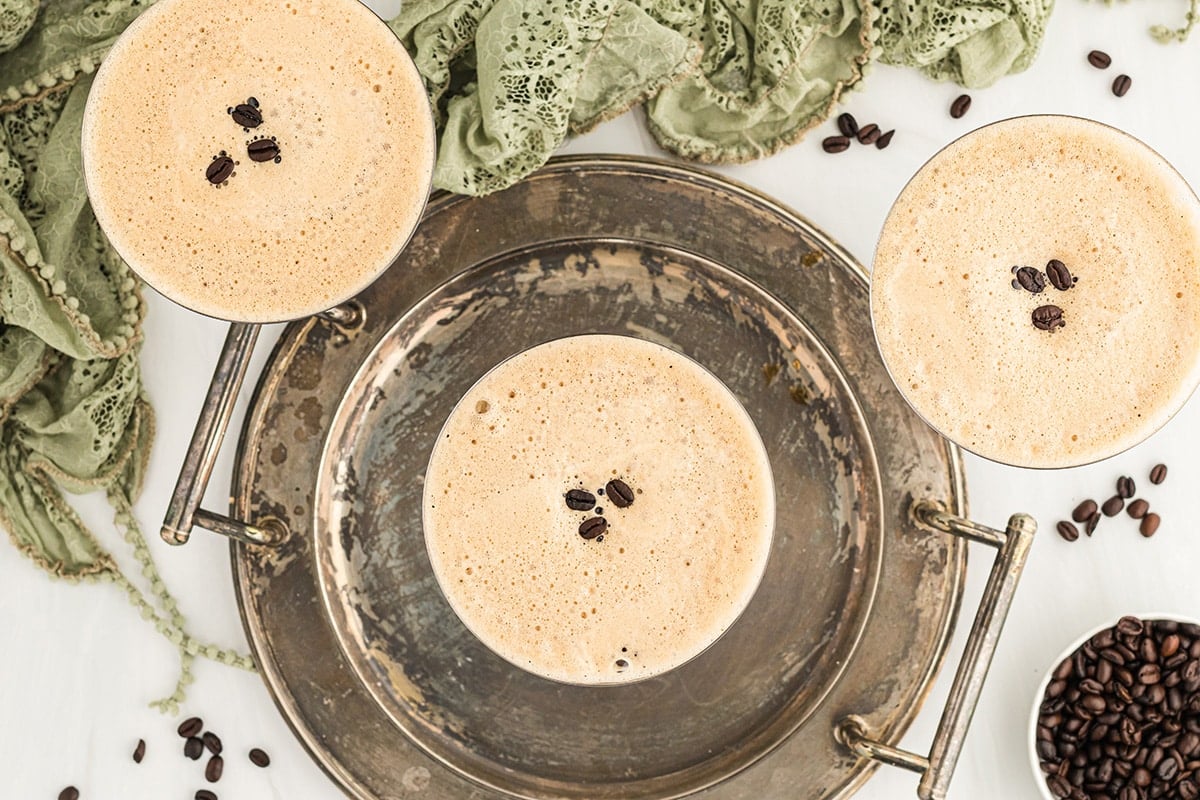 What's a Perfect Espresso Martini Made Of?
If you enjoy cocktails and coffee, chances are you have these items in your kitchen or bar. So of course the next questions is naturally… what kind of alcohol is in an great espresso martini?
Fresh espresso – You can have an espresso martini recipe without espresso, right? I prefer mine to be freshly brewed with a strong coffee flavor. However, you will need to allow time for it to chill.
Vodka – Be sure to use a good quality vodka here. My favorite is Tito's, but you can also use Grey Goose or even an espresso flavored vodka to really amp of the flavor.
Coffee liqueur – The most common brand that we all know and love is Kahlúa. You can also use Bailey's Irish Cream or creme de cocoa.
Simple syrup – This is simply a blend of sugar and water and easily made at home. You can also use any flavored syrup that you would add to coffee. This is optional, but I like how it balances the bitter.
Coffee beans – I love the way a traditional espresso martini looks with a few coffee beans added for garnish!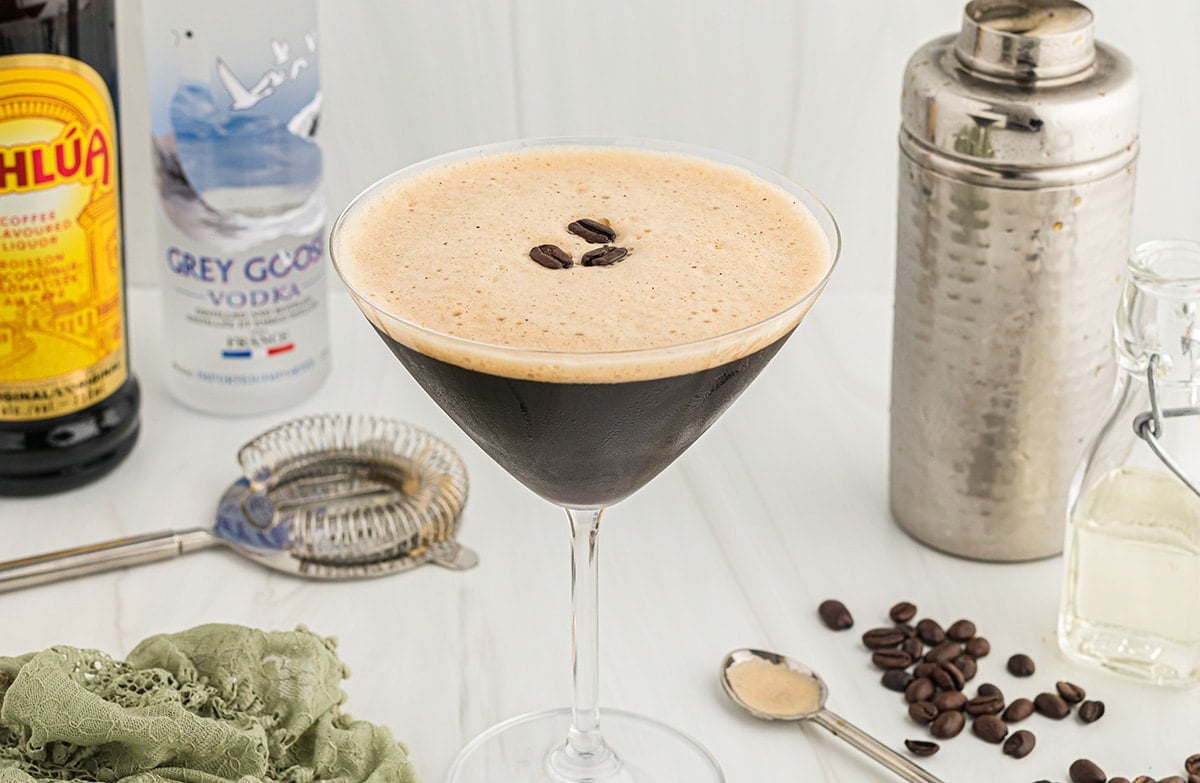 How to Make an Espresso Martini
Make espresso. Brew the espresso and place it in the refrigerator to let it chill.
Combine ingredients. Place the chilled espresso, vodka, coffee liqueur and simple syrup in a cocktail shaker with 1 cup of ice. Shake vigorously so it gets frothy- even get a foamy top. The amount of simple syrup will vary depending on your taste.
Strain into glass. Using a strainer, pour into a martini glass. Garnish with coffee beans, if desired. Martini glasses are fun, but use any cocktail glass you love, like a coupe glass.

Can I Make an Espresso Martini Without an Espresso Machine?
You sure can! There are a few hacks on how to make this jolty cocktail with a true espresso machine. If using regular coffee, opt for a dark roast.
Cold brew – Don't have an espresso machine? No problem! You can use a cold brew concentrate as an alternate to the espresso.
Espresso powder – For best results, I like using fresh espresso, but you can always use espresso powder if you're in a pinch. It's like instant coffee, but commonly used to enhance chocolatey baked goods.
Keurig or Pod Coffee Make– Many pod style coffee makers have a setting to make an espresso or a small up of coffee (6 ounces) and make it "strong". Use this option.
French Press– You know the fancy little machines you see real coffee snobs (sorry, not sorry!) using- grab one of those.
Variations
The best thing about the cocktail world? As long as you think it tastes good, that means it's a good cocktail. Use these suggestions to make your best espresso martini.
Make it creamy – You can make a creamy espresso martini by adding a splash of Baileys Original Irish Cream, about 1 ounce. You could even add some half and half in a pinch.
Flavored syrups – The original recipe calls for simple syrup (sugar syrup), but feel free to play around with the flavors. A vanilla or hazelnut syrup would be a great complement to the espresso flavor.
Vodka – For an even stronger coffee flavor, you can use espresso vodka instead of plain. Van Gogh makes a great one.
Coffee beans – Take your coffee beans up a notch and use chocolate covered espresso beans instead. They're amazing and totally add to the experience.
Pinch of Salt– Salt is great for a salty and sweet moment, but salt makes coffee less bitter. Just a pinch is all you need!
Tips & Tricks
Here are a few tips to make you the Tom Cruise Cocktail bartender you want to be and look like a professional!
Cool the coffee after brewing it or it'll melt the ice and you won't have a nice chilled cocktail. No one wants a warm martini. Don't dilute it by putting ice in, instead place it in the freezer. You can also make a large batch of espresso before you know you are making them and place it in a pitcher in the fridge for easy use.
To get the iconic foam, shake the shaker super hard and use those biceps!
When pouring the cocktail, do it fast so the foam stays on top. Gently place the coffee beans on top so they don't sink.
Use crushed ice instead of ice cubes, this will chill it faster without watering it down.
How to Make Simple Syrup at Home
If you don't have bottled simple syrup you can easily make it at home.
The formula for simple syrup is one part water to one part sugar. Place these in a small saucepan and bring to a simmer, stirring until the sugar dissolves. It might still look a little watery, don't worry, it will thicken as it cools.
Remove it from the heat and allow it to cool completely before using.
Store it in an airtight container at room temperature for up to a week. It can also last up to 2 weeks in the fridge, but will harden a tad, so take it out a bit before using it to let it come to temperature.
Can You Get Drunk on Espresso Martinis?
Yes, and with that, we encourage all of our readers to enjoy alcohol responsibly. Never drive drunk and have a plan.
Espresso martinis are known for sneaking up on you because they don't have a heavy alcohol taste. They go down pretty easy, so alternate with water and take it easy.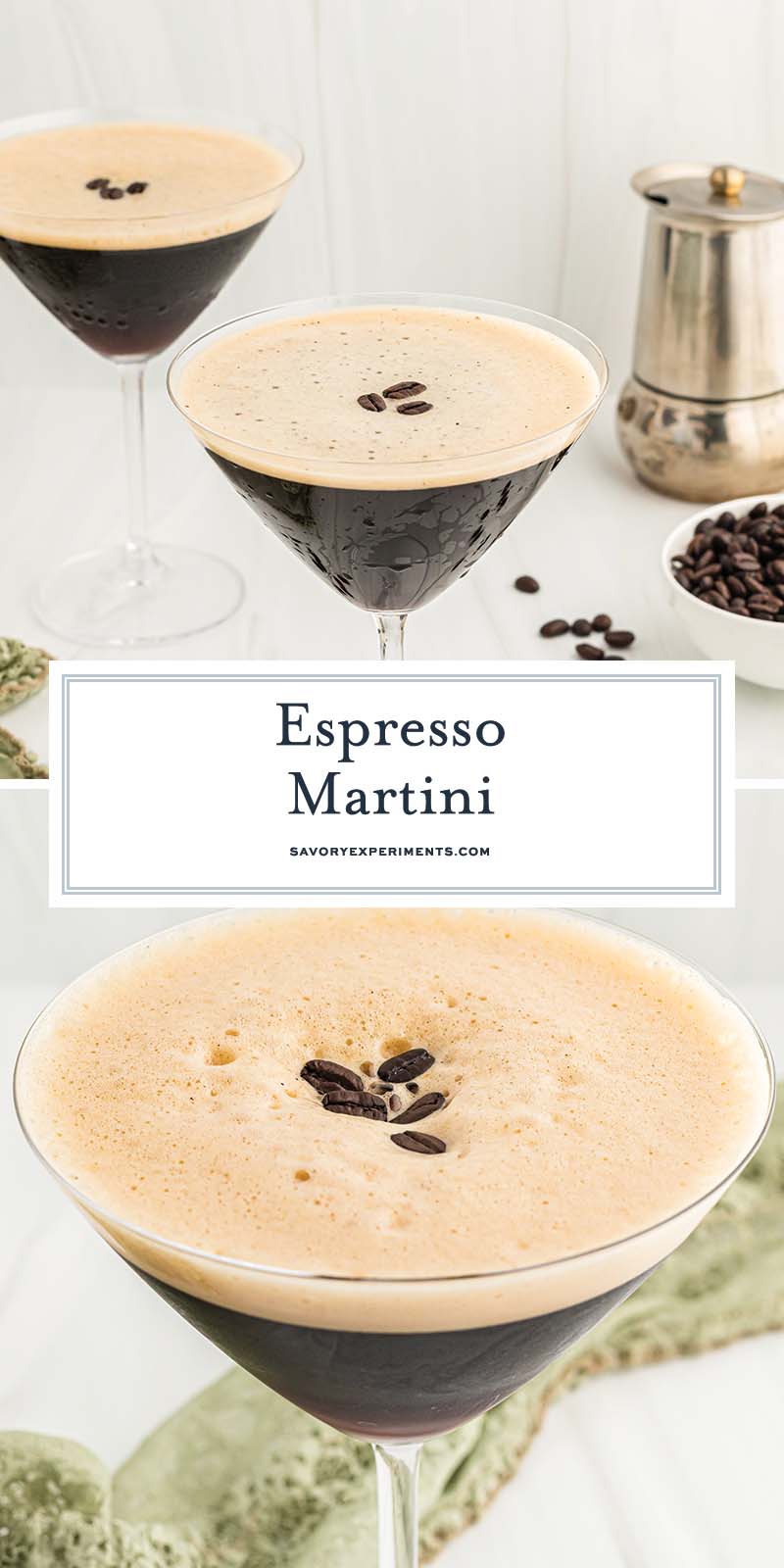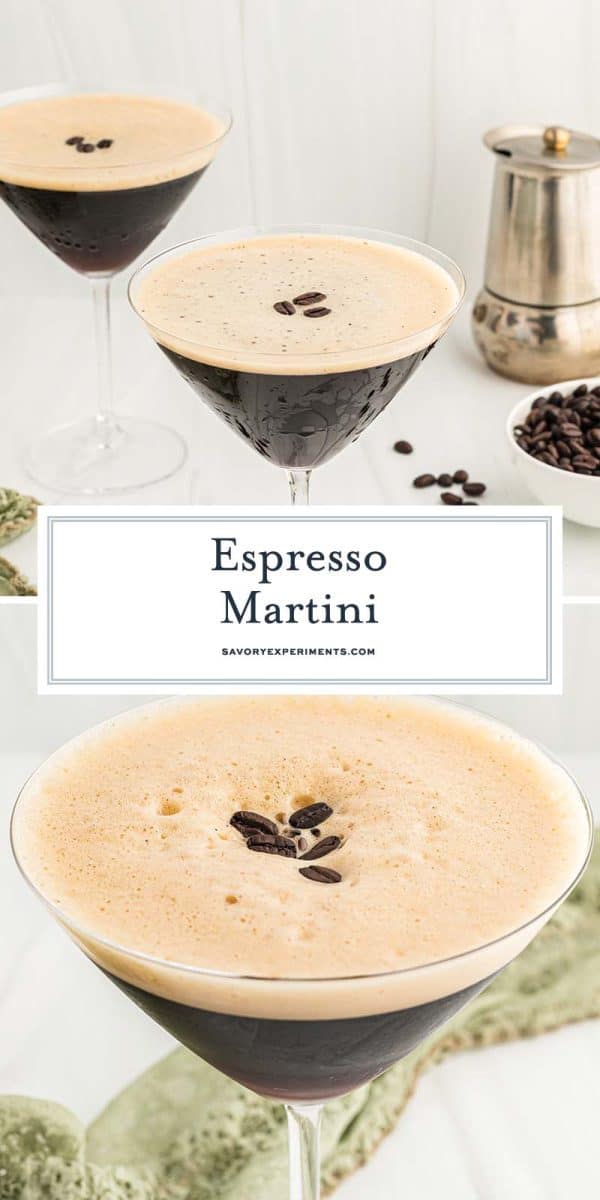 More Fun Cocktail Recipes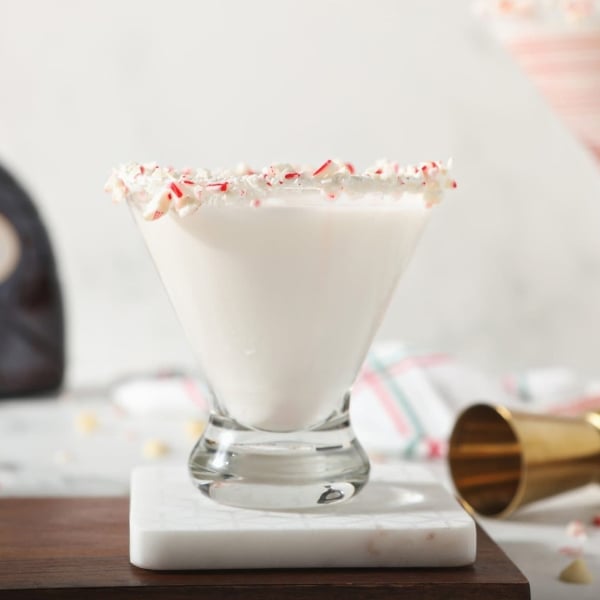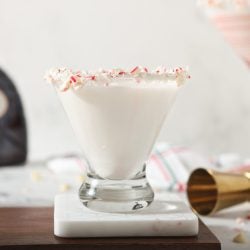 White Chocolate Martini
Need the perfect festive cocktail to serve this holiday season? A White Chocolate Martini, rimmed with candy canes is the perfect holiday dessert drink! Learn how to make this simple cocktail recipe for easy entertaining and more!
See The Recipe!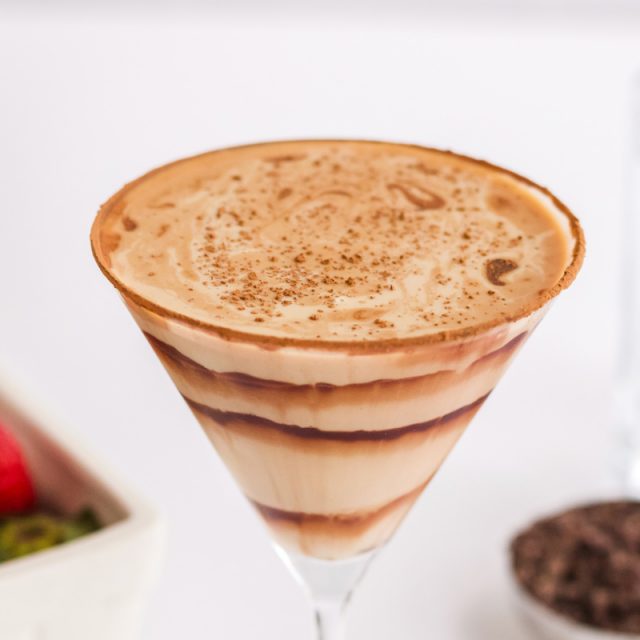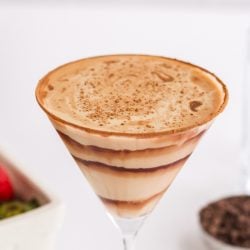 Chocolate Martini
This EASY Chocolate Martini recipe is the perfect after dinner drink! It's creamy, indulgent and only requires 5 ingredients to make!
See The Recipe!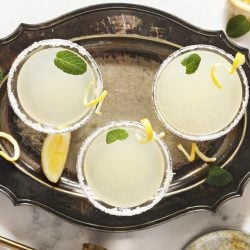 Lemon Drop Martini Recipe
A Lemon Drop Martini is the perfect balance of sweet and tart. Calling for just four ingredients, these easy to make martinis are easy to sip and include a lemon sugar rim.
See The Recipe!
More Favorites from Savory Experiments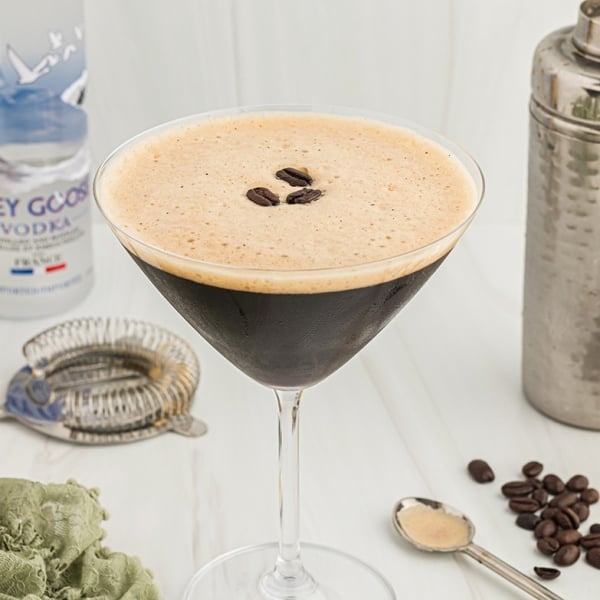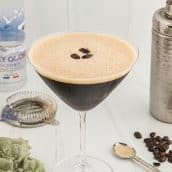 Espresso Martini Cocktail Recipe
With only 4 simple ingredients, you can have this Espresso Martini ready in only 5 minutes. The perfect after-dinner dessert cocktail!
Ingredients
1

ounce

espresso freshly brewed

1 1/2

ounces

vodka

1/2

ounce

coffee liqueur (such as Kahlúa)

1

ounce

Baileys Irish Cream

1/2

ounce

simple syrup or flavored syrup

coffee beans

, for garnish, optional
Instructions
Brew the espresso and place it in the refrigerator to let it chill.

Place the chilled espresso, vodka, coffee liqueur and simple syrup in a cocktail shaker with 1 cup of ice. Shake vigorously so it gets frothy.

Using a strainer, pour into a martini glass. Garnish with coffee beans, if desired.
Notes
If you prefer a creamy Espresso martini, add 1 ounce of Bailey's Irish Cream.
Nutrition
Calories:
188
kcal
,
Carbohydrates:
17
g
,
Protein:
0.04
g
,
Fat:
0.1
g
,
Saturated Fat:
0.04
g
,
Polyunsaturated Fat:
0.04
g
,
Sodium:
14
mg
,
Potassium:
42
mg
,
Sugar:
17
g
,
Vitamin C:
0.1
mg
,
Calcium:
2
mg
,
Iron:
1
mg