There is nothing quite like a steaming bowl of Red Wine Beef Stew to warm your soul on a chilly winter night. It's like your food is giving you a giant hug.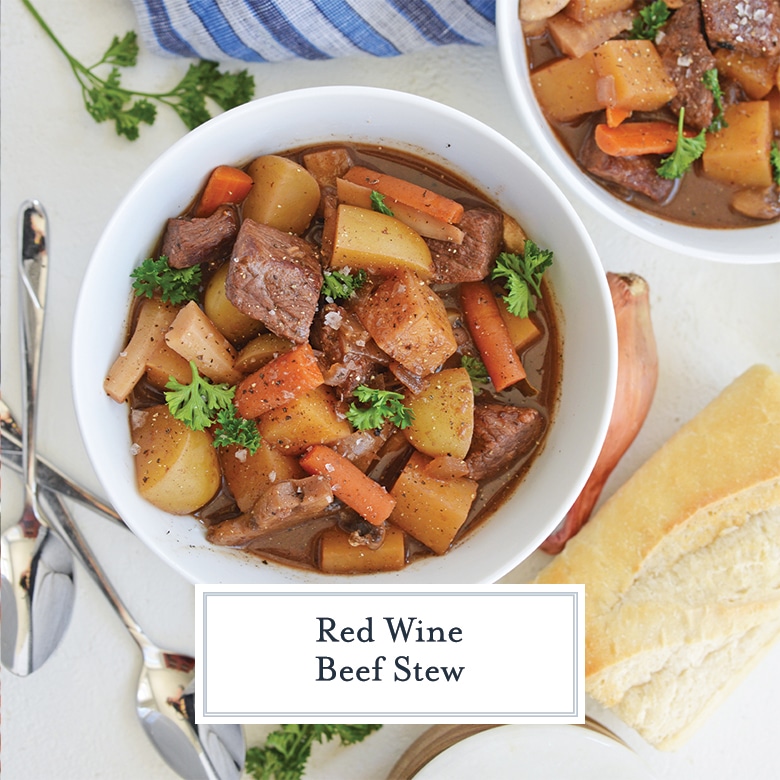 Beef Stew with Red Wine
Red Wine Beef Stew is loaded with vegetables and a savory broth. Add a slice of crusty bread and you are all set!
Red wine brings out flavors from a hearty beef broth. It can be omitted if you don't cook with alcohol, but keep in mind that alcohol will burn off during the cooking process.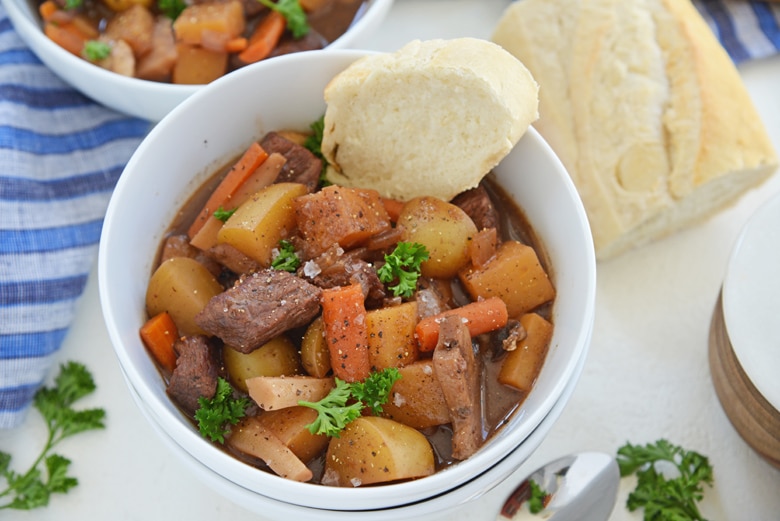 The best reds to use are dry and slightly tannic. Sweet wines don't do as well in this dish.
The Beef
What type of beef do you use in beef stew? Typically beef stews are made with some sort of beef chuck or other cheaper cut of beef. The long and low simmer time tenderizes and adds flavor, so a pricier and more flavorful piece of meat isn't as necessary.
On the date I decided to make my Red Wine Beef Stew the only beef I had in the fridge was New York Strip, also known as a Delmonico, shell steak or striploin cut.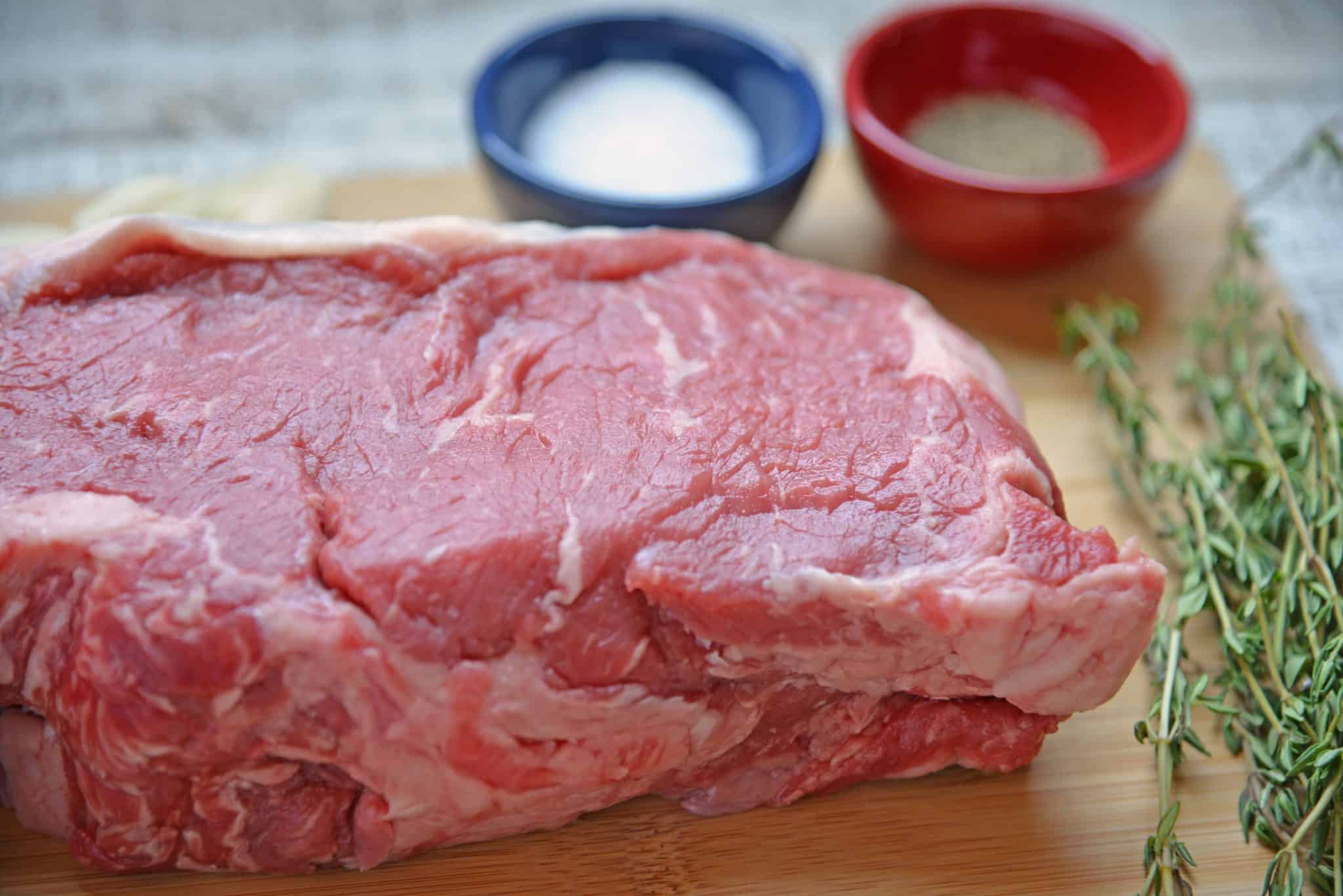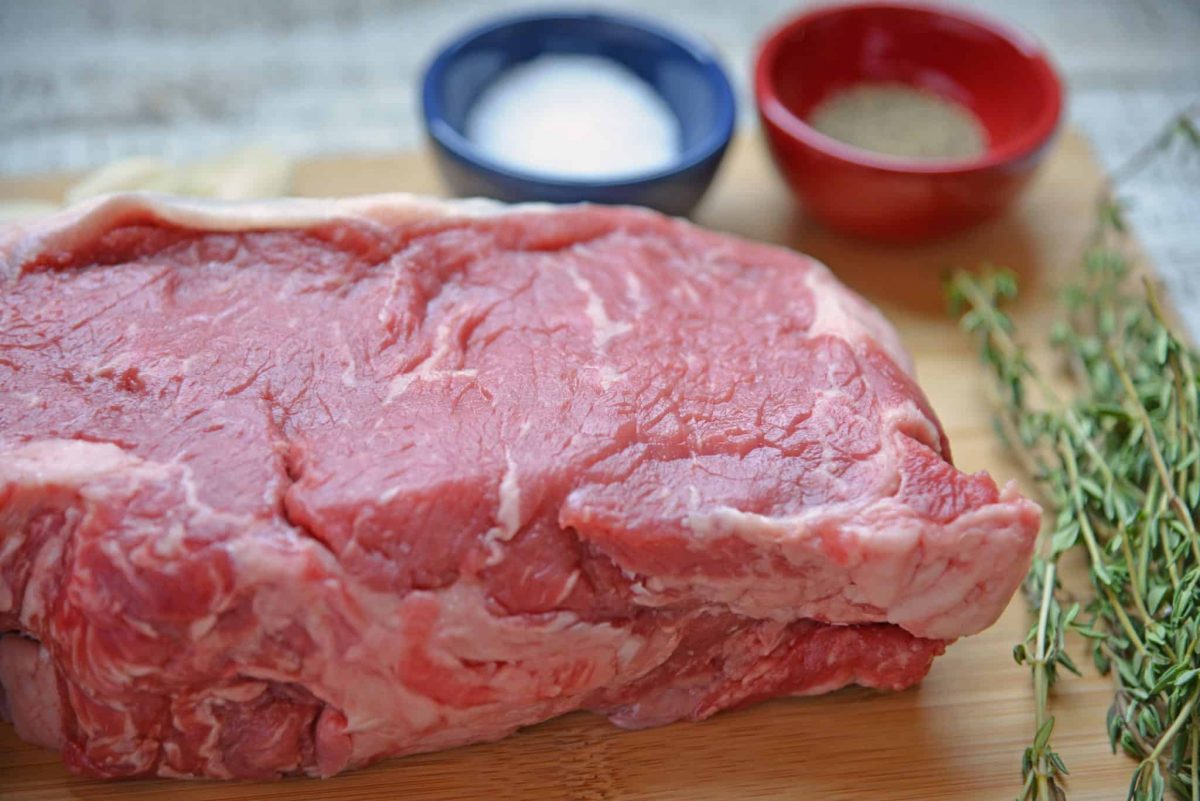 It is pricier and not really necessary, but I wanted to demonstrate how you can use nearly any cut of beef and be fine. It is a forgiving recipe.
Some might say it was waste, but let me tell you, it made the tastiest, melt-in-your-mouth beef stew I've ever eaten. You can still use a less expensive piece of meat for yours, but if you can manage to find a New York strip on sale, give a whirl!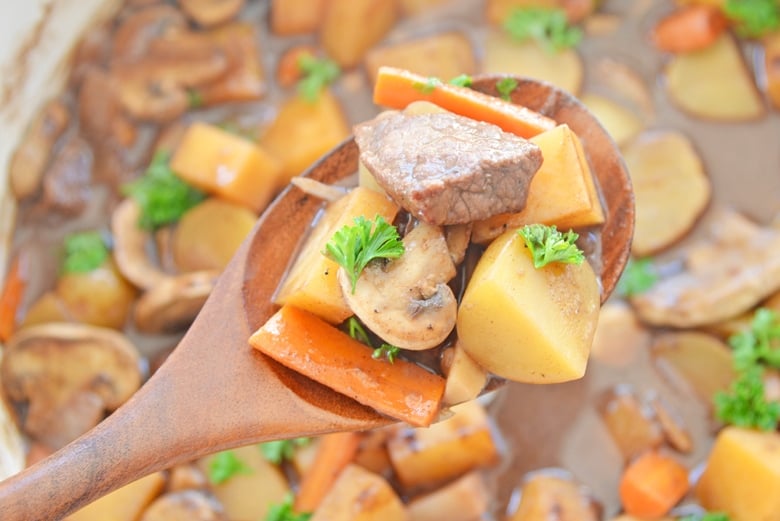 Other cuts will need might need more simmer time to break down fibers to a soft texture.
Beef Broth
The beef is obviously the most important part, but then comes the broth. Using a quality beef broth is key. You want something with heavy beef flavor and little to no salt. Only because you want to control your own salt levels.
Knowing the beef broths in a carton or which bouillon bases fit these needs and are available at your store are key.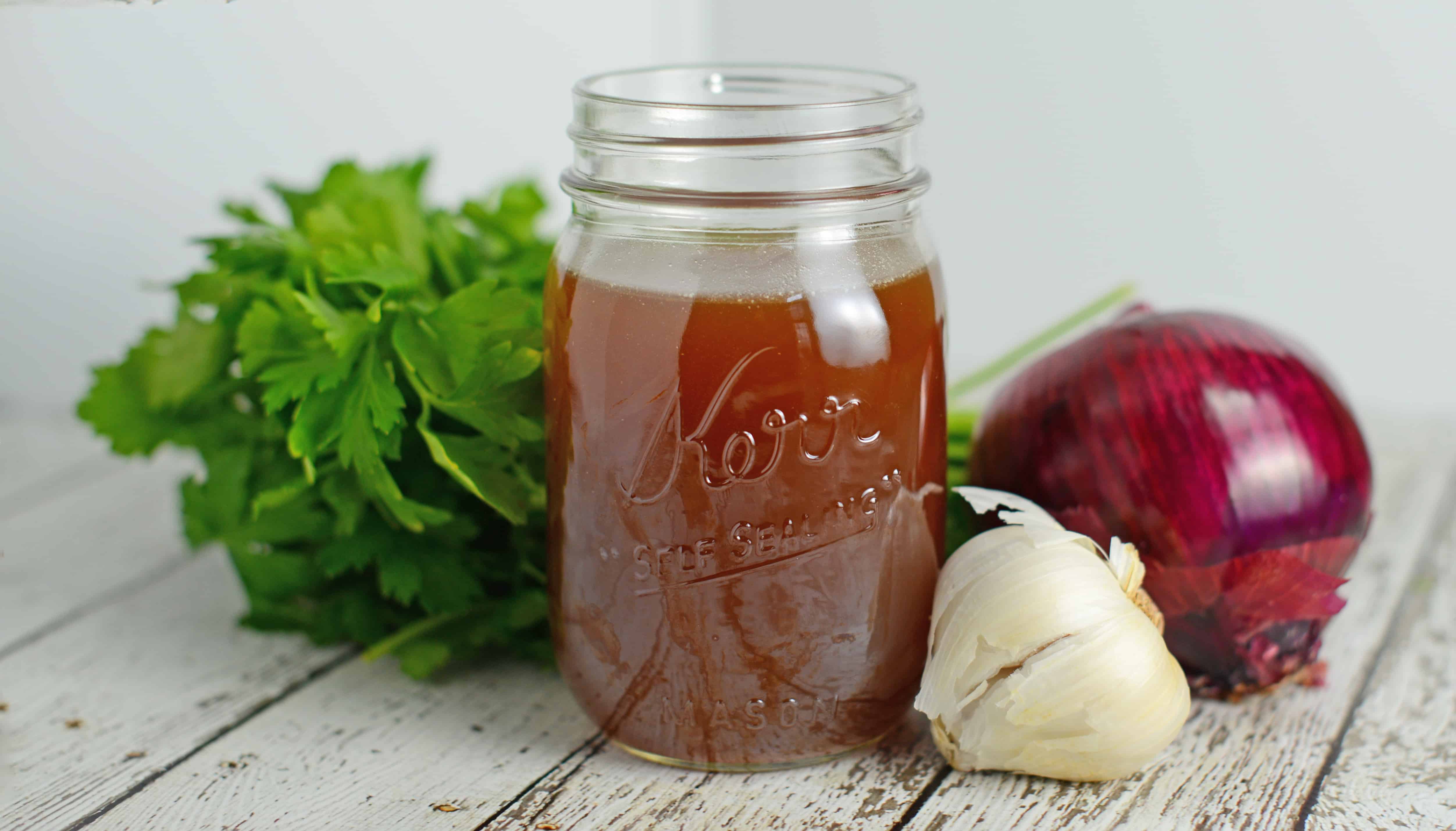 Vegetables will season it further while it simmers and finally, you'll correct the seasoning with salt and pepper right before serving.
Make sure to check out my tips on making the BEST stocks at home! One of my favorite necessities for making any type of soup or stew is a nice, heavy bottom Dutch oven
.
How to Make Beef Stew
This is how to make beef stew! Slice beef into 2 inch cubes, then pat dry with a paper towel as wet beef doesn't brown properly. Toss the beef in dry seasoning mix which will help to further dry it out.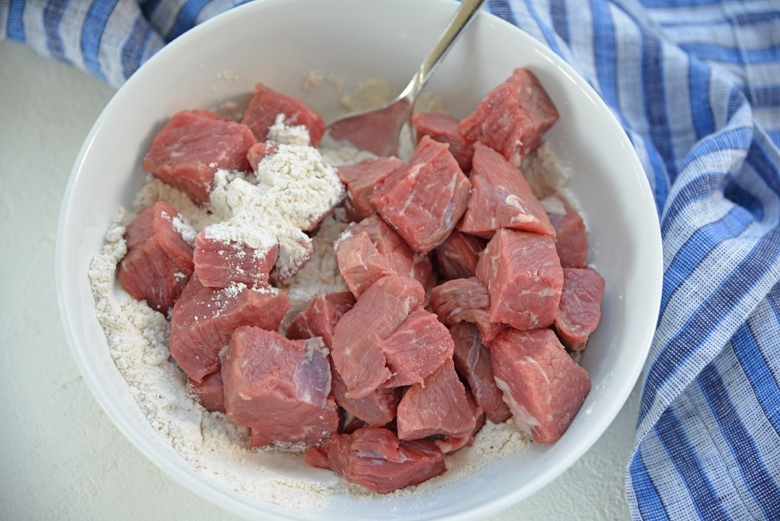 Heat olive oil in a large pot and add cubed beef when hot. Turn often to brown the beef. Cook for 4-5 minutes. This is the Maillard reaction and will deepen the beefy flavors while creating acidity.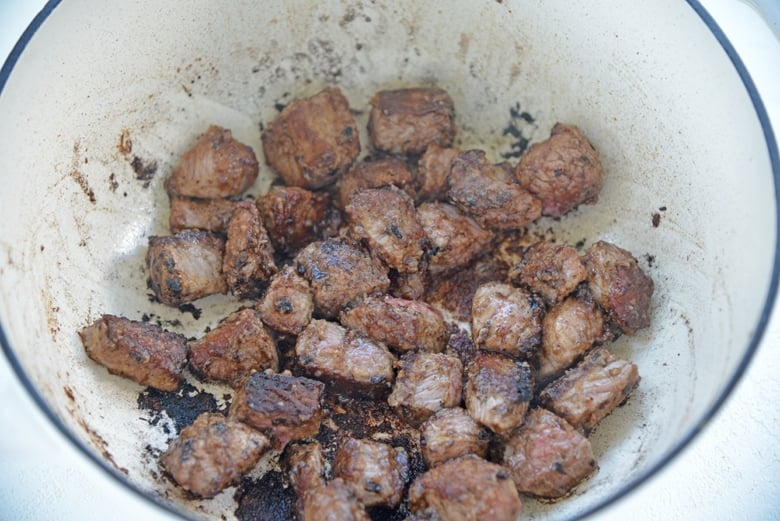 Transfer cooked beef to a plate to drain and add red wine to deglaze the pan. Scrape to remove any brown bits, they are essential to the flavor! Little flavor bombs, I call them.
Next toss in the beef stock and herbs, bring to a boil and add the beef back. This will break down tougher pieces of meat and infuse both the beef and stock with flavor.
Prep the vegetables while it simmers. Try to make veggies a uniform size so they cook evenly at the same pace.
Thirty minutes before serving, add raw carrots, parsnips and potatoes. Ten minutes before serving add diced shallots and celery. I like my celery to retain its snap in the soup, but if you want yours to be a little softer, add with the carrots.
Lastly ladle out 1/2 cup of stew and mix with the slurry before adding back to the stew. Correct the seasonings with salt and pepper and then serve.
I like to garnish mine with a little fresh oregano, which is peppery and light.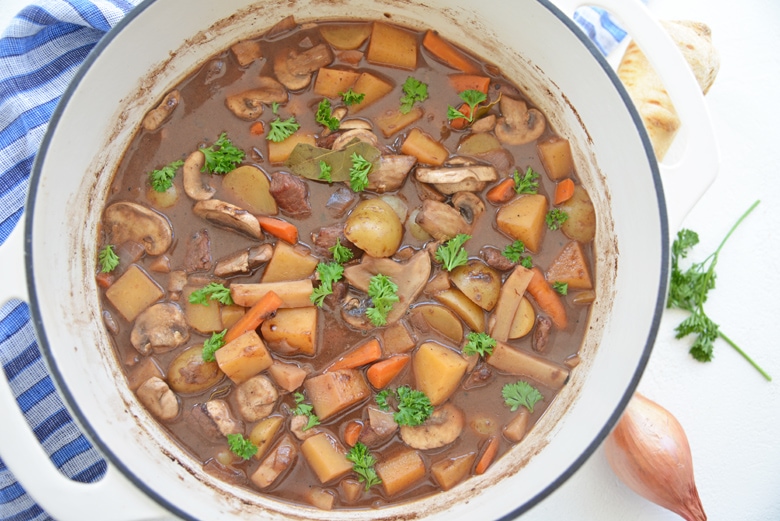 Vegetables
What vegetables go in beef stew? For my beef stew, I prefer using root vegetables. They are hearty and won't break down or become mushy while cooking or when stored for a later date.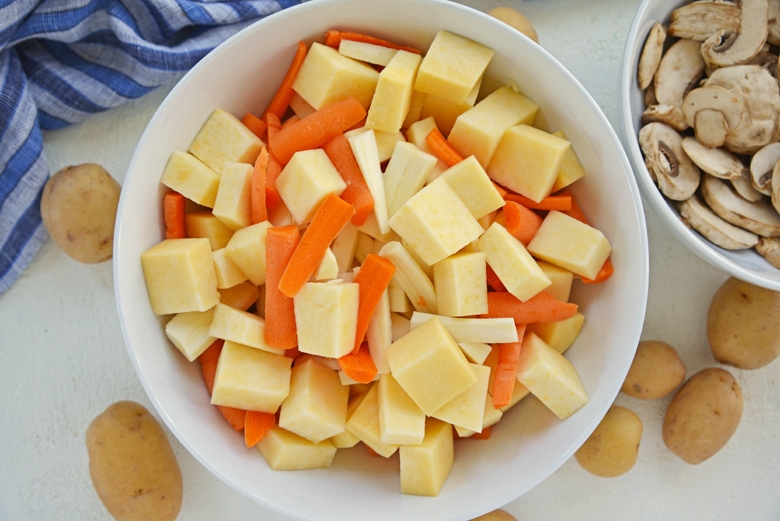 Turnips and parsnips are two of my favorite root vegetables that are seriously under used in the US.
The store was all out of turnips, so I used parsnips and rutabaga, but feel free to throw some in or adjust the amounts of any of the other veggies. Sometimes I even throw in a little cabbage or kale for leafy greens!
Potatoes are pretty standard, as are mushrooms. But again, create blend that works for your family.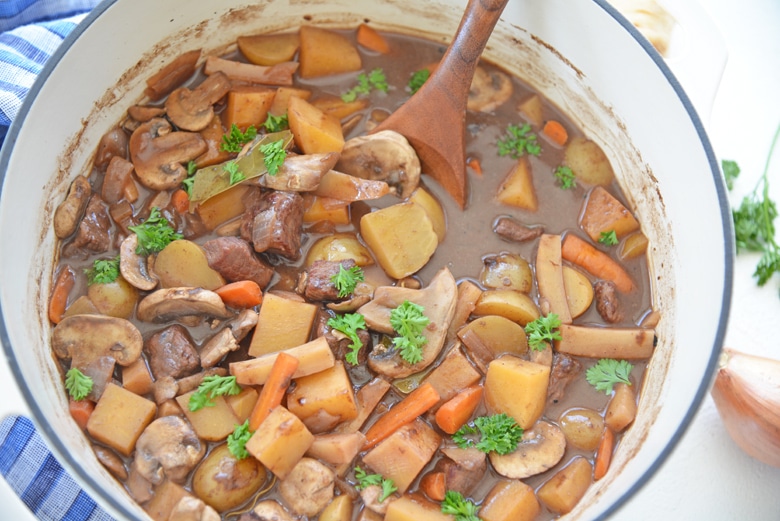 What is important is how you cut them. Make sure they are fairly similar shape and size so they all cook to perfect at the same time and nothing is undercooked or overcooked and mushy.
How To Thicken Beef Stew
Beef stew will thicken a bit naturally thanks to the starches in the potatoes and the dredging of the beef, but I always like to thicken it a little bit more.
Afterall, this is a stew and not soup. The savory sauce should coat the back of a spoon. You also won't have as much of it as you would a soup, so don't expect your beef to be going for a swim.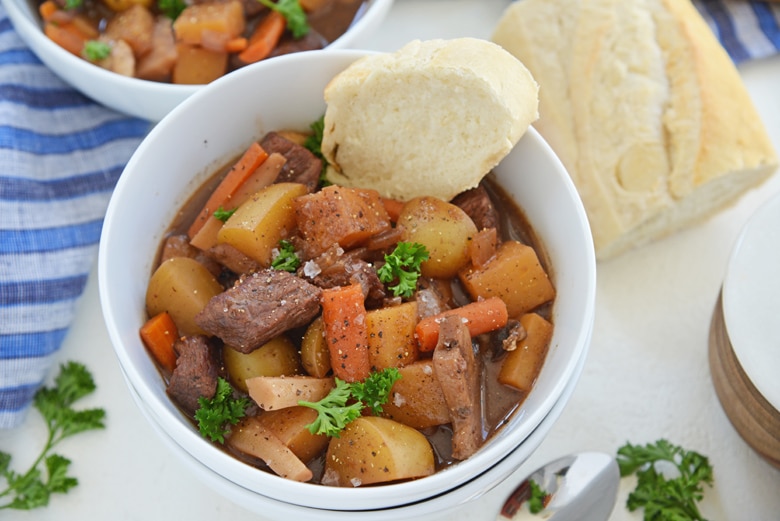 Stew can be thickened by giving the vegetables a quick mash or you can use either flour or cornstarch. My preferred method for thickening beef stew (and the method used in this beef stew recipe) is to use a cornstarch slurry.
How to Make a Slurry
Slurry might sounds like a gross word, but it is easy to make and is a quick way to thicken any soup, sauce or gravy. In fact, I bet you've make one before and just didn't know the buzz word.
Combine equal parts cornstarch and water, broth or the liquid you are trying to thicken and stir.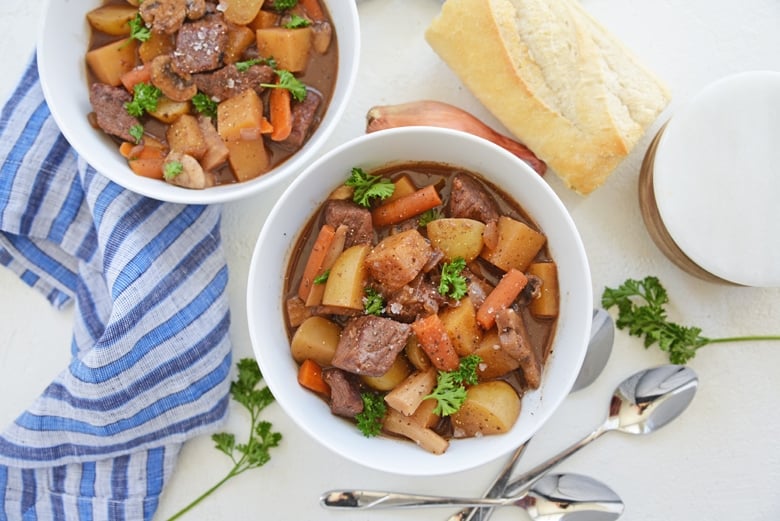 Pour slurry in a little at a time into hot soup or stew to thicken. Wait a little between each addition, as it takes a few minutes to do its magic. Once you achieve your desired thickness, allow it to boil at least 1-2 minutes to ensure you cook out any starchy texture.
If you make the slurry ahead of time, give it a quick stir before adding. It will seperate, but quickly come back together.
Make Ahead & Storage
Beef stew is perfect for making ahead and also freezing. Store in the fridge in an airtight container for up to 5 days.
Freeze in an airtight container or plastic bag for up to 6 months.
With either freezing or storing, test and correct seasoning before seasoning. These flavors, especially salt, mute when cold.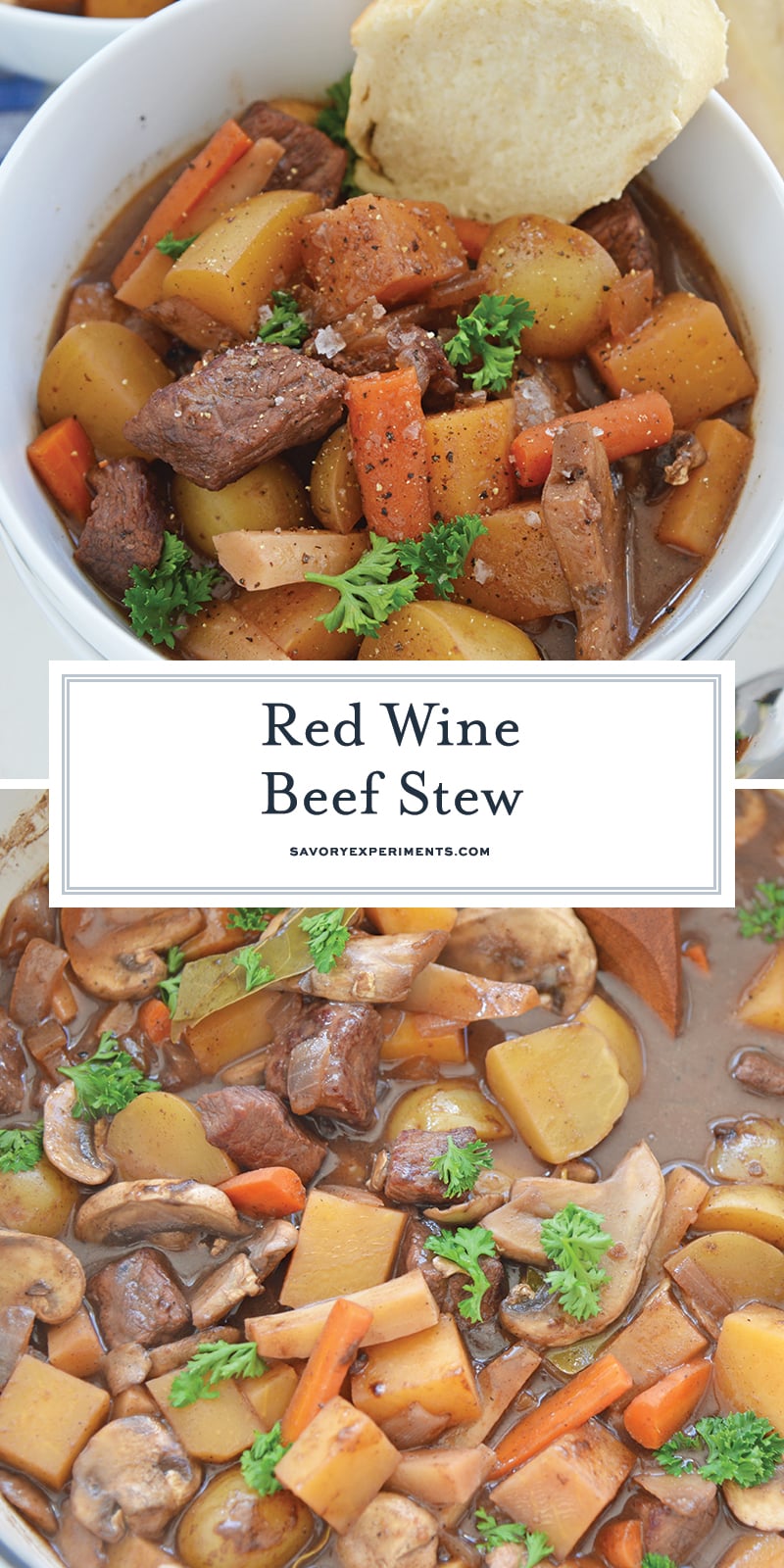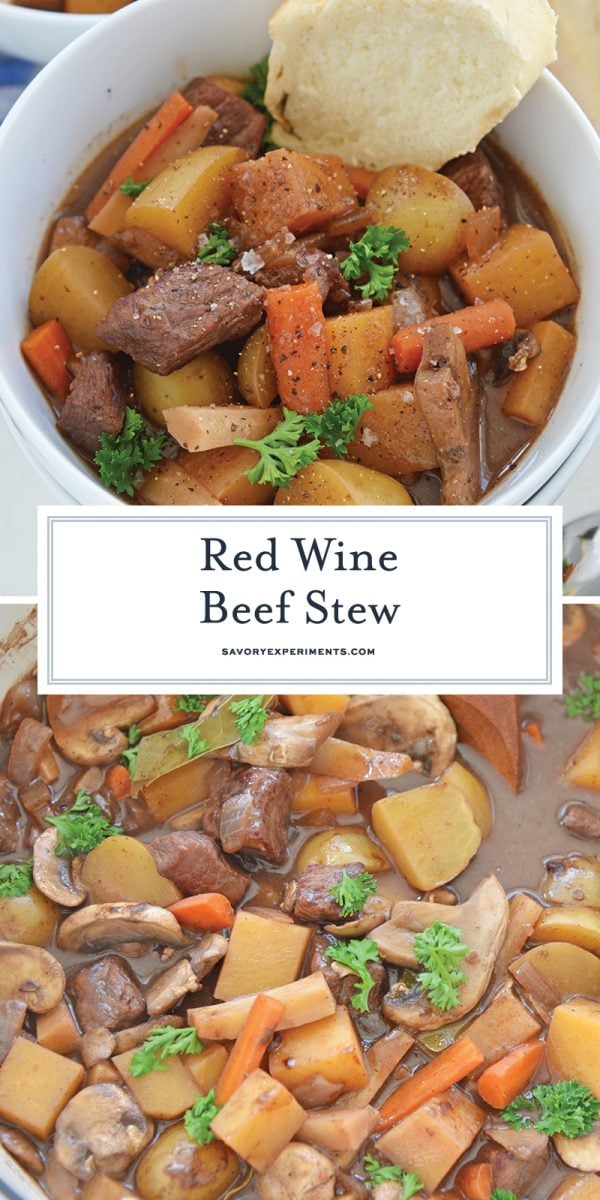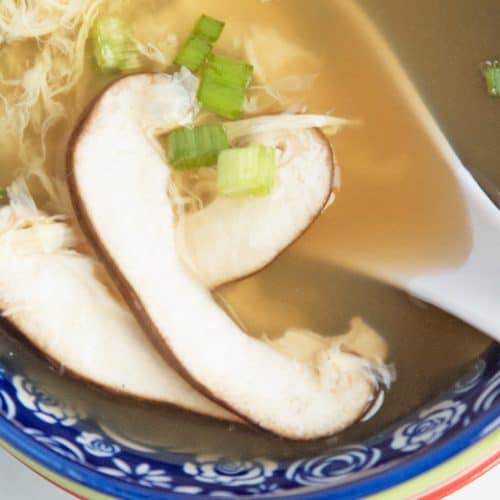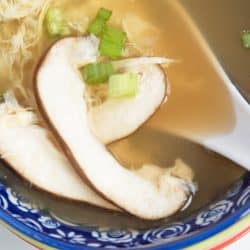 Egg Drop Soup
This Chinese Egg Drop Soup is the BEST! It's quick and easy to make, making it perfect for a quick lunch or starter for dinner. It's made in only 15 minutes!
See The Recipe!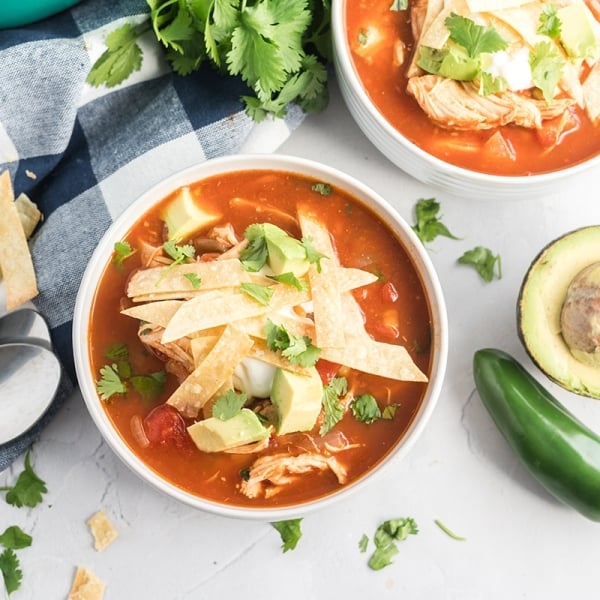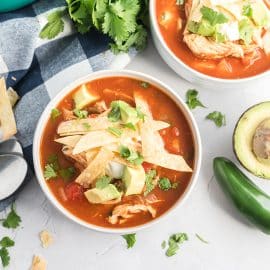 Easy Chicken Tortilla Soup
This is an easy chicken tortilla soup that can be on your table in less than an hour. A rich tomato broth with a bit of spice and large chunks of chicken make this a hearty and comforting meal!
See The Recipe!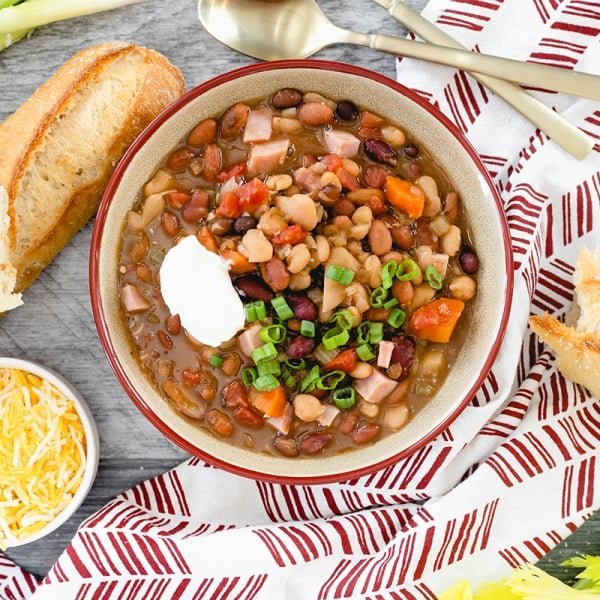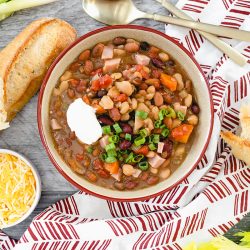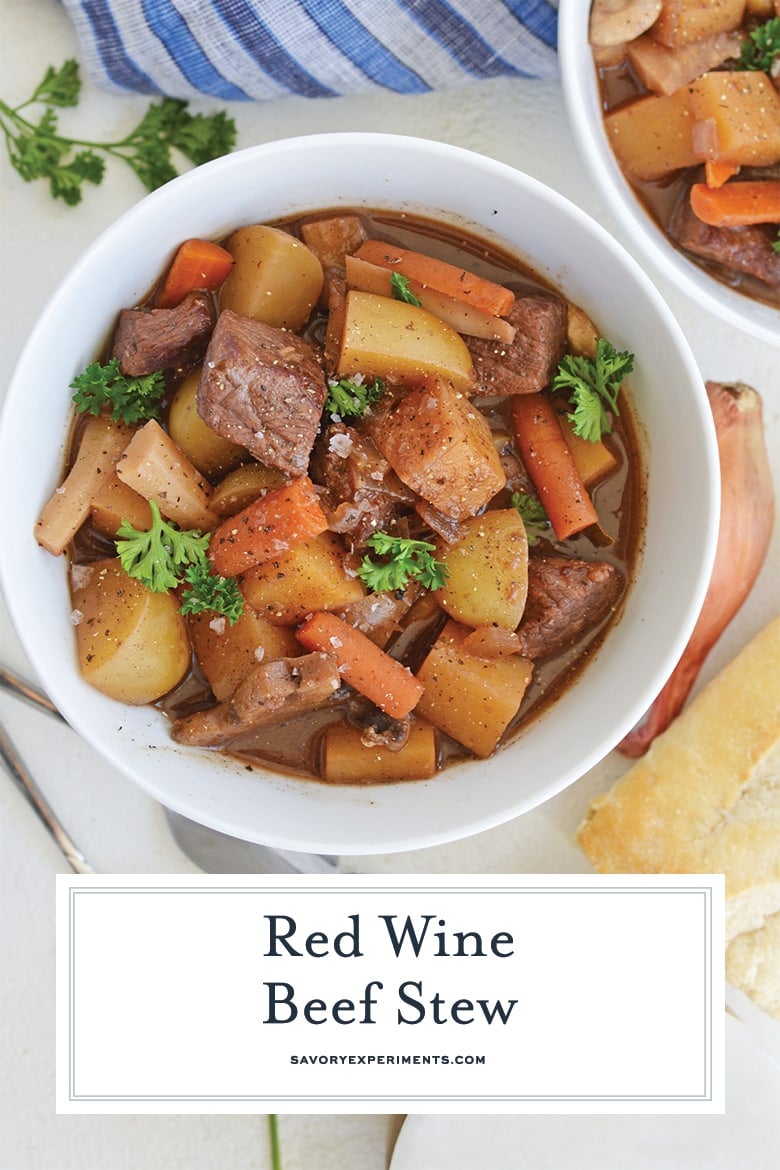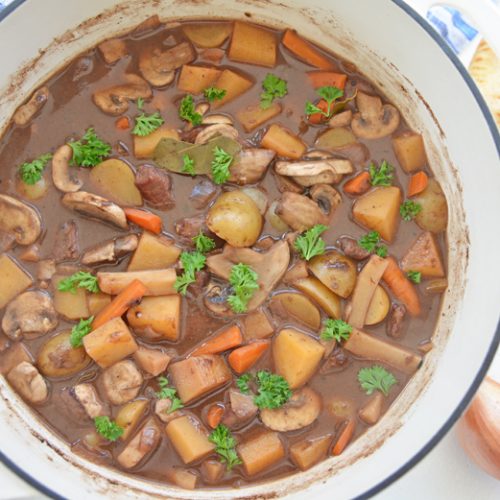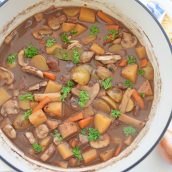 Red Wine Beef Stew Recipe
Beef Stew is one of the world's best comfort foods, but Red Wine Beef Stew filled with vegetables and a savory broth, feels like your dinner is giving you a hug!
Instructions
Dice beef into 1-2 inch cubes. Pat dry with paper towels.

In a medium mixing bowl combine flour, 1 teaspoon salt, paprika and black pepper. Mix dry ingredients well and set aside 2 tablespoons flour before adding beef.

Toss beef with flour, removing beef and shaking off excess flour.

Heat light extra virgin olive oil in a large Dutch oven or pot over medium-high heat. When hot, add beef cubes. Turn every so often to sear and brown the outside. Cook for 4-5 minutes and remove to a paper towel lined plate to remove excess grease. Keep the heat on. Depend on the size of your pan, you might want to work in 2-3 batches. Meat browns best when it has room for air to circulate and isn't crowded.

Add red wine to the pan to deglaze. Scrape the bottom removing all those little brown bits that will dissolve and add flavor to the completed stew.

After deglazing, add beef stock, thyme and bay leaves. Bring to a low simmer before adding cooked beef cubes. Simmer for 30 minutes.*

Prep all the colorful veggies while stew simmers. Thirty minutes before serving gently add vegetables. Bring to a low boil to cook vegetables.

Ladle out 1/4 cup of beef broth and whisk with reserved flour-spice mixture until smooth. Add to stew. This will help to thicken up your stew. If is is still not the correct consistency you can add 1 tablespoon cornstarch mixed with 1 tablespoon water.

Heat for an additional 5-10 minutes. Stew liquid should coat the backside of a wooden spoon, but not be thick like gravy. Vegetables should be fork tender.

Add remaining 1 teaspoon coarse salt and season to desired taste with freshly ground pepper.

Ladle into bowls and serve with slices of a crusty bread to soak up the remaining liquid your spoon couldn't reach. Enjoy!

If you've tried this recipe, come back and let us know how it was in the comments and ratings!
Notes
*If using a different cut of beef, you might need to simmer for up to 2 hours until tender.
Nutrition
Calories:
379
kcal
,
Carbohydrates:
14
g
,
Protein:
25
g
,
Fat:
21
g
,
Saturated Fat:
7
g
,
Cholesterol:
91
mg
,
Sodium:
658
mg
,
Potassium:
670
mg
,
Fiber:
2
g
,
Sugar:
3
g
,
Vitamin A:
2128
IU
,
Vitamin C:
9
mg
,
Calcium:
47
mg
,
Iron:
2
mg