Looking for a fruity dessert, breakfast, or brunch recipe? Easy Apple Cream Cheese Strudel is right up your alley!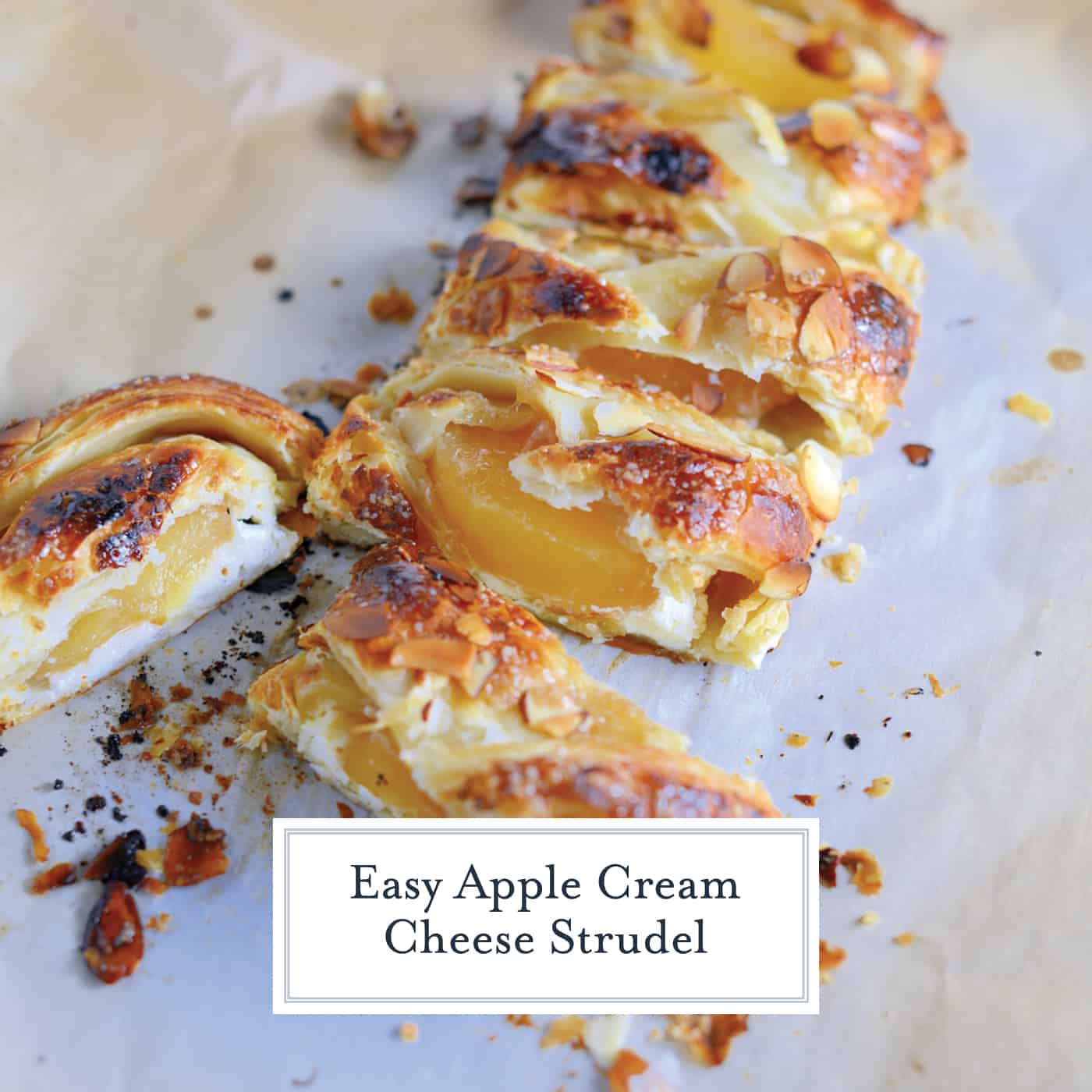 Pastry isn't as challenging as you might think. My Easy Apple Cream Cheese Strudel uses only 6 ingredients and 10 minutes of your time for a fancy-pants breakfast or dessert!
Puff pastry is one of those things that is fairly simple to make at home, but it can be a bit time-consuming. To make it you have to fold butter inside of dough and fold.
This process is repeated a few times with chilling time in between each rolling out. If you have ever seen The Great British Baking Show, you know what I am talking about.
And while I love a good homemade dough, I LOVE a shortcut. So much so that I buy my puff pastry at the store. It is just as delicious and saves me oodles of time. I am sure many of you can relate.
The trick here is to use premade puff pastry. I prefer to use an all-butter puff pastry as opposed to vegetable oil pastry. Some folks can tell the difference, some can't, just check the box if you are at all concerned.
My dirty little secret is that I keep a few sheets in the freezer at all times knowing that I can always pull out a sheet and put together an impressive dish, any time of day, like: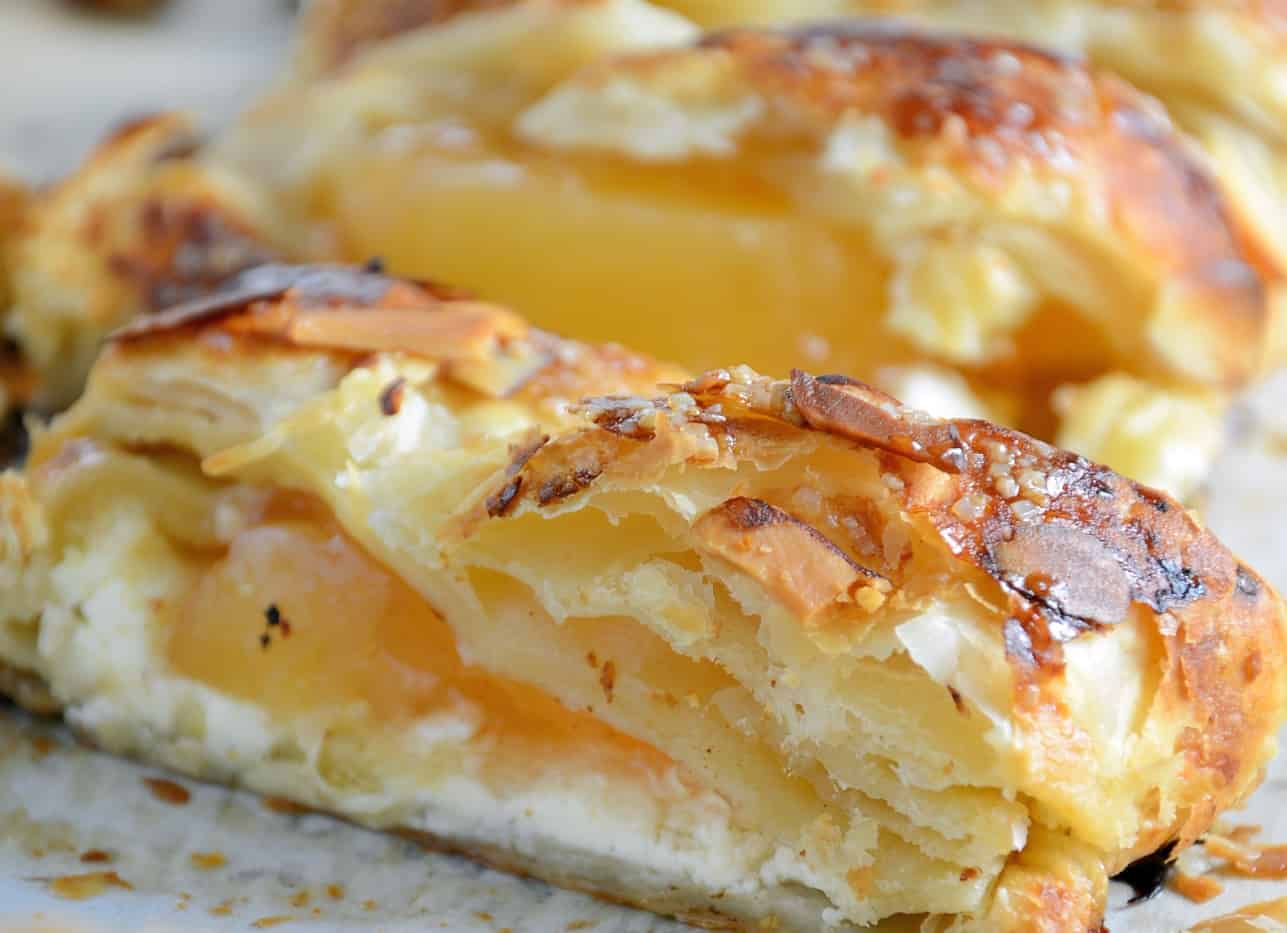 Easy Apple Cream Cheese Strudel was hot, hot, hot in my house that it was G-O-N-E in minutes.
Apple pie filling is already perked up with a blend of spices, but feel free to liven even further with cinnamon and/or nutmeg. Give it a taste and let your tastebuds decide if anything else is needed.
The cream cheese in this dish adds a bit of sophistication to buttery layers of puff pastry and a luxurious bite. Rich, but not overdoing it.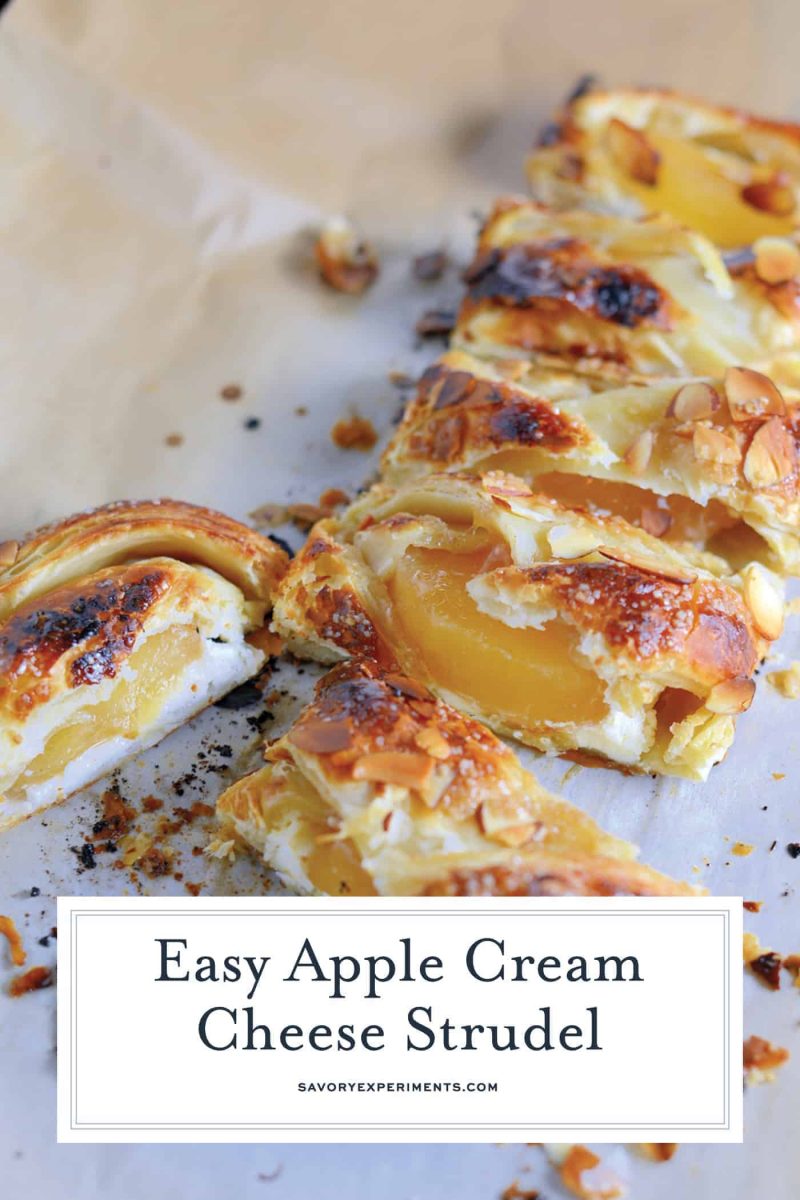 It might seem like a lot, but brushing the top with butter does two things. One, it will give it a gorgeous sheen and a toasty brown color when it comes out and two, it will serve as a "glue" for your toppings.
I like to top mine with turbinado sugar and sliced almonds. Turbinado sugar is golden brown and larger in terms of crystal size than that of the white sugar we are so familiar with.
It is partially refined which means it has a bit of molasses left in it. Translation: rich sweetness and added crunch. The almonds are just a nutty bonus!
The cuts and the folding of this gem can be a little tricky when you do it for the first time. Use the image below as a guide. You will have it in no time at all!
Next, fold, slather, fill and bake! Easy Apple Cream Cheese Strudel is literally that easy!
If you like this easy pastry recipe, check these sweet breakfast recipes out: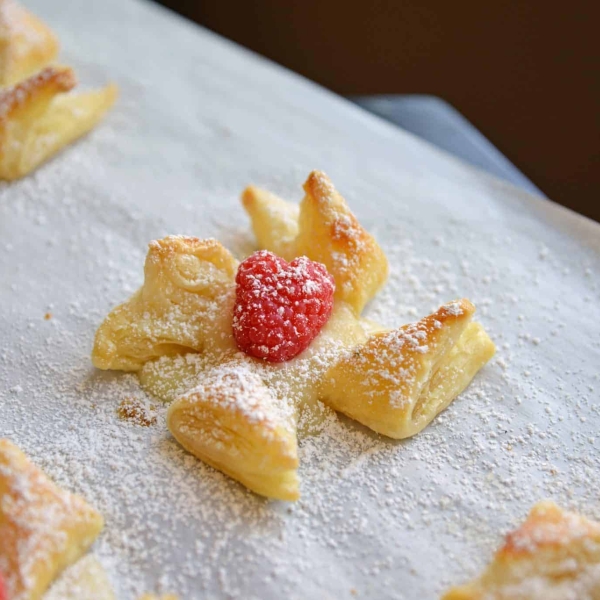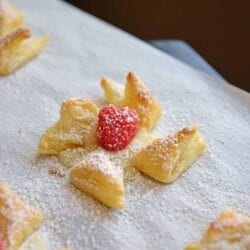 Danish Pastry
Danish Pastry make a great dessert that is not heavy but is also easy and quick to put together. Everyone will love this brie in puff pastry!
View this recipe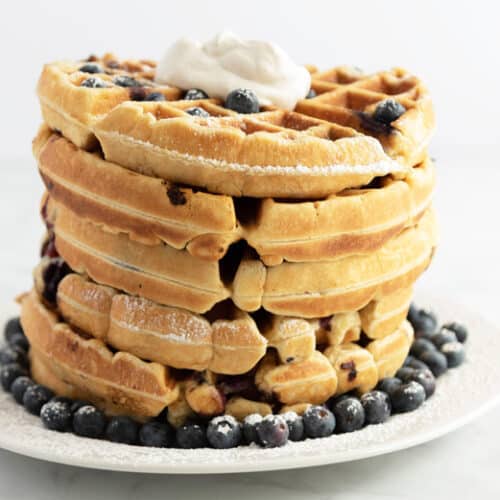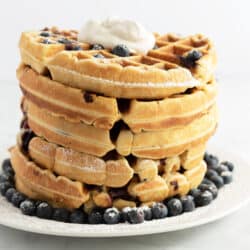 Blueberry Waffle Recipe
This light and fluffy Blueberry Waffles recipes are totally made from scratch! Made with simple ingredients and easy to whip up for a quick breakfast!
View this recipe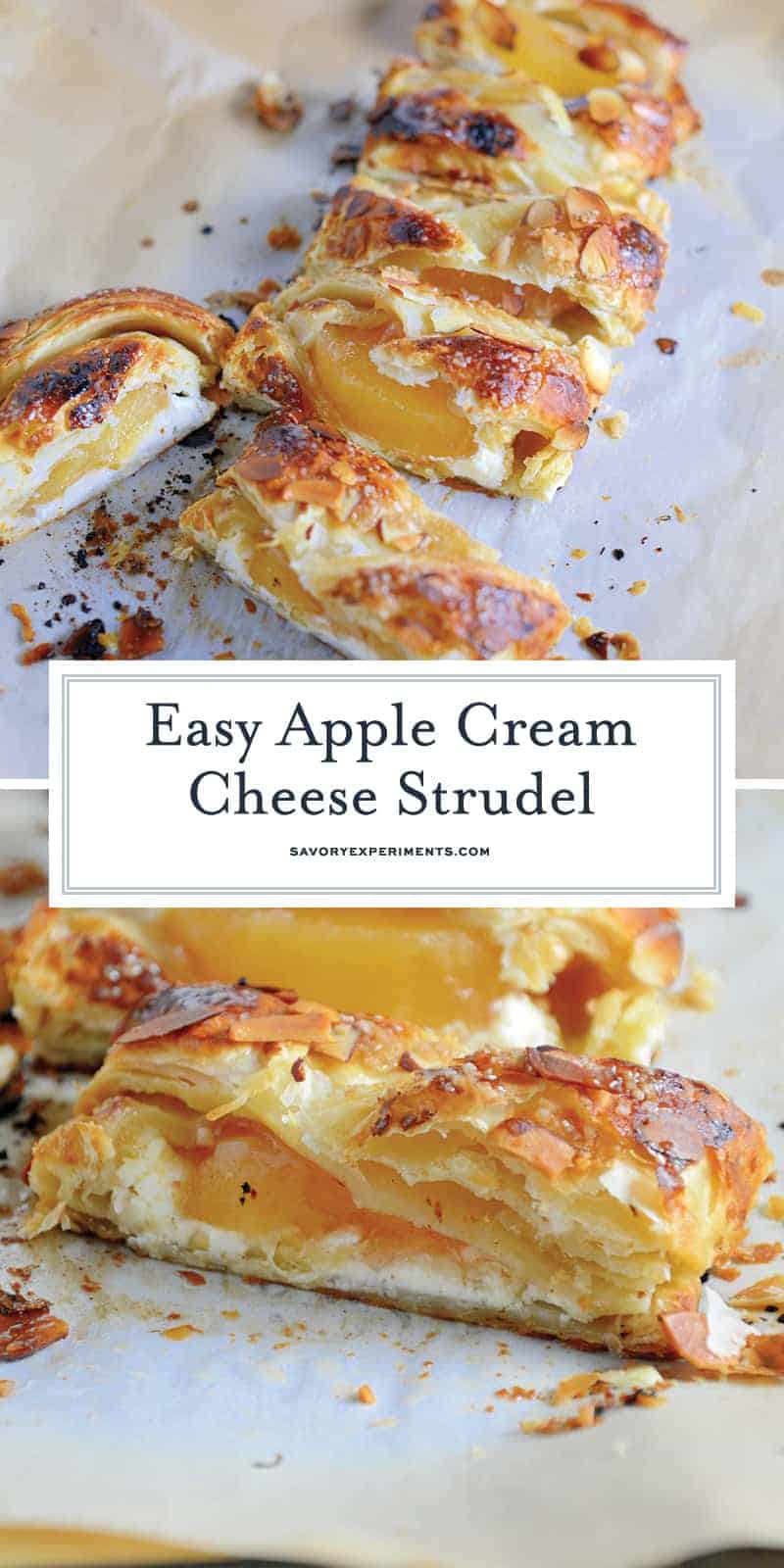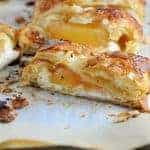 Easy Apple Cream Cheese Strudel Recipe
Pastry isn't as challenging as you might think! My Easy Apple Cream Cheese Strudel uses only 6 ingredients and 10 minutes to prepare for a fancy-pants breakfast or dessert!
Instructions
Line a baking sheet with parchment paper and preheat oven to 400 degrees.

In a small bowl, blend together softened cream cheese with light brown sugar and vanilla. Set aside.

Unroll puff pastry on a clean work space. Make 4-5 diagonal cuts down each side at the same intervals. See photo.

Brush with melted butter. Spread cream cheese down the center, topped with apple pie filling.

Fold over the bottom piece, then alternating sides, braid strips of puff pastry over filling. At the end, fold over the end piece before the last two diagonal cuts.

Brush top with melted butter and transfer to baking sheet. Top with sliced almonds and turbinado sugar.

Bake for 12-15 minutes, or until puff pastry is fluffy and lightly browned. Remove and serve hot or at room temperature.

If you've tried this recipe, come back and let us know how it was!
Nutrition
Calories:
305
kcal
,
Carbohydrates:
35
g
,
Protein:
3
g
,
Fat:
17
g
,
Saturated Fat:
6
g
,
Cholesterol:
15
mg
,
Sodium:
159
mg
,
Potassium:
70
mg
,
Fiber:
1
g
,
Sugar:
12
g
,
Vitamin A:
200
IU
,
Vitamin C:
1.2
mg
,
Calcium:
16
mg
,
Iron:
1.1
mg