Have you seen the newest rage, butter boards? Well I'm taking that concept and cranking it up a notch: queue the Cream Cheese Board!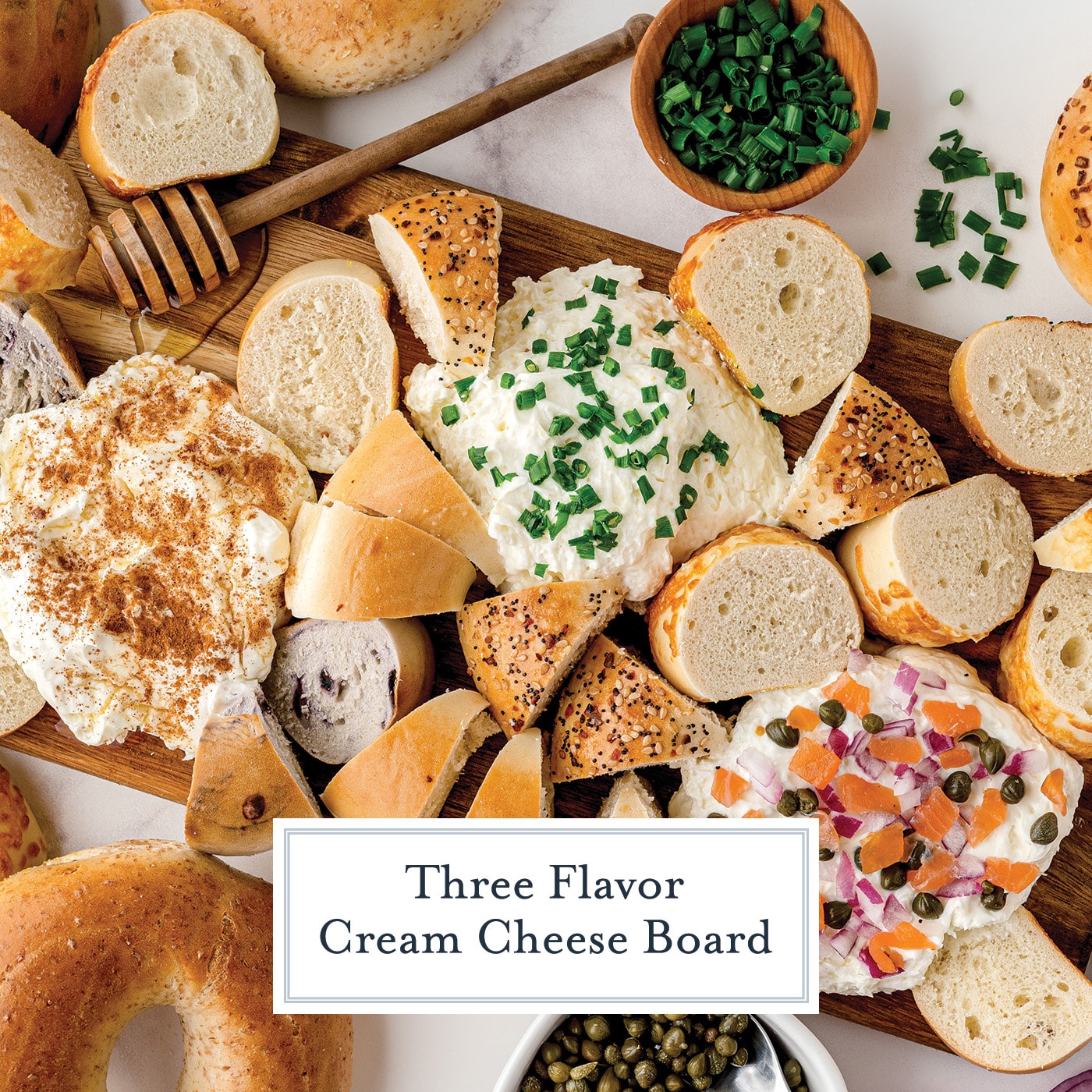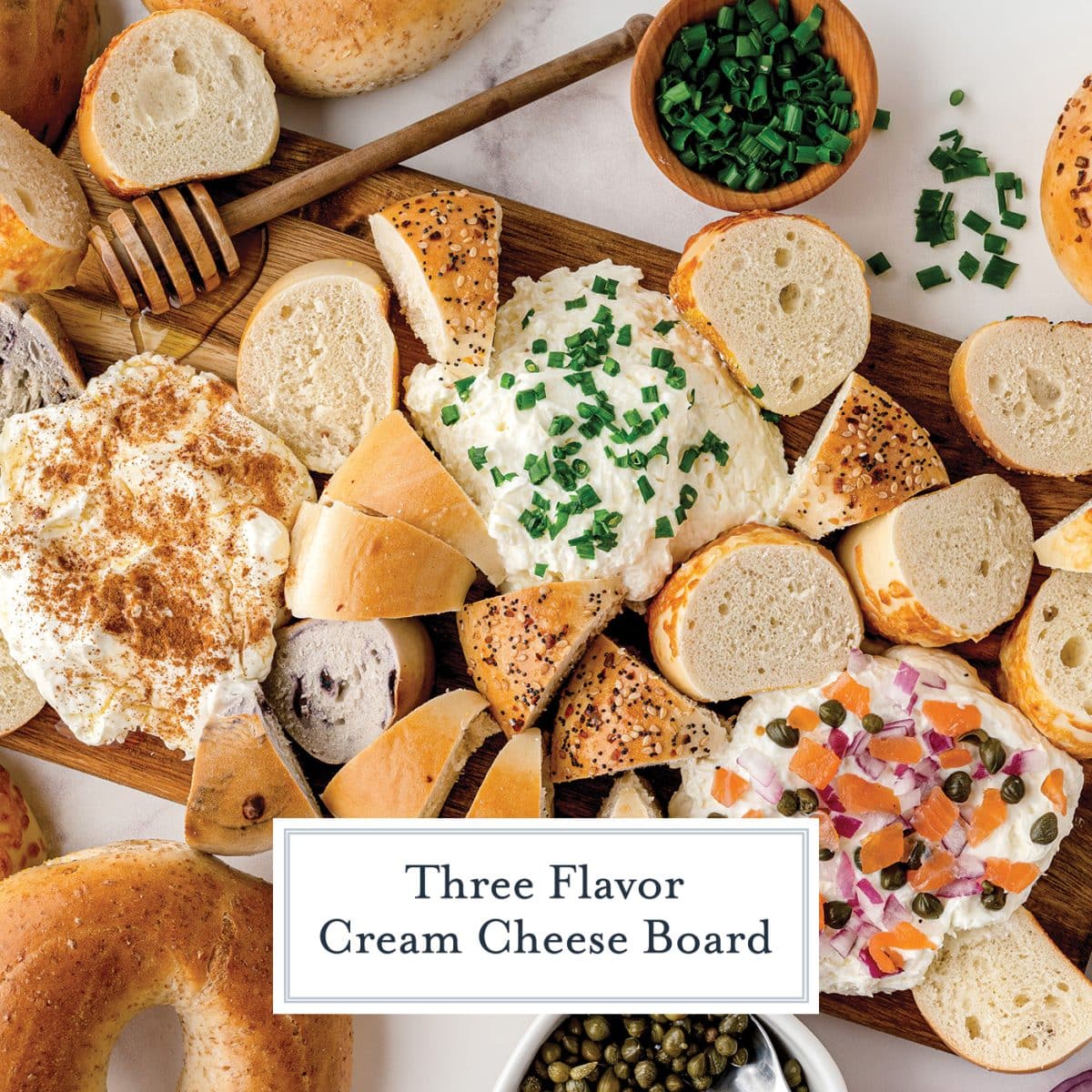 The kind that your friends and family are going to be scared to dive into. A beautiful creation that is a fun twist on the viral social media trend.
The origin of this food trend comes from one of my all-time favorite cookbooks, Six Seasons by Chef Josh McFadden. You've seen me use it for my favorite food game, recipe roulette when picking dinner ideas. So the concept is not new, but it was recently revitalized and become viral on TikTok and Instagram.
It's a great way to serve something new and exciting the next time you have a cocktail party or get together. Plus, they're super quick and easy to put together.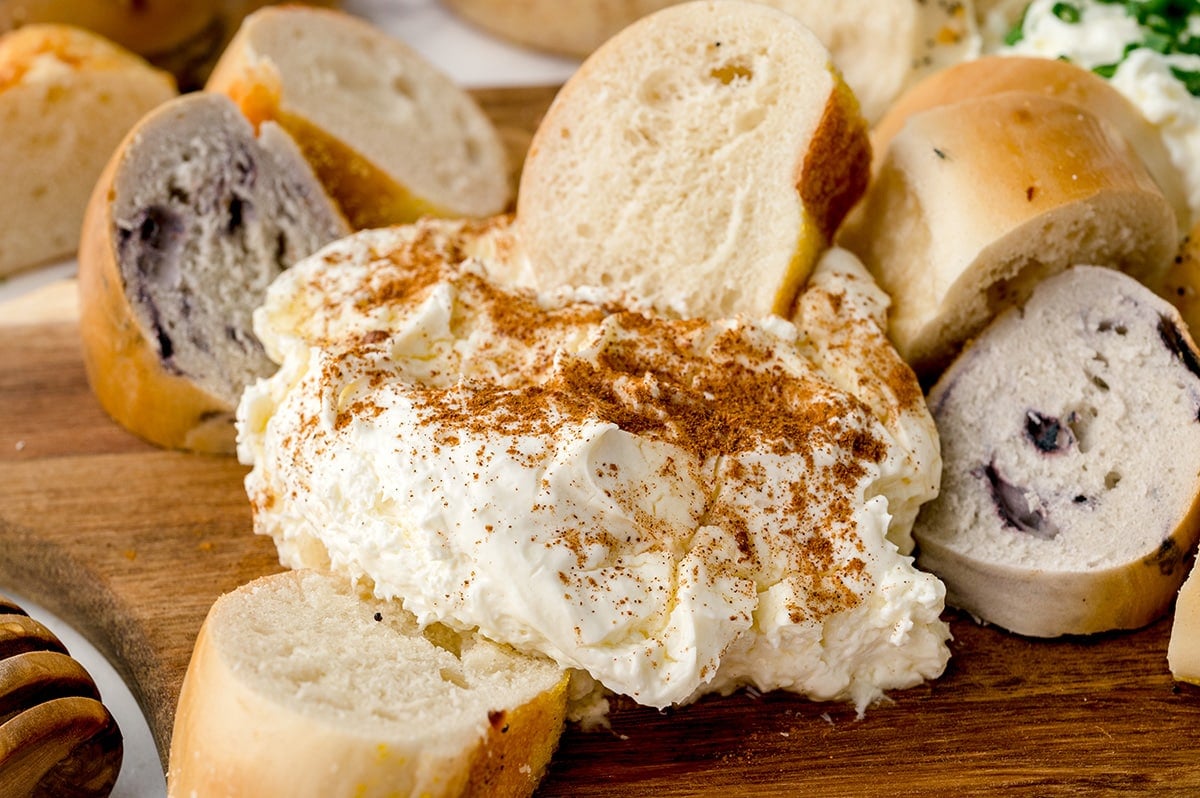 What is a Cream Cheese Board?
A cream cheese board is basically the newest type of charcuterie board, grazing table, breakfast boards, dessert board or cheese board, but showcasing softened cream cheese.
It is a communal cream cheese plate offered deconstructed compound butter. But most of the boards posted so far are just one flavor, mine is THREE! Variety is the spice of life fellow cream cheese lovers! It can be savory or sweet and while you are welcome to use the options laid out below, you can also make your own creation from the list below.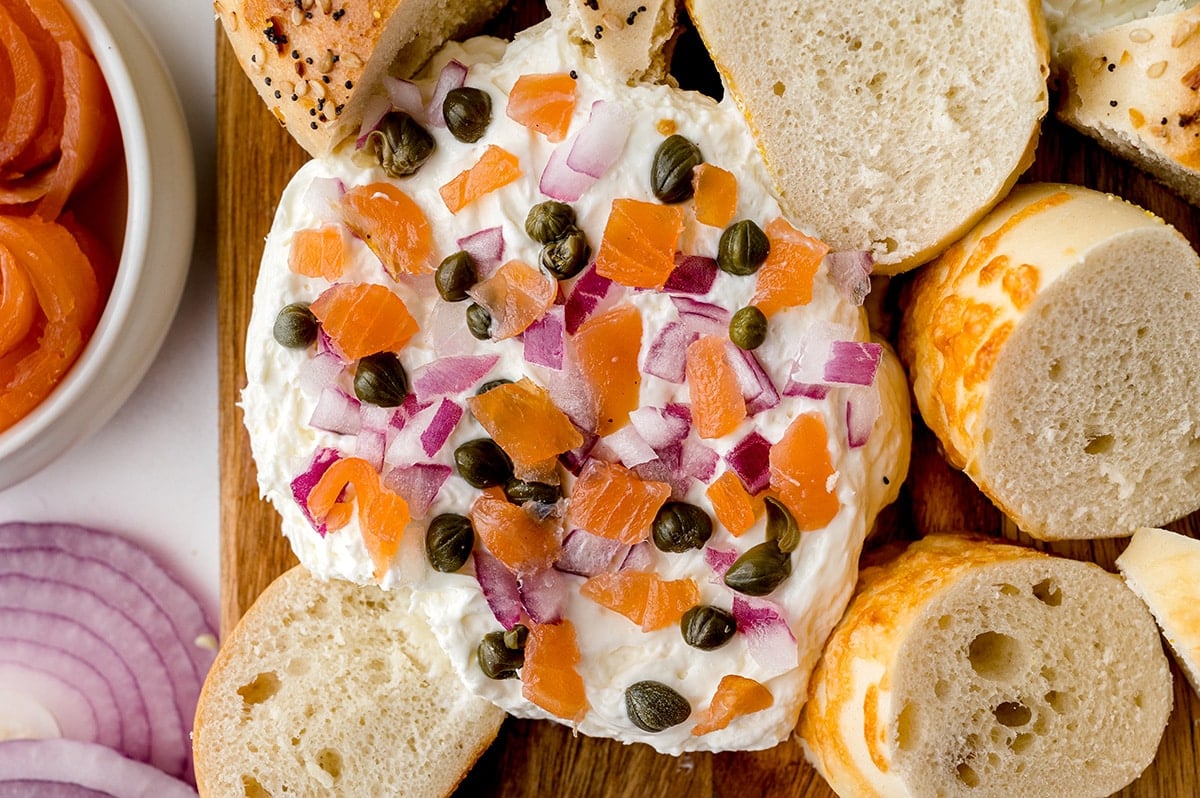 Collage of Cream Cheese
I've taken my cream cheese boards up a notch because I like variety and options. So instead of creating one flavor affinity… I've put together one board with three different options. Yes, THREE. That means that you are now obliged to have at least three bagels or crackers loaded with delicious combinations.
Of course you can just choose to use one or two of our favorite cream cheese board ideas. We've separated ours into clearly lined out sections, but consider creating a pattern with the flavor combos too.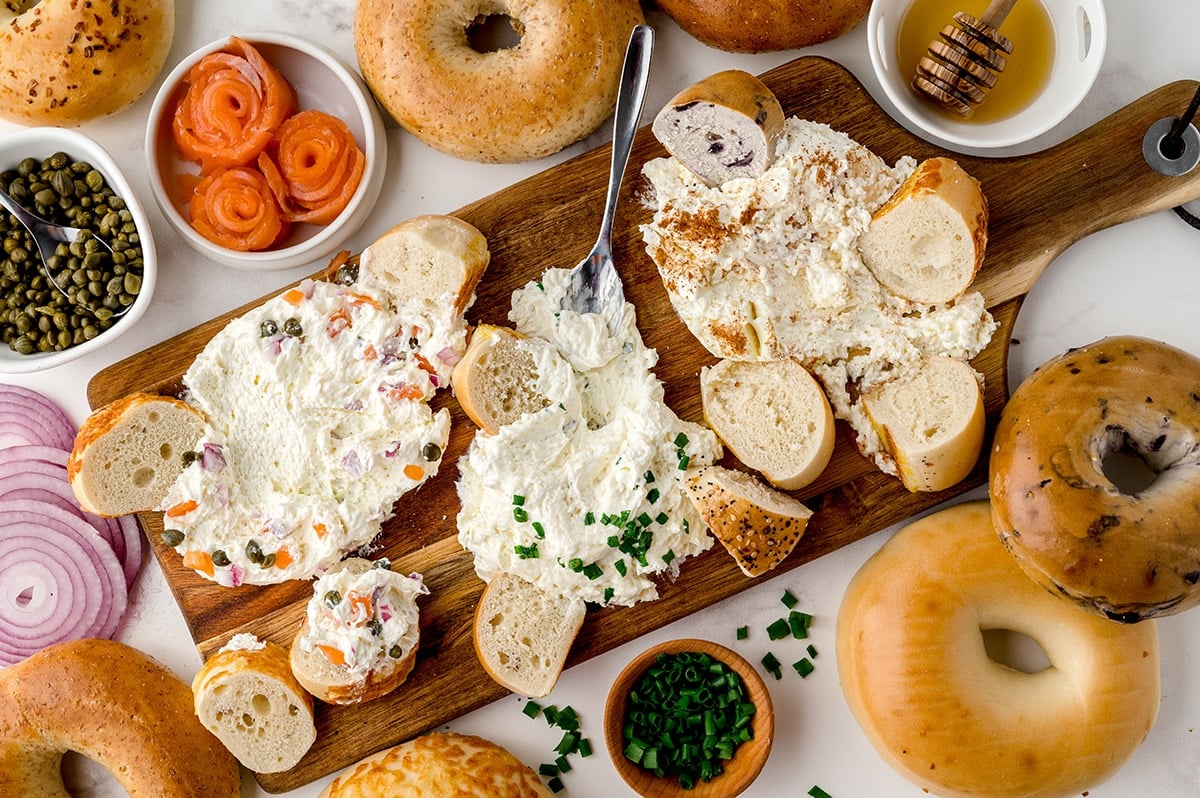 What Type of Cream Cheese To Use
Cream cheese is the star of the show, so clearly you'll want to use a high quality product. So let's discuss some options.
While I would normally say the store brand of cream cheese is fine for most recipes, I wouldn't recommend it here. Because it's the main ingredient, we want a good quality cream cheese with stand-out flavor.
The easiest to find in most grocery stores would be the Philadelphia brand. Others that would work well would be Organic Valley and Dutch Farms.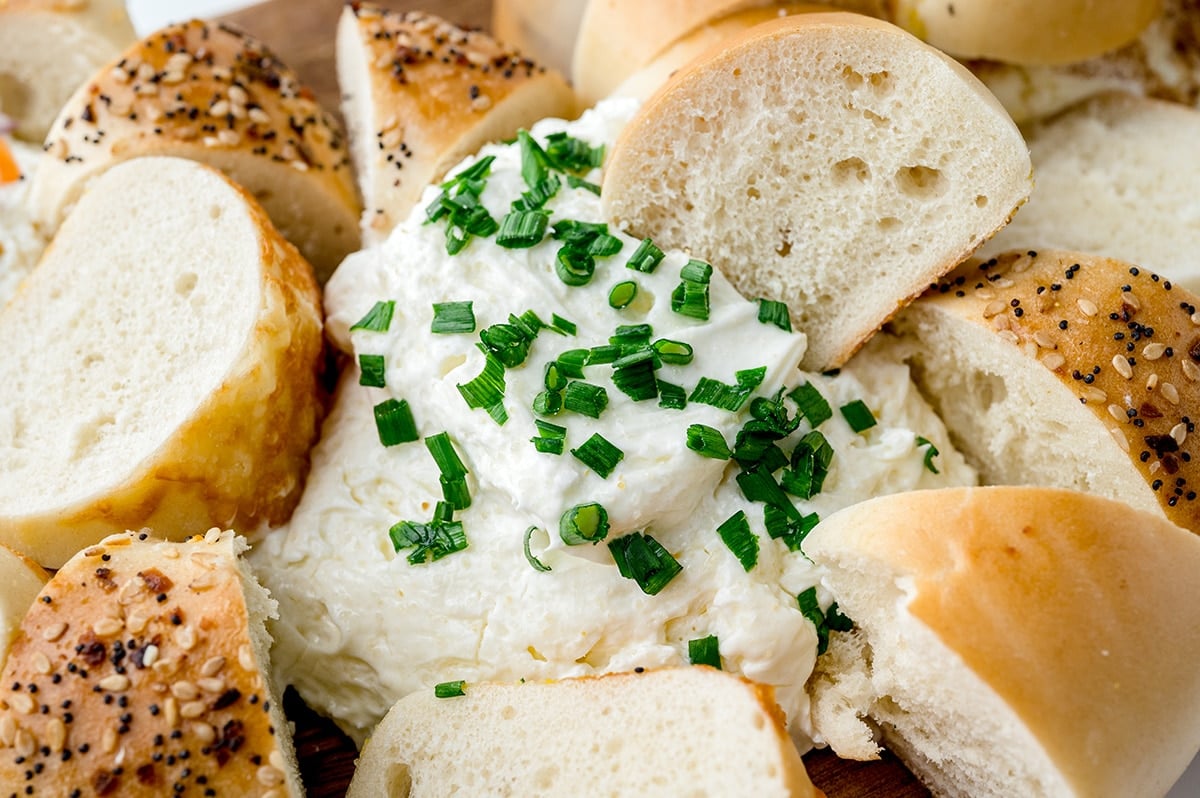 Serve It With
But how are you meant to eat them? What do your serve with a cream cheese board? Throw your socially acceptable ways of getting cream cheese into your mouth to the wind, because you can serve a cream cheese board with nearly anything that dips without guilt, shame or social anxiety. Anything you'd serve on charcuterie boards or cheese boards, really.
The more sophisticated way to serve yourself would be a knife, but these boards come without rules, so feel free to dredge or smoosh your piece of bread right on into that board. No double dipping, please.
Bagels
Crackers
Warm crusty bread
Pita chips
Crostini
Broccoli florets
Carrot sticks
Radish slices
Celery sticks
Cauliflower florets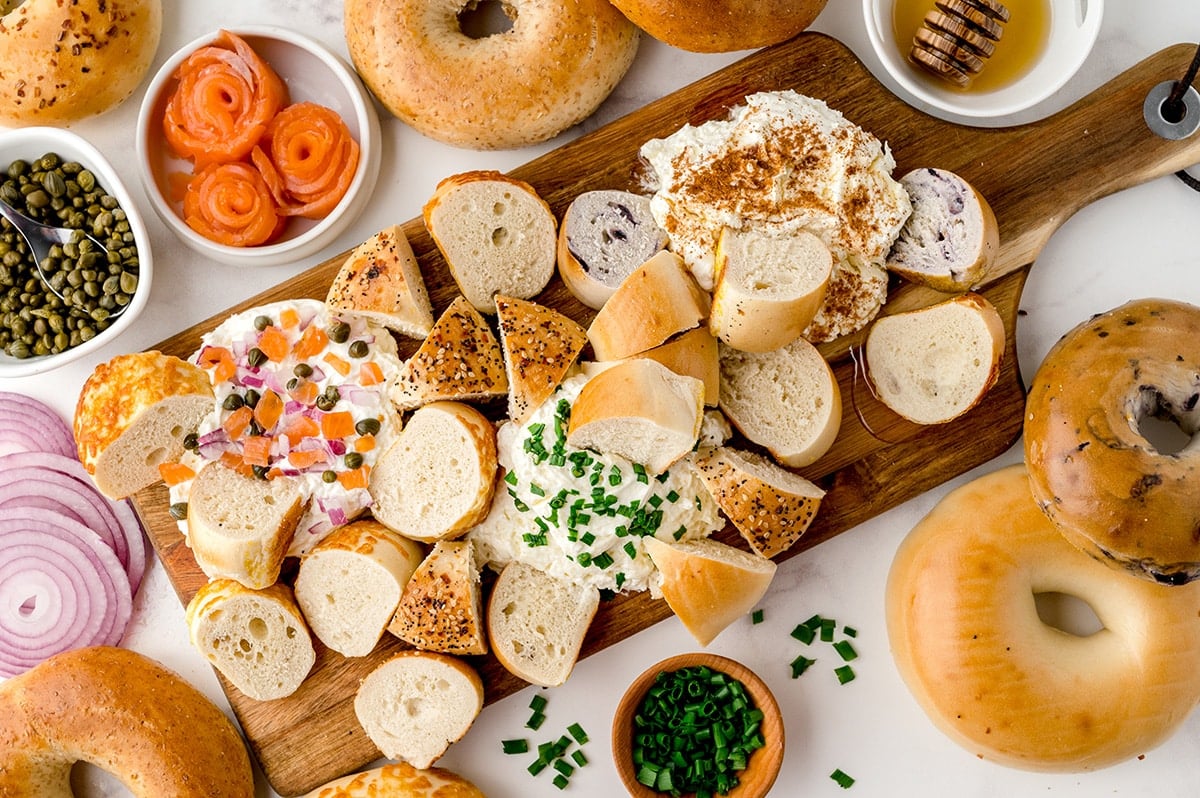 How to Make a Cream Cheese Board
Making these boards are easy, but I would highly suggest not topping them until just about to serve. Herbs and other elements can oxidize slightly and you'll lose the allure.
If you smear your cream cheese ahead of time or do top it beforehand, make sure to take it out of the fridge at least 20 minutes before serving so it gets to just the right mushy temperature for spreading.
Start with a clean. dry board. Use a large board for larger get togethers, and a small for smaller ones. Starting in the center of the board, spread cream cheese dollops with a butter knife. If using more than one flavor, make sure to leave room for all of them.
Add toppings of choice to each section of cream cheese.
Fill in the remaining space with all of your dippers. Make sure to fill the entire board so there are no empty spaces. See the section above for some inspiration of types of foods to serve it with.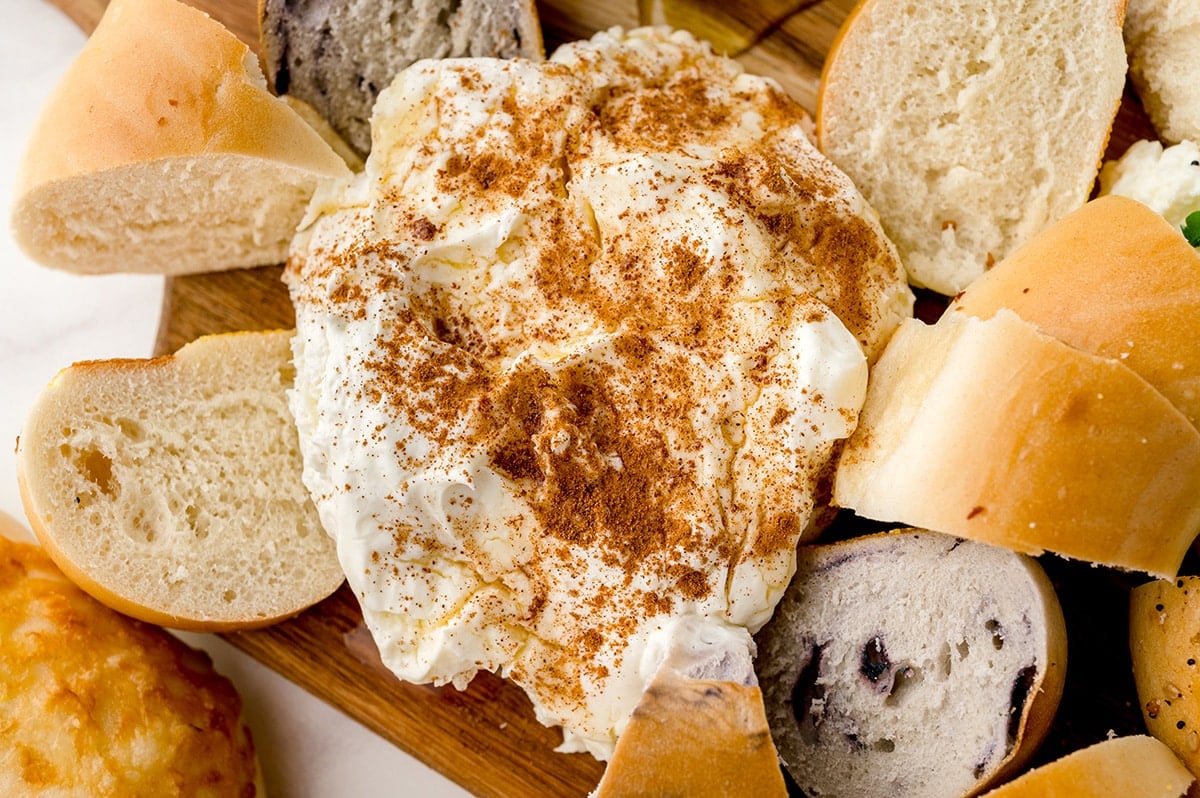 Cream Cheese Board Ideas
Here are our favorite flavors to make your own cream cheese board recipes. This is a communal food, so try to encompass several tastes while creating your own butter board. All of these are great options.
Capers
Sliced red onions
Fresh herbs
Freshly ground black pepper
Flakey salt
Fig jam & preserves
Agave nectar
Cherry sauce
Blueberries or other seasonal fruits
Dried cherries
Crumbled blue cheese
Chopped brie
Fresh orange zest
Maple syrup
Fresh fruit
Dates
Dried cranberries
Nuts
Fresh lemon zest
Fresh lime zest
Crushed red pepper flakes
Honey
Pomegranate seeds
Chili oil
Olive Oil
Chili flakes
Flaky sea salt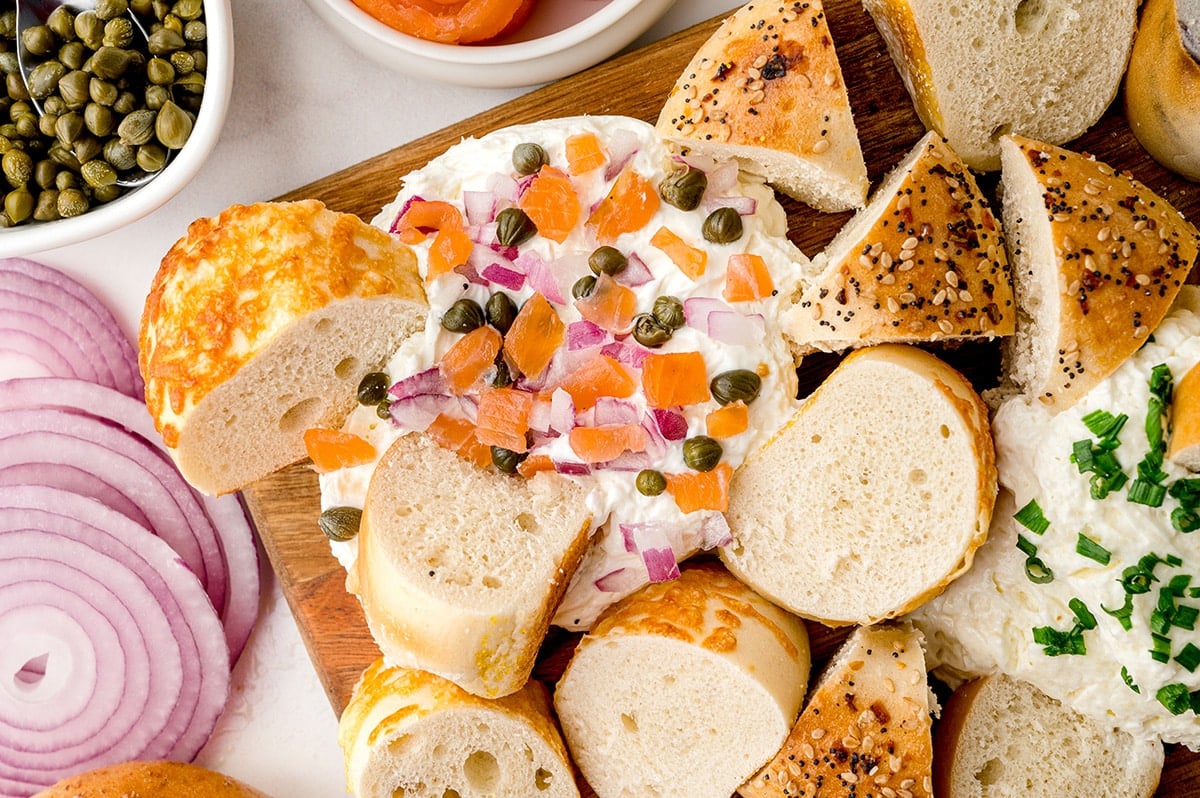 Leftover Cream Cheese Boards
If there are any leftovers from this latest food trend… and I doubt there will be, there are several things you can do. Use it the way you would use any cream cheese.
Store it in an airtight container and then use it to spread on bagels for breakfast the next morning!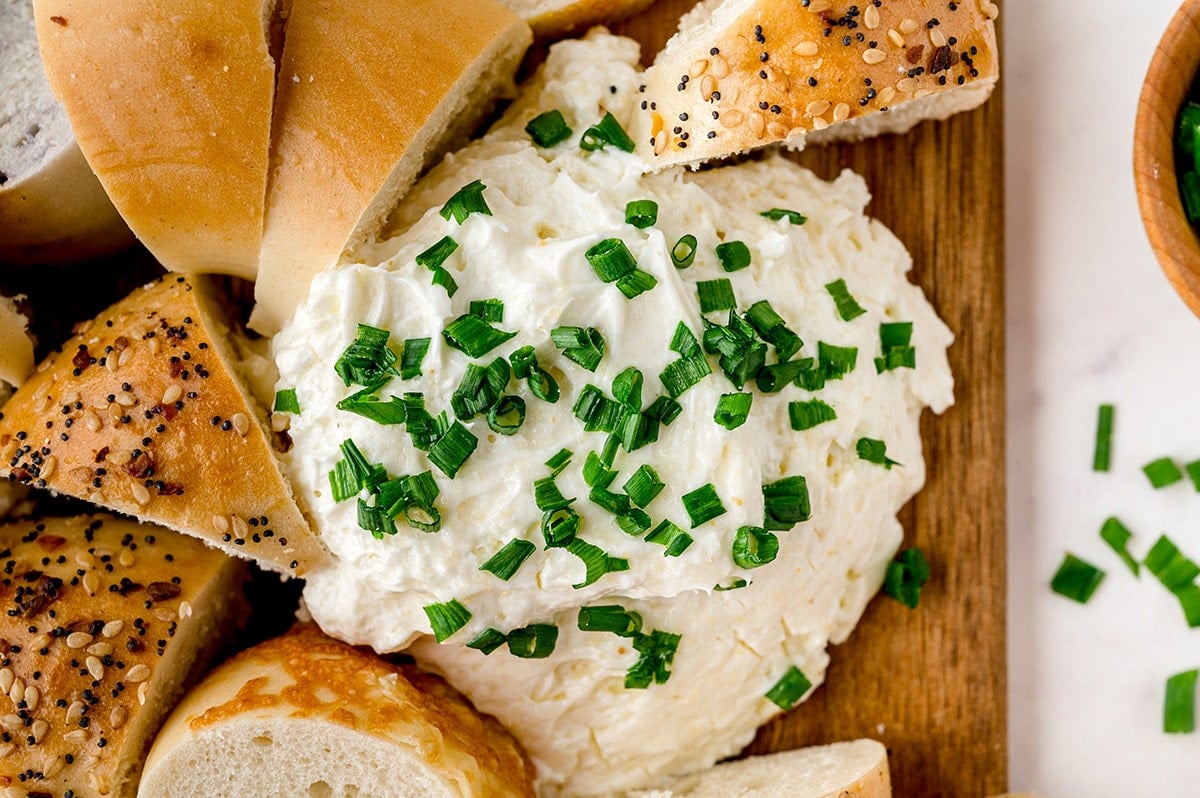 Make Ahead & Storage
Make Ahead- You can spread the cream cheese ahead of time, cover loosely with plastic wrap and refrigerate until ready to serve. You can prep the topping ahead of time, but I highly recommend waiting until serving time to decorate and top. It's ok to be at room temperature for a few hours.
Make sure you cover the board before placing it back into the fridge because cream cheese is little a sponge and will retain any other flavors floating around.
Freezing– Wrap any leftover cream cheese in plastic wrap or place in an airtight container and freeze for another occasion.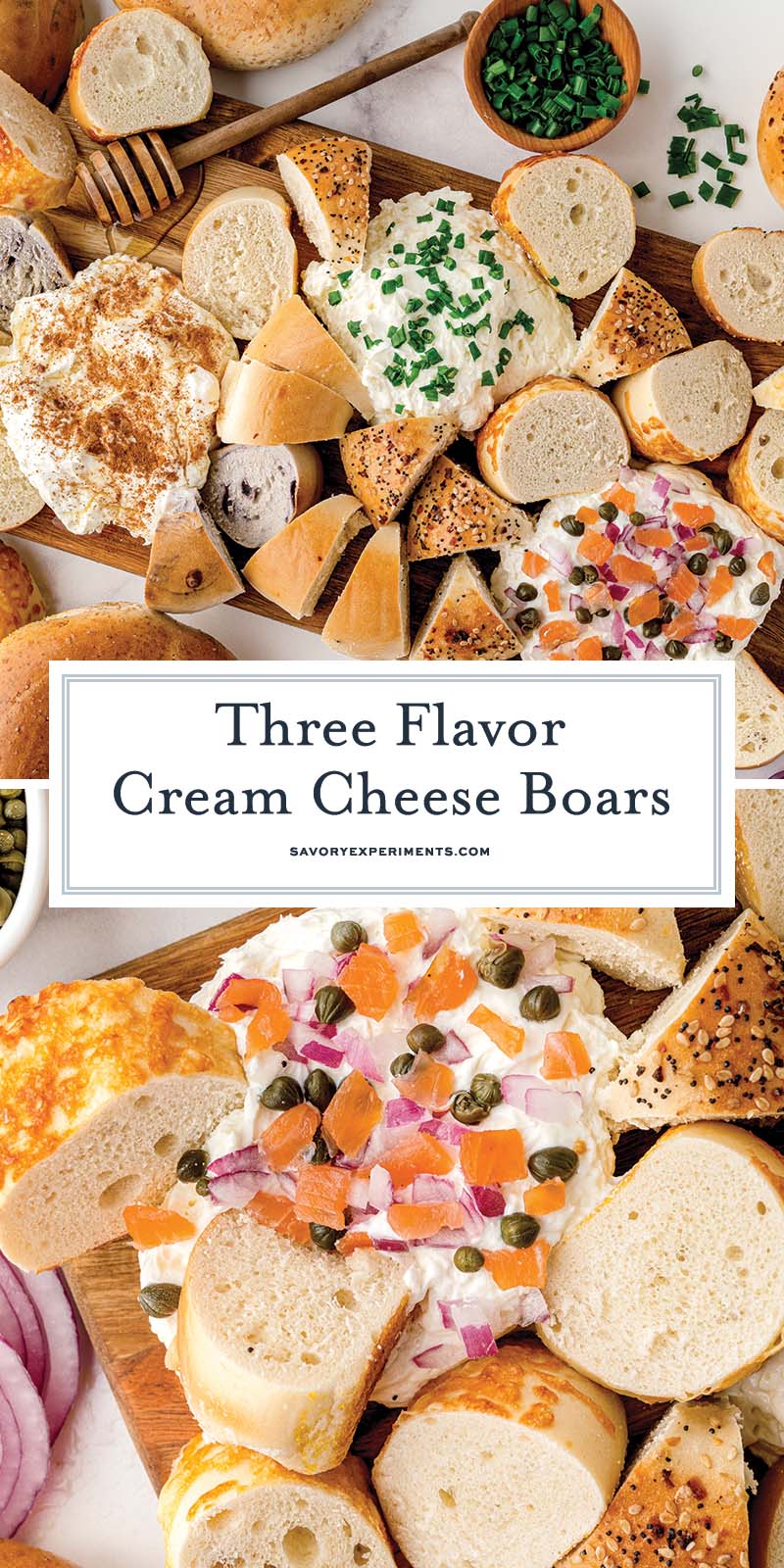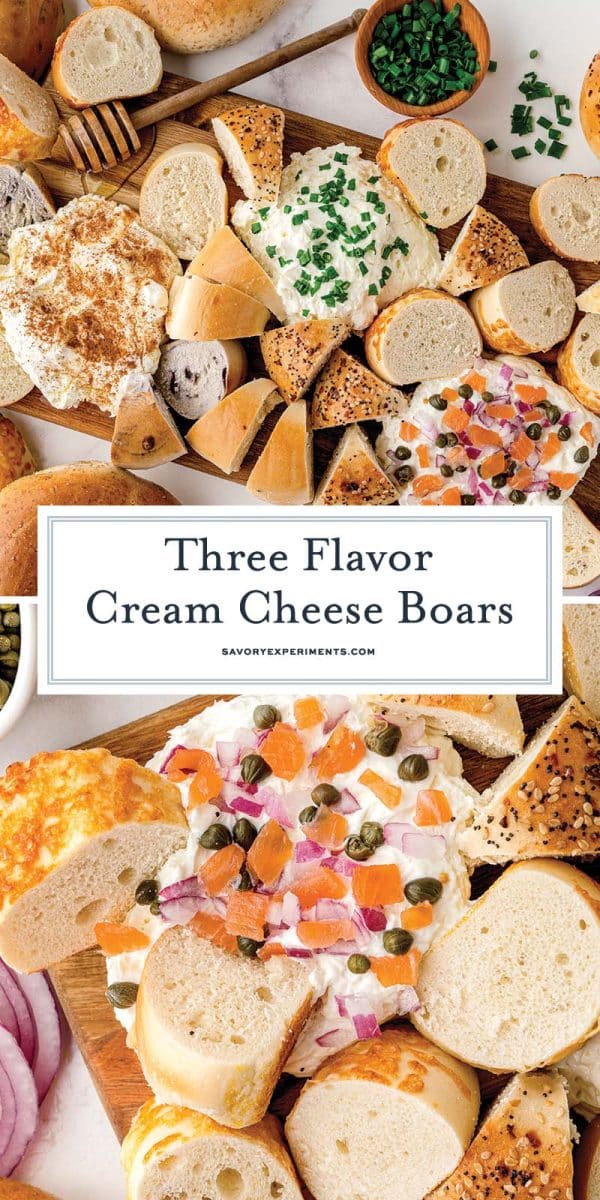 More Fun Appetizers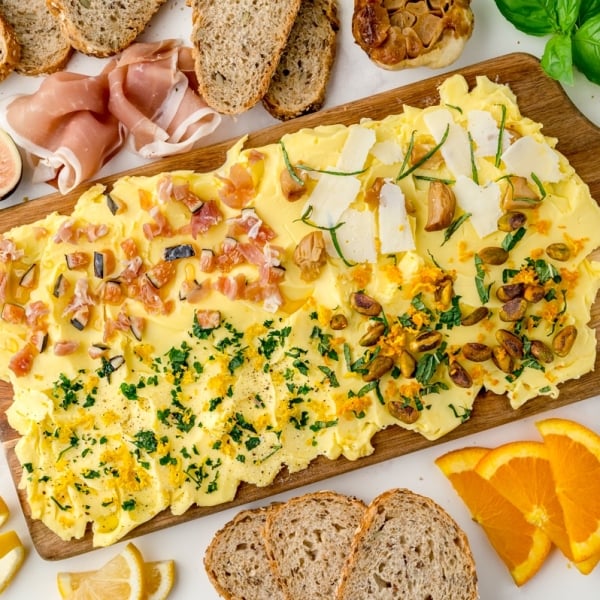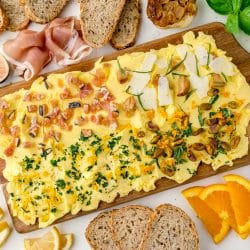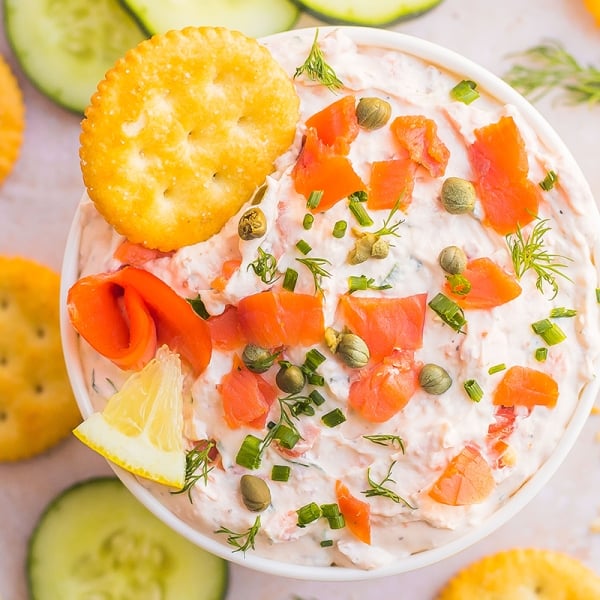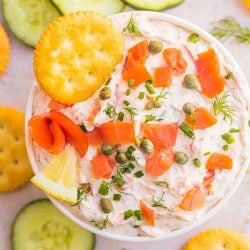 Charcuterie Board Meat Flowers
Take your charcuterie board to the next level by adding beautiful rosettes of thinly sliced salami, pepperoni and prosciutto.
Check out this recipe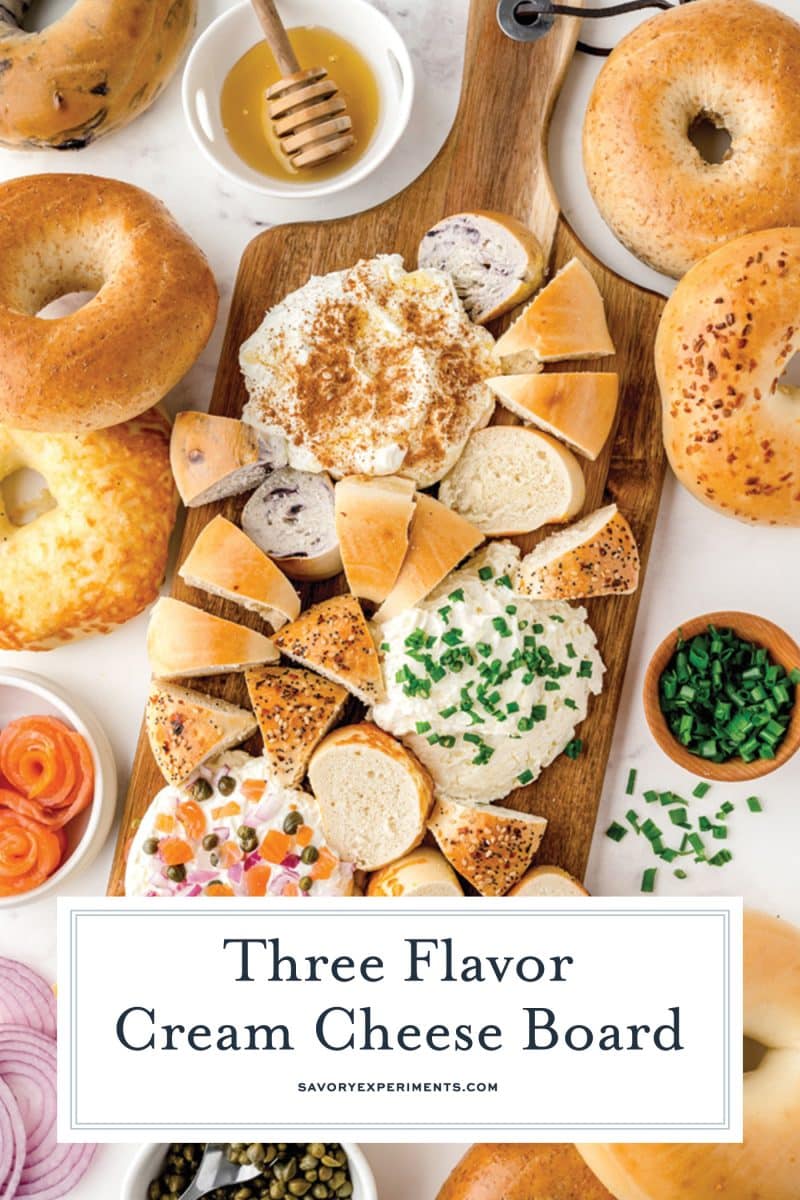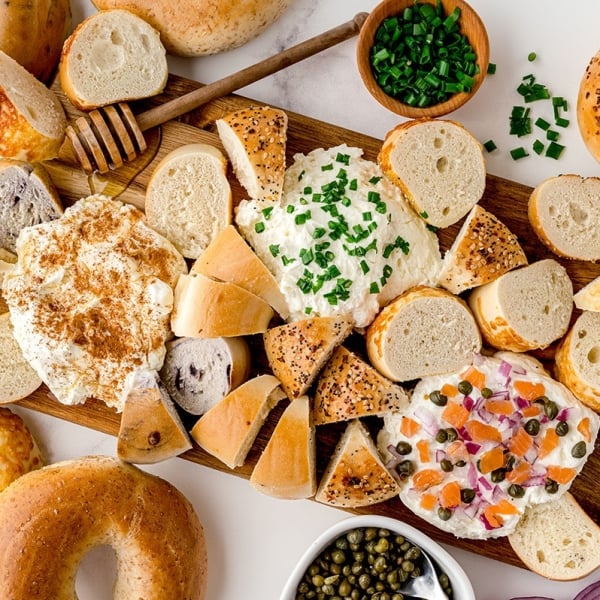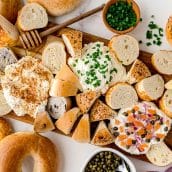 Cream Cheese Board
Have you seen the newest rage, butter boards? Well I'm taking that concept and cranking it up a notch: queue the Cream Cheese Board!
Ingredients
3

cups

whipped cream cheese

, softened

2

slices

smoked salmon

, cut into smaller pieces

2

teaspoons

capers

, drained

2

teaspoons

red onion

, chopped

1

tablespoon

chives

, chopped

1

tablespoon

honey

1/2

teaspoon

ground cinnamon

6-8

bagels of your choice

, cut into bite-sized pieces or quarters
Instructions
On a large board, make 3 piles of cream cheese, gently spreading out with the back of a spoon.

Top on with salmon, capers and red onion. Top another with the chives.

Using the back of a spoon, mix the honey into the 3rd pile (or mix it before adding to the board) and sprinkle with ground cinnamon.

Surround the cream cheese with pieces of bagel.

If you've tried this recipe, come back and let us know how it was in the comments or star ratings.
Nutrition
Calories:
353
kcal
,
Carbohydrates:
33
g
,
Protein:
10
g
,
Fat:
21
g
,
Saturated Fat:
12
g
,
Polyunsaturated Fat:
1
g
,
Monounsaturated Fat:
5
g
,
Cholesterol:
58
mg
,
Sodium:
494
mg
,
Potassium:
136
mg
,
Fiber:
1
g
,
Sugar:
4
g
,
Vitamin A:
777
IU
,
Vitamin C:
0.2
mg
,
Calcium:
66
mg
,
Iron:
1
mg