This Chicken Marsala recipe is made all in one pan, in less than 30 minutes, prep included! Whip up this easy dinner and enjoy rich creamy marsala sauce studded with caramelized mushrooms on top of seared, juicy chicken breasts in no time at all.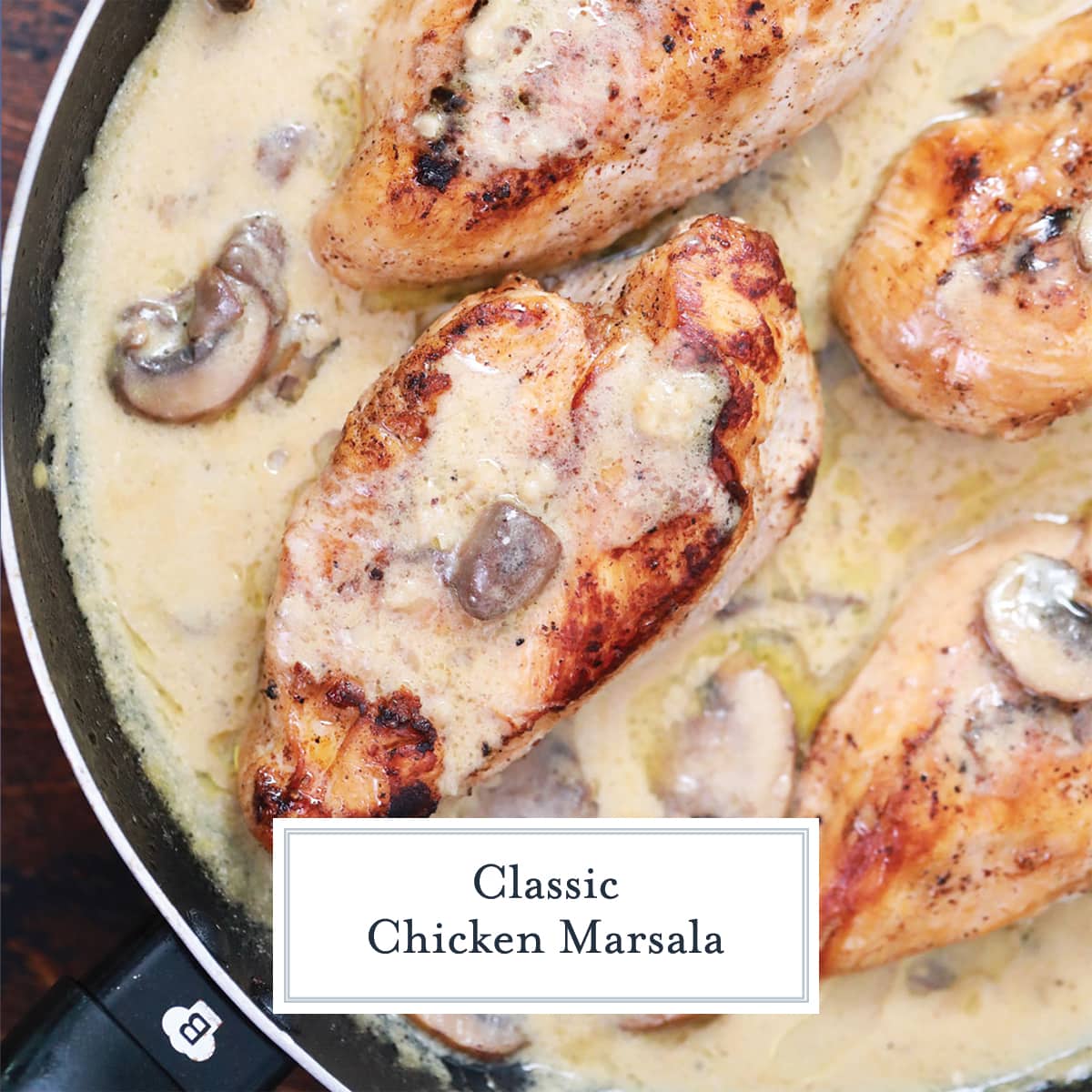 Creamy Chicken Marsala Recipe
If there's one trick I've learned for making a weeknight dinner exciting, it's to include a luscious, flavorful sauce. It can jazz up the simplest ingredients, even the humble chicken breast.
In just one pan, with common, easy to find ingredients, this easy chicken marsala takes two chicken breasts and feeds at least four. Caramelized mushrooms, garlic, and marsala wine build a beautiful flavor profile for a sauce that's finished with all the good things, butter and cream.
The result? A lick-the-spoon-clean tender chicken breasts dinner that will take you only 30 minutes to get on the table.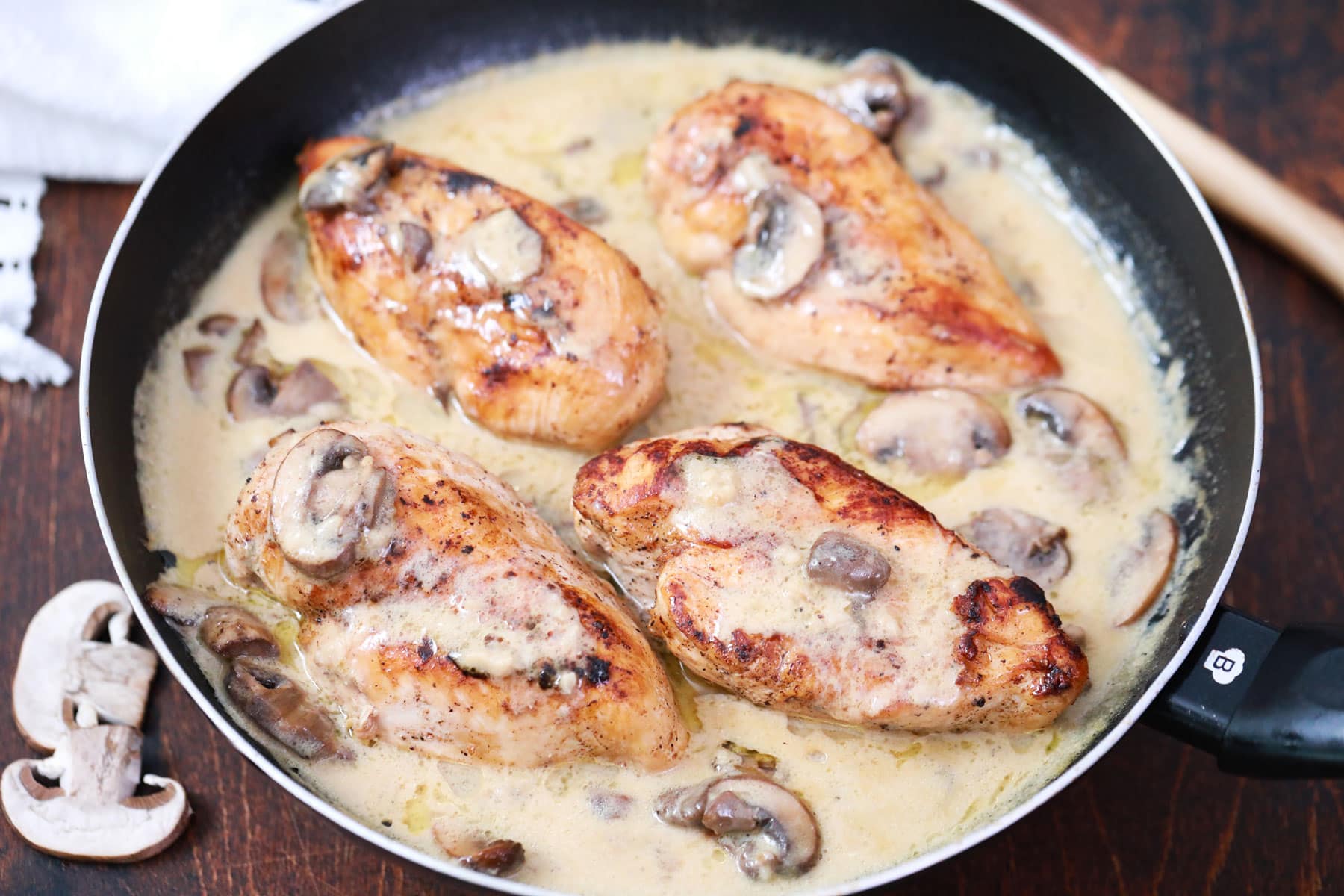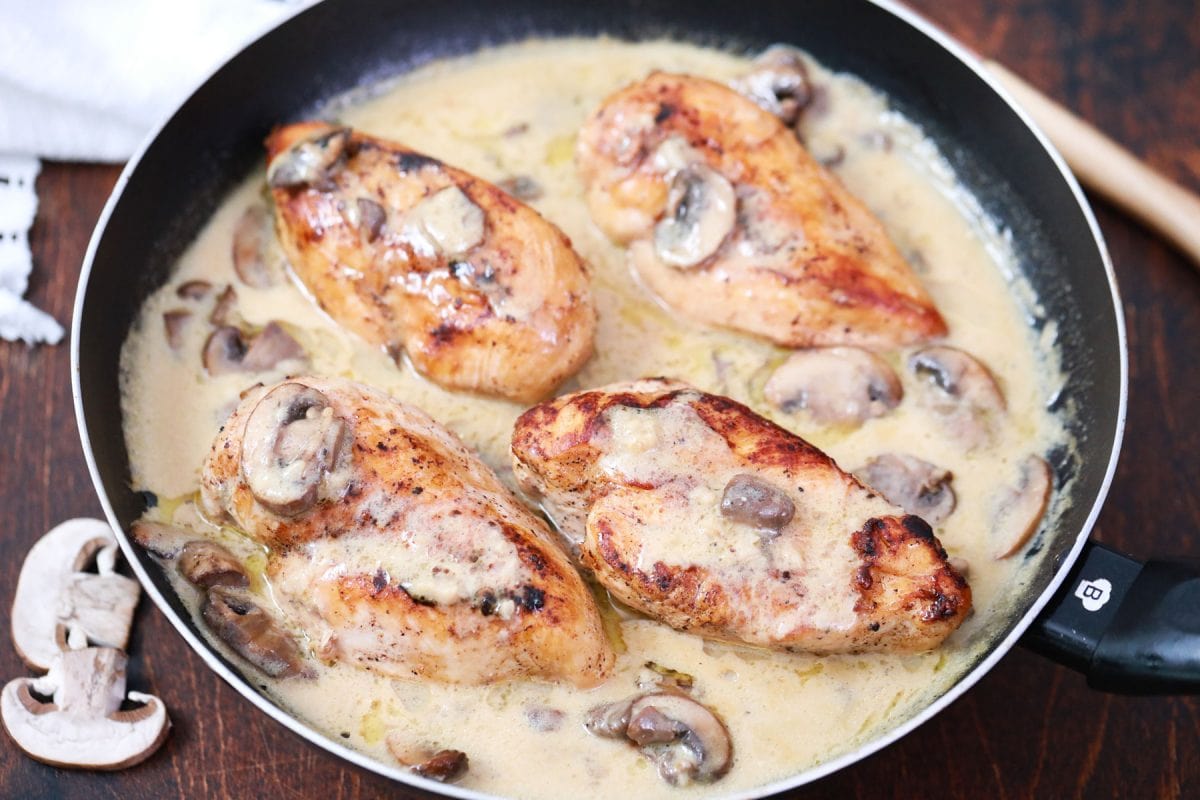 Ingredients
Most of what you need are pantry staples or easily grabbed at the grocery store for this delicious chicken marsala.
Boneless Skinless Chicken Breasts– Swap out for chicken thighs, thigh fillets or even pork.
Button or baby bella mushrooms– Get fancy with a blend of porcinis, portabella or oyster mushrooms.
Garlic – Do yourself a favor and use fresh garlic, not the jarred stuff. It often tastes sweet instead of zesty. In extreme emergencies, use garlic powder.
Dry Marsala Wine– The namesake of the whole dish, this one probably shouldn't be swapped out, but if you need a substitution for marsala wine, just sub in additional chicken stock and a hefty splash of vinegar.
Chicken stock– low sodium is best so you can control the salt.
Unsalted butter– Again, unsalted is best so you have control over the saltiness.
Neutral Oil- olive oil, vegetable oil or even avocado oil.
Coarse Kosher Salt & Freshly Ground Pepper
Heavy Cream- Adds the cream factor, use half & half if you want to cut a few calories.
Cornstarch- Also use arrowroot.

PRO TIP: Cornstarch is thickener made from corn. Mix it with cool water to make a slurry, then whisk into a hot liquid, to create a glossy, creamy sauce in just moments. It doesn't affect flavor, and it's fairly foolproof!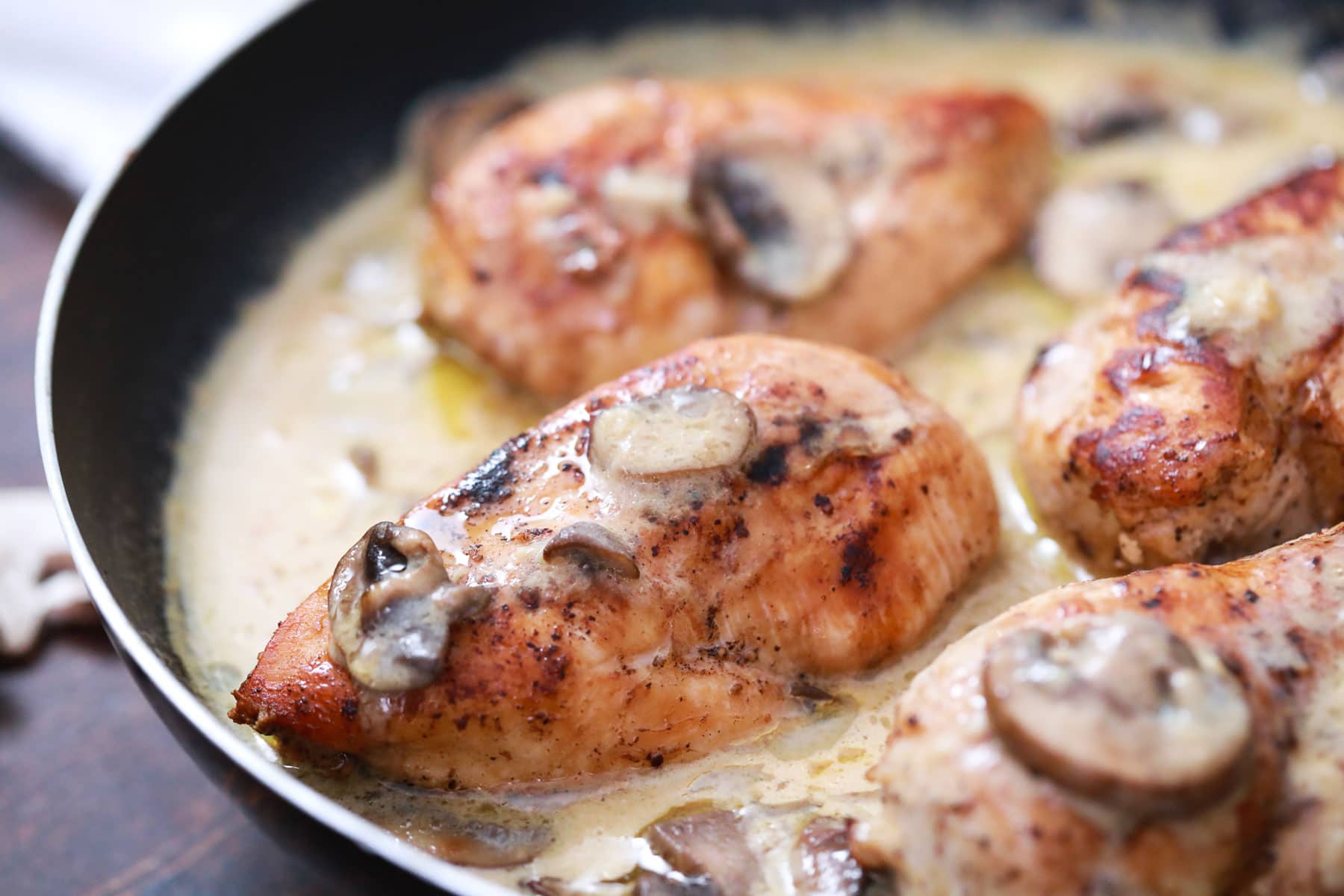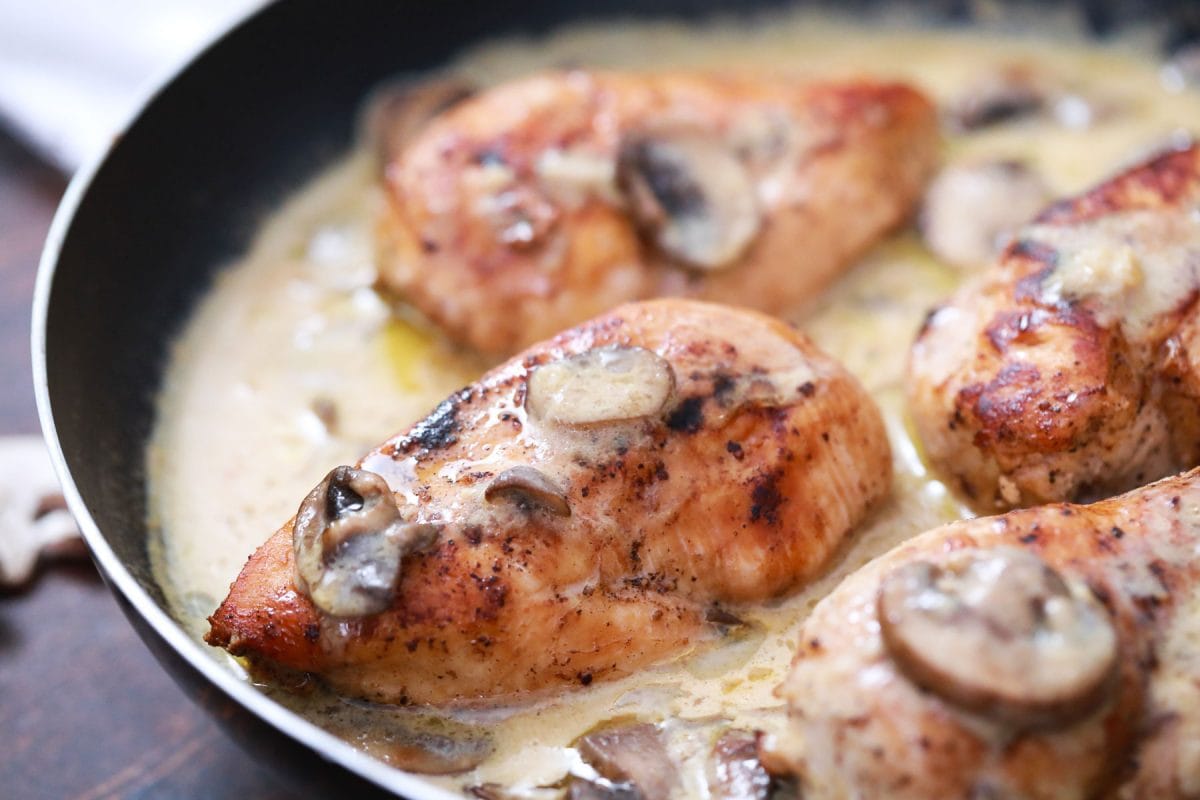 Rich Marsala Wine Sauce
This creamy chicken marsala recipe is designed to yield plenty of extra, creamy marsala wine sauce. We all know that's the best part!
What is marsala? Marsala wine is a fortified, sweet wine that originated in Sicily. It can be marketed as sweet, or dry, and is most used to make delicious sauces. While the authentic stuff is fantastic, your grocery store marsala works perfectly in this recipe!
Be sure to have a pot of pasta, rice, or a nice loaf of bread on hand to soak up all the extra goodness in this savory dish.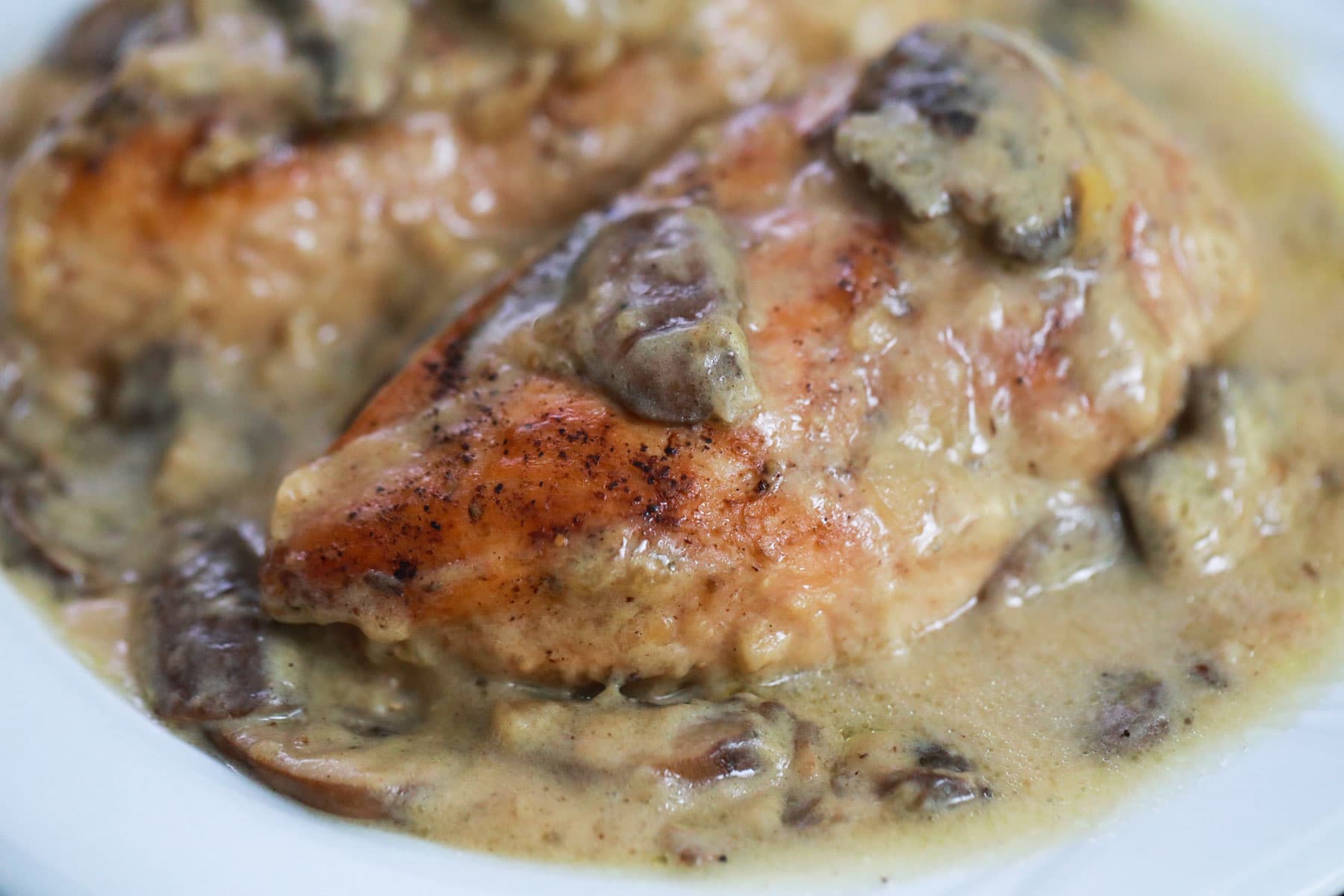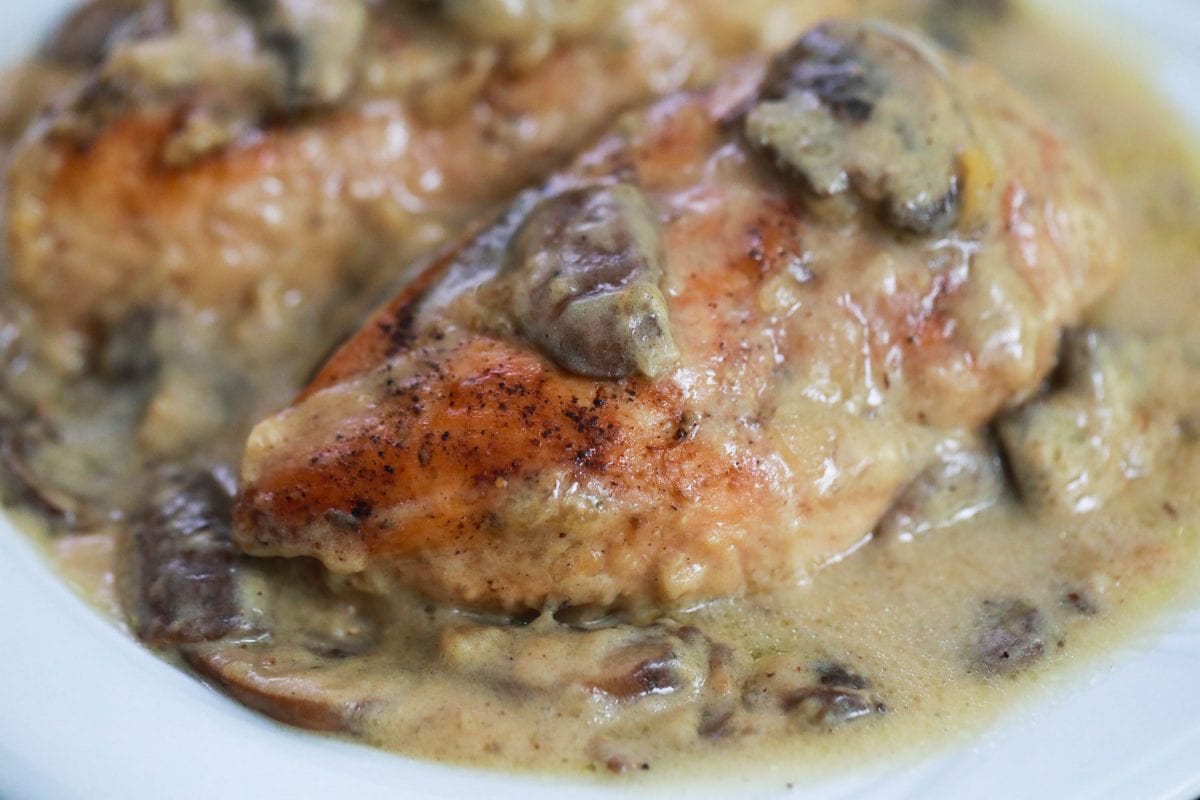 How to Make – Step-by-Step
I'm providing some pretty detailed instructions, but I promise you it won't actually take that long.
Prepare your chicken breasts by slicing or tenderizing. I prefer to slice, but you can also use a meat mallet. Season with salt and pepper. This manually breaks down the fibers to make it nice and tender since we are using a quick cooking method and breasts don't have much fat.
Heat a large skillet over medium-high heat and add both butter and oil for frying, this helps with flavor and smoke point. Add mushrooms, sauteing lightly until they are soft, but still have some body. Set aside.
Add more oil and butter so the pan is well lubricated and add the chicken. Sear on each side, until golden brown and fully cooked to 165°F internally. Remove and set aside. Make sure to get a good brown, this helps add flavor to the chicken and the sauce.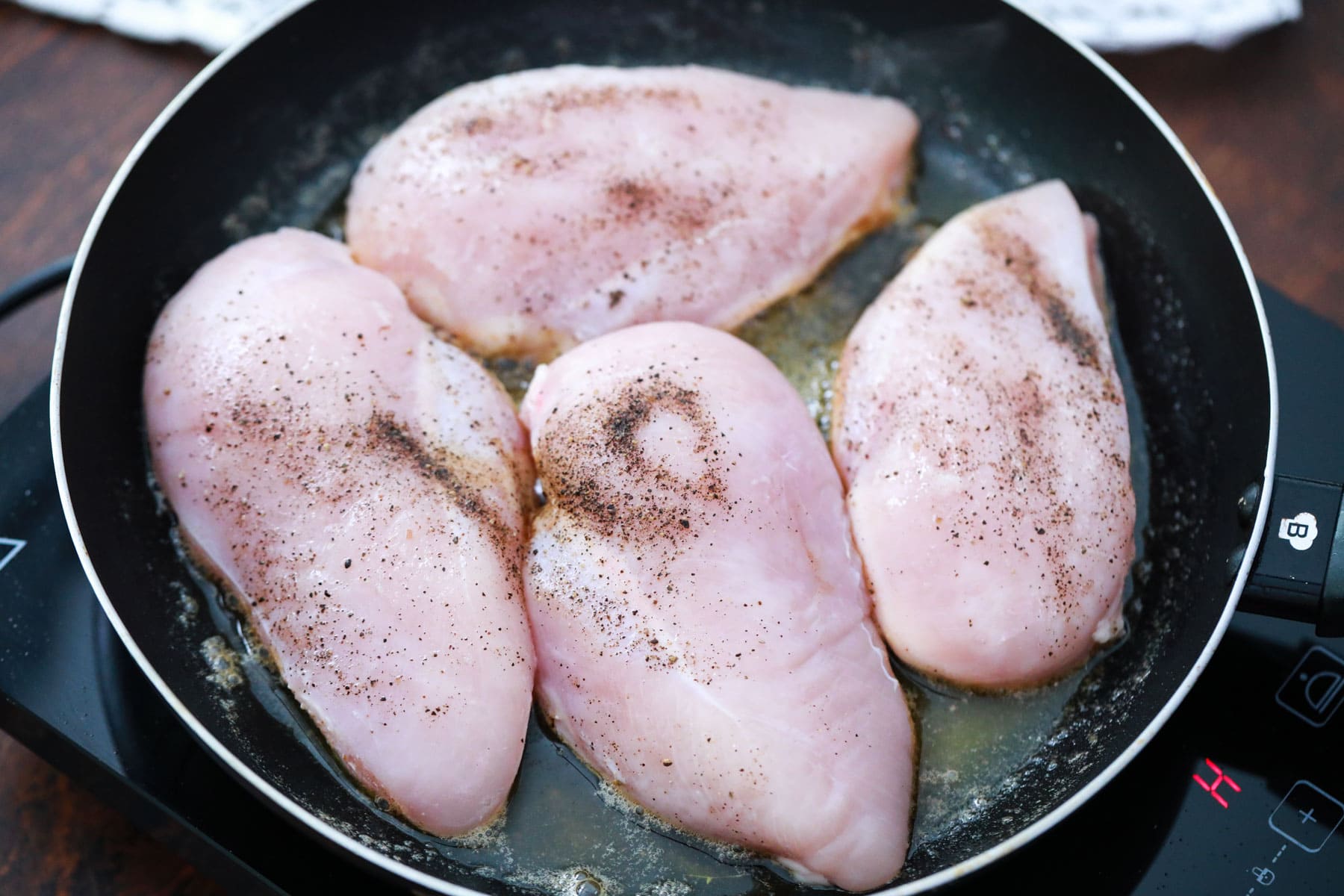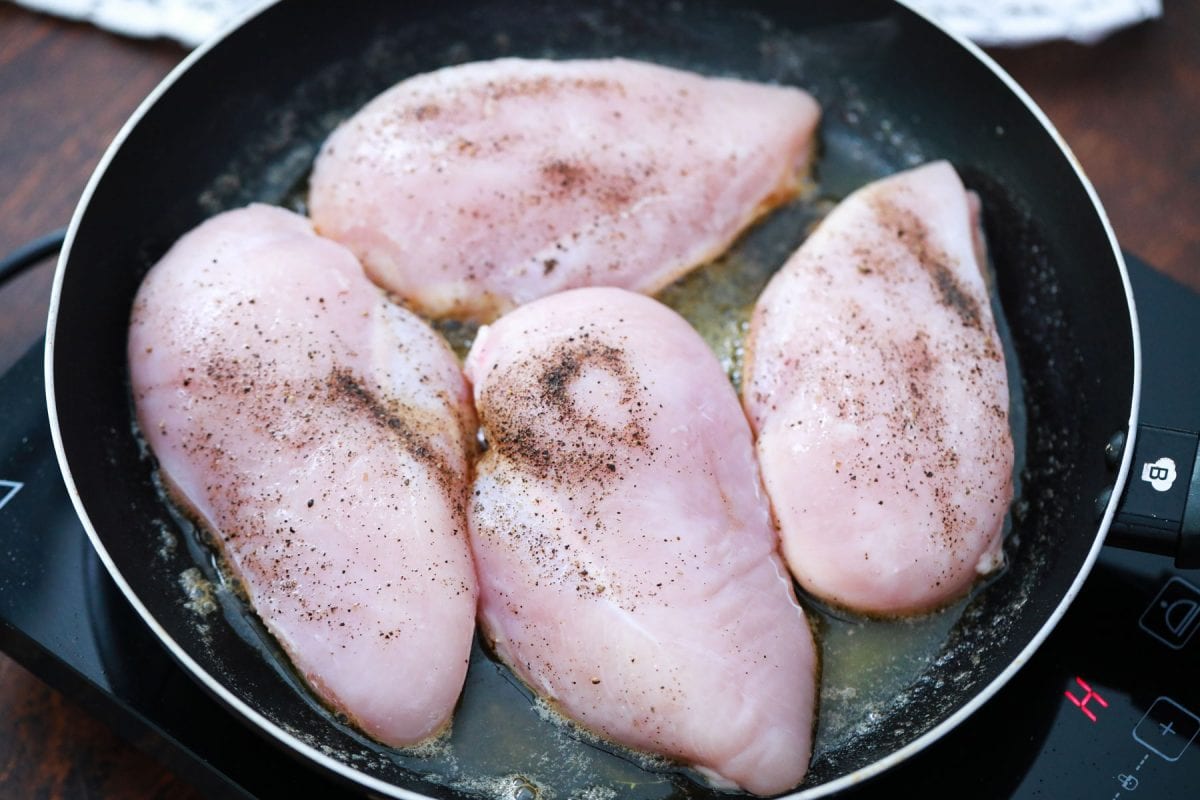 Add garlic to the pan and saute for 30 seconds.
Deglaze with Marsala wine, scraping the browned bits from the bottom of the pan. Then add the chicken broth and simmer.
Add in the heavy cream and more butter until completely combined.
Prepare the cornstarch slurry and add to the sauce until glossy and creamy.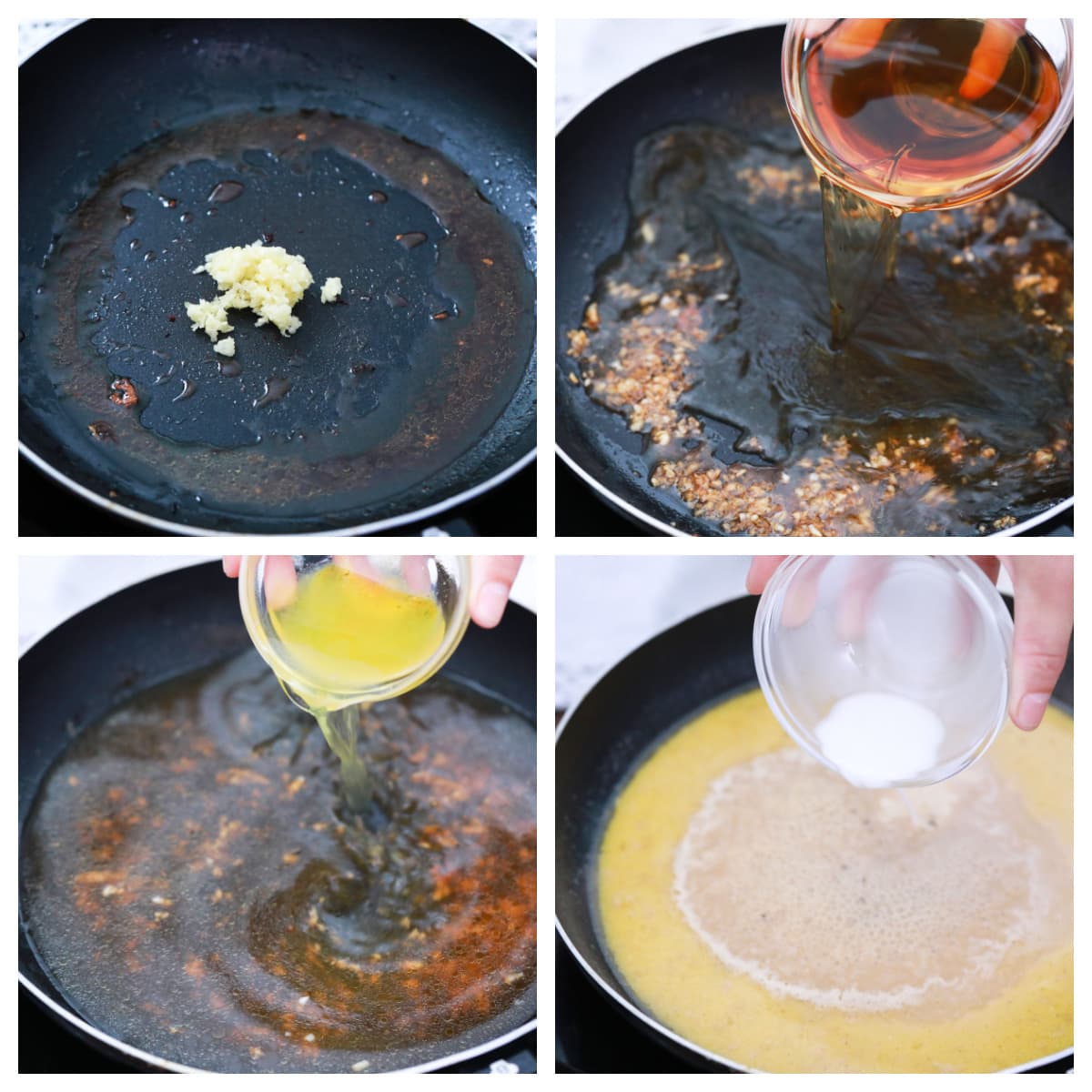 When sauce is thickening, return mushrooms and chicken to the pan, coating them with sauce and mushrooms until everything is hot.
Tenderizing
Can I pound the chicken flat instead of slicing? You can either slice in half, pound to about ½ inch thick, or use thin chicken cutlets that are prepped for you. Use a meat mallet or rolling pin to pound.
I found that slicing an average chicken breast in half gave me the right thickness for it to cook through, without over or undercooking. If you want tender chicken breasts, don't skip this step.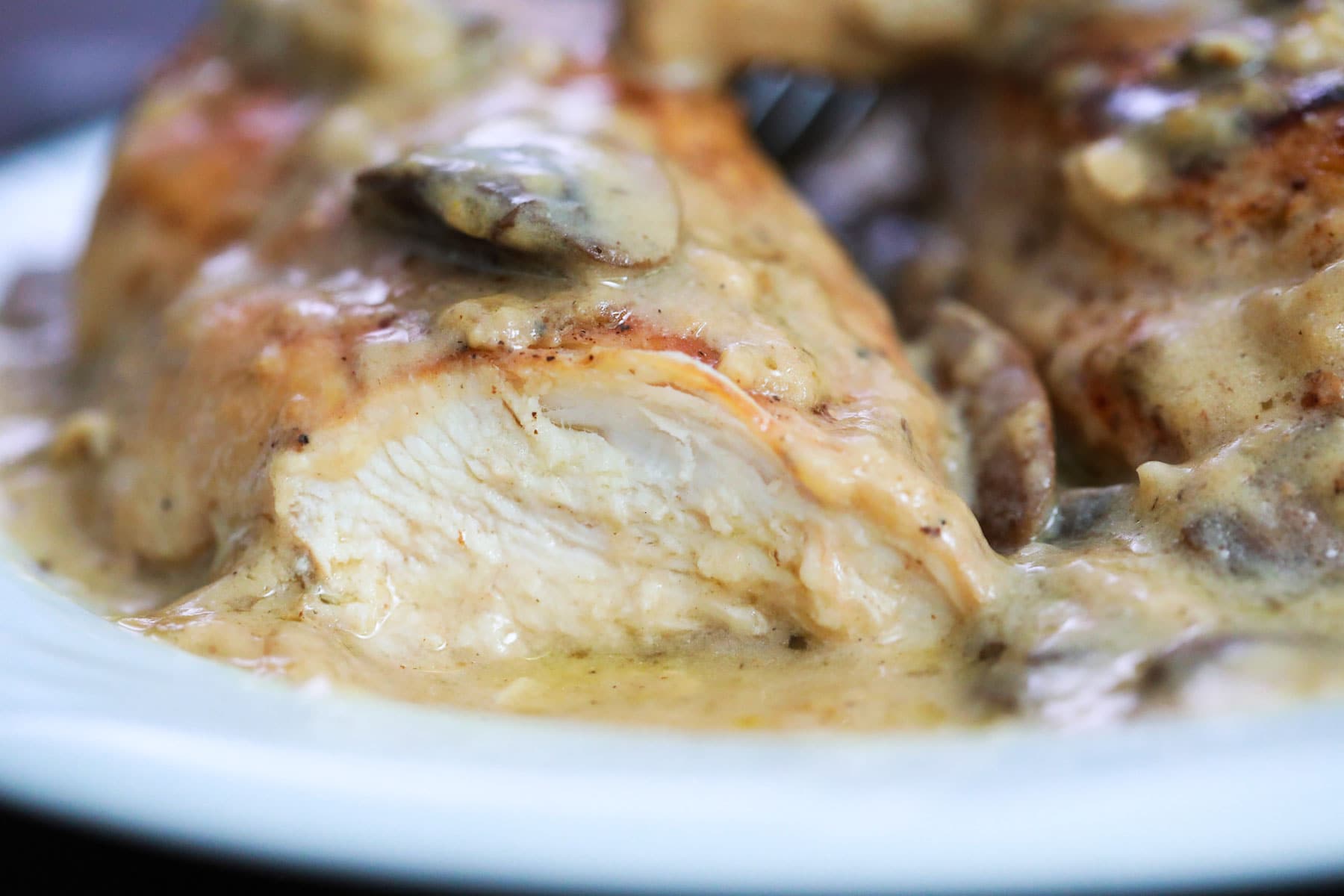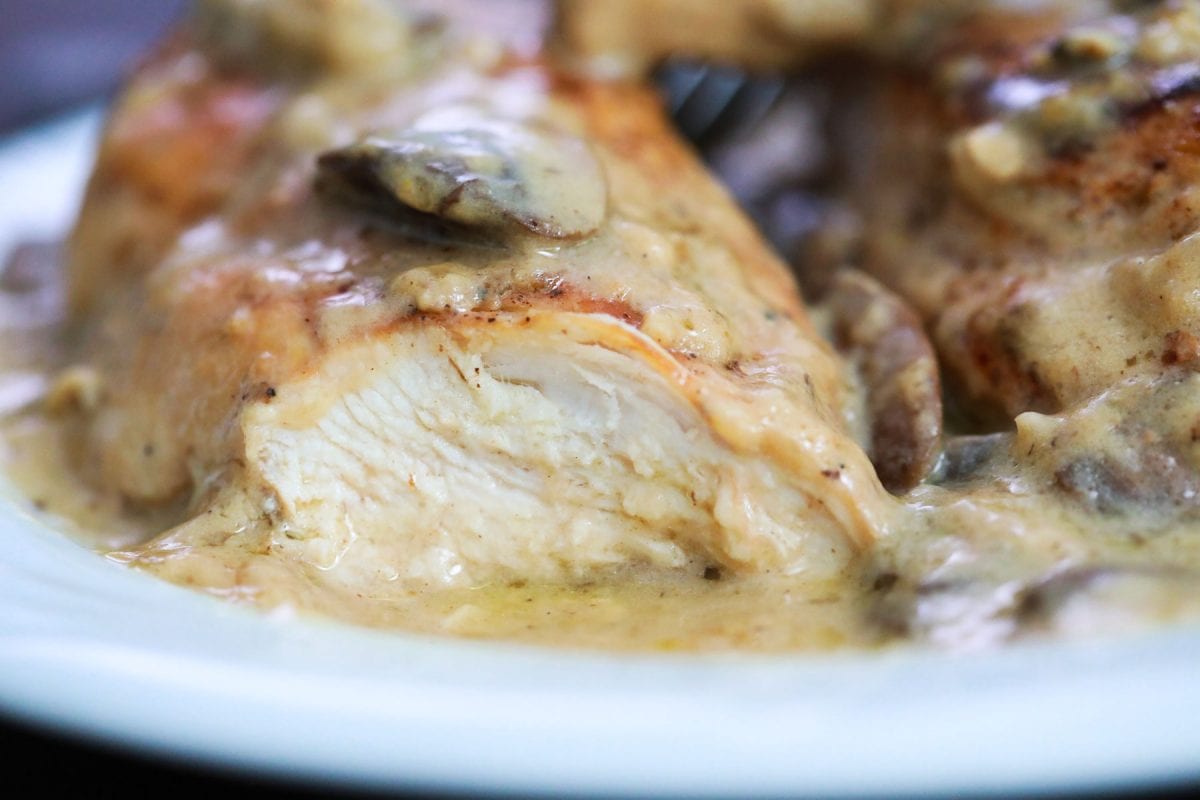 Can I leave out the cream?
The cream plays an essential role in mellowing out the intensity of the wine for a pleasant rounded flavor.
If you need to leave it out, increase the chicken stock to 1 cup, and use 1 tablespoon of cornstarch with half a tablespoon of water to thicken it properly.
You can also swap in half & half if calories are the issue.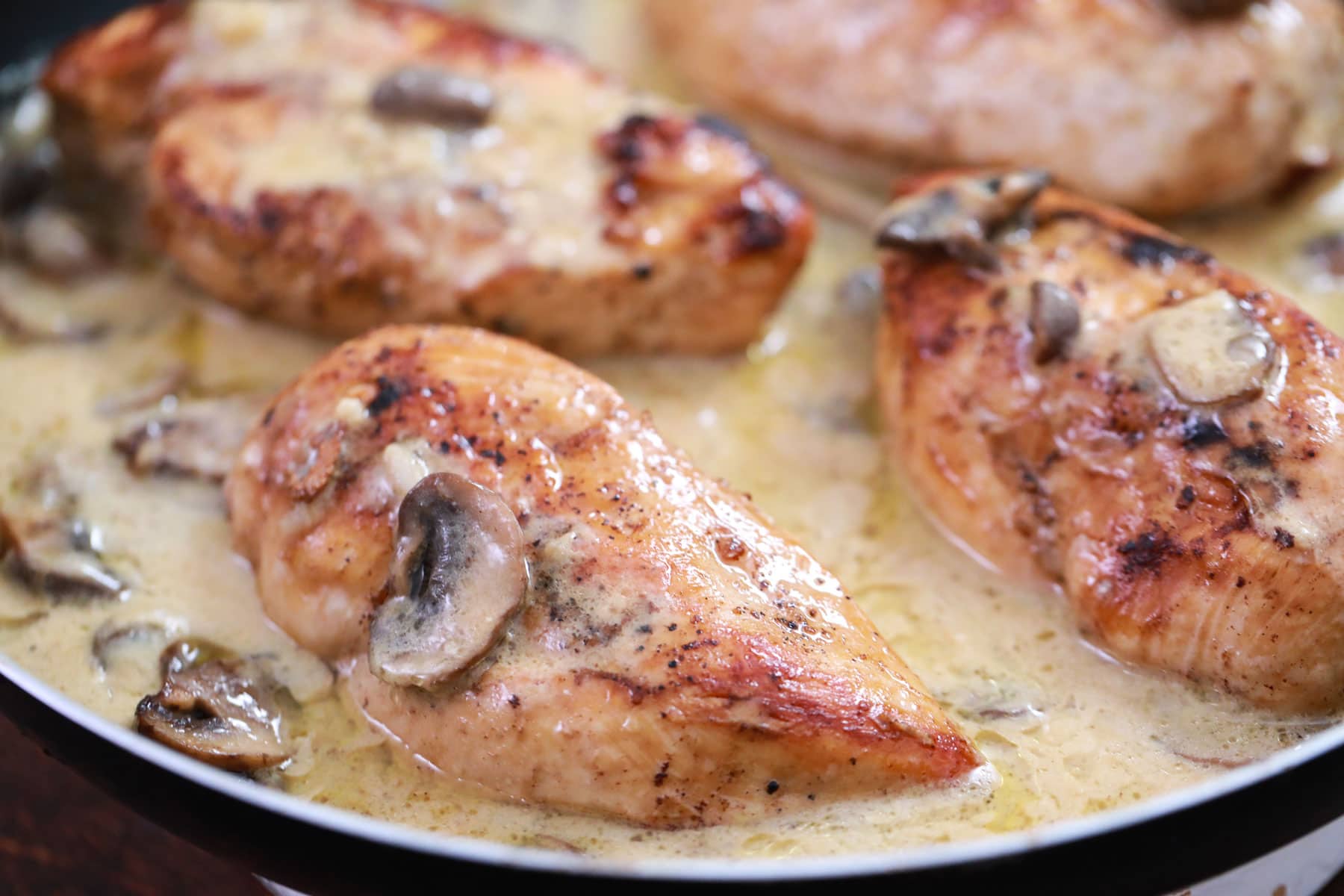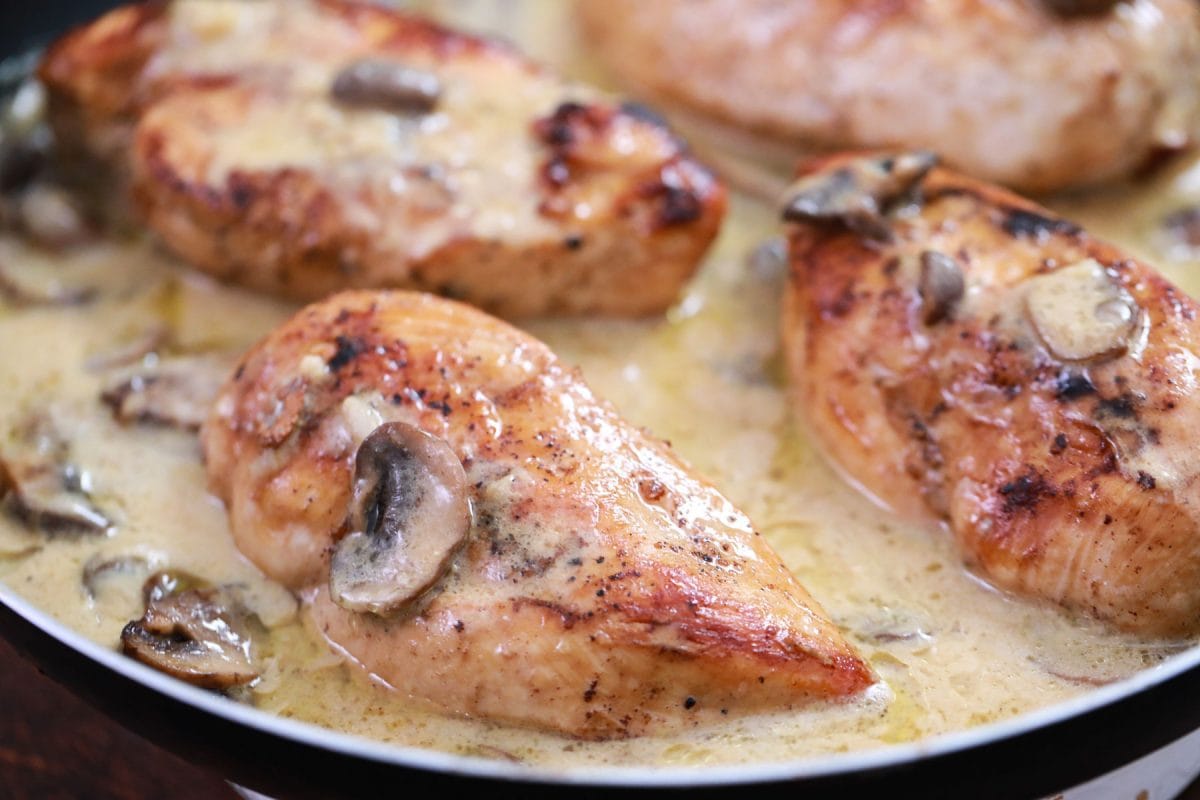 Storage & Freezing
Can you freeze chicken marsala? Yep! Let it cool to room temperature then store in a freezer safe container for up to 3 months. Allow to thaw in the fridge, then reheat in a pan or the microwave to enjoy later.
Store leftovers in an airtight container for up to 5 days. Reheat on the stove top or in the microwave. The delicious sauce might need to have the seasoning corrected as chilled sauces often need a little salt to be revived.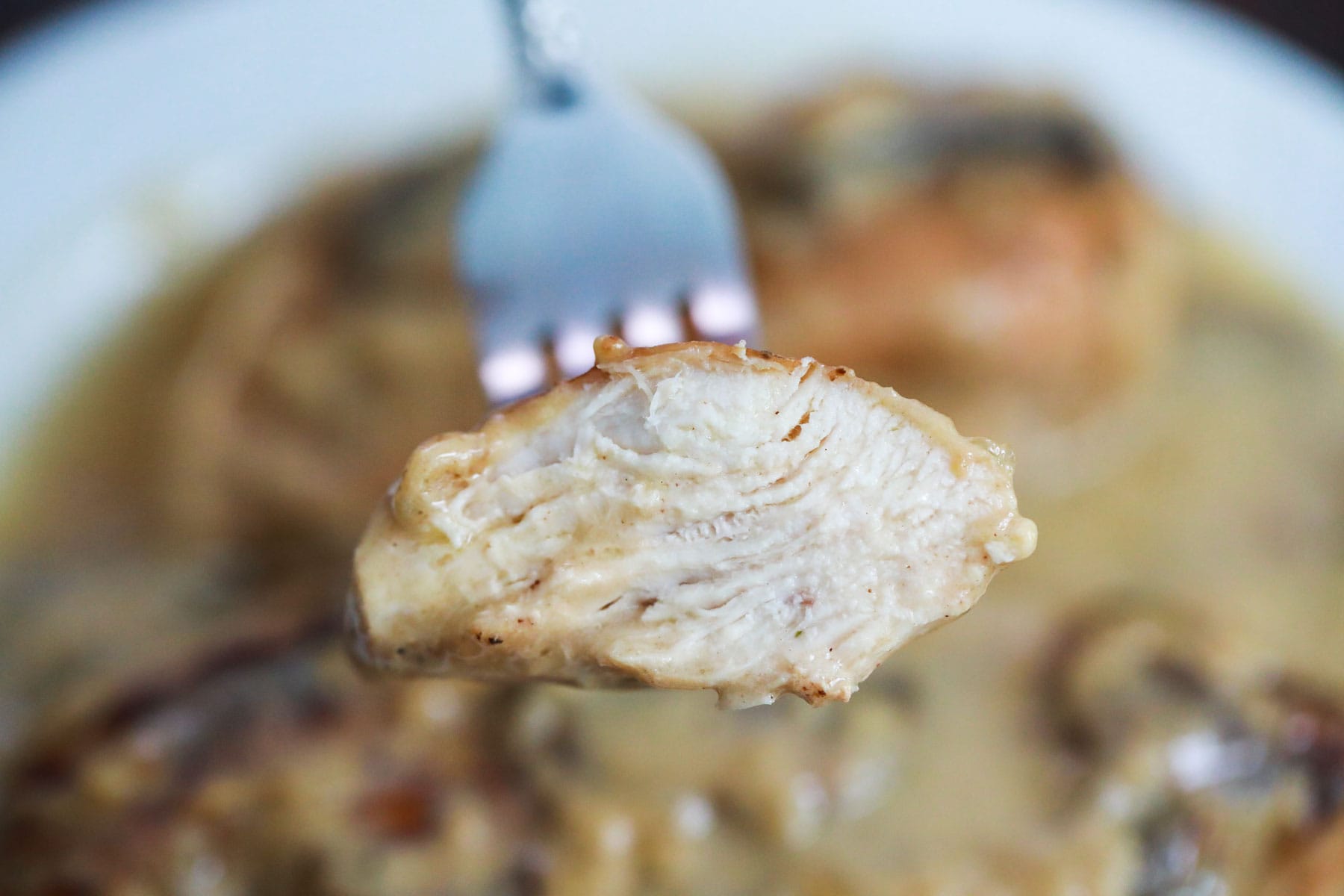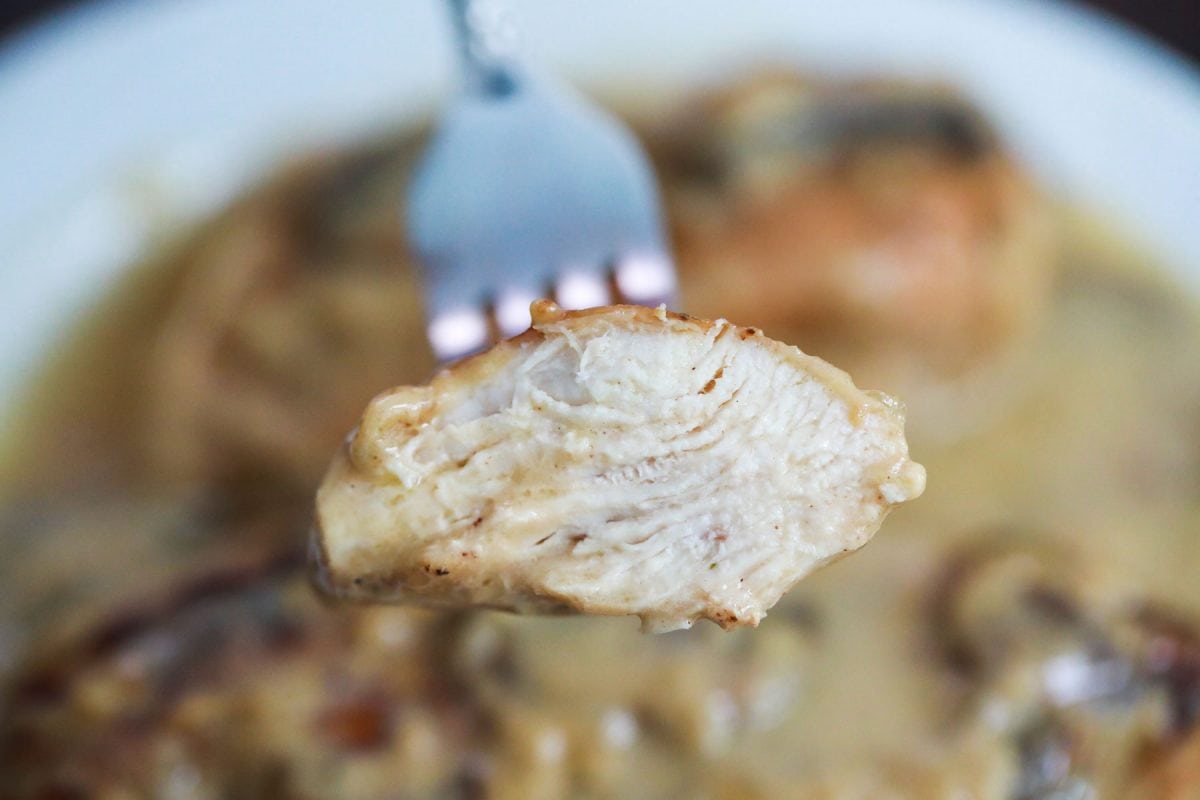 What to Serve with Chicken Marsala
Some of our favorites are something nice, vibrant and green like Crunchy Baked Broccoli, Peas and Onions or Green Beans with Bacon.
And for a base, plain rice or egg noodles work, but these take it up a notch: Buttered Noodles, Toasted Couscous and Almond Rice Pilaf.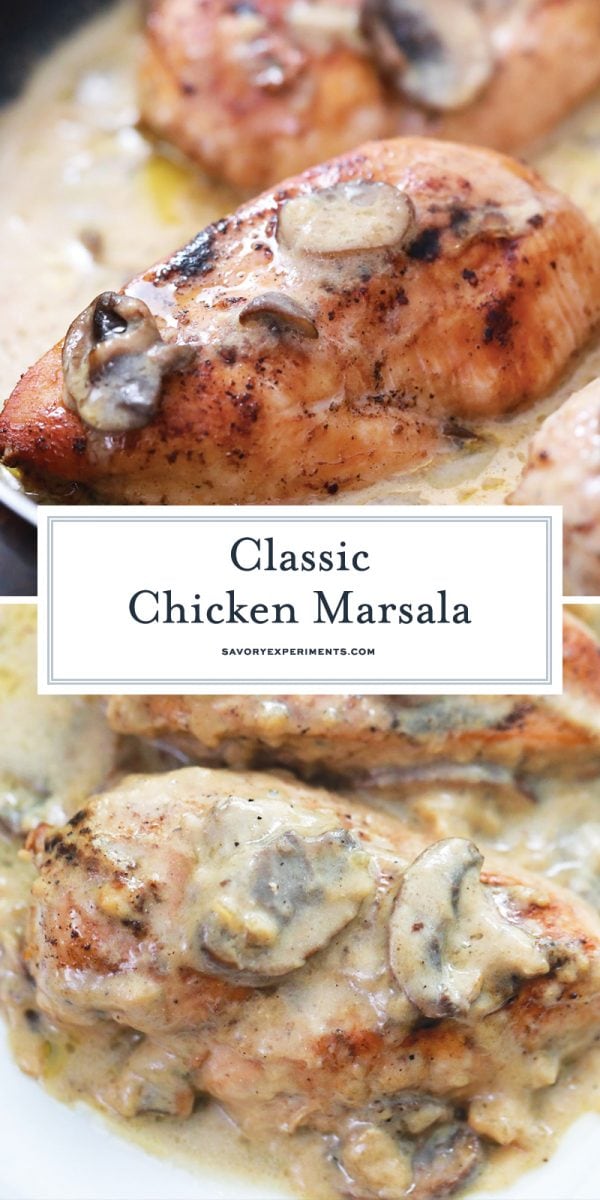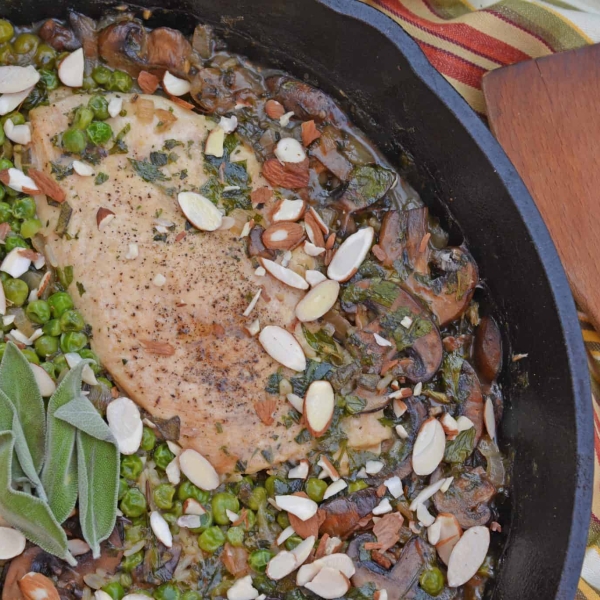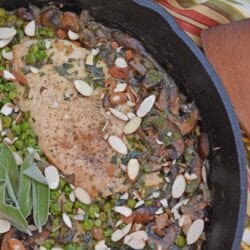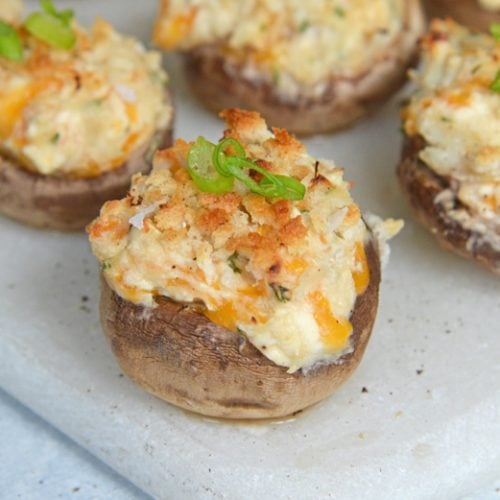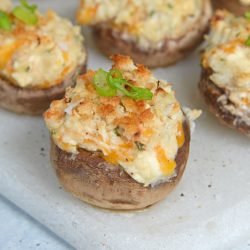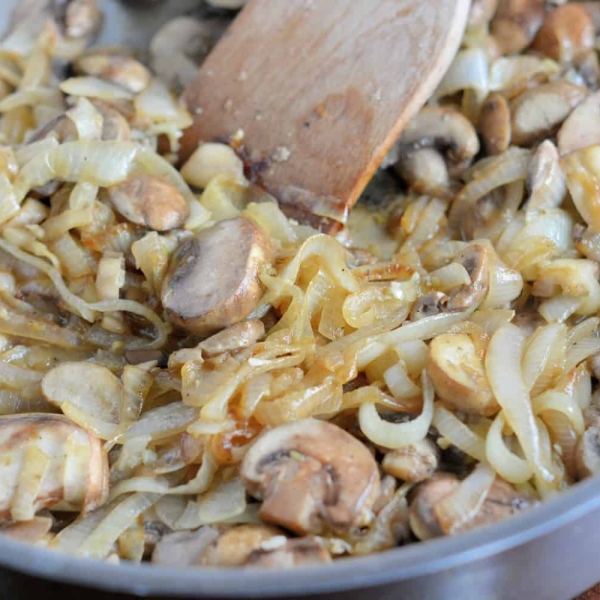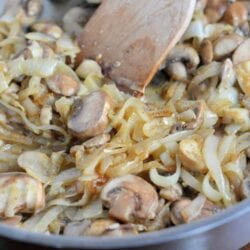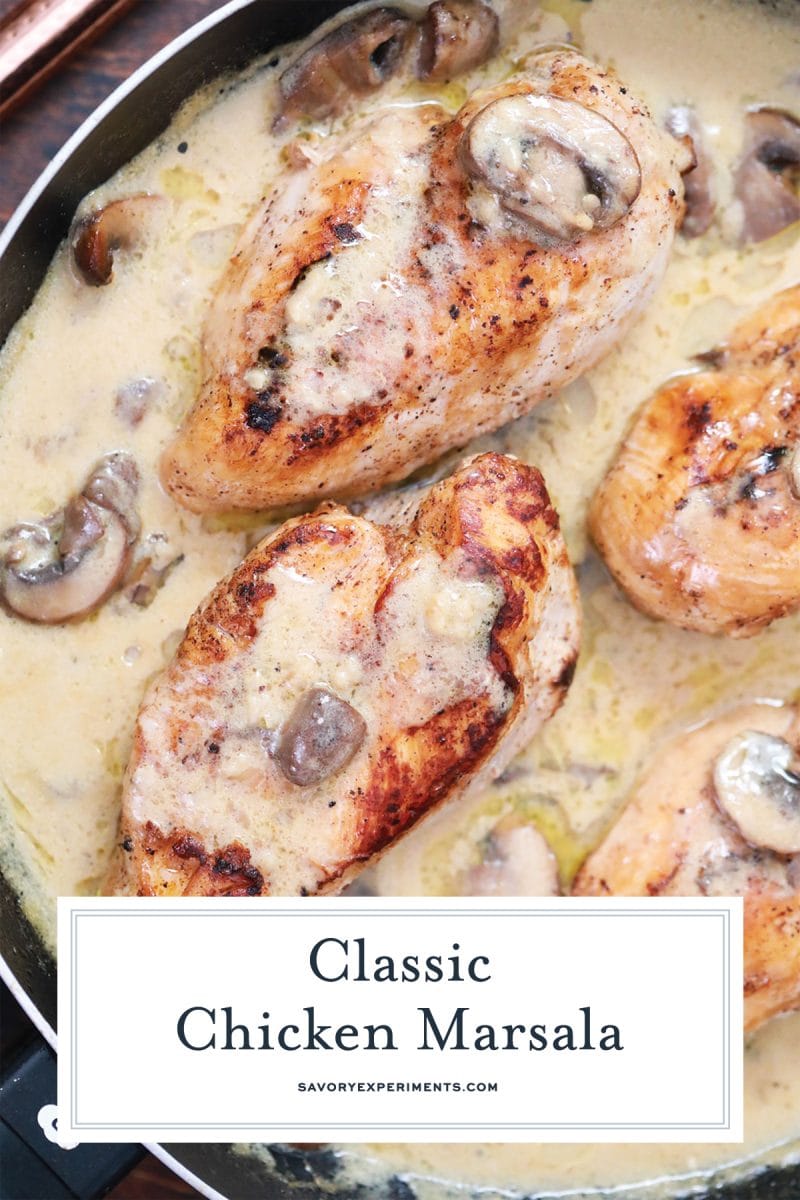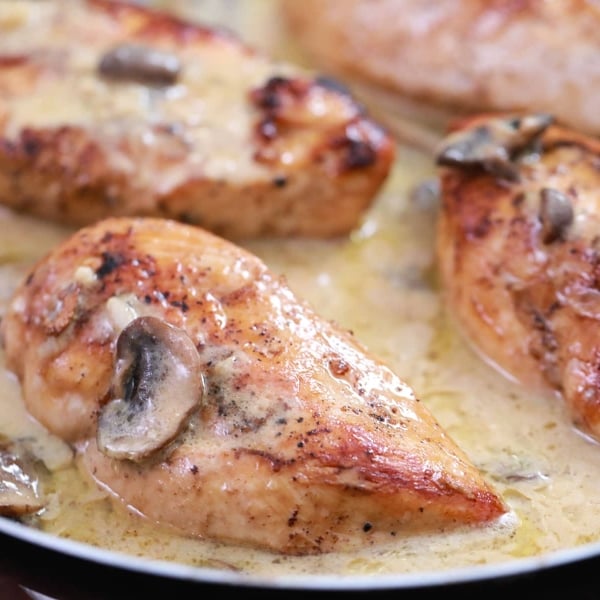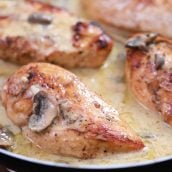 Chicken Marsala Recipe
This Chicken Marsala recipe is made in 1 pan in less than 30 minutes! Whip up this EASY dish with a rich creamy mushroom sauce on top of juicy chicken.
Instructions
Slice your chicken breasts in half and set aside. Wash and slice your mushrooms and set aside. Mince garlic and assemble remaining ingredients.

Heat a large, rimmed skillet over medium heat. When hot add in a tablespoon each of oil and butter. When butter is melted, add in your mushrooms with a ¼ tsp of salt. Let caramelize, stirring occasionally, about 3 to 4 minutes.

Season your sliced chicken with 1 tsp of salt and a ½ tsp of pepper.

Once golden, remove mushrooms to a bowl. Turn heat to medium high and add another tablespoon each of oil and butter.

When the butter is melted, add chicken to the pan and sear on each side, until golden brown. About 3-4 minutes per side.

Remove chicken and turn heat to low. Add garlic and stir until fragrant, about 30 seconds.

Slowly pour in Marsala wine, scraping the brown bits from the bottom of the pan. When all the wine is added, add the chicken stock and bring to a simmer over medium heat. Once bubbling, let cook for 2 to 3 minutes.

Slowly, while stirring, add in the heavy cream and final tablespoon of butter until completely combined. Taste and adjust salt if desired.

Whisk together two teaspoons of cornstarch with one teaspoon of cool water until smooth. Slowly add the slurry into the pan while stirring.

When sauce is thickening, return mushrooms and chicken to the pan, coating them with sauce and mushrooms until everything is hot.

Serve immediately with a generous serving of sauce.

If you've tried this recipe, come back and let us know how it was!
Nutrition
Calories:
495
kcal
,
Carbohydrates:
19
g
,
Protein:
27
g
,
Fat:
25
g
,
Saturated Fat:
15
g
,
Cholesterol:
116
mg
,
Sodium:
1008
mg
,
Potassium:
808
mg
,
Fiber:
1
g
,
Sugar:
9
g
,
Vitamin A:
515
IU
,
Vitamin C:
2
mg
,
Calcium:
40
mg
,
Iron:
1
mg