This Chicken Marsala recipe is made all in one pan, in less than 30 minutes, prep included! Whip up this easy dinner and enjoy rich creamy marsala sauce studded with caramelized mushrooms on top of seared, juicy chicken.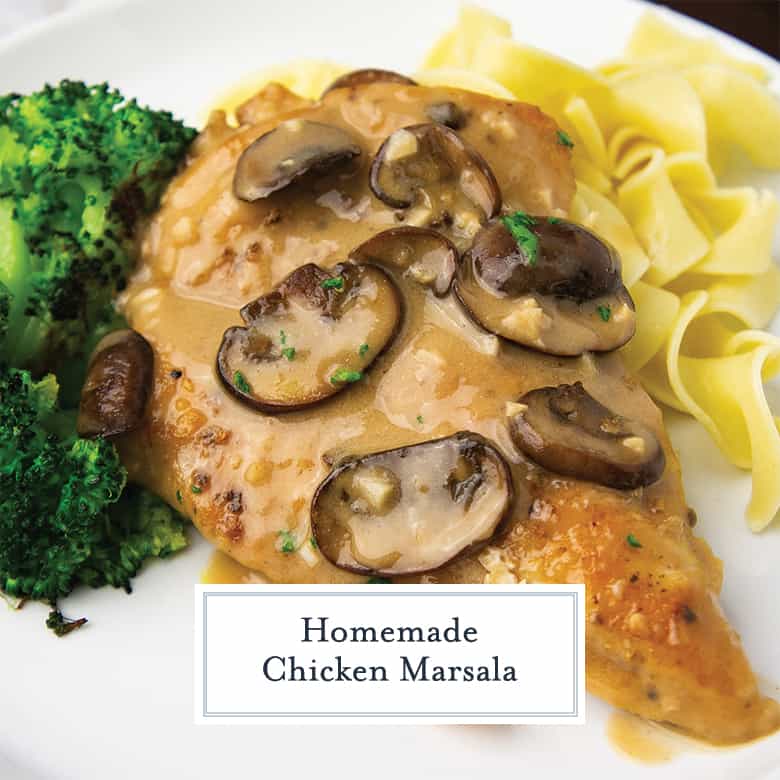 Creamy Chicken Marsala is an easy, one-pan, 30 minute meal. Mushrooms and chicken, simmered in a rich marsala wine sauce is a quick, delicious dinner for both family and guests.
If there's one trick I've learned for making a weeknight dinner exciting, it's to include a luscious, flavorful sauce. It can jazz up the simplest ingredients, even the humble chicken breast.
In just one pan, with common, easy to find ingredients, this easy chicken marsala takes 2 chicken breasts and feeds at least 4. Caramelized mushrooms, garlic, and marsala wine build a beautiful flavor profile for a sauce that's finished with all the good things, butter and cream.
The result? A lick-the-spoon-clean chicken dinner that will take you only 30 minutes to get on the table.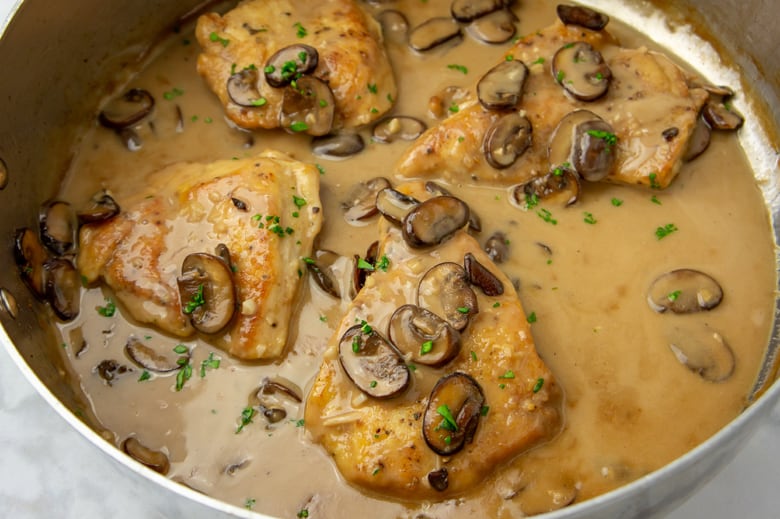 To make this all you'll need is…
2 chicken breasts
Button or baby bella mushrooms
Garlic
Marsala Wine
Chicken stock
Unsalted butter
Oil
Salt & Pepper
Heavy Cream
Cornstarch
Water

PRO TIP: Cornstarch is thickener made from corn. Mix it with cool water to make a slurry, then whisk into a hot liquid, to create a glossy, creamy sauce in just moments. It doesn't affect flavor, and it's fairly foolproof!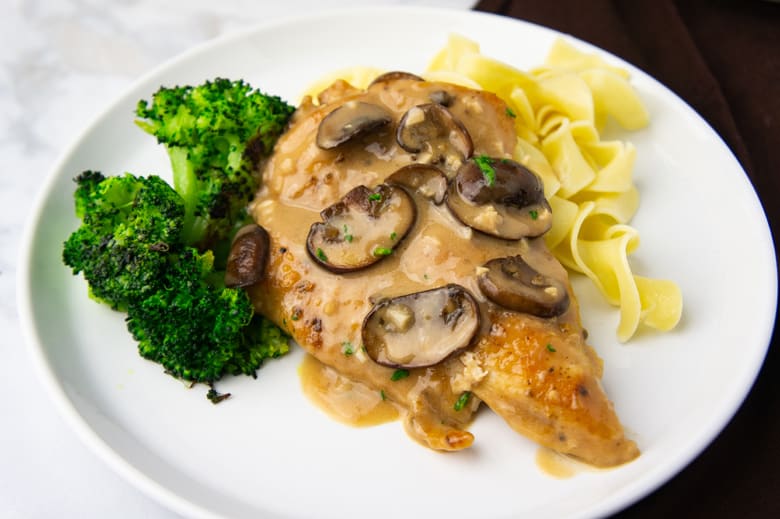 This creamy chicken marsala recipe is designed to yield plenty of extra, creamy marsala sauce. We all know that's the best part!
Fun Fact: Marsala wine is a fortified, sweet wine that originated in Sicily. It can be marketed as sweet, or dry, and is most commonly used to make delicious sauces. While the authentic stuff is fantastic, your supermarket marsala works perfectly in this recipe!
Be sure to have a pot of pasta, rice, or a nice loaf of bread on hand to soak up all the extra goodness.
Tips for making the best Chicken Marsala
Pull your chicken out of the fridge before you do anything else, the closer it comes to room temperature, the more evenly it will cook.
Prep ALL of your ingredients before you begin cooking. Slice your chicken and mushrooms, mince your garlic, and have your other ingredients measured and ready. Those first 10 minutes of prep time are the secret to a successful 30 minute meal!
Taste as you go! Try a mushroom once they're caramelized and add a dash more salt if you want it. Taste the marsala sauce before you add the cornstarch and adjust seasoning as needed.
Adjust the heat on your pan for different steps. Sear on higher heat, let the sauce simmer on medium to low.
Be sure to whisk constantly and add your cream and cornstarch slurry in slowly. This helps the sauce become creamy without lumps, and ensures your sauce won't break.
This has pretty instantly become a family favorite in my house. It's so easy and satisfying.
Pro Tip: Wiping mushrooms clean with a damp paper towel, rather than washing them under water, will prevent them from retaining excess water. You'll get better, quicker caramelization.
I promise you won't be missing pricey chicken marsala from a restaurant when you can make this insanely delicious, creamy chicken marsala at home in less time!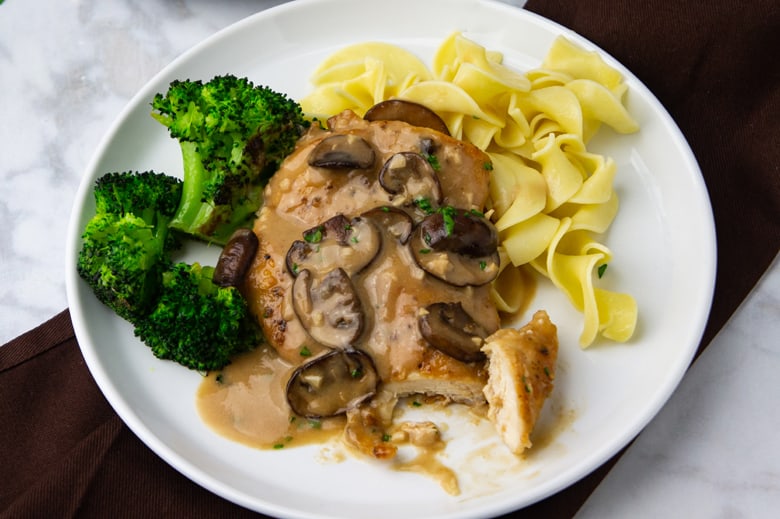 Can I pound the chicken flat instead of slicing?
Absolutely. You can either slice in half, pound to about ½ inch thick, or use thin chicken cutlets that are prepped for you.
I found that slicing an average chicken breast in half gave me the right thickness for it to cook through, without over or undercooking. 
Can I leave out the cream?
The cream plays an essential role in mellowing out the intensity of the wine for a pleasant rounded flavor.
If you need to leave it out, increase the chicken stock to 1 cup, and use 1 tablespoon of cornstarch with half a tablespoon of water to thicken it properly.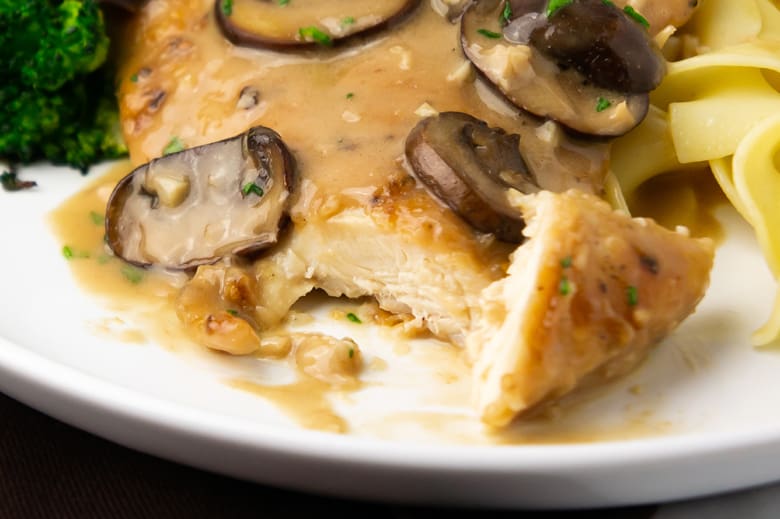 Can this be used for pork cutlets?
Sure! I think that'd be delicious. Use thin cuts of pork and the same exact recipe.

Can I freeze it?
Yes. Let it cool to room temperature then store in a freezer safe container for up to 3 months. Allow to thaw in the fridge, then reheat in a pan or the microwave to enjoy later.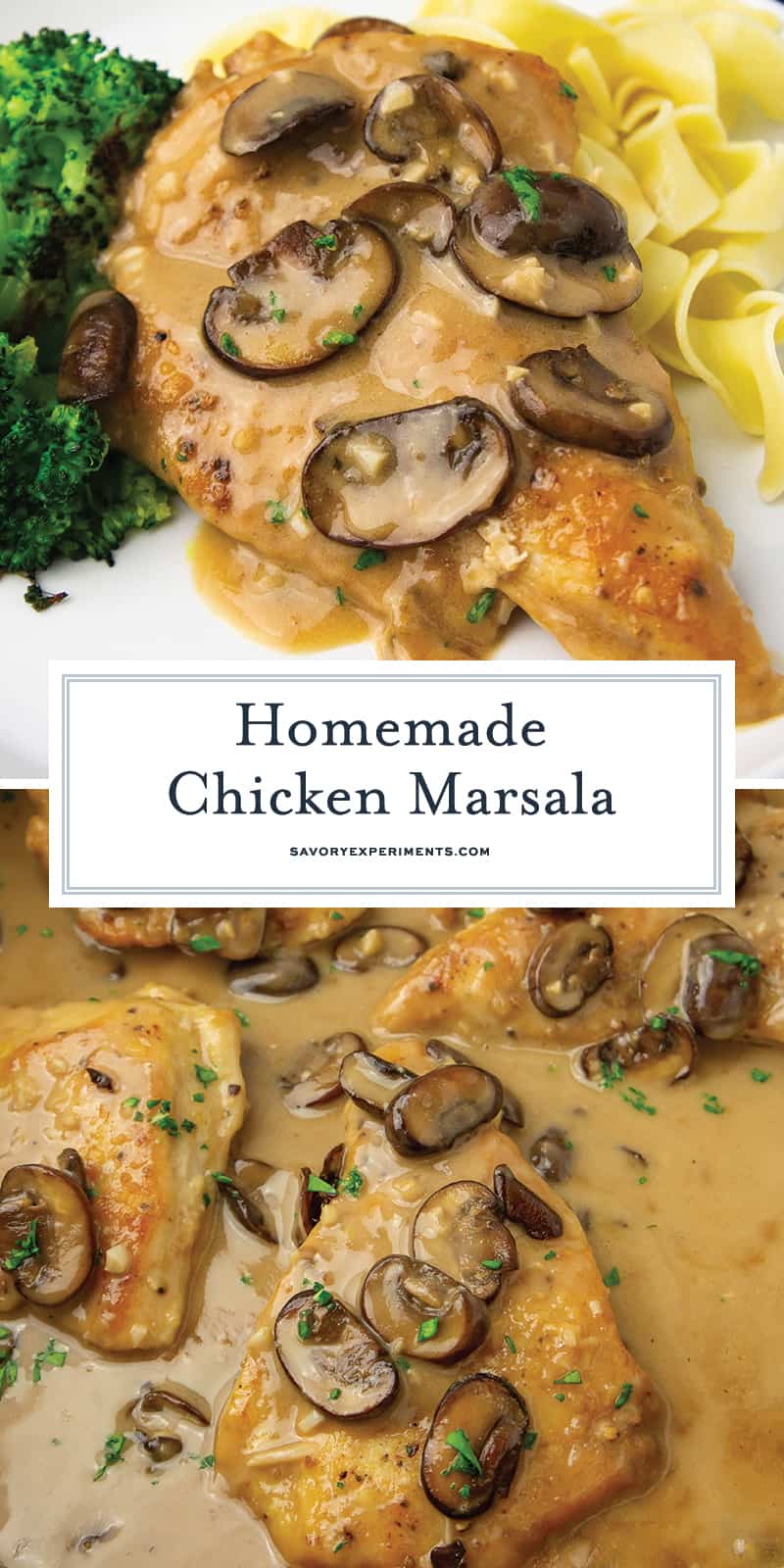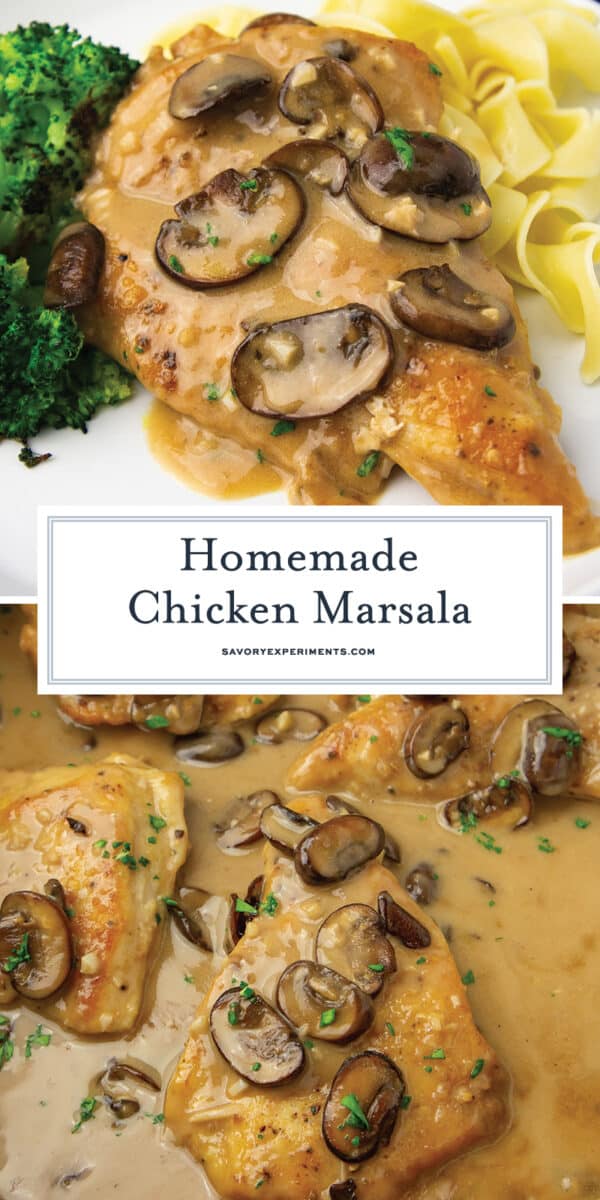 Serve this chicken marsala with: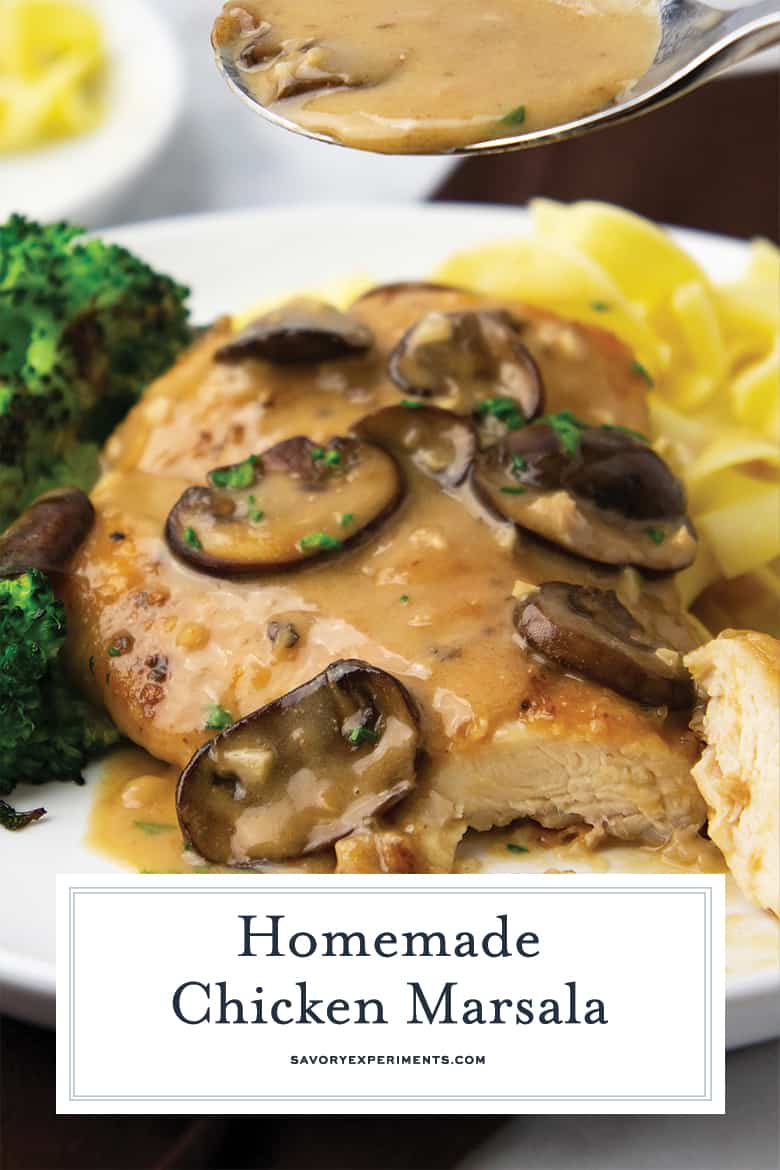 CONNECT WITH SAVORY EXPERIMENTS!

Be sure to follow me on social media, so you never miss a post!

Facebook | Twitter | Youtube
Pinterest | Instagram

Get our FREE 8 Day E-Course on How to Be a Better Home Cook. Sign up HERE!