Homemade Onion Soup Mix Recipe
This dry onion soup mix is perfect to throw together in 5 minutes or less and have on hand to use whenever you want. All you need are some spices you probably already have in your kitchen pantry!

Onion Soup Mix is so easy that chances are you already have all the ingredients! This recipe even makes a bit more than one store bought onion soup packet!
Yep, just like those little packets you are overpaying for at the grocery store, I'm going to show you how to make your own Onion Soup Mix. I'm going out on a limb here, but I'll say 90% of my foodie friends already have all the ingredients they need to make this Onion Soup Mix recipe in their pantry.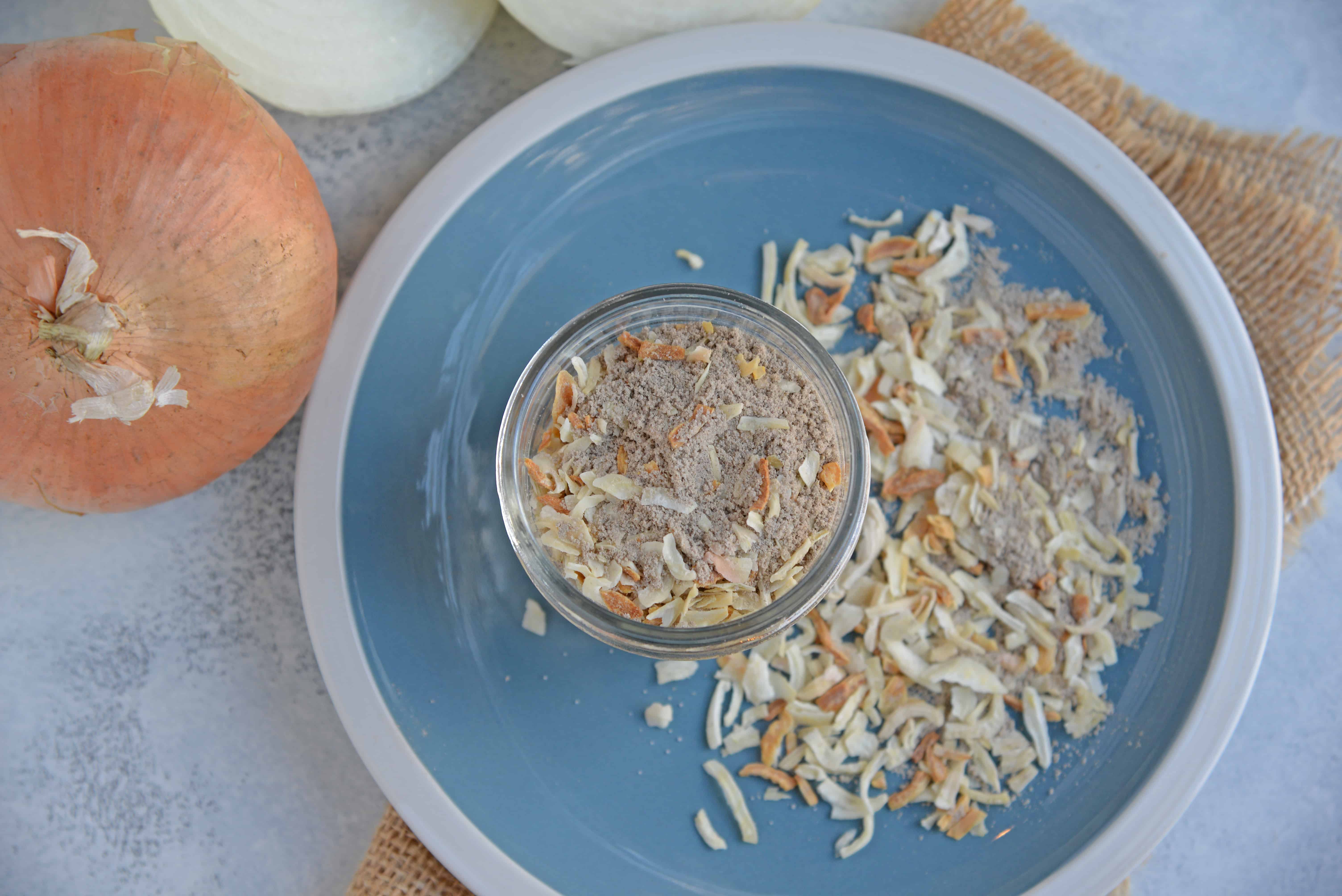 Other than the fact that it will only take about 1 more minute to make Onion Soup Mix from scratch rather than tear open a paper bag, you can also control the flavors and salt content when making it yourself.
I prefer mine to be extra onion-y (yep, I just made up that word). You can even go a step further and use garlic flakes instead of onion- Garlic Soup Anyone???
While I haven't made garlic soup, I have used this soup mix with garlic flakes for a marinade and it was pretty tasty (see below).
Making your own Onion Soup Mix at home not only saves you a trip to the grocery store, but it will save you money. You'll never have to buy it from the store again once you see how easy it is to make, and how much better it tastes when you do it yourself.
PRO TIP: Get a few small glass containers from the craft store and make these into gifts. Print out the soup instructions on cute labels and decorate with colorful string.
Another tip, make a couple batches and keep them in an airtight container in your fridge. You can also package them cutely and give them as gifts.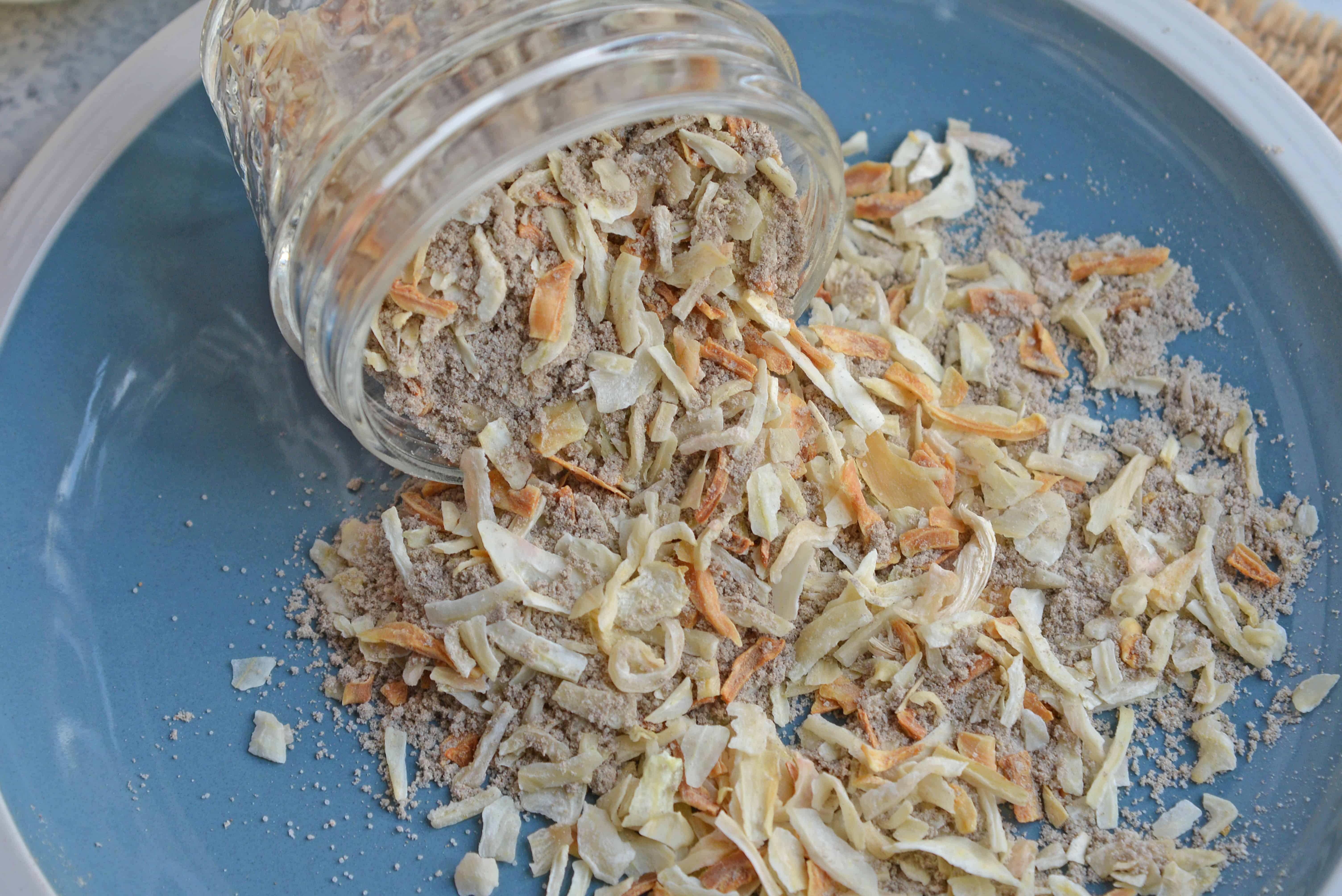 I also want to make a confession: I've never actually made soup with Onion Soup Mix. I know! GAH!
I've mixed it into ground beef for burgers and meatloaf, folded with sour cream for dip, roasted it with potatoes and my personal favorite, made Grilled Onion Pork Chops, but never have I ever actually made soup.
And of course, French Onion Dip as an appetizer. Such a classic recipe!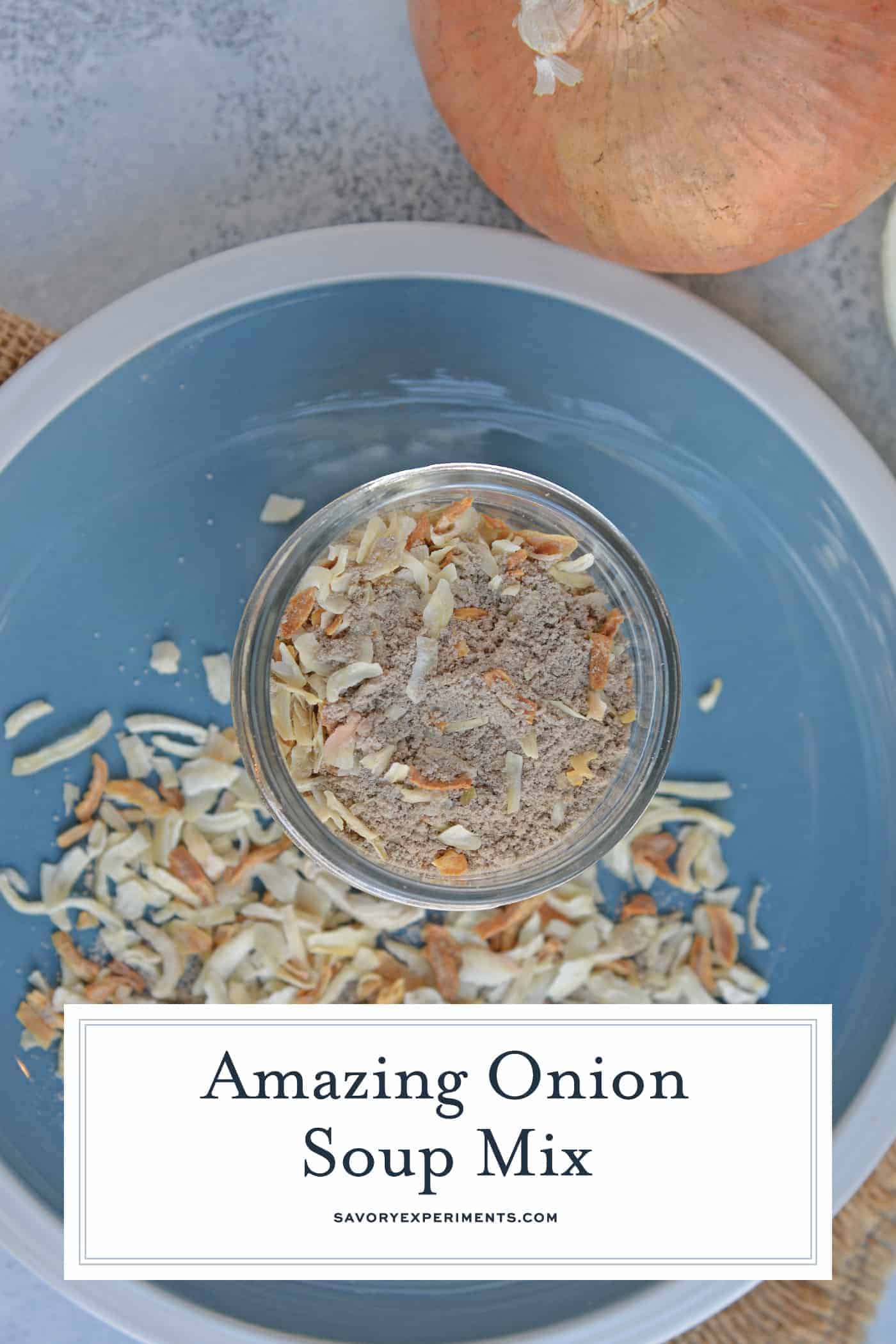 For most recipes, keeping it chunky and whole is perfectly fine, but if you are looking for all of the flavor, but a fine blend without large pieces of onion, try using a spice grinder to blend it up. This is my favorite spice grinder
, cheap and easy to clean! You can also use it to grind coffee!
Maybe I'll give that a shot sometime! What is your favorite way to use Onion Soup Mix?
If you loved this copycat onion soup mix recipe, check out these easy copycat recipes:
Tools for making Homemade Onion Soup Mix:
Measuring Utensils
– You can use these or you can eyeball it. As long as the ratios are somewhat similar, you really can't hurt this recipe.
Ramekins– I use these for small batch mixing, but they also have other purposes!
I like giving folks their own individual sauce cups. Then you don't have to worry about double dipping! Ramekins are also great for ingredient preparation and baking mini soufflés.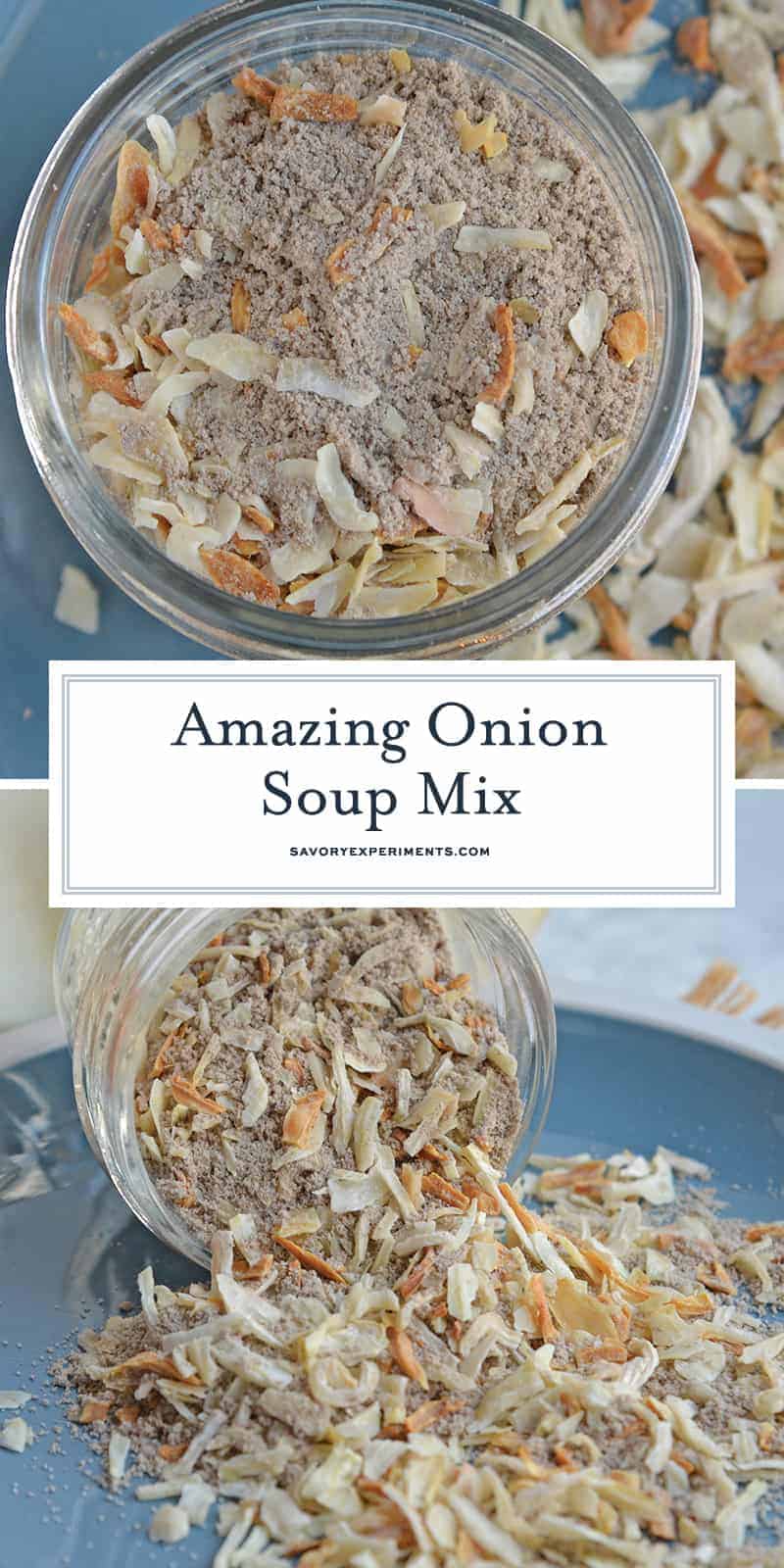 Onion Soup Mix is so easy that chances are you already have all the ingredients! This recipe even makes a bit more than one store bought onion soup packet!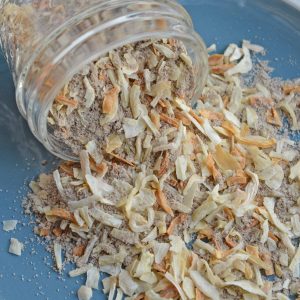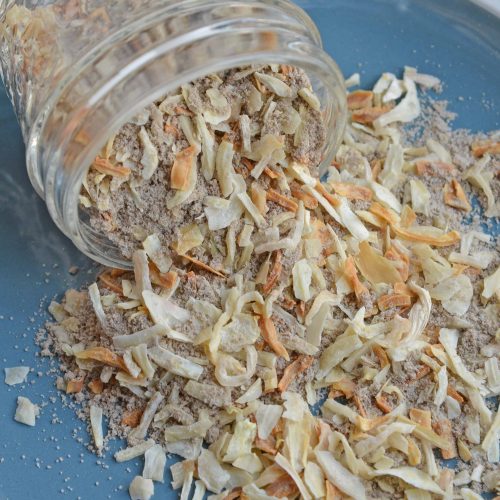 Onion Soup Mix
Chances are you have all the ingredients already in cupboard! This recipes makes slightly more than one store bought onion soup packet.
Cuisine:
American, French
Keyword:
homemade onion soup, onion soup mix
Ingredients
1/2

cup

dried onion flakes

3

tablespoons

beef bullion

ground

1/2

teaspoon

onion powder

1/2

teaspoon

garlic powder

1

tablespoon

parsley flakes

1/8

celery salt

1/2

teaspoon

smoked paprika

1/4

teaspoon

black pepper

1/4

teaspoon

fine sea salt
Instructions
Combine all ingredients in a small bowl. You are done!

If you've tried this recipe, come back and let us know how it was!
Recipe Video
Recipe Notes
You can substitute garlic flakes for onion.
If you want to make soup, add 4 cups boiling water and allow to sit for 5 minutes.
Nutrition Facts
Onion Soup Mix
Amount Per Serving
Calories 115
% Daily Value*
Sodium 1129mg 47%
Potassium 509mg 15%
Total Carbohydrates 26g 9%
Protein 3g 6%
* Percent Daily Values are based on a 2000 calorie diet.