This dry onion soup mix is perfect to throw together in 3 minutes or less and have on hand to use whenever you want. All you need are some spices you probably already have in your kitchen pantry.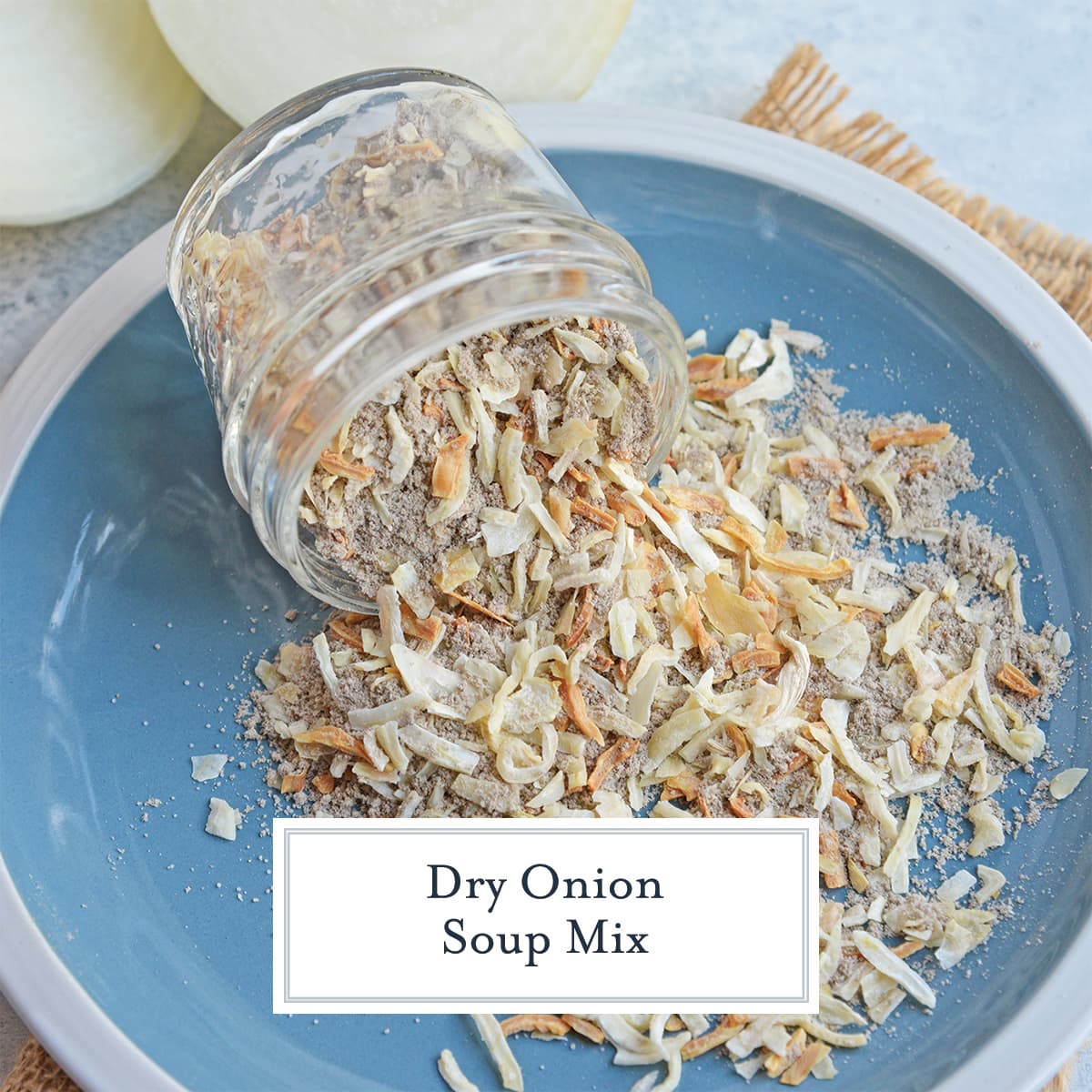 You will love this recipe for Onion Soup Mix
This seasoning secret will add a savory note to lots of dishes. Here are a few reasons why we love it:
Versatile – This favorite dry soup mix isn't just for soup! Use it to add an extra flavor boost to lots of your flavorful family meals. It's great for sour cream dips too.
Easy to make – The mix itself is as simple as mixing all of the dry ingredients together and storing it in a glass jar.
Basic ingredients – Most, if not all, of these ingredients are pantry staple seasonings.
Homemade Onion Soup Mix
I'm not going to lie and tell you that you will save oodles of money making your own onion soup mix recipe. A box of packets of Lipton onion soup mix costs less than $2, but I will tell you that this one is a little tastier and works great in a pinch for a substitute.
I'll also go out on a limb here and say 90% of my foodie friends already have all the ingredients they need to make this recipe in their pantry. No secret ingredient or hard to pronounce things in this onion soup mix substitute.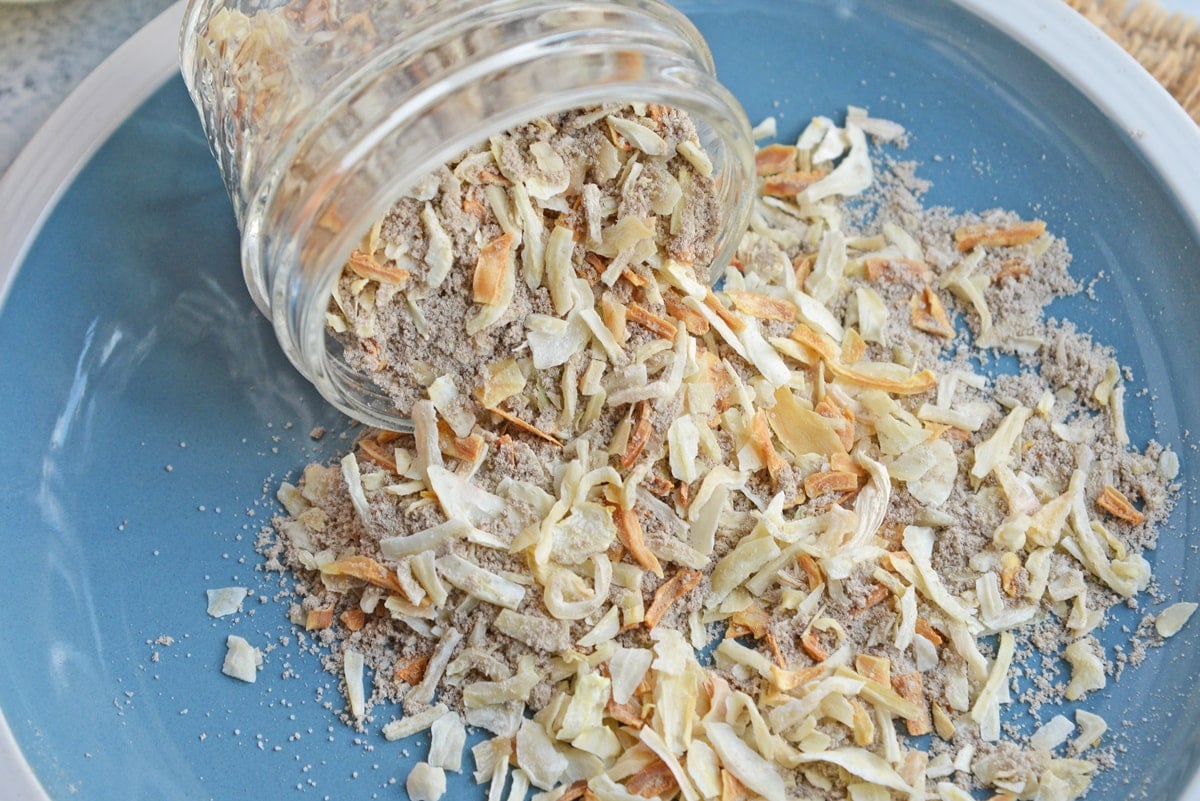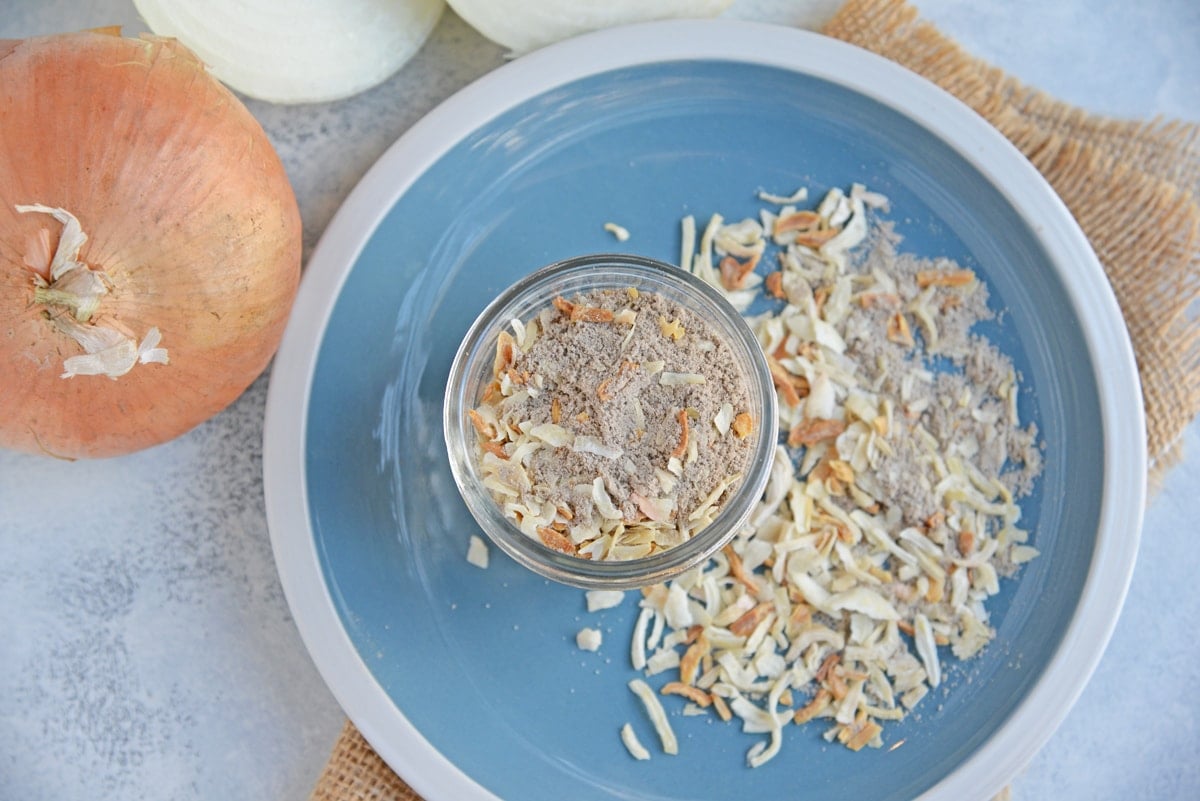 Onion Soup Mix Recipe ingredients
The base for dry onion soup, sometimes called French Onion Soup Mix, is fairly basic. Made with simple ingredients found in your spice cabinet or easily at your local grocery store.
Dry onion flakes – It wouldn't be onion soup without some onion, right? The flakes are important to add a little texture.
Powdered beef bouillon – Because this is a dry mix and we need it to be shelf stable, we need beef bouillon granules, not bouillon paste.
Onion powder – A little more onion flavor can't hurt! Granulated onion is less potent, but still important for the rich onion flavor.
Garlic powder – No good soup is made without garlic. It just adds to the tasty onion broth flavor.
Parsley flakes – I didn't use these the first time I made this soup mix and took pictures, but I do like to add them sometimes.
Celery salt – If you'd really like to step up the flavor, you can substitute this for celery seed instead.
Smoked paprika – I like the smoky flavor the best, but you can certainly use regular paprika if that's all you have on hand.
Salt and pepper – I prefer to use freshly ground black pepper and fine sea salt. Coarse Kosher salt is a little too coarse.
I prefer mine to be extra onion-y (yep, I just made up that word), so I use more onion flakes than the store bought version and also add black pepper. Look for a very finely ground black pepper to make the smoothest mix.
You can even go a step further and use garlic flakes instead of onion or use both!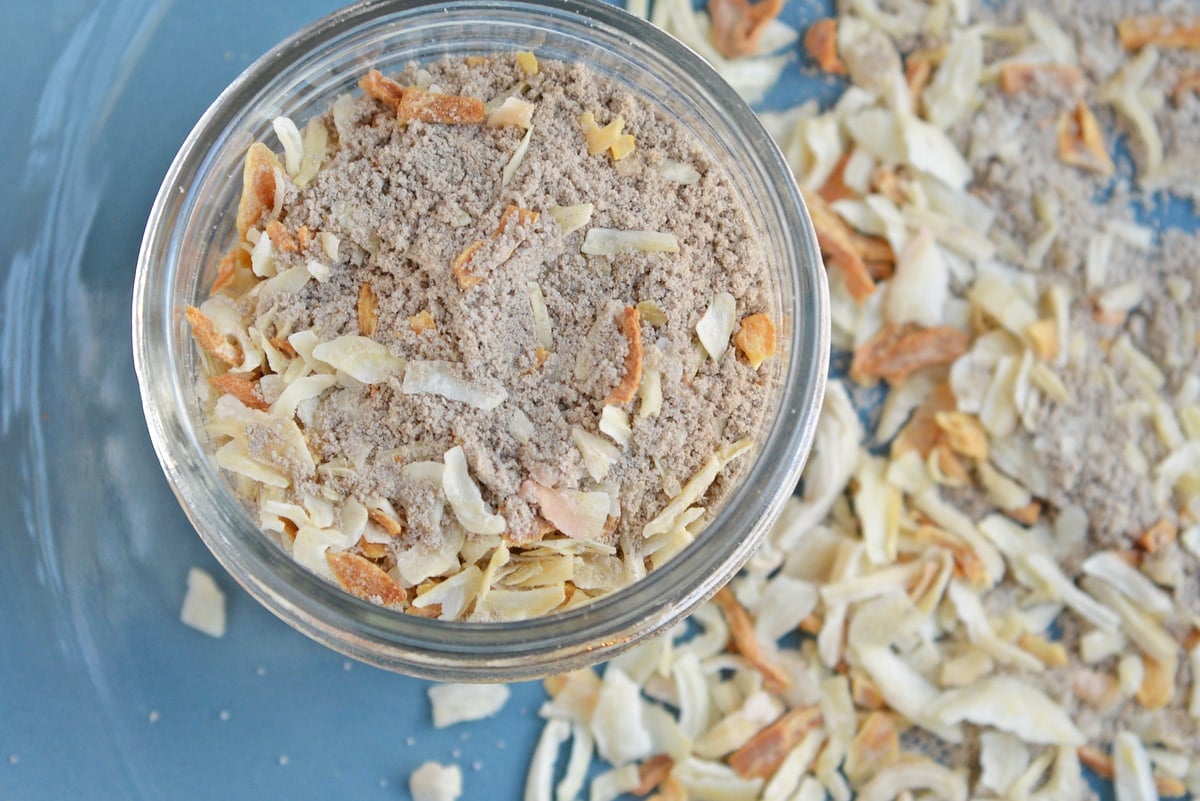 Using Dry Onion Soup Mix
This is probably one of the most versatile items in the kitchen for seasoning. When I say that I always have it, I'm not joking. Whether is it a homemade onion soup mix or pre bought, it is a staple. Here are a few of my favorite recipes to use it with:
For most recipes, keeping it chunky and whole is perfectly fine, but if you are looking for all of the flavor, but a fine blend without large pieces of onion, try using a spice grinder to blend it up. This is my favorite spice grinder, cheap and easy to clean! You can also use it to grind coffee!
How to make Onion Soup from an Onion Soup Mix
One of the most common questions is how to make soup from dry onion soup mix. The process couldn't be simpler! If you want to make soup, add 4 cups of water or low sodium beef broth in a large bowl and allow to sit for 5 minutes.
Add caramelized onions, frozen veggies like green beans or even thinly sliced beef or chicken to make a whole meal. It's sure to be a family favorite.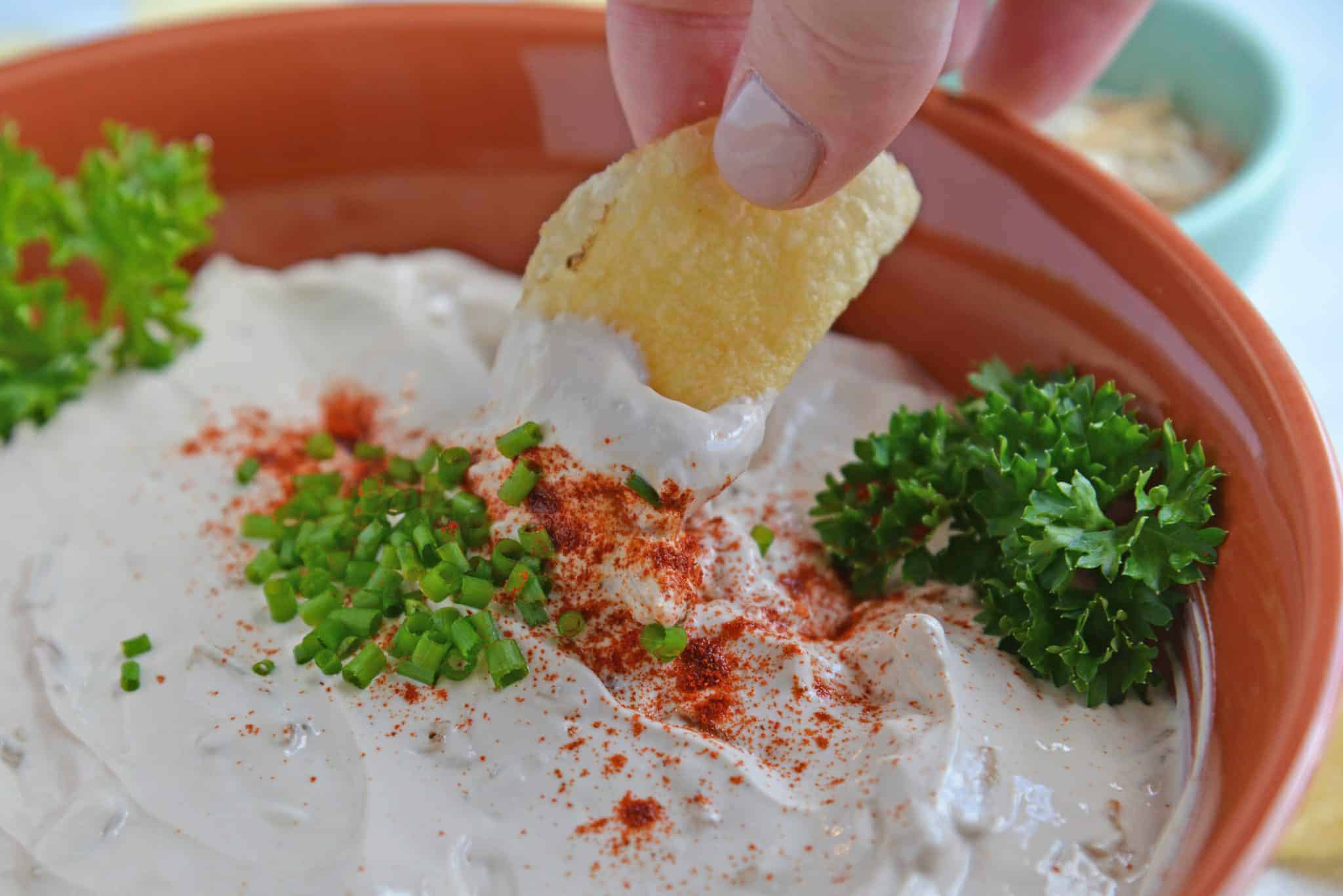 How to store French Onion Soup Mix
Storage: This dry soup mix is very shelf stable and will last in a cool, dry place for up to a year. Store in an airtight container like a mason jar.
Freezing: You can also store it in the freezer or fridge to preserve it a little longer. Keep in mind that like most dry seasonings, it will start to lose its potency at about 6 months.
PRO TIP: Get a few small glass containers from the craft store and make these into gifts. Print out the soup instructions on cute labels and decorate with colorful string.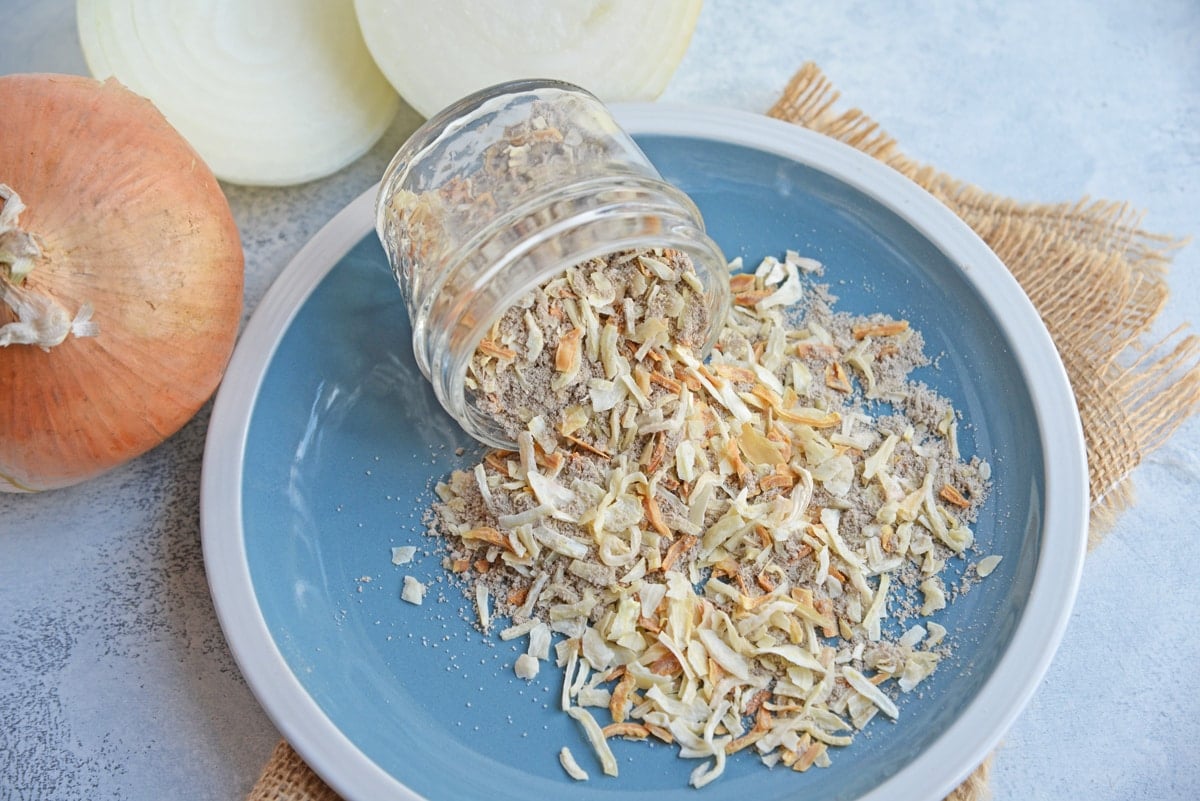 DIY Dry Onion Soup Mix FAQs
How many tablespoons equals one packet of Lipton Onion Soup Mix?
There are about 3 tablespoons in a Lipton onion soup packet, give or take a smidge. In most recipes, you can eyeball the amount and use a little more or a little less without worry of ruining the recipe.

The only thing to be mindful of is salt content. If the recipe calls for additional salt, add the soup mix and then season with salt accordingly. Adding both could make it to too salty. Same goes for recipes using broth, opt for a low-sodium broth so you can control the saltiness.
What is the difference between dry onion soup mix and french onion soup mix?
There really isn't a difference and honestly, I don't even use it to make French Onion Soup, only just a basic onion soup.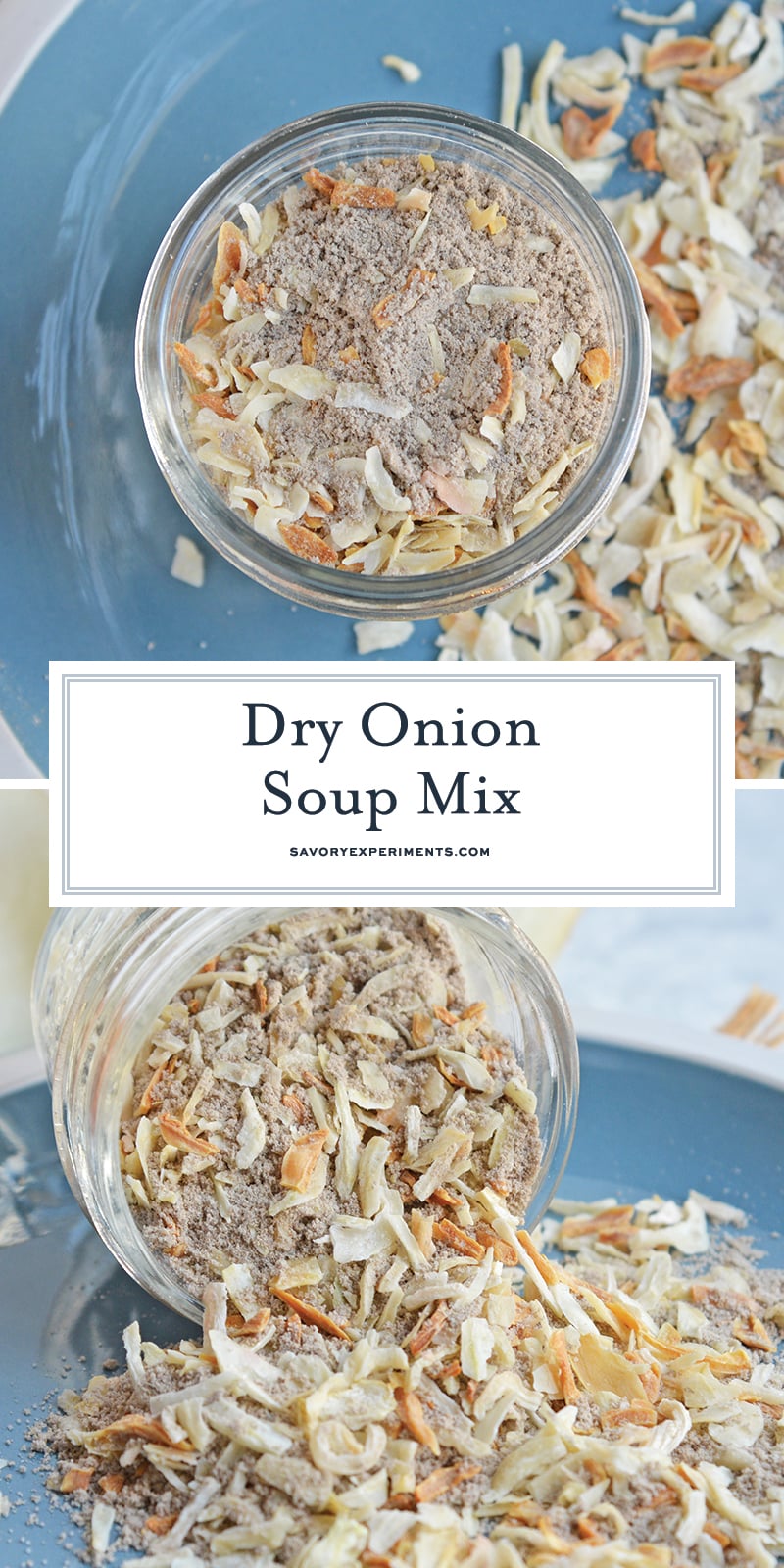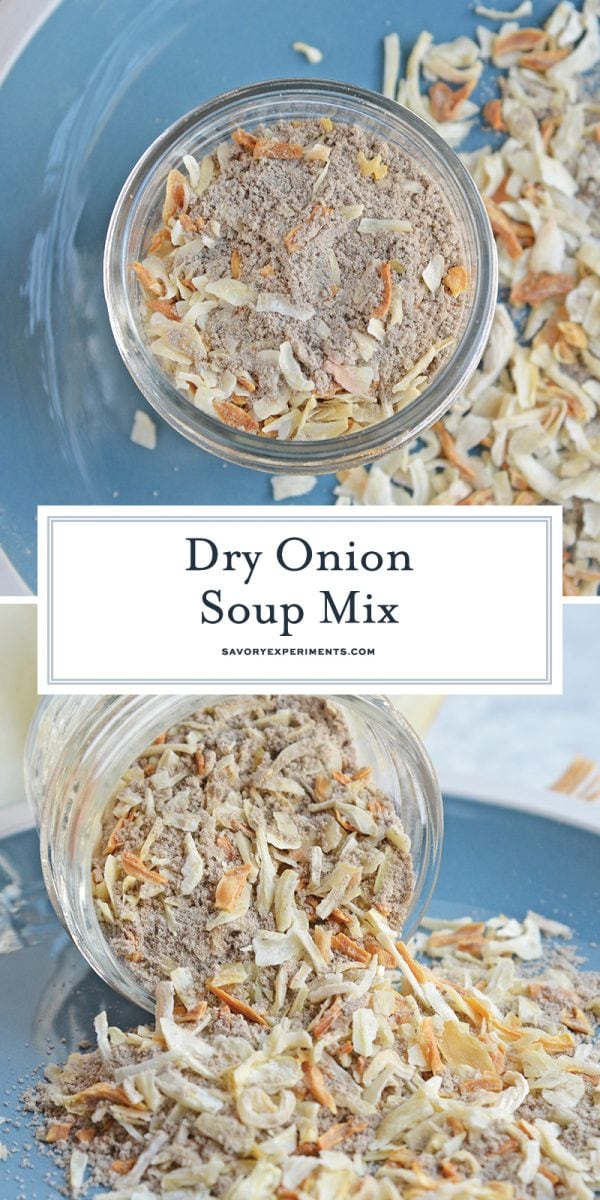 More Homemade Spice Blends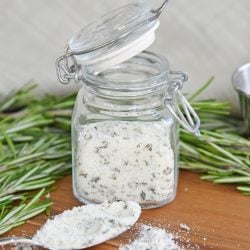 Rosemary Salt
Not only is it a delicious condiment and seasoning, Rosemary Salt is also great as a gift. And the best part… it is ready in about an hour.
See The Recipe!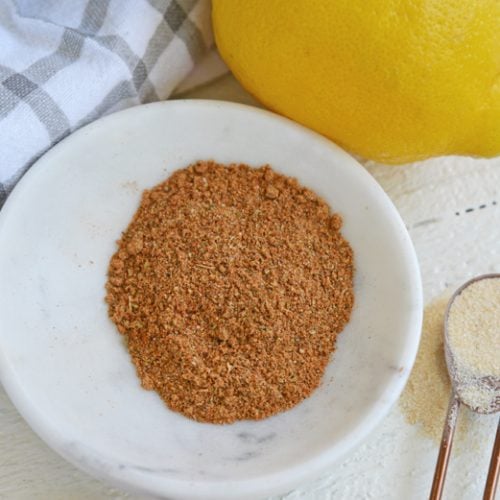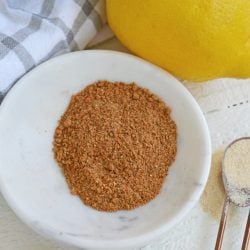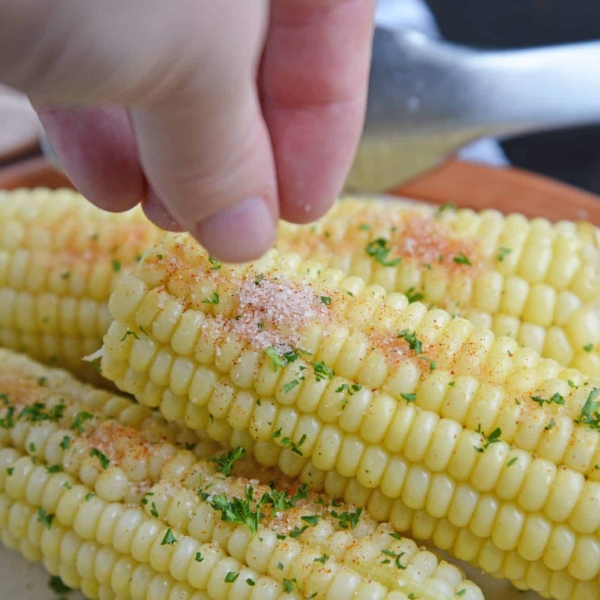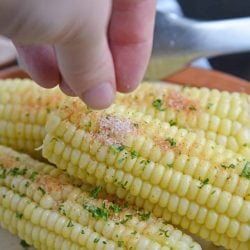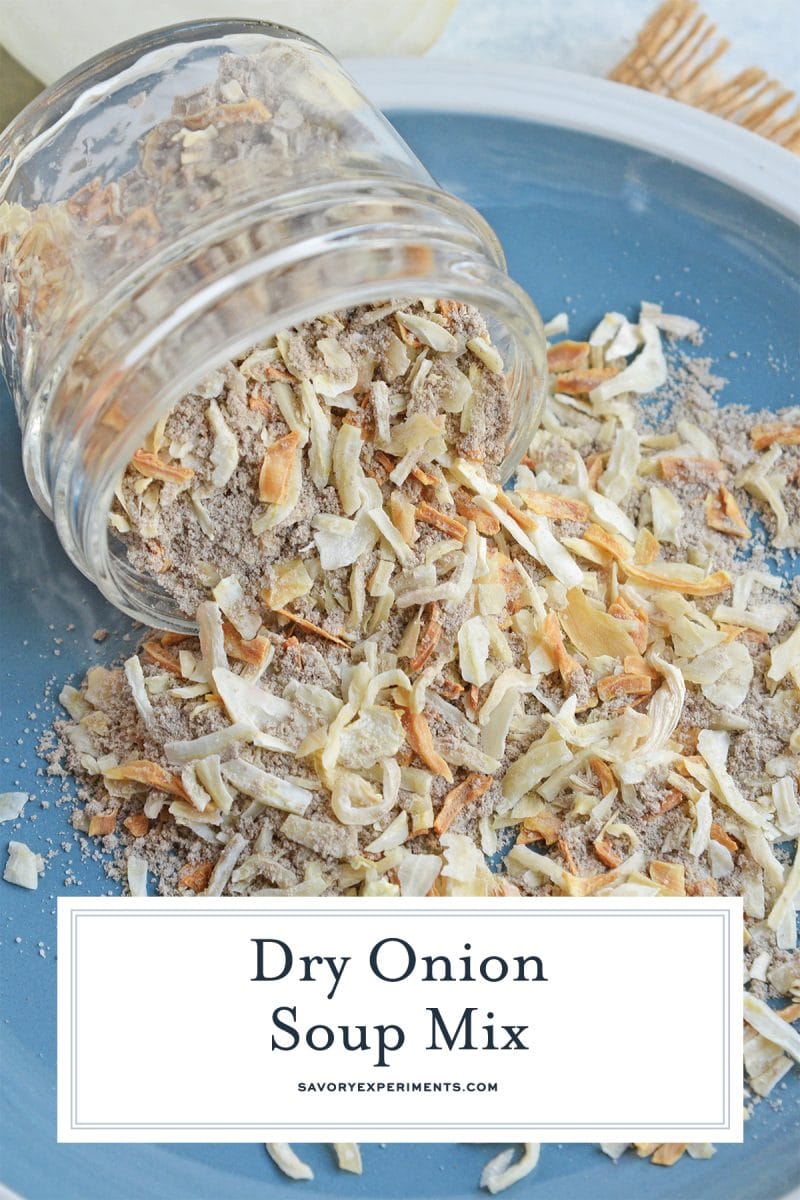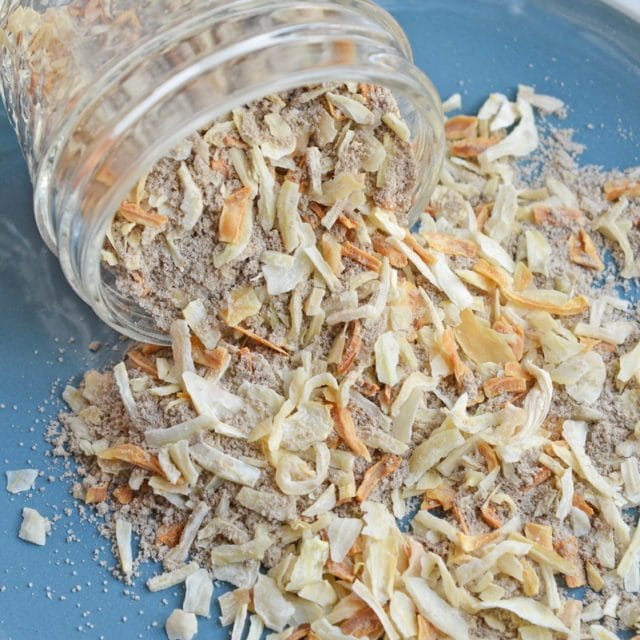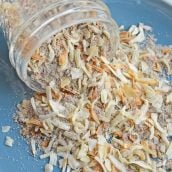 Dry Onion Soup Mix Recipe
Onion Soup Mix is so easy that you already have all the ingredients in your pantry. Perfect as a substitute for Lipton's Onion Soup Mix.
Instructions
Combine the onion flakes, powdered beef bouillon, parsley, onion powder, garlic powder, celery salt, paprika, black pepper and salt in a small mixing bowl and combine.

If you've tried this recipe, come back and let us know how it was in the comments or ratings.
Notes
You can substitute garlic flakes for onion or use a mix of both.
If you want to make soup, add 4 cups boiling water and allow to sit for 5 minutes.
If you like a smoother soup, use a spice grinder to make it evenly fine.
Nutrition
Calories:
115
kcal
,
Carbohydrates:
26
g
,
Protein:
3
g
,
Sodium:
1129
mg
,
Potassium:
509
mg
,
Fiber:
2
g
,
Sugar:
11
g
,
Vitamin A:
125
IU
,
Vitamin C:
22.8
mg
,
Calcium:
82
mg
,
Iron:
0.6
mg