*I received compensation for this post, however all thoughts and opinions are 100% my own.
This Italian girl loves pasta. I'm always coming up with new and inventive ways to serve it and other times I prefer my "oldies, but goodies". Playing around with homemade pesto flavors is one of my ways to revamp old favorites.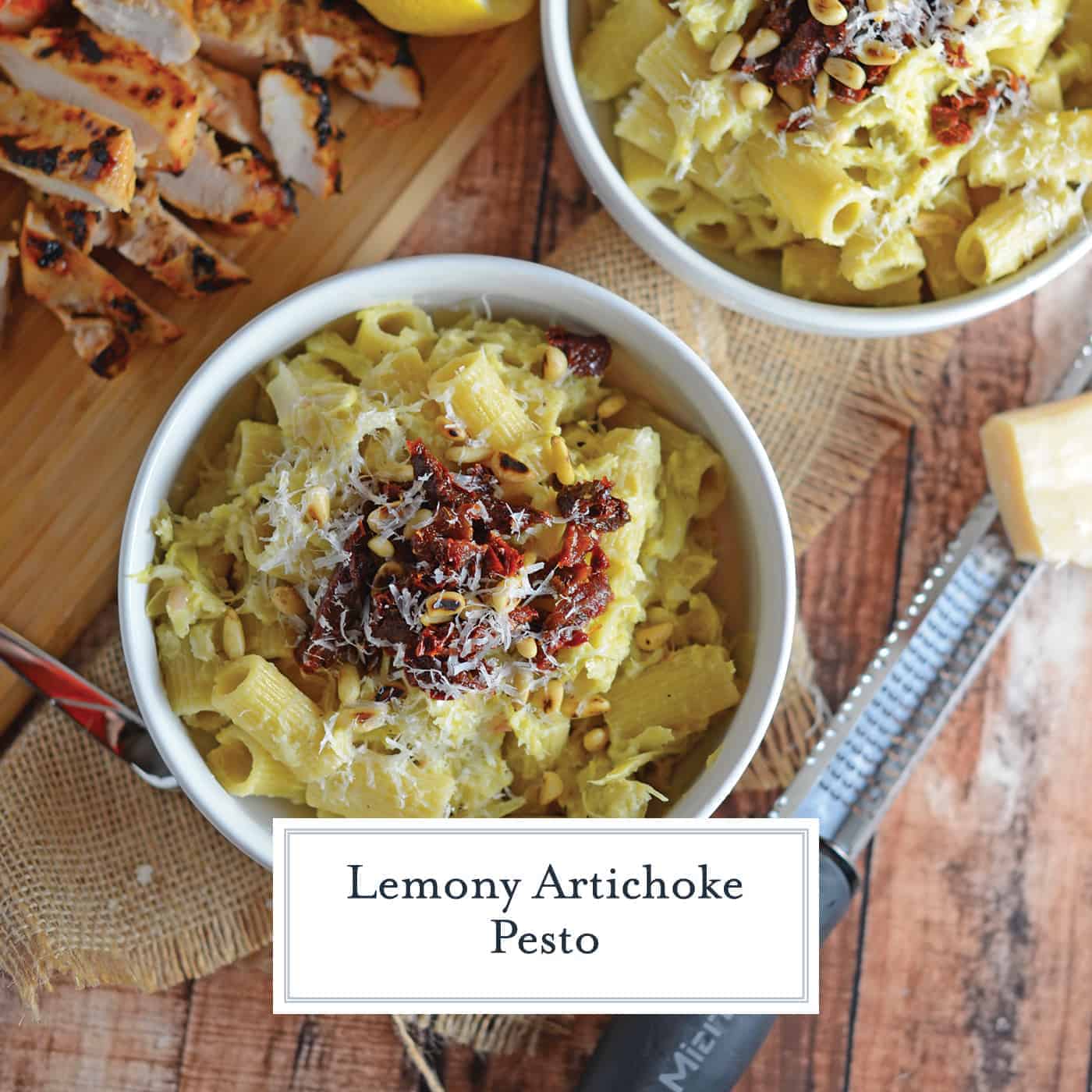 Lemony Artichoke Pesto is a new spin on traditional pesto adding a tangy, hearty flavor. Pair with Pine nuts, sun dried tomato and Parmesan cheese to serve over your favorite pasta!
During the summer months, I'm looking for a lighter pasta dish, perfect for pairing with a crisp Chardonnay. I've been making Lemon Artichoke Pesto for over 10 years and it seemed like the ideal sauce to help celebrate San Giorgio's newly earned Non-GMO Project verifications. Woo hoo!
I hold pasta near and dear to my heart and only serve my family the best. Did you know that 40 of San Giorgio's pasta products are verified by the Non-GMO Project, a trusted third party located right here in North America? That is right! Feel good about what you feeding your family.
Pesto is a sauce that originated in Genoa, Italy consisting of fresh basil leaves, garlic cloves, pine nuts and pecorino romano cheese or another hard cheese.
They rarely included salt and pepper, as the cheese had enough salt to suffice and pepper was added as a condiment. The name literally translates to "to pound or crush" which was how pesto sauces were made: with a mortar and pestle
.
PRO TIP: A mortar and pestle come in handy more often than you think, but also make for a pretty decoration when not in use. Buy a nice stone one!
The sauce was more of a paste, which became mixable using olive oil. Using the same ingredients, the texture and taste of a pesto made with a food processor and mortar are totally different.
Even though I generally don't have the time to hand grind my pesto, I suggest trying it at least once to see the difference.
Here the recipe for traditional homemade basil pesto.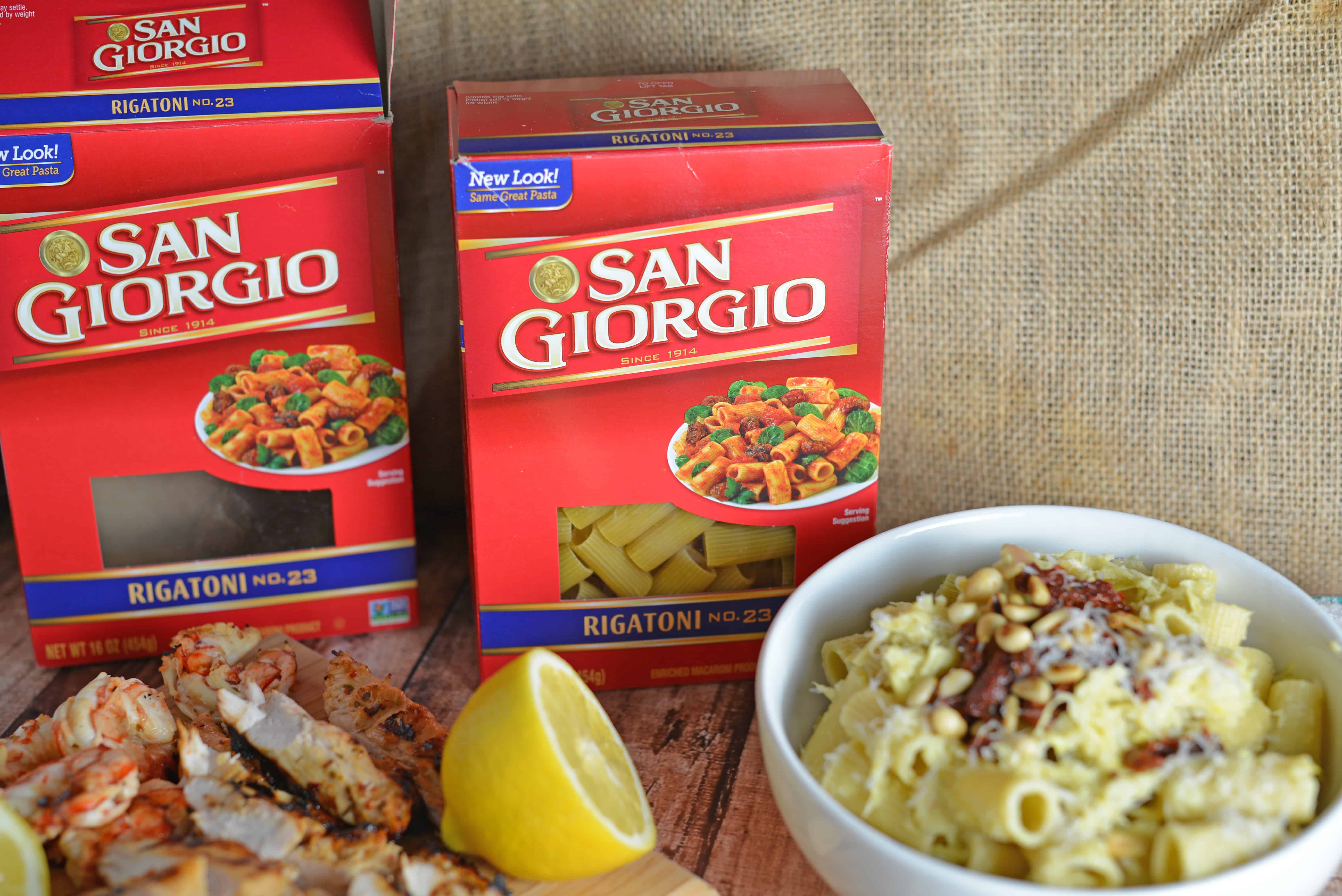 Through the ages, pesto has morphed into including many other ingredients and also omitting some, like pine nuts, which some have allergies to or are just too expensive for others.
For this homemade pesto recipe, the only traditional ingredient is garlic. Cheese and pine nuts are optional and added after the pasta is tossed.
PRO TIP: Taste the cheese you intend to use before salting your sauce. Hard cheese use a lot of salt and you don't want to over season the dish.
For my Lemon Artichoke Pesto, I like to use a hearty pasta with large holes to really hold onto the punchy sauce. San Giorgio Rigatoni are the perfect ribbed tube for the job.
PRO TIP: Other pasta shapes that pair with pesto sauce include fusilli, trofie, strozzapreti, caserecce, gemelli, penne, macaroni and paccheri.
Depending on the evening, I'll marinate chicken, fish or shrimp in a light Italian dressing, throw them on the grill and serve on top of my pasta. This homemade lemon pesto also makes for a great vegetarian pasta dish.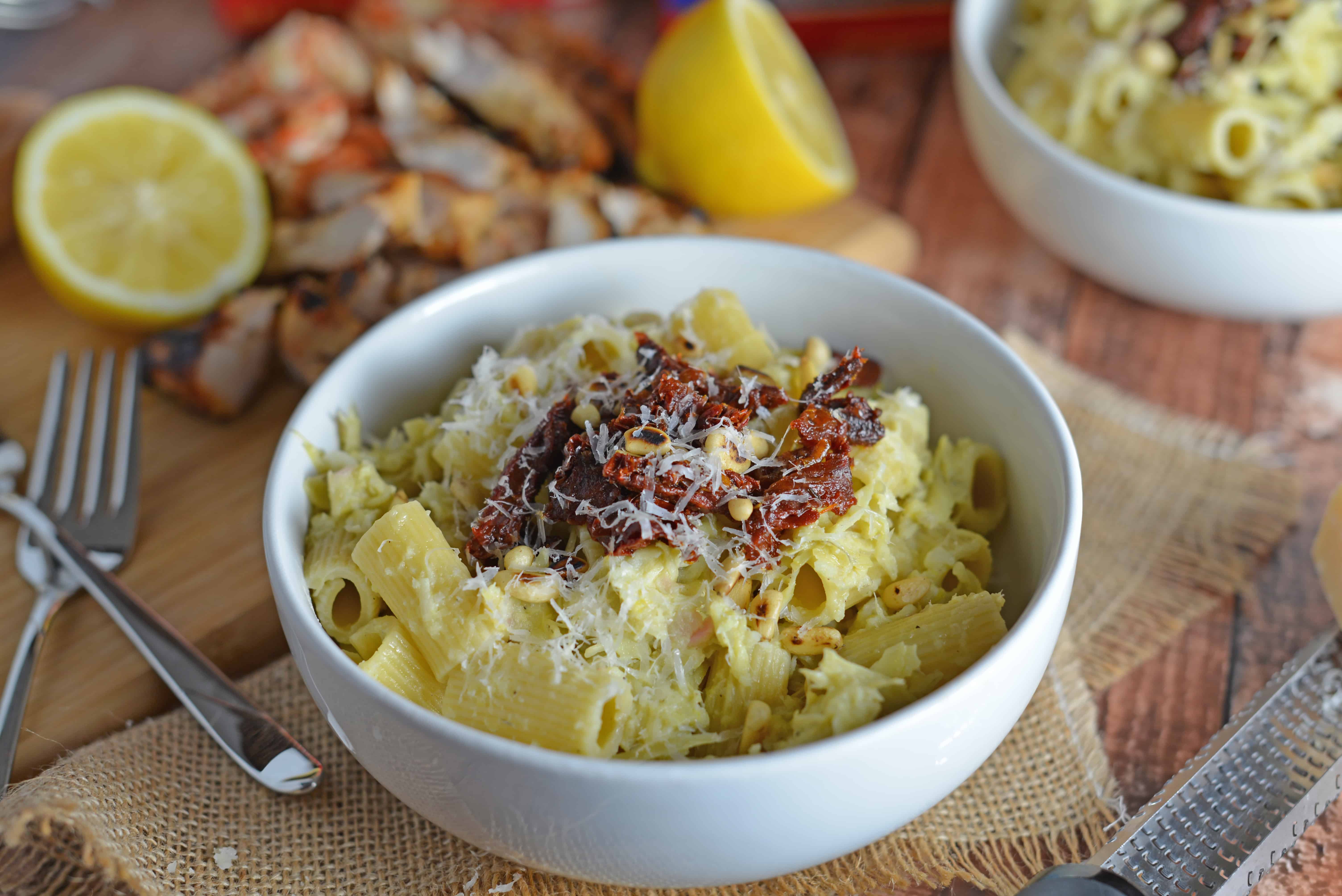 I've also been known to double the batch and take a jar as a hostess gift to BBQs and parties. Lemon Artichoke Pesto is light and fresh, the perfect summer time meal. It can also be spread on sandwiches, crostinis and even tossed into salad!
PRO TIP: Always use fresh lemon juice and lemon zest as opposed to the bottled version. The moment a lemon is juiced, it starts to lose flavor and become muted.
Just talking about it is making me want to whip up a batch.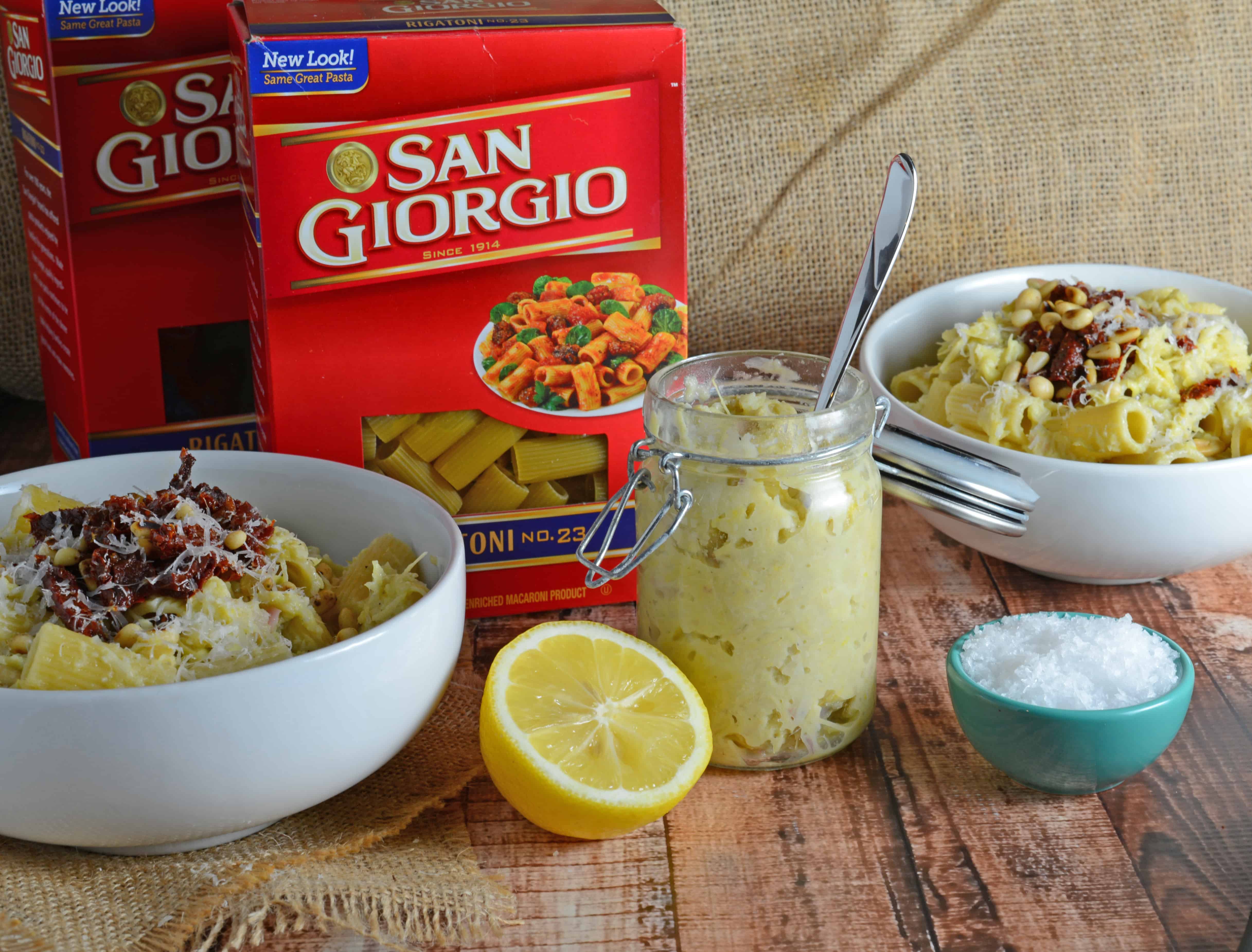 If you enjoyed this homemade pesto sauce, check these out: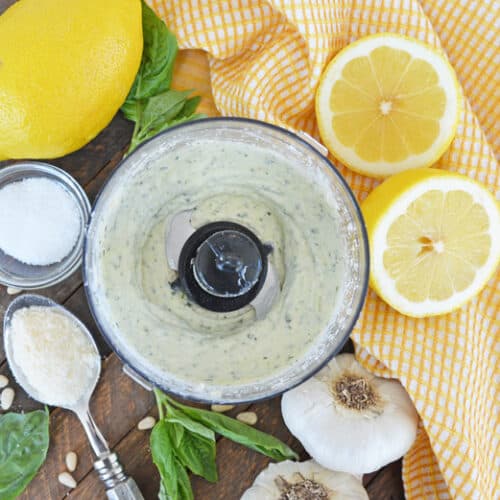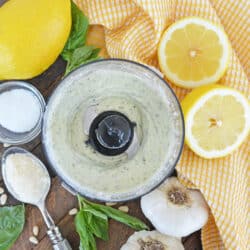 Pesto Aioli (Pesto Mayo)
Pesto aioli is the perfect condiment for so many different foods. With fresh flavors of basil and garlic, slather it on sandwiches, paninis or just use it to dip French fries.
See The Recipe!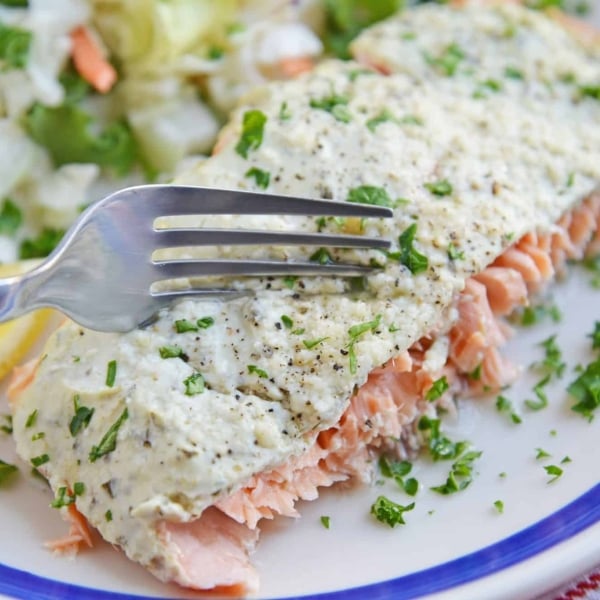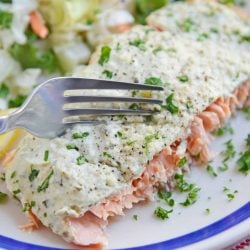 Pesto Salmon
This Pesto Salmon recipe is the best way to make baked salmon. With only 5 ingredients including Greek yogurt and homemade pesto, it will be your new favorite.
See The Recipe!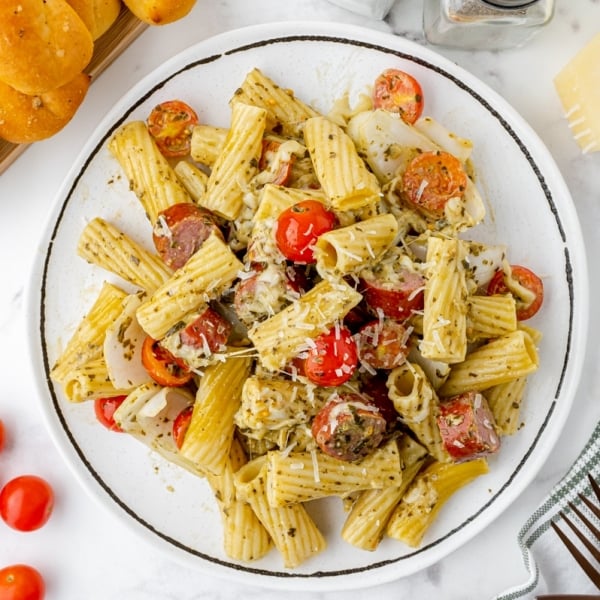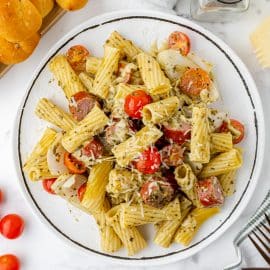 Pesto Sausage Pasta Bake
Pesto Pasta Bake is the perfect easy pasta dish for busy weeknights. Creamy pesto sauce, pasta, smoked sausage and Italian cheese make this the perfect meal.
See The Recipe!
Tools for making Lemon Artichoke Pesto:
Good Extra Virgin Olive Oil– A good olive oil will taste like, well, olives, while a poorly made one will taste like vegetable oil. Gross. While people tend to favor Italian and Greek olive oils, I prefer to buy mine domestically.
There are some great ones out there from all over the world, but the reporting of ingredients isn't always the same and you could find that your super expensive olive oil was actually cut with vegetable oil.
Mini Food Processor– I use this thing daily! It is by far my most used kitchen appliance, it is small and I throw all the parts into the dishwasher, well except the base and cord, of course!
Heavy Bottom Sauce Pan– this will be one of your most used kitchen tools. Having something that is heavy bottom will distribute heat better and prevent burning whether you are using an electric or gas range.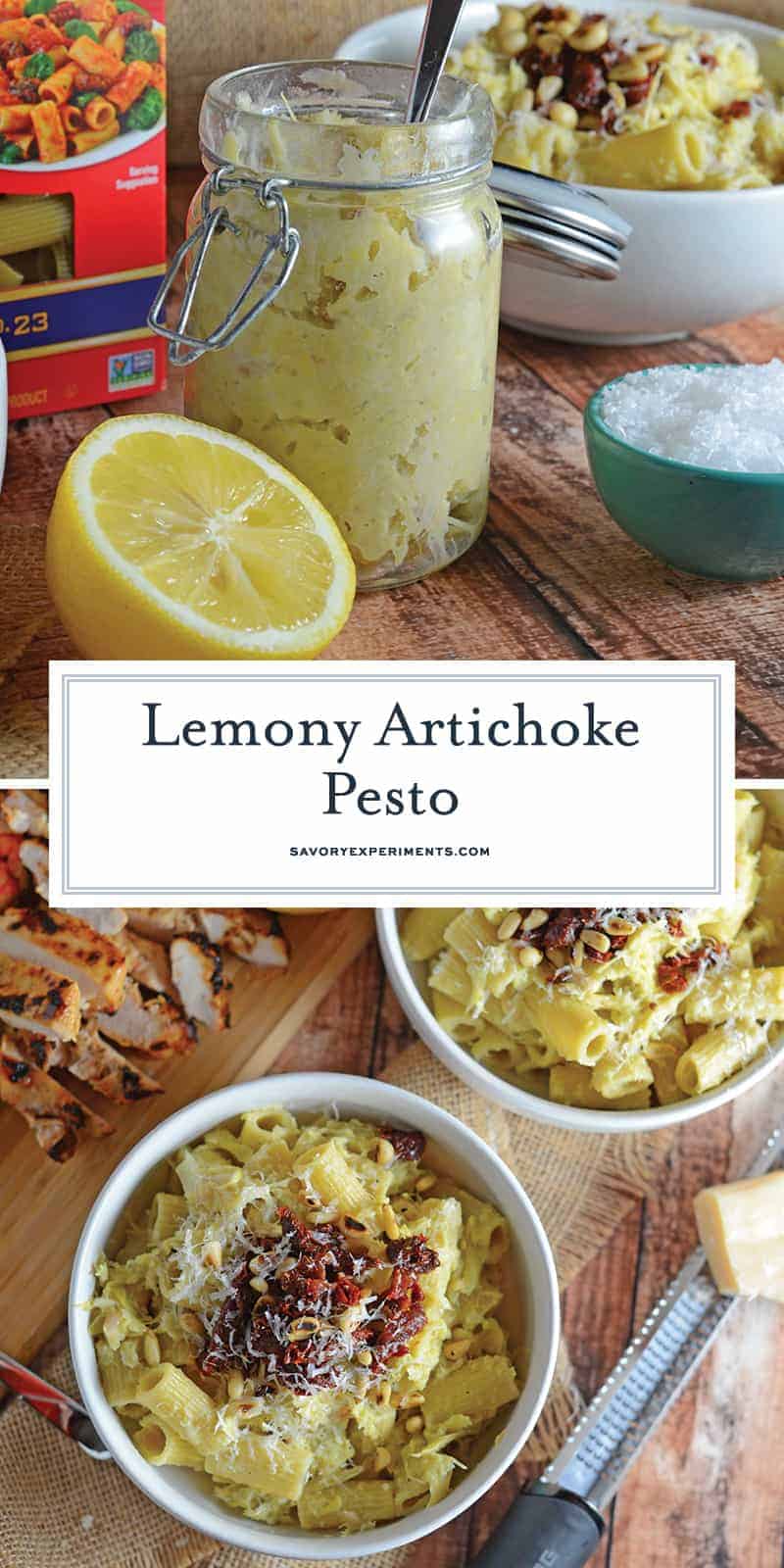 How to make artichoke pesto sauce:
Can I make pesto in advance? Yes, pesto can be made up to 5 days in advance.
How long is pesto good for? Since this is a homemade recipe without using additives or preservatives, I would say up to a week if stored in an airtight container in the refrigerator.
Can I can pesto? I can sure there is a way, but I am NOT an expert canning. I've never canned anything, in fact. I would suggest freezing pesto instead.
Most like to freeze it in cubes using an ice cube tray and then transfer it to air tight plastic bags. If you are freezing a traditional pesto sauce, leave out the cheese for freezing and add when thawed.
Can pesto sauce be served cold? Yes! I love using cold pesto in salads or even pasta salads. There is nothing raw in this pesto recipe, so feel free to eat it as a spread on crackers even.
Is pesto vegetarian? Most pesto sauces are vegetarian, as is this one.
Which wine should I serve with pesto? Listen, through everything you know about white with this and red with that out the window and drink what you like drinking. I will say that anything sparkling is the most verstile and also aids in digestion.
For more information on pairing flavors and a few fun party tricks to sound like you are a real wino, see my posts on Wine 101 and Wine Pairing.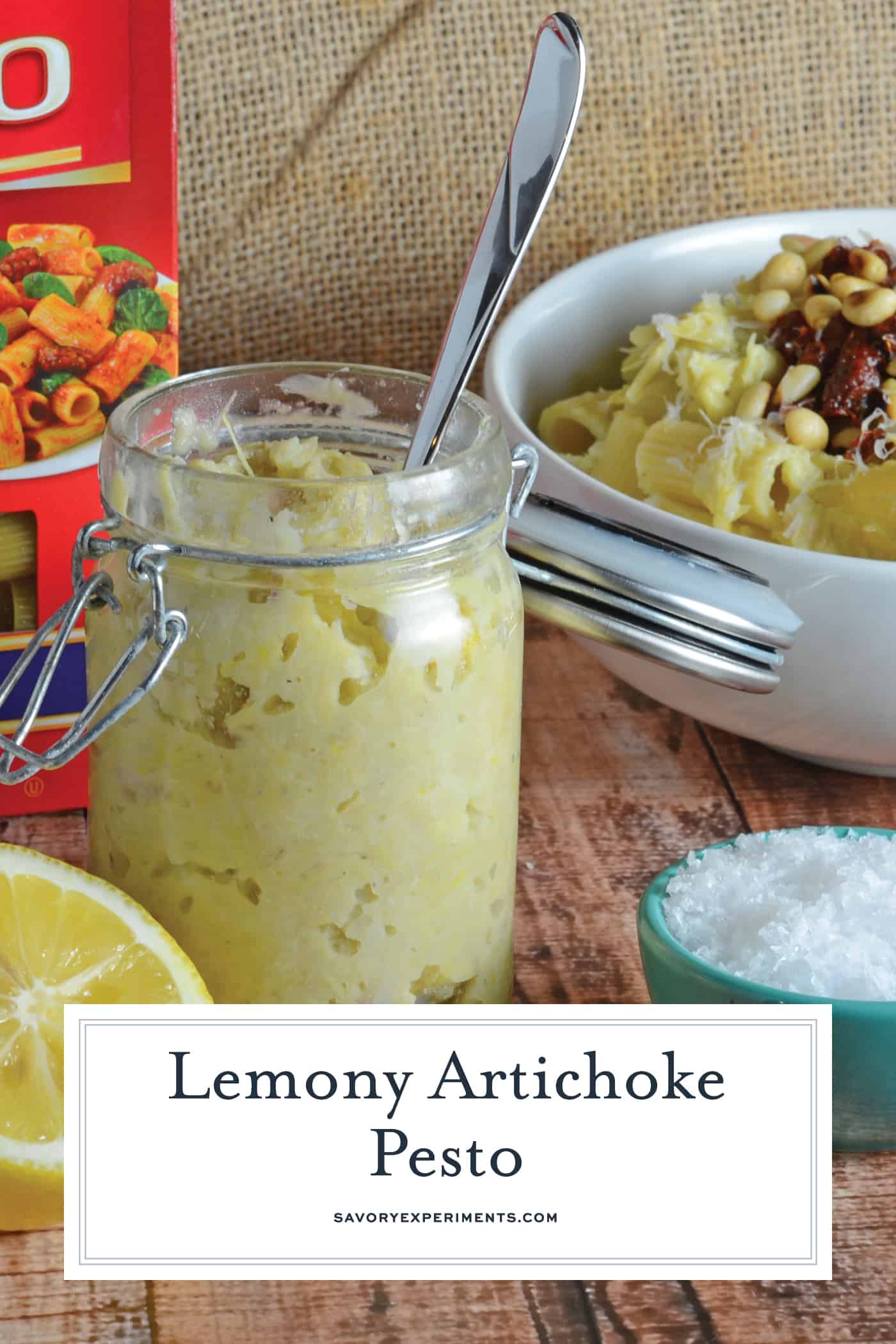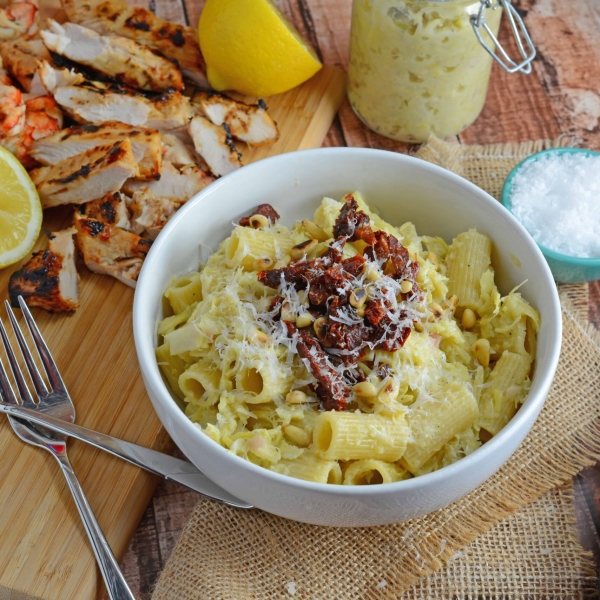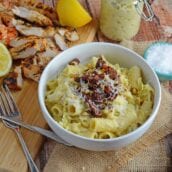 Lemony Artichoke Pesto with Pasta
Lemony Artichoke Pesto is a new spin on traditional pesto adding a tangy, hearty flavor. Pair with Pine nuts, sun dried tomatoes and Parmesan cheese and serve over your favorite pasta!
Instructions
In a food processor or blender, combine drained artichoke hearts, zest from lemon and juice from lemon and 1 tablespoon extra virgin olive oil. Pulse until a fine mix has formed.

Add shallot, garlic, fine sea salt and white pepper, pulsing several more times. Set aside.

In a large pot (can be the same one you used to boil the pasta), heat remaining 1 tablespoon olive oil over medium high heat. Add lemony artichoke pesto sauce, stirring for 2-3 minutes or until hot. Toss with pasta, heating fully.

Divide in two pasta dishes, topping equally with toasted pine nuts, sun dried tomatoes and grated parmesan reggiano cheese. Serve with grilled chicken or seafood, if desired.

If you've made this recipe, come back and let us know how it was!
Nutrition
Calories:
861
kcal
,
Carbohydrates:
105
g
,
Protein:
21
g
,
Fat:
39
g
,
Saturated Fat:
5
g
,
Cholesterol:
3
mg
,
Sodium:
1039
mg
,
Potassium:
600
mg
,
Fiber:
10
g
,
Sugar:
9
g
,
Vitamin A:
1785
IU
,
Vitamin C:
68.2
mg
,
Calcium:
142
mg
,
Iron:
4.2
mg
Make sure to check out more about San Giorgio's Non-GMO verified pastas on their website, sangiorgio.com.
Big thanks to New World Pasta company for letting me be a part of their big news roll out!