When it's time for taco Tuesday, I'm all in on running to any of the local food trucks or to one of my favorite restaurants. But once I started making these birria tacos, sometime called quesabirria, taco Tuesday was transformed to a regular at-home event.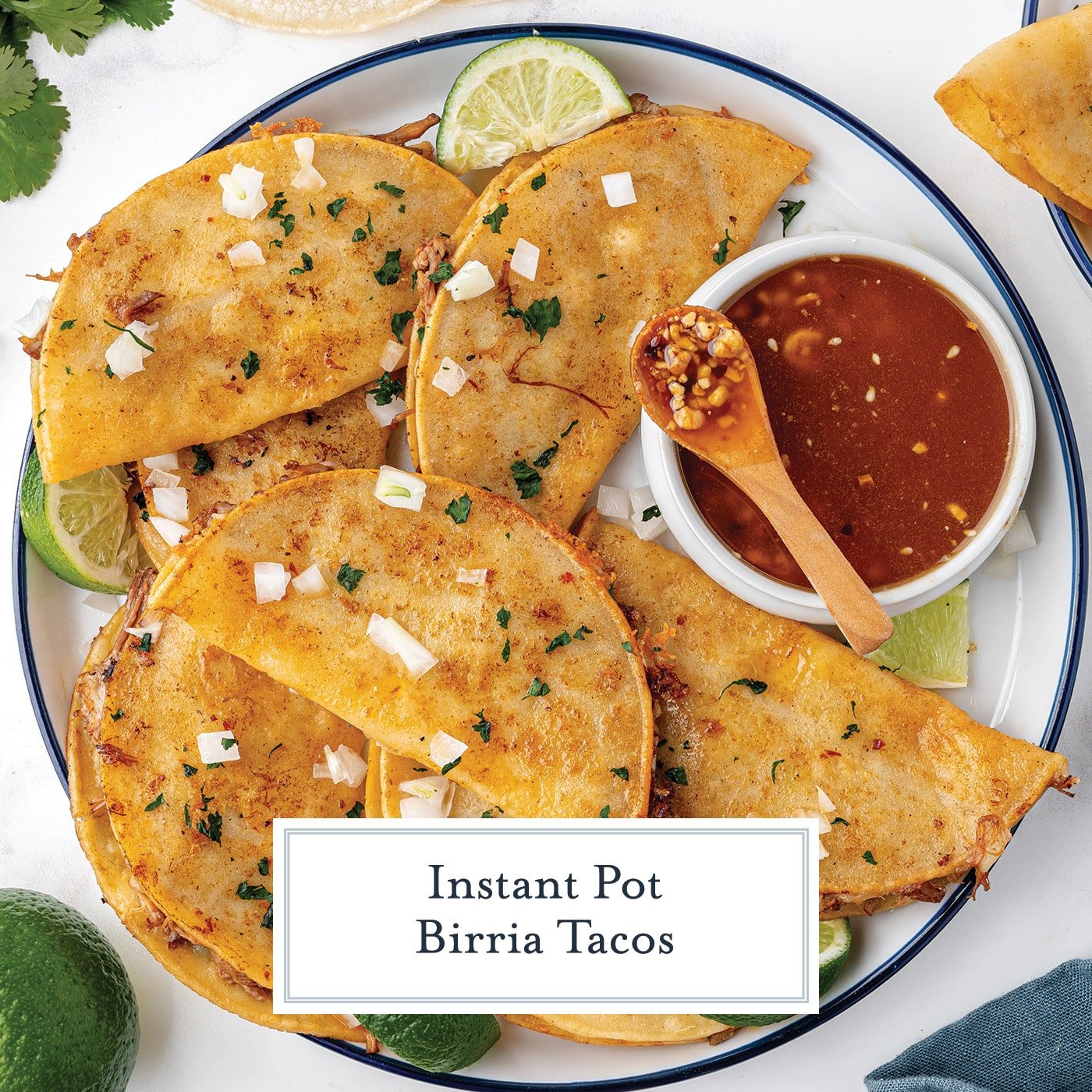 The beefy tacos in their richly-flavored birria sauce are heavenly — they're only made better with the topping of melted cheese, salsa macha (more on that goodness, later) and birria consome.
What are Birria Tacos?
What makes birria tacos different from other tacos is that they're prepared with a consomme sauce that combines a wide variety of flavors including hot, sweet, and spicy that all combine beautifully with the deep flavor of the meat's juices.
The best thing about this recipe is that it can be as fast or as slow to make as you like. It can take less than an hour in a pressure cooker or Instant Pot or a little over 3 hours in the oven — that means you can prepare to make a big batch for a party or you can pop it in when you get home from work.
The next time you are tempted to run out on Tuesday night, try your hand at these beef birria tacos instead. And if beef isn't your jam, chicken birria is equally delicious!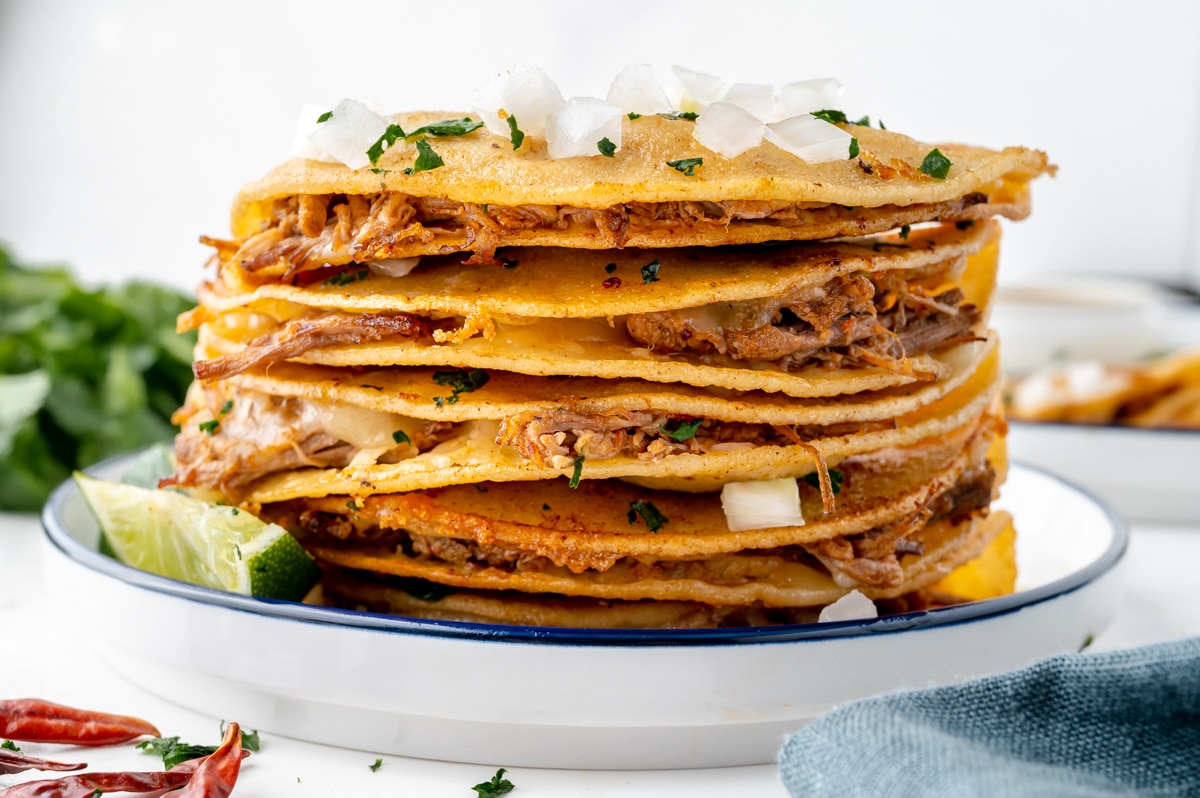 Why you'll love this Birria Taco Recipe
Who doesn't love a delicious taco recipe?
Delicious – With meat that's moist and juicy and tons of spices that are not only good, but good for you, this is a hearty meal that hits the spot.
Affordable – Chuck roast is one of the most affordable cuts of beef you can buy but with just a little finesse you can turn it into what tastes like an extravagant meal.
Flavorful – With spices and sauces that range from smoky to hot and acidic to slightly sweet there are layers of flavors in these tacos.
Easy – It only takes a little time to brown the meat before heating it in the Instant Pot or oven and it's a short, quick process to make the accompanying sauce, too.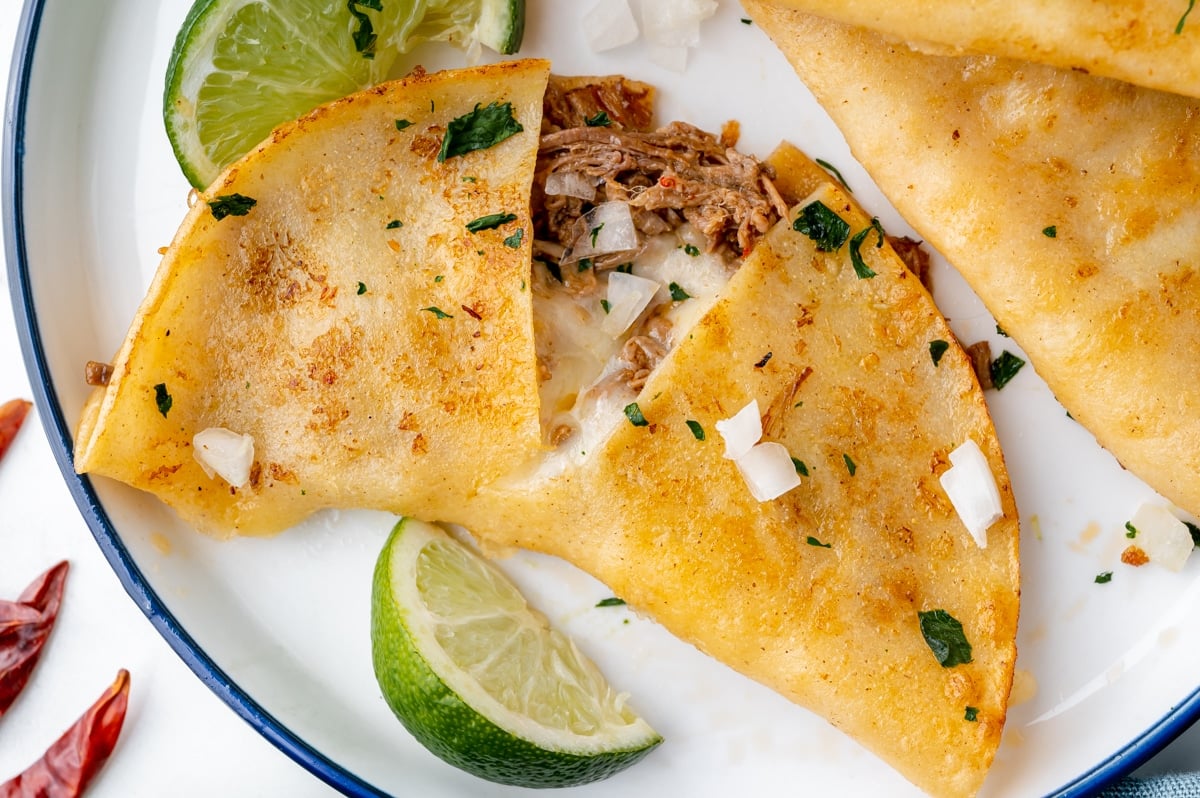 Birria Tacos Ingredients
The list may look a little long, but rest assured that the ingredients are easy to source and that many of them are probably already on your shelves.
Birria Meat Ingredients
Beef chuck roast – This affordable cut is lean but cooking it under pressure yields tender, juicy results.
Vegetable oil – You can use any oil you prefer, but this one is inexpensive and its neutral flavor won't interfere with the other layers of flavor in the recipe.
Coarse kosher salt – Use a good quality salt to make sure it brings out the other ingredients.
Ground black pepper – I prefer to use freshly ground pepper but you can use your table shaker if that's what you have handy.
Chipotle peppers in adobo sauce – The peppers add smoky heat while the adobo sauce adds an acidic zing.
Adobo sauce – More adobo sauce increases the tomato and vinegar content of the dish along with other spices.
Crushed tomatoes – Crushed tomatoes add bright acidity.
Garlic – Minced fresh garlic is most ideal but you can use packaged minced garlic as well.
Yellow onion – Chop up the onion in small, uniform pieces.
Ancho chile powder – Consisting of dried, ground poblanos, ancho chile powder adds more heat than a chili powder you might use to make a pot of chili.
Dried oregano – Oregano adds a touch of warm flavor to the mixture.
Ground cumin – Cumin lends an earthy flavor to the tacos.
Paprika – This mild and mellow spice brings bright flavor to the dish.
Ground cloves – This aromatic seasoning brings warmth to the tacos as well.
Ground cinnamon – Cinnamon adds depth of flavor to the sauce.
Apple cider vinegar – This type of vinegar adds a slightly sweet yet vinegary zing.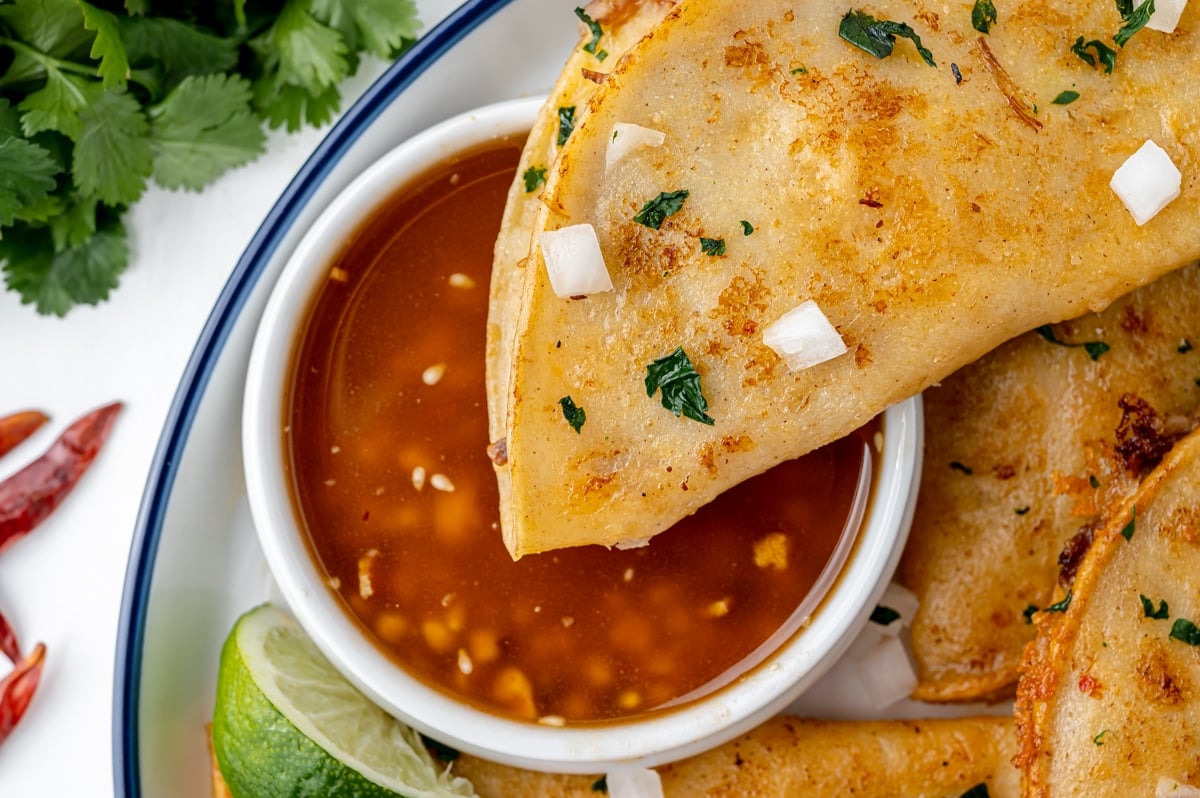 Tacos
Vegetable oil – Again, the neutral flavor of the oil is ideal for this dish. If you choose another oil, just make sure that it has an appropriate smoke point.
Small corn tortillas – Smaller tortillas are better for these tacos to make sure that there's not too much time for the sauces to make the tacos soggy.
Monterey Jack or oaxaca cheese – Either of these cheeses will work well – just choose whichever is your preference, or easiest to find at your grocery stores.
Cilantro – Chop up the cilantro finely. It's best to serve it on the side to account for people who do not like the flavor of cilantro.
White onion – Chop the white onion finely.
Fresh lime wedges – Serve these to squeeze over top of the tacos.
What cuts of meat can you use for birria?
The most authentic meat used for birria is goat, but beef variants are also popular.
Beef cheeks: These are known for their rich flavor and tender texture, making them a great choice for slow cooking in birria.
Chuck roast: This cut comes from the shoulder area and contains a good amount of marbling, which helps keep the meat moist during the slow cooking process.
Short ribs: Beef short ribs are flavorful and tender when slow-cooked, making them an excellent option for birria.
You can also make it with chicken.
Birria Tacos Recipe variations
I love these tacos just like this, but you can try your own twists, too.
Oils – Use any alternative that you like such as olive oil or avocado oil.
Powders – If you don't have fresh garlic or onion, in a pinch you can use powdered versions.
Cilantro – If you don't enjoy the flavor of cilantro you can try garnishing with parsley, Mexican oregano, or Thai basil.
Beef – You can use other cuts as well, but this will give you the most bang for your buck.
Paprika – Instead of regular paprika, try swapping in smoked paprika for more smoky flavor.
Meat – Instead of beef you can try anything from pork to chicken or lamb or goat meat.
Bay leaves – For additional flavor, try using bay leaves. Just remember to discard the bay leaf after cooking.
Tortillas – If you prefer, you can use flour tortillas instead.
Onions – You can use other onions, like green or red onions, in place of the white onion for garnish.
Cheese – Any melty cheese makes these tacos delicious. Feel free to use another variety like mozzarella cheese or whatever you prefer.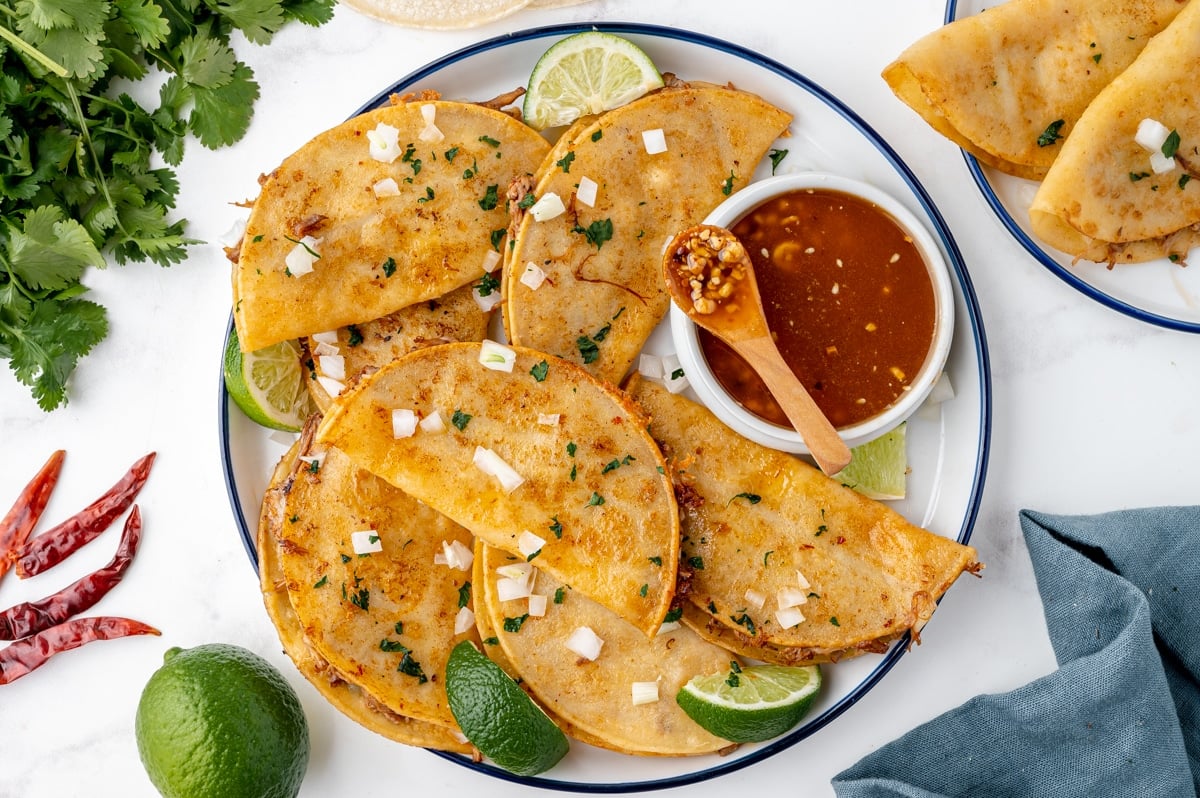 How to Make Birria Tacos
Yes, these tacos are a little more time consuming than the usual weeknight fare, but the results are so worth it. Make a double, even triple batch and freeze the meat and broth for use on another night.
Braised Beef
Add the chipotle peppers, adobo sauce, tomatoes, garlic, onion, ancho chile powder, oregano, cumin, paprika, cloves, cinnamon and vinegar to a large bowl or food processor.
Using the food processor or an immersion blender, pulse the mixture until it becomes a paste.
Add water and pulse until combined.
Sprinkle the chuck roast with salt and pepper and rub it into the roast.
Pour the vegetable oil into the Instant Pot and heat it using the sauté setting.
Place the seared beef into the Instant Pot (or pressure cooker). Use tongs to turn the beef so that you can brown it on each side.
Pour the reserved sauce into the pot with the beef.
Lock the lid and set to the appropriate setting.
When ready to remove, use the quick release method.
Use a slotted spoon to remove the beef and transfer it to a bowl.
Use 2 forks to shred the beef.
Use a mesh sieve or colander to remove the large chunks, allowing the fats to remain on top.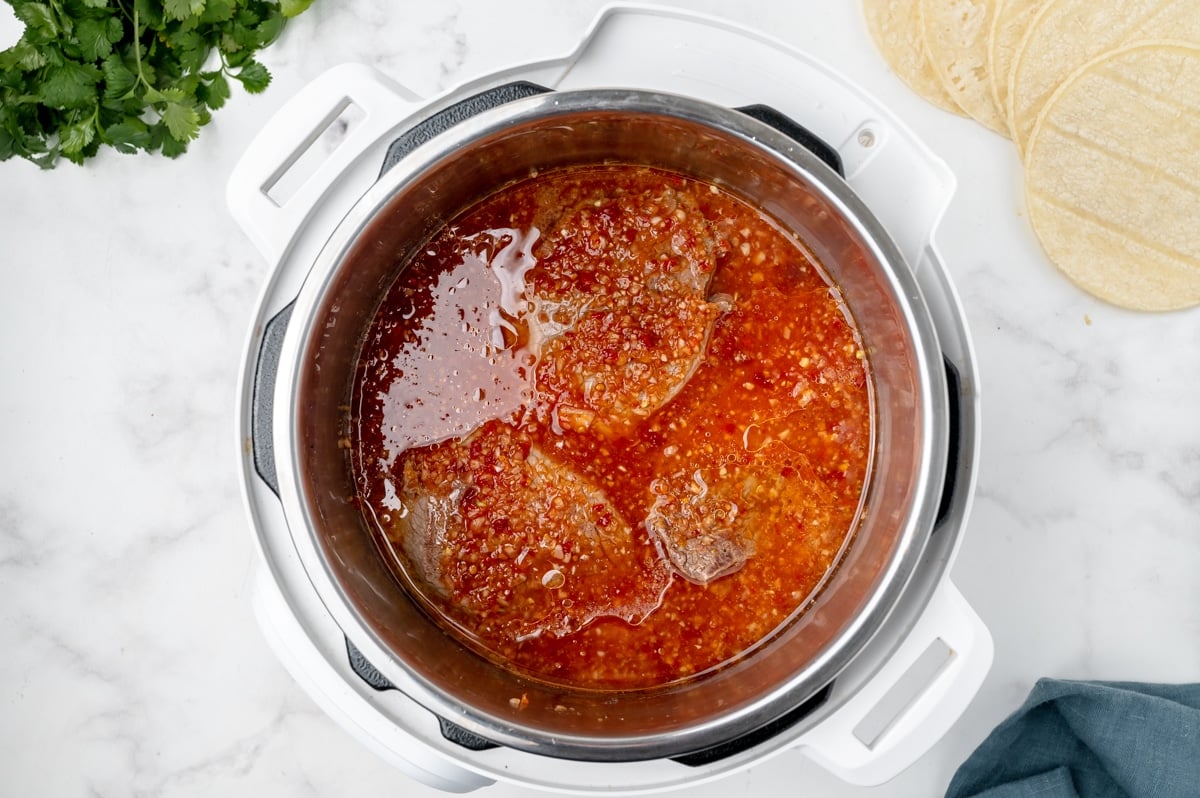 Tacos:
In a large skillet over medium heat, heat the vegetable oil.
Dip corn tortillas first into the beef broth and then place them into the hot pan.
Add cheese and shredded meat to the tortilla, then fold the tortilla to make the taco.
Sear the first side of the tortilla then turn. Continue to cook until cheese is melted and the tortilla is browned.
Remove the tacos from the heat and garnish with the salsa macha, onion, fresh cilantro, and a squeeze of fresh lime juice.
Oven Instructions for Birria Tacos
In a large Dutch oven over medium-high heat, heat the oil.
Sprinkle the roast with salt and pepper and rub it in.
Add the beef to the Dutch oven and brown all sides.
Make the sauce, then add it to the beef.
Cover and place into the pre-heated oven for 3 hours, or until beef easily shreds with a fork.
Pick back up with the step of removing the beef and shredding it.
How to make birria sauce
Birria sauce is pretty easy to make, as long as you made birria meat! The sauce is just broth leftover from making the birria meat and sometimes called consomme.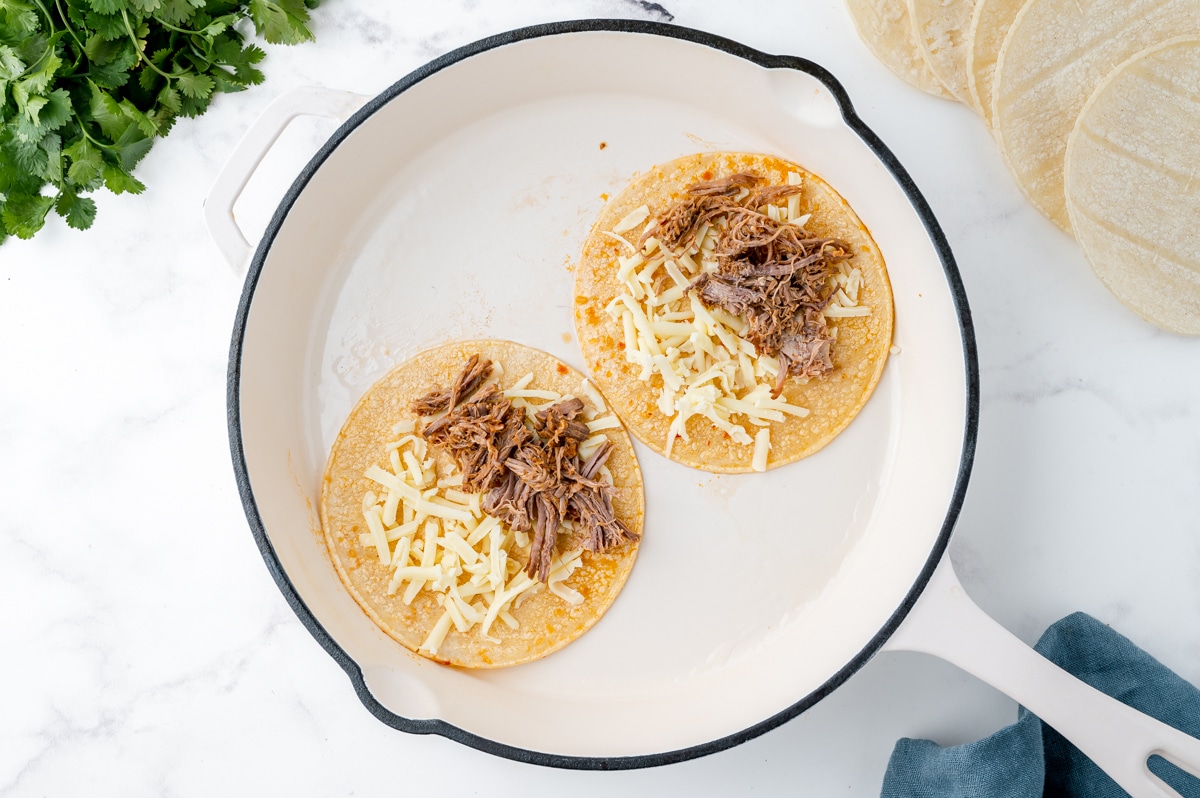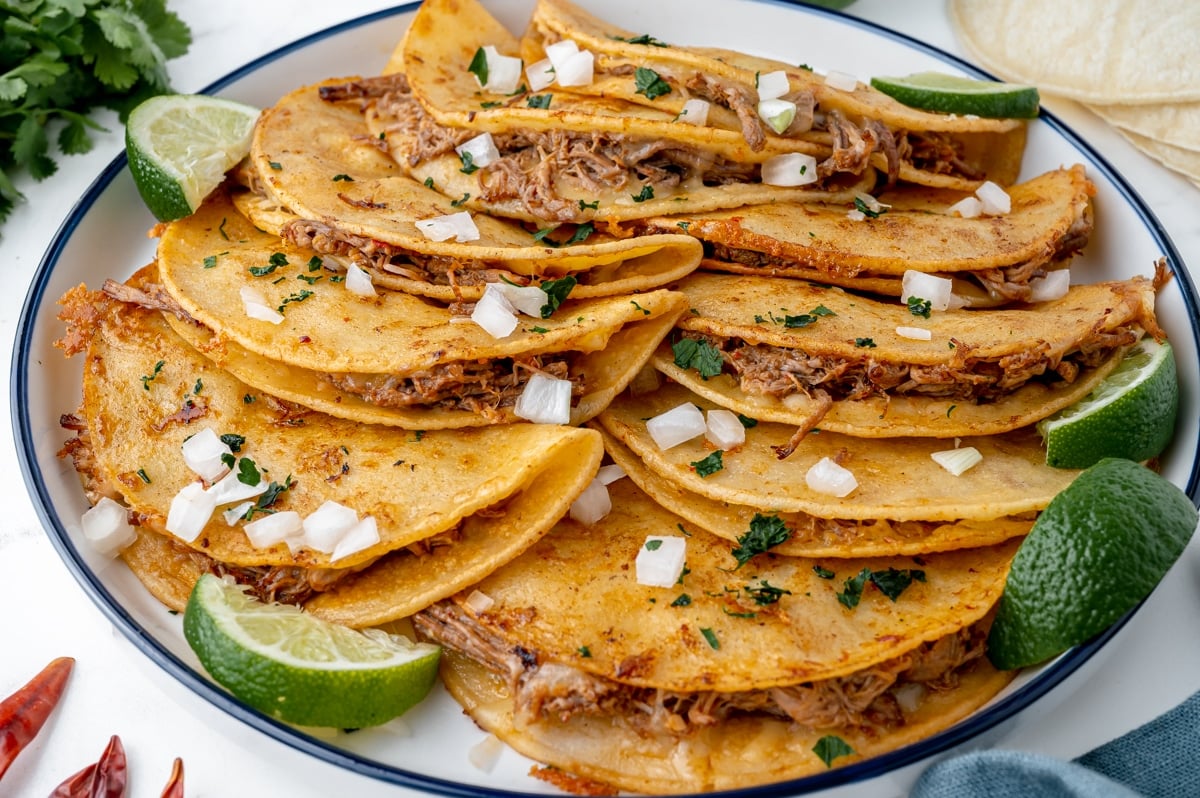 How to serve Tacos Birria
While I could easily make a meal out of nothing but tacos, some folks like to pair them with other sides. Mexican rice or cauliflower rice are great picks. As are refried beans or black beans.
And don't forget dessert! Air fryer churros, sopapillas and Mexican bread pudding are all great endings to a fabulous meal.
What is Salsa Macha?
I adore all sorts of toppings for my tacos and taco salads from guacamole to any kind of salsa. My newest favorite, though, is salsa macha.
A course, flavorful mixture of grapeseed oil, peanuts, dried chiles, peanuts, sesame seeds, vinegar, and sugar, you couldn't find a more amazing topping for this meaty goodness wrapped in a tortilla. It adds texture and even more incredible depth of flavors in this already-rich dish.
You also needn't reserve salsa macha for tacos. Keep the recipe up your sleeve for the likes of salad or ceviche or even try it on pizza.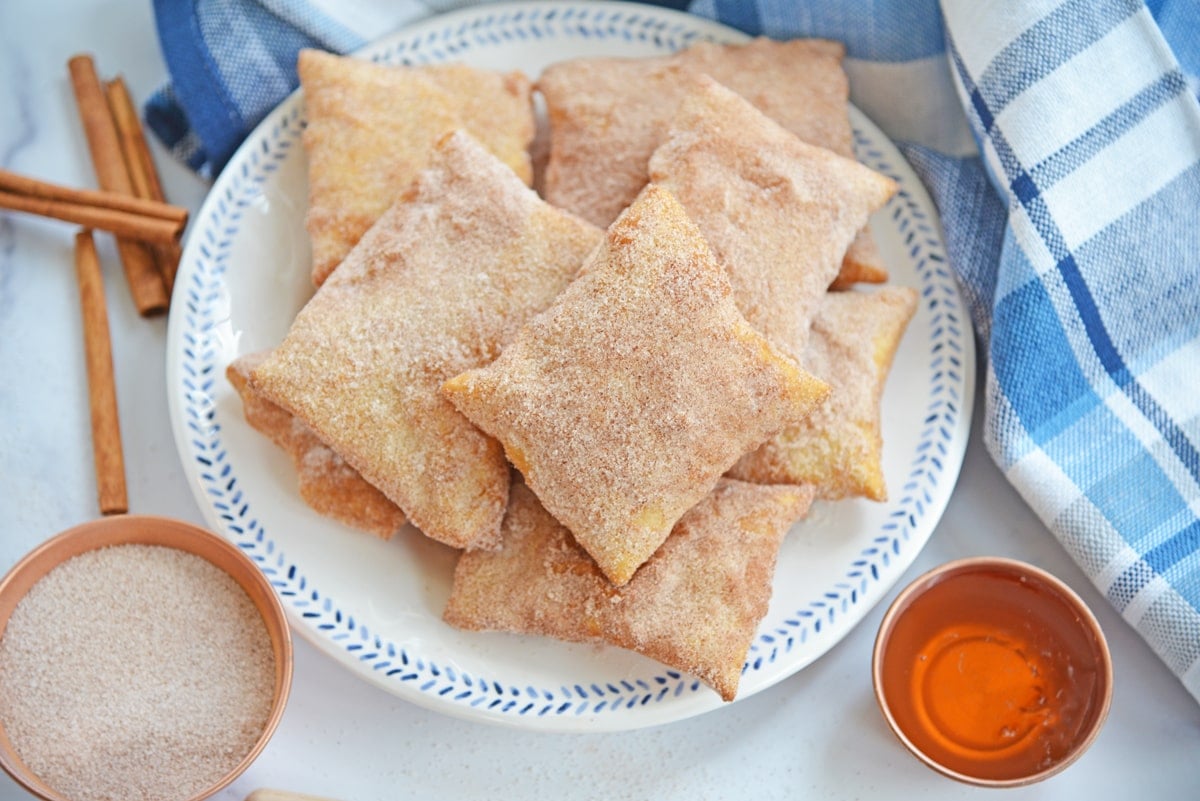 Birria storage and make ahead instructions
With tacos this delicious, it's likely you won't have leftovers. But if you do, here are some storage tips.
Make-Ahead: You can do all of the prep work and wait until you're ready to toss the beef into the oven or Instant Pot so it's ready when you need it.
Refrigerator: The beef will stay fresh in an airtight container in the refrigerator for up to 3 days. You can choose to store it with the broth or to keep them separate.
Freezer: Store the beef in the freezer in a ziploc bag or freezer-safe container for up to 3 months. It's recommended to freeze the broth separately.
Birria Taco FAQs
What are birria tacos made of?
Mexican birria tacos, Jalisco-style, are made with beef braised in a chile spiced consomme broth. Corn tortillas are fried and filled with the stew meat, cheese and other stuffings and then the leftover beef broth is used for dipping.
What is the traditional meat for birria?
Birria tacos were originally made with goat meat, but are now more commonly made with beef and sometimes even chicken.
Are birria tacos and quesabirria the same thing?
Yes and no. Technically birria tacos are tacos and quesabirria are more of a quesadilla, but since they are folded in the same manner, they are basically the same thing. Some restaurants claim that birria tacos do not contain cheese, but that makes it difficult get them to stick together.
Why are my birria tacos soggy?
Your birria tacos might be soggy due to excess moisture from the stewed meat or salsa soaking into the tortillas. To prevent this, consider using slightly thicker tortillas, warming them on a hot skillet before assembling, and draining the meat and salsa well before placing them in the tacos.
Why is my birria meat tough?
Your birria meat might be tough due to insufficient cooking time. Birria requires slow cooking to break down the tough connective tissues and make the meat tender. Ensure that the meat is cooked low and slow until it easily shreds with a fork for the best results.
How do you pronounce birria?
Birria is pronounced "beer-ree-ah."
Should birria tacos be flour or corn?
Birria tacos are traditionally made with corn tortillas, which complement the rich and flavorful stewed meat. Corn tortillas are a more authentic choice for birria tacos, but you can use flour tortillas if you prefer.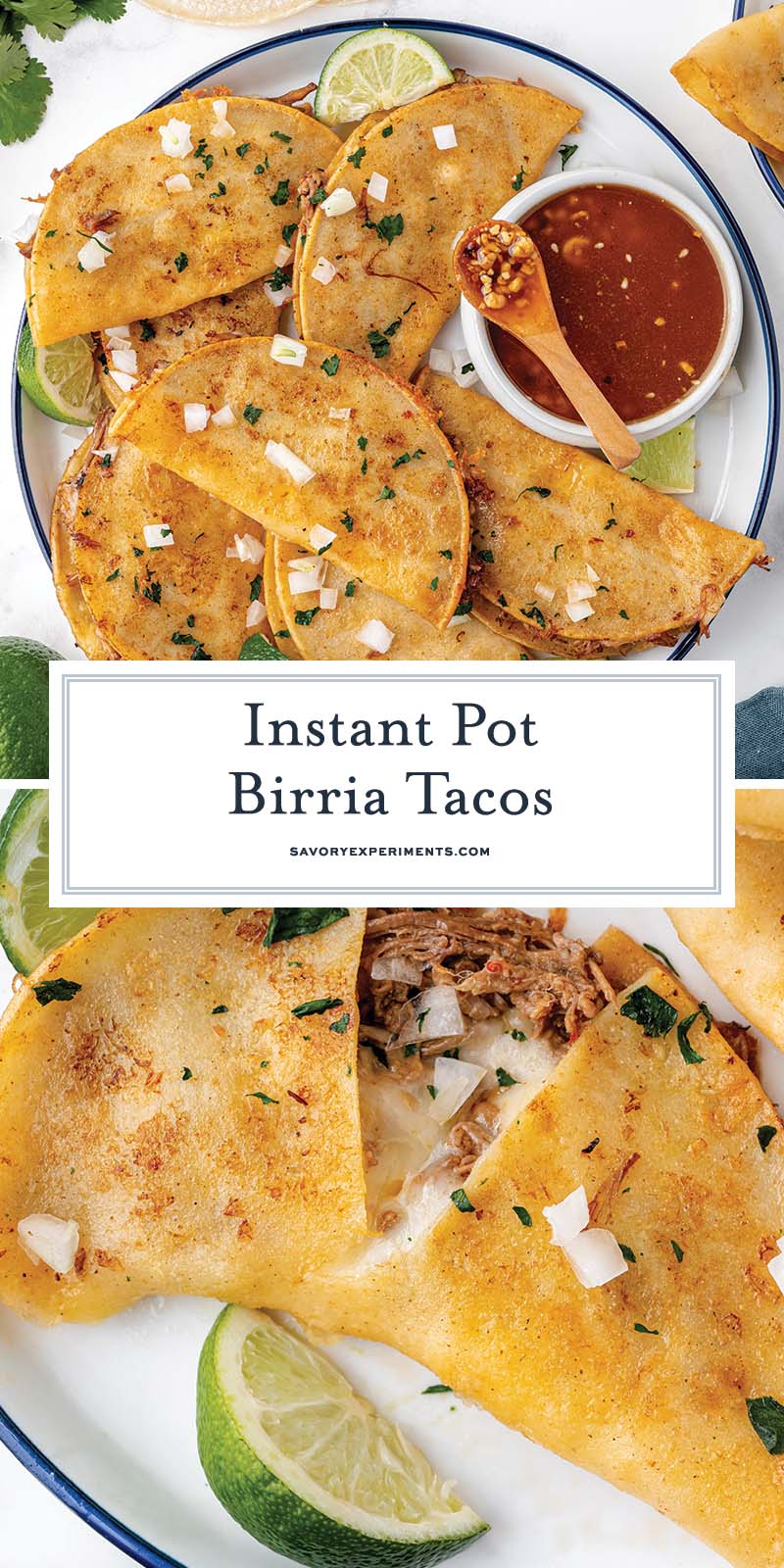 More Tasty Taco Recipes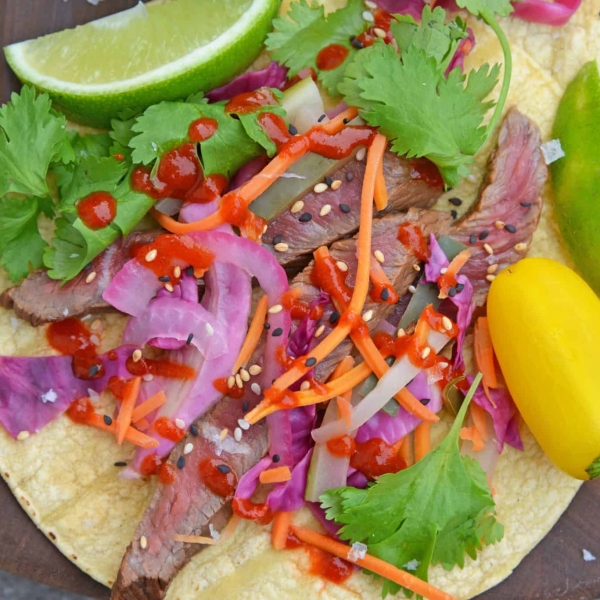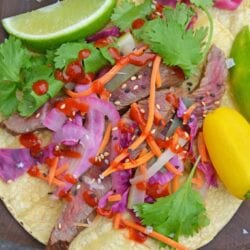 Korean Beef Tacos
Korean Beef Tacos are stuffed with seasoned bulgogi beef, fresh veggies, and spicy sauce! These are the best Korean tacos you will ever eat!
See The Recipe!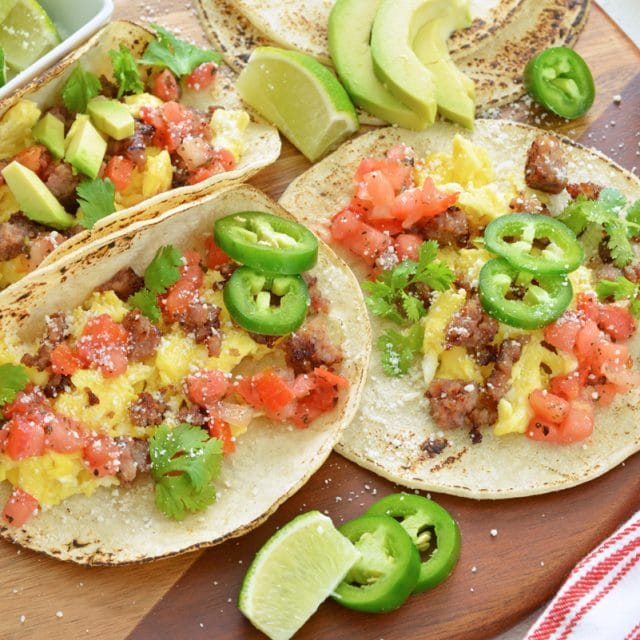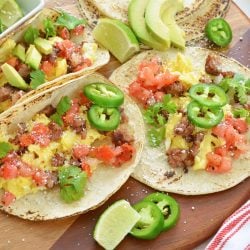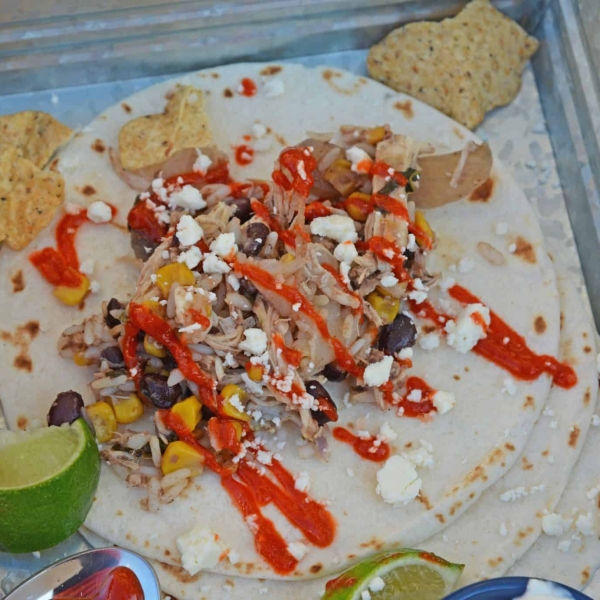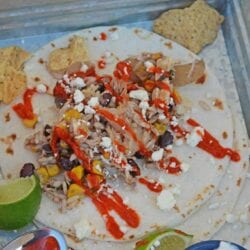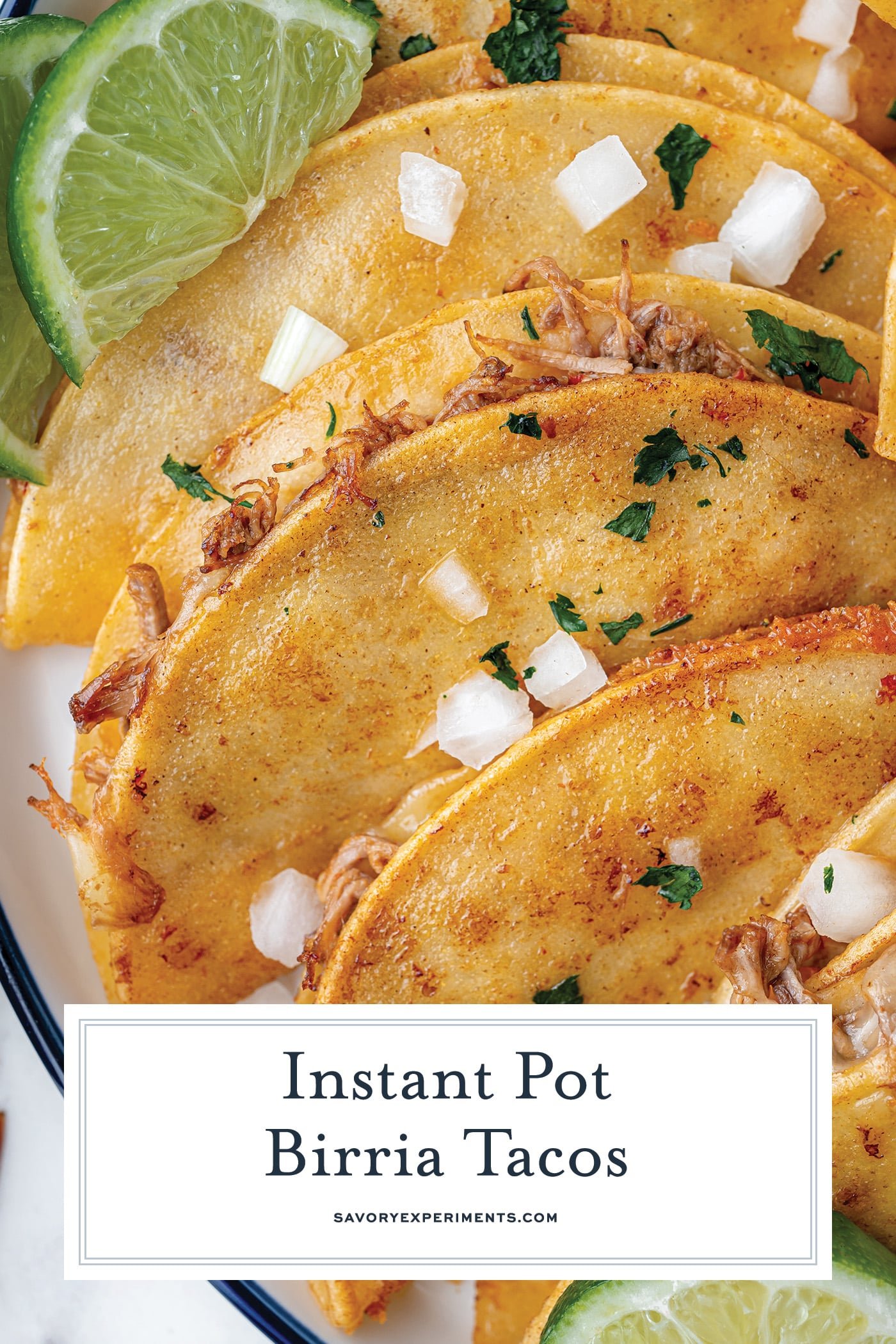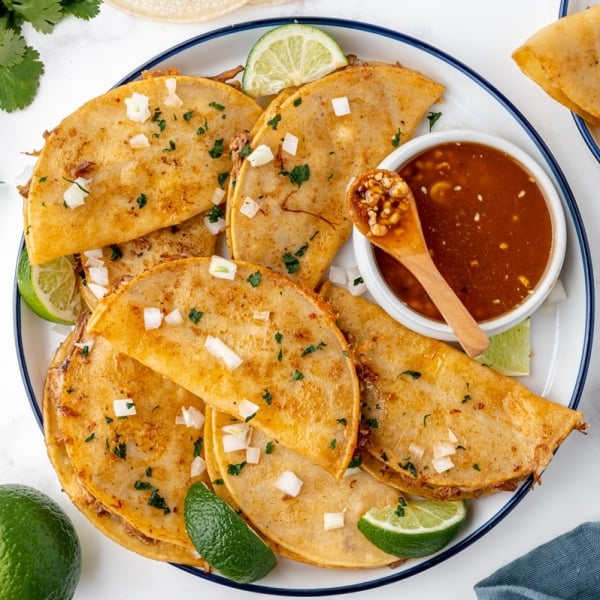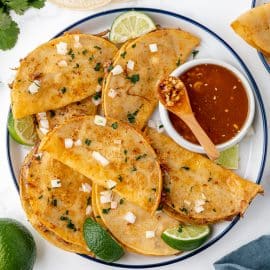 Birria Tacos Recipe
These beefy EASY Birria Tacos, packed spicy, earthy, and aromatic flavors will have you looking forward to taco Tuesday at home!
Instructions
Braised Beef:
In a large food processor or a large bowl with an immersion blender, combine the chipotle peppers, adobo sauce, tomatoes, garlic, onion, chile powder, oregano, cumin, paprika, cloves, cinnamon and vinegar. Pulse until you form a paste. Add 2 cups of water and pulse several times. Set aside.

Rub the chuck roast with salt and pepper. Heat the vegetable oil over sauté in the instant pot.

Add the beef, tossing to brown all sides, about 2-3 minutes per side.

Add the reserved sauce. Place the lid on, lock in place and set to manual high pressure for 40 minutes. Use quick release method.

Using a slotted spoon, remove the beef to a bowl and use 2 forks to shred.

Pour the sauce through a mesh sieve or colander to remove larger pieces. Allow the fats to settle on top.
Salsa Macha:
Heat the grapeseed oil in a large skillet or Dutch oven. Add the dried chiles, turning and browned until softened and puffed, approximately 5-8 minutes. Using slotted spoon, remove to a bowl.

Add the onion to the hot oil, sauteing for 2 minutes. Add the garlic, sauteing for an additional 1 minute. Reduce heat to low, add the peanuts, sesame seeds, vinegar, sugar and chiles to the pot. Toss to coat and heat over low heat for 10 minutes.

Turn off heat and allow to cool for 20 minutes.

Transfer the whole mixture to a large food processor, pulsing until a coarse mixture forms. Add the salt and give a few more pulses. Set aside at room temperature until ready to serve.
Tacos:
Heat 1-2 teaspoons of the vegetable oil in a large skillet. Dip 2-3 corn tortillas (how many will fit in the skillet) in the beef broth and directly into the hot skillet.

Sprinkle 1 tablespoons of cheese in each tortilla, then 2-3 tablespoons of shredded beef. Fold over the tortilla to form a taco. Sear on each side for 1-2 minutes or until browned.

Remove and serve with fresh cilantro, onion, lime wedges and salsa macha.
Oven Instructions:
Preheat the oven to 300° F.

Heat the oil in a large Dutch oven over medium-high heat.

Rub the chuck roast with salt and pepper. Heat the vegetable oil over sauté in the instant pot.

Add the beef, tossing to brown all sides, about 2-3 minutes per side.

Make the sauce according to step #1 above and add sauce to the beef.

Cover and place into the oven for 3 hours, or until beef easily shreds with a fork.

Pick back up at instruction #5.
Nutrition
Calories:
777
kcal
,
Carbohydrates:
22
g
,
Protein:
31
g
,
Fat:
65
g
,
Saturated Fat:
14
g
,
Polyunsaturated Fat:
30
g
,
Monounsaturated Fat:
18
g
,
Trans Fat:
1
g
,
Cholesterol:
95
mg
,
Sodium:
740
mg
,
Potassium:
720
mg
,
Fiber:
4
g
,
Sugar:
5
g
,
Vitamin A:
961
IU
,
Vitamin C:
57
mg
,
Calcium:
227
mg
,
Iron:
4
mg