Mushroom Sauce Recipe
After you've tried this amazing Mushroom Sauce, you will never go back to a store bought steak sauce again!
Homemade steak sauces don't get any better than this Mushroom Sauce! Not only does it taste great on steak, but you can add it to many other things, too!
A good mushroom sauce can complement so many meals and all types of protein, but this particular red wine sauce is perfect for beef.
It is also fairly easy to make and can be made ahead of time. It is also relatively inexpensive, and tastes great on other things like mashed potatoes and pork chops or this cube steak recipe.
For my simple mushroom sauce, I keep it open on which type of mushrooms to use. White button mushrooms are the easiest and cheapest to find, but you can also get a little fancy and use a more expensive shroom like chanterelle.
Here are the most common mushrooms in the states:
White button mushroom (most common)
Champignon mushroom
Crimini mushroom
Maitake mushroom
Portobello mushroom (also spelled portabella)
Shiitake mushroom
Oyster mushroom
Beech mushroom
Enoki mushroom
King trumpet mushroom
Chanterelle mushroom
Porcini mushroom
Each will have a distinct taste, texture and shape. For a more interesting mushroom sauce, use a blend of two or three types.
Using different types of red wine will also change the flavor profile slightly. A dry red wine will in turn give you a rich, luxurious sauce.
PRO TIP: Use a variety of mushrooms for texture and flavor sophistication.
Something a little fruitier or with sweet undertones, a fun and flirty sauce. While woody or oak aged wines, an earthy flavor.
While I like my mushroom steak sauce over a nice filet or strip steak, you can also spoon it over a sliced flank steak or even prime rib. Here it is spooned over my favorite Pan Fried Steak!
Serve it as part of a steak sauce trio including my creamy horseradish sauce and copycat Peter Luger's steak sauce.
To start making this mushroom sauce, melt the unsalted butter with mushrooms in a medium saucepan, tossing to coat. Cook the mushrooms down until they are about half of their original size.
Next, add in the red wine, beef broth, fresh thyme and garlic powder. Simmer all of these ingredients for 15 minutes, then remove the thyme sprigs.
Then in a small mixing bowl, whisk the cornstarch with 2 tablespoons water. Once fully combined, whisk that mixture into the mushroom sauce.
Heat this for an additional two minutes, then remove from the heat. Season this with fine sea salt and pepper to taste.
To make this sauce ahead of time, simply make it all the way through, cool and store covered in refrigerator until ready to use. Up to 48 hours.
To reheat, place back into a saucepan and thin with a little water or beef stock, stirring until hot and back to the same consistency. Make sure to correct seasoning, as sauces often become muted after chilling.
Questions you might have about how to make mushroom sauce for steak:
Why don't add salt until the end? Broths and bouillons have different salt amounts, so I like to have more control over mine by adding it at the end. Sometimes I don't need any at all, other times I need a bunch.
Can I use salted butter? This is kind of the same answer as about the beef broth. I like to have more control over the saltiness. There are varying degrees of salt in butter, so by using unsalted, I give myself the most control.
Can I freeze my mushrooms sauce? You can! While I don't usually tell people to freeze mushrooms, these have been cooked and the water released. They might thaw to a slightly different texture, but not in a bad or weird way.
What can I substitute for red wine? You can omit red wine and use the same amount of additional beef broth or water.
You'll lose a little flavor and might require another small dose of acid. I would recommend a tablespoon of red wine vinegar or apple cider vinegar to fill the void.
Can I make this sauce creamy? If you are looking for a creamy mushroom sauce, you can add 1/3 cup heavy cream to the sauce as it cools. Adding it too hot or before it reduces enough can curdle or seperate the sauce.
Tools for making Simple Mushroom Sauce:
Wood cutting board – wood won't dull your knives like plastic and if treated properly, has natural antimicrobial properties.
Good knife – Global is my favorite! They are worth the price, I promise. I am kind of obsessed with them and store them tucked away so no one else can use them. Including hubby. Hands off my good stuff!
Heavy Bottom Sauce Pan– this will be one of your most used kitchen tools. Having something that is heavy bottom will distribute heat better and prevent burning whether you are using an electric or gas range.
Other classic sauces served with steak:
CONNECT WITH SAVORY EXPERIMENTS!

Be sure to follow me on social media, so you never miss a post!

Facebook | Twitter | Youtube
Pinterest | Instagram

Get our FREE 8 Day E-Course on How to Be a Better Home Cook. Sign up HERE!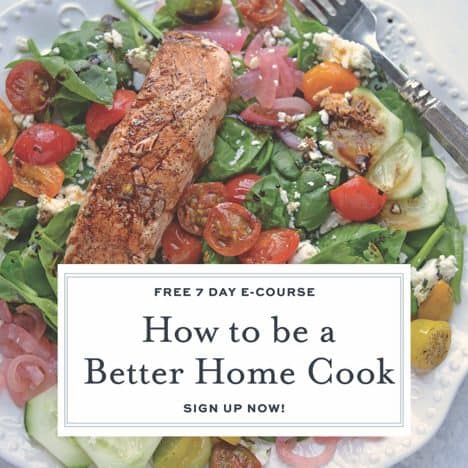 Print Recipe
Mushroom Sauce for Steak
Homemade steak sauces don't get any better than this Mushroom Sauce! Not only does it taste great on steak, but you can add it to many other things, too!
Ingredients
20

ounces

sliced mushrooms * (about 4 cups)

2

tablespoons

unsalted butter

1

cup

beef broth

1/2

cup

red wine

3

fresh thyme sprigs

1/2

teaspoon

garlic powder

1

tablespoon

cornstarch

Fine sea salt & freshly ground pepper

, to taste
Instructions
In a medium saucepan, melt unsalted butter with mushrooms, tossing to coat.

Cook mushrooms down until they are half their original size.

Add red wine, beef broth, fresh thyme and garlic powder.

In a small mixing bowl, whisk cornstarch with 2 tablespoons water, whisk into mushroom sauce.

Heat for an additional 2 minutes, then remove. Season with fine sea salt and pepper to taste.

If you've tried this recipe, come back and let us know how it was!
Nutrition
Calories:
120
kcal
|
Carbohydrates:
8
g
|
Protein:
5
g
|
Fat:
6
g
|
Saturated Fat:
4
g
|
Cholesterol:
15
mg
|
Sodium:
233
mg
|
Potassium:
521
mg
|
Fiber:
1
g
|
Sugar:
3
g
|
Vitamin A:
175
IU
|
Vitamin C:
3
mg
|
Calcium:
8
mg
|
Iron:
1
mg