After you've tried this amazing mushroom sauce for steak, you will never serve a steak without it again. Almost like a mushroom gravy, but with more gusto. Much more than mere sauteed mushrooms.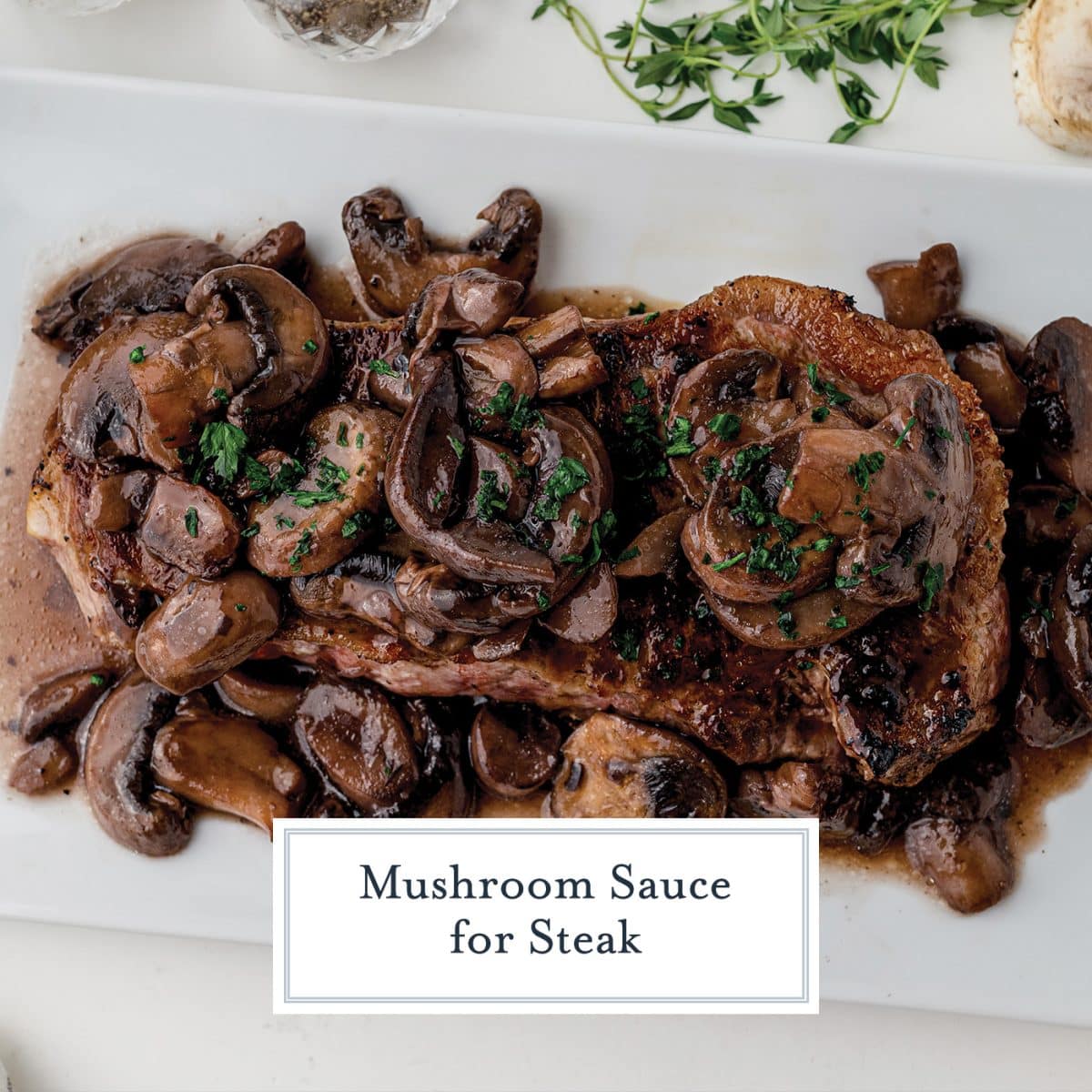 While I agree that a great steak shouldn't need to be slathered in steak sauce, a side or topping of mushrooms and au jus helps bring out the earthy flavors and texture. You'll soon find that this easy sauce can also be used as a side and on nearly any type of protein or just by itself.
More than just mushrooms, this is also a red wine sauce for steak. Rich notes of burgundy always pair well with beef and are robust and heady. It is a creamy sauce without using any cream or cheese.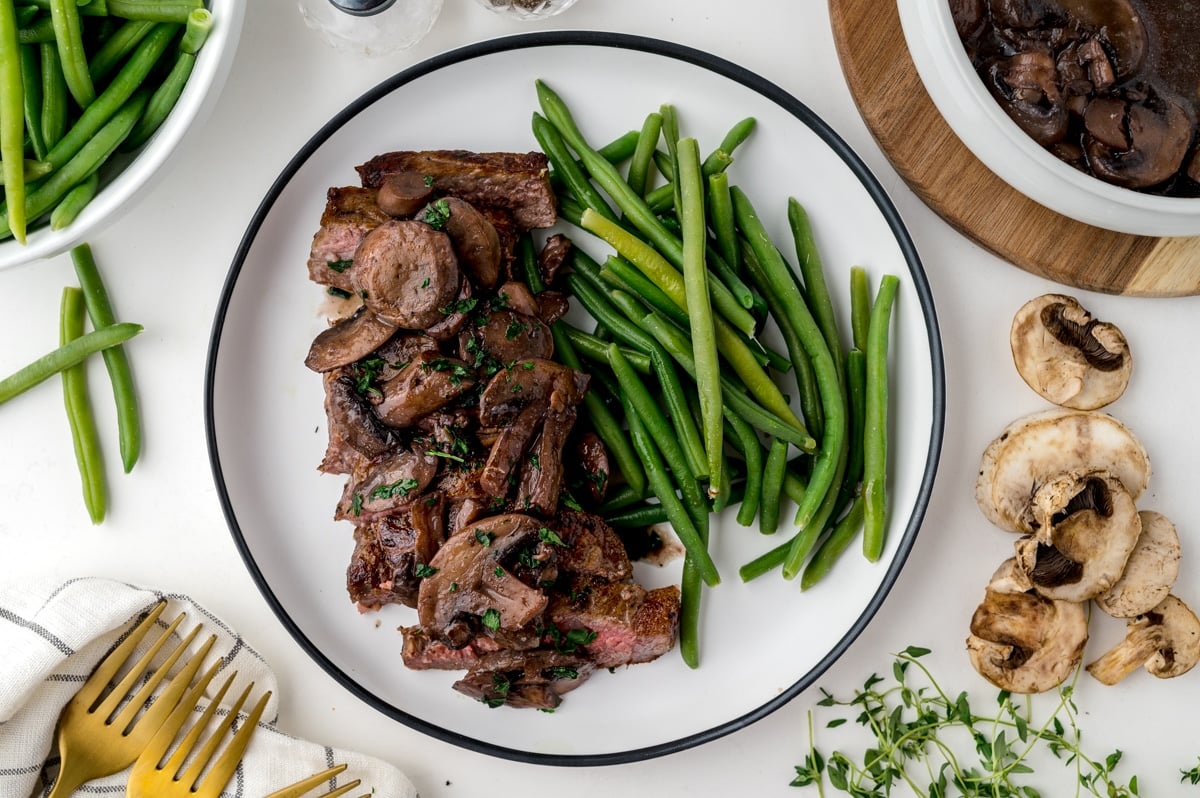 Type of Mushrooms
For my simple mushroom sauce recipe, I keep it open on which type of mushrooms to use. White button mushrooms are the easiest and cheapest to find, but you can also get a little fancy and use a more expensive shroom like chanterelle.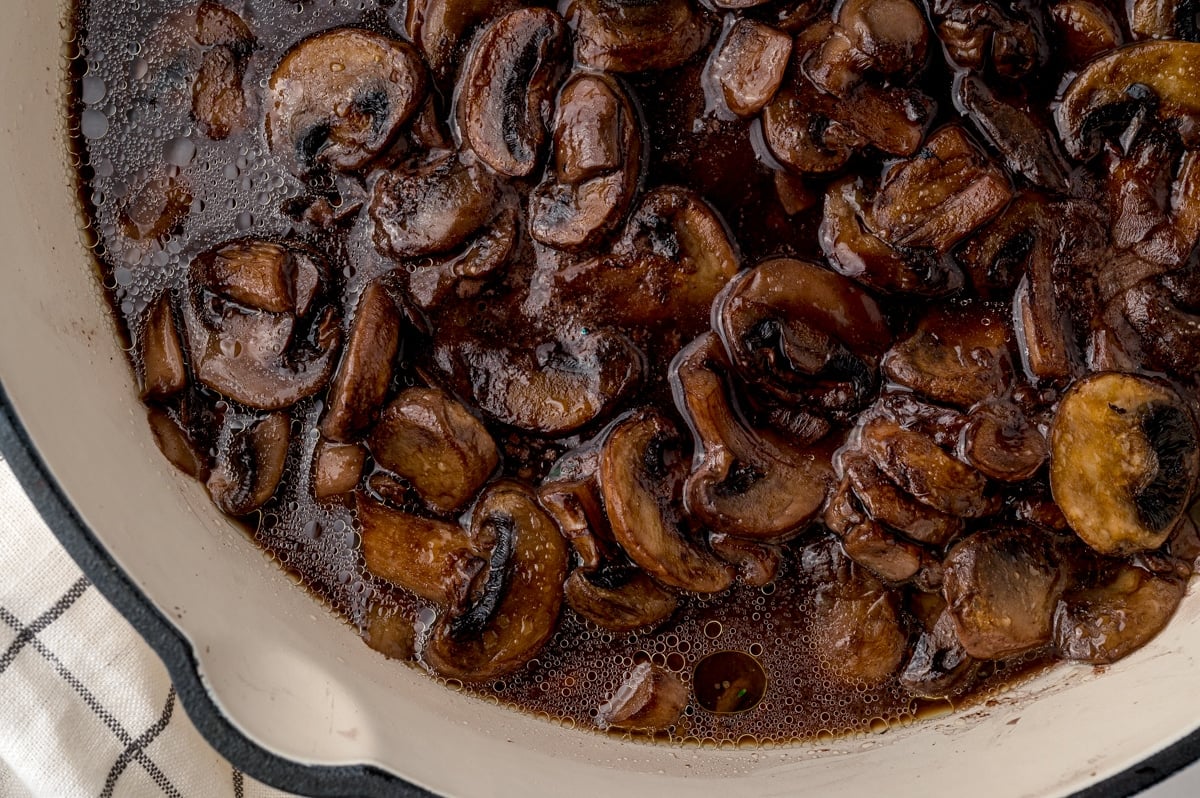 Here are the most common mushrooms in the states:
White button mushroom (most common)
Champignon mushroom
Crimini mushroom
Maitake mushroom
Portobello mushroom (also spelled portabella)
Shiitake mushroom
Oyster mushroom
Beech mushroom
Enoki mushroom
King trumpet mushroom
Chanterelle mushroom
Porcini mushroom
Baby bellas
Each type of mushroom will have a distinct taste, texture and shape. For a more interesting savory mushroom sauce, use a blend of two or three types. Experiments and give them all a try to figure out the best way to use each.
Clean them by gently washing with a damp paper towel or rinsing in a colander. Dirt gets stuck in all sorts of places, so I find that the paper towel method works best. Do not soak them- they will get all mushy.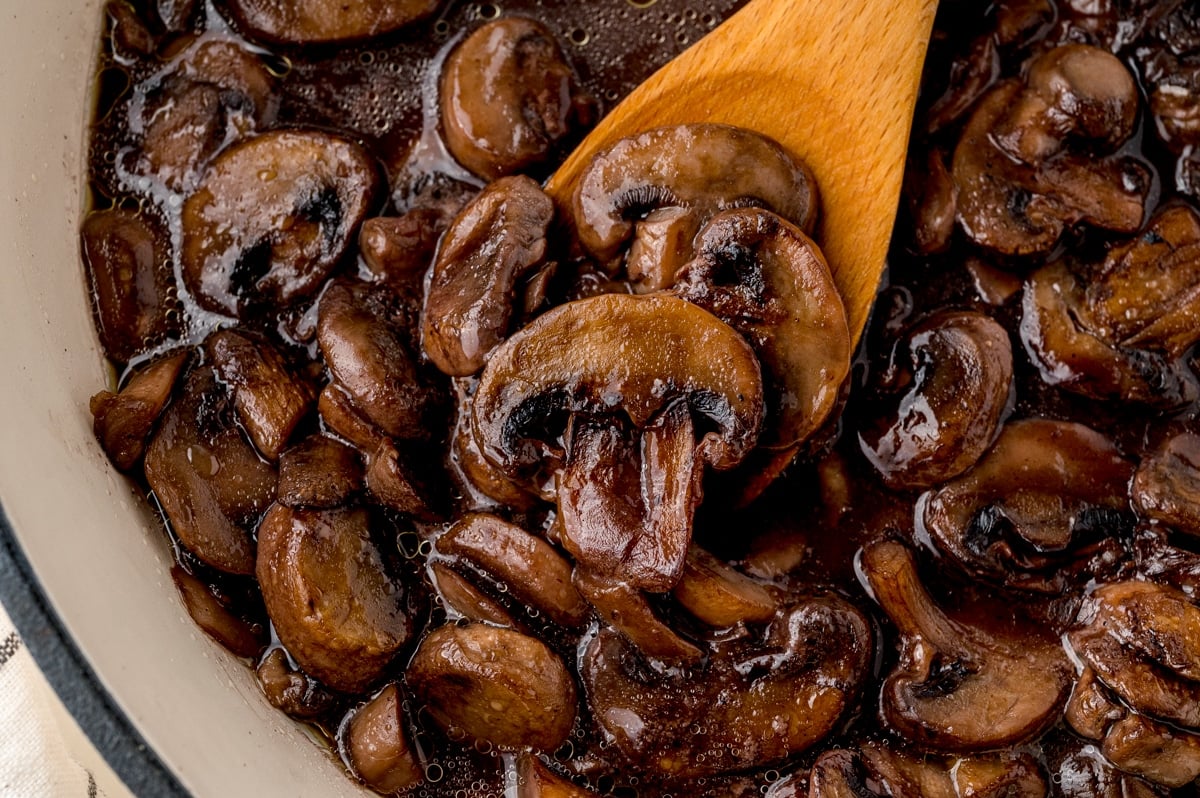 Red Wine Alternatives
Using different types of red wine will also change the flavor profile slightly. A dry red wine will in turn give you a rich, luxurious sauce.
Something a little fruitier or with sweet undertones, a fun and flirty sauce. While woody or oak aged wines, an earthy flavor. If you don't like to cook with wine, sub it out for additional beef broth.
Serve the meal with the sauce wine you use in the sauce to make a seamless pairing. A delicious recipe for date night or dinner party.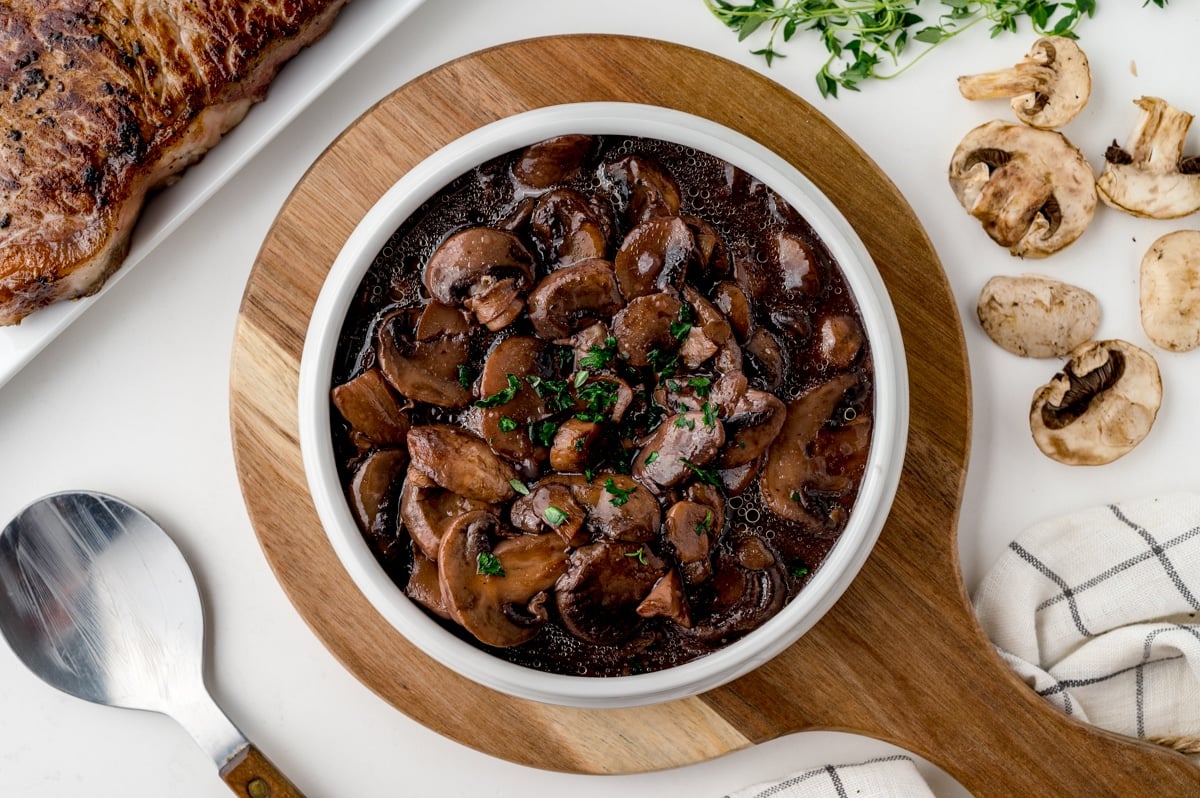 What You'll Need
Just a few simple ingredients make this delicious and rich sauce.
Sliced mushrooms- While it will look like a lot, mushrooms cook down a lot. Use plain button or white mushrooms or get fancy with a blend.
Unsalted butter– We almost always use unsalted so we can control the saltiness, but if you only have salted, just omit additional salt. Some folks like a touch of olive oil, but I don't find it necessary.
Low-sodium beef broth– Low sodium beef broth so again, you can control the saltiness. Beef will have a full-bodied flavor, but chicken broth, vegetable broth or even bone broth can be swapped.
Red wine- The best type of wine is highly dependant on what you are looking for. A bold chianti might be a little more unami and a shiraz or even red zinfandel, sweeter to offset the herbaceous beefy flavors. White wine tends to be a little light for this recipe.
Fresh thyme springs- I love using fresh herbs when possible, but if you need to use dried, go for it! The swap would be about 1/2 teaspoon of dried thyme leaves. Fresh leach out seasoning, but then the actual stalk is pulled from the sauce.
Garlic powder- Yes, I've tried using fresh garlic and I still maintain that for this recipe, I really do prefer garlic powder instead.
Cornstarch– Thickening the mushroom sauce is key. A cornstarch slurry will not only thicken, but give it a glossy finish. A plain flour mix or arrow root can also be used.
Coarse kosher salt & freshly ground black pepper- For seasoning.
For an even richer sauce, add a few drops of Worcestershire sauce. Sliced onions or onion powder are also a fun addition. Dijon mustard can also give a more acidic taste.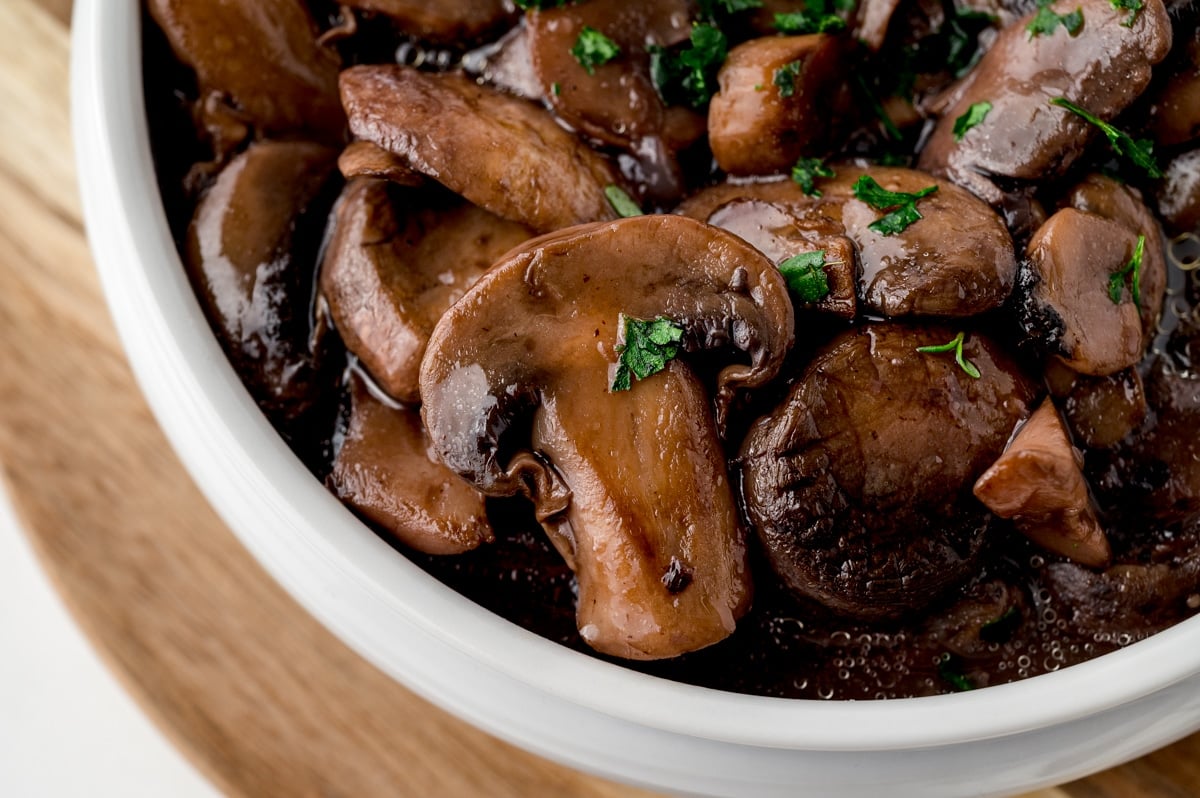 How to Make Mushroom Sauce for Steak
Cook Mushrooms. Melt the unsalted butter with mushrooms in a saucepan or large skillet over medium heat, tossing to coat. Cook the mushrooms down until they are about half of their original size and golden brown. You are looking for tender mushrooms, but not limp ones.
Mushrooms are mostly water, so they will reduce greatly. Try to use mushrooms cut in similar sizes so they cook evenly. You get bonus points if they brown a bit, this just further enhances flavor.
Make Them Flavorful. Next, add the red wine (deglazing the browned bits while you stir), beef broth, fresh thyme and garlic powder to the sautéed mushrooms. Simmer all of these ingredients for 15 minutes to allow the flavors to marry, then remove the thyme sprigs. If a few leaves remain, that is fine. In fact, if you love thyme, shuck a few off to remain in the sauce.
Thicken. Then in a small mixing bowl, make a cornstarch slurry. Once fully combined, whisk that mixture into the mushroom sauce to thicken.
Cook & Season. Heat this for an additional two minutes, then remove from the heat. Season this with salt and pepper to taste.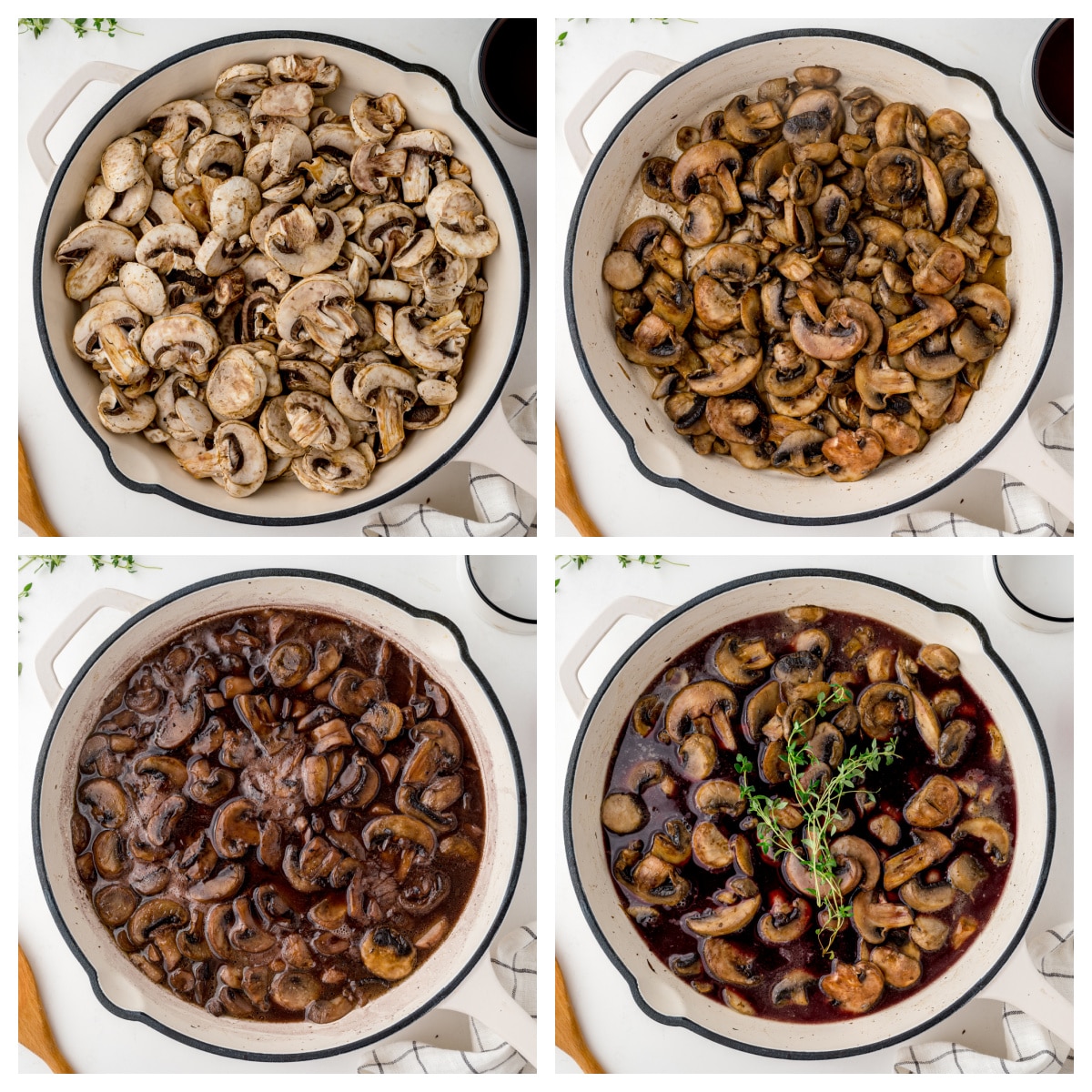 What to Serve it On
A good mushroom sauce can complement so many meals and all types of protein, but this particular red wine sauce is perfect for red meat or a good steak; ribeye, New York Strips, beef tenderloin (filet mignon) or even a porterhouse. On a steak or even a burger, it takes your meal to the next level.
It is also tastes great on other things like mashed potatoes and pork chops or this cube steak recipe and even steak frites.
Serve it as part of a steak sauce trio including my creamy horseradish sauce and copycat Peter Luger's steak sauce.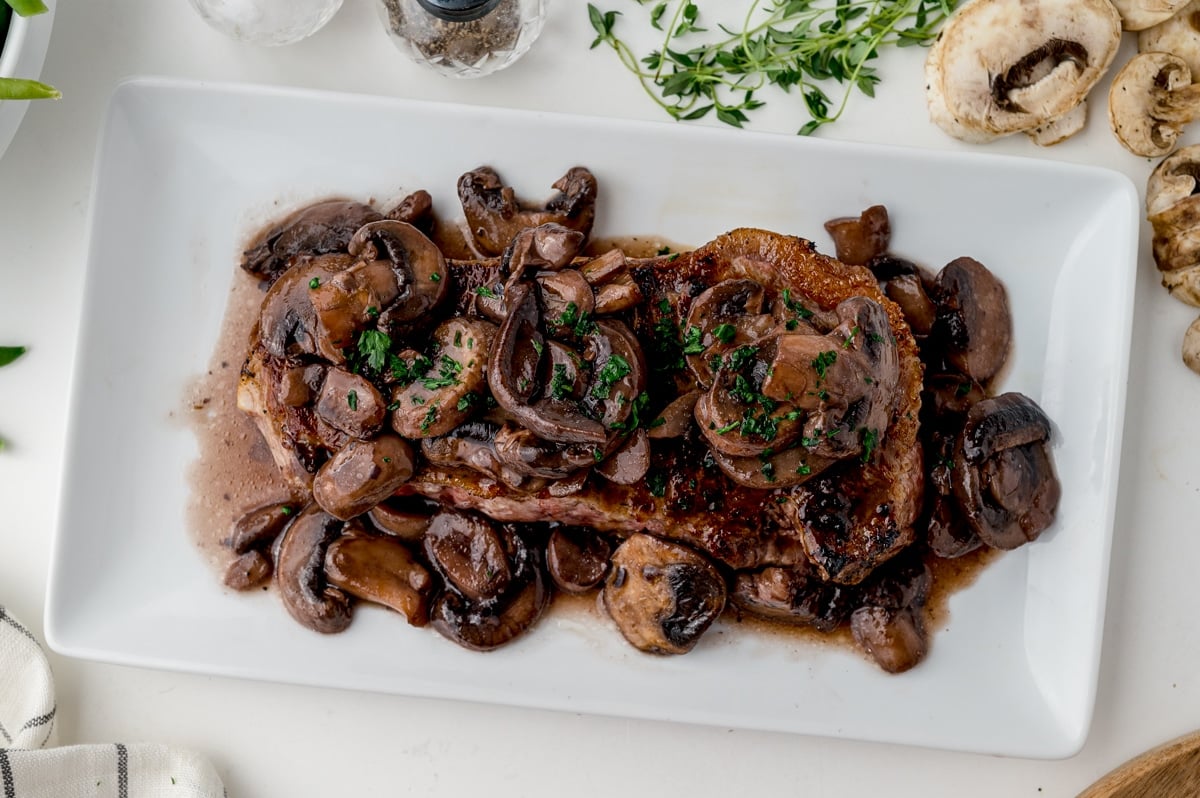 Make Ahead & Freezing
Can I make mushroom sauce ahead of time?
To make this mushroom steak sauce ahead of time, simply make it all the way through, cool and store covered in refrigerator until ready to use. Up to 48 hours. This goes the same for leftover sauce.
How do I store leftover mushroom sauce?
Store leftovers in an airtight container in the refrigerator for up to a week.
How do I reheat leftover mushroom sauce?
To reheat, place back into a saucepan and thin with a little water or beef stock, stirring until hot and back to the same consistency. Make sure to correct seasoning, as sauces often become muted after chilling.
It can also be reheated in the microwave with the same addition of liquid and seasoning. Heat and stir at short increments until the desired temperature.
Can you freeze mushroom sauce?
I don't recommend freezing this particular sauce. Mushrooms don't thaw well.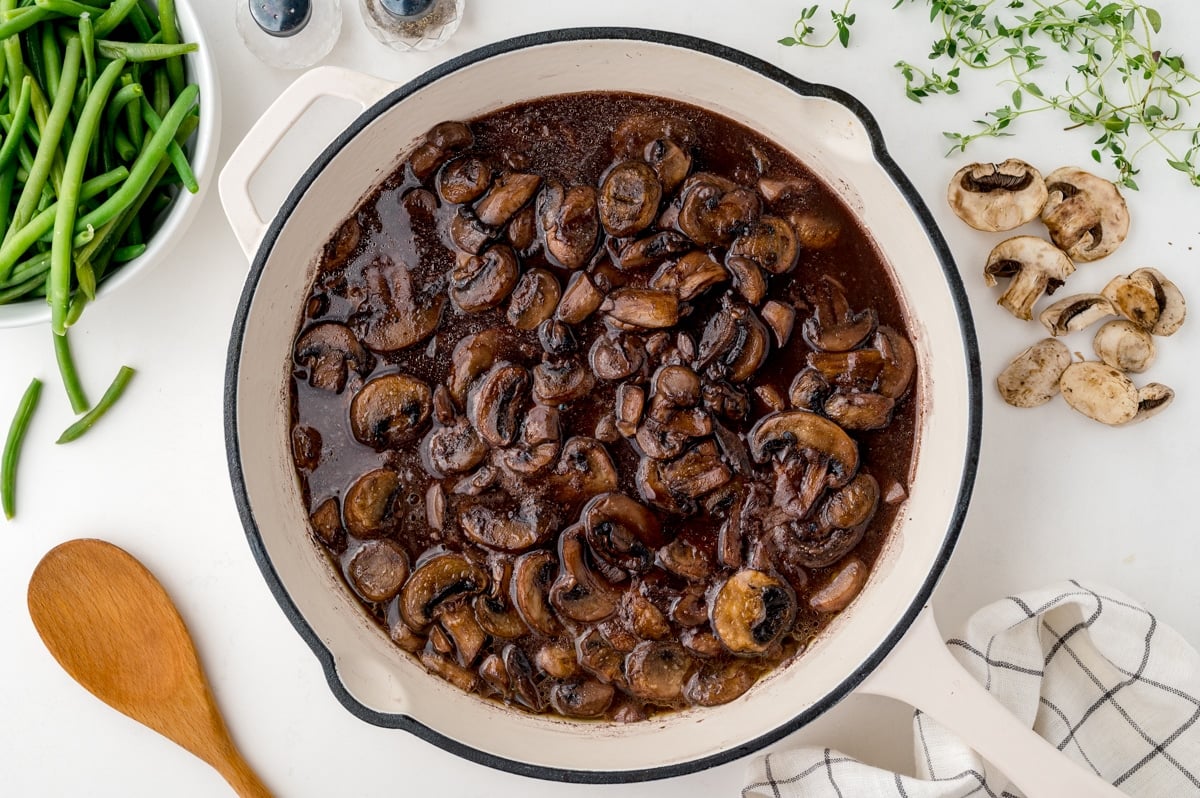 Tips for Making Steak Sauce:
Salt at the End Broths and bouillons have different salt amounts, so I like to have more control over mine by adding it at the end. Sometimes I don't need any at all, other times I need a bunch.
Can I use salted butter? This is kind of the same answer as about the beef broth. I like to have more control over the saltiness. There are varying degrees of salt in butter, so by using unsalted, I give myself the most control.
Creamy Mushroom Sauce If you are looking for a mushroom cream sauce, you can add 1/3 cup heavy cream to the sauce as it cools. Adding it too hot or before it reduces enough can curdle or seperate the sauce.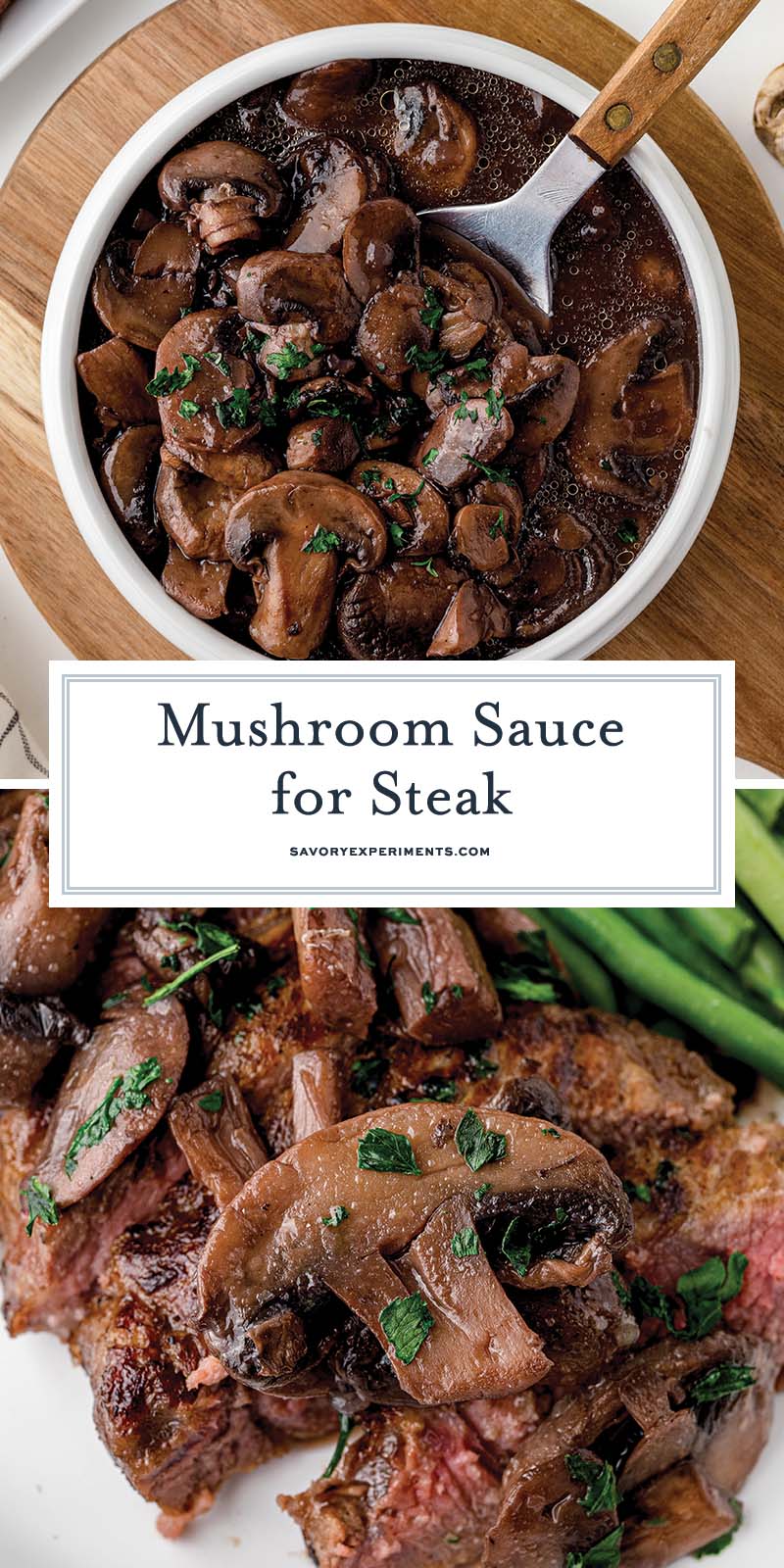 More Classic Sauce Recipes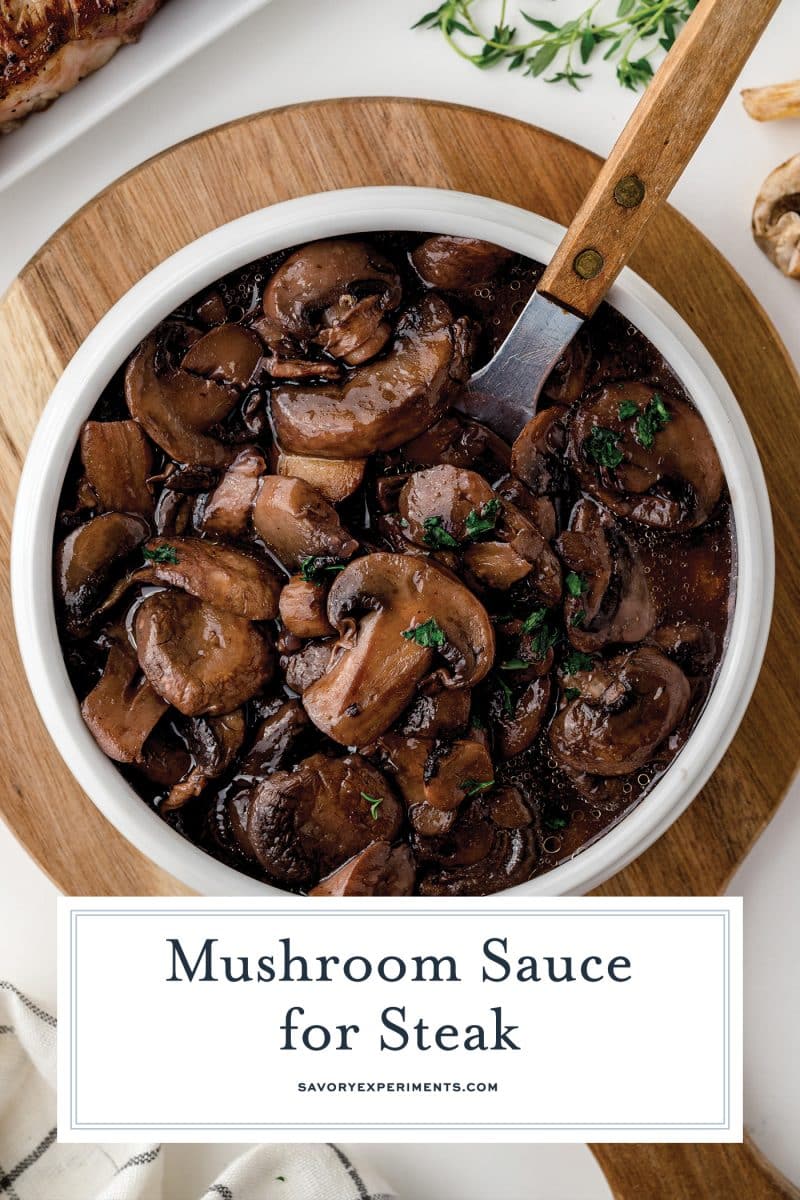 More Favorites from Savory Experiments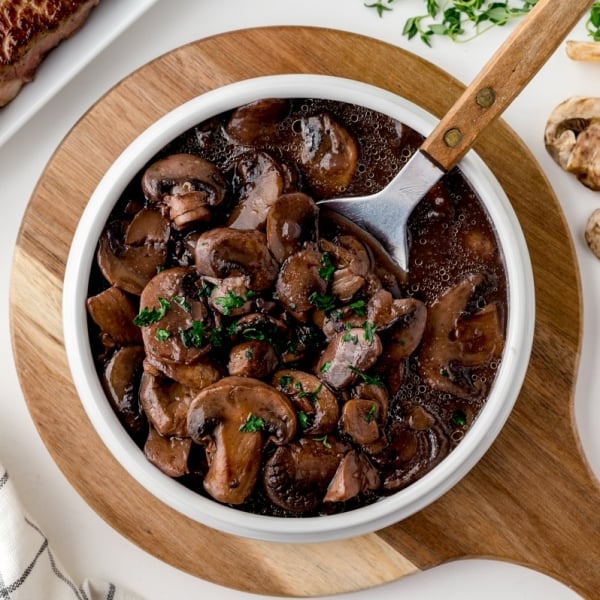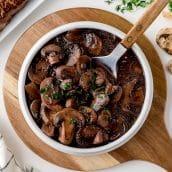 Mushroom Sauce for Steak
Homemade steak sauces don't get any better than this Mushroom Sauce! Not only does it taste great on steak, but you can add it to many other things, too!
Instructions
In a medium saucepan over medium-high heat, melt the butter with mushrooms, tossing to coat. Cook mushrooms down until they are half their original size.

Reduce the temperature to medium and then add the red wine, broth, fresh thyme and garlic powder, stirring well and then simmering for 15 minutes.

In a small mixing bowl, whisk the cornstarch with 2 tablespoons water, whisk into mushroom sauce.

Heat for an additional 2 minutes, then remove. Season with salt and pepper to taste.

If you've tried this recipe, come back and let us know how it was in the comments or star ratings.
Nutrition
Calories:
120
kcal
,
Carbohydrates:
8
g
,
Protein:
5
g
,
Fat:
6
g
,
Saturated Fat:
4
g
,
Cholesterol:
15
mg
,
Sodium:
233
mg
,
Potassium:
521
mg
,
Fiber:
1
g
,
Sugar:
3
g
,
Vitamin A:
175
IU
,
Vitamin C:
3
mg
,
Calcium:
8
mg
,
Iron:
1
mg