Pancake spaghetti is an incredibly delicious and fun twist on traditional pancakes that results in breakfast pasta shaped like spaghetti noodles. This viral breakfast trend is a creative way to make breakfast interesting.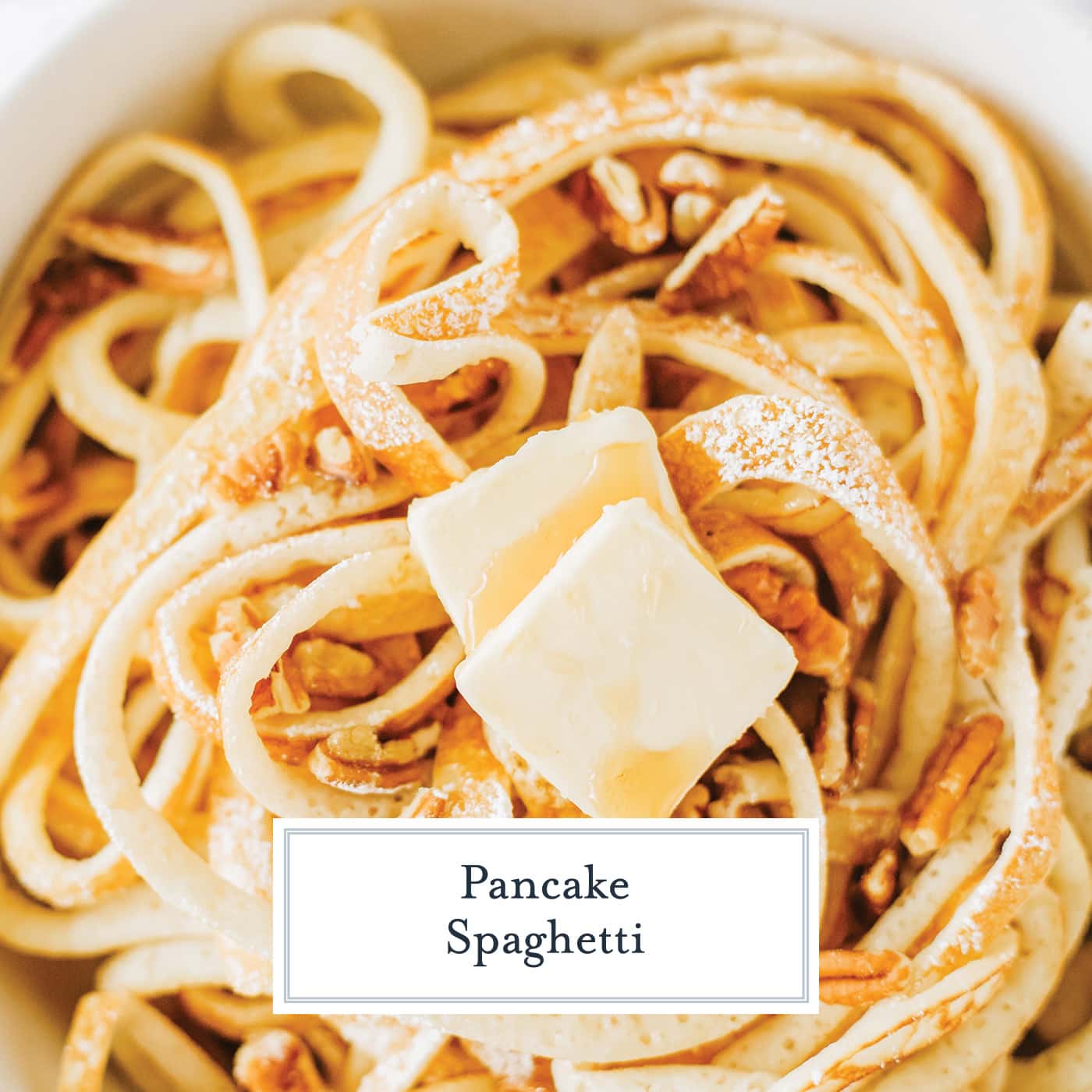 By piping the batter, you can create the effect of real spaghetti with simple pancake batter. Cook it up and serve it in a bowl just like pasta, but with pancake-style toppings.
If you're looking for an entertaining way to make an unforgettable breakfast, this pancake spaghetti that looks like actual pasta but tastes like pancake heaven on a plate, is the way to go. Kiddos love it!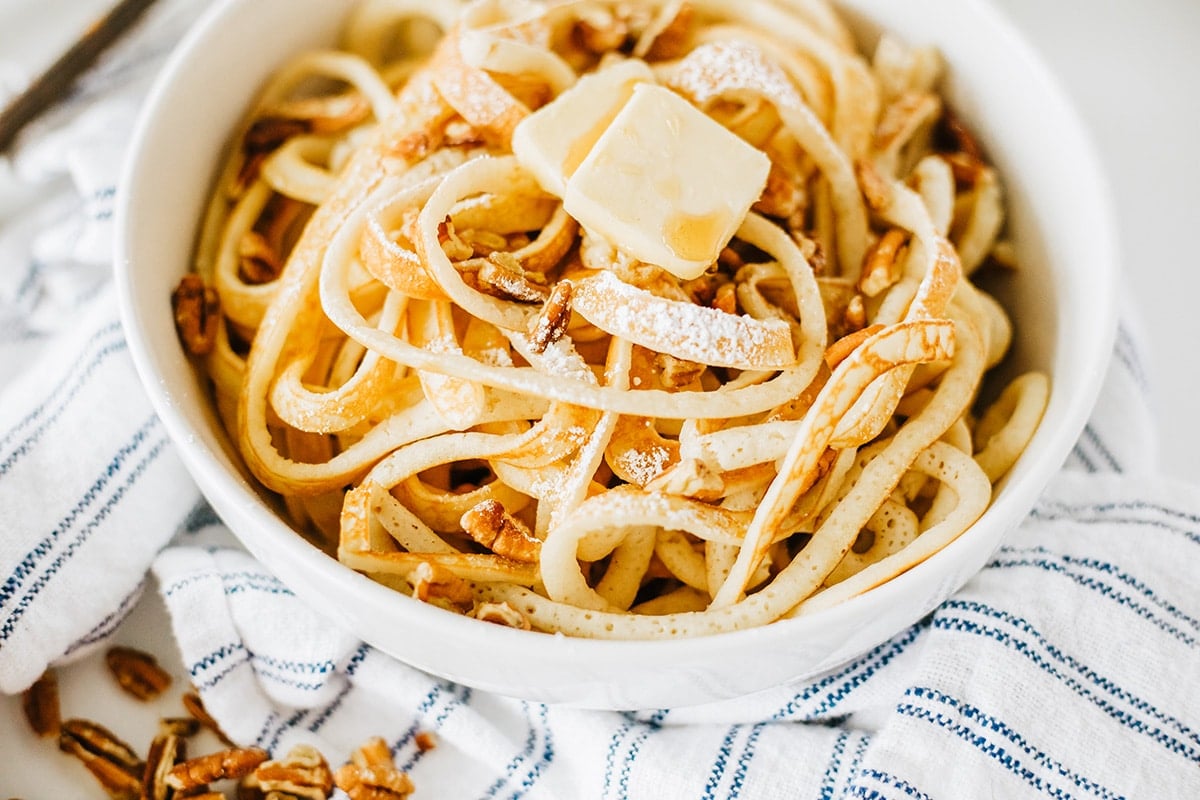 Why You'll Love Pancake Spaghetti
If your family's a fan of usual pancakes, they'll love this cute adaptation you'll bring to the breakfast table — there are lots of reasons to love this recipe.
Fun – We all love a stack of buttery, warm traditional pancakes drenched in syrup but who couldn't love a comforting bowl of similar goodness? This is a unique take on a tradition.
Easy – Even though it initially may look like a challenge, these pancake noodles are an easy way to turn standard regular pancakes into fun fare.
Convenient – You don't need new ingredients to make this different style of pancakes.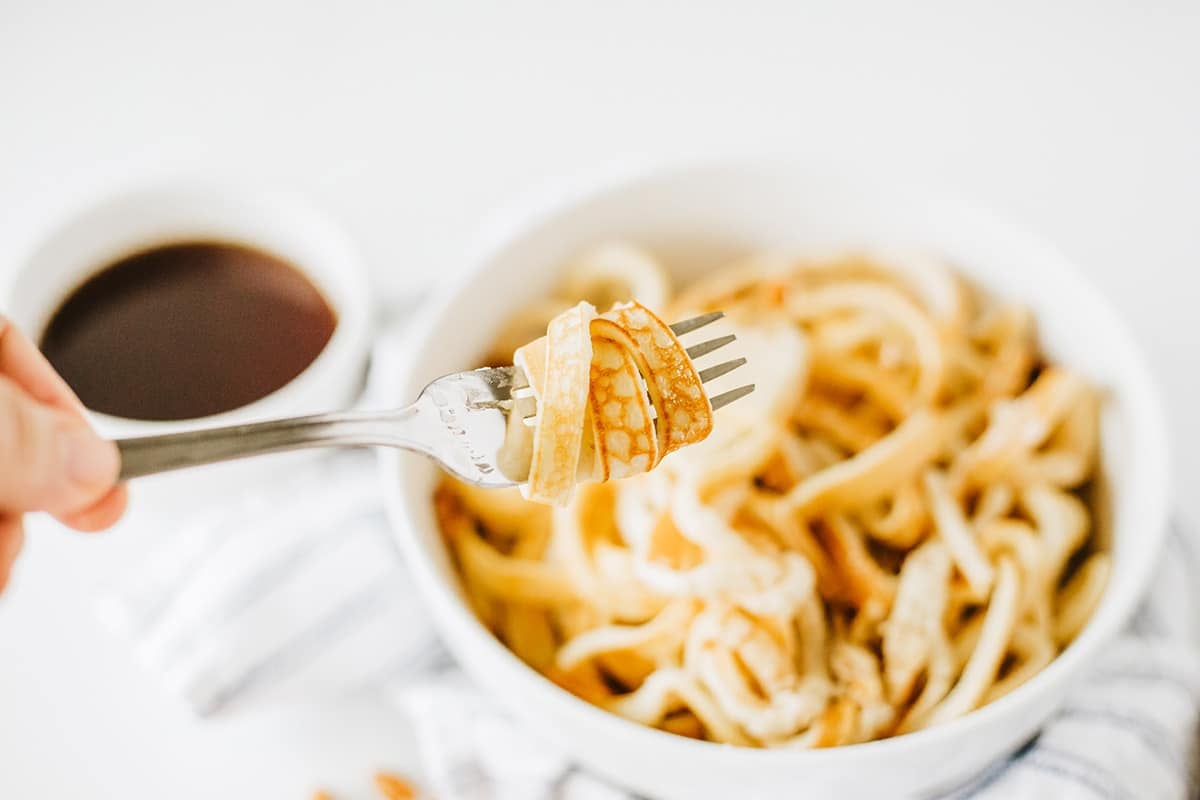 Ingredients for Spaghetti Pancakes
Five ingredients (or less) are all you need to whip up these fun pancake noodles.
Pancake Batter – You can use your own from-scratch recipe for homemade pancake mix to prepare the simple pancake batter or use a store-bought brand of boxed pancake mix that you prefer.
Powdered Sugar – Your preferred brand of confectioner's sugar will work well as a garnish. Pour it in a shaker for the best results.
Pecans – Leave them whole or crush them to sprinkle on top. Candied walnuts or pecans also work.
Butter – No pancake is complete without butter! We like to use salted but unsalted will work, too.
Syrup – Use a little maple syrup on top. Dutch honey, blueberry syrup, apple cider syrup or even cranberry syrup is also fun.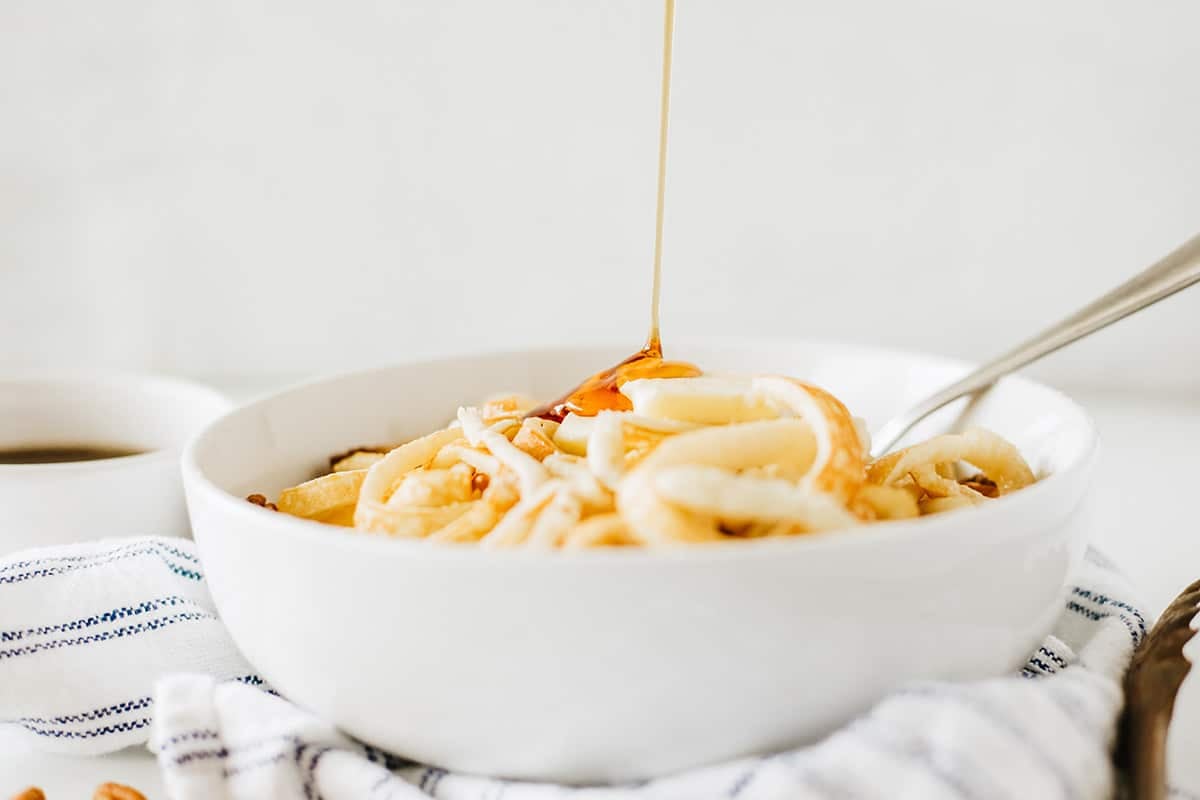 How to Make Pancake Spaghetti
This recipe looks like a challenge but it's actually a great way to have fun with whipping up the first meal of the day in the most drool-worthy way.
Using a condiment bottle (or squeeze bottle or piping bag), squeeze prepared pancake batter in a back and forth motion onto a preheated hot griddle or large nonstick skillet that has been sprayed with cooking spray.
Cook until it becomes bubbly and lightly browned on the edges and bottoms.
Using a spatula, flip the thin strips of batter to continue cooking.
Remove once browned and cooked through.
Continue until all batter has been used.
Top with the garnishes and serve warm.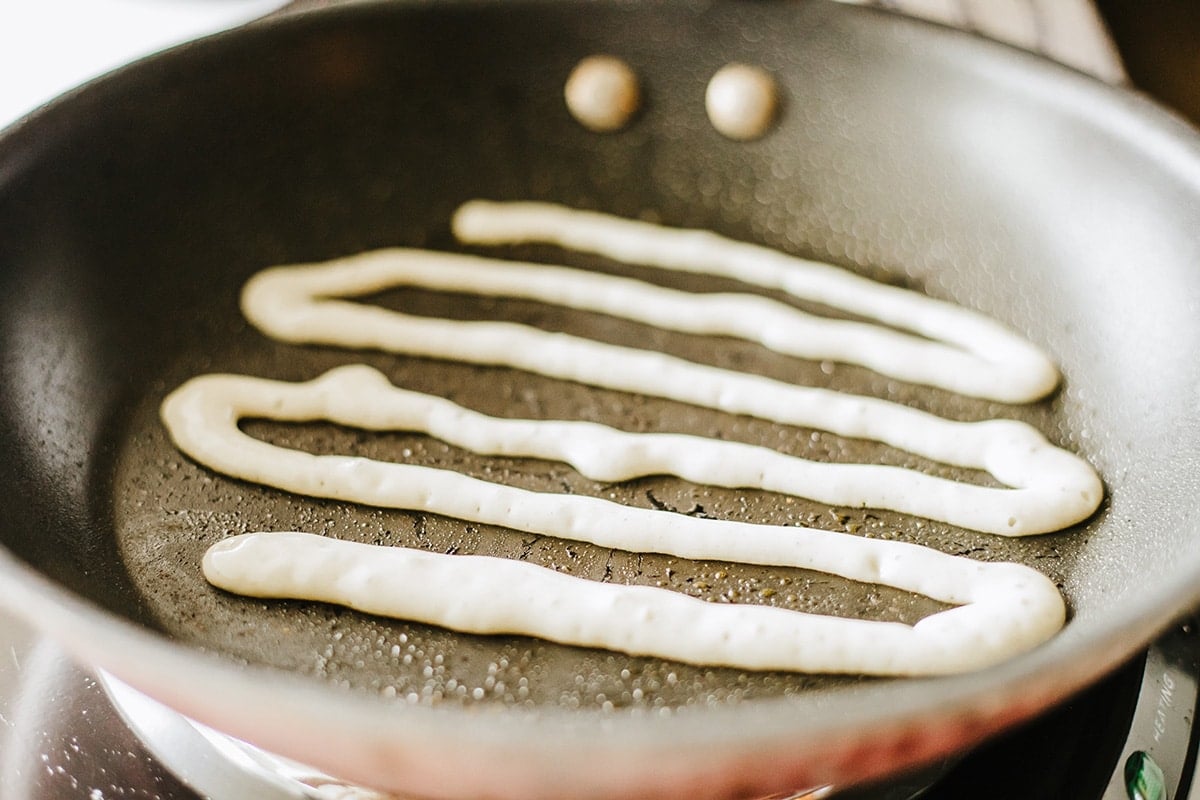 What to Serve with Pancake Spaghetti
Anything you'd serve with pancakes will pair well with pancake spaghetti.
Serve pancake spaghetti with warm coffee or tea or a dalgona coffee. You can also toss berries with the pancake spaghetti or serve fruit salad on the side.
Eggs are an easy accompaniment too. Make an easy chile relleno casserole, sausage hash brown casserole, or eggs benedict casserole to go alongside.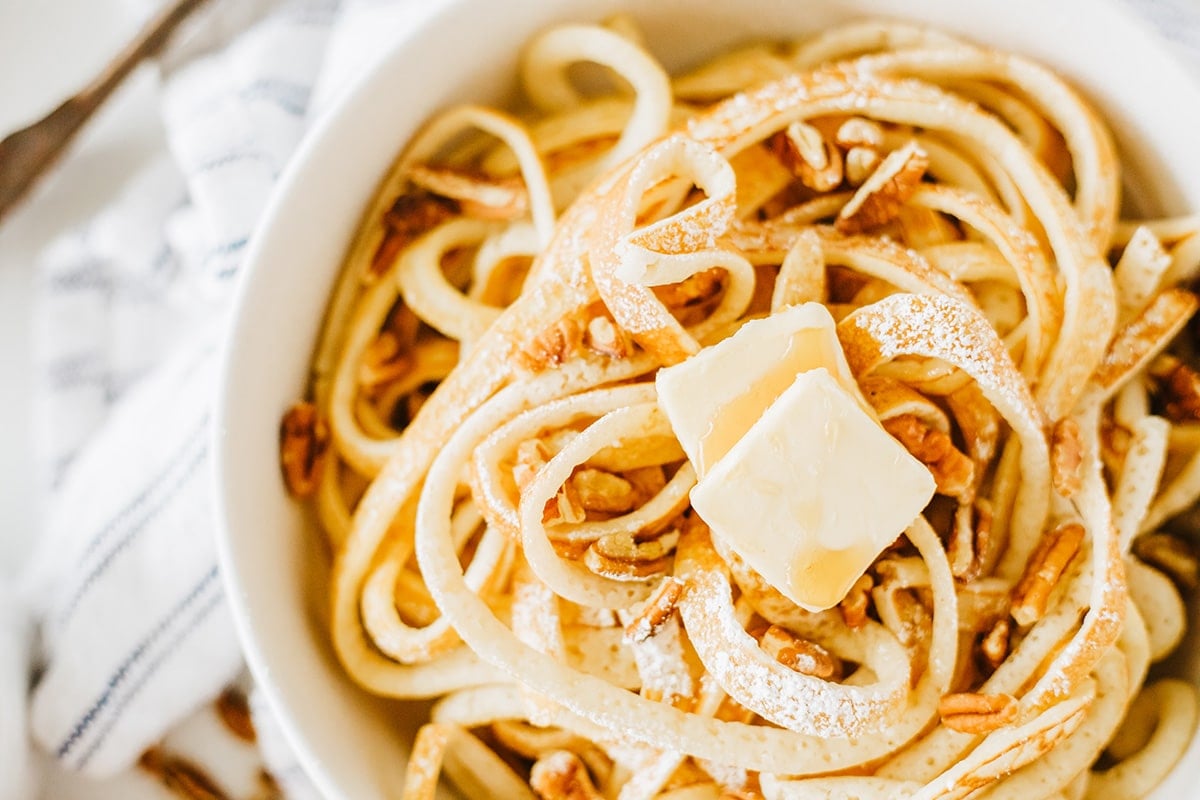 Variations
This fun dish can be changed up in a bunch of ways to make your own whimsical version!
Syrup – Instead of traditional maple syrup, try using a flavored variety.
Batter – Try whipping up a non-traditional batter with flour alternatives for a wheat or gluten free version. You can also use different flavors like red velvet, chocolate, or others.
Thickness – Experiment with shapes from thin or thick noodles to specific shapes similar to various pasta styles.
Additions – Add chocolate chips or fruit after squeezing the batter out.
Toppings – Upgrade your topping from a traditional drizzle of syrup to anything you like from sweets like a blueberry compote, cinnamon sugar dusting, or drizzle of sweetened Greek yogurt to maple sausage crumble. Go down the savory route, too, with a sprinkle of savory parmesan cheese, cheddar cheese, or bacon bits.
Meat – Throw breakfast sausage crumbles or crispy bacon into a bowl of pancake spaghetti or serve their whole counterparts on the side.
Bags – If you don't have a pastry bag or squeeze bottle, use a plastic-sealed bag and snip the side of the bag. You can use the bag's empty corner to make a DIY piping bag.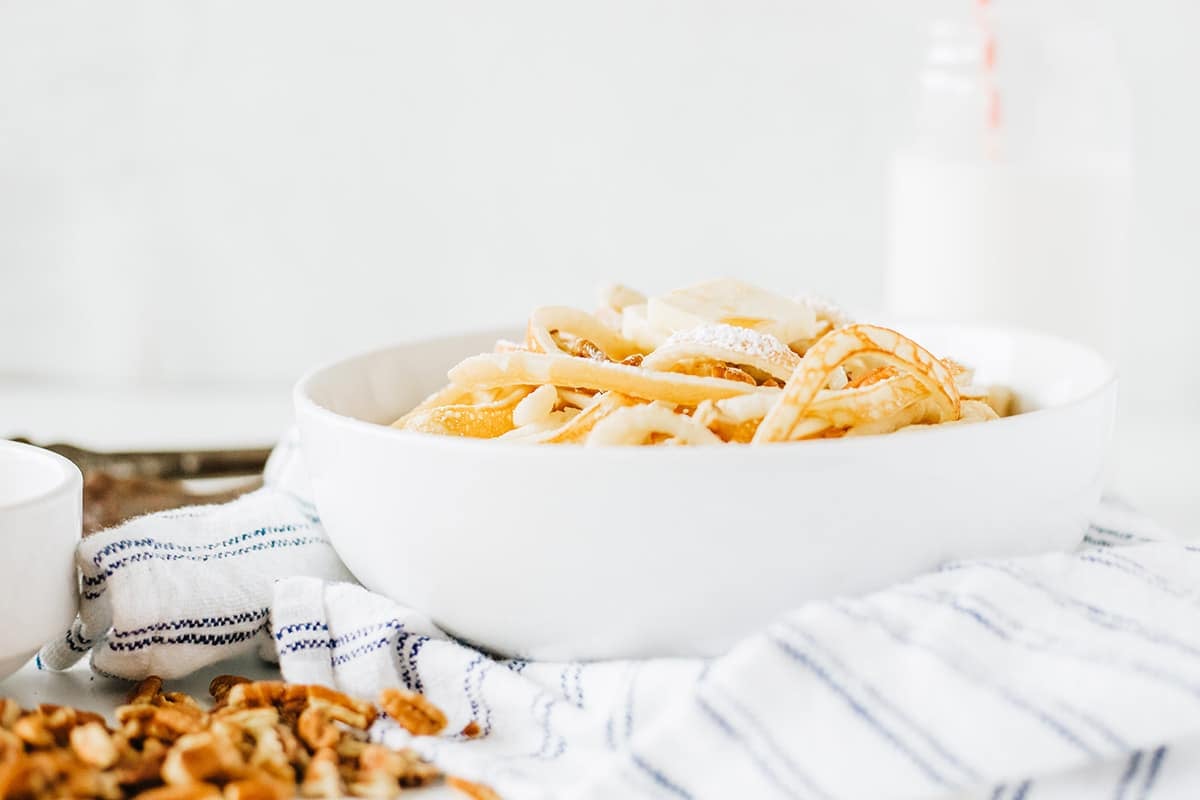 Storage, Make Ahead and Freezing
Pancakes of any type are easy to store which makes them a great choice for meal prepping for the week or preparing ahead of time for a brunch gathering or special occasion breakfast.
Make-Ahead: Make these ahead of time and easily reheat when ready.
Refrigerator: Store leftover pancake spaghetti in the fridge for up to one week in an airtight container.
Freezer: Freeze prepared pancake spaghetti for up to 3 months in a freezer-safe container or freezer bag.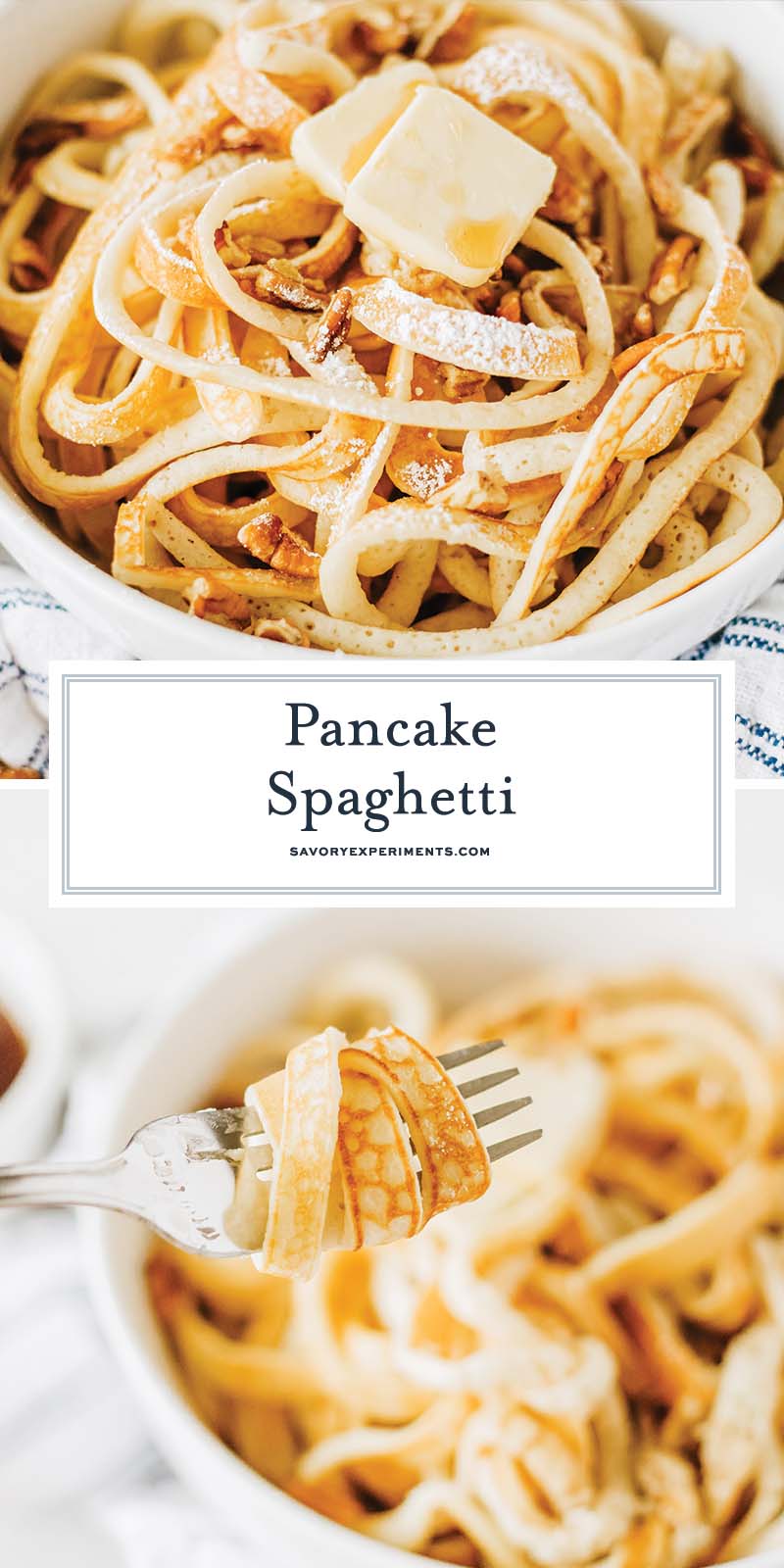 More Breakfast Treats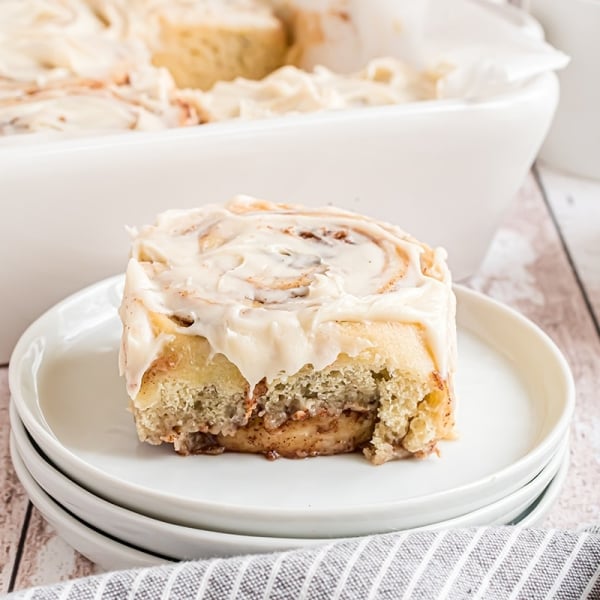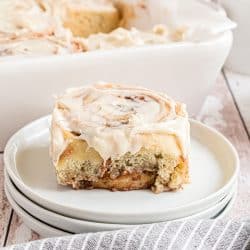 Cinnamon Rolls
If you're looking for a sweet treat to start the day try this EASY Cinnamon Roll recipe. Perfect for special occasions as well as weekdays!
View this recipe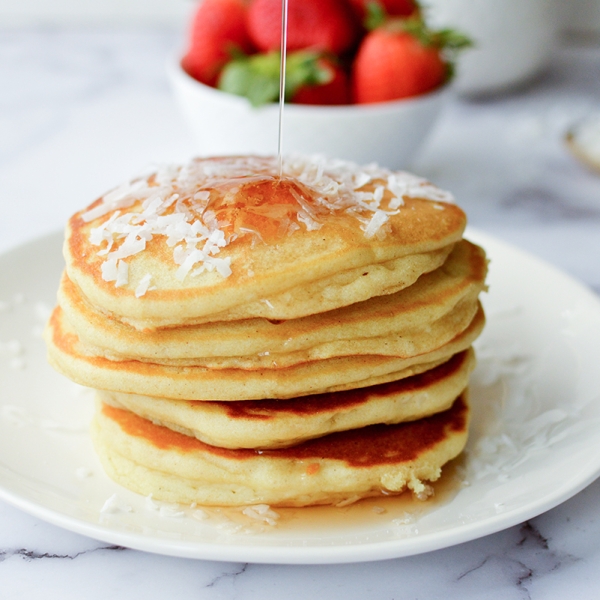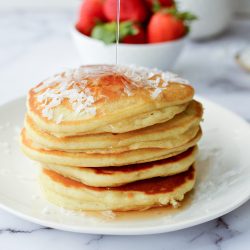 Coconut Pancakes
EASY Coconut pancakes are delicious, light, fluffy, and coconutty. This irresistible stack will be a new breakfast favorite!
View this recipe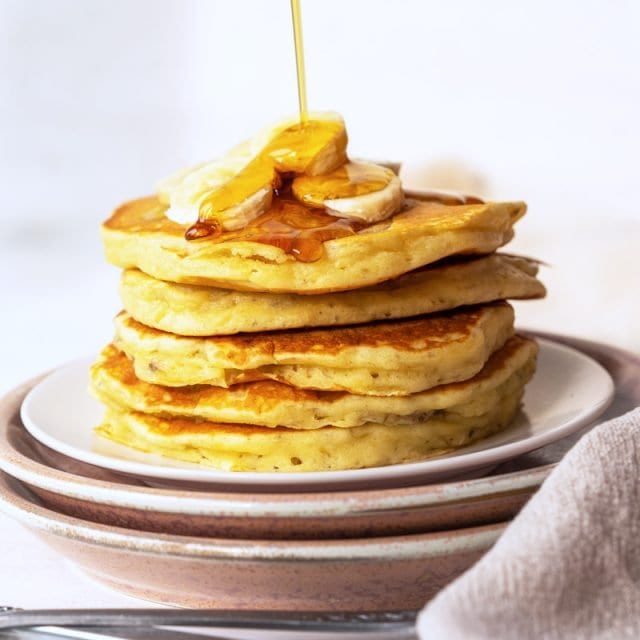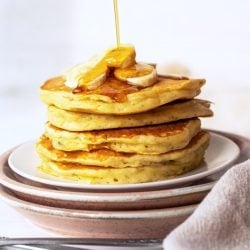 Sticky Banana Pancakes
This simple recipe makes the BEST homemade Banana Pancakes with basic ingredients. Tips and tricks to make extra fluffy homemade pancakes!
View this recipe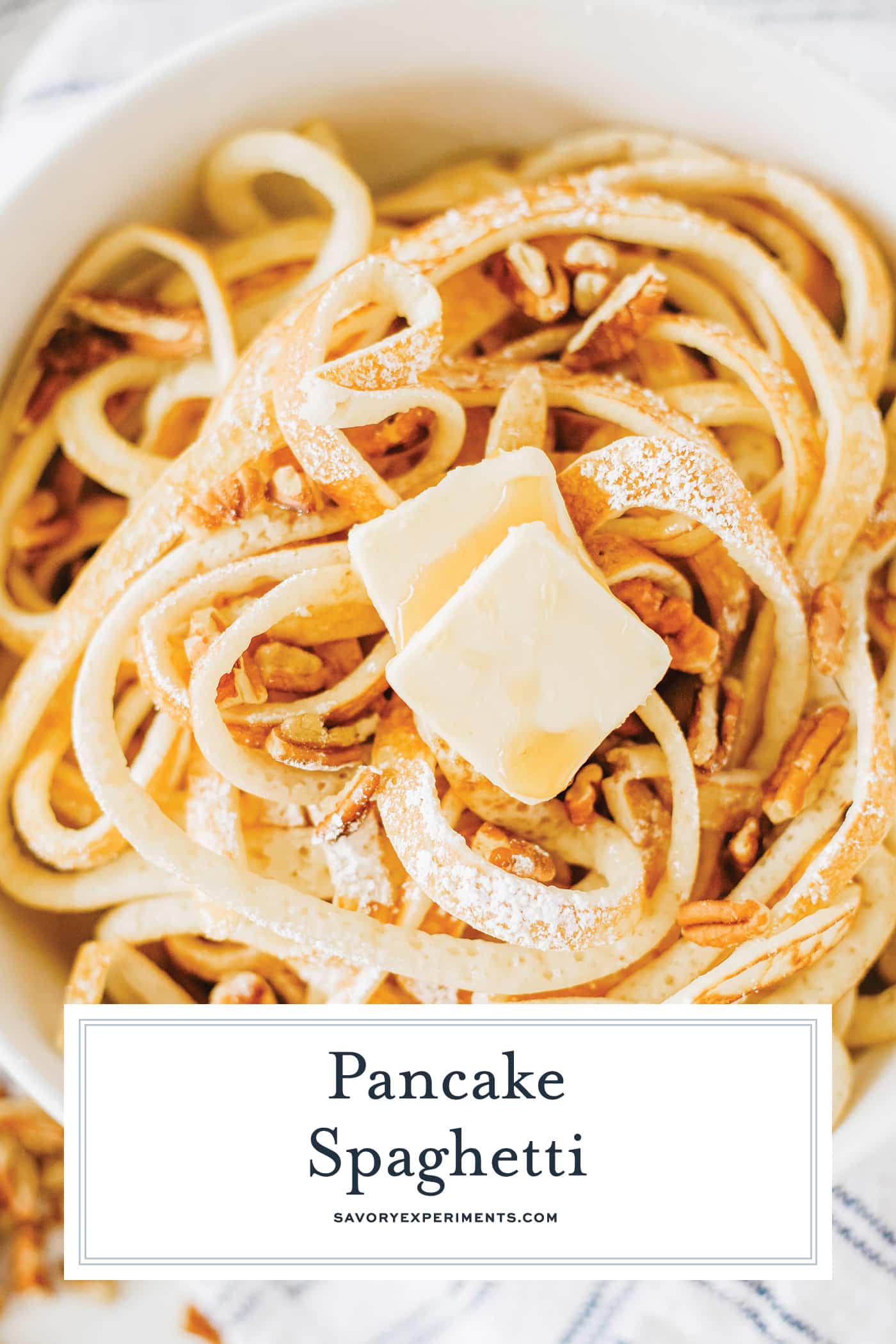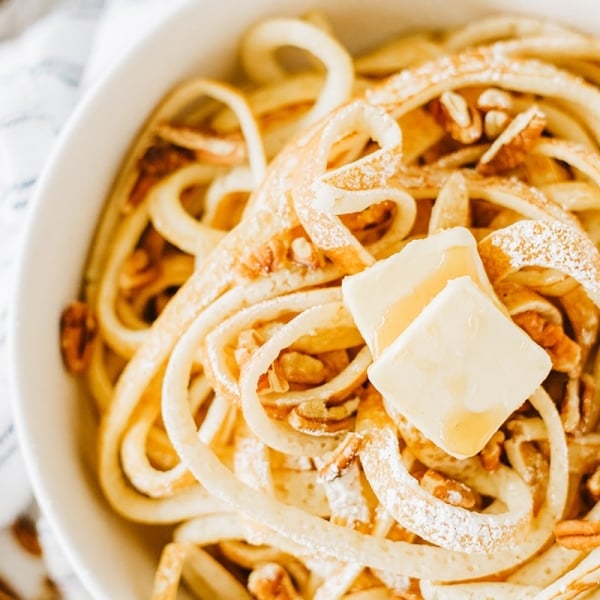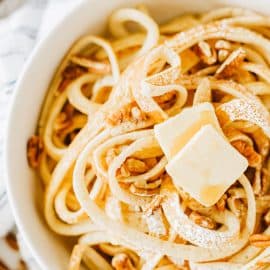 Pancake Spaghetti (Breakfast Spaghetti)
Pancake Spaghetti is an incredibly delicious fun twist on traditional pancakes that results in breakfast pasta shaped like spaghetti noodles!
Instructions
Prepare the pancake batter of your choosing. It is highly suggested that you sift the dry ingredients or mix fix to reduce lumps in the batter that can clog the squeeze bottle.

Fill the condiment bottle/squeeze bottle with pancake batter and snip the tip to make a slightly wider opening. This will also prevent clogs.

Heat the griddle (350°F) or skillet (medium heat) and grease it with cooking spray.

In a back and forth motion or a bullseye pattern, squirt pancake batter onto your skillet.

Cook until the wet batter on top starts to bubble and the edges are lightly browned. Scoop up using a spatula and try to flip over gently.

Repeat this process until your bowl or plate is filled with "spaghetti."

Top with powdered sugar, butter, pecans, and syrup.

If you've tried this recipe, come back and let us know how it was in the comments or star ratings.
Nutrition
Calories:
271
kcal
,
Carbohydrates:
21
g
,
Protein:
5
g
,
Fat:
19
g
,
Saturated Fat:
9
g
,
Polyunsaturated Fat:
3
g
,
Monounsaturated Fat:
6
g
,
Trans Fat:
0.5
g
,
Cholesterol:
70
mg
,
Sodium:
419
mg
,
Potassium:
137
mg
,
Fiber:
2
g
,
Sugar:
2
g
,
Vitamin A:
494
IU
,
Vitamin C:
0.4
mg
,
Calcium:
129
mg
,
Iron:
1
mg