In our house any special occasion that involves breakfast or brunch calls for something sweet. One of my favorites to make are these simple cinnamon rolls.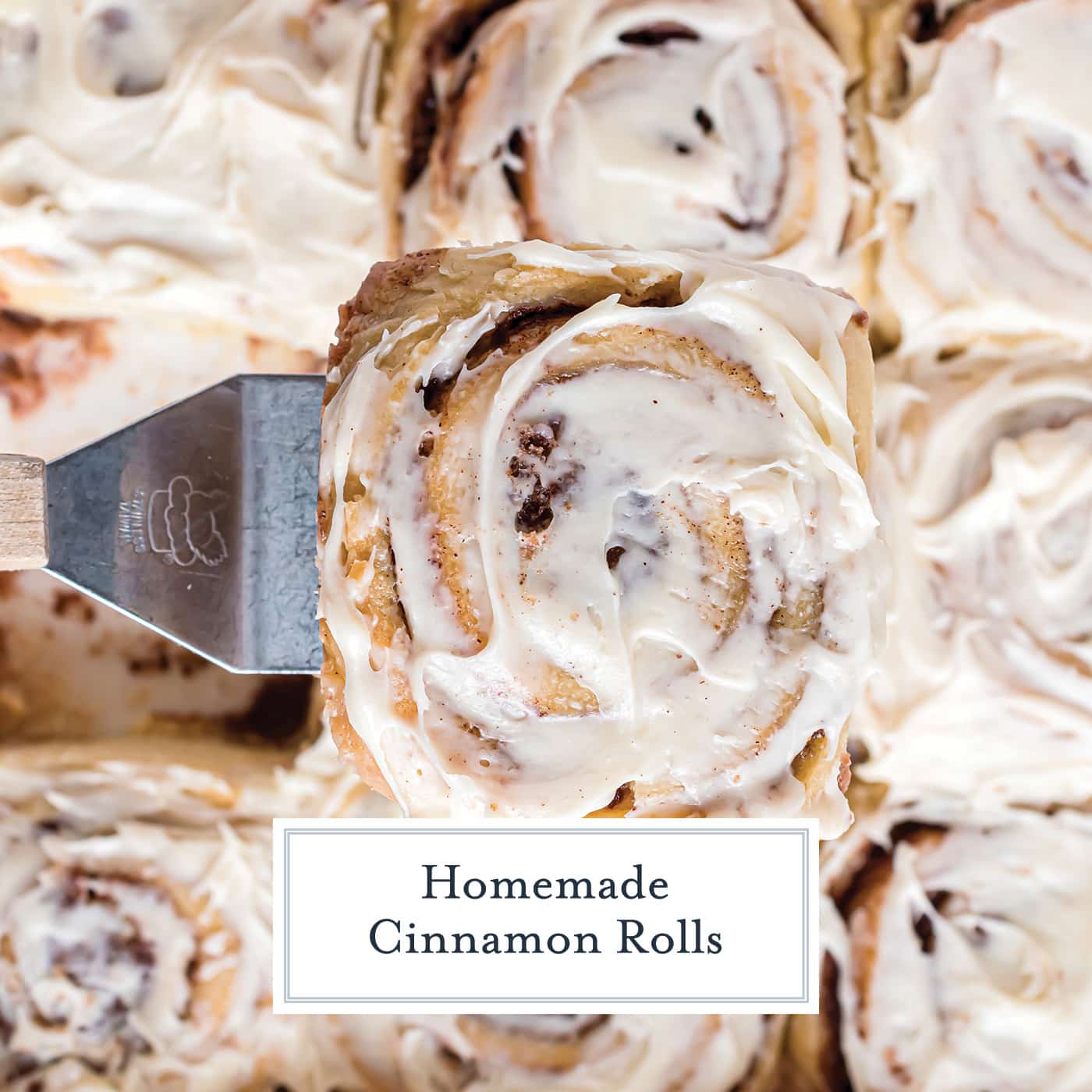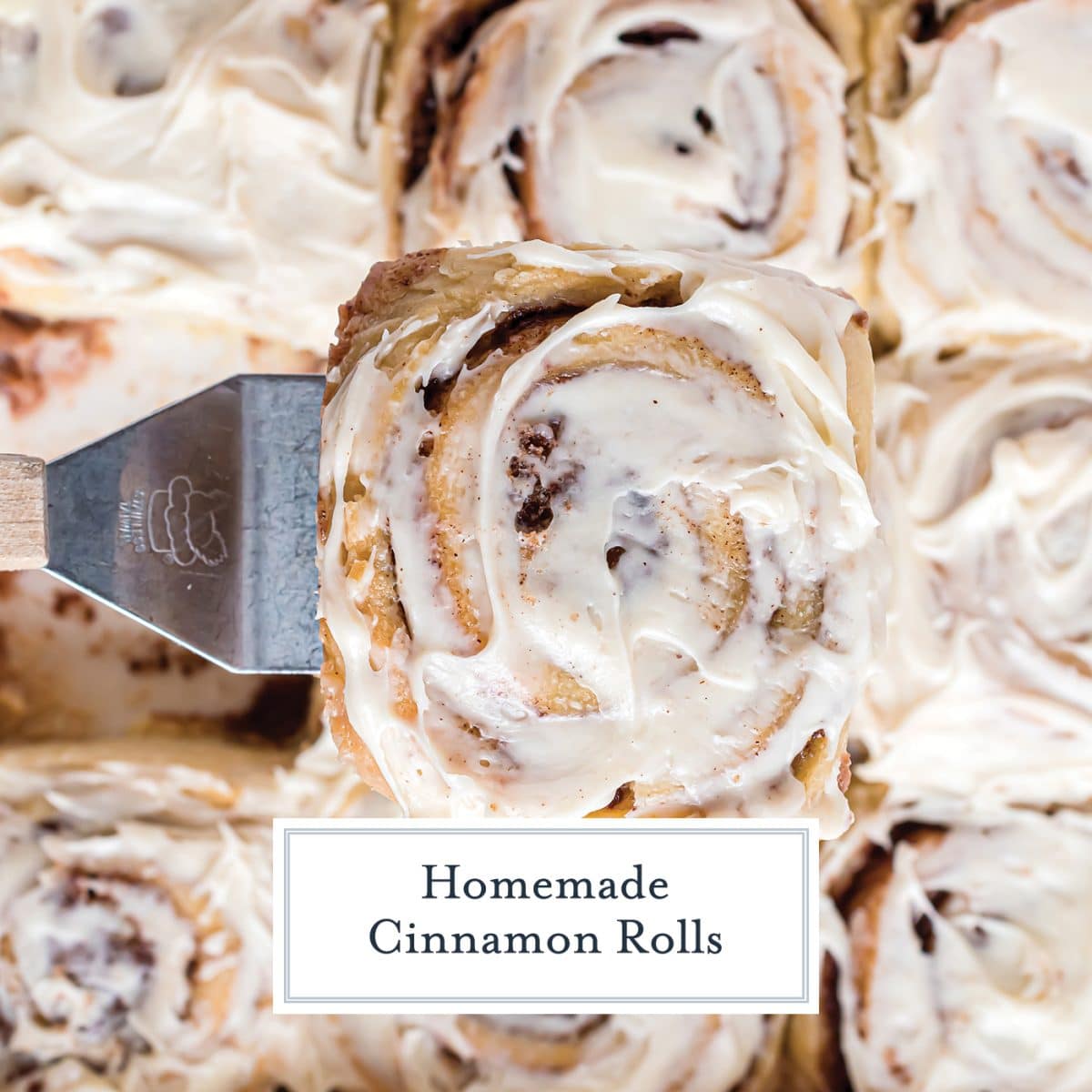 These sweet breakfast rolls come together fairly easily but what I love is that I can make the dough ahead of time and bake them quickly in the morning. There's nothing like the warm smell of cinnamon filling the house to start the day (along with the aroma of a fresh pot of coffee to go with them).
And while I've been known to make these on Christmas morning, we enjoy them any time, really, since they're so easy to reheat. If you keep them stored in the fridge or freezer, you can also have them for dessert with a big scoop of your favorite ice cream on top.
The next time you're looking for an easy recipe for the best cinnamon rolls, check this one out — it may just become your new family tradition.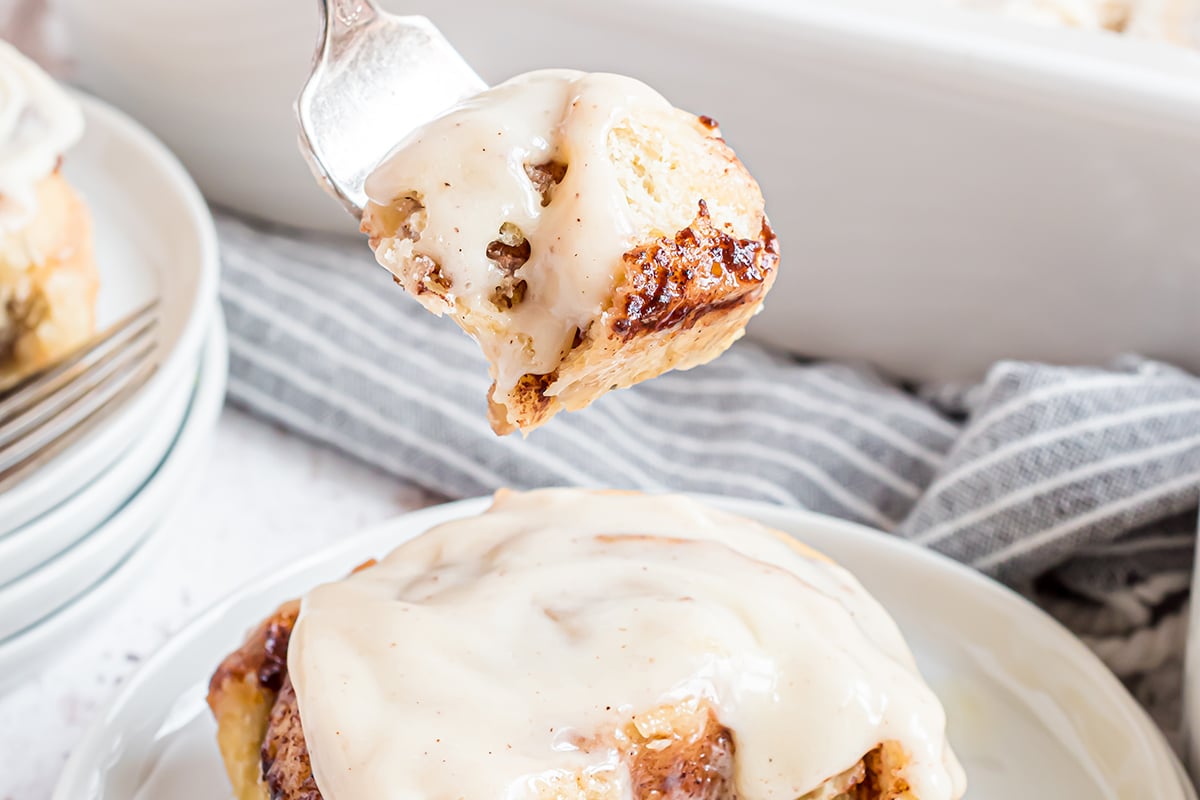 Why You'll Love Homemade Cinnamon Rolls
What's not to love about cinnamon rolls? They're a delicious way to start the day!
Easy – While there are a few steps to make these rolls, they are all simple and straightforward. Experienced bakers and novices can both whip up this easy recipe.
Fast – Much of the prep time on these is related to allowing the dough to rise and to baking time — actual hands-on time is fairly minimal. They're also so quick and easy to heat up from the fridge or the freezer.
Convenient – You can quickly pop these in the oven to heat while you're packing lunches or preparing other breakfast dishes. They're also easy to take on the go to work or to the school bus stop.
Versatile – These breakfast rolls are perfect for cozy Sunday mornings with the family as well as for holidays. You can also serve them at brunch or with tea (or cocktails) for an afternoon book club meeting.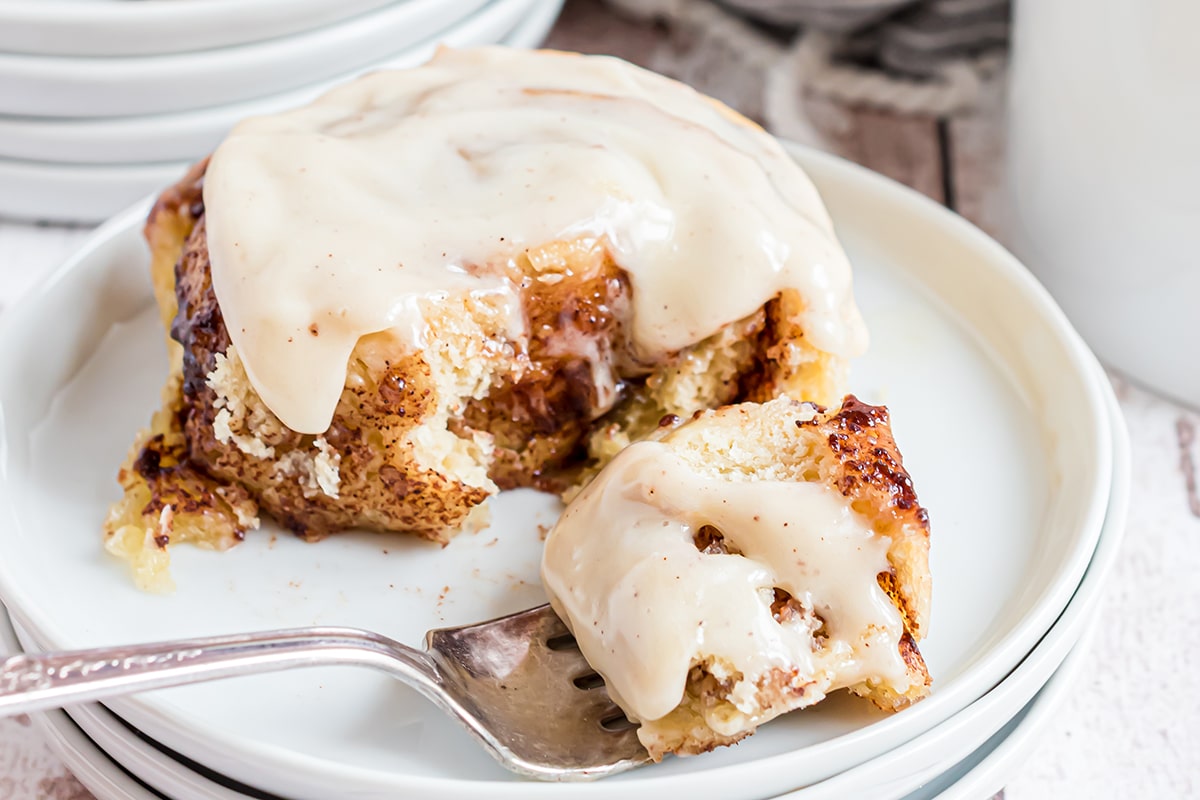 Ingredients
What I love about these cinnamon rolls is that not only are they easy to heat up at the last minute for a hot, gooey breakfast but that they have ingredients I usually have on hand.
Dough
Whole milk – Using warm milk will help to proof the yeast. Be sure to use whole milk rather than a lower fat version — the fat helps to build the perfect texture and keep the rollls moist.
Active dry yeast – If you're an avid baker you may already have a jar of this. If not, you can also purchase it by the packet.
Granulated sugar – Regular white sugar that you have in your pantry is all you need. The granules are the perfect size to dissolve quickly when mixing.
Unsalted butter – First, melt the butter — I like to do it in 10 second intervals to avoid overheating. Then, allow it to cool slightly before mixing.
Egg – Be sure to use a large sized egg and allow it to come to room temperature.
Vanilla extract – Using pure vanilla extract is best, rather than imitation vanilla. You can also make your own homemade vanilla extract.
Kosher salt – This ingredient helps to bring out the flavor of sweet ingredients when baking. It also elevates the vanilla extract.
All-purpose flour – Be sure to use all-purpose and not self-rising for this recipe.
Filling
Unsalted butter – Be sure to soften the butter ahead of making the filling to slightly warmer than room temperature (though not melted) to ensure it is easy to mix. Try microwaving the stick for 20-25 seconds, stopping at 5 second intervals to flip the stick (from end to end).
Brown sugar – Packing the brown sugar in your measuring cup will make sure you have the perfect amount. You can use either light or dark brown sugar — the latter will lend more molasses flavor.
Granulated sugar – You can also use cane sugar — the two are interchangeable.
Cinnamon – This is the star flavor of these rolls so be sure not to skimp!
Vanilla extract – Vanilla helps to round out all of the ingredients in this decadent filling.
Heavy cream – Drizzling heavy cream over the rolls after the dough has risen helps to create that traditional ooey, gooey texture of a cinnamon roll. Take it out of the refrigerator so that it can come to room temperature.
Cream Cheese Frosting
Unsalted butter – Soften the butter so that it is easily mixable.
Cream cheese – Use full fat cream cheese — the fat helps to create the silky texture of the frosting. Bring it to room temperature before mixing.
Powdered sugar – The fine nature of powdered sugar makes it dissolve quickly without leaving behind any grittiness in the frosting.
Vanilla extract – Vanilla balances the slight tanginess of the cream cheese and the sweetness of the powdered sugar.
Kosher salt – Salt helps to bring out the flavor of all of the ingredients.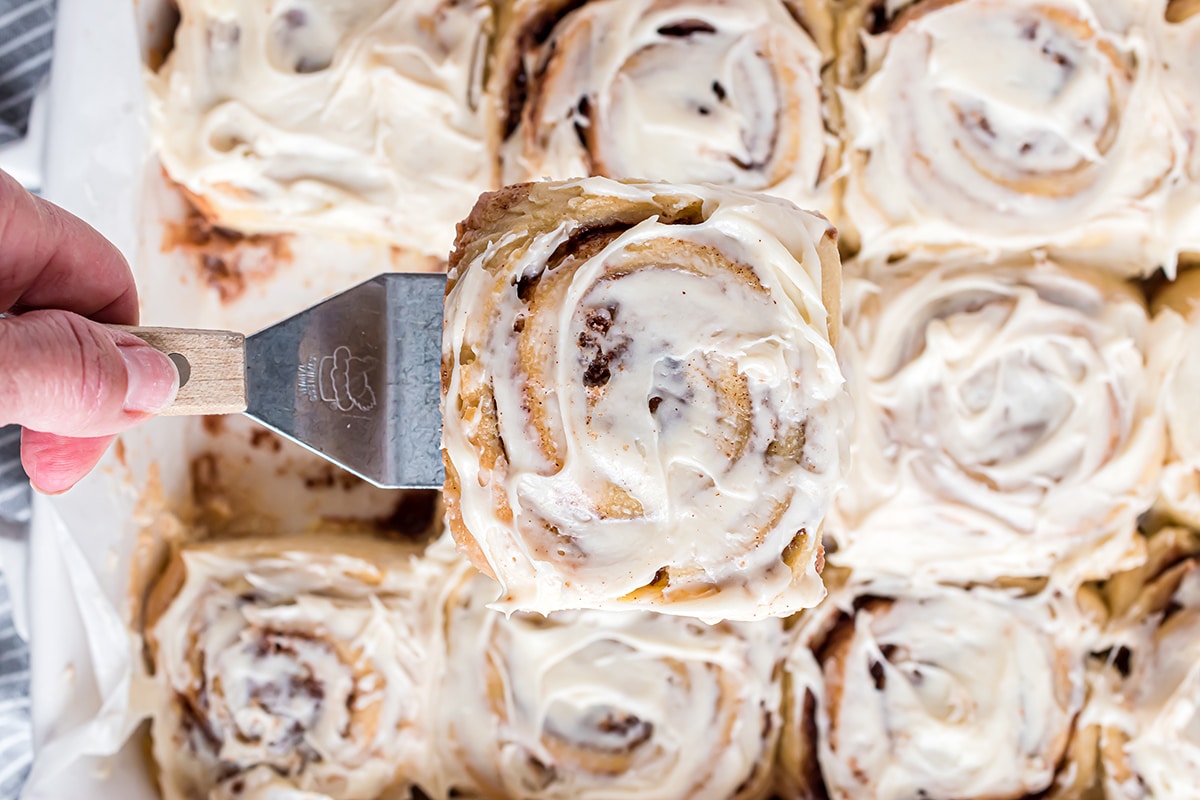 How To Make Cinnamon Rolls
Pour the milk into a large bowl. Heat the milk until it is lukewarm — it is helpful to use a thermometer to monitor its temperature. Avoid overheating — milk that is too warm will kill the yeast, preventing the rolls from rising.
Using a whisk, stir the yeast and sugar into the milk until they are completely dissolved. Place a clean dish towel over the milk mixture to allow the yeast to proof.
Add softened butter, sugars, cinnamon, and vanilla to a medium bowl of a stand mixer with a paddle attachment (or use an electric mixer). Mix the butter mixture until completely combined.
Once the yeast has proofed, add melted butter, egg, and vanilla. Whisk until all ingredients are incorporated. Next, add the salt and flour to the yeast mixture. Add the flour in intervals.
Knead the dough slightly (being careful not to overmix) until it forms a ball. Use a clean towel or plastic wrap to cover the bowl and allow the dough to rest.
While the dough is resting, lightly flour a rolling pin as well as the surface that you'll use to roll out the dough (you can also use a silpat mat to make it easier to roll the dough). Be sure to not use too much flour on the surface — this can cause the rolls to become dry.
Next, use the rolling pin to roll the dough ball out on the lightly floured surface. Then, spread the filling over the dough, ensuring to cover the entirety of the dough. Once the filling is spread evenly over the dough, roll the dough up, starting at the short side.
Next, to ensure the rolls will be of even thickness use a serrated knife (or other sharp knife) to press small dents into the dough where you'll slice. Start at the middle, then mark at the middle of each of those halves, and then the middle of each of the quarters and so on.
Then, use the knife to make the full slices. Place the cinnamon rolls, cut-side down, in the baking pan prepared with parchment paper.
Use a clean dish towel to cover the pan to allow the unbaked rolls to rise. After the rolls have risen, drizzle them with heavy cream.
Bake the rolls until they are slightly golden brown.
In a small bowl, add the softened cream cheese, powdered sugar, vanilla extract, and salt. Mix on medium speed until the mixture is completely smooth.
After removing the rolls from the oven, allow them to cool slightly. When ready to serve, spread the frosting on top of the rolls.

Variations
These traditional rolls are great just as they are but they are also delicious with add-ins and signature modifications.
Nuts – Sprinkle your favorite crushed nuts on top.
Chips – Gently fold in dark chocolate, milk chocolate, or white chocolate chips. You can also try butterscotch or peanut butter.
Dried fruit – Raisins, craisins, and dates (finely chopped) add some extra sweetness. They also make you feel a little healthy, too.
Coconut – Add some flaked coconut to the batter to sprinkle it over top after spreading on the icing.
Juice – Pour just a bit of orange, cranberry, or any other juice into the icing mixture to impart some bright, fruity flavor.
Milk/cream substitutes – If you're lactose intolerant, try using oat milk, almond milk, or soy milk in the dough instead. For the cream cheese in the frosting, try using a nut or soy alternative as well.
Sugar – If you're looking to limit sugar, try swapping white sugar out for your preferred substitute.
Flour – Want a different option other than typical all purpose flour? Try almond flour or coconut flour.
Extracts – Try substituting some of all of the vanilla extract in the dough with others like almond, coffee, or cinnamon extract.
Caramel – Drizzle the tops of the cinnamon rolls with caramel sauce. You can buy it or make your own caramel sauce at home.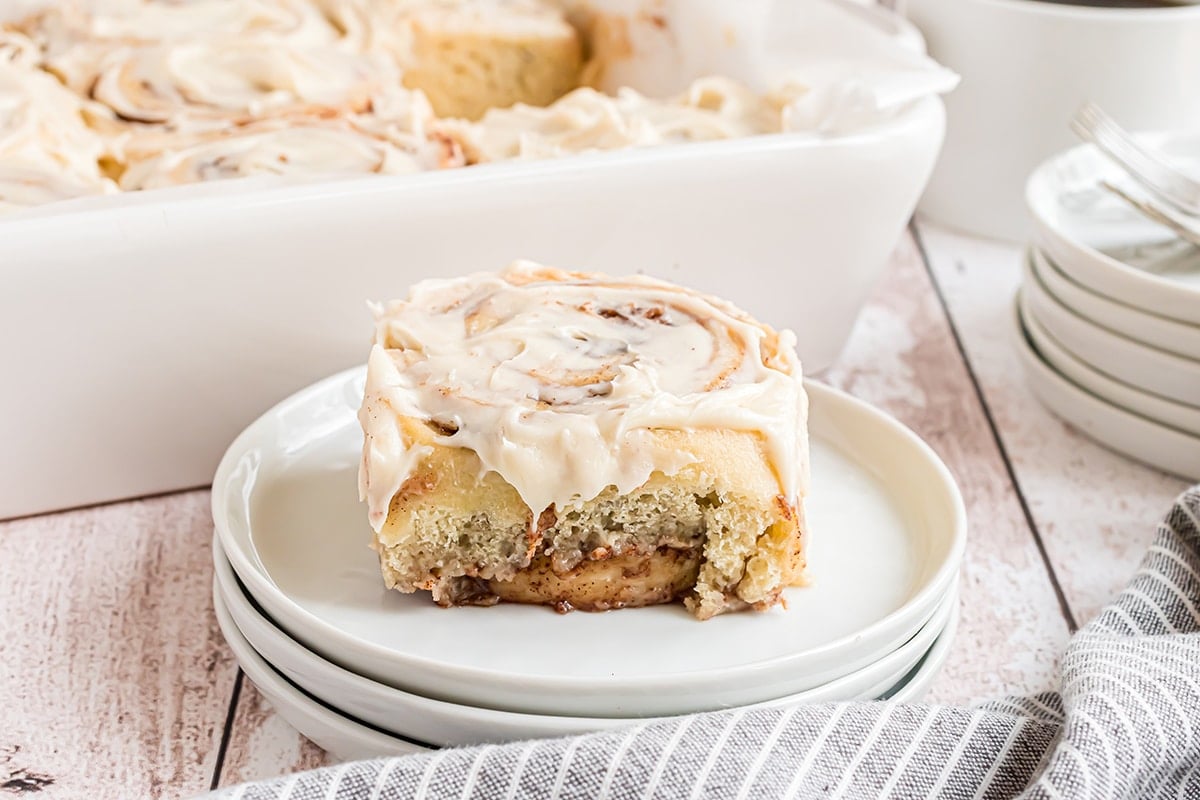 Storage
One of the great things about these rolls is that they can be stored in a number ways. This way, you can have a freshly baked breakfast on the fly.
Make-Ahead: Make the dough ahead of time and refrigerate after the dough rises — it can be stored in an airtight container in the fridge for up to 24 hours. This way, the rolls are ready to pop in the oven the next morning to have some warm rolls for a quick breakfast.
Refrigerator: To store cinnamon rolls in the fridge, make sure they are tightly wrapped to retain moisture — they can remain fresh for up to 3 days. You can also keep them wrapped with aluminum foil on a plate at room temperature for up to 2 days.
Freezer: You can freeze either the dough for the rolls or the baked rolls (without icing). They can be wrapped in plastic wrap individually or stored in ziploc bags in the freezer for up to 3 months.
Reheating: To reheat, place one frosted or unfrosted roll on a microwave-safe plate. Microwave for up to 30 seconds.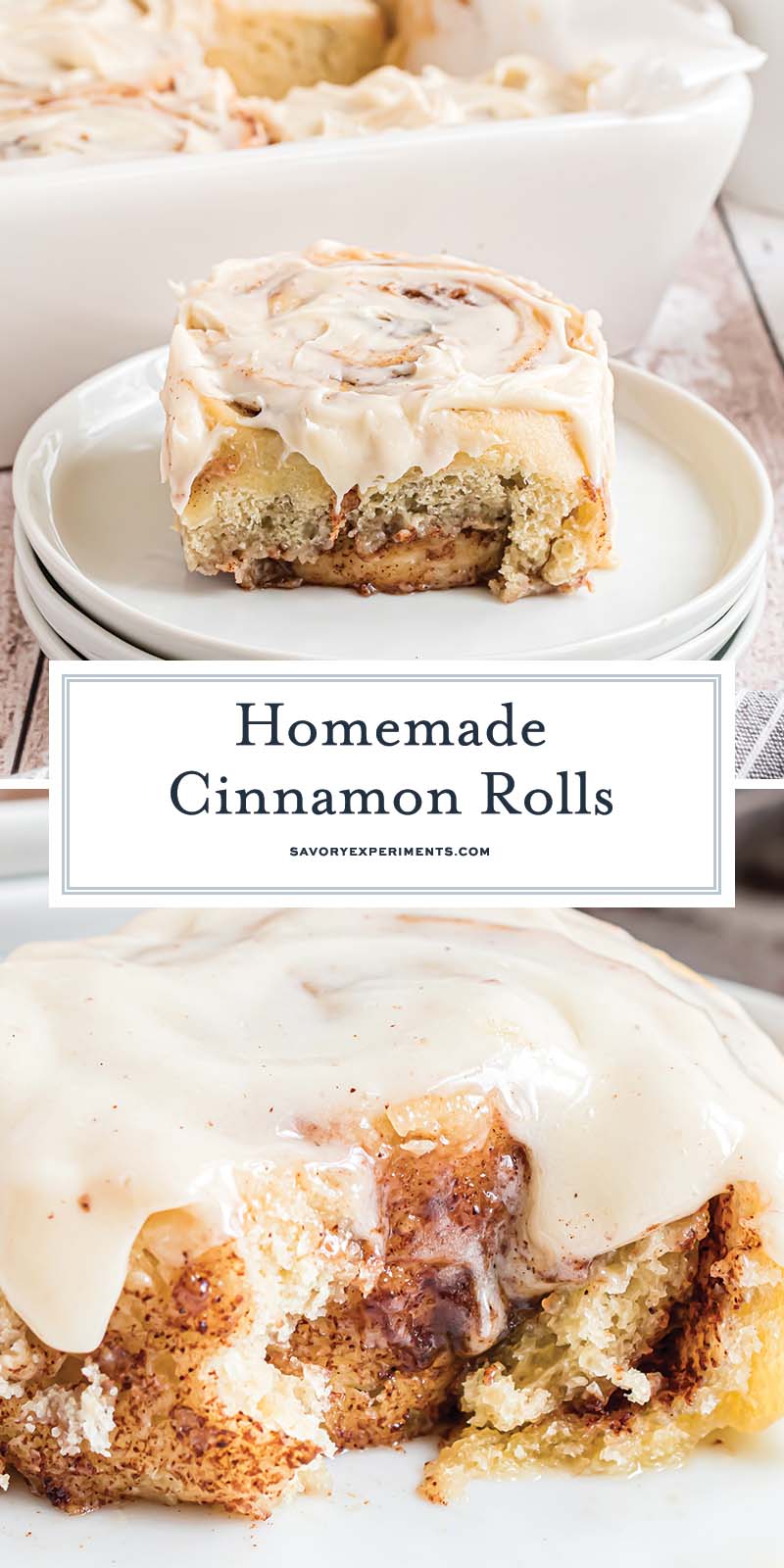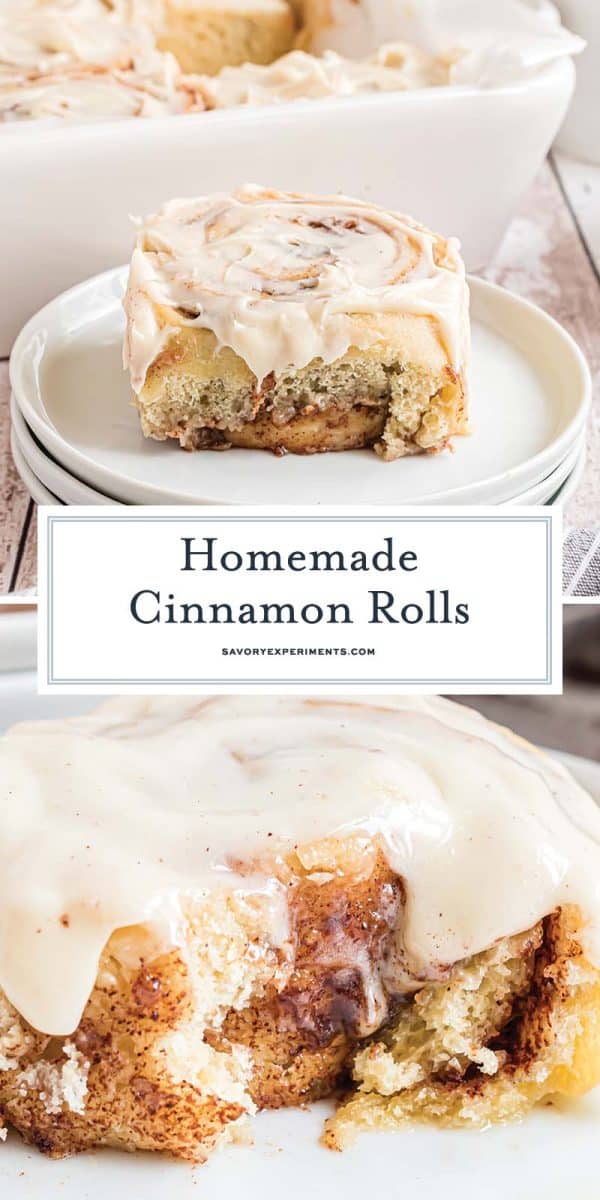 Other Sweet Breakfast Treats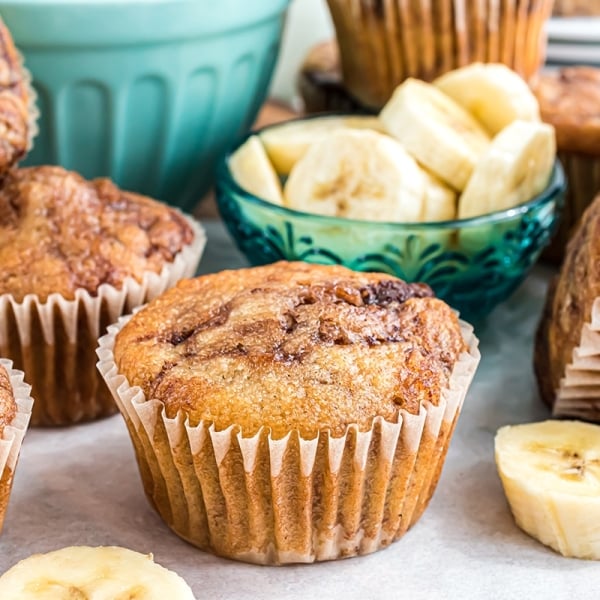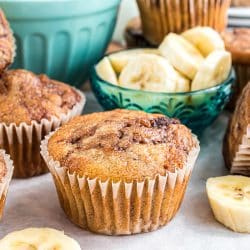 Banana Nutella Muffins
EASY Banana Nutella Muffins are healthy with their addition of fruit but also decadent with the addition of the chocolate spread!
View this recipe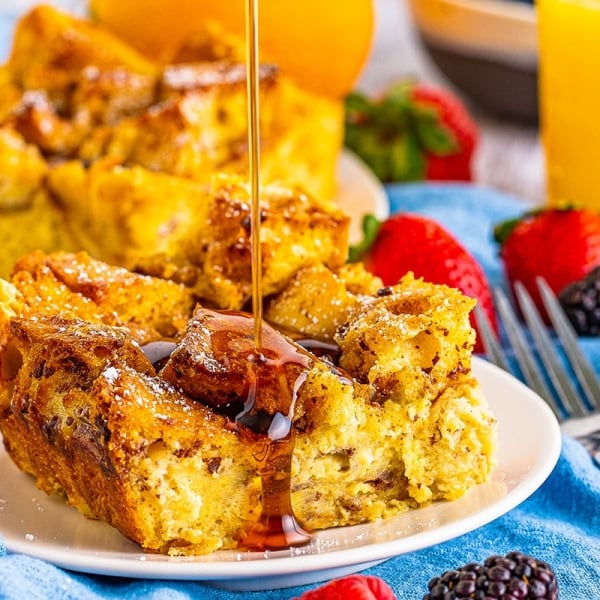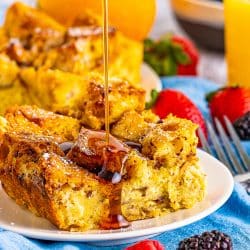 Overnight French Toast Casserole Recipe
Overnight French toast casserole is the delicious breakfast bake you didn't realize you needed. Sweet and easy, this will make your morning.
View this recipe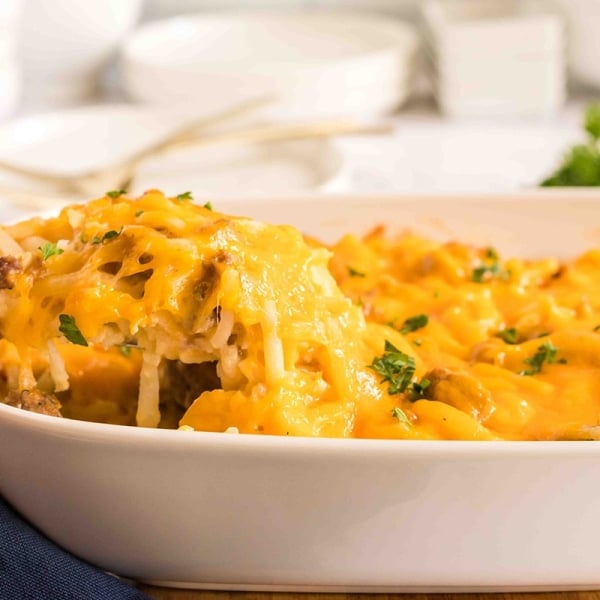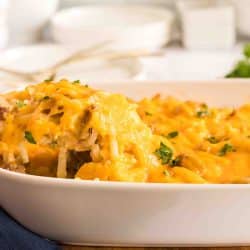 Sausage Hash Brown Casserole
This Sausage Hash Brown Breakfast Casserole is loaded with delicious breakfast sausage, hash browns, and lots of cheese. One of the best breakfast casserole recipes for holiday breakfasts, Sunday brunch, or any other occasion.
View this recipe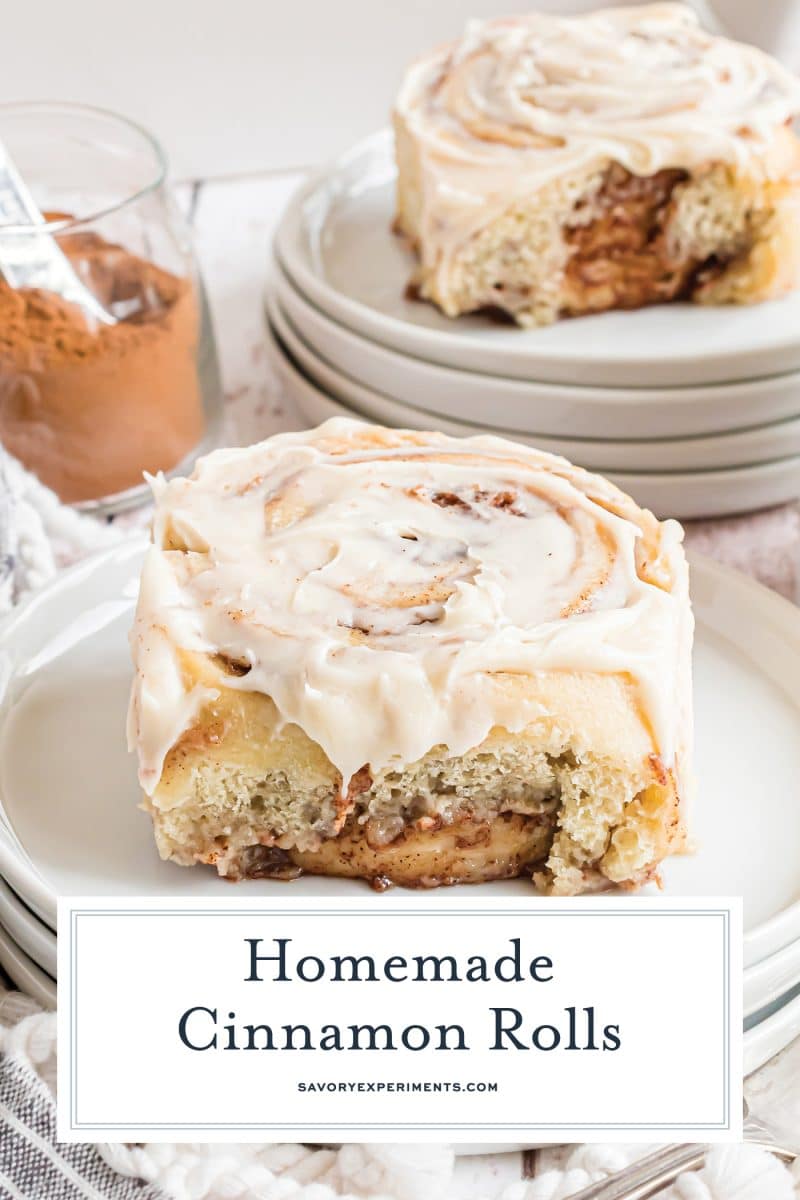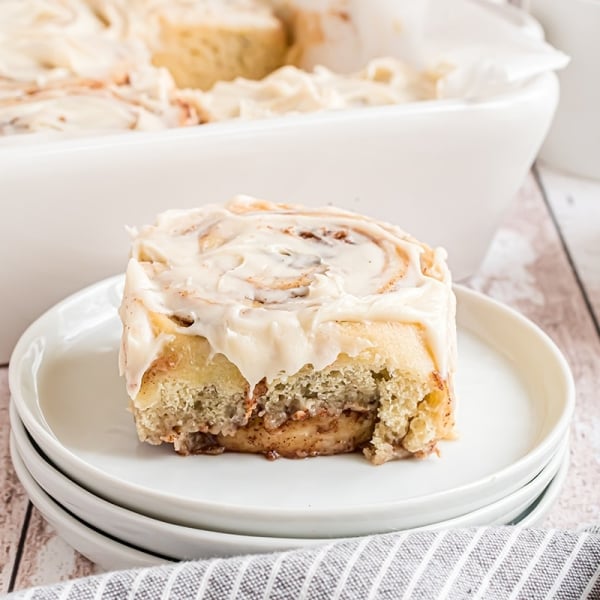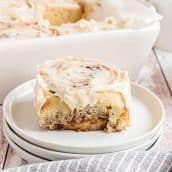 Cinnamon Rolls
If you're looking for a sweet treat to start the day try this EASY Cinnamon Roll recipe. Perfect for special occasions as well as weekdays!
Instructions
Line a 9"x13" baking dish with parchment paper. Set aside.

In a large microwave-safe bowl, heat milk for 30-40 seconds, until the milk is lukewarm. Add in yeast and sugar and stir with a whisk until dissolved. Cover with a clean dishtowel and let the yeast proof for 10 minutes.

While your yeast is proofing, combine softened butter, sugars, cinnamon, and vanilla in a medium mixing bowl. Set aside.

After the yeast has proofed, whisk in melted butter, egg, and vanilla, until fully combined.

Add in salt and flour, 1 cup at a time. Knead it slightly until the dough forms a ball. Cover the bowl with a clean towel or plastic wrap. Rest the dough for 10 minutes.

Lightly flour a surface and a rolling pin. Roll the dough out until it is approximately a 14" × 18" rectangle that is 1/4" thick.

Spread filling over the entire surface of the dough.

Beginning at the short side, roll the dough up.

Use a serrated knife cut the dough into 12 rolls.

Place cinnamon rolls in the pan, cut-side down. Cover with a clean dish towel and let rise for about 50 minutes.

Preheat the oven to 350℉. Drizzle the tops of the rolls with heavy cream. Bake for 24-26 minutes until the tops are slightly golden brown.

For the frosting, add softened cream cheese, powdered sugar, vanilla extract, and a pinch of salt to a medium-sized bowl. Mix with a hand mixer until combined and smooth. Frost cinnamon rolls and serve warm!
Nutrition
Calories:
5886
kcal
,
Carbohydrates:
816
g
,
Protein:
81
g
,
Fat:
264
g
,
Saturated Fat:
160
g
,
Polyunsaturated Fat:
12
g
,
Monounsaturated Fat:
68
g
,
Trans Fat:
7
g
,
Cholesterol:
863
mg
,
Sodium:
1776
mg
,
Potassium:
1653
mg
,
Fiber:
28
g
,
Sugar:
454
g
,
Vitamin A:
8750
IU
,
Vitamin C:
1
mg
,
Calcium:
859
mg
,
Iron:
24
mg