When it comes to the holiday season, I love all of the associated flavors — pumpkin, cinnamon, cloves, apples — and the list goes on!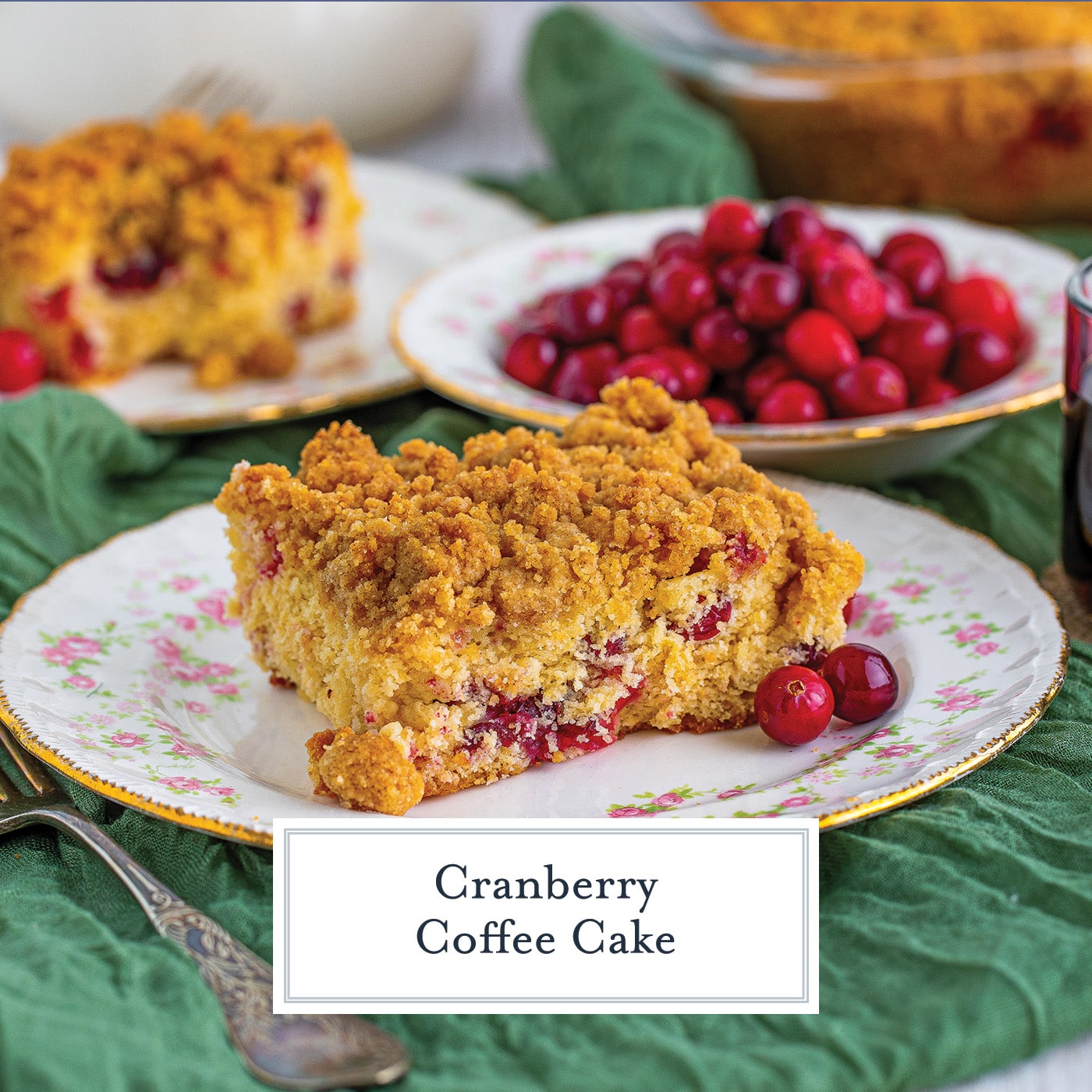 The one ingredient that seems to be missing from the mainstream in the chilly months is cranberry (have you seen a cranberry latte?) but I adore the tangy bite of tart cranberries in my autumn (and winter) treats so I put together this cranberry coffee cake recipe.
I never really stopped to think it about it much, but once I went to put this recipe together I did think: how often do you ever see a cranberry cake or other cranberry dessert? It seems like cranberries are often relegated to a side dish all on their own, only on Thanksgiving, once their commercialized, sugary gelatinous version has been forced to slide out of a store-bought can.
Cranberries deserve better. And so do you.
Cranberries in Coffee Cake
If you love a good coffee cake (and who doesn't?) as well as the tartness of cranberries, this delicious cranberry coffee cake is for you. It has all of that cinnamon flavored warmth but it's combined with that bite of cranberry flavor — there's really no other fruit that can bring that to the table.
The best part of this recipe is that it's just the most simple coffee cake — you likely have all of the ingredients or you can grab them quickly at your local grocery store.
The next time you're looking for a sweet seasonal treat either just at home for the family or for an event like Christmas brunch, try whipping up this super easy recipe. It makes for an amazing start to the day for breakfast just as easily as it acts as a foundation for a holiday dessert (ice cream on top, please!).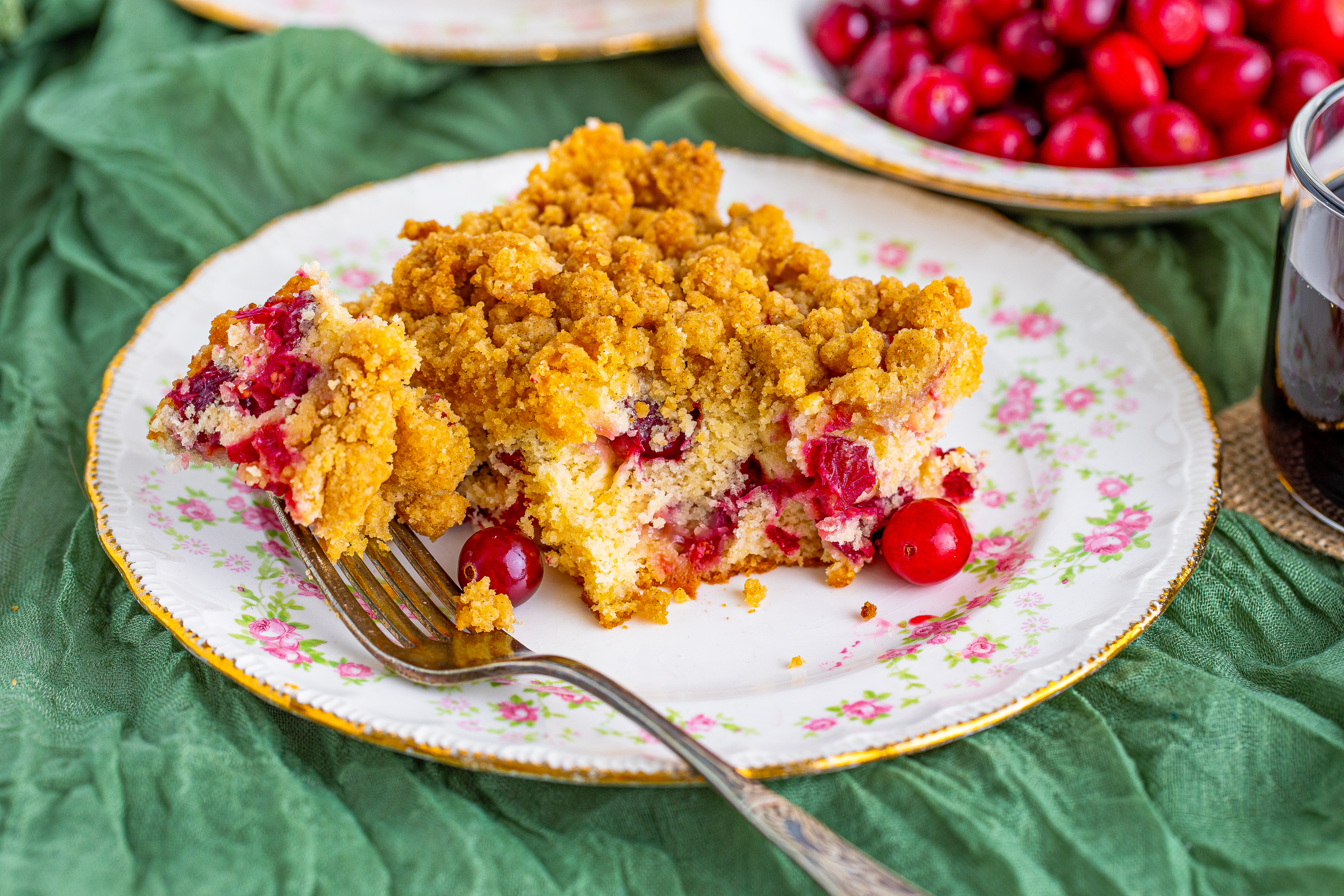 Why You'll Love Cranberry Coffee Cake
Seasonal – The flavors of cranberry and cinnamon just naturally channel the holidays.
Versatile – While it's called a coffee cake, which may make you think of a morning-time treat, you can sit down with a slice of this any time of day.
Portable – Whether it's a bake sale, brunch, or afternoon party, you can easily take this cake wherever with minimal effort.
Easy – Even the most novice baker can quickly whip up this deliciousness.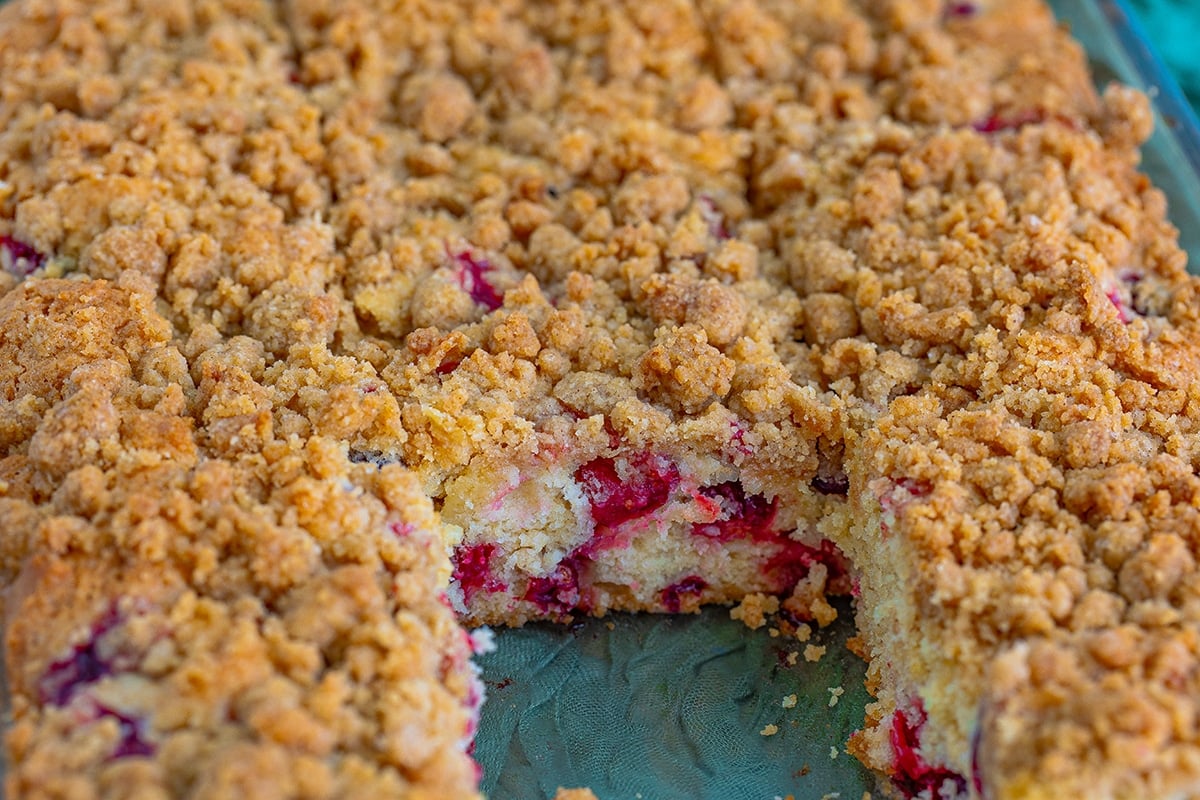 Ingredients
You'll find most of these ingredients in your cabinet or fridge. The cranberries may be hard to find out of season so stock up and keep them in the refrigerator.
All purpose flour – Make sure to use this instead of another variety like self-rising. You can substitute your favorite gluten-free variety if you choose.
Baking powder – This leavening agent will help to make sure the coffee cake rises.
Fine sea salt – Salt always brings out the other flavors in the recipe and it especially elevates sweet ingredients.
Unsalted butter – Be sure that your butter is softened so that it mixes easily.
Granulated sugar – White sugar granules dissolve quickly when mixing which makes them perfect for baking.
Light brown sugar – Be sure to pack the sugar so that it is properly measured. Use dark brown if you prefer more molasses flavor.
Egg – Use a large sized egg and make sure it's fully incorporated when mixing.
Vanilla extract – Try to use pure vanilla instead of imitation if possible.
Whole milk – All of the fat in the whole milk helps keep the cake moist.
Frozen or fresh cranberries – Frozen or raw cranberries will work equally well but do allow frozen cranberries to thaw first.
Ground cinnamon – Add more if you want — this warm spice brings all of the flavors of fall and the holidays to this tasty coffee cake.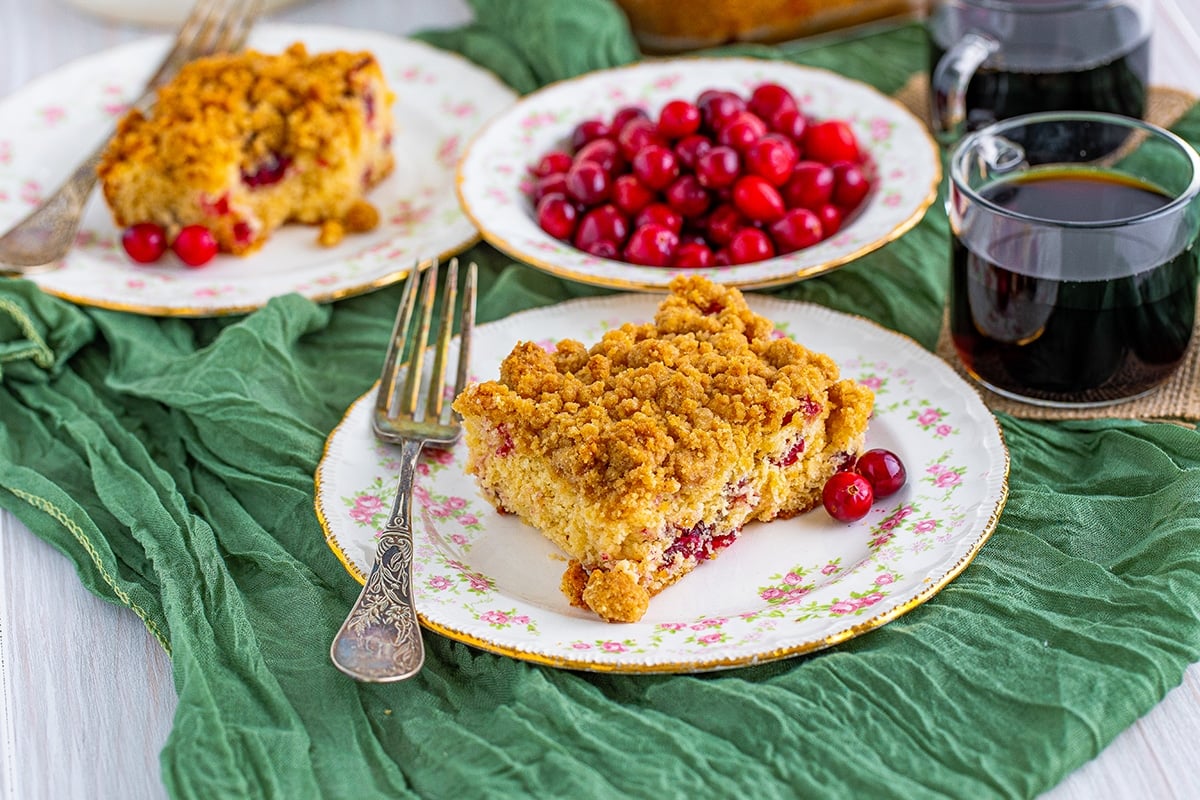 How to Make Cranberry Coffee Cake
Combine the flour, baking powder, and salt in a medium-sized bowl. Either sift it in or whisk together well to ensure it is all incorporated.
In a separate bowl of a stand mixer with a paddle attachment (or use an electric mixer) add the butter, granulated sugar, and brown sugar. Cream the ingredients together until completely combined.
Add the egg and vanilla to the butter and sugar mixture and beat again.
Next, add a portion of the flour mixture. Fold it in gently before adding a portion of the milk.
Repeat in the same way with the remainder of the flour mixture and remainder of the milk
Next, pour the cranberries into the batter and fold until they are evenly dispersed.
Spread all of the cake batter into the baking dish or cake pan prepared with parchment paper. You can also use a bundt pan sprayed with cooking spray.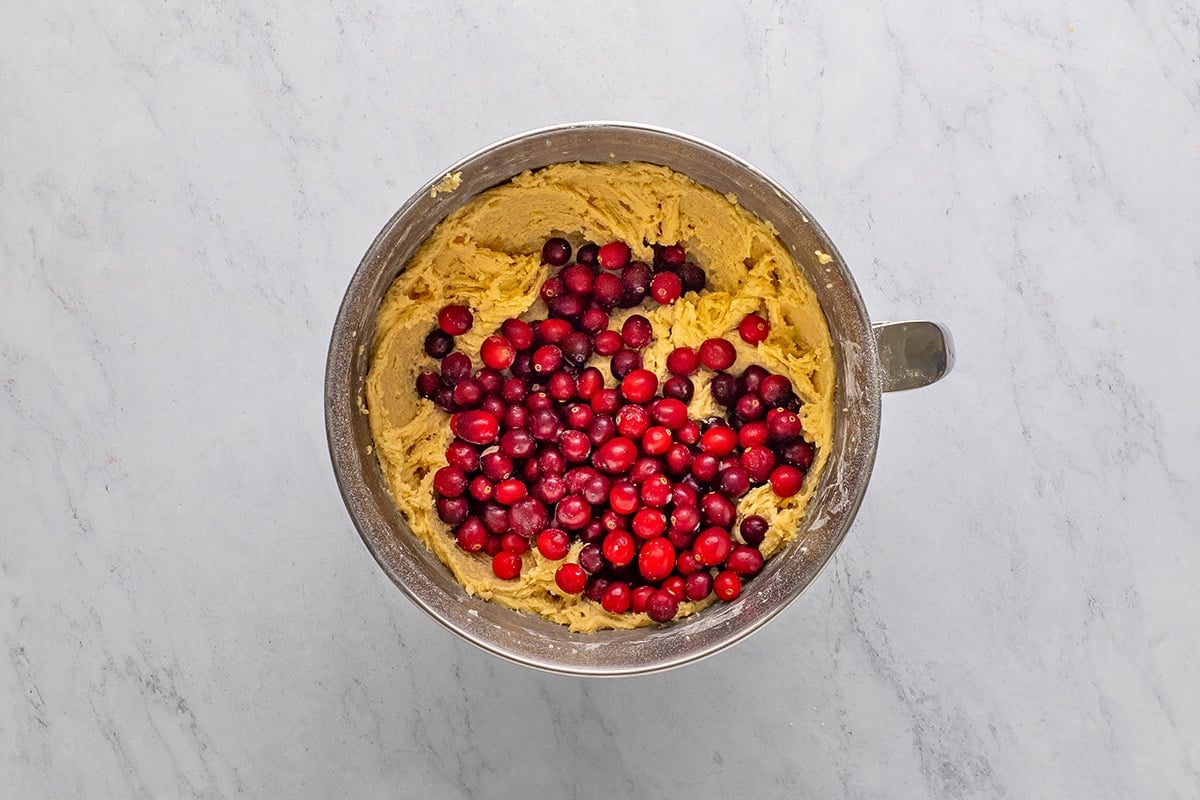 To prepare the topping, pour brown sugar, flour, cinnamon, and salt into a large bowl and mix well.
Next, add the melted butter.
Stir the mixture with a fork to create crumbs, mixing until all ingredients are moist and crumbly.
Sprinkle the crumb topping over the top of the batter.
Bake until the cake is golden brown and passes the toothpick test (comes out clean after inserting in the center).
Allow the cake to rest until it is easy to handle. Transfer to a wire rack to completely cool.
Serve warm or allow it to come to room temperature.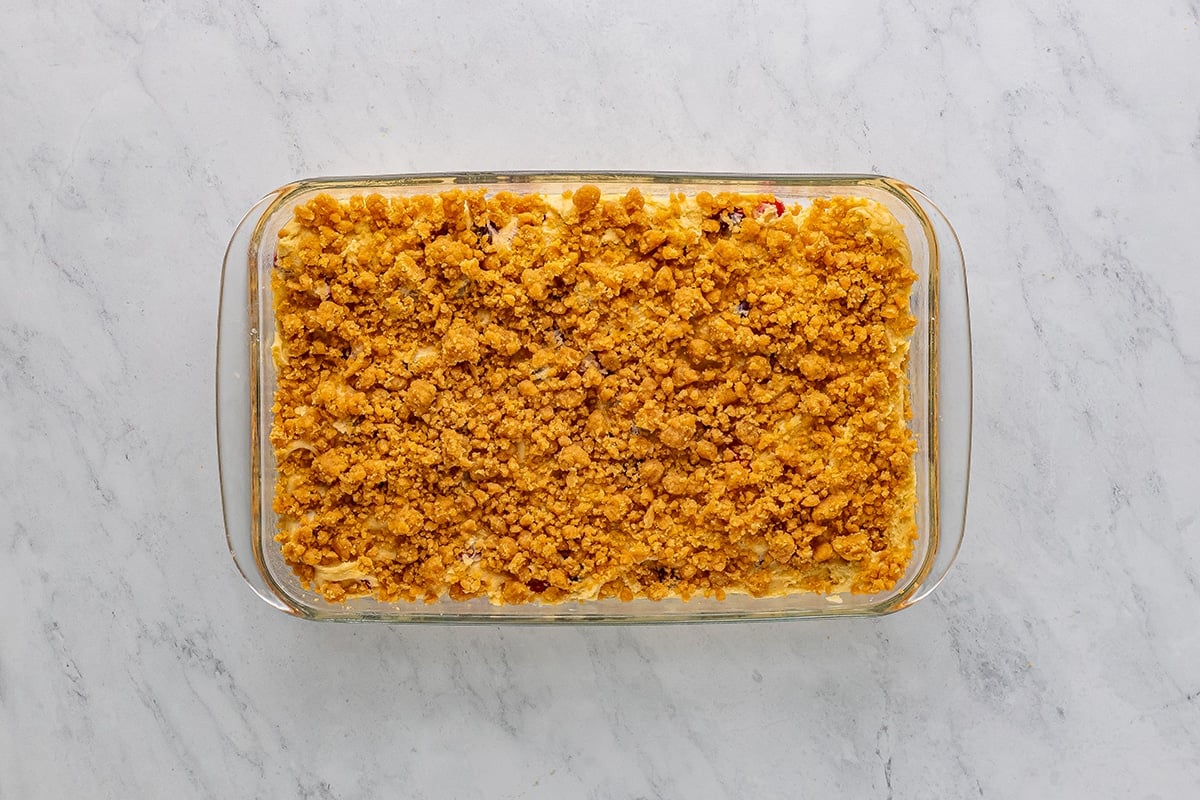 Variations
Cranberry coffee cake is a seasonal snack that is delicious just as it is. However, you can add some twists to make it uniquely yours.
Spices – Cinnamon, nutmeg, and clove are all great additions to make this an even warmer version that channels the flavors of fall.
Toppings – Sprinkle powdered sugar over top through a sifter, lightly spoon caramel or vanilla sauce over top, spray some whip cream, or top it with ice cream. This coffee cake is an amazing canvas for your kitchen creativity.
Pan size – You can use a 9×9 baking dish instead for a thicker cake, keeping in mind that it will be a bit thicker.
Chocolate – Throw some milk, dark, or white chocolate chips in the batter to sweeten up the coffee cake.
Nuts – Crush your favorite nuts like pecans or walnuts and fold them into the batter before baking.
Extracts – Swap out some or all of the vanilla for your favorite extracts. You can use almond extract for a nutty flavor or citrus to pair with the cranberry.
Zest – Add citrus flavor by adding orange zest or lemon or lime.
Dairy – For a little tang, and an even more moist cake, you can add a dollop of sour cream or Greek yogurt.
Creamy topping – Try topping the coffee cake with a glazed icing or a cream cheese frosting.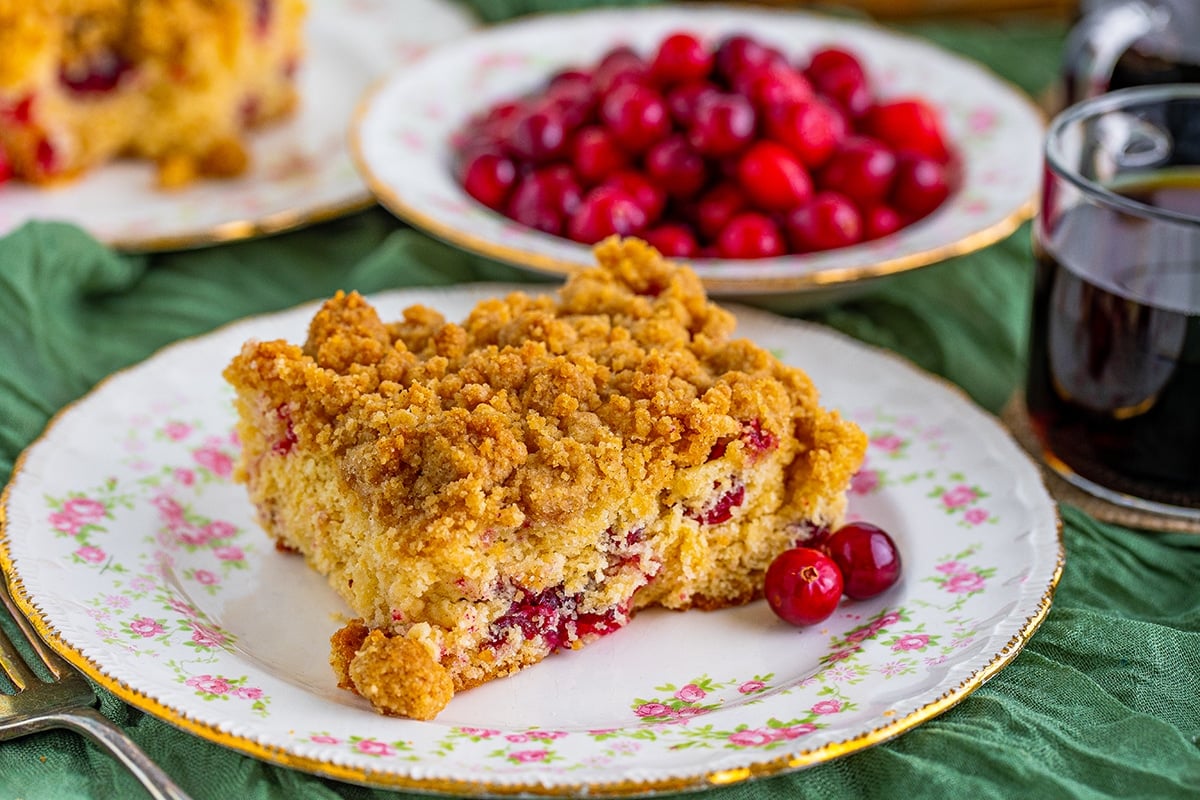 Storage and Freezing
This coffee cake can be stored at room temperature for up to 3 days but otherwise it needs the help of a fridge or freezer.
Refrigerator: Store this coffee cake in the refrigerator for up to 5 days in an airtight container or wrapped in aluminum foil.
Freezer: Wrap the bread (or slices) tightly in plastic wrap and freeze for up to 3 months.
More Recipes that Use Cranberries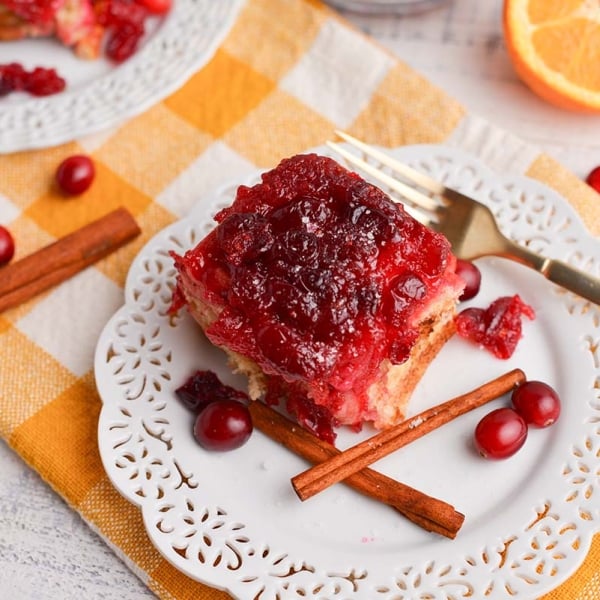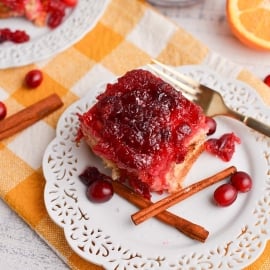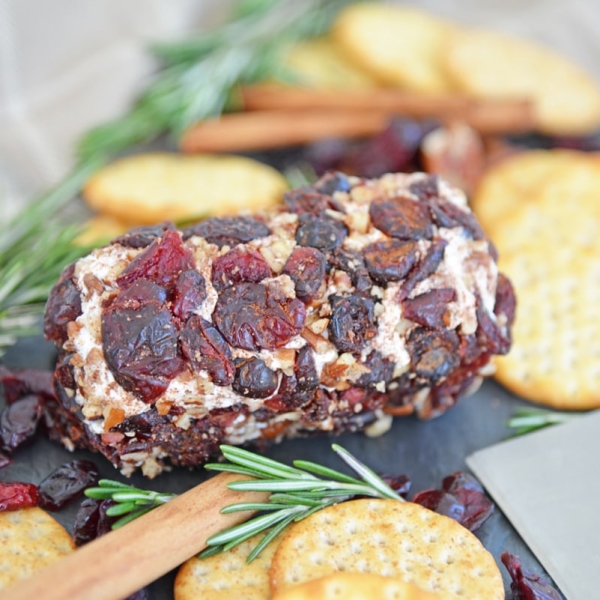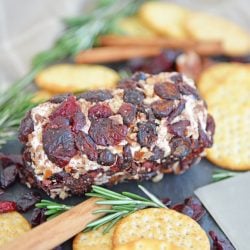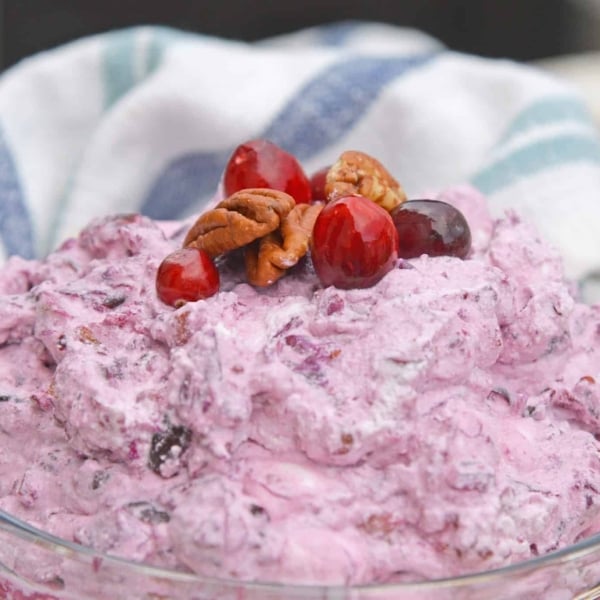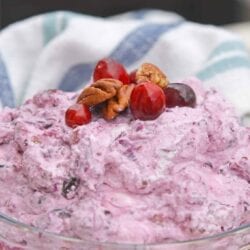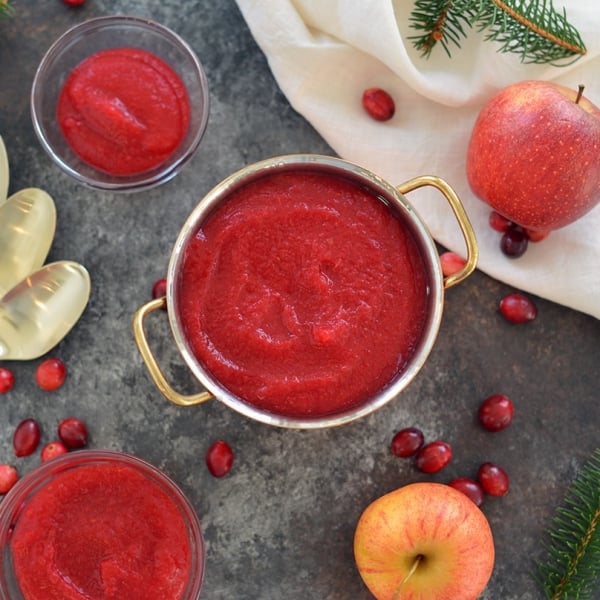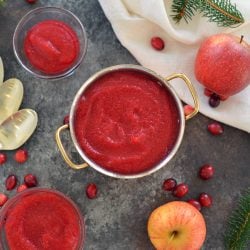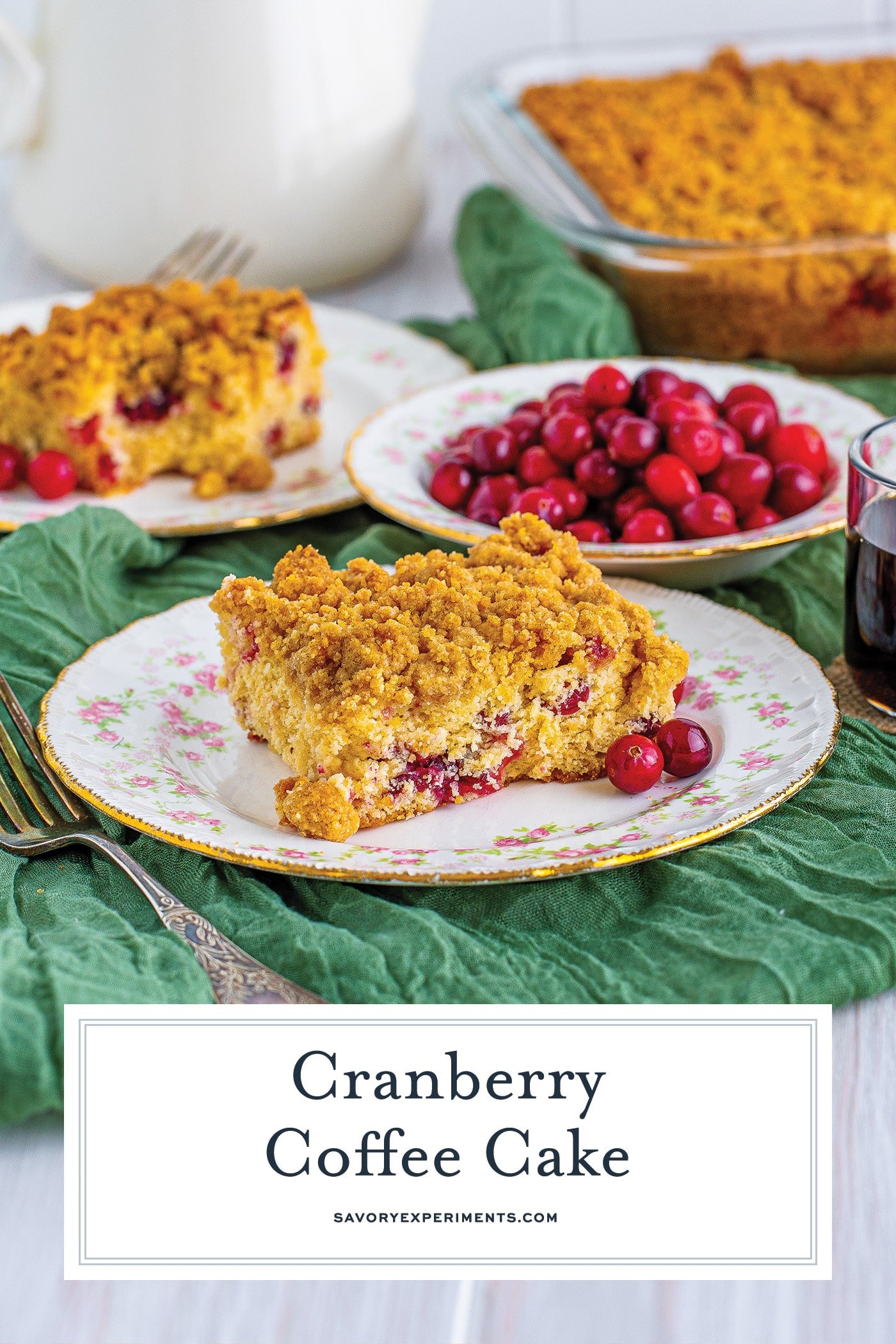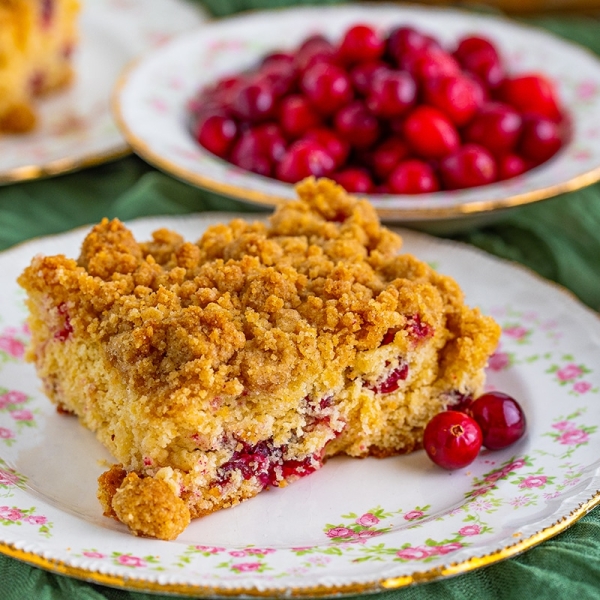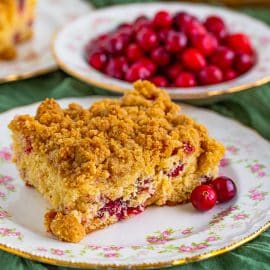 Cranberry Coffee Cake
If you're looking for a sweet treat that channels all of the flavors of fall and the holidays, this EASY Cranberry Coffee Cake is for you!
Instructions
Preheat the oven to 350°F. Spray an 11×7 baking dish with cooking spray, and set aside.

In a medium-sized bowl, stir together the flour, baking powder, and salt, and set aside.

Cream the butter with the granulated sugar and brown sugar for 3 minutes. Add the egg and vanilla, and mix to combine.

Add ½ of the flour mixture and stir it in. Add half of the milk and stir it in. Repeat with the remaining flour and milk.

Add the cranberries and mix until just combined. Spread into the prepared baking dish.

In a medium-sized bowl, stir together the brown sugar, flour, cinnamon, and salt.

Pour in the melted butter and stir with a fork to produce crumbs, mix until there are no dry patches left. Sprinkle evenly on top of the batter.

Bake for 40-45 minutes until golden brown and a toothpick inserted into the center comes out clean. Let cool before serving, can be enjoyed warm or at room temperature.

If you've tried this recipe, come back and let us know how it was in the comments or star ratings.
Nutrition
Calories:
270
kcal
,
Carbohydrates:
40
g
,
Protein:
2
g
,
Fat:
12
g
,
Saturated Fat:
8
g
,
Polyunsaturated Fat:
1
g
,
Monounsaturated Fat:
3
g
,
Trans Fat:
0.5
g
,
Cholesterol:
45
mg
,
Sodium:
130
mg
,
Potassium:
67
mg
,
Fiber:
1
g
,
Sugar:
33
g
,
Vitamin A:
400
IU
,
Vitamin C:
2
mg
,
Calcium:
44
mg
,
Iron:
1
mg