Make breakfast more colorful and sweet with Red Velvet Pancakes! This homemade pancake recipe is drizzled with a cream cheese glaze and perfect for weekends, holidays or even breakfast for dinner.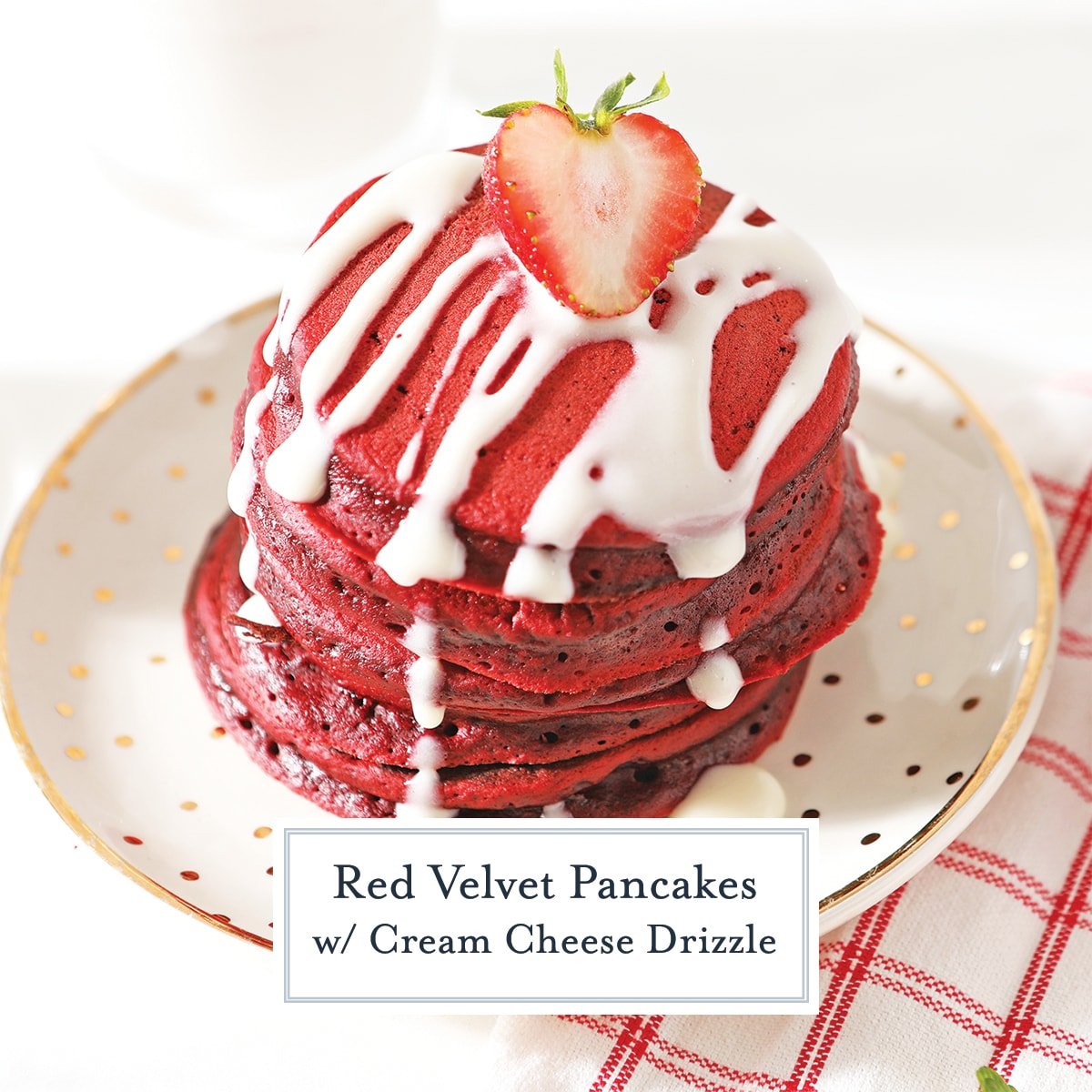 Red Velvet Pancake Recipe
We're pancake people, and my kids lost their darn minds when I presented them with these red velvet pancakes.
They look different than our normal fare, they taste different and instead of serving 'em with maple syrup, they're drizzled with a tangy cream cheese glaze.
You might be wondering what are red velvet pancakes? They're a breakfast twist on the classic Red Velvet Cake with Cream Cheese Frosting… and they're wonderfully sweet and decadent.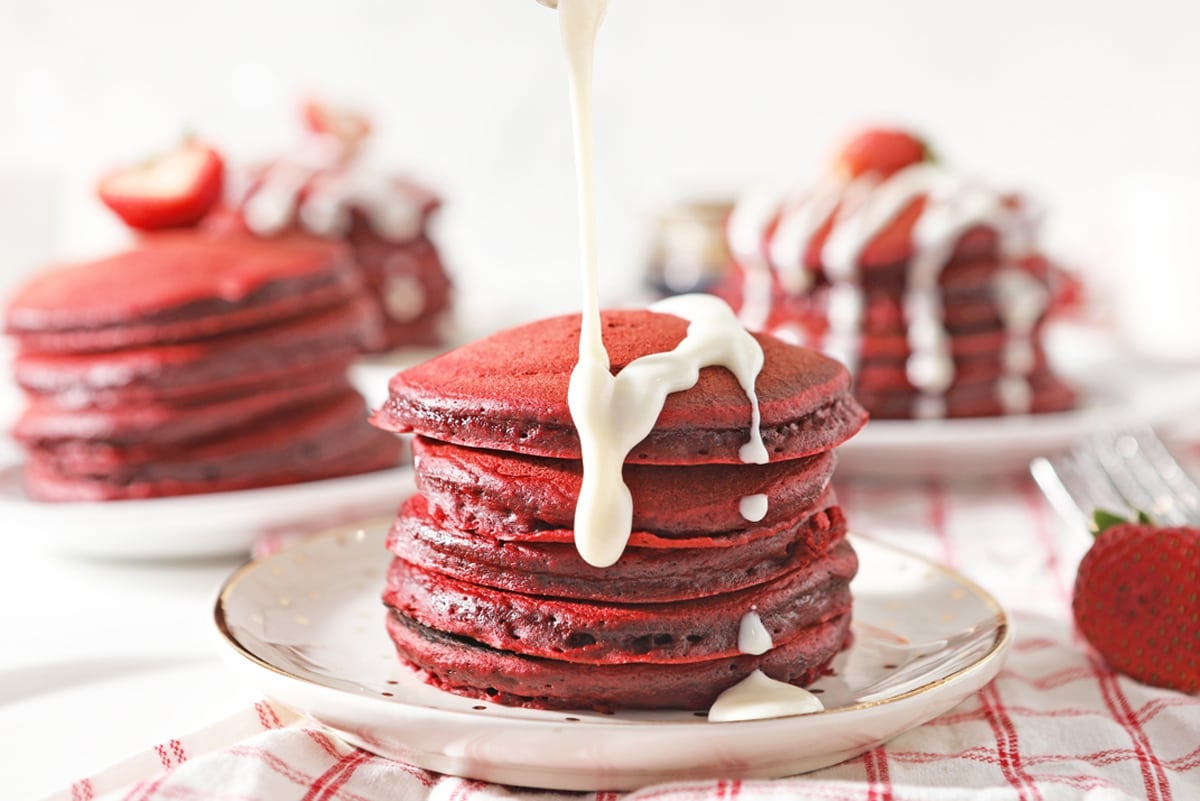 These pancakes are definitely more cake than your traditional pancake, and that makes them perfect for a special occasion!
Red velvet is a mild flavored chocolate cake that once turned red due to the ingredients it used. Nowadays, we use red food coloring to give these pancakes (and it's cake counterpart) a brilliant red color. It's now been incorporated into cupcakes, brownies, cookies and more!
Fun fact: Bakers used to (and still sometimes!) use boiled beets to add red colors to their baked goods!
Red Velvet Pancake Ingredients
Homemade pancakes are so simple to make, and you've probably got the majority of these ingredients in your pantry and fridge right now.
To make these pancakes red velvet, you'll need one specialty ingredient—red food coloring—and you're going to need quite a bit of it.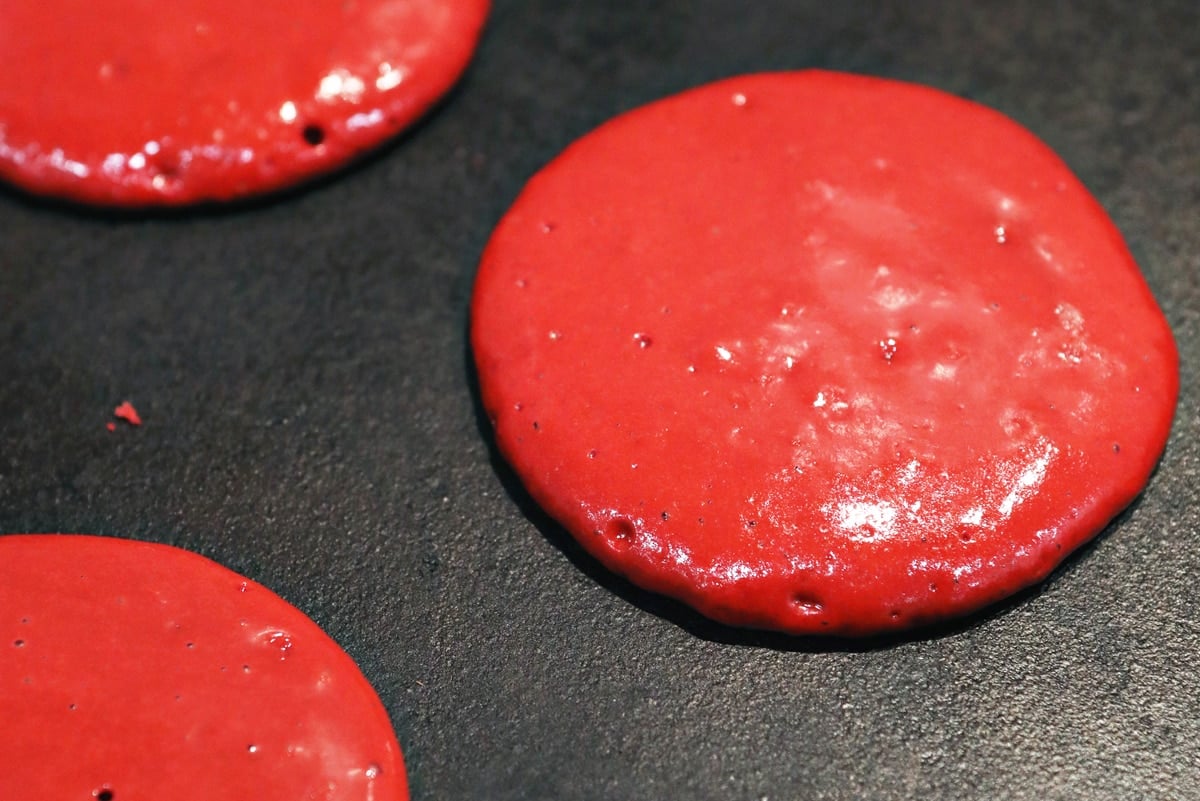 You'll need…
All-purpose flour
Unsweetened cocoa powder—not Dutch process, so read the label!
Granulated sugar
Baking powder
Baking soda
Salt
Whole milk—though you can use another milk if that's what you've got on hand! We've made these beauties with cashew milk before, and they were equally delightful.
White vinegar
Eggs
Vanilla extract
Red food coloring
Unflavored oil, like vegetable or avocado oil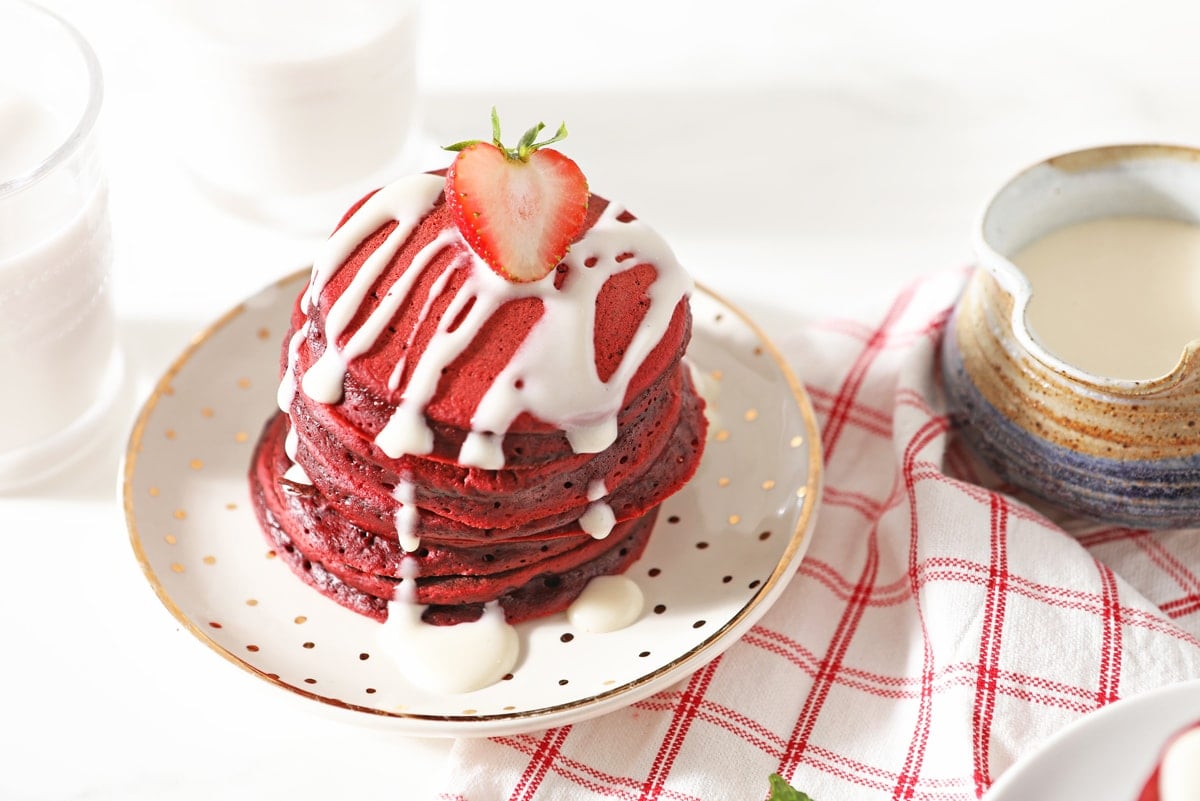 I like to top these homemade red velvet pancakes with a cream cheese glaze, as well as some fresh fruit, mint and sprinkles as a garnish. To make the glaze, you'll need a few ingredients, too.
Cream cheese
Milk
Vanilla extract
While the glaze and garnishes aren't necessarily something you have to have to make these pancakes, they take them to another level and don't really require much extra time. Also, who's ever had red velvet anything without cream cheese?!?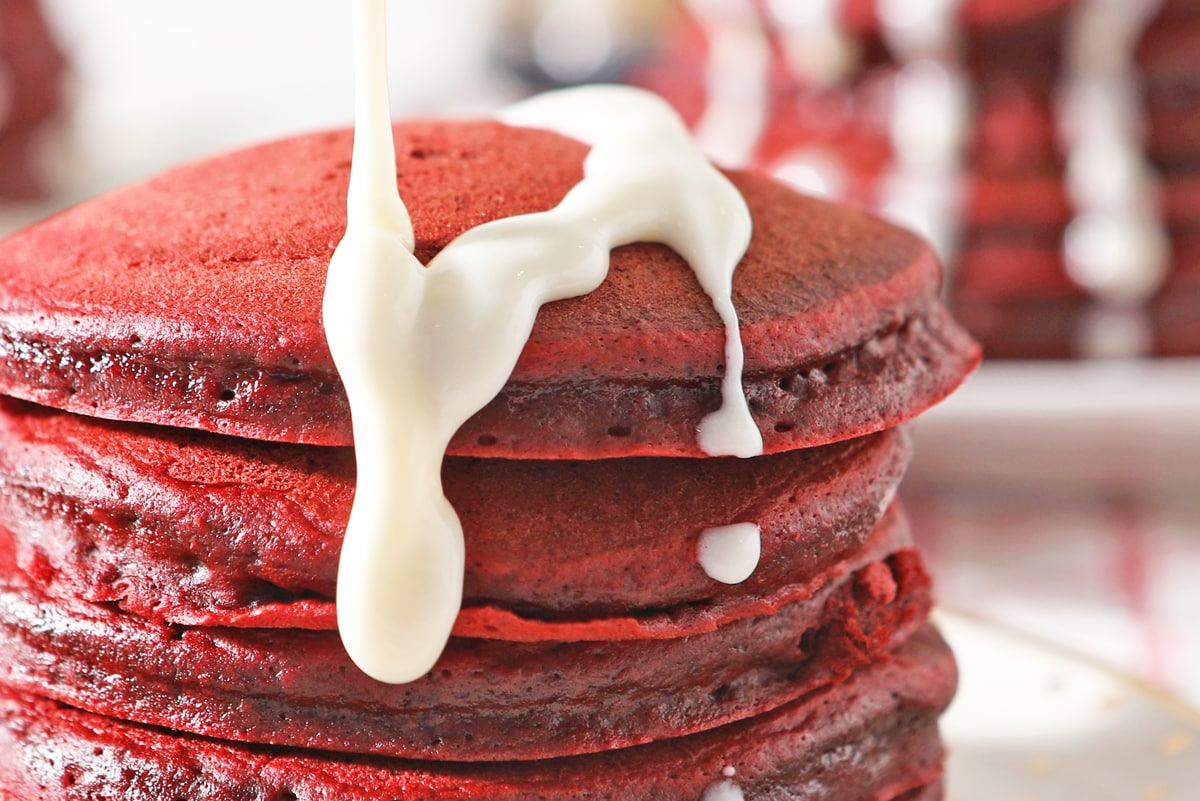 How to Make Red Velvet Pancakes
These pancakes are very similar to other homemade pancake recipes because they require several of the same ingredients and the same technique, too! However, there are a few additional things added to these pancakes to make 'em red velvet.
First, combine the flour, cocoa powder, sugar, baking powder, baking soda and salt in a large mixing bowl. Whisk together until combined.
Next, measure the milk, vinegar, eggs, vanilla extract, red food coloring and oil into a medium bowl. Using a fork, stir together until combined. You want to make sure the egg yolk and white are mixed well because you don't want stray pieces of egg white in your pancakes.
Pour the wet ingredients into the dry ingredients. Use a rubber spatula to gently fold them together until just combined. The batter doesn't need to be smooth, and be careful not to overmix.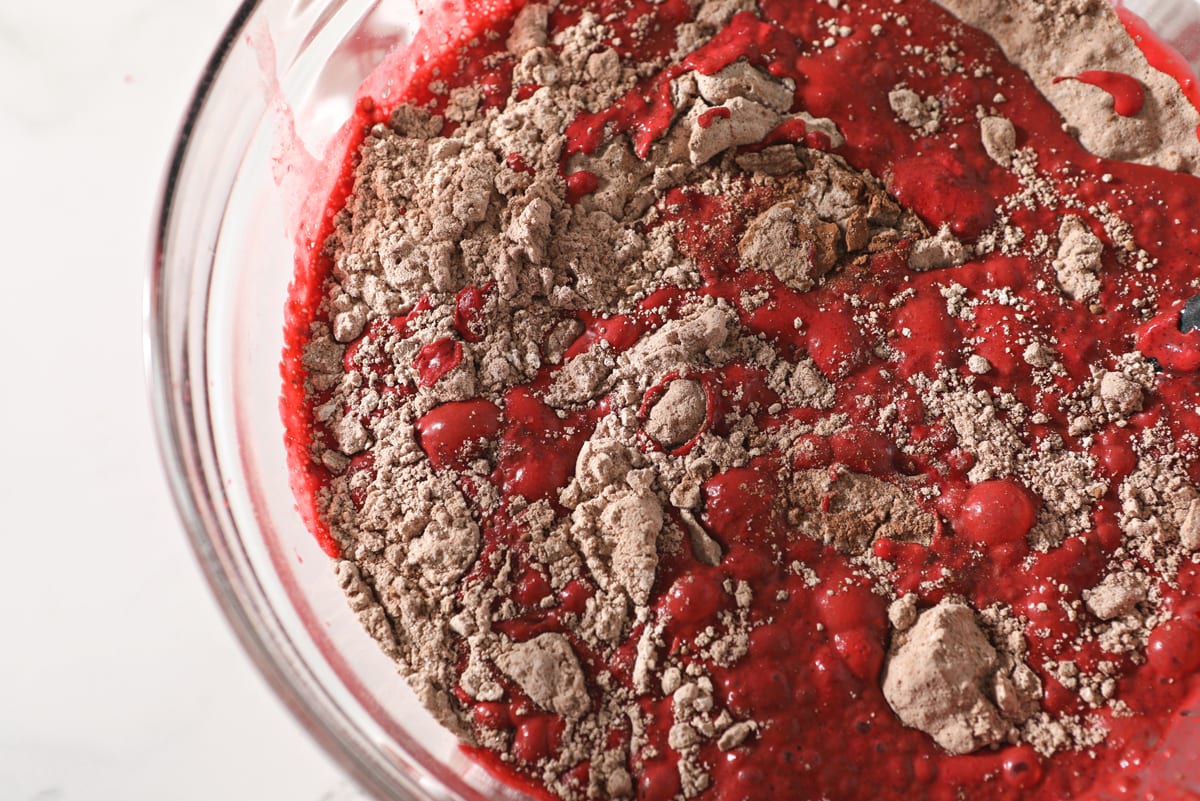 Once the batter has been mixed, heat a nonstick skillet or a griddle over medium heat. Brush the pan with melted butter or unflavored cooking spray, and let it warm up.
Use a cookie scoop or a measuring cup to dollop the red velvet pancakes onto the preheated skillet or hot griddle when ready.
When several bubbles form on the surface, flip and cook through for another 1-2 minutes. Repeat until all of the batter has been made into pancakes.
Pro tip: When you flip your pancake, don't press down on it! If you do this, it'll lose the air that helps make it fluffy.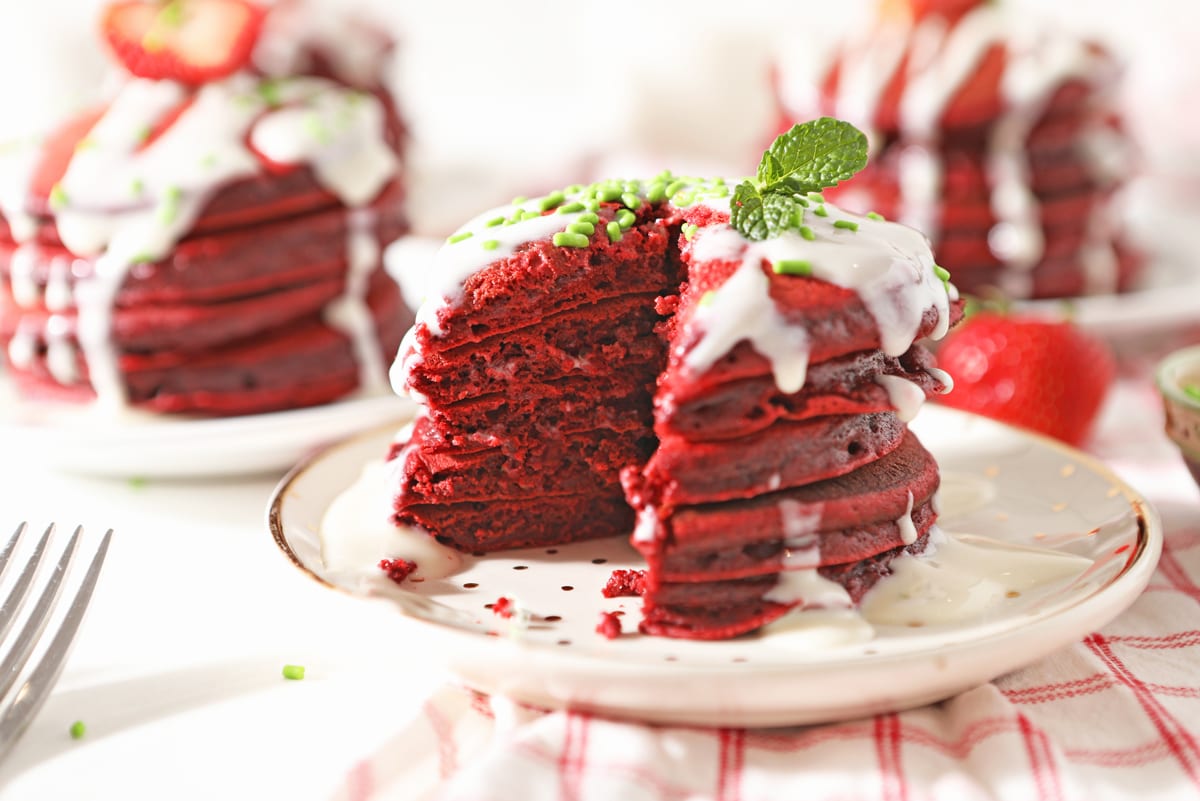 Cream Cheese Glaze
While the pancakes cook, mix the cream cheese glaze, too! Put the softened cream cheese, powdered sugar, milk and vanilla extract in the base of your food processor or blender, and blend until smooth. Voila! That's it!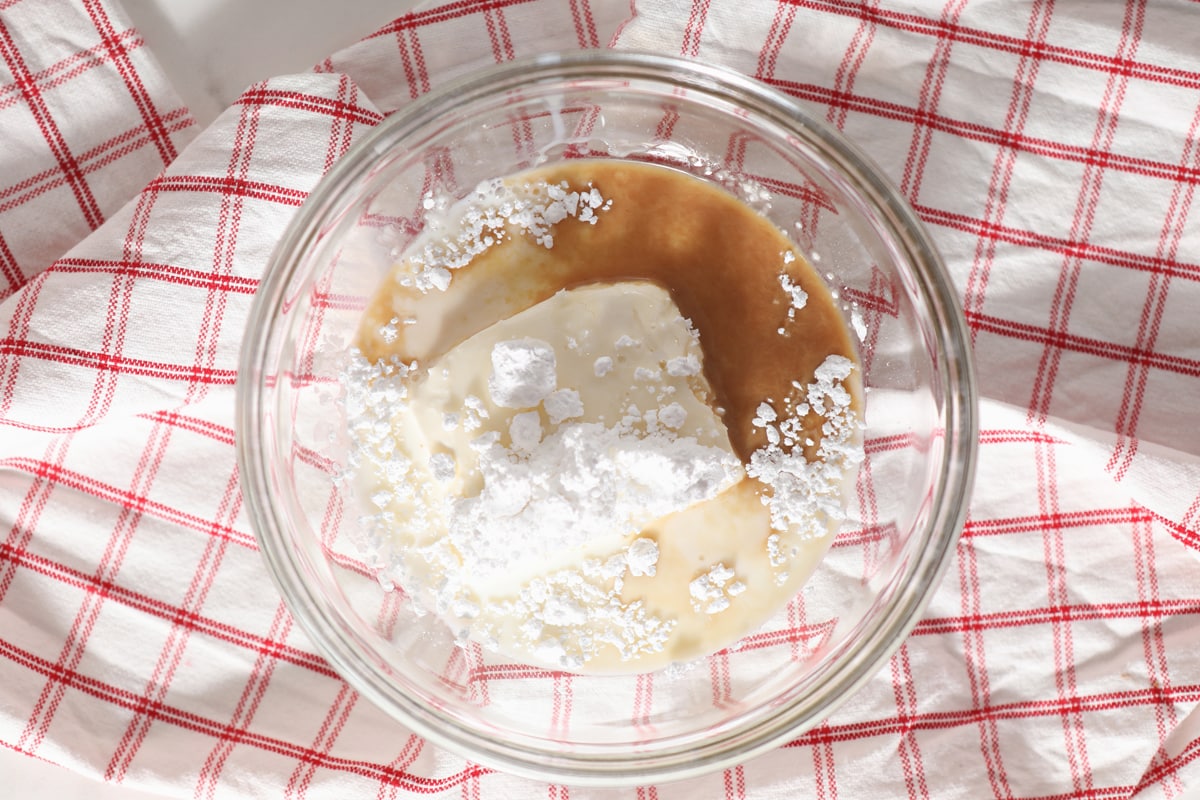 Stack the cooked pancakes onto plates. Serve with the cream cheese glaze and a garnish of fresh strawberries, mint leaves or even festive sprinkles.
Here are a few tips to making the best red velvet pancakes at home:
Mix the wet and dry ingredients separately. It's important to get the eggs incorporated into the other wet ingredients so you don't have stray bits of egg white in your pancakes. Also, this will help you not overmix the batter once combined and will ensure that the red color is consistent throughout your pancakes.
Don't overmix the pancake batter! Lumps are OK in this batter—we just want the ingredients incorporated so you can pour them onto the griddle.
Speaking of: A griddle is an excellent tool to be able to make more than one pancake at a time! If you're pancake people like we are, I highly suggest investing in one!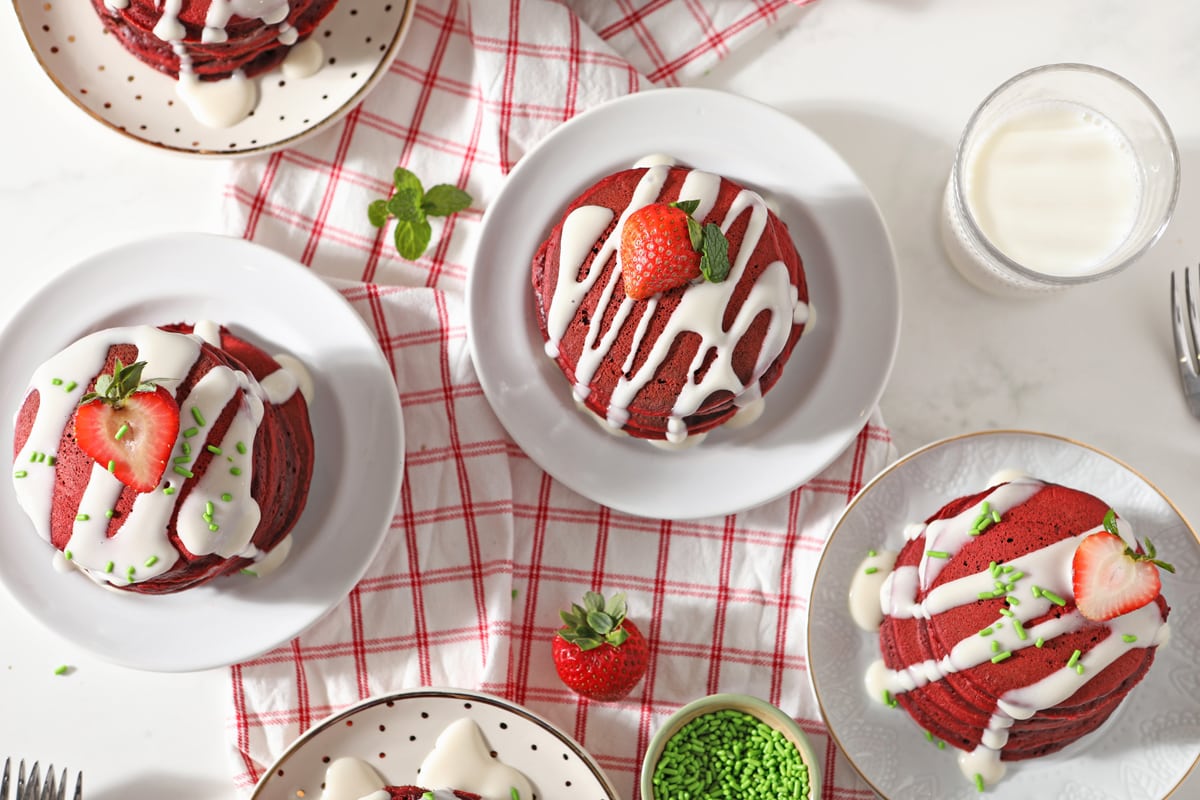 Add your own spin to this recipe and make these pancakes your own!
Sprinkle the final stacks of red velvet pancakes with colorful sprinkles… or add fresh fruit and a sprig of mint for more color!
Add a different color of food coloring. Green Velvet Pancakes for St. Patrick's Day, Blue Velvet Pancakes for July 4th… the possibilities are endless!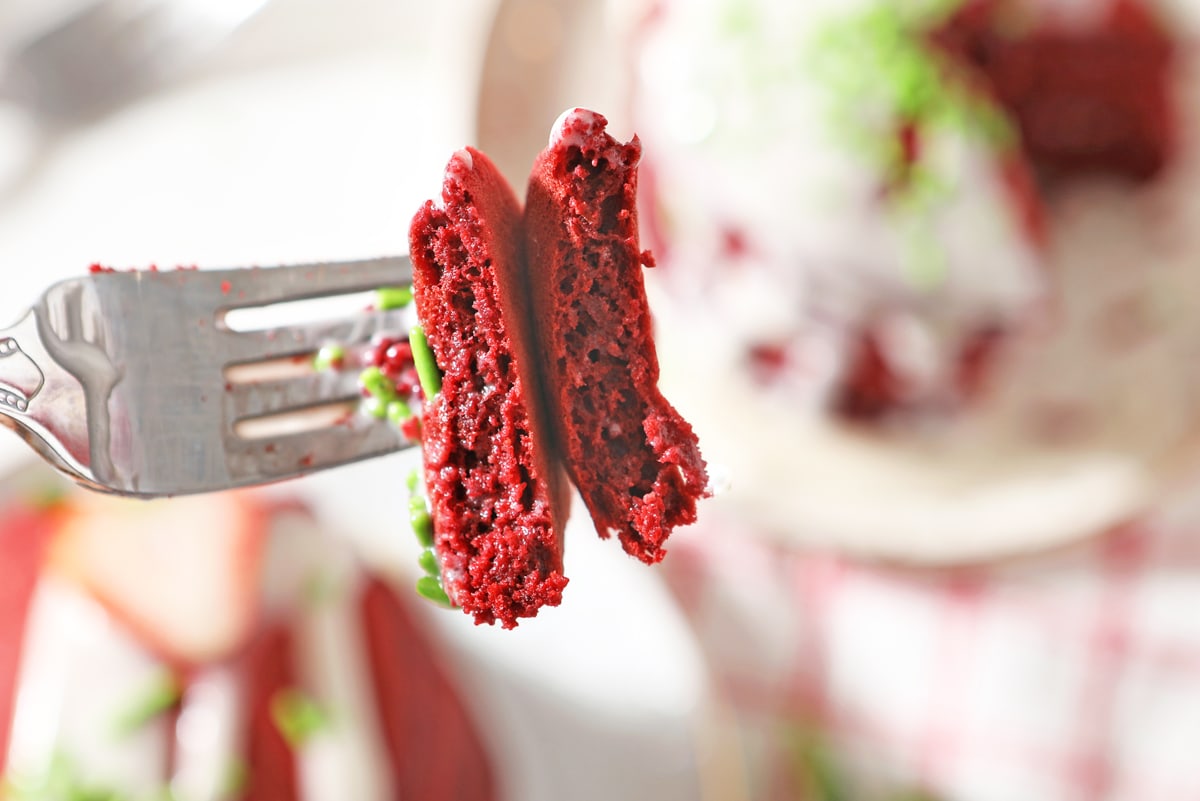 Fun fact: Some natural cocoa powders (that aren't Dutch-processed) contain a compound called anthocyanin. This compound changes color to a brick red when buttermilk and vinegar—two classic acidic ingredients—are added. Nowadays, you'll find a majority of red velvet recipes use red food coloring to punch up the red color of the recipe.
Food Coloring
Not all food colorings are the same! I used the liquid kind from the grocery store—and I advise purchasing a jar of the red by itself because this recipe requires a lot.
You can use gel food coloring if that's what you have on hand, and you won't need nearly as much. I advise staying away from the natural food coloring because they will not yield the same brilliant color of pancakes as you see in these photos.
The natural food dye I tested, which gets its color from beets and other veggies, made for a purplish pancake instead.