It's not brunch without pancakes. Coconut pancakes are delicious in all the right ways. Light, fluffy, and coconutty, this irresistible stack will be a new breakfast favorite!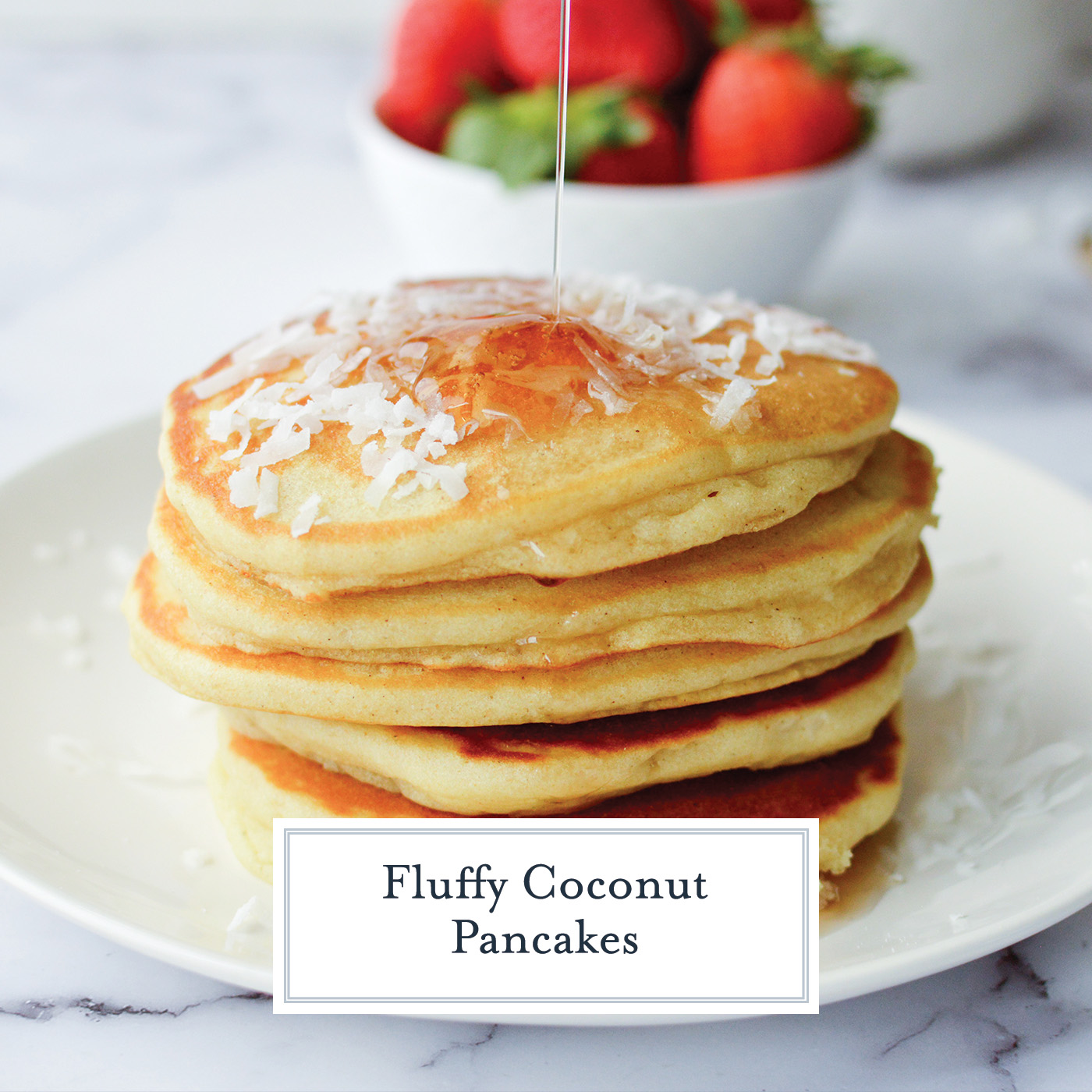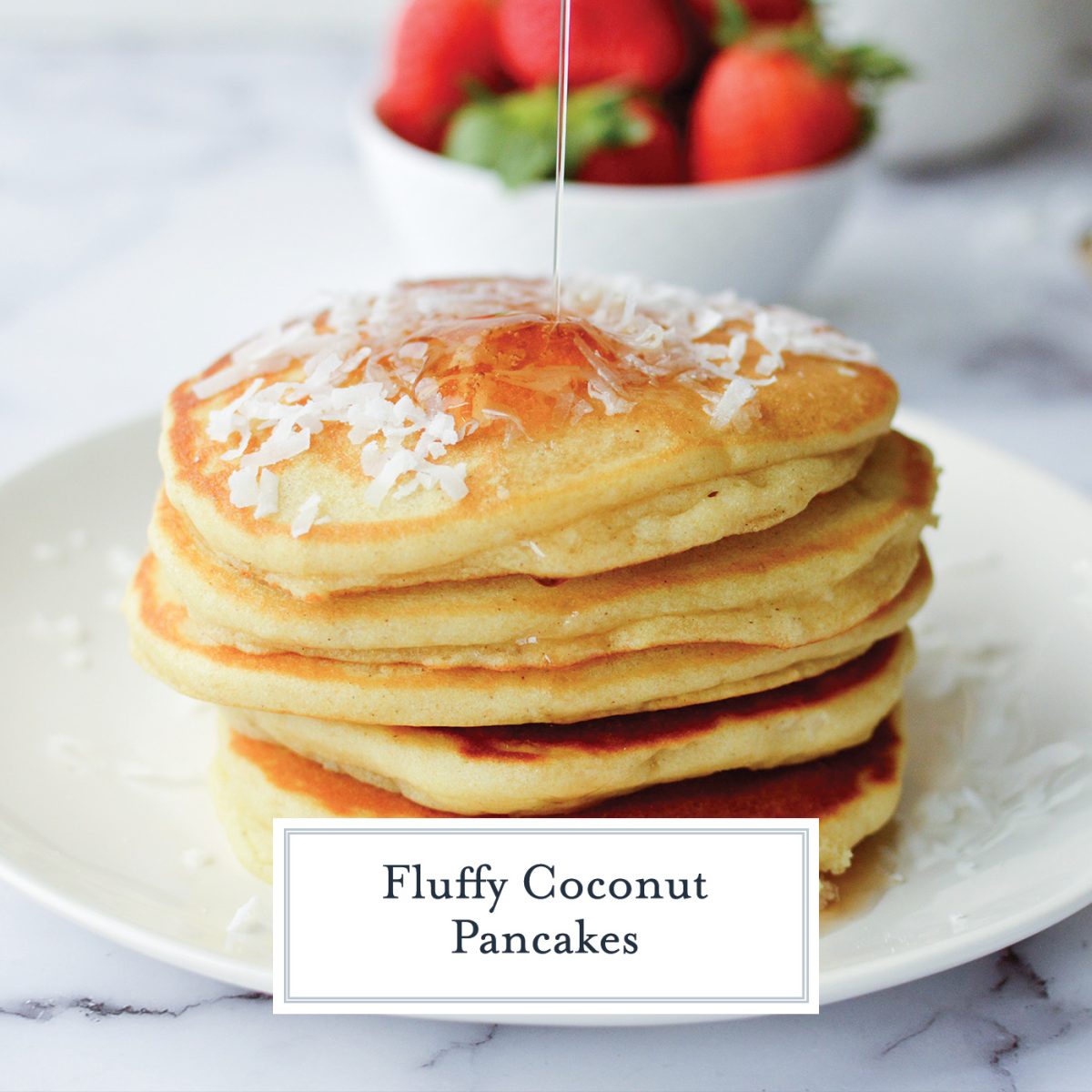 To say I'm partial to pancakes is an understatement. I adore them. It's impressive such simple ingredients create a stack so magical. Since I make homestyle pancakes daily, I like to change things up now and again. Coconut pancakes are just the thing!
Ingredients
Complicated recipes are overrated. This coconut pancake recipe requires simple ingredients and pantry staples.
All-purpose flour – Resist the urge to use coconut flour. While coconut flour works for specific recipes, it isn't a 1:1 substitution with all-purpose flour.
Sugar – A small amount lightly sweetens the pancakes without overdoing it. They will be covered in maple syrup after all!
Leavening – Baking powder and baking soda are vital for fluffy pancakes. The baking powder activates once it's mixed with wet ingredients. For this reason, letting the batter sit for 10 minutes while the skillet heats up will give you fluffier pancakes!
Shredded coconut – For that coconut flavor!
Milk & vinegar – This combo creates homemade buttermilk. Store-bought buttermilk works too.
Egg – Eggs provide structure. Without eggs, the pancakes would fall apart. No thank you!
Butter – Fat creates tender pancakes. Without it, they would be dense and dry. Butter imparts a nice flavor but vegetable oil is perfectly acceptable too.
Coconut extract – A little goes a long way! Start with less because you can always add more, but you can't take it out!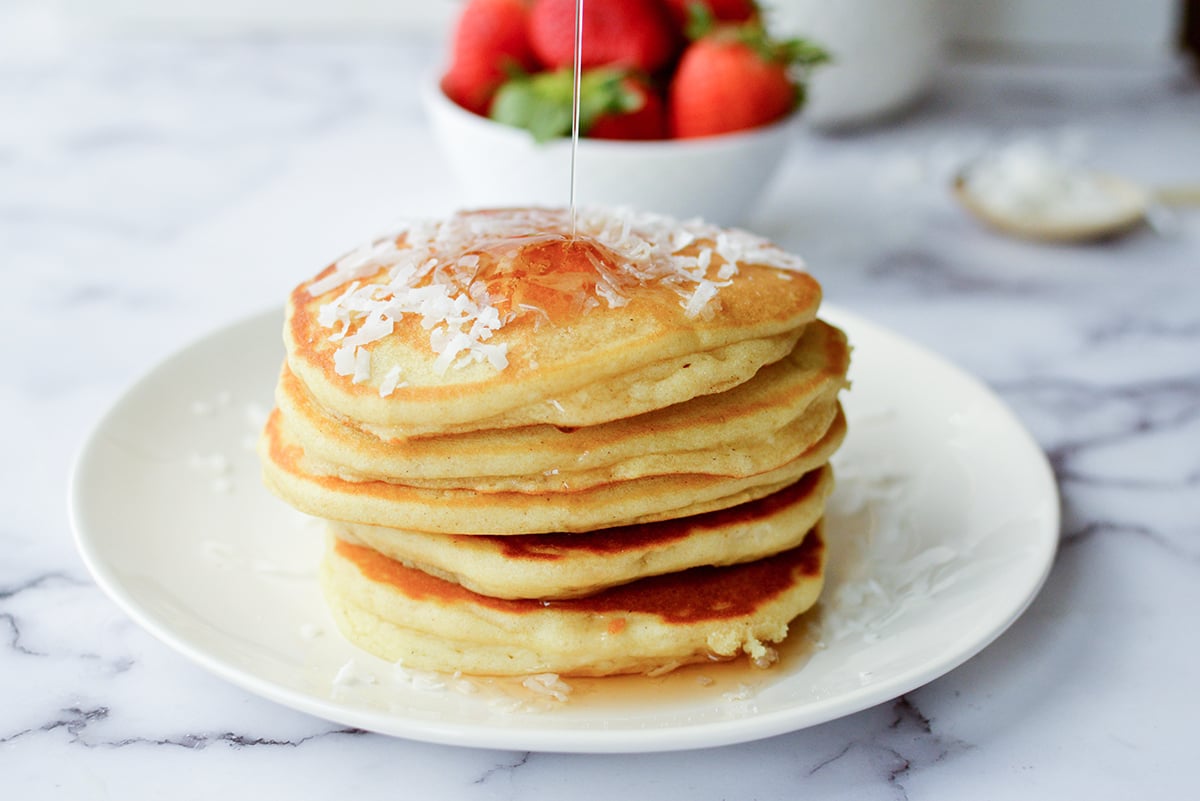 How to Make Coconut Pancakes
Make buttermilk: Buttermilk is essentially fermented milk. Combine the milk and vinegar first so it has a few minutes to sit. Whisk and set aside.
Combine dry ingredients: In a large bowl whisk the dry ingredients. This will ensure you don't get a lump of baking powder (yuck!) or overmix the batter.
Combine wet ingredients: Whisk together the buttermilk, egg, and melted butter.
Pour wet into dry: Pour the milk mixture into the flour mixture and stir until a smooth batter forms. If you overmix the batter, the pancakes can lose their beloved light and fluffy texture.
Heat up the skillet: Let the skillet get hot. This will give your pancake batter time to sit. The temperature should be set to medium-low heat, but you shouldn't start until the pan is hot. If the pan isn't hot enough, the pancakes won't brown nicely and may spread too much.
Make the pancakes: Use a portion scoop to scoop three pancakes into the skillet. They are ready to flip when the bottoms are golden brown and small bubbles appear on the top – about 3 to 4 minutes. Flip the pancakes and let cook through.
Serve: Enjoy the pancakes with a hefty drizzle of maple syrup. After all, life is short.

Storage & Freezing
Leftover coconut pancakes? No problem! Store pancakes in the refrigerator in a zip-top bag for up to 3 days. Personally, I prefer freezing them! Pancakes are easy to freeze and last much longer. Let them cool to room temperature then carefully place them into a large zip-top bag. Use within 3 months for best results.
Reheat in the microwave in 20-second increments until warm. Don't microwave them too long or they can get chewy.
Coconut Pancakes Topping Ideas
Half the fun of homemade pancakes is the toppings! These toppings pair exceptionally well with coconut.
Chocolate Chips: Always a favorite!
Fresh fruit: Sliced bananas, strawberries, or mango complement the coconut flavor!
Toasted coconut: Spread a layer of shredded coconut in a dry skillet on medium-low heat. Cook for a few minutes, stirring occasionally until it's golden and fragrant.
Chopped nuts: Pecans, walnuts, and almonds are great options!
Flavored Syrups- Check out our homemade Vanilla Butter Syrup or Cranberry Syrup.
Tips and Variations
If the coconut pancake batter is too thin, add a tablespoon or two of flour to it until you reach the right consistency.
If the bottom of the pancakes brown too quickly, turn down the heat. Don't try to cook them on high heat. The bottoms will brown before the insides can cook.
For easy flipping, use a thin-set rubber spatula. It's difficult to master the flip when you're working with a thick, bulky spatula.
I like to double the batch so I can freeze the extras for busy weekday mornings! Hot breakfast in 60 seconds? Yes, please!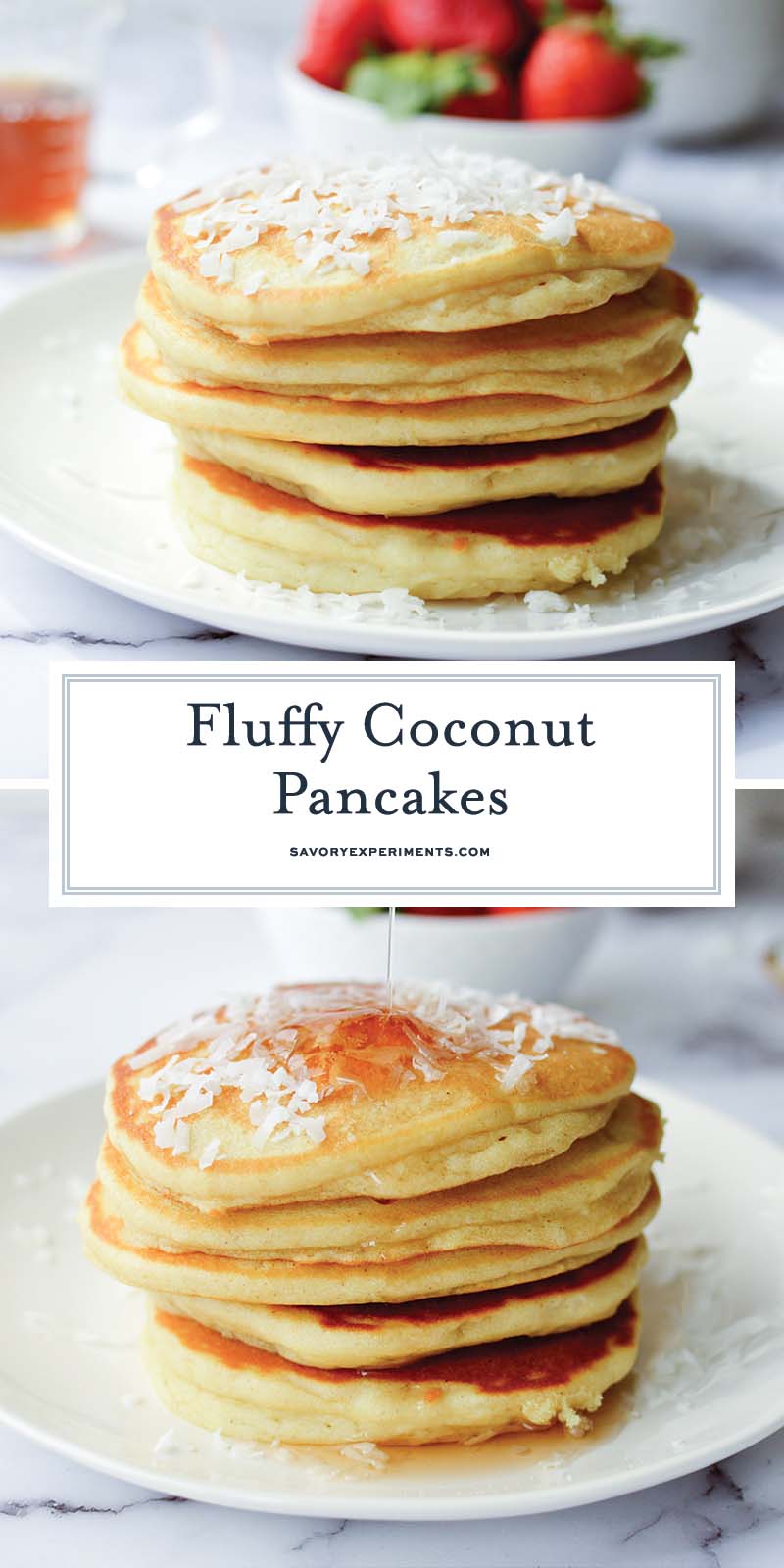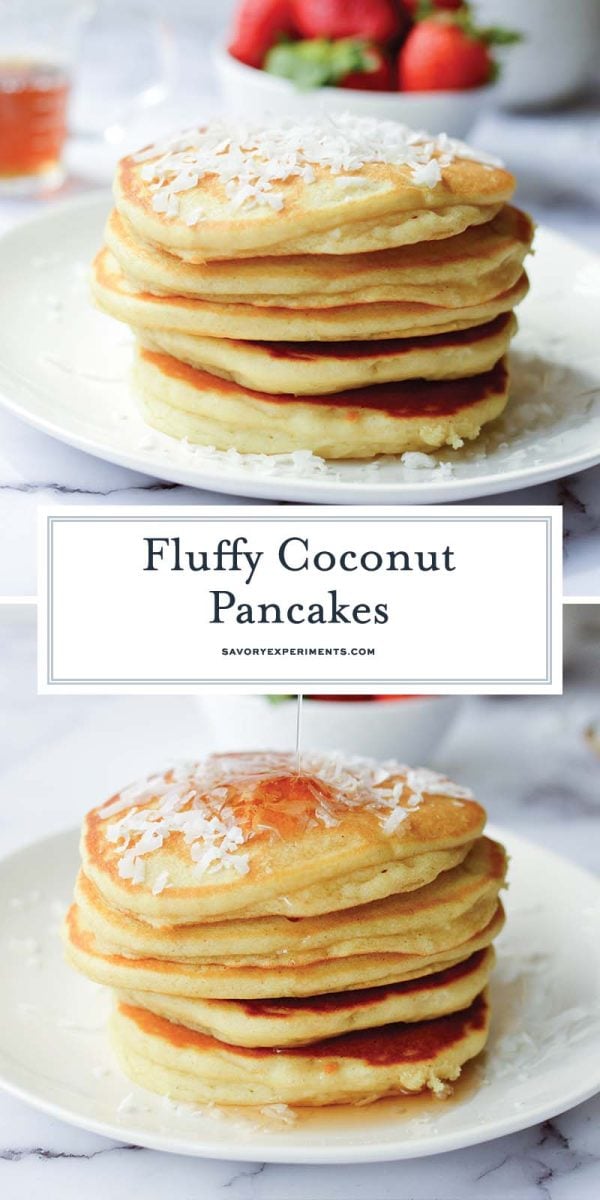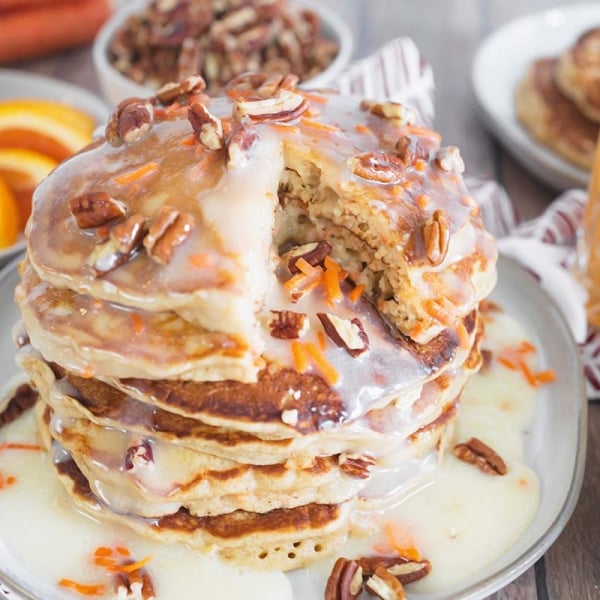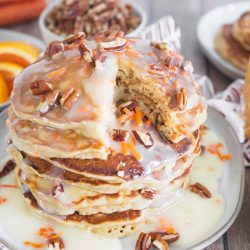 Carrot Cake Pancakes
These Carrot Cake Pancakes will have everyone wanting more. They're moist, fluffy and a perfect breakfast or brunch when celebrating spring!
See The Recipe!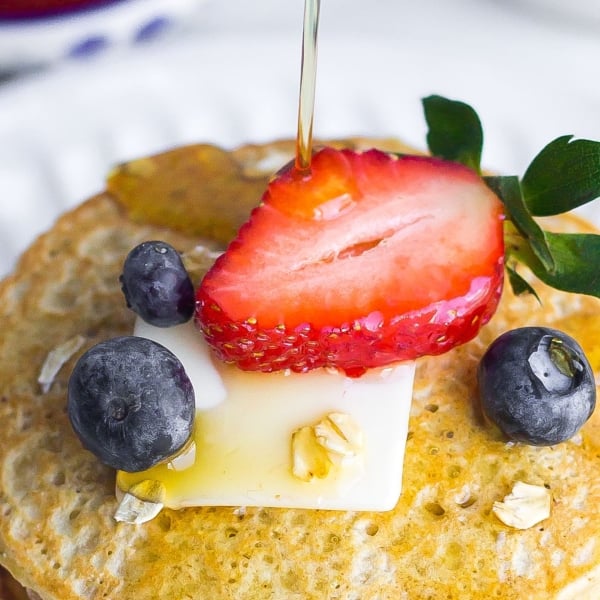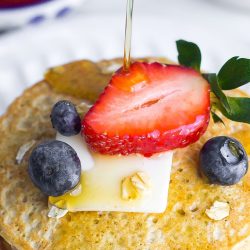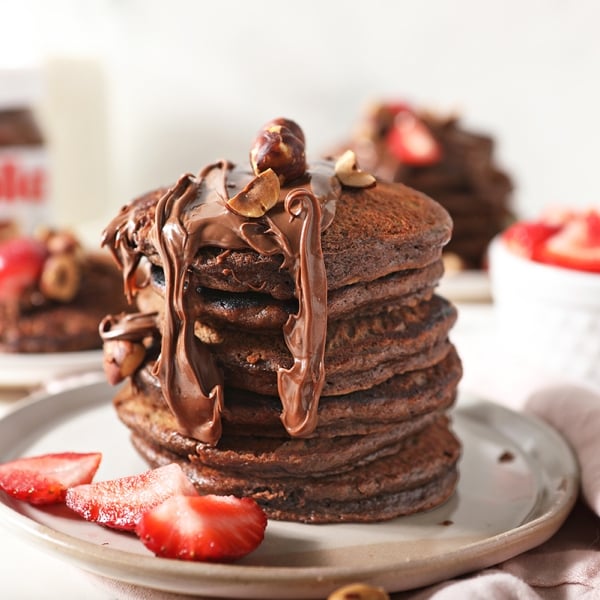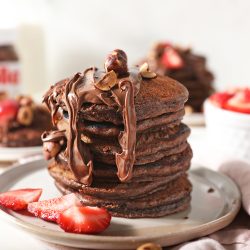 Nutella Pancakes
Nutella Pancakes are the perfect breakfast treat. With just a handful of ingredients, these homemade pancakes are tender, fluffy & delicious!
See The Recipe!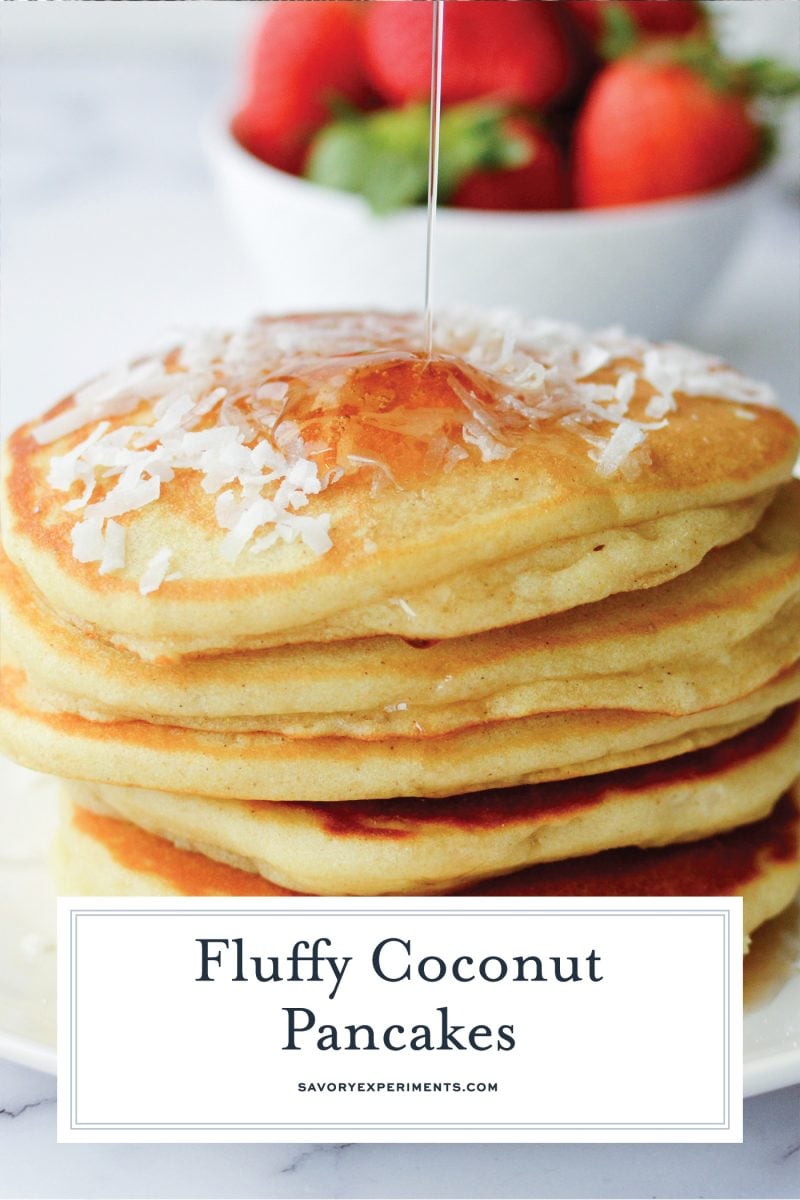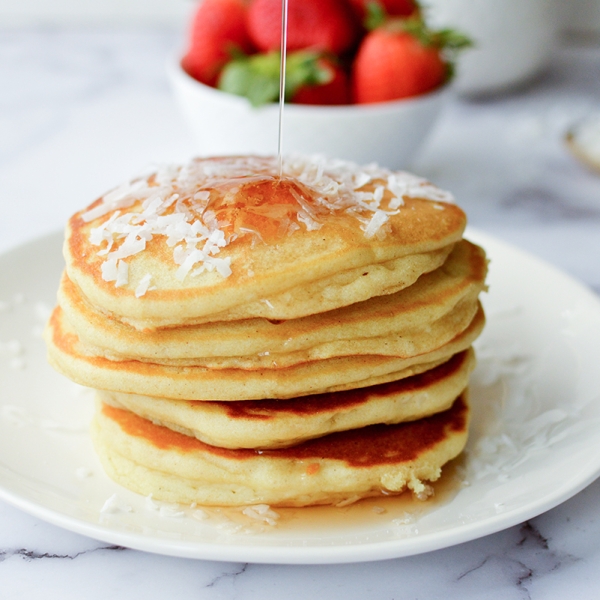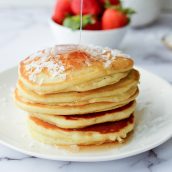 Coconut Pancakes
EASY Coconut pancakes are delicious, light, fluffy, and coconutty. This irresistible stack will be a new breakfast favorite!
Equipment
Heat Resistant Rubber Spatula
Instructions
Combine the whole milk and vinegar. Whisk together, then let sit for 5 minutes to thicken.

In a large mixing bowl, combine the all-purpose flour, sugar, baking powder, baking soda, shredded coconut, and salt. Whisk, then set aside.

Whisk the milk mixture with the egg, coconut extract, and melted butter. Pour into the flour mixture and stir just until everything is incorporated.

Let the batter sit for 10 minutes. While the batter sits, heat a large nonstick skillet on medium-low heat.

Once the skillet is hot, add a teaspoon of oil.

Use a portion scoop to drop three scoops of pancake batter into the skillet. Let the pancakes cook until the bottoms are golden brown, and the tops begin to bubble – about 3 to 4 minutes.

Use a thin-set spatula to flip the pancakes over and let them cook until the bottoms are golden brown – about 2 to 3 more minutes.

Carefully transfer the pancakes to a plate and repeat with the remaining batter. Serve the pancakes with shredded coconut and maple syrup.

If you've tried this recipe, come back and let us know how it was!
Notes
Store pancakes in the refrigerator in a zip-top bag for up to 3 days.
Nutrition
Calories:
231
kcal
,
Carbohydrates:
26
g
,
Protein:
4
g
,
Fat:
12
g
,
Saturated Fat:
8
g
,
Polyunsaturated Fat:
1
g
,
Monounsaturated Fat:
3
g
,
Trans Fat:
1
g
,
Cholesterol:
56
mg
,
Sodium:
217
mg
,
Potassium:
162
mg
,
Fiber:
1
g
,
Sugar:
9
g
,
Vitamin A:
381
IU
,
Calcium:
77
mg
,
Iron:
1
mg