Let's face it, sometimes breakfast needs a little more pizazz. My favorite way to add some flair is to have fun with the toppings.
This simple Homemade Blueberry Syrup recipe is sure to shake up the breakfast table and become a staple at your house.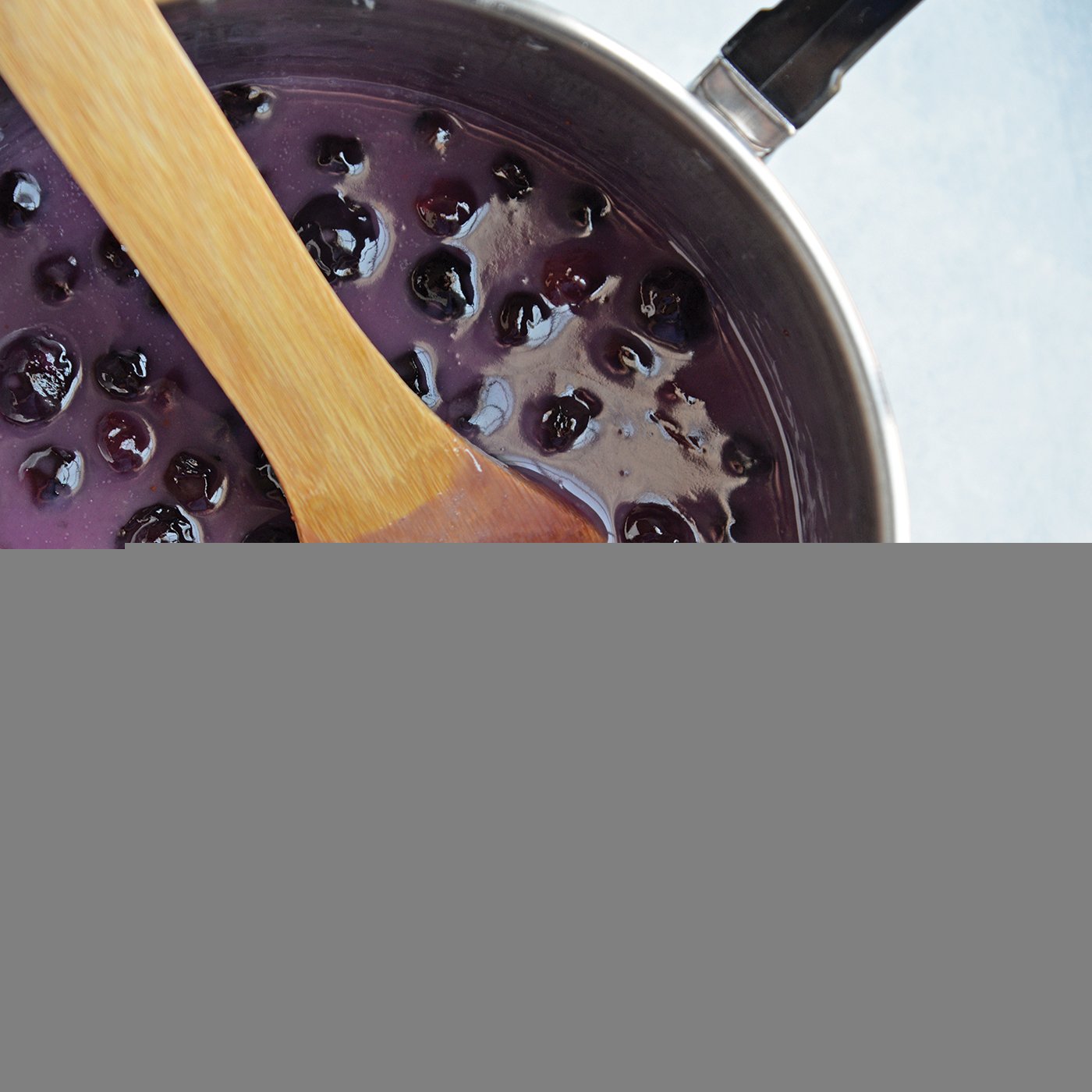 Homemade Blueberry Syrup is the perfect quick syrup for pancakes and waffles. It uses a blueberry compote and comes together in just 30 minutes!
Homemade Blueberry Syrup is made without traditional maple syrup. Take a few deep breaths, it will be okay. Instead, this recipe uses blueberry compote.
And let me tell you something, iHop has nothing on this blueberry syrup. It's a hybrid that your family will love.
My blueberry syrup is a blend of two recipes: a blueberry syrup recipe I use cocktails as well as desserts and my award-winning Dutch Honey Syrup recipe.
Dutch Honey is famous in our family and we serve it over just about anything. It is a simple blend of sugar, heavy cream, and a few other ingredients that come together to make something sweet and luxurious.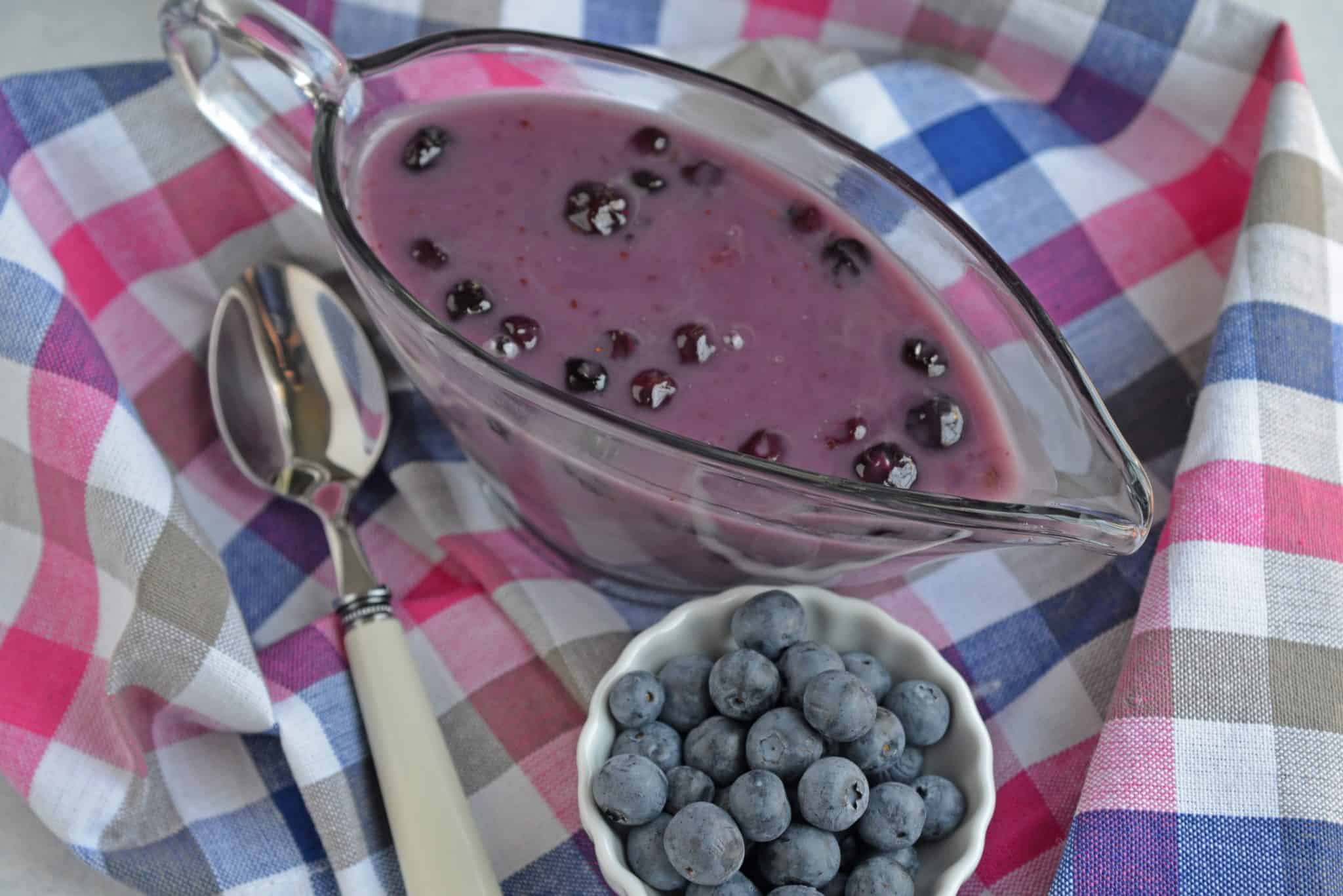 I tweaked the original Dutch Honey Syrup recipe and made it blue to give my Blueberry Lemon Ricotta Pancakes a little bit of a blueberry leg up. Let me tell you something, these soft and fluffy pancakes never tasted so good.
Although it was originally made as a blueberry pancake syrup, you can use it to smother just about anything in blueberry deliciousness. Think ice cream, cheesecake, biscuits, and more.
Heck, you could even add it to a bit of Greek yogurt for a sweet and tart after-dinner treat.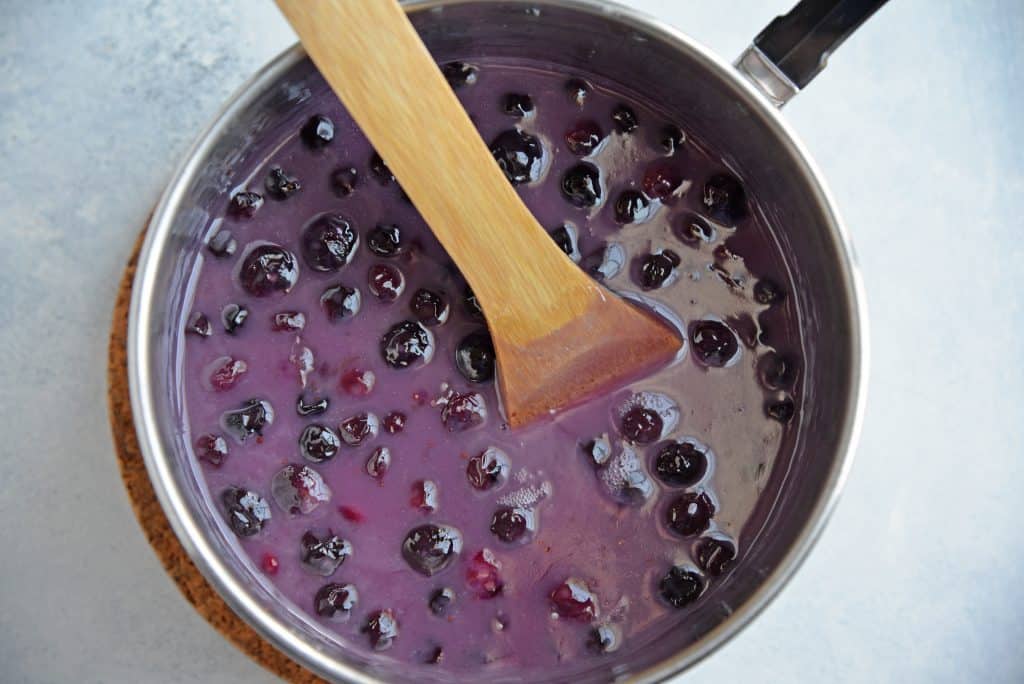 Homemade Blueberry Syrup is great because it can be made in large batches for a crowd or to be frozen and used at a later time.
This makes it great for holidays when you have an inordinate amount of guests in your home. I typically make a quadruple batch and freeze it in 4 small containers.
Whenever I am entertaining or just have a hankering for blueberry heaven, I can throw one of my little containers into the microwave and presto, Homemade Blueberry Syrup ready to serve.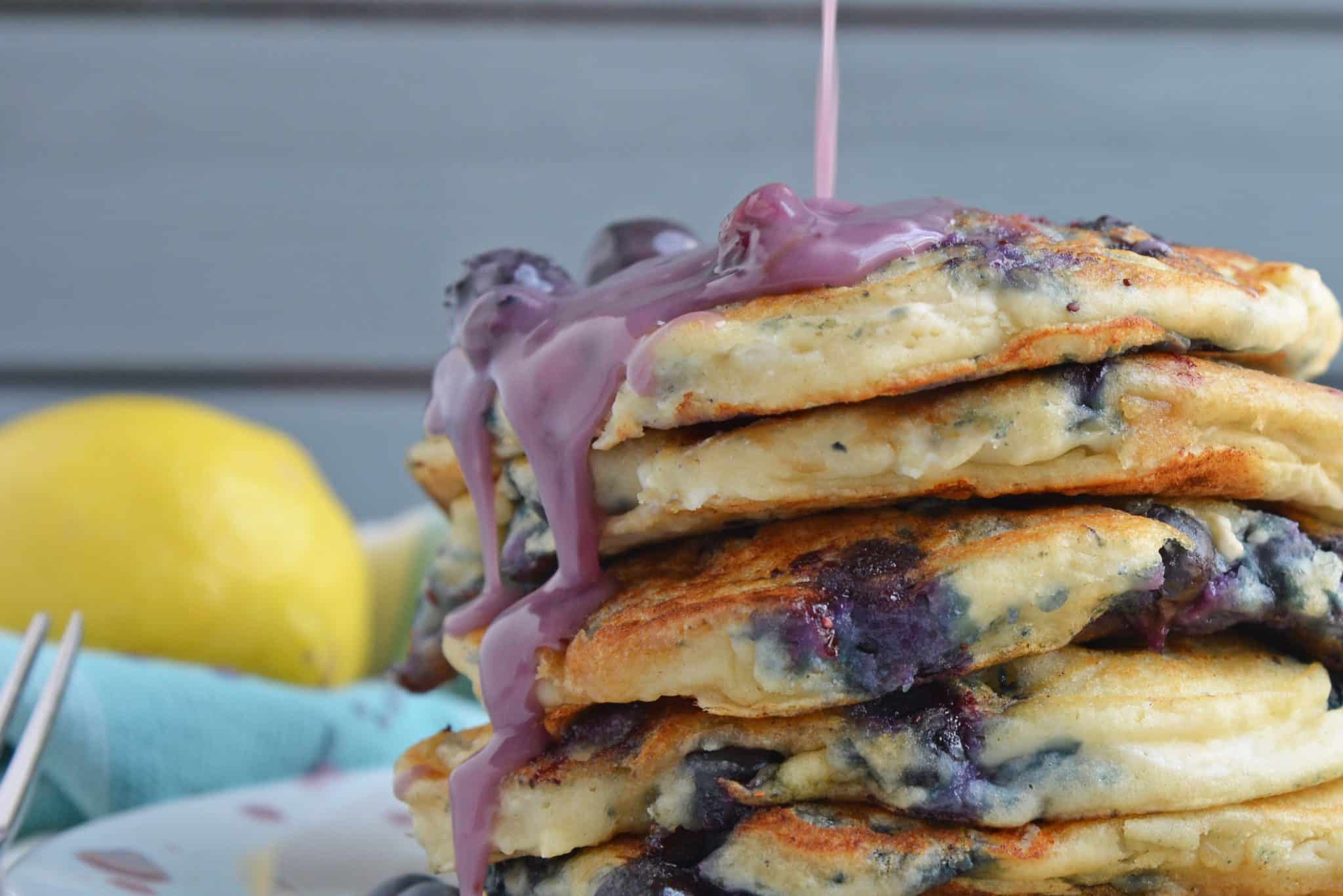 The best part about this recipe is that you can use fresh or frozen blueberries. Both are equally delicious.
If you use frozen, you will add a few steps to the recipe. They are easy, but necessary so that your syrup isn't watered down. Take them out of the fridge and allow them to thaw in a strainer.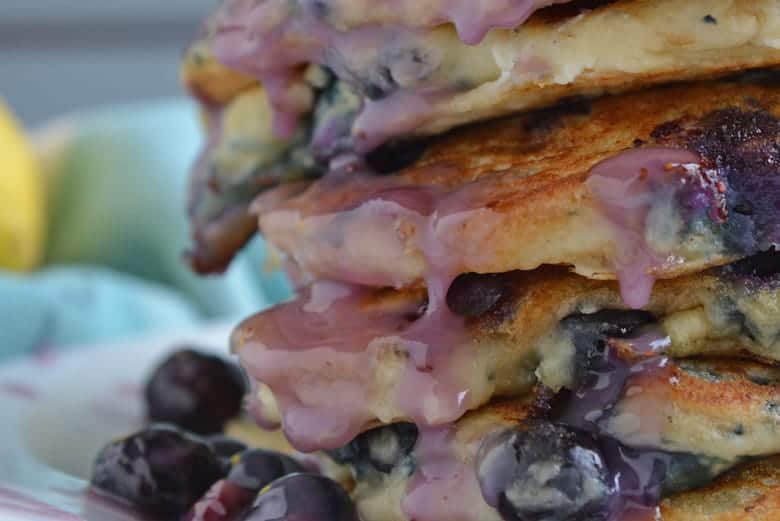 This will let any additional ice or water fall away from them. If you skip this step, your syrup will lose that silky texture.
You can also choose between traditional blueberries and wild blueberries. The traditional variety are going to be plump and bigger in size while the wild blueberries are going to give you little pops of flavor and be much smaller in size.
Both are big on flavor and will taste wonderful in this recipe.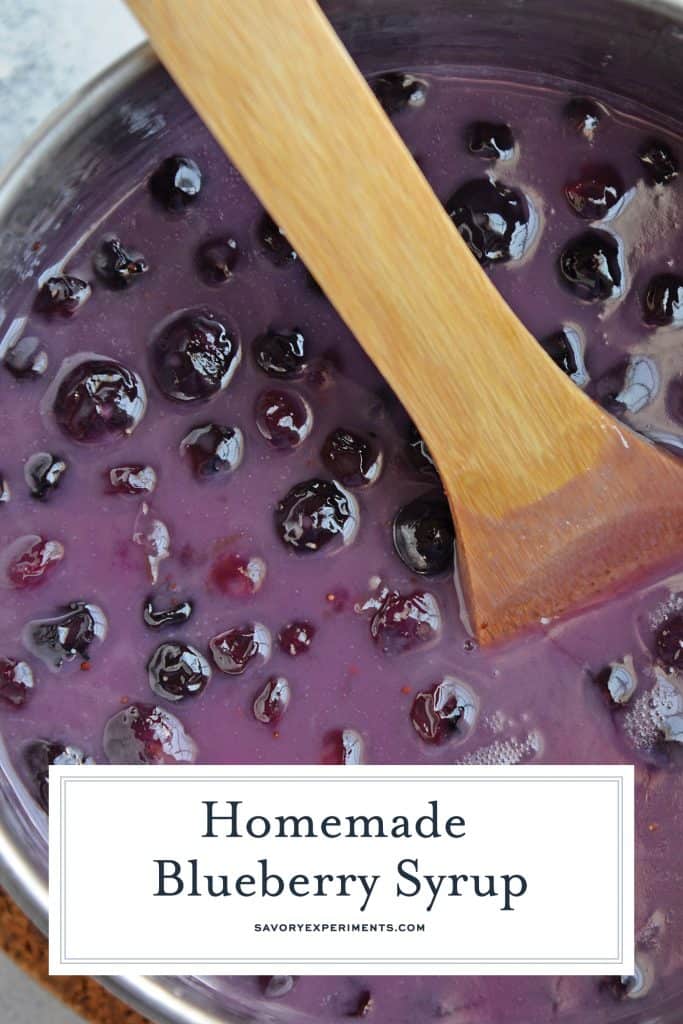 If you are totally into homemade syrup, make sure to look at my Apple Cider Syrup and Cranberry Syrup too!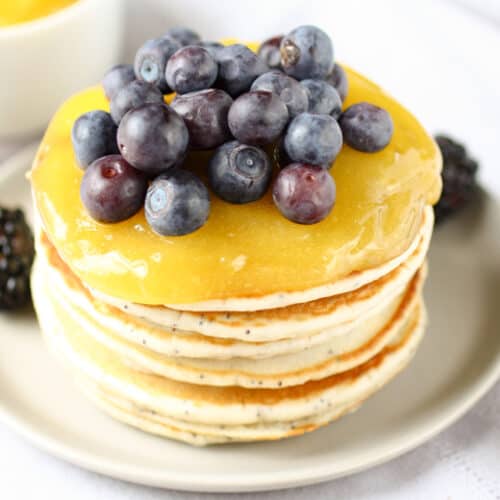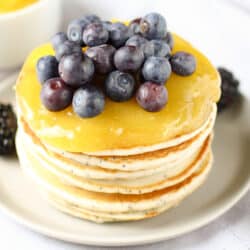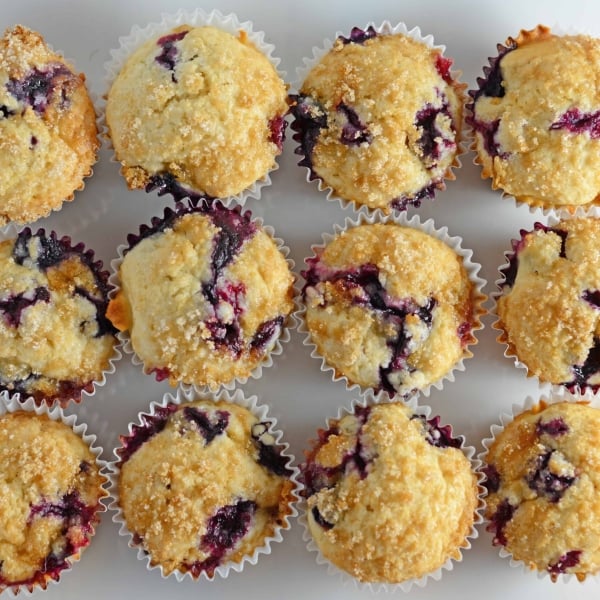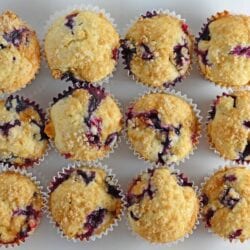 Tools for making Homemade Blueberry Syrup:
Heavy Bottom Sauce Pan– this will be one of your most used kitchen tools. Having something that is heavy bottom will distribute heat better and prevent burning whether you are using an electric or gas range.
Wooden Spoons– for sticky sauces, wooden spoons work best, but they tend to splinter and split, so I order them in bulk and just toss them when they start to get gross.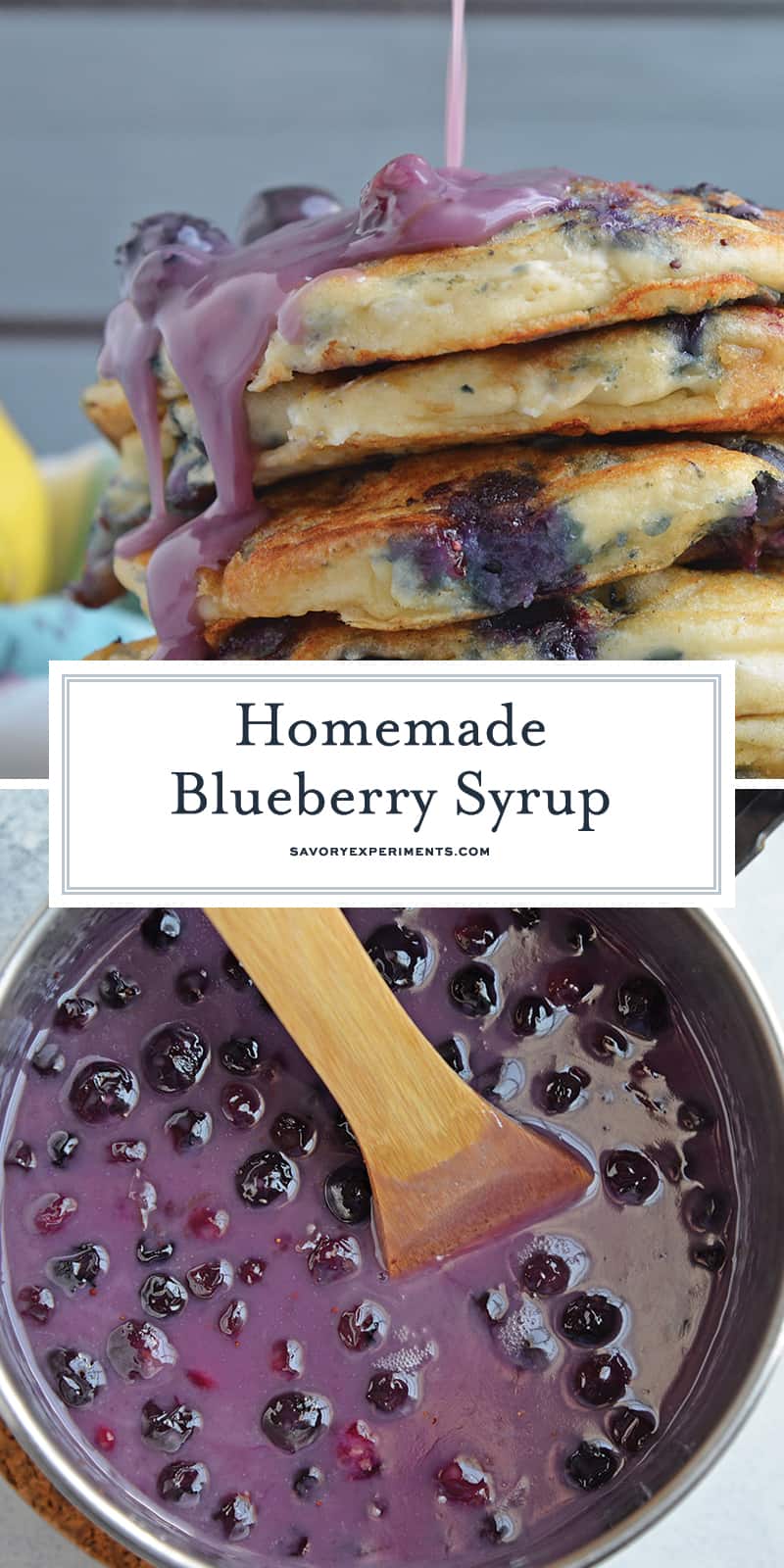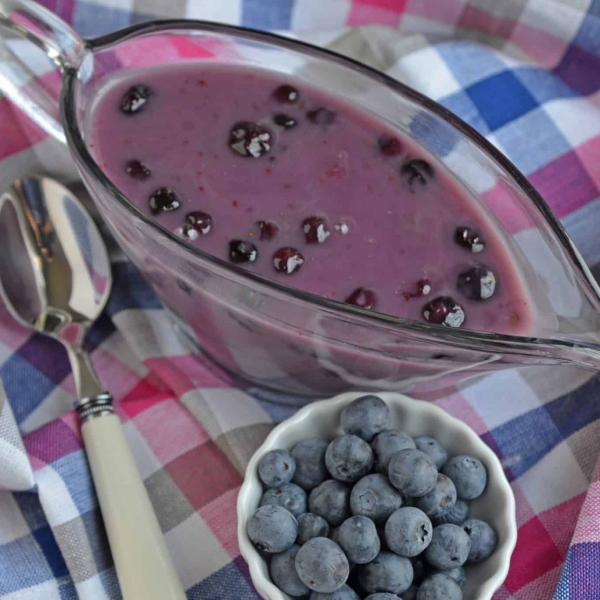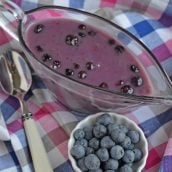 Homemade Blueberry Syrup Recipe
Homemade Blueberry Syrup is the perfect quick syrup for pancakes and waffles. It uses a blueberry compote and comes together in just 30 minutes!
Instructions
In a heavy bottom sauce pan, combine blueberries, sugar and water. The water will evaporate, but give the sugar and blueberries enough time to break down. Heat over medium heat, stirring every few minutes with a wooden spoon until mixture has turned into a bright blue compote.

Reduce heat to low, adding heavy cream, butter and vanilla. Continue to stir until all ingredients are melted and combined. Mixture will start to thicken.

Stir in dash of fine sea salt and allow to cool for 5-10 minutes before serving. Mixture will thicken even more while cooling.

If you've tried this recipe, come back and let us know how it was!
Nutrition
Calories:
863
kcal
,
Carbohydrates:
83
g
,
Protein:
2
g
,
Fat:
60
g
,
Saturated Fat:
37
g
,
Cholesterol:
190
mg
,
Sodium:
302
mg
,
Potassium:
135
mg
,
Fiber:
2
g
,
Sugar:
76
g
,
Vitamin A:
2165
IU
,
Vitamin C:
10.1
mg
,
Calcium:
67
mg
,
Iron:
0.3
mg