Looking for a new muffin recipe beyond Lemon Poppy Seed Muffins, Banana Nut Muffins and Blueberry Muffins? Check out these Strawberry Cream Cheese Muffins!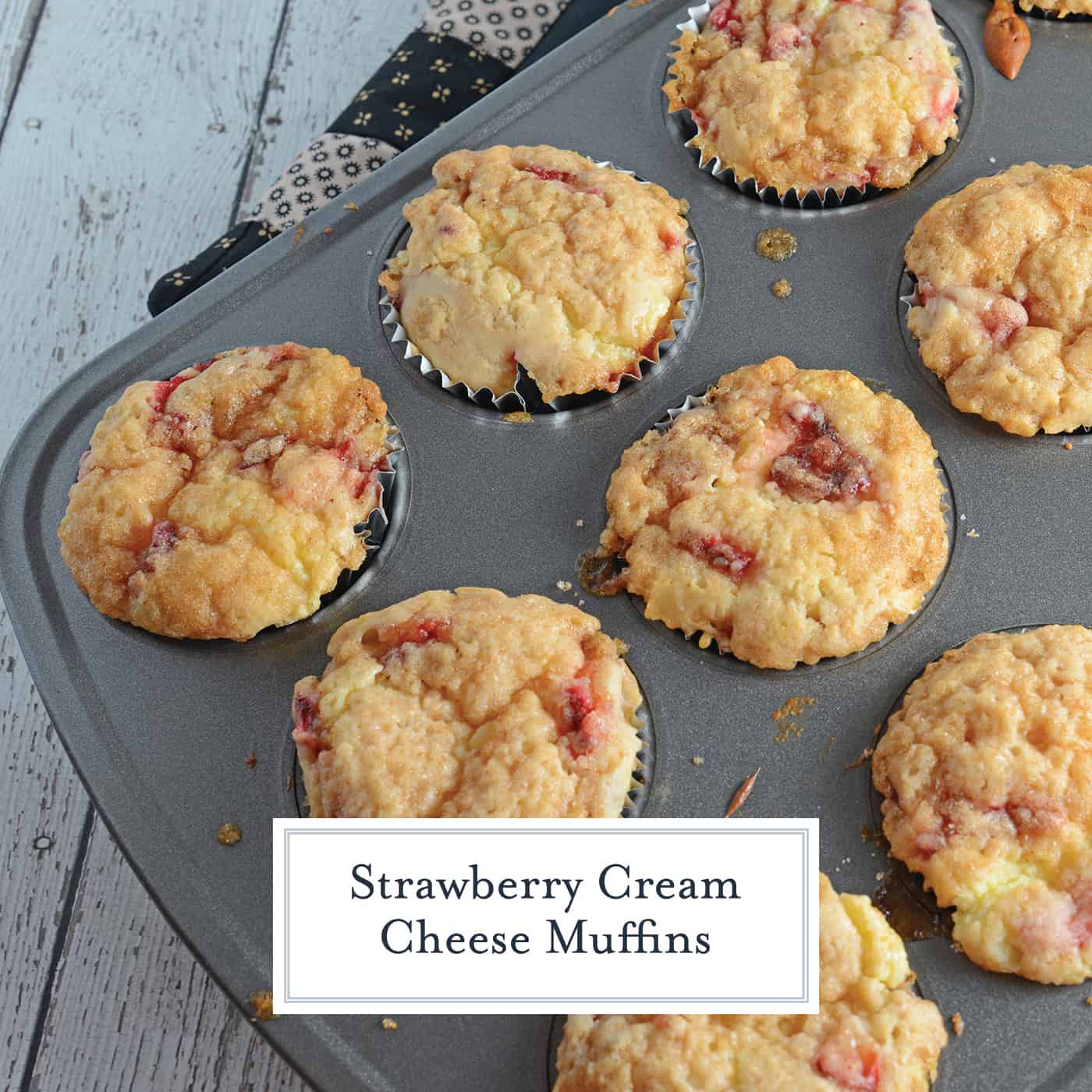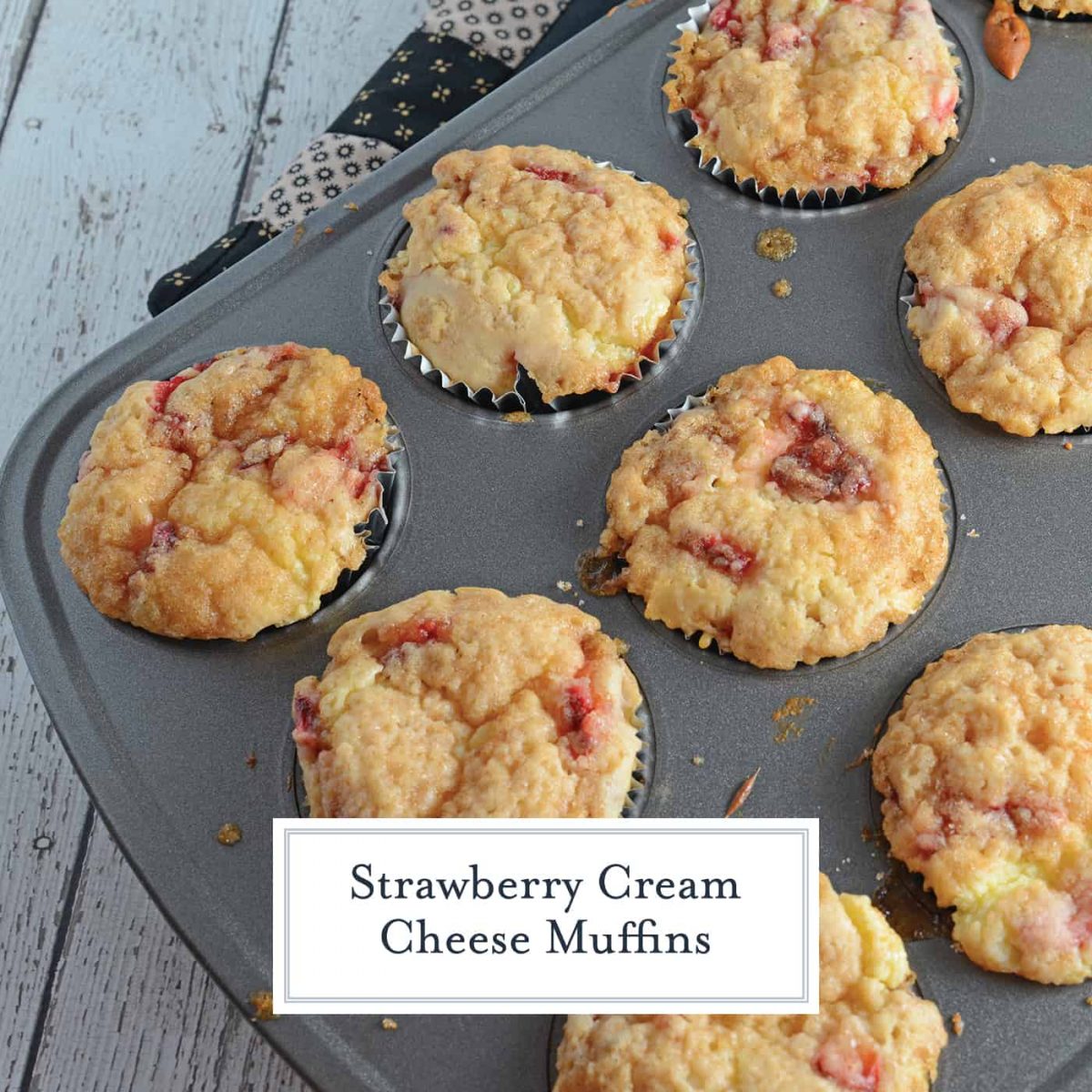 Strawberry Muffins
For the longest time I haven't seen much movement on my muffins, so I posted a quick note on my Facebook page asking my foodie friends for advice.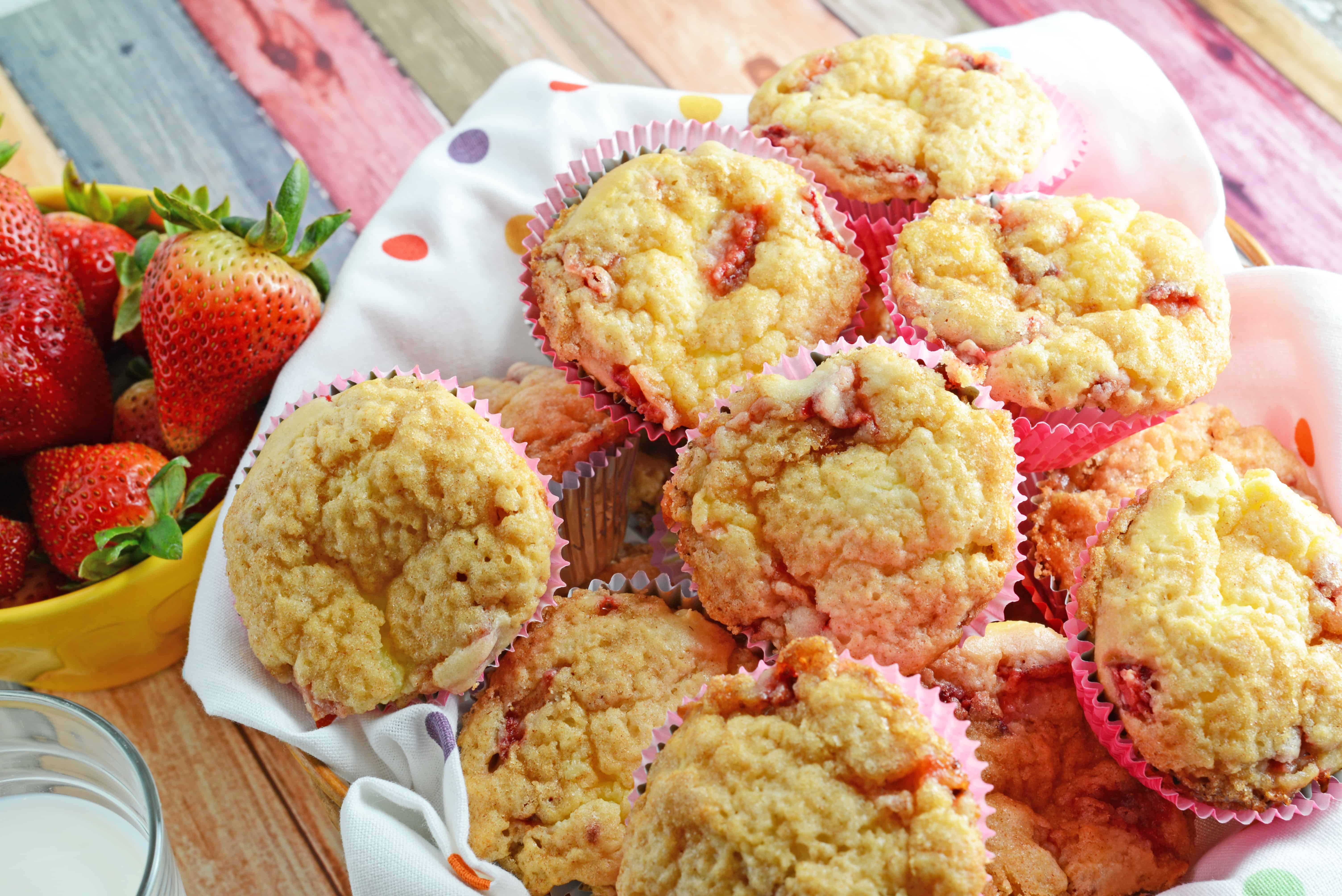 Who else better to ask than those supporting what I do, right? So I asked about everyone's favorite muffin and hands down, Strawberry Cream Cheese Muffins won by a landslide!
Well, anything with cream cheese won, but I'm sure you can guess why! Thing is, I am a sucker for all types of summer fruits.
Peaches, cherries, raspberries and of course, strawberries! And really, you can use any frozen or fresh fruit with this recipe.
How to Make
Making these tasty strawberry muffins is super easy even though the ingredient list and instructions look a little long. Basically they are broken up into 3 pieces:
The Muffin
Cream Cheese Filling
Streusel Topping
Muffin batter is pretty straight forward using pantry essentials with the exception of fresh strawberries. You can also use frozen strawberries, but make sure they are fully thawed and drained of any excess water.
Next, make the cream cheese filling so it is ready to go. Also, make the streusel topping and set aside.
Place a little muffin batter in each muffin liner, then cream cheese filling, then muffin batter. And finally, the topping.
Bake until they are lightly browned and spring back to the touch. Allow to cool in the pan for about 5 minutes and then remove and transfer to a cooling rack.
Don't let them cool in the muffin tin or they can cook further or start to steam a little.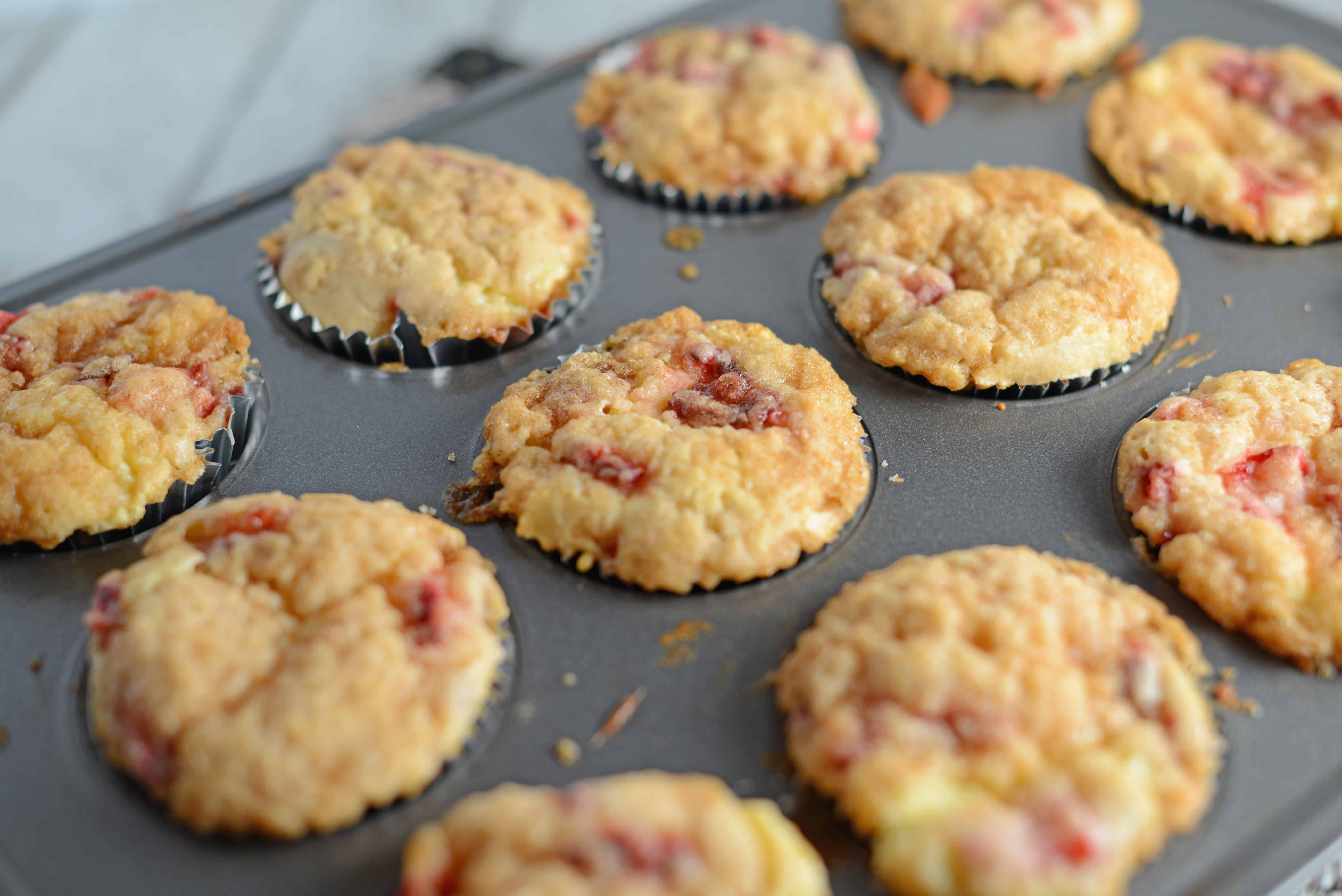 Make Ahead, Storage & Freezing
Strawberry Cream Cheese Muffins also freeze well, just make sure to get as much air out of the plastic freezer bag as you can. Use frozen, thawed strawberries during the winter months.
And if you LOVE muffins like I do, make sure you have a fabulous, durable muffin tin.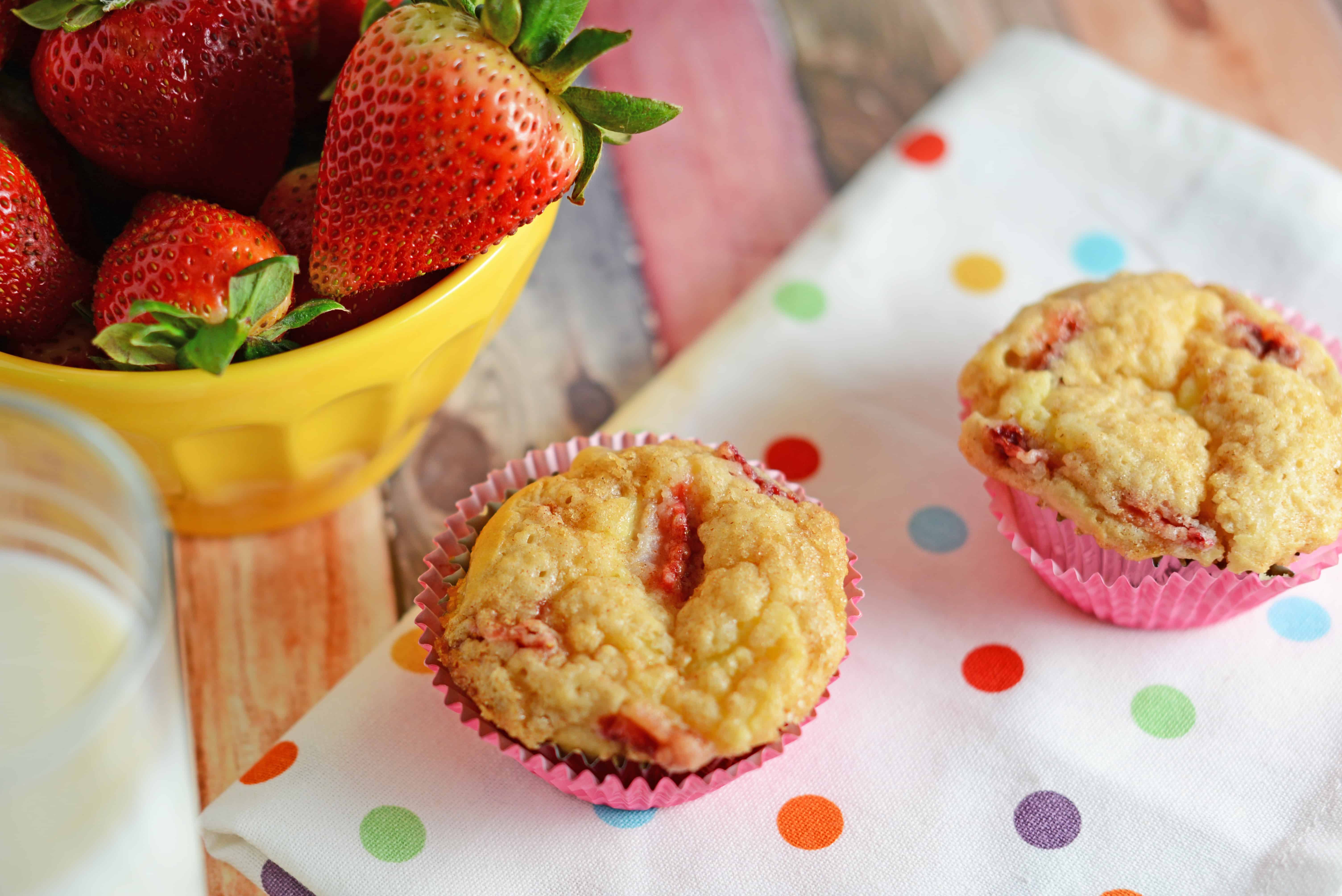 These delicious strawberry muffins can be served hot and fresh or can be frozen for up to 3 months.
More muffins recipes!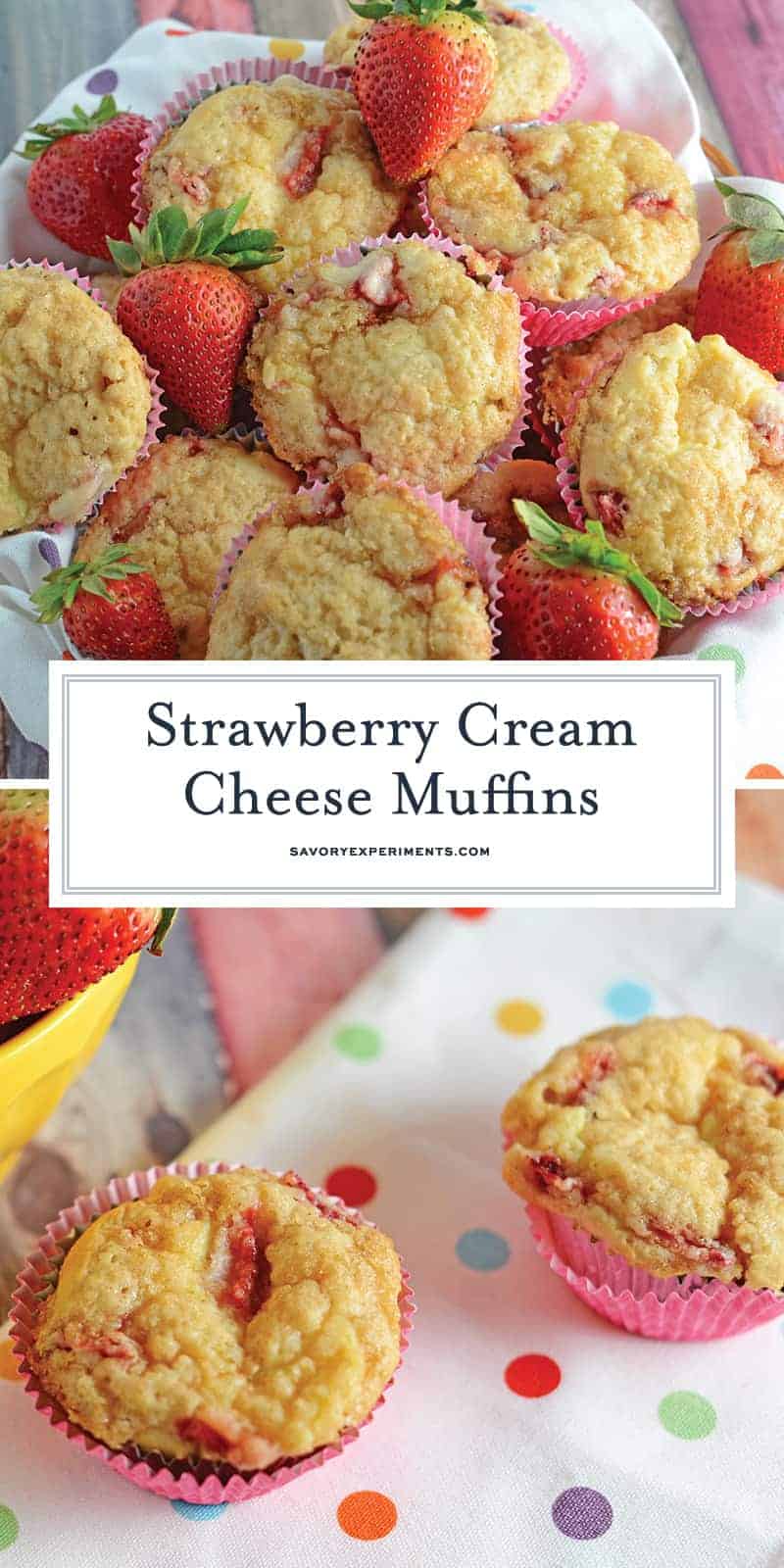 Tools for making Strawberry Cream Cheese Muffins:
Strawberry Huller– I never thought I needed one until I got one. Now I can't love without it.
Stand Mixer- While this is an investment, I can guarantee you will use it more than you realize and will never regret the decision.
Muffin Tins– I like to have at least two.
Sifter– It is important to sift your dry ingredients to break up any clumps and to even mix the flour with salt and baking powder.
Questions you might have about how to make strawberry muffins:
Can I use frozen strawberries? Yes, but make sure they are defrosted and drained so there isn't too much liquid in the muffin batter.
Can I use dehydrated strawberries? You can, but you might need to add 1-2 tablespoons of milk to account for the small amount of liquid in fresh strawberries. I haven't personally checked this.
Why are my muffins tough? Maybe tough isn't the right word, but the most common mistake made with a lot of baking is over working the batter or overfilling the muffin pan.
While you think you want glorious, puffy muffins, if you overfill them, they will need more time to cook, resulting in tough exteriors and you may lose some of the cream cheese filling.
Can I freeze these cream cheese muffins? Yes! Place them in an airtight plastic bag, remove as much air as possible and then you can freeze for about 6 months.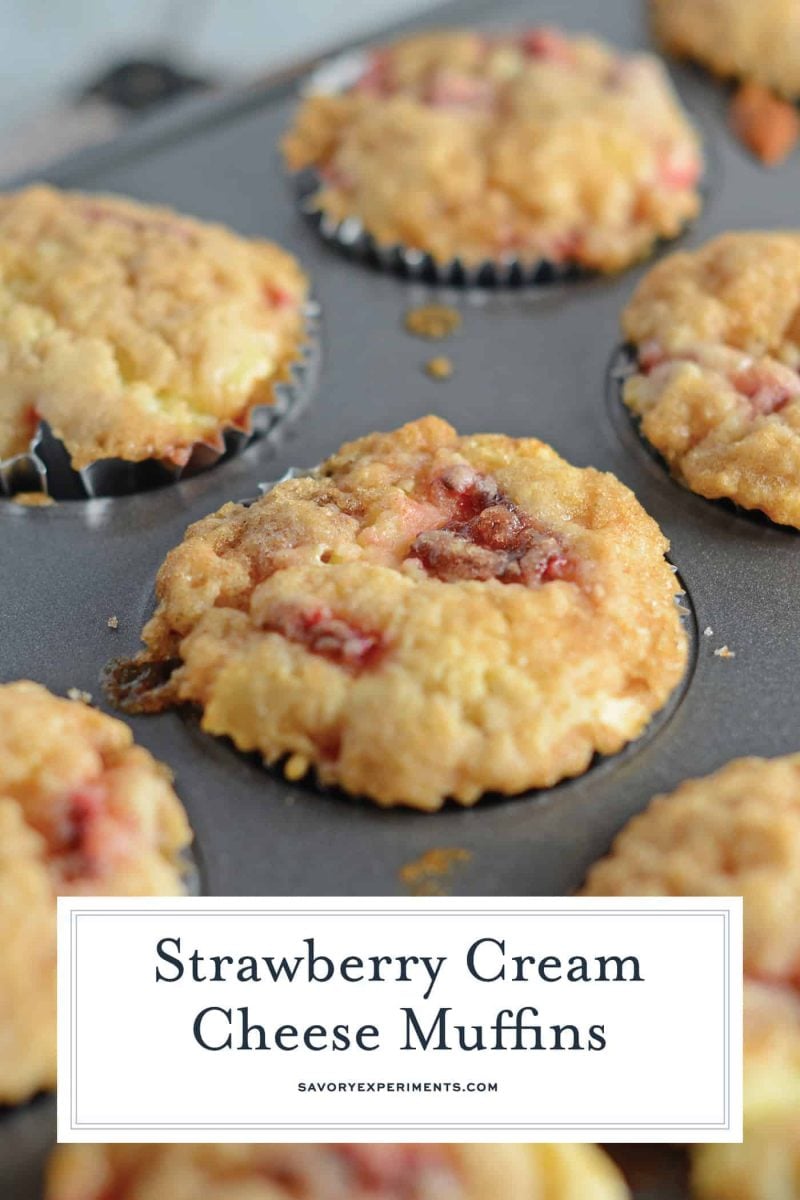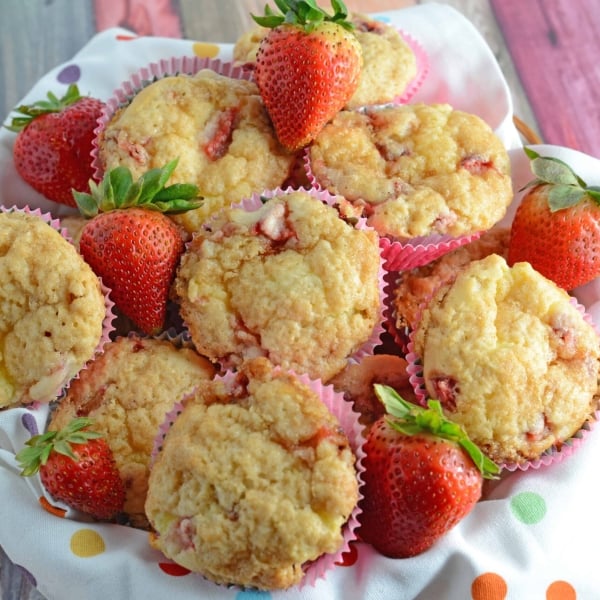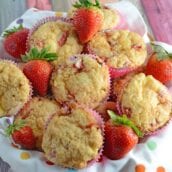 Strawberry Cream Cheese Muffins
Strawberry Cream Cheese Muffins are soft muffins using fresh strawberries, rich cream cheese and a brown sugar streusel topping.
Ingredients
Strawberry Muffins:
2

cups, plus 2 tablespoons

flour

2

teaspoons

baking powder

1/2

cup

sugar

plus two tablespoons

1

teaspoon

salt

1/2

cup

unsalted butter

melted

1

egg

room temperature and beaten

3/4

cup

skim or 1% milk

plus one tablespoon

2

cups

frozen

thawed strawberries, chopped
Streusel Topping (Optional):
Instructions
Preheat oven to 350 degrees. Line 24 muffin tins with fun cupcake liners.

Sift together 2 cups flour, baking powder, sugar and salt in a mixing bowl, set aside.

In a small bowl, toss together chopped strawberries with 2 tablespoons flour and 2 tablespoons sugar. Set aside.

In a stand mixer fitted with the paddle attachment or a large mixing bowl with an electric mixer, blend melted butter, milk and egg.

Slowly add dry ingredients to the batter. Do not over mix. Stop when it is combined, but there are still small lumps.

Fold in strawberries. The batter will marbleize or turn blue if using frozen strawberries. Don't panic.

In another small bowl, beat together all ingredients for cheesecake filling. Set aside

Use a cheese grater and grate cold butter into a bowl. Add remaining ingredients and mash together using s fork or pastry cutter.

Using two spoons, spoon 1 heaping tablespoon of muffin batter in each lined muffin tin. Add a little less than one tablespoon cheesecake mixture to each. Top with more muffin batter until approximately 2/3 full. Sprinkle tops evenly with streusel mixture, pressing it ever so gently down to make it stick.

Bake for 25 minutes. Times may vary based on oven and how much you filled those cups (I know a few of you took some chances and filled them to the brim, didn't you??). Muffin tops will spring back to the touch.

Remove and allow to cool.

If you've tried this recipe, come back and let us know how they are!
Nutrition
Calories:
210
kcal
,
Carbohydrates:
28
g
,
Protein:
3
g
,
Fat:
9
g
,
Saturated Fat:
5
g
,
Cholesterol:
38
mg
,
Sodium:
128
mg
,
Potassium:
120
mg
,
Fiber:
1
g
,
Sugar:
8
g
,
Vitamin A:
305
IU
,
Vitamin C:
1
mg
,
Calcium:
39
mg
,
Iron:
1.2
mg