Looking for a new muffin recipe beyond Lemon Poppy Seed Muffins, Banana Nut Muffins and Blueberry Muffins? Check out my new recipes for Strawberry Cream Cheese Muffins!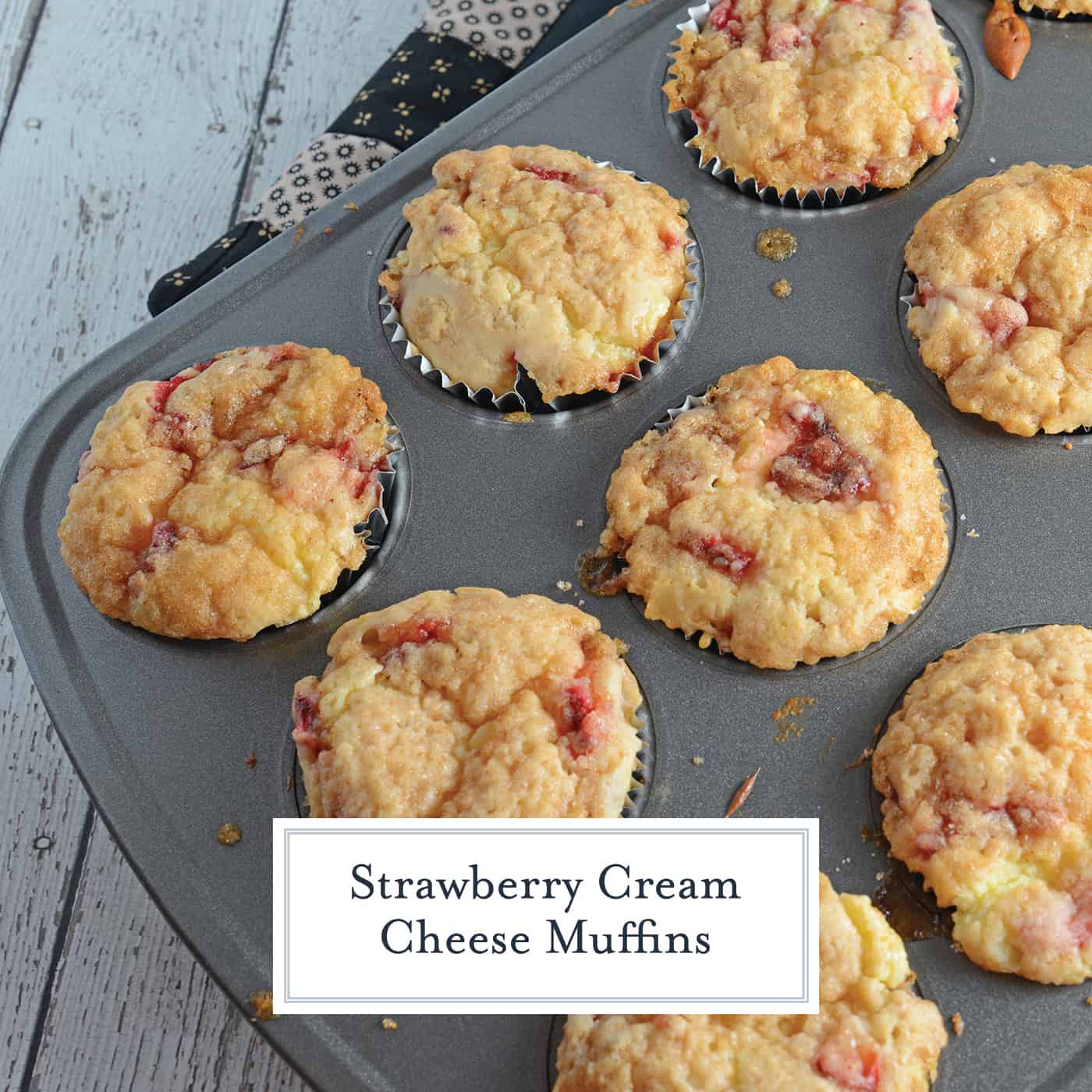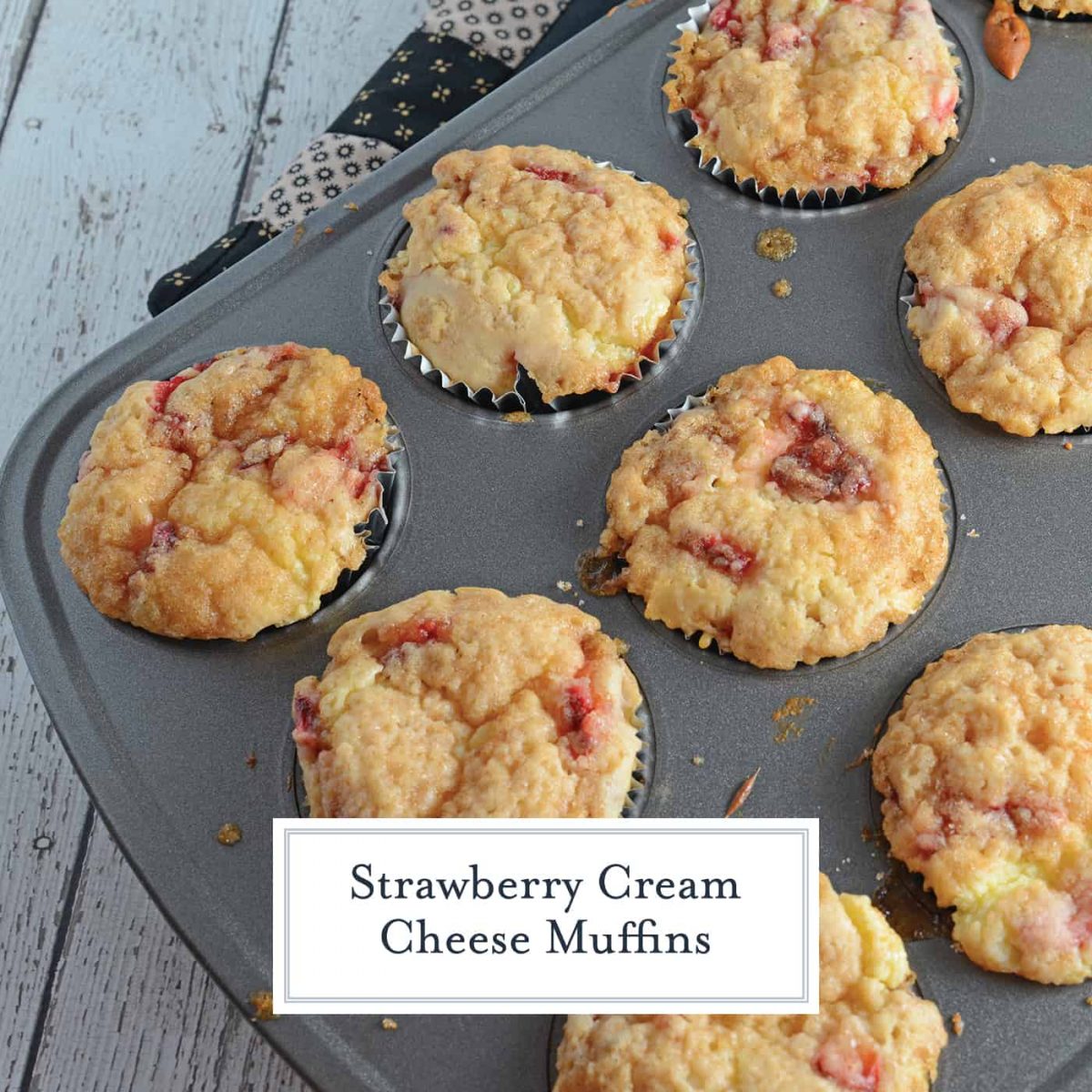 For the longest time, I haven't seen much movement on my muffins, so I posted a quick note on my Facebook page asking my foodie friends for advice. I asked about everyone's favorite muffin and hands down, Strawberry Cheesecake Muffins won by a landslide!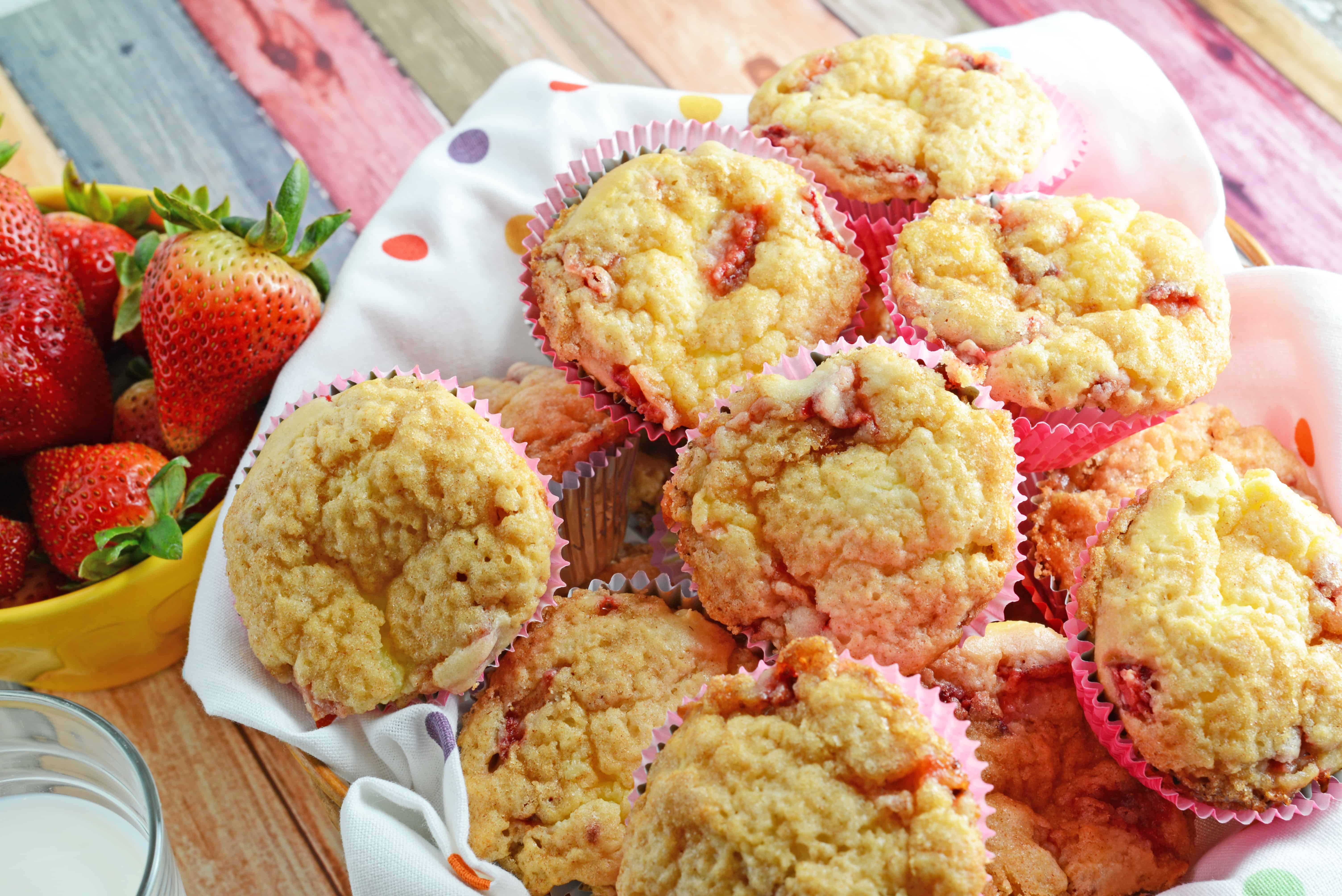 Why You'll Love Strawberry Cream Cheese Muffins
Baked goods and juicy strawberries are simply a match made in heaven, but these delicious muffins are out of this world.
Light and Fluffy – All too often store muffins are heavy, dense, and downright greasy. These are light and fluffy with a soft texture and creamy and sweet in the middle.
Year-Round Recipe – Strawberries are at their peak flavor in the middle of the summer, but the good news is this recipe uses the frozen variety so you can make it all year long.
Perfect Treat – Sometimes you don't want a behemoth muffin, you just want something small and tasty. These give you that sweet treat in one or two bites.
Quick Breakfast – What's better than a freshly baked muffin packed with fresh berries? They are a delicious way to brighten any morning.
What Are Strawberry Cream Cheese Muffins
These mini fluffy muffins are a made-from-scratch recipe with a sweetened cheesecake filling in the center of each muffin and a sweet, brown sugar streusel topping.
They are perfectly poppable and you and your entire family will love them. Perfect for a delicious dessert, a snack after school, or even a great start to the day.
Ingredients
Using everyday items that you probably already have in your kitchen, this is an easy muffin recipe you will go back to during strawberry season or any time of year. They couldn't be easier to make.
Strawberry Muffins
Flour – This serves as the base for the muffin. If your grocery store has more than one type of flour in the baking aisle, look for AP or All-Purpose flour which works for most sweetened bakes goods.
Baking Powder – Helps the muffins rise and gives them a fluffy texture.
Sugar – Strawberries are sweet but a little extra sugar never hurts.
Salt – I prefer kosher salt here because it helps to enhance the flavor of the strawberries and round out the sweetness in the rest of the recipe, but feel free to use what you have.
Unsalted Butter – There is already salt in the recipe, using unsalted butter keeps it from becoming too salty. Melted butter is best for cake batter and in turn, muffin batter.
Egg – Fun Fact: Room-temperature eggs mix better with batter, allowing baked goods to rise more evenly.
Milk – A lower fat content for this recipe is ideal because there is an additional richness from the cream cheese center.
Frozen Strawberries – Be sure that these thaw completely before adding them to your batter. Any additional moisture or temperature changes will prevent the muffins from rising.
Sweet Cream Cheese Filling
Cream Cheese – Be sure this is softened or room temp before you start making the filling. You need it to be pliable so you can mix it with the other ingredients.
Egg Yolk – Adds richness and gives the filling a super smooth texture.
Vanilla Extract – Provides a subtle vanilla undertone that pairs perfectly with the tart strawberries and tangy cream cheese.
Sugar – Sweetens the filling a touch to give it that authentic cheesecake taste.
Streusel Topping
Brown Sugar – Sugar mixed with molasses for a deep sweetness. Dark or light will work well.
White Granulated Sugar – Adding additional straightforward sweetness to the recipe.
Flour – Provides the basis for the streusel. Again, all-purpose flour is best.
Cinnamon – Adding a touch of warm spice to the topping.
Unsalted Butter – Helps the toast the sugars and flour and brings out the cinnamon flavor.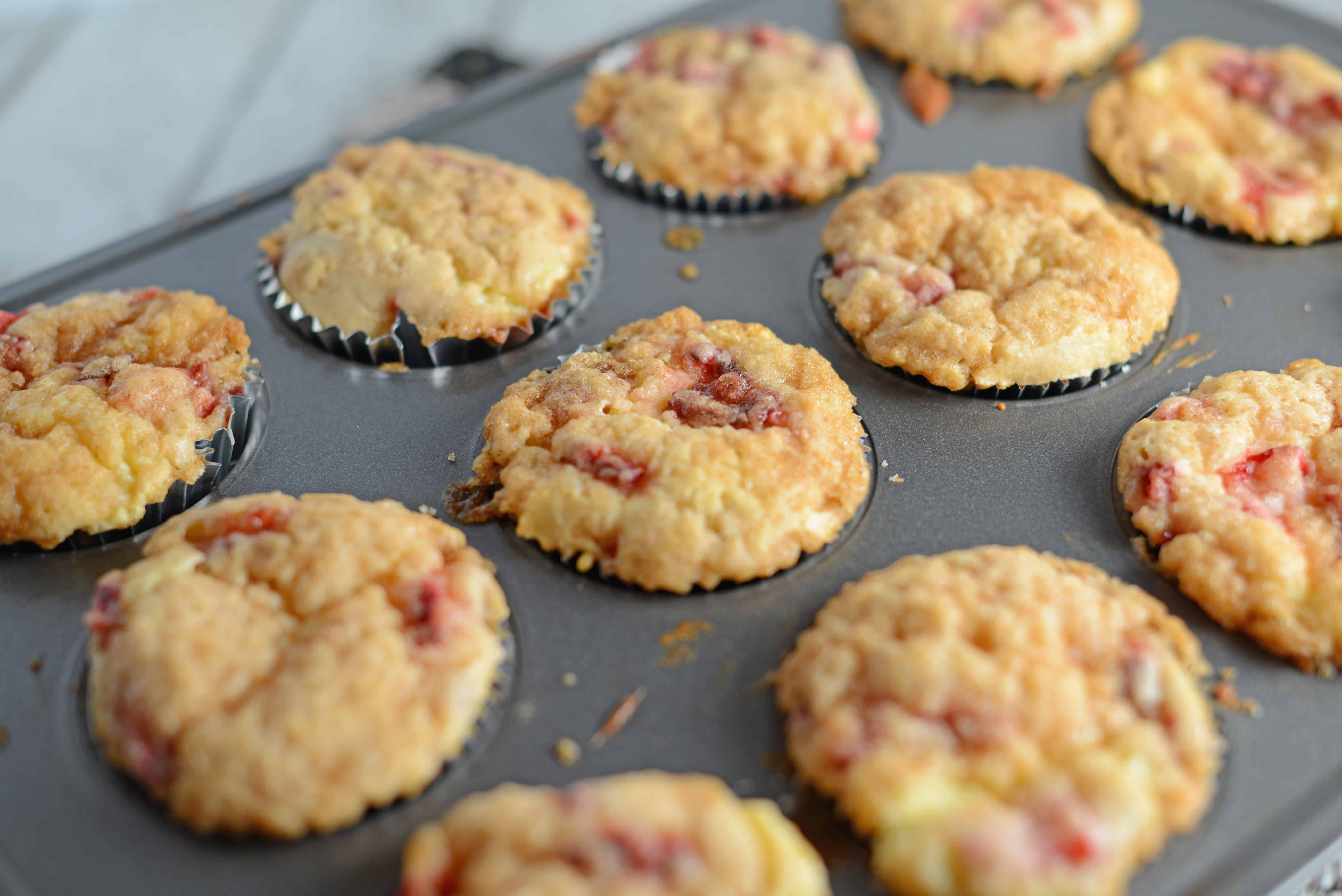 How to Make Strawberry Cream Cheese Muffins
Making these tasty strawberry muffins is super easy and the recipe is broken down into three sections: the muffin batter, the cheesecake filling, and the streusel topping.
Prep your oven, muffin tin, and muffin cups. Always give your oven plenty of time to preheat and have everything you need ready to go ahead of time when baking.
Sift the dry ingredients. This might seem tedious but sifting your dry ingredients ensures that there are no clumps of say flour or baking powder baked into a muffin and makes sure everything in the flour mixture is evenly dispersed.
Create the strawberry mixture. The sugar helps to macerate the strawberries while the flour helps to soak up some of the moisture which will help them stay suspended in the batter vs. all sinking to the bottom as they bake.
Mix the wet ingredients. I like to use my stand mixer because it makes life easy, but a hand mixer or even just a spatula will work here as well. If you use the electric mixer or spatula, be sure to grab a large mixing bowl that can accommodate all the ingredients.
Add the dry ingredients. Combine flour and other ingredients in a medium bowl and remember, the key is to not overmix. Overmixing will lead to flat muffins that don't rise so stop when all the dry ingredients are mixed in even if you see some little lumps.
Fold in the strawberries. I tend to do this by hand with a spatula because it is far too easy to overmix here. Set that aside.
Make the cream cheese mixture. In a small bowl, work to mix all the ingredients together until you have a homogenous mix.
Make the streusel topping. You know this is down when it has formed a crumbly mix with pieces that are pea-sized or smaller.
Assemble your muffins. Be sure not to overfill your muffin liners as these muffins will rise as they bake. If you fill them to the top, you will be looking at some dishes that are rather hard to clean. Sprinkle the streusel on top of the muffins and gently press it in.
Bake muffins! Pop the muffin tin into the preheated oven and keep an eye on your muffins as they bake, because everyone's oven is different. You want a golden brown top.
Cool. Allowing the muffins to cool slightly in the pan prevents them from splitting when you move them. Be sure to let them continue to cool on a wire rack as the heat from the pan will steam the strawberries and your muffins will be mushy instead of light and fluffy.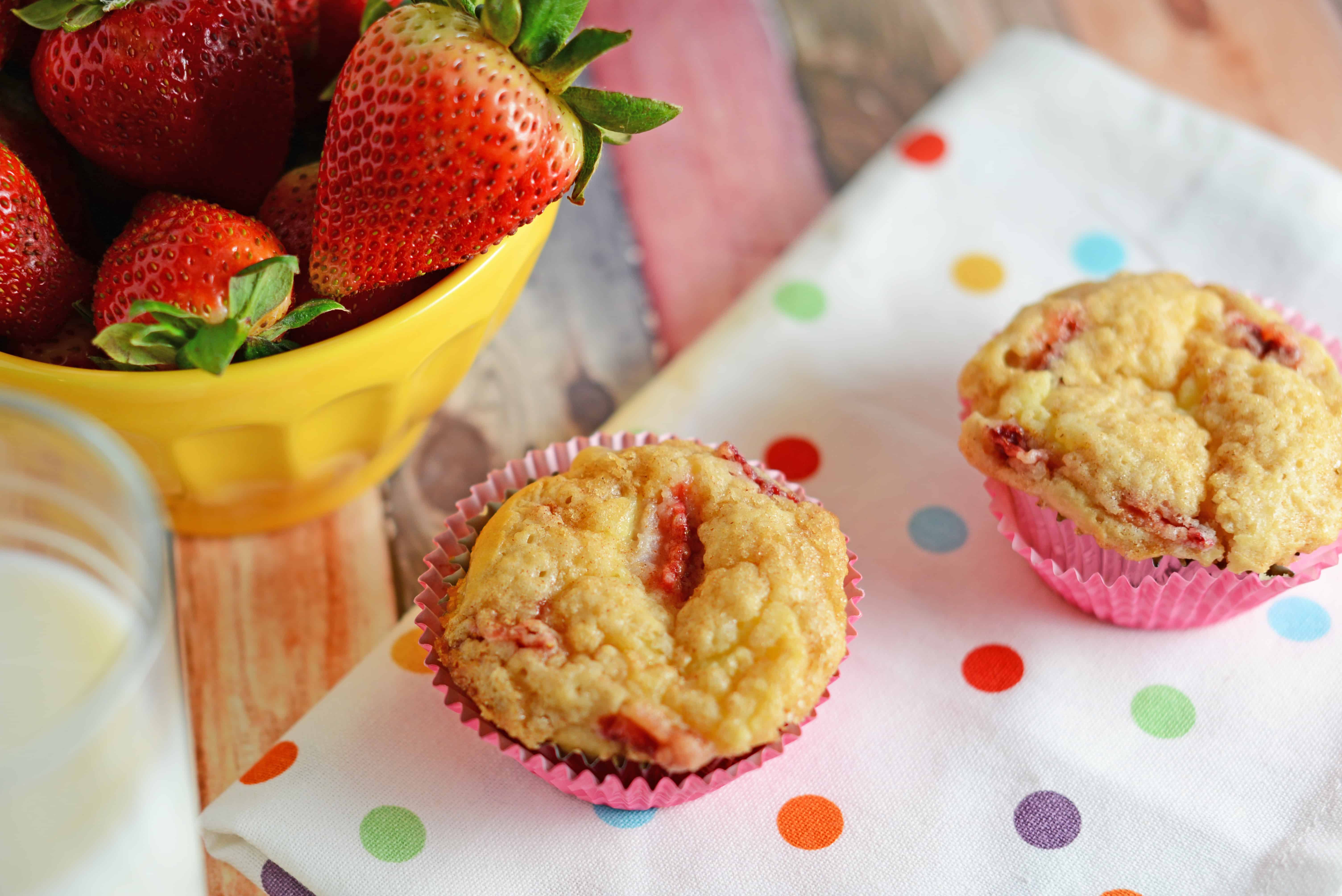 Variations
These are delicious as is, but there are definitely a few things you can try to change it up a bit.
Swap the Fruit – I am a sucker for all summer fruits. Peaches, cherries, plums, raspberries, and of course, strawberries! And really, you can use any frozen or fresh fruit with this recipe. Be sure to use the same amount listed and remember, if you are using frozen fruit thaw and strain completely.
Spice Up the Streusel – Add a pinch of clove, cardamom, or even allspice to the streusel recipe to give it an even cozier flavor.
Skip the Streusel – Short on time or ingredients? No problem and skip the streusel, because these muffins are just as delicious without it.
Make It Bright – Add the zest of one lemon to the muffin batter to give it some added brightness.
Make Ahead, Storage & Freezing
Make Ahead – These can be baked off up to three days before serving, but be sure to store them in an airtight container so they do not get stale.
Storing – Be sure to store them in an airtight container and in a single layer for up to three days.
Freezing. Should you have any leftover Strawberry Cream Cheese Muffins, they freeze really well. Make sure to get as much air out of the plastic freezer bag as you can and they will hold in there for up to 3 months.
More Amazing Muffin Recipes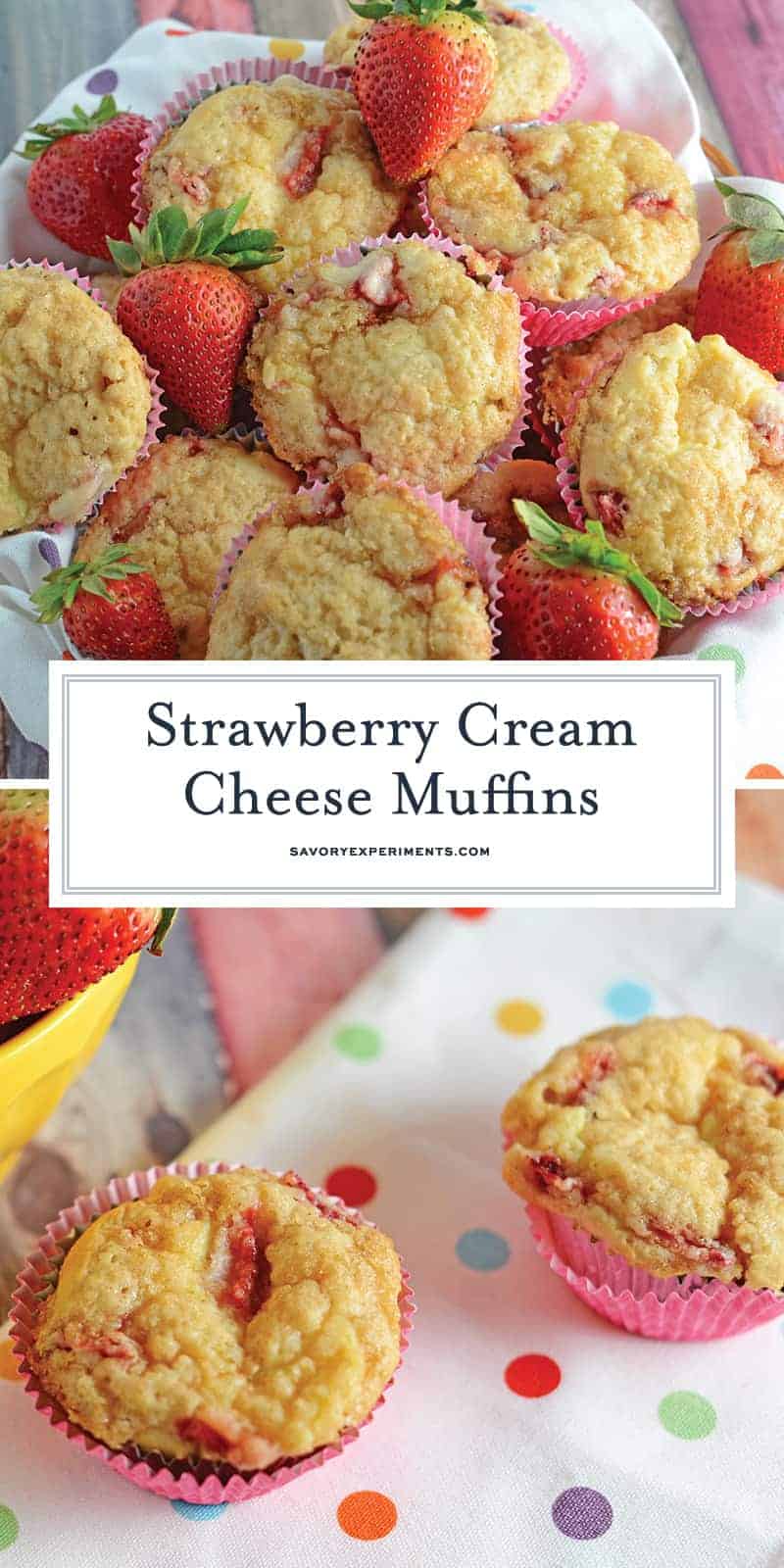 Questions About Strawbery Muffins
What makes muffins too moist?
Leaving them to cool in the pan for too long can make muffins too moist because they begin to steam, but this is an easy problem to fix. By taking them out of the pan 5 minutes after they come out of the oven, you allow the steam created during baking to escape vs. getting trapped in the pan with them.
What can I add to make muffins moist?
This recipe is great because the ratio of the ingredients leads to a perfectly moist muffin, but if you are working with another recipe that is lacking in that department, try using full-fat milk or even buttermilk.
Why are my muffins tough?
The most common mistake made is over-mixing the batter OR overfilling your muffin tins, but thankfully, there are two easy remedies. Mix until just combined and only fill your muffin liners up 2/3 of the way. This will give you light, airy, and fluffy muffins.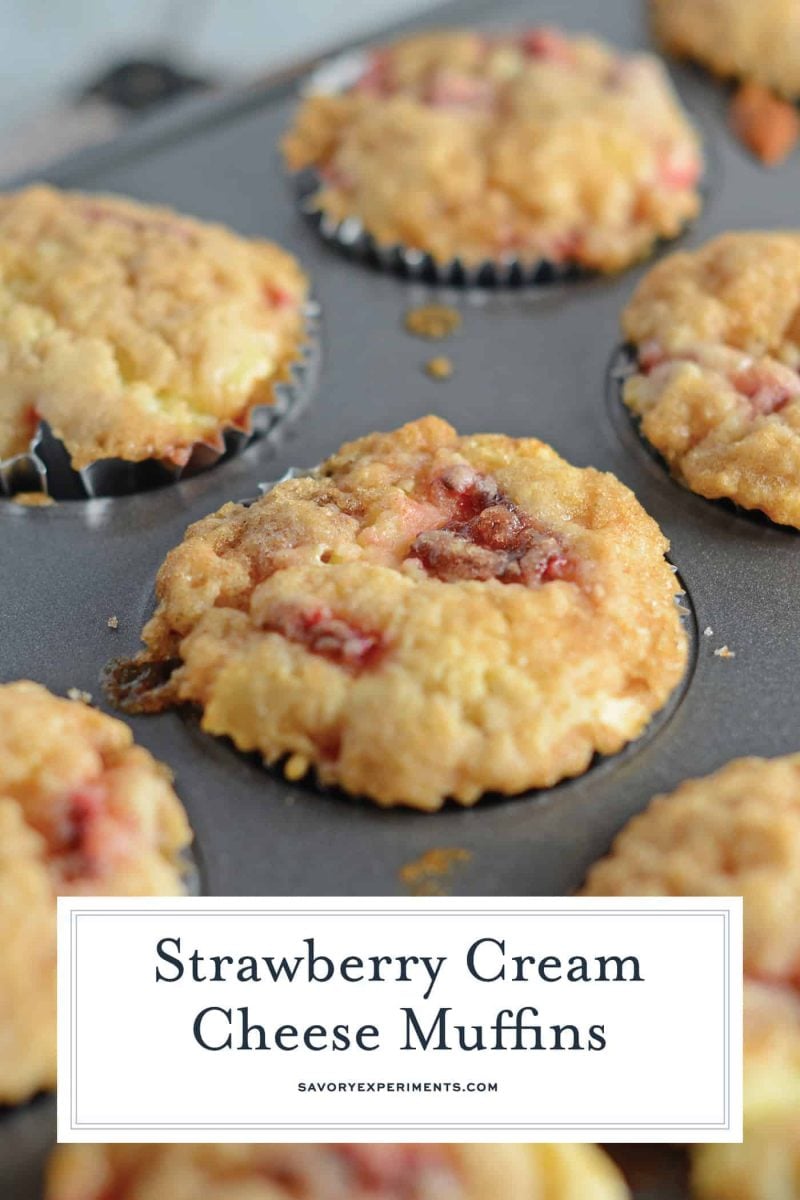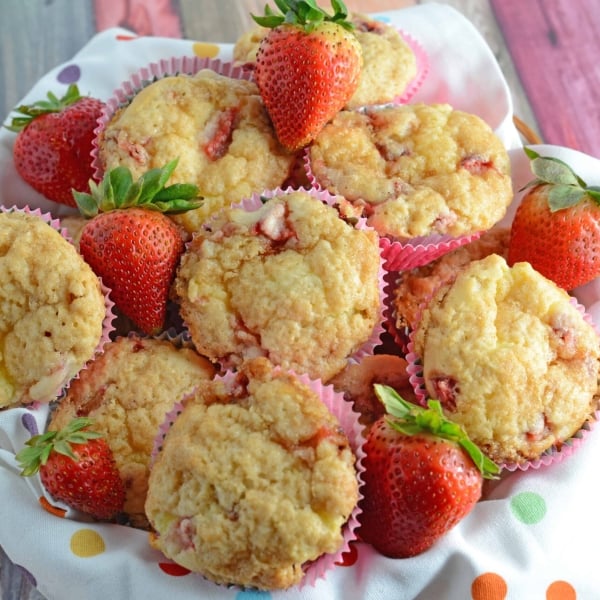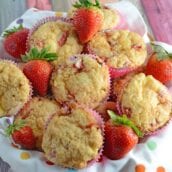 Strawberry Cream Cheese Muffins
Strawberry Cream Cheese Muffins are soft muffins using fresh strawberries, rich cream cheese and a brown sugar streusel topping.
Ingredients
Strawberry Muffins:
2

cups, plus 2 tablespoons

flour

2

teaspoons

baking powder

1/2

cup

sugar

plus two tablespoons

1

teaspoon

salt

1/2

cup

unsalted butter

melted

1

egg

room temperature and beaten

3/4

cup

skim or 1% milk

plus one tablespoon

2

cups

frozen

thawed strawberries, chopped
Streusel Topping (Optional):
Instructions
Preheat oven to 350 degrees. Line 24 muffin tins with fun cupcake liners.

Sift together 2 cups flour, baking powder, sugar and salt in a mixing bowl, set aside.

In a small bowl, toss together chopped strawberries with 2 tablespoons flour and 2 tablespoons sugar. Set aside.

In a stand mixer fitted with the paddle attachment or a large mixing bowl with an electric mixer, blend melted butter, milk and egg.

Slowly add dry ingredients to the batter. Do not over mix. Stop when it is combined, but there are still small lumps.

Fold in strawberries. The batter will marbleize or turn blue if using frozen strawberries. Don't panic.

In another small bowl, beat together all ingredients for cheesecake filling. Set aside

Use a cheese grater and grate cold butter into a bowl. Add remaining ingredients and mash together using s fork or pastry cutter.

Using two spoons, spoon 1 heaping tablespoon of muffin batter in each lined muffin tin. Add a little less than one tablespoon cheesecake mixture to each. Top with more muffin batter until approximately 2/3 full. Sprinkle tops evenly with streusel mixture, pressing it ever so gently down to make it stick.

Bake for 25 minutes. Times may vary based on oven and how much you filled those cups (I know a few of you took some chances and filled them to the brim, didn't you??). Muffin tops will spring back to the touch.

Remove and allow to cool.

If you've tried this recipe, come back and let us know how they are!
Nutrition
Calories:
210
kcal
,
Carbohydrates:
28
g
,
Protein:
3
g
,
Fat:
9
g
,
Saturated Fat:
5
g
,
Cholesterol:
38
mg
,
Sodium:
128
mg
,
Potassium:
120
mg
,
Fiber:
1
g
,
Sugar:
8
g
,
Vitamin A:
305
IU
,
Vitamin C:
1
mg
,
Calcium:
39
mg
,
Iron:
1.2
mg