Homemade Pancakes with Bacon are the best savory-sweet breakfast! This easy pancake recipe comes together quickly and highlights bacon added to the batter—so you know it's delicious! Top a stack of Bacon Pancakes with maple syrup, butter and extra bacon for the ultimate breakfast!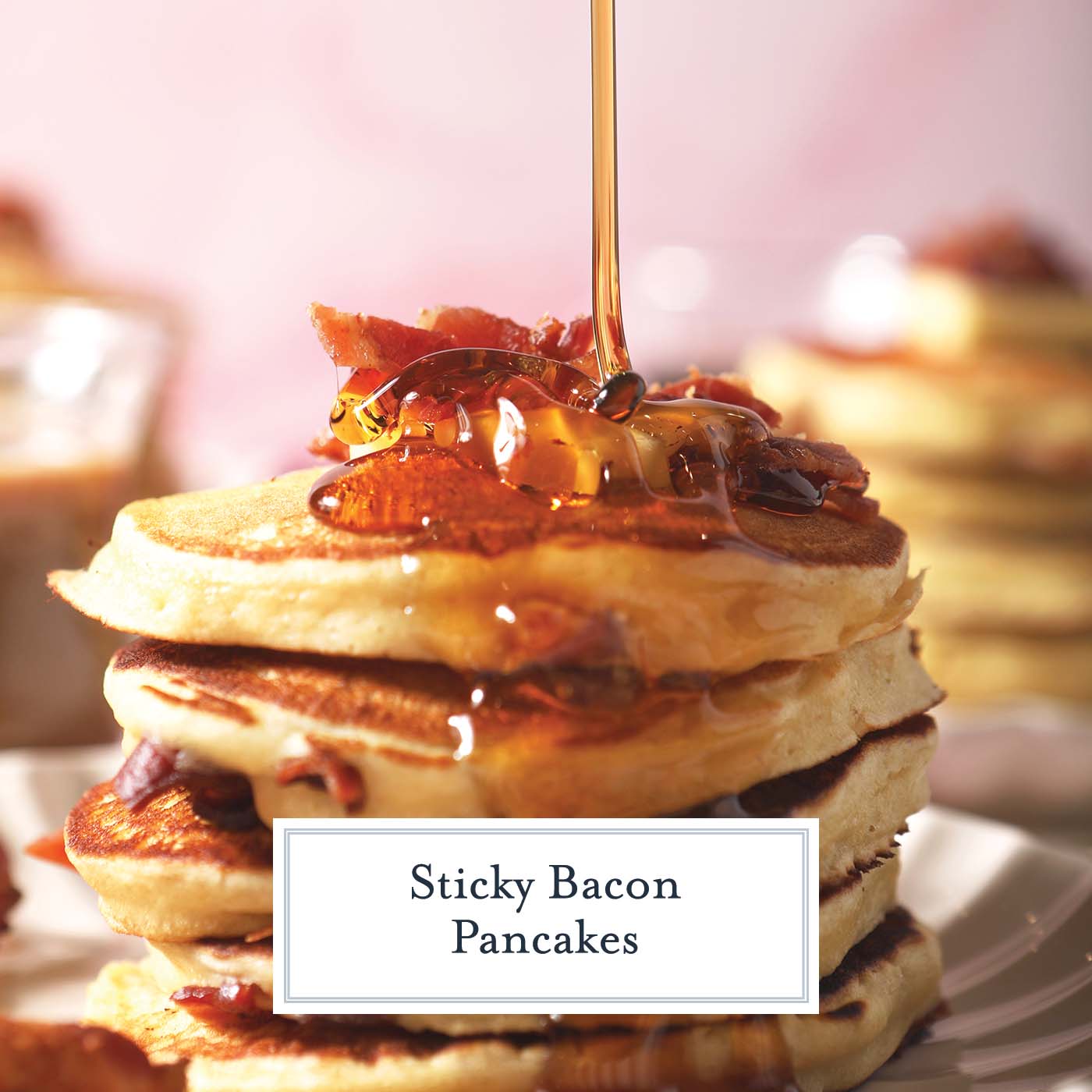 Our family loves pancakes. Any kind of pancakes.
And this Bacon Pancake recipe is one of our new favorites because it's the perfect combination of salty and sweet. They also have excellent texture, as you get crunchy bacon bites paired with fluffy pancake. It's an incredible combination.
Also—who doesn't love bacon with pancakes for a weekend breakfast or brunch? We're getting two birds with one stone by adding the bacon TO the pancake batter as it cooks.
Pro tip: Serve the pancakes with extra bacon and a big glug of maple syrup.
Ingredients
Bacon pancakes are easy to make at home and chances are, you've got these handful of pantry and refrigerator ingredients on hand.
You'll need…
All-purpose flour—this is sometimes referred to as AP flour. It serves as the base for our recipe, and I have not tested this recipe using other flours in place of it. You can use self-rising flour, just omit the leaveners and salt.
Granulated sugar—also known as white sugar, this provides sweetness to the batter, balancing out acidic and salty flavors, and caramelizes while it cooks.
Leaveners—baking soda and baking powder are both used in this recipe to create light, fluffy pancakes. Make sure yours are fresh so that your pancakes become super fluffy. They create pockets of air which are perceived as fluff.
Salt—I like to use a fine grain sea salt or kosher salt for this recipe. A finer grain will dissolve without grit and doesn't have a metallic aftertaste.
Milk—we prefer whole milk, because that's what we keep in our fridge, but you can use any type of milk. (Nonfat, 1%, 2% all work.) We've even made this pancake base recipe with non-dairy milks, like almond milk, oat milk and cashew milk, too.
Eggs—these provide structure, as well as lift for our pancakes.
Vanilla extract—a little goes a long way, but make sure to use the real deal, not the imitation kind.
Unflavored oil—also known as neutral oil, we have used vegetable, canola or avocado oil in this recipe, and all are good. They need a high smoke point to not burn while on the griddle, which is why we don't use butter. If you're feeling really decadent, you could use the same amount of bacon fat to add extra bacon flavor in the pancakes.
Bacon—you'll need 12 ounces (so almost a pound!) and it needs to be cooked before you add it to the pancakes. My favorite way to do this is making bacon in the oven. I do suggest a thick and good quality bacon. Sometimes the meat counter will have these specialty cuts in set aside and available straight from the meat case.
I love a real maple syrup, but many other types of syrup pair well to. Check out my Dutch Honey, also known as a blond syrup, and Apple Cider Syrup.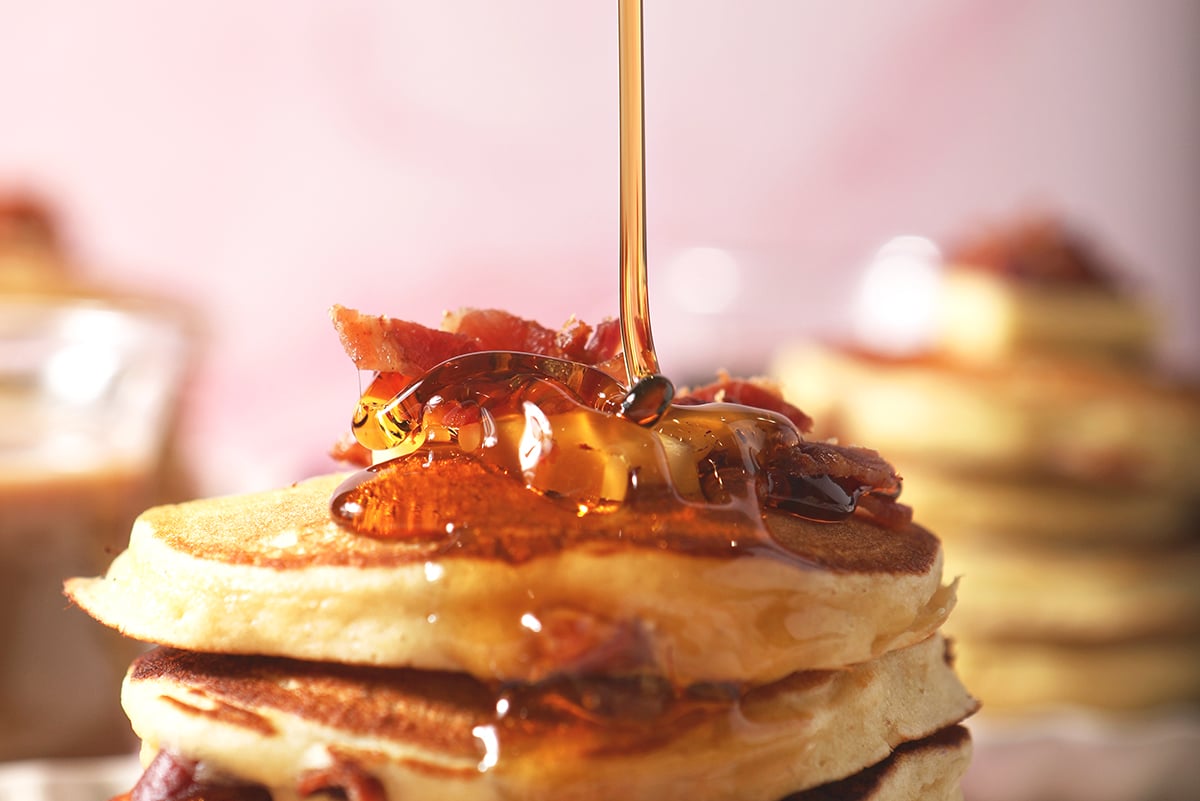 How to Make Bacon Pancakes
First, cook the bacon. I like to cook mine in the oven because it is less messy, but you could very easily fry it on the stovetop or in your air fryer. Once it's cooked, drain it on a paper towel and then chop it.
Next, mix the dry ingredients for the pancakes, whisk together until combined so all the leaveners are evenly distributed.
Whisk together the wet ingredients in a separate bowl.
Pour the wet ingredients into the dry ingredients and gently fold them together until just combined. Be careful not to overmix the bacon pancakes batter because that will make for tougher, less fluffy pancakes.
Once the batter has been mixed, heat a nonstick skillet or a griddle over medium heat (approximately 350°F). Brush the pan with bacon fat or cooking spray, and let it warm up.
Use a cookie scoop or a measuring cup to dollop the pancakes onto the preheated skillet when ready.
Sprinkle 1-2 teaspoons of chopped bacon on top of the batter.
When several bubbles form on the surface, flip the pancakes, and cook through for another 1-2 minutes.

Repeat until all of the batter has been made into pancakes. Keep the cooked pancakes on a wire rack in the oven to stay warm. If you stack them on top of each other without a mechanism to circulate heat under the pancake, they can start to steam and get rubbery.
Stack the cooked pancakes onto plates. Serve with butter, real maple syrup and additional crumbled bacon.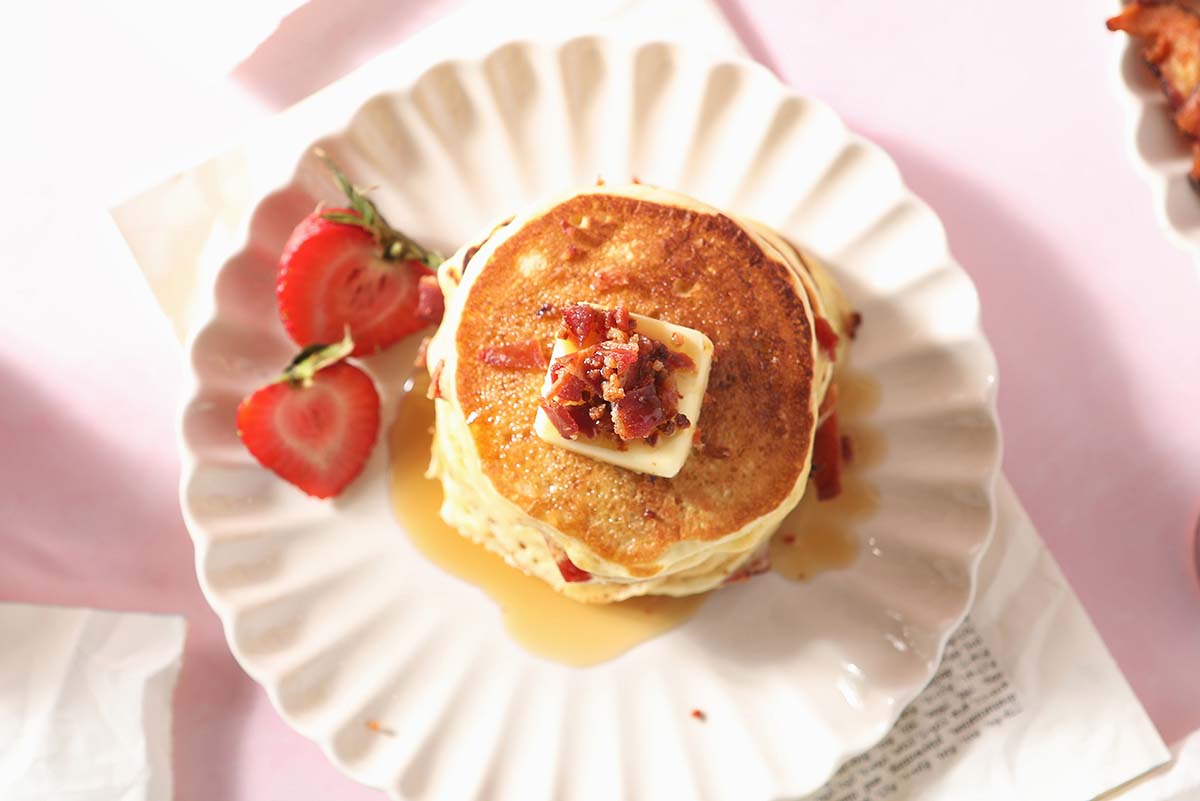 Tips for the Best Pancakes
Cook the bacon before you make the homemade pancakes. This way, you can have everything ready to go once you mix the pancake batter. It can even be made ahead of time or cold. If you're trying to cook the bacon at the same time as the pancakes, it won't be ready to go into the pancake batter as that cooks.
Mix the wet and dry ingredients separately. Get the eggs incorporated into the other wet ingredients so you don't have stray bits of egg white in your final pancakes. Trust me when I say that you don't want this to happen!
Don't overmix the pancake batter! Lumps are OK in the batter—we just want the ingredients incorporated. Overmixing can also cause tougher pancakes and also cause them not to rise as much when cooking.
Let the batter rest. If you have the time, and this is not mandatory, allow the pancake batter to rest for just 10-15 minutes. You'll start to see little bubbles forming and popping at the top, this is the basking powder and baking soda activating doing its job and creating air bubbles- also what makes air bubbles in your pancakes. Letting it sit makes more air bubbles.
Don't press down on the pancakes after flipping! This will push the air out of them, making them flatter, and if you want extra fluffy pancakes, you need to avoid this.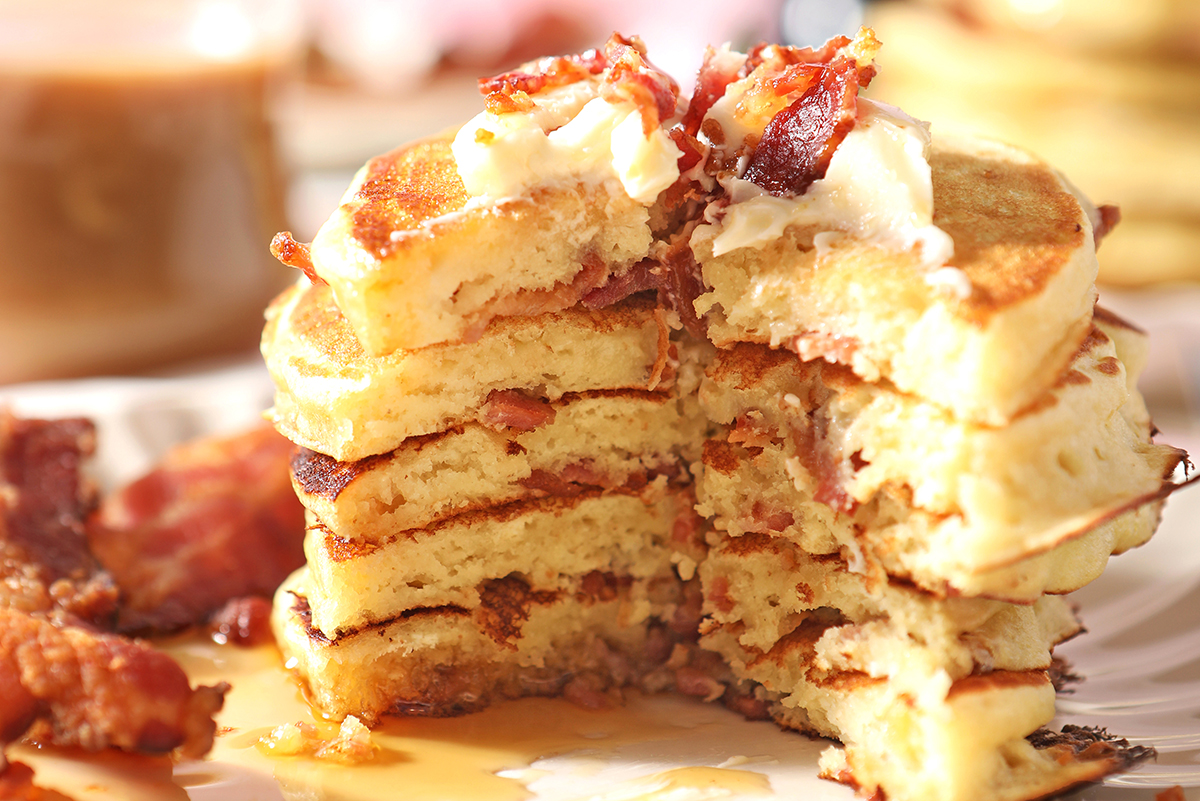 Storage and Freezing
If you have leftovers, no problem! Line a baking sheet with wax paper, and pop your bacon pancakes in the freezer for 4-6 hours.
When the pancakes are fully frozen, transfer them to a freezer baggie. Reheat in the toaster oven, toaster or the oven until warmed through.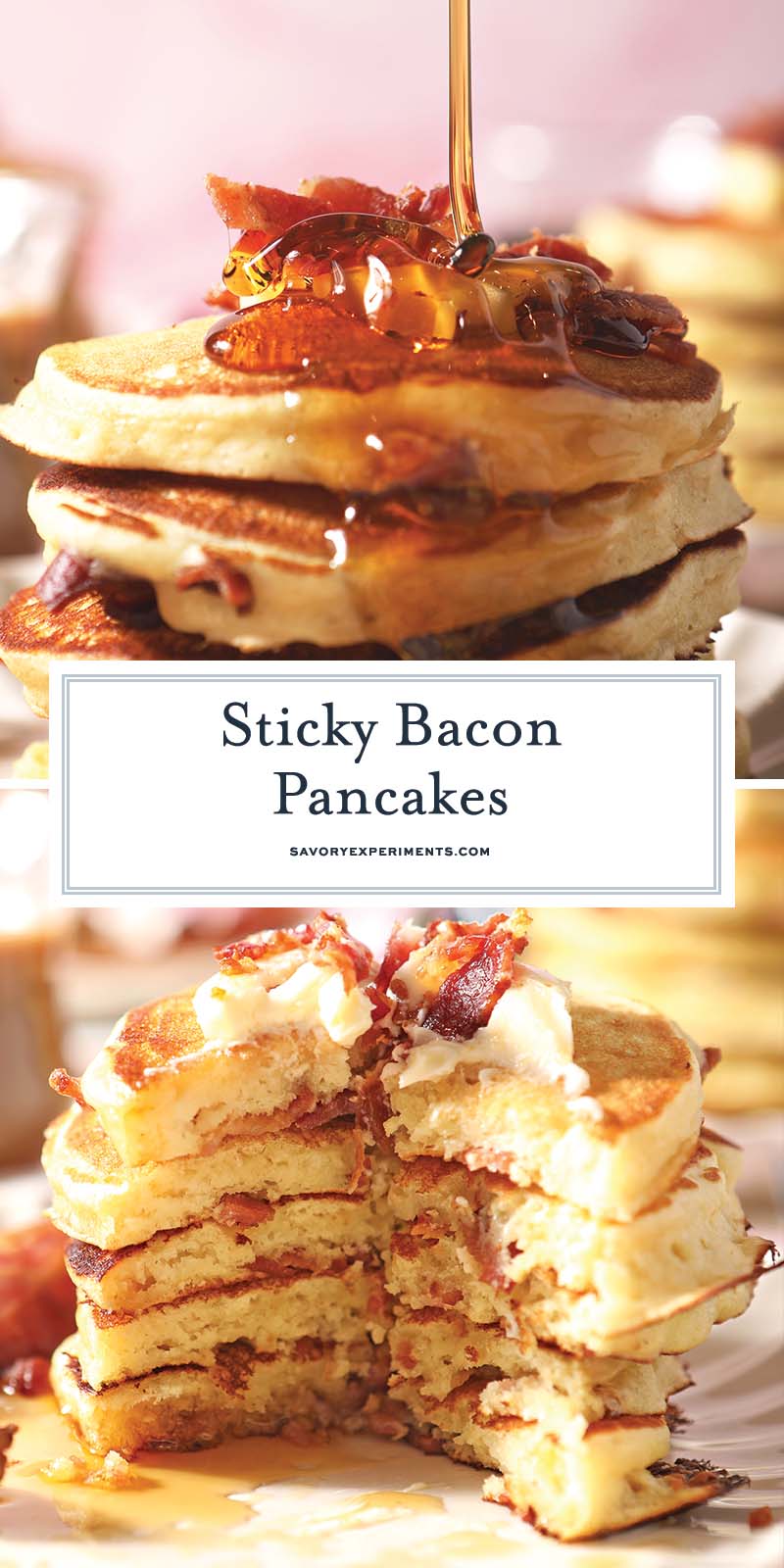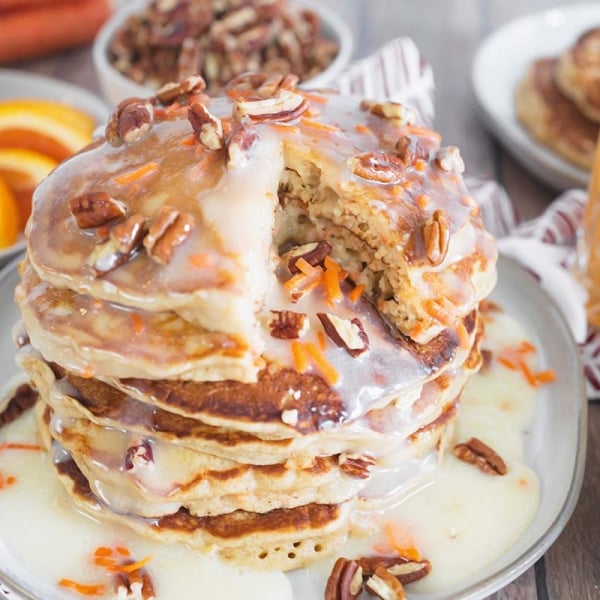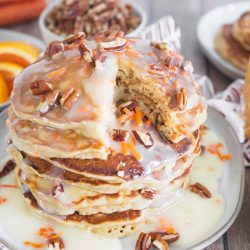 Carrot Cake Pancakes
These Carrot Cake Pancakes will have everyone wanting more. They're moist, fluffy and a perfect breakfast or brunch when celebrating spring!
See The Recipe!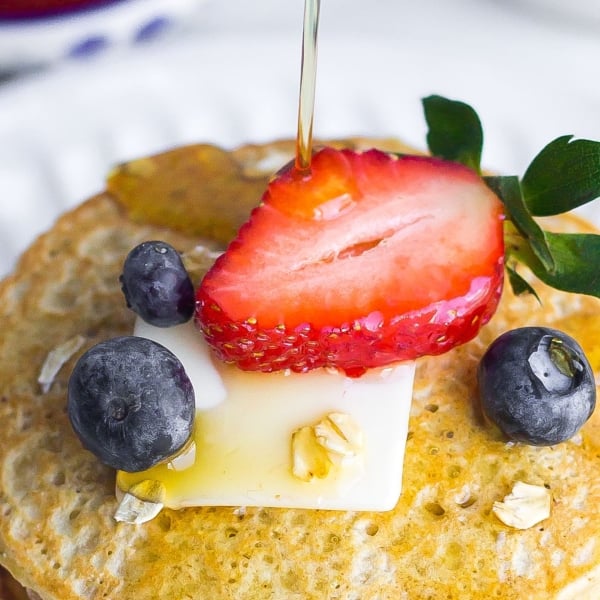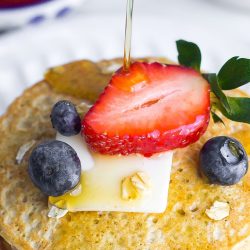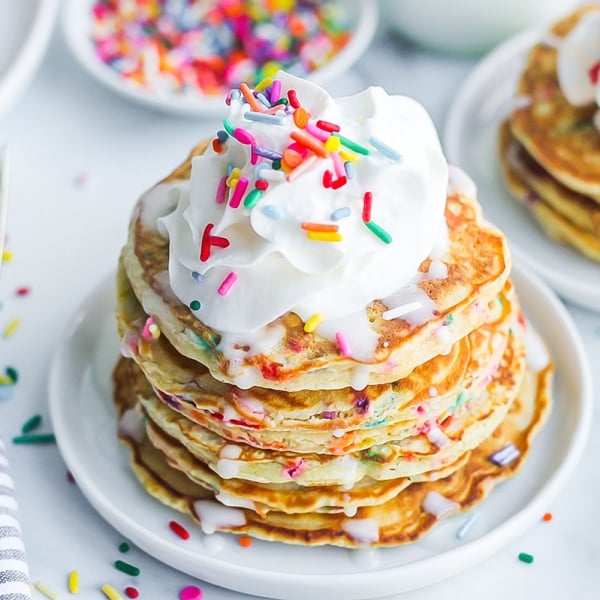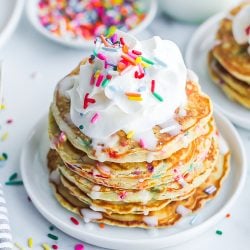 Funfetti Pancakes
Perfect for breakfast or brinner, this light and fluffy Funfetti Pancake recipe is perfect for birthday pancakes or Sunday brunch!
See The Recipe!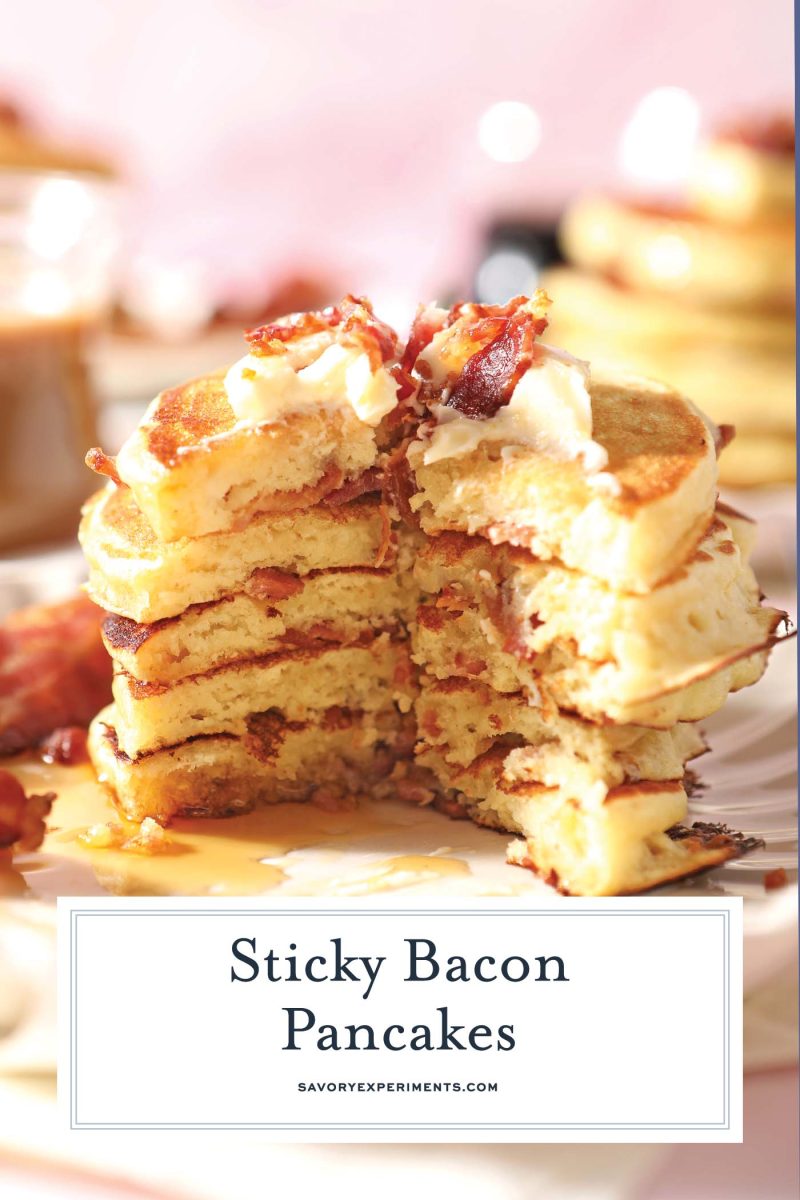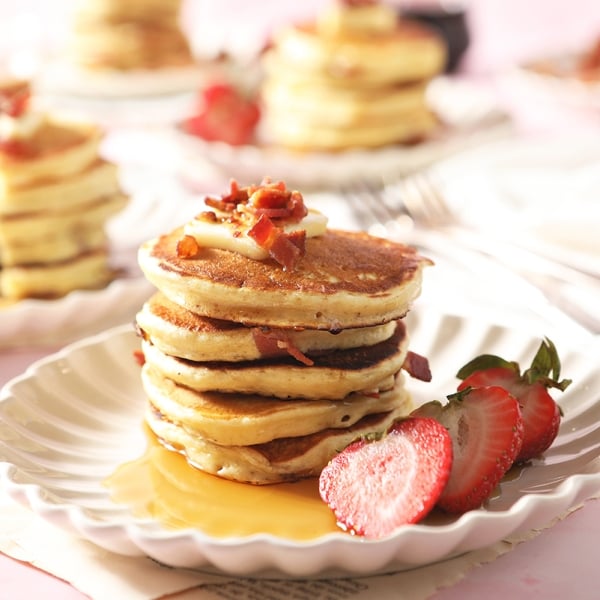 Bacon Pancakes
These EASY Bacon Pancakes come together quickly and easily. Top with maple syrup, butter and extra bacon for the ultimate breakfast!
Servings:
3-inch pancakes
Ingredients
Toppings:
Softened butter

Chopped bacon
Instructions
Whisk together the flour, sugar, baking powder, baking soda and salt into a large bowl, set aside.

In a large mixing bowl, whisk together the milk, eggs, vanilla and oil until fully combined.

Pour the dry ingredients into the wet ingredients, stirring until just combined. Some lumps are okay. Do not overmix. Optionally, allow batter to rest for 10-15 minutes.

Heat a large nonstick skillet or a electric griddle over medium heat (350°F). Brush the pan with bacon fat or unflavored cooking spray.

Dollop the pancakes onto the preheated skillet when ready using a cookie scoop or a measuring cup.

Sprinkle 1-2 teaspoons of the chopped bacon on top of the pancake batter.

When several bubbles have formed on the surface, flip the pancakes, and cook through, another 1-2 minutes.

Repeat until all of the pancakes have been made. Keep in the oven on a wire rack until all are cooked.

Stack the pancakes onto plates and serve with additional bacon, a pat of butter and real maple syrup.

If you've tried this recipe, come back and let us know how it was in the comments or star ratings.
Notes
To freeze any extra pancakes, simply line a baking sheet with wax paper, and pop them in the freezer for 4-6 hours. When the pancakes are frozen solid, transfer them to a freezer baggie. Reheat in the toaster oven, toaster or the oven until warm.
Nutrition
Calories:
117
kcal
,
Carbohydrates:
8
g
,
Protein:
4
g
,
Fat:
8
g
,
Saturated Fat:
2
g
,
Polyunsaturated Fat:
1
g
,
Monounsaturated Fat:
3
g
,
Trans Fat:
1
g
,
Cholesterol:
25
mg
,
Sodium:
177
mg
,
Potassium:
98
mg
,
Fiber:
1
g
,
Sugar:
2
g
,
Vitamin A:
50
IU
,
Calcium:
37
mg
,
Iron:
1
mg