Side dishes for summer potlucks don't get better that this creamy Macaroni Salad recipe! With a tangy dressing and finely chopped veggies, it's the perfect cold salad for any occasion.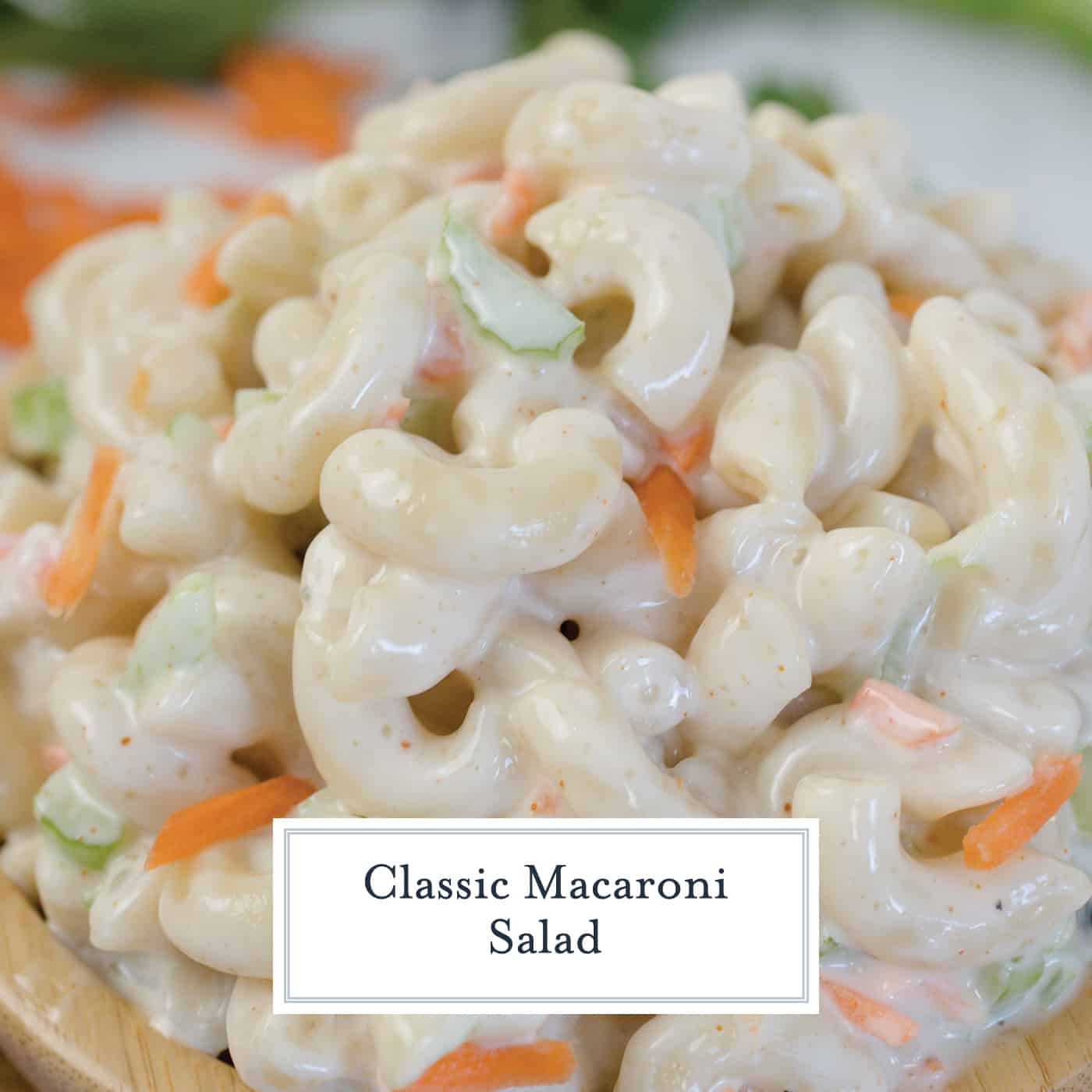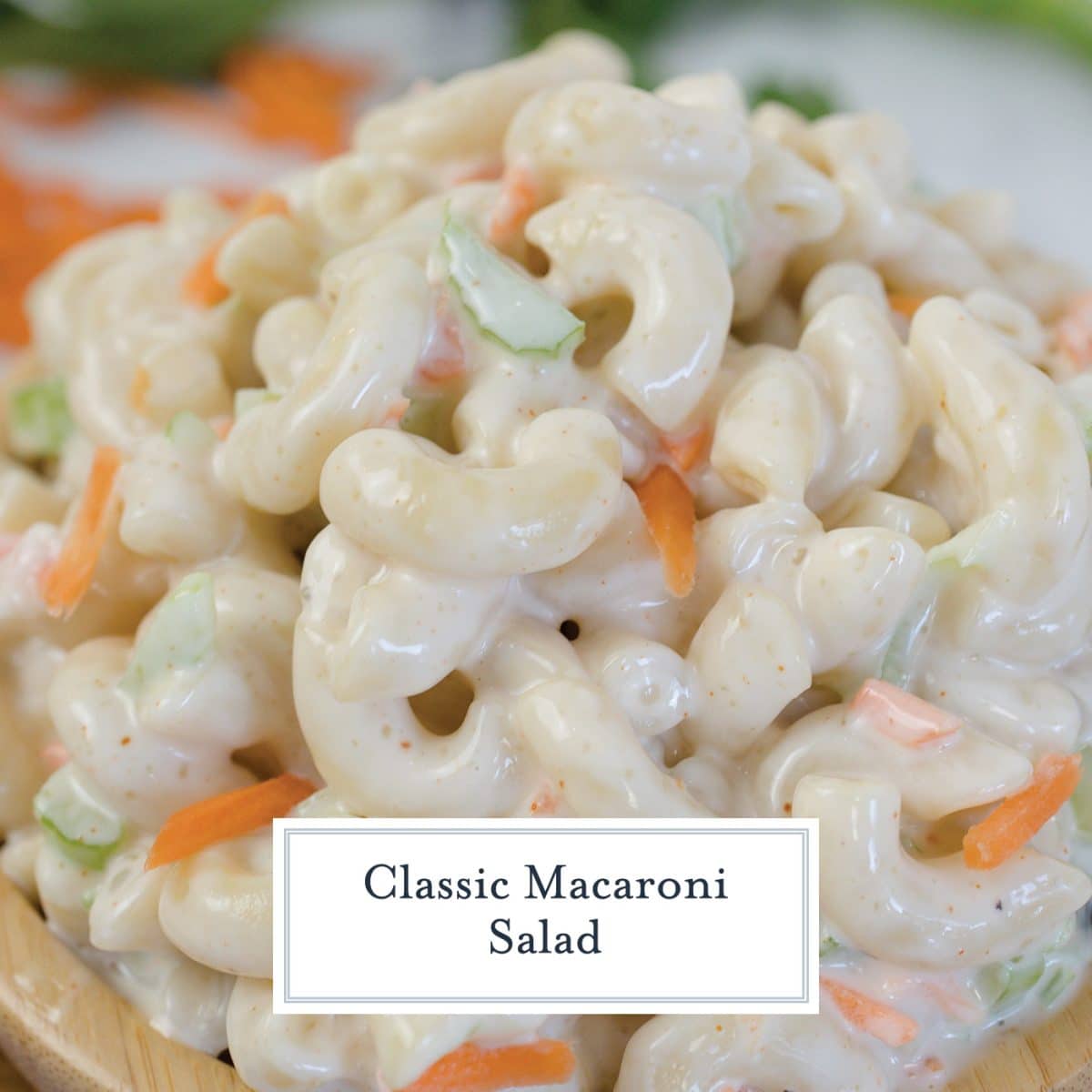 There are two types of people in this world: those that prefer a dry macaroni salad and those who like a wet and juicy one.
Hubby, he is the dry kind. In fact, he likes to let his sit for a night so the pasta soaks up some of the mayonnaise mix.
You'll love this Creamy Macaroni Salad Recipe
This is his recipe for classic macaroni salad and while it can be used for any BBQ, potluck or cookout, his is typically made for use in one dish: the garbage plate.
The Garbage Plate, deemed New York's unhealthiest dish, uses macaroni salad as its base. The added Hot Sauce adds plenty of juice to the dish, which is the main reason I think he prefers a dry macaroni salad.
But regardless of whether you plan on eating this as part of a garbage plate or at a potluck, I can tell you his recipe does result in one yummy classic macaroni salad. (And I'm not just saying that because he's my hubby!)
I've taken this classic Macaroni Salad to many potlucks, BBQs, with a burger or a hot dog and cookouts. It is, after all a classic – is it really a summer cookout without one?!
While it seems every family has their own version of the perfect classic macaroni salad, I can say that my friends have requested I bring this….and there's rarely any left to bring home!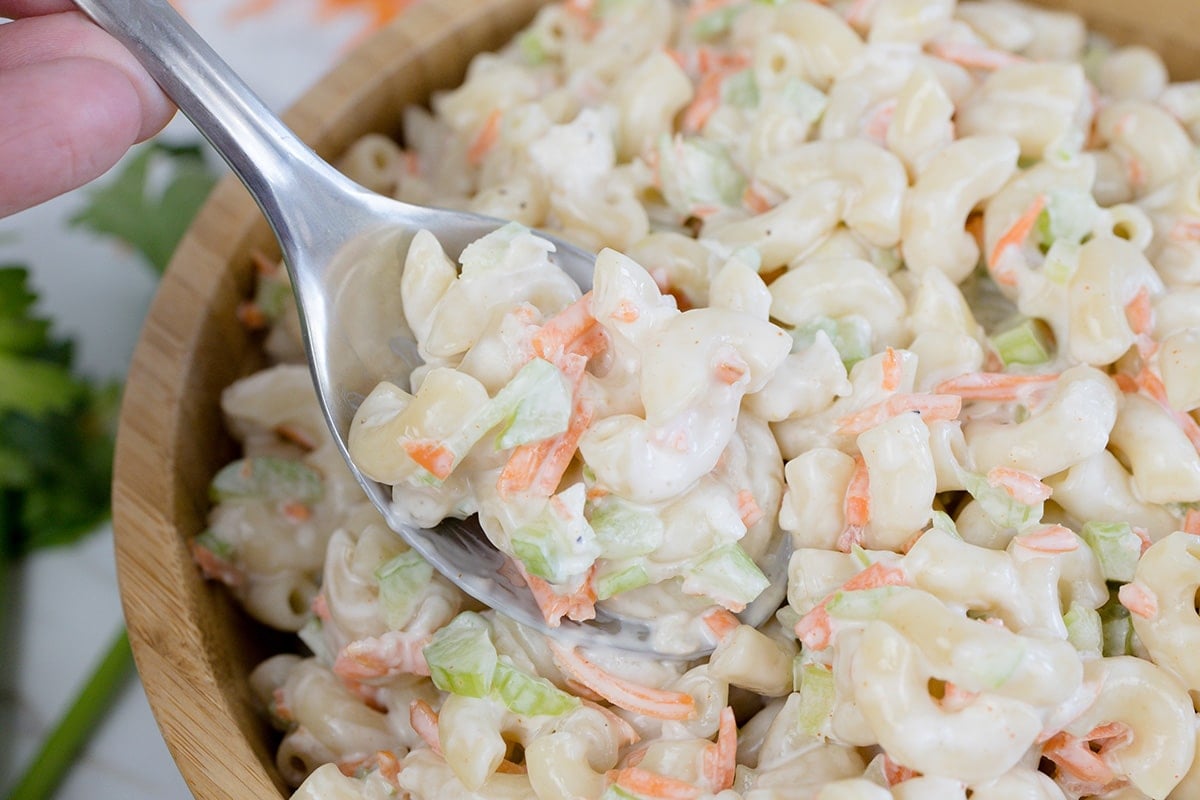 Classic Macaroni Salad ingredients
The ingredient list is quite simple and also verstile, so feel free to use different volumes.
Elbow macaroni – It wouldn't be macaroni salad without macaroni pasta, right? I suppose you could use any shaped pasta, but a tubular pasta is best; it holds all of that creamy goodness inside.
Mayonnaise – Traditional macaroni salad dressing is made with mayonnaise. However, see the variations section below for other options if you're not partial to mayo.
Salt and pepper – The seasonings for this creamy macaroni salad are really quite simple. Some fine sea salt and freshly cracked black pepper will do wonders though.
Paprika – I like to add just a touch of paprika. Not only for flavor, but the color is beautiful. For a smokier flavor, try smoked paprika.
Carrot, celery and onion – Make sure these are all finely chopped. Fresh vegetables like these provide a nice crunch and also a little flavor to your creamy mac salad.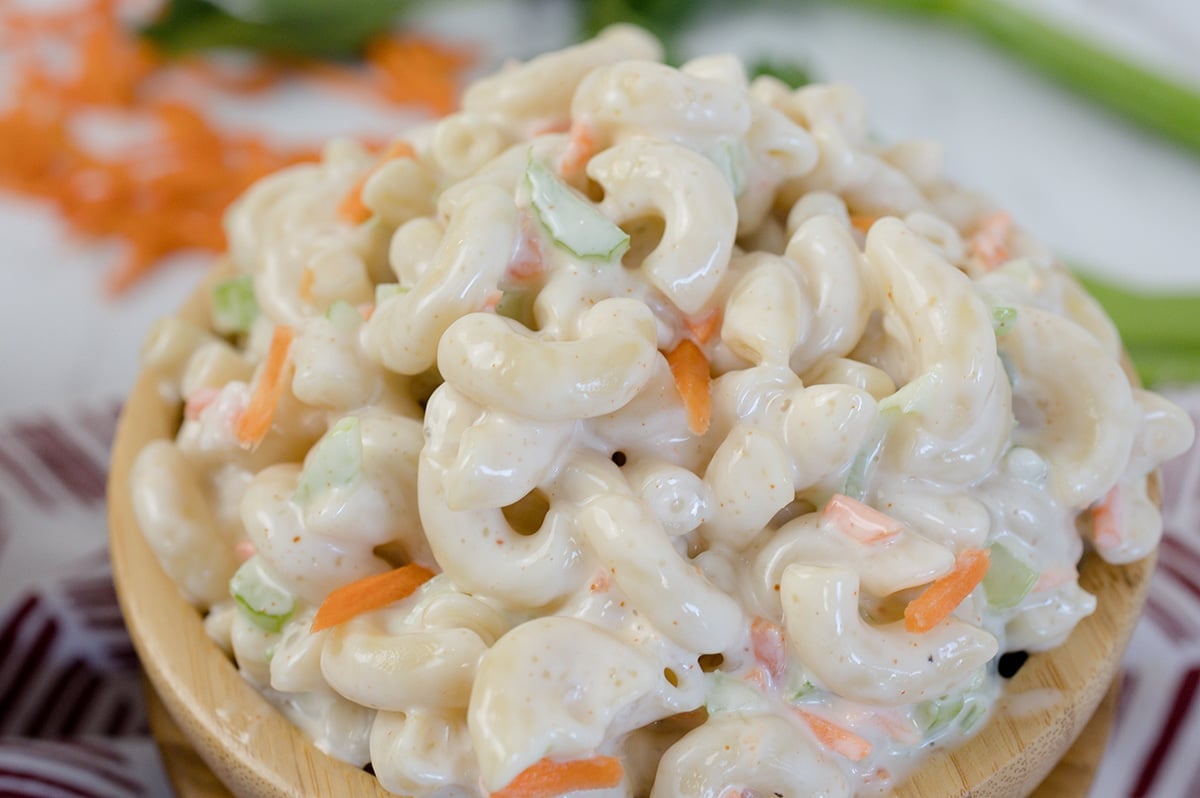 How to make the Best Macaroni Salad
Cook pasta. Cook elbow macaroni according to package directions. Drain well and set aside to cool. You can even place it to in the refrigerator or run it under cold water.
Make dressing. In a large mixing bowl, whisk together mayonnaise, fine sea salt, ground black pepper and paprika.
Add in veggies. Add carrot, celery and white onion, stirring well.
Combine. Finally add cooled pasta and give it a good stir to combine.
Chill. Cover and refrigerate the macaroni salad for a few hours or up to one day. I like it even better the next day. Make sure to serve chilled.

Mac Salad tips & variations
Veggies – Instead of carrots, celery and white onion, try adding your favorites. Red onion, green onions, red bell pepper, black olives or even green pepper are all great options. Adding some crunchy veggies can make all the difference.
Add ins – If you'd like to add a little more oomph to this easy macaroni salad recipe, try adding things like dill pickles, sweet pickles, cheddar cheese or chopped egg.
Creamy dressing – Instead of using regular mayo, there are several other options. You could use any combination of sour cream, Greek yogurt, Miracle Whip, or a little milk.
Tangy dressing – To take the tang factor up a notch, try adding some Dijon mustard, white vinegar, pickle juice, lemon juice or apple cider vinegar.
Flavor – I like to keep my macaroni salad simple, but feel free to add fresh herbs like dill, or even throw in some garlic powder or onion powder for extra flavor.
How do I keep Macaroni from absorbing mayonnaise?
It is impossible to keep the pasta from absorbing some mayo, but you can make a double batch of the dressing and add more to leftovers to revive it. Or wait until you are ready to serve before adding the mayo-based dressing.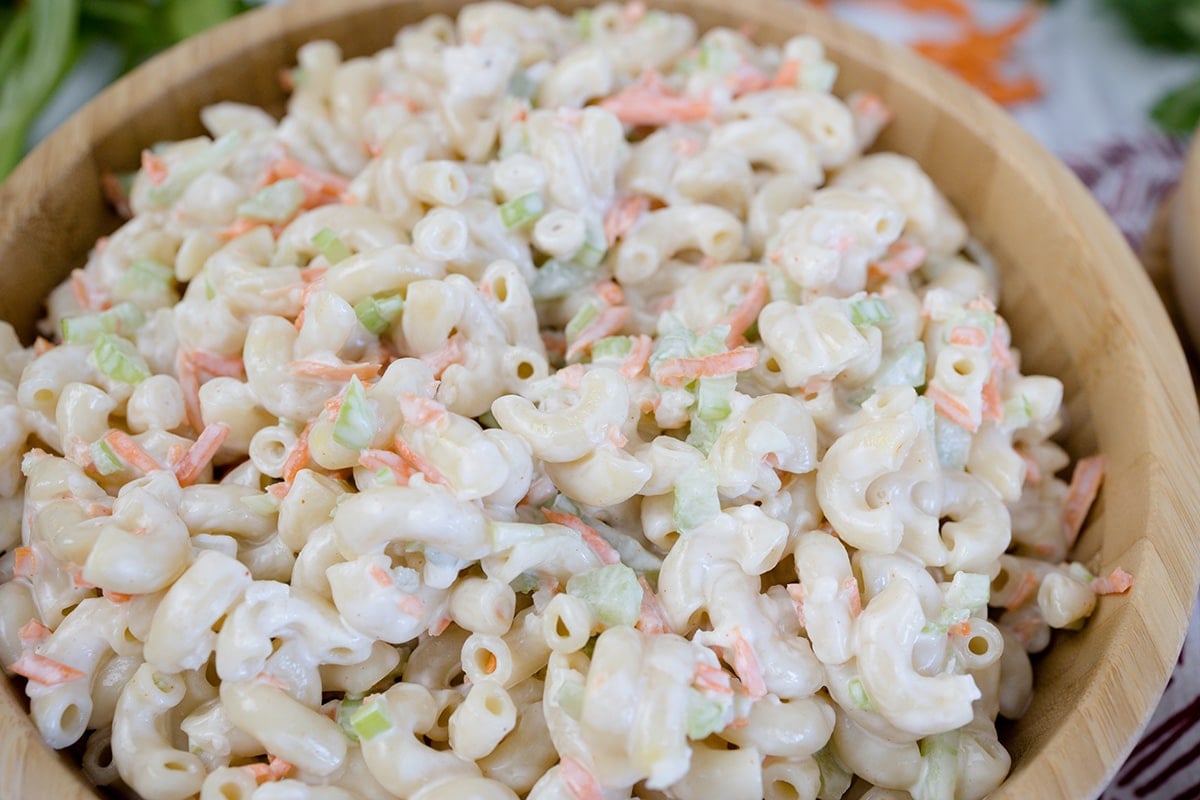 How to store the Best Macaroni Salad Recipe
Macaroni salad needs to be kept refrigerated either covered with plastic wrap or in an airtight container. Stir well before serving leftovers. You can also save it for later summer parties by freezing it.
How long does Macaroni Salad last in the refrigerator?
Leftover macaroni salad stays good for up to 5 days. However, like many foods, it is best enjoyed within 1-2 days of preparing.
What to serve with this Traditional Macaroni Salad Recipe
Macaroni salad is such a verstile dish and can be served with nearly anything. The most common foods are BBQ dishes like hamburgers, hot dogs and grilled chicken. I also like serving mine with pulled pork.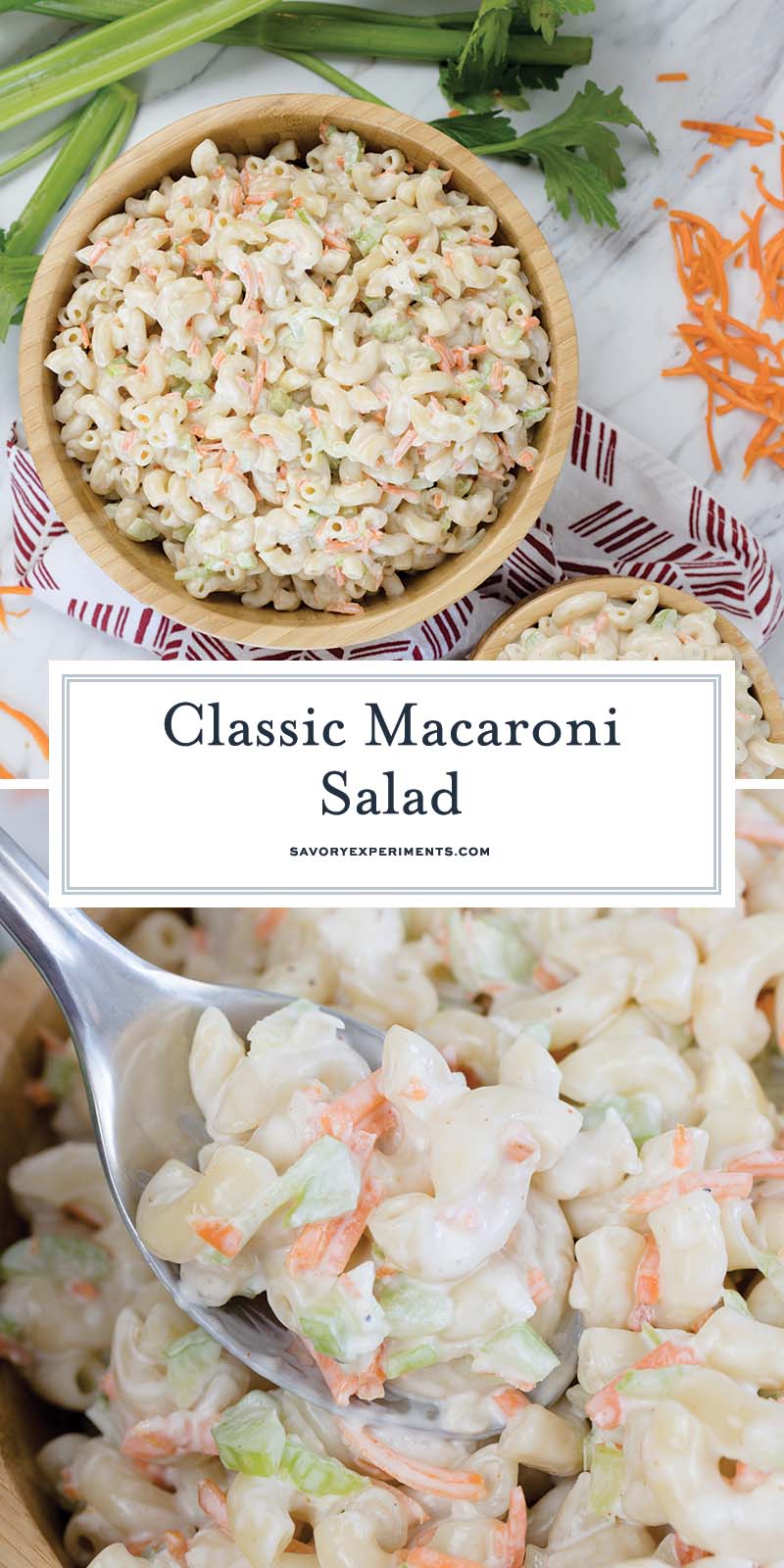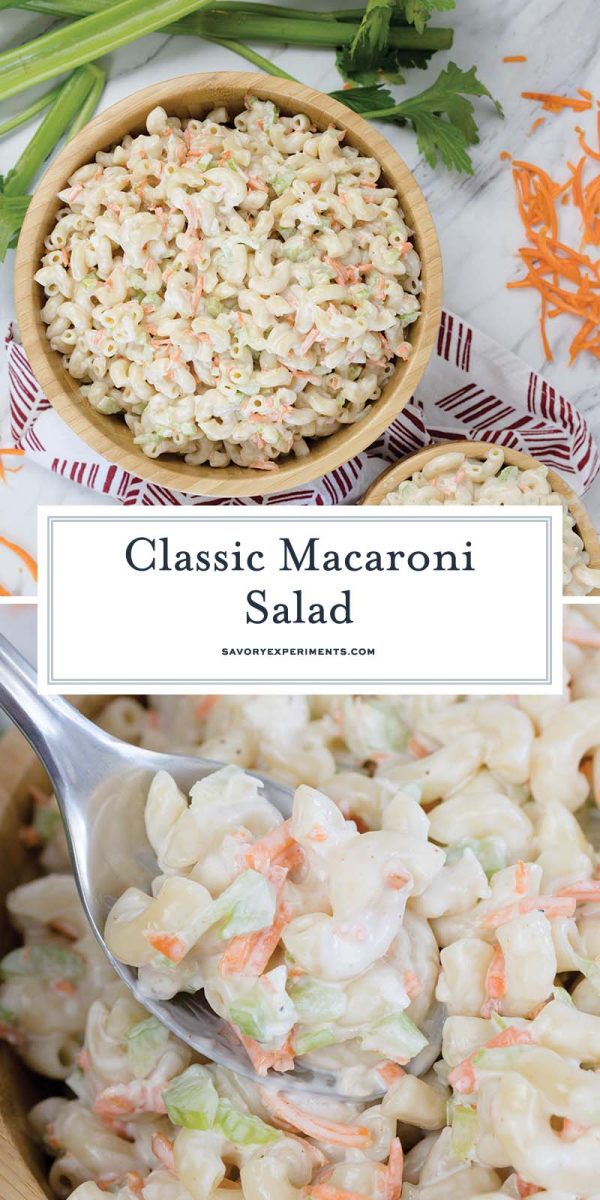 Easy Potluck Recipes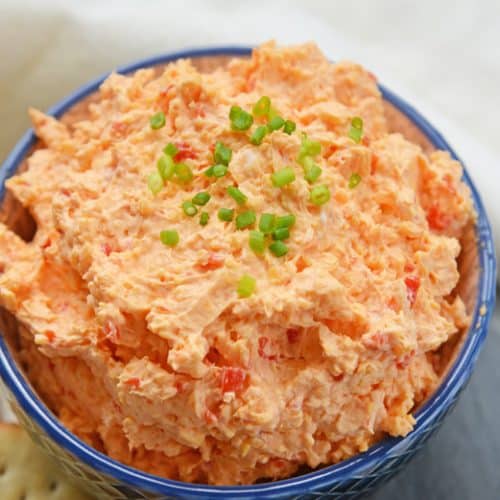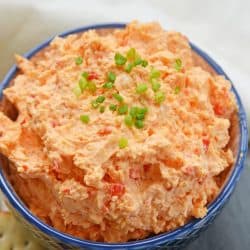 Pimento Cheese Spread
A popular southern dish, this EASY Pimento Cheese recipe is made with only 6 ingredients and tastes great spread onto crackers or in a grilled cheese!
See The Recipe!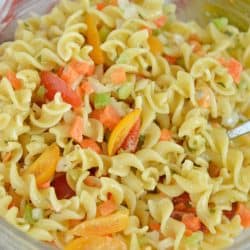 Ranch Pasta Salad
You won't go back to regular pasta salad after you've tried this delicious Ranch Pasta Salad recipe! It's easy to make with simple ingredients!
See The Recipe!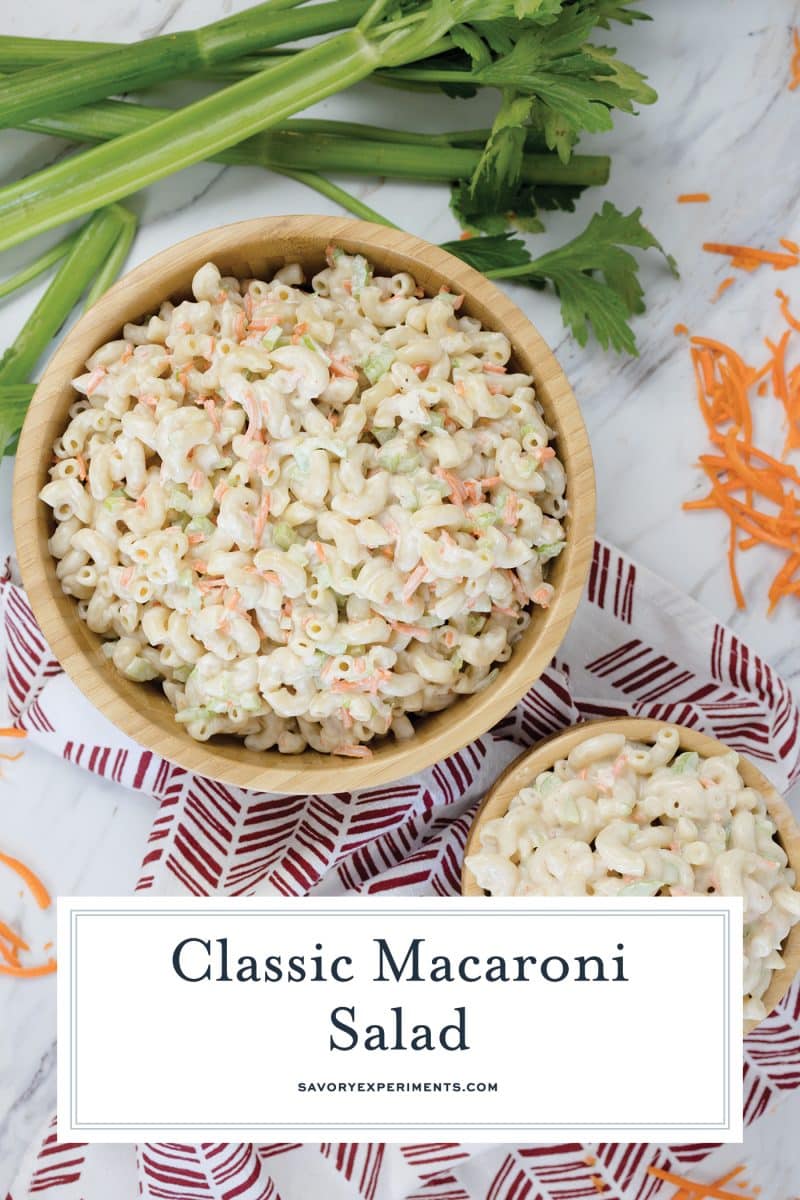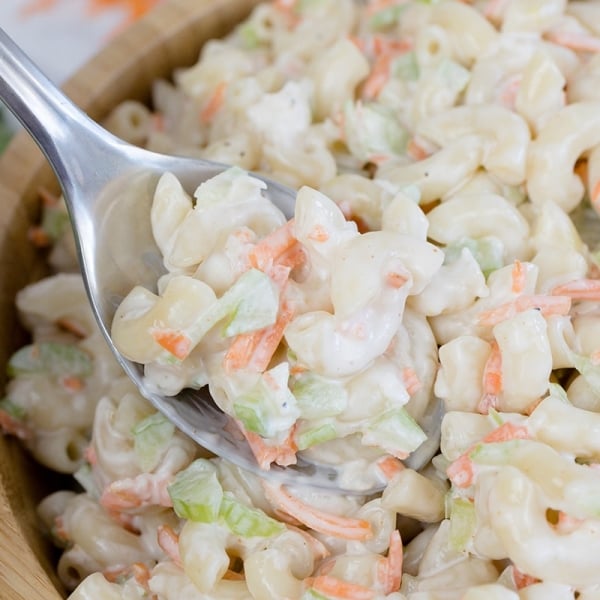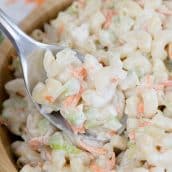 Best Macaroni Salad
If you've ever wondered how to make macaroni salad, this Classic Macaroni Salad recipe is the answer! Great for BBQs, potlucks, cookouts and, of course, garbage plates!
Instructions
Cook the elbow macaroni according to package directions. Drain well and set aside to cool. You can even place it to in the refrigerator.

In a large mixing bowl, whisk together the mayonnaise, salt, ground black pepper and paprika. Fold in the carrot, celery and white onion.

Fold in the cooled pasta and toss to combine. Do not overmix.

Cover and refrigerate for a 1-24 hours. Serve chilled.

If you've tried this recipe, make sure to come back and let us know how you liked it!
Nutrition
Calories:
108
kcal
,
Carbohydrates:
21
g
,
Protein:
3
g
,
Sodium:
160
mg
,
Potassium:
107
mg
,
Fiber:
1
g
,
Sugar:
1
g
,
Vitamin A:
1425
IU
,
Vitamin C:
1.1
mg
,
Calcium:
11
mg
,
Iron:
0.4
mg