If you're in need of an easy dinner recipe, this delicious Honey Mustard Chicken recipe is it. With juicy chicken and a honey mustard marinade, this simple recipe is packed with so much flavor and makes a complete meal for busy weeknights.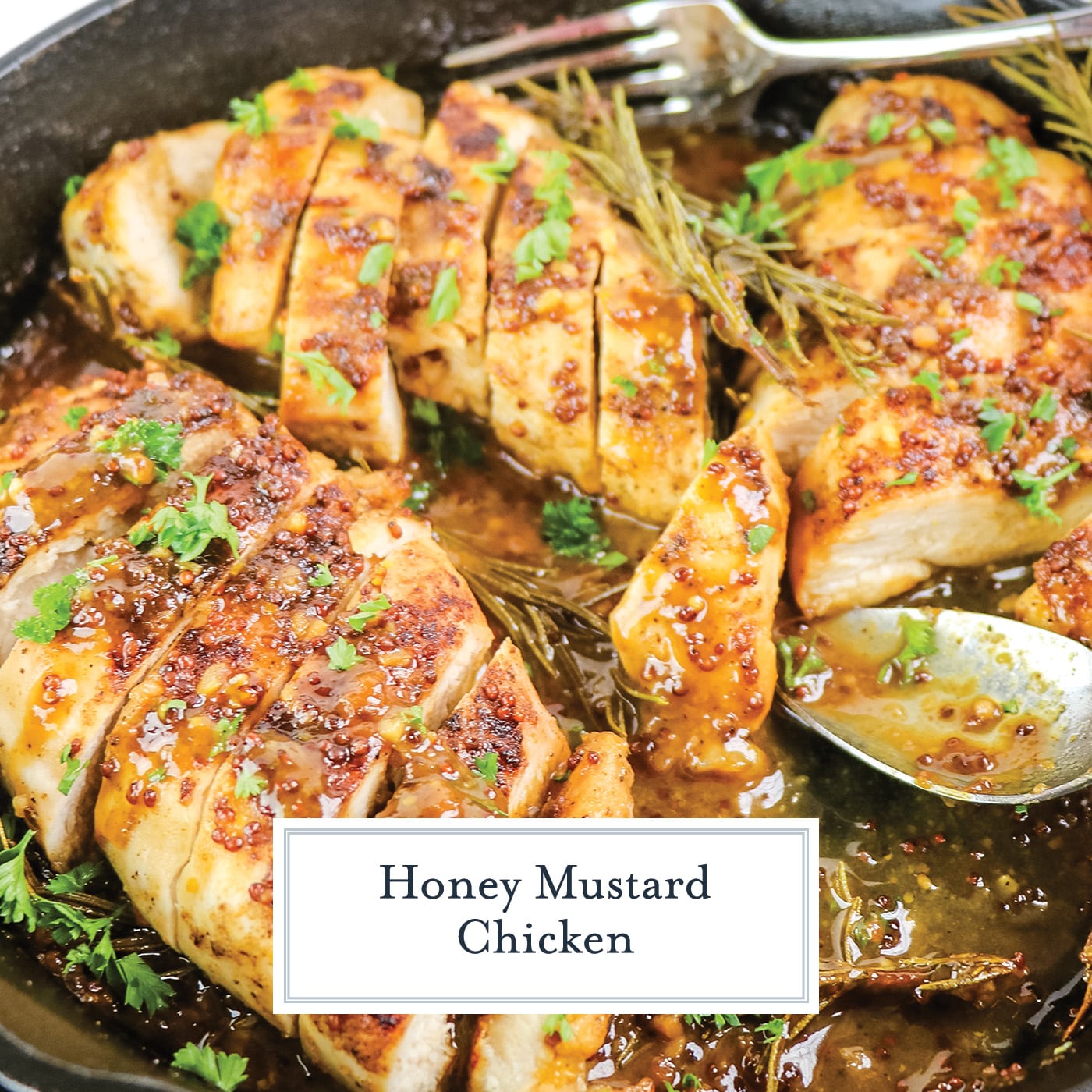 If you love cooking with chicken breasts, this easy, delicious baked chicken recipe will quickly become a favorite. Made with boneless, skinless chicken breasts, this chicken with honey Dijon sauce can be made all in one pan with just a few simple steps.
The honey mustard sauce adds wonderful flavor to the chicken without overpowering or becoming overly heavy. Paired with your favorite potatoes and vegetables, this easy recipe is a family favorite that is perfect to add to your dinner rotation.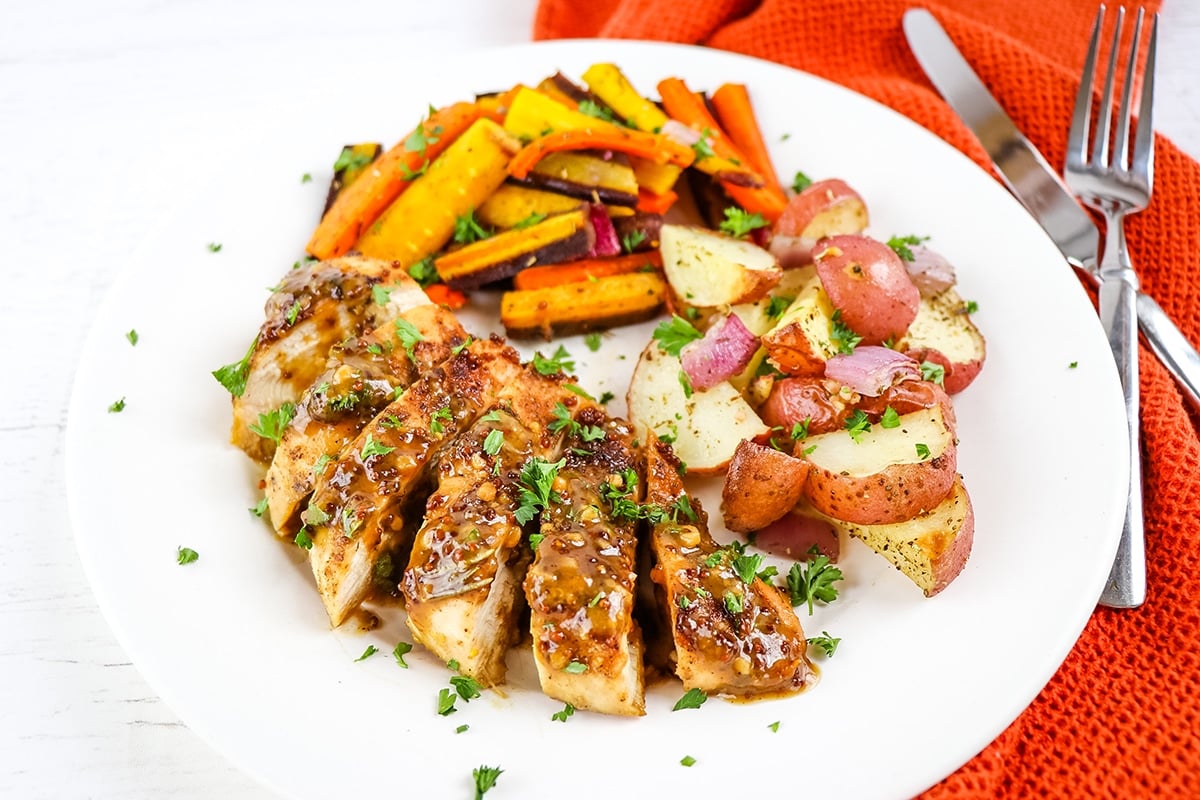 Ingredients
Here's a checklist of all the simple ingredients you'll need to make this great recipe:
Boneless skinless chicken breasts – you can also use boneless skinless chicken thighs.
Olive oil – this is for browning the chicken in the skillet before it goes into the oven.
Seasoning – I've found the best way to season the honey mustard chicken marinade is to use a blend of garlic salt, onion powder, paprika and ground pepper. You could even throw in some cayenne pepper for good measure.
Dijon mustard – There are many types of mustard, but this one is like Grey Poupon or other comparable brand.
Whole grain Dijon mustard – this is made with whole grain mustard seeds and offers a great flavor and texture to the chicken.
Honey – adds the perfect amount of sweetness to balance the mustard flavors.
Apple cider vinegar – the perfect acidity to bring this mustard sauce balance and amazing flavor.
Garlic – a great compliment to the mustard adding flavor to the sauce.
Soy sauce – low-sodium soy sauce or liquid soy aminos are both great options.
Fresh rosemary sprigs – this add a wonderful flavor to the sauce. The aroma while roasting is also very fragrant!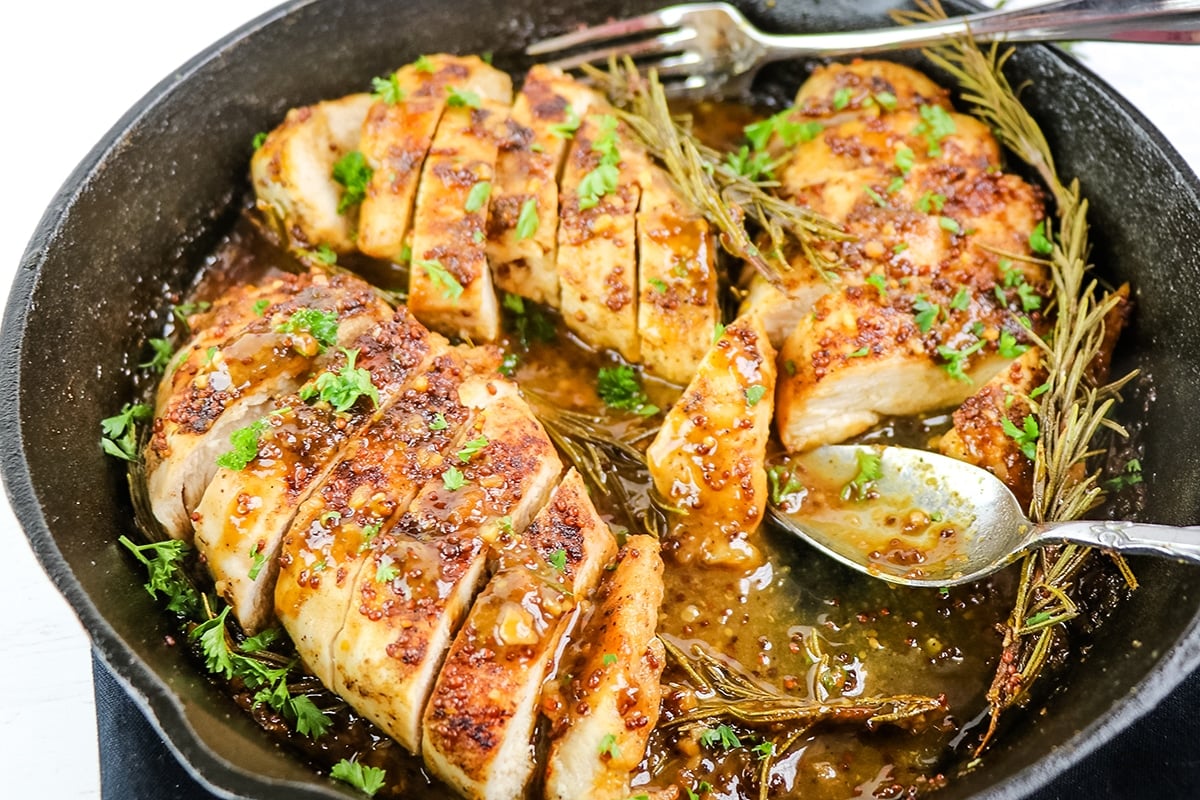 How to Make Easy Honey Mustard Chicken
Making this simple chicken recipe couldn't be easier. Follow the steps below to find out just how easy.
Start by mixing the honey Dijon sauce. Combine the mustards, honey, garlic, vinegar and soy sauce in a small bowl. You'll want to have this ready to go before prepping and searing the chicken.
Prep and season the chicken breasts. To get a nice sear on the chicken breasts, pat dry with paper towels. Then, add the seasoning (garlic salt, onion powder, paprika and pepper).
In a cast-iron skillet or any oven-safe skillet, sear both sides of the chicken breasts 1-2 minutes per side. Searing the outside of the chicken helps create a savory outer crust and helps keep the chicken moist when baked.
Once the chicken has seared on each side, remove from heat. Then, pour the prepared mustard sauce over the top of the chicken breasts. Add in the fresh rosemary sprigs to the pan.
Bake the chicken uncovered. While the chicken bakes, the sauce will thicken slightly, and the rosemary will add amazing flavor and fragrance to the dish.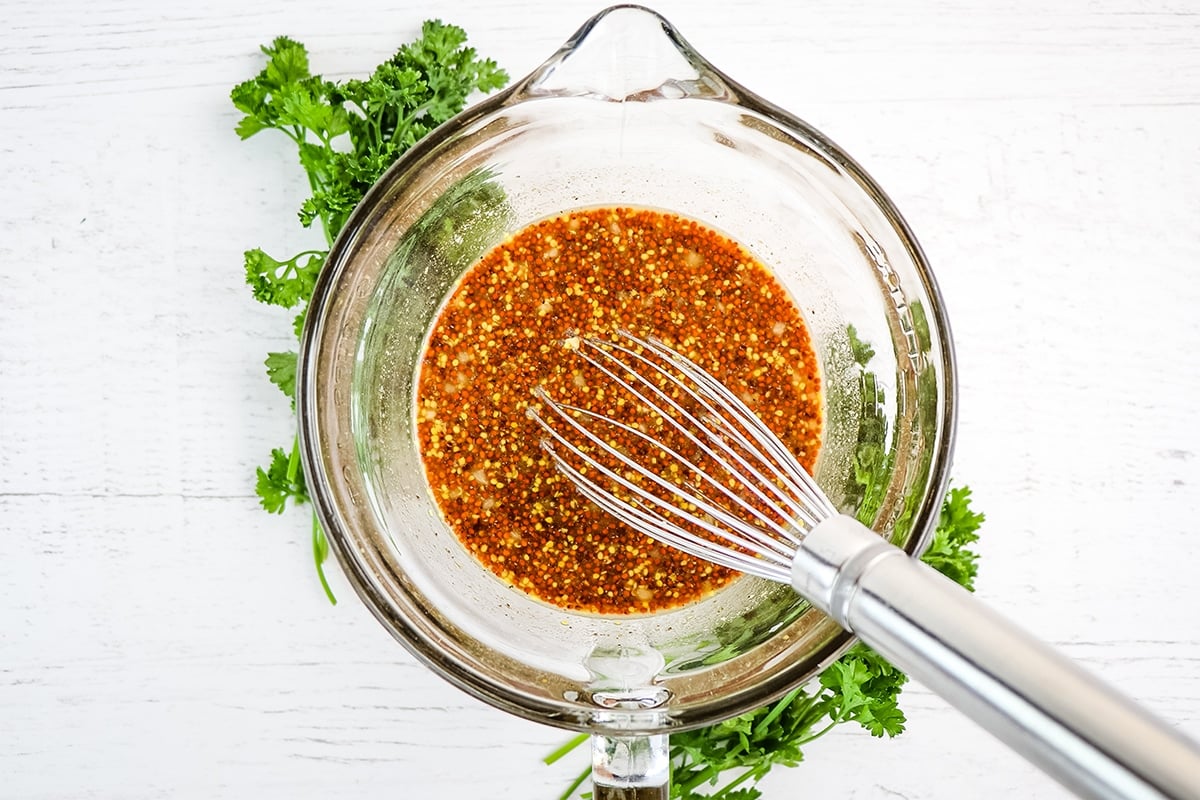 How to Serve Honey Mustard Chicken
Mustard chicken is great served with all kinds of things. Here are a few examples for inspiration, but feel free to use your favorite sides:
rice
over a large leafy green salad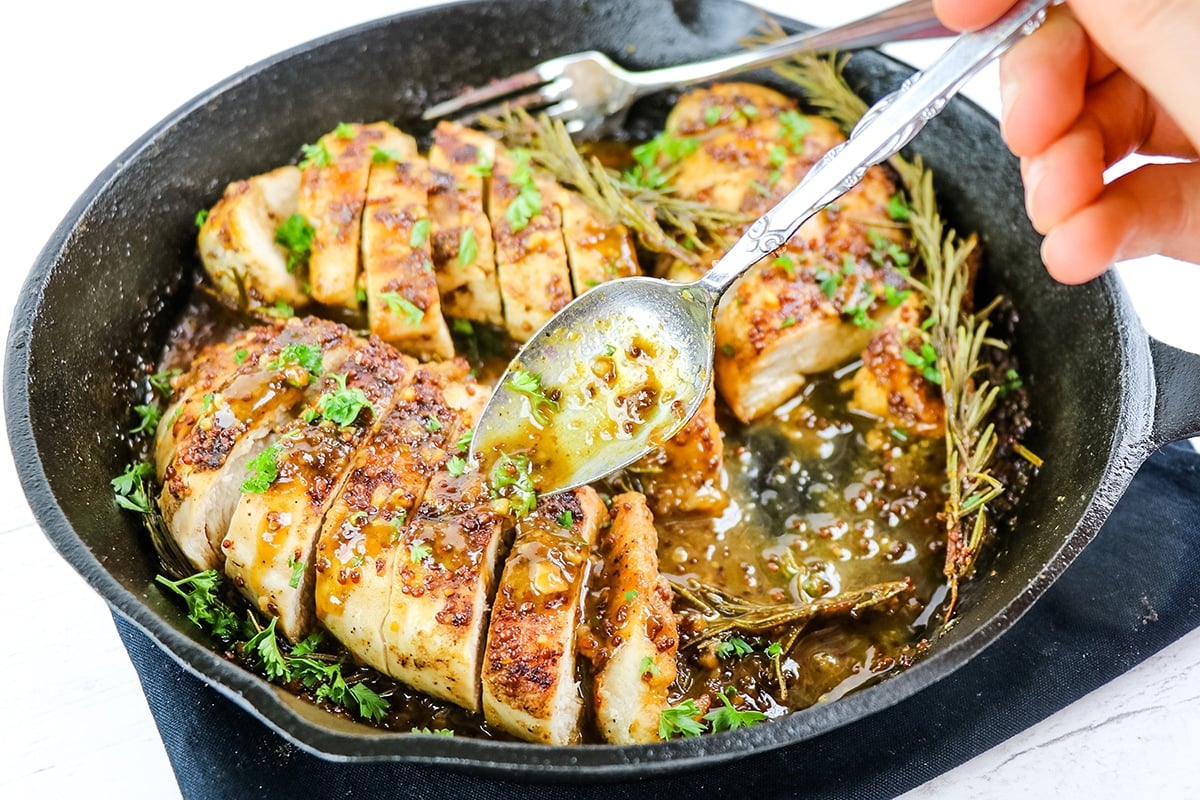 Variations
I like this honey mustard exactly the way it's written, however, there are plenty of ways for you to make it your own.
Spice it up – To add a little kick to your delicious chicken, you can add things like chili flakes or even sriracha sauce. It tastes best when added to the simple marinade.
Fresh garlic – If you'd prefer to use fresh garlic instead of garlic salt, go for it! I feel the same way about garlic as I do about chocolate chips- you can't have too much!
Chicken – I prefer using chicken breasts, but you cold also use chicken tenders or skin-on chicken thighs. Just make a note that the cooking time will change. Use a meat thermometer to check for safe internal temperature.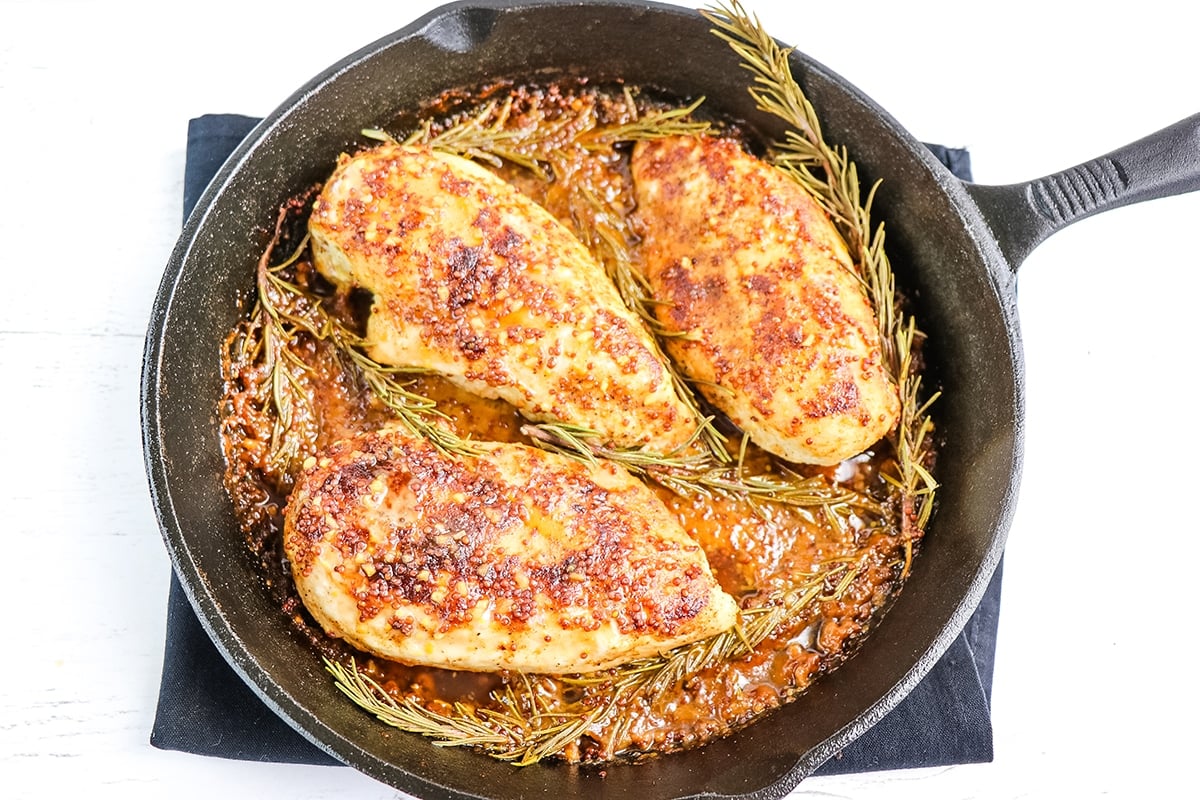 Storage and Freezing
How Do You Store Leftovers for Honey Mustard Chicken?
Store any leftovers in an airtight container in the refrigerator. Leftovers will keep for up to five days refrigerated.
Can You Freeze Honey Mustard Chicken?
You can freeze this baked honey mustard chicken recipe the same way; in an airtight container. It will keep for up to three months.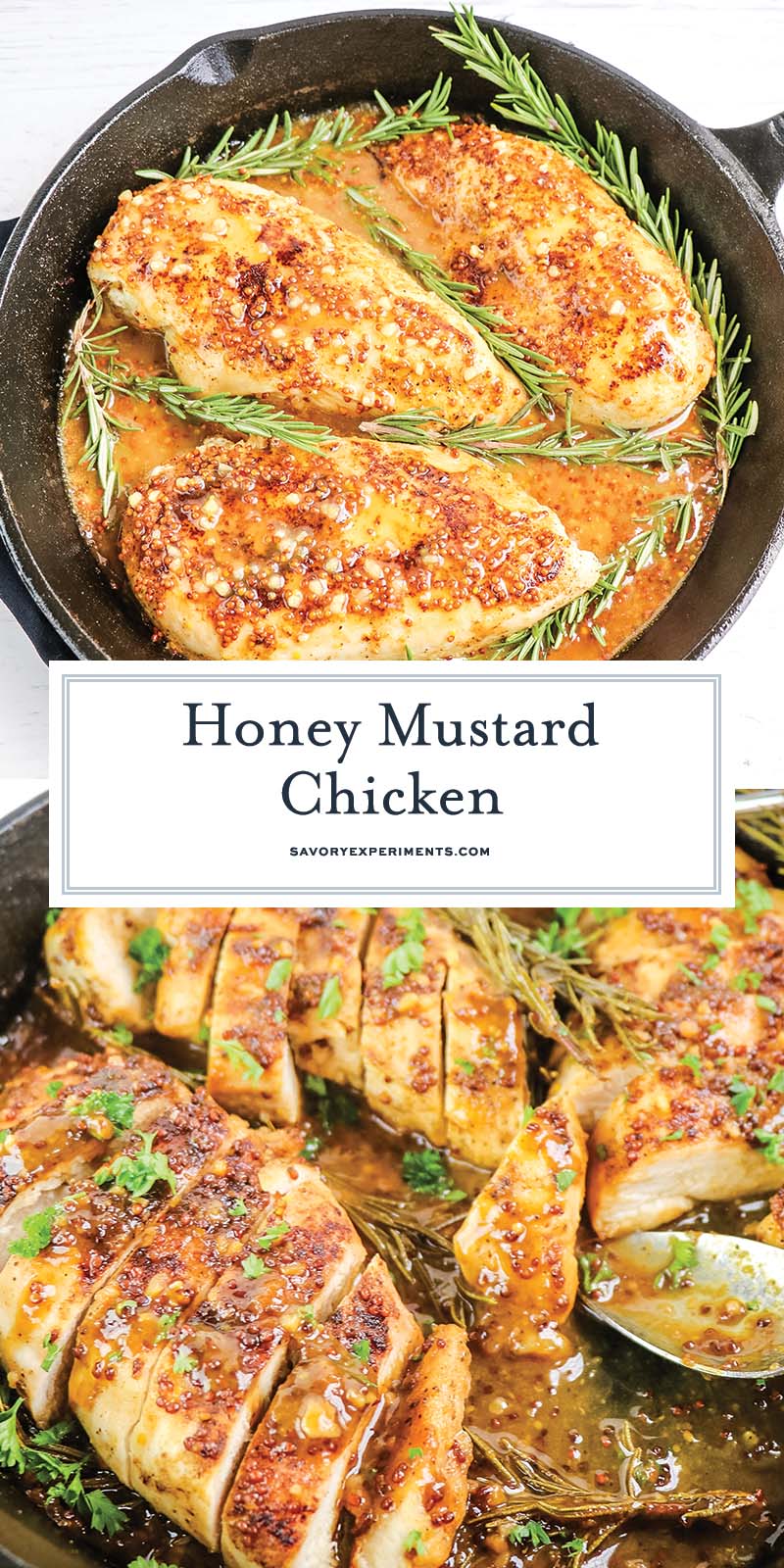 More Easy Dinner Ideas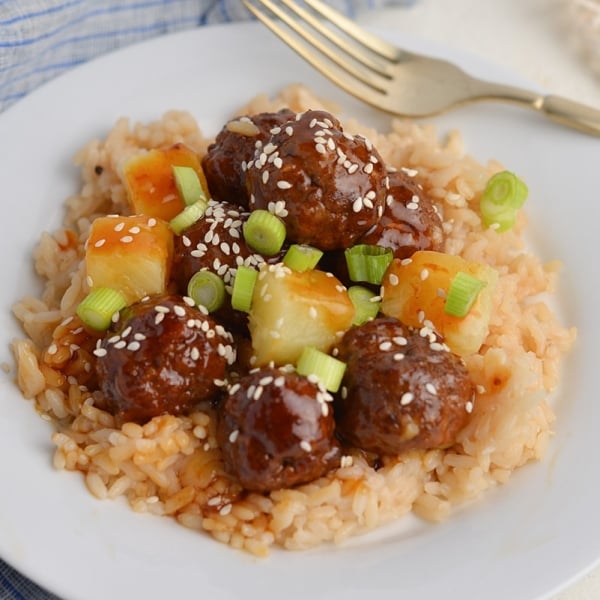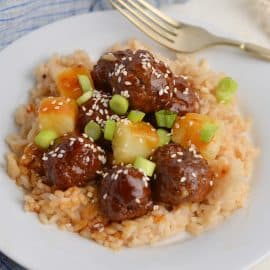 Teriyaki Meatballs
Need an easy recipe for game day or like to try new recipes for dinner? Teriyaki Meatballs are perfect! Full of flavor and ready in an hour.
View this recipe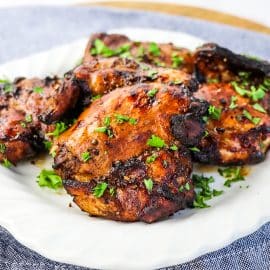 Chicken Thighs in the Air Fryer
These simple, delicious Chicken Thighs in the Air Fryer are glazed with a brown sugar balsamic sauce that adds amazing flavor and juiciness!
View this recipe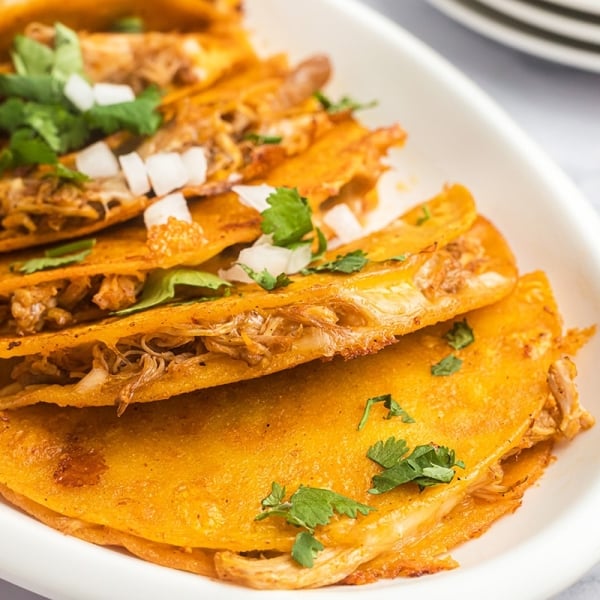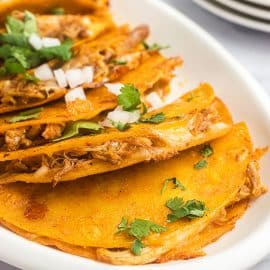 Chicken Birria Taco Recipe
These EASY Birria Tacos, packed spicy, earthy, and aromatic flavors are made with chicken instead of beef! They will have you looking forward to taco Tuesday at home!
View this recipe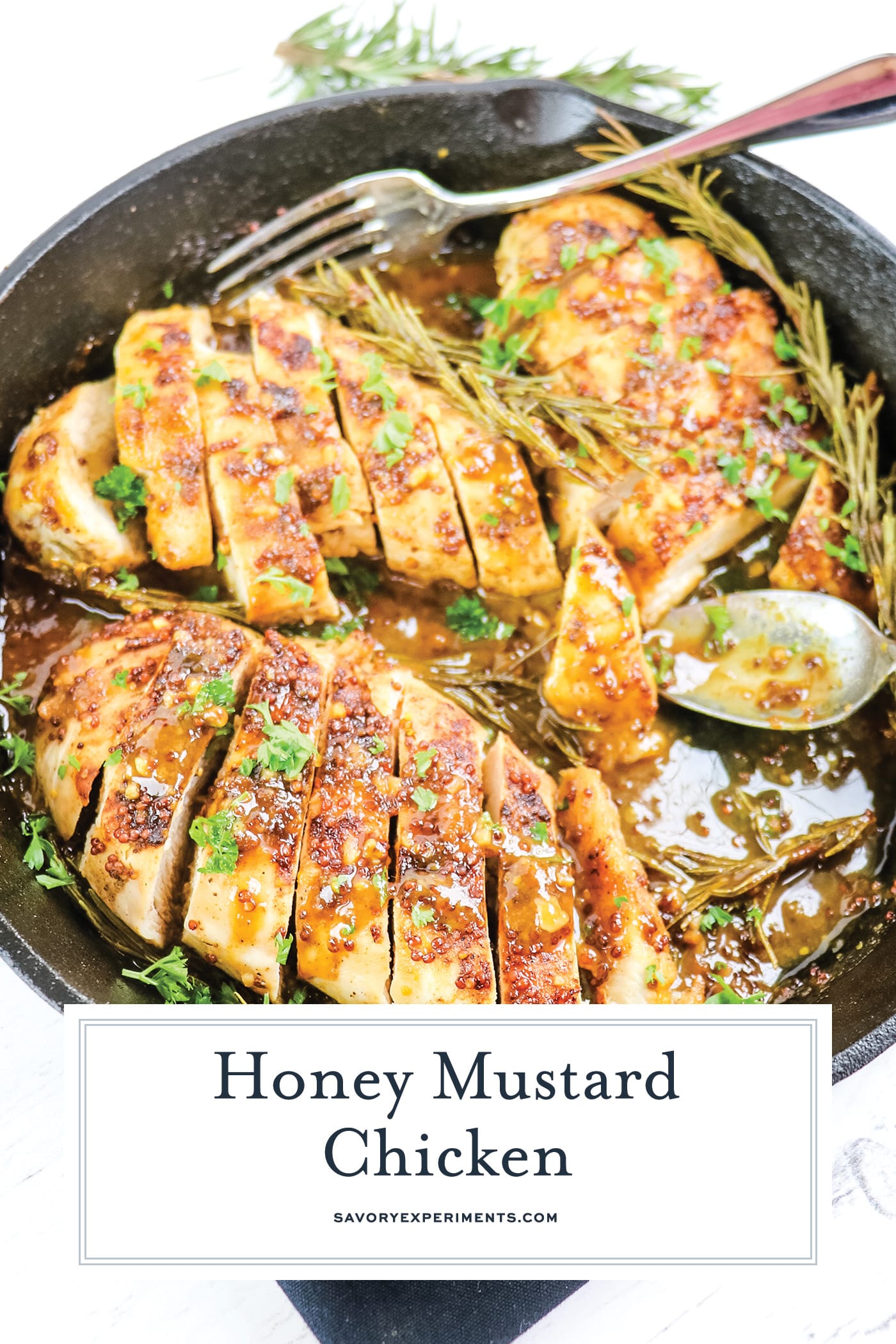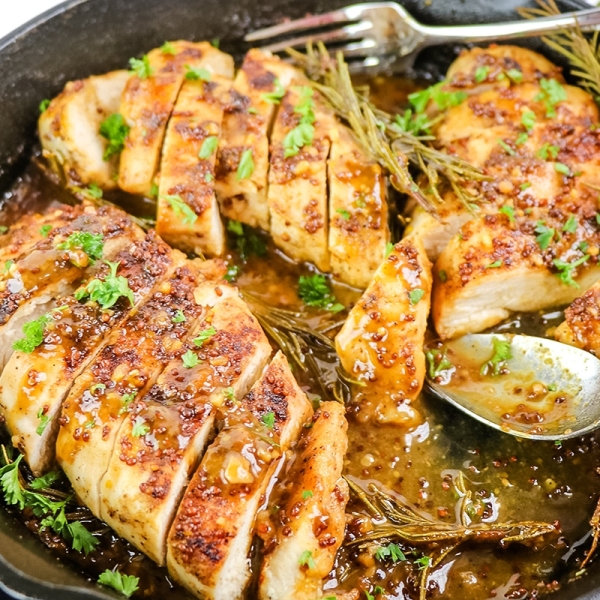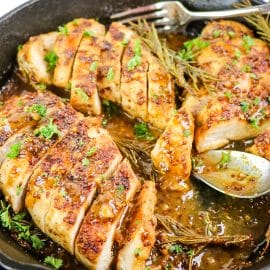 Honey Mustard Chicken
This flavorful Honey Mustard Chicken is an amazing option. Made in one pan, this recipe comes together quickly with pantry ingredients.
Instructions
Preheat the oven to 350°F.

In a bowl, whisk together the honey mustard sauce. Add in the honey, vinegar, whole grain mustard, Dijon mustard, garlic and soy sauce. Whisk together well until the honey is dissolved into the rest of the sauce. Set sauce aside.

Prepare the chicken breasts. Pat the chicken breasts dry with paper towels. In a small bowl combine the chicken seasoning; garlic salt, onion powder, paprika and pepper. Sprinkle evenly over both sides of the chicken.

To a cast-iron skillet, or any other oven-safe skillet, heat olive oil over high heat. Sear the chicken breasts on each side for just 1-2 minutes per side. Remove skillet from heat.

To the seared chicken in the pan, pour the mustard sauce over the top of the chicken. Add in the sprigs of rosemary.

Bake uncovered for 25-30 minutes or until internal temperature of chicken reaches 165 degrees.

Remove from oven and let chicken rest for 5-10 minutes before slicing and serving. Serve with the pan sauce.

If you've tried this recipe, come back and let us know how it was in the comments or star ratings.
Nutrition
Calories:
339
kcal
,
Carbohydrates:
20
g
,
Protein:
37
g
,
Fat:
12
g
,
Saturated Fat:
2
g
,
Polyunsaturated Fat:
2
g
,
Monounsaturated Fat:
7
g
,
Trans Fat:
0.02
g
,
Cholesterol:
109
mg
,
Sodium:
907
mg
,
Potassium:
699
mg
,
Fiber:
1
g
,
Sugar:
18
g
,
Vitamin A:
189
IU
,
Vitamin C:
3
mg
,
Calcium:
28
mg
,
Iron:
1
mg