Fish fry batter is arguably the most important component of a delicious British fish and chips dinner. I'm so excited to finally share my favorite fish fry batter recipe!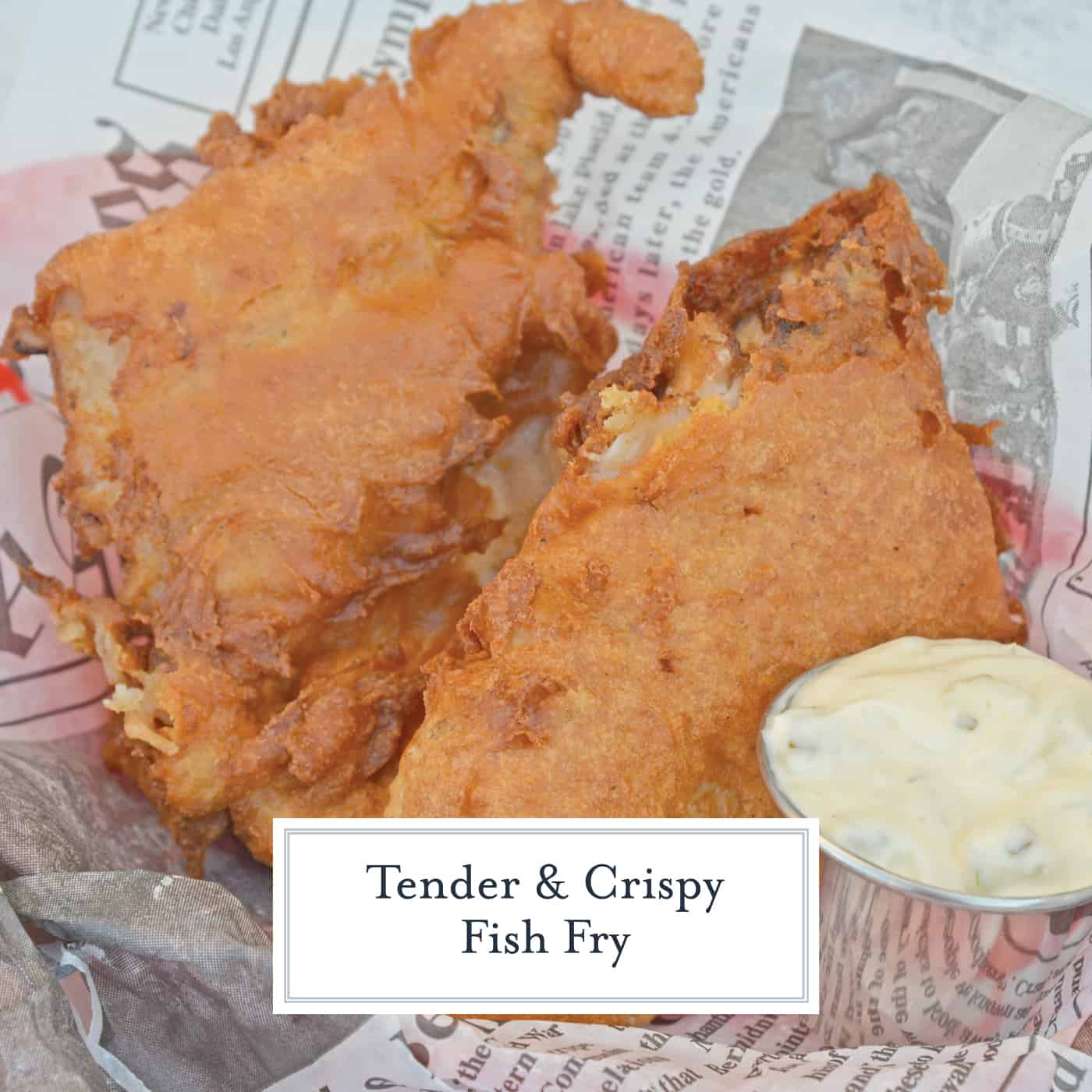 This beer batter fried fish uses light beer and a few basic ingredients to create the best fish fry batter for British fish and chips. Yum!
Fish fry recipes are plentiful, it seems that every family has one and the recipes for the beer battered fish vary between regions. In the US, fish fry recipes are often associated with the Easter holiday where "fish fry Fridays" are held every week.
However, most fish fry recipes are really just beer battered fish, often served with fries as British fish and chips and served any old day of the week.
In my search for the best fish fry batter, I came up with this beer battered fish recipe. The batter is thin and crisps nicely when fried, but doesn't overpower the actual fish flavor.
British fish and chips are typically made with cod or haddock. However, you can use many other different types of white fish in your fish fry, like plaice, halibut, or flounder. I prefer using cod fillets with this fish fry batter.
Traditionally, fish and chips are served with newspaper. This is because newspaper was cheaper than buying any other container or plastic.
While today, British fish and chips are usually served with a layer of white paper underneath the newspaper, many places still serve fish and chips in a newspaper cone.
While you can make fish fry recipes in a stove top pan, I do highly recommend using an actual fryer for this beer battered fish. The most important reason for this is that it's safer – it's far too easy for hot oil to splash everywhere in a regular frying pan.
The second reason is that a fryer offers better temperature control, which is essential in making sure the fish fry batter gets nice and crispy while the fish gets properly cooked.
Fried fish is best served immediately after cooking, while still warm and crispy. I like to use this fish fry recipe to make British fish and chips and serve this beer battered fish with fries and tartar sauce (or cocktail sauce).

Since you like this Fish Fry recipe, you may also like these other easy fish recipes:
Tools for making Fish Fry:
Mixing Bowls– make sure to check out my article on Using the Right Mixing Bowl, you'd be surprised how many people aren't!
Electric Deep Fryer
– I used to think I was fine pan frying. Then I got a fryer and it made my fried foods SO much more delicious!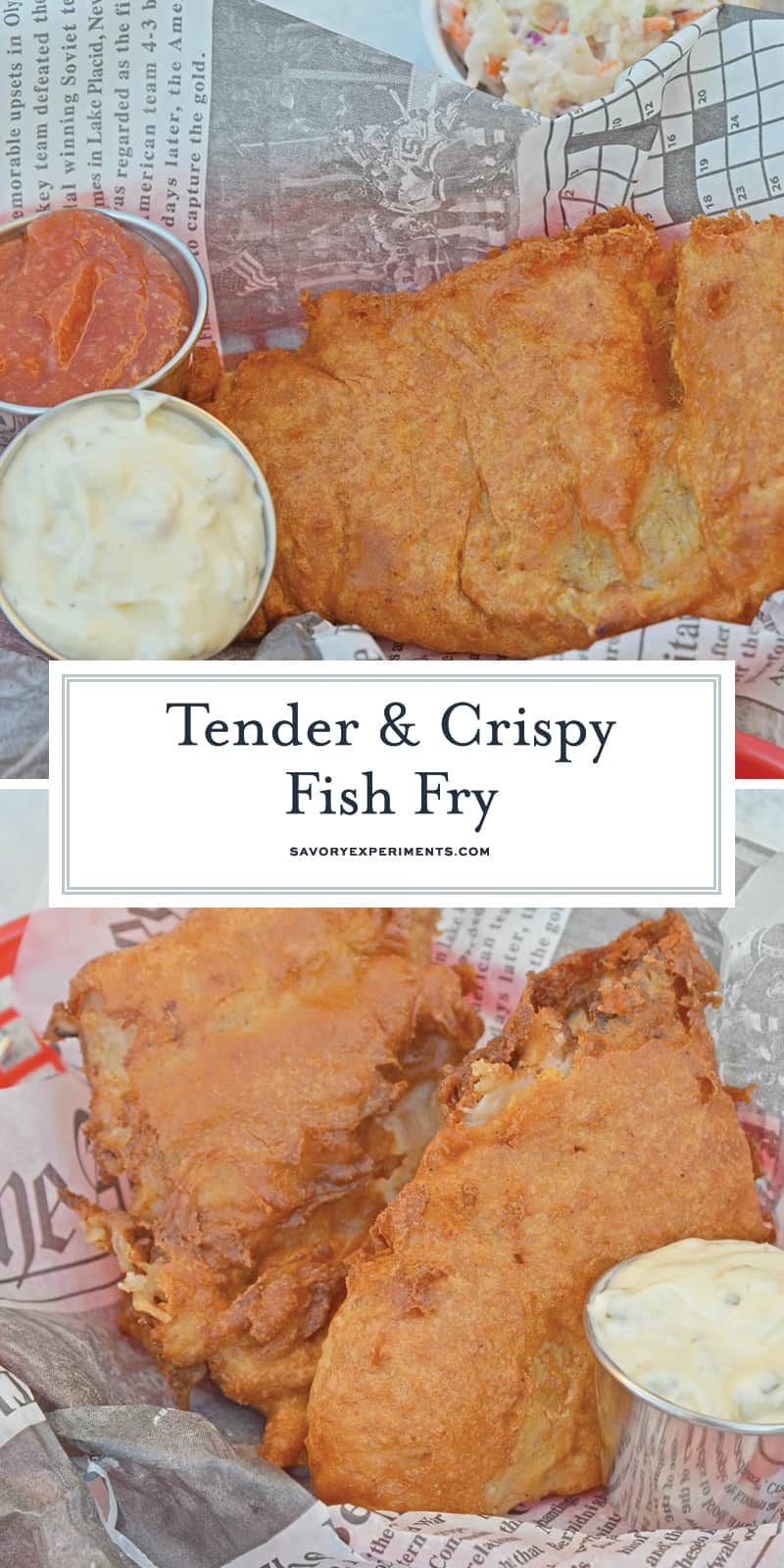 Print Recipe
Fish Fry
This beer batter fried fish uses light beer and a few basic ingredients to create the best fish fry batter for British fish and chips. Yum!
Ingredients
2

quarts

vegetable oil

, for frying

24

ounces

cod fish fillets

, cut into 8 pieces

1

cup

flour

1

tablespoon

garlic powder

1

tablespoon

paprika

2

teaspoons

fine sea salt

2

teaspoons

ground black pepper

1

egg

, lightly beaten

12

ounces

light beer
Instructions
Heat oil in a deep fryer to 365 degrees F (185 degrees C). If you don't have a deep fryer, you can heat oil in a large dutch oven or cast iron skillet, use a candy thermometer to measure.

Rinse fish and pat dry.

Combine flour, garlic powder, paprika, fine sea salt, ground pepper in a shallow dish, stirring to combine. Stir egg into dry ingredients.

Gradually mix light beer until a thin batter is formed.

Dip fish fillets into the batter and immediately drop into hot oil. Only do two at a time, depending on the size of your fryer or pan. You don't want to crowd the pan.

Turn once to ensure all sides are lightly brown and crispy, approximately 3-4 minutes for each batch, although this will be dependant on the thickness of your fillets as well.

Transfer to a paper towel lined baking sheet and place into a warm oven until ready to serve. Best eaten immediately after frying.

If you've tried this recipe, make sure to come back and let us know how you liked it!
Nutrition
Calories:
401
kcal
|
Carbohydrates:
28
g
|
Protein:
35
g
|
Fat:
13
g
|
Saturated Fat:
9
g
|
Cholesterol:
114
mg
|
Sodium:
1276
mg
|
Potassium:
846
mg
|
Fiber:
1
g
|
Vitamin A:
990
IU
|
Vitamin C:
1.7
mg
|
Calcium:
50
mg
|
Iron:
2.9
mg