Fish fry batter is arguably the most important component of a delicious British fish and chips dinner. Next to the actual fish, of course.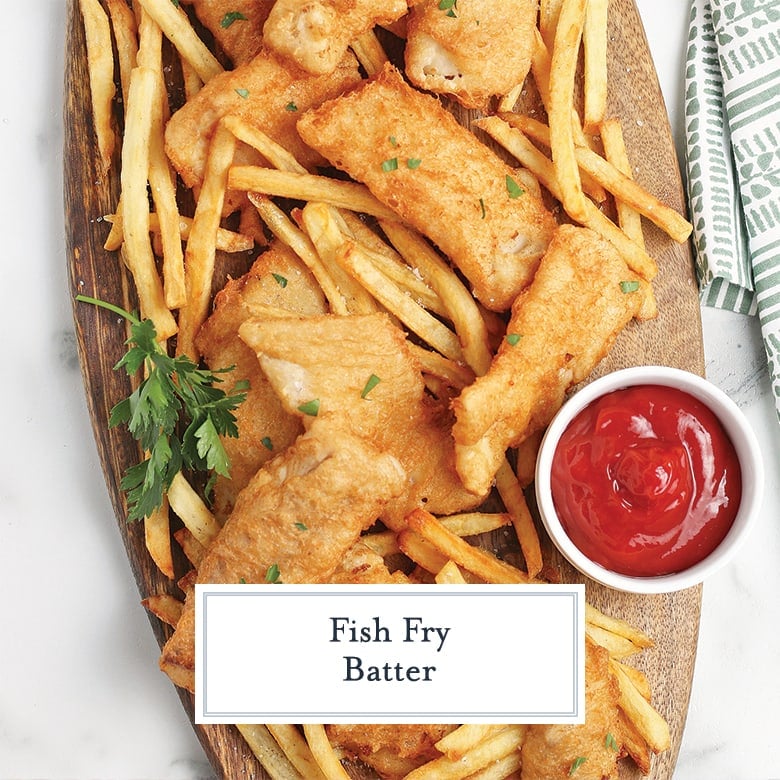 Fried Fish Fish Batter
Fish fry recipes are plentiful, it seems that every family has one and the recipes for the beer battered fish vary between regions.
In the US, fish recipes are often associated with the Easter holiday where "fish fry Fridays" are held every week. My husband's family does this and since in our current area, they aren't as easy to find, I had to create one of our own.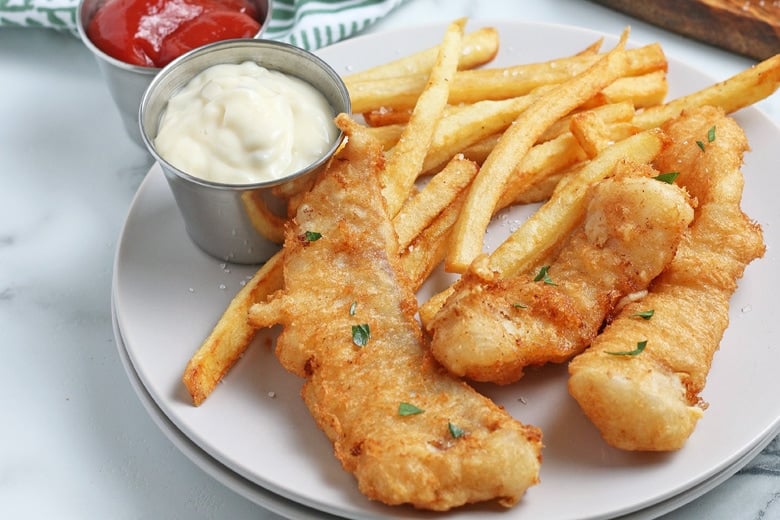 However, most fish fry recipes are really just beer battered fish, mostly whole fish fillets, often served with fries as British fish and chips and served any old day of the week.
In my search for the best batter, I came up with this recipe. It is thin, but still coats the fish, and crisps nicely when fried, but doesn't overpower the actual fish flavor. It defeats the purpose to taste nothing but batter but no fish. I also opted to use fish pieces. They are easier to handle while frying and also easier to dip while eating.
What is a Fish Fry?
A fish fry is a term often used for a party where fresh fish is battered and fried. It is common during Lent to have a Fish Fry Friday. It is also common in New England and the United Kingdom.
Beer Battered Fish and Chips
British fish and chips are typically made with cod or haddock. However, you can use many other different types of white fish in your fish fry, like plaice, halibut, or flounder. I prefer using cod fillets.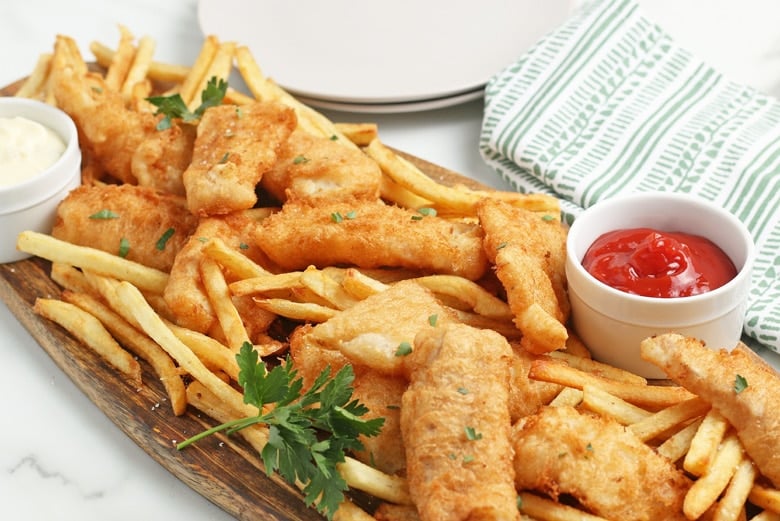 Traditionally, fish and chips are served with newspaper. This is because newspaper was cheaper than buying any other container or plastic and also absorbed extra oil from frying.
The chips, of course, are actually French fries, not potato chips. Fried to a golden brown along with the fish and served with lemon wedges, it is the ultimate comfort food.
While today, British fish and chips are usually served with a layer of white paper underneath the newspaper, many places still serve fish and chips in a newspaper cone.
What Fish is Best for Fried Fish?
As mentioned above, there are several kinds of fish you can fry. Much will depend on your geographic location and what you can locate. Frozen fish is fine as long as it is has been fully thawed ahead of time.
Regardless of type, smaller pieces are easier to handle and make sure it is dabbed dry with a paper towel before battering.
Cod- any variety
Tilapia- thicker fillets
Catfish- thicker fillets
Perch
Whitefish
Rockfish
Wall-Eye
Local Fish Options
Fried Fish Recipe ingredients
The ingredient list is pretty easy and standard. Any of the seasonings can be omitted or increased based on preference and availability.
The only items that are essential for a great recipe are the fish, flour, egg, beer (or other liquid) and oil for frying.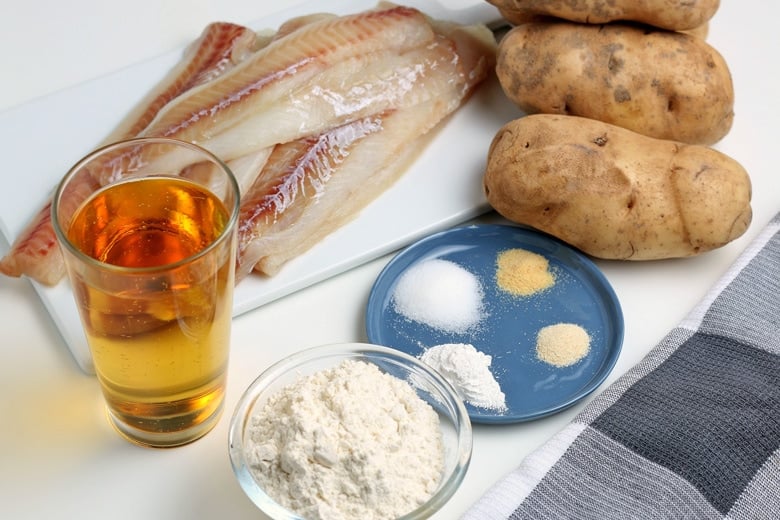 Fish– I like cod, but any white fish will do.
Oil for frying– canola, peanut or vegetable oil for deep frying.
Flour– both for the batter and to toss the fish before battering, which helps to hold the better on while frying.
Seasonings- garlic powder, paprika, salt and pepper
Baking soda– helps it get crispy and a little puffy.
Egg- Binds and creates structure.
Beer- Light beer is best. Non-alcoholic substitutes include apple juice, water and chicken stock. As long as you use the same volume and it is liquid, you are good.
Lemon– There is nothing quite like fresh lemon juice spritzed onto seafood.
How to make Fried Fish
Making the batter is easy. Simply mix together all dry ingredients for the flour mixture and then add whisked egg and beer until just combined. Do not over mix. Allow the batter to sit for a few minutes to rest. You can even refrigerate it while resting.


After making the batter, toss the fish in flour, shaking off any excess. This helps the batter stick and not slide off while frying.
Frying Beer Battered Fish
While you can make fish fry recipes in a stove top pan, I do highly recommend using an actual fryer. The most important reason for this is that it's safer – it's far too easy for hot oil to splash everywhere in a regular frying pan.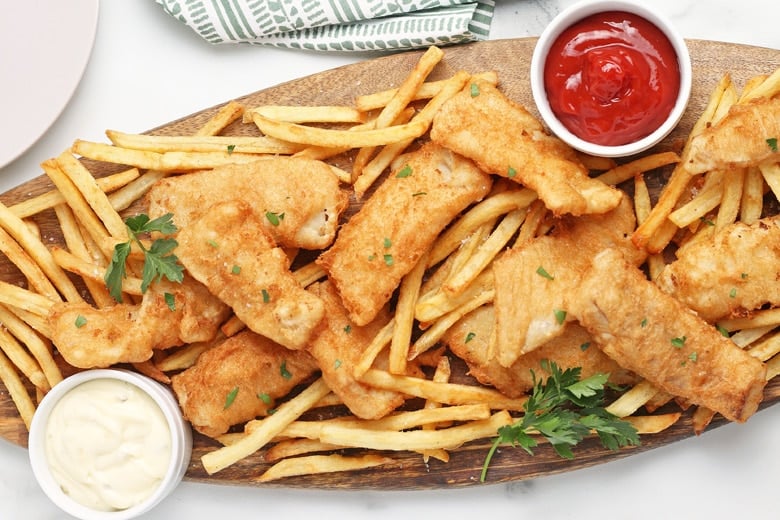 The second reason is that a fryer offers better temperature control, which is essential in making sure the fish fry batter gets nice and crispy while the fish gets properly cooked. Also, make sure you use a neutral oil with a high smoke point, like vegetable, canola or peanut oil.
Heat oil to a temperature of 365°F.
Fry fish until batter is lightly brown, approximately 3-4 minutes on each side. Remove, tapping off excess oil. Place on a wire rack with paper towels underneath. This prevents the pieces of fish from getting soggy while letting the oil drain.
Serve this beer battered fish with fries and tartar sauce , cocktail sauce or hot sauce. Hush puppies are also commonly served alongside.
What is the best oil to fry fish?
Frying fish requires a high smoke point oil to reach the best frying temperature of 335°F-365°F. We recommend canola or peanut oil.
Optimal Oil Temp For Frying Fish
Deep fat frying is defined by frying in oil between the temperatures of 350°-365°F, but since this is a delicate fish and very thin, you can get away with a slightly lower temperature.
How long to fry fish?
The trick is having the right temperature of oil so the fish inside has time to cook because the battered outside burns. Using a frying thermometer will help monitor the temp.
Other serving suggestions for this Fish Fry Recipe
Fried fish is commonly served with French Fries but also coleslaw. Give our vinegar coleslaw and creamy coleslaw a whirl. A nice side salad or green veggie like pan fried broccolini or steamed green beans is also delicious.
Make Ahead & Freezing This Fish Fry Recipe
Fried fish is best served immediately after cooking, while still warm and crispy. It is best reheated in the oven on low heat. I do not recommend freezing this dish.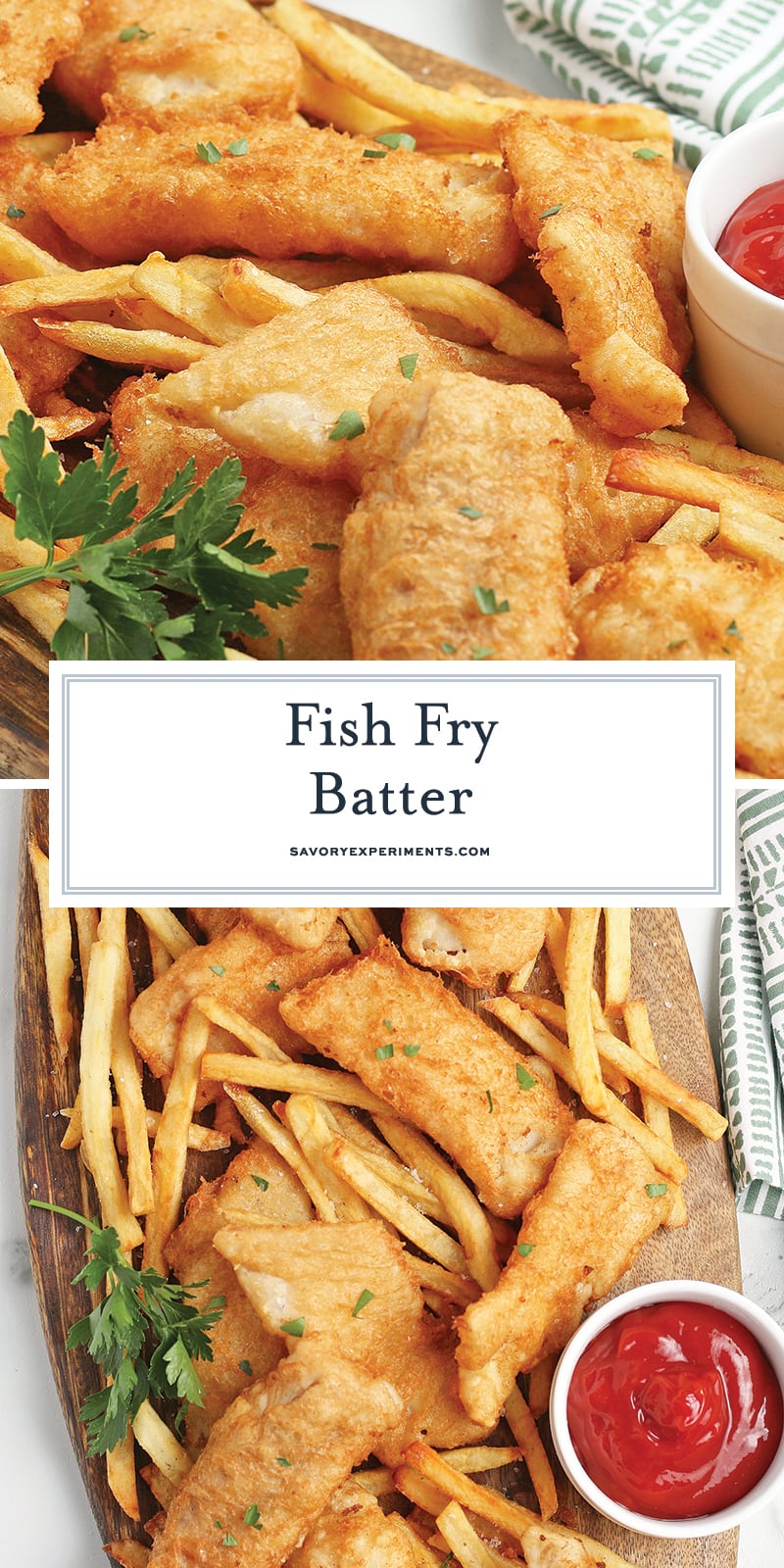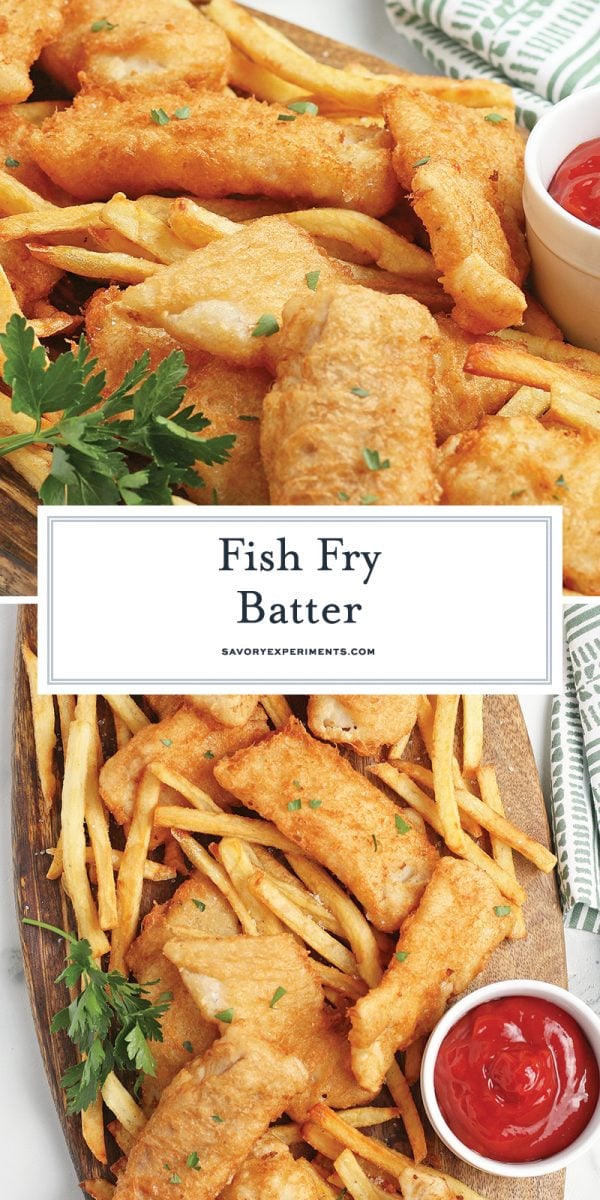 Fish Batter Recipe FAQs
What is in a fish fry?
Fish, the beer batter and oil.
How do you get batter to stick to fish?
If the fish is patted dry and the batter is the right texture, there should be no problem with it sticking. If you want to make sure it sticks really well, toss the fish fillets in flour before battering and it will stick even better.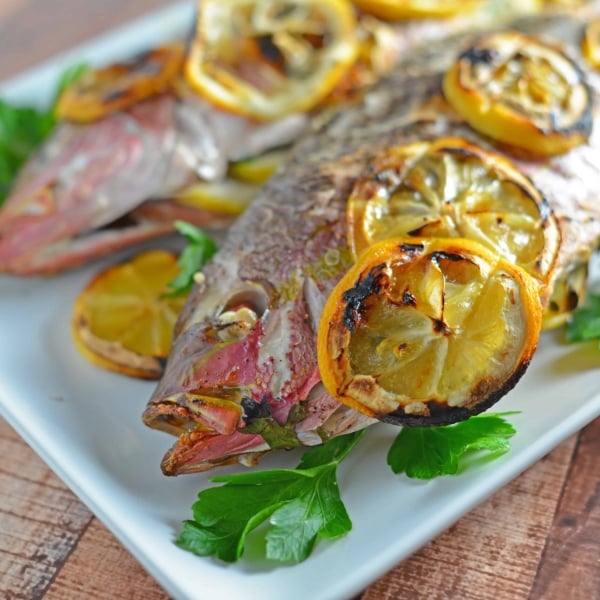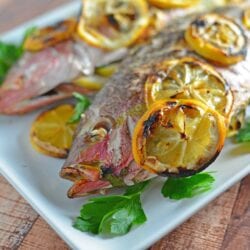 Grilled Red Snapper Recipe
Grilled Red Snapper- how to prepare and grill whole fish with fresh herbs and lemon, Mediterranean style fish at home! You won't believe how easy it is to make your own whole fish!
See The Recipe!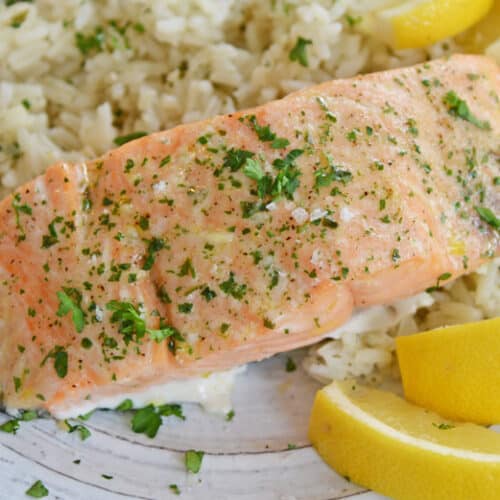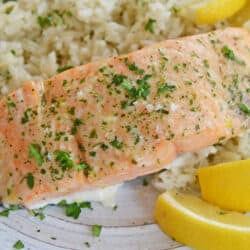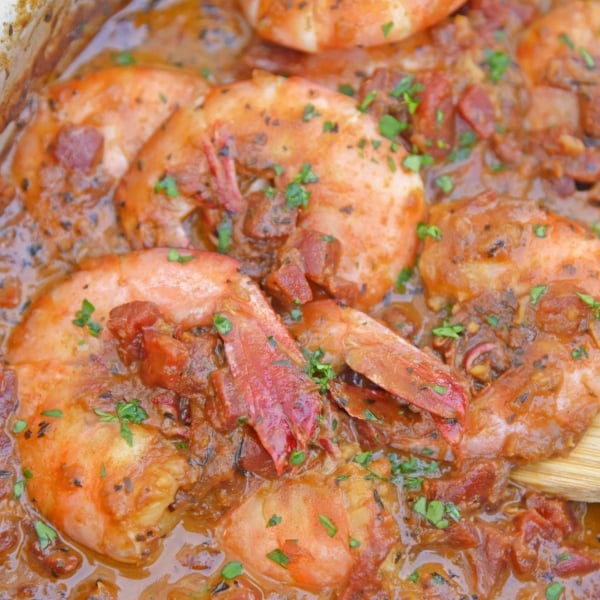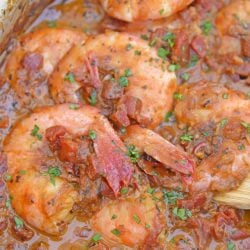 Voodoo Shrimp Creole
Voodoo Shrimp Creole is a tomato-based dish using shrimp and beer to make a sweet and spicy broth. Serve over rice or grits for a full meal.
See The Recipe!
Tools You'll Need For Fish Fry
Mixing Bowls– make sure to check out my article on Using the Right Mixing Bowl, you'd be surprised how many people aren't!
Electric Deep Fryer – I used to think I was fine pan frying. Then I got a fryer and it made my fried foods SO much more delicious!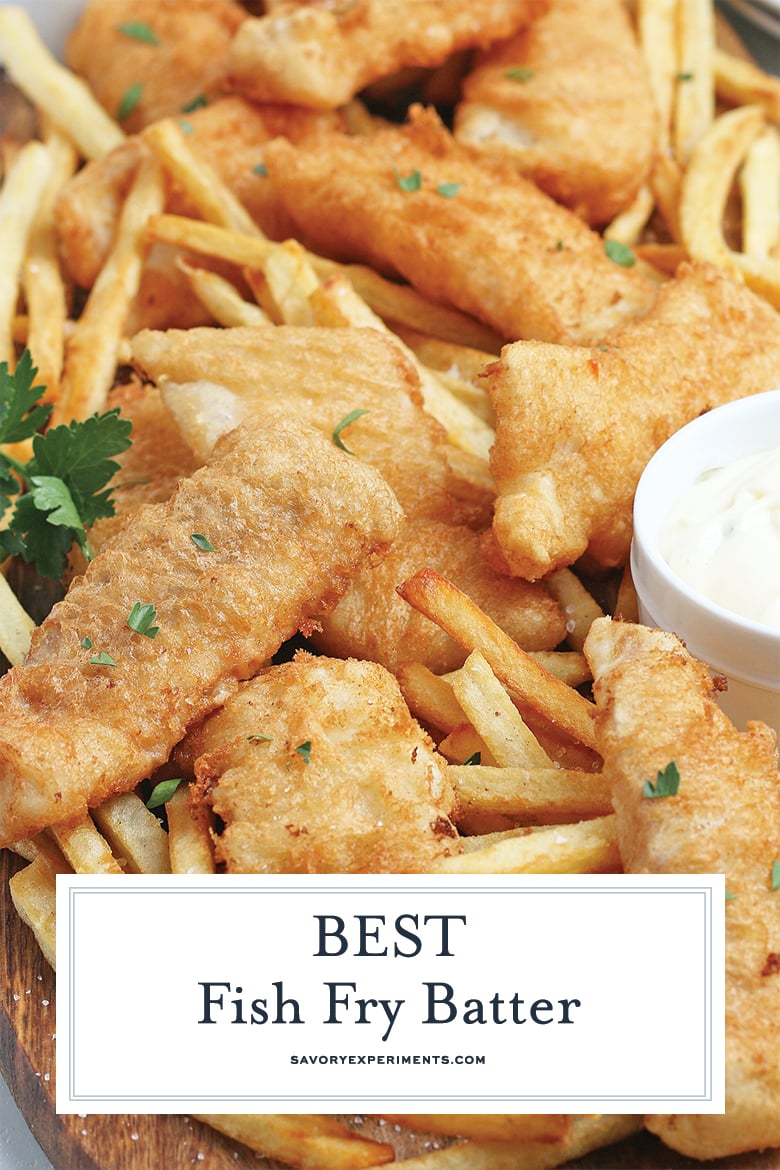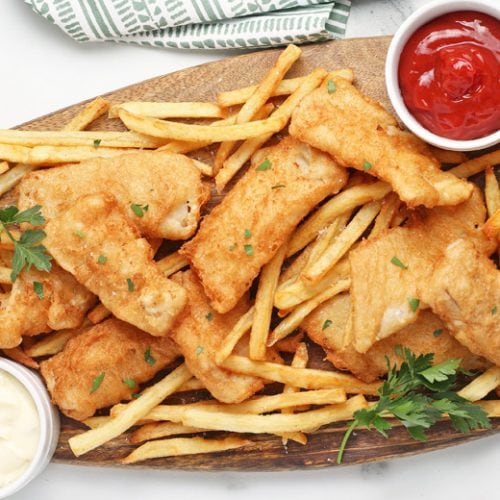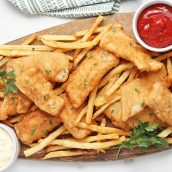 Fried Fish (Beer Fish Batter)
This beer batter fried fish uses light beer and a few basic ingredients to create the best fish fry batter for British fish and chips. Yum!
Instructions
Heat oil in a deep fryer to 365 degrees. If you don't have a deep fryer, you can heat oil in a large dutch oven or cast iron skillet, use a candy thermometer to measure.

Rinse fish and pat dry. Leave whole or cut into smaller pieces.

Combine 1 cup flour, garlic powder, paprika, fine sea salt, baking soda, ground pepper in a shallow dish, stirring to combine. Stir egg into dry ingredients.

Dip fish fillets into the batter and immediately drop into hot oil. Work in batches so you don't crowd the pan.

Turn once to ensure all sides are lightly brown and crispy, approximately 3-4 minutes for each batch, although this will be dependant on the thickness of your filets as well.

Transfer to a wire rack on a baking sheet to drain. Set into a hot oven to keep warm until the rest are completed.

Serve with cocktail or tartar sauce.

If you've tried this recipe, make sure to come back and let us know how you liked it in the comments or ratings.
Nutrition
Calories:
401
kcal
,
Carbohydrates:
28
g
,
Protein:
35
g
,
Fat:
13
g
,
Saturated Fat:
9
g
,
Cholesterol:
114
mg
,
Sodium:
1276
mg
,
Potassium:
846
mg
,
Fiber:
1
g
,
Vitamin A:
990
IU
,
Vitamin C:
1.7
mg
,
Calcium:
50
mg
,
Iron:
2.9
mg