This homemade Mozzarella Sticks recipe is perfect for parties, game days or even for a fun family dinner. They are super simple to make, can be frozen or made ahead of time for easy prep. Pair with marinara sauce for the perfect finish!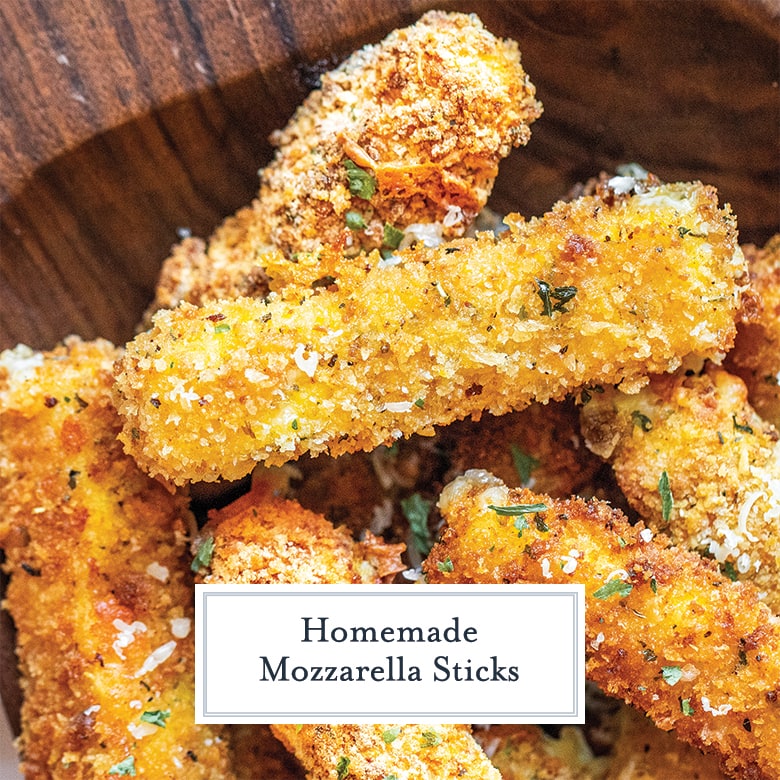 There really is nothing better than some glorious fried mozzarella sticks dunked in sauce. This easy recipe is easily customized with different cheese, breading or dipping sauces.
Both kids and adults will go wild for these golden, crispy and delicious motz sticks.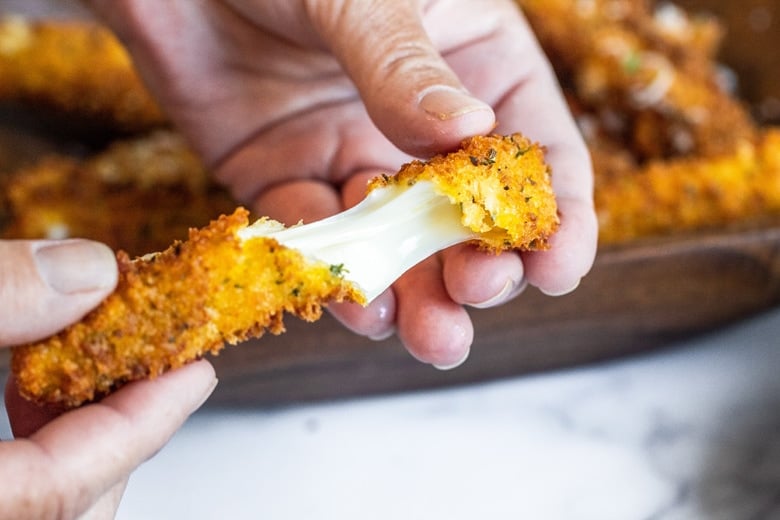 How to Make Mozzarella Sticks
Mozzarella sticks are very easy to make, but there are some important steps to follow to ensure success.
Combine your dry ingredients and spices in one large shallow bowl and stir to combine. In a separate shallow bowl add in your eggs and milk and whisk until combined.
Slice a block of mozzarella cheese into even ½ inch sticks. Try and make them as even as possible so they all fry evenly. If using store bought cheese sticks skip this step.
One at a time dip the cheese stick in the egg mixture, then the breadcrumbs, then repeat. Do this until all the sticks are well coated and place on a large plate or cookie sheet.
Place the plate of coated cheese sticks in the freezer and freeze for at least 2 hours.
Once frozen, heat vegetable oil in a large, deep skillet over medium heat until the oil has reached 350 degrees F or is shimmering.
Add homemade mozzarella sticks in the oil and fry until golden-brown, about 2-3 minutes. Carefully flip the sticks with tongs and repeat on the other side.
Once the cheese stick is fried carefully remove from the oil and place on a paper towel lined plate. Repeat this until all the mozzarella sticks are fried. Serve warm with marinara sauce or sauce of choice.


Air Fryer Option
Preparing homemade mozzarella sticks in an air fryer is simple to do and cleaner and healthier compared to the traditional frying method. When air frying mozzarella sticks you will need to follow the same prep instructions including the 2 hour freeze time. Once the mozzarella sticks are frozen, proceed with air frying them.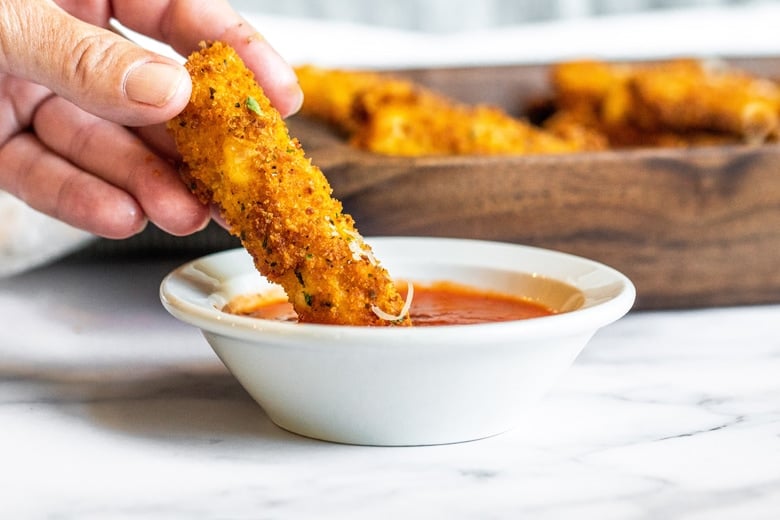 Start by preheating your air fryer to 375 degrees F. This is important for the cheese not getting too hot and seeping out of the breeding.
Oil Temperature: When heating to oil you want to heat it until 350-365 degrees F. The easiest way to achieve this is by using a candy thermometer. If you do not have this or something similar, no worries. Try and add the sticks into the oil when it is shimmering and start with one at a time to test the temperature.
Spray the basket of your air fryer with cooking spray and add in mozzarella sticks making sure not to crowd them. Spray the tops of the sticks with cooking spray then close the air fryer.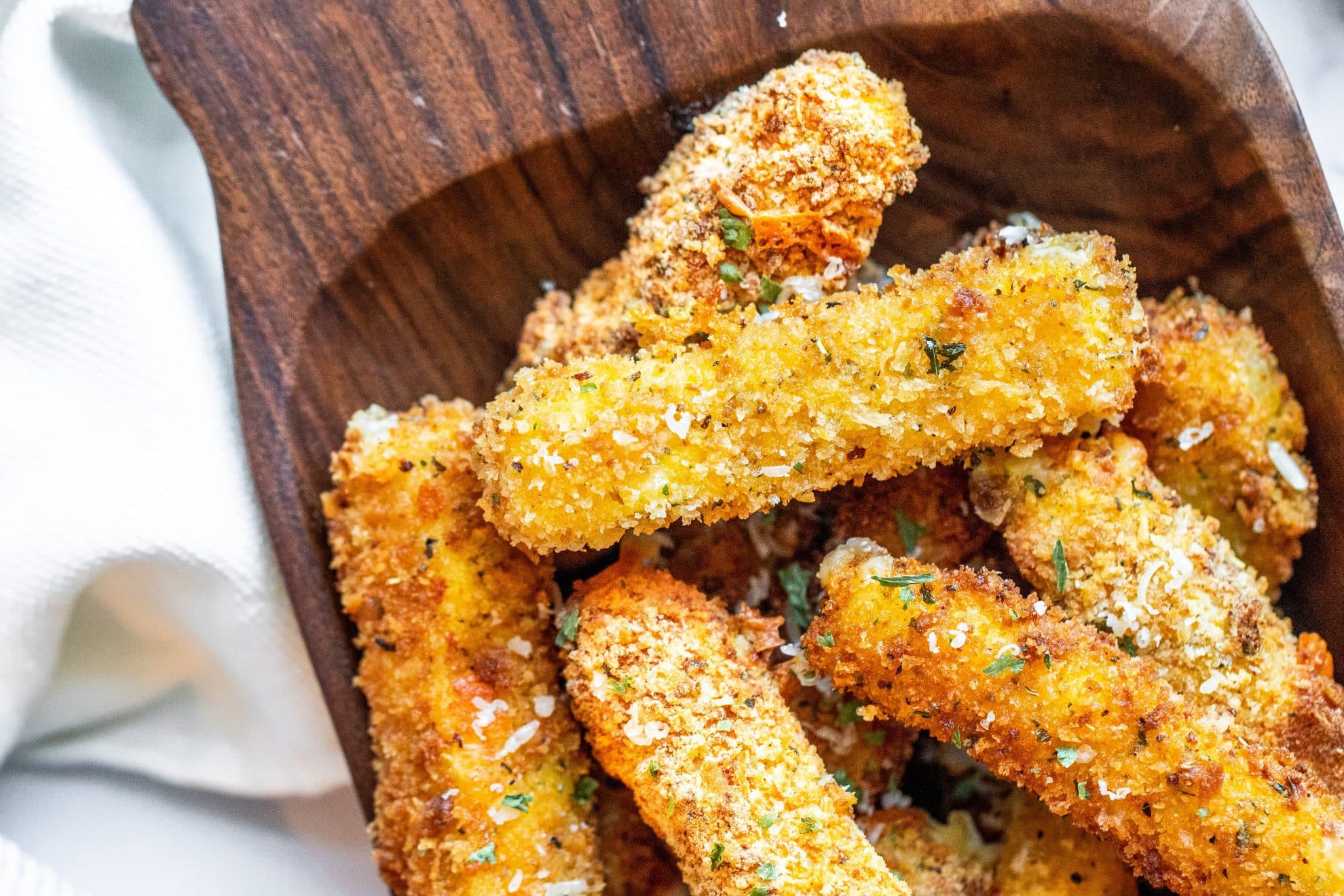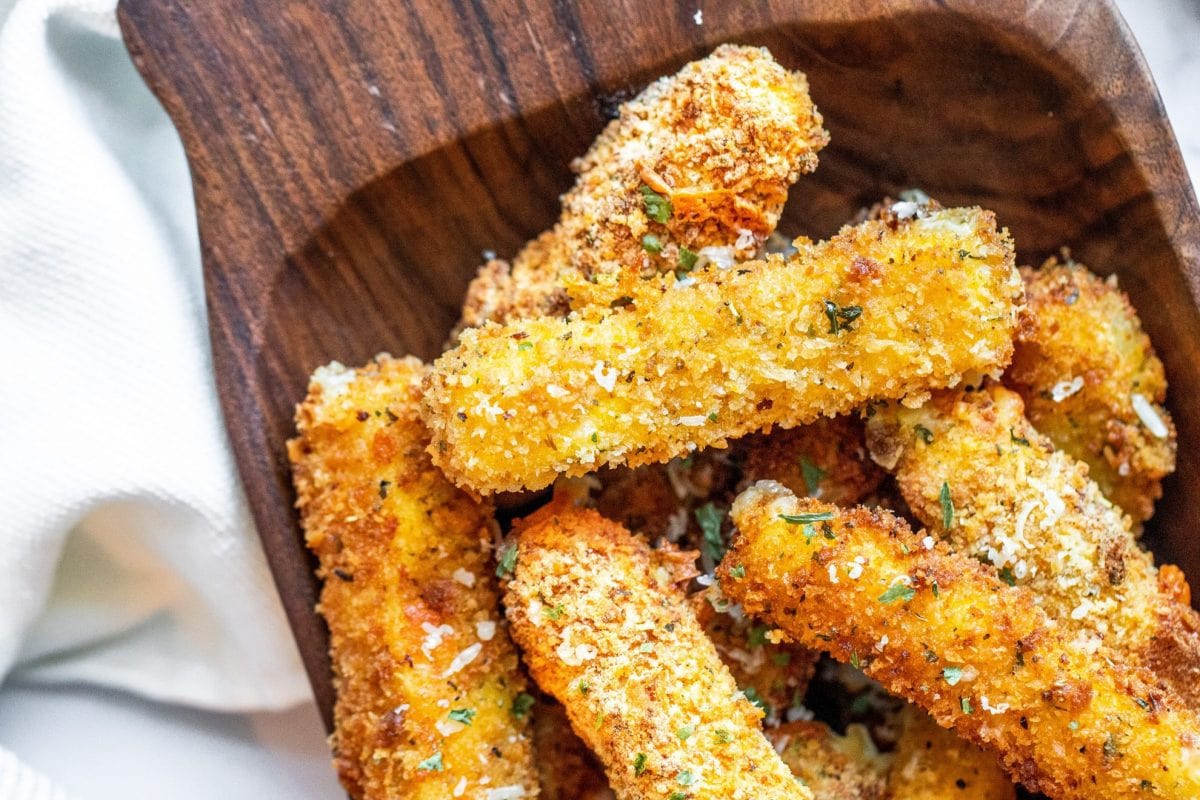 Press start, then set the temperature to 375 degrees F and cook for 6-8 minutes (or until golden brown) flipping halfway through. Once cooked remove and serve warm with marinara sauce, or sauce of choice.
Other Cheese Options
Traditional mozzarella sticks are obviously made with mozzarella cheese. I mean come on it is in the name! If you want to mix up this mozzarella sticks recipe some other great cheeses to try are cheddar cheese, colby jack cheese, or pepper jack cheese.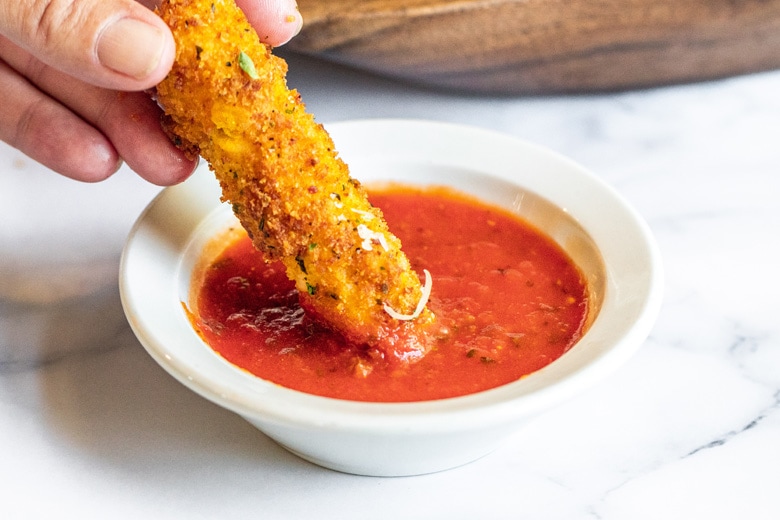 No need to change up the breading when swapping out the cheese, it will blend with them all well. You can, however, add a few other spices or herbs that complement like chili powder with pepper jack for spicy fried cheese!
Also, you can use either cheese sticks or buy a block of cheese and slice it yourself. Both work great, but buying the cheese sticks will save on some prep time/work.
This is also the one time I highly suggest against homemade mozzarella or the super artisanal kind sitting in a brine bath. For cheese sticks you don't want excess moisture, so the dry, hard kind is actually better. Lucky for you, it is also cheaper!
Mozzarella Sticks Breading
For this mozzarella stick recipe I like to use the holy trio for breading: breadcrumbs, Panko and flour. I find this combination makes the perfect crispy shell and keeps the cheese from oozing out. You can use this exact combination, or use a combination of two.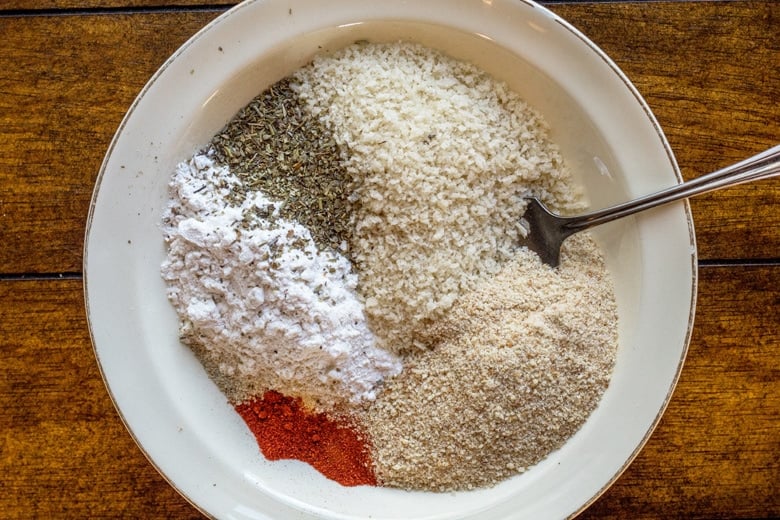 For a more traditional and smooth mozzarella stick use flour and breadcrumbs. For a more crispy and crunchy shell use Panko and flour.
Double Dip: When breading the homemade mozzarella sticks you will need to run them through the egg and bread crumbs twice to get a nice thick coating. Also, make sure you get all the edges and sides so the cheese does not seep out.
Mozzarella Stick Sauce
The classic sauce pairing for mozzarella sticks is of course marinara sauce. You can make your own from scratch, or use your favorite store bought brand.
Some non-traditional ideas for dipping the sticks in would be salsa, ranch dressing, BBQ Sauce, cheese sauce, Queso, or meat sauce.
Make Ahead
Mozzarella sticks from scratch are perfect for making ahead of time. Simply bread the mozzarella sticks and store in the freezer until you are ready to fry them.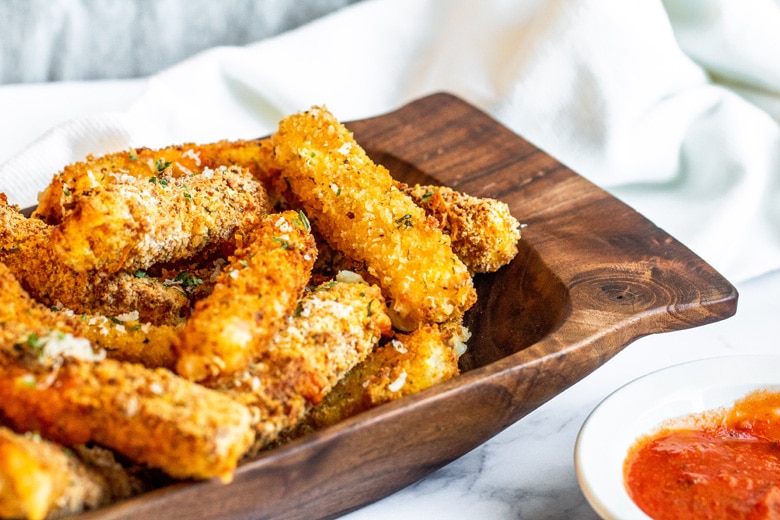 I love prepping a large batch at one time then keeping half in the freezer for up to 3 months. This way I can have fresh, homemade mozzarella sticks whenever I want.
Storage and Freezing Instructions
Store leftover fried cheese sticks in an airtight container in the fridge from up to 4 days. Reheat in either the microwave or oven until just warm. Make sure to watch them when reheating so that they do not get too hot and the cheese begins to seep out the sides.

Freezing mozzarella sticks from scratch is a must, and they need to be frozen after breeding them for at least 2 hours. If you skip the freezing, or cut it short then your cheese will more than likely seep out and no one wants that.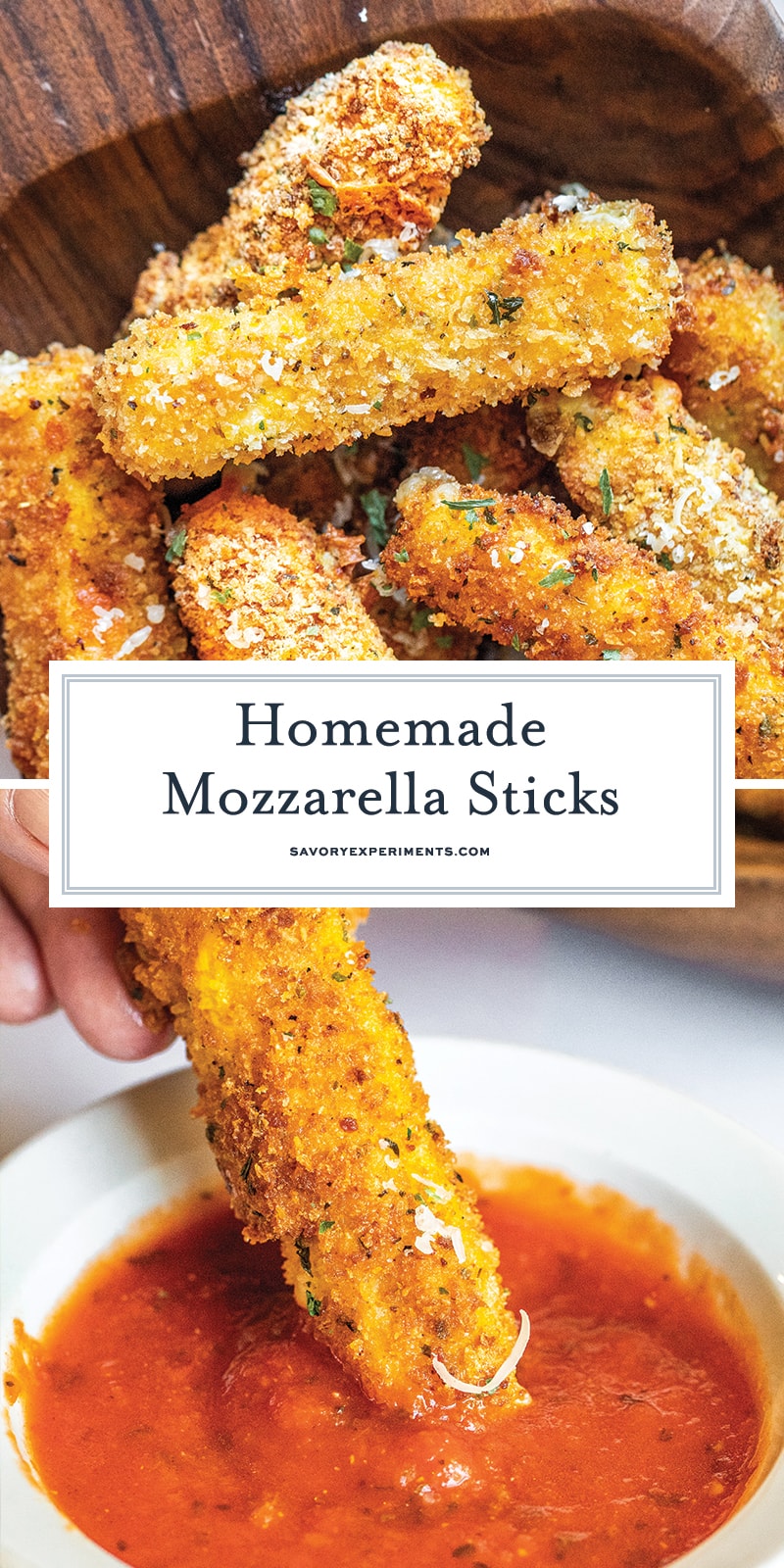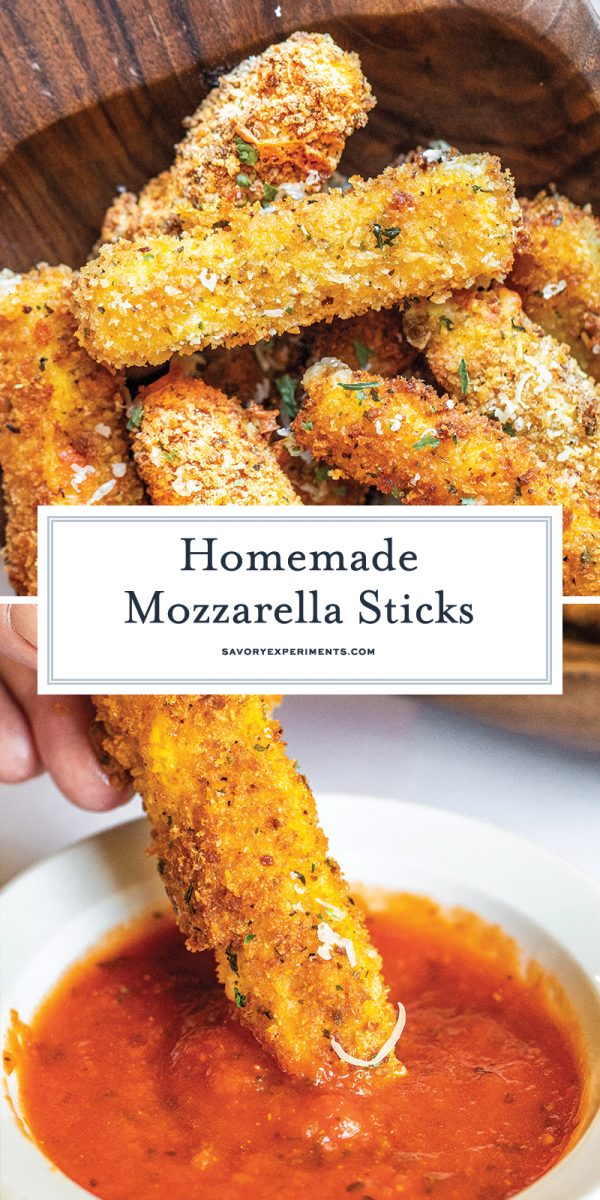 Even more munchies to enjoy: