With simple pantry ingredients, you will have these Homemade Sopapillas ready in no time. Perfectly light and crispy, rolled in cinnamon sugar and dipped in sweet honey- the perfect treat!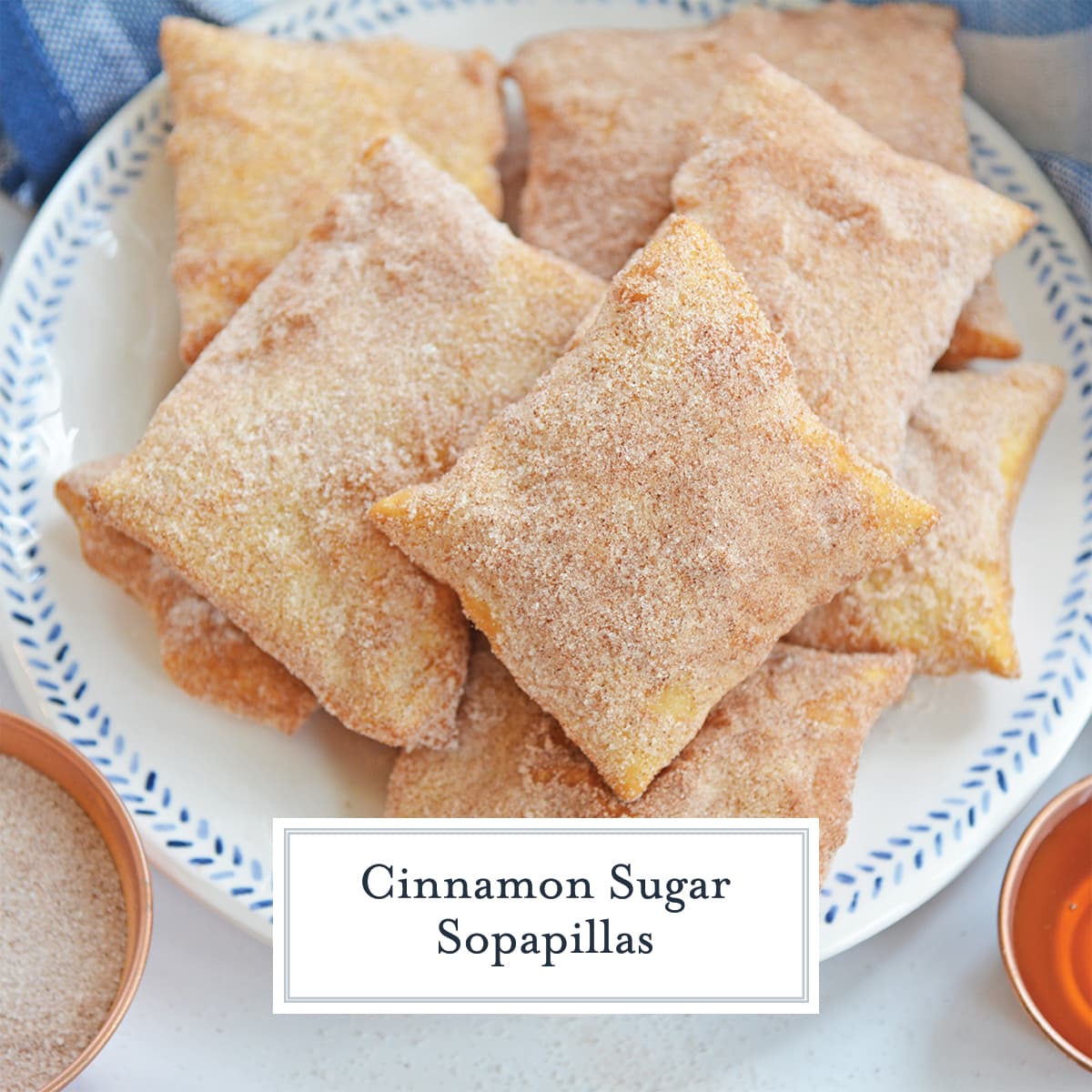 Sopapillas hold a soft spot in my heart. I don't remember much about living in Colorado when I was young, but for some reason, I distinctly remember the Mexican restaurant, their chile rellenos and of course, the sopapillas.
We moved to Dallas when I was in 3rd grade and ever since I am always on the hunt for similar items, but the chile rellenos were uniquely made in egg roll wrappers and the sopapillas a blend between doughy and flaky with just honey, no cinnamon and sugar.
What Are Sopapillas?
Sopapillas are a type of fry bread or quick bread, although some classify them as a pastry. They have a Mexican heritage, but are also common in New Mexico. The dough has a similar taste to funnel cakes.
They bake up to lovely little hollow pillows. I was always told that the word sopapilla meant "little pillows", but that was incorrect. The first sopapillas were actually called Xopaipa and it translates from Mozarabic to bread soaked in oil. Not nearly as attractive as doughy bread with a drizzle of honey, right?
Most are tossed with a cinnamon sugar blend, but I've seen a few fancy versions that stuff them with a cream cheese blend or fresh fruit jams. These can also be served on the side as a dipping sauce.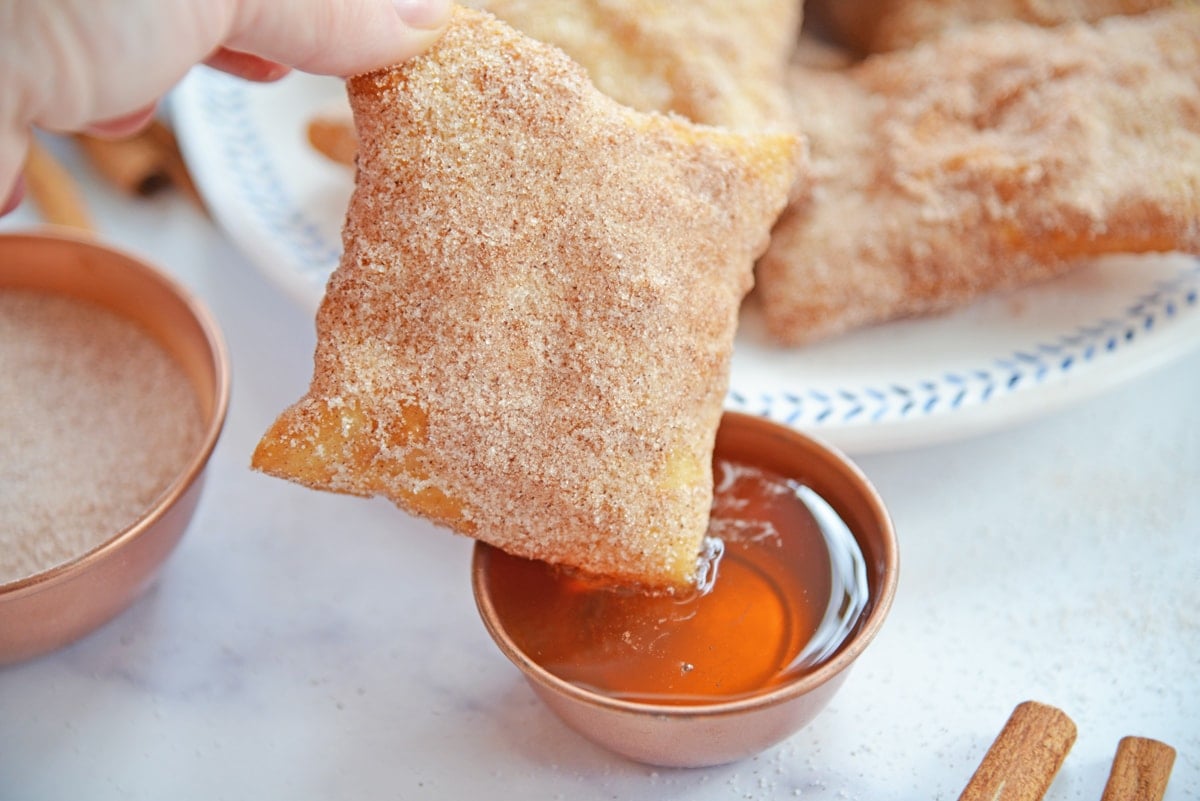 Homemade Sopapillas
I don't know why it took me until near 40 years old to make them at home. They are SO easy to make! And just like I remember them. I'd be lying if I told you that I didn't eat one… or two too many the day I initially whipped up a batch.
The dough is simple, made from just pantry essentials and warm water. The key ingredient is shortening. Cut into the dough, it is what makes the signature flaky texture.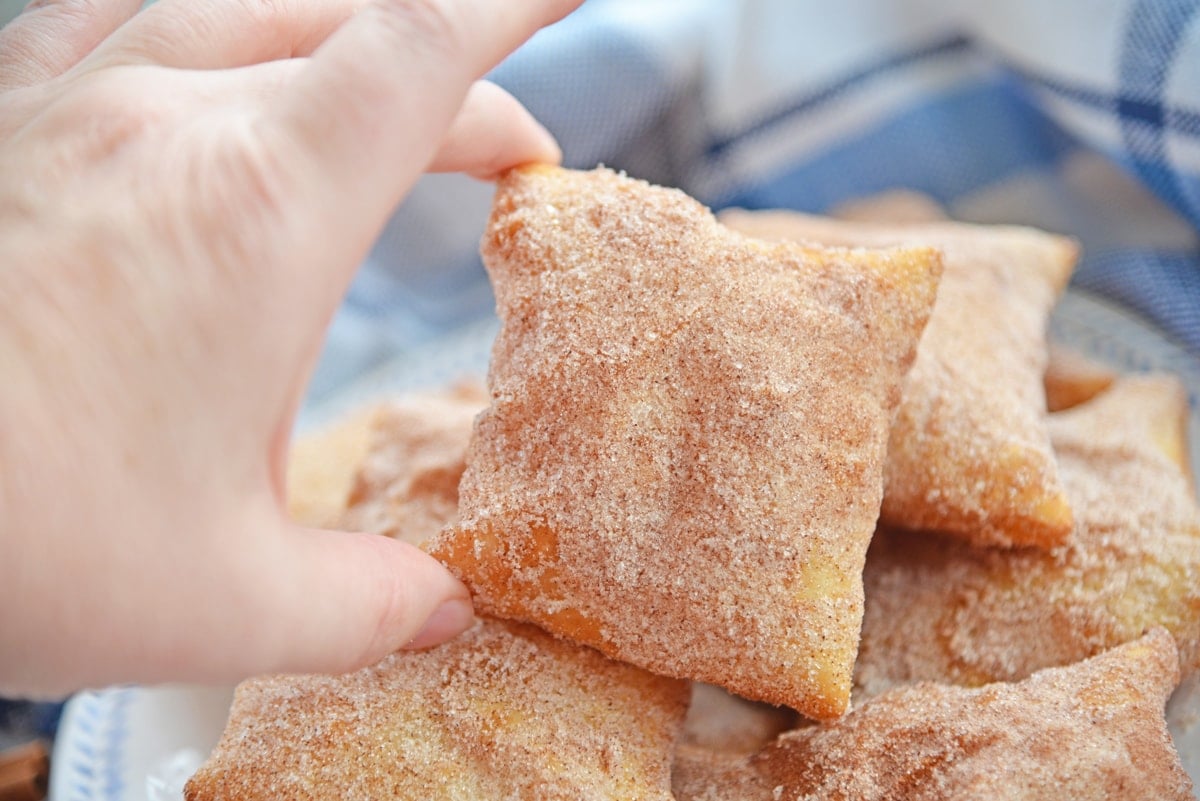 The only tricky element is frying, but we will get to that below.
Sopapilla Dough
The dough is simply flour, baking soda, salt, shortening a water. It seems that many cultures have some variation of puffy fried dough. It's popular in Italian cuisine and also French creole with the benginet, although it uses yeast making it slightly more doughy.
But mine has a secret ingredient that not only adds warmth, but also aroma. And that is nutmeg.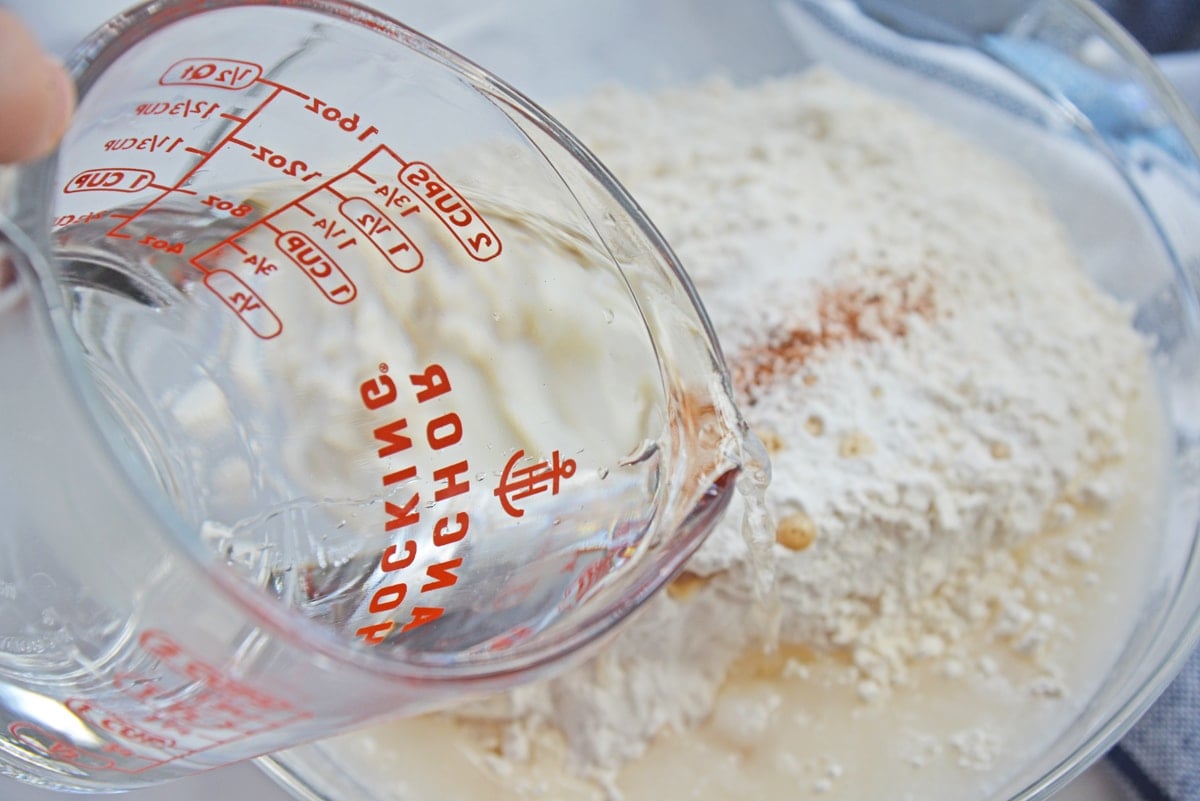 As with most ground spices, make sure your nutmeg is fragrant and fresh or grate your own. It can be omitted altogether if it doesn't interest you.
I highly suggest cutting the shortening into smaller cubes to equally integrate it through all of the sopapillas dough without overmixing. I carefully use a stand mixer, being overly watchful to mix only until the dough comes together. Lard is an acceptable substitution.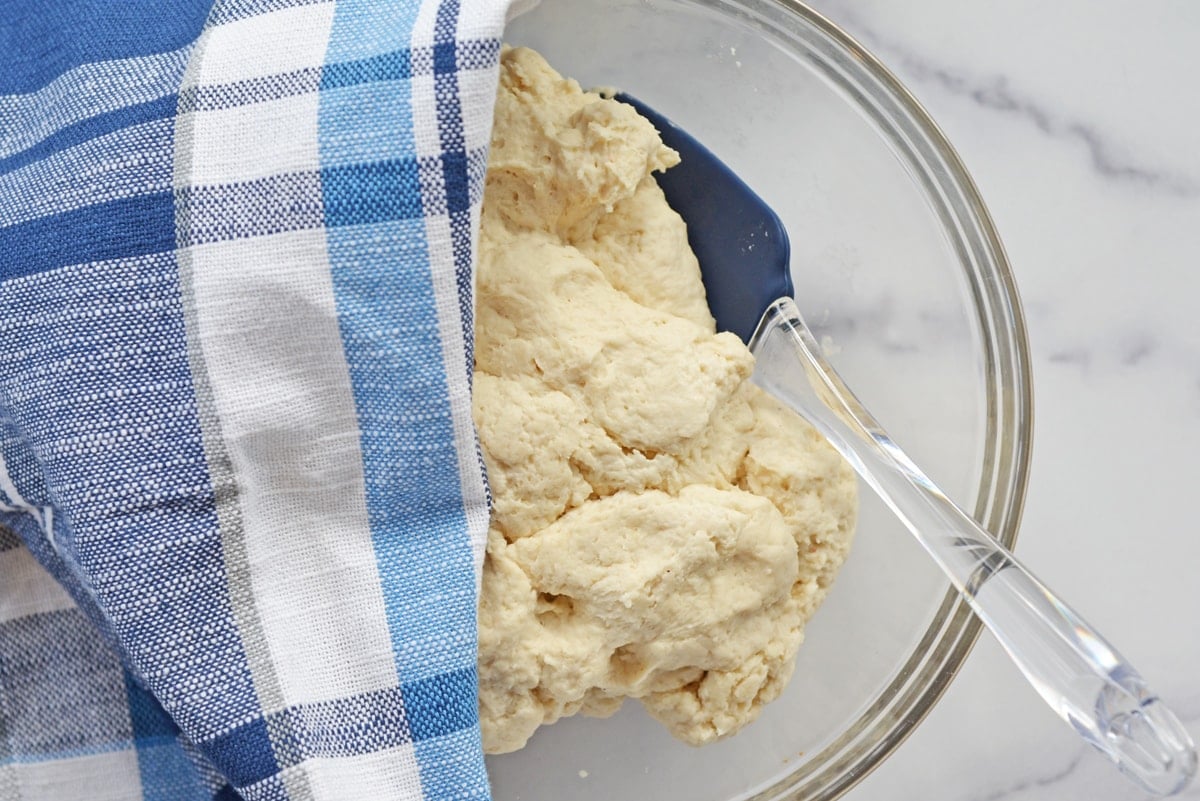 Next, let it rest before rolling. Make sure to cover it with a damp tea towel to prevent drying.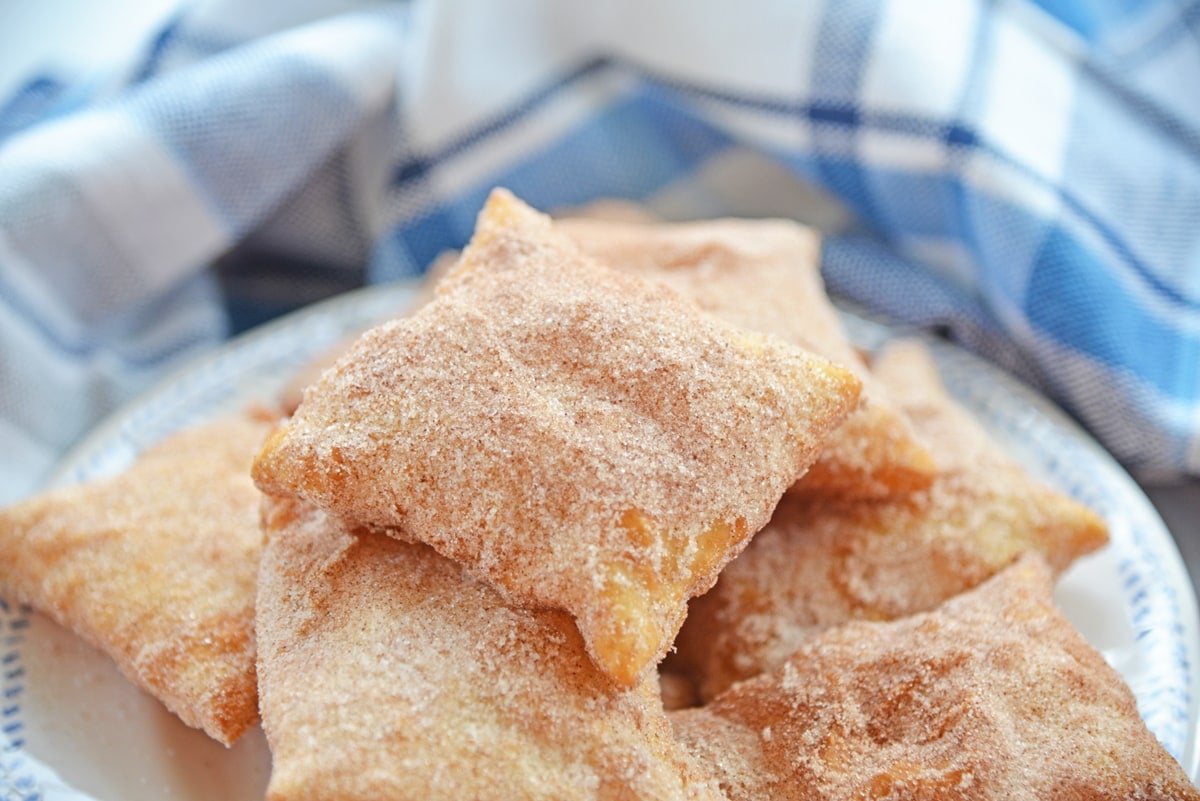 Rolling or Rolling
Nope, that is not a typo, you have two choices on how to "roll".
The first is to lightly flour a surface and roll out the dough with rolling pin. Aim for 1/8 of an inch. If the dough is too thick, you run the risk of it not puffing correctly. Then cut into 3-4 inch squares. I find this to be the fastest method.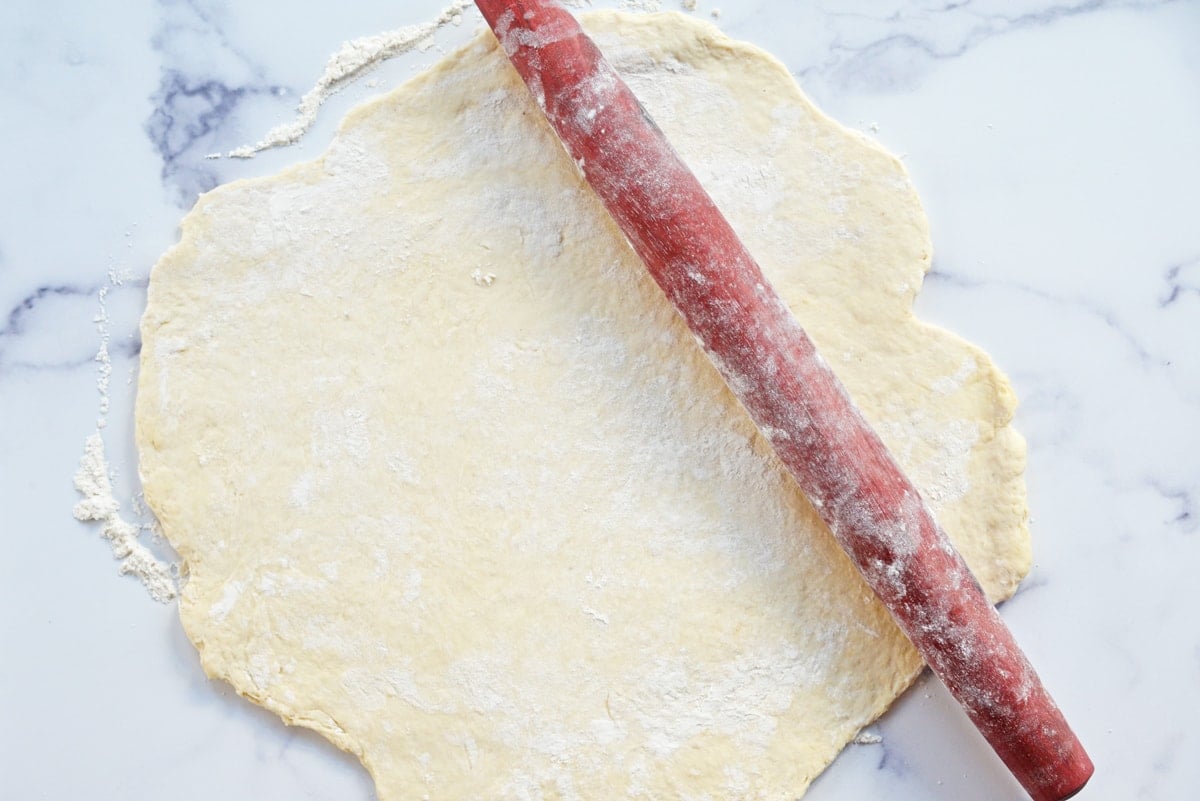 Or… make your sopapillas into fun shapes! No one says they have to be squares. Hearts, stars, circles, any shape will do. I suggest shying away from anything too intricate or detailed, but basic shapes will work.
The second option is to pull 2 inch balls from the larger ball of dough and pat them in your palms until fairly flat and around 1/8 of an inch. They won't be a perfect shape, but they don't need to be in order to be delicious.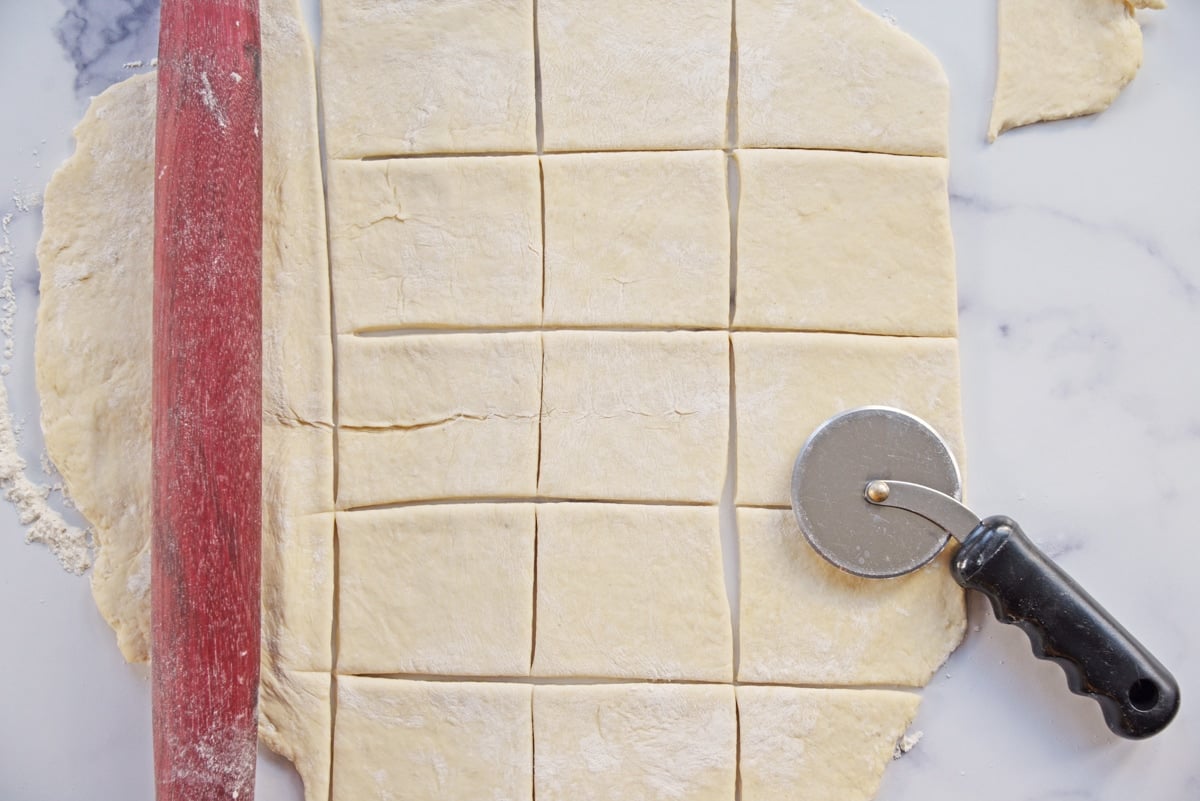 But make sure to keep them around the same size of 3-4 inches, making them too small or too large runs the risk of not puffing up properly.
Frying
Frying is the part where folks get tripped up. And you really don't need to be intimidated by frying if you buy a thermometer. They are not costly and there is really no excuse to not use one. They are often the key between failed sopapillas and sopapilla masterpieces.
Sizes of saucepans vary. Make sure you use 2-3 inches of oil. If it is too shallow, they won't have space to puff and float. I use vegetable oil for frying, this can be swapped, but make sure it is an oil with high smoke point.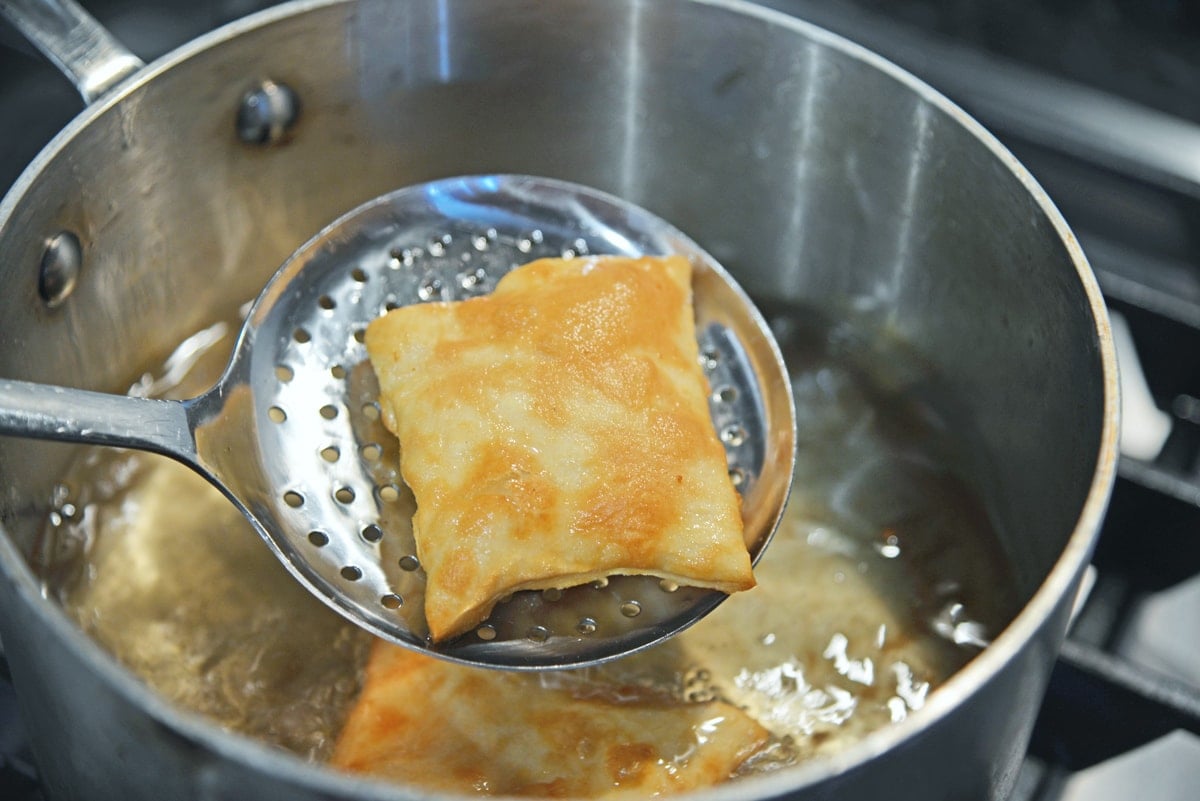 The oil needs to be between 350-375 degrees, and stay there. Only every time you add dough, the oil will reduce signifcantly. This means you might need to adjust the heat as you fry. That is normal.
If the oil is too hot, the exterior will brown before the inside has a chance to cook. If the oil is too cool, they will eventually fry, but will fail to puff. You want hot oil, but not too hot.
Aim for a golden brown exterior and remove with a slotted spoon to try and allow excess oil to drip off back into the pot.
Cooling
Never remove fried foods to a paper towel lined plate. I know every recipe you ever read said to do this. I confess, some of my old recipes probably tell you the same thing, but don't.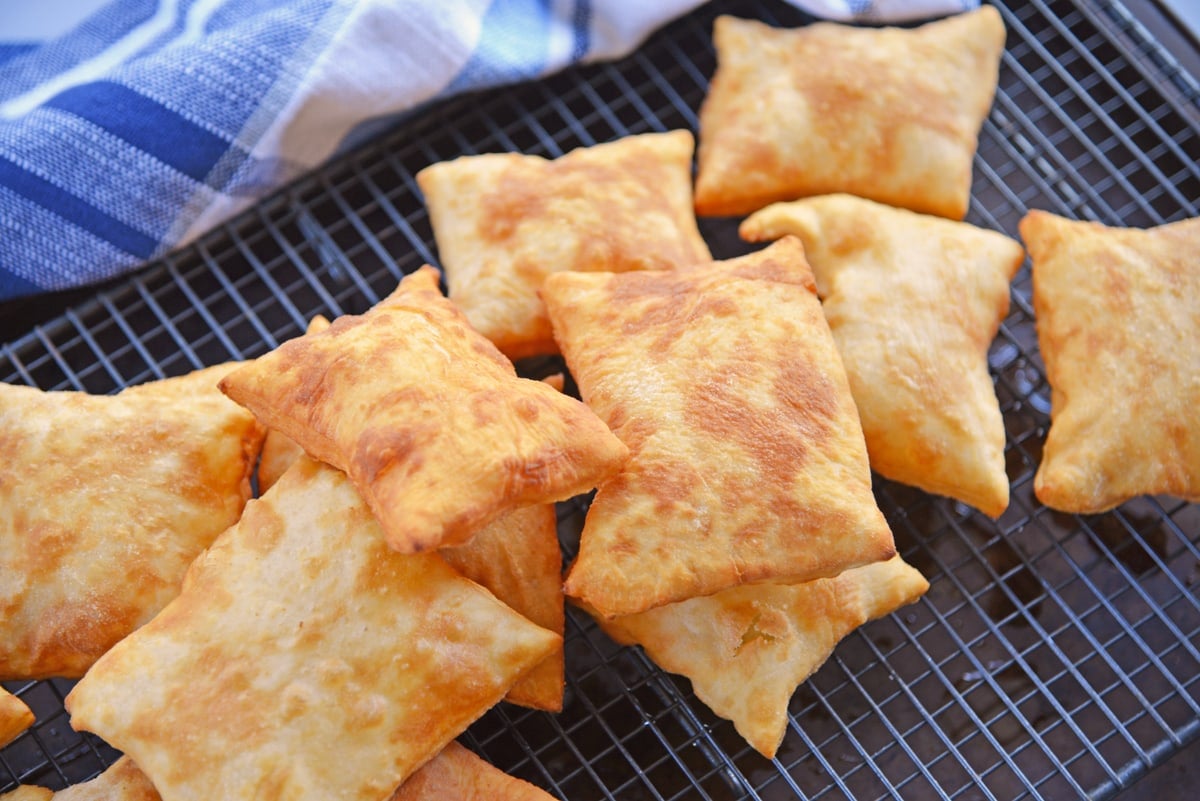 Instead, remove them to a wire rack over a rimmed baking sheet. This way the oil can drain, but it won't be smothered in an oil damp paper towel, also making your sopapilla a soggy mess on the bottom.
What Do I Serve With Homemade Sopapillas
I like to toss mine in a cinnamon and sugar blend and use honey. I know, I know, SO MUCH SUGAR. But I only make them about once a year, so I don't beat myself up.
Tossing in cinnamon and sugar is optional, but needs to be done right after the sopapilla drains from oil so it doesn't clump, but while the puffed dough is still hot and tacky so it sticks.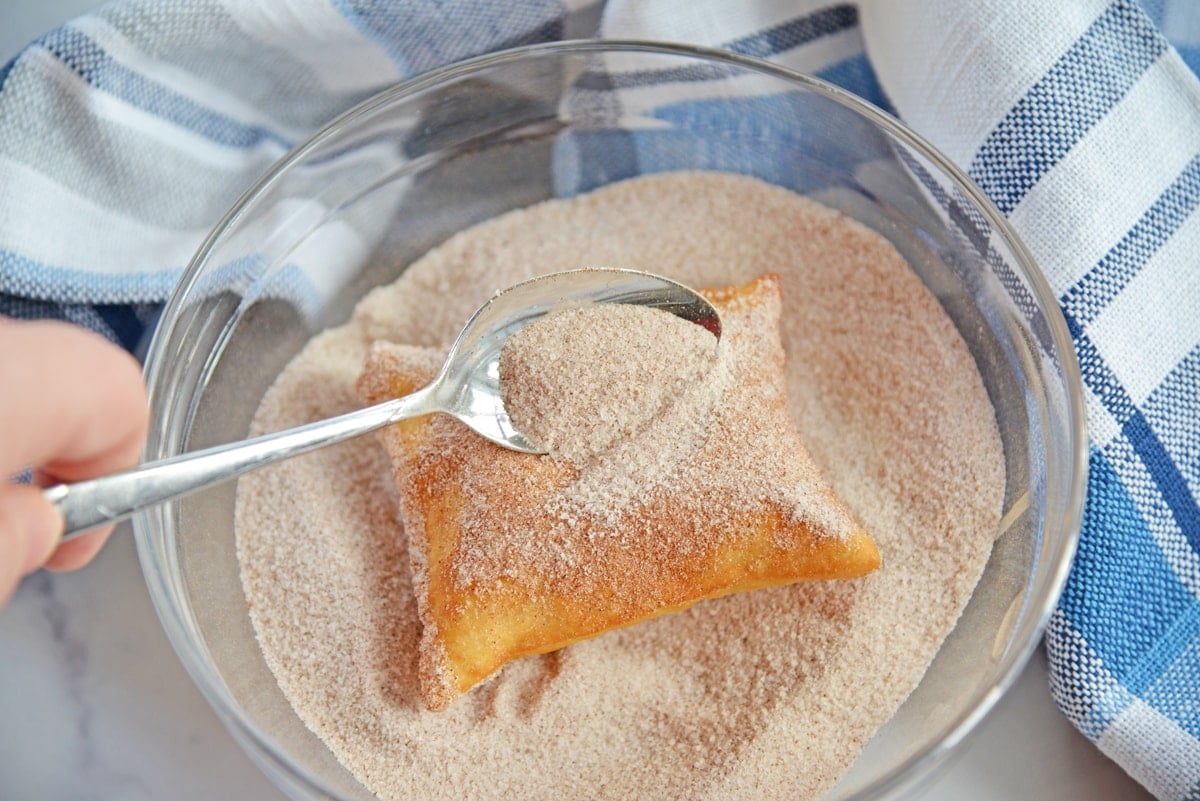 Nowadays I just lightly dip in honey, but in my childhood, I loved biting off a corner and pouring honey instead the sopapillas and rolling it around. You can also dip it in a sauce like raspberry, strawberry, caramel, dulce de leche or fudge sauce.
Enjoy Warm
There are very few things I make that I highly encourage you to enjoy immediately and not reheat. Sopapillas are one of them. It doesn't mean it isn't possible, it just means they are 100% better fresh and hot.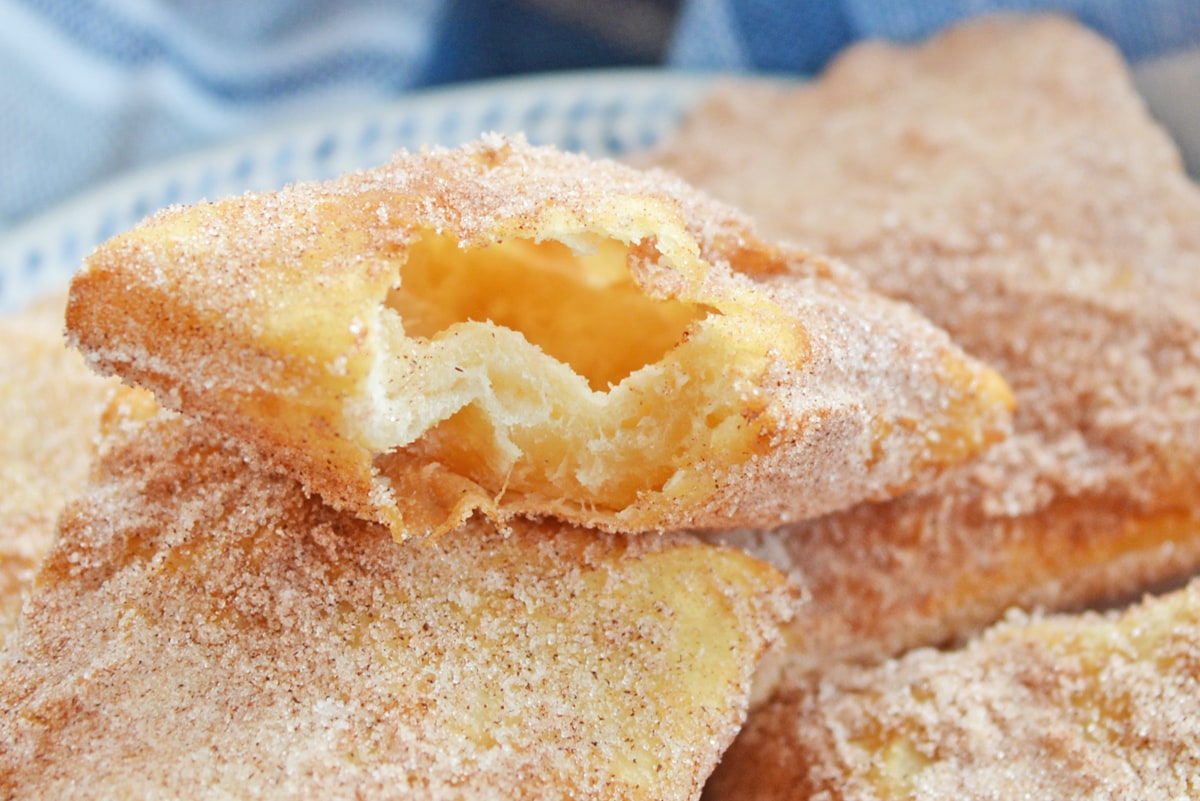 If you do have leftovers, store them in an airtight container at room temperature. Eat at room temp or wrap in a paper towel and heat at 50% power for only 10-15 seconds.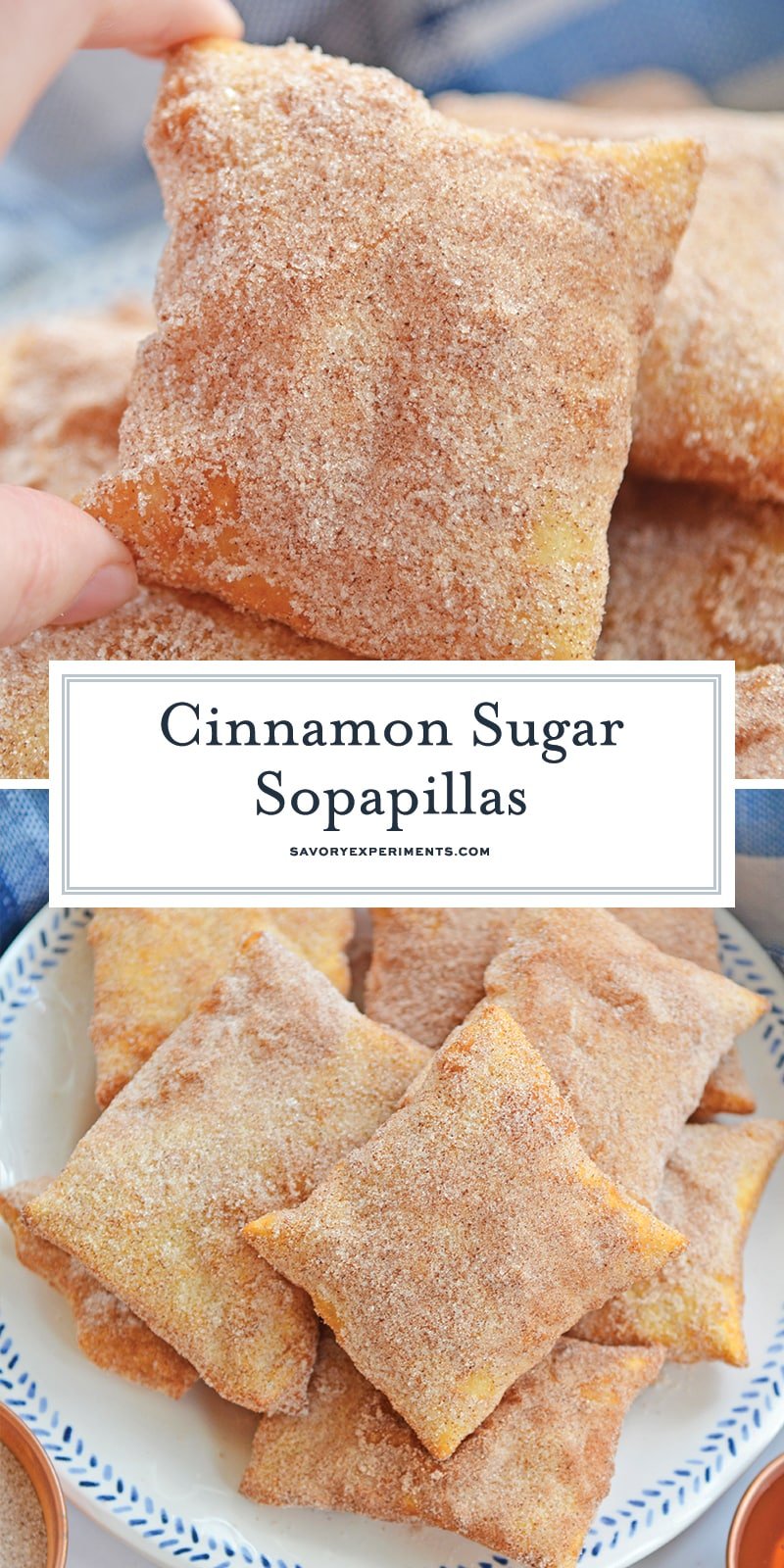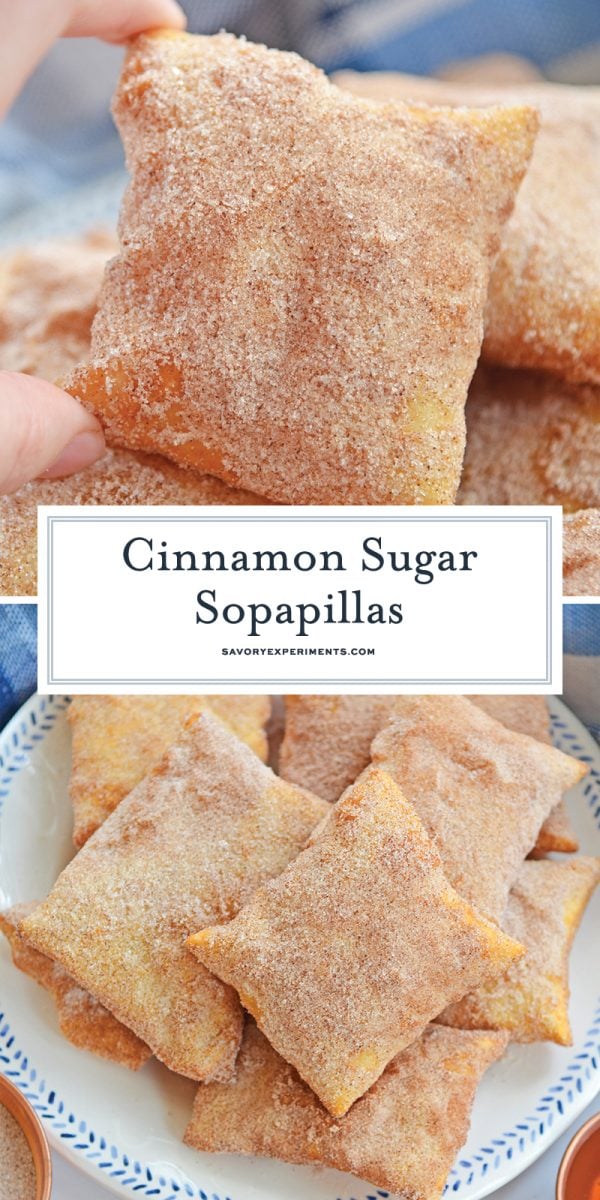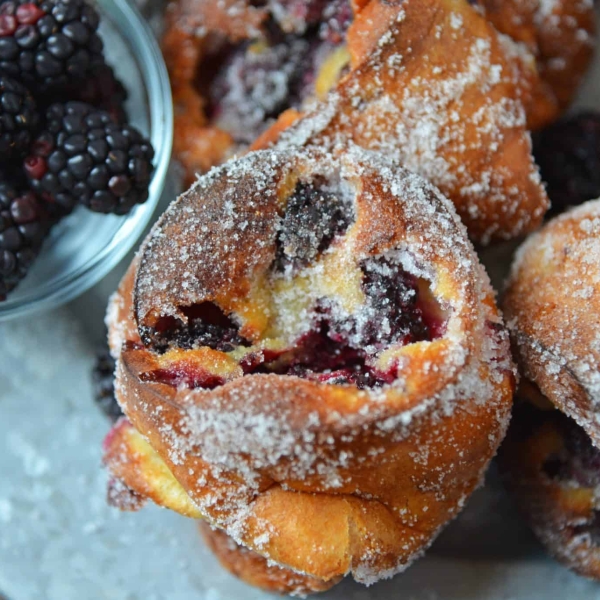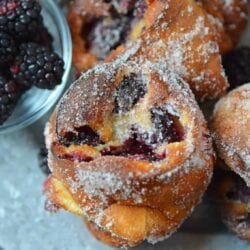 Blackberry Popovers
These Blackberry Popovers are a true melt-in-your-mouth breakfast treat, guaranteed to impress guests. Easier to make than you think, too!
View this recipe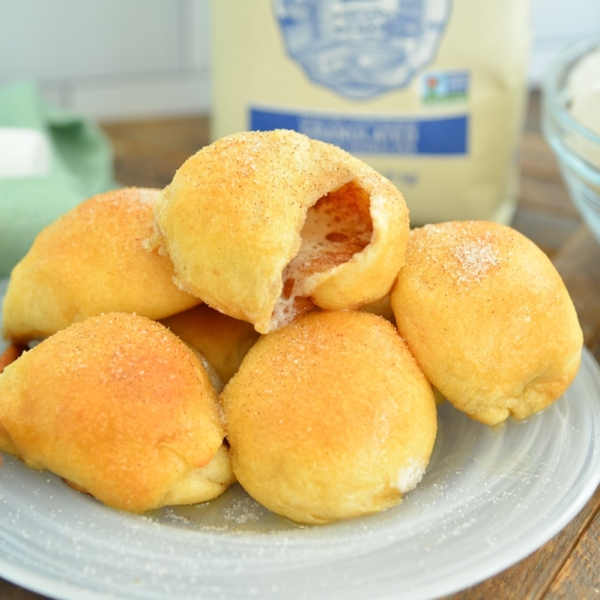 Marshmallow Hocus Pocus Buns
Cinnamon sugar and butter drenched marshmallows wrapped in a soft crescent roll for one of the easiest desserts ever.
View this recipe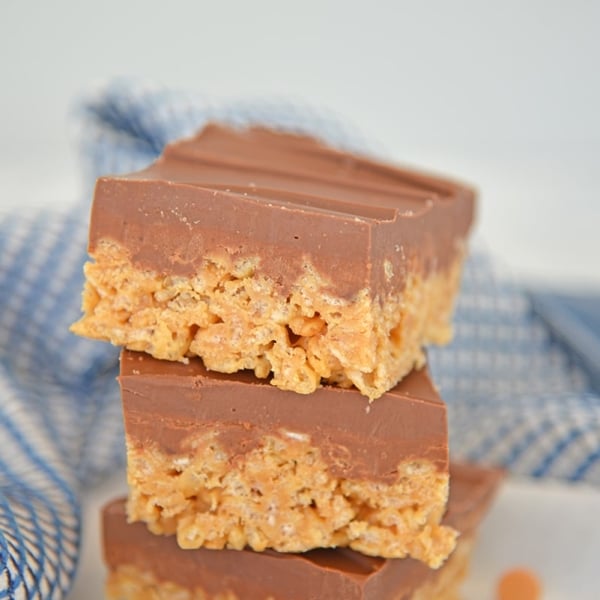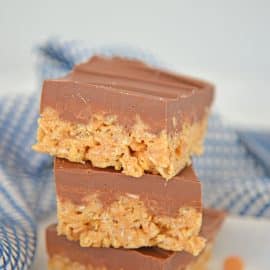 Scotcheroos Recipe
Classic Scotcheroos made with Rice Krispies, peanut butter, chocolate and butterscotch chips. The ultimate no-bake bar dessert!
View this recipe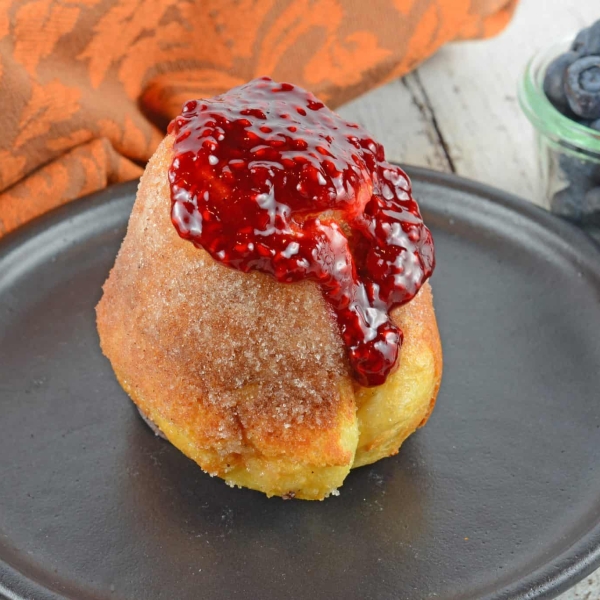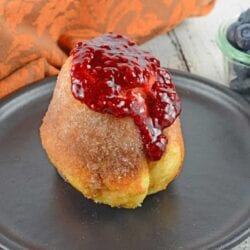 Cinnamon Sugar Popovers
Cinnamon Sugar Popovers are easier to make than you think! A crispy outside and chewy inside coated with cinnamon and sugar, then drizzled in a fresh raspberry sauce. Perfect for a decadent breakfast or dessert.
View this recipe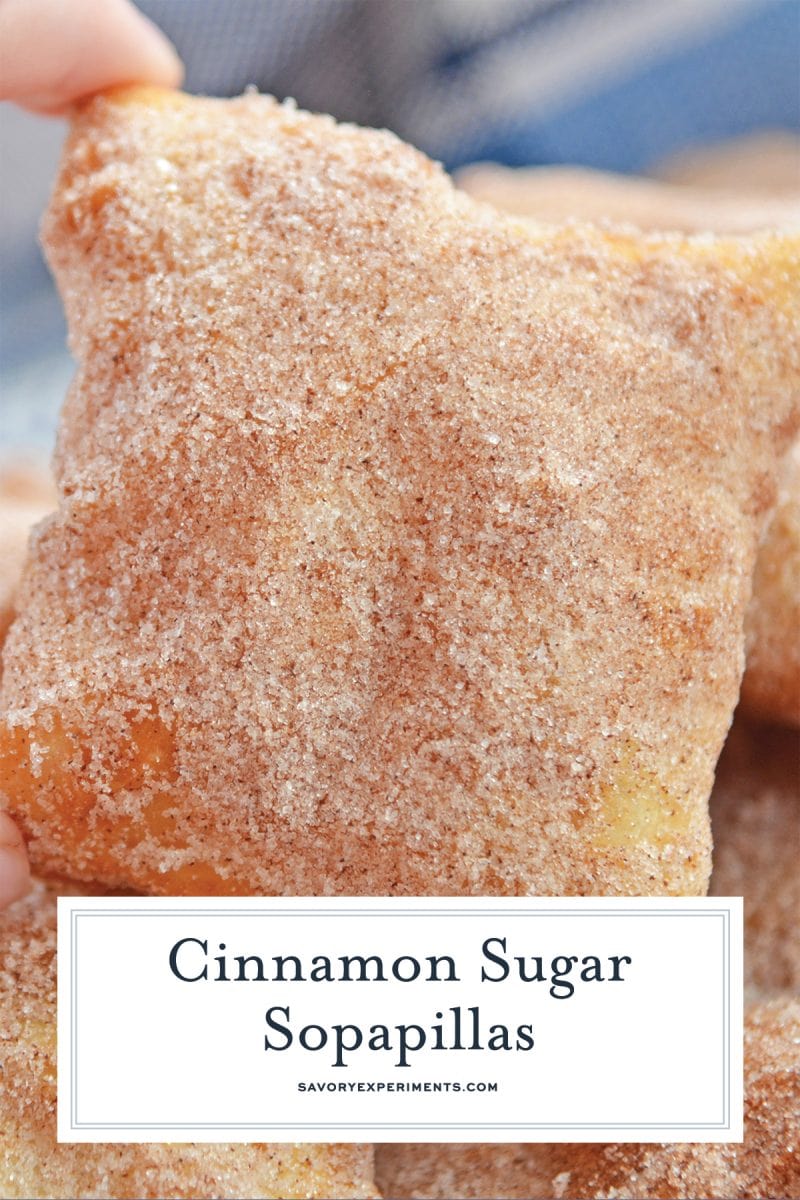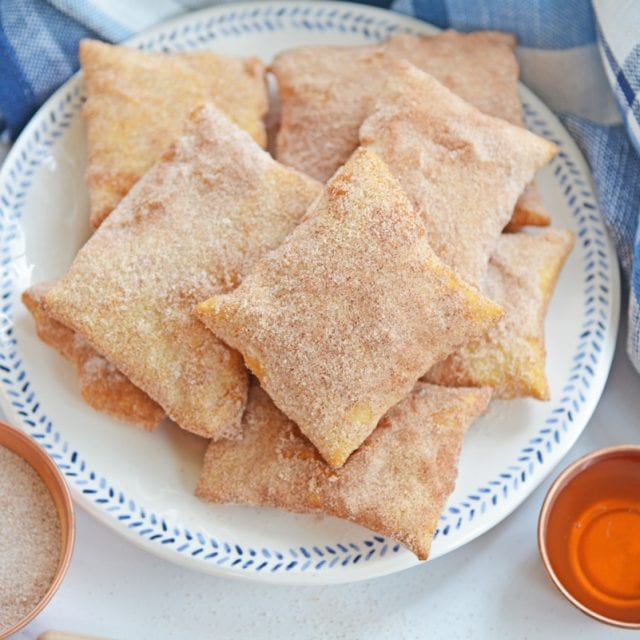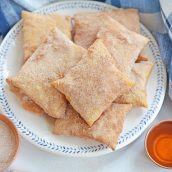 Homemade Sopapillas
Made with simple pantry ingredients, these Homemade Sopapillas are light, crispy, rolled in cinnamon sugar and dipped in sweet honey!
Instructions
Whisk together the flour, baking powder, salt and nutmeg in a medium bowl or bowl of a stand mixer fitted with the paddle attachment.

Add cubed shortening and warm water, mixing until dough forms. Do not overmix.

Cover bowl with a damp tea towel for 15 minutes to let rest.

While dough rests, combine the sugar and cinnamon in a medium bowl. Set aside.

Roll out onto a clean, lightly floured work surface. Roll to 1/8 inch thick and cut into 3-4 inch squares.

Use a deep fryer thermometer, heat oil in a large saucepan to 375 degrees.

Fry sopapillas 2 at a time for 1-2 minutes on each side or until lightly brown.

Remove to a wire rack over a baking sheet.

While still warm, but after the glisten of oil has subsided, toss in cinnamon sugar mixture.

Enjoy while hot or warm and dip in honey.
Nutrition
Calories:
206
kcal
,
Carbohydrates:
25
g
,
Protein:
2
g
,
Fat:
11
g
,
Saturated Fat:
8
g
,
Sodium:
99
mg
,
Potassium:
56
mg
,
Fiber:
1
g
,
Sugar:
8
g
,
Calcium:
20
mg
,
Iron:
1
mg
Recipe adapted from Mashed, where I am a contributor.