Oven Roasted Sweet Potatoes are a delightful side to serve with just about any main dish. But perfectly crispy sweet potatoes in the oven can be a bit challenging. My goal is to make sure you never have the issue of soggy sweet potatoes again.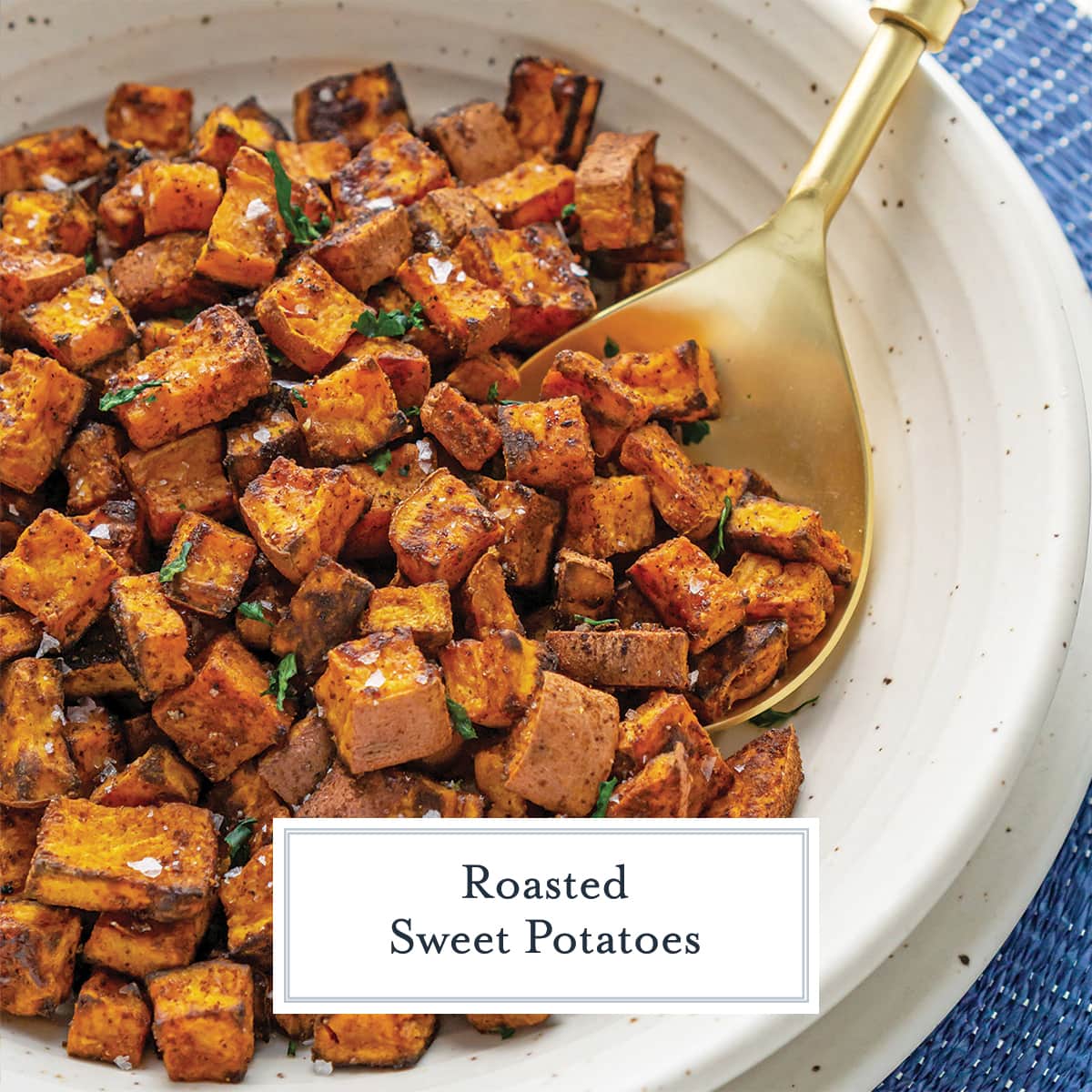 Oven Roasted Sweet Potatoes
These sheet pan potatoes are perfectly seasoned and have the most incredible flavor; bound to satisfy any potato craving. And any fried food craving because they are super crispy.
I've been there, I've aimed for crispy, crunch browned sweet potatoes and ended up with mushy bits. Still delicious, but not what I was going for.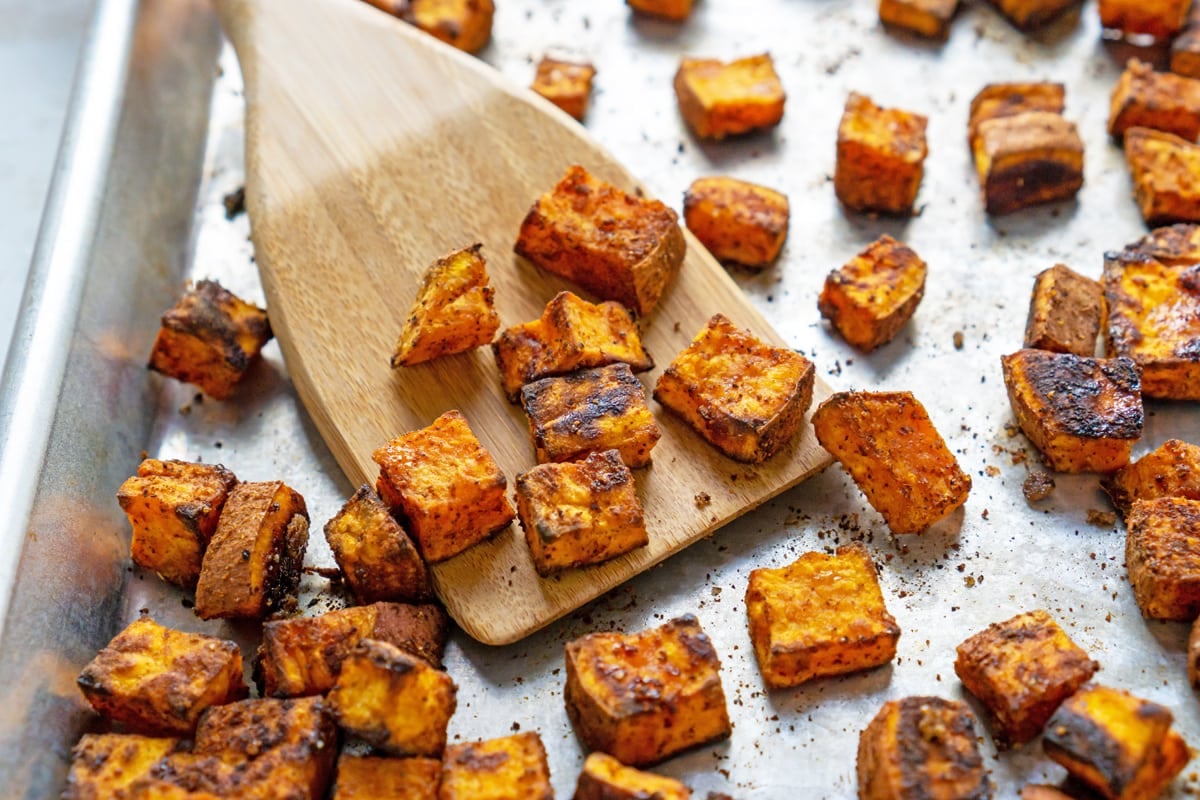 Roasting is the key and that means HOT heat and quick heat. Nothing low and slow here. Read on for all of foolproof tips.
Ingredients
All of the ingredients for this roasted sweet potato recipe are kitchen staples, with the exception of maybe sweet potatoes. Unless you are like me a always keep a few around. They last for weeks or more if kept properly.
Store in a basket, or some other vessel that breaths, in a cool, dark place, essentially making your own root cellar.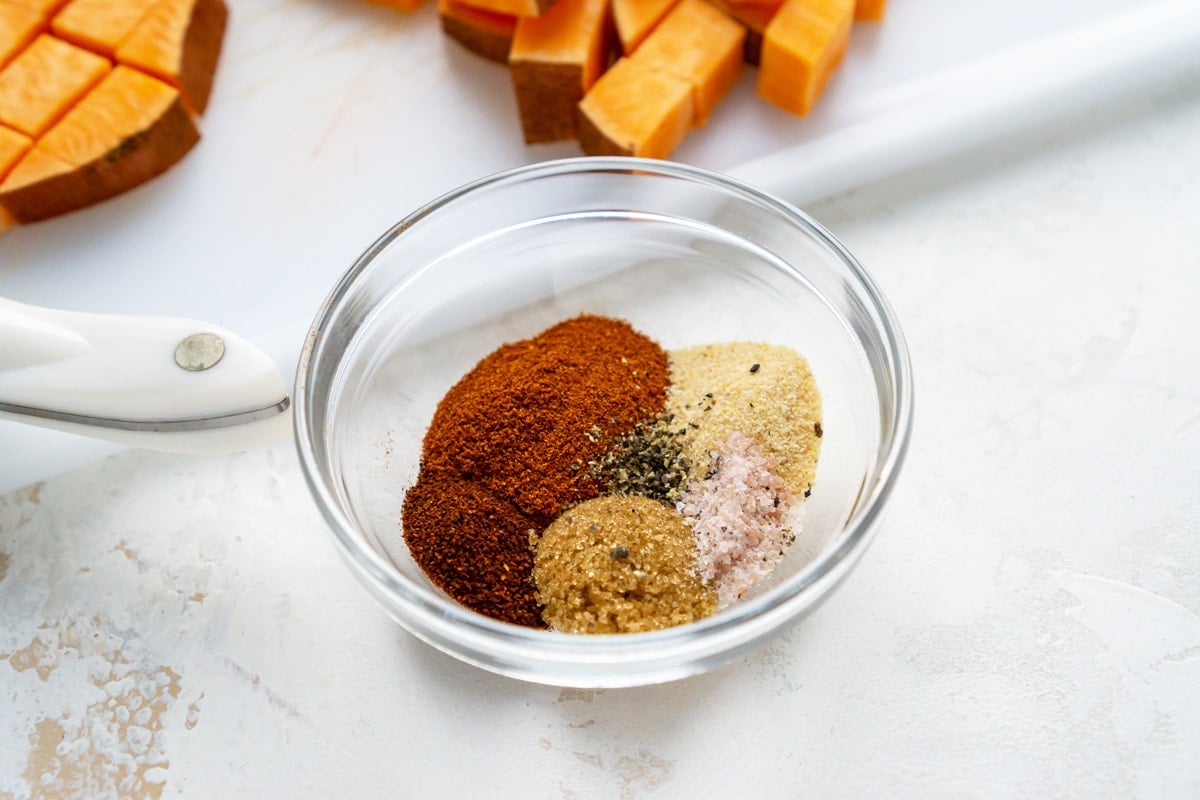 Potatoes: For this recipe, I used sweet potatoes (with the skin on) cut into 1-1/2 inch cubes. This recipe can also be made with red, Yukon Gold or russet potatoes.
Herbs & Spices: Kosher salt, pepper, chili powder, paprika, and garlic powder.
The secret ingredient: Brown sugar in the spice mix gives them delicious caramelization and crispy flavor and finish.
For Cooking: Olive oil or another fairly neutral oil.
How to Make Roasted Sweet Potatoes
1. Prepare the seasoning. In a small bowl, mix together the salt, pepper, brown sugar, chili powder, paprika, garlic powder and brown sugar.
2. Season the sweet potatoes. Toss the sweet potatoes in olive oil, then add seasoning and toss to coat. Doing the oil evenly first serves as the glue and you need this evenly distributed to evenly coat with seasoning.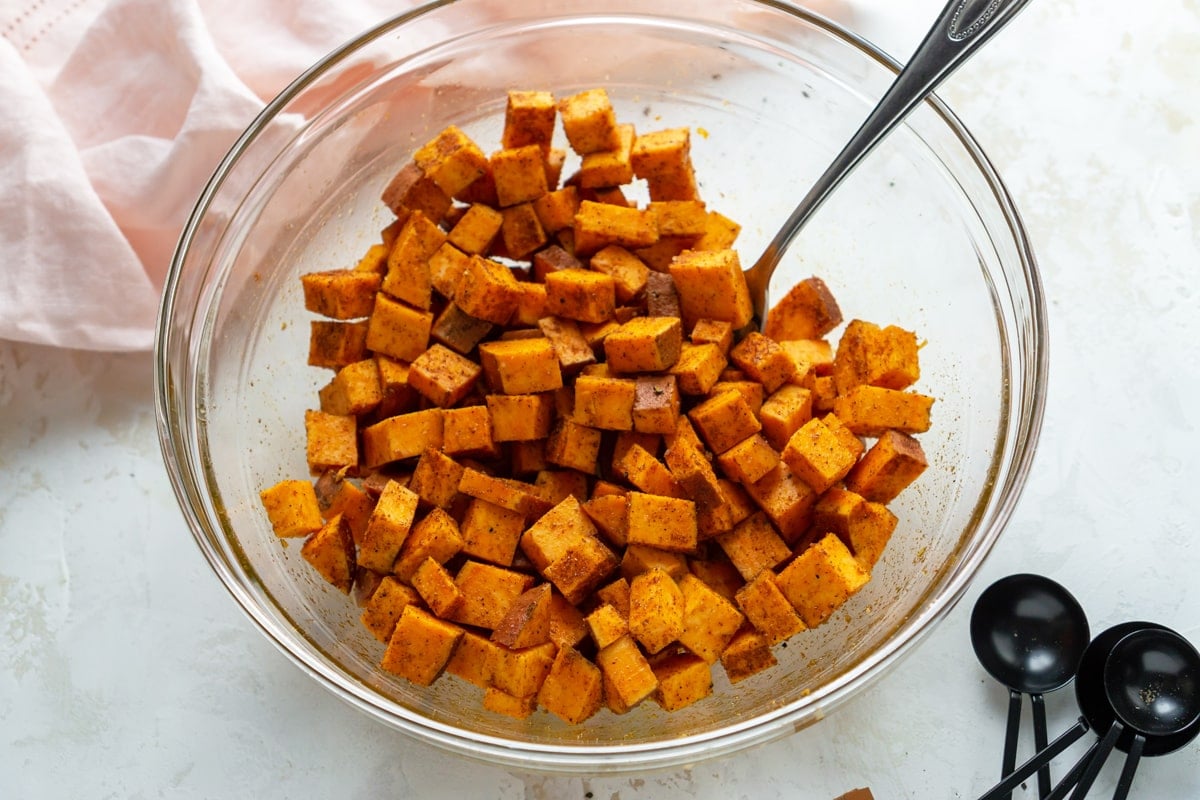 3. Roast the sweet potatoes. Place the seasoned sweet potatoes on a baking sheet with about a half-inch in between each one, a single layer.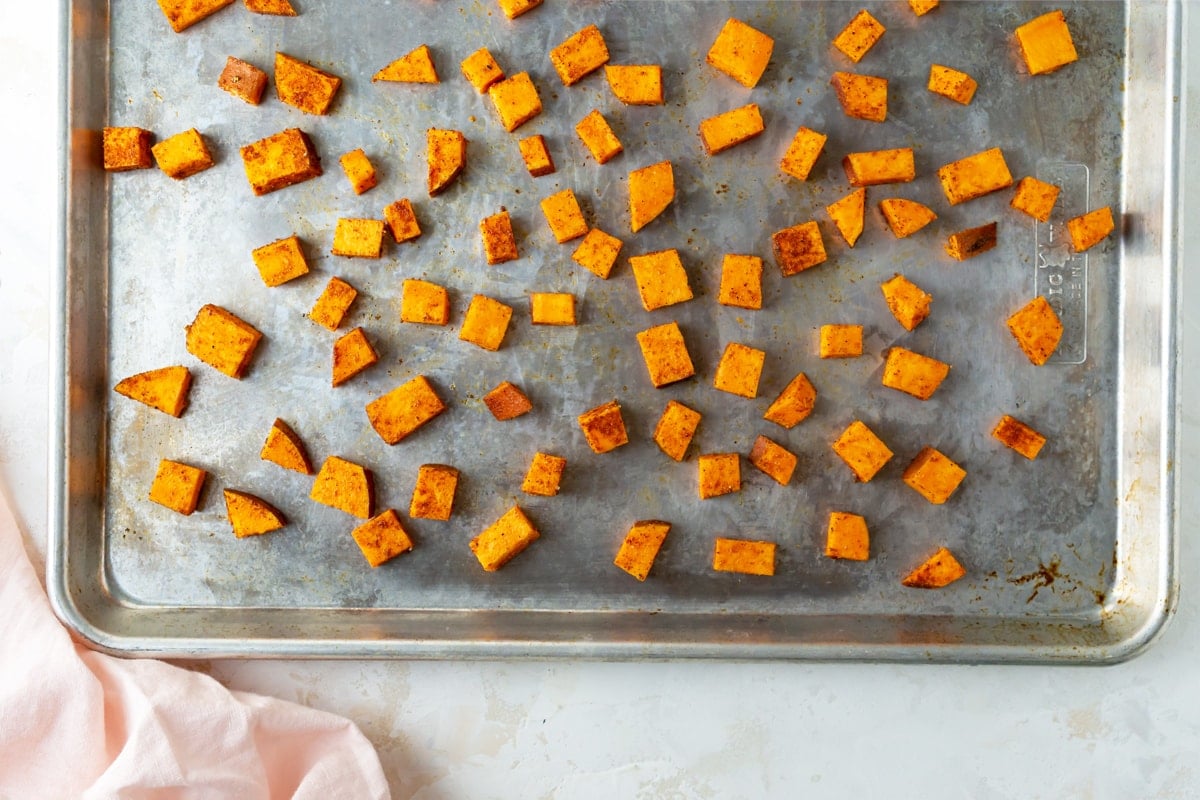 Roast for 15 minutes, toss and continue roasting for 10-15 mins until golden brown and crispy. Cooking times will vary based on the size of pieces.
How to Cut a Sweet Potato
I recommend cutting your sweet potato into cubes, however, you can cut them into whichever shape you prefer. Just make sure that they are about a uniform size, otherwise you end up with unevenly cooked potato pieces.
Peel the potato (optional– the skin is edible and holds most of the nutrients).
Start by cutting off the ends of the sweet potato.
Slice off the sides of the potato to "square" the shape of the potato.
Slice the potato and then cut them into cubes.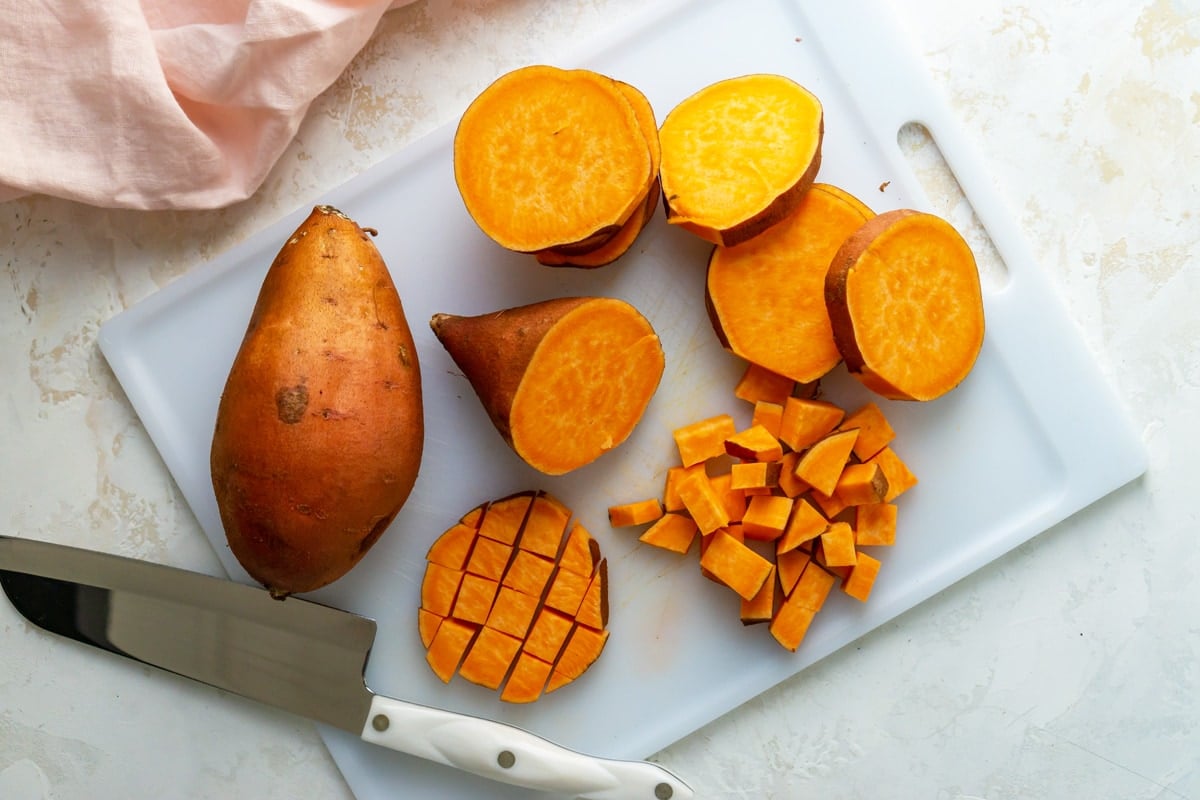 Tips for Crispy Sweet Potatoes
In my not so humble opinion, crispy potatoes are the BEST potatoes! To ensure you get crispy roasted sweet potatoes, follow these tricks:
Give them space to breath. Make sure you give the potatoes plenty of space on the pan. Space will allow the potatoes to get crispy instead of steamy and mushy.
Use a low rimmed pan. I recommend using a rimmed baking sheet (jelly roll pan) because the edges will keep your pieces on, but not with high sides that can also create a steaming effect.
Don't use foil. I like to roast my potatoes right on the baking sheet, without foil. Foil can actually prevent your potatoes from crisping.
Spices. The spice mix not only adds flavor, but it helps to dry out the potato, just like getting a nice brown on a steak, you need a dry surface, coupled with the high heat, to get a brown.
Heat. Roasting potatoes on too low of a temperature won't give you the desired effect.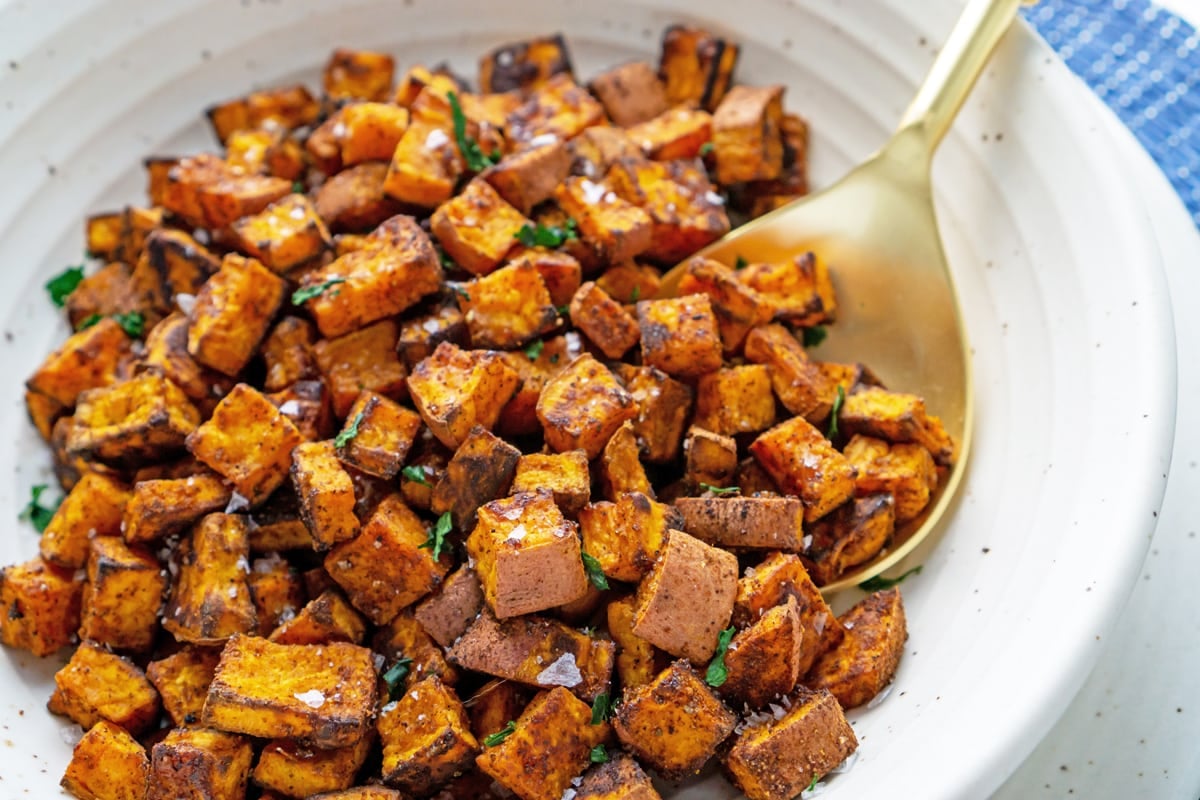 Boiling vs Roasting?
Is it better to roast or boil sweet potatoes? It's really a personal preference. Boiling sweet potatoes will make them soft and tender and roasting sweet potatoes will give you a tender inside with a crispy outside.
If you don't allow enough space on the pan your potatoes will become steamy and mushy instead of caramelized and crispy. Make sure you are using a large enough pan to space out your potato wedges.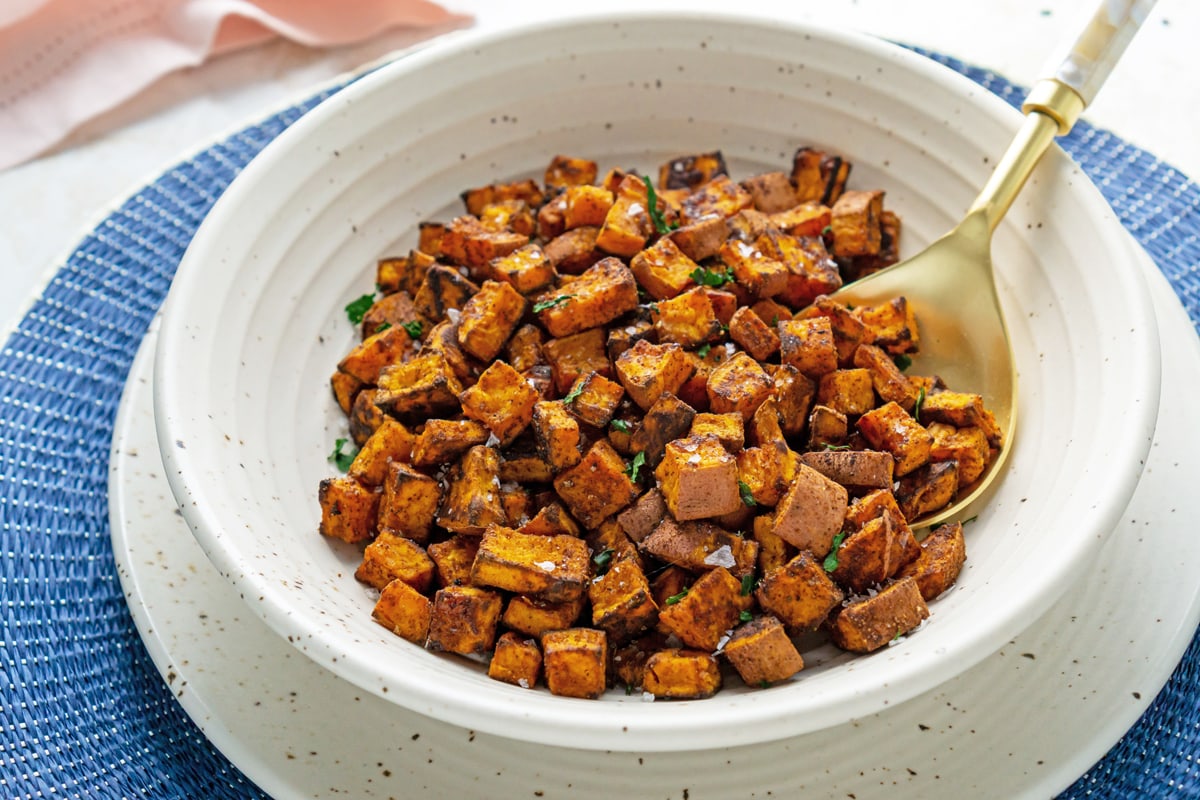 You do not need to blanch your sweet potatoes before roasting. If you want to you can, however, I do not because it adds additional steps, dishes, and time to the process. But it also adds in moisture, making it more difficult to get that coveted crunch.
When it comes to peeling the potatoes, this is truly a personal preference. Some people like the skin and others do not. I left it on, but it is up to you.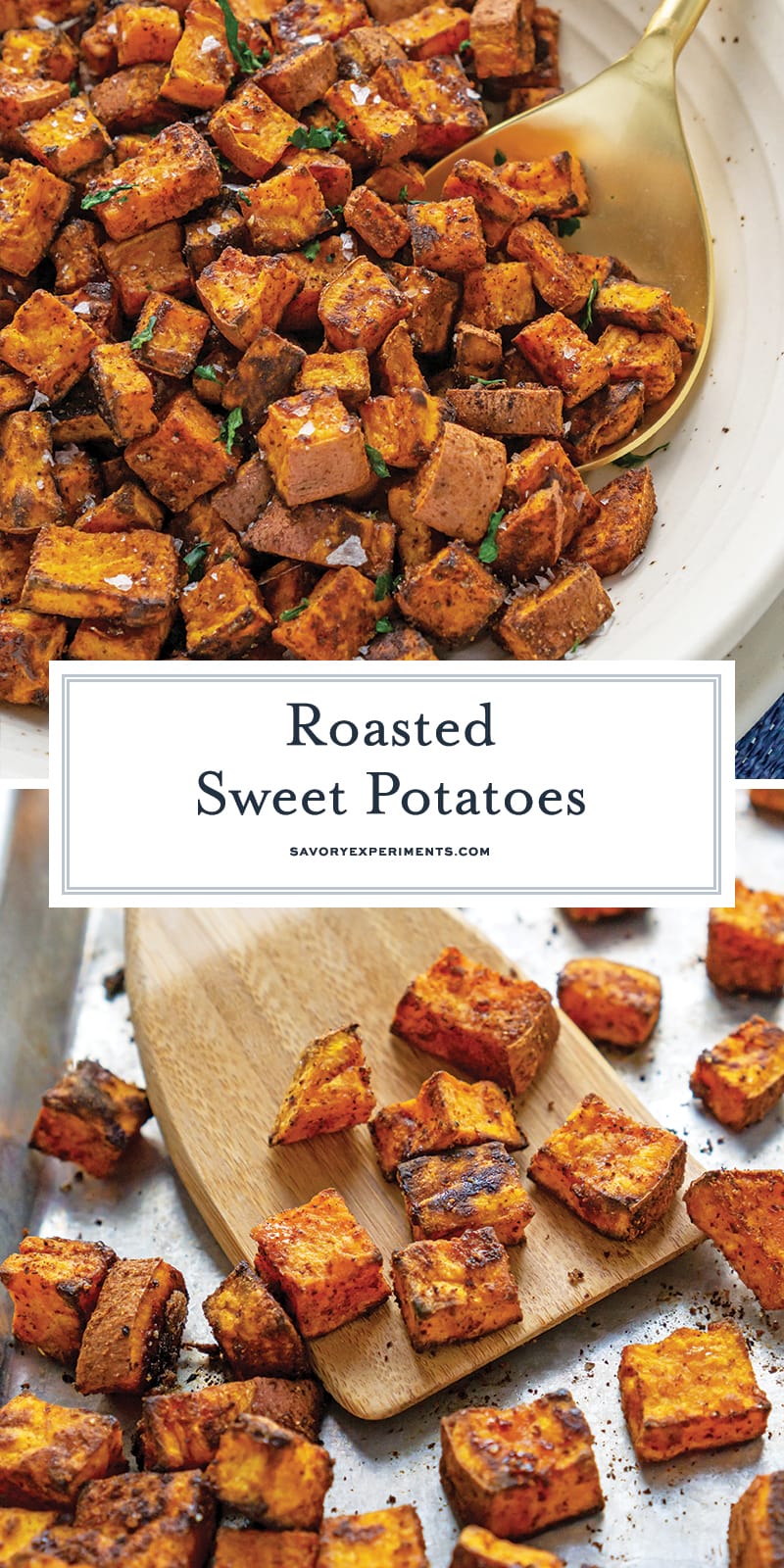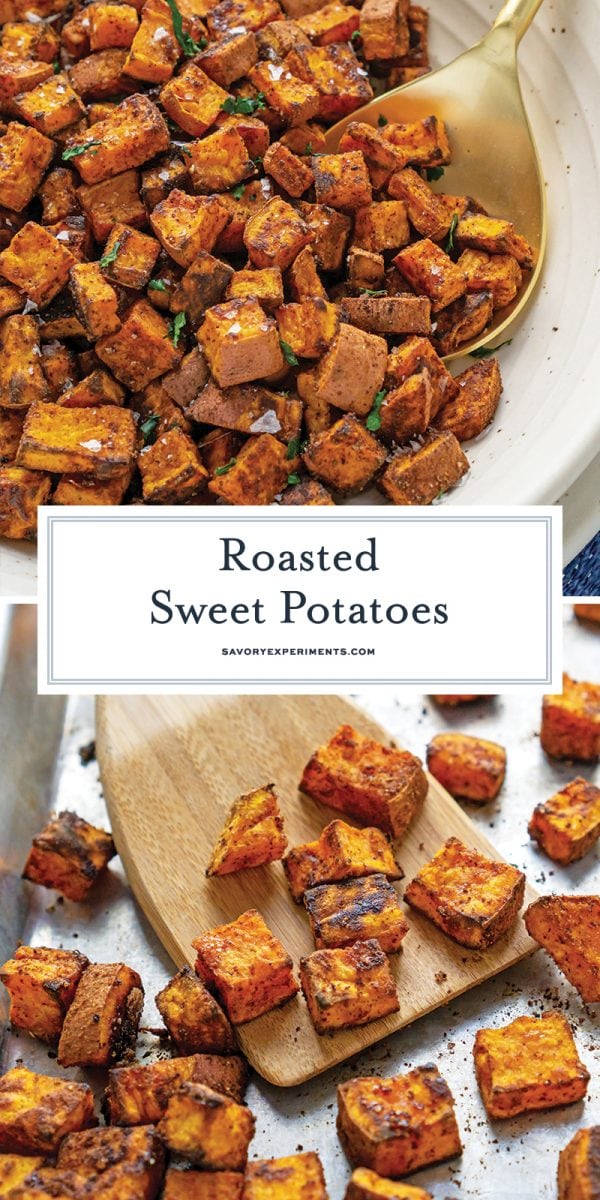 More sweet potato recipes: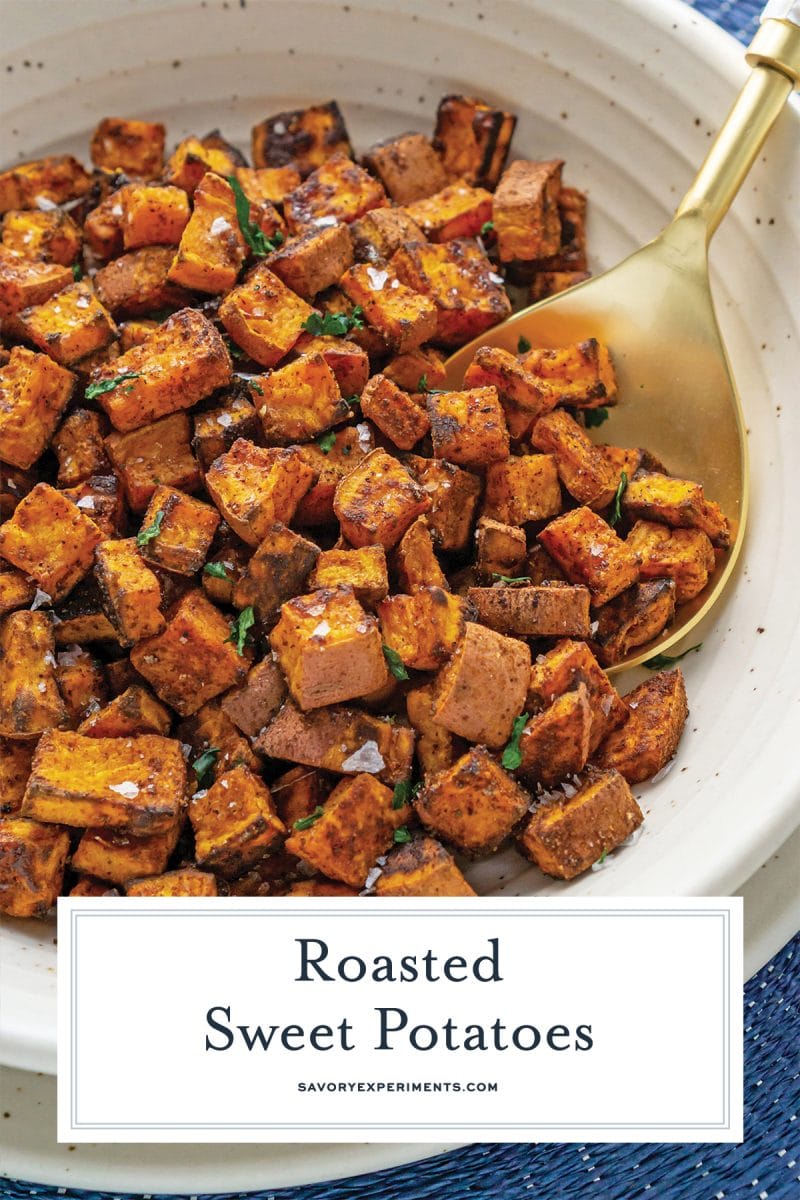 CONNECT WITH SAVORY EXPERIMENTS!

Be sure to follow me on social media, so you never miss a post!

Facebook | Twitter | Youtube
Pinterest | Instagram

Get our FREE 8 Day E-Course on How to Be a Better Home Cook. Sign up HERE!