This amazing Stuffed Cabbage Rolls recipe has been handed down through the generations. Do you make yours like my family makes ours?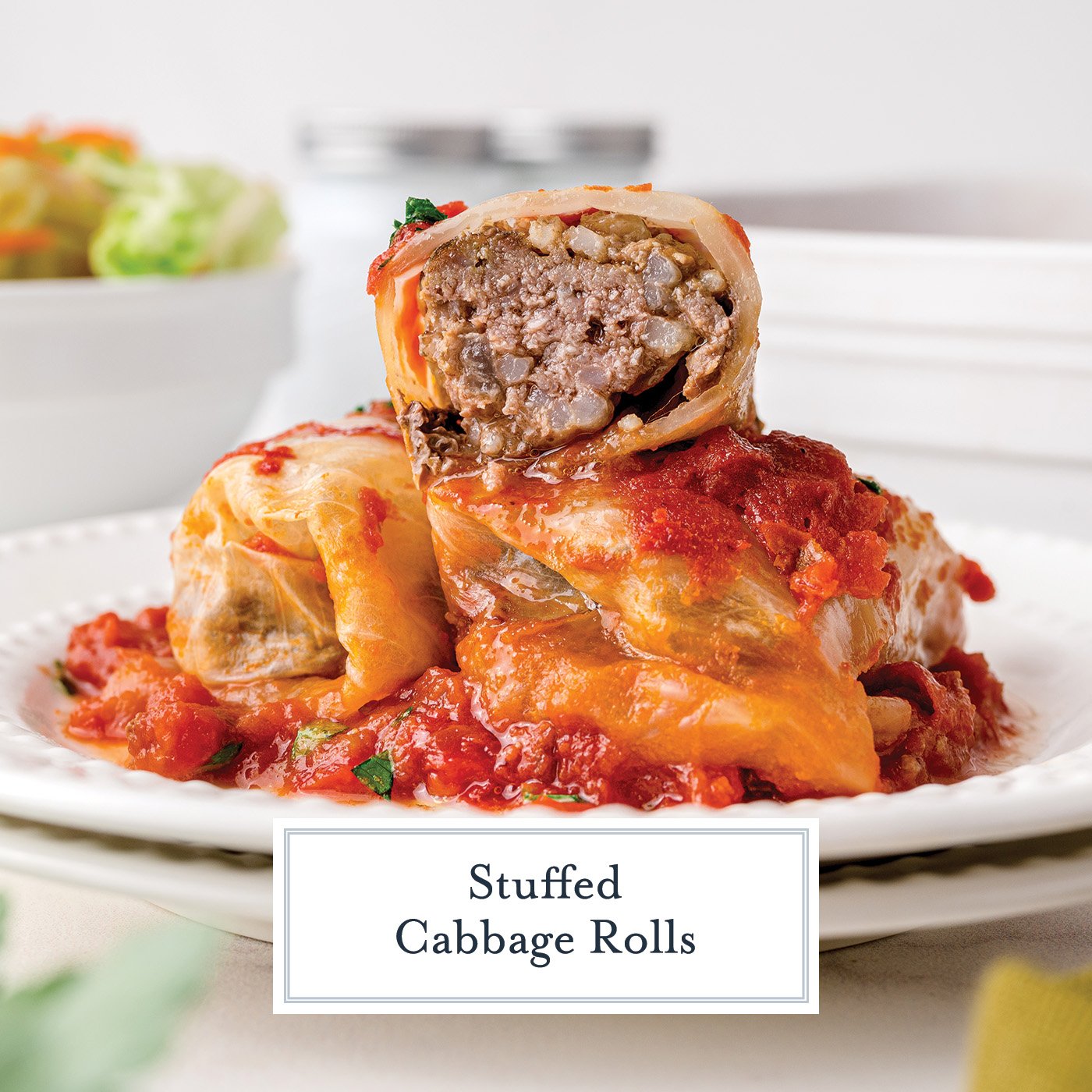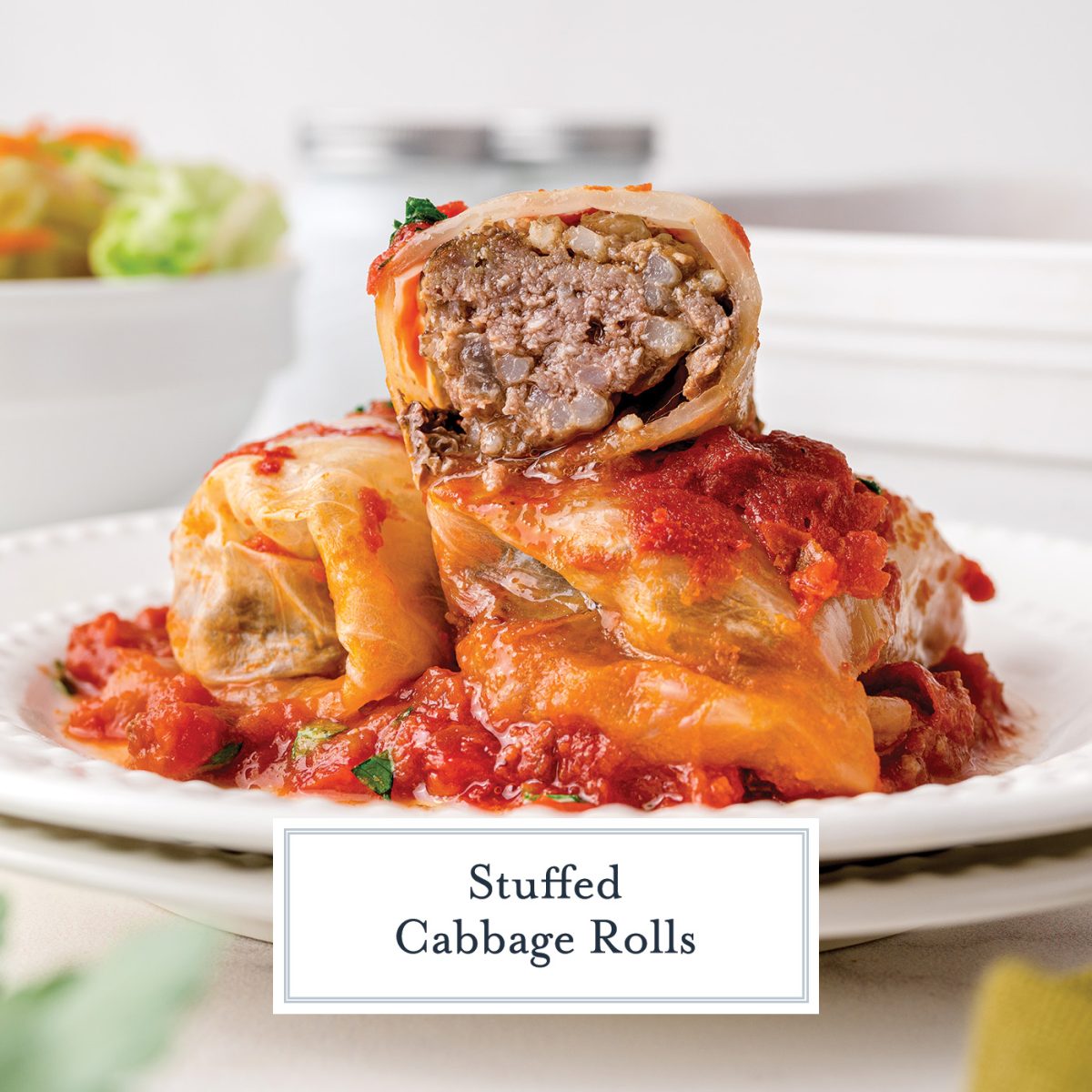 Easy Stuffed Cabbage Recipe
Are you looking for an easy recipe to make with the cabbage sitting in your fridge or just dinner ideas for tonight? Cabbage Rolls with Tomato Sauce is the ultimate meal to make your family.
What is a Cabbage Roll?
I know you are curious about who invented this delicious dish. However, there are many different cultures that have helped create this dish. You will find cabbage rolls in Russia, Poland, and even Ukraine. These rolls are commonly associated with Irish food, but are actually common in several different cultural cuisines of Eastern Europe including Jewish heritage, Swedish and Polish (Golabki).
They are all cooked with their own special ingredients. There is even a rumor that the ancient Greeks knew about cabbage and used the vegetable in their dishes.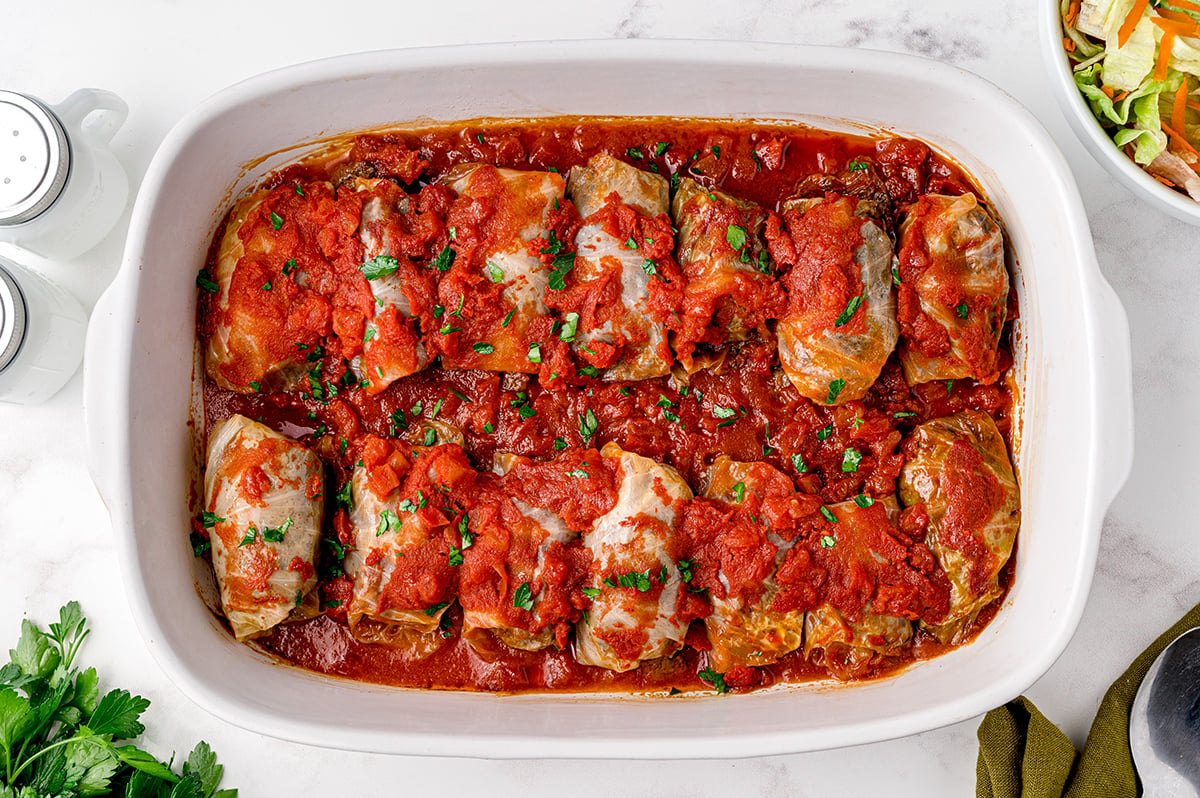 What Do Cabbage Rolls Taste Like?
The cabbage doesn't have too strong of a taste after being cooked, so really the flavor comes from the ground beef filling and tomato sauce.
It is a savory dish without being overwhelming. Great for getting kiddos to eat their veggies!
The Best Cabbage Roll Recipe ingredients
Much like Italians make sauce, every family has their own way of doing things and a little bit of nostalgia attached to it. Mine use tender leaves of cooked cabbage with a simple, seasoned ground beef and rice mixture.
Feel free to add any additional ingredients or spices that seem like a good fit. We have a few variations towards the bottom. Here is what we used:
Green Cabbage – Look for the largest head of cabbage you can find, larger rolls are easier to stuff and roll. You'll have the least likelihood of them tearing.
Lean ground Beef – You can use any ground meat here. Swap for ground chicken, ground turkey, ground pork or even a vegetable or tofu blend. Use something lean, but not too low fat, as this won't have as much flavor and the fat that drips from the meat will also flavor the cabbage.
Cooked Rice – Most folks use plain white rice, but of course wild rice, brown rice or other flavors like garlic or cheddar are delicious. Some recipes don't rice and opt for bread crumbs. I like the great flavors of rice better.
White Onion – yellow works too! As does shallots. I do not like red onion in this recipe, it's a little overwhelming.
Coarse Sea Salt – Sea salt has the best aftertaste, make sure you use a coarse salt, swapping this with a fine grain will be too salty. If you use fine, use only 1/4 teaspoon.
Black Pepper – Freshly ground always gives the most flavor.
Garlic Powder – I developed this recipe using garlic powder because I ran out of fresh. Fresh garlic will pack more of a punch, use 2-3 cloves, minced.
Large Egg – Egg helps to hold the mixture together, the binder.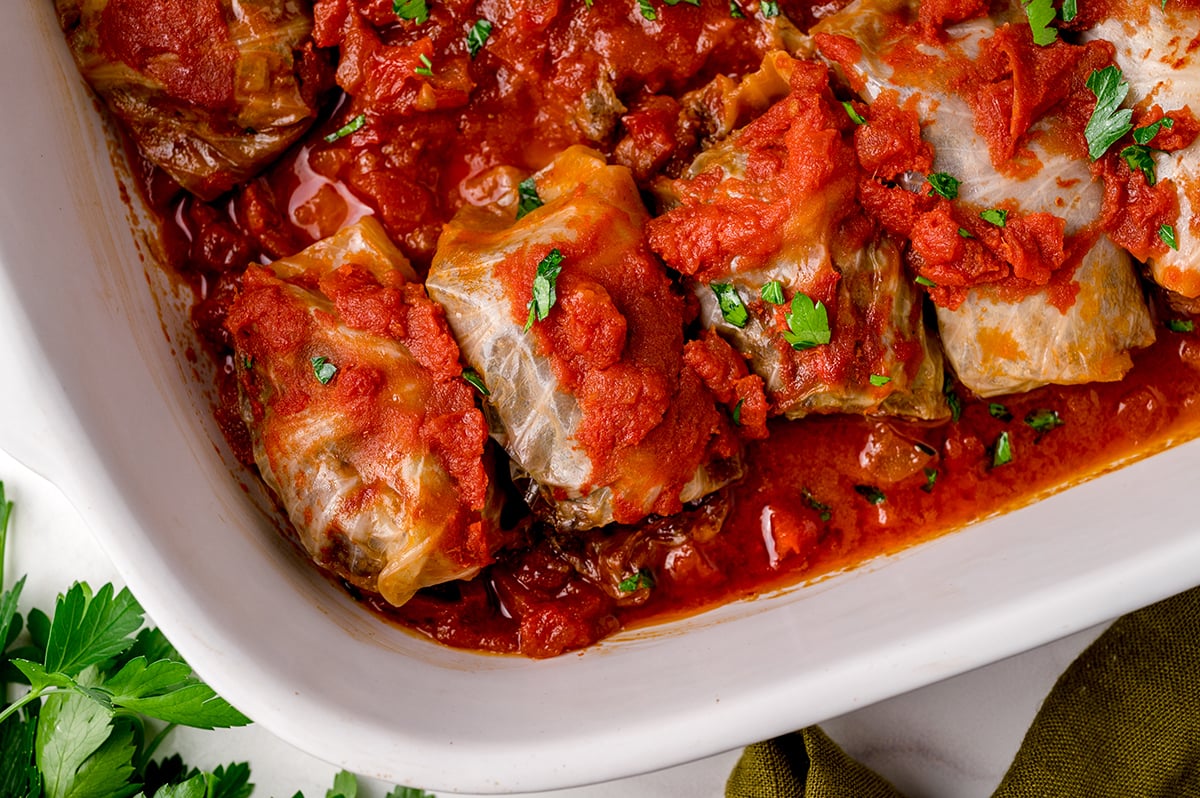 Cabbage Roll Tomato Sauce ingredients
The tangy tomato sauce is just as important as the stuffing mixture. Ours is a slightly sweet and enhanced with vinegar. Cabbage is like a blank slate, so it needs bold flavors to make it taste amazing!
Plain Tomato Sauce– the stuff from a can, not a marinara sauce.
Plain Diced Tomatoes– Aim for petite diced, as these will distribute the most evenly over top your rolls. Again, plain is best so you can add your own seasonings, but if the seasonings you want are offered in a can, go for it!
Light brown sugar– sugar helps to balance acidity and umami flavors.
Worcestershire Sauce– A robust condiment that can amplify other sauces and soups. Worcestershire is complex and deep, so a little goes a long way. In a pinch, swap with soy sauce, although it doesn't have the same complexity.
White Vinegar- Apple cider vinegar or red wine vinegar offer a little zing.
Salt & Pepper to Taste- Give the sauce a taste test and then decide if it needs seasoning. Different brands of tomato sauce and canned tomatoes will have varying levels of saltiness. It might not need any!
This sauce marry and reduce while baking, so there is no need to cook it ahead of time.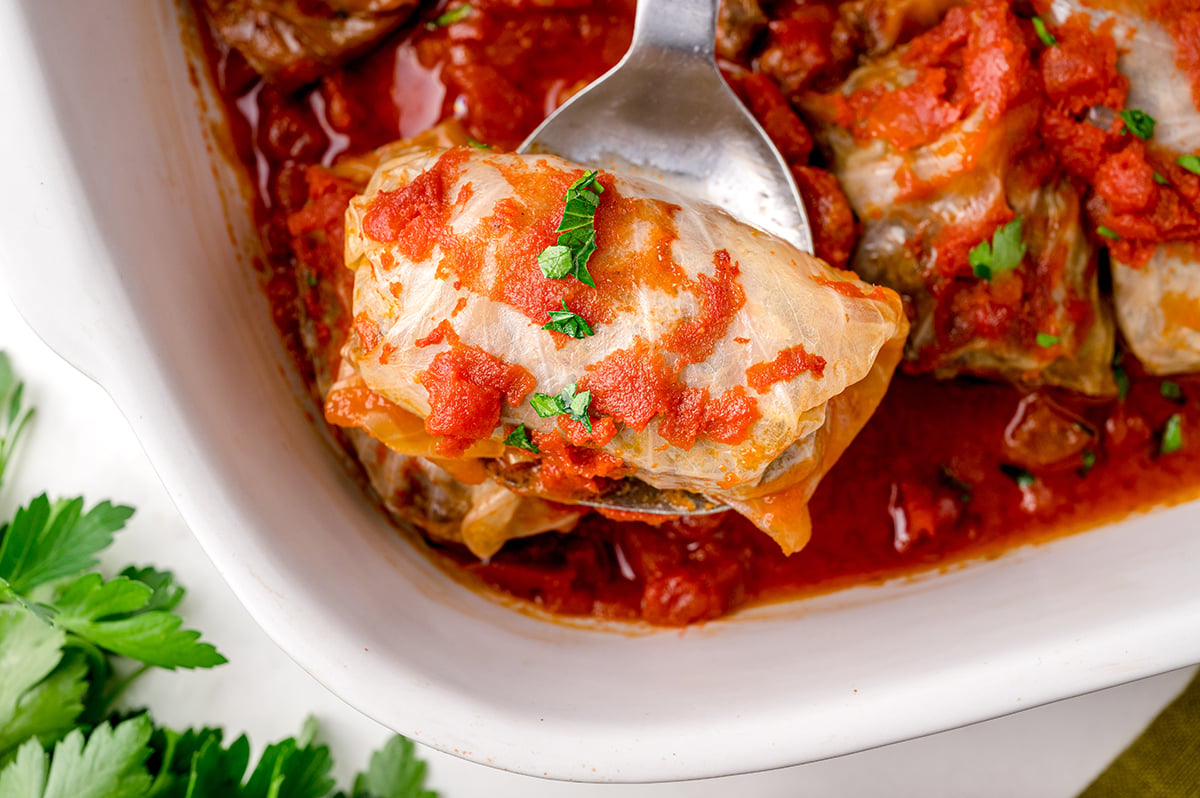 Removing Cabbage Leaves for this Recipe for Stuffed Cabbage
In order to make cabbage rolls, you will need to remove the leaves. It may seem like these cabbage leaves can tear easily, but if done with care, the leaves will easily remain intact.
When the leaves are still raw and uncooked, cut the root of the cabbage off the plant. Once the root is off, you can carefully begin peeling the leaves off from the core of the cabbage. If they get stuck, use a paring knife to carefully pry them. Just make sure it is a sharp knife, or you risk tearing.
Some people prefer to bring the cabbage head to a boil, cut off the root, and then begin the peeling process. You may find that the cabbage leaves are easier to peel off when they are cooked, but they are also more likely to tear.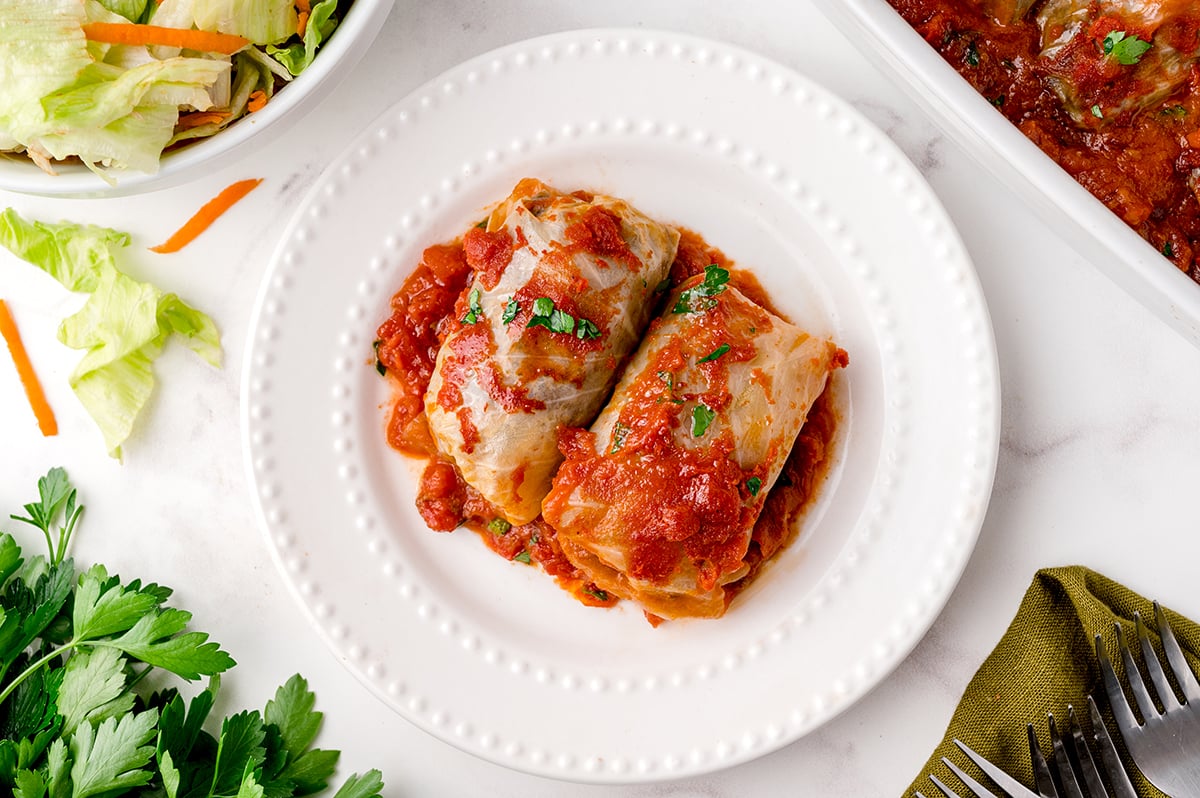 How to make this Stuffed Cabbage Rolls Recipe
The toughest part of making this cabbage roll recipe will be preventing tears in the cabbage leaves, but honestly if they do tear, it isn't the end of the world, so give yourself grace.
Prepare oven and baking dish. Preheat the oven and prep a baking or casserole dish with cooking spray or olive oil. You can also use a large skillet (oven safe of course).
Prepare cabbage. Remove the core from the whole head of cabbage and place it in a large pot of water, big enough for the head and water to surround and cover it.
Boil cabbage. Bring to a boil and after awhile the outer leaves should be tender enough to remove from water. Return remainder to a boiling water; reduce to medium heat until leaves are tender. You need tender cabbage leaves, but not mushy.
Peel leaves. Gently peel each leaf off of the head. I generally use the outer leaves only, about 10-12 of them. Using a knife, cut out the center stalk. Since it is so dense, the leaves won't roll and it will give slightly bitter flavor.
Make filling. In a large bowl combine the cabbage roll stuffing ingredients and then divide among leaves, about 2-3 tablespoons of mixture on each cabbage leaf.
Roll. Roll towards the stalk, tucking in the sides as you go and place cabbage rolls seam side down in the prepared baking dish. I like to use a size where they are nestled in snuggly, like a cabbage roll casserole, in a single layer. Set aside.
Make sauce. Next, whisk together the tomato sauce ingredients, mix until sugar is dissolved. Our the sauce over cabbage rolls.
Bake. Cover with aluminum foil and bake until beef reaches an internal temperature of 160°F or just a tad lower. While the rolls rest, carry-over cooking will increase the temperature a bit.
Serve. Serve hot or some folks like a dollop of sour cream on top.

How Do You Fold a Cabbage Roll?
Do so as you would to a burrito or egg roll. Place the filling in the center, roll once, tuck in the sides and then continue to roll, sealing the ends on the inside. Place them in the baking dish or slow cooker with the seam facing down and their own weight will keep them closed.
If needed for troublesome rolls, you can secure them with a toothpick.
How to make this Stuffed Cabbage Rolls Recipe in the slow cooker
Transitioning this recipe into a slow cooker recipe is super easy. Prepare all of the stuffed rolls until placing them in a baking dish (step 8) and pick up here.
Place prepared rolls into the bottom of a slow cooker, shingling them over each other and spooning a layer of sauce between them. Top with remaining sauce. Cover.
Cook on low heat for 8 hours and high heat for 4 hours.
Remove and serve.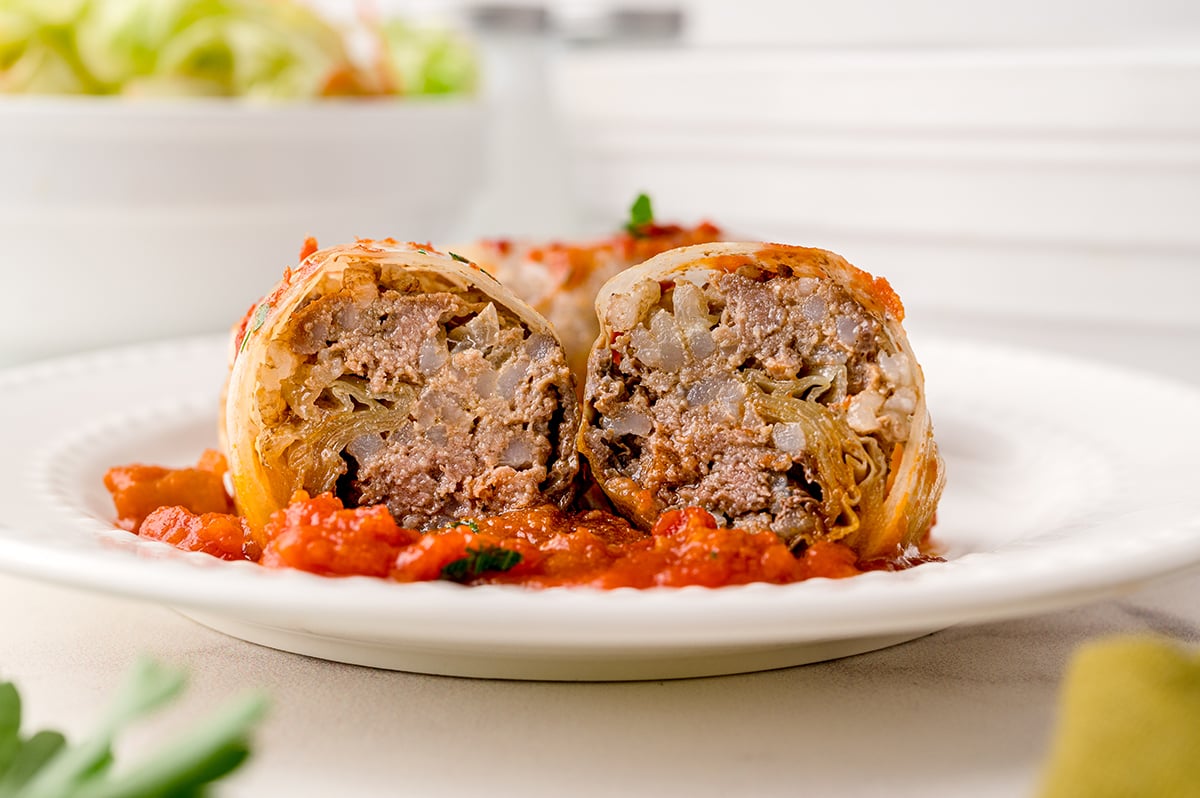 Easy Stuffed Cabbage Recipe variations
This recipe is for classic cabbage rolls. Cabbage roll filling ideas are endless and can be so much fun to play with! Here are a few of our favorites.
Paprika
Cayenne Pepper- if you want some heat
Ground Mustard
Dollop of Dijon Mustard
Red wine in your tomato sauce
Raisins or brown sugar for a touch of sweet
Minced or grated carrots
Minced or grated celery
Splash of lemon juice
Swap out part or all of the ground beef with ground sausage- spicy sausage or sweet sausage!
The beautiful part of making baked cabbage rolls is that the ingredients are super inexpensive. If you head to the store and pick up a head-of-cabbage, you aren't going to be paying more than a few bucks.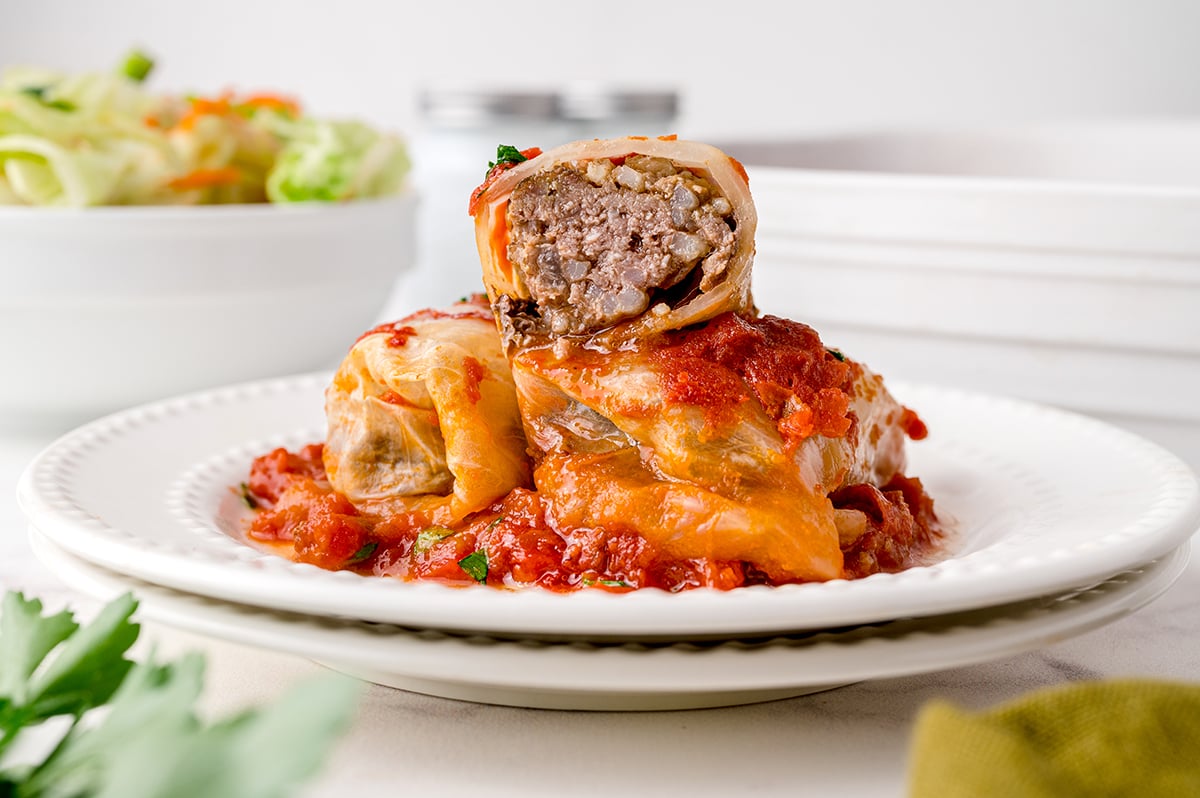 What to serve with the Best Stuffed Cabbage Recipe
Are you looking for something to cook with homemade cabbage rolls?? You're going to love the side options available. You can make side dishes like:
Both add a level of starchiness to the meal, which helps make it complete! Cauliflower rice is an option if you're trying to stay low carb.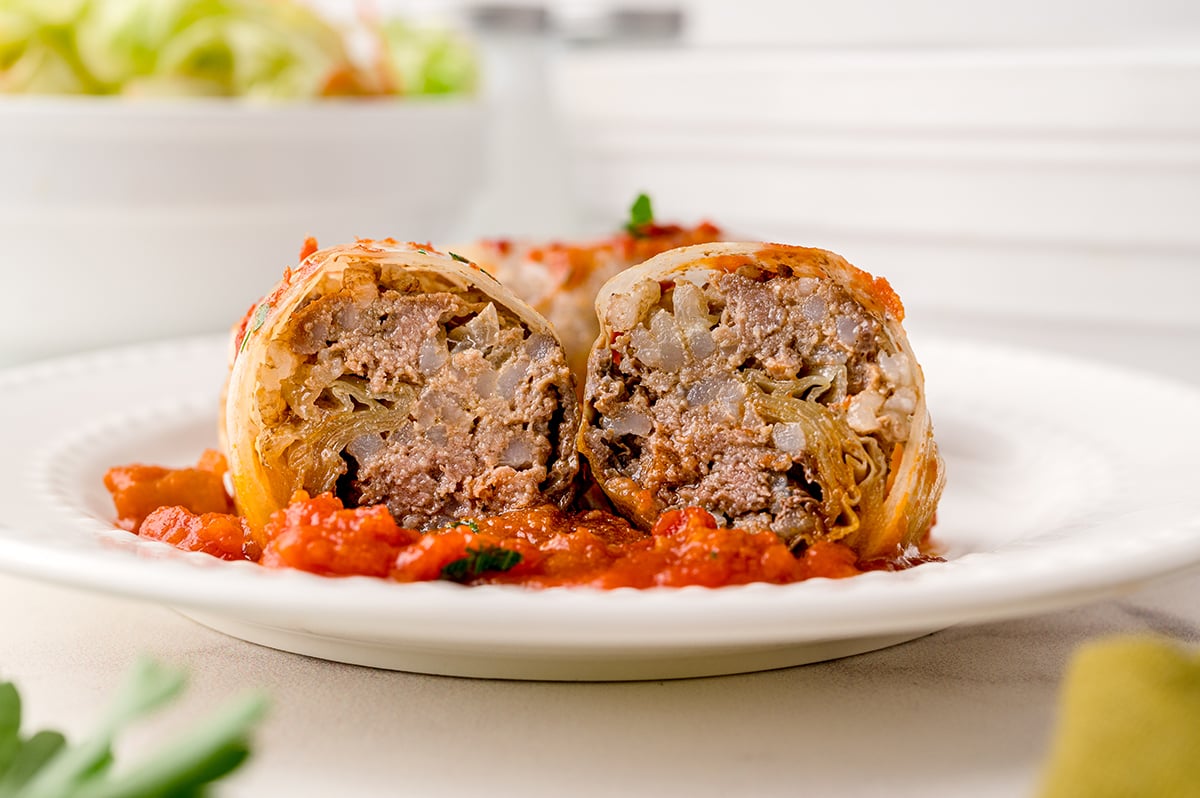 How to store this Recipe for Stuffed Cabbage
Freezing: Let's be honest, you can freeze them all you want, but they will most likely fall apart when they are thawed because of all of the moisture.
If you do freeze them, wrap well in aluminum foil and then place into a freezer bag, releasing as much air as possible. Freeze for up to 3 months and thaw in the fridge overnight.
Storage & Reheating: Leftovers can be stored in an airtight container or freezer bags for up to 5 days. For best results, reheat in the oven. The microwave is second best.
Add some vegetable or chicken broth, chop up the rolls and make cabbage roll tomato soup!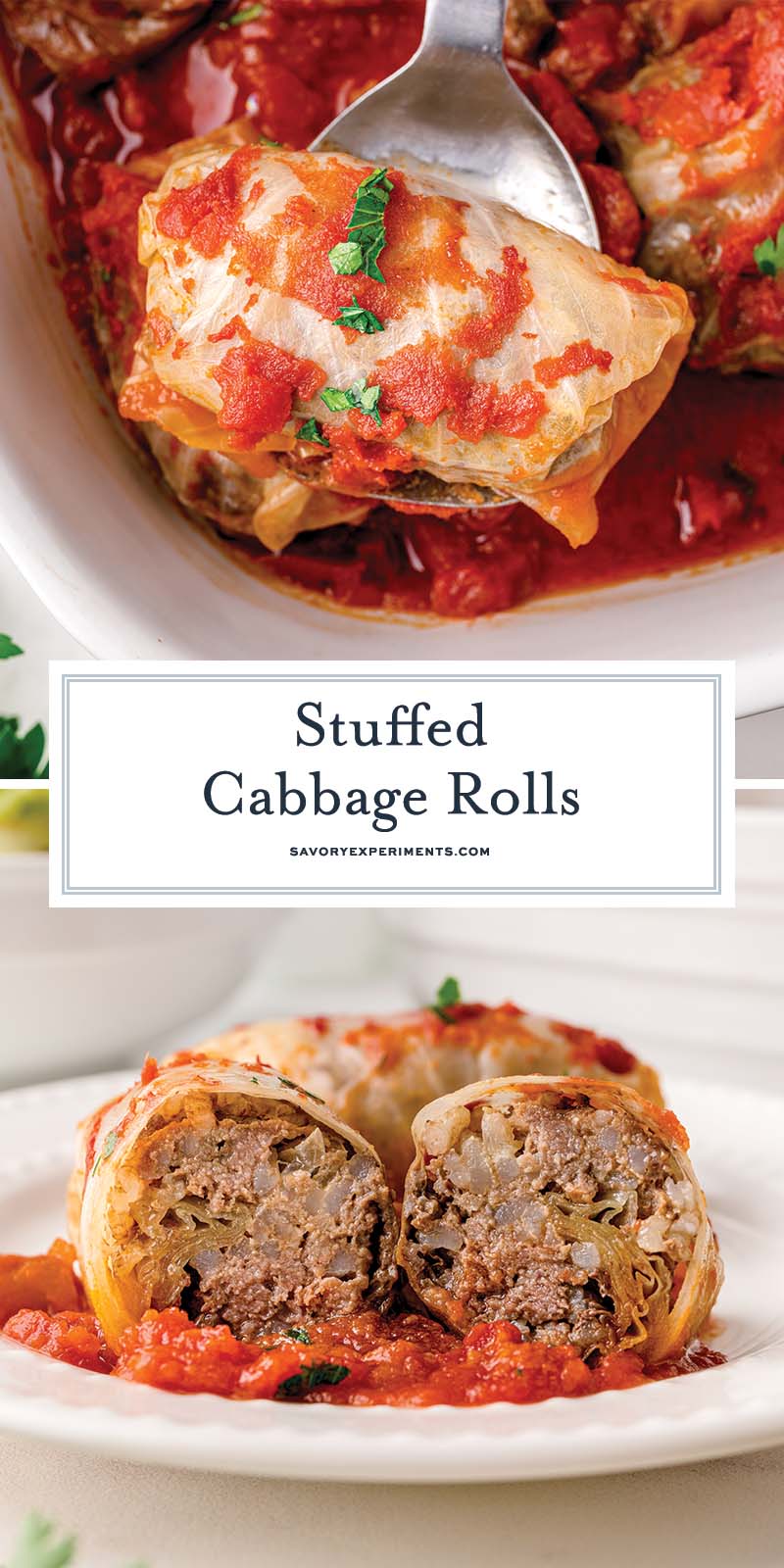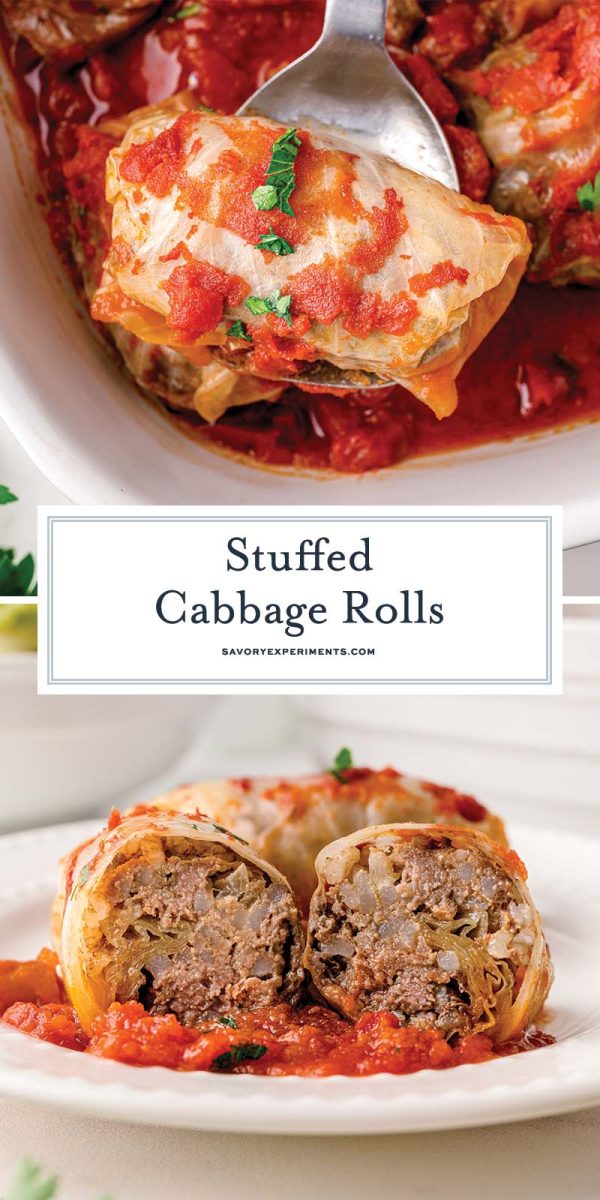 Best Stuffed Cabbage Recipe FAQs
Are cabbage rolls Ukrainian or Polish?
It is both! Stuffed cabbage rolls are mostly commonly associate with Jewish food and since Jewish people reside all over the world, there are different varieties of cabbage rolls too. Romanians and Polish dishes are commonly much more savory, while Ukrainian rolls use a sweet and sour sauce.
How do you keep cabbage crisp when cooking?
The cabbage isn't supposed to be super crisp or crunchy. It softens and tenderizes from the acid in the tomato sauce. The edges might lose moisture and get a little crunchy. The cabbage will keep its shape and have a toothy texture.
Should cabbage be cooked covered or uncovered?
Recipes differ and there is not one answer. Uncovered means the sauce and cabbage will thicken because the moisture it evaporating, while covered will keep all of the it in, essentially steaming the dish and leaving a more watery sauce.
More Delicious Cabbage Recipes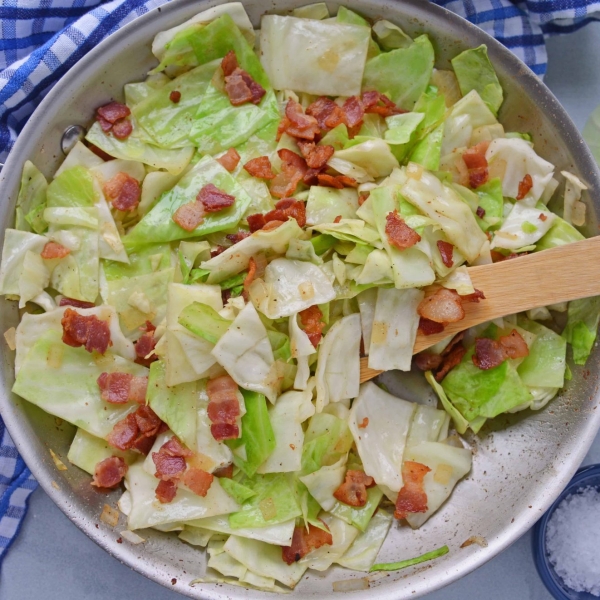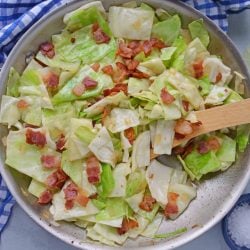 Bacon Fried Cabbage
Bacon Fried Cabbage is a great recipe using cabbage fried in bacon grease and lightly seasoned leaving it with lots of flavor and a little bit of crunch.
See The Recipe!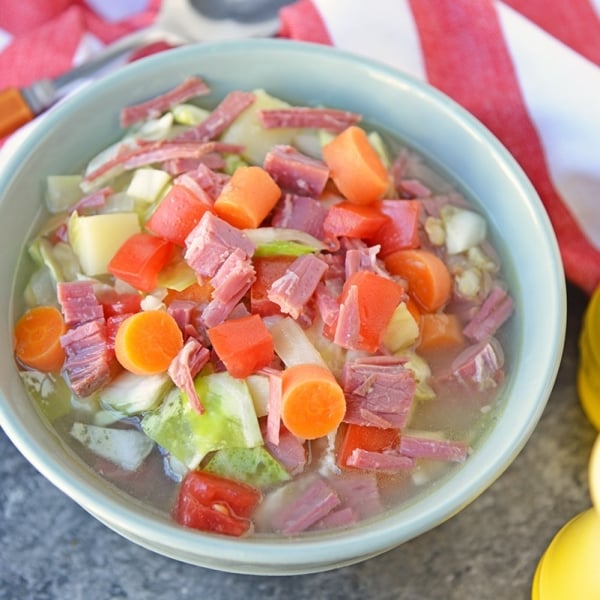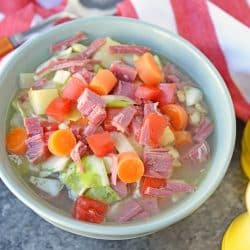 Leftover Corned Beef and Cabbage Soup
Leftover Corned Beef and Cabbage Soup is the best way to make another full meal from your Irish feast. Tender brisket and loaded of vibrant veggies make this a winner all year round, not just St. Patrick's Day.
See The Recipe!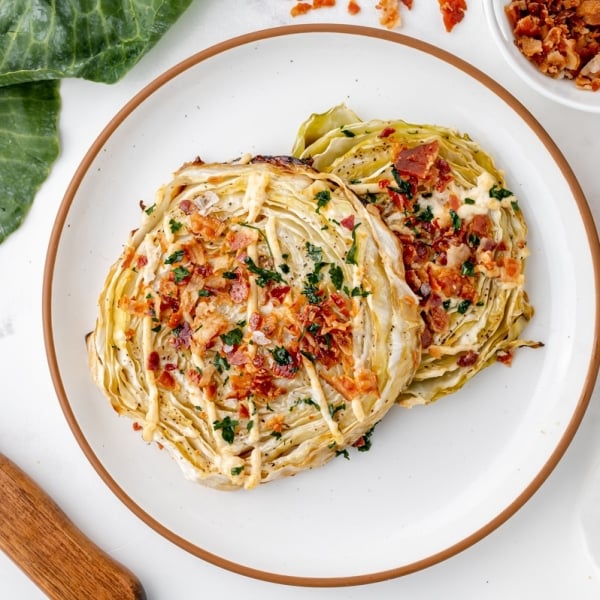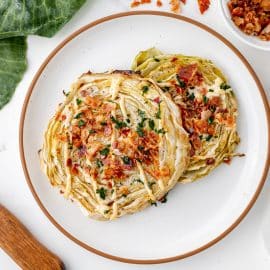 Garlic Cabbage Steaks
Garlic Cabbage Steaks are roasted to perfection, then topped with a garlic and smoked paprika aioli, bacon and sea salt. Serve with any meal, especially corned beef!
See The Recipe!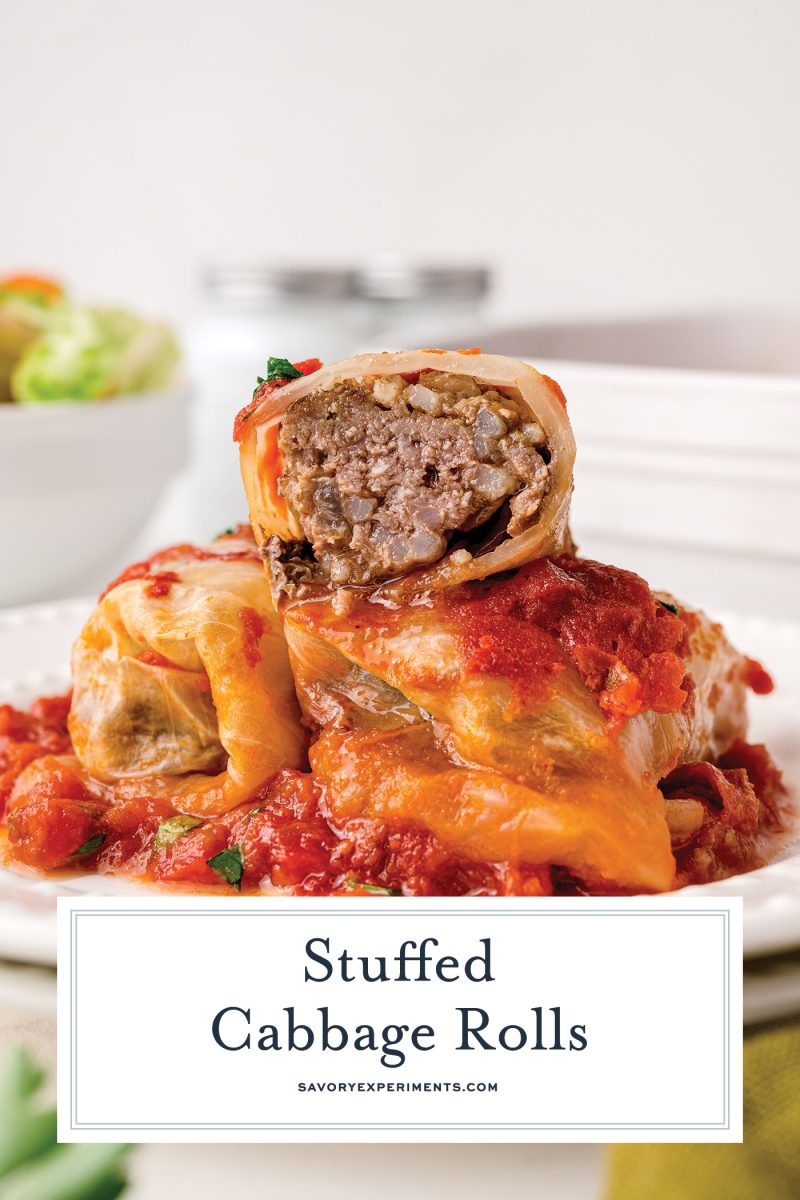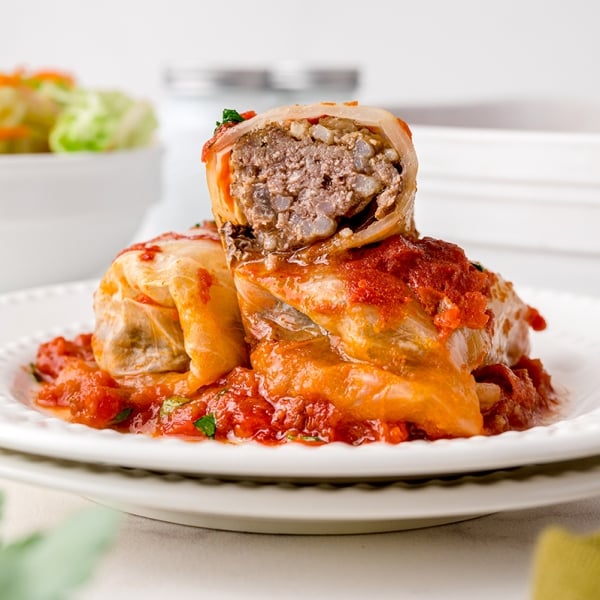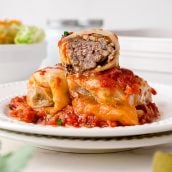 Cabbage Roll with Tomato Sauce
This EASY Stuffed Cabbage Rolls recipe is a family favorite! Made with ground beef, rice, onion and seasoning, these baked cabbage rolls are delicious!
Instructions
Preheat oven to 350°F and coat a large baking dish with cooking spray.

Remove the core from the head of cabbage. Place cabbage into a large saucepan and cover with water.

Bring to a boil and after about 3 minutes the outer leaves should be tender enough to remove. Remove and then return remainder to a boil; reduce heat to simmer for about 10-15 minutes, or until leaves are tender.

Remove the tough center stalk part of each leaf using a sharp knife.

In a large bowl combine the ground beef, egg, rice, onion, salt, pepper and garlic powder. Once well combined place about 2-3 tablespoons of mixture on each cabbage leaf, depending on the size of each leaf.

Roll towards the stalk, tucking in the sides as you go and placing the rolls seam side down in the prepared baking dish. Set aside/.

In medium bowl combine the diced tomatoes, tomato sauce, brown sugar, vinegar, Worcestershire sauce, salt and pepper.

Pour the sauce over rolls, cover baking dish with aluminum foil and bake for 90 minutes.

Remove and allow to rest for at least 10 minutes before serving hot.

If you've tried this recipe, come back and let us know how it was in the comments or ratings.
Notes
If leaves for rolling are still too brittle for rolling return to boiling water for an additional 1-2 minutes.
Nutrition
Calories:
421
kcal
,
Carbohydrates:
26
g
,
Protein:
23
g
,
Fat:
24
g
,
Saturated Fat:
9
g
,
Cholesterol:
121
mg
,
Sodium:
988
mg
,
Potassium:
562
mg
,
Fiber:
1
g
,
Sugar:
6
g
,
Vitamin A:
305
IU
,
Vitamin C:
5
mg
,
Calcium:
40
mg
,
Iron:
3
mg