Cabbage Rolls Recipe
This amazing Stuffed Cabbage Rolls recipe has been handed down through the generations! Do you make yours like my family makes ours?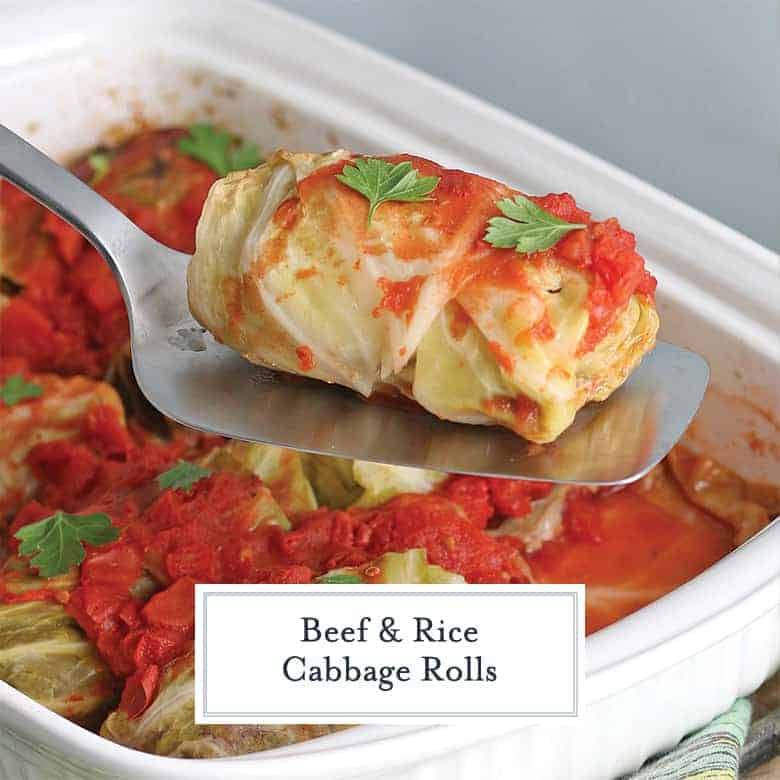 This EASY Stuffed Cabbage Rolls recipe is a family favorite! Made with ground beef, rice, onion and seasoning, these baked cabbage rolls are delicious!
Are you looking for something delicious to make with the cabbage sitting in your fridge or just dinner ideas for tonight? Cabbage Rolls with Tomato Sauce is the ultimate meal to make your family.
These rolls are commonly associated with Irish food, but are actually common in several different cultural cuisines including Jewish heritage, Swedish and Polish (Golabki).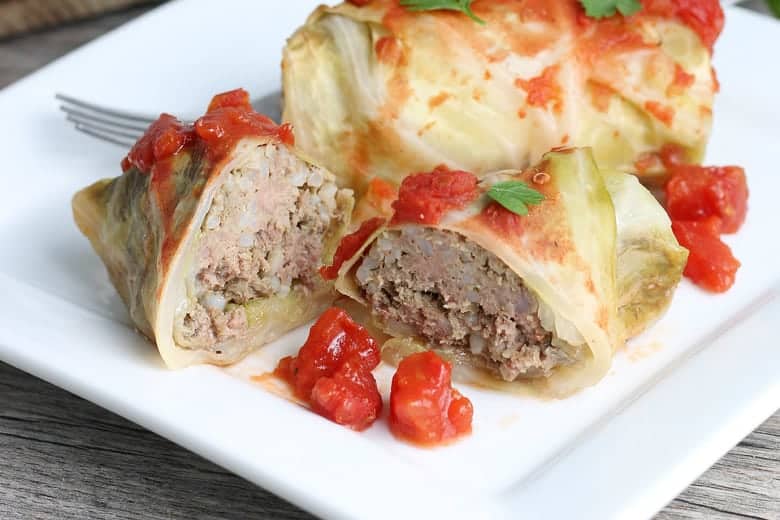 Much like Italians make sauce, every family has their own way of doing things and a little bit of nostalgia attached to it. These are very simple and easy cabbage rolls.
Feel free to add any additional ingredients or spices that seem like a good fit.
Here are some of the most common cabbage roll filling ideas:
Paprika
Cayenne Pepper- if you want some heat
Ground Mustard
Dollop of Dijon Mustard
Red wine in your tomato sauce
Raisins
Minced or grated carrots
Minced or grated celery
The beautiful part of making baked cabbage rolls is that the ingredients are super inexpensive. If you head to the store and pick up a head-of-cabbage, you aren't going to be paying more than a few bucks.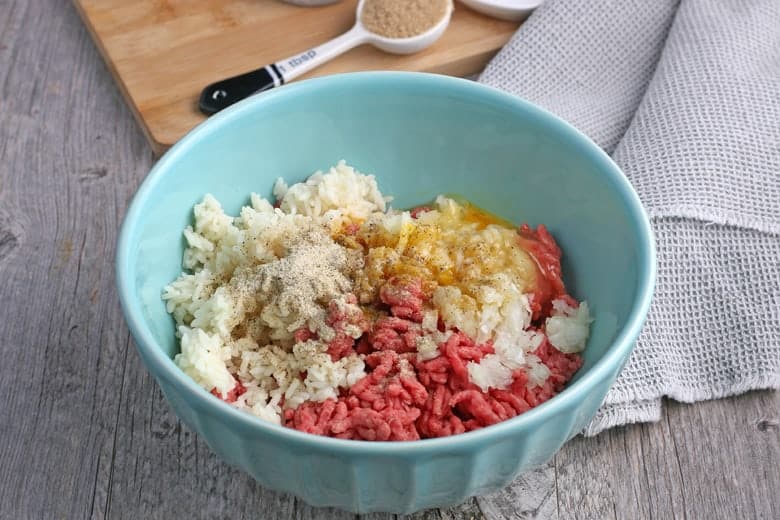 Added bonus, cabbage is low in calories and carbs, so this meal meets the criteria for some of those on new year lifestyle plans. There are some keto and Whole30 tomato sauces that can be swapped out for the sauce listed below.
Removing the Leaves
In order to make cabbage rolls, you will need to remove the leaves. It may seem like these cabbage leaves can tear easily, but if done with care, the leaves can easily remain intact.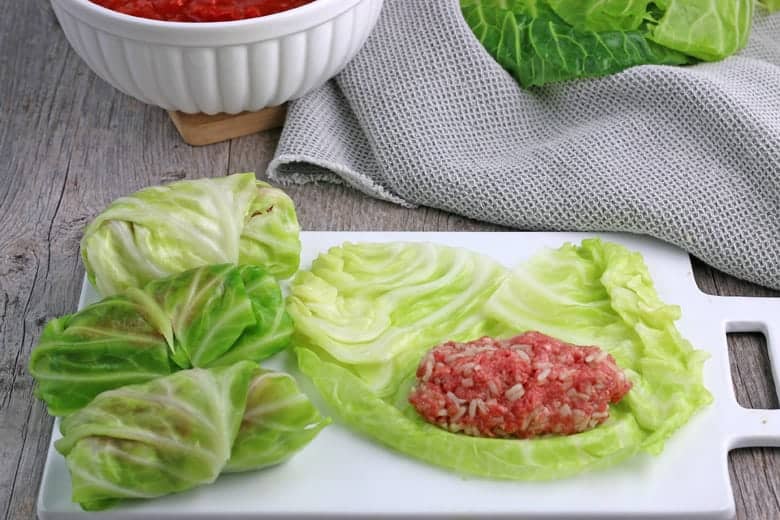 When the leaves are still raw and uncooked, you will want to slice the root of the cabbage off the plant. Once the root is off, you can carefully begin peeling those cabbage leaves off.
Some people prefer to bring the cabbage head to a boil, cut off the root, and then begin the peeling process. You may find that the cabbage leaves are easier to peel off when they are cooked, but they are also more likely to tear.
This recipe calls for boiling and then removing cabbage leaves, but you can do it the other way around if you wish.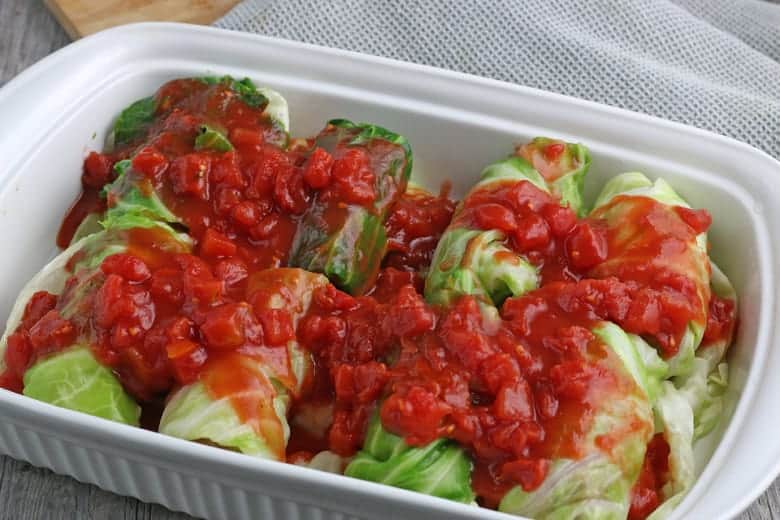 What Do Cabbage Rolls Taste Like?
The cabbage doesn't have too strong of a taste after being cooked, so really the flavor comes from the ground beef filling and tomato sauce.
It is a savory dish without being overwhelming. Great for getting kiddos to eat their veggies!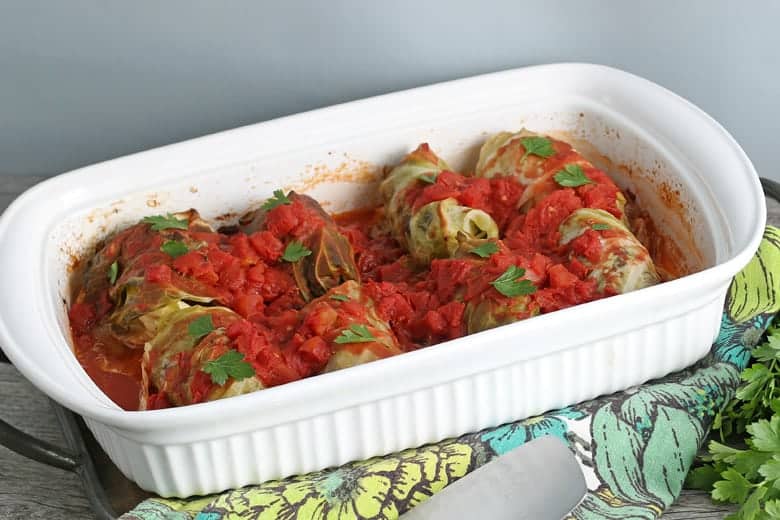 What is the history of cabbage rolls?
I know you are curious about who invented this delicious dish. However, there are many different cultures that have helped create this dish. You will find cabbage rolls in Russia, Poland, and even Ukraine.
They are all cooked with their own special ingredients. There is even a rumor that the ancient Greeks knew about cabbage and used the vegetable in their dishes.
What Goes with Stuffed Cabbage?
Are you looking for something to cook with stuffed cabbage? You're going to love the side options available. You can make side dishes like:
Both add a level of starchiness to the meal, which helps make it complete! Cauliflower rice is an option if you're trying to stay low carb.
Can You Freeze Cabbage Rolls?
Let's be honest, you can freeze them all you want, but they will most likely fall apart when they are reheated.
However, they will make an awesome stuffed cabbage soup! This cabbage rolls recipe is delicious as rolls or as soup!
Cabbage Rolls with Tomato Sauce
This EASY Stuffed Cabbage Rolls recipe is a family favorite! Made with ground beef, rice, onion and seasoning, these baked cabbage rolls are delicious!
Instructions
Preheat oven to 350 degrees and coat a large baking dish with cooking spray.

Remove the core from the head of cabbage. Place cabbage into a large saucepan and cover with water.

Bring to a boil and after about 3 minutes the outer leaves should be tender enough to remove from water. Return remainder to a boil; reduce heat to simmer for about 10-15 minutes, or until leaves are tender.

Remove the tough center stalk part of each leaf.

In a large bowl combine ground beef, rice, onion, egg, and seasonings. Once well combined place about 2-3 tablespoons of mixture on each cabbage leaf.

Roll towards the stalk, tucking in the sides as you go and placing the rolls seam side down in the prepared baking dish. Set aside while preparing the sauce.

In medium bowl combine tomato sauce, diced tomatoes, brown sugar, vinegar, Worcestershire sauce, salt and pepper. Mix until sugar is dissolved and everything is well combined.

Pour sauce over rolls, cover baking dish and bake for 90 minutes.

Remove and serve immediately.

If you've tried this recipe, come back and let us know how it was!
Notes
If leaves for rolling are still too brittle for rolling return to boiling water for an additional 1-2 minutes.
Nutrition
Calories:
421
kcal
|
Carbohydrates:
26
g
|
Protein:
23
g
|
Fat:
24
g
|
Saturated Fat:
9
g
|
Cholesterol:
121
mg
|
Sodium:
988
mg
|
Potassium:
562
mg
|
Fiber:
1
g
|
Sugar:
6
g
|
Vitamin A:
305
IU
|
Vitamin C:
5
mg
|
Calcium:
40
mg
|
Iron:
3
mg
CONNECT WITH SAVORY EXPERIMENTS!

Be sure to follow me on social media, so you never miss a post!

Facebook | Twitter | Youtube
Pinterest | Instagram
Get our FREE 8 Day E-Course on How to Be a Better Home Cook. Sign up HERE!