The goal of a slow cooker meal is to save time, which is why I don't understand a lot of these recipes that require 30 minutes of prep work. Brown the meat, chop the veggies, reduce the broth. I need recipes that can be prepared in 30 minutes or less, like Slow Cooker Chicken Jambalaya.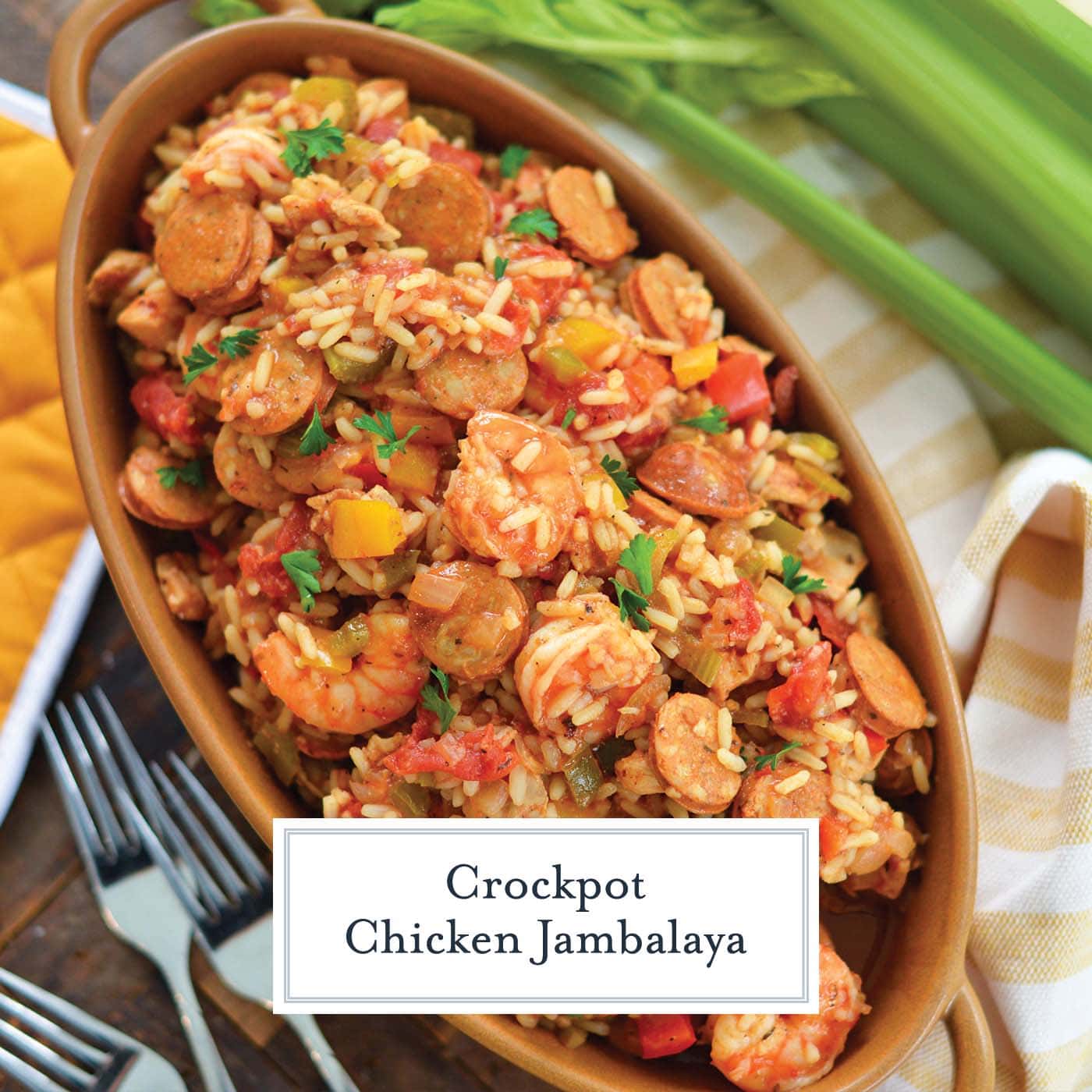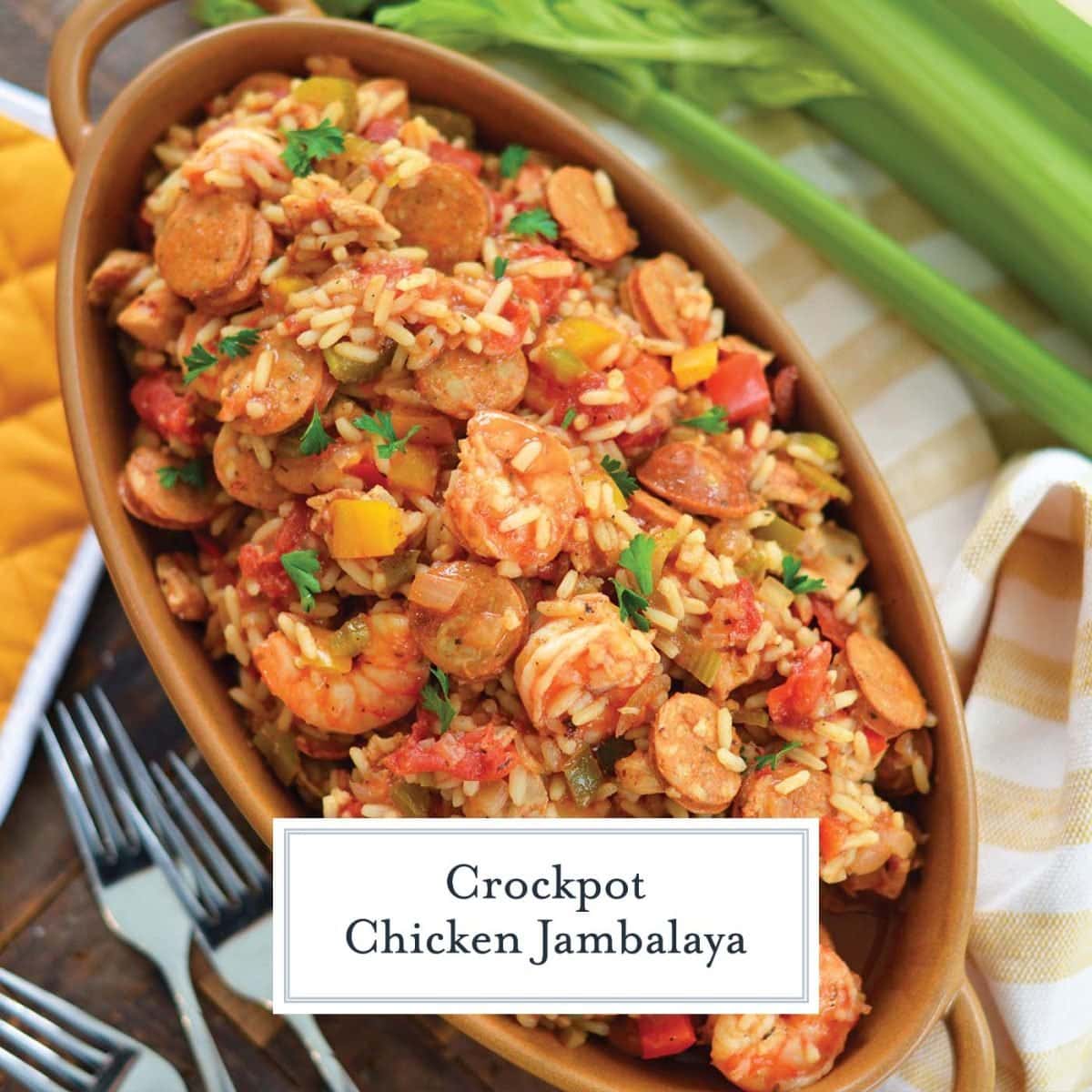 Jambalaya is a New Orleans favorite and the authentic versions come from family recipes handed down generation to generation with secret spice blends and a splash of voodoo magic. Ours is not that recipe… yes it starts with the holy trinity and adds Creole seasoning, this is the easy recipe of a classic.
Chicken Jambalaya… Updated
This slow cooker jambalaya recipe quickly became a family favorite after making it years ago. It originally posted on November 14th, 2014- WOW! And while we've received so much positive feedback about the recipe, we also heard our readers and their inconsistent results regarding the rice.
Either it was too mushy, didn't cook or overcooked. We tested it ourselves and found that in order for it to work, it needed to be very specific brands. In an effort to make sure everyone experiences delicious jambalaya, we altered the recipe.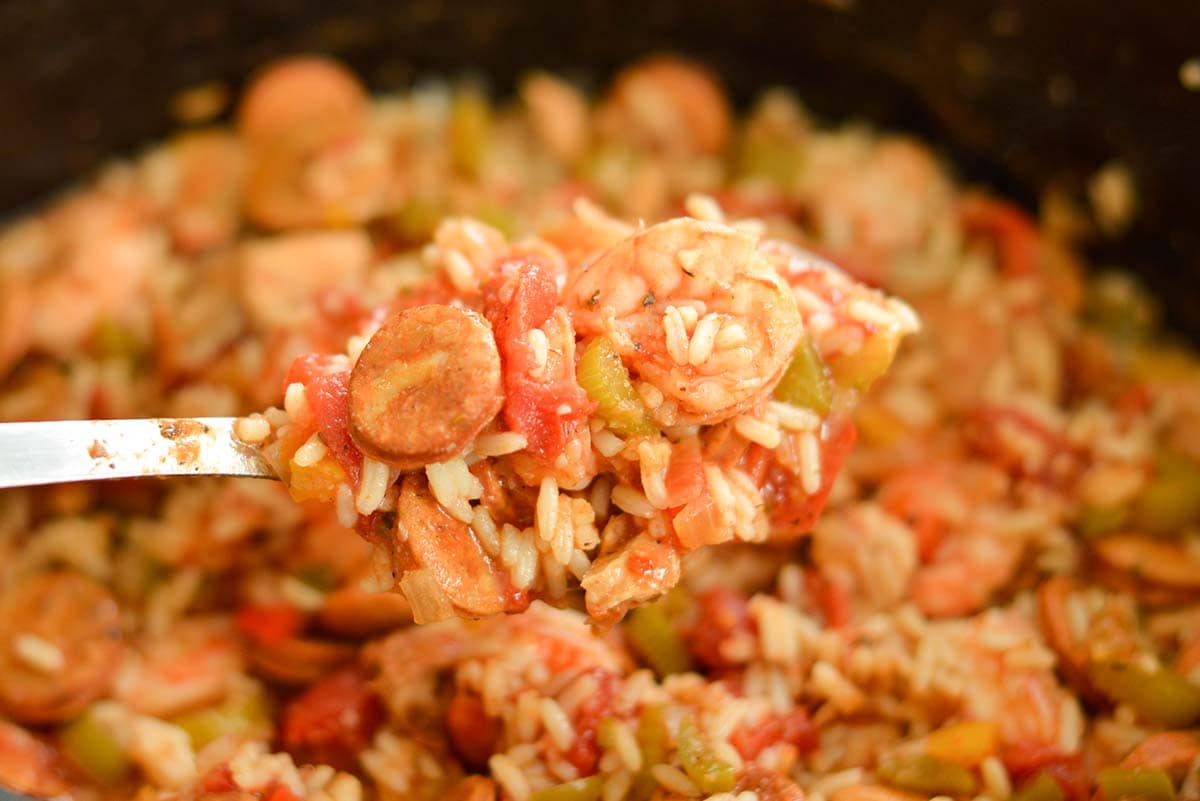 But taking out dry rice also meant changing the liquids which would now have no place to absorb too, which changed the ratio of seasoning and so on and do on.
Turns out okra and kale also turned some folks off- I loved it! So now there is a whole new, but totally foolproof recipe for jamalaba in the crockpot that adds cooked rice last. Making it separately was the only way to ensure the perfect grain.
Ingredients
While the ingredient list looks a little long, have no fear. Most are the spice blend which you can simplify by using a premade creole or Cajun spice blend. I do caution to taste test these first. Some are spicy, while other sway to the side of salty. Making your own means you can customize these flavors to find the perfect one for you.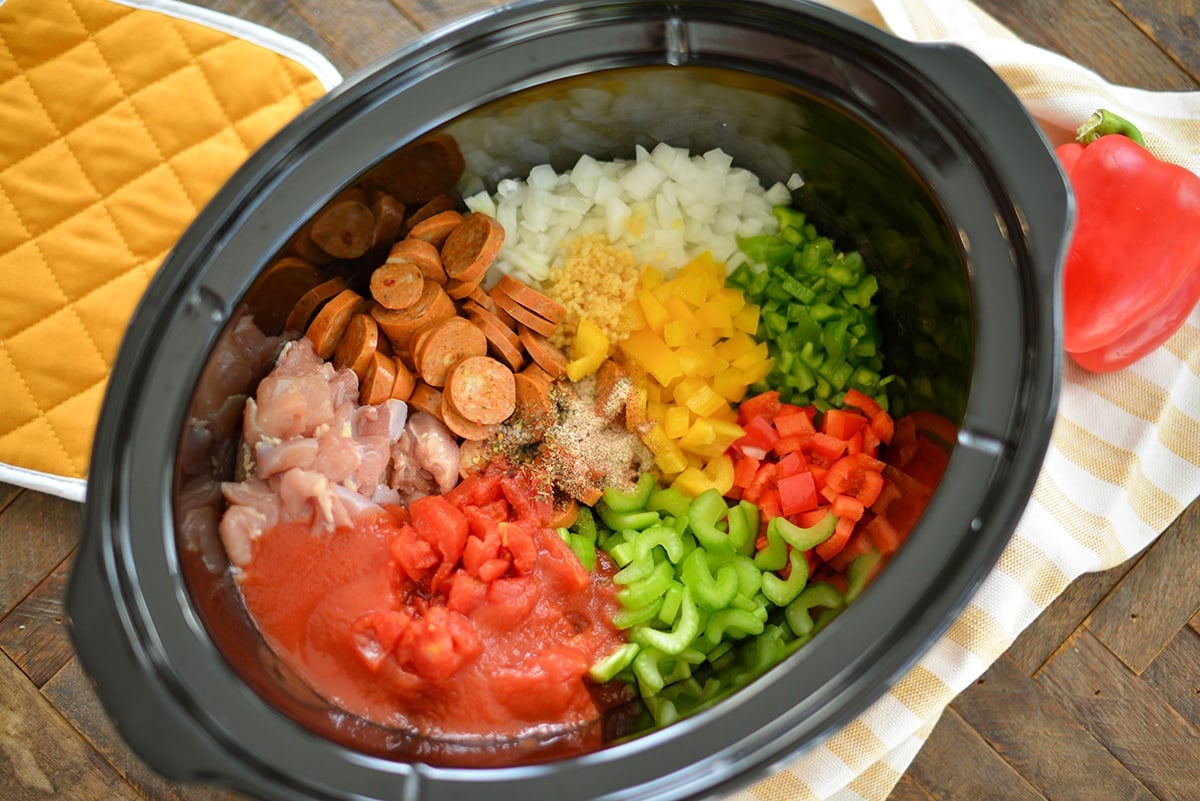 Chicken, Sausage and Shrimp– Proteins are one of the easiest ways to customize your homemade jambalaya recipe… and also a great way to clean out the odds and ends from the freezer! We used chicken breasts, andouille sausage and shrimp, but really as long as the total amount is around 2 pounds, it will be just fine. Add meats that needs to cook, or add flavor like the precooked sausage, at the beginning, and cooked items at the end. I buy cooked shrimp (fresh or frozen) to save myself time.
Canned diced tomatoes & juice– The juice will marry with other liquids from the veggies to make a fragrant broth. I used plain petite diced tomatoes.
Fresh garlic– nothing will ever compare to fresh garlic. The jarred stuff is great for saving time, but has a sweet flavor opposed to pungent garlic.
Yellow onion– Yellow and white onions pack the most onion-y flavor.
Fresh celery- Another item amount that can easily be changed. Throwing in one more rib won't hurt it and omitting it altogether won't either.
Bell pepper- I'm all for color, so I use any color of bell pepper I can find. Green bell peppers are the cheapest, but be mindful that red, yellow and orange bell peppers are generally slightly sweeter than green.
Bay leaves- One of the most omitted ingredients in cooking isn't because people don't like the flavor, they just don't have them on hand. Dried bay leaves add warmth, depth and peppery notes to any sauce. Dried are actually less bitter than fresh. Just make sure to fish it out before serving because digesting a bay leaf causes issues.
Cooked white or brown rice– aw, the culprit that forced us to change the whole recipe! This is one of my time-saving recipes, so I used 2 packets of 90-second rice. Use leftovers or make it from scratch and use white rice or brown rice, short or long grained rice. If making it from scratch, use chicken broth instead of water to give it more flavor. Soaking in the natural vegetable broth will also give plain rice a nice punch.
Shrimp- Our previous version didn't have seafood, but we love shrimp, so it got added. It it is optional. Size and amount is up to you.
Seasonings– This list looks long, but it is fairly basic. Use our custom blend of bold spices or a heaping tablespoon of premade Creole or Cajun seasoning. Taste it before hand so you know how spicy and salty it is and can adjust accordingly.
Check out our variations below- like adding kale or okra!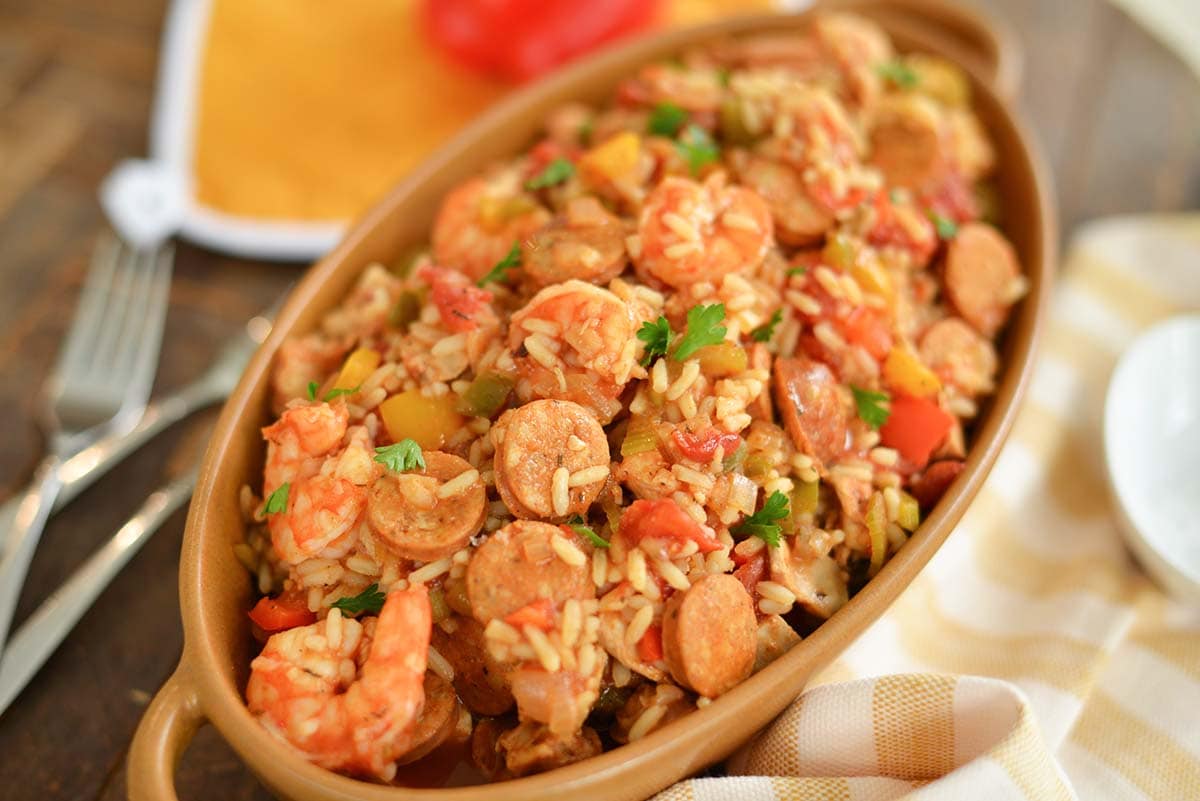 How to Make Crockpot Jambalaya
The magic of this dish is a low heat for a long time. Since the proteins are cooking in liquid, they stay super tender and take-on the flavor of your custom broth. When the rice is added, even though it is already cooked, it still has some capacity to absorb the seasoning. Some might even argue this makes it better for leftovers.
Combine the chicken, sausage, tomatoes (with juice), garlic onion, celery, bell pepper, bay leaves and seasoning blend in the slow cooker and give it a few good stirs.
I cooked mine on high for 3 hours, but you can easily do low for 6 and it should be fine. Ideally the celery will still have a slight snap.
When you are just about ready to serve, remove the bay leaves and add the cooked rice and shrimp, stirring again ro warm thoroughly, about 15 minutes. Alternately, you can just spoon the meat and veggie blend over a bed of rice. I like it more like a stew or soup, so I stir it in. The starches also help to thicken the veggie broth.
This version was garnished with snipped parsley, but chopped green onions and or a splash of hot sauce are also welcome.
We have not tried this recipe in the Instant Pot yet.
Variations
Okra is another under used vegetable. Popular in the south, okra can get slimy with a weird texture when overcooked, but adding it precut, chopped and frozen.
As stated above, this recipe for jambalaya has been changed from the original version, which included kale too. I liked it as another convenient way to get my family to pack in the veggies, but apparently it was a turnoff for others, so we kept it more traditional with the option to add. When you add the rice, fold in 1/2-3/4 cup of massaged chopped kale. It will break down in that short amount of time. Massaging it helps to break up fibers, much like tenderizing beef, making it easier to chew and digest.
Make it HOT! Add more crushed red pepper flakes, aleppo chile flakes, cayenne pepper or hot sauce.
Swap proteins. Like so many of our dishes here, we encourage you to try different proteins. We exclusively use chicken breasts (or chicken thighs), even in the sausage, but pork, beef or even tofu are great swaps as long as the total weight equals the same. Even try mixing for more flavor sophistication. Smoked sausage will give, of course, a smoky essence.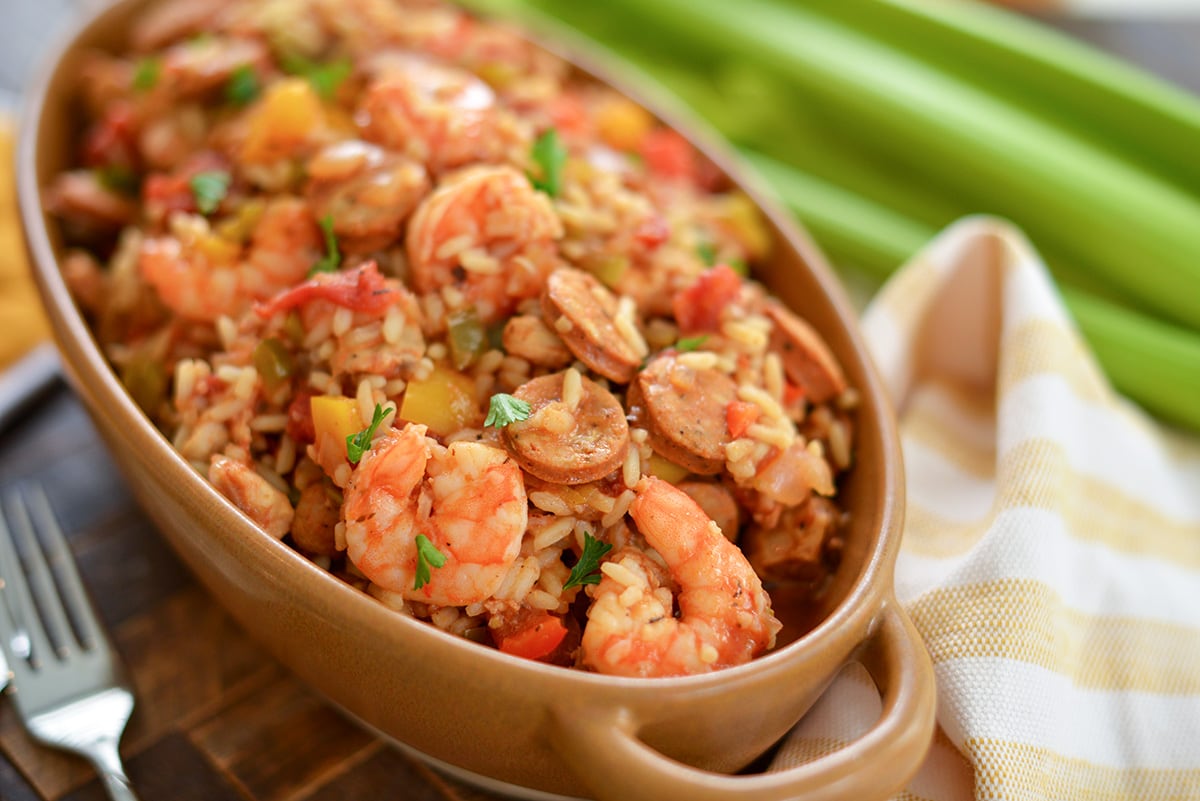 Make Ahead & Leftovers
Slow cooker jambalaya is an excellent make-ahead dish whether you are serving it to your family or bringing it to a potluck or sick friend. In fact, my husband might tell you it tastes better the next day because the starchy rice has more time to soak it all up.
Store leftovers in an airtight container in the refrigerator for up to 5 days. Reheat in the microwave or in a saucepan on the stove. Microwave is actually preferably in this situation.
While we haven't personally tried to freeze this recipe, there are no indicators that it wouldn't freeze and thaw well. If you give it s shot, please come back and let us know how it was.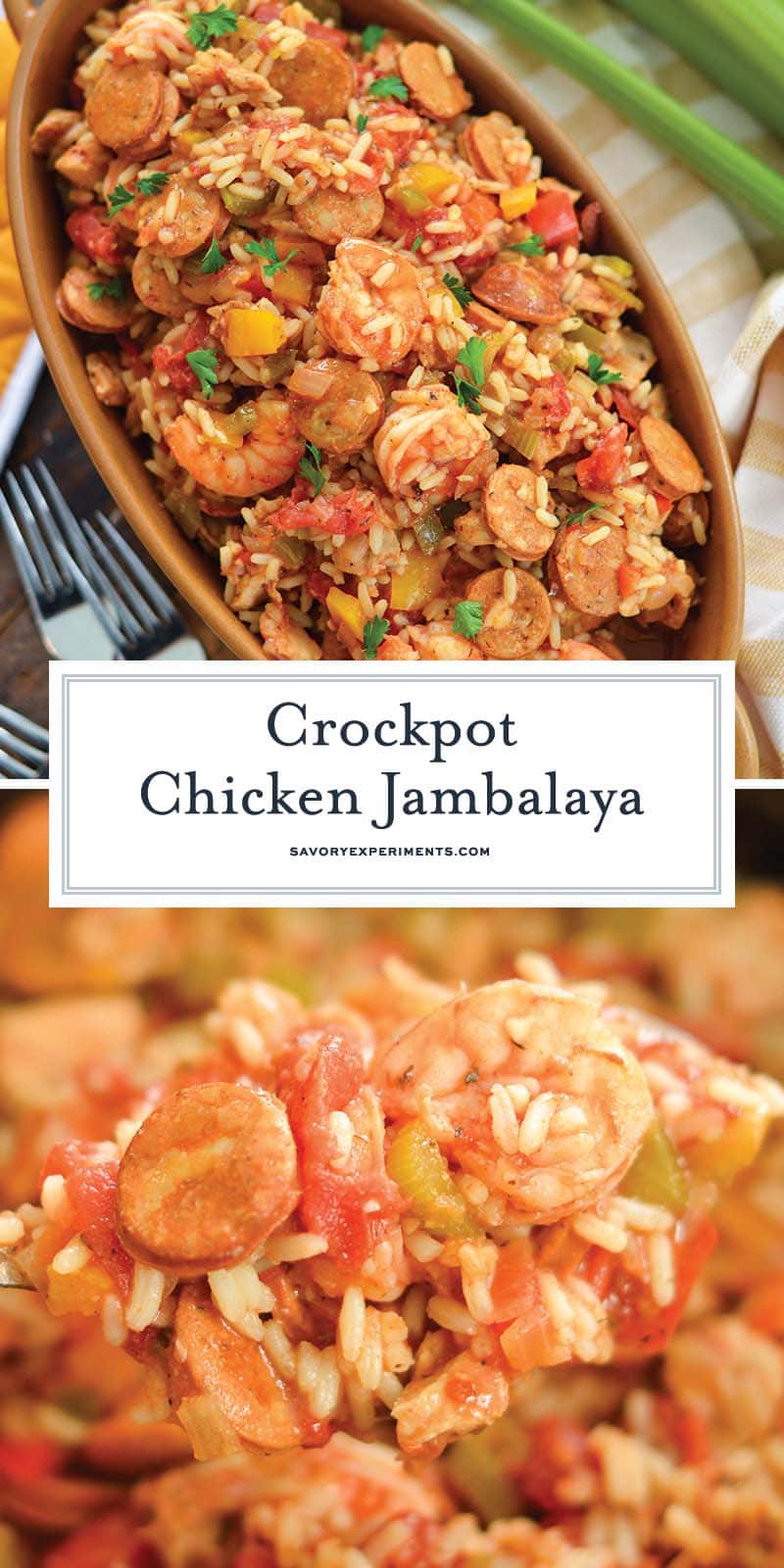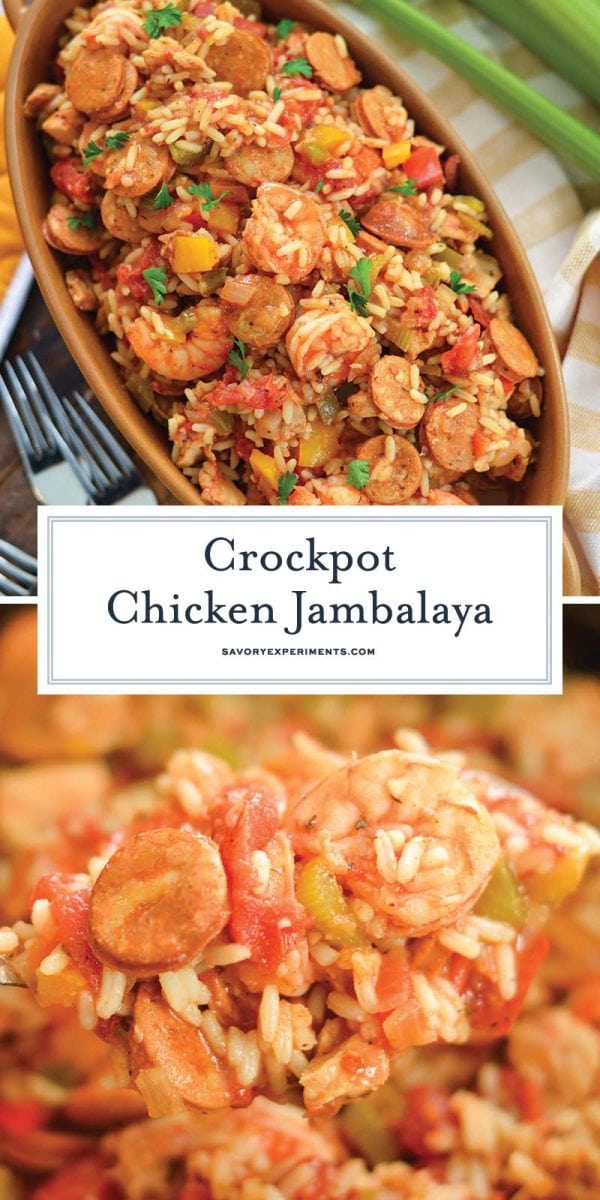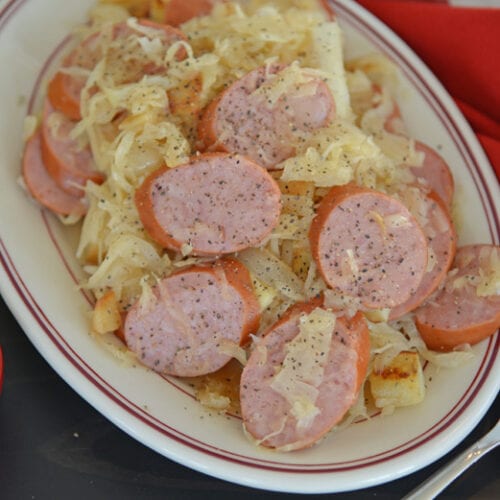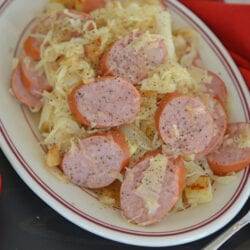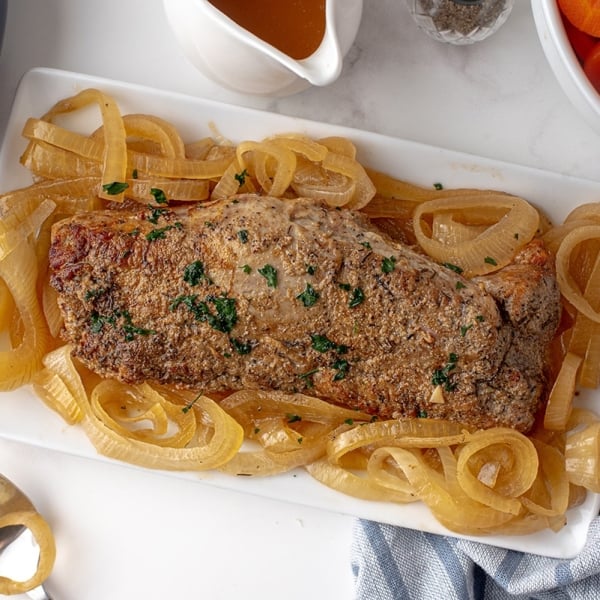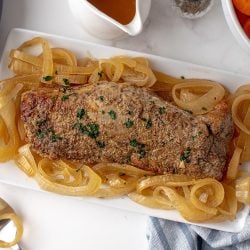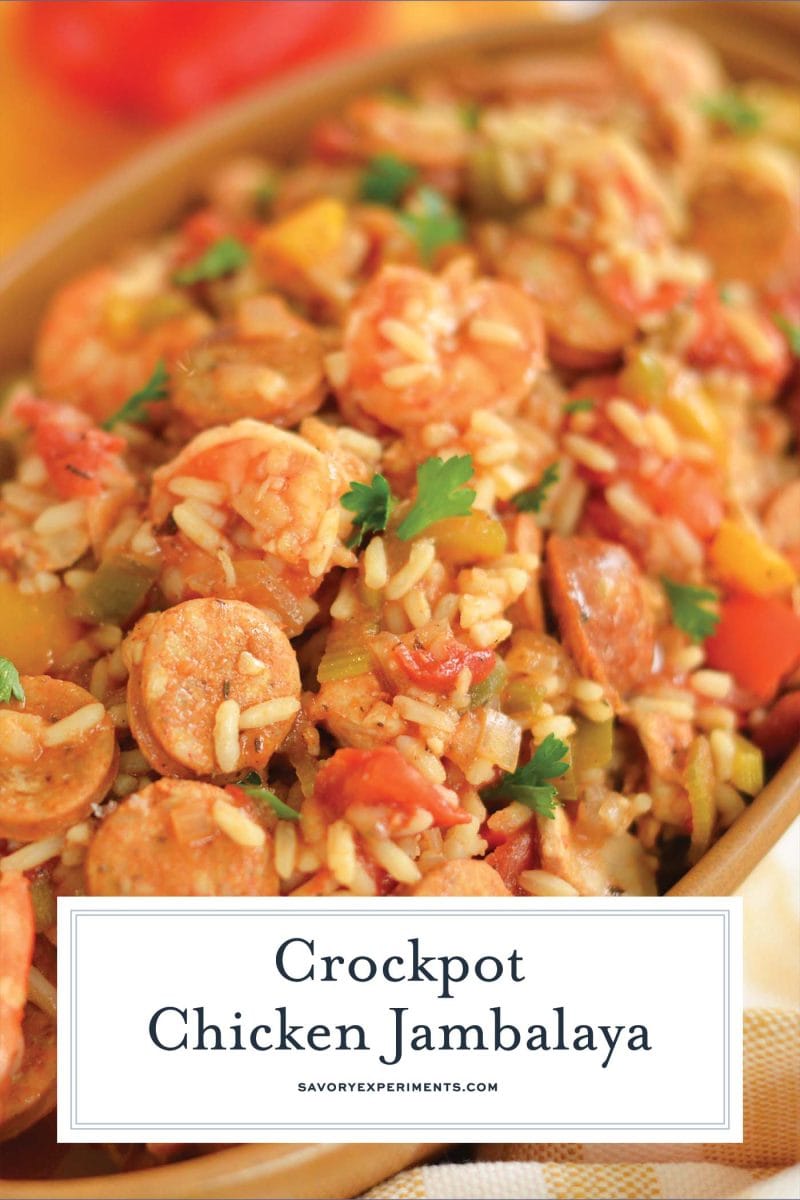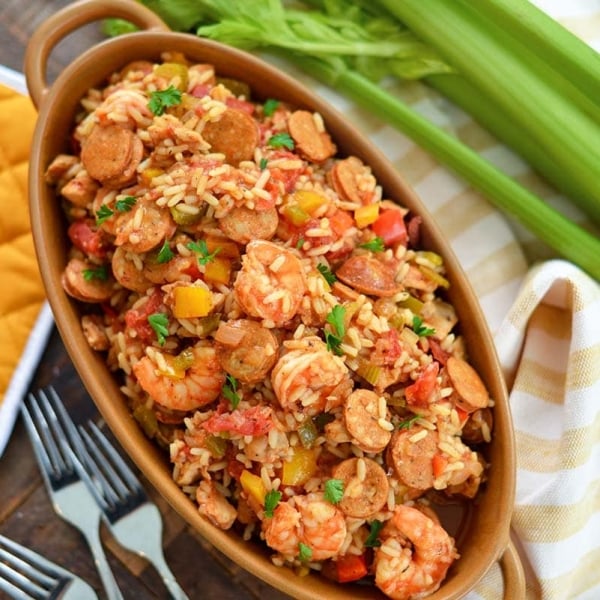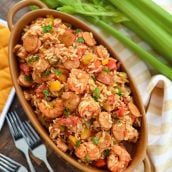 Crockpot Chicken Jambalaya Recipe
Crockpot Jambalaya is loaded with chicken, sausage, shrimp, veggies, rice and zesty Creole seasoning for the perfect Creole comfort food.
Instructions
In the slow cooker, combine the chicken, sausage, tomatoes (with juice), garlic onion, celery, bell pepper and bay leaves.

If using a pre-made cajun or creole seasoning, add a heaping 1 tablespoon and omit seasoning blend, or make seasoning blend in a small bowl using all of the dry ingredients. Blend well and add to the chicken mixture.

Cover and cook on high heat for 3 hours. Remove lid, stir well and remove the bay leaves. Add the cooked rice and shrimp, stirring again ro warm thoroughly.

Allow to continue cooking for 10-15 minutes on the "warm" setting or turn totally off with the lid on. Serve hot.

If you've tried this recipe, come back and let us know how it was in the comments or ratings!
Notes
Please note that this recipe has changed considerably since it originally posted. While many found success in making it the original way, with dry rice, others were not. After extensie recipe testing, we were not able to get consistent results with different brands of rice and slow cookers, so we changed the recipe. If you are looking for the original recipe, it is posted below. Please note there was an error and it was to cook for 4 hours on high, 6 on low.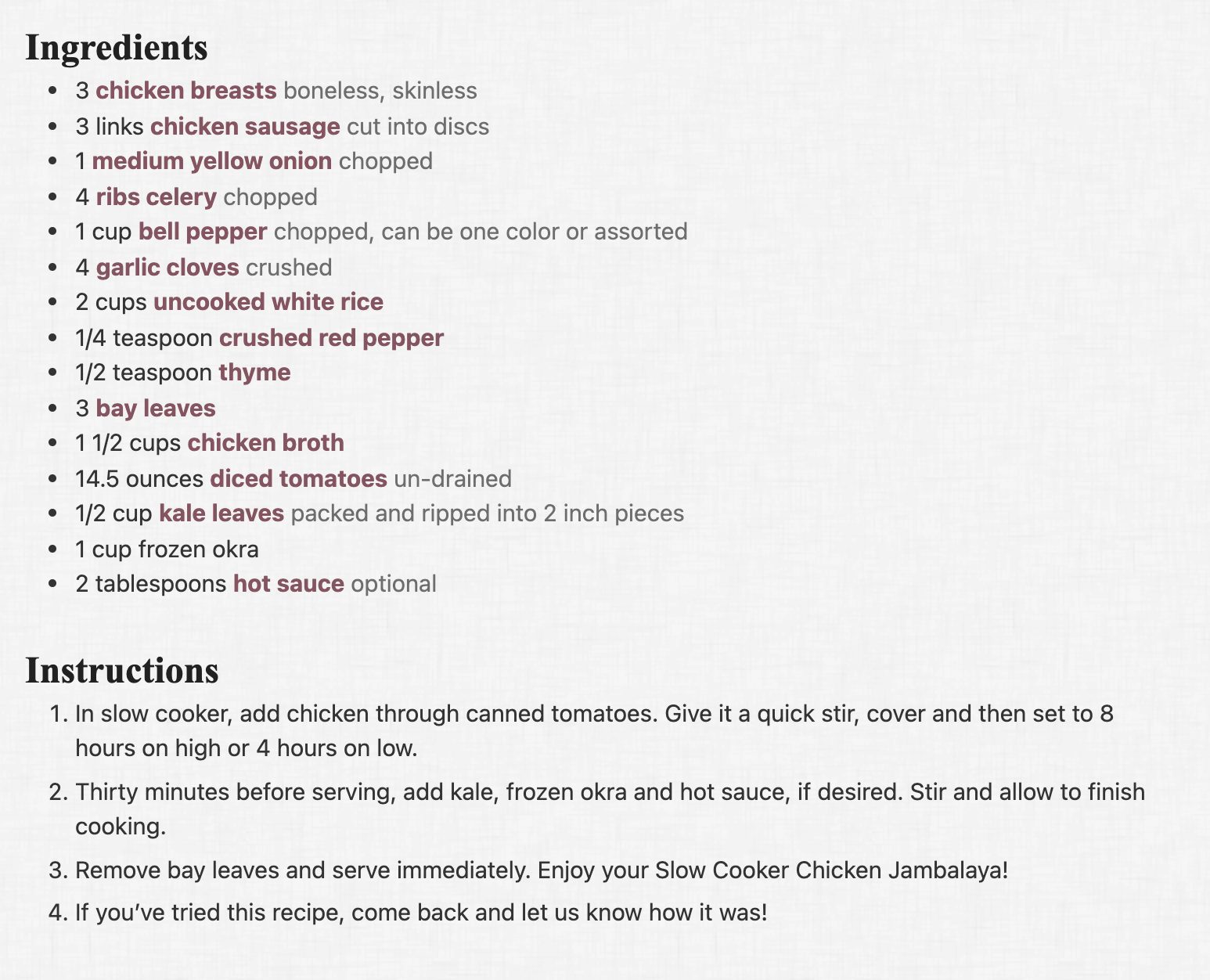 Nutrition
Calories:
402
kcal
,
Carbohydrates:
30
g
,
Protein:
19
g
,
Fat:
12
g
,
Saturated Fat:
4
g
,
Polyunsaturated Fat:
2
g
,
Monounsaturated Fat:
5
g
,
Trans Fat:
1
g
,
Cholesterol:
56
mg
,
Sodium:
792
mg
,
Potassium:
544
mg
,
Fiber:
2
g
,
Sugar:
4
g
,
Vitamin A:
1026
IU
,
Vitamin C:
42
mg
,
Calcium:
58
mg
,
Iron:
2
mg