Who doesn't love a good chicken sandwich recipe? If you're looking for something that doesn't take too much time and can be thrown together easily, then you've come to the right place.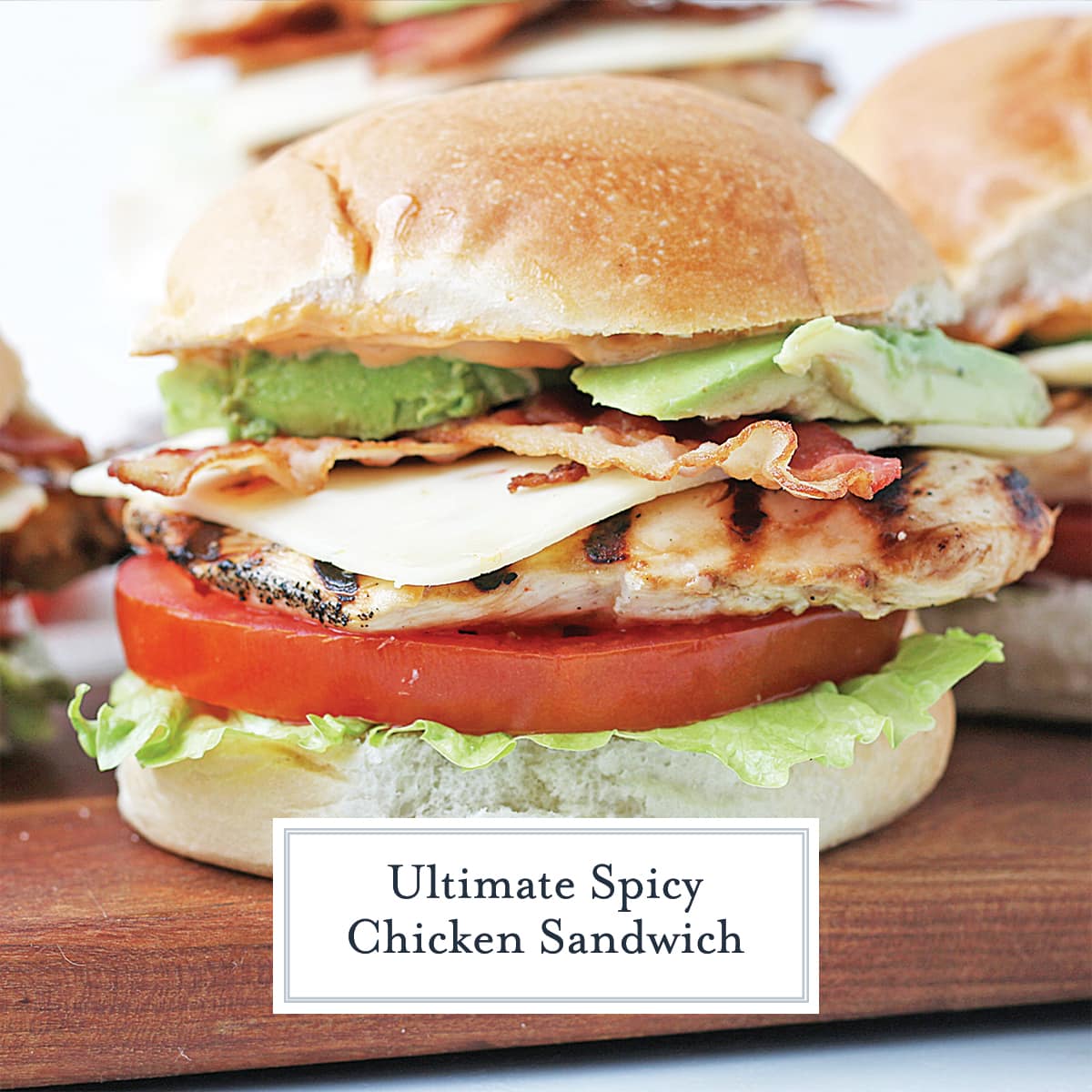 This recipe is simple yet delicious.
It's a grilled chicken sandwich piled high with bacon, cool avocado, spicy chipotle aioli, pepper jack cheese and crisp lettuce.
The Perfect Chicken Sandwich
I suppose this varies from person to person. When I was doing my research it seems most folks think the sandwiches at Popeye's, Chick-fil-a and Wendy's, but truth be told, I've never had any of them.
Crispy chicken sandwiches are fabulous and I often order them out, but at home I'm looking for something less messy than getting out the oil for frying.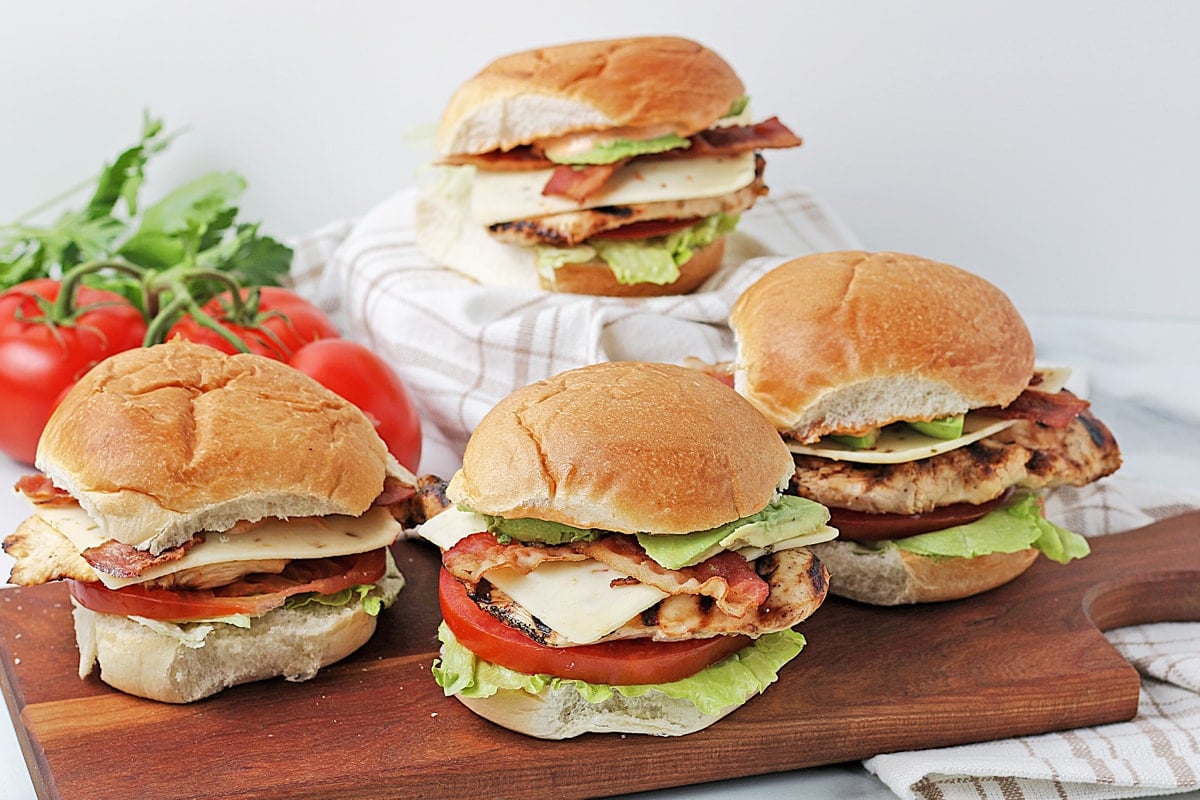 This chicken sandwich gets heat from the spicy aioli sauce instead of breading. Custom made, you can pick just how hot you want it- make your sweat, or just a little bite. And if you don't want the heat at all- pick one of our other aioli sauces.
Then top it off with bacon, cool avocado, pepper jack cheese and crisp lettuce.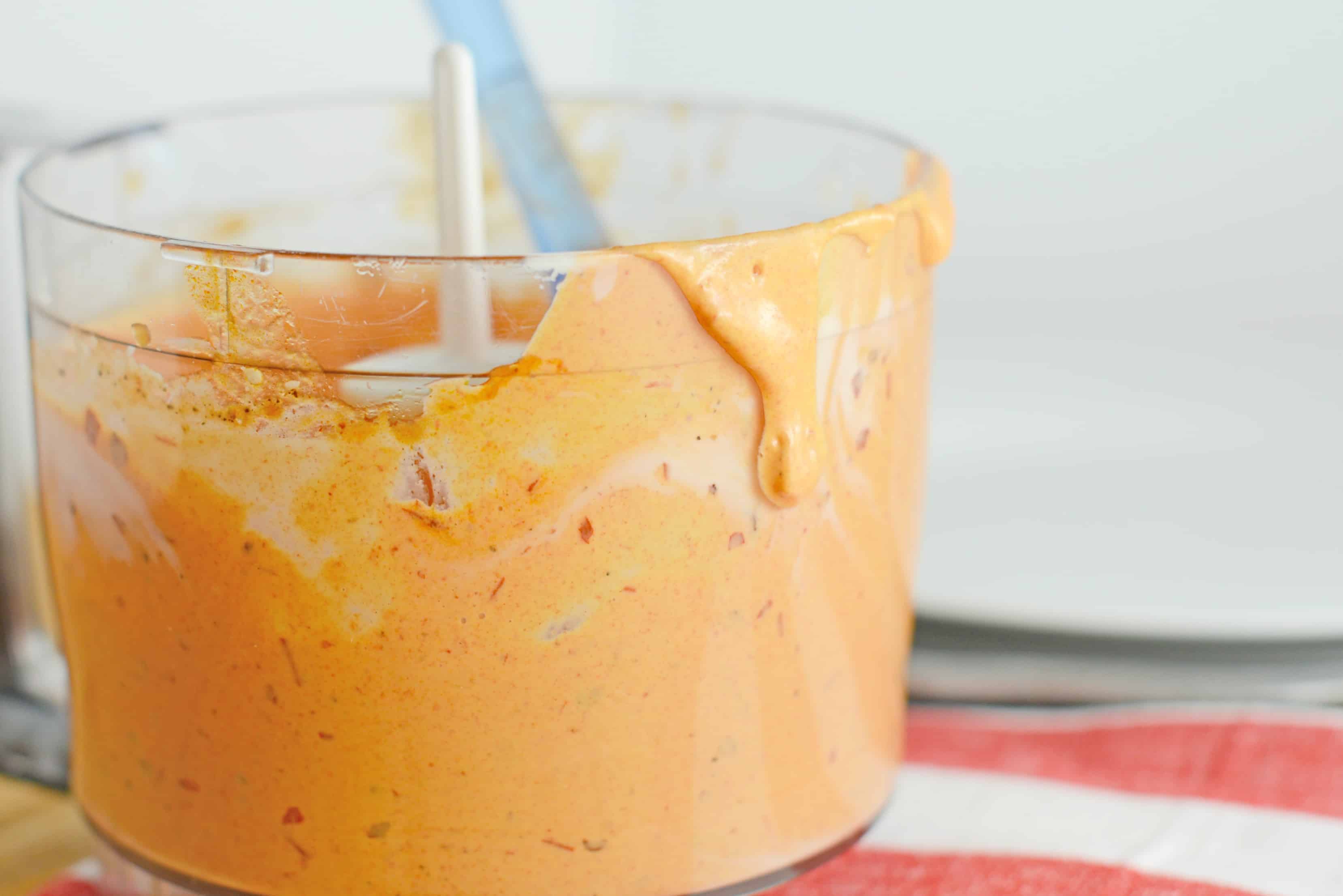 Juicy Chicken
In the history of ever has someone asked for a dry, overcooked piece of chicken. The ticket to any piece of chicken, in a sandwich or not, is being tender and juicy.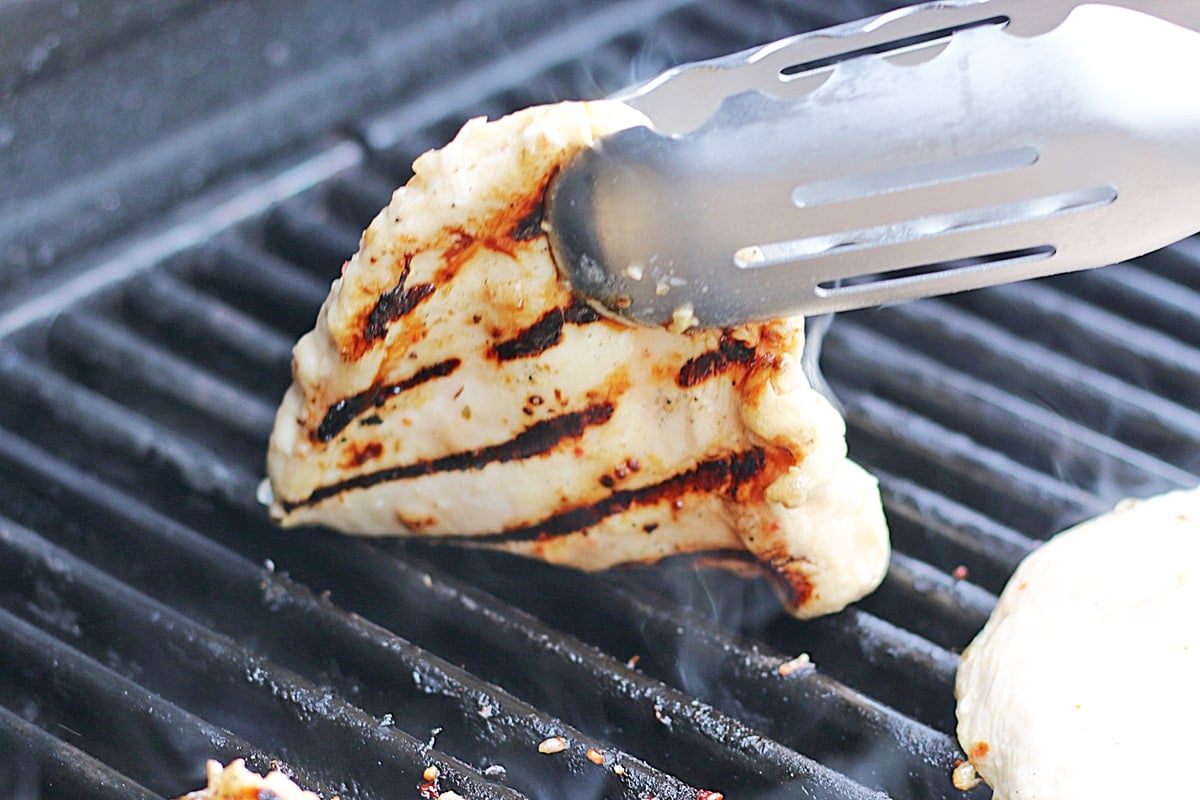 Here are my tips for making juicy chicken:
Tenderize– Use a metal meat mallet and give it a few whacks. This manually breaks up the fibers. Shorter fibers are perceived by your mouth as easier to chew, thus more tender. This also helps marinade to penetrate even deeper into the fibers giving it more flavor and absorbing liquids. If you can't tenderize, pierce liberally with a fork.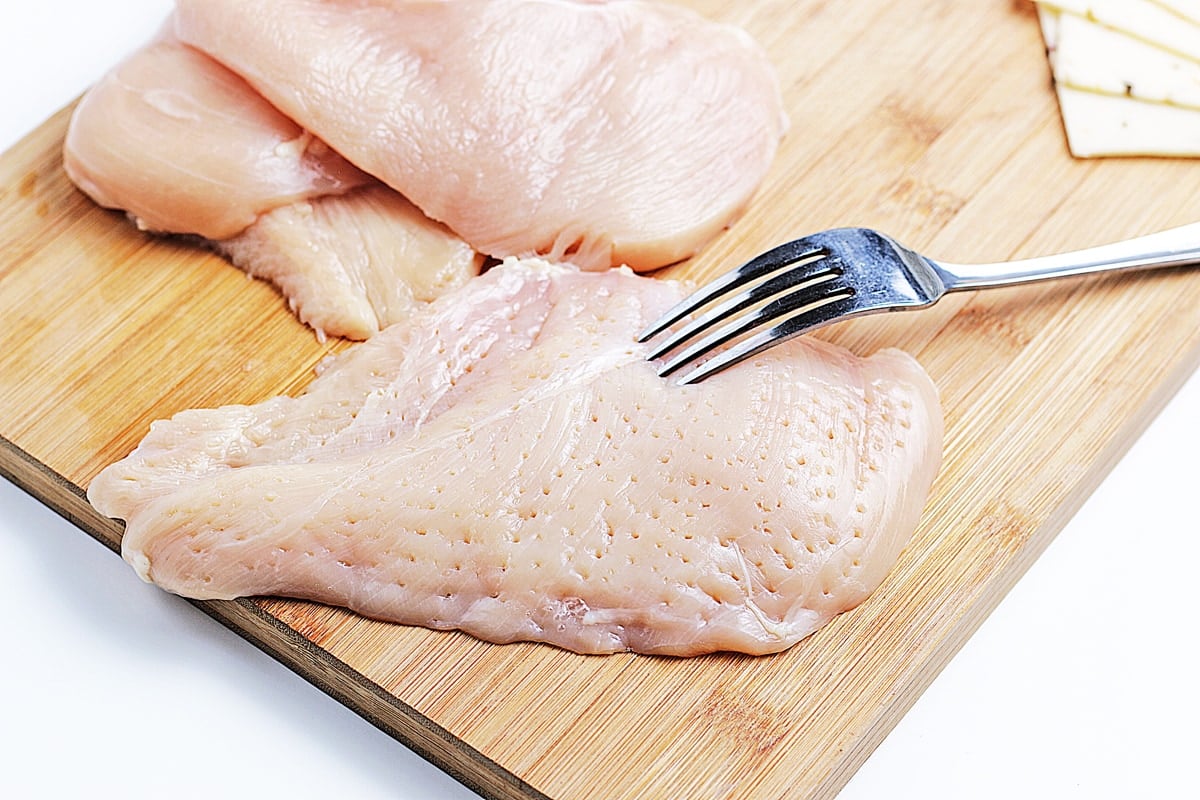 Thickness– Don't underestimate the importance of having the same thickness through the whole cut. Chicken breasts aren't even by nature, one side is thick and the other, thin and tapered. If you wait for the thick side to cook, the tapered edge will be grossly over cooked. You can tenderize or butterfly it half- or both for larger pieces- but make sure they are as close as you can get to equal thickness.
Marinate– Marinating not only imparts flavor, but acid and salt also tenderize the meat. It is like brining, but with more taste. Chicken is a fairly dense piece of meat, so longer marinating times are best. If tenderized, you can get away with a few hours and still have outstanding results.
Cooking– The number one thing people mess up with chicken is over cooking it. They are so fearful to not have it properly cooked that it goes in the other direction. What a shame. Simply use an instant read meat thermometer and stop playing chicken roulette. Chicken needs to be cooked to internal temperature of 165°F. Remove it at 160° to account for carryover cooking while resting.
Resting– The most frequently overlooked step in cooking meats might also be the most crucial. LET YOUR MEAT REST! If it feels like I am yelling at you, it is because I am! Allowing meat to rest lets the juices redistribute and settle. If you cut in right away, those precious juice will land on your plate (or sogging up your bun) instead of in the chicken where they belong.
Chicken Sandwich Marinade
This is my most used hack in the kitchen: Italian Dressing. Yep, I make homemade dressings for actual salad, but my pantry is loaded with bottles of basic Italian dressing.
It is the perfect marinade for anything from chicken, to steak, pork, seafood and also bastes veggies. A tablespoon added to cooked rice or to toss pasta adds depth and flavor.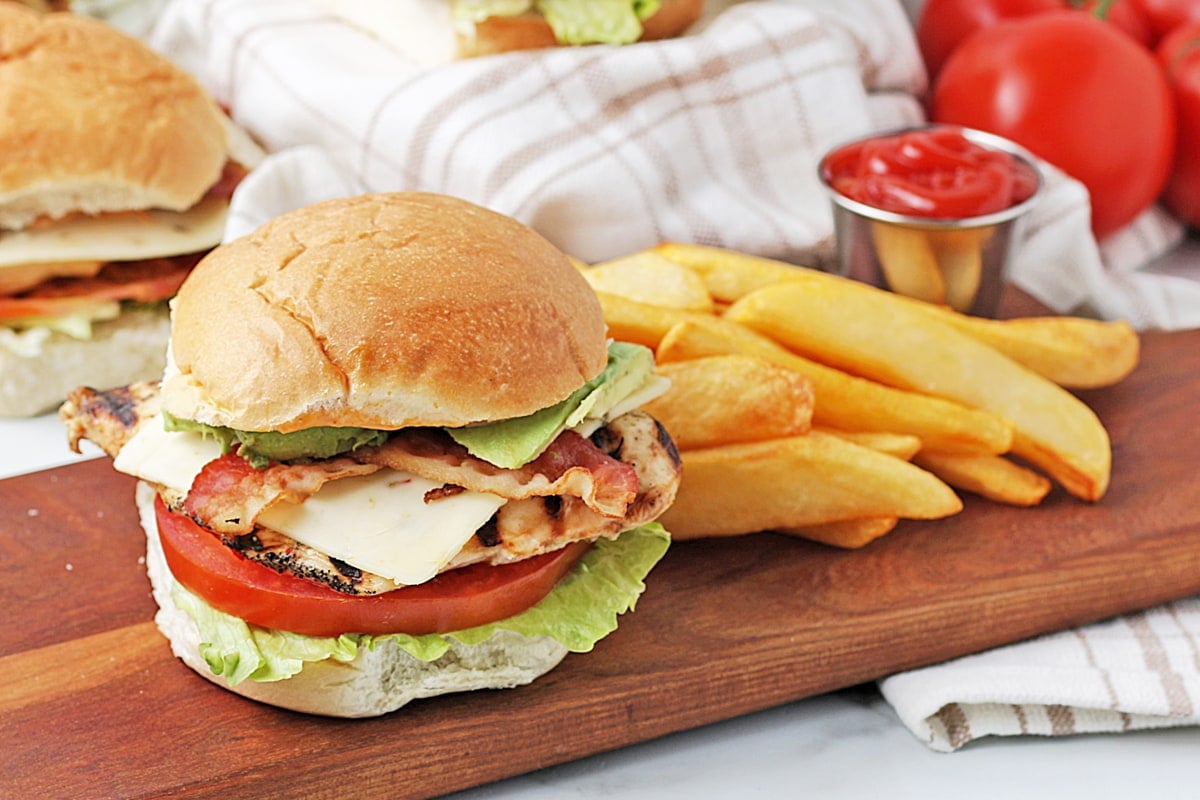 If you want to make a marinade from scratch or use my homemade chicken marinade, be my guest, but again, this is supposed to be a delicious time saving recipe and Italian dressing is my short cut!
You can also use our blackened chicken recipe for another fun twist.
You can also use chicken thighs, but then we do not suggest tenderizing and use boneless, filleted thighs. They don't tend to top a bun as evenly as a breast though.
Cooking the Chicken
We grilled the chicken, Whether you are making it on a gas, charcoal or even flat top griddle, the flavor is best with a nice char.
But this chicken will also do well in pan fried on both sides for 5-6 minutes.
I don't suggest the oven on this one. We want to get a little brown for flavor.
The Roll
If you've ever talked to me about the roll for sandwiches, I have very strong opinions. Not about the flavor, but the size!
Please, but all means, try to match the size of your roll to the size of your chicken. A small breast needs a hamburger bun or sesame seed roll, which a larger piece requires a Kaiser or fluffy roll.
Just make the meat to bread ratio match. And personal preference is a soft hamburger roll or brioche bun.
How to Make a Chicken Sandwich
Now that I've babbled on about way more than you ever wanted to know about chicken sandwiches, it is time to make your own!
Tenderize and marinate your chicken.
Heat the grill and coat with oil or cooking spray, alternately use a skillet over medium high heat. We are looking for a nice char or brown here!
Cook chicken on each side for 7-8 minutes or until it registers at 160°F.
Remove and allow chicken to rest for 5 minutes. Don't skip the resting!
Assemble with aioli, lettuce, slice of tomato, chicken, bacon, pepper jack cheese and avocado on toasted bun.
Enjoy the fruits of your labor.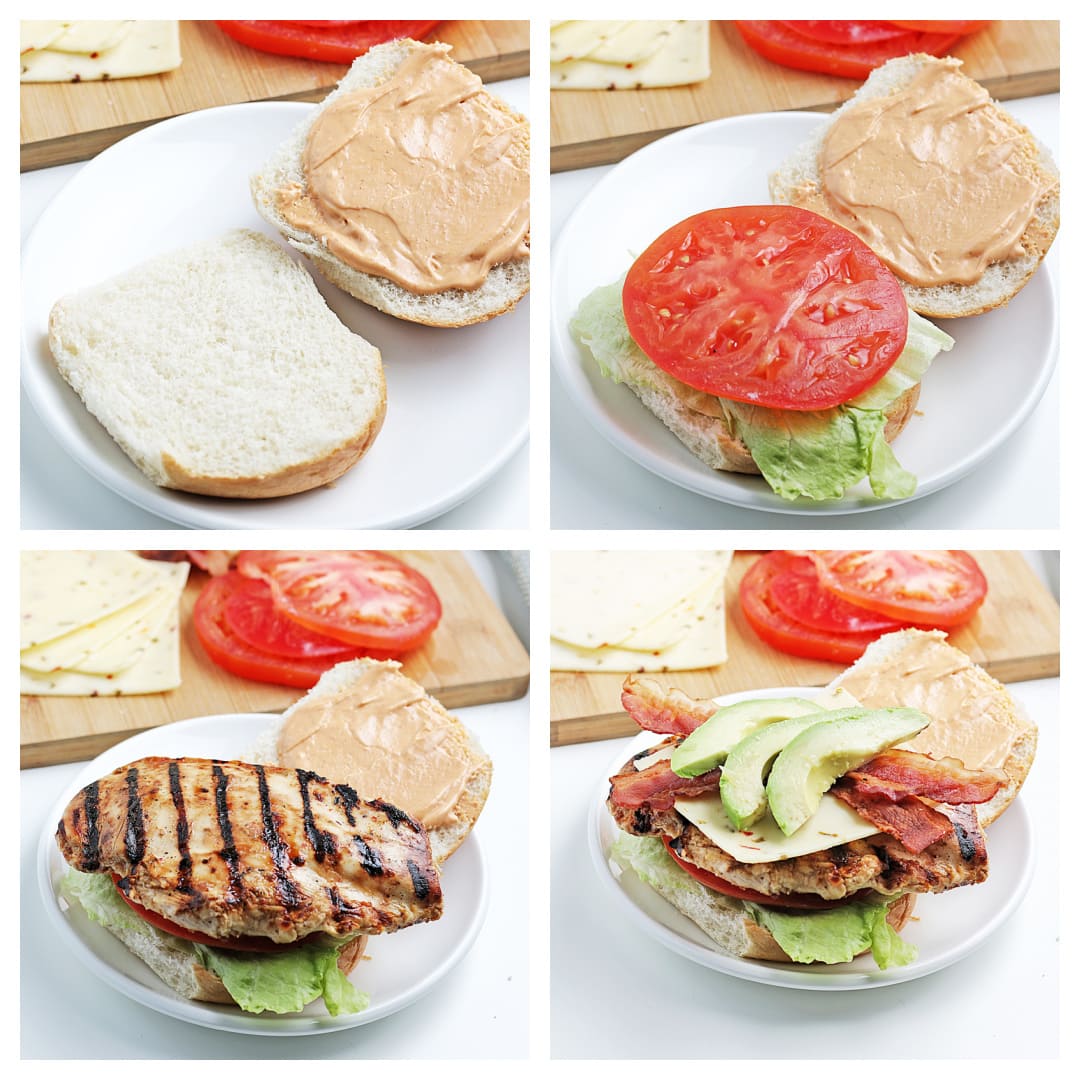 What To Serve it With
Serve your spicy chicken sandwich with beer battered onion rings or garlic parmesan sweet potato fries. Perhaps even alongside a fresh green salad.
Whatever you decide to pair it with I am sure will be great. This is the perfect easy weeknight meal, but we also make it for weekend lunches sometimes. Basically it's great for any meal!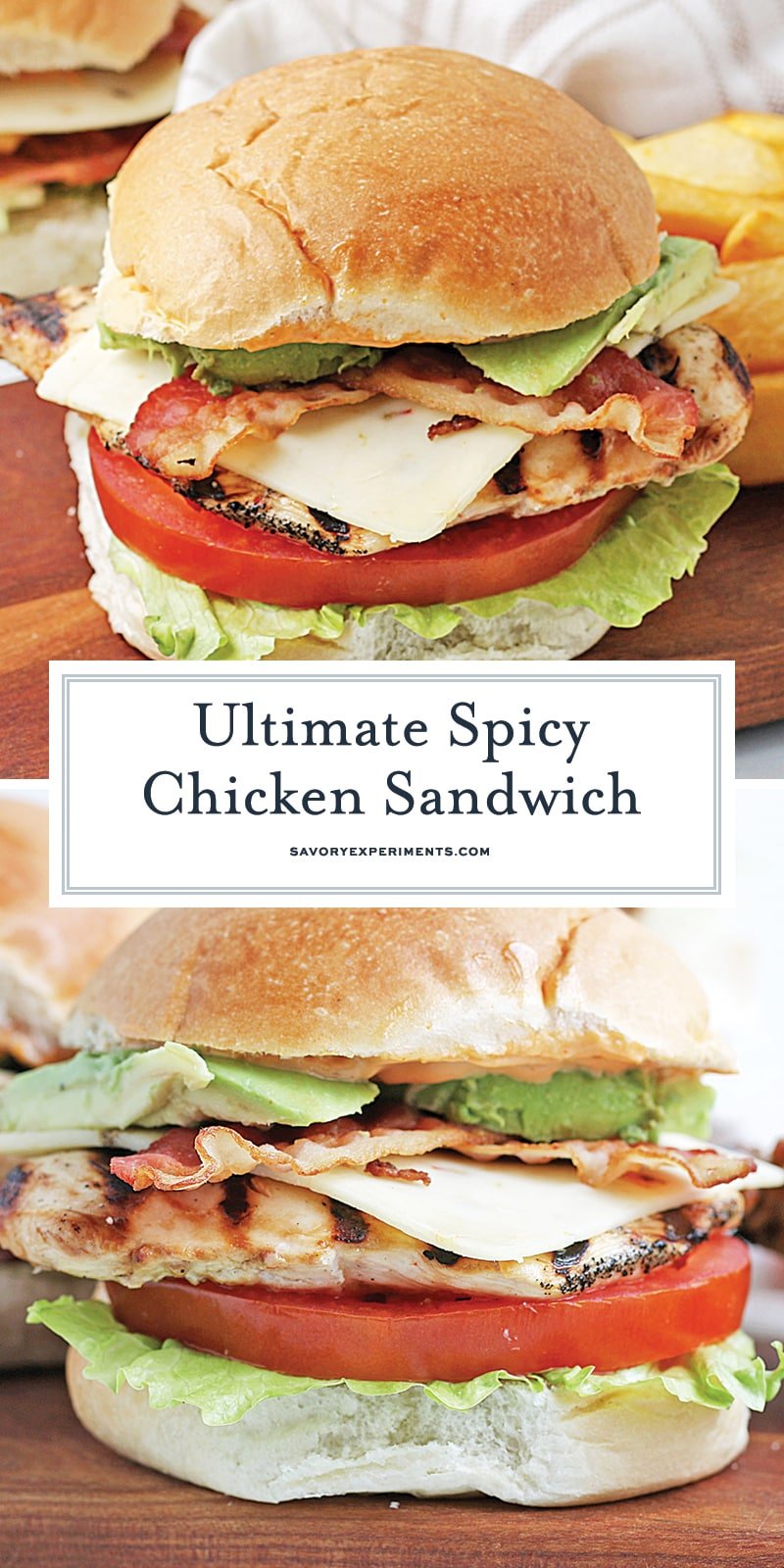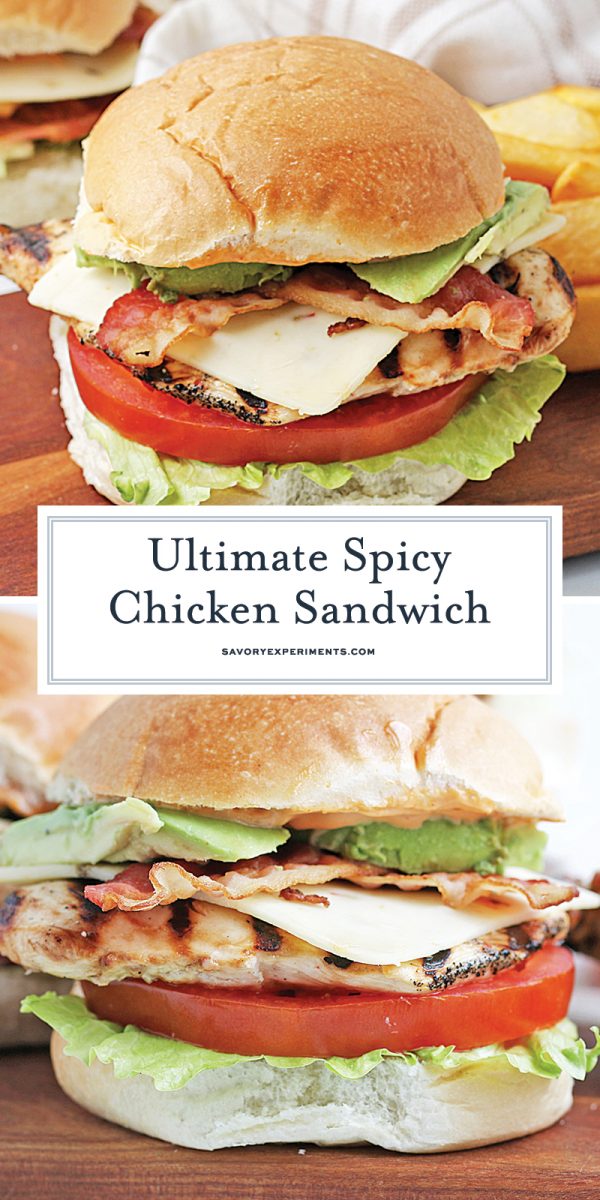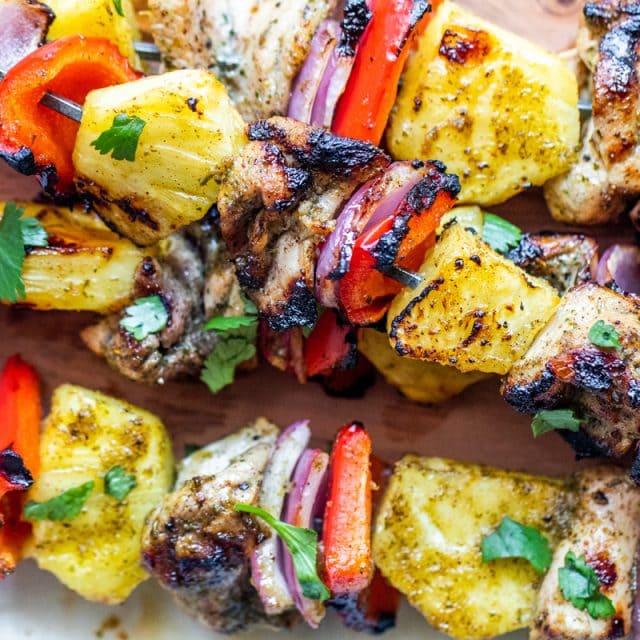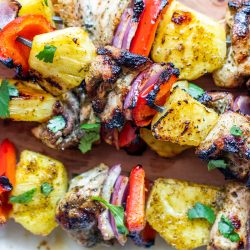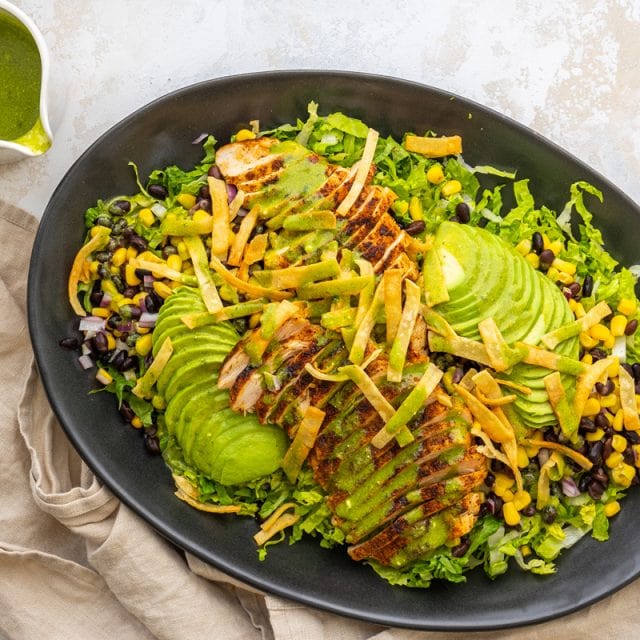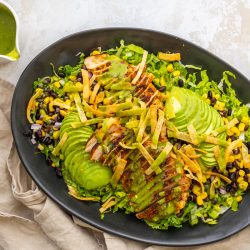 Southwest Chicken Salad
This Southwest Chicken Salad is a delicious salad made with seasoned chicken breast and bold flavors of the southwest. It's paired with a cilantro lime dressing and tortilla strips for added crunch!
See The Recipe!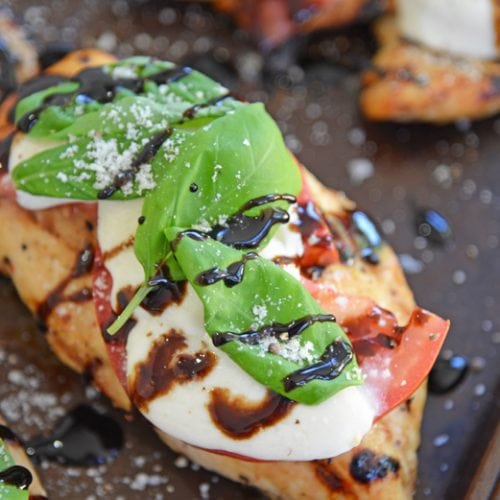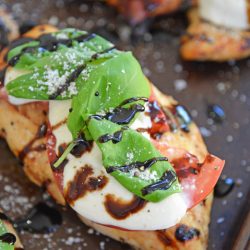 Chicken Caprese Recipe
This Caprese Chicken is sure to be one of your favorite grilled or baked chicken recipes. Juicy & delicious, it comes together with only 6 ingredients!
See The Recipe!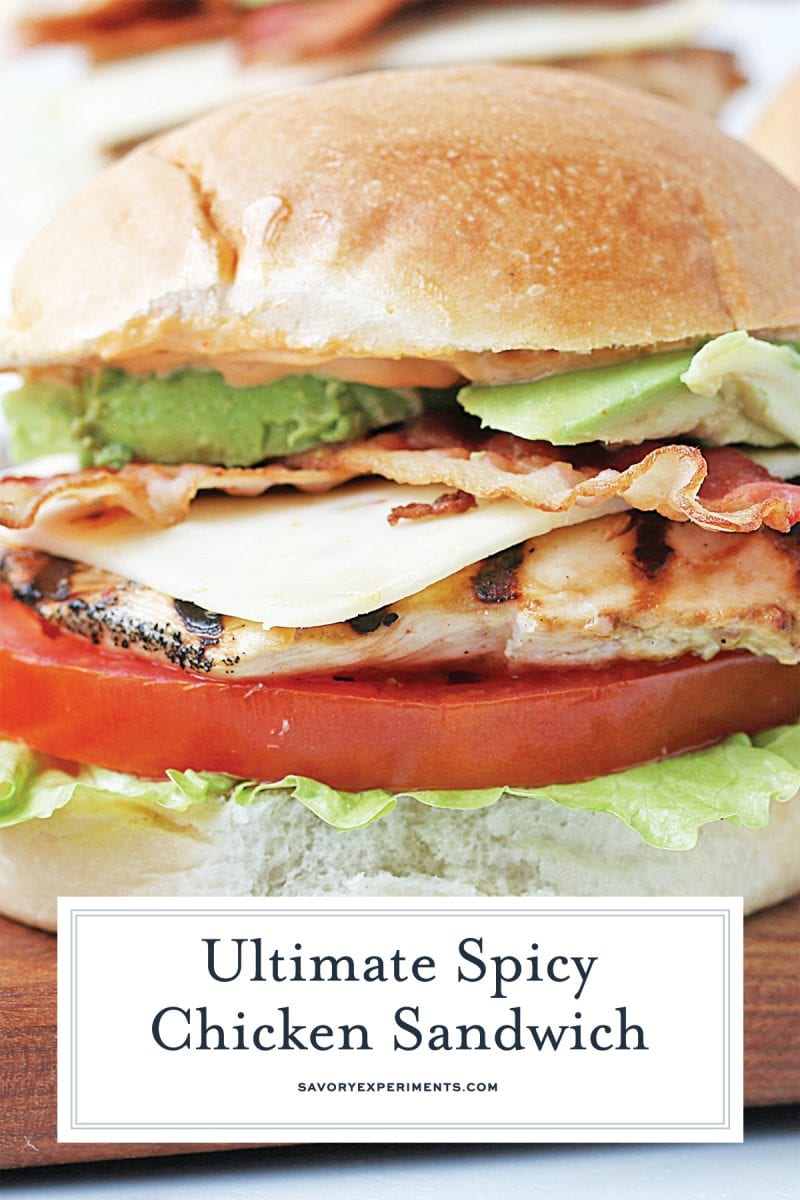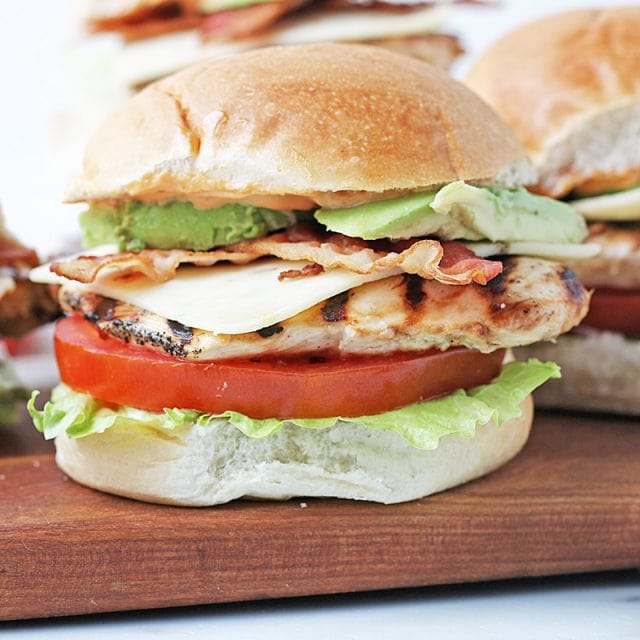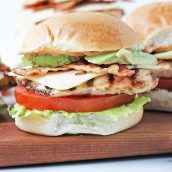 Spicy Chicken Sandwich
This is the best Spicy Chicken Sandwich you will ever taste! Piled high with bacon, cool avocado, spicy chipotle aioli, pepper jack cheese and crisp lettuce.
Instructions
Tenderize (or pierce) chicken breasts to make a uniform thickness. If you have 2 large pieces, cut in halves to make 4.

Place chicken in an airtight baggie with Italian dressing, marinating for a minimum of 1 hour, but up to overnight.

Heat the grill to medium-high heat, about 350°F. Spray or oil the grates to reduce sticking.

Cook chicken on each side for 7-8 minutes. Close the lid in between turning to ensure even cooking. Check to make sure chicken registrars at 160°F.

Remove and allow chicken to rest for 5 minutes, at which point carry over cooking should allow the temperature to come up to 165°F.

Spread chipotle aioli sauce on one side of the sandwich roll. On each roll place a leaf of lettuce, slice of tomato, chicken, 2 slices of bacon, 1 slice of pepper jack cheese, three slices of avocado. Top with other half of roll.

If you've tried this recipe, come back and let us know how it was in the comments or ratings!
Notes
Chicken sizes should be about the size to fit a large bun. Depending on the the size, this might mean two large butterflied or 4 small pieces. Use your best judgement.
Nutrition
Calories:
745
kcal
,
Carbohydrates:
40
g
,
Protein:
42
g
,
Fat:
45
g
,
Saturated Fat:
13
g
,
Trans Fat:
1
g
,
Cholesterol:
125
mg
,
Sodium:
1127
mg
,
Potassium:
915
mg
,
Fiber:
5
g
,
Sugar:
4
g
,
Vitamin A:
555
IU
,
Vitamin C:
10
mg
,
Calcium:
231
mg
,
Iron:
3
mg