Make this Sweet and Sour Chicken recipe and treat your family to crispy pan-fried chicken coated with a quick sweet and sour sauce made with pantry staples.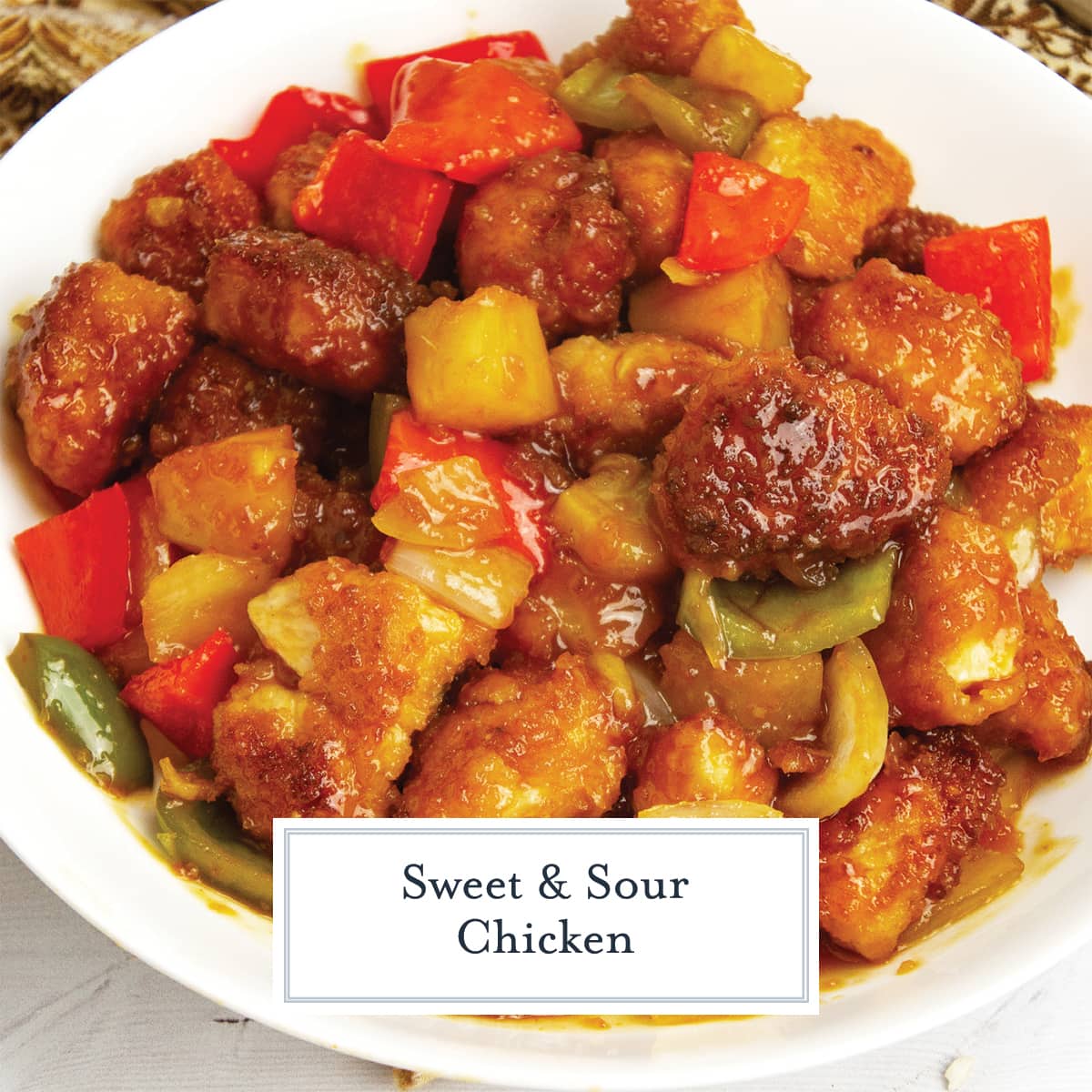 Is my family the only one that has a 30 minute debate about what to order on Chinese takeout, then ends up ordering way too much anyway? 
Our menu regulars are sweet and sour chicken and orange chicken. It's always coated in this sticky sauce that balances tangy sourness with a delectable sweetness. There never seems to be enough leftovers to make all of us happy, so it felt like the right time to whip up a homemade version.
This sweet and sour chicken recipe captures everything you love about restaurant takeout, wrapped up in a cheaper, make more for less, package.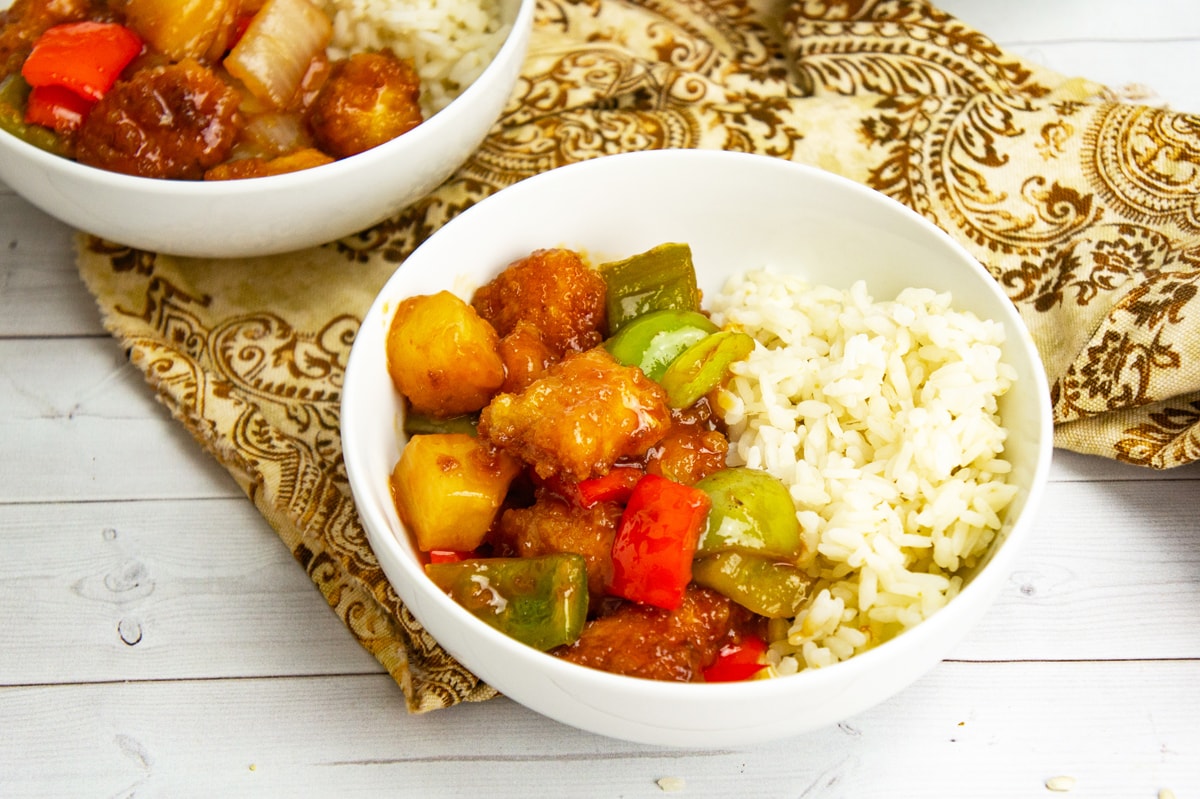 Ingredients for Sweet and Sour Chicken
One of the most surprising things most home cooks discover when they make homemade chinese take out recipes, is just how little the ingredients have to do with Chinese food. Ketchup and pineapple juice? Huh?
Truthfully, a lot of what Americans think of as Chinese food has little to do with authentic Chinese cooking. It's a style of food that was born of Chinese immigrants developing familiar dishes using American ingredients available to them.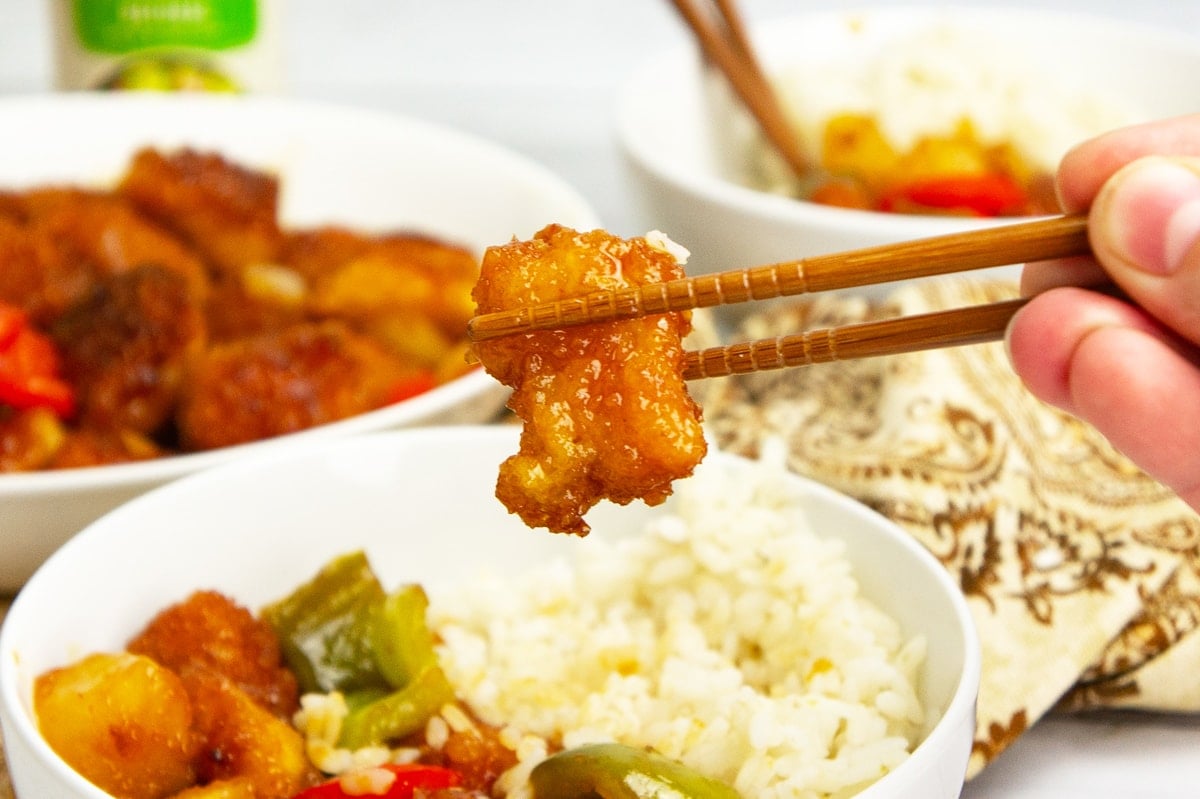 And lucky us! This sweet and sour chicken uses common pantry ingredients that are widely available to all of us at any mainstream grocery store. You'll need:
Cornstarch
Egg
Panko Breadcrumbs
Chicken
Pineapple chunks in 100% juice
Brown sugar
Soy Sauce
Rice Wine Vinegar
Ketchup
Red and Green Bell Peppers
Onion
Garlic
Oil
Sesame seeds, optional
One ingredient you definitely won't find on this ingredient list is food dye. That iconic pink color we associate with sweet and sour chicken comes from artificial coloring. It's unnecessary, and doesn't do anything for the overall flavor, so we're skipping it.
I also recommend getting creative with your veggie add-ins. I went traditional with a blend of red and green sweet peppers and I love the flavor they add to the sauce. But adding in some leftover steamed broccoli or grated carrot is a great way to add some extra veggie punch to dinner.
Pro Tip: Both chicken breast and chicken thighs work beautifully here. To save yourself time in the butchery, go for boneless and skinless chicken, then proceed with the recipe as usual.
How to Make Sweet and Sour Chicken
As with many things, once you learn how to make this homemade chinese takeout recipe, you'll be surprised at just how easy it is to make. No wok or special equipment needed, just a few prep bowls, some oil for frying, and a large saute pan.
The first and most tedious of steps, if there is one, is breading the chicken. Most sweet and sour chicken I've had is fried in a batter or breading and was at one point crispy, at least before being shoved in a tiny white box to steam.
For this particular recipe, I opted for breading the chicken pieces in a cornstarch, egg, breadcrumb combo. This gave me the optimal crispiness in the chicken, even after I tossed it with warm sauce and peppers.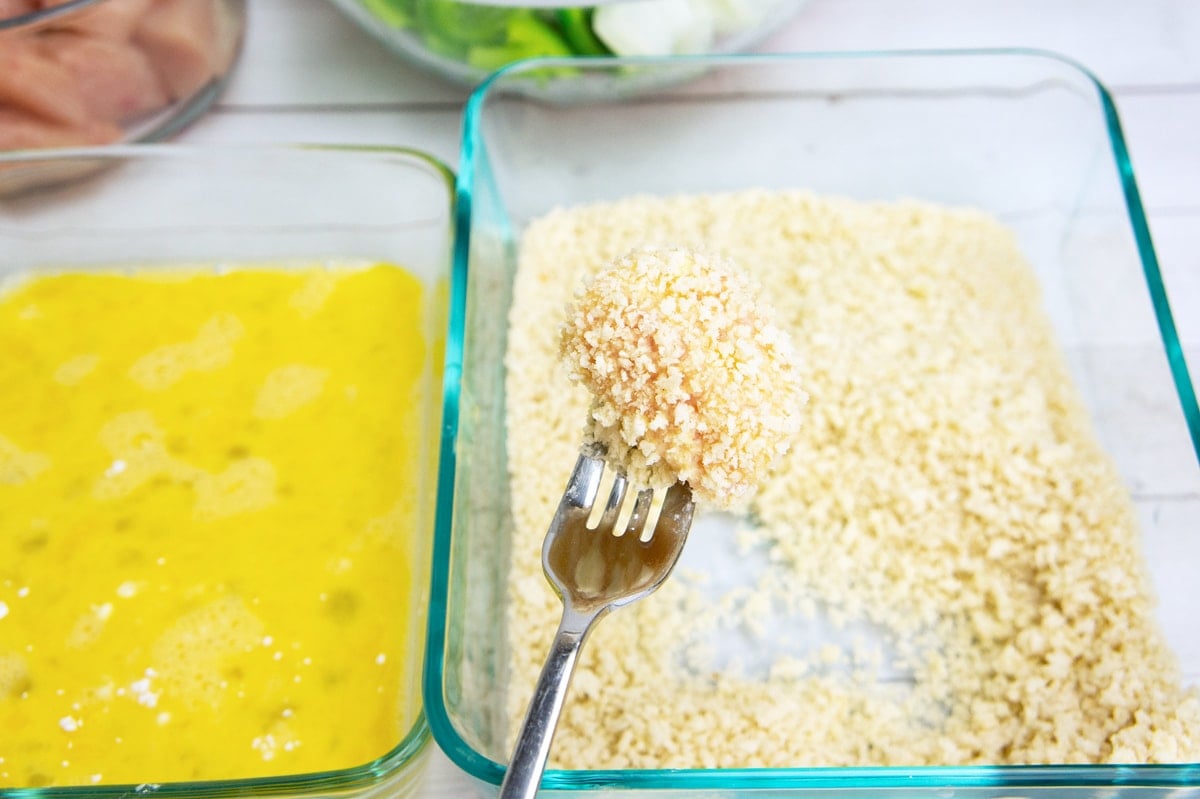 It's a three-part, standard breading process of cornstarch to absorb extra moisture, egg to bind, and breadcrumbs to seal in the chicken and give you that crunch.
Once the chicken is breaded and fried, the rest of the recipe comes together easily. Simply saute your peppers, onions, pineapple, and garlic, then toss all of it with the sauce until it's nice and thick. Coat the chicken in the sauce with everything else, and serve with a big plate of steamed rice.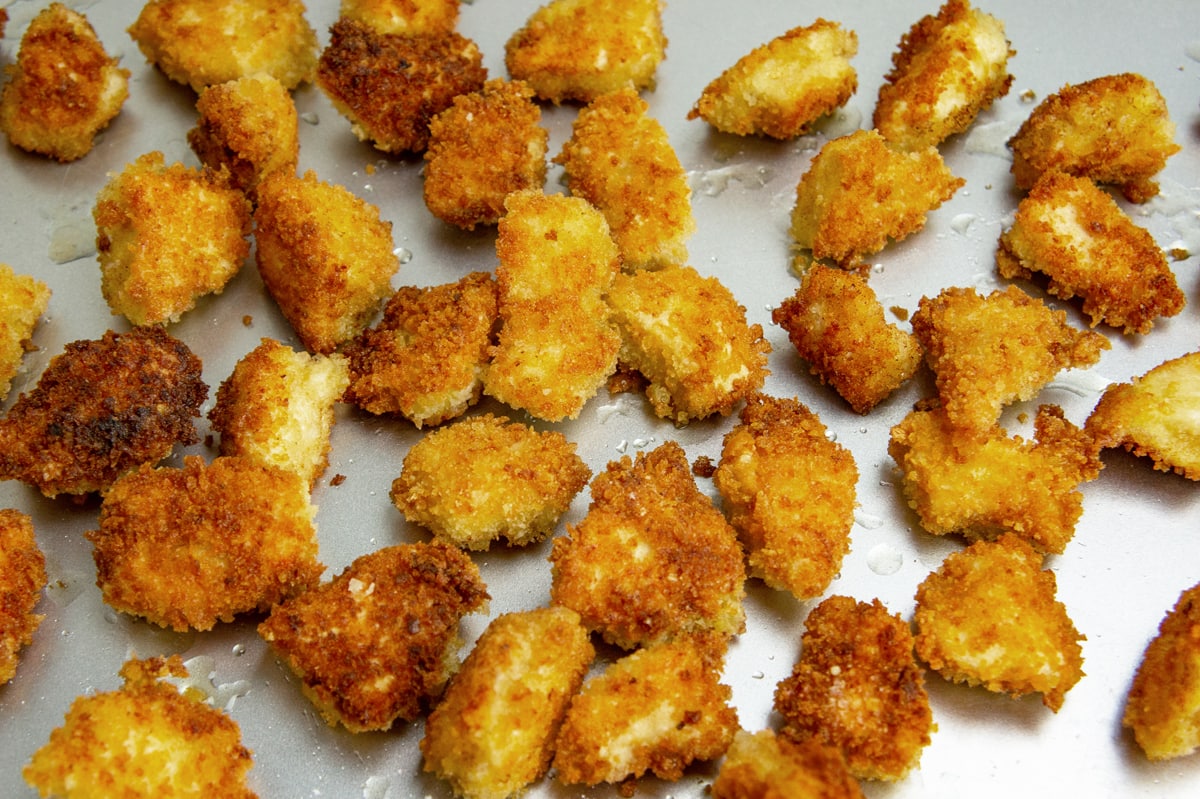 Tips for Perfect Sweet and Sour Chicken
Your chicken should be about halfway submerged in hot oil while frying for best crunch and quick, consistent cook times.
Don't overcrowd the pan when cooking your chicken. Fry in two batches if needed.
Drain off all but two tablespoons of oil and wipe out excess breadcrumbs from the saute pan after you cook your chicken.
Let the pepper and onions saute until the onions begin to lightly caramelize on the edges before you add the pineapple.
Let the pineapple and garlic saute for only 30 seconds or so before adding the sauce.
To ensure your sauce comes together quickly in the pan, mix all the ingredients together in a measuring cup before pouring it over the pepper pineapple mixture.
Let the sauce thicken slightly in the pan. This will happen as the sugars simmer, then add the chicken and toss quickly to coat.
Pro Tip: Not a fan of breadcrumbs? Swap them for all-purpose flour, or choose to go with naked seared chicken and skip the breading entirely.
Freezing and Storage
While I can't help you with those iconic takeout boxes, you can keep homemade sweet and sour chicken just as you would the restaurant version.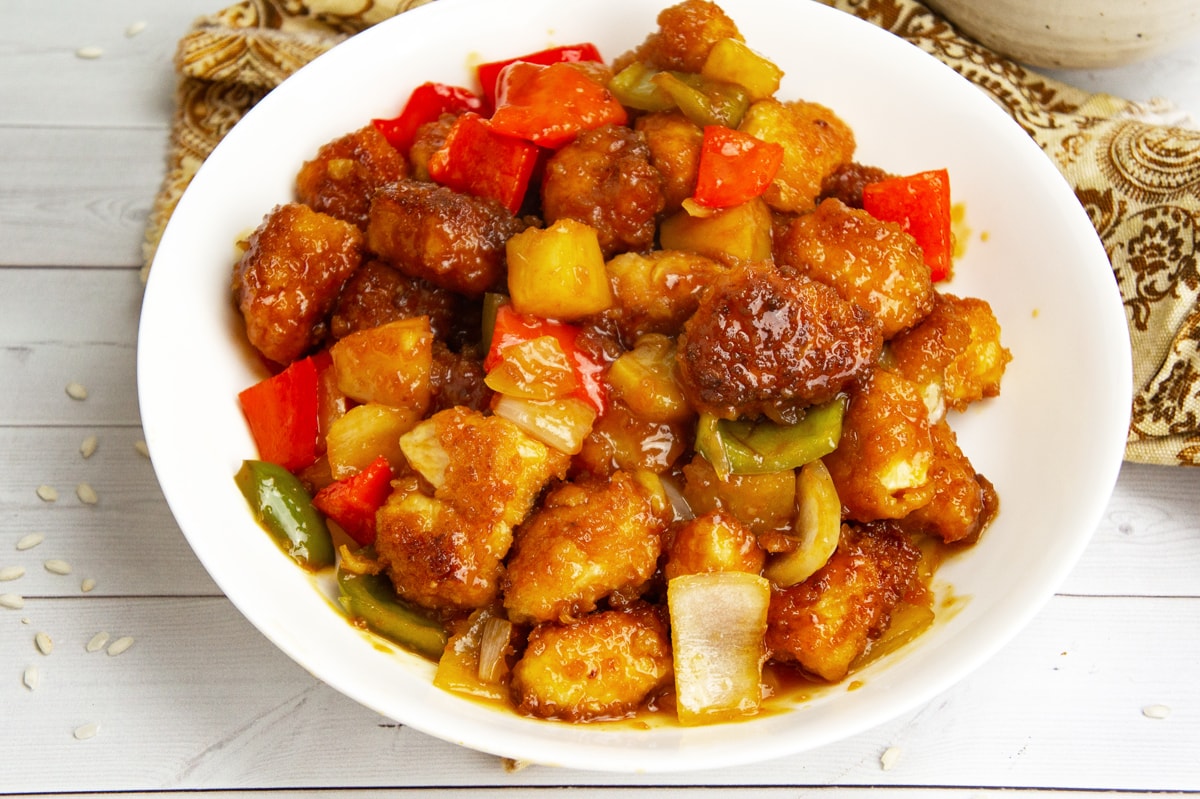 The best way I've found to reheat it, is in a saute pan on the stove. While I wish I had the magical powers to return the crisp to your chicken, it's just not part of the deal when you have such a delicious sauce! All the same, it's absolutely a yummy lunch the next day.
If you're after a freezer meal, there is a way to work this for you. A recipe like this one works best when frozen in pieces. First bread and freeze your chicken on a sheet pan, uncooked. Then freeze the peppers and the sauce in separate containers.
When you're ready to cook it, first pan fry your chicken from frozen until crispy. Drain off the oil, then add your peppers and sauce to the pan. They'll thaw and cook together. Then simply add that chicken back in.
Who knew sweet and sour chicken was about to become a homemade tradition in your house! It's so easy, incredibly delicious, and a real crowd pleaser. I hope you enjoy it, and while you're here, don't forget to check out these other fabulous recipes!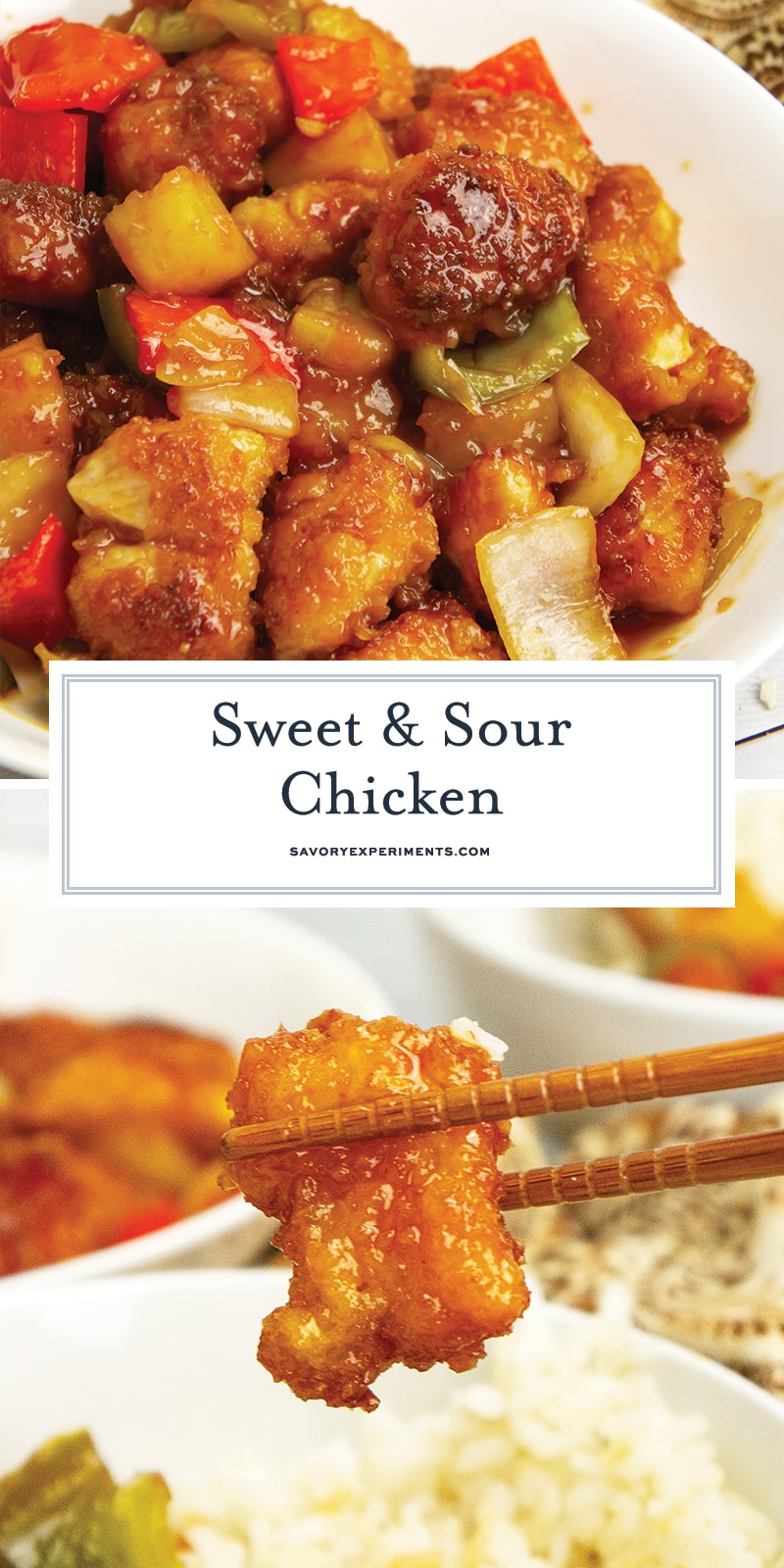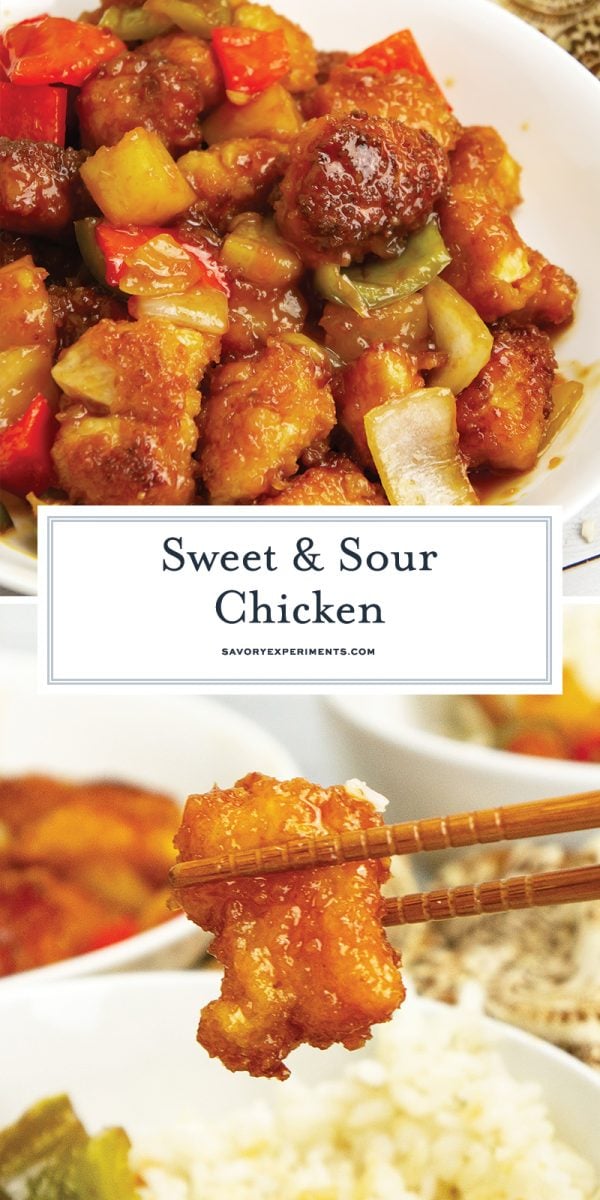 More easy chicken recipes: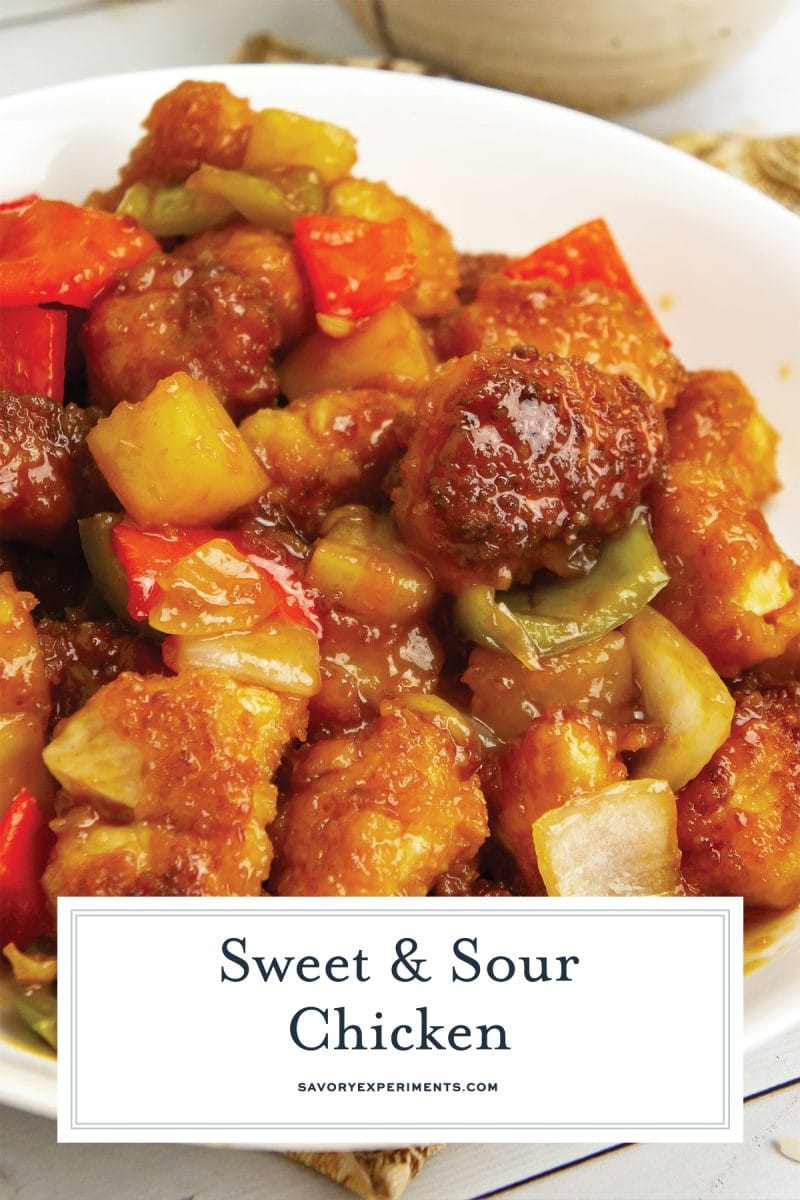 CONNECT WITH SAVORY EXPERIMENTS!

Be sure to follow me on social media, so you never miss a post!

Facebook | Twitter | Youtube
Pinterest | Instagram

Get our FREE 8 Day E-Course on How to Be a Better Home Cook. Sign up HERE!