This post is sponsored by BlueStar, all thoughts and opinions are my own.
I'm a busy mom, but I am also a total foodie and always on the prowl for new dishes that taste like I jumped through all of the culinary hoops, but in reality, only took a fraction of the time. Baked Chicken Thighs are one of my secret weapons.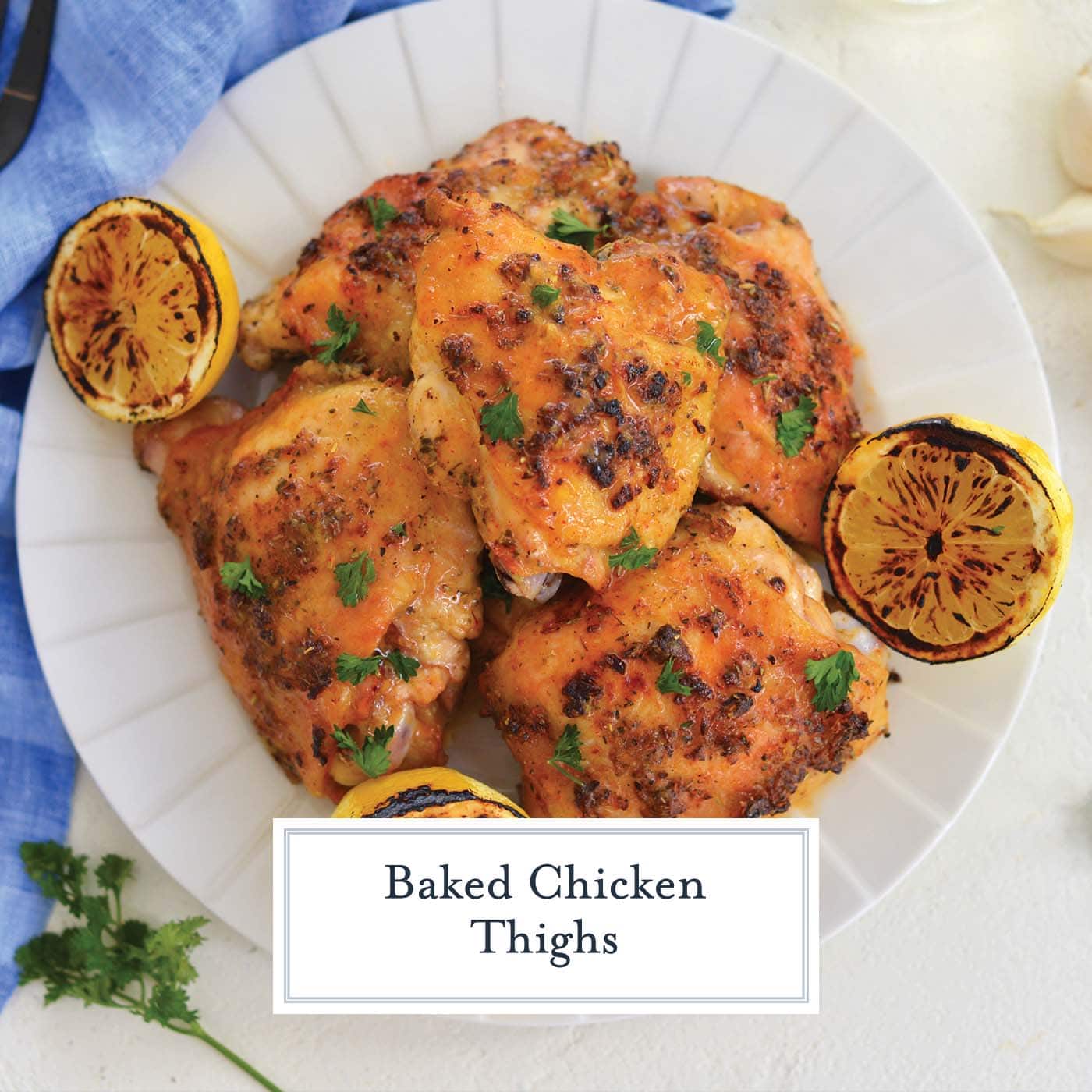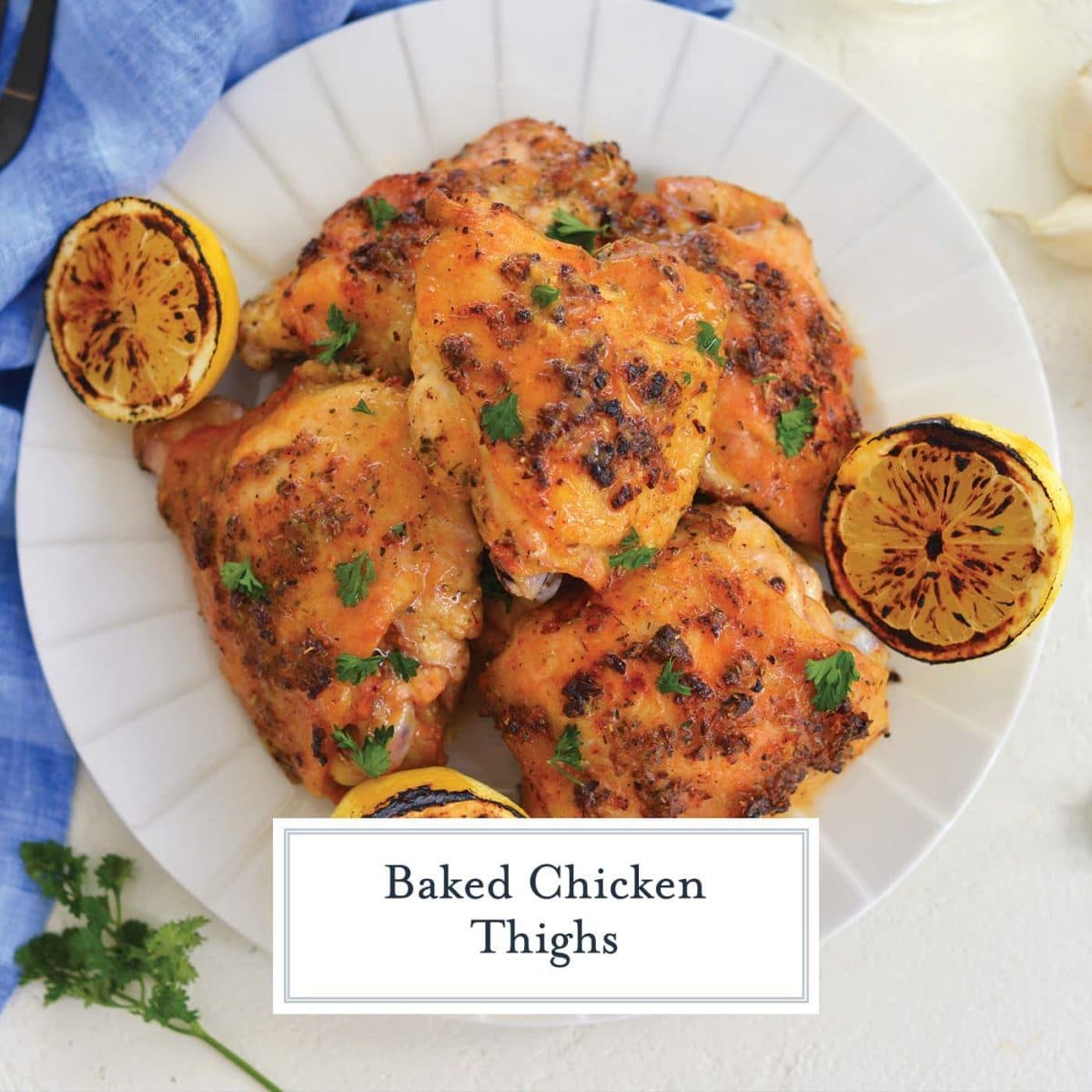 Oh how you'll love these Crispy Baked Chicken Thighs
They are crispy and flavorful but skip the traditional step of browning before going in the oven or pan-frying. Using a season-packed paste and raised cooking method, these are about to be your new go-to main dish.
Juicy chicken with a garlicky, citrus paste and a buttery baste right at the end. Easy enough for a weeknight meal, but sophisticated enough in flavor to be a dinner party go-to.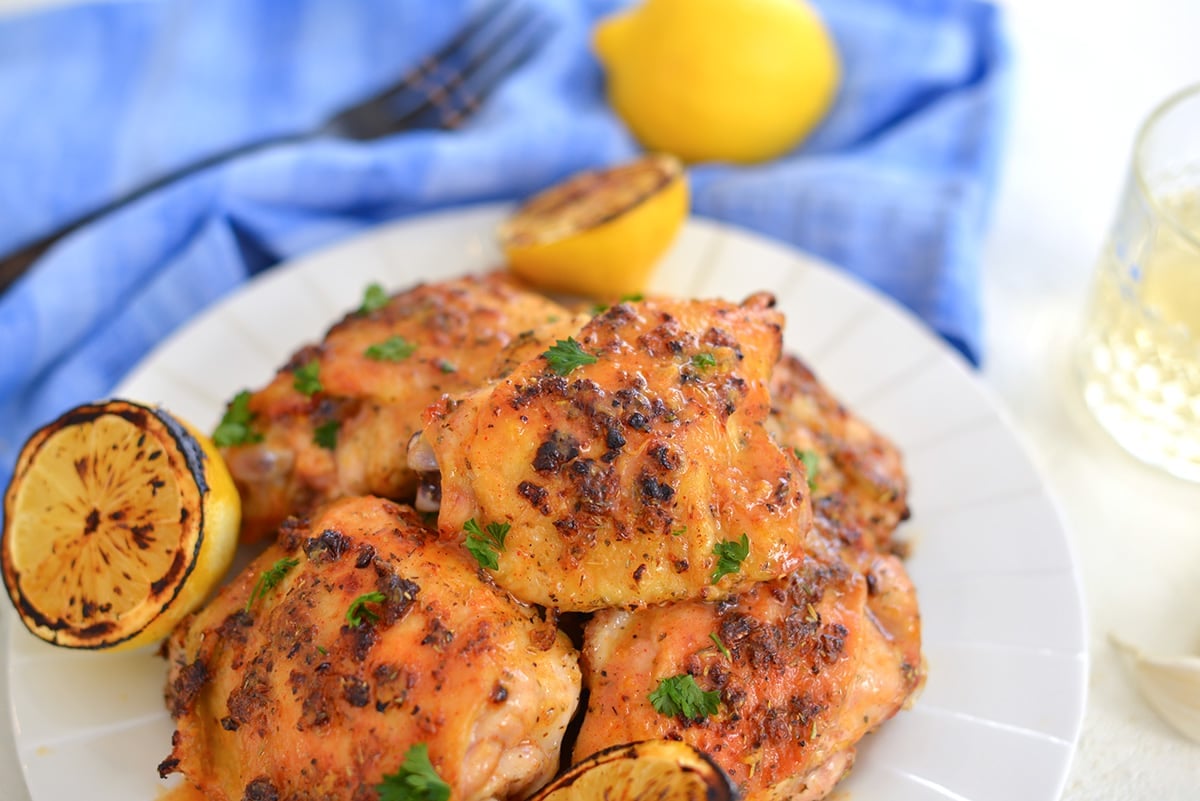 My Beautiful Blue BlueStar
As you know, we recently remodeled our kitchen. While it proved to be one of the most stressful things we've done, it was also the most rewarding. The centerpiece of the room is my BlueStar Range, custom-designed by me!
I lamented for days about the shade of blue (yes, my range is BLUE!), the trim, the burner configuration, grill versus griddle. This was my dream range and I wasn't going to make these choices lightly. On the day it was installed, I cried tears of joy, and I am not ashamed to say that.
Then a funny thing happened, it was finally in my kitchen and I didn't want to cook on it. It was so pretty sitting there all clean in my new, white kitchen. About 2 weeks later I got over that and started to experiment with all of the features that I swear I'll never be able to live without again. These crispy baked chicken thighs were one of my creations.
Method
This chicken thigh recipe hinges on even, high heat. I think everyone has had an experience with an oven that was a little, well temperamental. Hot spots, cold spots and the need to figure out a custom rotation system to get good results. Set the baking sheet on exactly 3 metal trivets on the left side at 90°… okay maybe that is an exaggeration, but you get my point.
All of that disappeared from my life with my BlueStar. I hear the WHOOSH of the oven heating and moments later it is fully preheated… evenly.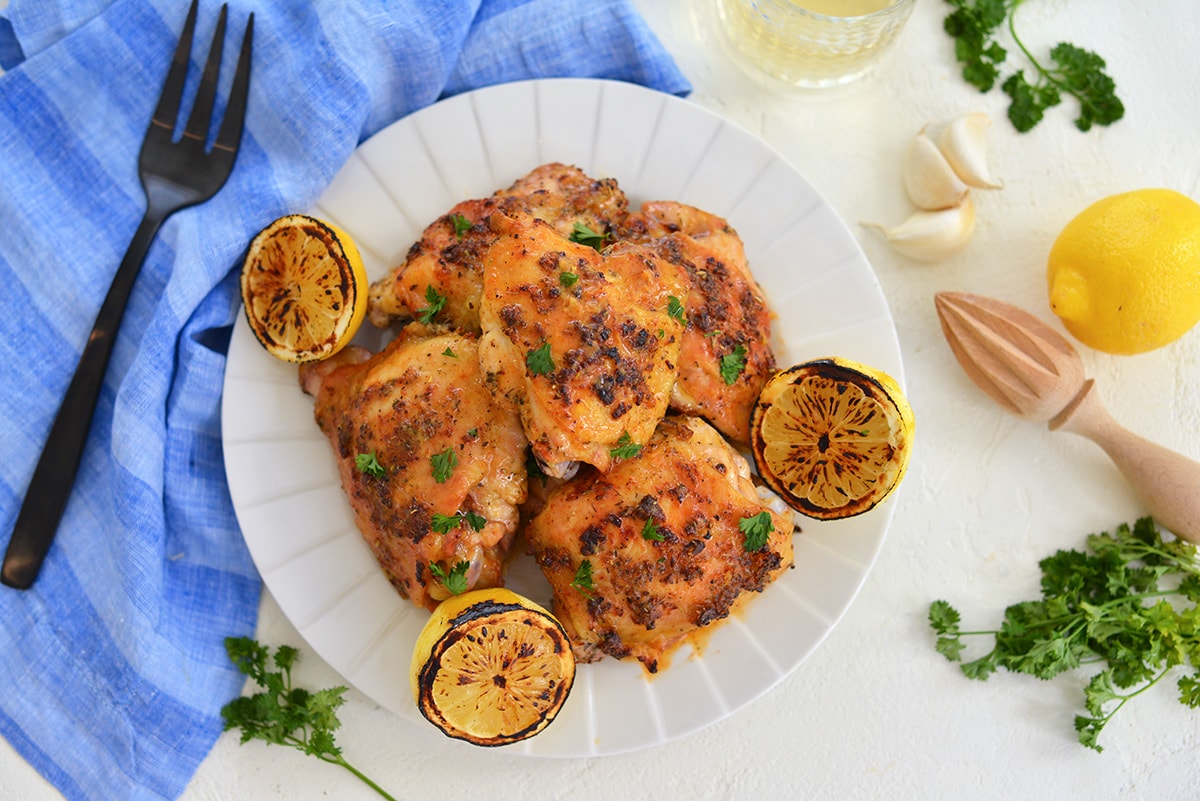 And lastly, the broiler. The broiler is a plate of solid heat instead of coils, which only provide direct heat exactly where the coils are. With my 1850° infrared broiler, high heat is equally given to everything in its path. And fast. I confess that the first time I tried to toast bread, I burned it. But it's perfect for these baked chicken thighs.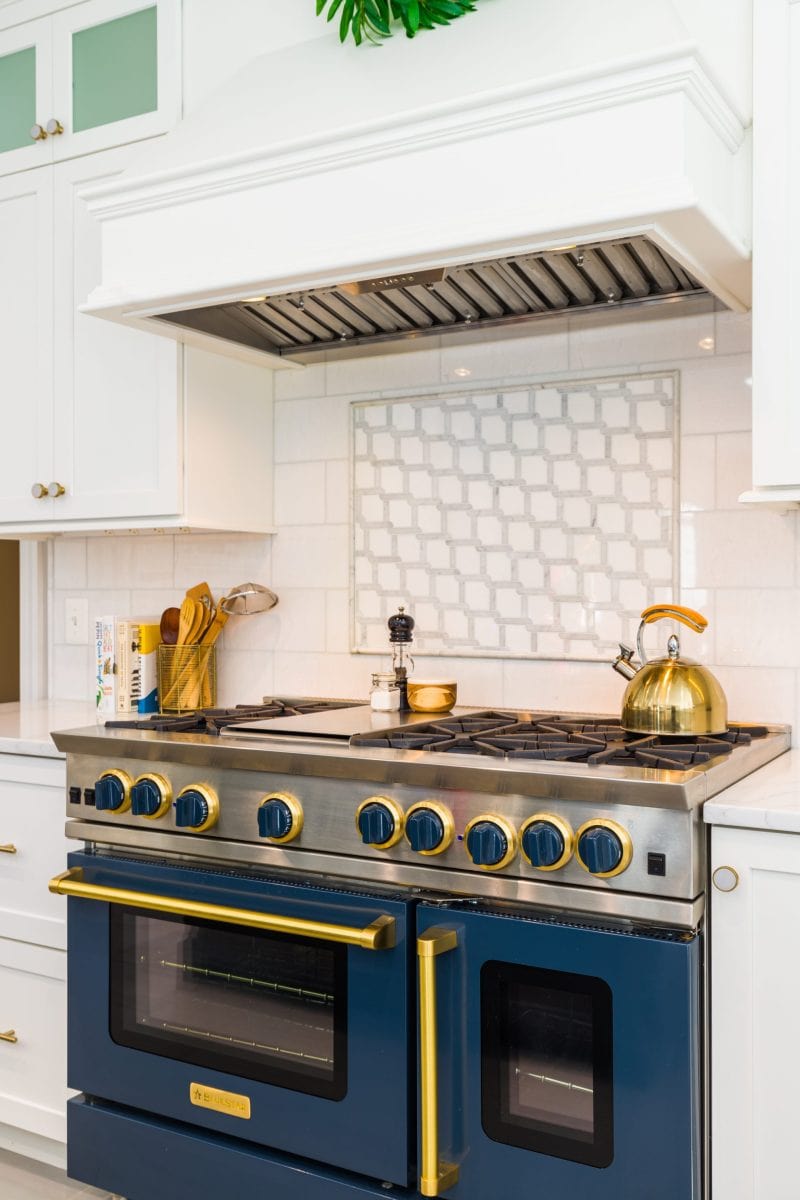 Why you'll love this Chicken Thighs Bake Recipe
This simple chicken recipe is a great way to get dinner on the table in a snap. Here are a few reasons why we love it.
So much flavor – Flavorful chicken with juicy meat and crisp skin, these crispy chicken thighs couldn't be more flavorful and delicious.
Easy to make – With only 15 minutes of prep, you can have this simple recipe on the dinner table in just over an hour.
Loved by all – With it's simple yet delicious flavors, this great recipe is perfect for even the pickiest of eaters.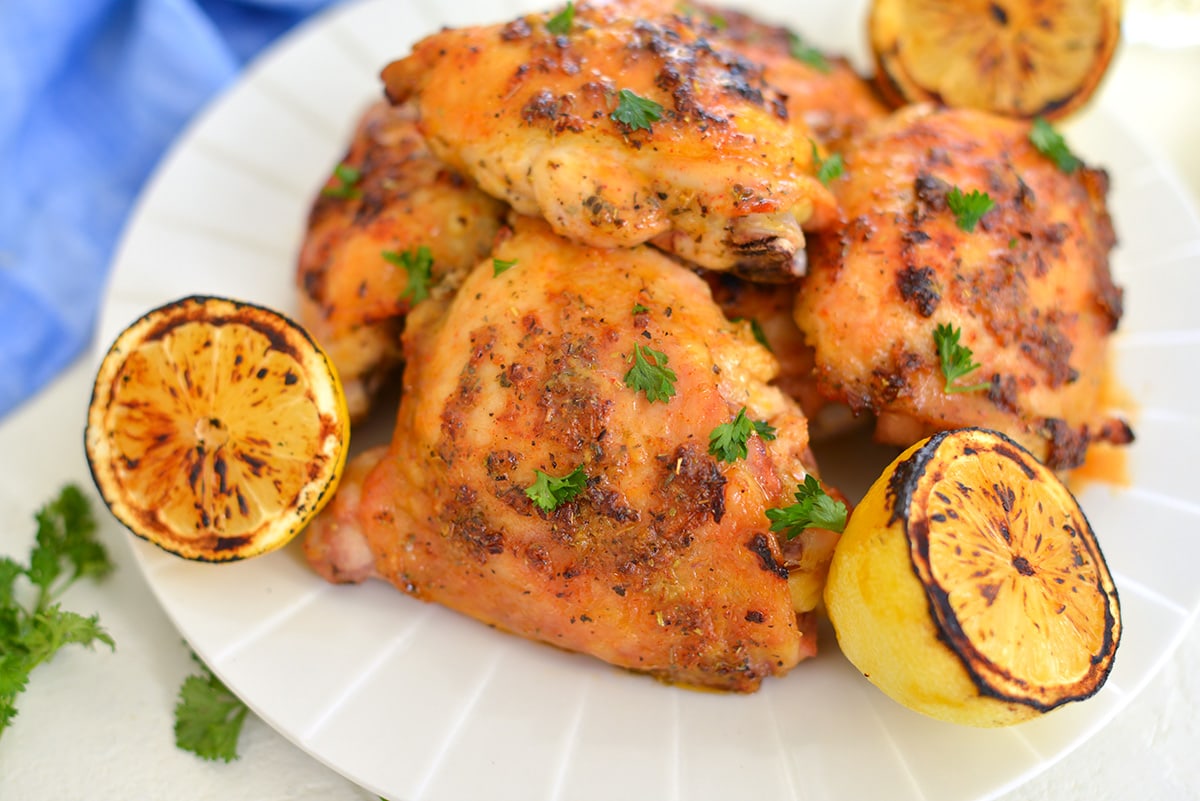 Oven Baked Chicken Thighs Recipe ingredients
An easy ingredient list, these commonly used simple ingredients can also be used to make Saffron Risotto as a side dish. All easily found at your local grocery store if you don't already have them.
Chicken thighs– For this recipe, I prefer bone-in chicken thighs, but this recipe can be used on boneless chicken thighs or even chicken drumsticks or chicken breasts.
Extra-virgin olive oil – Any neutral oil with a high smoke point will work.
Fresh garlic- Do yourself a favor and skip the pre-minced stuff that has virtually no garlic flavor. Grating the garlic produces the most pungent garlic flavors and because it's so small it allows that pop to spread over every bite.
White onion- Mince as fine as you can muster. And if patience is not in your day, throw it in a mini food processor and give it a few pulses.
Italian seasoning- I always keep a few homemade spice blends on hand, this is one of them. It's the best way to season these easy baked chicken thighs.
Lemon zest– Used in the rub and baste, zest gives the purest lemon essence.
Salt & Pepper- Use coarse sea salt and freshly ground black pepper. If using fine sea salt, reduce the amount by half.
Unsalted Butter- I like using unsalted so I can control the saltiness. If you use salted, reduce the salt in the paste by half.
Smoked Paprika– Provides a nice hue, but also an undertone of smokiness. Sweet paprika works too. Either will give flavor, but not be spicy or overpowering, making these appealing to a range of palates.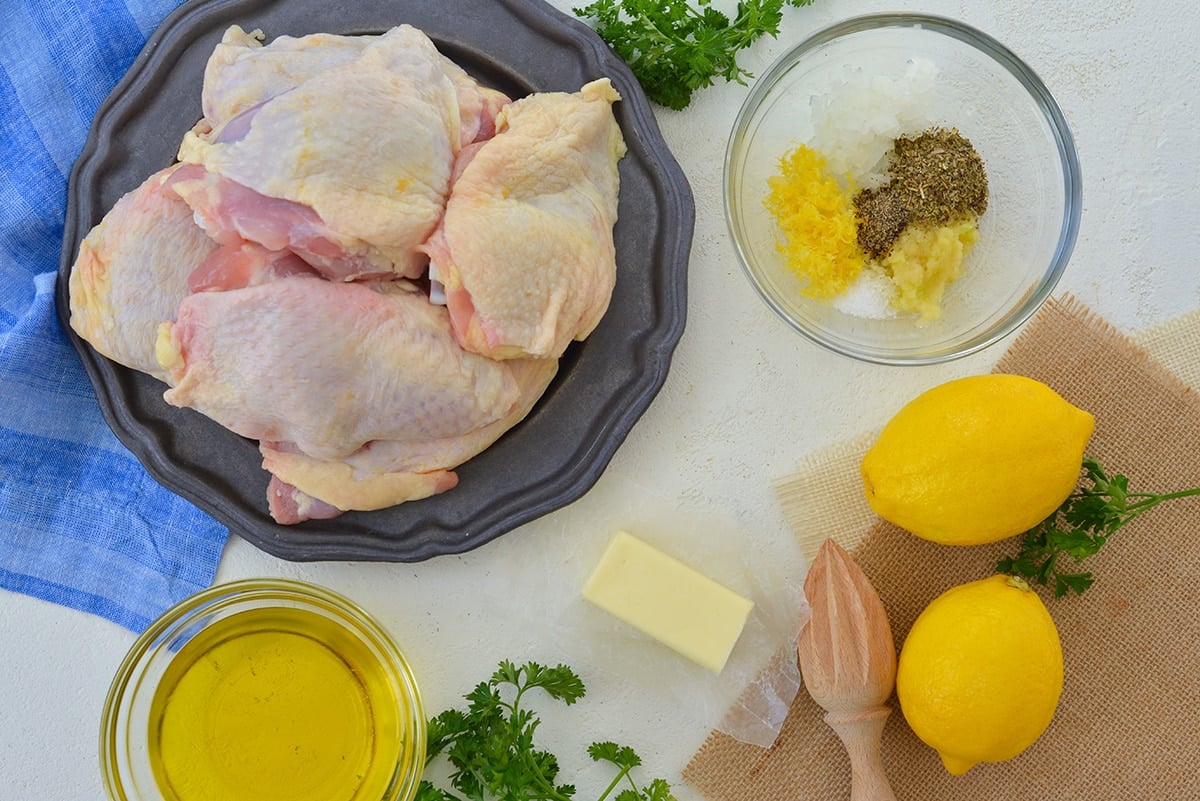 How to bake Chicken Thighs in the Oven
Making these is easy using my four simple steps: a tasty paste, elevate the chicken and baste with compound butter before serving.
Paste– The paste is key because this flavors the chicken without having to marinate it for hours. I'm busy, so sometimes I don't even think about the dinner menu until an hour before we need to eat. No flavor is sacrificed using this blend made with olive oil, lemon zest, garlic, onion, Italian seasoning, salt and pepper.
Elevation– Use either a broiler pan with an elevated grate or a wire rack over a rimmed baking sheet. This allows the high temperatures to circulate around the meat resulting in even cooking without having to flip and any juices pooling and prevent crisping.
Broil– We are all aiming for crispy skin and since there isn't a step for browning on the stovetop, instead they get a nice char under the broiler.
Baste- I love the flavor of butter, but with a smoke point of 350°F, it would burn under this high temperature. Instead, I whip up a quick compound butter baste and slather at the end before serving. For best results, make sure to check the internal temperature of chicken with a meat thermometer.
How long to bake chicken thighs
Bake bone-in, skin-on chicken thighs at 400°F for 35-40 minutes. If using boneless, skinless chicken thighs, it will take around 25-30 minutes at the same temperature. Always ensure the internal temperature reaches 165°F.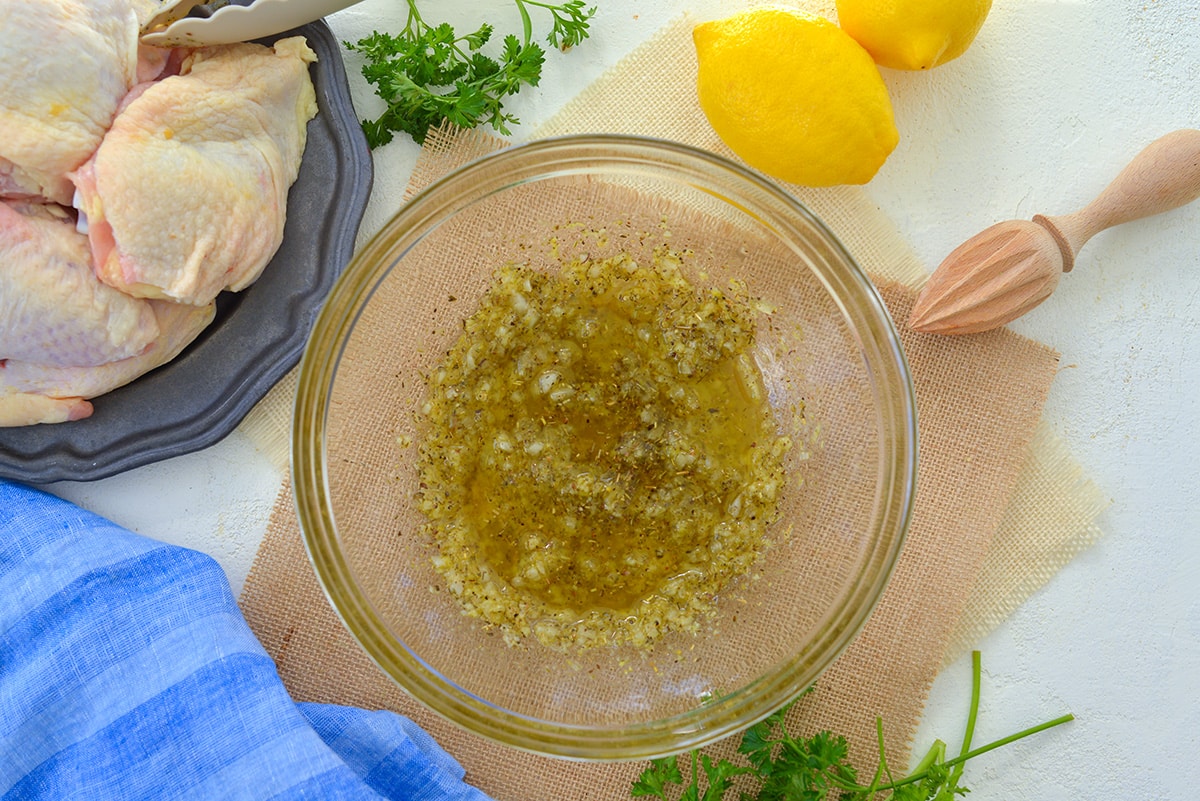 What to serve with Baked Chicken Thighs in Oven
These juicy chicken thighs can be served with practically anything, but these oven roasted carrots with ricotta topping are one of my favorites, as are my garlic parmesan broccolini and classic baked potato.
Serve these oven baked chicken thighs with your favorite side dishes. Green beans, sweet potatoes or any other veggie would be delicious. You also can't go wrong with a leafy green salad or cheesy garlic bread sticks.
Baked Chicken Thigh Recipe storage and freezing
Storage: Baked Chicken Thighs can be stored in an airtight container in the refrigerator for up to 5 days. Reheat in the oven at 350°F for 10 minutes or in the microwave.
Freezing: You can freeze cooked thighs, simply thaw in the fridge and reheat.
Oven Baked Chicken Thighs FAQs
Should I cover my chicken thighs when baking?
Whether you should cover your chicken thighs while baking depends on if you like them crispy or not and how fast you want them to cook.
Crispy Skin: If you want crispy skin on your chicken thighs, do not cover them during baking. This allows the skin to become brown and crispy.
Moisture and Tenderness: If you prefer your chicken thighs to be more moist and tender, you can cover them with foil or a lid while baking. This helps retain moisture and prevents the chicken from drying out. This can also take a little longer to cook.
Is 400 too high to bake chicken?
Nope! Chicken thighs can be cooked faster at 400°F. I do not recommend going above 400.
Do you put chicken thighs skin side up or down?
Skin-on chicken thighs are best cooked skin-side up.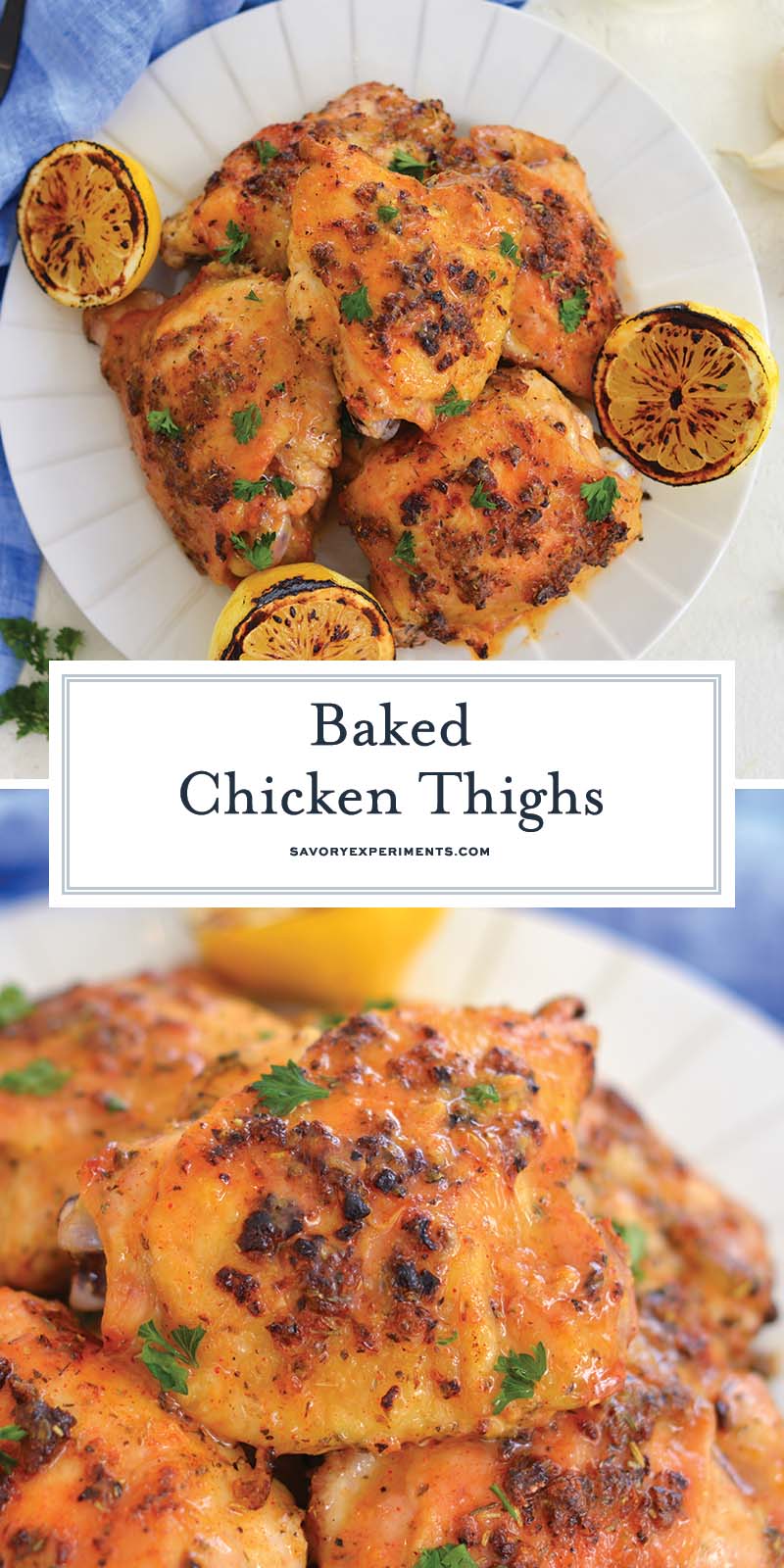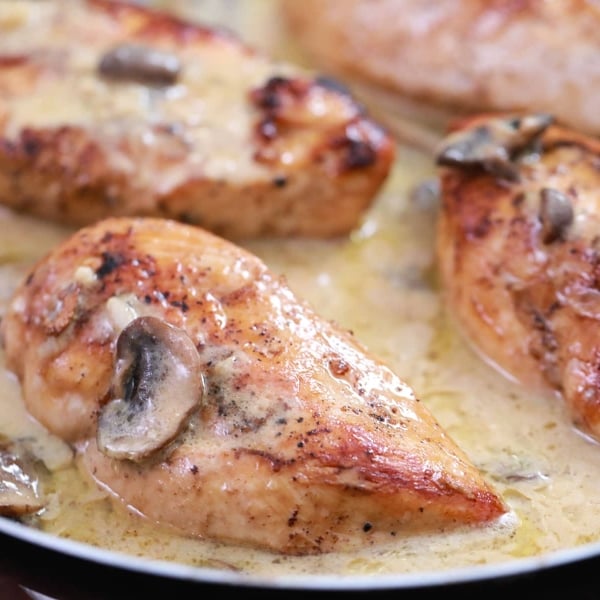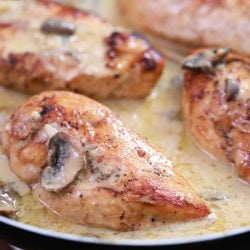 Chicken Marsala Recipe
This Chicken Marsala recipe is made in 1 pan in less than 30 minutes! Whip up this EASY dish with a rich creamy mushroom sauce on top of juicy chicken.
See The Recipe!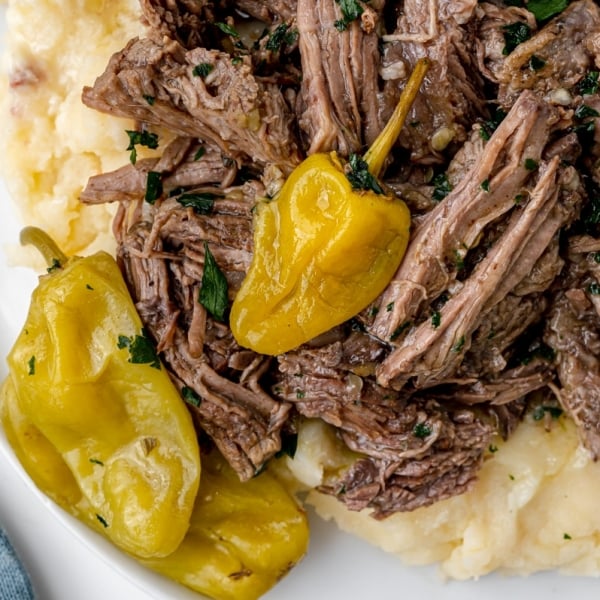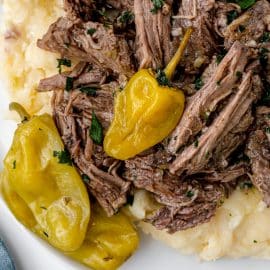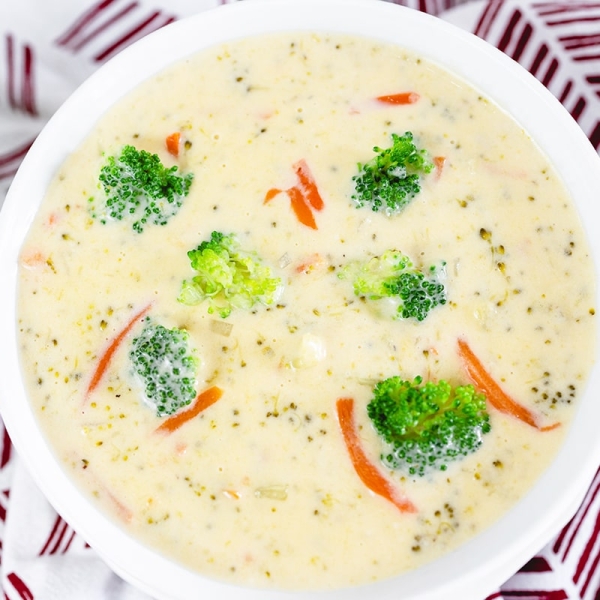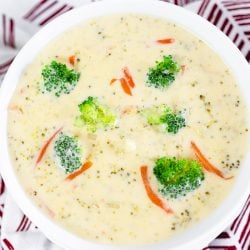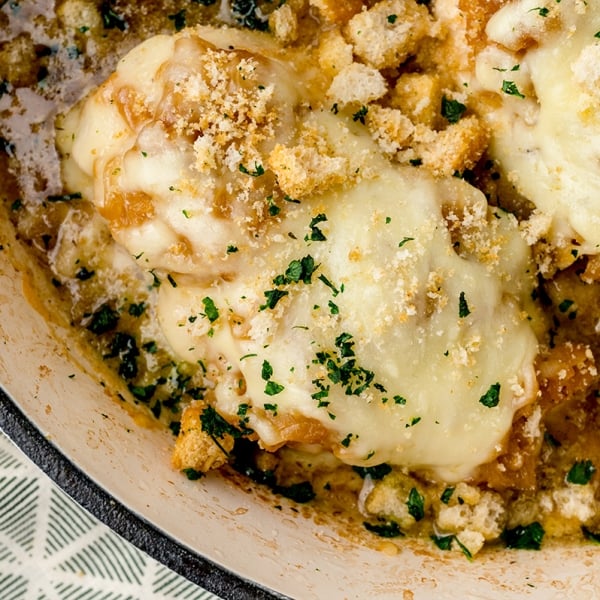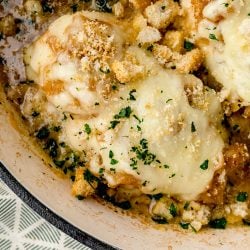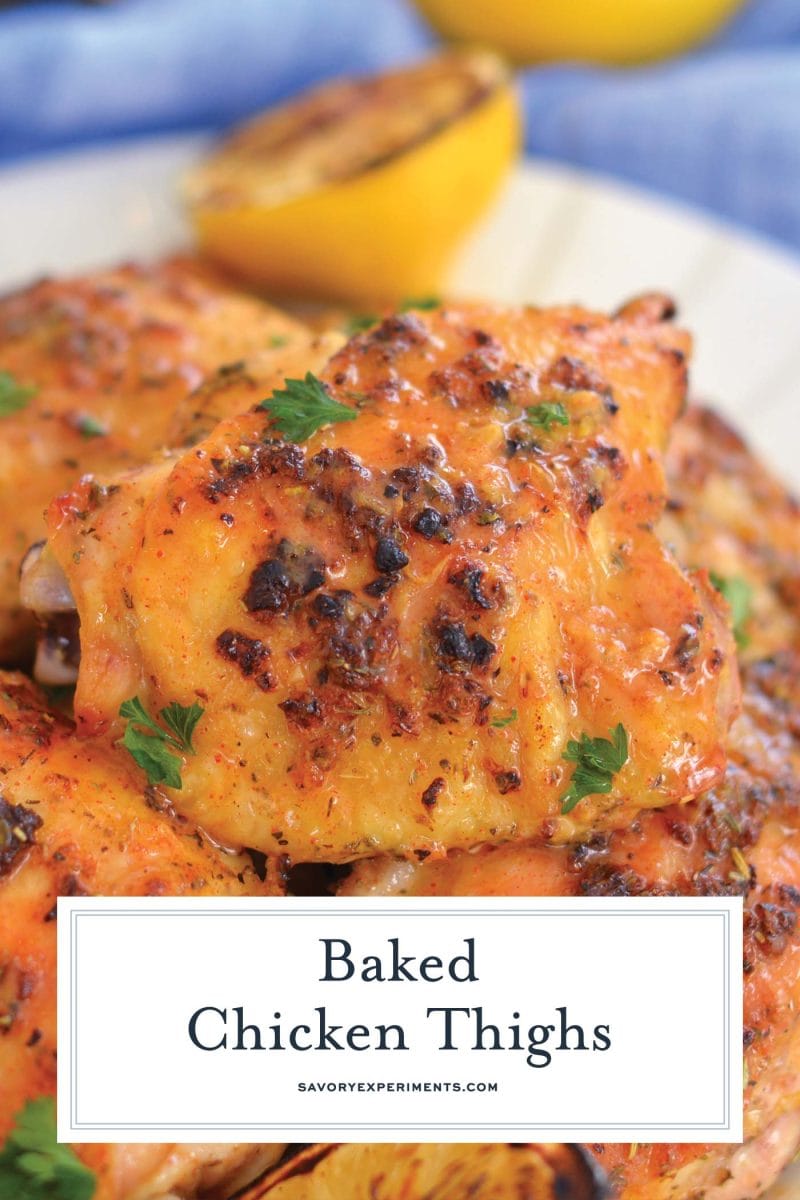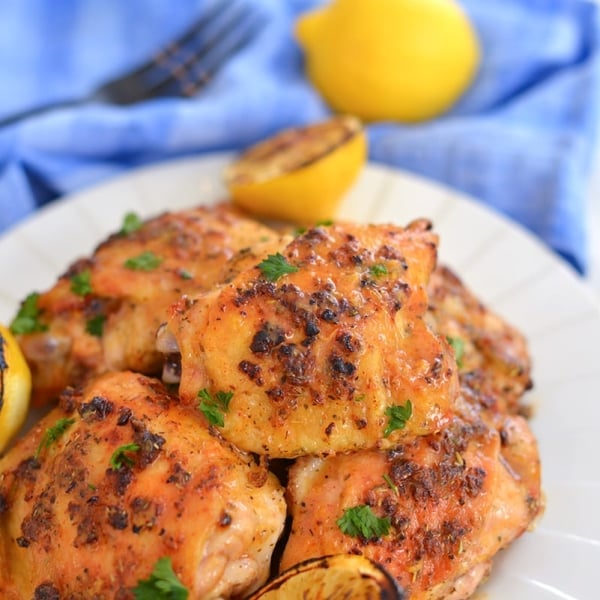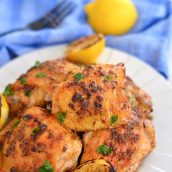 Baked Chicken Thighs in Oven
Flavorful and crispy baked chicken thighs basted with a garlic lemon butter sauce. An easy chicken dinner in the oven.
Instructions
Preheat the oven to 400°F. Line a rimmed baking sheet with aluminum foil and place a wire rack over top. Alternately, use a broiler pan. Set side.

In a mixing bowl, combine the olive oil, garlic, onion Italian seasoning, zest, salt and pepper. It will make a paste.

Toss the paste with chicken thighs, coating well. Transfer to the prepare baking sheet, giving space between each piece of meat. Spoon any excess paste from the bowl onto the chicken pieces.

Bake for 35-40 minutes or until a digital read thermometer reads 160°F.

Switch the oven to broil and allow the tops of the chicken to brown. Watch carefully to prevent burning!

Remove from the oven and allow to rest for 5-10 minutes. Broiling and carryover cooking should allow the internal temperature rise to 165°F.

Meanwhile, in a small bowl whisk together the melted butter with the lemon zest and paprika.

Right before serving, baste each piece of chicken with the compound butter.

If you've tried this recipe, come back and let us know how it was in the comments or ratings.
Notes
Note: This recipe uses lemon zest, so you are left with the actual lemon. If you love lemons like I do, halve the lemon and char is well. Spritz fresh lemon juice over the chicken before eating.
Nutrition
Calories:
401
kcal
,
Carbohydrates:
2
g
,
Protein:
19
g
,
Fat:
35
g
,
Saturated Fat:
11
g
,
Polyunsaturated Fat:
5
g
,
Monounsaturated Fat:
16
g
,
Trans Fat:
1
g
,
Cholesterol:
131
mg
,
Sodium:
477
mg
,
Potassium:
264
mg
,
Fiber:
1
g
,
Sugar:
1
g
,
Vitamin A:
419
IU
,
Vitamin C:
2
mg
,
Calcium:
31
mg
,
Iron:
1
mg