You need to know one thing before I show you how to make the best peach pie ever. I hate baking pies. But I love peach season… so…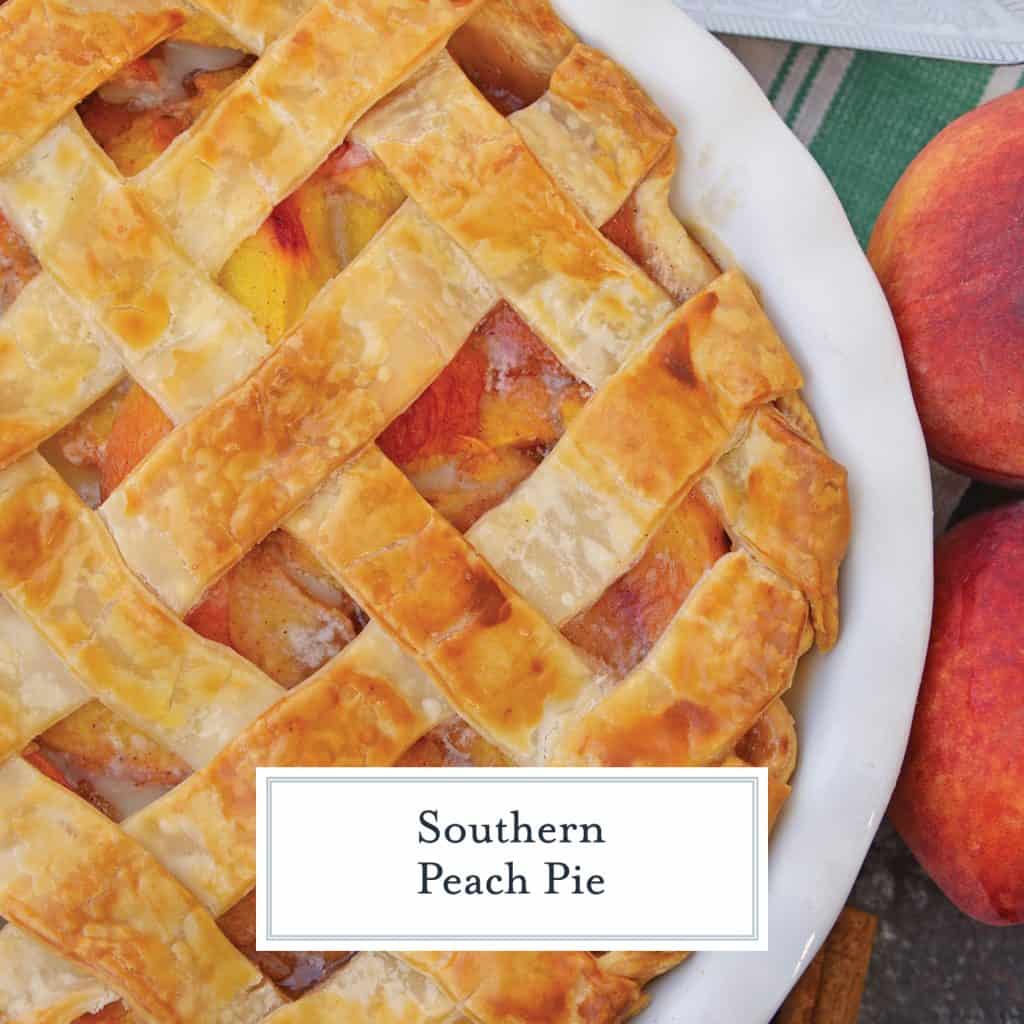 Southern Peach Pie a traditional peach pie using fresh peaches baked in a flaky, buttery lattice crust.
There, I said it! Why? Because I hate pie crust!
Loathe it. I was dreading making this darn thing for days knowing I'd have to handle pie crust. I'm all about fresh fruit filling, but the crust. BUMMER.
Over the years I've given up on perfectly beautiful pie crusts with pinched edges and decided that rustic, uneven edge was actually more beautiful.
I've found ways to make my rough pies look decent, at best. You only look at them for a few moments before digging in, so really, what is the point?
PRO TIP: If this easy peach pie is still not up your alley, the peach filling can also be used in a peach cobbler.

Simply place in a baking dish with a crumble topping and bake until top crust is light brown. Quick and easy!
You can also make an easy lattice topping. While it looks sophisticated, it is actually pretty easy. AllRecipes has a great tutorial.
It also allows steam and liquid to evaporate better than a fully covered (even with a slit) pie, so you are less likely to have the issues of a soupy pie.
I've also given up on making my own pie crusts. Making and rolling it uniformly is half the battle. So why not relieve some of the stress and just go get some pre-made pie crust?
I'm not ashamed!
After the pie dough is out of the way, making a fresh peach pie is actually pretty easy. Crust + peaches and a few other ingredients equals one of the best summer pies known to man.
Spices for peach pie vary greatly, but nearly all include cinnamon. I also like a little nutmeg, but you can use allspice or even pumpkin or apple pie spice if you like.
Also try adding a teaspoon of vanilla or almond extract to change the flavor a little.
Here are a few tips and tricks to ensure you do have the best peach pie ever.
First, make sure your peaches are ripe, but not too ripe. Look for peaches that are about a day or two away from being good to eat.
These are easier to peel and also don't have as much liquid. I've heard many folks complain about their peach pie being too watery and this is one of the culprits.
Secondly, add cornstarch! Most southern peach pies have either cornstarch or flour, I've even seen some with both. That seems like overkill to me, but whatever.
Peel those peaches! This step will actually be the longest in your peach pie making journey, but have no fear, it is super easy.
I have step-by-step instructions on how to peel a peach. Slice peaches after you've peeled them.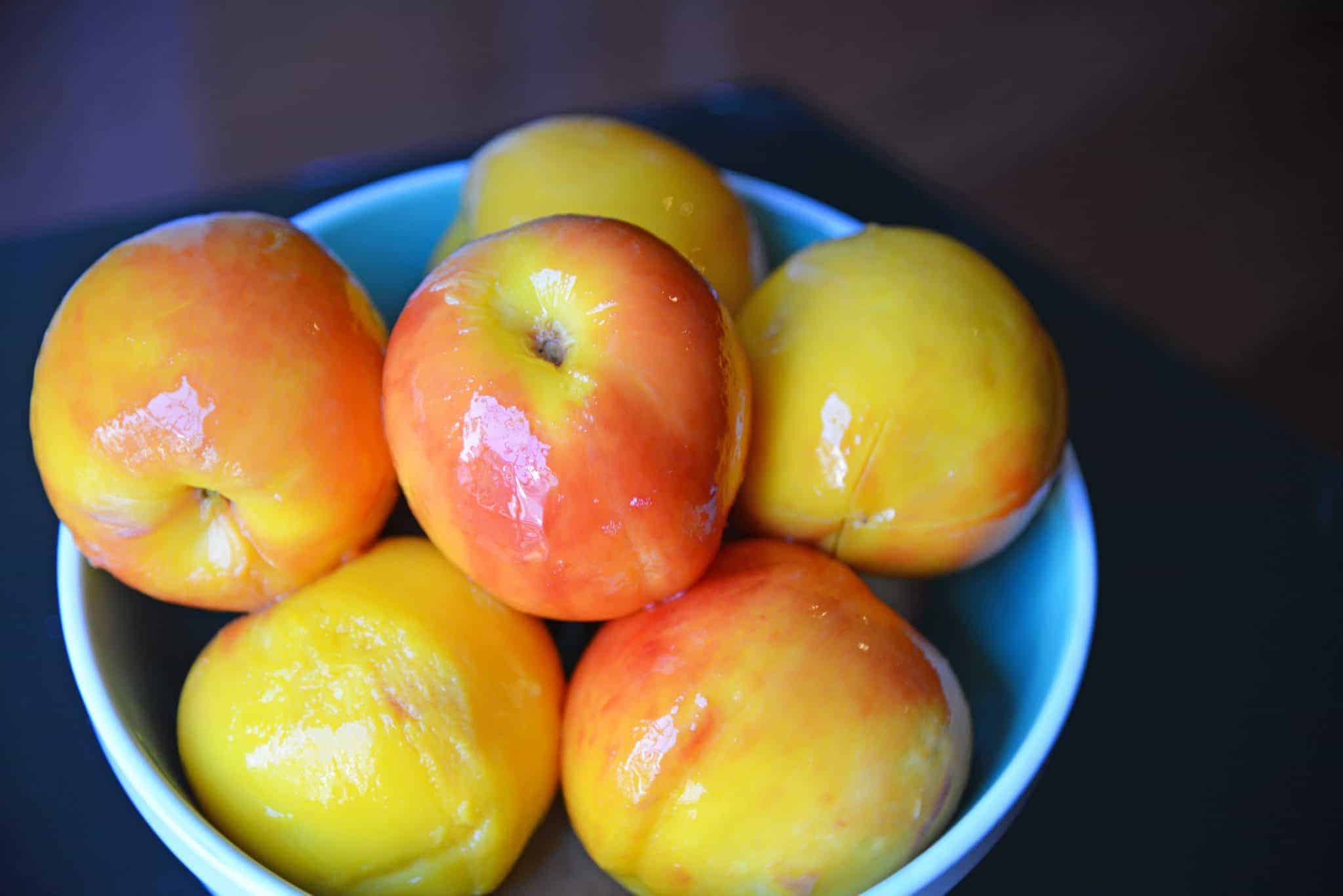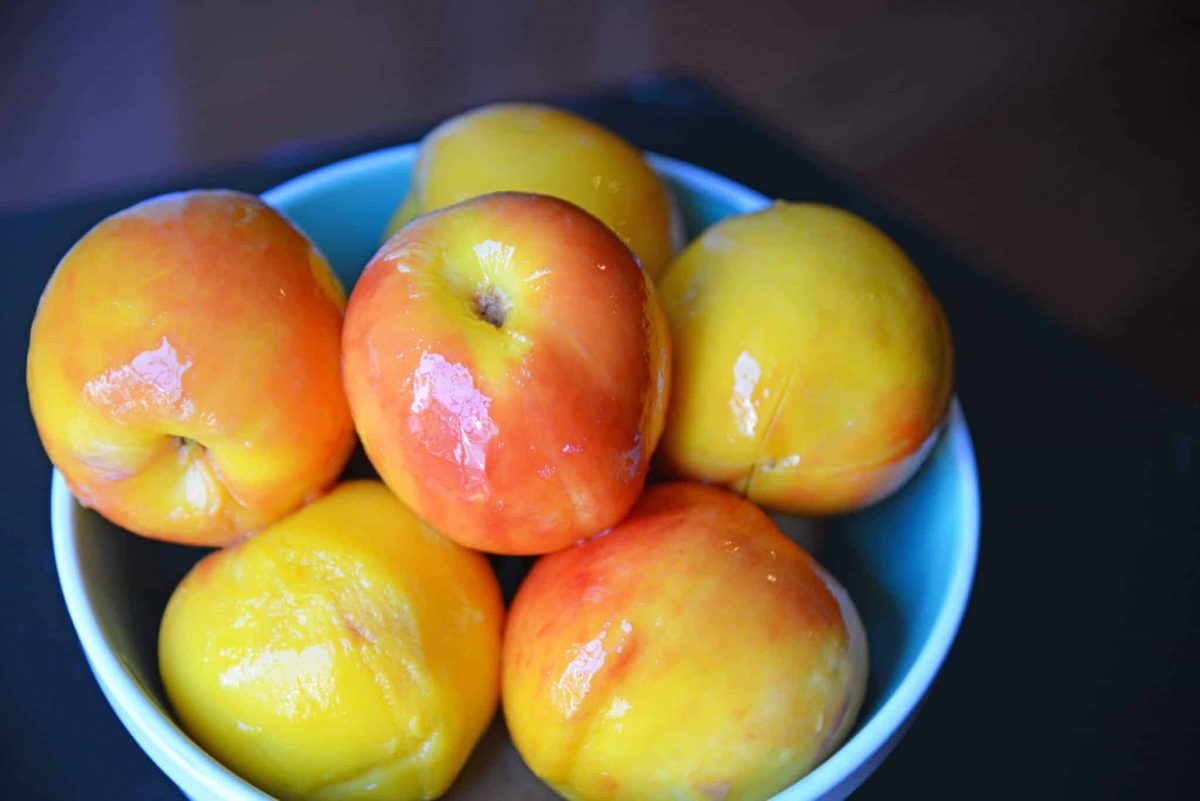 Can I use frozen peaches in my peach pie? Yes! If you want to skip the longest step of peeling peaches, grab a bag of frozen peaches! They are already peeled.
Word to the wise though, thaw them ahead of time and drain, drain, drain. Too much liquid will give you peach soup, not peach pie.
You want a peach pie filling with some body. Fresh peaches are the best way to achieve this.
Can I use canned peaches in my peach pie? No! Do not use canned or jarred peaches. These are overly ripe and in syrup. You will have a peach mess on your hands.
How many peaches is 6 cups? Oh my goodness, does this annoy me. Peaches are generally the same size, so why don't recipes just tell me how many gosh darn peaches I need?
A good way to guesstimate is 1 peach = 1 scant cup. How many you need will still vary based on your pie plate.
Even if your recipe calls for a 9-inch pie plate, they do not all hold the same volume. I have two, one that is deep and another that is shallow.
For pies, I use my deep pie plate cause I like pie filling! If I was using my shallow dish, I might only need 5, maybe even 4.
Why do you dot fruit pies with butter? Old school pie bakers will tell you that it is to prevent the pie filling from boiling over, but in a side by side test, it really makes no difference.
That being said, I still do it because it adds richness to the peach pie filling, or any other fruit pie filling. You can omit the butter if you'd like.
Why do you put a pie on a baking sheet? One reason only- to prevent the pie filling from bubbly over. It is a sugary mess and will burn.
You'll set off the smoke alarms and then have another mess to clean. If you like cleaning messes and burnt on sugar, by all means, skip the baking sheet!
What makes a peach pie a southern peach pie? As far as I can tell, the addition of raspberry sauce and being served a la mode (with vanilla ice cream).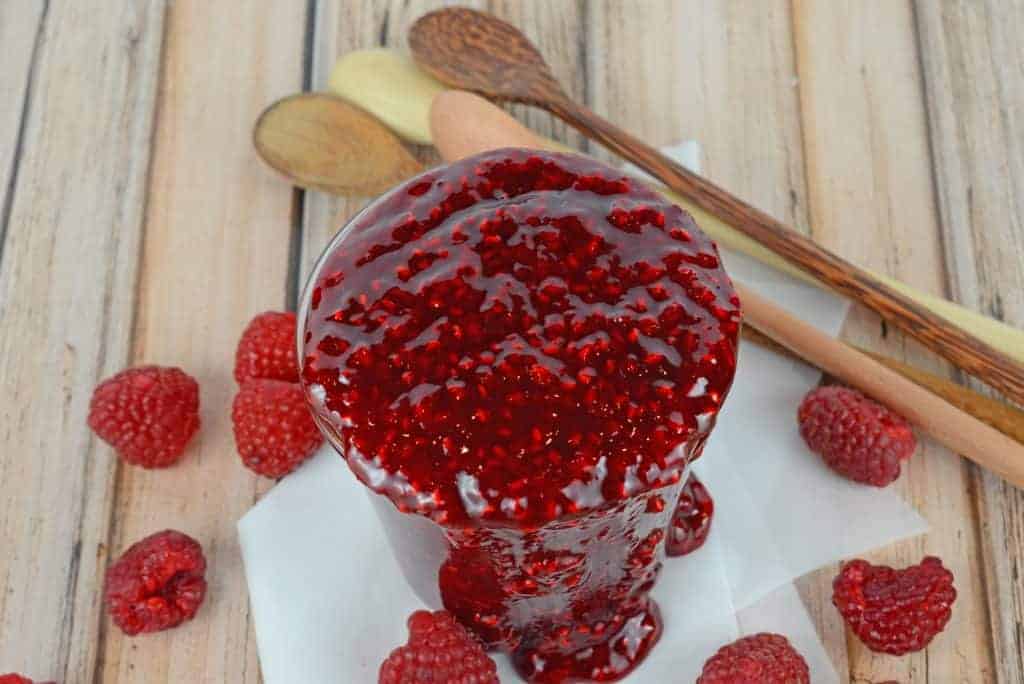 Some say because it originated in Georgia, hello Georgia peaches! While I like raspberry sauce, it is a little too sweet for me on this pie, so I opt to garnish it with fresh raspberries. Your choice!
And lastly, let that pie cool! I know it is tempting. The bubbly, sweet fragrance is intoxicating, but let it cool.
The pie filling will be liquidy and HOT. Cooling allows it to thicken so your pie doesn't just blob all over the place.
Here a few more delicious pie recipes:
Tools for making Southern Peach Pie:
Pizza Wheel – The easiest way to cut pie crust!
Pie Crust Cutter – The fanciest way to cut pie crust!
Pie Plate – A standard 9-inch pie plate should be in every kitchen. I like a nice, deep pie dish. Mine is actually 9.5 inches, but that gives me extra room for more filling!
Rolling Mat – Perfect for pie crusts, cookies and more!
CONNECT WITH SAVORY EXPERIMENTS!

Be sure to follow me on social media, so you never miss a post!

Facebook | Twitter | Youtube
Pinterest | Instagram

Get our FREE 8 Day E-Course on How to Be a Better Home Cook. Sign up HERE!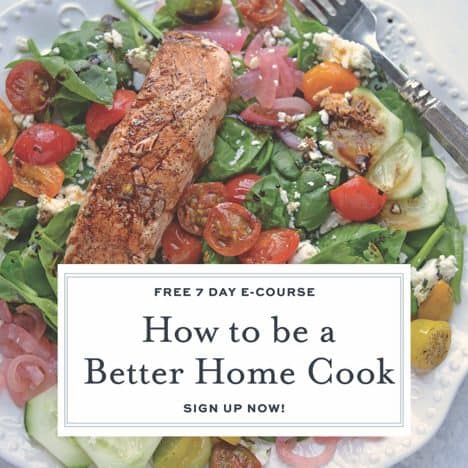 We hope you thoroughly enjoy this deliciously sweet Southern Peach Pie! Enjoy it with a fruity glass of wine and scoop of ice cream.
Print Recipe
Southern Peach Pie
Southern Peach Pie a traditional peach pie using fresh peaches baked in a flaky, buttery lattice crust.
Instructions
Preheat oven to 400 degrees.

If using fresh peaches, follow these directions to peel your peaches. If your pie plate is shallow, use 5 peaches. For a deep pie plate, use 6.

Cut peaches into wedges, discard the pit, and transfer to a large mixing bowl.

Toss cut peaches with sugar, cornstarch, ground cinnamon, ground nutmeg and lemon juice. Cornstarch will vary based on how many peaches you use. Four to five peaches, use 3 tablespoons and five to six, use 4 tablespoons.

Unroll one pie crust into a 9-inch pie plate. Fill with peaches and juices.

Cut butter into small pieces and dot on the top of the peach pie filling.

Either unroll the whole pie crust on top of the filling, pinching edges to seal and cutting a few slits in the top OR create a lattice pattern using strips.

Brush the top of your pie crust with the lightly beaten egg. Discard the rest.

Bake for 45 minutes, checking about 20-25 in to make sure the top crust isn't burning. If it is browning too fast, loosely over with a piece of aluminum foil.

Remove and allow to sit at room temperture for at least 3 hours before serving.

Serve with vanilla bean ice cream, fresh raspberries or raspberry sauce.

If you've tried this recipe, make sure to come back and let us know how you liked it!
Nutrition
Calories:
216
kcal
|
Carbohydrates:
30
g
|
Protein:
2
g
|
Fat:
9
g
|
Saturated Fat:
3
g
|
Cholesterol:
18
mg
|
Sodium:
121
mg
|
Potassium:
151
mg
|
Fiber:
1
g
|
Sugar:
13
g
|
Vitamin A:
280
IU
|
Vitamin C:
5.1
mg
|
Calcium:
11
mg
|
Iron:
1
mg
Feeling peachy? Here are some great recipes that use peaches from some of my other blogger friends. We are all together celebrating National Peach Day, so go get your peach on, hon!
Check out these fabulous recipes using peaches!
Even more peach recipes: